If you're a fitness professional, chances are, you love what you do.
But if you want to level up and make your career even more rewarding, it's time to launch your own online fitness business!
Online workouts are the top fitness trend of 2021, and streaming video technology makes it easier than ever to fill that demand and become a successful entrepreneur.
All you need are the right tools, the right platform, and a game plan.
So we're here to help.
In this post, we're going to explain how launching your own business can help you build the independent fitness career you want and make money doing it.
Then, we'll show you how you can get yours up and running in 6 simple steps, plus a bonus tip:
Let's get started!
How Starting an Online Fitness Business Can Transform Your Career and Scale Your Income
There is a huge demand for online fitness businesses right now.
In fact, active American adults see online fitness content as the best way to stay fit. Why?
Because it lets people train how they want, when they want, and gives them digital access to their favourite trainers (like you!).
And for trainers, there are a lot of benefits to selling fitness programs online. You can:
Increase your client base and reach while keeping the same workload.
Grow your fitness brand.
Make more money.
Expand the products and services you offer.
Enjoy a more flexible schedule.
Find a better work-life balance.
All by creating a fully-branded, standalone online fitness platform for your business. Just like Lottie Murphy has done.
Lottie is a highly-trained pilates instructor who found herself spread pretty thin while pursuing her dream job. She needed a way to grow her business without spending more hours in the studio.
So she decided to launch her own platform, Lottie Murphy Pilates.
For a small membership fee, students were now able to access her workout programs online and participate at any time – and it took off!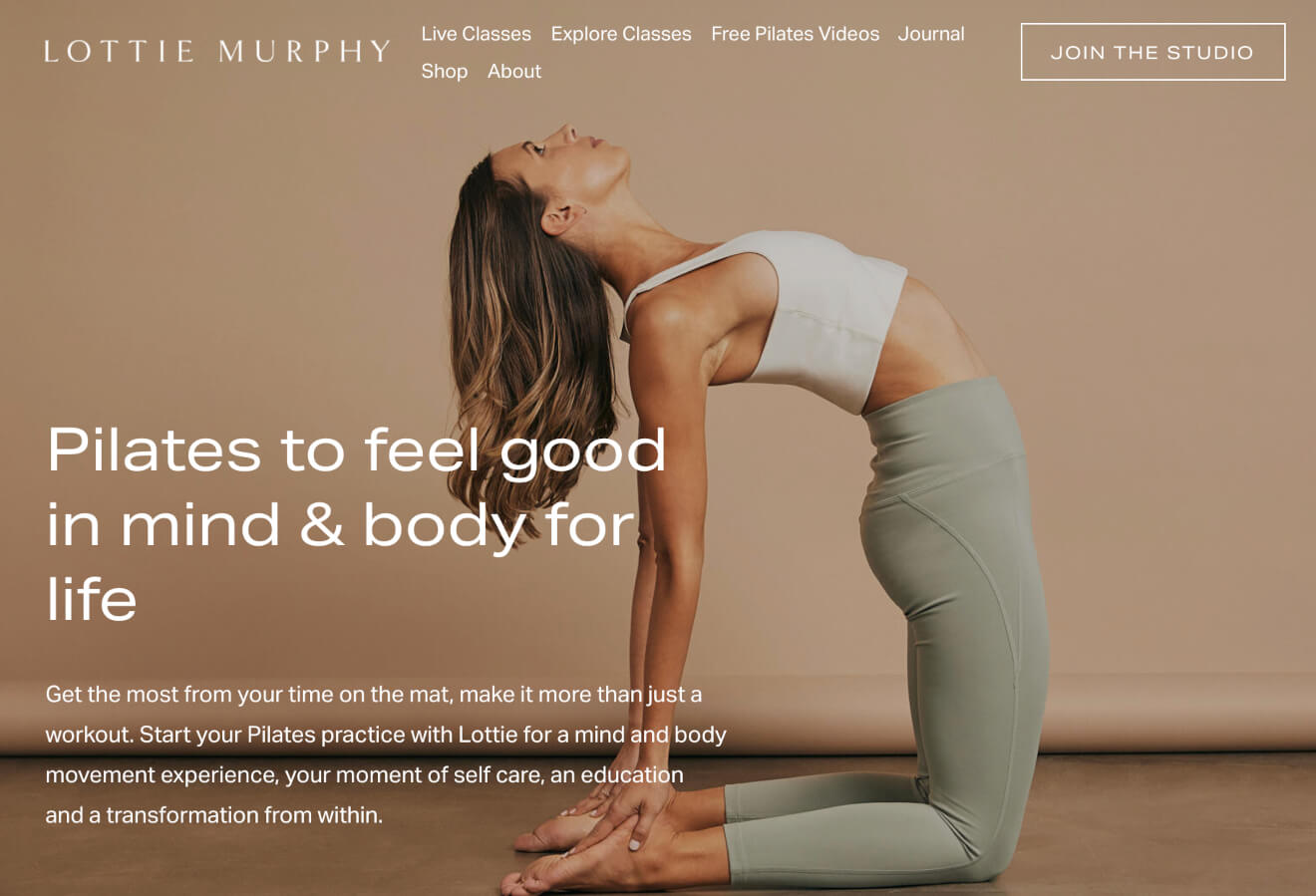 Lottie's online fitness studio made it possible for her to offer her services to more clients, in a wider range of locations, effectively letting her be in multiple places at once!
Lottie Murphy Pilates offers a wide catalog of pilates workouts for a small recurring membership fee, in addition to:
Live-streamed classes.
Downloadable calendars and playlists.
Pilates retreats.
An online merchandise shop.
All of which she can promote though her existing social media channels, like her Instagram feed: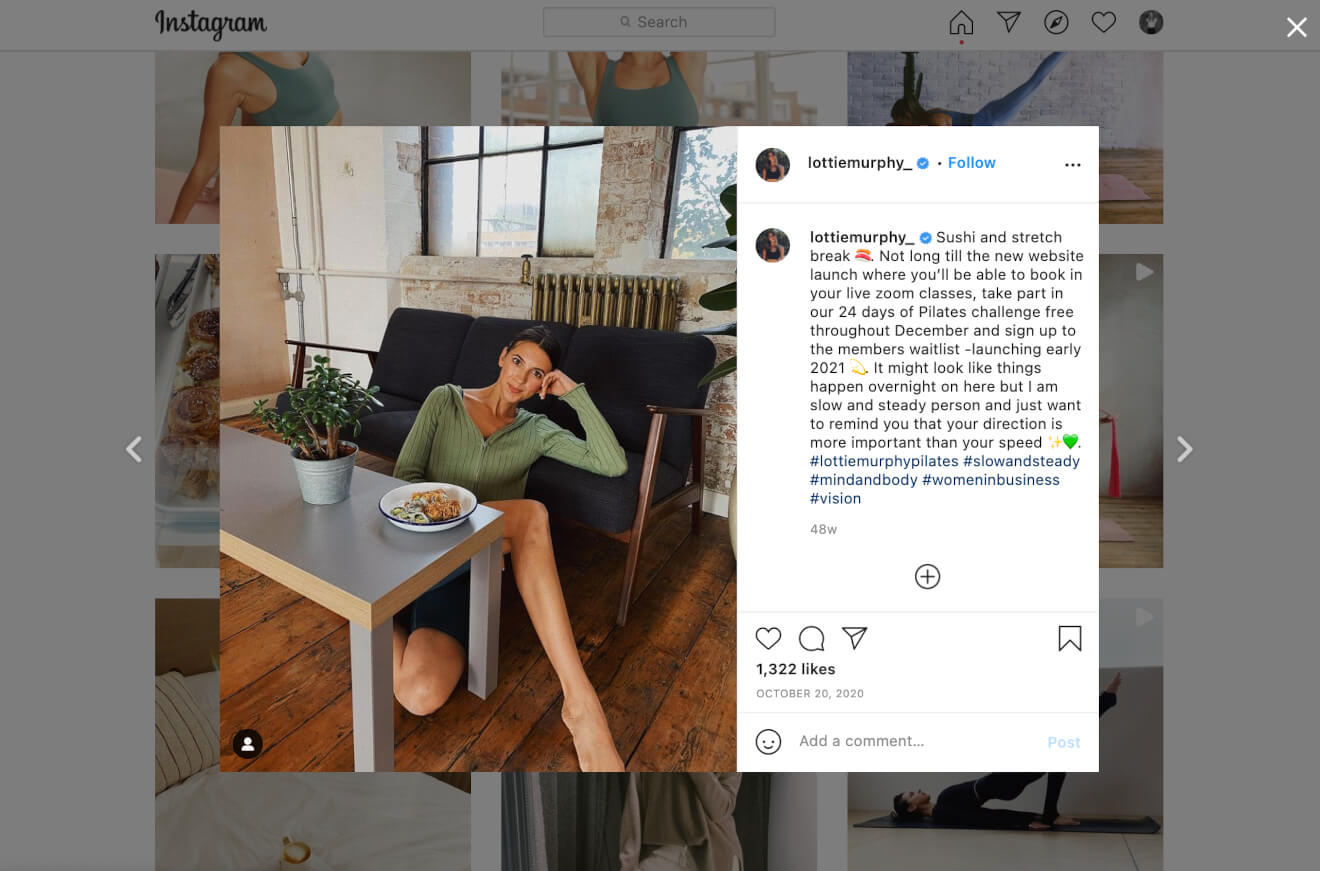 Transitioning her business online was the turning point that allowed her to scale her income while finding more freedom and flexibility in her personal life.
Best of all, Lottie's journey is just one of many online fitness business success stories.
You can do it too!
As a fitness professional, you're already offering customers a solution to their training needs – you just need to give it to them on a platform that provides more than a traditional gym experience.
Your online fitness business provides this kind of value to customers in ways like:
A variety of 24/7 online workouts for people with busy schedules.
Connecting directly for live workout content and personalized individual training.
Downloadable health and wellness resources.
Building online communities around your audience's common fitness goals.
Our research shows consumers are more than willing to pay for these services.
If you're a fitness professional ready to scale your business and establish long-term success, keep reading – because we're going to give you the tools to make it happen!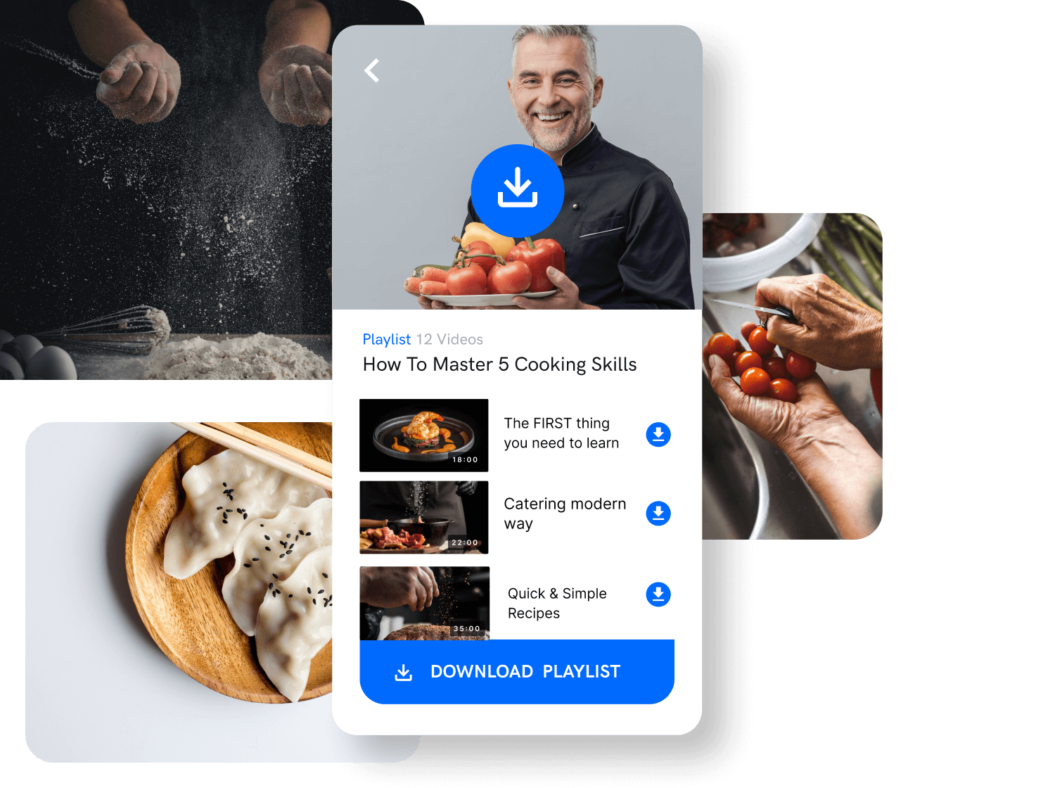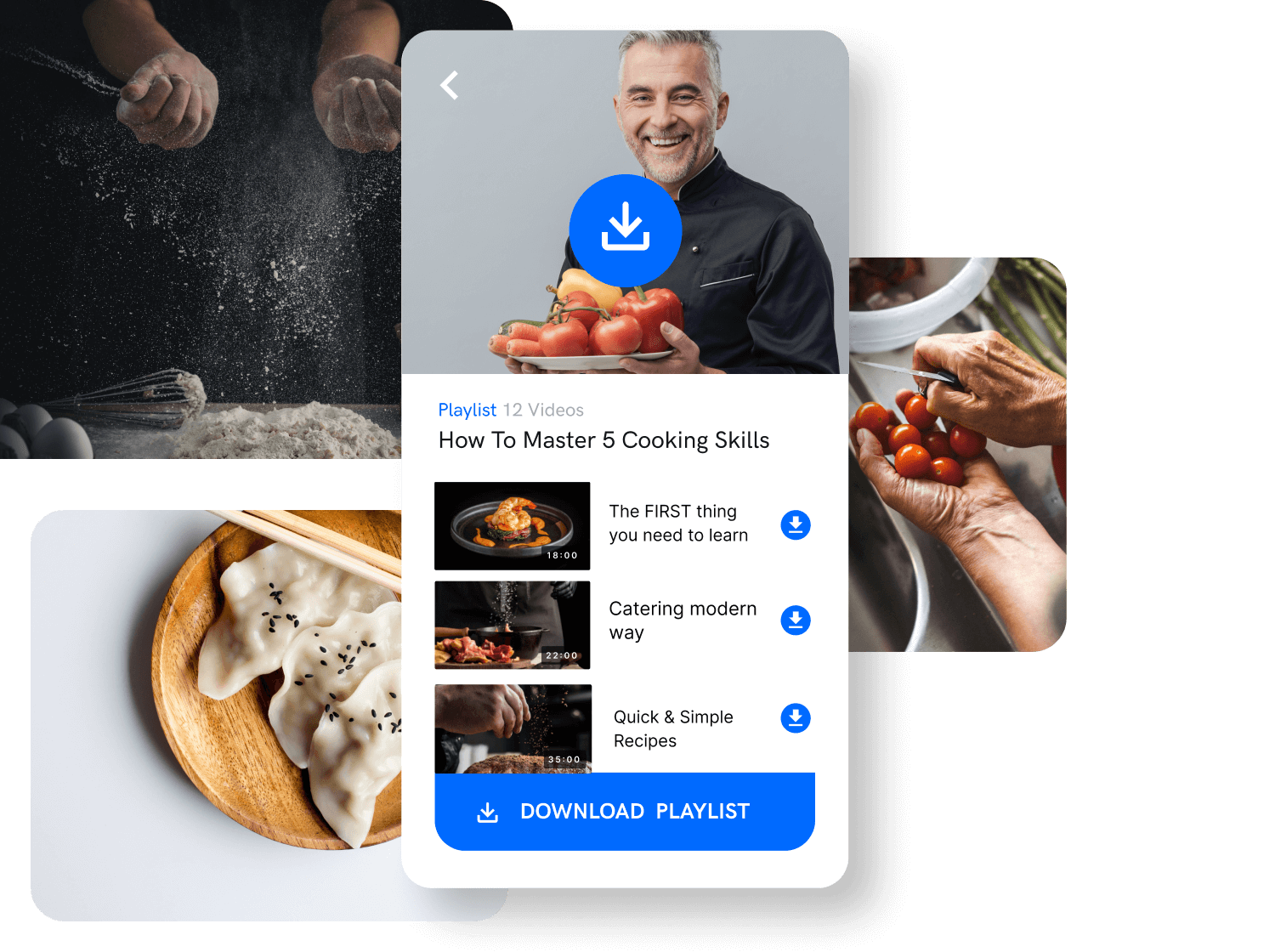 Start your 14-day free trial today!
How to Launch Your Online Fitness Business in 6 Easy Steps
Feeling ready to launch your online fitness business?
Great.
Now, we're going to break down the 6 steps you need to take in order to sell workout plans on your own independent fitness platform.
Let's dive in!
1. Establish Your Niche
Your niche is the specific type of fitness service you're selling, as well as the market you're selling to.
"Niching down" is important because the more specific you are in creating and selling your workout routines, the more dedicated your customer base will be.
You need to establish what makes your business idea stand out – and here's where it gets fun!
In the fitness industry, you can monetize any kind of training program.
A few popular workout niches are:
Yoga.
High Intensity Training.
Spinning.
Dance Fitness.
Weight Training.
But to find an even more specific customer base, you can market to new client groups with more specific needs.
For example, a yoga business can offer specific services for demographics like…
senior clients over 50
athletes recovering from sports injuries
soon-to-be moms and parents
people looking for increased mobility and flexibility
…or any other group whose fitness needs you can serve!
Once you know your niche, you can narrow down the target audience you want to attract.
2. Find Your Audience
Moving your business online allows you to build a much larger customer base than in-person training.
No matter what you're offering, there are people looking for a service like yours!
Here's how to find them and build a community of long-term customers.
1. Evaluate Your Current Following
Do you have an existing following?
Chances are, you're not starting from scratch.
Your ideal clients can be anyone you've ever worked with in a fitness capacity.
Have you ever:
Shared fitness tips at the gym?
Worked with people in group training?
Written a workout plan for a friend who's starting to train for the first time?
Network with those people. If there's potential for you to help anyone, let them know.
2. Determine Your Ideal Customer Base
You're looking for new clients who want your specific fitness service, and therefore will be easy to convert.
In order to find your target audience, spend time getting to know them.
Establish factors like:
Their age, gender, location, and preferred workout style.
Their average income, and how much they want to pay for a service.
What they like and dislike about other programs they've tried.
Once you know who your customers are, you'll have a better idea of where and how to reach out to them.
3. Connect to Your Customers
The easiest way to connect with your target audience is by meeting them where they are.
When you know your customer base, you know what online spaces they hang out in – so focus your attention in those areas.
Some ways to do this include:
Linking to your business via social media accounts.
Putting teaser videos on Youtube.
Running paid ads on their favorite platforms.
The more visible you are, the more interest you can build with new clients.
3. Create Your Fitness Content
Your fitness content library should be full of engaging content that fits your professional image.
To create videos your subscribers can't get enough of, you'll need:
High sound and picture quality.
A stable filming location.
The right lighting and camera angles.
Thankfully, you don't have to be a videography expert to create high-quality content!
Here's Daniel, our resident video expert, explaining everything you need to know.
For more technical tips and tricks for your video content creation, we also suggest the following reads:
Once you've got your videos ready, you need a place to upload them. Here's how to create your own fitness platform.
4. Build Your Platform
Your platform is the central hub of your online fitness service – so naturally, you want it to look good.
Here's how to create a home base that your customers will love to explore.
1. Create Your Website
To create a video website that offers a stellar experience, choose an all in one video hosting platform with the tools you need.
From there, you can design your layout.
Uscreen offers customizable themes and templates, as well as a plug-and-play page builder that lets you place all your video on demand content in an easily-accessible library for your audience.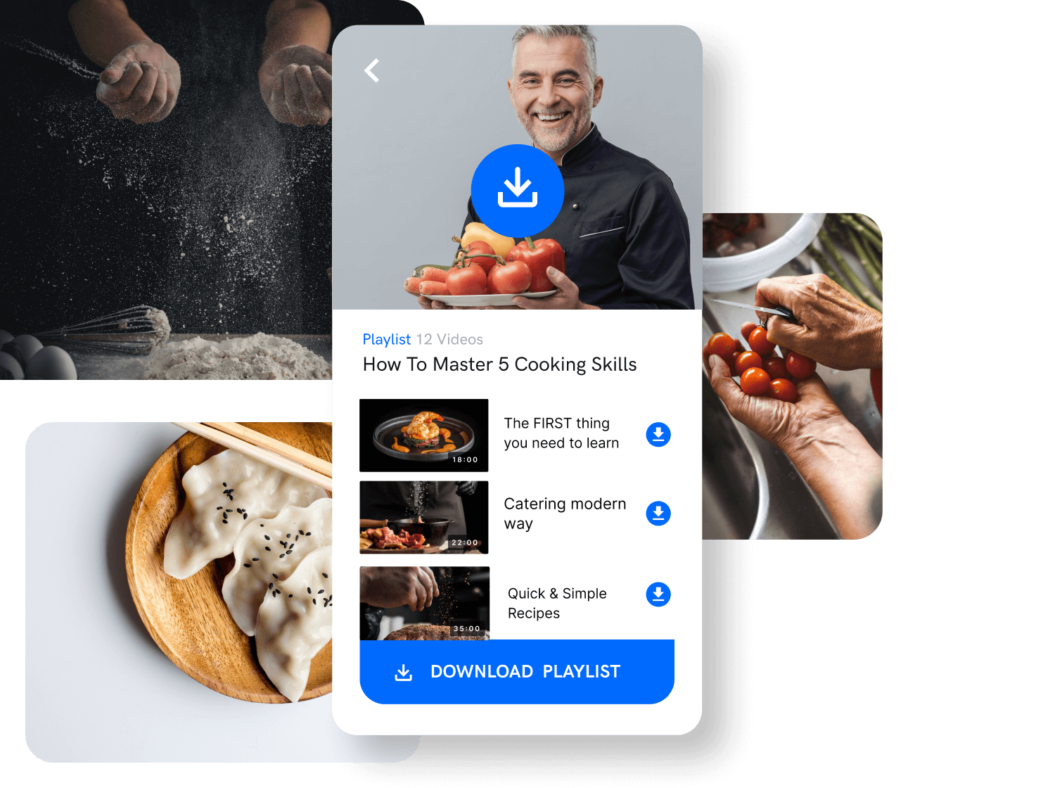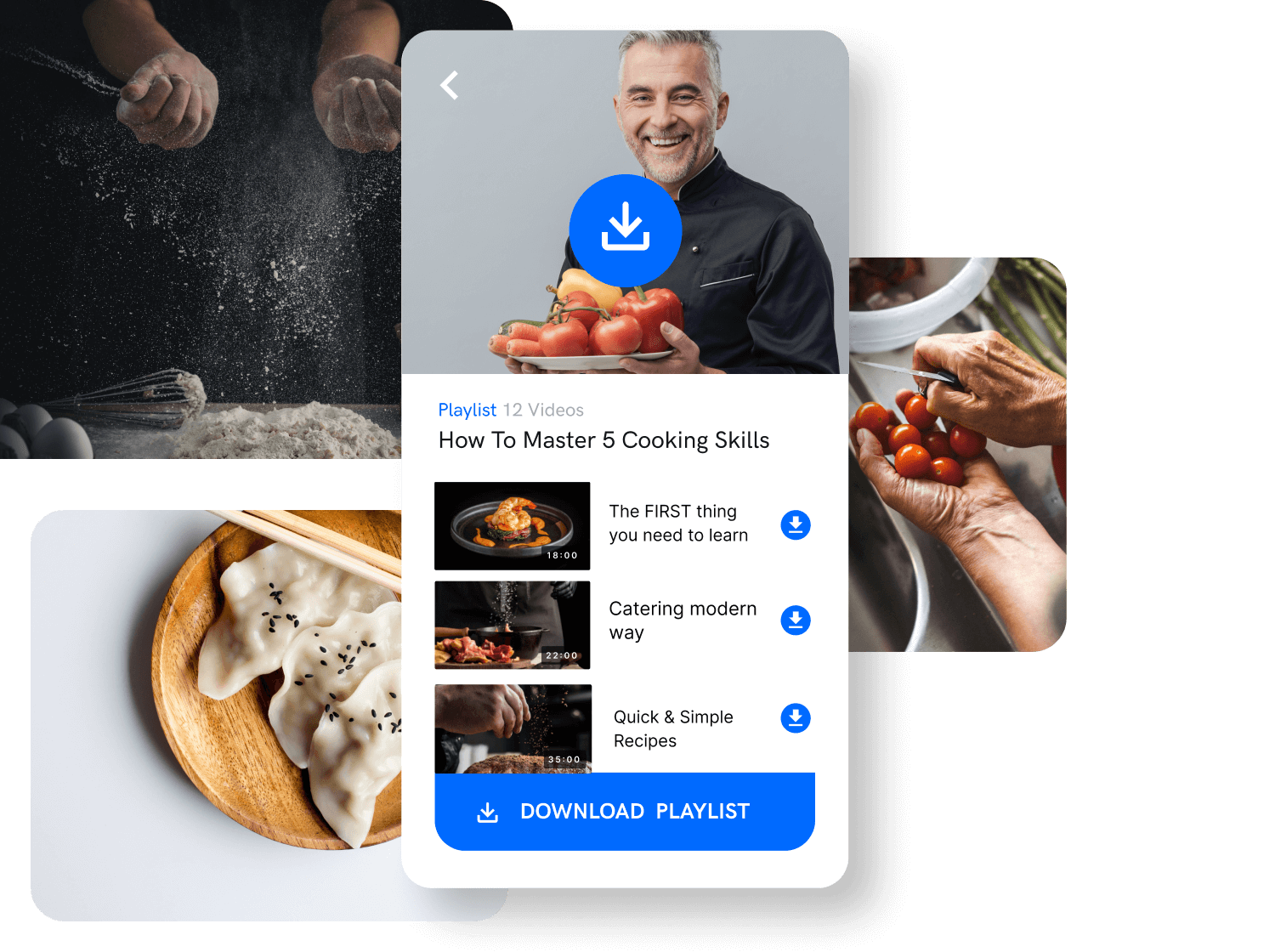 Start your 14-day free trial today!
Your site should be clean, well-organized, and easy to navigate.
You'll also want to include:
A detailed description of what your service offers.
An "About" section that tells the story of your business and showcases your expertise as an online personal trainer.
A clear Call to Action.
Pricing details and payment methods (like PayPal or Stripe.)
Incentives you may be offering (like a free trial period.)
MxM Fitness is a great example of a fitness website with all these elements.
Your website also provides a great opportunity to solidify your brand. (More on that later!)
2. Upload and Organize Your Content
Next, you'll want to get all your fitness training videos uploaded, organized, and ready to watch.
An organized video content library makes for a great user experience.
Luckily, Uscreen offers tools like custom categories and tags for your videos – so viewers can easily find the type of content they're looking for.
You can also create custom filters so users can narrow down their search.
For example, MxM Fitness helps customers find specific classes with filters made for the classes they offer, including: Class Length, Difficulty, Type of Workout, Category, and Theme.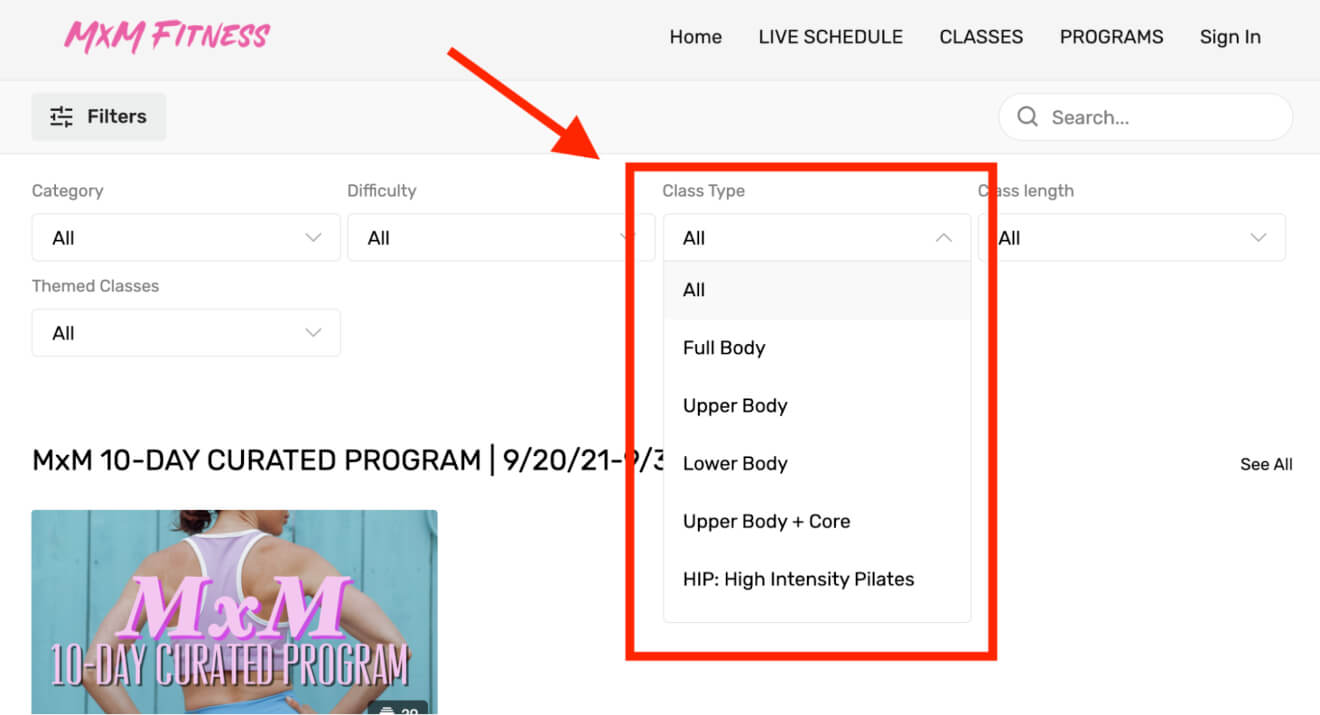 Content organization is important because the less time people have to spend searching your library, the more time they can spend training and gaining from the benefits of your service!
It always helps to keep your library looking sleek with these thumbnail design tips too.
Speaking of design, customization is an important part of creating your fitness business, so we can tackle that next!
3. Customize Your Platform to Fit Your Brand
Your brand is your public image. It's the unique style and voice you create that makes your business stand out.
That's why it's so important to customize your website and platform with your brand style!
Creating a memorable brand goes way beyond cool customized logos (although those are definitely a plus!) You can also use:
Typography.
Color schemes.
Unique brand voice.
Training video and photo editing.
You can strengthen your online presence by customizing all your platforms with the same look and feel.
This is especially important for people who are already familiar with your fitness content on other social media channels, and then jump over to your website.
For example, the MXM Fitness website features a link to the Movement by Megan Instagram account.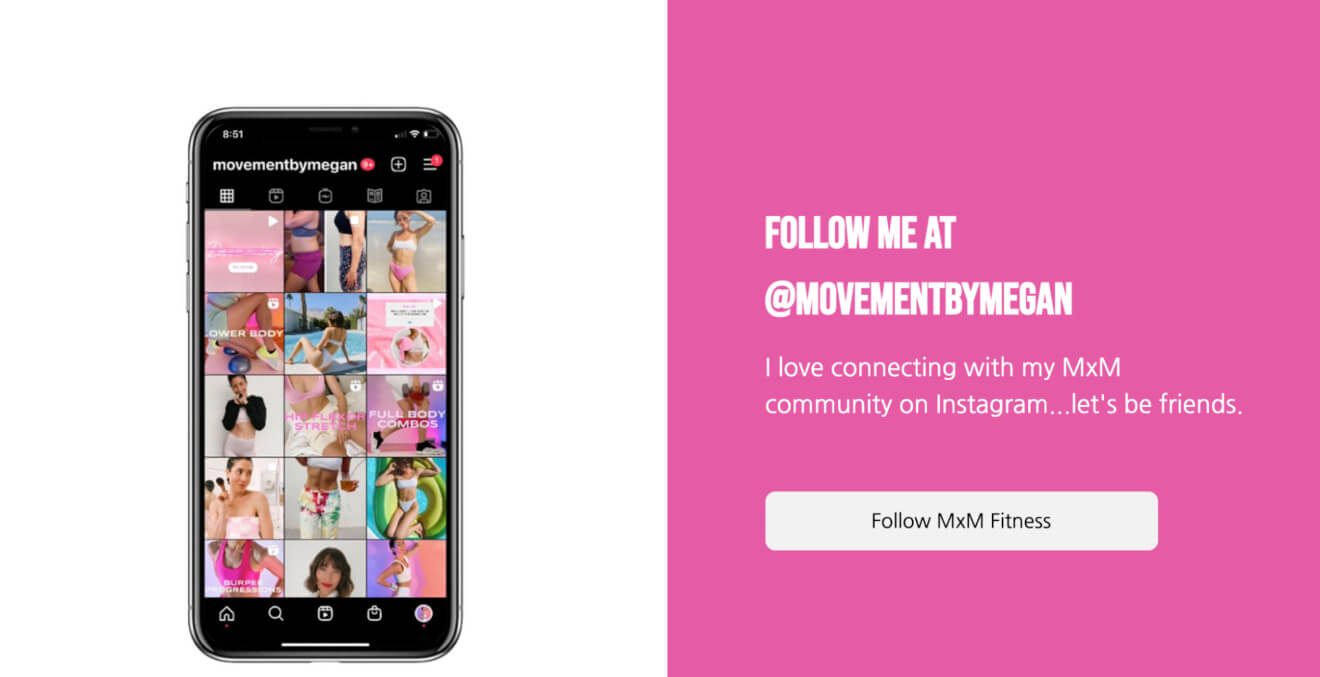 When visitors click through, they'll find the same bright pink color scheme and style of photography on both platforms.
This makes her service stand out to customers, and it can work for your business too.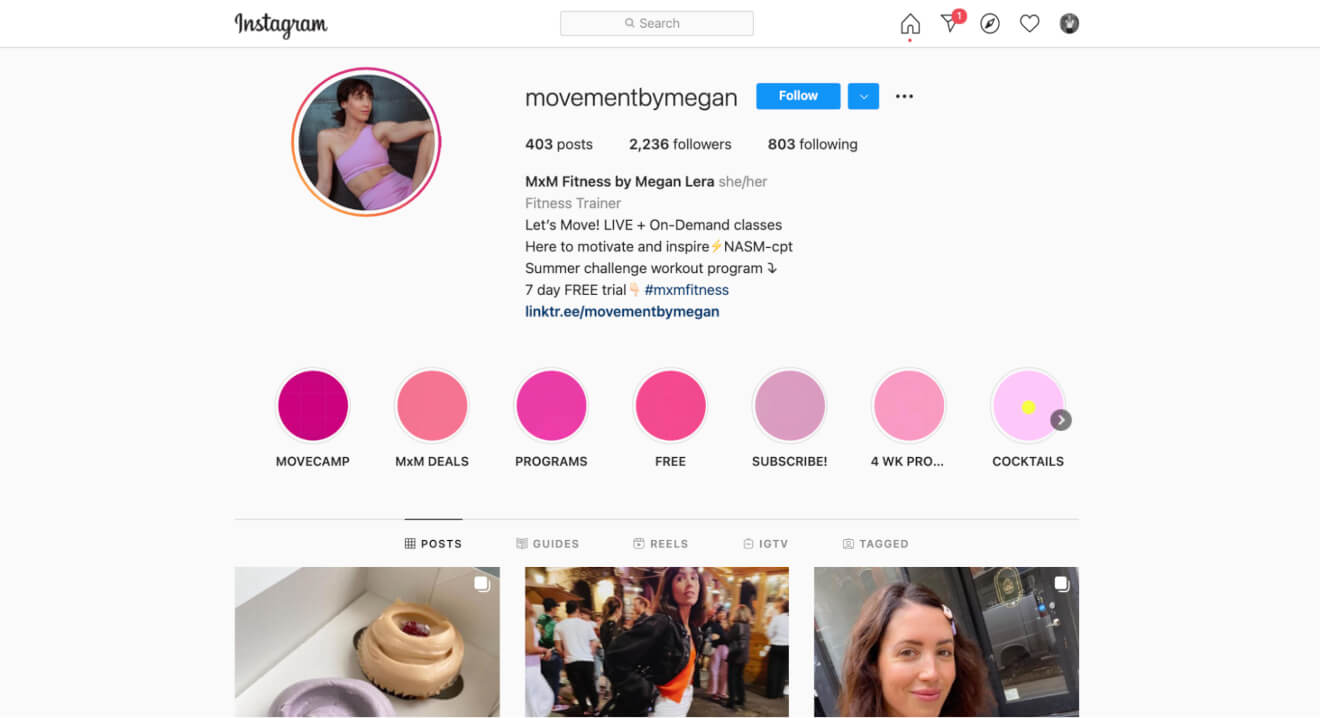 Once you've finished building your platform, you're ready to start pricing your products.
5. Choose Your Business Model and Set Prices
First, you'll need to decide how you want to sell your online fitness service.
Independent business owners make the most profit using a transactional (TVOD) or subscription-based (SVOD) business model.
Here's how they work:
Transactional (TVOD)
Transactional Video on Demand (TVOD) services charge on an individual pay-per-view basis. Depending on your niche, this can be a great way to sell high-ticket offers.
The transactional business model works particularly well for:
1. Personal Trainers
Online personal training businesses can sell a wide range of products and services for one-time purchase, including downloadable materials like:
Pre-written workout or nutrition templates.
Training plans for clients at different levels of fitness.
Recipe books.
Individual live training sessions.
Best of all, you can make any purchase a high-ticket offer by giving customers the option to upgrade to a fully customized program, created specially for their needs.
2. Courses and Workshops
You can charge a one-time fee for group classes and workshops. These can then be accessed via live stream or downloaded for customers to view at any time.
Some transactional course ideas include:
A 1 month training calendar featuring a new 10-minute workout each day.
A 90-Day total body transformation fitness challenge package.
Access to an exclusive live yoga class.
By offering access to a single program or downloadable content, customers can get a feel for your service, while you make money immediately.
Subscription (SVOD)
Your other option is selling annual or monthly subscription memberships.
In this model, you charge subscribers a low recurring fee for unlimited access to your entire content library.
The more members you have, the more your income grows – while you keep the same manageable workload.
We recommend SVOD, because subscription revenue is steady and reliable. Plus, you don't have to constantly upload new content or be there at the point of sale.
And any fitness niche can become a profitable membership service.
Uscreen clients Kreativ Dance Fit, Love Cycling Studio, and Sarah Beth Yoga all offer very different types of fitness programs – but they all have their own loyal audiences of subscribers.
Pro Tip: combine TVOD and SVOD for the most earning potential.
This means offering add-on purchases like…
pre-written training and meal plans
individual virtual fitness classes
live fitness webinar access
…on top of access to paid membership content.
Once you have your business model down, you can establish a price point.
Your rate should offer fair value to your customers without underselling your service.
To find a number that makes sense, you'll want to consider a few important factors:
What is your profit goal?
What are your conversion success rates?
What is the cost for similar services in your industry?
For more information (including a handy cost calculator), check out our detailed explanation of how to price your content.
Next, we'll cover the final step in launching your online fitness business – growing your audience.
6. Market Your Service
To create a solid customer base (or grow your existing one), you'll want to put together an effective marketing strategy.
Here are 4 steps you can take to acquire paying customers right off the bat!
1. Build Excitement and Awareness
Before your official launch, it helps to generate buzz for your new service.
Here are a few ways to create hype:
Offer incentives such as early-bird pricing to get your first wave of paying customers on board.
Use social media marketing by promoting your services on all your accounts.
Enlist influencers to get noticed by a larger audience. They can generate referrals and send more people to your site.
For ideas on where to attract online clients, take a look at our top traffic sources for your VOD platform.
2. Grow Your Email List
Your email list can help you convert visitors into paying customers through a gradual nurturing process.
The perfect fitness email campaign will help you keep in touch with everyone who's interested in your online service – and ultimately win them over.
So, once people arrive on your site, the goal is to get their contact information using tools like landing pages and opt-in forms.
To do this, offer potential clients something that makes them excited to sign up – like free valuable content in exchange for their email address.
3. Give Previews/Free Content
Free giveaways and previews of your content can help you connect with potential customers and build trust in your service.
Some incentives to get people interested include:
Offering promotional coupons.
Providing free workout videos and tutorials.
Demo videos that showcase new and exciting parts of your service.
By giving customers a taste of what they can expect (and even an occasional no-strings-attached gift,) you can show your value – and then offer them more.
4. Build Relationships/Community
Once customers have signed up for your training service, you can make them a part of your fitness community.
Customers love sharing their goals, experiences and hard work with like-minded people. Heck, who doesn't?
This emotional bond can help you retain more customers in the long run.
For more ideas, check out our breakdown of how to build an online community that grows your fitness business.
5. Use Analytics and Feedback Tools
Analytics tools and feedback help you find ways to improve your service and provide even more value.
Uscreen offers a full video analytics suite to help you gain a better understanding of how your customers interact with your content, including…
most popular videos
watch times per video
engagement rates
top devices used to stream
…and more!
You can also ask your customers for feedback in the form of questionnaires and surveys.
These tools can help you connect the dots between what they want and how you can give it to them.
Now, these 6 steps will certainly get your small business off to a running start – but you can also take it a step further by creating an app.
Bonus: Create Apps
Offering a fitness app for your business gives you an automatic advantage over brick and mortar gyms.
How?
Apps let customers access your service from phones, tablets and TVs – which means they can easily fit workouts into their schedules and train with you on their favorite device, from anywhere.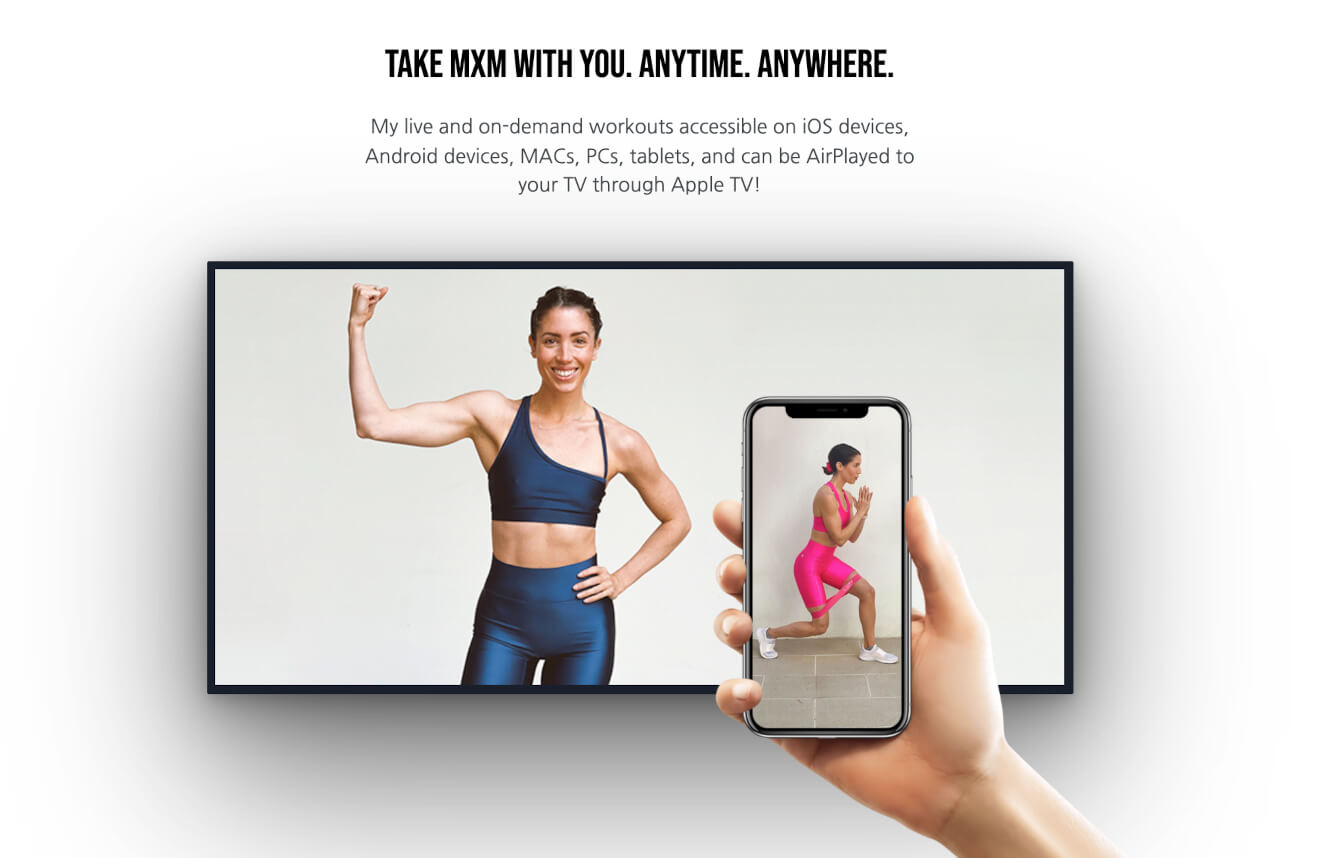 Apps are a huge selling point because they make your service more convenient and accessible – and therefore more appealing to customers.
Whether you choose to tackle OTT apps right off the bat or later on in the process, you can use the 6 steps above to build a great online fitness business now.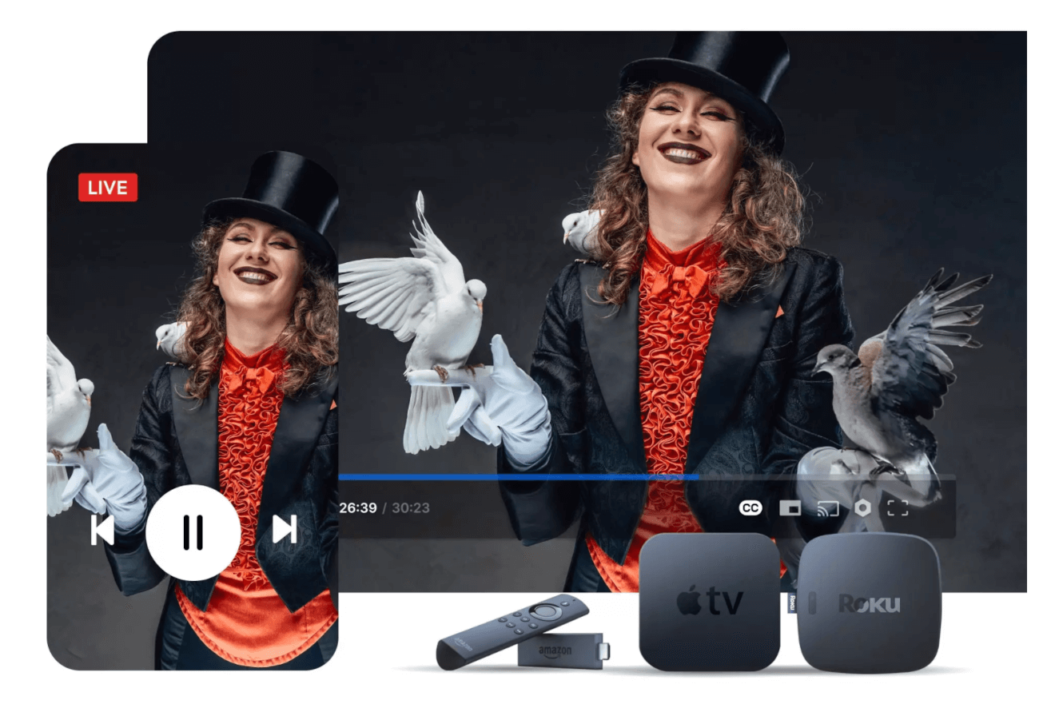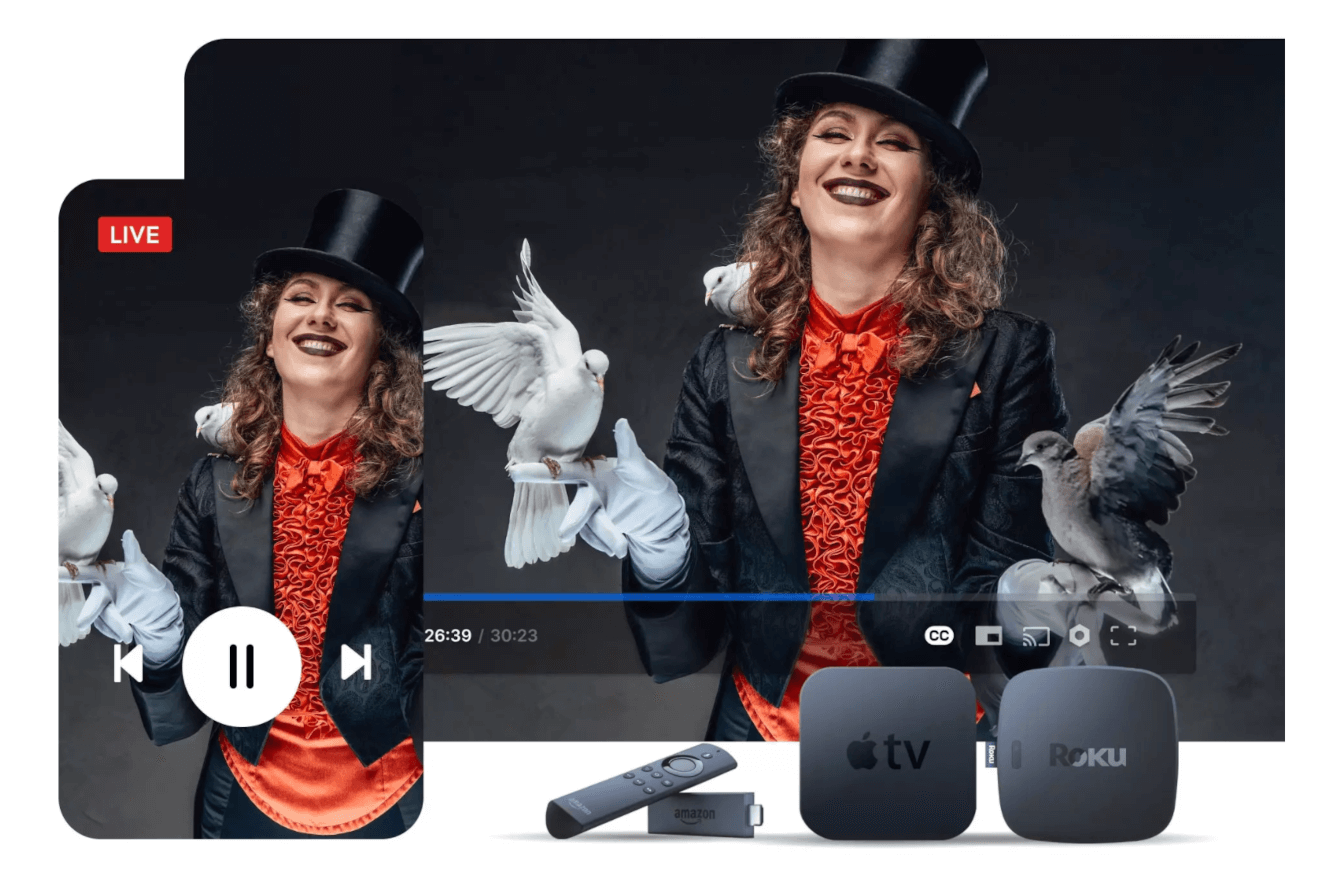 Interested in a Free 1-on-1 Demo?