Quick, where's your phone?
Probably within 3 feet.
It's your lifeline; your connection to friends, work, and the world.
Your phone is also the perfect way to connect with your video business's community.
TV and mobile apps make it easy for viewers to access your membership service and engage with you from their favorite devices.
So, in this post, we're going to show you how to launch a membership app so your community is only ever a click away.
Ready? Let's dive in!
So, What Is a Membership App?
A membership app is an application that allows people to stream video content and engage with community features natively on their phone, tablet, or smart TV.
Membership apps are typically used by subscription-style video businesses where members pay a recurring monthly or annual fee for access.
These apps allow your community to stream your videos anytime, anywhere — a level of flexibility that lets them choose how, when, and where they interact with your content.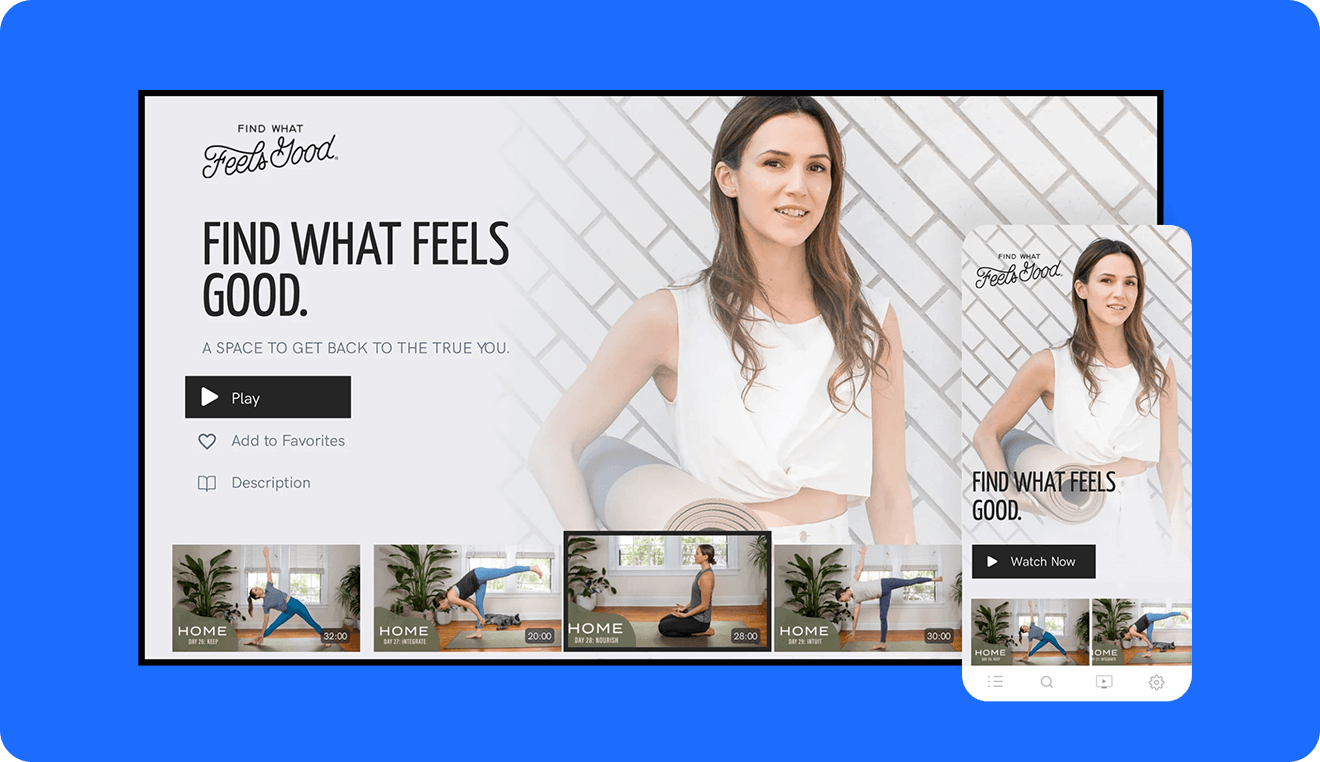 Any video business can operate with just a website, but the functionality to also watch via phone, tablet, or TV means users have more options in how they access your content.
You can launch a membership app to allow users to:
Practice yoga with their smart TV in the living room.
Listen to audio affirmations on their iPhone while walking the dog.
Learn about gardening from their tablet in the backyard.
That's the kind of flexibility that keeps members happy, and gives your business the potential to reach a larger audience.
It's simple with Uscreen.
Build, launch and manage your membership, all in one place.
But, What Are the Benefits of Building a Membership App?
Membership apps are a proven way to grow your online video business.
After looking at 1.1 million users, we found that creators who added OTT apps to their existing web-based services saw a growth of 30% in size and revenue on average.
If you already have a membership website or membership management software and are starting to branch off, or you're just starting out and need inspiration, apps are a huge growth opportunity.
Membership apps can help you earn more money by:
Attracting more customers.
Keeping customers for longer.
Let's take a closer look…
1. Attract and Convert More Customers
When you add membership apps to your arsenal, you also open yourself up to converting a wider number of customers.
There are potential customers in your audience who would prefer to watch your video content on membership apps and would pay good money for it.
In fact, data shows that nowadays many customers expect to be able to stream their favorite content from apps on their smart TVs, tablets, and smartphones.
That's why video-on-demand businesses that offer membership apps see an average of 30% higher conversions than those that don't.
Better still, by launching a membership app, you'll attract a growing number of cord-cutters, who are leaving cable services in droves for accessible video content.
This is a huge potential audience, since cable providers have lost over 25 million subscribers since 2012.
This shift has a lot to do with accessibility and convenience.
Mobile apps made for iPhone and Android systems can travel with your members anywhere, and TV apps — like those for Roku and Apple TV — mean your members can stream from the couch!
There are a ton of people out there who want to watch your content. When you make it easy and accessible, they'll be more willing to give it a go.
2. Keep Customers for Longer
It's easier to keep an existing customer than convert a new one. In fact, it can be 5 times cheaper to retain a customer than getting new ones.
Membership apps are proven to help you to retain more customers and increase their lifetime value. Why?
The answer's simple: member engagement.
When your content becomes available on your customer's favorite device, paired with a sense of community based around their interests, they'll become more engaged and feel that your service is better tailored to their needs.
For example, you can notify your customers about new content releases with push notifications, which can keep them engaged and help them feel like they're getting value from your content.
When we looked at our own data, we found that membership applications increased content views by 30%.
Increased access goes hand in hand with increased engagement, and the more engaged your customers are, the more likely they are to keep their monthly subscription.
By offering mobile apps, you're letting your subscribers watch your content on the go, like:
While commuting to and from work.
While waiting at the doctor's office.
During a stroll in the park.
When you make your content easy to access, you'll keep your subscribers for longer and reduce your churn rates.
💡How They Do It
Strala Yoga is an online yoga and fitness studio that combines tai chi techniques with yoga to help their members release stress.
Strala started as a YouTube channel, but as time passed, they wanted to grow their audience and get more engagement out of the audience they had grown on YouTube and social media.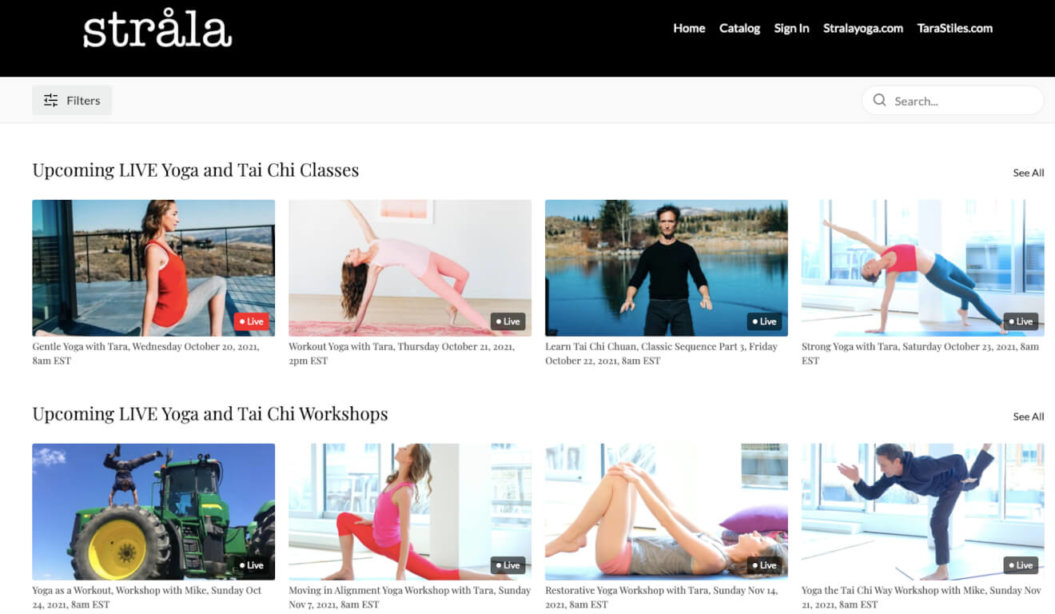 To do this, they created the Strala Yoga mobile app, a fitness streaming app where their members can access premium on-demand instructional yoga videos that can be done from anywhere.
With this combination of membership apps and a subscription business model, Strala Yoga was able to convert their YouTube following into a steady, recurring revenue stream.
They also gained the ability to properly market to their audience, as they can sell subscriptions, bundles, pay-per-view content, or even branded merch on their new membership app!
Strala did this by studying their audience well enough to know that they want to watch the training videos wherever they feel comfortable, whether it be on their iPad or TV, from the gym or studio and all the way down to their living rooms.
It's simple with Uscreen.
Build, launch and manage your membership, all in one place.
Cool, How Do I Create a Membership App?
Now comes the fun part: building your app.
When it comes to creating your membership app, you have 2 options:
Lease an app.
Hire an app developer.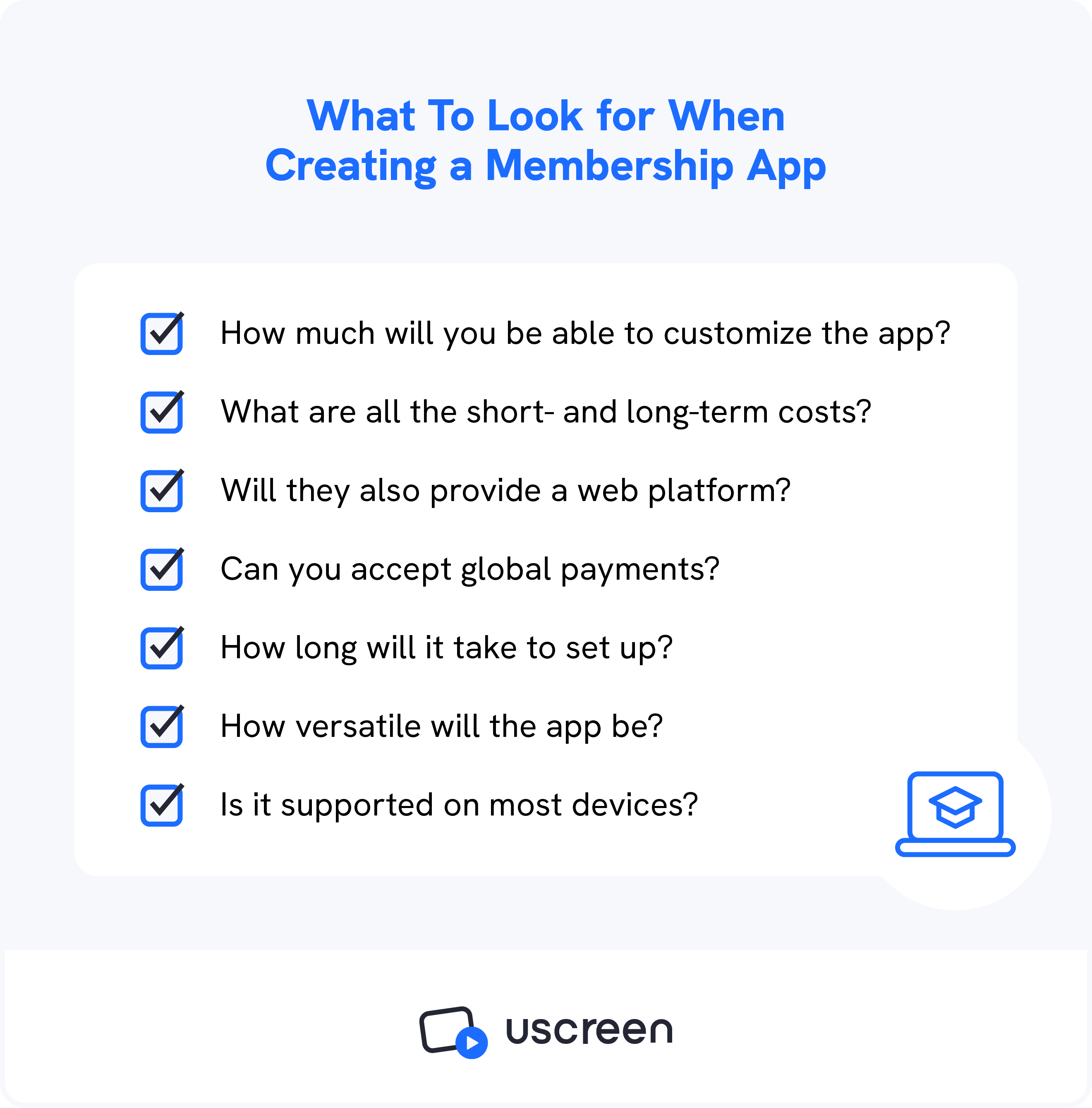 Which should you choose? We've broken it down for you.
1. Lease a Custom App
Leasing an app from an OTT provider is the most cost-effective and time-efficient way to launch a membership app.
Simply put, you rent your app from a company, like Uscreen, who handles all the tricky stuff like:
Creating the app.
Perfecting it for the app store (both Android and iOS).
Updating it when needed.
This leaves you free to focus on more important parts of your business, like creating your content.
The app is white-labeled and completely customizable, which means you can add your own style, branding, and messaging so nobody will ever know you're renting it from a third party when they find you in the app store.
If you were to launch your app with Uscreen, here's how it would work:
Open a Uscreen account and place an order for your app.
Get your video website ready by adding content.
Set up your app developer account.
Send us your mobile app requirements (the assets to build your app).
We create your app and have it ready for you to preview in 4 weeks.
We submit your app for approval in the app store.
Once it's published, you can launch it to your audience and celebrate!
For the duration of your lease, you'll also have full customer support, and we'll regularly update your app to make sure it's running smoothly.
2. Hire an App Developer
You could also enlist the help of a developer to build a customized app from scratch.
A developer will create and design a completely personalized app based on what you want: colors, logo, and any other requirements you might have.
However, because they're creating an app from the bottom up, it takes about 3 to 6 months from hiring to get the job done.
Hiring a developer costs about $10,000 to $20,000 on average, and you'll still have to consider monthly expenses for running the app, support, and hosting.
Consider how much you're willing to spend before you hire a developer, and remember to factor in maintenance and updates.
Once you've decided on this option, the next step is finding your developer.
For a simple membership app, you can find cheaper quotes on sites like Upwork or Freelancer.
If you want a membership application complete with all the bells and whistles, you'd be better off finding a high-end developer or agency. You can advertise the job on a site like Stack Overflow.
It's definitely an investment, but it will pay off in the long run.
Wrapping It Up
Now that you learned how to launch a membership app, you're just in time for the "Gold Rush," a nickname we coined for the perfect time to get into the app marketplace.
After that, it will be harder to establish yourself in the OTT app market, and staying ahead of the curve means you can stand out in your field.
So, the time to act is now.
If you want to launch a membership app today, Uscreen offers an all-in-one platform where you can build a membership site and a community with the help of the best experts.
Give Uscreen a try.
It's simple with Uscreen.
Build, launch and manage your membership, all in one place.
How To Launch a Membership App FAQs
Still have questions about launching your own membership app? We've got the answers.
What Are Membership Sites?How Do You Make a Membership App?
For content creators who are looking to create a mobile app, there are ways to create them yourself. The first step is creating your video streaming website, and Uscreen offers a step-by-step tutorial.
 
Next, you'll have to develop your app. This can take a lot of time and effort (not to mention coding skills), so most content creators work with a video hosting platform like Uscreen that can create fully branded custom apps for you. 

This leaves you free to focus on creating and uploading your video content once your app is ready!
Which Membership App Platform Is the Best?
We respect that there are many great membership app platforms out there.

With that being said, we still think that Uscreen is a fantastic platform that provides you with a number of truly innovative and valuable functionalities that can help you make the most of your video content.
What Are Membership Sites?
In its simplest form, a membership website is a gated site that hosts members-only content. 

They're used by nonprofits, clubs, associations, businesses, and content creators to "gate" content that only their membership database has access to in order to provide additional value. 

Uscreen offers a variety of intuitive website templates to get your customizable membership site launched efficiently.
What Is a Subscription-Based Business Model?
A subscription business model is based on selling a product or service in return for a recurring fee — usually on a monthly, semi-annual, or annual basis.
What Is Membership Management Software?
Membership management software is a computer software that streamlines processes by providing associations, clubs, and other membership organizations with the functionality they require to offer services to their members. 

They help with things like check-in, member profiles, member management, ticketing, forums, fundraising, attendance tracking, and access to a member database or member directory.