You're a creator with an eye for opportunity. You've got a global audience at your fingertips, waiting to be dazzled by your content.
What's in your trusty toolkit? An over-the-top (OTT) platform to run your video membership.
Maybe Vimeo OTT came up in your search for a new platform, and you're exploring more options.
Or, you've decided Vimeo OTT's lack of monetization and customization options are limiting your growth as a creator.
In this guide, we'll discuss 11 Vimeo OTT alternatives to consider when its not the right option for you.
Top Vimeo OTT alternative picks
| | | |
| --- | --- | --- |
| Name | Best for | Pricing |
| Uscreen | Video creators | $$ |
| Dacast | Non-technical creators | $ |
| Kaltura | Educational institutions | $$$ |
| Contus VPlayed | Audio streamers | $ |
| IBM Cloud Video | AI enthusiasts | $$ |
| Brightcove | Large enterprises | Quote-based |
| Muvi | Media houses | $$$ |
| Wowza | Developers | $ |
| Zype | Major publishers | Quote-based |
| Brid.TV | Ads monetization | $ |
| LIVEBOX | Indie content producers | $ |
What is Vimeo OTT?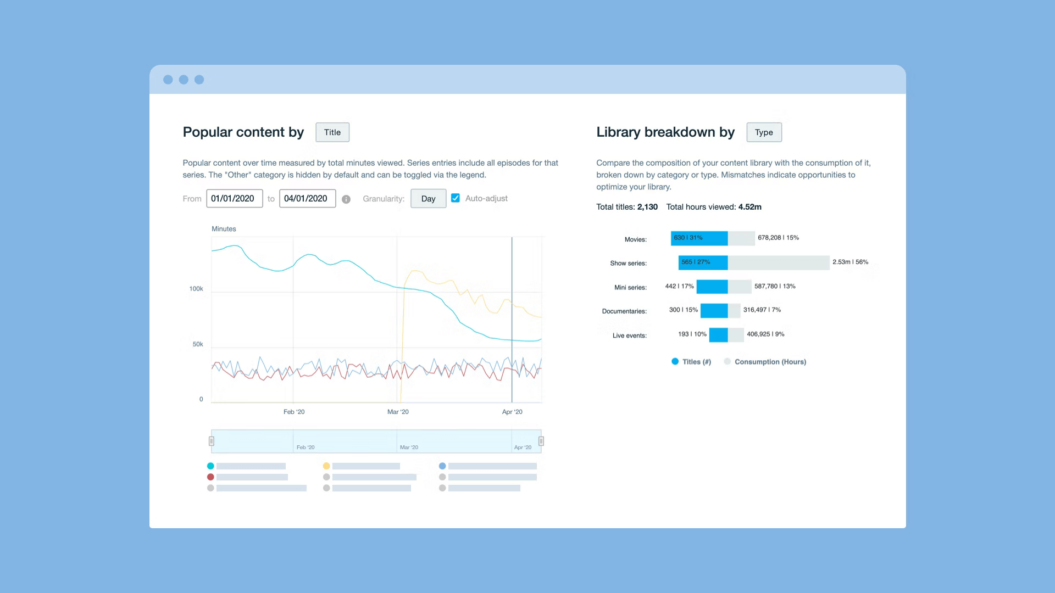 Vimeo is a popular platform for video hosting. Around 2017, after acquiring Livestream, Vimeo broke into the B2B space and eventually created its OTT offering: Vimeo OTT.
The platform is user-friendly and has all the basics for sharing exclusive content online. But it lacks customization options, built-in marketing tools, and monetization options. Vimeo OTT is more for beginners, while Uscreen is for experienced video membership site owners.
Best alternatives to Vimeo OTT compared
1. Uscreen
Best for: Video creators
Reasons to buy:
Branded OTT app across 7 major streaming services.
Immaculate, "Netflix-style" viewing experience.
Built-in community and marketing tools.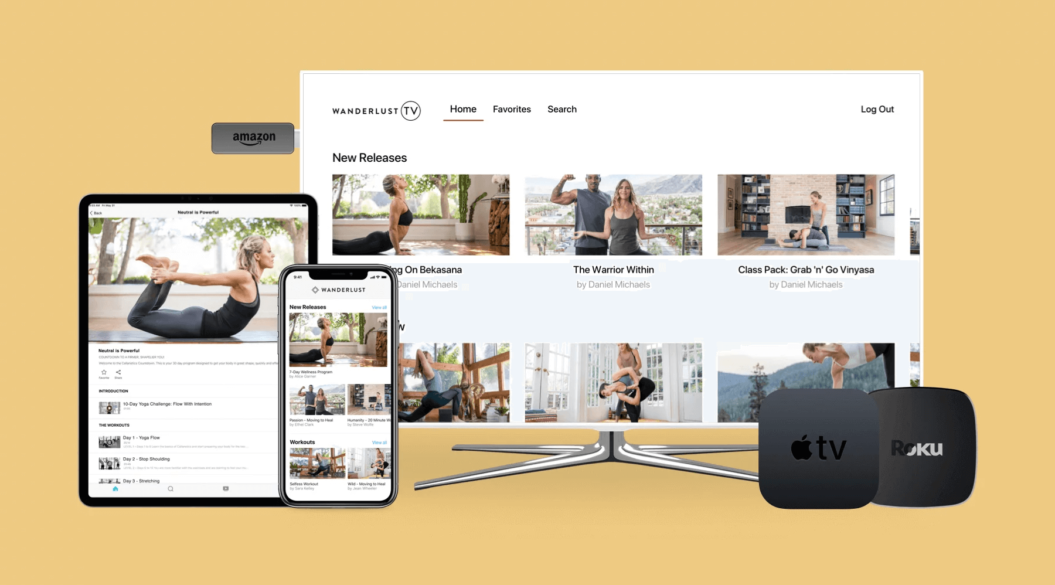 Uscreen is the #1 Vimeo OTT alternative for membership owners who want to deliver memorable viewer experiences. Our goal is to help you scale your existing membership business through on-demand video and live streaming for the web, smart TVs, and mobile devices.
Uscreen helps you build a customized website for your video business. These templates have a sleek look and feel, and can be personalized to make your brand stand out. Use our intuitive visual editor to add logos and adjust color schemes to create your signature look.
Here is an example of a membership website built with Uscreen:
Uscreen also offers a few features that differentiate itself from Vimeo OTT:
Payment experience: Accept payments through Stripe, Authorize.net, and PayPal. You also get direct payouts by using your own Stripe account.
Personalization: Members can create their own playlists and calendars for the content they love.
In-app purchases: People can purchase subscriptions right on your app, without needing to go through the website.
Apple Watch app: Launch your own fitness tracker and let members track their workouts on Apple Watch.
With Uscreen, you can build native mobile and TV apps that let you reach viewers through iOS, Android, Amazon Fire TV, Roku, and Apple TV. You get complete ownership of your app and can build your presence on multiple channels at the same time.
Something that I really value about Uscreen is that you guys are constantly upgrading features and asking me what I'd like to see next in the platform. That level of expansion, listening to your clientele and seeking to make it better for the people who are utilizing Uscreen is amazing.

Brooke Cates, Founder, Studio Bloom
Let's look a bit closer at a few standout features you can use to scale your membership business.
Netflix-style viewing experience
An organized catalog helps members find and watch your content with ease. With Uscreen, members see neatly arranged content broken down into categories (like Originals, New, Beginners). You can see this in play on Magic Stream's website below.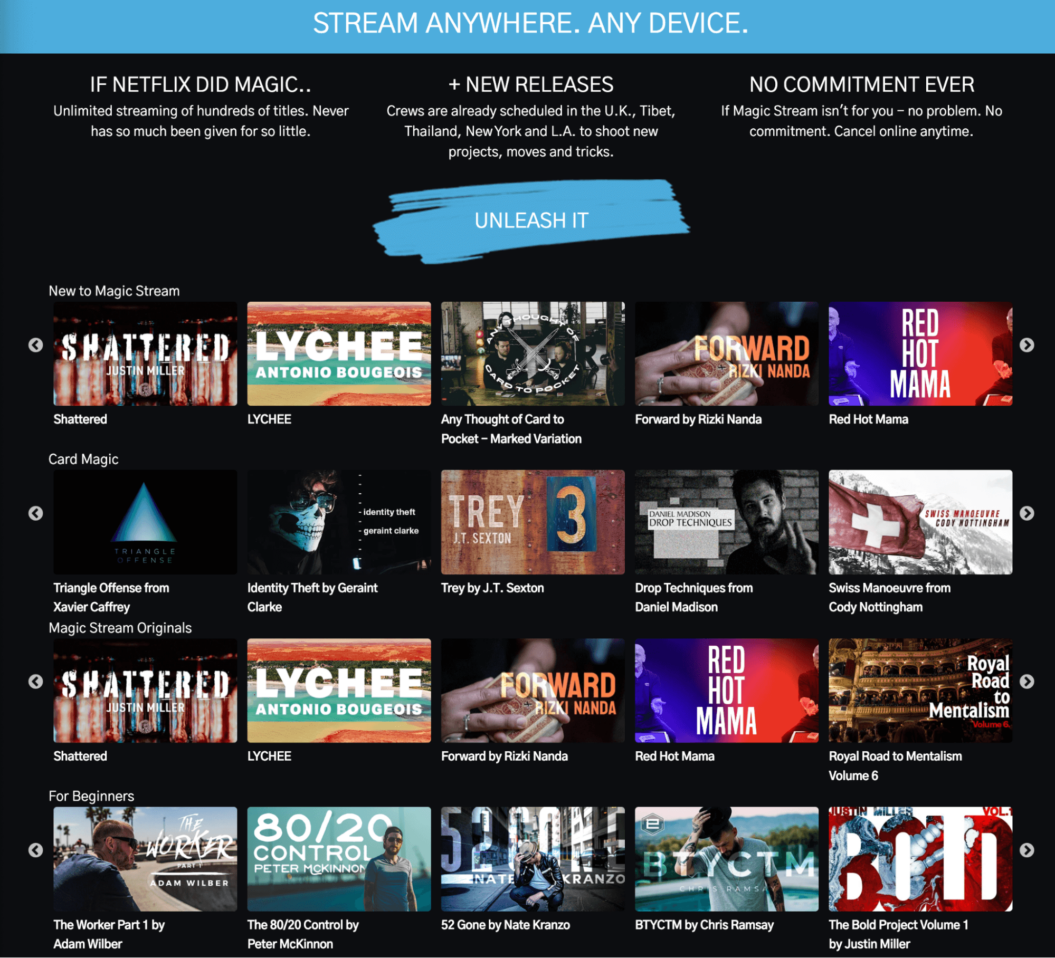 Members can also search or filter content by interests. Similar to Netflix, they can also click "continue watching" at the end of a video, encouraging binge-watching and content discovery.
Built-in community
Uscreen also provides a community space for you and your members to interact, share, and support each other. You can seamlessly share videos from your catalog and spark meaningful conversation amongst the community.
In the B•TRIBAL•FIT community, for example, co-founder and fitness creator Brooke shares pictures from her everyday life. Members also chime in with their thoughts, accomplishments, and images.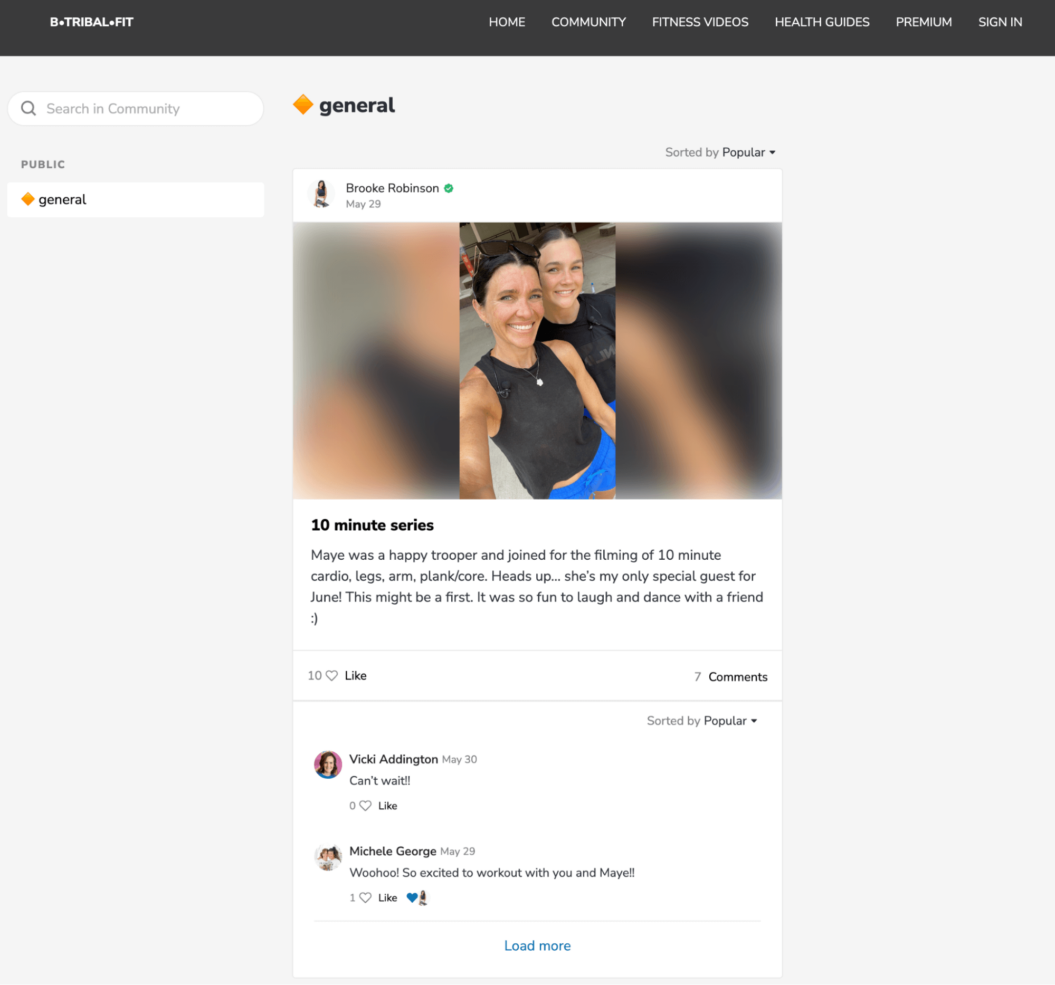 Uscreen's community feature works much like asocial media platform. People can post, explore profiles, and engage with other members. You can also create dedicated channels for specific topics, keeping conversations focused and making moderation easier.
Complete marketing and sales suite
In our unwavering commitment to your success, you also get access to a complete marketing and sales suite when signing up for Uscreen.
These tools are designed specifically for subscription businesses and cover every stage of the customer journey, from lead generation to nurturing and reducing churn.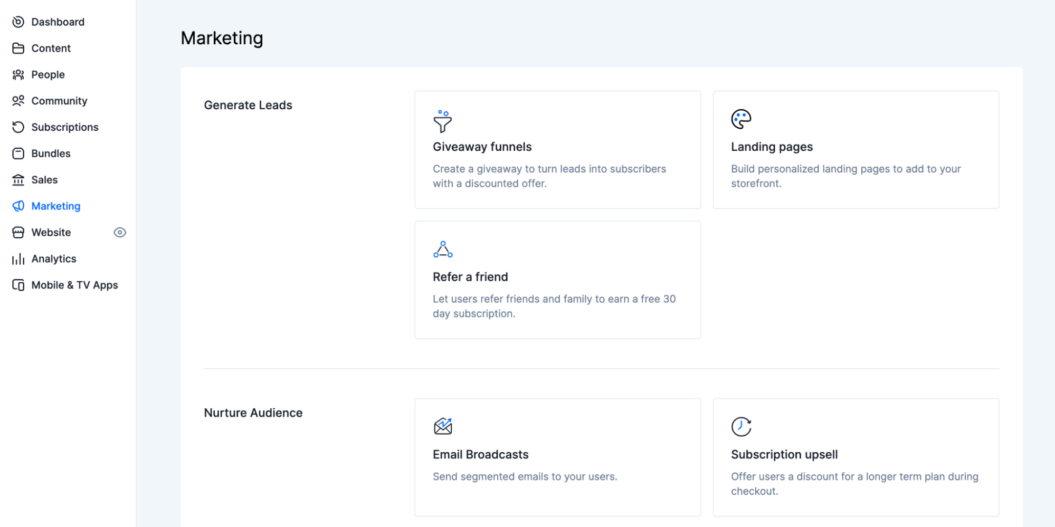 "One of the built-in features we love most is the ability to offer a unique subscription upsell at checkout", says Brooke Robinson, co-founder of B•TRIBAL•FIT. "Instead of the typical monthly versus annual option, our customers receive the annual discount but for a six month sub. Between five and ten percent of our new subs are taking advantage of this, and it's great."
Here are some things you can achieve from your dashboard:
Run giveaways.
Set up referral programs.
Create email campaigns.
Design subscription upsells.
Make coupons and gift cards.
Send push notifications.
Integrate with Mailchimp, Google Analytics, Facebook and more.
Vimeo OTT to Uscreen case study
When Studio Bloom founder Brooke Cates realized her pre- and post-natal workouts could help other women, the key was finding a video-on-demand (VOD) platform customers would love using.
Brooke and her team tried Vimeo, but found the platform wouldn't grow with them. Brooke wanted to compete with the big platforms, like Peloton and OB Fitness, and there were too many limitations.
After migrating to Uscreen, Brooke worked with Uscreen to develop all of Studio Bloom's OTT apps, plus an Apple Watch tracker app.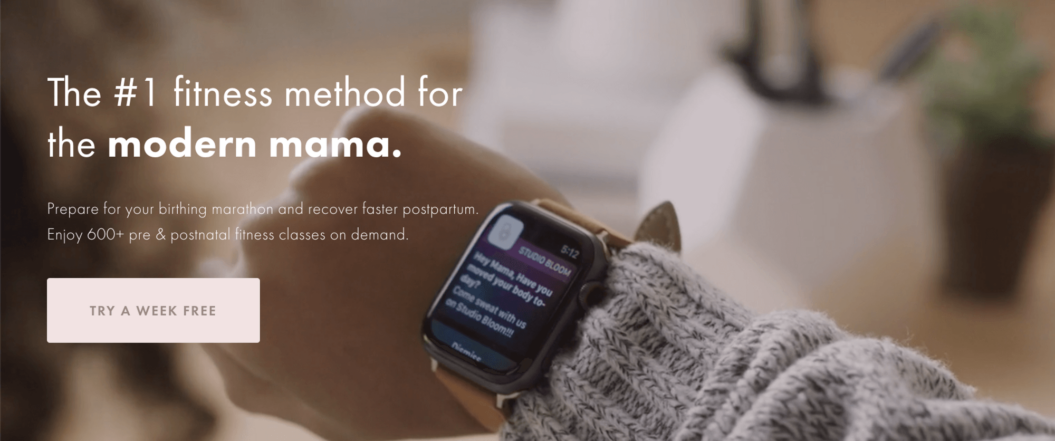 With Uscreen, Studio Bloom launched a variety of OTT apps that made them a true contender in the fitness streaming industry. Its OTT service helped build loyal customers and show these "modern mamas" that the brand understood their needs.
Studio Bloom was able to increase revenue to over $87,000 per month quickly, and has continued to grow over 2.5 years later. They were so successful 10 months after launching their apps, Brooke took her business completely online.
"The success of the apps showed me I could have more freedom for myself and my family, and a greater reach for my business," she explains. "They did laps around what we could do financially with in-person studios and allowed us to reach a global space. "
Other notable features:
HTML5 HD online video player.
Customizable VOD templates with branding options.
Multiple monetization models, including TVOD, SVOD, and AVOD.
Detailed analytics and reporting tools.
Adaptive bitrate video playbacks.
CRM capabilities.
Video hosting and live streaming.
API access.
Pros:
Control over branding and design.
In-app community.
Upsell opportunities.
Easy migration from Vimeo OTT.
Incredible customer support.
Pricing: $$
2. Dacast
Best for: Non-technical content creators.
Reasons to buy:
White label solution.
Branded video showcase.
24/7 technical support.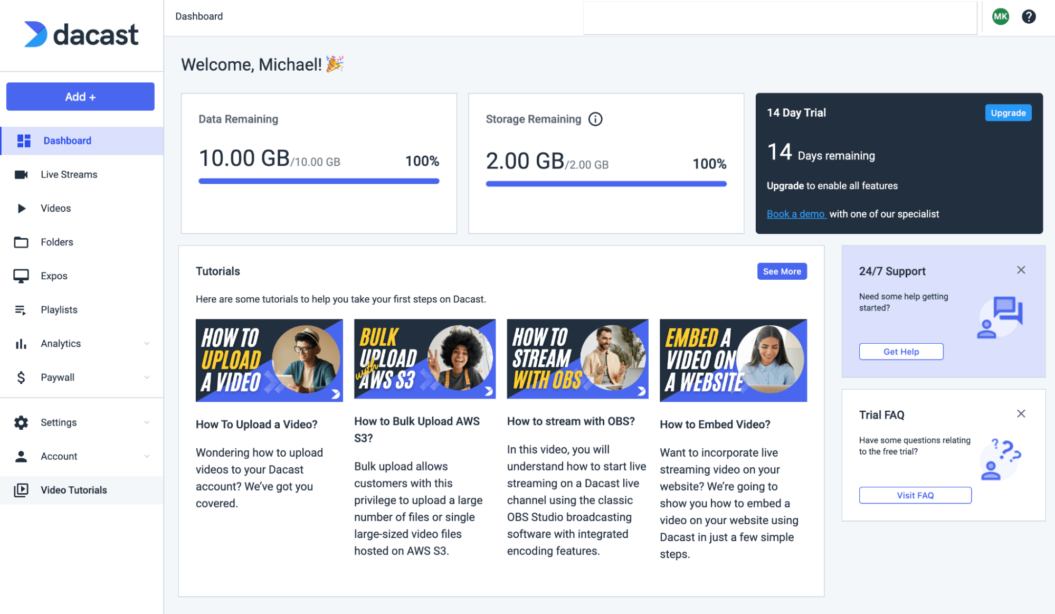 Dacast is a self-service video platform for live video and VOD streaming. Its white-label solution lets you control the branding of your live streams and on-demand content. Dacast also offers professional tools and utilities through cloud computing, and uses Akamai Content Delivery Network to reach a global audience.
It's commonly used in enterprise streaming, media and entertainment, sports broadcasting, and even educational live streaming. However, it may not be the best choice for those seeking interactivity and flexible monetization​.
Features:
Global CDN to ensure high-quality streaming.
Video API access.
Supports SVOD, TVOD, and AVOD.
Security features like geo-blocking and encrypted streaming.
Real-time live streaming.
RTMP and HLS channels.
Multi-bitrate streaming.
White-label video player.
Simulcast.
Pros:
Allows OTT streaming to users around the world, including China​.
Customize your landing pages to reflect your brand.
Secure video hosting.
Organize and manage videos through the content management system (CMS) portal.
Cons:
Bandwidth is limited on lower-tier plans.
Lacks built-in video editing tools.
Fees are partially usage-based, which can be expensive for broadcasters expecting high viewer volumes​.
Pricing: $
3. Kaltura
Best for: Educational institutions.
Reasons to buy:
LMS integration.
Robust activity dashboard.
Automated captioning.

Kaltura is used by big institutions for everything media. It offers an embedded Learning Management System (LMS) to support engaging learning experiences. The platform is also open source and allows for extensive customization for enterprises.
Kaltura has grown a reputation for excellent media management and distribution. It offers end-to-end media preparation, from acquisition to transcoding, packaging, dynamic ad insertion, and distribution to the CDN. It can also serve multiple users and sessions, providing a user-friendly platform for hosting concurrent events and integrating backend analytics.
Features:
End-to-end video services.
Interactive elements like quizzes and hotspots.
Live streaming with added DVR, chat, and annotation.
Supports subscription, pay-per-view, and AVOD.
AI-powered insights.
Kaltura Classroom.
Screen capture.
Integrations with various business applications.
Pros:
Supports multiple users and sessions simultaneously​​.
Clean and simple user interface.
Automatic captioning.
Fast-loading players supporting over 8,000 device types.
Supports any content type and payment method.
Cons:
Reportedly difficult implementation.
Big learning curve.
Takes long time to upload videos.
Pricing: $$$
4. Contus VPlayed
Best for: Audio streamers
Reason to buy:
Supports 100+ integrations.
100% customizable.
Fast implementation.
Contus VPlayed is an advanced OTT solution that lets you build customizable video and audio on-demand platforms. It supports live and on-demand streaming, ensuring a top-notch streaming experience across web, connected TV, and mobile devices​.
It provides a centralized Video CMS for bulk uploading and automatic transcoding of content. It also offers video and audio scheduling with custom thumbnails, a partner portal for performance tracking, and a cloud video streaming solution that optimizes bitrate for high-quality streams​.
Features:
Bulk upload and auto-transcoding.
Custom thumbnails for videos.
Performance tracking, white-label portals.
Optimized high-quality streaming.
Repackage into multiple formats.
Supports various formats, codecs for buffer-free streaming.
Streams live across platforms like Web, iOS, Chromecast, Android, and more.
Pros:
Fully customizable.
Built on microservice architecture for faster time-to-market.
One-time license fee.
Post-launch support.
Cons:
Complex to navigate for beginners.
More expensive compared to other basic video streaming platforms.
Need a certain level of tech knowledge to use all platform features.
Pricing: Custom quote.
5. IBM Cloud Video
Best for: AI enthusiasts
Reasons to buy:
Scalable infrastructure.
Integrates IBM's Watson AI technology.
Excellent connectivity and speed.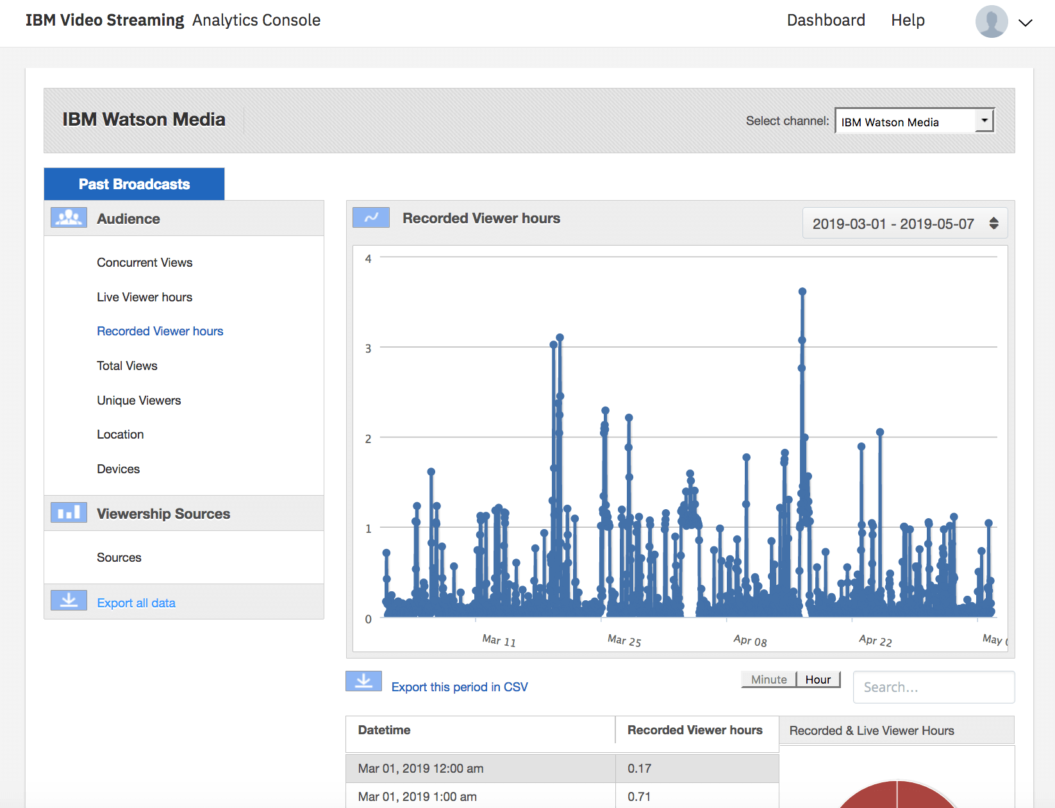 IBM Cloud Video is a scalable, robust platform for live streaming and on-demand videos. For corporations with high-quality streaming needs, a variety of audiences, and advanced analytics, this is for you.
Aside from video management, the platform also offers encoding, transcoding, distribution, and analytics tools to deliver video content. If you plan to stream employee communications, concerts, or commercial promotions, IBM Cloud is a great option.
Features:
Scalable video delivery.
Advanced video analytics.
Automated captioning.
Lead capture.
AI video highlights.
Video syndication.
Multi-format transcoding.
Integration with IBM Watson.
Pros:
No resolution or bitrate limit on HD live streaming.
Plays on all devices, including smart TVs and mobiles.
Customizable channel pages.
Live chat option with Q&A section available.
Cons:
Limited white-label features on lower-tiered plans.
Feature-rich and complex for beginners.
6. Brightcove
Best for: Large enterprises.
Reasons to buy:
High-end video platform.
Comprehensive analytics.
Robust customization and integration options.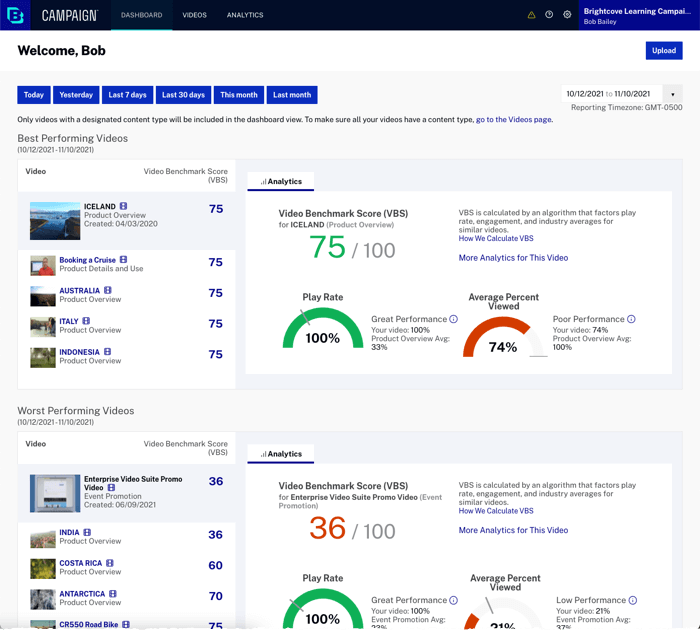 Brightcove is a video hosting platform with a suite of tools to manage, publish, and monetize videos. Brightcove's Video Cloud service offers a centralized platform to manage your video library. It's used by enterprise brands like Premier League and Johnson & Johnson.
Brightcove's APIs and SDKs let you integrate video functionality into your own applications. As a Vimeo OTT alternative, Brightcove can help you build a custom video solution. You'll also get access to a marketplace with many different integrations. Plus, monetize your content with SVOD, AVOD, and freemium options.
Features:
All-in-one video hosting and publishing.
Easy event broadcasting and integration with Video Cloud.
Branded video experience.
Customizable landing page.
In-Player purchasing.
Viewer data integration.
SSAI.
Pros:
Deep insights into viewer behavior and video performance.
Powerful integrations with CRM systems and automation tools.
Excellent video delivery.
Brightcove Beacon lets you stream across multiple platforms at the same time.
Cons:
Customizing the video player requires learning a unique coding language.
Primarily flash-based, requires additional HTML code for mobile-ready experience.
Access to some developer tools are restricted on lower tiers.
Pricing: Quote-based.
7. Muvi
Best for: Media houses.
Reason to buy:
End-to-end OTT solution.
1-click deployment.
1,000+ Enterprise-grade features.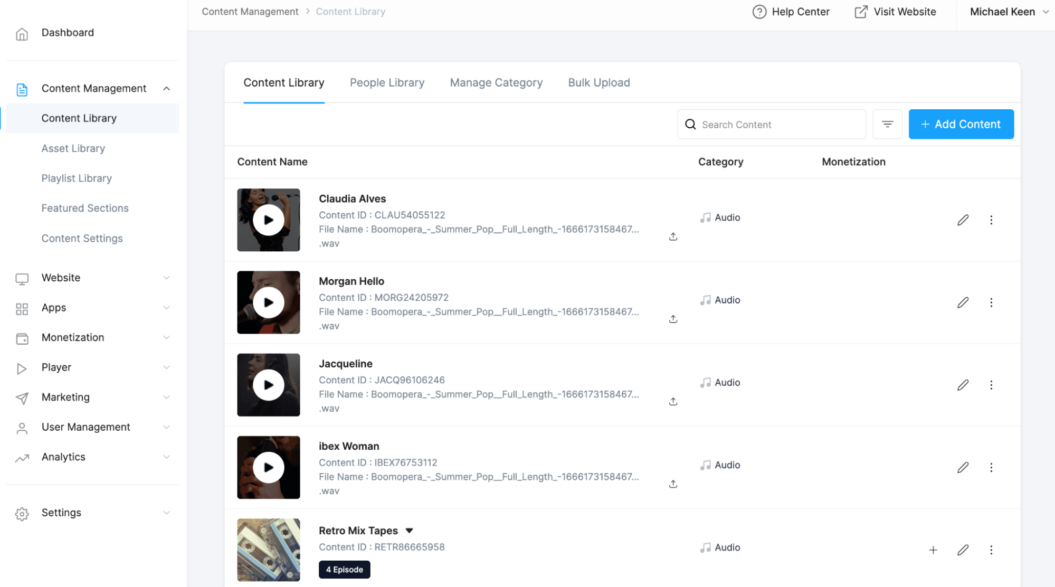 Muvi is another popular Vimeo OTT alternative with an ecommerce twist. The cloud-based solution lets you build custom VOD and live streaming channels for your brand. It also offers Muvi Kart, which lets you sell physical products to maximize revenue.
Muvi is geared toward indie producers. It handles all the technical aspects of your OTT service, like IT infrastructure and payment gateways. Plus, Muvi uses AWS CloudFront CDN to deliver your content unbuffered around the world.
Features:
Multi-screen OTT.
Native mobile and TV apps.
Advanced content manager system.
Flexible content uploading.
Related content cards on videos.
Full-featured, customized website.
Option to watermark videos.
Pros:
Unlimited video uploads, supporting videos up to 63GB.
Quick and easy setup, no coding required.
Cloud-hosted, supporting live broadcasts, VOD, and ecommerce.
Cons:
Limited website templates.
Limited video marketing functionality and integrations.
Confusing CMS workflow.
Pricing: Paid plans start at $399 per month.
8. Wowza
Best for: Developers.
Reasons to buy:
Flexibility and customization options.
Developer friendly.
30-free trial.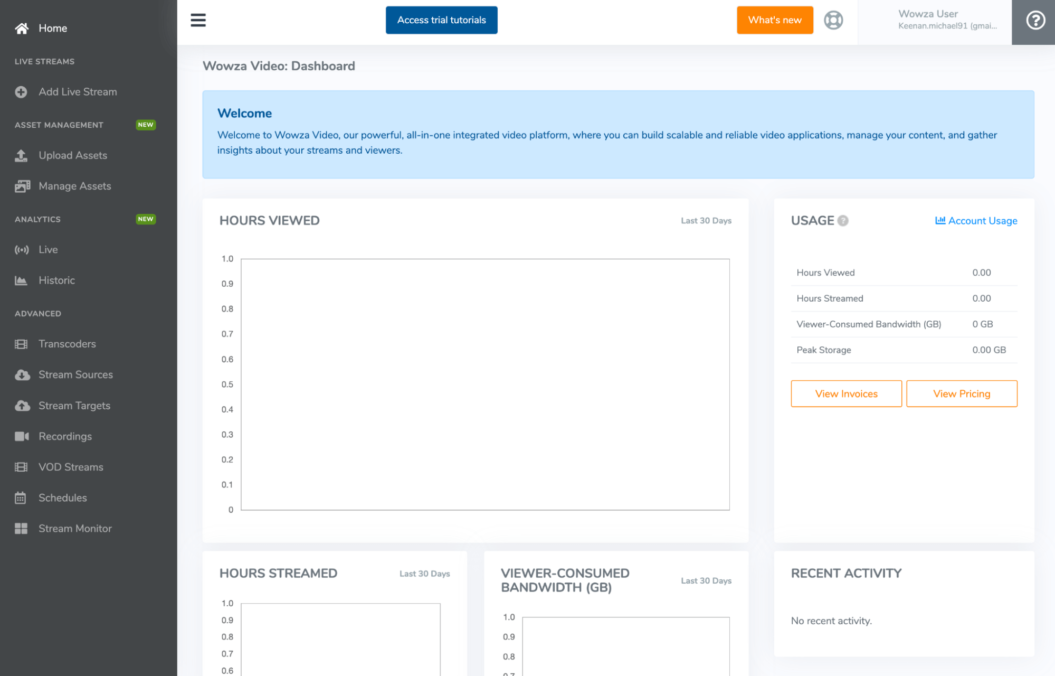 Founded in 2005, Wowza Streaming Cloud is a big player in the OTT space. It makes getting up and running easy and affordable for small businesses, nonprofit organizations, retail, esports and government. To stream content, you only need an iPhone with Wowza's free GoCoder app and an internet connection.
When you're ready to take streaming more seriously, you can easily incorporate high-quality audio and video, and a front-end encoding solution. Wowza can be as simple, or as complex as you want it to be. You have full access to Wowza's API and SDKs to develop a highly customized streaming process easily.
Features:
Simulcast to social media platforms like Facebook and YouTube.
Stream in multiple cases: RTMP to HLS/DASH, RTSP to HLS/DASH.
Secure token streaming with CDN.
Protected internal corporate streaming.
Transcoding to lower quality.
360-degree video support.
API access.
Real-time analytics.
Pros:
Scalable and flexible broadcasting possibilities.
Trusted by many large organizations.
Easily customized to meet specific needs.
Great support, tutorials, and an active user community.
Cons:
Limited social media integration.
Limited monetization tools.
Higher Pricing than competitors.
Pricing: $
9. Zype
Best for: Major publishers.
Reasons to buy:
Fully managed workflows.
Speed to market.
Award-winning customer support.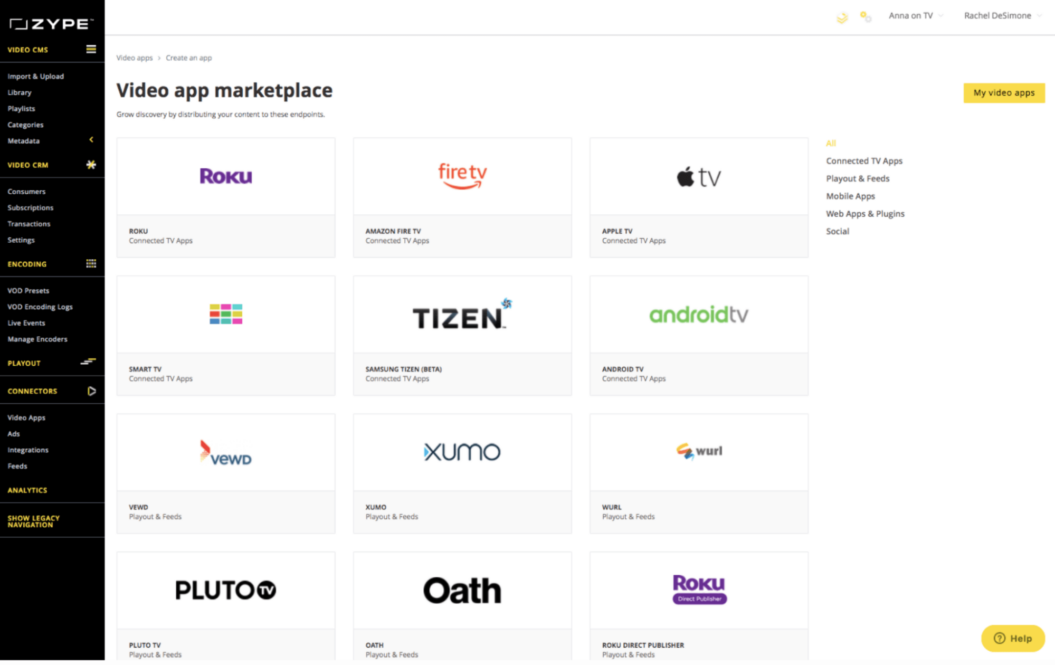 Zype is a powerful and reliable cloud-based video management and distribution tool. Zype X, its OTT platform, lets you stream content across web, mobile, smart TVs, and gaming consoles. You can build and launch OTT apps through its App Creator.
With no code app building, you'll get a customized app for every platform. Zype also handles your app store submissions and OS updates to keep apps functional. You also have flexible monetization options, like ads, sponsorships, metering, and more. Companies like Barstool Sports, WIRED, Harvard Business Review, and POLITICO use Zype to monetize their content.
Features:
Easy to design app layouts.
Responsive dashboard.
Content cataloging system.
Video monetization options like TVOD, SVOD, and AVOD.
Multi-region configuration and multilingual support.
Security and analytics, including Digital Rights Management (DRM)
Third-party integrations with subscriber management and payment platforms.
Pros:
Integrations with Zype's Streaming Platform, including CMS and CRM.
VOD and Live OTT video content delivery.
Well-documented and extensible API.
Cataloging customization.
Cons:
Lacks social media integrations.
Limited reporting tools.
A bit pricey.
Pricing: Custom quote.
10. Brid.TV
Best for: Ads monetization.
Reasons to buy:
Generous free plan.
Help with building OTT app.
Immense ad monetization options.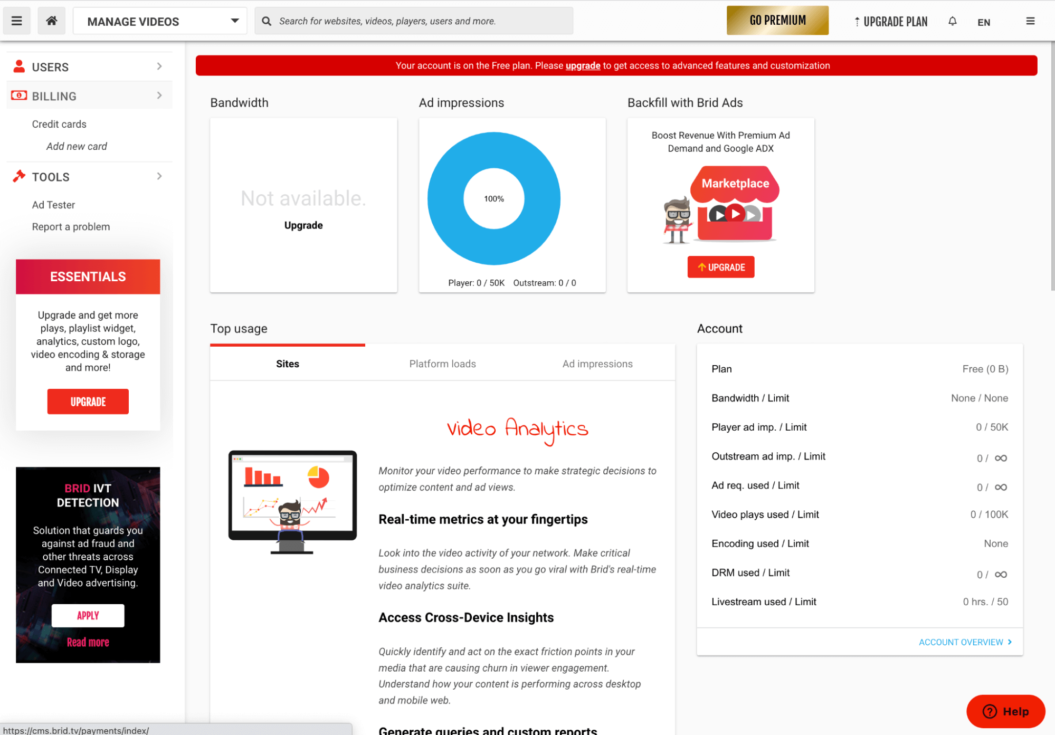 Brid.TV is another Vimeo OTT alternative geared towards big brands looking to monetize with ads. It offers one of the fastest HTML5 video players and doesn't charge usage fees.
You can monetize your videos through many different advertising streams: ad pods, header bidding, pre-, mid-, post-roll, and more. It also integrates with Google IMA SDK. With a paid plan, you can access a marketplace to find advertising partners and earn more revenue.
Features:
Ad inventory management.
Ad optimization.
Audience analytics.
Content library.
File management.
Mobile ad serving.
Video creation.
Video management.
Real-time analytics and reporting.
Pros:
Billing management system.
Brandable HTML5 video player.
Live streaming and DVR.
AI content matching.
Cons:
Steep learning curve.
Glitchy live streaming.
Pricing: $
11. LIVEBOX
Best for: Indie content producers.
Reasons to buy:
Simple video uploads.
Monetization options.
WhatsApp and phone support.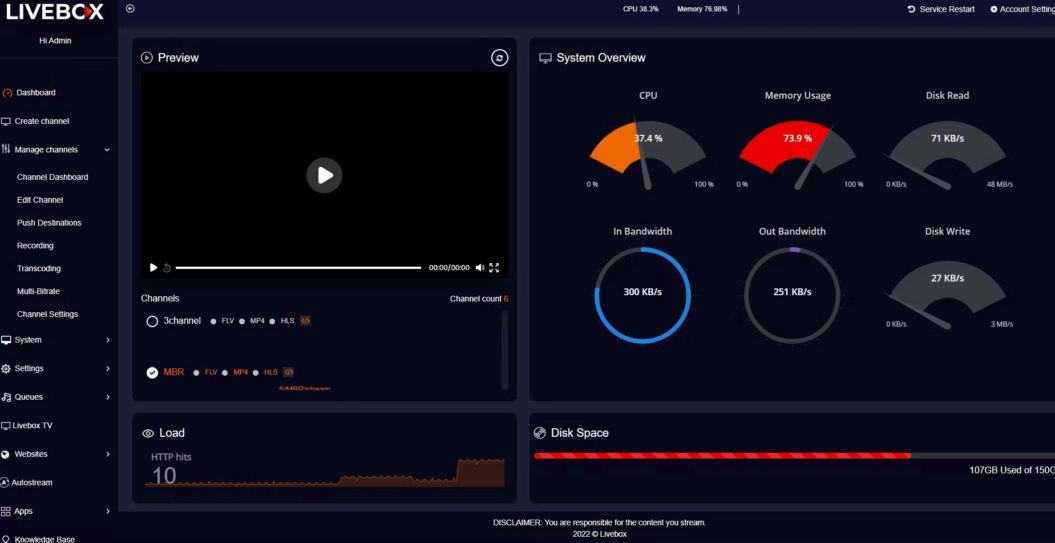 LIVEBOX is for storing video, transcoding, web conferencing, and distributing media across many different channels. It lets creators kickstart their own streaming platform, cloud payout, or OTT service quickly and easily. LIVEBOX has a server, load balancer, and an endless list of features to launch your content.
Its OTT Toolkit lets you launch an OTT platform in seconds, right from your browser. You can distribute content for free or put it behind a paywall. Plus, monetize your content with ad overlays, break-in video ads, on-pause ads, and more.
Features:
Multiple ways to monetize videos.
Push notifications.
No software or downloads.
Custom subscription plans.
Secured user experience.
Existing LIVEBOX server integration.
Pros:
Social media and payment systems integrations.
Unlimited simulcasting and cloud-based video automation.
One-stop solution for streaming needs.
Cons:
No free trial or version.
No AI features.
Pricing: $
Finding the best Vimeo OTT alternative for you.
Vimeo OTT is good for beginner creators looking to monetize content online. But if you want to achieve your financial and life goals, Uscreen has everything you need.
By building a membership business on Uscreen, you can create engaging experiences for members, on their favorite devices, anywhere in the world. Everything is in one place, including live streams, marketing tools, and community features.
So you can build a thriving, meaningful business that makes an impact on the world.
Vimeo OTT alternatives FAQ
What can I use instead of Vimeo?
There are several alternatives to Vimeo for video streaming and hosting, including Uscreen, Dacast, Kaltura, Muvi, and StreamYard. 
Is Vimeo the same as Vimeo OTT?
No, Vimeo and Vimeo OTT are not the same. Vimeo is a platform for hosting, sharing, and streaming videos. Vimeo OTT is a specific service that allows creators to build their own subscription or pay-per-view streaming service, similar to Hulu.
How much does Vimeo OTT cost?
Vimeo OTT's revenue model is by transaction, which means there are no upfront costs or subscription fees. Basic fees include $1 per subscriber, per month + merchant fees of 2.5% + $.30. For buy and rent, Vimeo OTT charges 10% + $.50 per transaction.