Music plays a vital role in your fitness business.
It's an incredible tool to energize and engage your customers in their workouts.
But:
Using music online is a legal minefield that creates a real sticking point for trainers and instructors looking to move into online fitness.
So how can you use music without getting slapped with a lawsuit?
Well, we're here to show you. It's a complicated topic, but there are a number of ways to incorporate music into your online sessions.
Let's take a look…
Editor's Note: We have done our best in this article to provide insight and advice based on current industry best practices. However, we are not lawyers and regulations change frequently and can vary depending on your location. Therefore, we highly recommend you do your own due diligence and speak to a professional. This article is just a good place to start.
What You Need To Know About Online Fitness Music Licensing
US Copyright Law requires you to have a license, or the artist's permission, to use a song for "public performance." Your free and paid online fitness content falls into this category.
This means there's no legal way to use an artist's music without a license or permission.
Now:
Many trainers and instructors fall into the trap of thinking they acquire a license when they purchase a song on a third-party platform, like Apple Music or Spotify. But, you can only use songs purchased this way for non-commercial use.
Here's the important legal section of Apple's T&C's, for example:

Basically, if you're dancing in your kitchen with a couple of friends, you have a license. But you can't use it to host a dance class in your local studio or online.
If you do use music without a license or permission, you'll likely run afoul of associations like:
These bodies represent most major artists and actively enforce their copyright laws. These are the people who can (and will) sue you if they catch you. And, the stakes are high if they do.
Peloton had to remove 70% of their video on demand classes as a result of a $150 million lawsuit filed against them in 2019. No business, of any size, is outside of their reach!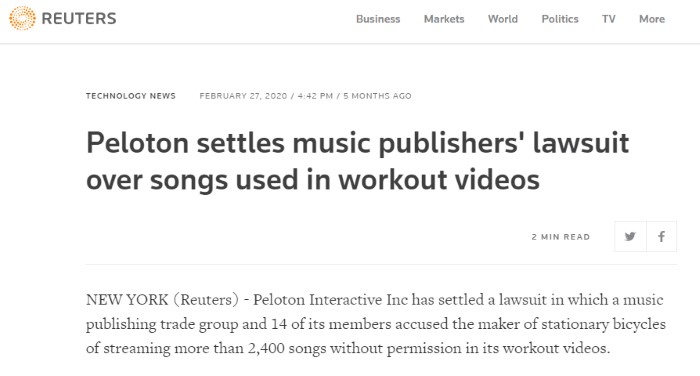 Brick-and-mortar studios can acquire licenses from BMI and ASCAP to play their artist's music. Or, they can use a service like Spotify's Soundtrack Your Brand to play the latest radio hits.
But options to license original songs for use in your online fitness content are sparse for a number of technical legal reasons. Which begs the question:
How can you use high-quality music in your videos without breaking the law?
Well, there are 2 options you can explore. Let's take a look.
2 Ways To Legally Use Music In Your Online Fitness Videos
In this section we're going to look at 2 options for your fitness video content:
The Safest Option: by using available licensing services
The Music-Free Option: by using shareable Spotify playlist
Before committing to either of these options, you need to think carefully about your customer's experience and the potential risk to your business.
1: The Safest Option
The safest option is to acquire a license from a music provider. You can do this by registering with a company like:
These organizations provide subscription licenses that cover a wide range of music types, including a sport and fitness category: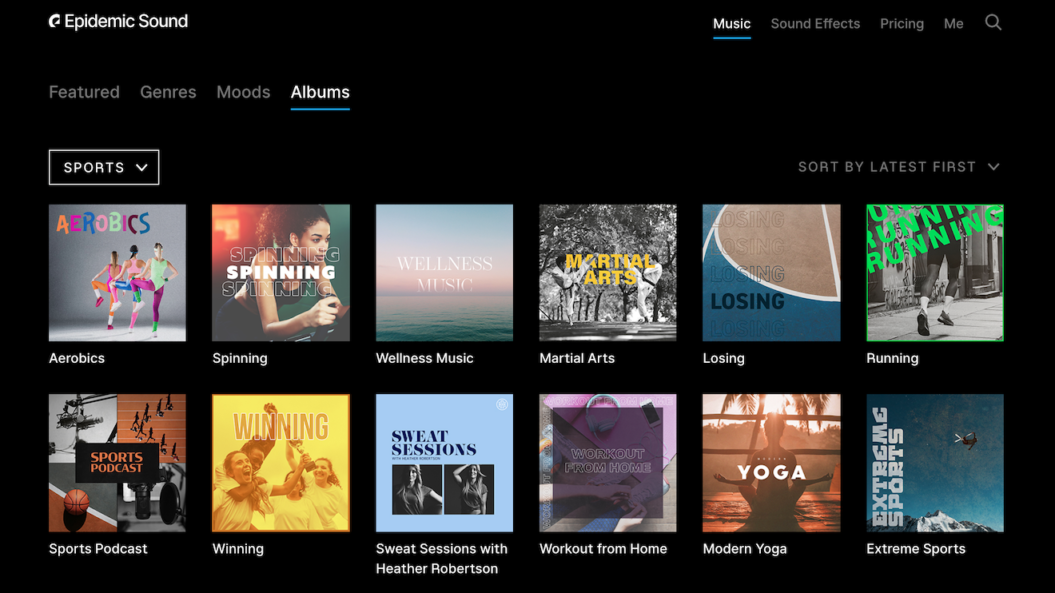 These tracks have been created in collaboration with world-class songwriters, recording artists, and producers.
The PROS of using these services are:
They're legally cleared for video streaming services to use
They have a wide range of music
They have playlists purpose-made for fitness classes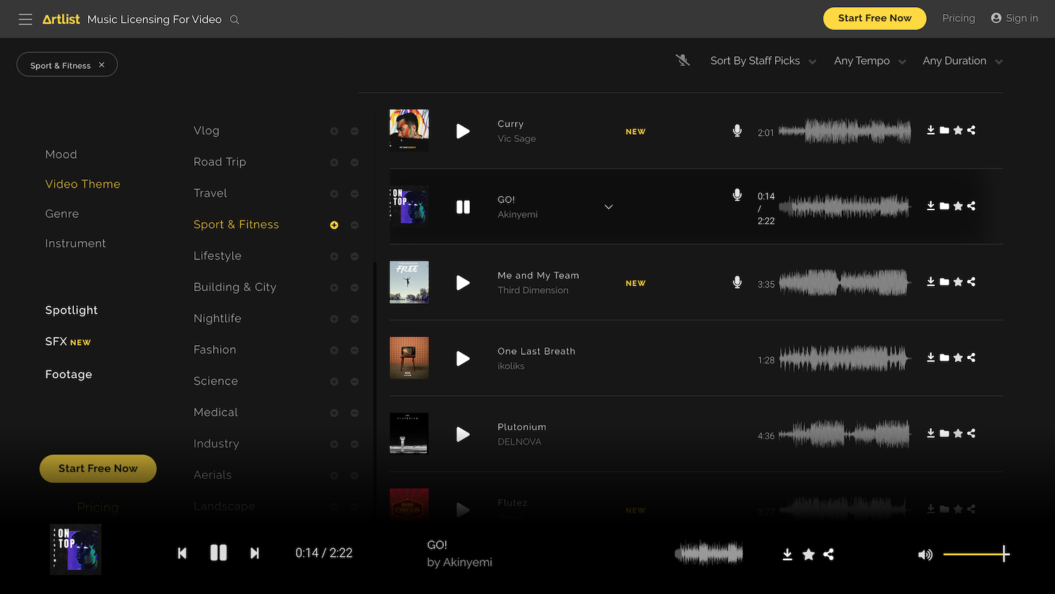 The CONS of these services are:
You'll need to put in work to find the right tracks
You're bound to their musical library
We honestly wish we could say there was a license that would give you access to the latest "radio hits" to use in your videos. But, sadly, that's not the way the music industry works.
However, these licensing options are a great substitute that is much cheaper than legal fees and lawsuits. Plus, songs are often adapted to help you build the intensity you need.
(And let's be honest, 30 minutes into one of your classes and people will be too focused on catching their breath to worry about who's singing!)
2: The Music-Free Option
This technique sits in a legal grey area. So, you should seek the advice of a professional before using this.
We have seen several online fitness studios record what they call "music free classes." These videos are recorded without music but are choreographed to fit a specific playlist of songs.
Think of it like someone recorded an in-studio class using a microphone that only captured your voice, not the music in the background.
The creator then shares a playlist they've created on a third-party music streaming site, like Spotify, in the description of their video:

The customer can then access this playlist and stream it through their home speakers, without breaking the terms and conditions of the Spotify license.
The PROS of using this technique are:
You can pick and choose the music freely

You can use songs your audience know and like
The CONS of using this technique are:
Your customers need to synchronize the music to your videos

It increases the cost of your service because customers need Spotify access

Customers without a third-party music subscription cannot use your videos effectively

The law is not 100% clear on this
It's also worth noting that if you use this method in your videos and eventually have to stop, it could have a negative impact on your brand.
Peloton's change in music hit their customers hard: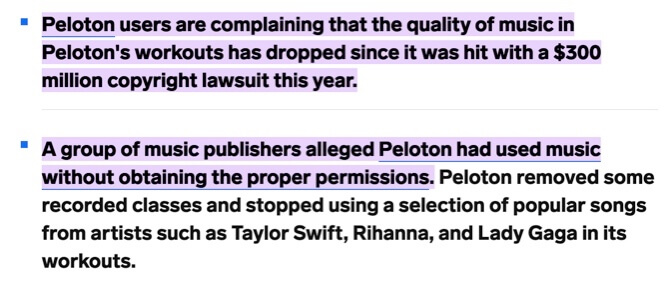 So it's worth considering if this is a risk you want to take.
5 Audio Tips for Fitness & Yoga Livestream Classes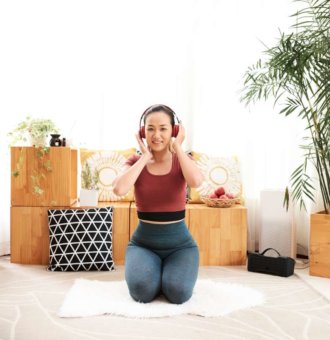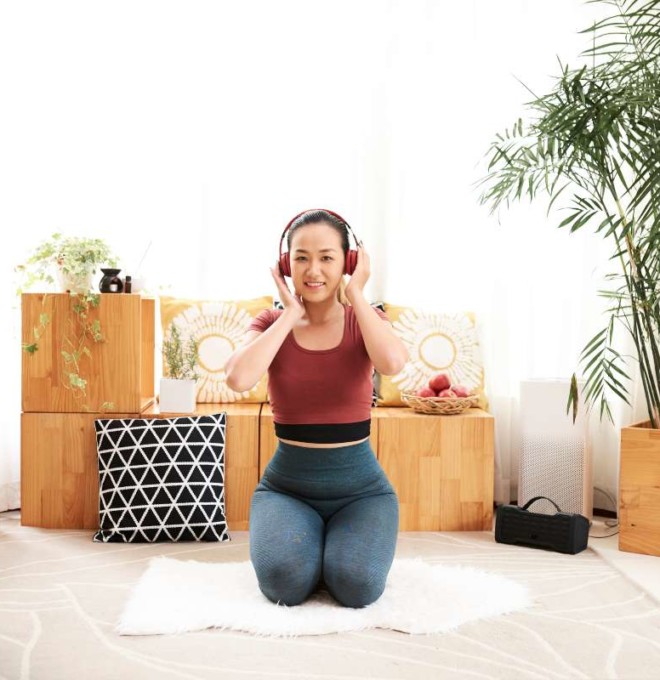 Wrapping This Up…
You legally need a license or the artist's permission to use a song in your online fitness videos.
There is currently no legal way to use music without a license or permission.
You can save yourself a lot of money and headache by taking one of these 2 options:
The Safest Option: by registering to Epidemic Sound or Artlist
The Music-Free Option: by using shareable Spotify playlist on "music free" videos
We highly recommend you seek professional advice before using either of these methods, to check what is legal in your location and the areas your business operates.