Does this sound like you?
You've invested a lot of time and effort growing your Instagram following. You carefully craft each update to ensure it's just right, and you get great engagement every time.
In fact, you've gained so much momentum it feels like you're ready to finally start making money. But there's just one problem…
You don't know how to monetize your Instagram following.
It's frustrating, isn't it?
You've put so much into it and it feels impossible to get anything out. Like you're sitting on a goldmine with no way to access it.
But you're about to change all that. How?
By learning some of the simplest and most effective ways to make money on Instagram in 2020. We're going to show you how the pro's make their money on, and off, the platform and let you turn those likes and comments into monthly payments.
What You'll Learn
How many followers you need to earn money on Instagram

How to use everyday products into Instagram payments

Why your favorite brands

want

to pay you to post

How to monetize Instagram by creating your own subscription video website (or what we like to call Netflix-style website)

And much more…
Click here to watch the video -> youtube.com/watch?v=c2kiB60Qf0Y
How Many Followers Do You Need To Start Monetizing Your Instagram?
Your follower count isn't anywhere near as important as your status; you need to be considered a micro-influencer before you begin to monetize. What's that?
According to a study by Wharton School Professor  Dr. Jonah Berger:
"Micro-influencers are not traditional celebrities, but rather individuals who work in their category or are truly knowledgeable, passionate and authentic and are seen as a trusted source when it comes to recommendations of what to buy."
Micro-influencer status isn't predicated on your follower count, rather the engagement and trust of your audience. You could have 1,000 or 100,000 followers and still be able to monetize your Instagram.
But the more engaged followers you have, the more your Instagram feed is going to be worth. So, I recommend you hit the 10,000 follower mark before looking to monetize. Why?
Because:
You can sell to a larger number of people (if you have 5% engagement you'll reach 500 users)

You can use in-app functionality like

sharing links in your stories

which is unavailable below the 10,000 follower mark

You can question your follower base to get a clear idea of products/services they want to see

You can offer a larger return on investment to brands and advertisers
If you've not hit 10,000 people, it's probably better to focus on building your brand than trying to make money right now. It'll pay off in the long run!
But if you do have enough followers, you can dive right into the list below and see how you can monetize your Instagram.
This post will show you the top 6 proven ways to monetize your Instagram following in 2020, including a helpful infographic to save and share, followed by details on how to get started with each method.


And there you have it! The top 6 ways to monetize your Instagram. If any of these methods tickles your fancy, you can learn more about it below:
6. Sell Affiliate Products 
5. Advertise Brand Products
4. Sell Self-Branded Products
3. Video Product Placements
2. Teach What You Know
1. Create Your Own Netflix-Style Video Website

If you're interested in checking out a specific method, just click to jump to that section, or read the full post to make an informed decision before getting started. 
6. Sell Affiliate Products
The simplest way to monetize Instagram in 2020 is to become an affiliate.
Basically, you become a sort-of ambassador for products you believe in. If they're helpful to you or your audience, you can promote them using a link or a code. When someone buys you get a percentage of the sale.
Affiliate products are a great place to start because the barrier to entry is low, and many products have a self-enrolment program you can sign up for and be ready to go in minutes.
You've probably already experienced this when scrolling through your feed.
Take this update from Maynor D (@thatbigguy700) for example. He's an influencer documenting his weight-loss journey. He promotes one of his favorite training t-shirts with his code:
When someone buys the shirt, he gets a commision off the back of it. Not bad, right?
Getting started with affiliates is pretty easy, too. Many of the products you already use will have an affiliate program for you to enroll in. Just search:
[product name] + "become an affiliate"
And you'll be able to see if they have one or not. Then it's just as simple as signing up!
How Profitable Is It To Sell Affiliate Products on Instagram?
You can expect to earn anywhere from 10% to 50%+ on each sale you make. This will depend on the product you sell, and can often increase with the numbers of followers you have. If possible, look to sell e-products without a physical form, because they have the largest profit margins.
5. Advertise Brand Products
There are brands out there dying to connect with you. Why?
Because they know if you promote their products to your audience they're going to see sales. Remember that study from Jonah Berger I mentioned earlier? In it he found:
"82% of consumers are "highly likely" to follow a recommendation made by a micro–influencer, compared to 73% who are highly likely to act on a recommendation from an average person."
The extra nine percent chance can make a real difference to a company's bottom line. So why not take advantage of this and use it to monetize your Instagram account?
Product advertisements work differently to affiliate posts because you're paid for a one-off (or series) of posts to advertise a product. This will often be a flat fee without commission.
Here's an example from Instagram influencer Ashley Yi (@ashyi) to show you what I mean:
It's a standalone post which advertises a product to her audience.
This can be a pretty lucrative venture and, according to research from DigiDay and Buffer, you could expect to earn:
$10 per 1,000 followers (or $1,000 per 10,000 followers)

$250 to $750 per 1,000 engagements (or $0.25 to $0.75 per post engagement)
Finding these brands doesn't need to be hard, either.
You can start by identifying products you use and interacting with their profiles. Leave comments, like their posts and add value. When you've started to see some interaction from them, you can drop them a direct message asking if they'd be interested in working with you.
Alternatively, you can register with an agency, like IMA, to help you connect with brands.
How Profitable Is Advertising Brand Products?
You can expect to earn $10 per 1,000 followers, or $0.25 to $0.75 per post engagement. This will depend on the popularity of your feed and the product you're selling.
4. Sell Self-Branded Products
Do you have a strong personal brand? Are you an influencer in a specific "tribe" of people?
If so, you may want to explore selling your own branded products. These can tap into the tribe mentality and make people feel like they belong to something bigger.
There is no limit to the types of products you can create, either. Here's a list of items off the top of my head:
T-shirts

Hoodies

Cups

Self-published book

Phone covers

Illustrations

Calendars

Protein shakers
As long as they relate to your niche and galvanize your audience, you can create anything.
Canadian comedian, Katherine Ryan (@kathbum), has done this well by creating the KathBum store to capitalize on her Instagram following. She's an outspoken feminist and single mom who creates clothing around these strong messages. Like the fan favorite, "Decision Maker."
She promotes the items by modeling them herself on her feed:
And then uses the updates to refer people back to her online store where they can buy the item (or related ones):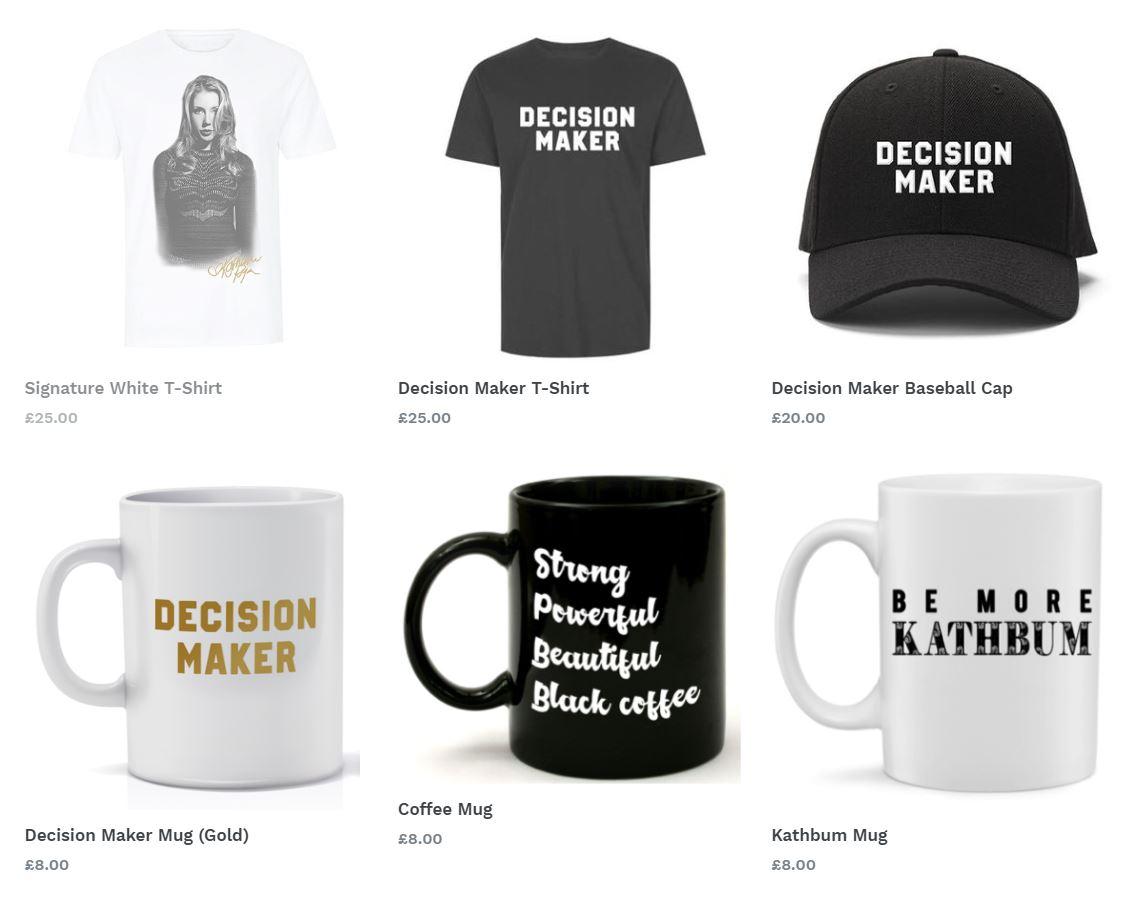 All of the products are simple and easy to create, especially using apps like those in the Shopify store. You can make many of them without ever having to handle the product or shipping!
Instagram has made selling even easier with the addition of their shopping tags, too. You can tag a product, price and include a direct link all in one photo: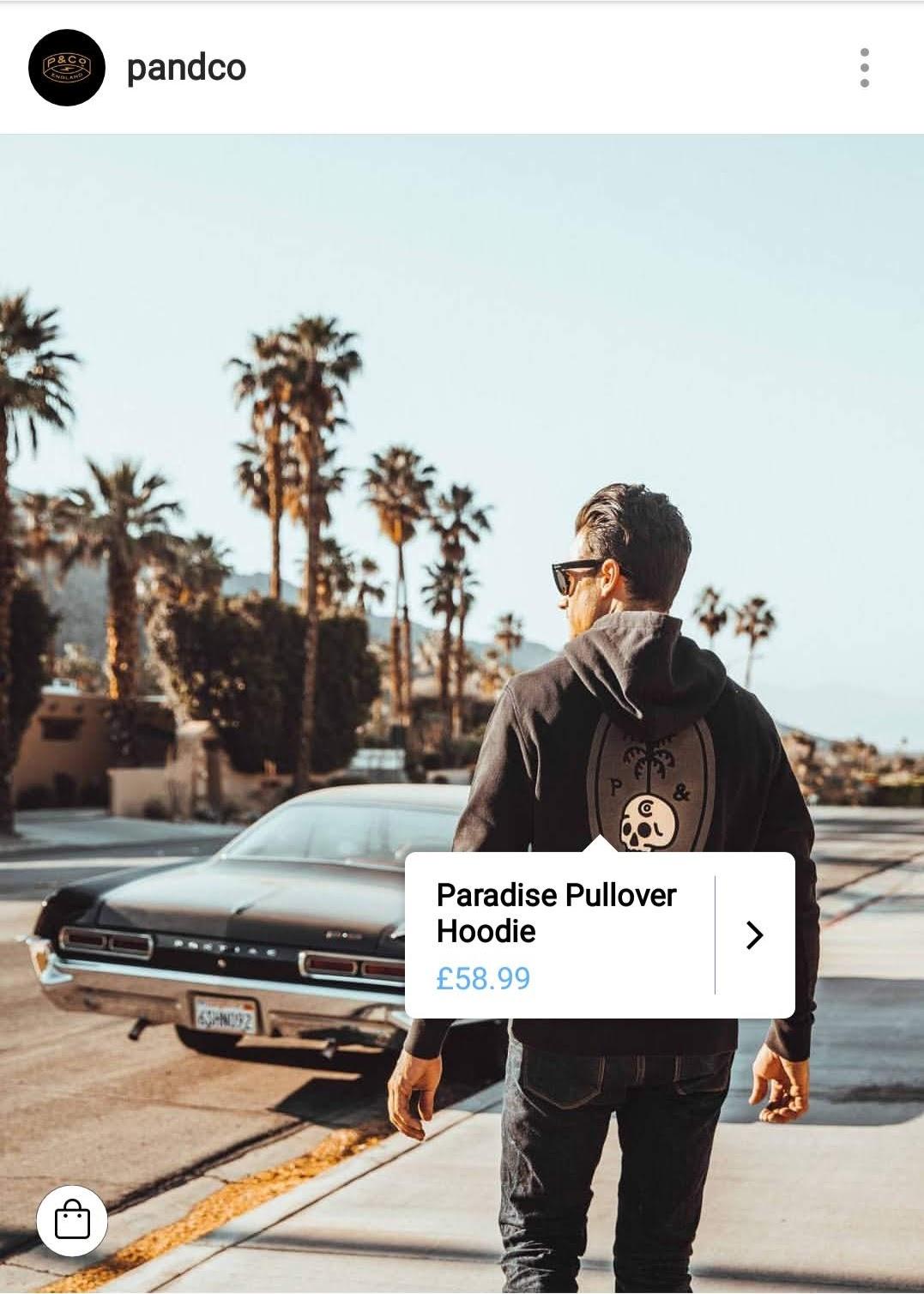 To decide on the products you want to sell you should look at what the people in your audience will wear, use or interact with on a daily basis. If there's nothing, look for products to entertain them or have real novelty value.
If in doubt, ask them!
How Profitable Is It to Sell Self-Branded Products?
You have total control over this. The clearer your message, and the more active your fans, the larger the profits you can make. If you have 10,000 followers and 5% of them buy a $10 t-shirt, that's $5000
3. Video Product Placements
Product placements have been used since the dawn of video.
You use a product in your video and generate some cash for advertising it. Often this flies under the radar, like when Stranger Things promoted KFC. But you can also make it a bit more obvious.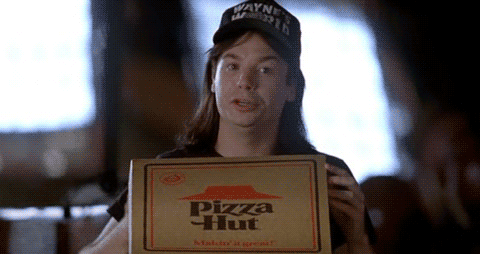 This method is perfect if you're making use of Instagram's latest product, IGTV. Although it's still early days, we predict product placement will become a huge revenue stream on the platform. Why?
Because it's already been taking advantage of on YouTube and advertisers will be looking to capitalize on the attention IGTV is getting right now.   
If you want to take advantage of this monetization technique, you should try going directly to the brands (as you saw in the advertising section before) and pitch it to them! You'll be ahead of the curve, and it will help you to stand out.
How Profitable Is It to Do Video Product Placements?
Product placements are often based on CPM (The cost per 1,000 views) and this varies wildly depending on what you're showcasing and to who. But the more thousands of viewers you get, the more you'll stand to make.
2. Teach What You Know
People follow you for a reason; so teach them how to be like you.
Creating information products is a high-payoff, low-investment way to make money on Instagram. You can take your niche-related skills and package them up to teach to your audience.
Take Zach Rocheleau (@flexibledietinglifestyle) for example. He teaches his followers how to create healthy versions of their favorite junk-food. (His chocolate pumpkin waffle taco is divine.)
But he also created an info product based on his years of experience taking pictures of food for Instagram. It intersects with his niche, and allowed him to generate another type of revenue from his Instagram feed:
This is easily replicable with any niche-relevant skills you have. Here are a few examples based on different niches:
Fashion:

My 10 Favourite Places To Snag A Bargain

Illustration:

How To Create A Professional Magazine Cover

Fitness:

100 Fat-Destroying Smoothies Recipes

Parenting:

How To Take Social Media Safe Pictures Of Your Kids

Dance:

How To Choreograph An Instagram Dance Video
Okay, you can tell I'm not part of any of those niches. But you can see what I mean!
But how do you create information products? Well, there's a solution in the next step.
How Profitable Is It to Teach What You Know?
Ramit Sethi widely regards information products as of the most high-value and low investment businesses you can start. They don't cost much to create and you can sell them in a wide range of prices,  from $9.99 all the way up to $1,000+!
1. Create Your Own Video Website
By far the most lucrative way to monetize Instagram followers is to create a video subscription service, kind of like your own Netflix service.
This method allows you to grow and expand upon the content you share on Instagram. You can create an entire world of education, entertainment or inspiration which you have complete control over.
Better still your followers will pay you a monthly subscription fee (usually $9.99+) to watch your content. In fact, based on our research, we've found two to five percent of Instagram followers convert to paying subscribers as soon as your video service launches.
Take a look at TMilly Creative (@TMillyTV).
They share snippets of their dance tutorials and choreography on their Instagram feed, usually 45 to 60 seconds in length: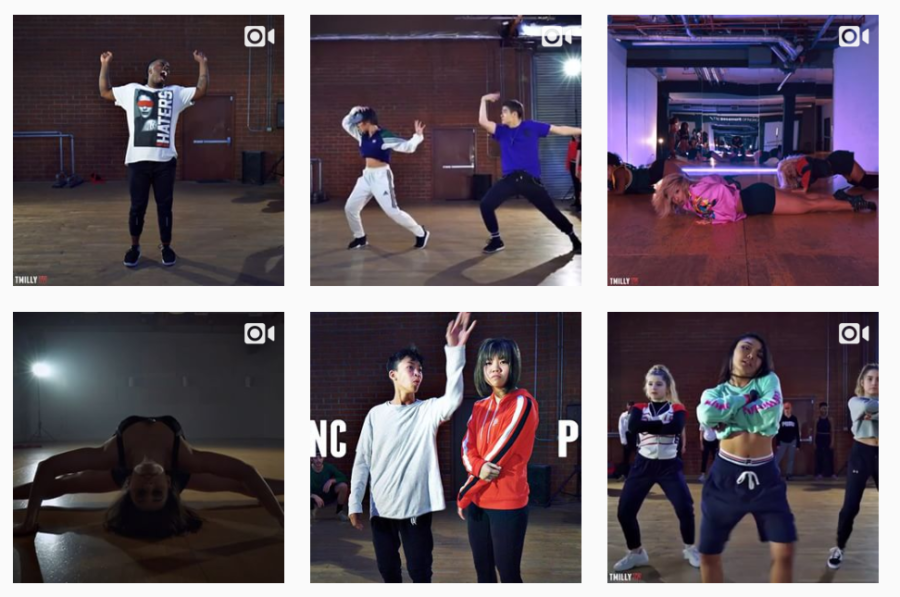 These videos all create interest in, and referrals back to, their video platform TMilly.tv.
Here they can access all of these tutorials and videos in one Netflix-style platform. Users sign up and can access these videos on demand from anywhere on any device.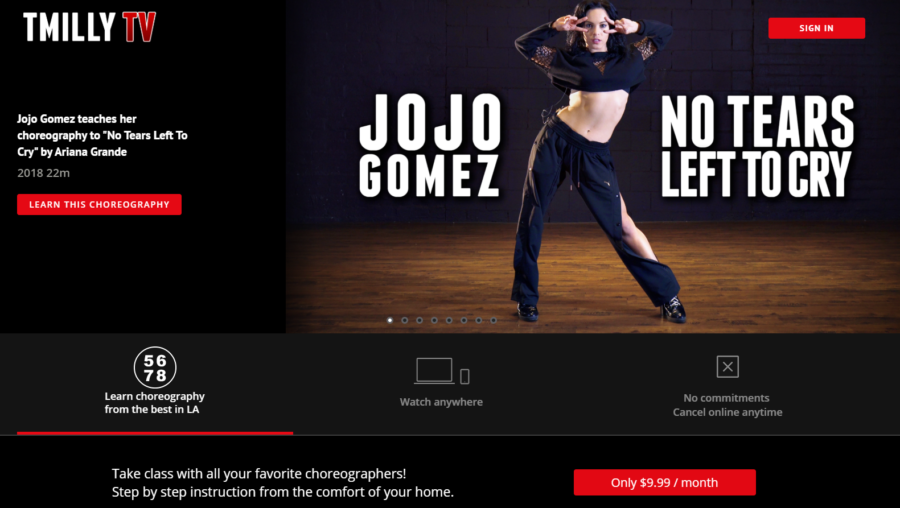 Using the two to five percent from our research, you can estimate they have 8,240 people paying them a monthly $9.99 a month to access their service each month. That's a lot of revenue.
Now setting up a video business may sound technical and way beyond your skill set. But don't worry, it's not.
At Uscreen we're able to help you start, create and host an online video business which is optimized to help you monetize your Instagram. Just like we do for TMillyTV.
If you want to:
Create courses and tutorials

Entertain people with your video content

Inspire people with your inspirational words

Earn monthly passive income
Then it's likely the best solution for you. You can find out more, and get a 14-day free trial right here.
How Profitable Is It To Create Your Own Video Subscription Website?
This will depend on your subscriber count, but with even just 100 subscribers you could make $1000 on a monthly basis. The more people you convert, the higher and more consistent it becomes!
Wrapping This Up…
I hope by now you feel much more prepared to earn money on Instagram. Better still, I hope you've got an idea, and you're chomping at the bit to implement it.
But before you go I'd love to know, which of these methods best suits you, and have you had any success with them?
Let me know in the comments!