You've taken shots from the perfect angles, edited your images to evoke just the right vibe and crafted unique captions.
You've dabbled in emojis and hashtags, meaningfully engaged with followers, curated a unique IG feed — and seen the results of your time investment.
You're finally getting the likes and mentions you've worked so hard for.
So…now what?
It's time to take it to the next level by monetizing your Instagram following.
In this article we've broken down the simplest and most effective ways to monetize your Instagram in 2020.
We'll show you how the pros make their money on — and off — the platform, and let you turn those likes and comments into monthly payments.
What You'll Learn
How many followers you need to earn money on Instagram

How to use everyday products into Instagram payments

Why your favorite brands want to pay you to post

How to monetize Instagram by creating your own subscription video website (or what we like to call Netflix-style website)

And much more…
If your business has been affected by COVID-19, you're not alone. We have a helpful and free guide that has saved 1000+ businesses since the outbreak. No email required.
How Many Followers Do You Need To Start Monetizing Your Instagram?
Your follower count isn't anywhere near as important as your status; you need to be considered a micro-influencer before you begin to monetize.
What's that?
According to a study by Wharton School Professor Dr. Jonah Berger:
"Micro-influencers are not traditional celebrities, but rather individuals who work in their category or are truly knowledgeable, passionate and authentic, and are seen as a trusted source when it comes to recommendations of what to buy."
Micro-influencer status isn't predicated on your follower count, rather the engagement and trust of your audience. You could have 1,000 or 100,000 followers and still be able to monetize your Instagram.
The difference maker is engagement.
The more engaged followers you have, the more your Instagram feed will be worth. So, we recommend you hit the 10,000 follower mark before looking to monetize. Why?
Because:
You can sell to a larger number of people (if you have 5% engagement you'll reach 500 users)

You can use in-app functionality like sharing links in your stories which is unavailable below the 10,000 follower mark

You can question your follower base to get a clear idea of products/services they want to see

You can offer a larger return on investment to brands and advertisers
If you've not hit 10,000 people, it's probably better to focus on building your brand than trying to make money right now. It'll pay off in the long run!
But if you do have enough followers, you can dive right into the list below and see how you can monetize your Instagram.
This post will show you the top 6 proven ways to monetize your Instagram following in 2020, including a helpful infographic to save and share, followed by details on how to get started with each method.

And there you have it! Here are the top 6 ways to monetize your Instagram.
Hint: we saved the best for last. 😉
6. Sell Affiliate Products
5. Advertise Brand Products
4. Sell Self-Branded Products
3. Video Product Placements
2. Teach What You Know
1. Create Your Own Video Streaming Service
If you're interested in checking out a specific method, just click to jump to that section, or read the full post to make an informed decision before getting started.
6. Sell Affiliate Products
Affiliate marketing is one of the most popular ways to monetize Instagram in 2020.
This involves working with a brand or business as an "ambassador" to promote their products or services in exchange for a portion of revenue.
Here's how it works:
Sign up as an affiliate,

Use the provided unique URL link or code in your post(s)

You receive a percentage of every purchase made
Affiliate marketing is an ideal place to begin monetizing your Instagram. The barrier to entry is low and thousands of top brands already have a self-enrollment program in place. It only takes a few minutes to sign up and get started!
You've probably already seen affiliate marketing in action while scrolling through your feed.
Take this update from Luna the Husky (@lun4thehuskyx) for example. She's a doggy influencer boasting 119K followers — not bad! Her feed promotes her favorite all-natural kibble, Akela:
When someone buys the food, Luna and her humans get a commission: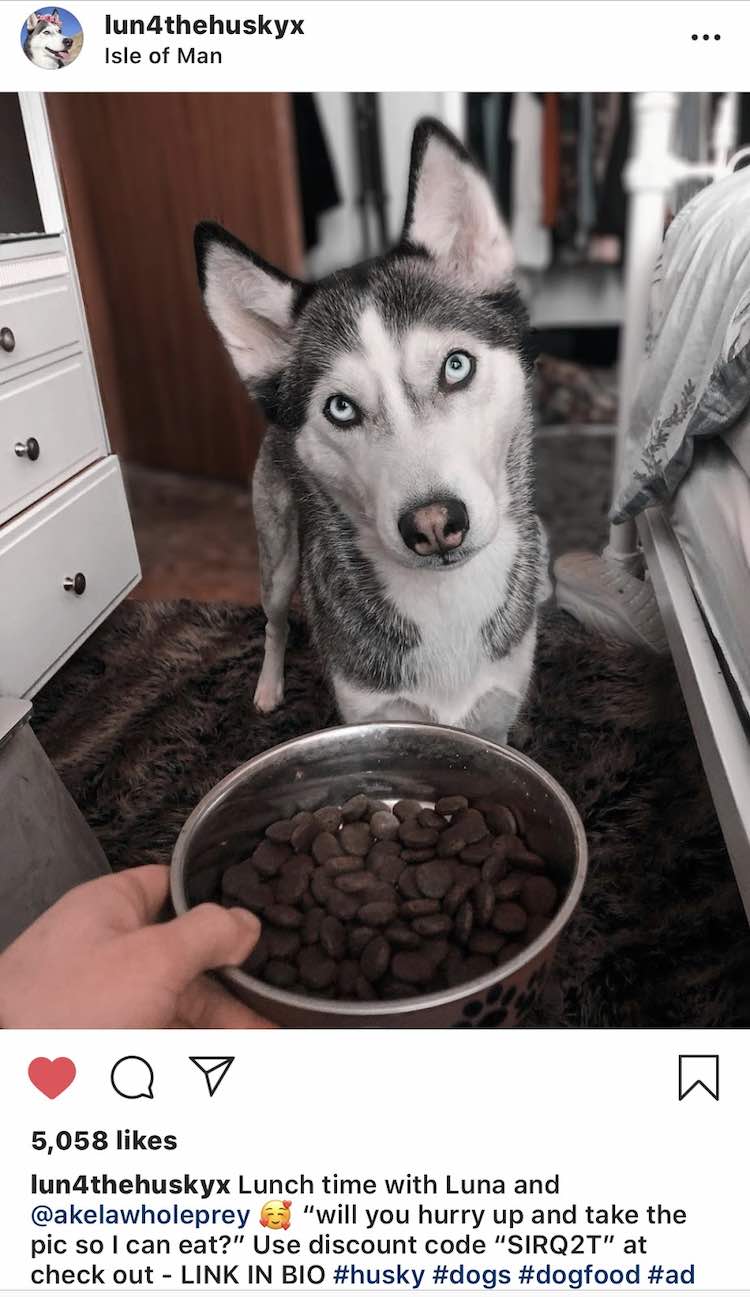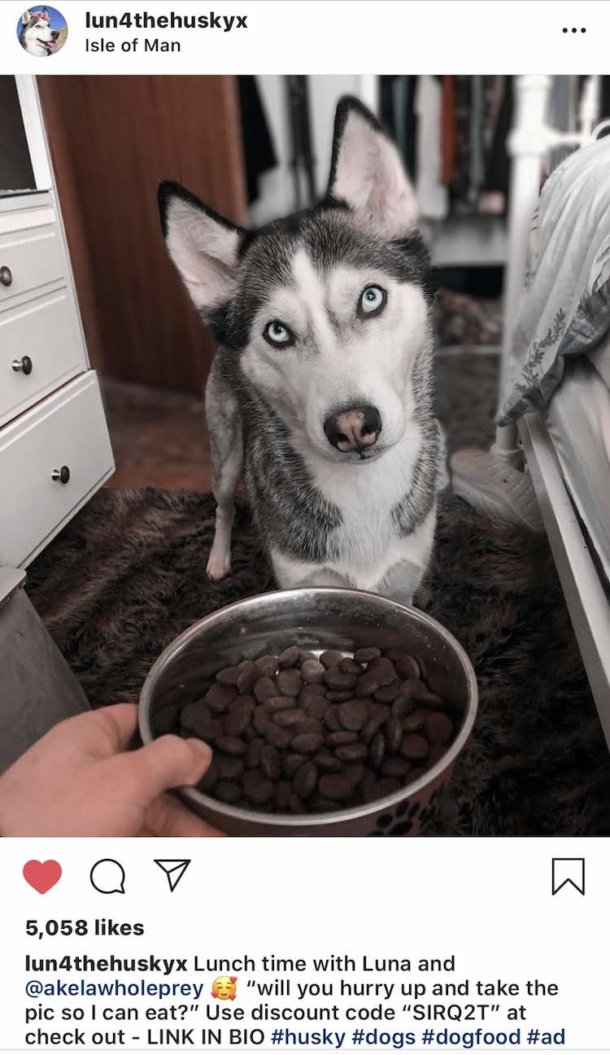 Getting started as an affiliate is a fairly straightforward process. Just search:
[product name] + "become an affiliate"
And you'll be able to see if they have one or not. Then, simply fill in the necessary details to sign up.
Pro-tip: some programs may be hidden in website footer links.

Not sure where to start? Consider an affiliate marketplace, a network that connects affiliates with merchants, such as Amazon Affiliate or ClickBank.
It's best to stick to goods and services that fit your niche and you personally believe in, as these will resonate most with your audiences and have the largest impact.
How Profitable Is It To Sell Affiliate Products on Instagram?
You can expect to earn a commission percentage ranging from 10% up to 50%. This depends on the product's price, number of followers, and cookie duration, or how long the URL ID is stored on the buyer's computer (30 days is average.) Less frequently, revenue is pay-per-click or pay-per-lead.
5. Create Sponsored Content
There are brands out there dying to connect with you. Why?
Because they know if you promote their products to your audience they're going to see a sales increase.
Rakuten's global 2019 Influencer Marketing Survey found that:
Eight out of ten consumers made a direct purchase based on a recommendation by an influencer.
This tactic, also known as influencer marketing, is huge right now. And brands are only upping their budgets.
You'll collaborate with brands to create sponsored content promoting a product, service or campaign. It's different than affiliate marketing because creators are paid a flat fee per post or series, not for a sales commission.
For example:
Affiliate: you receive 10% of each sale of product X
Sponsored Post: you receive $1000 for a promo on your feed
Kim Kardashian West revealed she receives $300,000 to $500,000 for a single sponsored post on her Instagram.
Posts typically focus directly on product placement through:
Tutorials

Giveaways

Unboxings
But campaigns can also be geared towards the company itself, or putting a spotlight on events or special occasions.
Here's an example from Instagram nutrition and wellness influencer Elizabeth Moye (@hellospoonful) — it's a standalone post where she highlights a product: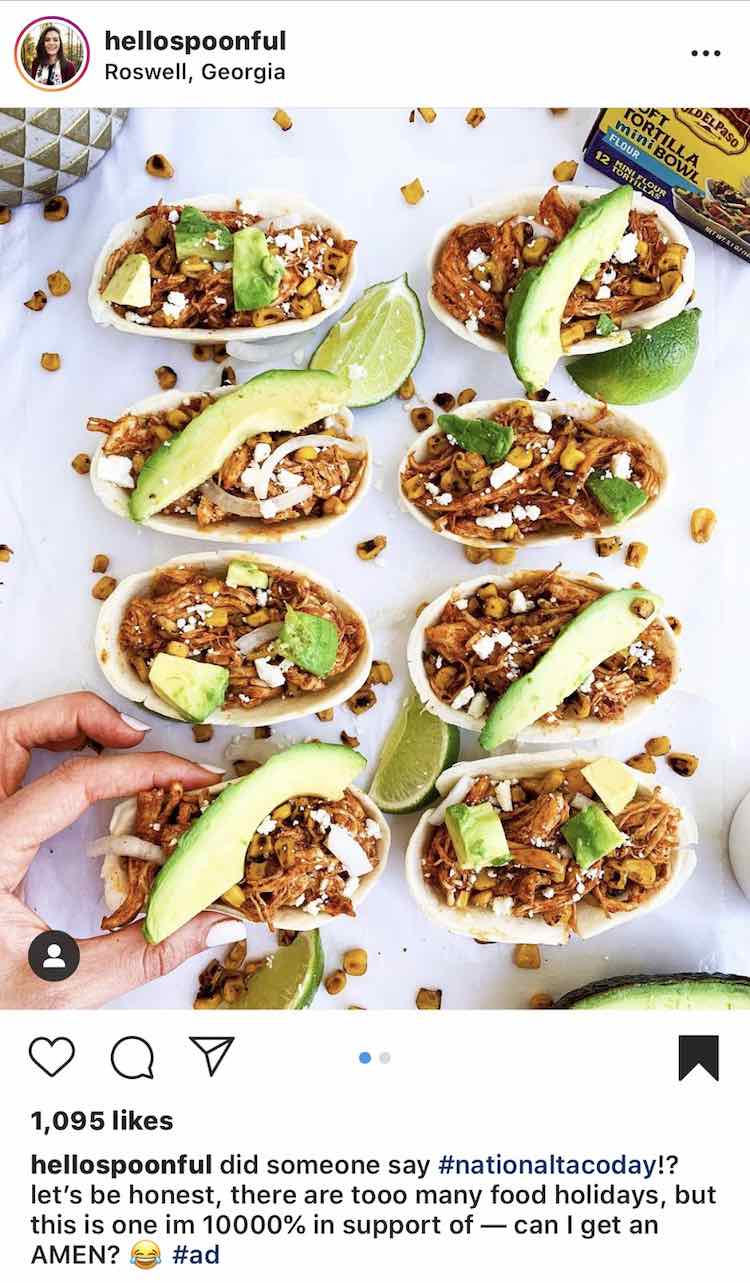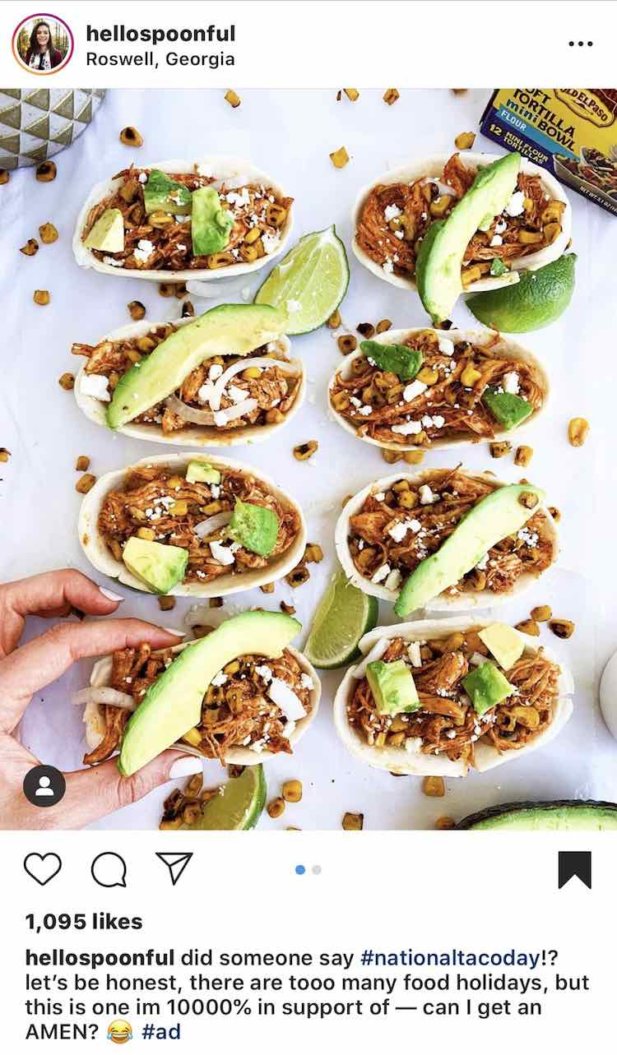 Did you catch that? It's Old El Paso! Taco-bout some subtle spotlighting.
This can be a pretty lucrative venture and, according to research from DigiDay and Buffer, you could expect to earn:
$100 per 1,000 followers (or $1,000 per 10,000 followers)

$250 to $750 per 1,000 engagements (or $0.25 to $0.75 per post engagement
The price will vary based on the brand's goals and the potential of your Instagram following. But, it's not always a high follower count that leads to the big bucks.
Having a high engagement rate, even with a smaller audience, will net higher pay than a huge following that doesn't engage with posts.
How to find these brands? Well, you're likely already interacting with them. I'm no #influencer, but even I had this awesome impromptu interaction with @cheerios, who voted in my Stories poll (about Cheerios!):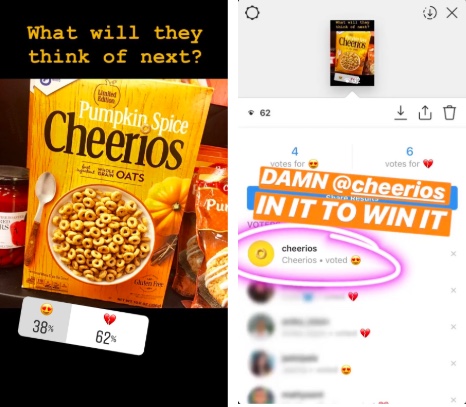 Identify your favorites and consider whether your audience will also obsess over these products. Engage with their profiles by leaving comments, liking their posts and demonstrating your value as the superfan you are.
When you've started to see some interaction from them, you can slide into their DMs to see if they're interested in working together.
Alternatively, you can register with an agency, like IMA or Mediakix, to help you connect wIth brands.
How Profitable Is Advertising Brand Products?
You can expect to earn $10 per 1,000 followers, or $0.25 to $0.75 per post engagement. This will depend on the popularity of your feed and the product you're selling.
4. Sell Your Own Products
When it comes to selling products you have two options:
Create your own

Utilize dropshipping
Let's take a closer look at each of them.
Create Your Own Goods
Are you already creating goods and items? This could be a chance to turn your hobby into a #sidehustle.
Everything from knitted anime finger puppets to vegan matcha cookies to neon glitter slime is game. The nicher, the better.
Any visually appealing product or service, especially digital art and photography, works especially well.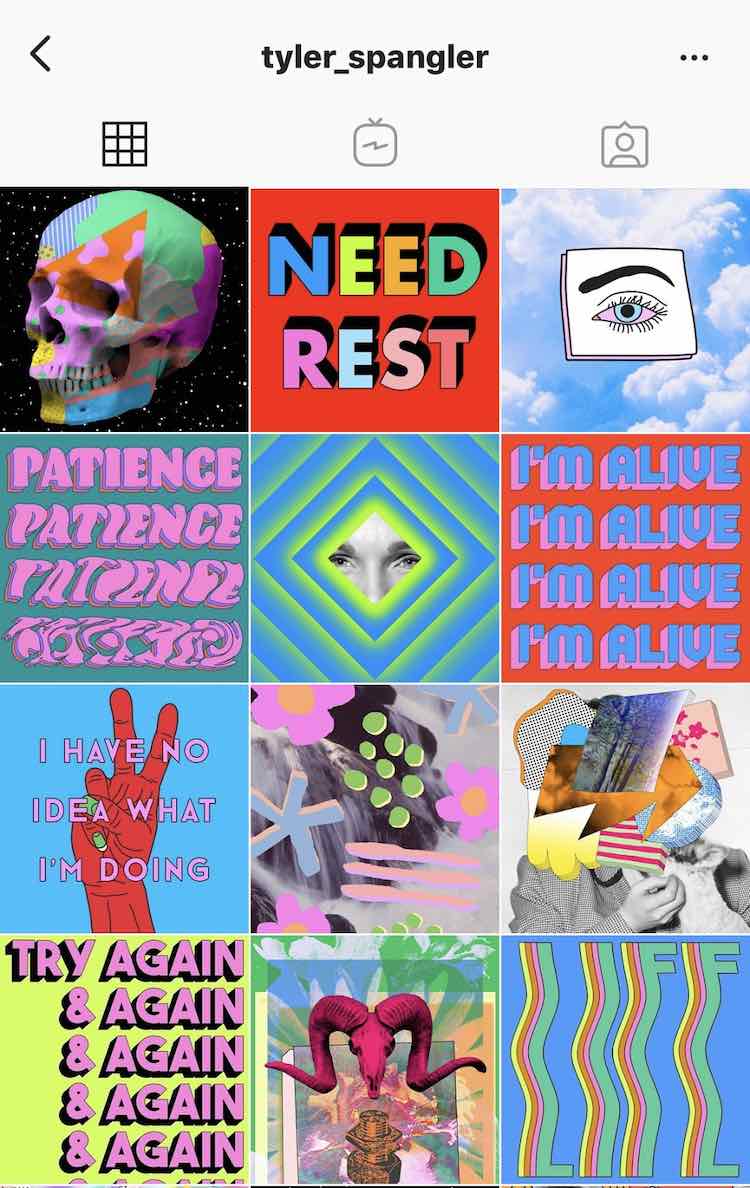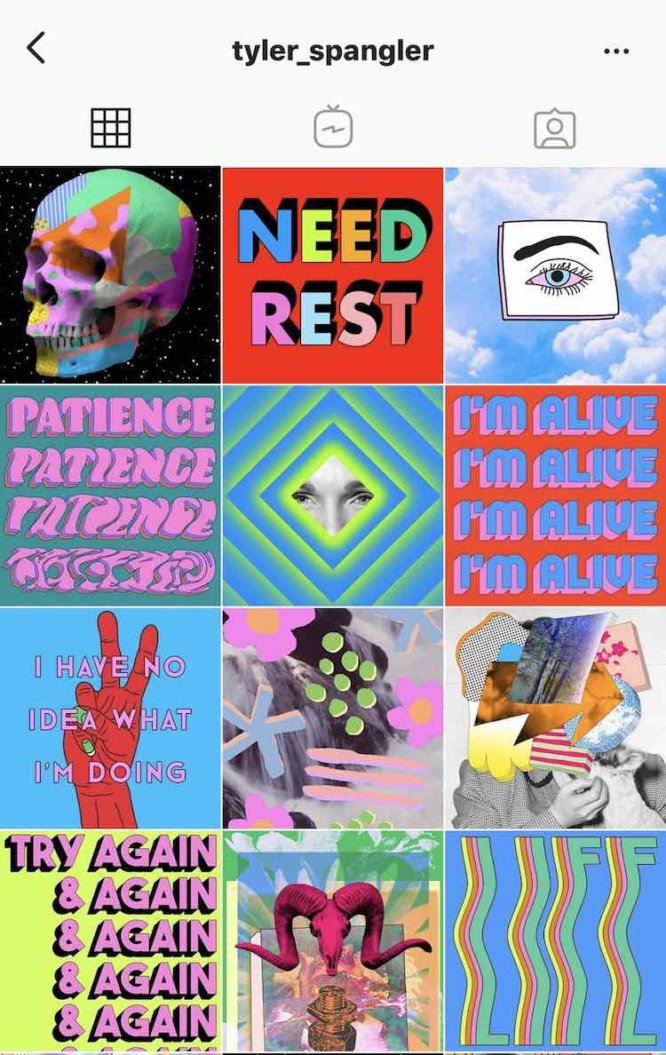 But let's be clear, it's a lot of work. Unless you have the time and energy or it's truly a passion project, you may want to call in the pros.
Use a Manufacturer & Online Store
If you're not a creator, enlist a manufacturer and set up a dropshipping scheme.
Essentially, it's a setup where a business arranges for the manufacturer to ship directly to the customer. You completely bypass production, inventory storage and shipping hassles. Just use a dropshipping app like Oberlo in the Shopify store to coordinate the process.
Not sure what to sell? Take a look at the people in your audience — what they use, wear, consume or interact with on a daily basis. If in doubt, ask them!
Do you have a unique personal brand that makes a statement? If so, perhaps it's time to explore selling your own branded products. When it comes to creating self-branded promotional gear, the options are virtually endless:
Stickers and Magnets

Totes and Drawstring Backpacks

Mugs, Glasses and Tumblers

T-shirts and Hoodies

Pens

Flash Drives

Phone covers

Illustrations

Calendars
As long as they relate to your niche and galvanize your audience, you can create anything.
Canadian comedian, Katherine Ryan (@kathbum), has done this well by creating the KathBum store to capitalize on her Instagram following. She's an outspoken feminist and single mom who creates clothing around these strong messages. Like the fan favorite, "Decision Maker."
She promotes the items by modeling them herself on her feed: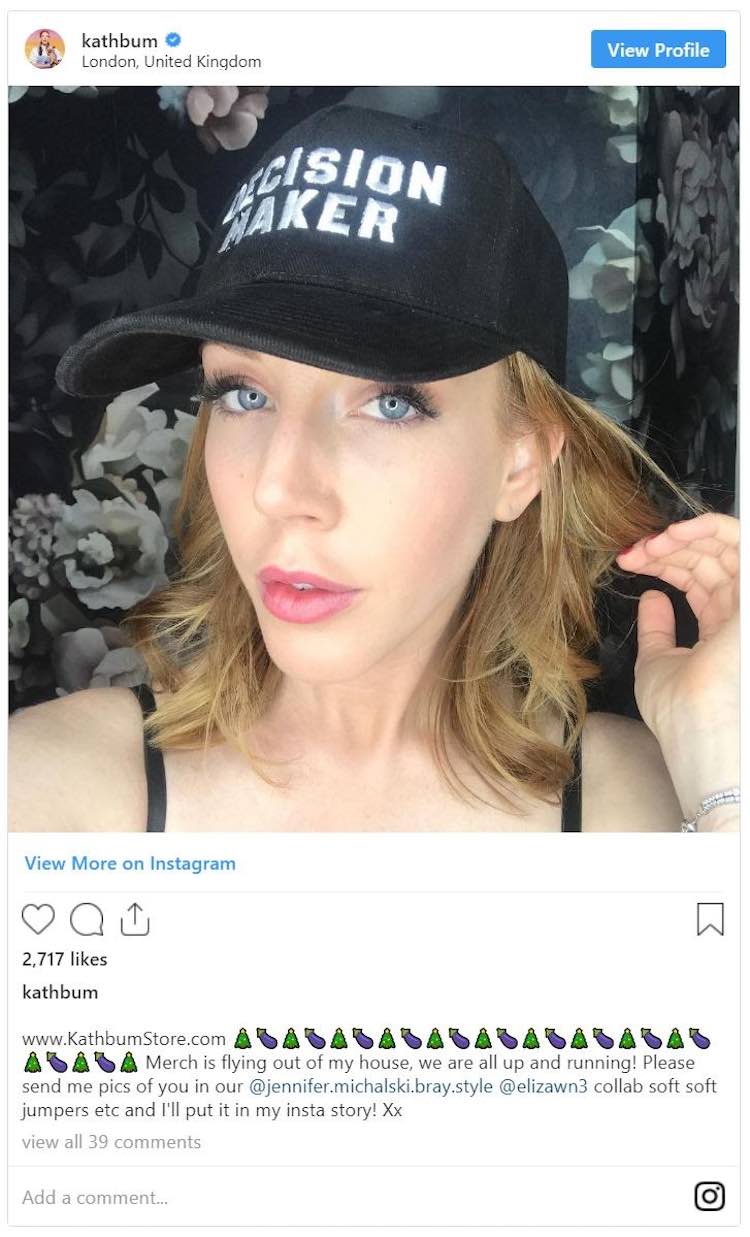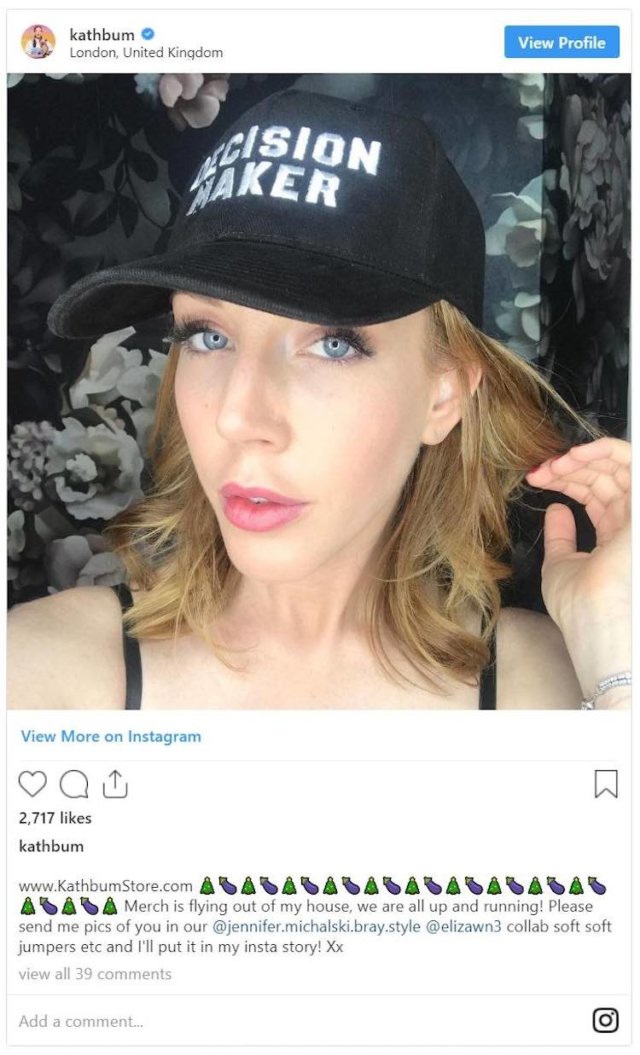 And then uses the updates to refer people back to her online store where they can buy the item (or related ones):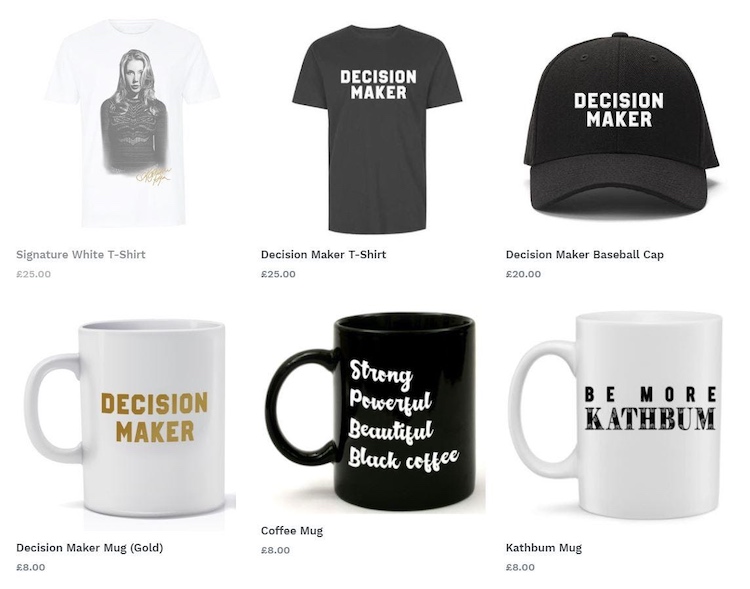 With the help of a manufacturer specializing in promo products, such as GNP Branded Gear or Swag, the process is super easy.
Instagram has made selling even easier with the addition of their shopping tags, too. You can tag a product, price and include a direct link all in one photo.
How Profitable Is It to Sell Self-Branded Products?
You have total control over this. The clearer your message, and the more active your fans, the larger the profits you can make. If you have 10,000 followers and 5% of them buy a $10 t-shirt, that's $5000.
3. Video Product Placements
Product placements are as ageless as advertising itself, but the technique truly came into vogue with the rise of video.
Here 's how it works: a brand will pay you to feature their product in your video and you'll generate some cash for advertising it.
Also known as "embedded marketing," product placements are often so subtle that they completely fly under the radar like Audi in Marvel movies. Some may be more blatant like Heineken in James Bond.
Although Instagram wasn't always the obvious choice when it comes to video, stories are a noteworthy fit for product placement: they're accessible and feel more authentic. Plus, thanks to the "swipe up" feature, buying these items is also a seamless experience.
IGTV is also a decent alternative for placement, although as a standalone it hasn't yet gained much traction. It's best to use it to post longer videos to your IG feed.
Thinking of leveraging this monetization technique? Just like with sponsored content, your best bet is to directly approach brands with your pitch. Prepare your proposal in detail.
When brainstorming, keep in mind: If your placement feels too much like an ad, it might rub audiences the wrong way. So be as genuine as possible in your content, from the products you choose to the way you showcase them.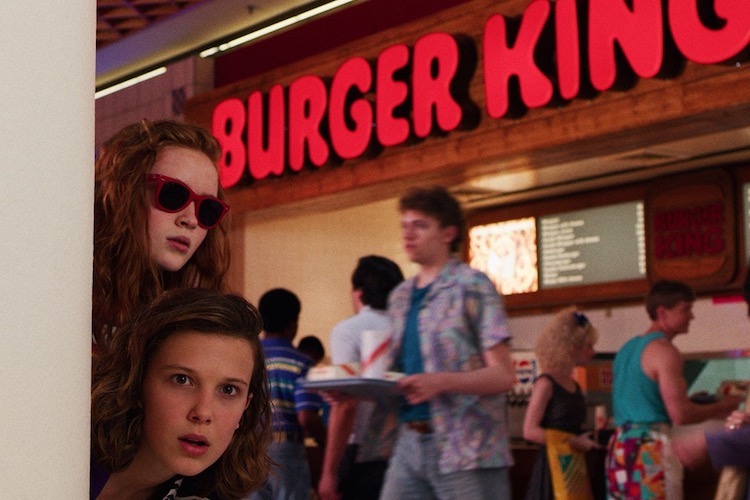 How Profitable Is It to Do Video Product Placements?
Placements are measured by their CPM or cost per 1,000 views. Depending on your clout, what you're spotlighting and to who, there's a wide range for potential earnings. Just remember: the more views you generate, the greater the profit.
2. Teach What You Know
Creating value for your audience through information products is a high-payoff, low-investment way to earn money on Instagram. Just organize your niche-related knowledge and skills into a digestible format to teach to your followers.
An info product is a product that educates audiences, solves problems or helps them in some way. Common forms include e-books, audio and video courses on platforms like Skillshare and Udemy.
Instagram is a great tool to promote your brand and give a preview of the knowledge you'll deliver. Some posting techniques include standalone "How-To" posts, a weekly tips series or an AMA ("Ask Me Anything") session via Stories.
Take Zach Rocheleau (@flexibledietinglifestyle) for example. He teaches his followers how to create healthy versions of their favorite junk-food. (His chocolate pumpkin waffle taco is divine.)
But he also created an information product based on his years of experience taking pictures of food for Instagram. It intersects with his niche, and allows him to generate another type of revenue from his Instagram feed.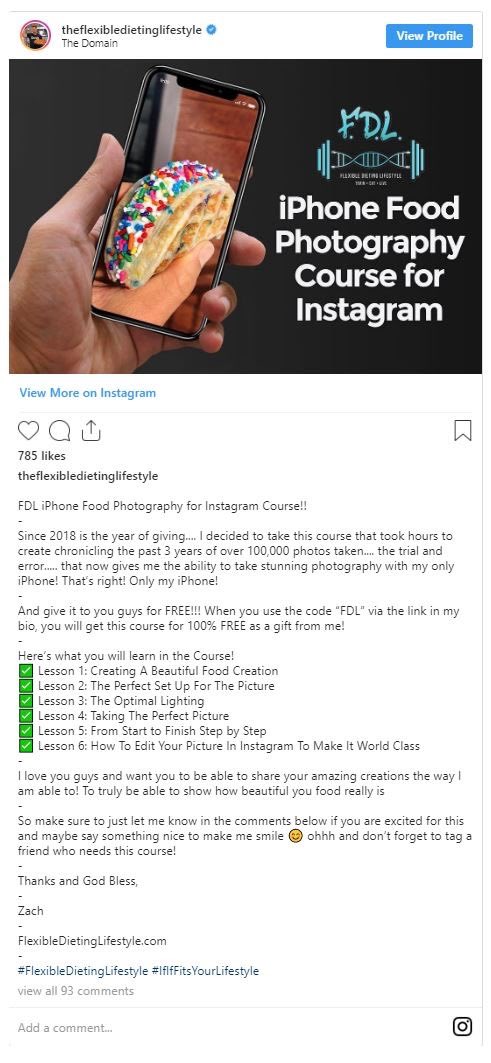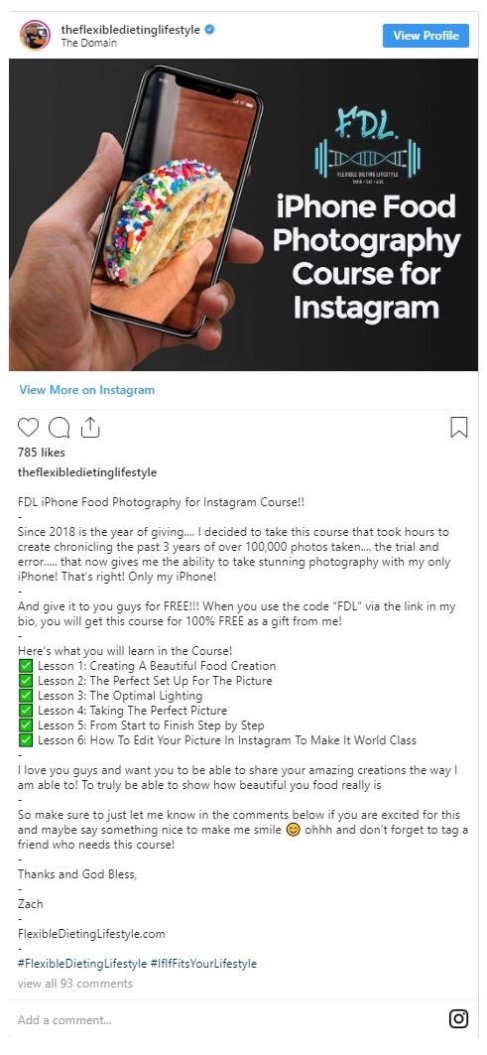 This model of combining IG promo to sell info products works for a ton of different niches. Here are just a few examples:
Design: How To Create a Unique Logo With Calligraphy Tools
Fitness: Top 10 Pre-Workout Smoothies Recipes
Parenting: How To Take Social Media Safe Pictures Of Your Kids
Wellness: How Music Helps Us Stay Focused
Dance: How To Choreograph An Instagram Dance Video
Foreign Language: Word of the Week
But how exactly do you create information products?
To net a real profit from this method, you'll need a systematic plan and consistency to deliver your knowledge. We broke it down in the #1 solution below.
How Profitable Is It to Teach What You Know?
Ramit Sethi widely regards information products as of the most high-value and low investment businesses you can start. They don't cost much to create and you can sell them in a wide range of prices, from $9.99 all the way up to $1,000+!
1. Launch a Video Streaming Service
By far the most lucrative way to monetize Instagram followers is to create a video subscription service, kind of like your own Netflix service.
Your followers are already hooked on your IG feed, why not give them more?
This method allows you to expand content and boost quality above and beyond. You can design a world of education, inspiration, entertainment or anything in between — and you'll be completely in charge.
Plus, you'll passively earn a livable wage for your hard work: followers pay a monthly subscription fee for access to your content. Best of all, you set the price.
Our research reveals 2% – 5% of Instagram followers convert to paying subscribers when your video service launches.
Take a look at @Naturally.Sassy. Her feed creatively serves up major fitness, wellness and canine (!) inspiration. Interspersed with vegetarian recipes and health tips, Sassy shares short snippets of her ballet-inspired fitness tutorials: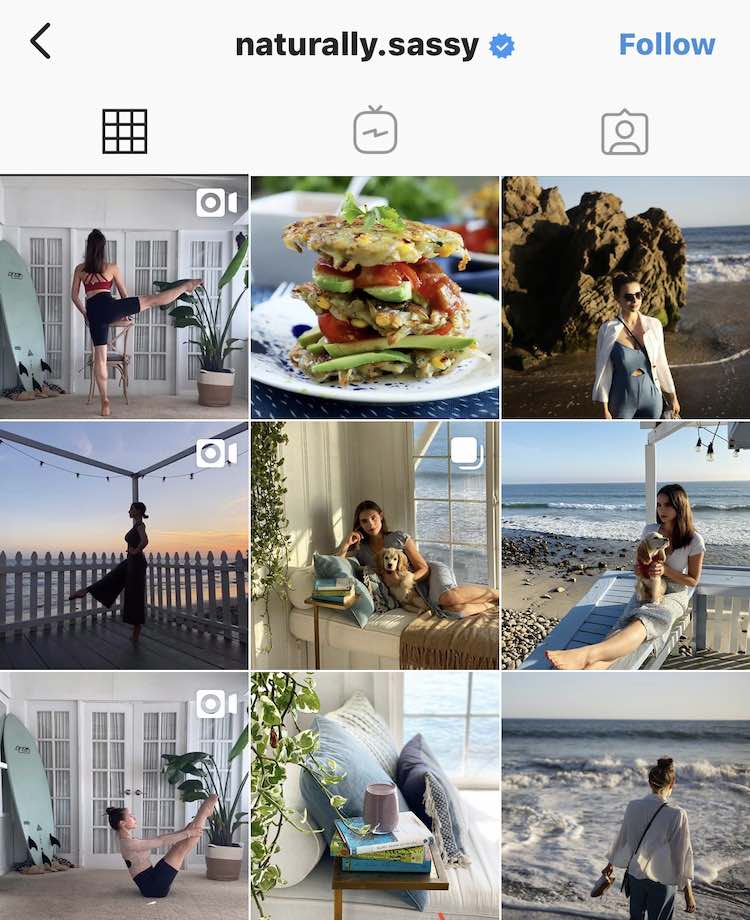 These videos provide Sassy's attentive IG followers with previews for her streamed workout videos. They create interest in, and referrals back to, her video platform Naturally Sassy Online Workout Studio.
Here they can access all of these tutorials and videos in one Netflix-style platform. Users sign up and can watch these videos on demand from anywhere on any device — phone, tablet, desktop, you name it.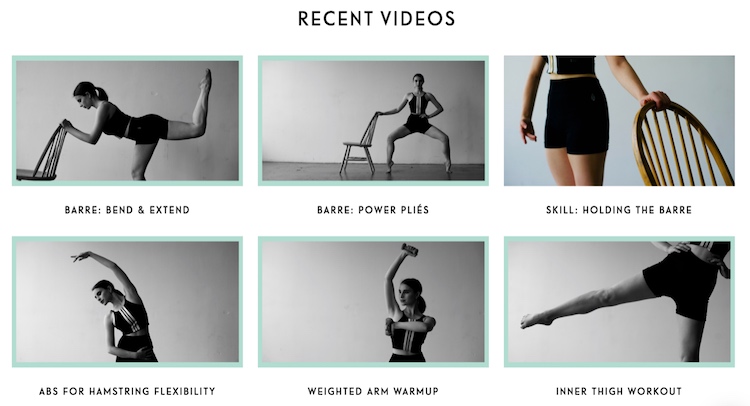 With 10K followers, and two to five percent paying $9.99 a month to access their service, that's up to $5,000 of monthly revenue. And that's just at the launch of your video service — over time, you can convert 10% or more of your IG audience.
Wondering how to get started setting up a video business? It's way simpler than you might expect and doesn't require any technical skills.
At Uscreen, we're able to help you create and host an online video business which is optimized to help you monetize Instagram. Just like we do for Naturally Sassy.
If you want to:
Launch an online academy or skill platform

Entertain audiences with your video content

Educate people with niche-related knowledge

Earn monthly passive income
Then it's likely the best solution for you to monetize social media. You can find out more, and get a 14-day free trial right here.
How Profitable Is It To Create Your Own Video Subscription Website?
This will depend on your subscriber count, but with even just 100 subscribers you could make $1000 on a monthly basis. The more people you convert, the higher and more consistent it becomes!
Final Thoughts
These six compelling methods offer some ideas to jumpstart your creativity and earn some cash.
We hope this article has inspired you, in one way or another, to implement a new strategy to get started monetizing your Instagram.
But before you go, tell us: which of these methods fits your needs and have you had any success with them?
Give a shoutout in the comments!