You have a budding fitness business. You've learned—either by experience or browsing content from other creators—that OTT apps get incredible engagement from members.
In recent years, fitness apps have become increasingly popular, thanks to their convenience over gym memberships. Creators also have more tools at their disposal to increase the quality and quantity of in-app features.
Luckily, you don't have to head out and develop a fitness app from scratch to take advantage. You can lean on companies like Uscreen to create stunning fitness apps for you, rather than writing code or searching for developers.
This guide walks you through how to create a fitness app step by step, from understanding the digital fitness market, to ideation and publishing your app online.
Understanding the fitness app market
The digital fitness industry has fundamentally changed how health and wellness creators interact with their audience. Accelerated by the COVID-19 pandemic, people worldwide were forced to find alternative ways to maintain their fitness programs outside of a studio or gym.
Years later, and we've seen that the trend isn't fleeting.
Our data shows that Uscreen customers with their own membership apps have more 8x more paying members, and generate 10x more subscription revenue, than those without apps.
They also have double the watch-time on their exclusive membership content. And the reason is simple: people want a sleek experience built specifically for the devices where they love to consume their content. From their mobile phones, to tablets, to smart TVs…
And workout apps are no exception. Mobile applications that help people track physical activity, maintain healthy lifestyles, and achieve their goals received 21 million downloads in January 2023 alone (the highest surge on record).
Here are 3 consumer trends driving the digital fitness industry:
The quest for convenience. Today's fitness-goers seek effective, easy-to-integrate workouts into their lifestyles. Readily accessible fitness and nutrition apps give them more control over routines. A 2021 study found this convenience improves the quality of life for members.
Personalization. Sports medicine studies show personalized, evidence-informed training plans are more effective than generalized programs. Imagine a member going through a 3-month exercise program, only to find out it was ineffective or did damage to their bodies.
Community engagement. Humans are social creatures. With digital fitness apps, they can connect with like-minded people and feel part of a group. This improves engagement and loyalty to the app provider.
The digital fitness revolution is here to stay, with technology bridging the gap between traditional fitness routines and modern lifestyles. Knowing the market dynamics is essential for creating your fitness app if you want in.
How to create a fitness app in 9 steps
1. Conduct market research
Managing the creation of a fitness app involves a multi-phased approach. But it all starts with market research and ideation. Start by deciding who your app will be designed for. This will determine your app's features, tone, and promotion strategies.
Do you have an existing following? Chances are, you're not starting from scratch. Tap into your YouTube channel and other social media channels to gather the following information about your audience:
Age, gender, location, preferred workout style.
Average income, how much they'll pay for an app.
What they like and dislike about other fitness apps or programs.
💡PRO TIP: Survey, interview, and study potential members to figure out user needs, preferences, and problems with current fitness apps. You can get qualitative data from this and find out what's going on in the market.
Once you have a better idea of who will use your app, you'll know how to reach them with your app.
Studio Bloom, for example, has a specific target audience, which is pre and postnatal fitness-goers. The brand has been training women through pregnancy and postpartum for over 12 years with fitness classes, guided programs, and cross-platform personal trainer/coaching support.
Studio Bloom's app hosts a variety of classes from core, cardio, HIIT, cycle, and its signature BirthPrep class for pregnant women. It's perfect for Studio Bloom's audience. Members can stream workout tutorials on their iPads, iPhones, and smart TVs.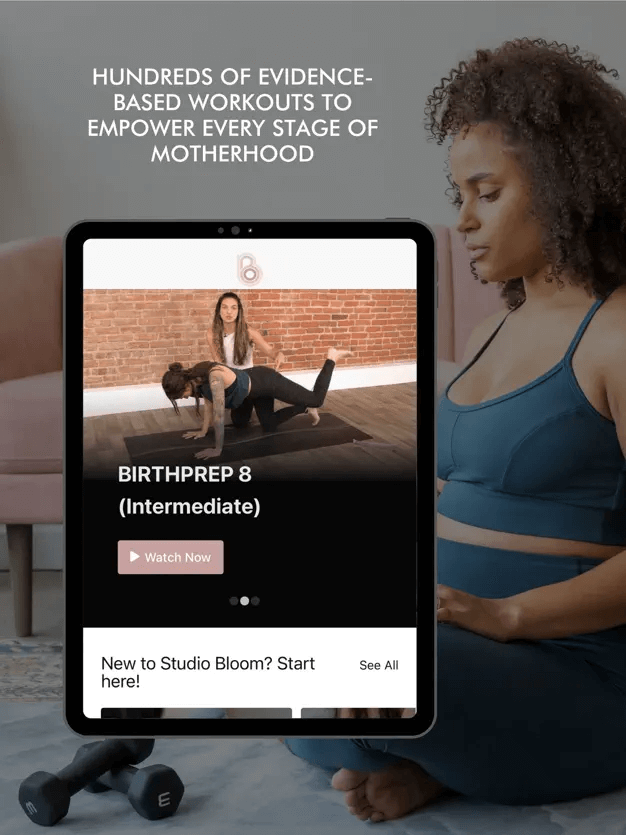 It also includes a Fitness Tracker for Apple Watch so members can:
Monitor stats during workouts.
Track calories burned, heart rate, and active energy.
Sync all data to Apple's Fitness app.
The app is perfect for women dedicated to maintaining and enhancing their wellness before, during, and after pregnancy. It caters specifically to their unique physical needs and fitness goals during these critical phases, and provides a sense of community along the way.
2. Research your competition
Standing out with your own workout app is the goal. To reach it, you want to understand what your competitors are already offering.
Identify the top-performing apps in your niche. Analyze their top functionality, user experience, pricing, and app store reviews. What features do users love? What are their pain points?
Say you're comparing 2 competitors: HomeFit and WorkoutPlus.
HomeFit: Offers a variety of workout plans, like bodyweight workouts, equipment tutorials, and mindfulness sessions. It integrates with wearable technology like smartwatches to track performance. HomeFit has a freemium version with in-app purchases and a premium version at $20 per month.
WorkoutPlus: Focuses on high-intensity interval training (HIIT). It's a paid app that provides real-time feedback through machine learning, has social features for community challenges, and its API can sync data from MyFitnessPal, FitBit, and Nike Run Club. WorkoutPlus is $70 per month with a 14-day free trial.
You learn that, with HomeFit, users love the variety of workout types. However, they find the options overwhelming and the frequent upsells annoying.
WorkoutPlus users love the personalized workout routines and community aspects. But, they find the price is too high and have privacy concerns surrounding AI.
Some conclusions you can make:
People appreciate workout variety.
They desire a clean, simple interface.
Community features are strong engagement drivers.
Quick and accessible workouts are preferred.
Technical performance is crucial.
Perfect, now what does this mean for your fitness app? There are some must-have elements to plan for:
User-friendly design that offers a range of workouts without overwhelming choices.
Integrated community and gamification features.
Quick, high-quality workout options must be available.
Have a monetization strategy that isn't intrusive, like a membership.
Ensure your app has near 100% uptime and that bugs are fixed immediately.
Provide a clear channel for feedback and support inquiries.
Your research aims to identify underserved areas in your market and then add features or services to address them.
It's simple with Uscreen.
Build, launch and manage your membership, all in one place.
3. Define clear goals
Define the scope of the project clearly. What specific problems will your app solve? What features will your app have? How does it align with business objectives?
Decide on the type of fitness app you want to create. There are many options:
Healthcare app
Workout plan app
Meal plan app
Weight loss app
Pilates/Barre app
Wellness app
Strength training app
Yoga app
For example, your health app can provide highly personalized workout plans and offer virtual coaching sessions. Maybe you want to create educational content around mindfulness and yoga that people can stream to their smart TV, like Bad Yogi Studio.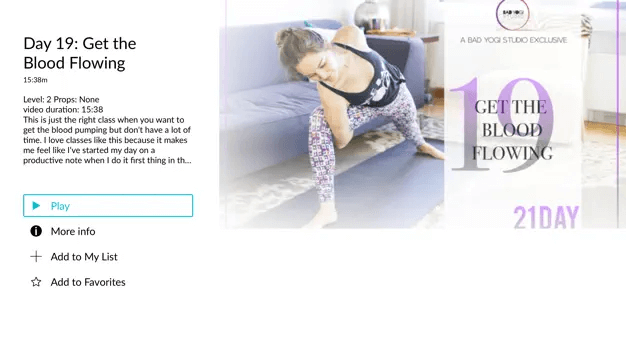 4. List out your must-have fitness app features
Speaking of features, they are the core of your app. They are what bring new app users and encourage them to stay. Ultimately, this is going to help increase the scalability of your fitness app revenue.
In this next step, create a comprehensive list of features you want for your fitness app idea. Here are some popular ones we'd recommend:
Video On Demand (VOD): Upload and organize your fitness videos so they're accessible anytime, anywhere.
Live streaming: Host live workout sessions, Q&A sessions, or seminars to engage your audience.
Membership capabilities: Sell your app for a monthly fee and give members access to a community and exclusive perks.
Payment integration: Manage membership dues through an integrated payment system that supports various payment methods.
Customization: Tailor the look and feel of your app to match your brand. This includes customizing your video library and branding.
Community building tools: Create discussion boards to create a sense of community among your users.
Analytics: Track user engagement, video views, subscription growth, and more.
Built-in marketing tools: Use free marketing tools for email campaigns, promotions, or coupons to attract and retain subscribers.
Push notifications: Remind members of upcoming events or new routines, or send a little note of motivation right to their phones.
Content security: Protect your content with secure hosting, SSL certificates, and encryption to prevent unauthorized access and distribution.
Multi-language support: Cater to a global audience by providing content in multiple languages, expanding your market reach.
User profiles: Allow users to create their own profiles, where they can track their progress, save favorite videos, and receive personalized content recommendations.
You may also want to include advanced features like social sharing capabilities, integration with wearable devices, and activity tracking apps. The list above isn't definitive. Depending on what you find out about your audience, you'll want to tailor it.
5. Choose a monetization model
There's a lot of money to make with a fitness app. The latest OTT statistics show that media revenue from OTT apps is forecasted to pass $210 billion by 2026, nearly double the revenue of 2020. That's why you want to plan for how you'll monetize your fitness app.
Here are the most common ways:
Memberships: A popular model for fitness apps, membership sites offer users full access to content and features for a recurring fee. This can be monthly, quarterly, or annually. Data shows that 45.2% of membership communities bring in 6 figures each year. 6.9% bring in 7 figures.
In-app purchases: These can include one-time payments for personalized diet plans, workout routines, or one-on-one coaching sessions. It's a good way to let people test the waters before committing to a membership.
Merchandise: Selling branded merchandise or fitness equipment that complements your app's content can be an additional revenue stream. For example, yoga mats for a yoga app or resistance bands for a strength-training app.
Sponsorships and advertisements: Partner with relevant brands to offer sponsored content or integrate ads. However, make sure your ads don't disrupt the user experience.
Monetization isn't just about setting a price point. It's about building a sustainable revenue model that provides continuous value to your users, encouraging them to remain engaged and loyal to your app.
It's simple with Uscreen.
Build, launch and manage your membership, all in one place.
6. Choose a development path
Now you're at the most important stage of creating a fitness app: How you'll make it. There are 2 main options:
Develop the app yourself
Lease the app from an OTT platform
Let's weigh out your options.
Develop the app yourself
Now, this doesn't require you to learn code. You can easily find a mobile app development company on sites like Upwork and Fiverr.
This is a good route if you prefer to have total control over the app. If you don't mind a bit of project management and overseeing a lot of moving parts like hosting, payments processing, plugin-ins, and maintenance, then you could try developing the app.
It's costly. The app will cost somewhere between $10,000 and $20,000 dollars and take between 3 to 6 months to create. And that's not factoring in maintenance costs and ongoing hosting fees.
Sounds like a drag, right? Fortunately, there is an easier way.
Lease the app from an OTT platform
The easiest and most cost effective way to create a fitness app is by leasing one. OTT platforms like Uscreen let you lease a white-labeled app for a fee.
With Uscreen, you get:
An app that sync automatically with your Content Management System (CMS).
Everything in one to make ops and management simpler.
Full control over your audience so you can engage with them.
Amazing support to help you out.
A fully branded experience.
This way, you don't have to worry about anything except creating content and managing your membership business. Our developers will create a white-labeled fitness and health app just for you. As opposed to building an app for tens of thousands of dollars, you'll rent it on a monthly basis.
Here's an example of what your content will look like on an app developed by Uscreen. On Power Nation by Tony Horton's app, members can watch all course content and even share it with others. With a simple scroll and tap, they can see a description of the course and jump to the next lesson.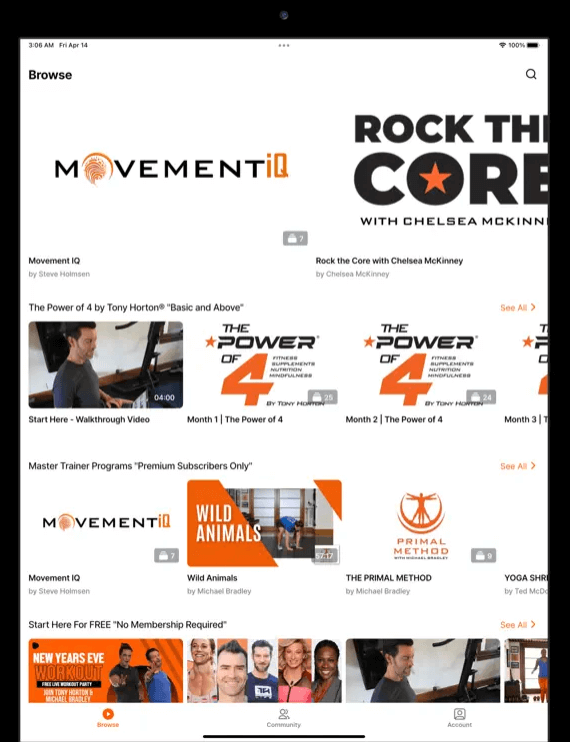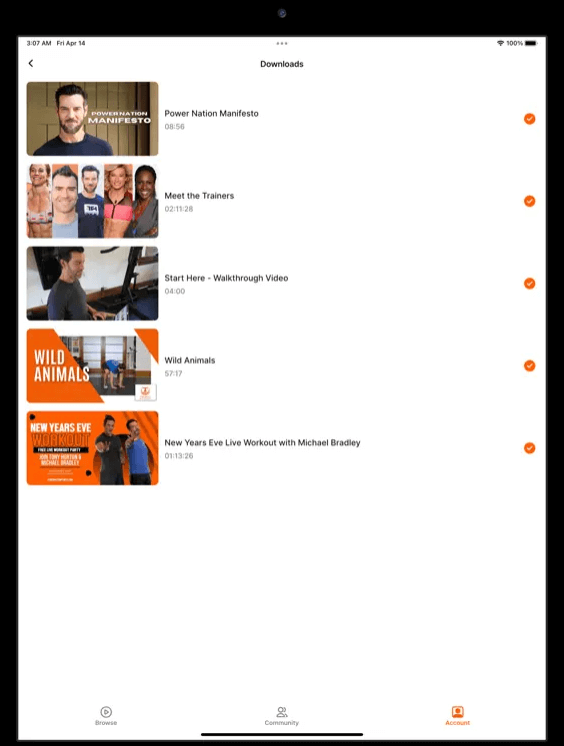 Launching an app with Uscreen is simple:
Set up a Uscreen account and place an order for your app.
Get your video website ready by adding content.
Set up your app developer account.
Give us your app requirements.
Wait four to five weeks while we build your app.
Test your new fitness app.
Submit your app for approval in the App Store.
Once approved, your app will be live and ready to use by your members. Even after you're live, we'll handle the backend maintenance and continue to optimize your app in the background.
💡FUN FACT: The average iOS app built by Uscreen for creators has an average 4.9 out of 5 star rating.
7. Submit your design requirements
Normally this step would involve sketching out the structure and layout of your app and creating user stories to guide the fitness application development process. It's a little different when you lease an app from Uscreen.
All you need to is provide us with some branding elements:
Your logo
Color scheme
Typography
Images and videos
We'll keep regular communication with you about design updates to assure your vision comes to life.
8. Test your minimum viable product (MVP)
After 4 or 5 weeks, you'll get a beautiful fitness app to test out. You can release the app to a focus group to gather feedback.
Make sure your app is intuitive and performs well, and report any slow load times or potential bugs to the software development team.
9. Submit and publish
Once you test your app and give us the green light, we'll submit it for approval to various app stores. Apps published on platforms like Apple's App Store or Google Play Store must adhere to specific design guidelines. The Uscreen team is familiar with these and will submit your app to these stores for you.
Build your fitness app today with Uscreen
If your goals are to build a niche fitness membership and generate stable income, an OTT app is the way to go. An app lets more people access your content, so you can carry on your mission of making a positive impact and helping people become the best version of themselves.
Uscreen's fitness apps provide intuitive, easy experiences for iOS, Android, and smart TV devices. Fitness influencers and entrepreneurs like Yoga with Adriene and Chris Downing are already driving membership sign ups with professional and beautiful apps.
Want to join them? Sign up for Uscreen today and learn how we can help.
It's simple with Uscreen.
Build, launch and manage your membership, all in one place.
Fitness app development FAQ
Can I make my own fitness app?
Yes, you can make your own fitness app. It requires planning the app's features (like workout routines, diet plans, progress tracking, etc.), designing the user interface, and developing it yourself or hiring developers. Platforms like Uscreen let you make a fitness app without any software knowledge or technical expertise.
How much does it cost to create a fitness app?
A fitness app with basic features can cost you between $10,000 and $20,000 to develop, along with three to six months. Creating a fitness app with Uscreen costs significantly less and takes 4 to 5 weeks.
Can you make money with a fitness app?
Yes, you can make money with a fitness app. You can make money by selling workout or diet plans, in-app purchases, subscriptions, ads, or partnering with fitness companies.