The online fitness niche is saturated.
It's filled with more posers and protein peddlers than the gym at peak time.
If you're anything like me, you often feel it's the best marketers, or the most photogenic trainers, who get all the attention.
The best coaches, however, tend to get lost in the noise.
So, how are you supposed to stand out and monetize your fitness expertise in this kind of online marketplace?
Simple: you offer something no one else is.
In this article, we're going to tell you how to differentiate your online fitness business by offering the one thing your ideal customer actually wants but isn't getting.
The Biggest Challenge Facing Your Online Fitness Business
Let's start by addressing the biggest challenge you're facing in 2020.
It's overcrowding.
Health and fitness professionals tend to follow the same copycat marketing model. Here's a rough sketch of how it looks:
Start an Instagram account

Post a mixture of the following:

Well-lit pictures with motivational quotes (fewer clothes = more likes)

Text-based images with oversimplified advice ("Don't eat carbs after 7 pm!")

Sensationalized news image ("Milk causes cancer!")

Use more hashtags than necessary

Build followers really slowly

Hit around 1000 followers, begin to promote:

Merch

Courses

Online training

eBooks
If you were to pull out your phone right now and look at some fitness feeds, you'd almost definitely see elements of it. (And a few puppies, for good measure.)
This type of model makes it incredibly hard to stand out because eeeeeeverybody's doing it.
This puts you in what's known as a "red ocean", a place where competition is high, but the potential to reach people and monetize is low.
You want to be in a "blue ocean", a strategic move that unlocks new customer demands and makes your competition irrelevant.
In other words, you need to create a place for yourself where competition is so low, but the potential to reach people is high.
So, where is this "blue ocean" I speak of?
Online Fitness Studio: Your Blue Ocean
Launching your very own online fitness studio is your "blue ocean".
It's the one thing that other health and fitness influencers aren't offering, and the one thing their followers actually want.
Think about it…
At the core of it all, most fitness content followers are hoping to one day achieve the fitness level of those they follow. But all they actually get from them are gym selfies and motivational quotes.
Even the best and most hard-working coaches will upload workouts to their IGTV or YouTube – but without a professional and consistent program to follow, these isolated pieces of content amount to nothing for someone who is serious about being fit.
Your followers need a health and fitness coach.
This is where you come in and give them just that: an online fitness studio website and app, where they have access to highly organized fitness content, workout plans, professional guidance, and an exclusive online community – all created and lead exclusively by you.
This online fitness studio will be one centralized place where your members can:
Pay to access your highly organized content library and browse by category, workout length, intensity level or any custom filters you choose

Join and engage with your online community of like-minded members with similar goals

Choose to view your content on their desktops via your streaming website, or via their smartphones, tablets or TV using OTT streaming apps.

Access exclusive content and fitness programs you offer

Avoid distractions from your competing brands

Save their favorite videos to their profiles

Download content for offline use on their apps

And most importantly: it's a place where your members are enabled to reach their health and fitness goals through guidance, consistency and convenience
All of these elements create a wow factor; a certain something that separates you from the other fitness professionals in your niche. It positions you as a results-driven trainer who cares about helping people reach their fitness goals.
And, we have the data to prove this strategy works.
At Uscreen, we've spent the last few years working with fitness professionals like yourself to help them build this kind of business.
Online fitness studios on Uscreen:
Have an average of 536 monthly subscribers

Earn an average of $7,503 a month
Now, I'm not here to hard-sell you on Uscreen; you could arguably build this studio yourself (here's a guide on how to do that) or use one of our competitors (here's a full list).
I'm here to tell you about how empowering it is to have an online fitness studio of your own.
With your online fitness studio, you can create and share the content you want, and offer a product that few other trainers in your niche will be offering.
While they battle it out over affiliate sales of Herbalife or the latest yoga pants, you can be building a real online hub that helps your clients get results.
Better still…
If you already have a following on Instagram or YouTube, launching an online studio is easy. You don't need lots of video experience, and we have guides to help you learn as you go!
To make this a little more tangible for you, let's take a look at an online fitness studio in action…
How Sarah Beth Transformed Her Online Yoga Business
Sarah Beth is the owner of Sarah Beth Yoga. She's been teaching online since 2010.
Despite starting before many of today's influencers even came onto the scene, it wasn't until 2016 when Sarah finally built a real audience base (and income) she could live on.
But even then, her income wasn't what she'd wanted. It was unreliable and came from lots of different revenue streams. She needed something tangible, reliable, and easy to grow.
That's when she launched SarahBethYoga online studio, an exclusive yoga membership site and app. This transformed her business forever.
She built an online studio with over 400 videos of routines, exercises, and training plans (much of which used content she'd already created on her social platforms) where her members could get everything they need to hone a consistent and guided yoga practice.
This has helped Sarah Beth become a go-to person in her niche and avoid becoming just another trainer on Instagram.
This business model has worked well for trainers and coaches in all areas of health and fitness; from spin classes and Power Plate courses to HIIT and aerial aerobics.
If you'd like to learn more about how it can help you, read our guide here.
How To Sell Fitness Programs
Online – The Ultimate 2020 Guide
Read guide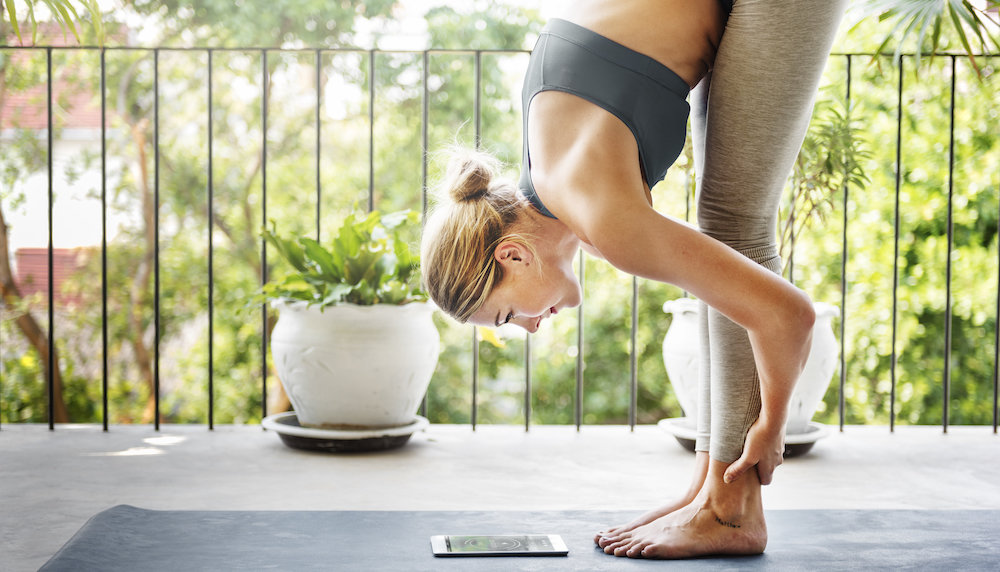 The Cool Down…
There's a lot of noise in the online fitness industry. And, it's easy for your online fitness business to get lost in it.
If you're worried about becoming "just another" online trainer, then now is the time to set yourself apart and create a remarkable resource. How?
By building your own online fitness studio.
Like Sarah Beth, you could build a platform where you connect with clients, grow your income, and build a business you love to run. And, you can earn an average of $7,503 a month for it.
To learn more about how to get started, check out our guide on how to launch your own online fitness studio right here.