You log into Netflix, fully prepared to press play.
But…
30 minutes later, you're still scrolling. You can't find anything you want to watch.
It's enough to make you throw your arms up and say, "Why am I even paying for this?"
(You know, before you return to your old safe bet.)
But do you know what's worse than endlessly scrolling through Netflix?

Realizing your customers do the exact same on your platform; they struggle to find the content they need and end up in a black hole of scrolling.
We have a saying here at Uscreen:
Your content is only as good as the viewer's ability to find it.
If your customers can easily find the content they want, it increases their enjoyment and overall satisfaction. Better still, it will make them want to keep using your platform for the long-term!
So…

In this article, I'm going to show you how to organize your content catalog, so that you can put your content where it's meant to be – in front of the customers who need it most.
If you need technical guidance along the way, you can also refer to our Uscreen help guides, which dive into a range of topics.
For now, we'll cover:
Let's dig in.
Why Is Organization Important?
Catalog organization can make or break the user experience.
How you organize and display your videos has a huge impact on your business. Why?
Because your catalog is your product.
Your catalog showcases your videos for potential customers, displaying your full library of content.. It also gives them a preview of how they'll interact with your product.
Organization serves so many important purposes for your online video business.
User experience: A catalog that's easy to search and navigate can help you to convert more customers. In fact, 64% of online shoppers say simple site navigation influenced their decision to make a purchase.
Branding: From structure to copy to aesthetic, your catalog is your viewers' first interaction with your brand. It says a lot about what your brand is, what it looks like, and what it stands for.
Marketing: A well-organized catalog leads potential customers down the funnel, from preview to purchase to using your videos. It also allows you to highlight your featured or latest content.
An organized catalog positions you to best serve your viewers. You create a better customer journey for your audience and minimize cognitive overwhelm.
Why?
Because it allows you to…
Help viewers find the videos they're looking for

Guide browsers to content that's right for them

Group content for an intuitive user experience
When you make it simple for customers to find the content they need — even if they don't know what to search for — you give them a better viewing experience.
Now that you understand why organization is so important, let's go over how Uscreen helps you sort and structure your content.
The Building Blocks of Video Organization
Uscreen allows you to organize your content with 4 core components:
Catalog: your full library of content, displayed by categories
Categories: the genres that contain your videos and collections
Videos: your individual videos within a category
Collections: a group or series of videos to be watched together, within a category
Let's take a closer look at these components and how you'll use them to structure your video content.
What is a Catalog?
Your catalog contains your entire library of content. It's where customers will preview, purchase and access your videos.
As you publish videos to your site, your catalog page automatically displays these videos. Your catalog is displayed by categories (more on that later).
Every storefront has a catalog where:
Potential customers can browse and purchase your content

Current users can log in to your site
When new customers come to your page, they should see a full page of content. It's visually appealing and gives your content greater authority as an established expert.
What does a well-organized catalog look like?
Consider The Dog offers online canine training tutorials. Here's their catalog: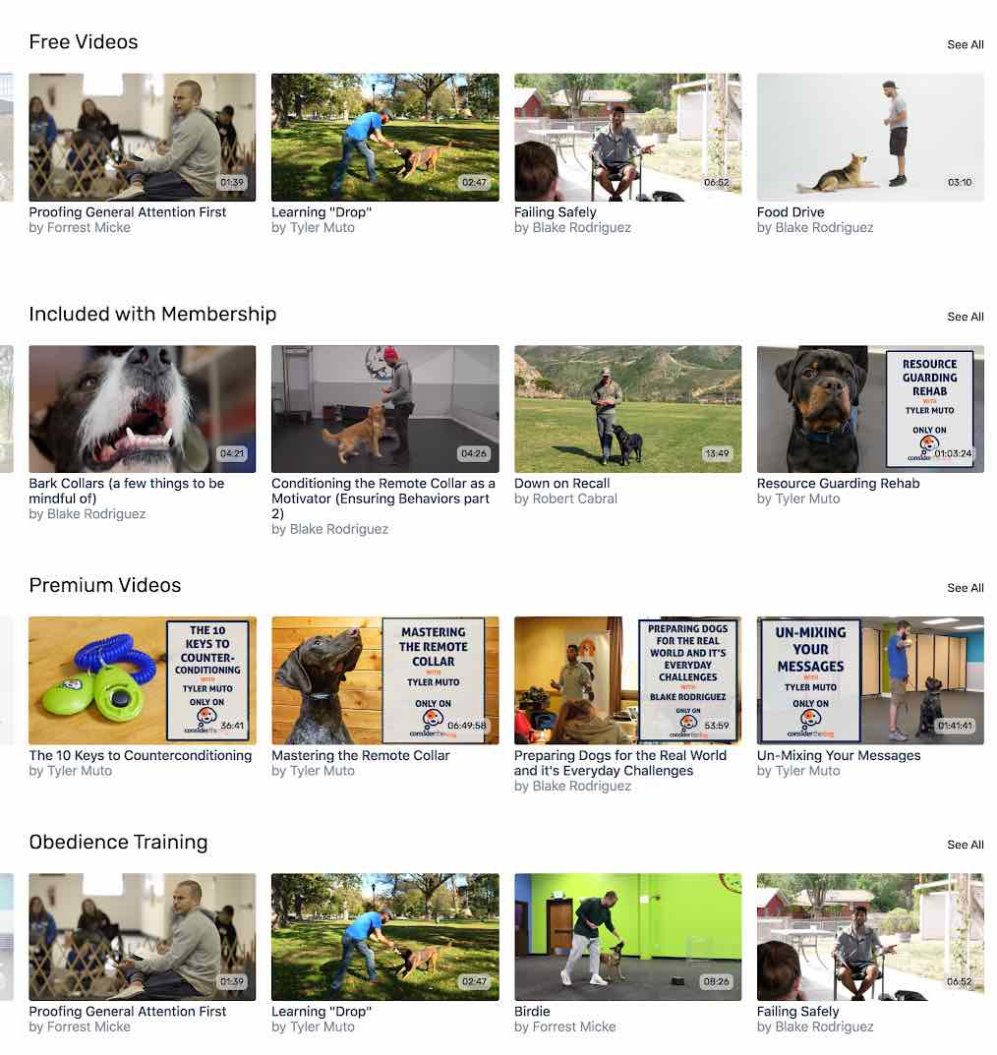 What makes this page stand out? It's because they have:
A full page of content, with no gaps

Descriptive, clear categories

Newly released featured content

Visual consistency across categories

Large, easily readable titles
We'll talk more about optimizing your catalog for best results later.
Okay, now you understand your catalog, it's time to look at the sections that make it up: your categories.
What Are Categories?
Categories are the genres or topics used to group your videos.
Depending on your industry and content focus, there are a ton of ways to use categories.
For instance, an elearning business specializing in arts and crafts might want categories like…
difficulty level

materials needed

area of the body targeted

length of lesson

instructor's name

live tutorials
…or anything else users could use to narrow their search.
When selecting categories, think of different viewers' needs. Beginners will be looking for different content from intermediates, for example..
Categories should be specific to your industry and your customer's needs.
Take Magic Stream, who provides access to online magic tutorials.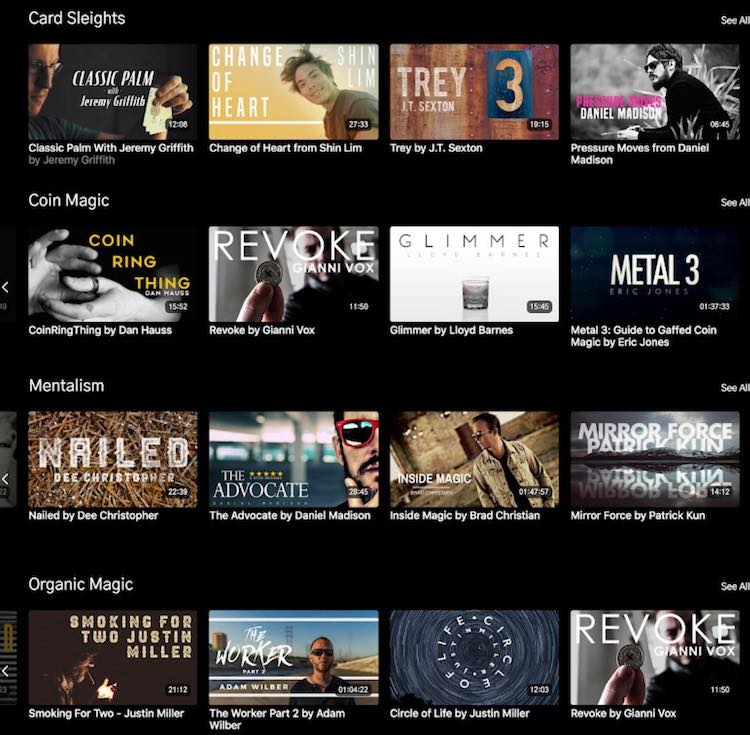 Their categories include:
New to Magic Stream

Card Sleights

Coin Magic

Mentalism

Organic Magic

Magic Stream Originals

Visual Magic

Gambling Demonstrations

For Beginners
These categories are effective because they are descriptive, relevant, and match the customer's expectations.
The more intuitive your categories are, the better.
You can even add a video in more than one category if there's overlap for easy searchability.
Make it easy for your customers to find what they're looking for!
How Many Categories Do I Need?
We recommend starting out with at least 3 to 4 categories. Each category should have a minimum of 3 to 4 videos.
This is the minimum to ensure viewers see a full page of content in the catalog. To see additional videos, a customer would need to click "see more."
Let's break it down:
3-4 categories x 3-4 videos each = 9-12 videos minimum.
But don't worry if you don't have the suggested minimum. We have many successful clients who started with fewer and built up their offerings over time.
Once you've chosen your first videos, it's time to think about how you'll arrange them for your viewers.
Organizing Your Categories
The arrangement of your content matters. You're telling viewers a story.
The "story" is important because you want to help your audiences navigate and progress through your content. A loose narrative helps viewers understand:
How to begin their journey through your videos.

What to expect as they move forward.

Where they are going.
When you give categories a logical structure, you give viewers the roadmap to your content.
You also protect your audience from bouncing from page to page, which decreases engagement over time.
How do you position your categories logically?
You can control the order of videos and collections to:
Keep new and free content upfront.

Bring attention to your main content.

Close with more niche or specific content.
Basically, you can display content in the way that's most important to you and your viewers.
You can also add a Featured Category block, which appears in the main block before the first category.
Foodable uses a featured category to highlight their best content: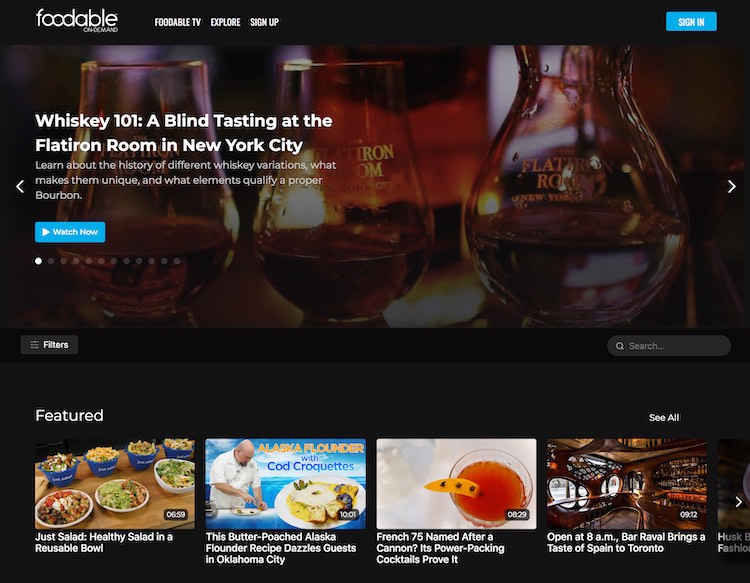 After the featured section – whether that's targeted at new subscribers, beginners, or your most exciting content – you can display the rest of your catalog in other relevant categories.
It's important to have a logical flow between categories, like stacking content in terms of difficulty, like…
beginner

intermediate

advanced
…because when the flow of content makes logical sense to customers, they'll be more comfortable engaging with your videos.
If several of your videos are meant to be watched as "episodes" of the same "series," consider combining into a collection.

Suggested read: Are You Adding Too Much Content to Your SVOD Service?
What Are Collections?
A collection is a group of individual videos meant to be watched together in sequence. They appear in your catalog under the category you assign it to, just like a standalone video.
Think of collections as a curated playlist of your videos. They're meant to be watched from A-Z.
Collections are a great way to include…
courses

calendars

challenges

standalone series
…within your SVOD website.
Collections help your audience find the videos they need to achieve their goals.
Depending on your industry, there are a ton of different goals a collection can be geared towards, including:
Challenge: 30 Days to Ripped Abs
Course: How to Get Started With Scrapbooking
Series: Good Habits for Recreational Divers
Take a look at this collection from GUE.tv. The goal here is to help recreational divers form good habits, with each video discussing a different habit.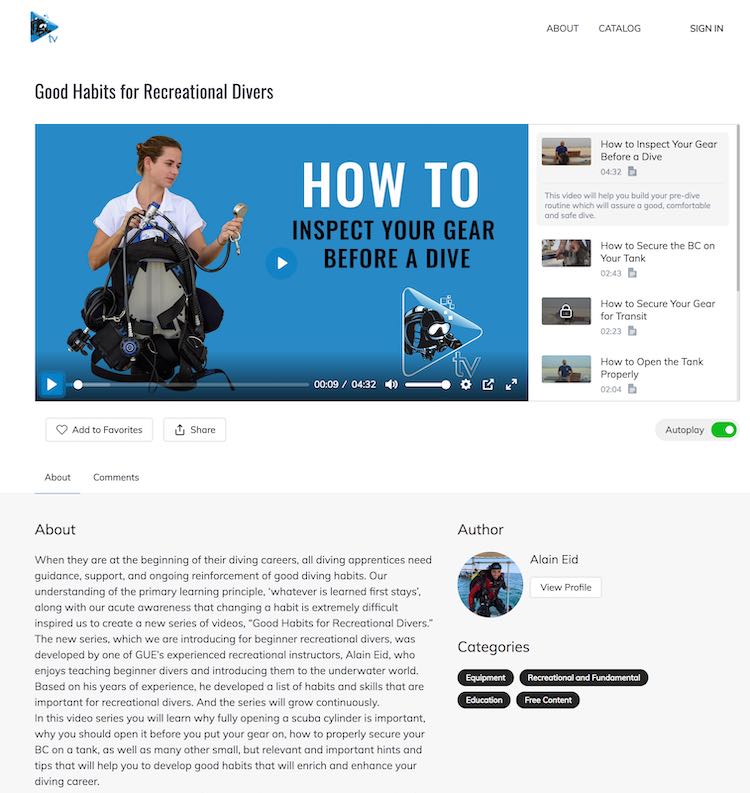 This collection is a well-structured series because each video:
Fits a common theme.

Follows a logical sequence.

Helps users get closer to their goal.
Each short video helps beginner recreational divers master a different good habit or skill. The clips take viewers on a journey from pre-dive prep to post-dive care.
You can expand your collection into a full-fledged course or challenge by including PDF extras like…
calendars

course manuals

checklists

quizzes

suggested reading
…or any other resources else that might supplement your videos.
Organizing Collections
Just like an individual video, collections are organized by category.
You can assign collections to one or more categories that also have individual videos. Or you can have a whole category just for collections. It's up to you.
Consider categorizing certain collections as free and premium content. This gives potential customers a taste of your content before subscribing and incentivizes a purchase.
You can also add dividers between videos to break up the collection. This can make your collection more digestible as they'll know what to expect at each stage.
In their DJ Masterclass collection, music production platform FaderPro divvies up the lessons: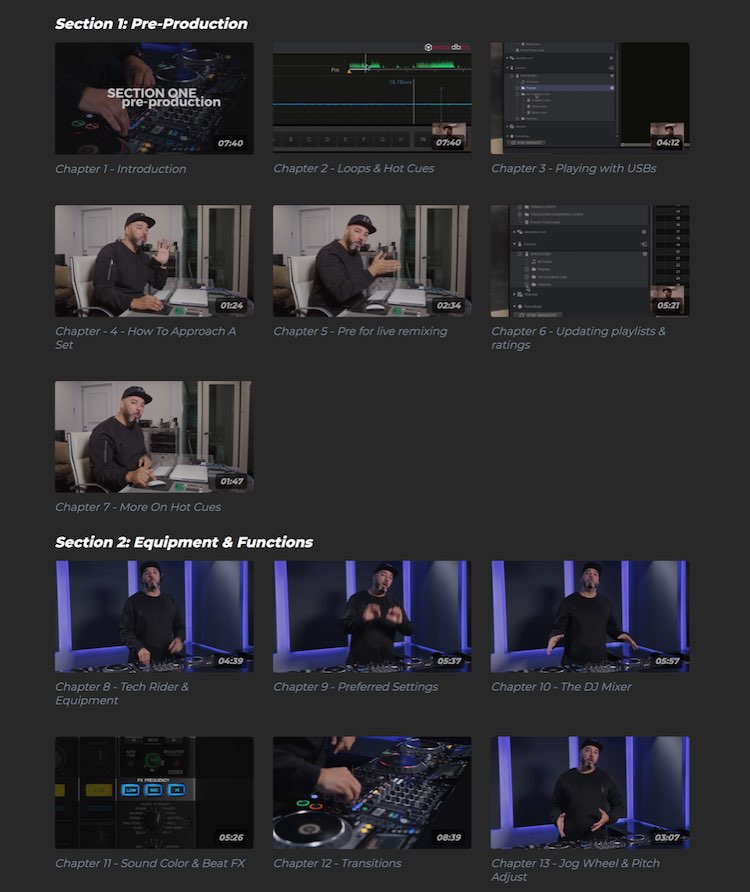 By dividing their video chapters into sections, FaderPro gives their students a blueprint of what the course will cover. It also helps viewers understand where they are in the course.
Collections also give you the option to drip release of your videos. You can delay publishing videos for a specific time after the customer starts watching the collection.
Now that you've categorized your videos and collections, how do you make sure your customers can sort through it all?
Two words: Custom filters.
Leverage Custom Filters
A filter is a drop-down menu that helps your audience find relevant content.
Filters are important for searchability and convenience. It's how your viewers narrow their search, even if they don't really know what they're looking for.
Your catalog is already searchable by filters like category and author, if you've enabled it.
You add custom filters to allow viewers to search by…
topics

video length

difficulty level
…or any other aspect of your content that will be useful to searchers.
You can create any filter that applies to your industry or business.
The best part: customers can layer filters. Let's look at an example from dance school RAQS Online.

They offer filters like:
category

author

fitness / focus

topics

class length

level
Let's say a subscriber is looking for a bellydance video that focuses on the core. Having already completed the basics, they're seeking something more advanced. Plus, they're short on time.
How do they find this content?
Custom filters.
When this customer selects their preferences via filters, they'll find exactly what they want:

Custom filters help you sort your content so views find what they need, even if they don't know exactly what to search for.
Because they're personalized by you to fit your business and brand, these filters give your customers specific, descriptive and accurate search options.
This enables you to give your customers the best possible search experience.
Final Thoughts
When you take the time to thoughtfully organize your video content, you provide customers with a better product and improved experience.
Uscreen allows you to organize your content with a few basic blocks:
Catalog

Categories

Videos

Collection

Custom Filters
Well-organized video content is easier for viewers to navigate. When you create an intuitive and logical structure for viewers, you lower the barrier to entry for viewers to watch your content.
Once you've organized your video content, you're ready to head over to the next post in this series: How to Optimize your VOD Catalog.
How To Optimize Your VOD Catalog
for Better User Experience