It's the 2000s and everyone is rocking trucker hats, listening to "One More Time" by Daft Punk, and the only way to monetize your videos is… YouTube.
Luckily, that's no longer the case (and trucker hats never made the comeback, phew!)
Today, you can monetize videos in many different ways: memberships, ad revenue, sponsorships, and merch sales. All so you can earn big from the billions of internet users streaming nearly eight hours of video weekly each.
The reality is that to make a steady income that you're in control of you need to own your channel.
And we know it can be a bit of a minefield. So this article will help you pick the best video monetization platform for your business.
Let's get into it!
Top video monetization platform picks
| | |
| --- | --- |
| Platform | Best for |
| Uscreen | Creators selling video memberships |
| Vimeo | Beginner video creators |
| Muvi | Selling PPV |
| Dacast | Professional broadcasters |
| YouTube | Creators monetizing with ads |
| Patreon | Multi-channel creators |
| Twitch | Game streamers |
| TikTok | New content creators |
What is video monetization?
Video monetization is the process of generating income from the videos you share online on any platform — whether that's YouTube, Patreon, or other video-on-demand (VOD) platforms.
How much can you earn from videos?
The 70% of Uscreeners who offer video streaming on subscription earn $5,800 on average for their video library each month.
For YouTube — the highest paying rented platform — the number is $4,616 monthly.
*A rented platform is a video monetization platform that you don't control.
Here's how YouTube compares to three other popular rented platforms.
Other factors that can influence how much your videos earn are:
Niche or industry: For example, people watching finance or technology content will have a higher buying capacity, so you'll earn more on memberships, sponsorships, or ads.
Type of content: Longer or more complex content, such as in-depth tutorials or reviews, are generally more valuable than shorter, simpler content. YouTube shorts pay lower than regular videos, for example.
Views and engagement: Platforms like Facebook pay $0.01 each time a 'fan' sends you stars. Creators with more views and engagement can also attract sponsorships, leading to higher earnings.
Types of video monetization
Typically, you'd monetize videos through one — or a combination — of these methods:
Memberships and subscriptions
When users pay a recurring fee to access your videos, that's subscription video on demand (SVOD). This is how Netflix, Hulu, Roku, and Uscreeners earn millions of dollars from their videos.
The average person spends $219 on subscription plans per month. That's payment for services like the internet, movie subscriptions, and digital subscriptions.
It's no surprise then that nearly 45% of membership site owners earn all, or the majority of, business revenue from memberships.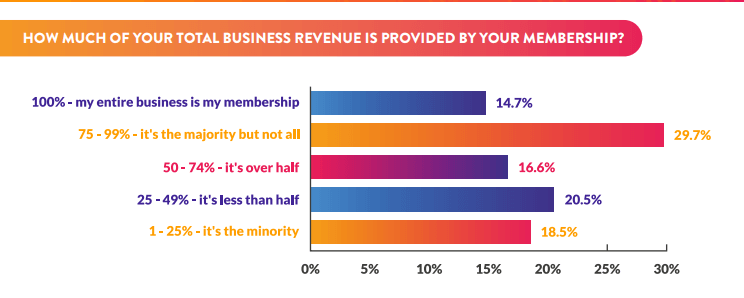 Just some of the reasons why people buy memberships:
Access to an active community of like-minded people — which improves the user experience.
Exclusive, ad-free content and services
To support their favorite creators – so they can keep creating content.
It's the pinnacle of the creator economy!
Membership sites have the highest potential for video creators in tight niches like yoga, or art school. Tight circles like that make sure that everyone in your community is interested in every video you place behind the paywall.
🧠 LEARN: How To Create a Video Membership Site: The Ultimate Guide for 2022
Video courses
With the shift to remote life, more people are learning online today.
Data from Coursera (an online video platform for courses) alone shows a 29% year-over-year growth in registered learners, and a 32% growth in enrollments.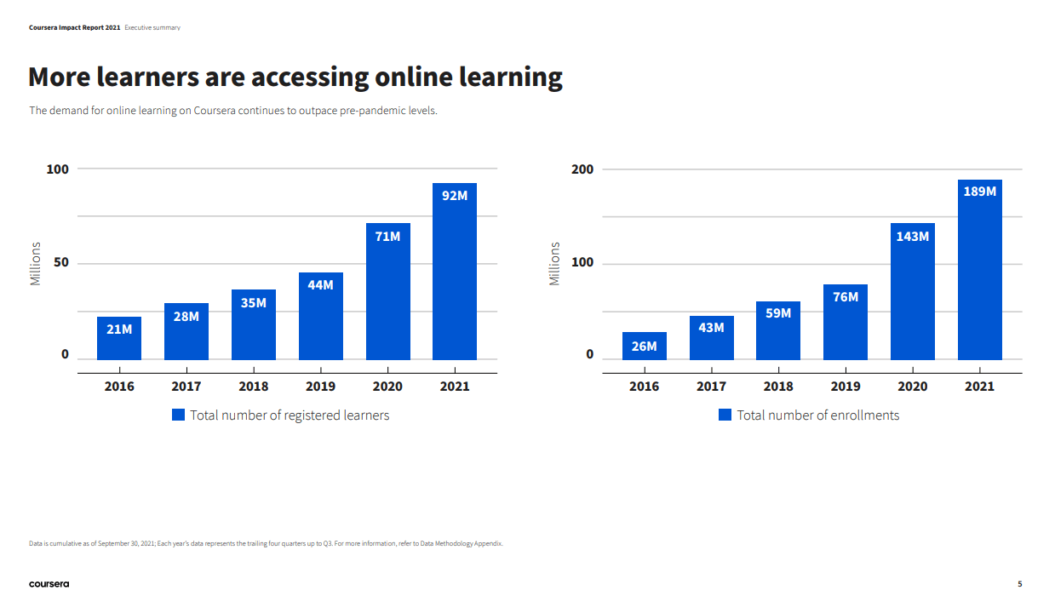 With the tons of free information published on YouTube and other video platforms, you might wonder why anyone would pay for a video course.
Just some of the reasons why users may buy premium video courses:
Structured, high-quality information from experts means buyers save hours — and even days — looking for the right information.
Courses often come with support from the creator, so users can ask questions and get reliable answers.
Paying for courses canmotivate a learner to complete the course and take action.
And as the course creator, you can make an average of $2,486 per course, according to Teachable internal data.
To promote courses, creators typically:
Use free content to build a fanbase on YouTube, blogs, and social media.
Invite followers to opt-in to a course launch email drip.
Retarget non-buyers with ads on social media.
If you're not ready to launch your own membership business yet, you can test it or get proof of concept by launching one or two courses and see how it goes. You can always add these courses to your membership platform catalog later.
🧠 LEARN: How to Design an Effective Online Course (In 7 Easy Steps)
Live streaming
You can monetize live streams on a rented platform like Twitch. Or, monetize them through membership fees with Uscreen. People watch live videos for entertainment, education, and community.
The case for Twitch: Seven million creators live stream video games to 2.6 million daily viewers on Twitch (Amazon's live streaming service). Pulling in 1,000 viewers per stream can expect to make you around $5,000 per month according to Stream Facts.
The case for memberships: Creators make money through video ads, subscriptions, and bits (tips). And promote their channels using other social media like Twitter and Instagram.
If you're a gamer, Twitch is the perfect place to monetize your videos because of the highly targeted audience. But as always, you can maximize earnings beyond pay-per-view (PPV) using products, courses, and independent memberships.
Advertising
Brands pay you to put ads, like commercial display banners, and sponsored content in your videos. This means viewers can access your content for free as long as they don't mind being interrupted by ads. To earn money through advertising, you'd host your videos on advertising video-on-demand (AVOD) platforms — like YouTube.
Direct transactions
If you've ever bought – or sold – courses, or a movie on Amazon, that was a transactional video-on-demand transaction (phew! mouthful). With TVOD, people pay for the amount of content they want to watch.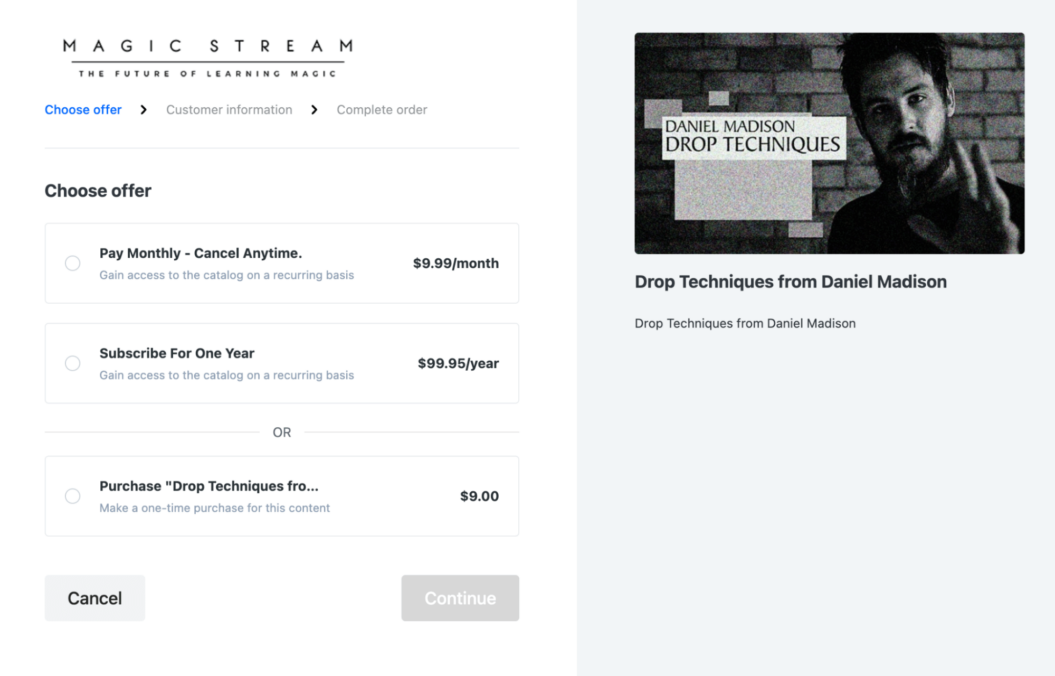 8 best video monetization platforms
Before we look at the best video monetization platforms, it's important to know what features you need to make a priority.
For example, if you want to sell memberships and video courses, a beautiful viewing experience is a must. However, if you want to sell brand sponsorships on social media, that's not as much of a deal breaker.
With that in mind, let's look at the top options for creators.
1. Uscreen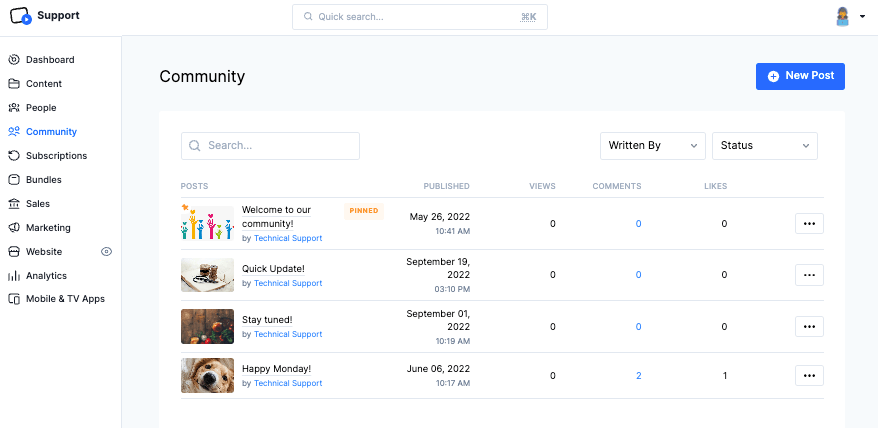 Uscreen is an all-in-one video monetization platform that gives you full control over your branding, audience, and income. 
You can create your own branded website, host all your content, and monetize it on your terms.
You get to use all of your favorite marketing tools for email, automations, and analytics – plus there are plenty of built-in tools to help if you're new to the digital business model.
Everything your video business needs, you'll find with us, including:
Live streaming.
Intuitive content management with catalogs and series.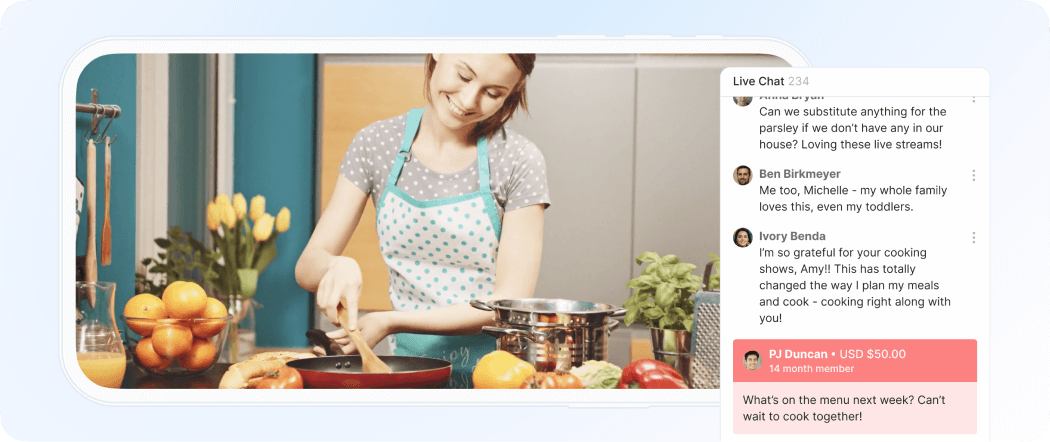 One brand on Uscreen is MyTRIBE, which produces family-friendly religious content and tells stories in an accessible way.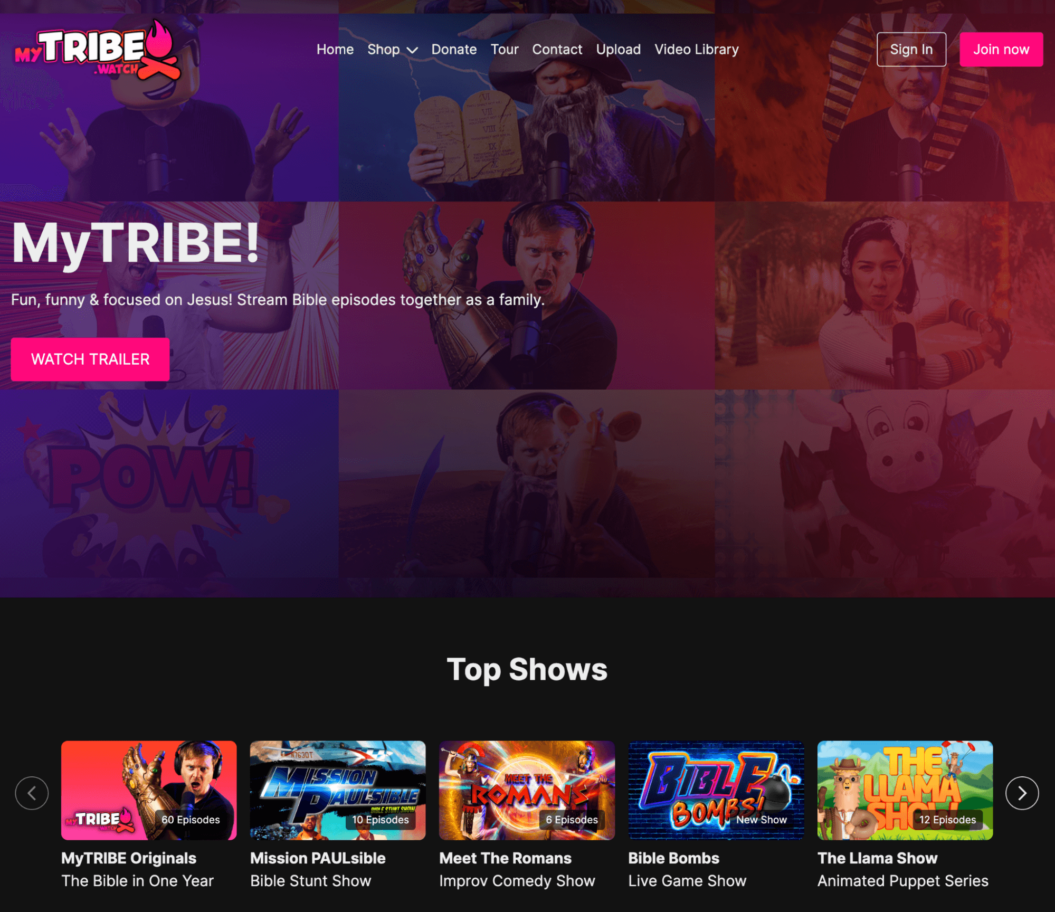 They offer an engaging way for children to learn about Christianity and take advantage of tiered membership packages for their subscribers. MyTRIBE monetizes their video content through a yearly membership fee. You can even try out the platform free for 7 days.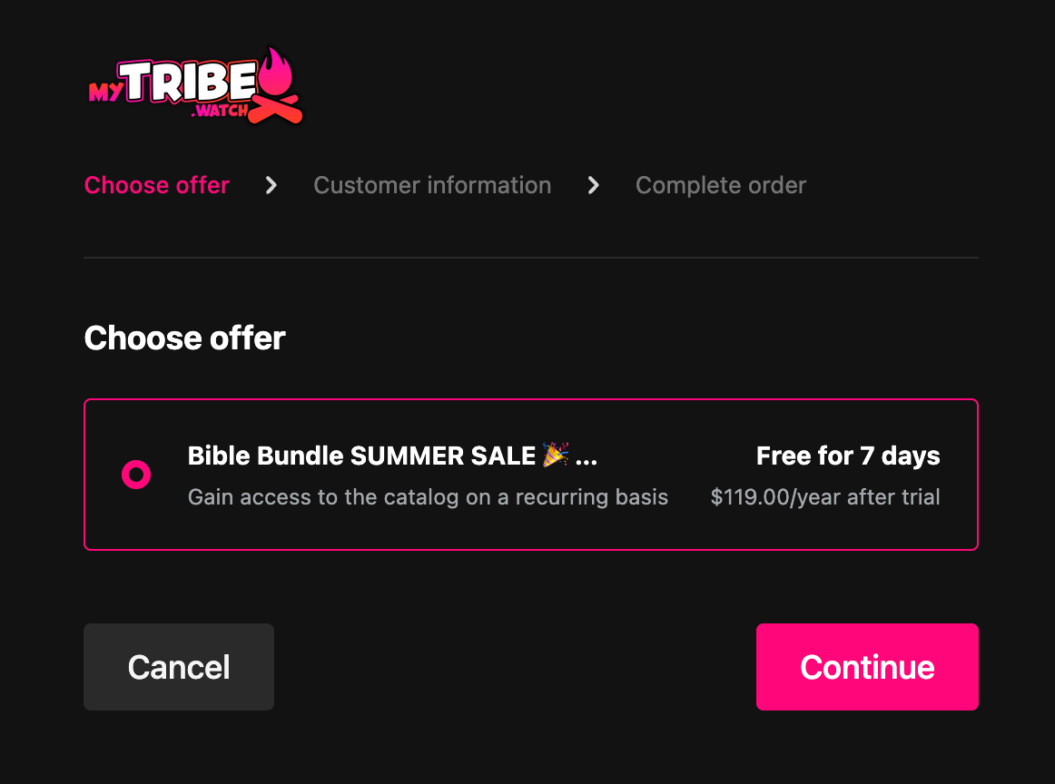 With Uscreen, you can create custom branded Over-The-Top (OTT) apps for platforms like iOS, Android, Apple TV, Roku, and more. Members can access your content on their favorite devices and download content for offline viewing.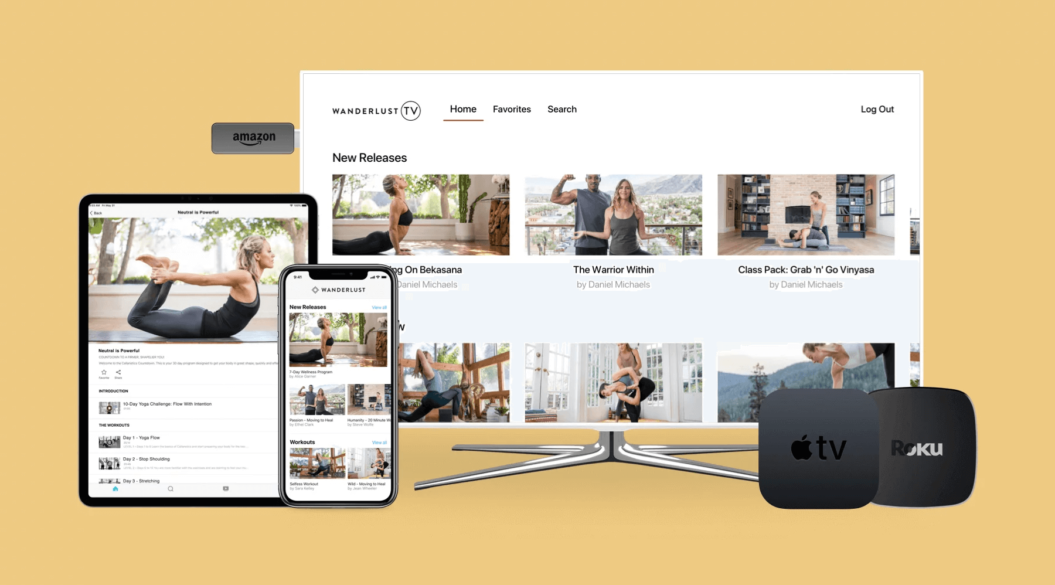 Features:
Customizable video player with media controls.
Tiered membership options.
Live streaming.
Extensive branding and design options.
Integrated growth-focused marketing tools.
Secure automatic content backups.
Easy to set up recurring payments.
Popular checkout options like PayPal, Stripe, and credit card.
Integrations with Mailchimp, LinkedIn, and more. 
Pros:
Exceptional video-focused platform.
Seamless community integration.
Versatile monetization methods.
In-depth analytics and insights.
Free trial: 14 days
Pricing:
Basic package ($149/mo , plus $1.99 per paid member/mo): Lets you build your website, host your videos, tier your pricing, use our marketing tools, and access analytics.
Growth package ($499/mo, plus $.99 per paid member/mo): Lets you integrate your own tools, add eCommerce elements to your site, and run an affiliate program.
Uscreen Plus (Custom pricing): You can add live streaming and live chat to your site, and remove all Uscreen branding.
2. Vimeo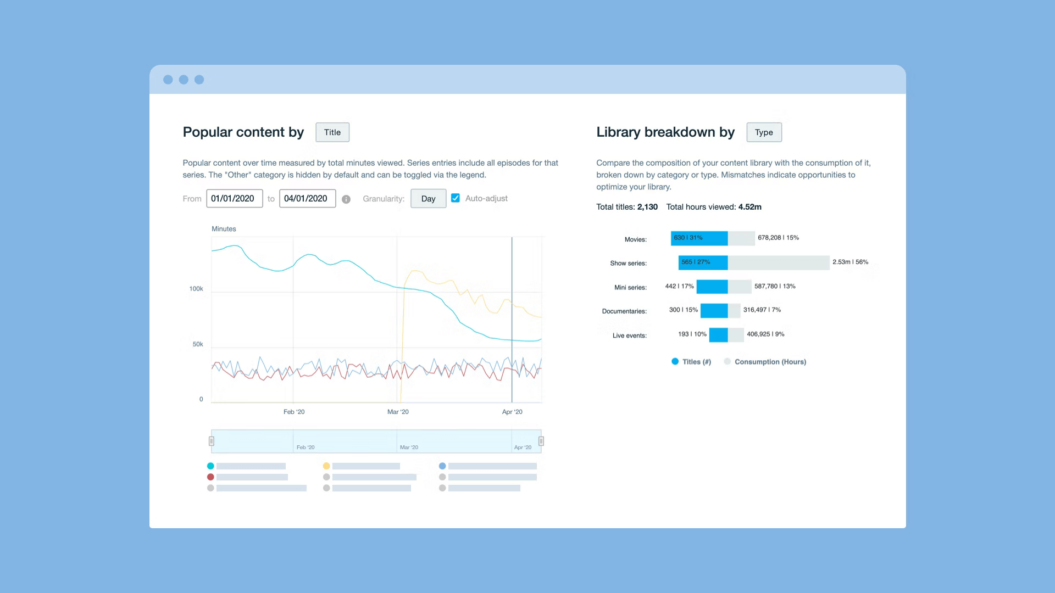 Vimeo has different hosting solutions for OTT and livestreaming. This platform gives you access to full-HD streaming, with an all device video player so anyone can watch your video content.
You can also take advantage of polls, audience chat, and Q&As to engage with viewers. Vimeo doesn't run third-party ads on your videos, which provides a clean and uninterrupted viewing experience for your audience.
Features:
Supports TVOD, SVOD, and rentals.
Powerful security tools.
White-label video player.
Simulcasting and multi streaming.
Viewer engagement tools.
Pros:
Global content delivery.
High level of customization.
Advanced analytics.
Access to Vimeo's video maker tool (Vimeo Create)
Cons:
No ad revenue.
Limited storage on free plan.
Free trial: 7 days for paid plans.
Pricing:
Starter ($24 per seat / mo): Get the tools you need to make, manage, and share videos. 60 video maximum.
Standard ($40 per seat / mo): Everything in Starter, plus more video marketing and customization features. 120 video maximum.
Advanced ($130 per seat / mo): Everything in Starter and Standard plans, plus live streaming, virtual events, and marketing integrations. 500 video maximum.
Enterprise available with custom quote.
3. Muvi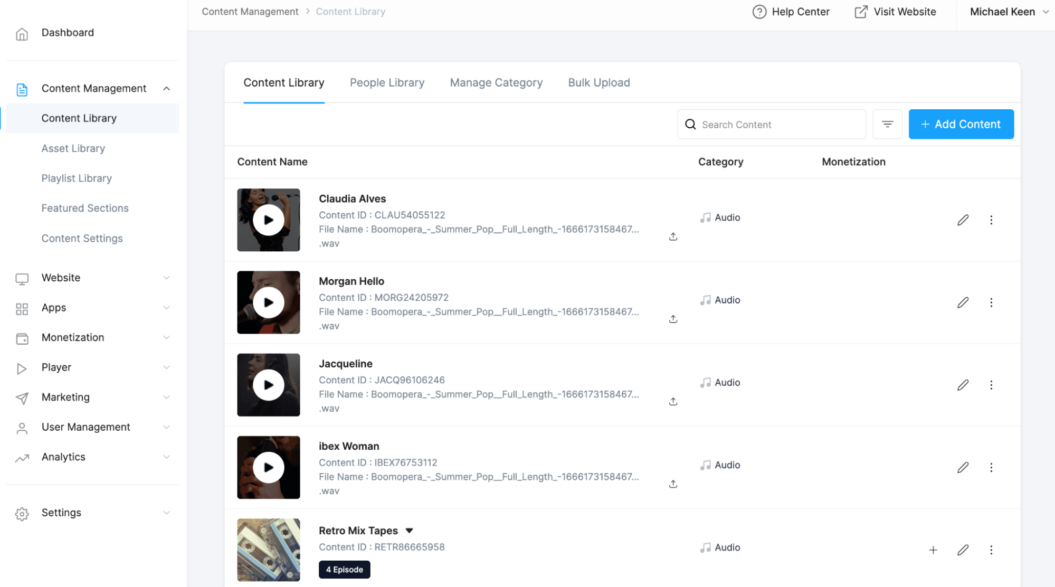 Muvi is well-known for its popular audio and video streaming platform, with an e-commerce edge. You can build custom VOD channels for your brand. Plus, with Muvi Kart, you can sell physical products to maximize sales.
Muvi handles everything from IT infrastructure to payment gateways so that you can deliver content around the world.
Features:
Tools to monetize through SVOD, PPV, AVOD, donations, and vouchers.
Native mobile and TV apps.
Advanced vCMS.
Related content cards on videos.
Full-featured, customized website.
Option to watermark videos.
Pros:
Unlimited video uploads and concurrent viewers.
Quick and easy set up.
Cons:
Limited website templates.
Limited marketing tools.
Free trial: 14 days.
Pricing:
Standard: $199/mo plus infrastructure fees.
Professional: $499/mo plus infrastructure fees.
Enterprise: $1,999/mo plus infrastructure fees.
4. Dacast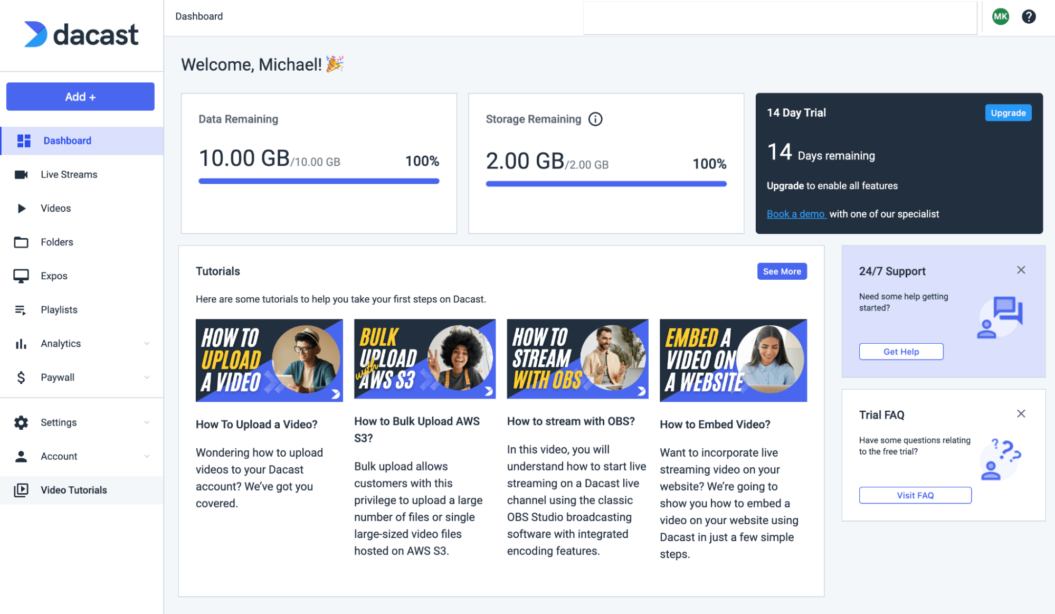 Dacast offers video hosting for both live and on-demand content. You can white label your video player and is ideal for non-technical broadcasters.
One setback is the limited bandwidth you get from lower-tier plans. They don't havebuilt-in editing tools and it can get expensive the more viewers you have.
Features:
Global CDN.
Video API access.
Supports SVOD, TVOD, and AVOD.
Live streaming.
RTMP and HLS channels.
White-label video player.
Real-time analytics.
Pros:
Tools suited for creators.
24/7 customer support.
China video hosting.
Cons:
Extra fees for more viewers.
Free trial: 14 days.
Pricing:
Starter: $39/mo; 2.4 TB per year, 500 GB storage.
Event: $63/mo; 6TB upfront, 250 GB storage.
Scale: $165/mo; 24 TB per year, 2000 GB storage.
Custom plans are also available for high volume needs.
5. YouTube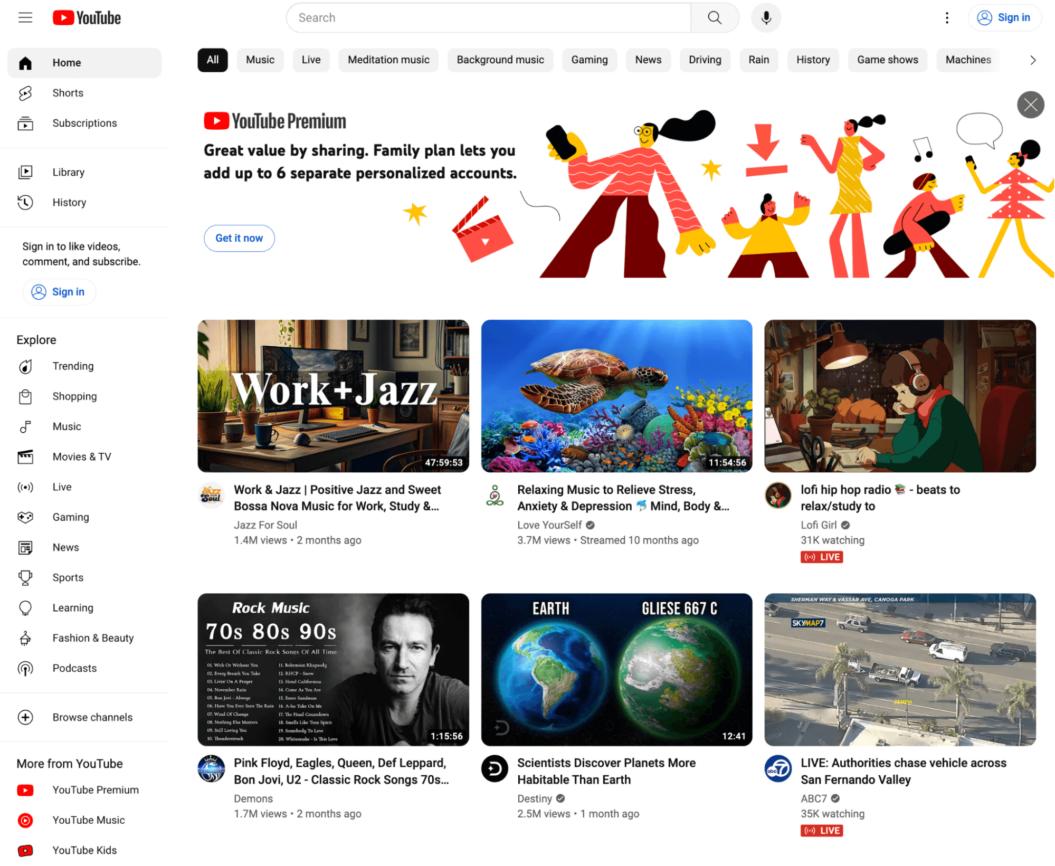 Thanks to the low barrier to entry, over 51 million creators try to monetize their videos with YouTube.
YouTube gets 34.4 billion monthly visits after all, and creators can sell everything from physical products to sponsorship slots — it's a robust monetization platform. People spend over 23 hours per month on average on YouTube.
Video streaming on YouTube is done through their website, mobile app, or smart TV app.
Most people know that YouTube makes its money through advertising and creators get a cut when they're eligible for monetization, which requires:
An AdSense account.
At least 1,000 subscribers.
At least 4,000 valid public watch hours in the last year.
Creators to live in specific countries or regions.
Your channel has no active strikes against it.
Plus, you need to agree to the YouTube monetization policies. 
YouTube handles all subscription payments and you get paid out through your AdSense account – which is usually between the 21st-26th of the month after you earned it. 
Features:
Adding a merch shelf to your channel.
Create tiered subscription plans for premium content.
Receive Super Chats and Super Likes on your live videos.
Get a cut of subscription revenue when YouTube Premium members watch your content.
Pros:
Massive built in audience.
User-friendly interface.
More visibility from ranking content on Google.
Cons:
Can only reach viewers using YouTube.
Pricing: Free to host videos on a YouTube channel. The platform takes a cut of your earnings from ad revenue, subscriptions, and merch sales.
6. Patreon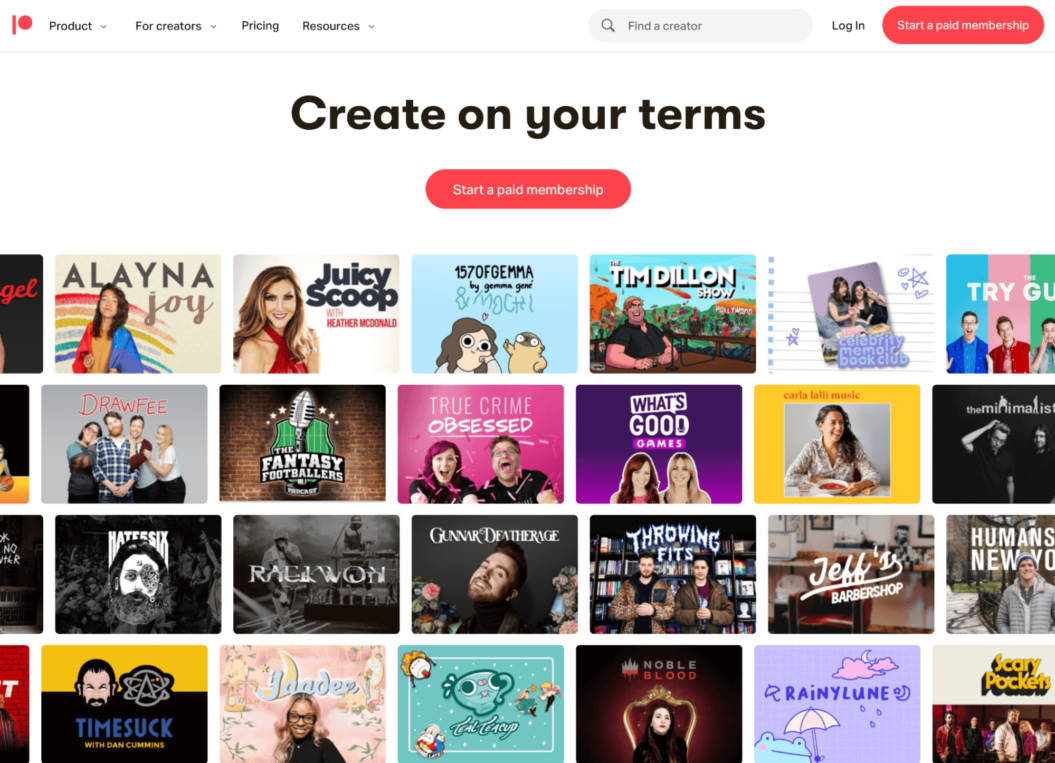 Patreon is a place for creators to generate a monthly revenue stream that's not tied down to one video hosting platform. This means you can ask your audiences from Telegram, Discord, YouTube, and any other networks to support you on Patreon and still get your content on their chosen platform.
Patreon works best for creators who already have a dedicated audience that's willing to pay for their quality content. It can take time to grow a big patron base, and some creators may find the platform's revenue-sharing model to be a slow way to monetize content, particularly when compared to ad revenue or membership fees.
Features:
Membership tiers.
Dedicated creator page.
Direct messaging and community.
Integrations with platforms like Discord and MailChimp.
Detailed analytics and insights.
Pros:
Direct relationship with fans.
Offer rewards to patrons.
Cons:
Expensive platform fee.
Tough for newer creators to get traction.
Free trial: It's free to start a Patreon page.
Pricing:
Pro: 8% of the income you earn on Patreon.
Premium: 12% of the income you earn on Patreon.
Read our take on its pricing model and decide for yourself if Patreon's worth your time.
7. Twitch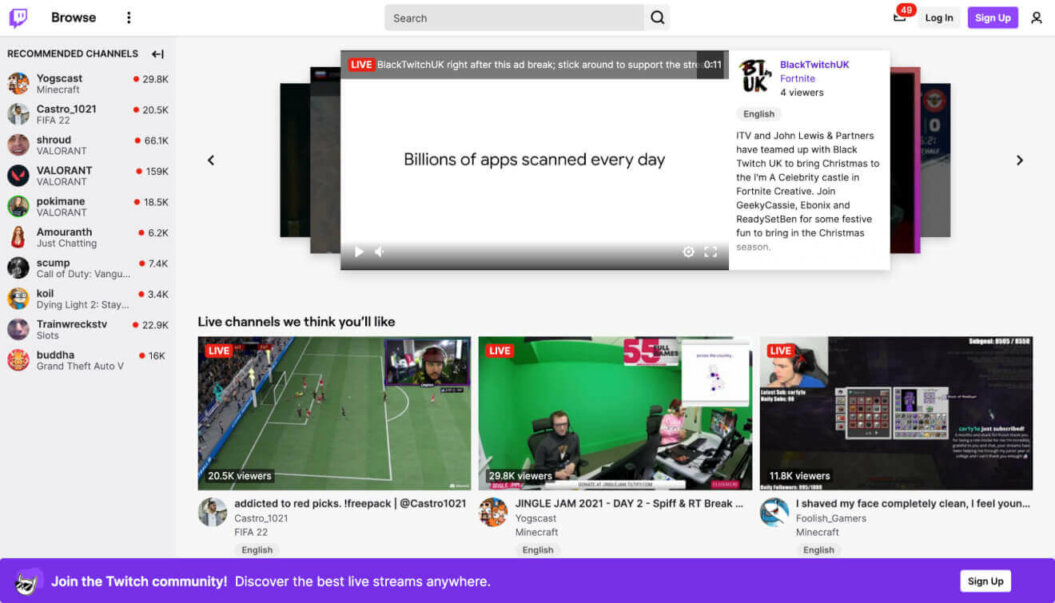 Twitch made its name as a streaming service for gamers and after being bought out by Amazon in 2014, it's since expanded to artists, musicians, and other video creators alike. 
The platform is dominated by live streams, with most of the VOD content being recordings of live streams. And an average of 2.58 million people were watching Twitch at any one moment in 2022, which is impressive. . 
You can sign up to the Twitch Affiliate or Partner program that lets you earn money through:
A 3-tiered subscription model.
Users spending Bits and using Cheermotes.
Selling games.
Though it's important to remember that only Partners can get a cut of advertising revenue.
In terms of marketing strategy, Twitch has started to offer multi-month discounts. As we've seen with the last couple of platforms, your subscribers pay Twitch and you get your money directly – payout comes on the 15th of the next month after you earned it.
To become a Twitch Affiliate, you need:
A minimum of 500 streamed minutes in the last month.
At least 7 unique broadcast days in the last month.
An average of at least 3 concurrent viewers in the last month.
50 or more followers.
While to become a Partner, you need to:
Stream for 25 hours.
Broadcast on at least 12 days.
Have at least 75 concurrent viewers.
Features:
Live streaming and VOD.
Chat interaction.
Channels and categories.
Clips and highlights.
Bounty Board for sponsorship opportunities.
Broadcasting.
Moderation tools.
Pros:
Platform supports various monetization features (ad revenue, subscriptions, tipping, merch sales)
Live interactions.
Prime Gaming.
Affiliate and Partner programs.
Cons:
Highly competitive.
Not suited for pre-recorded or edited content.
Fees and payout policy.
Free trial: Free to create an account.
Pricing: 50/50 revenue split.
8. TikTok
TikTok has seen massive growth since its launch in 2016, with over 1.4 billion monthly active users. The current monetization model is a little different to what we've already seen.
Videos on TikTok are limited to 3 minutes and can be discovered by users scrolling through videos on their For You tab or searching for content within the Discover tab.
Creators earn money through the Creator Fund, a pool of money that pays you based on viewership, engagement, and your adherence to community policies, plus you can access the Creator Marketplace to find brand sponsorships for your content.
You can get paid through PayPal or Zelle one month after you earned the money.
To be eligible for the TikTok Creator Fund, you must live in…
the USA
the UK
Germany
Italy
France
Spain
…and be over 18 years old.
Your channel also must have:
10,000 authentic followers.
100,000 authentic views.
Original content posted on your account.
Features:
Live streaming.
TikTok Shopping.
In-feed Ads.
Analytics.
Donations.
Creator marketplace.
Pros:
Big and active user base.
Powerful algorithm.
Multiple monetization options.
Cons:
Fierce competition with other creators.
Content restrictions.
Zero control over distribution.
Free trial: Free to create an account.
Pricing: Pay is based on video and live event metrics.
How to choose a video monetization platform
All the video content monetization platforms we've looked at are great at what they do. You can reach different audiences, make money in different ways, and build different business models.
Here are a few criteria to look at when shopping for a provider:
Video monetization models: Make money based on your business model. Ad monetization platforms can make a lot of sense if you have a large audience. Pay-per-view and subscription-based platforms like Uscreen can provide a steady income.
Marketing tools: Getting your content out there is the first step to making money. It's great to reach people on YouTube or TikTok, but creating a community or owning your audience is even more valuable.
Access to money: Choosing a video monetization platform that pays when your bank account needs it is crucial. Depending on the creator, some will be content with a monthly payout, while others will want cash out to cover expenses like affiliate commissions.
Ease of use: The platform should be easy to use for both creators and viewers. Creators should be able to upload, manage, and monetize videos without too much hassle. Viewers should find the platform user-friendly, with a good user interface and UX.
Content ownership: Who owns the rights to your exclusive content when it's uploaded? Some platforms may take a certain level of ownership over your content, so it's essential to understand any rights you may be giving up.
Pricing: Consider the cost of a paid platform. Platforms charge flat fees or a percentage of earnings. Based on your expected revenue and video views, calculate which model would be most profitable.
Customer support: Good customer support is essential. If you encounter problems with video uploads, monetization, or anything else, you'll want a platform that responds quickly.
That's our guide to the best video monetization platforms, let's bring this to a close.
Find the right platform for your video monetization strategy
There's no one-size-fits-all approach to monetizing video.
But if you want recurring revenue on an owned platform then membership monetization could be the way to go.
Why?
Because, with memberships, you can still mix and match different monetization strategies like advertising, subscriptions, merchandise sales, and sponsorships for more revenue streams.
Remember to stay open to new ideas and optimize your strategies as your audience and the market evolves. With the right approach, you can turn your passion for video creation into a profitable and fulfilling career.
Video monetization FAQs
How do I monetize my videos?
You can monetize videos by selling ad space, sponsorships, affiliate products, or your own products like memberships, courses, and merchandise.
How many views does it take to monetize a video?
The number of views required to monetize a video depends on the platform. For example, on YouTube, in addition to a minimum of 1,000 subscribers, you need to have 4,000 watch hours over the past 12 months to be eligible for their Partner Program which allows for video monetization.
Can I monetize my video without 1,000 subscribers?
Generally, you cannot monetize your video without 1,000 subscribers on YouTube due to their Partner Program requirements. However, there are other platforms and methods to monetize your content, such as through Patreon, sponsorships, or selling your content through a platform like Uscreen without a minimum subscriber requirement.