OTT apps are no longer an emerging trend. They are a vital component for video entrepreneurs to stay relevant and competitive in the digital age.
Viewers are turning away from traditional TV fast. Surveys show that 93% of American adults access streaming video platforms, while only 40% have cable or satellite service.
They want more flexibility, choice, and value for their money—which is what OTT apps bring to the table. If you're a content creator looking to leverage OTT apps in your video streaming service, read on to learn the basics of OTT apps and how to implement them into your business today.
What is an OTT app?
OTT apps, or over-the-top apps, deliver video content to your smartphone, tablet, gaming console, or smart TV via the internet instead of traditional cable TV. Some popular OTT services include Netflix, Amazon Prime Video, and Hulu.
With these apps, you can instantly stream videos and live streams on your favorite devices. Whether it's a movie, a yoga class, or an online course on cave diving, you can watch it wherever you want.
There are many reasons to adopt the OTT business model as a video content provider.
Benefits of OTT apps
With an OTT platform like Uscreen, you can build a premium membership app that offers a Netflix-like streaming experience for viewers. Integrating into your member's day-to-day lives with high-quality branded apps and providing an accessible user experience across all size screens.
That's why Uscreen customers see 2X more watch time on their OTT apps versus their website.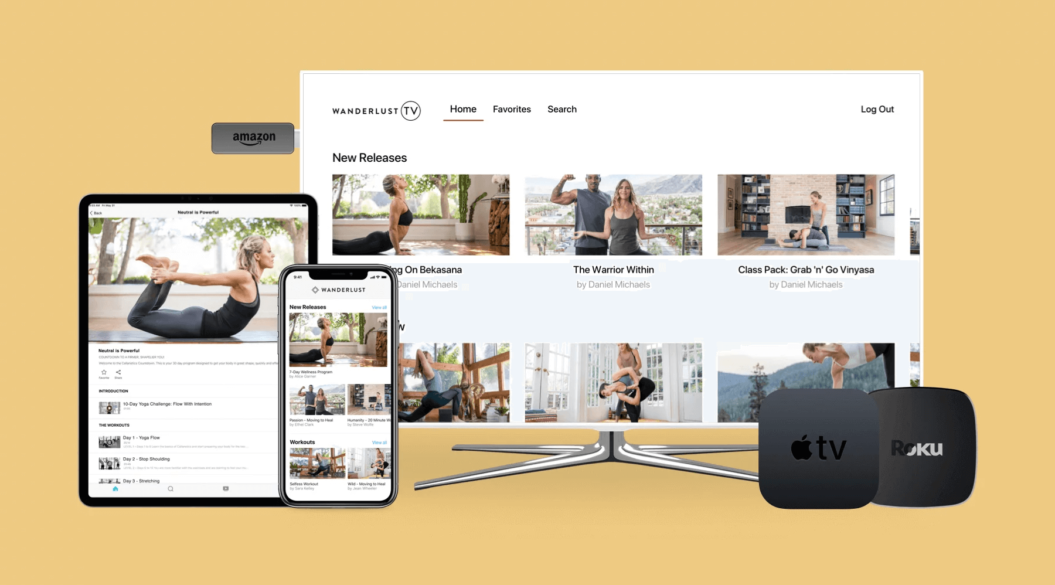 Let's take a look at some numbers:
Video creators with OTT apps have generated 10x more subscription monthly recurring revenue.
70% of Uscreen customers get new subscribers from OTT apps.
Video creators with apps have 10X more Daily Average Users and Monthly Average Users.
OTT video revenue is expected to reach $175 billion by 2027
The thing is, more people are moving away from television and closer to video streaming on their mobile devices and connected TVs.
According to the latest data, the number of cable and pay TV houselands in the US declined from 100.5 million to 65 million in 2022. Cord-cutting, or the act of canceling cable, was fast-tracked by COVID and gave rise to OTT streaming.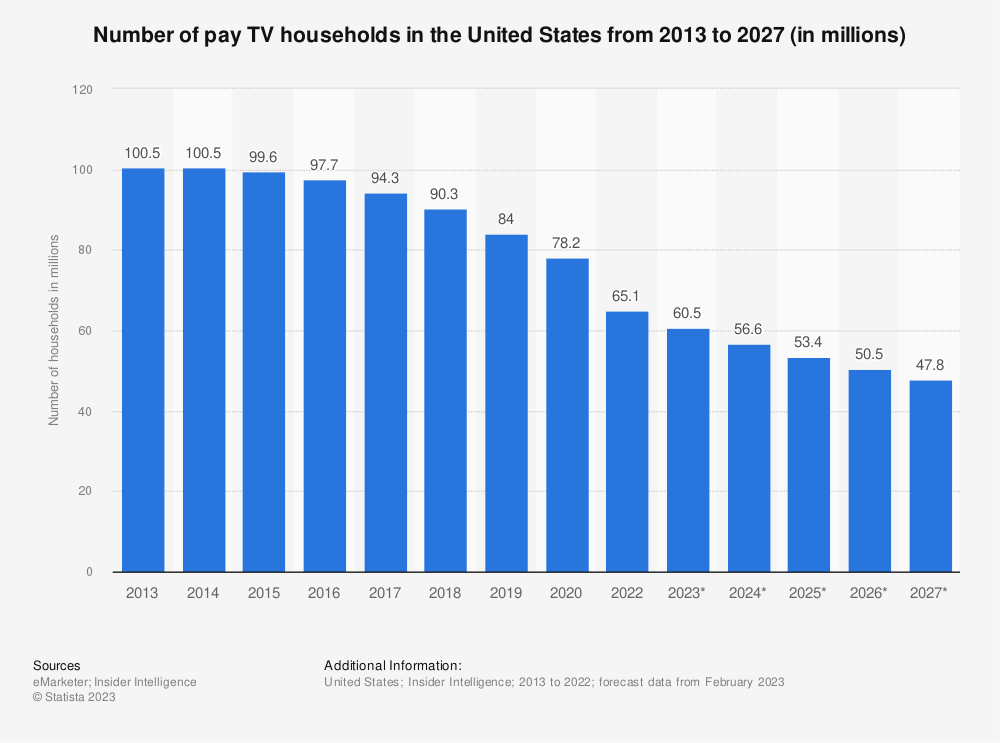 A number of surveys indicate that online video content and the rising cost of pay TV are the main reasons for not subscribing to cable or satellite. OTT apps are no longer a trend, they are an integral part of watching content online for people between the ages of 18 and 54.
As a video creator, there are a few reasons why you'd adopt OTT apps:
Grow membership revenue with improved retention and in-app purchases.
Provide simple, engaging mobile experience for powerful member habits.
Create brand legitimacy and differentiation.
Overall, creators with OTTs see 8x more paying members than those without. That's why you want to partner with a provider like Uscreen that continuously enhances their apps and assists the launch process.
It's simple with Uscreen.
Build, launch and manage your membership, all in one place.
The evolution of OTT apps
You can trace OTT apps back to 2007 when Netflix launched its streaming feature. If you can remember that far back, the content library was pretty constrained due to licensing agreements, so you could only find older TV shows and movies.
As the industry matured, OTT platforms started to diversify their content, offering a range of shows, movies, documentaries, and exclusive original series. The apps embraced personalization, leveraging algorithms to predict your behavior and offer personalized recommendations.
And that's where people got hooked. More features began coming onto the platforms to give people control over their viewing experience, like:
Advances in streaming technology, like adaptive bitrate streaming, let creators deliver premium content with fewer buffering issues, no matter how good or bad a viewer's internet connection is. That way, you could reach a global audience and earn more money from your video content.
The best part? You can stream content to the most popular native apps with Uscreen: iOS, Android, Apple TV, Roku TV, Android TV, Amazon Fire TV, Apple Watch.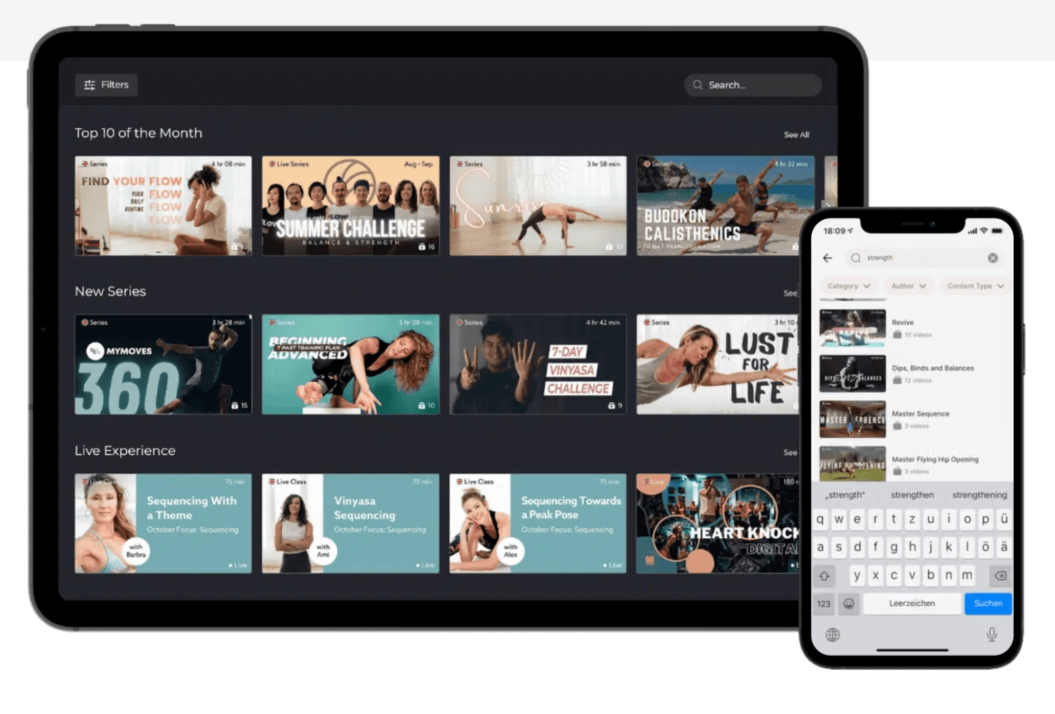 OTT platforms now also have live streaming functionality. With Uscreen, you can broadcast live events, sports, news, or whatever your audience wants to watch in real time. Live TV is just another way OTT apps have overtaken traditional broadcast television. You can also set up a community area for members to share knowledge and network all over the world.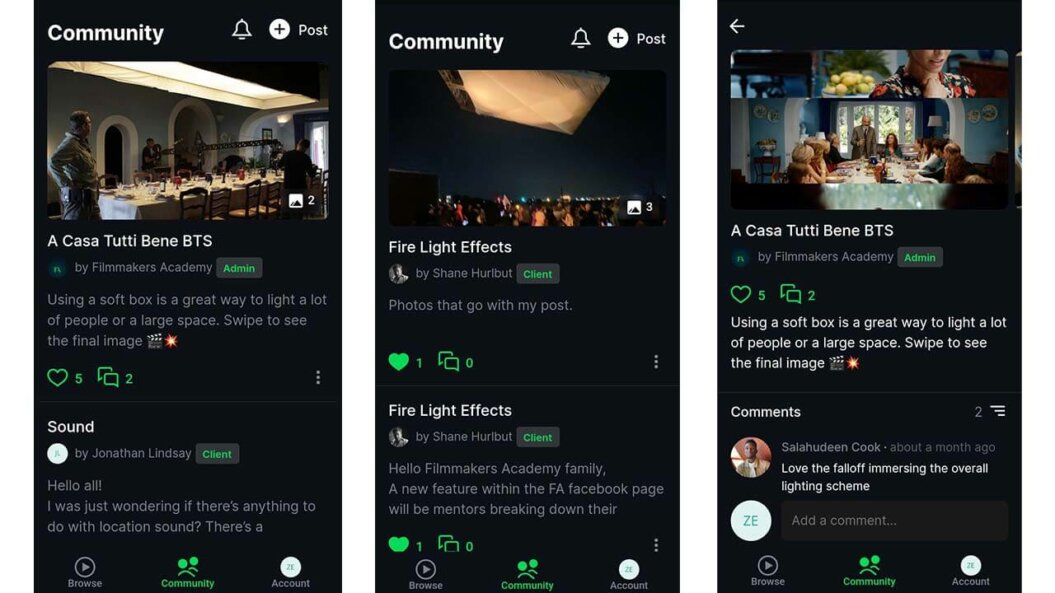 Today, anyone can create an OTT app and monetize their OTT content through memberships, ads (AVOD), subscriptions (SVOD), and pay-per-view content (TVOD).
How to create an OTT app
You've got an understanding of OTT apps. But how do you create and launch your own?
You have 2 main options:
Lease an app from an OTT platform service provider.
Hire an app developer.
Let's look at both of them.
1. Lease an app
Leasing is one of the most efficient and cost-effective ways to create an OTT app. This method means you'll rent the OTT services of an OTT platform service provider — like Uscreen — that already has white-labeled OTT apps for a variety of devices, content delivery networks (CDNs), and hosting in place.
A team of professional developers will build your white-labeled OTT apps — but instead of buying them for tens of thousands of dollars, you'll rent them on a monthly basis for as long as you have the apps running.
For example, here at Uscreen, we create customizable OTT apps that are fully branded just for your business. All you need to do is provide us with the details like your logo and brand colors.
Here's an example of what your content will look like on a leased app from Uscreen. Filmmakers Academy puts all its course content on its OTT app for members to watch, and even share with other members.
They can see a description of the course and jump to another lesson with a simple scroll and a tap.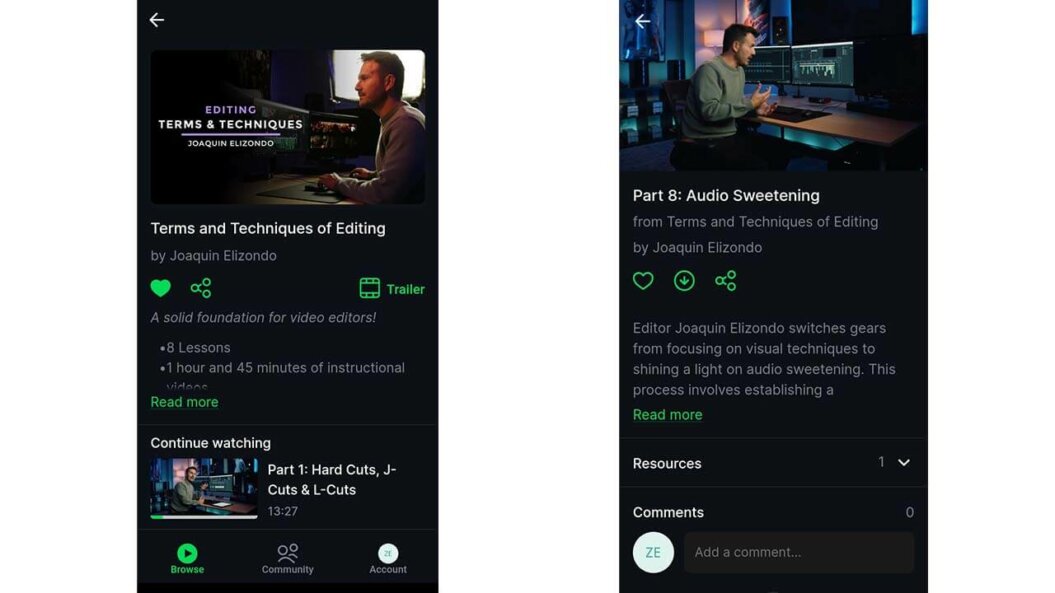 Here's how launching an app with Uscreen works:
Set up a Uscreen account and place an order for your app.
Get your video website ready by adding content (read more).
Set up your app developer account (our team will help you with that too).
Provide us with your app requirements (read more).
Wait 4 weeks while we build your app. You can test it shortly after.
Submit your app for approval in the App Store (we got you).
After it's published, your app will be launched!
💡 Did you know? The average iOS app built by Uscreen for creators has an average 4.9 out of 5 star rating. We'll launch your app, run it, and maintain it for as long as it's live — you won't have to do a thing. Just manage your content, connect with your community, and grow your membership.
It's simple with Uscreen.
Build, launch and manage your membership, all in one place.
2. Hire an app developer
Hiring someone to develop your OTT apps is a great way to develop the app you envisioned, but it can be very expensive. If you have a healthy budget, you can hire an agency or developer to create custom OTT apps for you. It'll be built from scratch by a professional (or team of professionals) to your exact needs.
This process usually takes between 3 and 6 months and costs between $10,000 and $20,000 per app, depending on the features you want. Plus, you'll still have to pay monthly expenses for running the app, maintenance, or support costs.
To find the cheapest quotes, you can use websites like Upwork to find an affordable developer. They should be able to create a basic OTT app without breaking the bank.
If you want a comprehensive OTT app with all the bells and whistles, you'd be better off looking for a high-end developer or agency. You can either approach them directly or advertise the job on a site like Stack Overflow.
So…if you're on a tighter budget – or timeline – we seriously recommend you go for OTT option 1.
🧠 LEARN: These 19 OTT Examples Will Inspire You to Launch Your Own Over-The-Top App
Which OTT apps to launch first
As you may know, there are plenty of different types of OTT solutions you can create to reach your audience. There are mobile apps like for iOS and Android, but also OTT TV apps, like Roku, Apple TV, and Android TV.
Do you need to launch them all? Not necessarily. It all depends on the audience you target and the type of content you offer.
To get to the bottom of how to choose the best OTT apps to launch for your business, we compiled a report of OTT app usage data to detect user habits, preferences, and patterns.
Here's what we found:
More than half of OTT app users choose to stream content using mobile apps rather than TV apps, meaning Android and iOS video streaming apps are often more urgent to launch.
Android mobile apps have the widest reach worldwide, and especially in non-English-speaking markets.
In English-speaking markets, iOS has the largest market penetration.
Half of all TV app users stream using Roku, making it the #1 app to launch if you want to reach your audience on their TVs.
However, TVs are still the most comfortable way to consume content that is either entertainment-related or requires a lot of movement in your living room.
If you're still unsure which OTT apps are right for your business and audience, you can contact us and speak with one of our OTT specialists to get the answers you're looking for.
How to choose an OTT platform provider
Different video monetization and OTT platform providers offer different features at different price points, so we're only speaking for ourselves in that last section.
If you really want to start learning about all your OTT app development options, here's a shopping checklist we put together to get you started.
The perfect OTT platform provider will:
Provide you with a customizable video streaming website, alongside your apps.
Let you build a community and membership business.
Provide live video delivery.
Allow you to accept global payments.
Give you full audience ownership.
Offer content management, publishing, and digital rights management (DRM) capabilities.
Take less than 5 weeks to develop and launch your OTT apps.
Offer free updates and maintenance for your apps.
Be a technically hands-off solution for you.
Find a partner to build your OTT app today
Kudos for getting through this whole guide! We hope you feel more knowledgeable about the world of OTT applications. So, what should you do with this information?
After digesting everything you learned today, start thinking about how you will incorporate OTT apps in your video business. You can start off by getting in touch with one of our highly knowledgeable (and very cool) OTT specialists to see if OTT apps are right for you.
It's simple with Uscreen.
Build, launch and manage your membership, all in one place.
OTT apps FAQ
What are the 12 OTT apps?
The top 12 most influential OTT streaming services today are:
Netflix.
Amazon Prime Video.
Disney+.
Hulu.
HBO Max.
Apple TV+.
Peacock.
Paramount+.
YouTube Premium.
Sling TV.
ESPN+.
Roku Channel.
Is Roku an OTT device?
Yes, Roku is considered an OTT device. Viewers can stream content directly from the internet to their Roku TV without going through a cable provider.
What are the benefits of an OTT app?
OTT apps give viewers the flexibility to watch content when and where they want. From a business perspective, this helps you adapt to changing viewer habits and build trust with members. Working with a platform like Uscreen, video creators with OTT apps have generated 10x more subscription MRR.
What is a cord cutter?
A cord cutter is someone who stops using a cable or satellite TV service in favor of video streaming platforms and OTT apps. They often "cut the cord" to save money, access specific content, and have more control over viewing options.
What is the difference between OTT and VOD?
VOD (video-on-demand) refers to libraries of pre-recorded video content that viewers have access to whenever they want. VOD platforms allow viewers to watch content on their own schedule as well as control playback (pause, play, rewind, etc.).
OTT platforms are a more advanced category of VOD that offer even more control and flexibility. They allow viewers to broadcast content on any device, live stream content, and use OTT apps.
These platforms give audiences access to OTT content at any time because the content is streamed via the internet instead of cable set-top boxes or satellite.
What is the best OTT platform?
We respect that there are many great OTT platforms out there.
With that being said, we still think Uscreen is a fantastic platform that provides you with some truly innovative and valuable capabilities that can help you make the most of your video content.