It may sound ironic, but…
Being a yoga instructor can be super stressful.
We teach our students to disconnect and be rooted in the moment, while we're secretly worrying about where our next class and paycheck is going to come from.
Meaning most evenings are spent like this:
You didn't get into teaching yoga for the money. But, it does feel like it all used to be, well…a little easier and more profitable, doesn't it?

No time to read this article now?
Download a free PDF version of this blog post (all tips and links included).
CNN reported in 2015 that Yoga instruction was one of the best 100 jobs in America. You could earn an average of $50 an hour, and $63,000 a year, for around 25 hours of work a week.
Fast forward to 2020 and the landscape is much different.
Payscale puts the current average hourly rate at just $29.77. That's only $40,000 a year for the same amount of work!

All of this is to say, the yoga industry is saturated. It's never been harder to earn a living wage from in-person yoga instruction. (If you can even find a class in the first place!)
But, there is good news…
The online yoga space is booming.
If your business has been affected by COVID-19, you're not alone. We have a helpful and free guide that has saved 1000+ businesses since the outbreak. No email required.
Why You Should Be Teaching Yoga Online In 2020
Yoga has developed an incredible online community.
You may have already seen this with the rise of yoga instruction on Instagram and YouTube. Instructors, like Yoga with Adriene, have reached millions of people. Why?

It's for two reasons:
Students can connect with their favorite instructors

Instructors can connect with a global community
It allows you to build a yoga business free from the tight constraints of brick and mortar studios. It puts you in charge and lets you focus on helping your audience.
Better still…
Yoga instructors who move to teach yoga online go on to earn an average of $7,500 a month. And, we're seeing the figure continue to grow.
When you establish your own self-owned platform, you can unlock a lot of other benefits too:
Bring together a global community: you can lead an entire community to better health, happiness, and peace of mind
Gain location independence: you can teach classes, create videos, and connect with community no matter where you are
Generate passive income: you can earn money while you sleep, eat, and stretch
Help an endless number of people: there's no limit to the number of people you can influence with your Yoga practice
Monetize social media: you can earn money from the posts you create and share
But what exactly does it mean to "teach yoga online"?
I'm glad you asked.
Simple: you launch your own online Yoga studio.
Let's take a closer look at what that is…
What Is An Online Yoga Studio (And Why Should You Start One)?
Online yoga studios are online "membership sites" where you can offer premium yoga content to your followers for a recurring fee.
Simply put:
You create a video streaming service that works as an online studio. It's a website where you can upload all of your yoga flows, tutorials, and ideas.
This video hub will let you:
Provide easy-to-follow courses

Build an online yoga community

Connect directly with your students
Because everything lives online, you can scale this type of business model infinitely. You connect with and motive with any number of students, from anywhere in the world.
Adriene, the YouTuber I mentioned earlier, used Uscreen to launch her own online yoga studio called Find What Feels Good: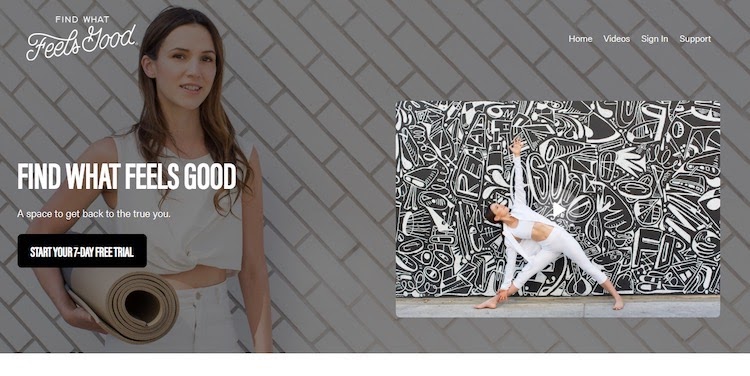 Since launching, she has built a community of 20,000 paying members! All of which can access all of their favorite content, anytime, anywhere: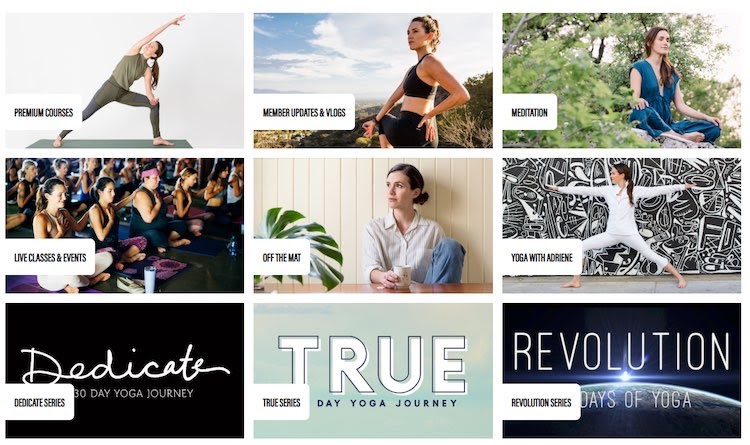 You'd struggle to find a local studio that can cater to that many students.
Even Wanderlust festivals, with their global appeal, only average about 1,500 attendees. That's part of why they too launched their own online yoga studio!
It's safe to say that teaching yoga online provides the most profitable way to grow, help, and motivate your community.
Let's take a look at how you can launch your own yoga studio…
How to Create Your Online Yoga Studio In 5 Simple Steps
In this section, I'll guide you through the six steps of creating your own yoga studio:
If you follow each of these, you'll be able to cultivate an impactful online yoga business.
1. Reflect On The Niche You Want To Teach
You're a yoga teacher with lots of hours on the mat. So, you already have a good idea of what types of content resonate best with your community.
When you're moving your business online though, you need to establish a clear niche for your business. An area of expertise that will differentiate you from your competitors.
What is it that makes your yoga practice different?
Do you have a unique approach to mindfulness?

Do you cater to busy business people?

Do you want to educate students on how to create their own flows?

Do you focus on pre- or post-natal yoga?

Do you use yoga to help people become better athletes?
There is no right or wrong answer here. There's just the honest answer.
Take some time to reflect on this. Think about what you want to teach in your online yoga business, and how it will benefit your yoga community.
You can also take a look at these online yoga studios for inspiration:
They all have different approaches to their yoga practice. Each is unique and incredible in its own way.
2. Create A Few Videos To Discover Your Style
Once you know what you're going to teach it's time to experiment.
You should dedicate some time to trying out different ways of teaching to camera and find a style that feels comfortable for you.
There are three styles I suggest you try.
The first is studio presentation; this is where you instruct from your mat, as you would in front of a live studio class.
You can set this up quite easily and it's a viewpoint your subscribers will be used to. It's especially good if you have limited equipment, and it's just you and your camera.
The second is class instruction; this is where you record your studio sessions and use them on your site.
This style is particularly good if you'll be live streaming your sessions. However, it can be a little impersonal. Use it sparingly!
The third is follow-along instruction; this is where you perform the flows for your students and provide instruction through voice over.
This has become the go-to style for the online yoga community because it stops you having to multitask. There's no need to talk while performing your different posts.
It's a versatile style, but it will require a little more editing to get right.
One of these styles will resonate best with your audience. If you already have a style you know works, you can carry on with it. If you're still unsure about which style would work best for you, it's a good strategy to create several videos in multiple styles to test your audience's reactions to them. You can learn a lot by just playing around with different camera angles!
Here's our resident fitness expert, Dan, on how to set up the perfect shot for your videos:
3. Create Your Online Yoga Studio's Website
Your website is the storefront for your membership site. It's where interested people will come to learn more, check your prices, and see if your style of yoga is right for them.
It's important that you create a professional looking video streaming website to attract the right people into your community. But don't worry, you don't need a degree in web design to do it!
Uscreen gives you the tools to make this easy. Our website editor is simple to use, and gives you complete flexibility control over how your studio looks: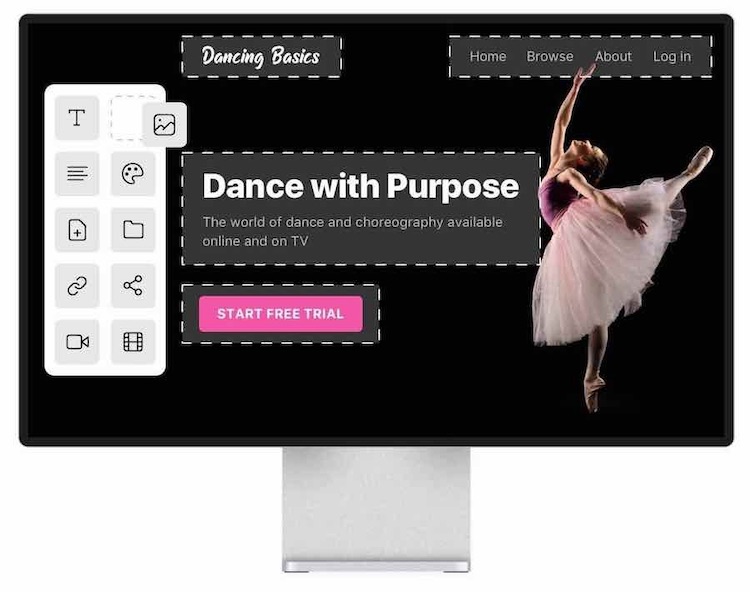 You can choose from one of our flexible themes to get started, and then customize your site from there!
Take a look at these video streaming websites (all created using Uscreen) to see what's possible on our platform and your eye for design:
You can also browse more Uscreen examples right here.
Branding plays a large role in how your website looks and the community members you attract.
That topic is a little beyond the scope of this article, so I've called on our resident video-branding expert, Nick Nimmon, to break down the anatomy of a good fitness brand.
These tips may look at the wider fitness space, but these lessons are highly applicable to the yoga industry too.
Once your website is built, it's time to set your prices…
4. Pick a Pricing Model and Set Your Prices
Yoga instructors often struggle with pricing. It's often hard to translate what you ask for in the studio to the online world.
Let's start by briefly looking at how you can sell your videos. There are three conventional models you can use:
AVOD – Ad-Based Video On Demand
AVOD is when you don't take a payment for the video, and instead place adverts before, during, or after your video. Like how videos on YouTube and 4OD work.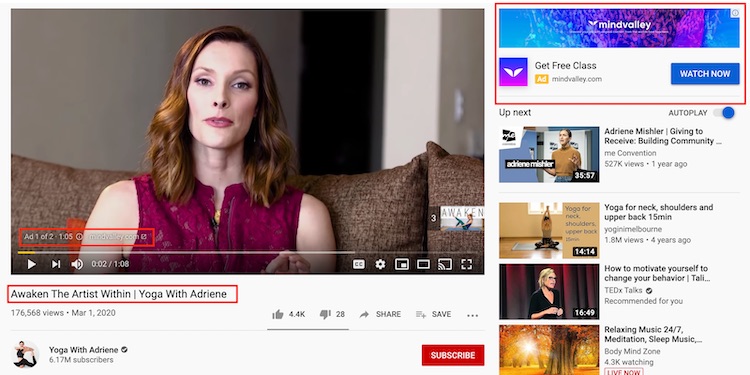 I don't recommend you use this when you teach yoga online. It's an unreliable and unpredictable income stream, at least at the start.
TVOD – Transactional Video On Demand
TVOD is where you charge viewers to access a single video. You can either sell them unlimited access to the video, or have them "rent" it for a specific period of time.
This model can be useful if you're selling access to a specific course. Say, if you have an hour-long athletic yoga routine with lots of downloadable educational material.
The plus side of this model is that you can charge a higher price. The downside is that payments are not recurring and require constant marketing.
SVOD – Subscription Video On Demand
SVOD is the pricing model yoga instructors use to create strong, community-driven membership sites. It's a model similar to what Netflix uses.
Your customers pay a monthly or annual fee for complete access to your videos. They can login to your site and access content as long as they make their payment.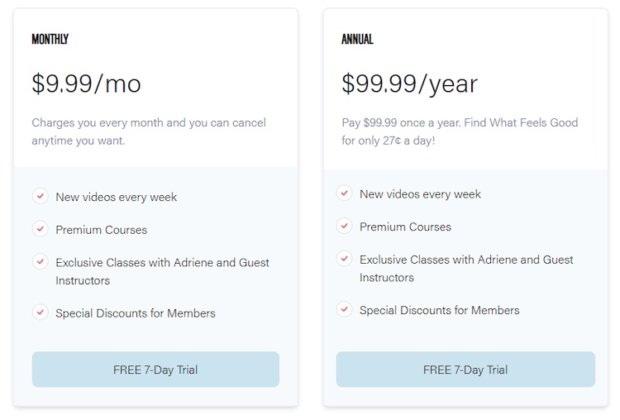 Although the point of purchase price is lower, your earnings are recurring and incomes can steadily increase over time. It's easier to retain existing customers than find new ones.
We did some research into what prices you'd need to charge to run a healthy yoga business with a subscription model. We found that the average rate is around:
$15 for a monthly subscription

$150 for a yearly subscription
It's common for yearly subscriptions to offer "two months free", this provides a high level of value to your community and ensures you a year-long customer!
I recommend you begin with these price points and adjust from there. If you feel uncomfortable, go a little lower. If you feel confident, go a little higher.
5. Create A User Funnel To Build Your Community
Your user funnel is a system that constantly brings new people into your community.
When you get it up and running, it will give you peace of mind that you have a constant stream of new potential subscribers viewing your content and visiting your site.
At a basic level, your user funnel will look like this. People will:
Discover Your Brand > Visit your site > Trial your product > Become a paying subscriber
Based on our research into people who teach yoga online, we have found this approach to be the most effective:
Click any of the links above to find more information on how to do each of these. But…
If you want to learn how to create a strong sales flow, that will ensure the health of your business, check out our guide on how to create a "marketing engine" right here.
It will show you everything you need to make this work!
And, Relax…
Phew! That was a lot to work through, right?
I hope by now you can see the limitless potential when you teach yoga online. Moving beyond the mat and into the online world can help you:
Teach your yoga, your way

Connect with a global community

Build a happy, healthy yoga business

Become location independent

Earn an average of $7,500 a month
If you want to launch your own online yoga studio, you can do it in five steps:
Reflect on the topics you want to teach

Discover your unique yoga style

Craft your studio's website

Set your prices

Create a user funnel to grow your community
Once you've created your site, it's time to take it to the next level by creating your very own Yoga OTT app. I'll talk you through exactly how to do that, right here.
And, if you need any help with your online yoga journey, Uscreen is always here to help!
5 Ways to Make Money Online
As a Yoga Instructor