10 years ago, everyone was obsessed with "The Evolution of Dance," "Charlie Bit My Finger," and "Rickrolling" videos. At the same time, the only way to monetize these incredible viral videos was with YouTube ads.
My, how times have changed!
Today, we're still hooked on viral dance trends and hilarious cat videos. And as for Rickrolling… we're never gonna give it up.
But today's video creators have a world of new options to monetize content.
This article dives deeper into the 7 most popular ways you can make money from your creative efforts.
Let's get started.
What is content monetization?
Content monetization is the process of generating revenue from digital content, like videos, podcasts, articles, and e-books.
10 years ago, content creators had few options to make money from content, and primarily monetized via advertising, affiliate marketing, and direct sales.
Today's content creators still earn income through these traditional avenues. But they can also profit from paid membership communities, brand partnerships, digital asset sales, merch sales, online courses, donations, and content syndication.
How to monetize your digital content
With so many monetization options, how do you decide where to invest your energy first?
Here's a quick look at the top ways to monetize your content and what method is best for which type of creator:
Of course, these are just general rules-of-thumb. For example, if you're a TikTok influencer, that doesn't mean you can only make money from branded content.
Most creators will choose 3 or more monetization methods from this list to diversify their revenue streams.
Let's take a more in-depth look at each of them.
1. Membership community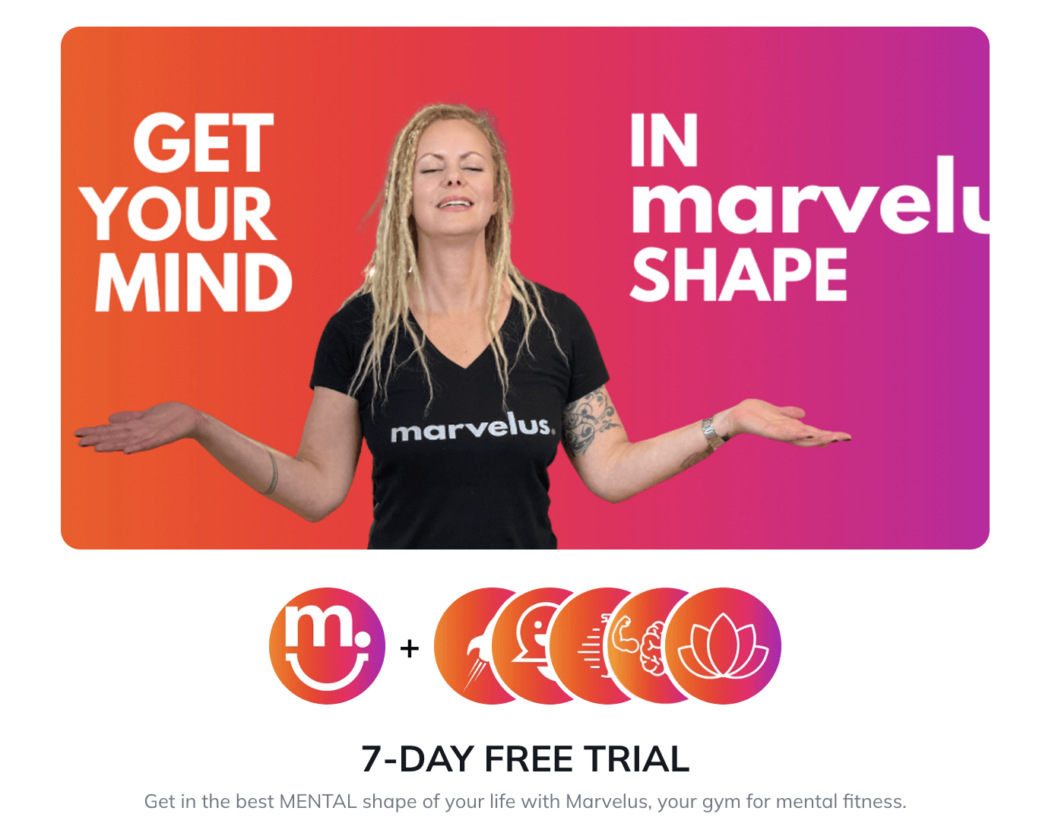 A membership community is where your audience pays a monthly or annual membership fee for access to your branded membership platform. Membership communities are best for video creators looking to boost their income with a recurring revenue stream.
Starting a membership community lets you monetize through:
Subscription fees: Offer access to your exclusive content and community for a recurring fee.
Pay-per-view: Monetize individual videos with a one-time purchase fee.
Rentals: Charge for limited-time access to content.
Bundles: Sell access to a content bundle for a one-time purchase fee.
While your members originally join for access to your video content, we've found they stick around to participate in your community and build relationships.
Our data shows that memberships with active communities experience 2x less churn than memberships without communities.
Marvelus is a fabulous example of a membership site with a strong community aspect. Marvelus helps its members improve mental health through "inner workouts." When someone joins, they get access to premium video content like guided meditations, breathwork tutorials, and healing sound baths.
But what makes Marvelus particularly attractive is the support and camaraderie its members get. When people join Marvelus — they're not alone. They're working toward a common goal with like-minded friends who offer support every step of the way.
Takeaway: Don't just sell a subscription. Build a membership community where fans get access to your content and the support from others.
It's simple with Uscreen.
Build, launch and manage your membership, all in one place.
2. Premium content
Premium content is a subscription-based monetization model where you offer advanced, detailed, or niche content for a recurring fee. For example, a fitness-based creator would offer exclusive content that helps their members improve their fitness skills.
This type of monetization model is best for creators who have an audience with varying needs, abilities, or expertise.
Ideas for monetizing with premium content include:
Tiered memberships: Offer membership levels at different price points.
In-app purchases: Allow an in-app payment for a content upgrade.
Behind-the-scenes content: Provide insights or extra content that is behind a paywall.
Early access: Charge for early viewing or usage privileges before the general release.
MoveU follows this content monetization model. MoveU provides physical therapy exercises for a general crowd, as well as a niche group needing pelvic floor therapy.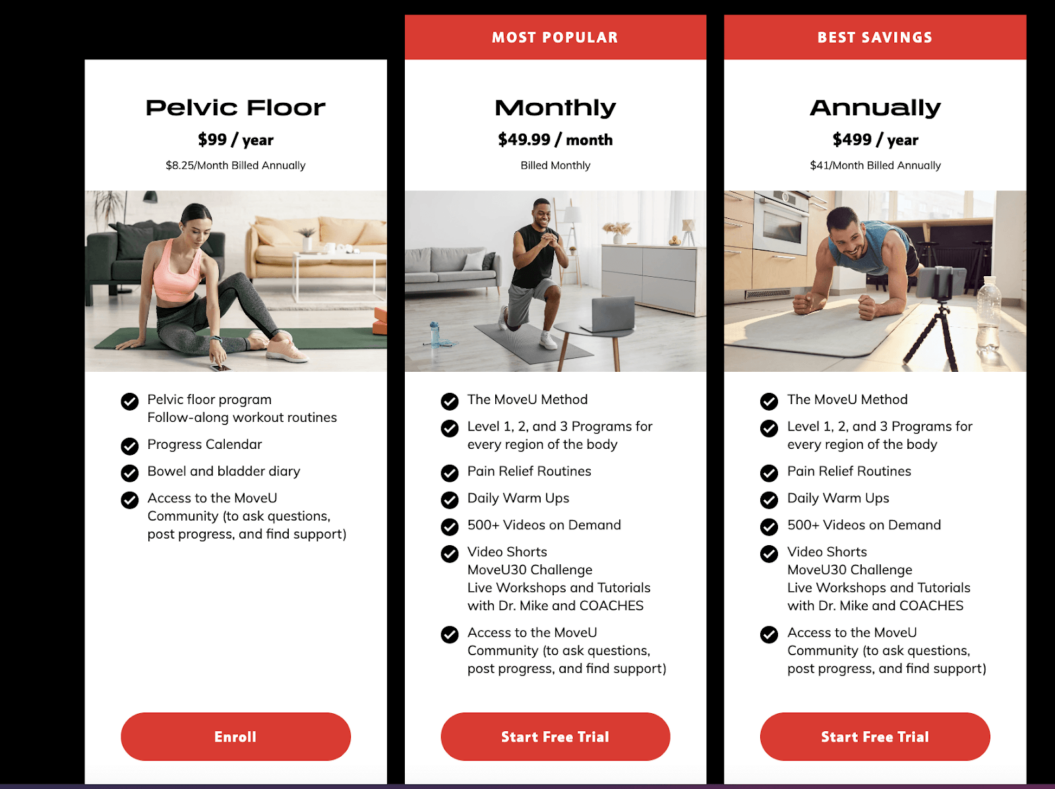 Regular members pay $499/year for access to The MoveU Method. Members who also need pelvic floor therapy can pay an additional $99/year for access to specialized physical therapy programs.
Takeaway: Cater to your audience's diverse needs with premium content at varied price points.
3. Product sales
Selling physical goods or digital assets is a more traditional way to build your income — especially if you're an artist, educator, influencer, or engineer. However, creators made this a staple revenue stream by creating and selling merch to their fans.
Popular products to sell as a creator are:
Merchandise: Sell branded apparel, accessories, or novelty items related to your content.
Digital products: Offer resources in a downloadable format such as e-books, templates, or software.
Physical products: Create and sell tangible goods, like books, crafts, or kits that complement your content.
Chris Downing is a fitness instructor whose primary revenue stream is his membership community. He also chooses to supplement his income with product sales, including fitness ebooks, a heart rate monitor, and a dedication tracker.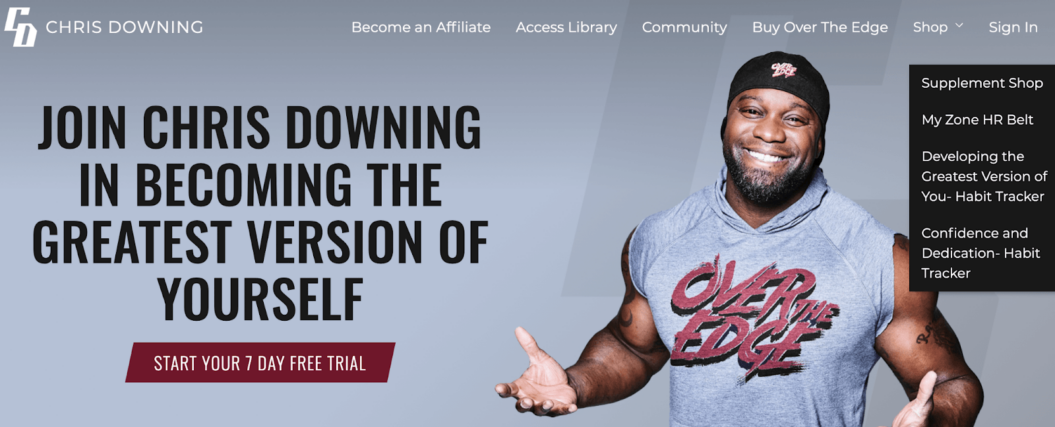 Oura is another interesting example. Instead of offering products that supplement its community, Oura's focus is the product and leverages a membership community to grow its revenue.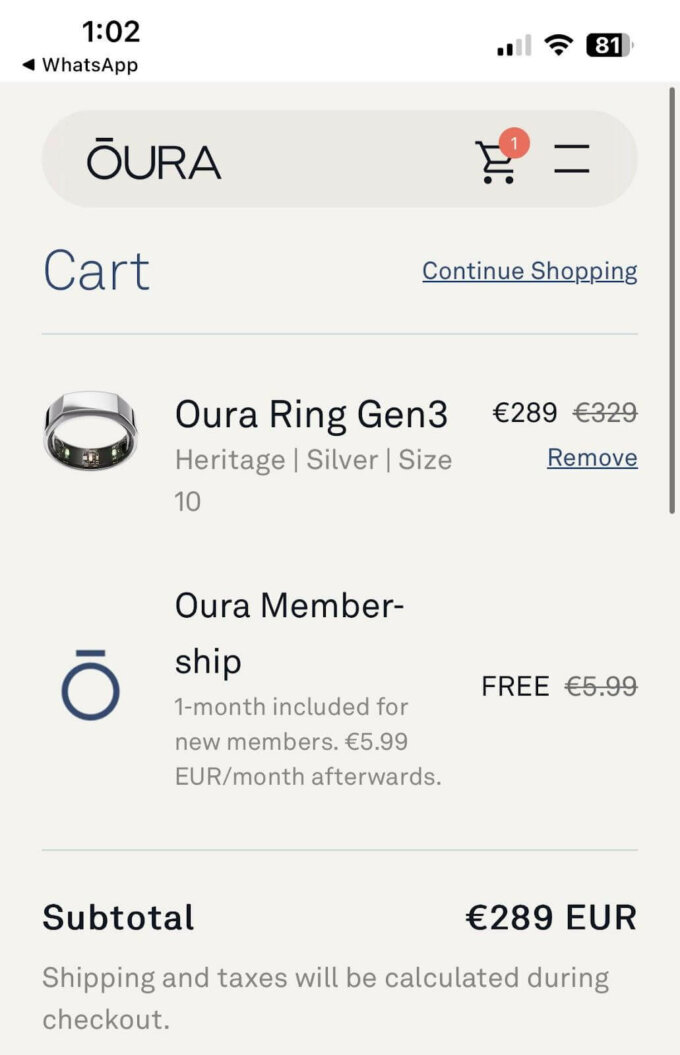 While people can buy an Oura ring without subscribing to the membership community, they miss out on the full Oura experience. Non-members only have access to the basic 3 health monitoring metrics.
As an Oura member, you get access to continuous health monitoring, personalized data and guidance that improves as Oura analyzes your health information, and the ability to create your own Oura community.
Takeaway: Boost your revenue by selling products that complement your content.
4. Advertising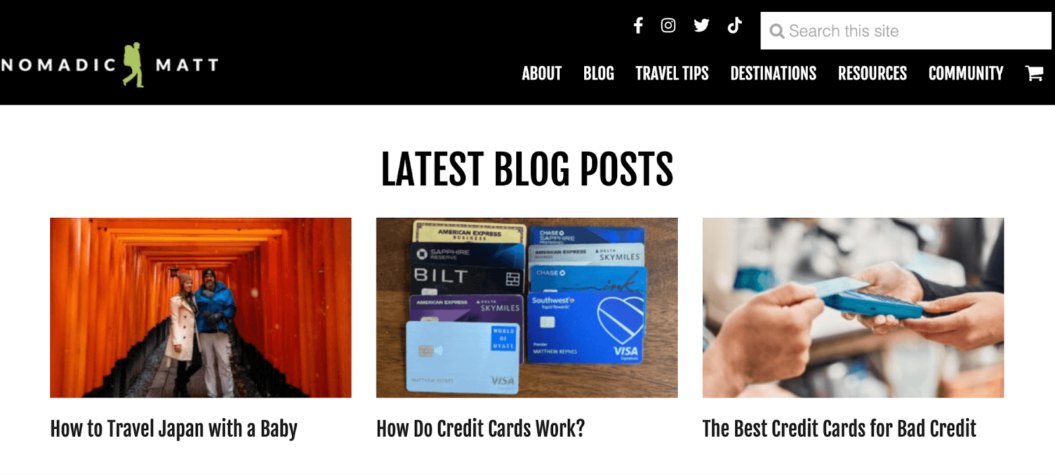 Advertising is a proven way to monetize content, especially for content creators who capture significant traffic from their blogs, podcasts, or videos.
Here are some popular ways to monetize content with ads:
Display ads: Place visual advertisements on your blog.
Video ad breaks: Integrate short ads into your video content.
Native advertising: Blend promotional content into your regular content.
Podcast ad spots: Incorporate sponsored content into your episodes.
Matthew Kepnes, the travel blogger better known as Nomadic Matt, uses display ads to monetize his content.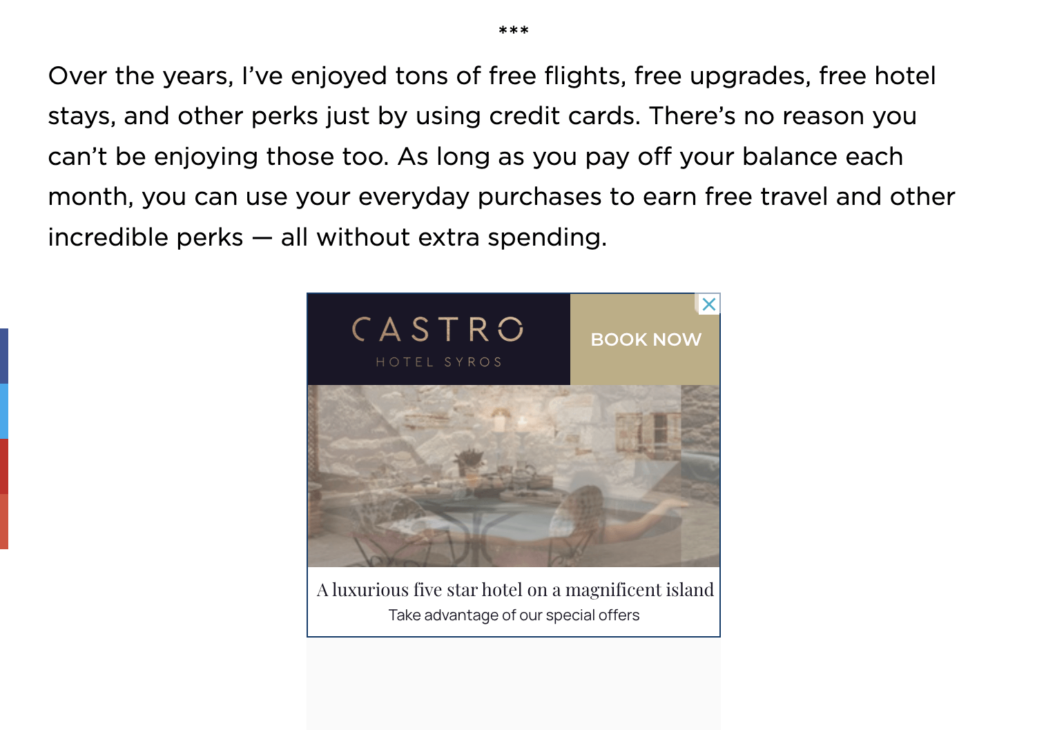 If you click on any of his articles, you get a deep dive into hot travel topics. You also see a relevant Google Adsense ad wedged between the paragraphs of his blog content.
Matt gets paid for these ads based on CPM (cost per 1,000 impressions) and CPC (cost per click).
Google Analytics data shows Nomadic Matt received 1.2 million monthly blog impressions last month. And Similar Web reports his annual yearly revenue between $1–$2 million.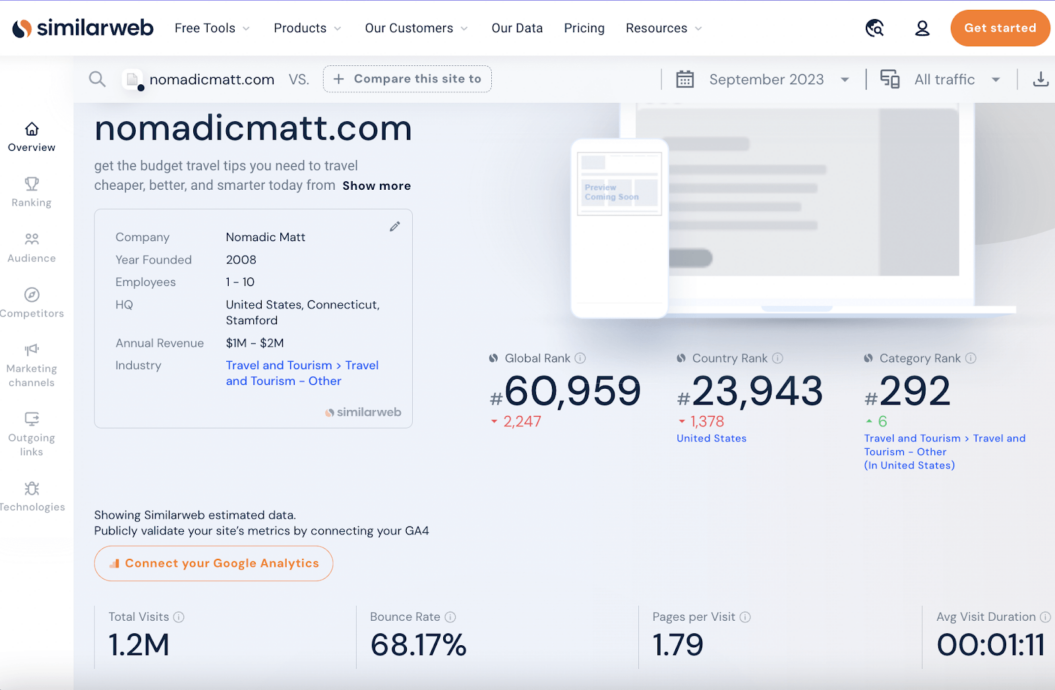 It's important to note Matt doesn't only earn money through ads. He also monetizes with a paid membership community, digital guides, and affiliate marketing.
Takeaway: If you bring in a lot of traffic, diversify your income with advertisements.
5. Brand collaborations
The rise of influencer marketing in the past few years has left the door wide open for creators — especially influencers — to make money with brand collaborations.
The evidence? In 2016, influencer marketing was a $1.7 billion industry. At the height of the pandemic in 2021, it grew to $13.8 billion. Influencer marketing is expected to reach $21.1 billion at the end of 2023.
Ways to make money from partnering with brands include:
User-generated content: Brands pay creators to make content that features their products.
Takeovers: Creators manage a brand's social media account for a set period.
Brand ambassadorship: Creators have a long-term agreement with a brand to promote products.
Another idea that's rising in popularity is the "freelance creator." Rather than partnering with a brand to create ads, the freelance creator works hand-in-hand with the brand to produce collaborative content.
John Bonini posted about this on LinkedIn recently:
Freelance creators will help fill the pipeline…by creating content with the client and providing access to their audience…It's not a transactional sponsorship. It's a collaboration. The creator doesn't feature you in an ad spot. They create content with you and provide credibility and access to their audience in a way that's not achieved through a traditional sponsorship.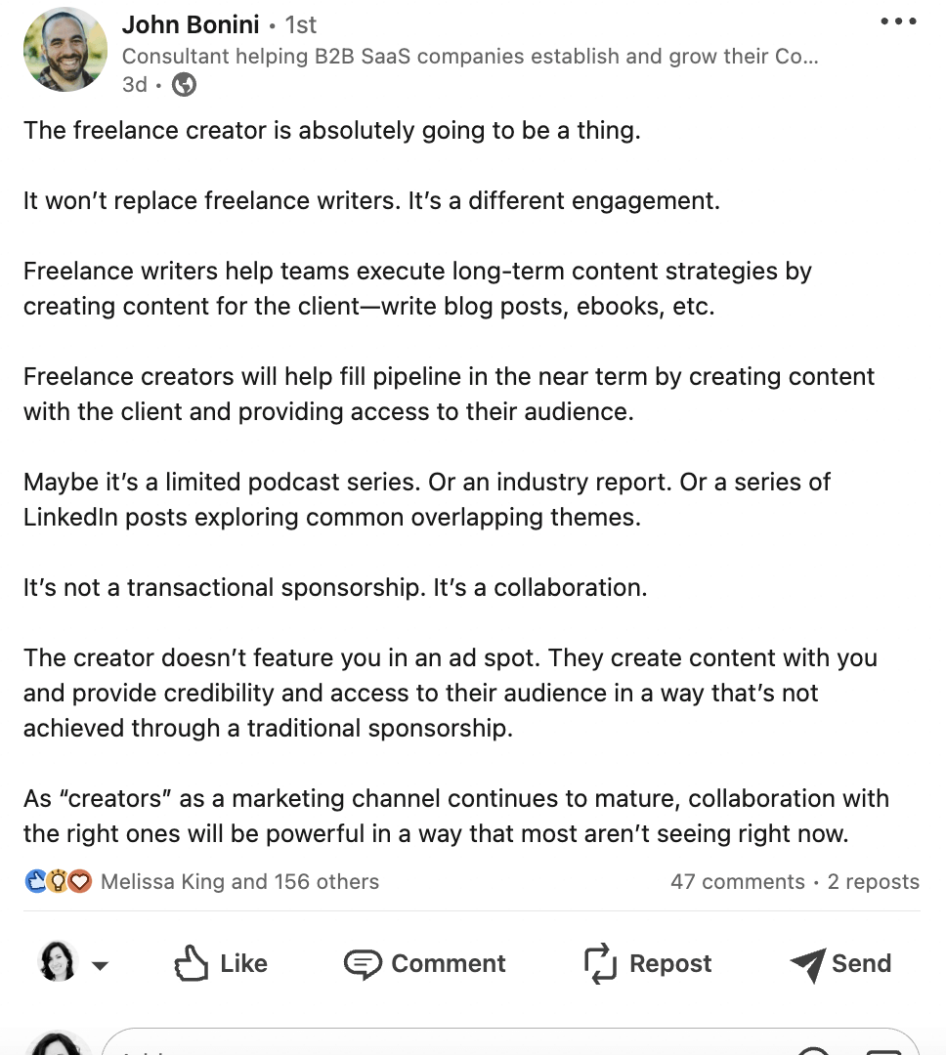 We're already seeing this trend come to life. Take digital creator and B2B SaaS influencer Kaleigh Moore as an example.
Companies like Hopscotch, Waldo, and Polar Analytics team up with Moore to co-create content. Then, Moore shares the content with her audience.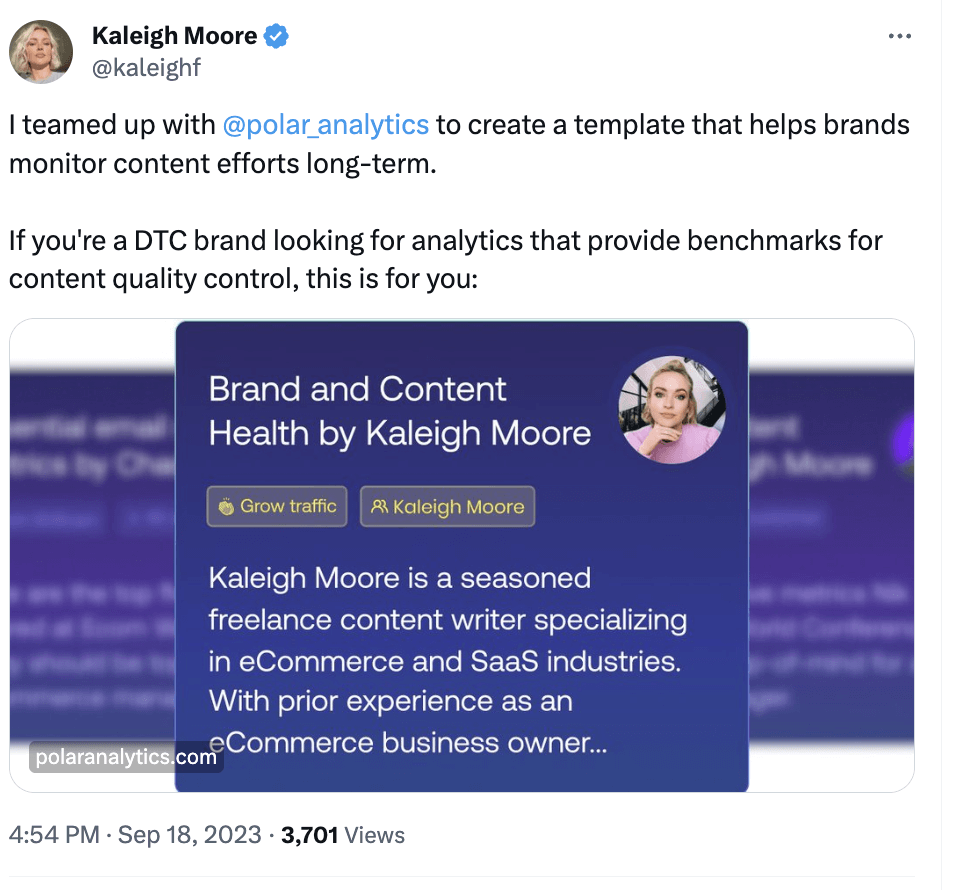 By leveraging Moore's skill, expertise, and influence, these companies not only get new content, but they also tap into a new audience.
Takeaway: If you're a subject matter expert with a large audience, brands will pay you to create and share content.
6. Affiliate marketing
Affiliate marketing is where creators join a partner program – like Amazon Associates – and promote other companies' products to their audience.
The company gives the creator a unique link to track conversions. When someone clicks on the link and buys the product, the company rewards the creator with a commission.
Affiliate marketing is best for creators with a loyal audience — especially if they already review products.
Here are some ways creators profit from affiliate marketing:
Reviews: Creators evaluate products and include affiliate links.
Resource pages: Creators list tools or products they recommend on a dedicated page with associated affiliate links.
Tutorial videos: Creators demonstrate how to use a product or service, directing viewers to buy through their affiliate link.
Discount codes: Brands provide creators with unique affiliate discount codes.
Pat Flynn from Smart Passive Income is a successful creator and affiliate marketer. He offers different types of content, including detailed tutorials, product reviews, and genuine recommendations of products that help people make more money. When someone buys using Flynn's affiliate link, he gets a commission.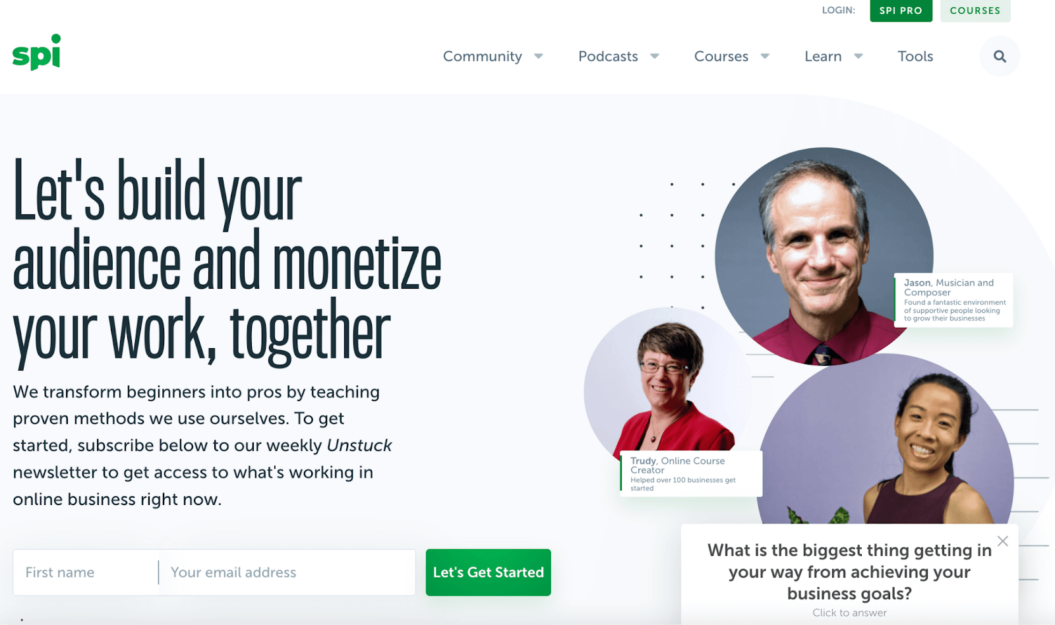 Takeaway: Leverage your industry expertise to build credibility. Then, review products and create affiliate relationships with brands you love.
7. Donations
Asking for donations may feel uncomfortable at first, but many creators rely on fan support to grow their content creation business. A popular platform that creators use to accept monthly donations is content crowdfunding platform, Patreon.
This approach works well for growing content creators and entrepreneurs who have a loyal following in their niche.
Some ways to ask for donations on your site include:
Donation button: Embed a donation button (PayPal or Buy Me a Coffee) on your website.
Wishlists: Share a list of items you need and allow fans to purchase them directly.
Tipping: Ask for real-time donations during live content sessions.
Earth Heroes TV is a membership community that relies on donations to support its growth efforts.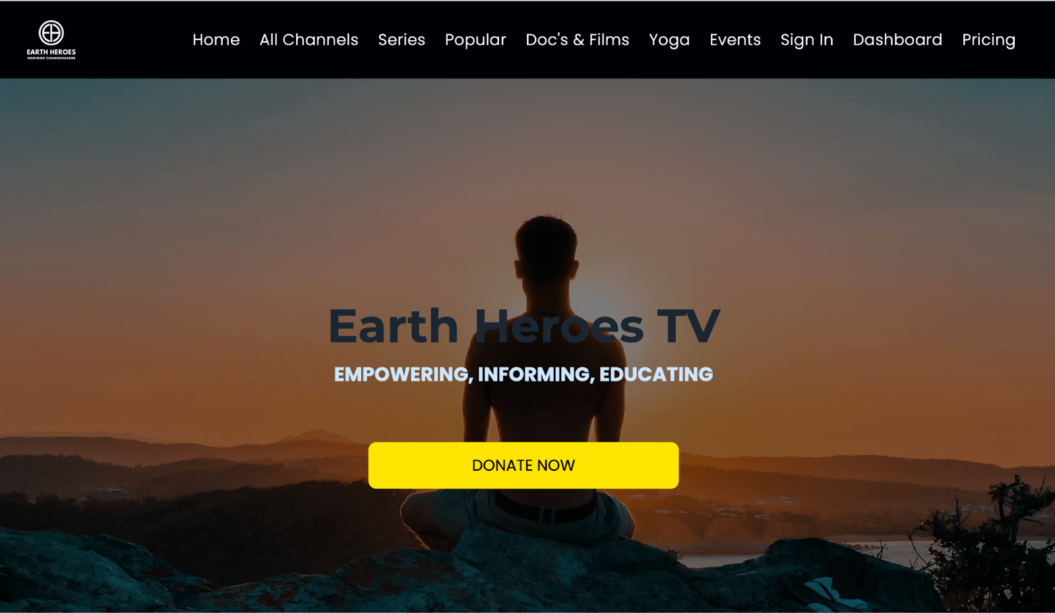 By creating a "donation" page, Earth Heroes TV can easily raise money from its fans.
Takeaway: If you don't have a big enough audience yet to monetize through other methods, consider starting with a donation page.
How to choose a platform to help with content monetization
The creator economy is a $104 billion industry, and it's projected to grow to over $200 billion by 2026. This means now's the perfect time to monetize your content.
But with so many ways to monetize content, it's easy to spread yourself thin.
The good news is you can make your life much easier by choosing an all-in-one content monetization platform. Here's what to look for when you're searching for a platform to help you monetize your video content:
Focus on building community: People want access to more than just your videos. They want to be part of your community. Look for an independent video membership platform with a strong focus on community, like Uscreen.
Ability to create an app. Having your own app provides you with several ways to monetize content. Settle on a platform that also doubles as an OTT app provider.
Marketing tools. People have to find your content for you to make money. Pick a platform that gives you tools to effectively market to your audience through email and content marketing
Ease of use. No one wants to waste time struggling to upload content and build a website. The platform you choose should make it easy to upload, manage, and monetize videos.
Pricing. Don't give up more of your hard-earned revenue than necessary. Some platforms charge flat fees upfront, and others take a percentage of earnings. Decide which model works best for you. This is also bound to change over time as your brand and business grows.
Find the right platform to help you with content monetization
Thankfully, we've come a long way since 2005 when people mainly monetized YouTube videos with ads.
Now, you have tons of ways to make money from your own content. But there's even better news.
With the help of the right platform, you can grow a supportive membership community. Not only does this help you make recurring and predictable income, but it helps you build a safe space for people to enjoy your content and build relationships.
It's simple with Uscreen.
Build, launch and manage your membership, all in one place.
Content monetization FAQs
1. How do I monetize my content?
Begin by identifying the value in your content and select suitable platforms or methods, like membership communities, ads, brand partnerships, or affiliate marketing (i.e., referral marketing). Tailor your strategy based on your audience's preferences and content type.
2. What's the best way to monetize video content?
The best way to monetize video content is to build an audience of loyal followers who show up every time you produce a new piece of content. Cater to your fans by offering a paid video membership site.
3. Do I need a large audience to monetize?
No, you don't need a vast audience. Even niche creators can monetize effectively by targeting a dedicated and engaged following. High quality content and specificity of the audience often matter more than numbers.
4. How much can I earn from online content monetization?
Earnings from content monetization vary widely based on content type, audience size, engagement, and your chosen content monetization strategy. Consistency, content quality, and audience understanding help maximize potential earnings