The past couple of years have been rough, and your health and fitness business has definitely felt the effects.
In fact: some fitness markets have seen a drop in revenue of up to 53%!
If your income comes from services like…
one-to-one sessions
group yoga or fitness classes
gym or fitness studio memberships
a mix of the above
…you're probably looking for ways to make your income more stable and secure. Well, you're in luck!
Launching fitness streaming services has been a lifeline-move for fitness businesses like yours. It helps industry professionals make ends meet and grow their business to reach an entirely new audience.
In this post, we're going to show you 6 examples of fitness streaming services and apps that launched with Uscreen, and how you can get started with your own.
Let's go…
1. PSB+: The Peloton of athletic basketball coaching
Pro Skills Basketball is an NBA-approved youth basketball training organization.
Due to US lockdown restrictions, PSB had to figure out a way to safely train their athletes during the pandemic. How did they do it?
Well, they created PSB+, a fitness streaming service where their athletes can access premium basketball on-demand workout videos that can be done anywhere, and mostly don't require a hoop or court!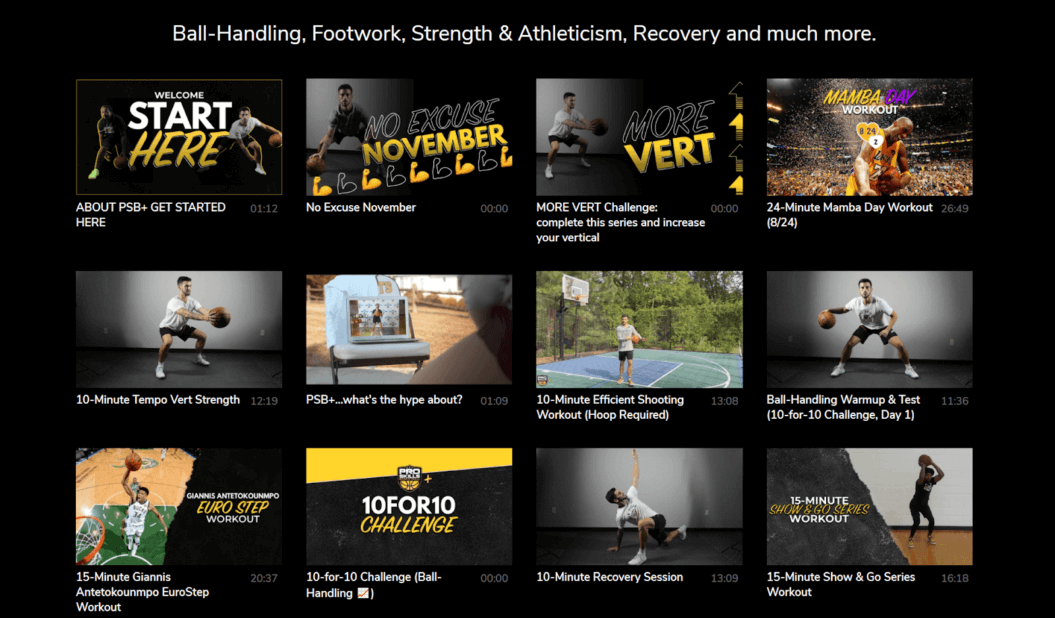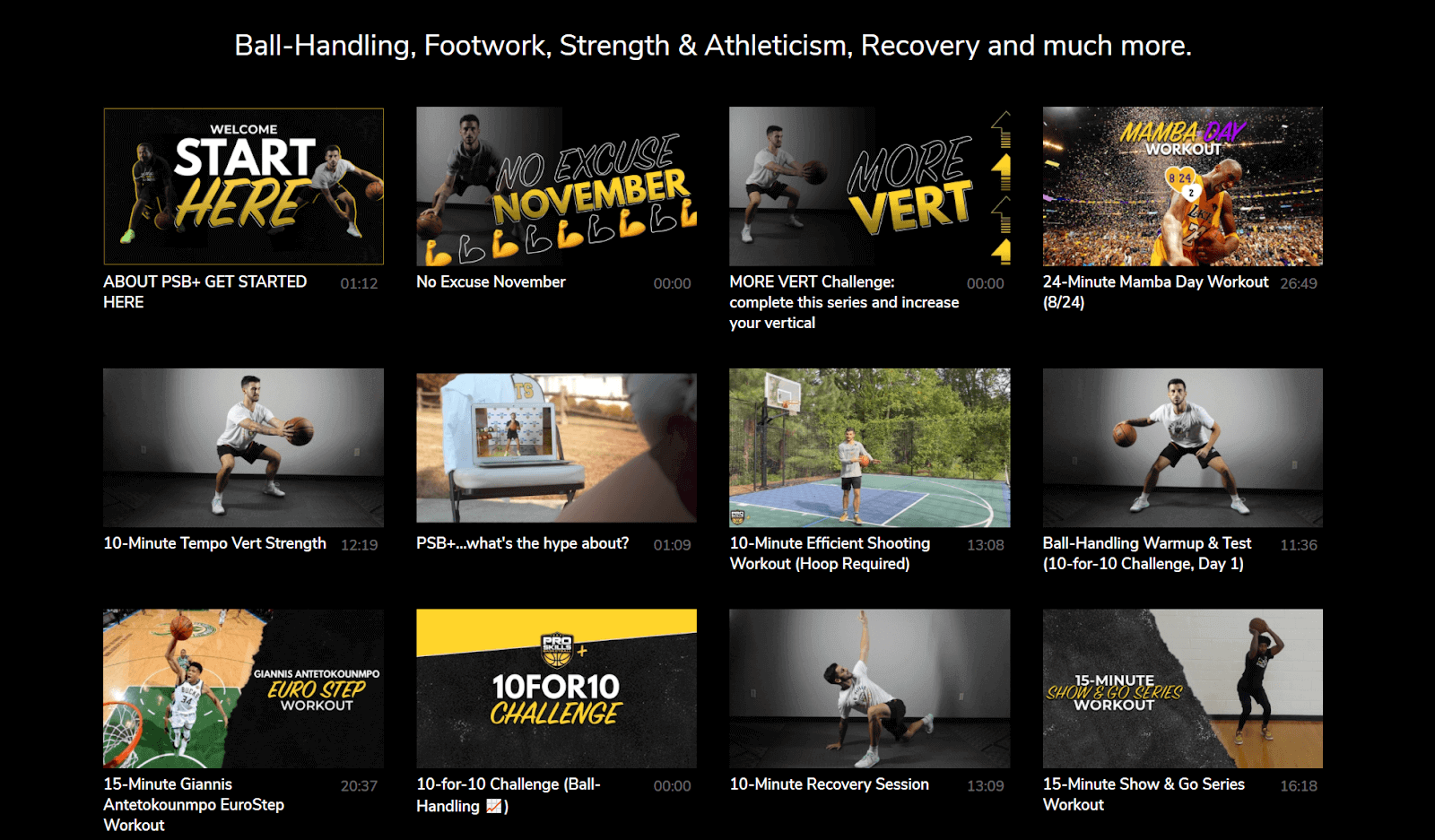 If you're an athletic coach or personal trainer, you may be looking for more ways to continue coaching your team and making money from your awesome drills, especially given disruptions to your training during this pandemic.
If that's the case, we definitely recommend following PSB+'s footsteps by launching a fitness streaming platform, because it can:
Keep your business running and allow you to coach the athletes who need you, no matter what the current pandemic situation is.
Help you reach a new audience of online athletes that the in-person program wasn't necessarily designed for!
One of the things we love about PSB+ is how they mix free and premium content to provide value to paying users while attracting new ones. PSB+ is also available on iOS for iPhones and Android.
Learn more about the benefits of free content and how you can use that technique.
2. Boston Yoga Union: Mixing it up as a brick and mortar yoga studio
Boston Yoga Union is a brick and mortar business that mixes old-school yoga practice with contemporary style learning.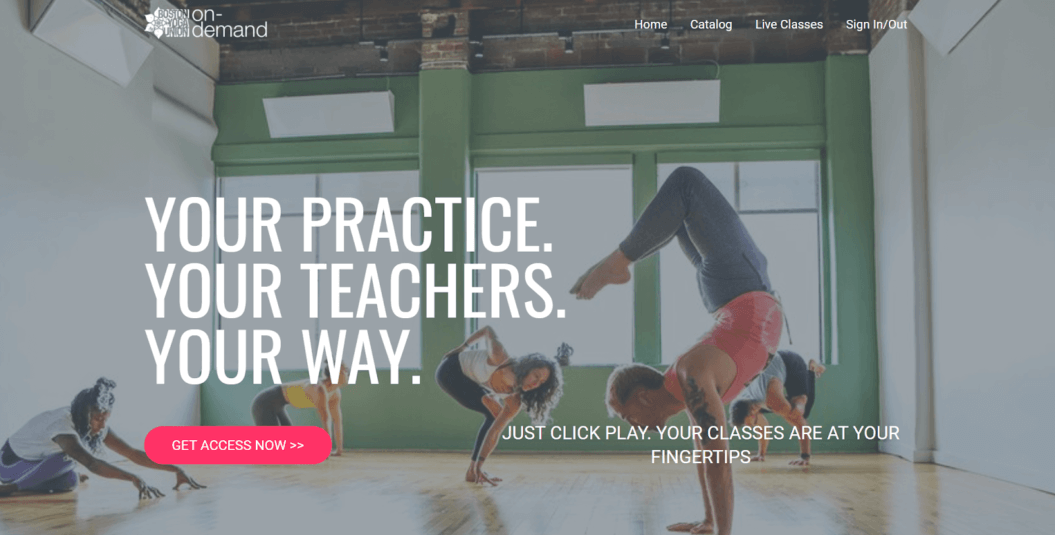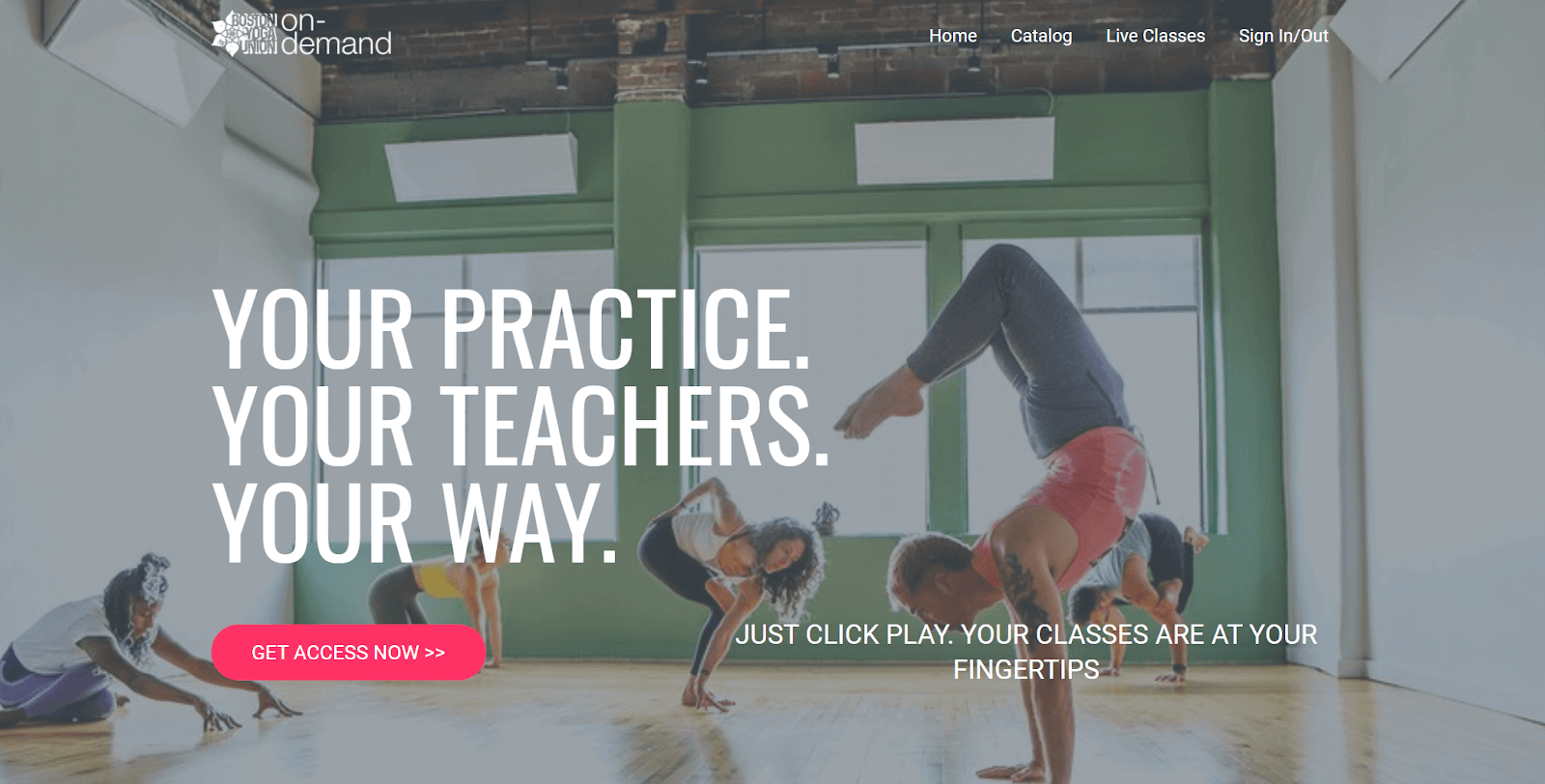 Because of the pandemic and lockdown restrictions in America, BYU couldn't run at full capacity. They needed a way to keep their current customers practicing while still being safe.
This led BYU to launch their very own fitness streaming app.
BYU now offers a mixture of in-person yoga classes, interactive live classes, and exclusive video on-demand classes for their subscribers.
With their new fitness streaming service, BYU can keep their customer base and grow their audience even more!
If you're a brick and mortar yoga or fitness studio looking to be resilient in uncertain times, then moving to a video on-demand business model could be a great opportunity for you.
You can also read another one of our success stories from a brick and mortar yoga studio that pivoted online by launching a fitness streaming service using Uscreen.
3. The WKOUT: A fully online streaming workout platform
The WKOUT is an on-demand home workout platform that offers high-quality gym-style training to its subscribers.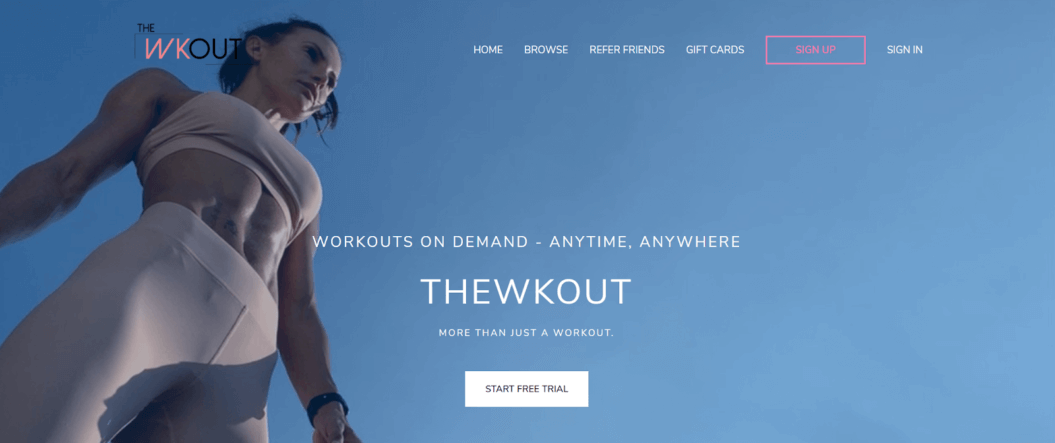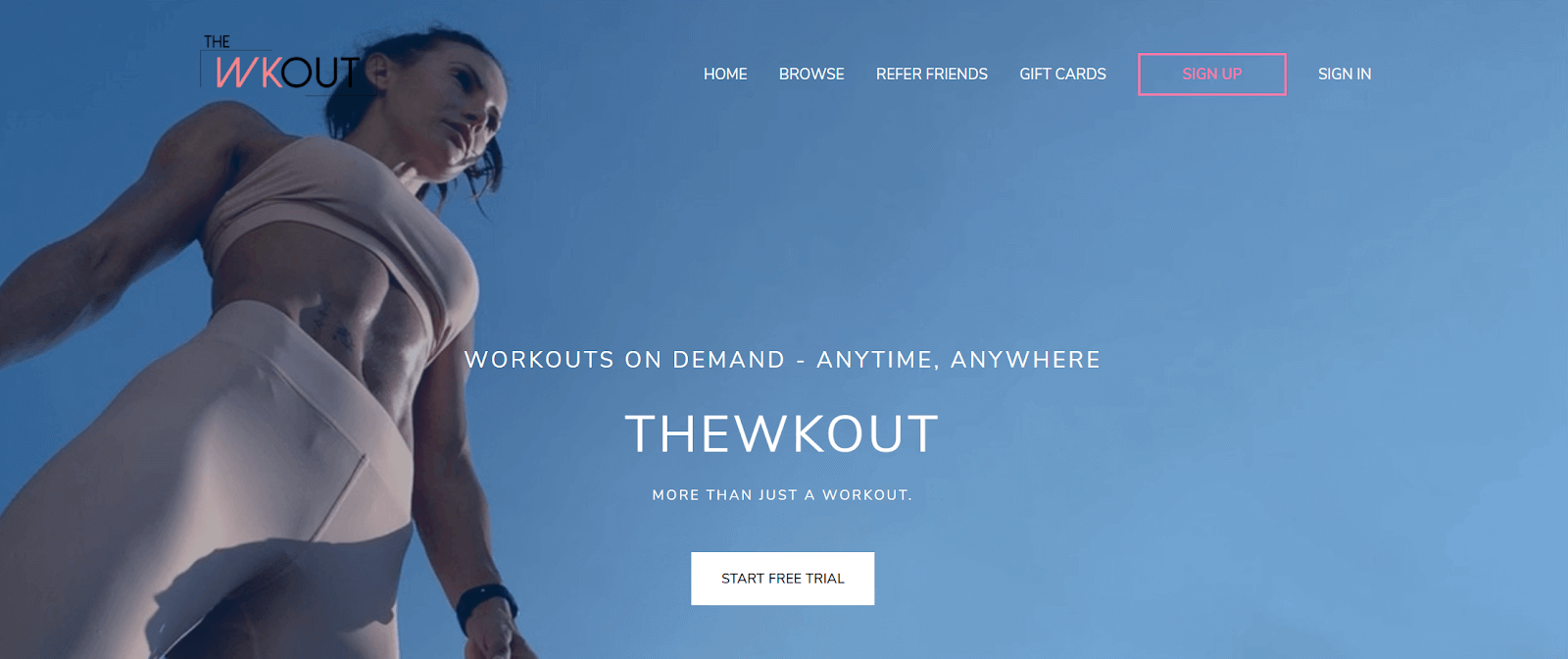 The founder, fitness trainer Lisa Zbozen, wanted to stay clear from the typical scripted DVD workouts. She wanted her clients to feel like a family that works out together from their living rooms, as a team.
So, she launched an online fitness streaming service that lets her grow her online community and monetize it!
The WKOUT uses a subscription-based business model that:
Makes their videos more affordable and helps them reach a wider client base.
Gives their community more value with access to videos on healthy recipes and meal plans, and different equipment to use at home.
Generates consistent revenue as opposed to one-off purchases from a workout DVD.
As a fitness professional or personal trainer, if you're looking to…
reach a wider audience.
create, grow, and/or monetize a community around your workout classes
have a consistent revenue stream
…then launching an on-demand fitness streaming platform is the right choice for you! The WKOUT is also accessible on iOS, Android, Apple TV, Roku and Amazon Fire TV.
If you're feeling inspired, we've created an in-depth guide for you on how to sell your own fitness program online.
4. Sona Fitness: Local gym goes nationwide
Sona Fitness is a boutique gym based in Chicago. It offers personal training and a variety of small fitness group classes, ranging from HIIT and strength training to cardio and yoga.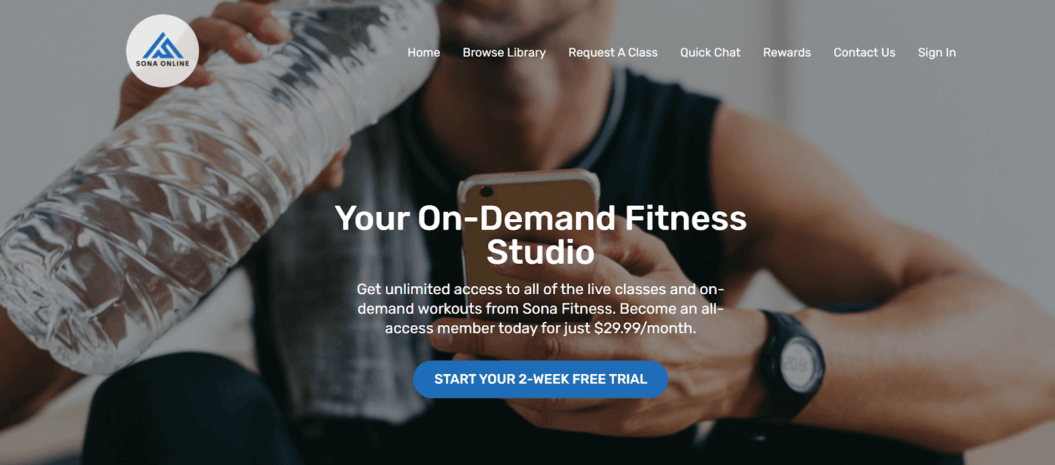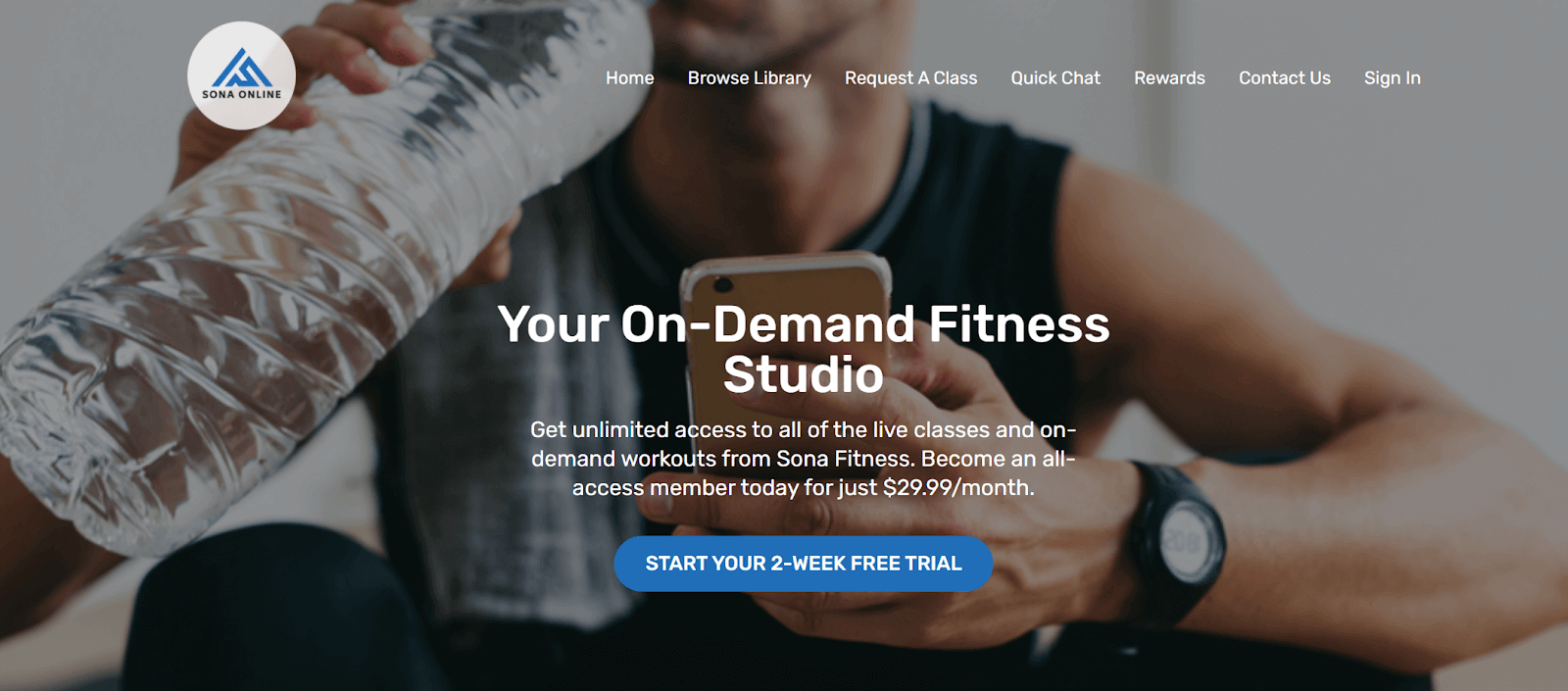 Sona Fitness needed to safely maintain their customer base during the pandemic and aimed to expand their reach beyond their fitness studio in Chicago.
So they decided to launch a Netflix-style fitness streaming app to keep their business running and reach new clients with daily burn workouts.
Now, Sona Fitness offers both in-studio and virtual training, as well as live streaming full-body workout classes and video-on-demand workouts! Sona Fitness is available on iOS for iPhones and Android.
If you're a local gym that prides itself on your personalized service and intimate community, having a fitness streaming app can help you maintain your customer base and expand your reach beyond your geographical limits.
Worried about the second wave of COVID-19? Well, we've got your back! You can read our guide on how to disaster-proof your fitness business.
5. Buti TV: From DVDs to a membership fitness streaming service
Buti TV is a total movement and yoga brand offering a unique blend of primal movement, dance cardio, and conditioning that is woven throughout a yoga sequence.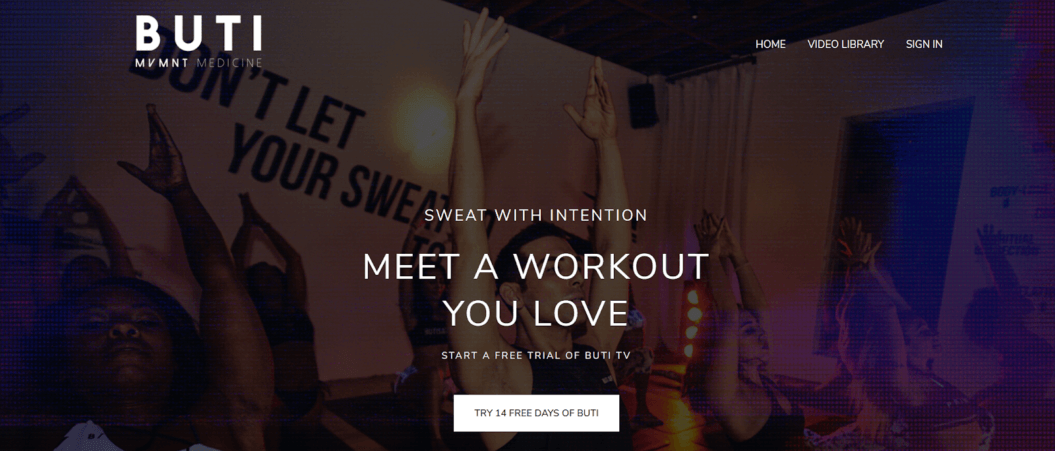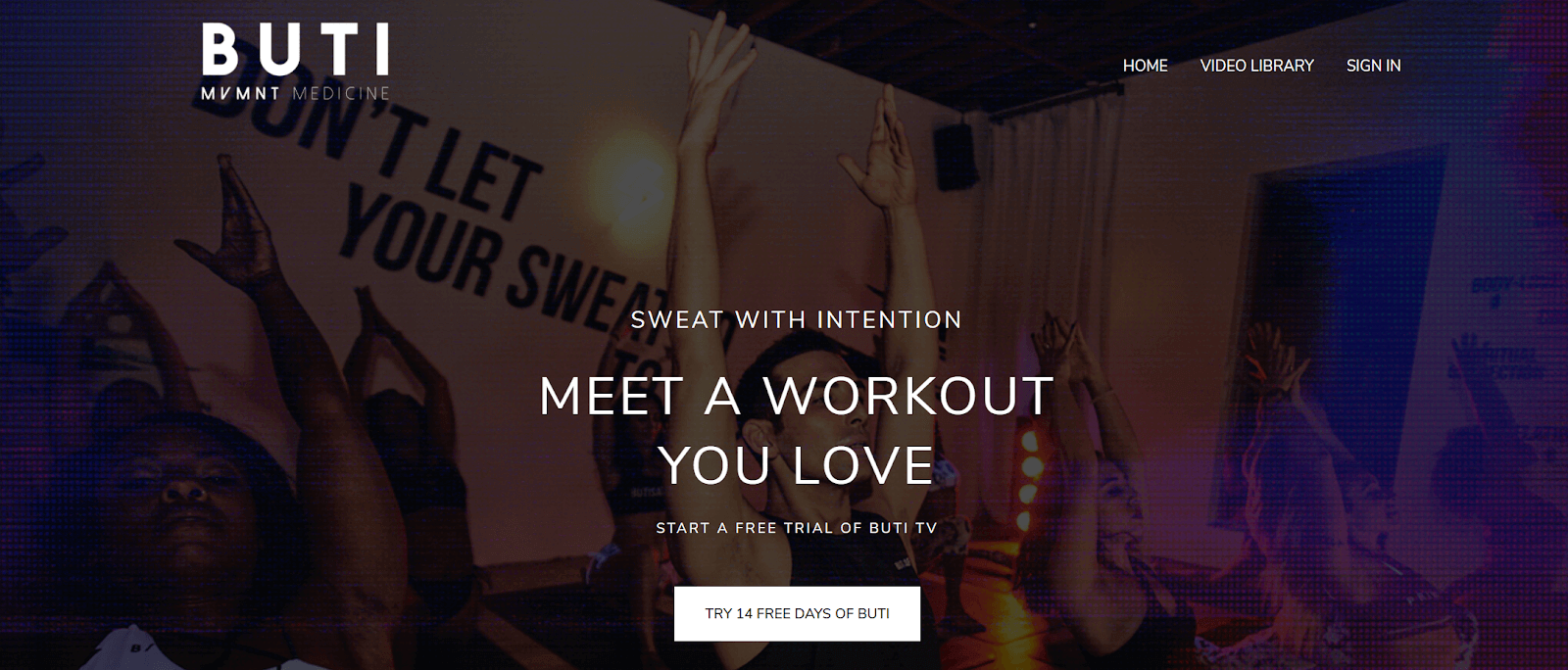 They have mass-distributed yoga DVDs and also train their followers in-person through workshops and teacher training in Oregon and Alberta.
Buti TV wanted to bring their DVD content online and keep connecting with their followers around the world.
So, they launched their own VOD platform and fitness streaming service that lets them:
Consistently monetize a large chunk of their 180k Instagram following.
Reach a larger audience online than they would with DVDs, especially with their new fitness streaming app!
If you're a yoga brand looking to expand your reach and have a consistent stream of income, Buti TV's business model is a valid one to follow.
Now they offer a variety of on-demand home workout videos and live classes for their community, making their business as scaled and personalized as ever! 
They sell their workout videos as either:
A one-off purchase of a specific workout series.
A monthly or annual subscription plan with access to all their videos.
Buti TV is also available on iOS, Android, Apple TV, Roku and Amazon Fire TV.
You can check out our Video Business School to learn more about different VOD business models.
6. Practice With Clara: An online community of yogis
Practice With Clara is an online yoga studio that trains and teaches a variety of yoga practices, from meditative Hatha to more upbeat Vinyasa for all level yogis.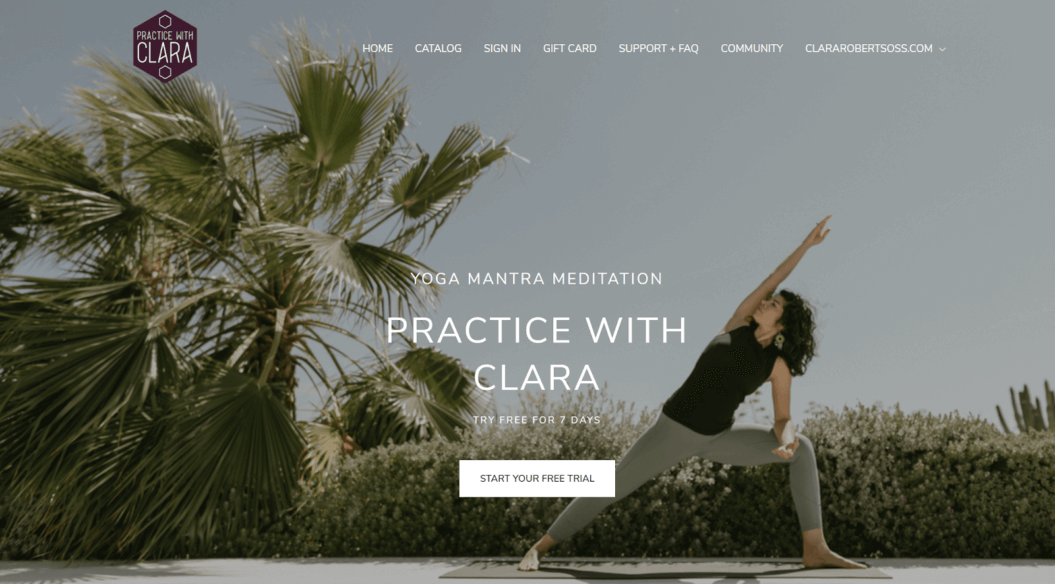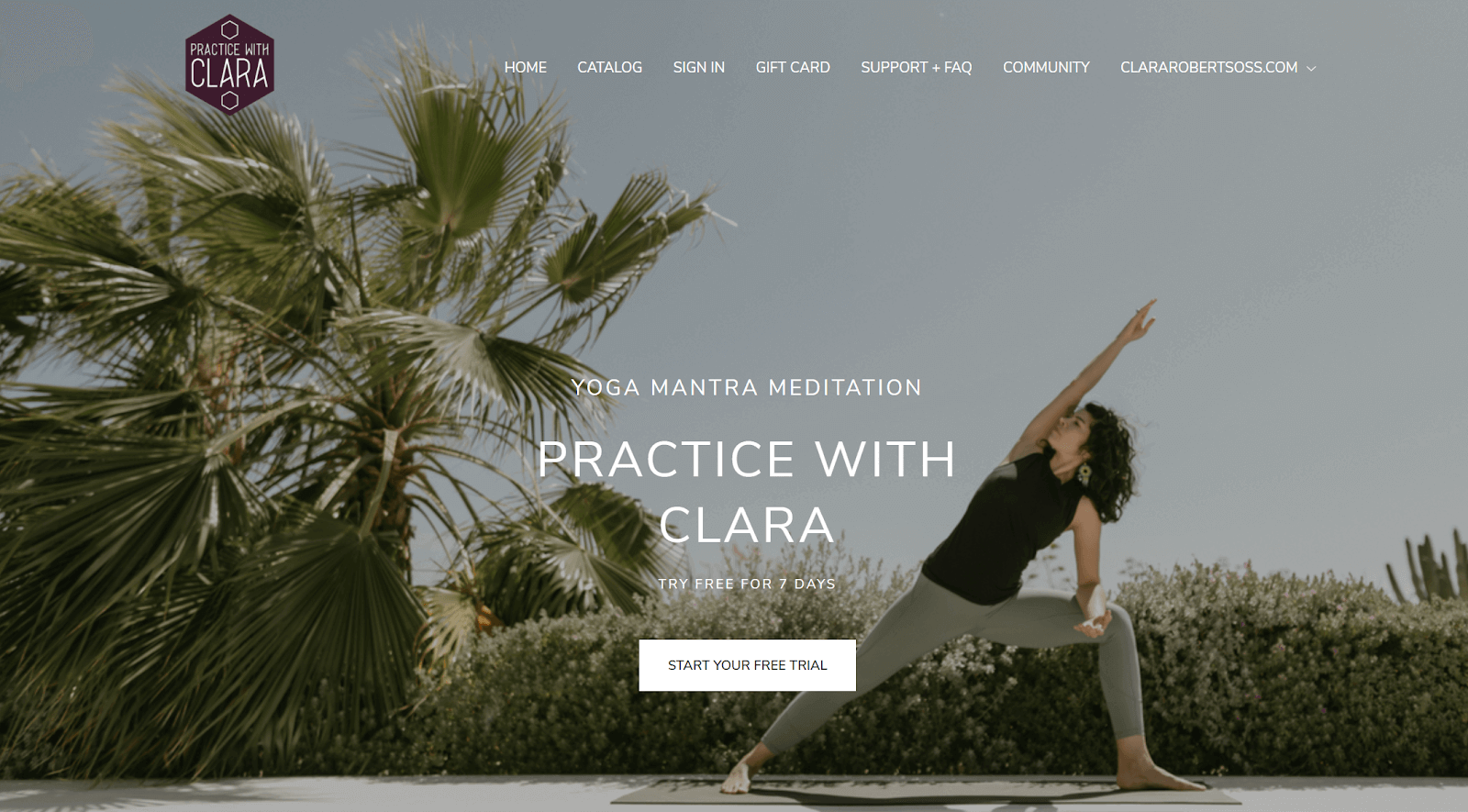 As a veteran yoga teacher, Clara wanted to find a way to expand the reach of her online yoga and mindfulness practice by launching a fitness streaming service.
At the heart of her fitness streaming platform is a community that helps grow her business.
Clara offers her community an exclusive Facebook group that lets them discuss 'living yoga', this includes:
A 30-day Virtual Yoga Challenge.
Journaling prompts.
Book recommendations.
Progress check-ins.
Invitations to share experiences.
Practice with Clara is also available on iOS, Android, Apple TV, Roku and Amazon Fire TV.
If you're a yoga professional looking to launch an online studio and fitness streaming app, then having an online community is vital!
Learn more about the importance of online communities and how you can grow one to help your video business.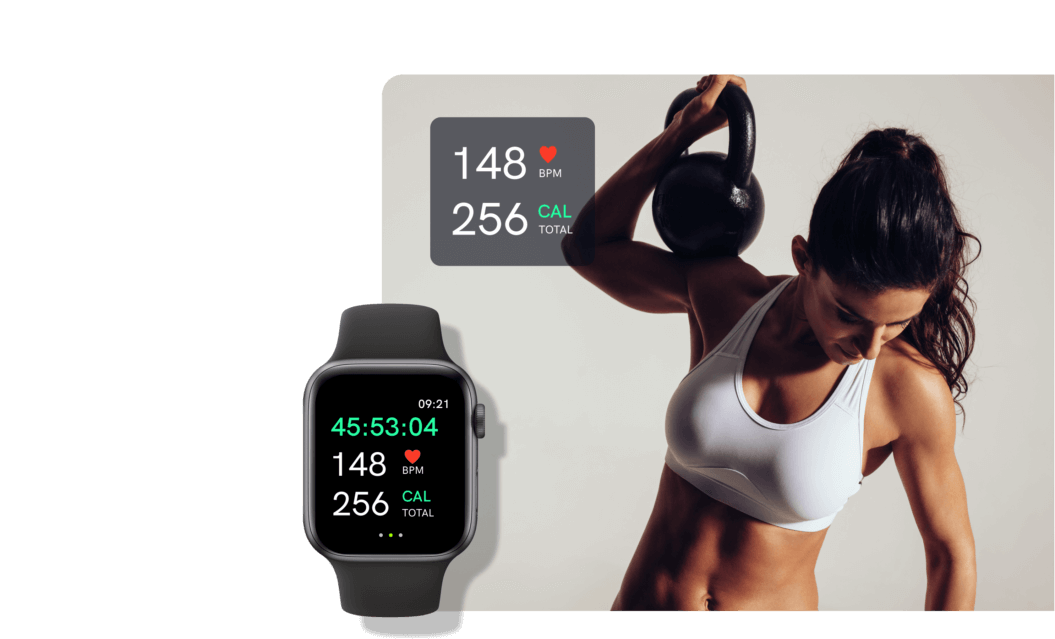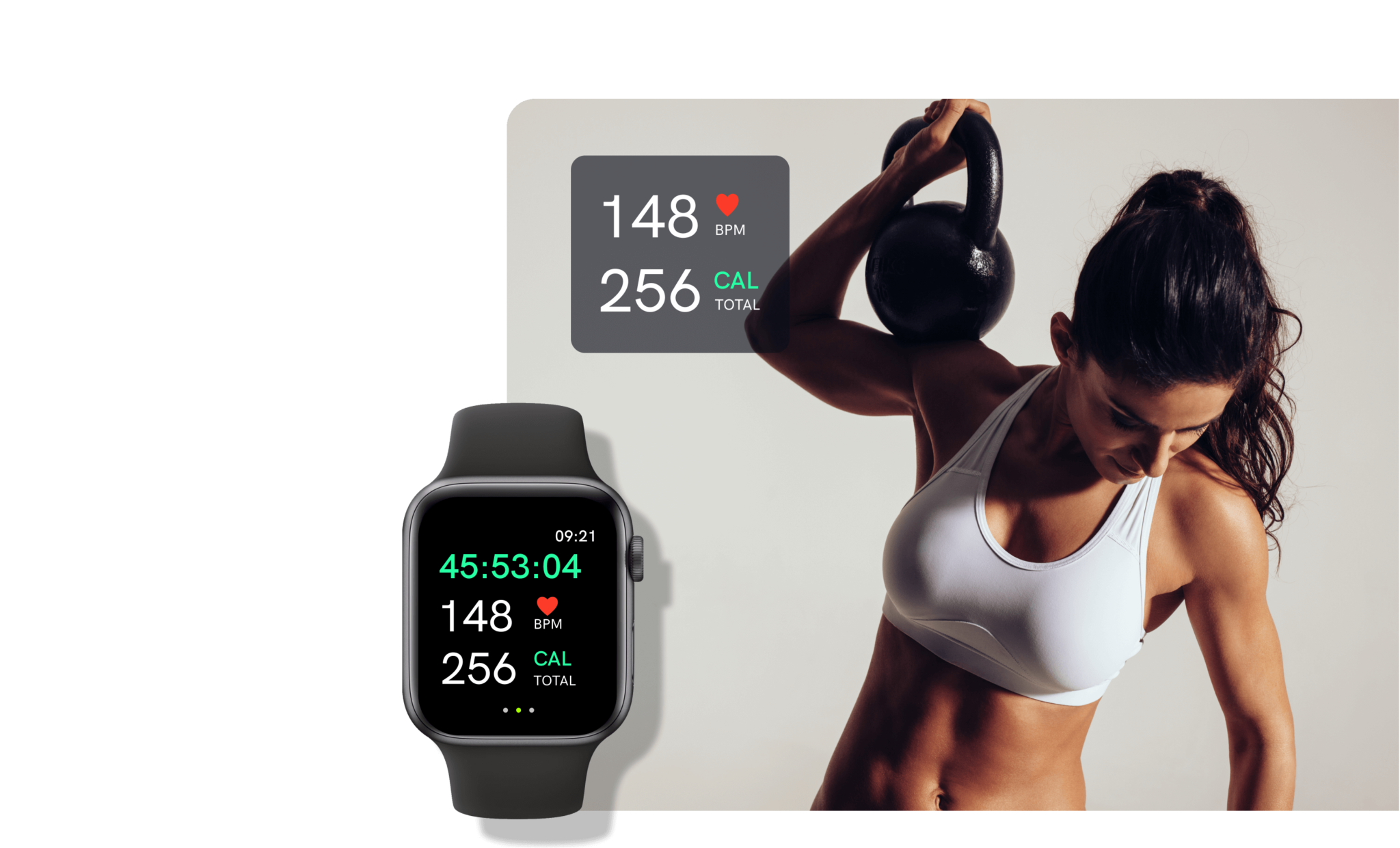 Launch Your Own Fitness Streaming Platform
Wrapping this up
This year was weird in so many ways, but we love seeing the resilience of our video entrepreneurs!
These 6 fitness streaming services made sure to leave no stone unturned by launching their very own fitness streaming apps.
The odds were stacked up against them but they pivoted and prevailed.
We can't wait to see what they do next!