Businesses around the world are increasingly moving towards a subscription-based model. And most importantly, it is happening across industries.
The VOD subscription sector has been doing great too – aside from AVOD and TVOD, SVOD is the most popular format. 
Customers love the subscription-based system. However, they often prefer monthly payments over annual plans, which may be one of the factors keeping your business growth down.
In this article you will learn why annual billing (and in general – any subscription plans based on longer billing cycles than 1 month) is better for your business and… for your users.
I will also discuss a few tactics you can use to increase the share of subscribers on annual plans!
Let's go.
The Power Of Offering Annual Video Subscriptions
Let's do a quick warm-up by looking at The House of Yoga subscription pricing.
There are 3 options available – monthly, annual and bi-annual.
The benefit of the annual subscription is clear: the customer will save as much as 40% per year.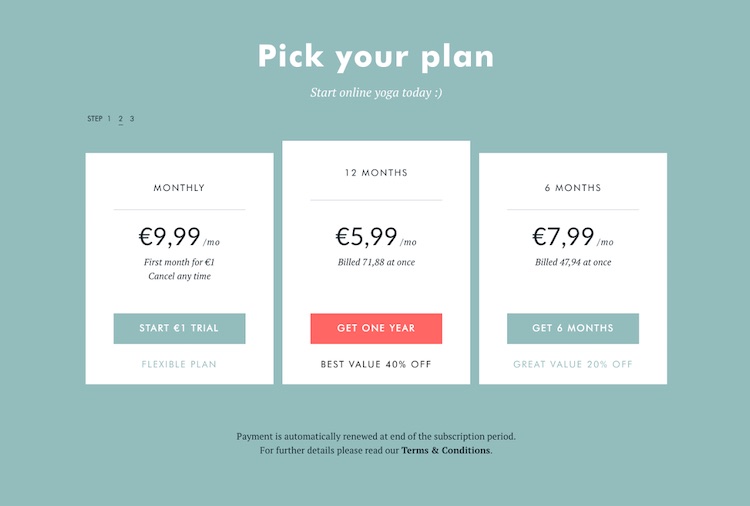 This annual saving is a great incentive to attract potential customers. In addition, the page design encourages users to select this plan by grabbing their visual attention (the biggest box, red CTA button).
And when paying for 12 months up-front is not something they will go for, there is always a half-year version too. If they save money by choosing you and you have a better product than your competitors, it's a no-brainer.
(More on customer perspective a bit later.)
Let's first focus on the business gains of what looks like a big money loss at first glance. So how do subscription-based companies benefit from promoting annual plans?
Annual Subscriptions Help With Customer Retention
At face value, continuous business expansion, and a stable customer base growth may seem to be the most crucial issue.
But:
It's just as important to keep the customers you already have. In fact, acquiring new customers can be 5 times more expensive.
Unlike monthly subscribers, customers on annual plans have a full year to implement the service into their everyday life.
They get used to it, become active users, go deep into different functions or content pieces and feel connected. The fear of missing out is much higher when compared to those with monthly subscriptions.
Better Cashflow
Monthly settlements provide constant flow of money to companies.
This may be a good solution in case of stagnation. But what if you want your business to grow?
To be able to develop your business gradually and have resources to invest in customer acquisition, you simply need more cash in less time.
That is why, despite the smaller amount of money per user in the yearly calculation, annual plans paid up-front are by far a better model from a growth perspective.
Having access to more cash enables you to invest in broader marketing activities and win a higher number of new subscribers, who will then bring additional money you can use to fuel this lead generation machine again.
More Time to React & Improve
The annual billing cycle also allows you ample time to connect with your customers.
If each customer stays with you for at least 12 months, you have plenty of time to collect feedback and use it to polish your service to perfection.
How To Get More Annual Subscribers
In most cases, clients make a decision to select an annual plan at two key points in their dealings with the service:
When they decide about a specific service for the first time.

At the moment of monthly payment or plan renewal.
Read on to see how to capitalize on them.
1. Winning Brand-New Customers
Let's now discuss a few methods you can use to encourage your potential customers to take the risk of subscribing to the service for 12 months.

Clearly Stress Your Annual Plan's Highlights
Pretty straightforward, right? One of the quick improvements you can make is listing the benefits that can be gained by the customer when going for the annual service.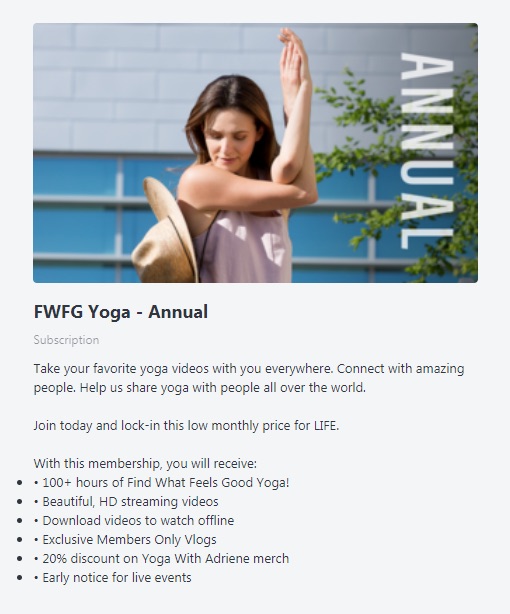 Apart from including the detailed information in the plan description on your website, you can promote your annual subscription through your social media and partner sites.
To make the posts visually appealing use icons, images or create a beautiful branded brochure.
Offer A Free Trial
A free trial option is extremely useful for undecided customers.
If your annual plan offers exclusive access to content and services unavailable for monthly subscribers, this is a great chance for customers to test the full version out.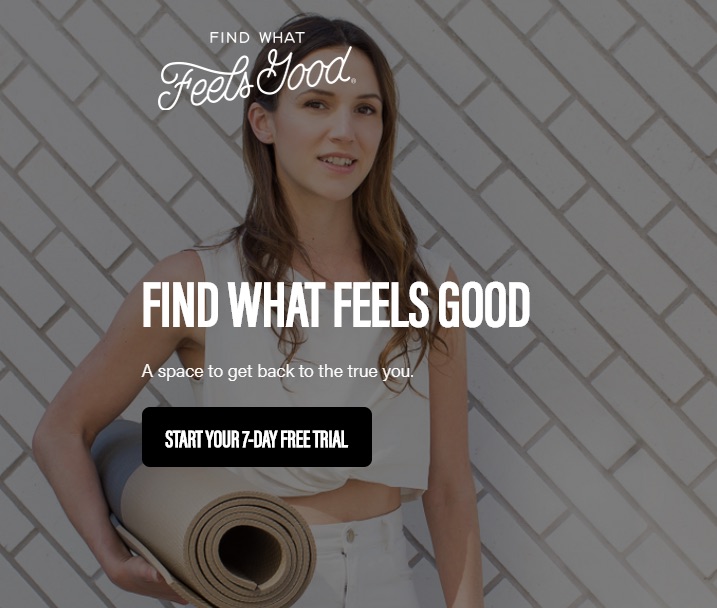 As Uscreen found out from looking into the data of their customers' subscribers, 52% of users who sign up for an SVOD free trial convert into subscribers after the free period is over.
There are different versions of trials subscription businesses use.
Some of them decide to make their services available for a longer time – like 14 or even 30 days. A decision about the right trial duration should be based on a few simple questions you can ask yourself:
What subscription plan is a customer interested in – monthly, quarterly or annual?
If annual, 30 days of free testing sounds like a cool bonus. But if it is a shorter one, 14- or 7-day trails would be enough. Can 30 free days with the service completely satisfy the customer?
If so, it is definitely worth shortening the freemium time and leaving trial users hungry for more.
In Uscreen you can make your free trial as long as you want. But based on the internal SVOD analysis, a 14-day long freemium version performs best in terms of conversion to a paying customer.
Include A Price Incentive
One of the main arguments for moving to a yearly period is a lower price.
At the beginning we had a look at The House of Yoga offering – the difference between annual or bi-annual and monthly subscription is up to 40% per year. Let's now look into some more examples.
Foodable is the largest on-demand video content collection for foodservice professionals and food enthusiasts. They offer 2 subscription plans – monthly and annual.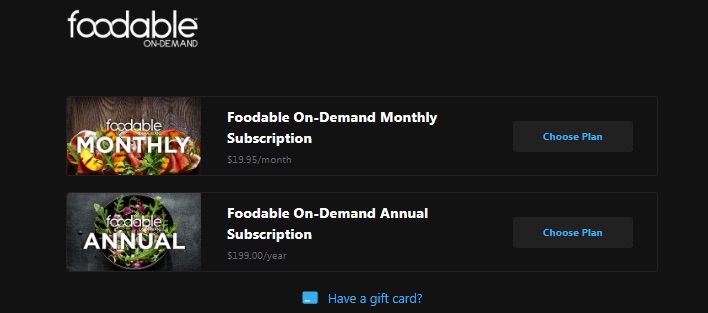 With Find What Feels Good you get a weekly portion of new yoga & meditation videos for all levels. If you want to become a subscriber, you can choose between monthly and annual payments.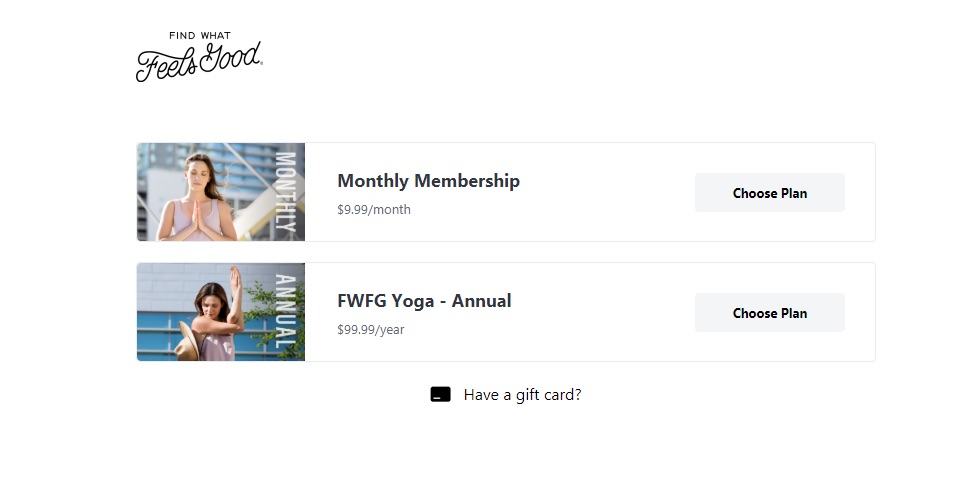 Both Foodable and Find What Feels Good apply a large discount (around 17%) for subscribers who decide to settle up-front payments once a year, which is a lucrative offering for interested users.
Think About Offering Refunds
When building a subscription plan, remember that at some point users may want (or have) to leave.
It may be worth thinking about implementing refunds that would be proportional to the user's time with the service that already passed.
Thanks to this option, your potential leads will feel more secure and increasingly eager to sign up for a longer term. And despite the threat of theoretical paybacks, you will still have better cash flow than in the case of monthly subscriptions.
Add Attractive Gifts
It is always a good idea to offer something extra to a person who decides to take a yearly plan.
Depending on the content offered by your SVOD business, these can be exclusive educational materials, discount for additional service, free webinars or dedicated VIP meetings.
Apart from the user's conviction that it is worthwhile to consider a prepaid annual subscription, it will help you improve relationships with subscribers and contribute to lower churn rate.
2. Converting Current Monthly Subscribers To Annual Plans
Having covered some methods you can use to increase a proportion of new subscribers going for an annual (or other longer-than-monthly) plan, it is time to focus on how to approach your current monthly users and convince them to upgrade.
Approach Your Users at the Right Time
If you want to encourage monthly users to switch to an annual plan, you need to make sure they are actively using your services. Any up-sell attempts should not be made too early!
The first good moment is when you have collected 3 monthly subscription fees – about 90 days from the beginning of their adventure with your platform. After this activation time, you can be sure that your service has become an integral part of your customers' lives.
They would not have extended access to your service if they did not need (like) it!
Select The Best Communication Channel
After this period you can launch an upsell campaign.
Phone calls, text messages and e-mails can all do their job but choose your tools carefully and let your customers decide which way they want to keep in touch with you.
If your subscribers have given you their phone numbers and you have some interaction history with them, you can try to reach them via traditional phone call. However, in most cases, or if the relation is less personal, the email or SMS outreach would be better to start with.
If you have a mobile app – why not try to reach them through push notifications? And maybe with some of your subscribers you have already had some nice live chat conversations before. How about using this channel to present an upgrade offer to them?
A great help in that process may be implementing a marketing automation software. Such platforms integrate multichannel communication tools, CRM, and user tracking features.
They can make your life much easier by lowering outreach costs and optimizing task and team management.
Come Up With Informative And Encouraging Content
I strongly encourage you to spend some time on creating outreach messages and bringing them to perfection.
The content should include information about the benefits the customer will gain if they decide to upgrade to a yearly subscription. It is also recommended to include a short summary of the switching process:
what they need to do to confirm they are willing to switch (for example click the CTA button or reply to a message)

how much they will be billed and when

what they should do if they wish to stay on a monthly plan (for example ignore the message)
You can also offer a bonus in the form of an additional free period when they make the payment in advance and until a given date.
In order to get the optimal content version, you will probably have to do some A/B testing – but I can assure you it is worth your time.
But What If They Leave (And How To Address It)
Cancelling the annual subscription hurts the most.
Unfortunately, it usually means that users, despite familiarizing themselves with the service and introducing new habits to their daily lives, are not fully satisfied (although it is also possible that their needs have simply changed).
At the moment of leaving, it is very important to collect feedback and get insights about the reason for giving your SVOD up. You can use Google Forms or free surveying software for this purpose.
Keep your feedback forms short and clear so that your respondents fill in the blanks and do not abandon the survey before submission.
What can you do to prevent subscribers from leaving?
Be Available If They Need You
Try to make sure that your users never feel overwhelmed by lack of support.
It might be a good idea to give them an opportunity to contact a support team via live chat whenever they have questions.
If you find it too time-consuming or you simply run a small business without dedicated support agents, you may consider a hybrid solution: live chat combined with a chatbot. Both features are usually included in affordable plans of marketing automation platforms.
Build a feeling that your users are part of a community. Periodic feedback surveys, followed by efforts to improve the service quality, can truly contribute to strengthening the relationship between your business and customers.
Seeing that their suggestions are taken into account, your subscribers will feel they do matter and are an integral part of your SVOD family.
Do Not Let Them Forget You
If you already use marketing automation software (or any other system that tracks your subscribers' behavior on your website or in your mobile app), leverage it to create a customer engagement strategy.
The system helps you identify a moment when a user starts to spend less time with your service – this is the right moment to launch a reactivation campaign!
It should be a friendly reminder or a sequence of messages that could increase users' engagement with your service or bring them back.
Maybe there are some interesting novelties or updates you can inform them about? Use emails, SMS or push notifications. Users will certainly notice them while keeping the friendly tone will not violate their privacy zone.
Wrapping Up…
Increasing the number of customers on annual plans is one of the best ways to boost your business development.
Not only does it bring huge business benefits, like improved cash flow and higher customer retention, but it also offers significant advantages to subscribers.
The key tactics to encourage new users to go for annual plans:
stressing benefits of an annual plan

offering a free trial

highlighting yearly savings compared to monthly plan

adding gifts or bonuses
You can encourage current monthly subscribers to switch to an annual plan by:
approaching them at the right time

choosing the communication channel they prefer

sending an informative message with a clear way to opt-out
Last but not least, an important aspect of building a successful SVOD business is to provide the highest service quality to all customers, regardless of whether they are on monthly, quarterly, or annual plans.
After all, highly satisfied monthly subscribers may not need much incentive to upgrade.
Debunking 7 Misleading Myths about SVOD Distribution