Do you want to increase your OTT app downloads and in-app purchases?
You've come to the right place!
We've helped hundreds of video streaming services like yours amp up their video monetization, grow their audience and find new leads for their OTT apps. And, now, we want to share that experience with you!
In this article, we're going to walk you through a tried-and-tested OTT strategy that will help you:
Understand the needs of your potential customers
Build a reliable OTT app marketing funnel
Put your videos in front of a steady stream of new leads
If that sounds like the solution you're looking for, keep reading to find out more.
In this OTT strategy guide we'll cover:
But before we dive into the treasure trove of knowledge that is this OTT strategy guide, let's quickly go over some good-to-know stuff about OTT apps and the importance of having a solid OTT marketing strategy.
The Power of a Solid OTT Strategy
An OTT app, or over-the-top application, is an app that delivers video content to your smartphone, tablet, or smart TV using the internet, rather than traditional television methods that require cable or satellite.
As of 2020, over-the-top apps stopped being just an upsell feature–they've become something users expect as part of their viewing experience. So capitalizing on the success of OTT apps is a must for your video on demand business in 2021.
Let's take a peek at these stats:
As you can see, people are willing to spend their time and money on OTT platforms and streaming services more than ever. So much so, that we found that Uscreeners who added OTT apps to their existing online services saw an average growth of 30% in size and revenue.
There are 2 reasons why this happened:
OTT apps reduce churn. By offering content across multiple devices (especially those preferred by your target audience), you're more likely to end up with happier users who consume more of it.
OTT apps increase conversions. This is because they expand your reach to a new audience of cord-cutters who are looking to leave traditional tv behind.
But how do we get our OTT apps to stand out in a saturated market?
In this next section, we'll show you how a simple marketing funnel can level up your marketing plans.
The OTT App Marketing Funnel
To ensure a successful OTT app marketing strategy, it's important to first get a good understanding of the customer journey.
By adapting the marketing funnel into the process, we can visualize where the customer is from when they first learn about your OTT app until well after they download it and become a user. This allows us to identify the optimal marketing strategies at any given stage of the customer journey.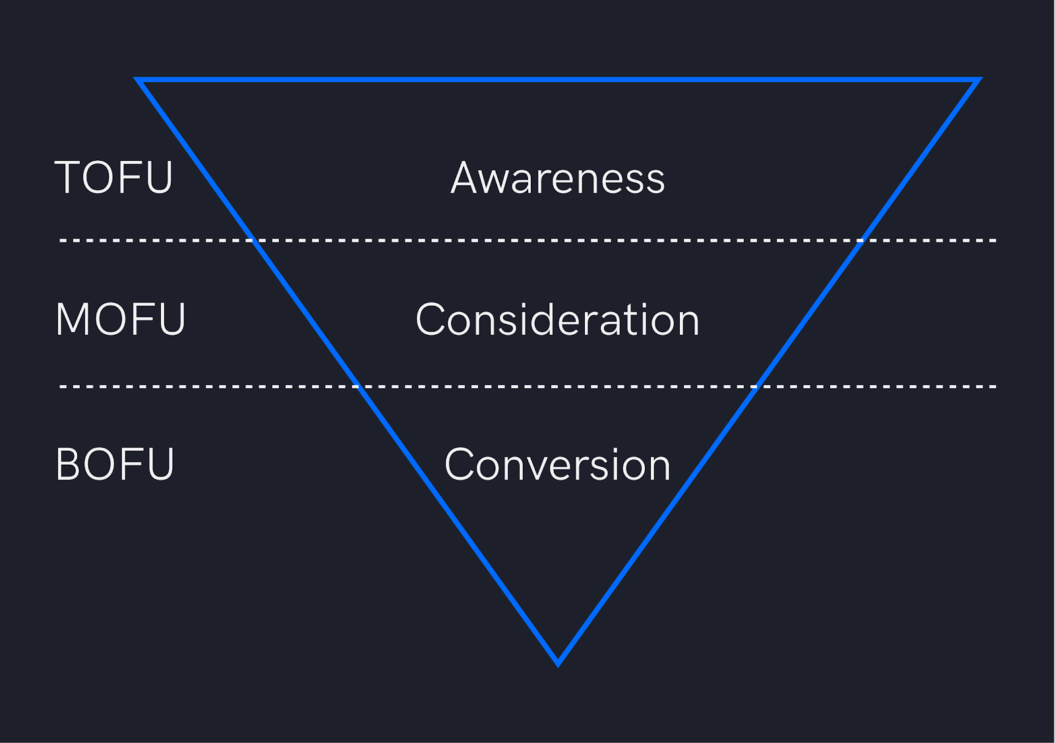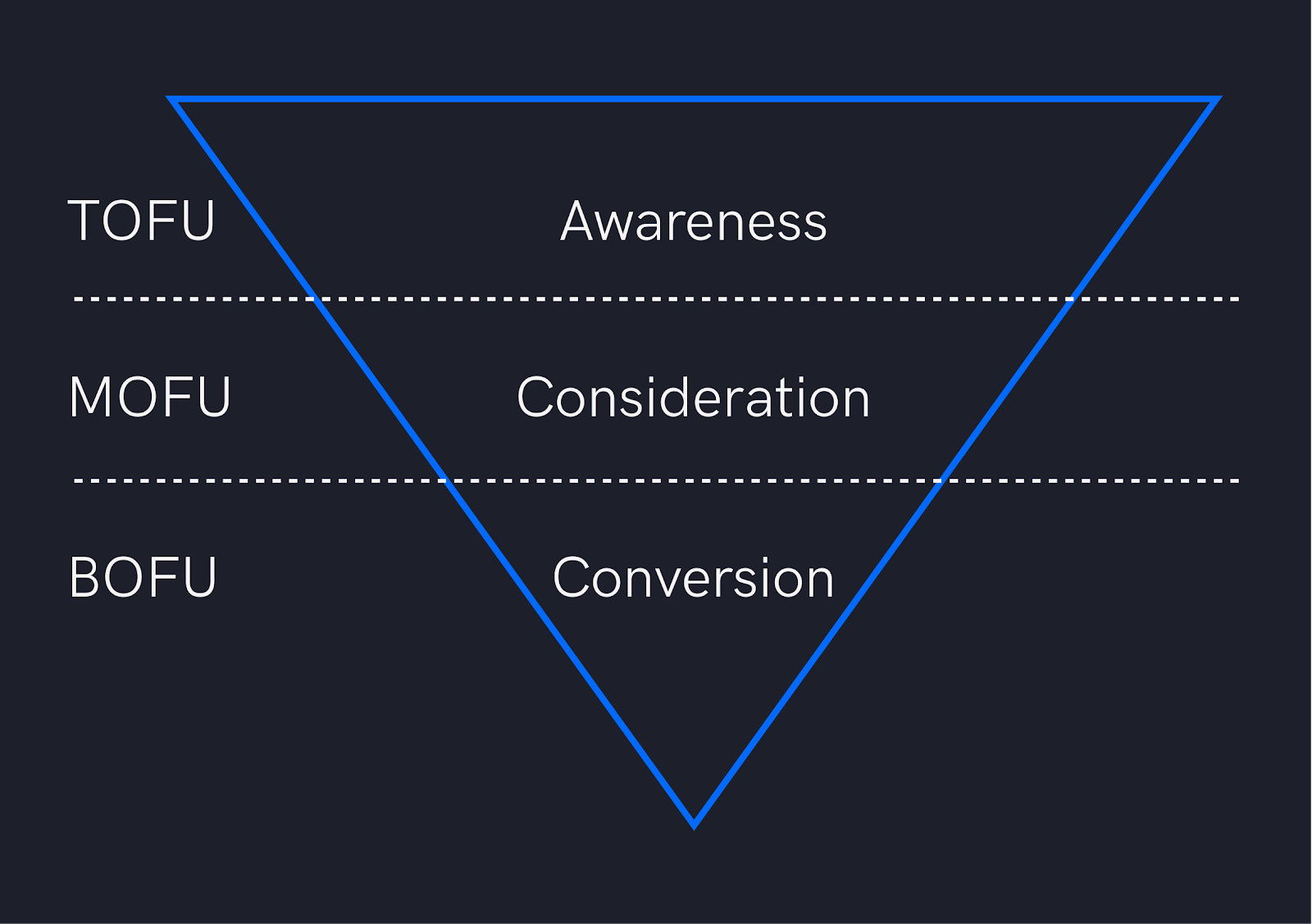 Top of the funnel (TOFU): This is where the user becomes aware of your brand and OTT app.
Middle of the funnel (MOFU): This is where the user expresses interest in your brand and is considering downloading your OTT app.
Bottom of the funnel (BOFU): Your potential user makes a decision.
For the purpose of increasing OTT app downloads and retaining users, we need to expand our funnel to include strategies for retention.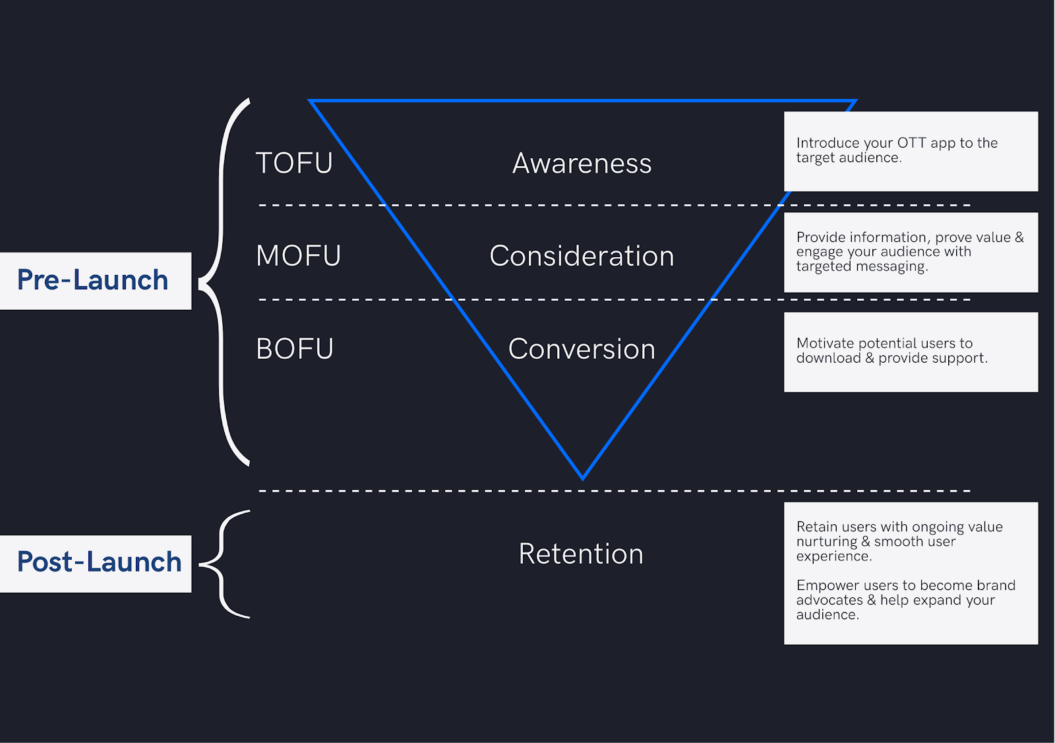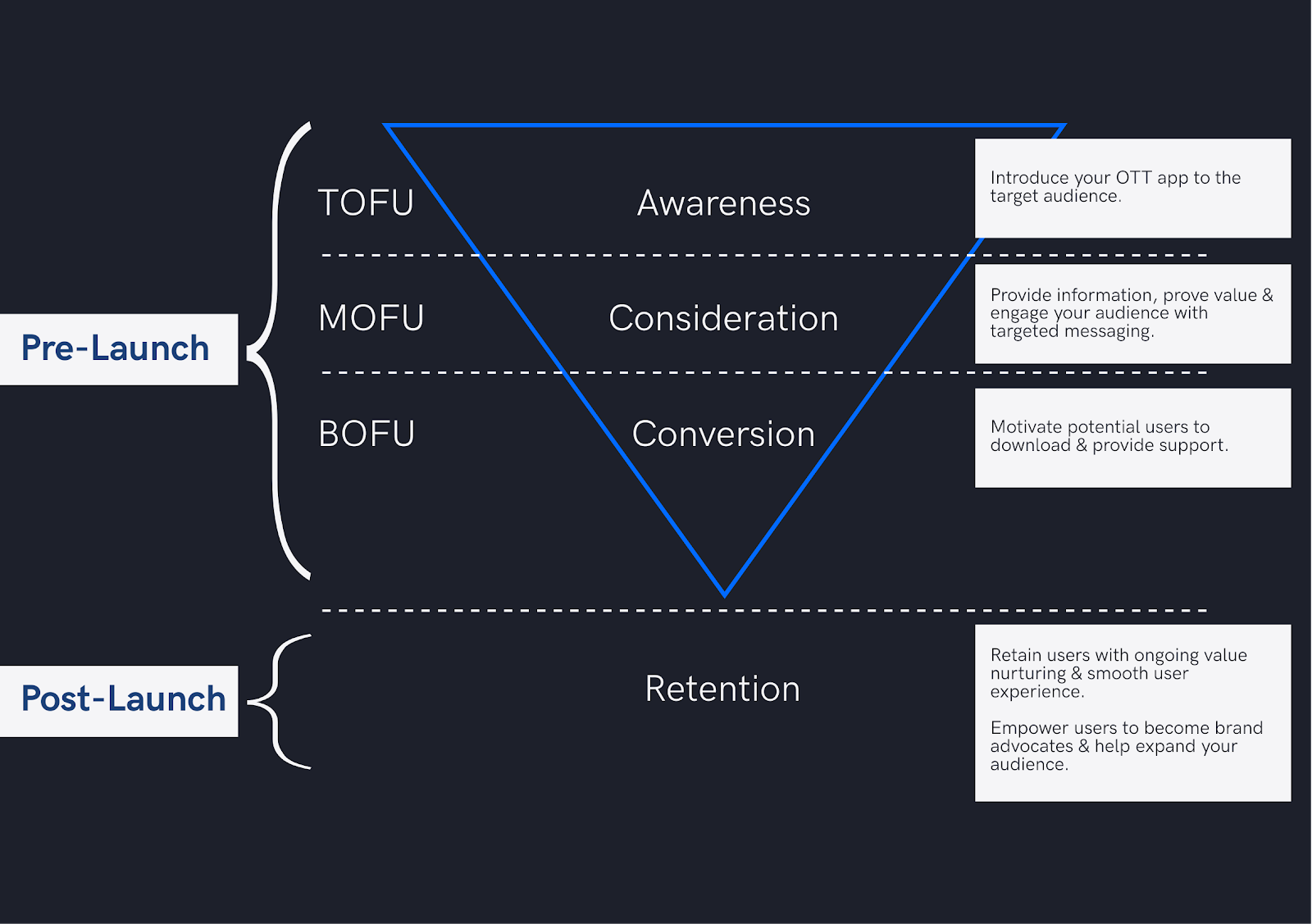 This splits our marketing funnel into two phases:
Awareness (pre-launch)
Retention (post-launch)
A successful launch means planning ahead and executing your marketing strategies well in advance. The Awareness phase is your chance to build up excitement and share information about your OTT app.
It's important to remember the customer journey doesn't end after they become customers! The work you put in after they've downloaded your OTT app reduces the chances of customer churn, or the customer no longer using your streaming services. The Retention phase is your chance to get feedback from your users, make improvements, and continue to delight.
Now that you understand how the pre and post launch phases work within the marketing funnel, let's take a look at how we can leverage it to create actionable and successful marketing strategies.
Awareness (Pre-launch strategies):
Set a Release Date
While this may sound like a no-brainer, it's important to give yourself time to properly prepare for the official app launch. This is also a great time to set a date to build up excitement around! Keep in mind that app stores have different review processes that could delay your release if you need to make last minute changes.
Uscreen Tip: Our OTT Apps Team can build and submit your app to the different app stores! Be sure to read through our Help Guide to understand how the submission process works, and what you need to do to ensure there's no delay.
Understand Your Audience
Have you done your market research? Before developing your app, it's a good idea to understand who your potential users are. A great app with quality content that doesn't cater to the needs of your target market won't help you reach your viewership goals. Even with an existing community, this is a great opportunity to collect data that will help you reach more users.
Uscreen Tip: Consider what devices your target audience primarily uses, as well as what countries they're downloading from. For example, 78% of all streaming hours in the U.S. take place on internet-connected tv and mobile devices. Knowing this ahead of time will ensure your app is in front of the right audience.
Build a Website or Landing Page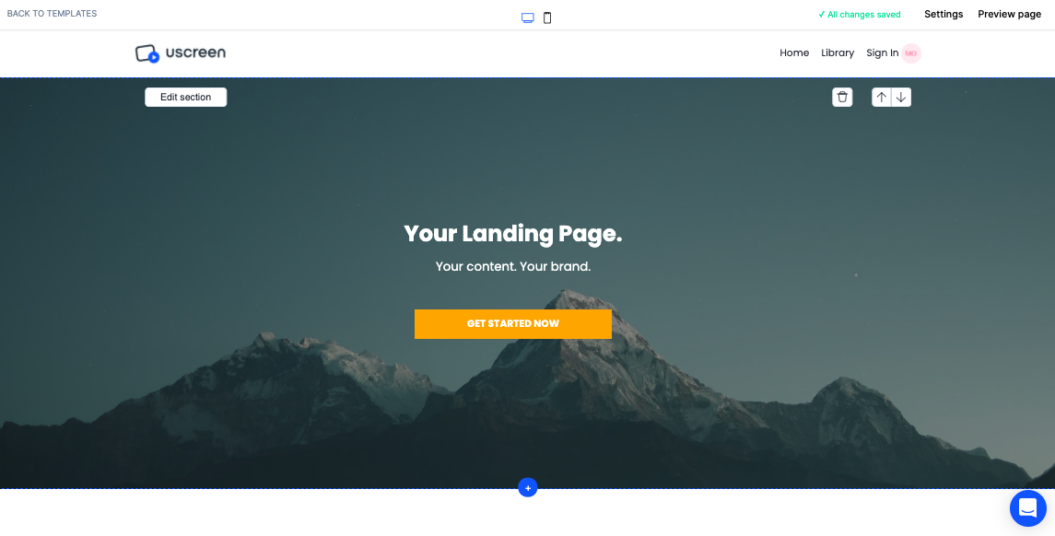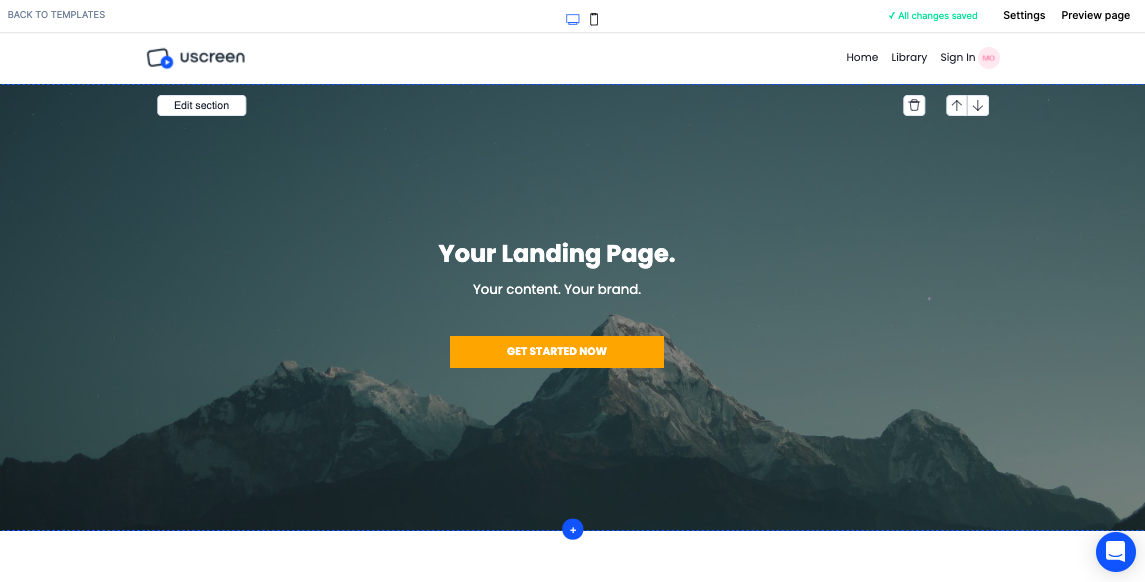 Your website or landing page is typically the first thing users see before app installation. With a fully operational website, you can host teaser trailers, easily upload new content, and offer verification for you and your brand. If your website or landing page is already set up, it's good practice to double-check your content is up-to-date and ready to direct users to download from the app store.
Uscreen Tip: Uscreen required all users to launch their video streaming website before launching their OTT apps. With 11 plug-and-play templates, Uscreen users can quickly launch their website and start the app development process.
Content Strategy
In a saturated apps market, it's important to solidify yourself and your brand as an expert in your niche. Consider starting a blog well before launch! Crafting some quality content is a great way to not only promote your app, but also to increase brand awareness.
Outreach Strategy
Social proof is a powerful thing! Make a list of individuals or brands related to your niche and prepare your press kit. Influencers in your industry who are interested in writing about your app or offering a review have the power to expand your reach in a big way!
Uscreen Tip: Double check that your website or landing page is up to date. Any information that's on there is what influencers or bloggers will refer to.
Social Media Strategy
Social media platforms like Instagram, Facebook, and Twitter allow you to directly engage with your users and expand your brand's reach. Build excitement with fun, informational posts in the lead up to your launch, as well as answer any questions coming from your community.
Uscreen Tip: This is another scenario where knowing your audience comes in handy! Different social media platforms work better for different demographics, so be sure to consider where your users are doing their posting.
Do App Store Optimization Research
Optimizing your app to rank highly in the app store leads to increased downloads. People are more likely to download an app that appears near the top of their search list! The more downloads you get from searches using a specific keyword, the higher your app is placed in the app store rankings.
Here are some best practices for optimizing your OTT app for the app store:
Use strong keywords in your app title and your description.
Mention features that make your app stand out from the rest.
Include clear images of your app so users know what to expect.
Pay attention to the region of your target audience, as this can influence the search language of your users.
Consider Paid Advertisements
It's a good idea to consider paid strategy prior to launch day. As we mentioned before, knowing your target audience is key. Running targeted ads on social media platforms with short, powerful messaging can be effective for increasing brand awareness and downloads when your app goes live.
Retention/engagement (Post-launch strategies)
Create Targeted Campaigns
Now that your app has gotten downloads in the app store, it's time to put in the work to retain and engage those users. Social media campaigns are a great way to keep users on your app, as well as drive even more downloads!
Brands that run an Instagram contest have the power to grow their followers 70% faster than those that don't–and more followers means more downloads! If Instagram is an app relevant to your target audience, then a contest can be an excellent way to kick things off.
Take a look at this Domino's Instagram contest: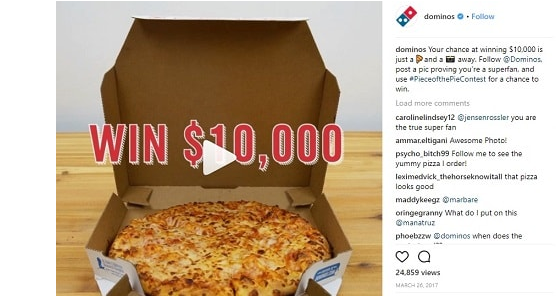 For a follow and a post using the promotional hashtag, participants have the chance to win $10k and Domino's superfan bragging rights.
While you don't need to have a huge cash prize (although it surely doesn't hurt), a giveaway is a fun way to incentivize your audience to follow and share your brand with their networks. Not only will you see your number of followers increase, but you can also expect to see the number of downloads grow.
Uscreen Tip: Keep track of the channels that generate the most downloads and consider focusing your paid ads there.
Send Notifications for New Content
Keep your users on their toes with every new content you upload to your OTT catalog. By sending them notifications to their phones with fresh content, you easily pull them back into the app to see what's been added, increasing your engagement with your users.
Monitor Analytics
Monitoring your analytics is essential for retention, but also for driving future downloads. Keep in mind that key metrics should be tracked in both the Pre-launch and Post-launch stages, so make sure to keep an eye on this throughout the entire process.
Remember, the goal is to get more app downloads to increase the viewership of your streaming site. A major part of doing this successfully means paying close attention to the following:
Subscriber count: Measure the number of subscribers in a given time frame to track the success of your marketing efforts.
Churn rate: This refers to the number of users that unsubscribe from your services.
Average watch time: The average length of time your users spend watching a specific piece of video content.
Devices: This shows you on which connected devices your content is viewed the most.
Countries: Knowing where your users tune in from is helpful for keeping track of their preferences and creating more targeted strategies.
Uscreen Tip: You can watch these analytics for your video streaming website on the Uscreen platform.
Wrapping This Up…
It's time to start marketing your OTT apps!
Now that you've made it through this guide, you're well on your way to getting those downloads and growing a successful video streaming business.
Want to learn more about the Uscreen apps process? Feel free to get in touch with a member of our OTT Apps Team.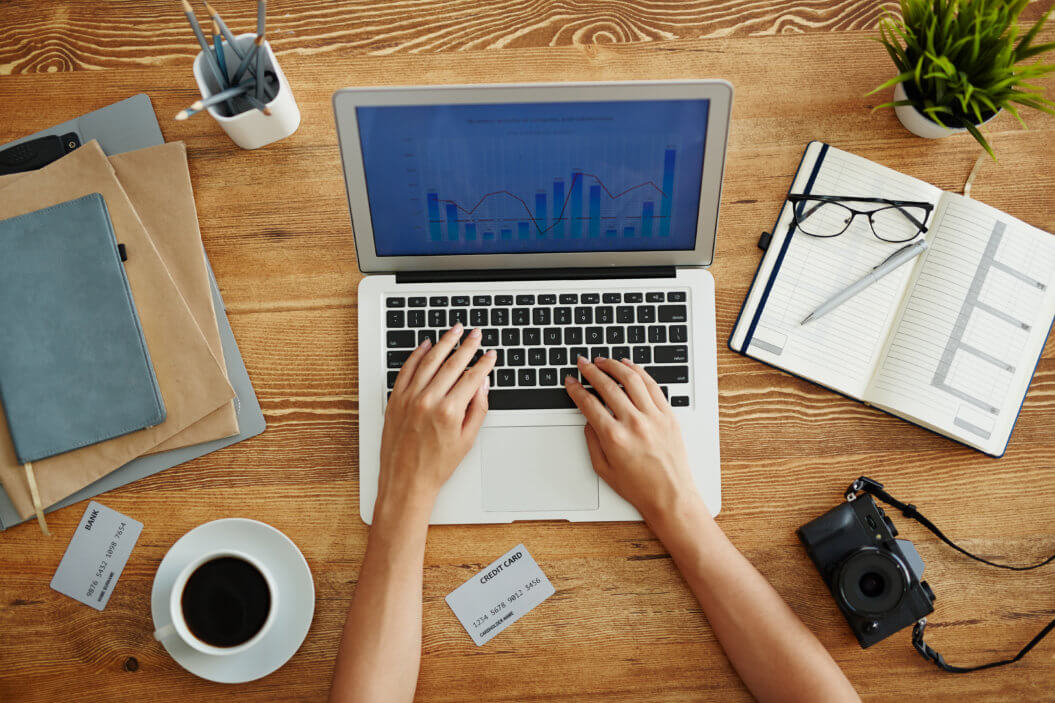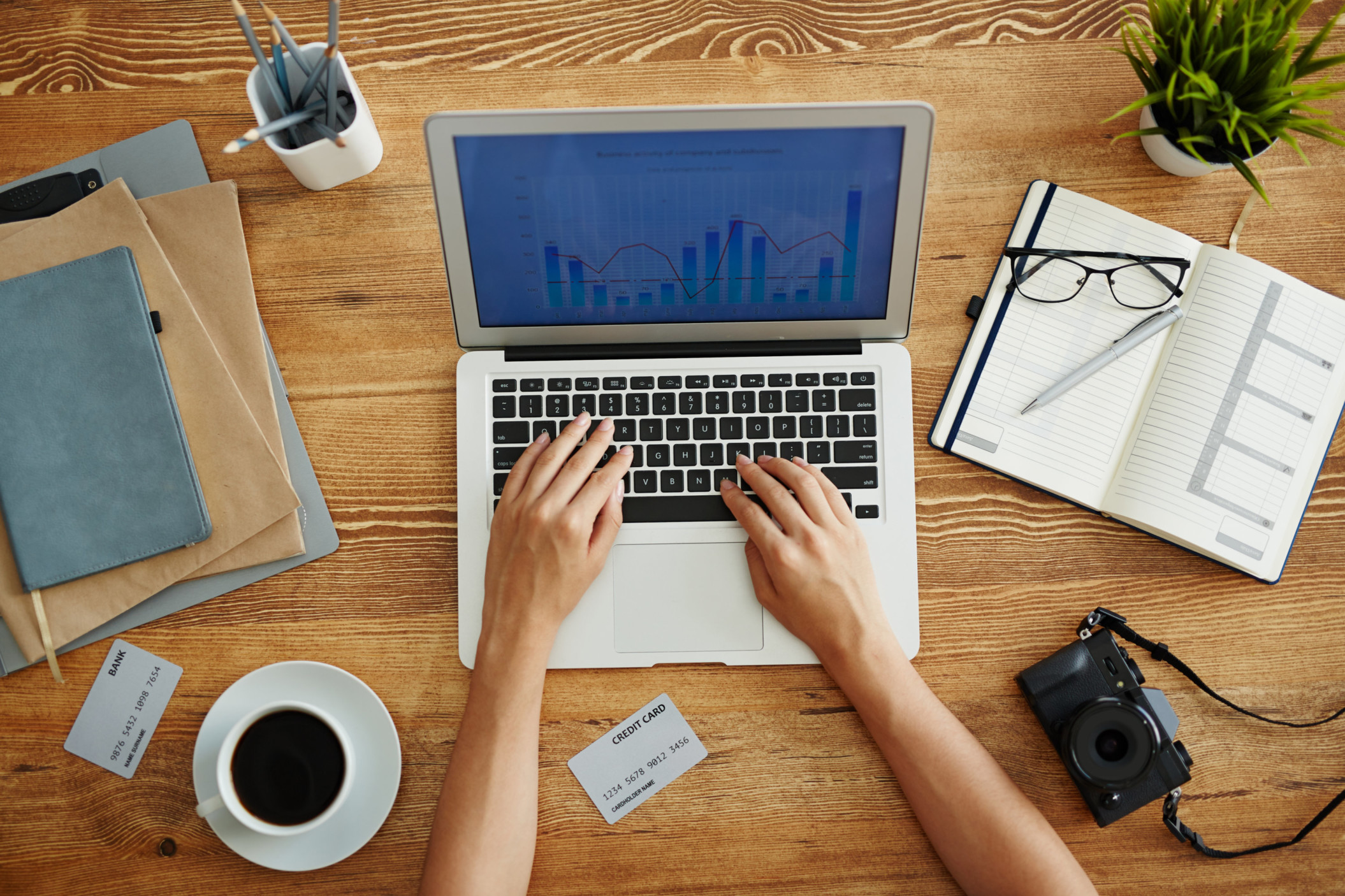 Paid Advertising for Your VOD Service
Full Guide