As a fitness trainer, one thing is always true:
There just aren't enough hours in the day.
You want to help as many people as possible with their fitness goals, but there just isn't enough space in your calendar.
Well, not if you want to eat, sleep, and have any form of a social life…
So how do you help more people get the results they want, without needing to (magically) add extra hours in the day?
Well, you'll be glad to know that the answer is pretty straightforward…
You create an online fitness studio.
Online Fitness Studios: The Best Way To Grow A Healthy Training Business
Online fitness studios are video-based platforms that allow trainers to work with online clients. It's kind of like an online fitness "hub."
Through your hub, you can share:
Workouts.
Courses.
Nutritional advice.
Training plans.
Recipes.
Basically, if you think it will help your audience and improve their results, you can create and share it with them through your online fitness studio.
This is an excellent option for personal trainers and course instructors because they allow you to work with an unlimited number of people in virtually any location.
In fact, online fitness studios hosted on our Uscreen platform:
Have an average of 343 monthly subscribers.
Earn an average of $7,503 per month.
This is much more scalable than in-person training!

Better still, the online fitness industry is expected to grow 30% annually through 2027 – so you can take advantage of the rising demand and make all those consumers your personal clients.
But the best news?
You can achieve all of this without adding any extra hours on the gym floor.
That's why I recommend this as a practical solution for any trainer with a busy schedule looking to earn more money.
But…
It's extra effective if you already have an established audience on a platform like…
…or other social media channels where you're already connecting with an online community about the training topics you care about. (You can learn more about that in this post, here.)
Let's take a closer look at an online fitness studio example in action.
Mini Case Study: Ritual By Pure – Your Favourite Fitness Classes On The Go
Ritual by Pure is an online fitness studio that sells workout programs combining yoga, plyometrics, cardio and meditation founded by Pure Yoga in Ottawa.
The team at Pure Yoga wanted to grow their business and bring their brand of training to people who couldn't attend in-person classes at their studio.
Pure Yoga used Uscreen to create an online fitness studio where they could upload and record classes so that people could follow them at home or in the gym: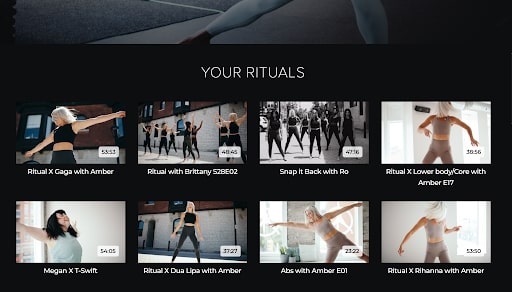 Access to these in-person classes would usually cost $150 per month. But, members of their online fitness studio get unlimited access to the curated for just $50 per month.
Pure Yoga clients can also access classes anytime, anywhere on their favorite devices, such as…
…which means they can take their training with them and perform sessions whenever and wherever they like; from a private corner of the gym all the way to a far-off hotel room!
This is also more flexible for Pure Yoga. They have been able to coach more people without needing to:
Be there at the point of purchase.
Hire new staff or trainers.
Expand their training facility.
If anything, it leaves them with more time and energy to devote to in-person classes, and whatever they enjoy doing outside of the gym. (Remember life outside of the gym?)
If this sounds like the kind of business model that's right for you, then read on, because I'll be breaking down exactly how you can do this for yourself.
How To Launch Your Online Fitness Business In 5 Easy Steps
There are five steps you need to take to launch an online fitness studio:
Pick A Business Model.
Plan Your Content.
Build Your Website.
Set Your Prices.
Find Your Audience.
Let's take an in-depth look at each of these and find the right solution for you.
1. Pick A Business Model
Online fitness studios can be broken down into 2 types of business models. These are based on video on demand (VOD) that forms your studio's foundation:
Transactional (TVOD): people pay a one-off fee for your content.
Subscription (SVOD): people pay a recurring fee for access.
The model you choose will dictate the type of business you run. So, it's worth understanding what each of them does.
Transactional: The Pay-As-You-Train Model
Transactional Video On Demand (TVOD) is where people pay a one-time fee to access or own the videos you create.
It's kind of like the online streaming version of buying a P90X DVD workout plan:
The transactional business model is great if you have one specific thing that you want to teach, such as a:
Particular class.
Workout routine.
Seminar or workshop.
You could also create a "bundle" that works as a complete package for your clients.
Let's say you're a strength-focused personal trainer who has created an incredible 12-week workout plan that leaves everyone feeling like an Olympian.
The plan contains everything people need to see results:
Training plans.
Nutrition plans.
Exercise videos
Fitness challenges.
Recovery tips.
You could put all of the training program videos and resources, like downloadable PDFs, into a bundled package that you sell for a high ticket price. Once customers buy it, they can access all the content forever.
Let's take a closer look at the pros and cons of this business model.
PROS:
You can create a high-ticket offer at $197+.
Once the product is ready, you can sell it for years to come.
You can easily promote your online personal training business to in-person and virtual clients.
It's easy to boost your business through referrals by creating an affiliate offer for third-party trainers to sell.
CONS:
You need to continually find new customers to keep the revenue flowing.
Your income is not recurring or predictable.
Can take a lot of time to create comprehensive online classes.
You need to invest a lot of time into marketing to make money.
Subscription: The Membership Business Model
Subscription video on demand (SVOD) requires people to pay a monthly fee to access your videos. It's basically like a Netflix subscription to your training videos.
This means:
If they pay their monthly fee, they can access your videos.
If they stop paying their fee, they lose their access.
SVOD is the perfect business model for fitness professionals looking to build a comprehensive, client-focused online training business.
It allows you to continuously create, update, and share videos that will deliver real results for your clients, no matter where they are in the world.
You have the flexibility to post…
multiple fitness classes
multiple course options
nutritional advice, recipes, eBooks
challenges
workshops
…all of which you can update and renew in real-time to ensure your clients always have the most up-to-date information.
Let's take a look at the pros and cons of this business model.
PROS:
You can earn a recurring income.
Your income is more predictable.
Customers stay subscribed for longer.
The business model is built for scale.
You can easily promote this to online and in-person clients.
Video content can easily be repurposed for marketing.
CONS:
You'll need to invest time into regular content creation.
Trade-off short-term income for long-term income.
2. Plan Your Content
With your business model in place, it's time to choose your content.
Specifically, we're going to look at how you should structure your content and deliver it to your online clients. We'll leave the video creation subject matter up to you!
I'm going to discuss 2 elements of an online fitness studio:
Macro-Level Content: the "big picture" of what your studio will offer.
Micro-Level Content: how your content looks on an individual level.
Let's take a closer look at each of them.
Macro-Level Content: Your Site's Core Message
When you look at the 'big picture' of your site, you need to ask several questions.
Namely:
Why are clients coming to my site?
What do they expect to see when they get here?
What do I want to teach?
How am I going to teach it?
What resources do I need to have in place?
This is a lot like planning your training for someone. You need to know the goal of what you're creating before you put the individual pieces in place.
Let's say you're a strength coach. What sort of things would your site need to deliver the best possible service?
They could be:
Strength-focused branding.
Videos that focus on technique.
Progressive plans they can print out.
Nutritional information.
Workouts for busy gyms or travel days.
Equipment recommendations and reviews.
Recovery tips.
Just by looking at this list you can see the website's theme and structure starting to take place.
You could also apply this to class-based workouts too. If you're an instructor with a unique take on spin classes, you might create a list that looks like:
High-performance branding.
Bike tutorials.
Bike recommendations.
Downloadable playlists.
Workouts focusing on different levels of intensity.
It's an entirely different site, but you can still see a macro-level structure starting to take shape.
Like what On the Beat have created here: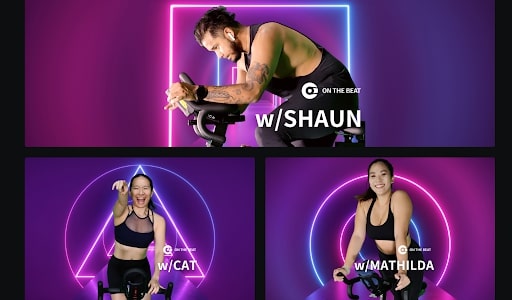 It only takes a quick look at their page to see that – although this is still a fitness site – it's offering something much different than Ritual is!
This step is crucial so don't skip it. Really take the time to get familiar with what your online fitness studio is going to be and who it will appeal to.
Once you've done that you can move onto the next step.
Micro-Level: The Content Your Audience Will Consume
Micro-level content is what your audience will actually watch, interact with, and experience. It's the videos you're going to create.
Let's use the strength coach example again. On a micro level, you'll need to think about how you're going to create fitness programs online for:
Different experience levels.
Different levels of intensity.
Different training environments.
Printable workout sheets.
Progressive training plans (and how they will be broken down into videos/resources).
Meal plans.
Specific body parts.
This can be broken down in any way that will be useful for your audience.
You'll also need to think about how you'll deliver your content:
Will your courses follow a logical sequence?
Will you record alone, or in front of a class?
Will you use live videos or written content?
Will you need to create PDFs?
This long list of content can feel a little overwhelming; like it's going to end up in a chaos of videos that people will never be able to find or watch.
But, if you use Uscreen, you have the flexibility to organize your content with unlimited categories, tags, and filters. This ensures your content is easy to find and navigate.
3. Build Your Website
Your website is your online fitness studio's storefront. It's where people will come to learn more, see your prices, and find out if your style of training is right for them.
A well-crafted website is essential to a successful online business. And, you'll need to choose a platform that supports the type of business you're trying to build.
General website builders can work well for some businesses, but:
For an online fitness studio, you'll need an all-in-one platform that specializes in video monetization.
At Uscreen, we help you build a stunning storefront with our "plug and play" website builder, and let you run your business from one easy-to-use dashboard.
Our built-in tools can help you:
Create your own video website and landing pages.
Upload and organize your videos with ease.
Monetize your content, your way.
Accept worldwide payments.
Use live streaming to reach audiences in real-time.
Track subscriber growth and churn.
Own your audience.
With the right video platform, you have everything you need to start, launch, and grow your video business. This gives you complete flexibility to launch your online studio, your way.
If you'd like some inspiration on how your website could look (and what is possible with Uscreen) take a look at the links below:
One thing that will really influence how your website looks – and the customers you attract – is your website's branding.
To learn more about branding, check out the video below where we break down the anatomy of a $10,000-a-month online fitness studio:
I'd also like to add that, if you can make your website's design aspirational and give them a glimpse of the experience they'll have training with you, your branding will be on the right track.
Once your website is built, it's time to set your prices…
4. Set Your Pricing
Online pricing is an area many trainers struggle to get right. While you know what your time is worth on the gym floor, it can be hard to figure out how that translates to a virtual experience.
So, we did some research into online fitness studios hosted on Uscreen, to see what the optimal pricing for your website is.
Our study found that the average online fitness studio that is:
Transactional: charges between $75 and $110 per bundle.
Subscription: charges a monthly fee of between $12 and $15.
So, I recommend you start at one of these price points and then increase or decrease based on your audience's feedback.
We also found that online fitness studios that offered a free trial for new clients earned a lot more money than those who didn't.
The average income for a studio:
Without a free trial – $5637.
With a free trial – $9575.
It also showed that offering a free trial of around 1 week got the best results: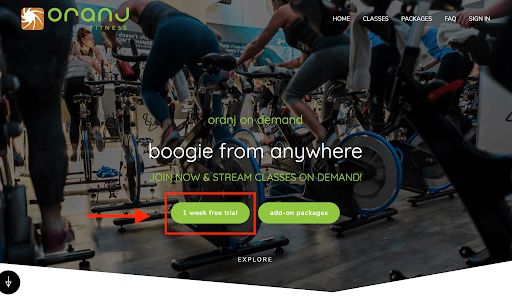 Here's a little more insight on why free content is so useful when promoting your workout programs.
You're getting really close to the end now. Just one final push and you'll have your online fitness studio up and running!
5. Connect To Your Audience
Marketing is a vital part of your new online fitness studio. You need to connect with people who will benefit from your training and will love the message you're sharing.
In my experience, the best way you can do this is to build a community or take advantage of your fitness Instagram account's audience.
Communities play an essential role in the fitness industry; they bring people together around common fitness goals, training styles, or even dietary requirements and create a sense of belonging.
You can see this everywhere from:
Les Mills.
CrossFit.
Zumba.
Powerlifting.
Keto.
Vegan.
Be honest. You could probably spot someone from all of these groups a mile away, right? And you can use this sense of community to market and grow your online fitness studio.
Here's another deep-dive video to explain how you can do just that:
Or, if you'd rather read an in-depth guide, you can check out this breakdown of online communities.
The Last Rep
Online fitness studios – in the form of video-based training websites – allow you to make money, scale your business and reach unlimited numbers of people.
Basically, they help you smash through the barriers of your diary and help more people, in more places. The same way Ritual took their Ottawa-based training method to the world!
 You can launch your own online fitness business in five steps:
Pick a business model

The model you choose will dictate the type of business you run. You can go transactional, offer a subscription, or choose a hybrid model.

Plan your content

With your business model in place, it's time to choose your content. Look at the micro and macro of your business and plan your content.

Build your website

Your website is your online fitness studio's storefront. You can use Uscreen to create a unique site, effortlessly.


Set your prices

Choosing the correct pricing structure is especially crucial when it comes to how you sell workout plans. You can go high-ticket or offer a low monthly subscription that builds over time.

Find and connect to your audience

Marketing is an essential part of your online fitness studio. Spread your message and connect with the people you want to help.
And, if you need any help with any of it, our friendly team at Uscreen is always on hand to help and advise. (Does that make us Personal Trainers for your business?)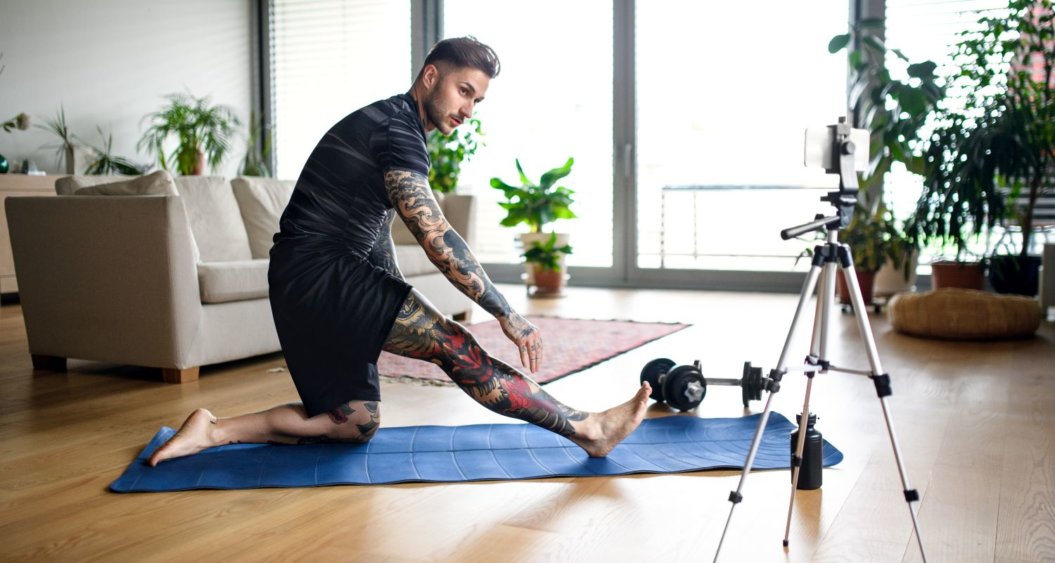 How To Build The Perfect Fitness Content Library