Ready to stretch your body and your earnings?
With so many fitness instructors on YouTube making money by helping people get into shape, you might be wondering how you can start monetizing fitness videos.
Well, when it comes to making money on YouTube, there are a few strategies from which you can choose.
Think of it like a squat: If you know the proper technique, you'll have a better chance of succeeding with your lift.
In this case, we'll lift the weight off your shoulders and tell you how to make money as a fitness instructor on YouTube.
Let's jump — er, jump squat —right in.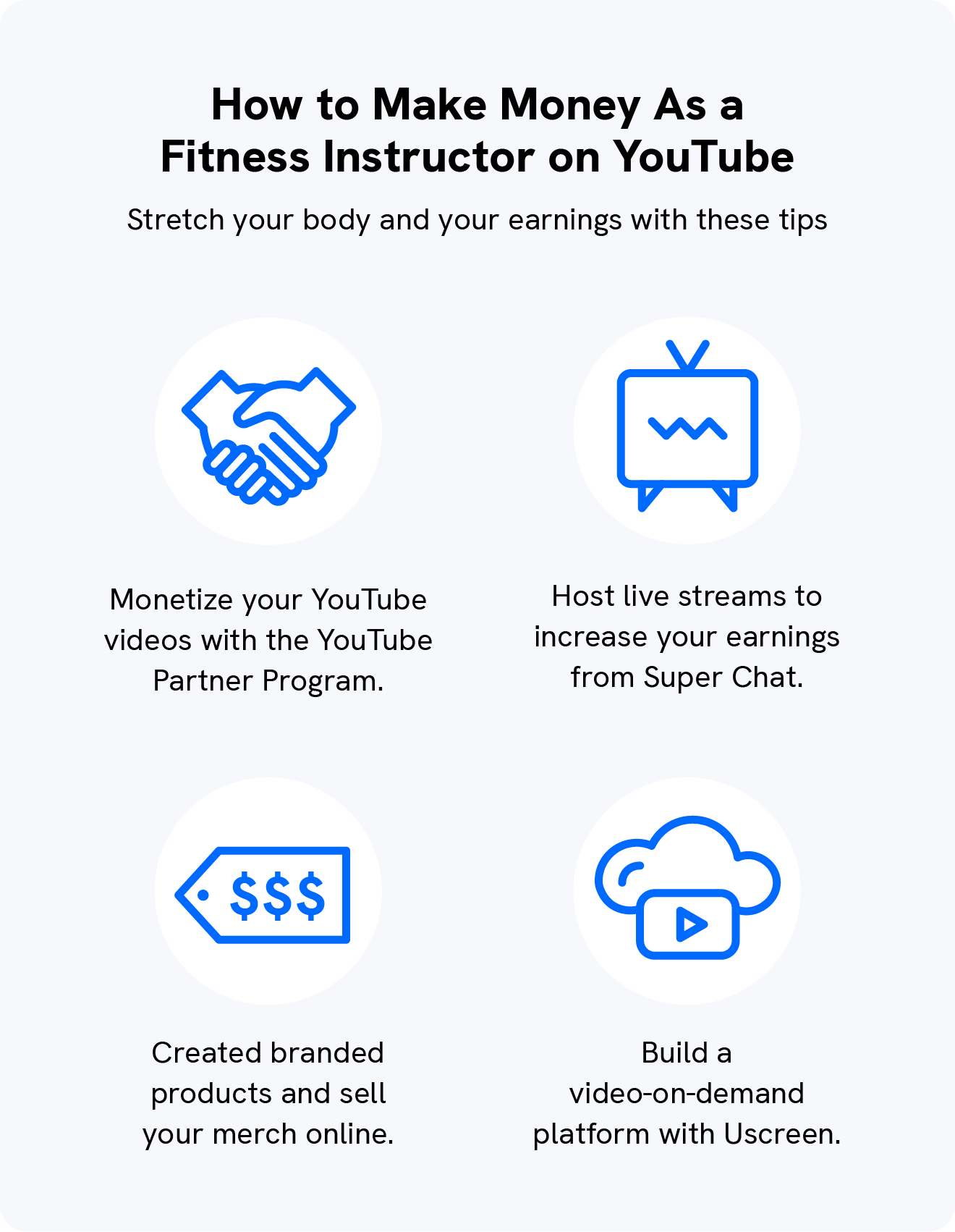 1. Monetize Your YouTube Videos
Starting with the warm-ups: You need them to unlock your full potential.
This is where your YouTube monetization starts, and there are a couple of ways that Youtube allows you to monetize your videos straight from their platform.
To unlock these benefits, you first have to enroll in the YouTube Partner Program, which allows you to get revenue sharing from the ads you include in your fitness videos.
Keep in mind that you will need at least 1,000 subscribers and 4,000 watch hours in the previous year to be able to join.
But once you do, you'll be able to monetize your YouTube fitness videos with:
Adsense: Allows you to include ads on your videos that target your content and viewers. You'll get a percentage of the ad revenue when your viewers watch or engage with an ad on your video.
Super Chat and Super Stickers: When running live streams, your viewers will have the option to highlight their comments by paying for Super Chat and Super Stickers. You'll also get a percentage of those payments.
Merchandise Shelf: Link your merch store with the Merchandise Shelf so people can view your available products on your channel.
YouTube Premium: If a YouTube Premium member watches your videos, you'll get a percentage of the fees they pay for their membership.
Channel Memberships: Allows your viewers to become paid members of your channel, and they'll get access to exclusive perks and content.
Feeling warmed up? Let's start the workout.
2. Monetize Your Live Streams
Kick things off with repetitions: where you master the basics.
Once your fitness channel is ready for monetization, you can increase your earnings by hosting live streams frequently.
Bringing your fitness classes to live streams can help you connect and build relationships with your audience.
And just like reps, the more you do them, the bigger the chances of making money from super chat and super stickers.
For example, our client Walk at Home hosts live streams on their channel so subscribers can follow their total body HIIT and strength workouts from home.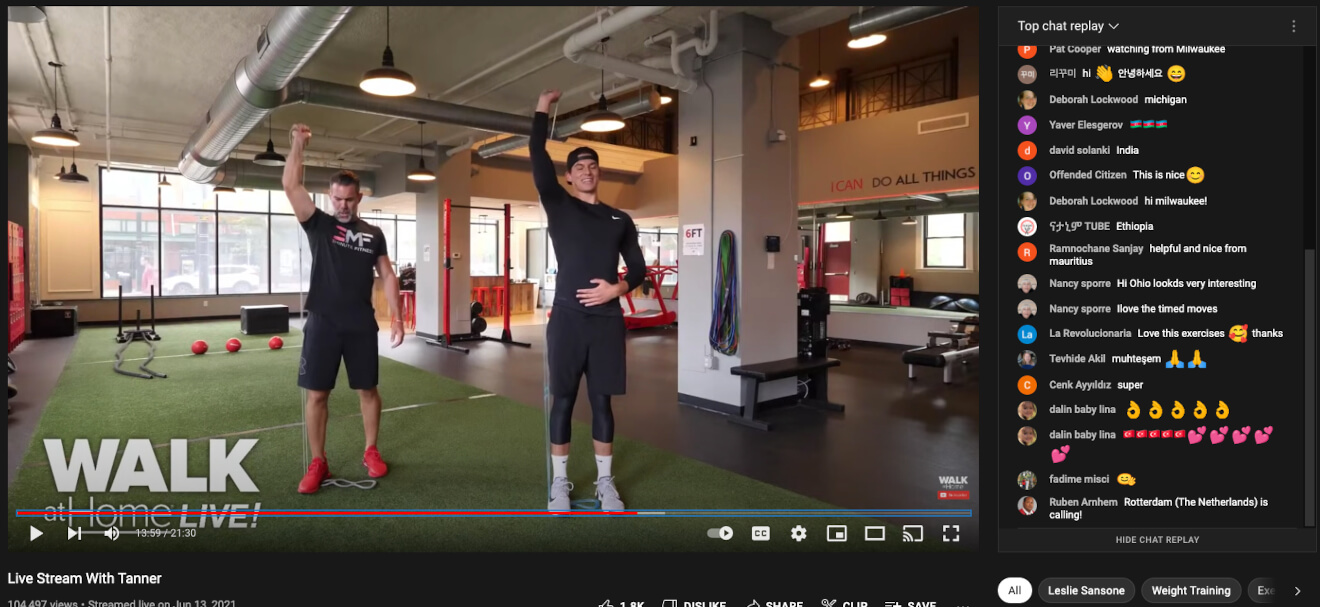 By going live regularly, they engage with their subscribers and grow their audience — plus, they get a chance to make money from super chat and stickers.
Here's how you can increase your earnings while live streaming on YouTube:
Include interactive activities. Ask your audience to suggest your next workout routine song. Or add a Q&A at the end of your video to encourage viewers to interact with you.
Promote your live streams to boost attendance. Share when your next full-body workout live stream will be on social media, and encourage subscribers to turn on their notifications.
Talk about how the donations will help your channel. Mention how you'll use their donations to purchase better equipment for your workouts or production, so they'll be able to follow your live workouts with ease.
Thank your viewers for Super Chatting. Mention their names to motivate them during the live. Tag them on the chat at the end of the training session to make them feel more involved.
What's the next move?
3. Sell Your Fitness Merch Online
OK, now you're ready to add the weights so you can start to build your muscles — or should we say your earnings?
This is when you add extra sources of income to your business as a fitness instructor.
Selling your merch online is one way to do that.
Branded workout towels, water bottles, or workout mat with your logo — you name it, there's merch for that.
Getting creative with your merch and selling it online can bring your fans together and earn you some extra money.
Here's how you can sell your fitness merch online:
Decide on a product to sell: Ask what products your subscribers would love to have. It's important to sell merch that's relevant to your brand, like selling gear that you always use during your workouts.
Design your product: You can hire someone to design your merch or you can design it yourself to add a special touch.
Create your shop: Once you design a product, it's time to pick an online platform to sell your merch and create your storefront.
Connect it with YouTube Merchandise Shelf: Check if the platform you're using is compatible with the Merchandise Shelf and add your products so they'll show up on your channel.
Promote your new merch: Create a merch release video and start wearing your merch on your videos and live streams. Make sure to tell your subscribers they can buy them at your store.
💡Uscreen Tooltip
Check out how Uscreen client Barre Body sells branded dumbbells and workout mats on their platform. That way their members can truly feel as if they are working out together at Barre Body's studio.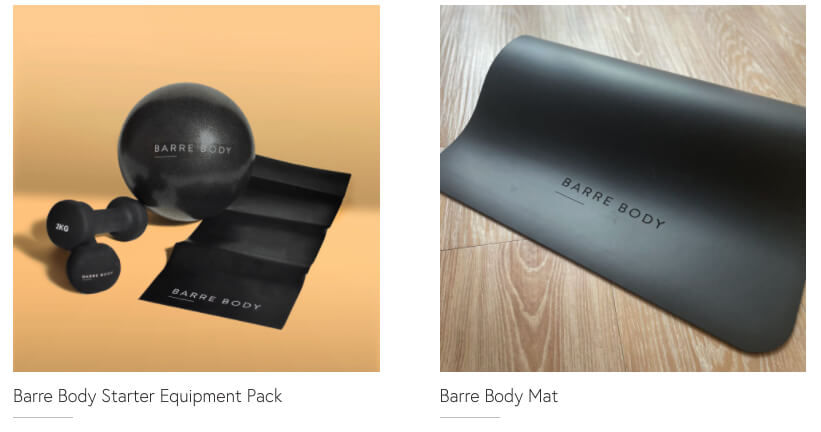 The routine is almost complete, let's go to the final stretch.
4. Turn Your YouTube Channel Into a Marketing Tool
Now it's time for stretching: the secret behind all workouts — and one of the most important parts.
Just like how the cooldown will ease you into the rest of your day by stretching, turning your YouTube channel into a marketing tool is the secret of how to make money as a fitness instructor.
But you might be wondering how you to monetize your channel.
Here's the secret:
Create a video on demand (VOD) platform where you can host your videos and live streams and charge a fee for members to access your content.
Then, you'll promote your new platform on your YouTube channel. With your channel, you'll be able to:
Build brand awareness
Bring traffic to your platform
Generate leads
That way, you'll make some money on YouTube, but the bulk of your income will come from your VOD platform.
Let's go over the details of how to do it.
First, you have to create a VOD platform with a platform such as Uscreen.
Then you'll upload your content onto the platform, set your membership pricing, and customize the platform to match your brand.
After that, you'll be ready to use your YouTube channel as a marketing tool to bring members to your platform.
Here are some ways to promote it:
Create a trailer video about your new platform that just launched.
Do a Q&A video about your business and what members will get access to.
Share workout videos on YouTube, and mention they can get a full routine from your on-demand platform.
Create a beginner series on YouTube to encourage viewers to keep learning on your platform.
Offer exclusive free trials to your platform if they're a subscriber of your channel.
Uscreen makes it easy for your to create your own VOD platform and set up your branded apps. You'll also have a chance to create your own community and host live streams.
💡How They Did It
Take a look at TheWKOUT's YouTube channel as an example of this. They offer plenty of workout videos on their channel and even offer the first day of the treadmill series for free so viewers can continue the series on their platform.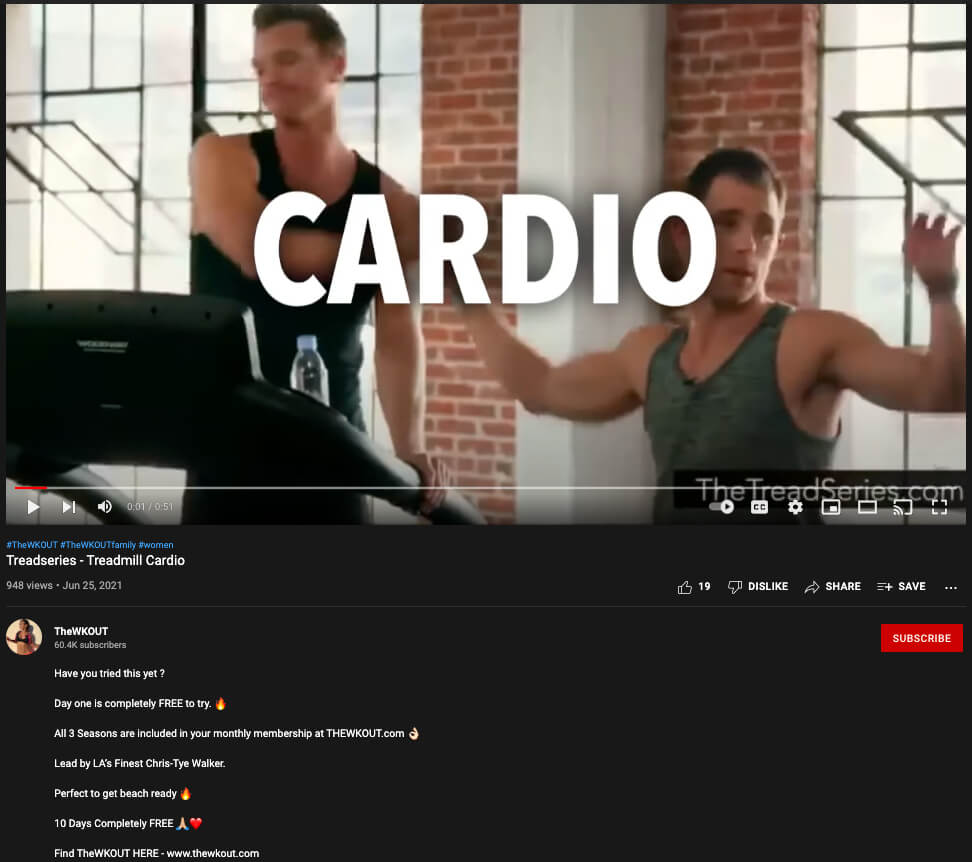 How Much Fitness YouTubers Make — And You Can, Too
Need some fuel to stay motivated?
Just like how energy drinks and pre-workouts give you the energy to workout, we have something to fuel your journey.
Here's how much fitness YouTubers make, and how much you can make too.
| | | |
| --- | --- | --- |
| Fitness YouTuber | Earnings Per Video | Total Estimated Earnings* |
| Chloe Ting | $20,153 | $7 million |
| ATHLEAN-X | $4,014 | $5 million |
| Pamela Reif | $22,021 | $3.3 million |
| Yoga with Adriene | $4,953 | $3.1 million |
| Fitness Blender | $3,161 | $2.9 million |
| Blogilates | $3,113 | $2.8 million |
| MadFit | $3,884 | $1.9 million |
| Roberta's Gym | $1,249 | $1.6 million |
| The Fitness Marshall | $4,204 | $1.5 million |
| XHIT Daily | $1,883 | $1.3 million |
| Chris Heria | $3,637 | $865,000 |
| The Body Coach TV | $1,351 | $859,000 |
*This is a list of some of the most popular fitness YouTubers. Calculations were done by calculating the estimated earnings per video and multiplying by the total number of videos on the channel. This is doesn't account for other earnings from merch, memberships, and sponsorships.
Examples of Famous Fitness YouTubers
Want more motivation? Check out Uscreen clients that are bulking right now.
Here are some fitness instructors who followed our secret to monetizing their videos by combining their YouTube channel with a VOD platform.
Walk at Home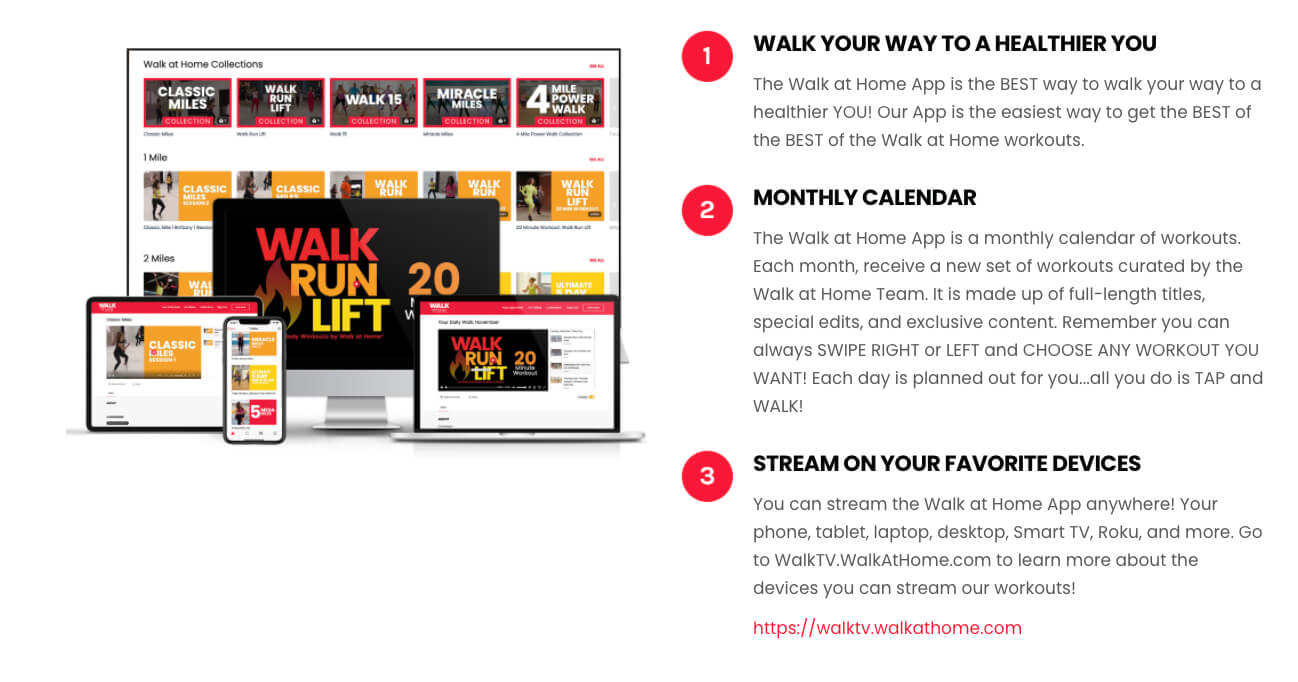 Walk at Home is an on-demand workout platform with hundreds of workouts, including monthly routines you can follow. Their routines are different every month and personalized to you.
They combine their platform with their YouTube channel to help drive more potential members to the platform.
On their YouTube channel, they release short workout videos and often promote their app with trailers about new workout releases and challenges.
The total estimated earnings from Walk at Home's YouTube channel alone is around $1.8 million. And they bring additional revenue by charging $6.99 per month to access their exclusive platform.
Lottie Murphy Pilates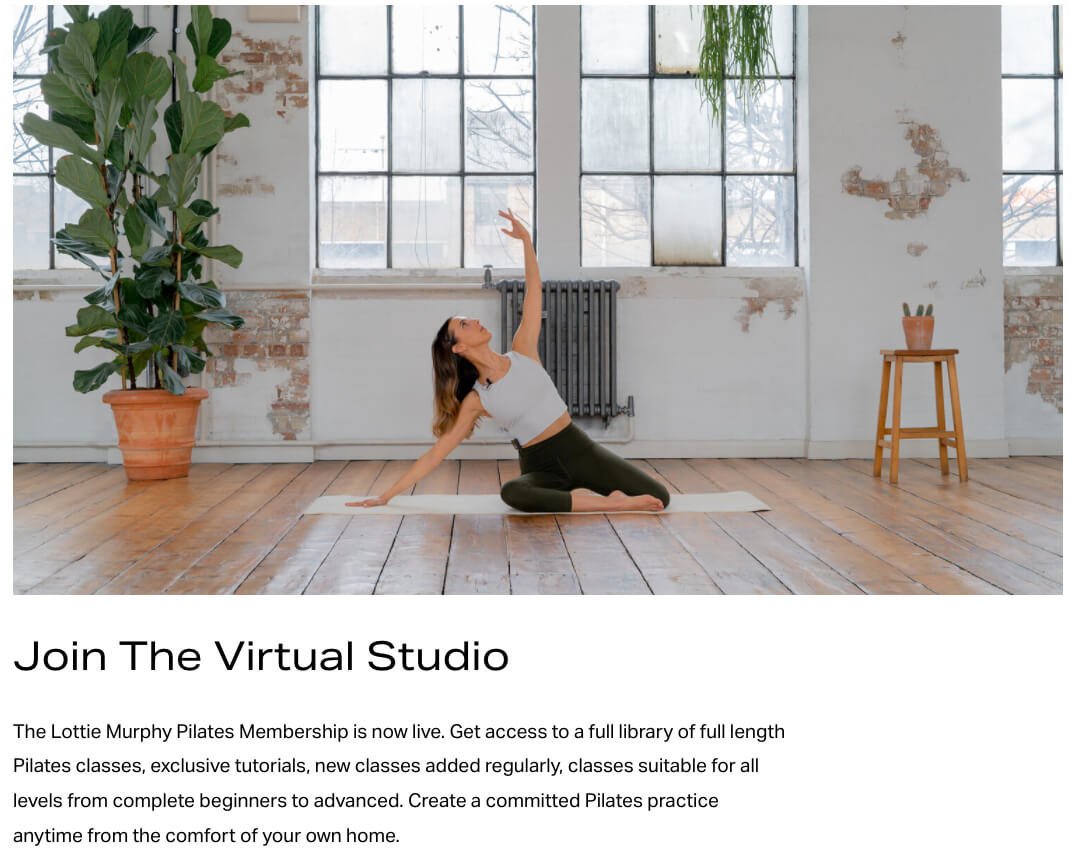 Lottie Murphy created a pilates studio online so everyone can access her classes conveniently through mobile devices.
With her platform, she offers paid memberships to access to pilates workout series for all levels and even challenges you can pick from. She sets herself apart by also offering live Zoom classes as a one-time purchase.
She also combines her platform with her YouTube channel, where she offers short pilates routines that you can participate with just a workout mat.
Lottie promotes her video-on-demand platform on all of her video descriptions, and her estimated YouTube earnings was $43,000. She also combines her earnings with her platform membership, for which she charges $19.99 per month.
Wrapping It Up
Making money as a fitness YouTuber is a lot like working out — you need to follow a specific routine.
If you consistently follow our tips on how to make money as a fitness instructor on YouTube, you'll be set up for success.
And if you really want to maximize your earnings on YouTube, we highly recommend monetizing your videos with a video-on-demand platform like Uscreen.
Request a demo from us, and we'll walk through all the ways you can set up your own fitness platform. We'll make it as good as post-workout endorphins, but we'll do all the work, so you get all the payoff.
It's simple with Uscreen.
Build, launch and manage your membership, all in one place.