It's a tale as old as time.
As life gets busier and adulthood becomes more demanding, the time we once allocated to ourselves gets cast aside.
Whether it's time to relax, socialize, pursue hobbies, or exercise – personal activities tend to be the first exchanged for real-world responsibilities.
For the fitness enthusiast, this has been an increasing phenomenon. Simply finding time every week, even at minimal intervals, to attend the gym or a spin class is extremely difficult.
As with any distinguished consumer group, this has given rise to business opportunities specific to this demographic.
Accordingly, a new thriving world of fitness technology and digital exercise options has emerged to try to make squeezing time for a workout as convenient as possible.
The combination of wellness technology and changing public perceptions of fitness has transformed the industry.
These changes are pushing consumer preference to opt for digital fitness experiences more than ever before, which is creating new opportunities for the entire industry to expand and diversify.
At the root of these industry changes is the growing potential of video and streaming content as all-inclusive digital fitness experiences that can rival or out-match traditional in-person fitness settings.
Here's why digital fitness is here to stay.
The FitTech Boom
The fitTech boom has created a new landscape for overall consumer preferences within the health and fitness realm.
In 2019 in the United States alone, the digital fitness industry climbed to $3.6 billion dollars in revenue.
Consider how widely adopted fitness devices have been integrated into everyday life: phones and smartwatches come with built-in movement trackers, wearables are considered fashionable, and most gym equipment has bluetooth capabilities for users to automatically sync their workouts.
Likewise, public demand for fitTech devices are only projected to grow.
In 2020, Statista estimated that there are 835 million active wearable devices worldwide. By 2022, these figures are projected to almost double.
The popularity of fitTech has created new public perceptions of fitness, primarily in how individuals are pursuing overall healthy lifestyles instead of simply making time for the gym.
Consumers want to know every metric of their workouts on an aggregate scale relative to their other daily activities and personal habits.
Gyms and boutique studios have also gotten wise to the trend, many of which have incorporated trackers in their classes or provide smart equipment.
With fitTech becoming a part of consumers' everyday lives, they are naturally gravitating to other digital aspects of fitness.
The At-Home Fitness Revolution
Before 2020, the concept of working out at home came with widespread skepticism.
Despite the short-lived popularity of home workouts in the past, like P90x and Insanity, these programs proved to be nothing more than temporary fads.
The biggest issue with these programs laid in their inability to grow with their consumers: once users finished the regimen, they'd have to start over again or recycle the video content.
While these at-home programs provided for personal modifications per user, they did not have the necessary flexible options, personalization, and responsive content to be sustainable.
2020 completely changed the scope of at-home fitness by addressing the limitations of its predecessors. New industry players designed interactive platforms intended to grow with users.
Leading platforms like Peloton (spin bikes), Mirror (guided free exercise), and Crew (row machines), prioritized both creating and integrating their workouts with the best fitness equipment on the market – bringing expert quality products into users' homes.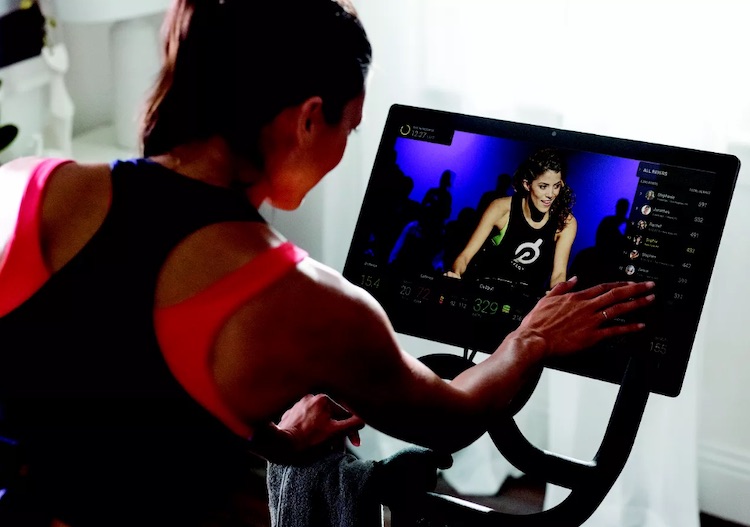 Equipment like Peloton bikes and Mirror devices boast some of the most impressive technology both for video streaming and personalized member fitness journeys on the market.
With high-tech advancements to their benefit, these virtual fitness programs earned impressive credibility for offering gym-quality workouts paired with the bonus of at-home convenience.
For example, Peloton, the undeniable leader of this new market segment, has inspired a new era of digital fitness for others to follow with its trademark spin bikes and treadmills.
The company's footprint is evidenced in its 2020 success – when its sales surged by an astounding 172% as the pandemic bolstered the home fitness industry.
Additionally, these programs stand out for featuring massive backlogs of strong video content as the engine of their technology, incorporating numerous styles of workouts, trainers, skill proficiencies, and more.
The range and quality of their available streaming content are key in their success.
These make their programs inclusive spaces where users of any fitness level can find a wide range of classes suiting them and their fitness goals.
What's more, these programs rely on AI to customize every user's fitness journey depending on their personal data, exercise habits, and personal goals.
This degree of personalization and direct feedback is what has finally put digital fitness programs on par with in-person classes or personal training.
Added Bonus: Live Streaming Functions
Another major pull factor these digital options is their capacity to combine live streaming video options with personal fitness devices.
To complement their backlogs of on-demand workouts, some services have established their own studios to broadcast live workouts. Here, users can attend scheduled classes in real-time from home.
Trainers are notified of the user's attendance as soon as they enroll in the class through their personal device.
Once users have connected to the stream, instructors can see the metrics of all its attendees.
For example, instructors behind big-name brands like Peloton or ClassPass Live are known to often motivate remote users by name throughout the class based on their performance.
This live streaming component is a game-changer, providing a realistic alternative replicating the in-person class experience as closely as possible.
For specific classes, user metrics can be shared on a leaderboard to add an element of live gamification.
Anyone participating in the live stream can see their data (calories burned, distance, etc.) compared with that of other live members.
A little friendly competition paired with individualized attention from instructors can go a long way in engaging users to race and compete against each other and get the most out of their workouts.
Along with their spinning live-streamed classes, Peloton also offered live guided meditation and yoga.
The appeal of taking part in an original class in real-time further demonstrates how technology is closing the gap between at-home and in-class fitness experiences.
This interactive live streaming feature can be just as valuable for smaller fitness brands and influencer-branded programs.
For example, Danish fitness author and entrepreneur, Frida Hallquvist, designed her program Body by Frida with live streaming in mind.
This feature boosts the program's appeal by not only diversifying its services but also offering members the chance to virtually train with Frida.
This intimate digital setting builds a positive rapport with clients, sparking brand trust and loyalty.
Digital Socialization
A natural byproduct of digital fitness is the establishment of online fitness communities.
Many of these platforms pivot their built-in client base to create thriving online networks to make their remote users feel surrounded by peers.
This has been easily achieved by creating open forums, Questions and Answers threads, and encouraging members to share fitness journeys on social media/using identity hashtags.
These social outlets create an open community of support, motivation, and accountability that users can rely on.
Furthermore, these digital communities often come to life through mobilizing local meet-ups or group activities.
This social resource has proven to be instrumental for digital fitness, especially in terms of customer acquisitions and retention.
Use Case: Tone It Up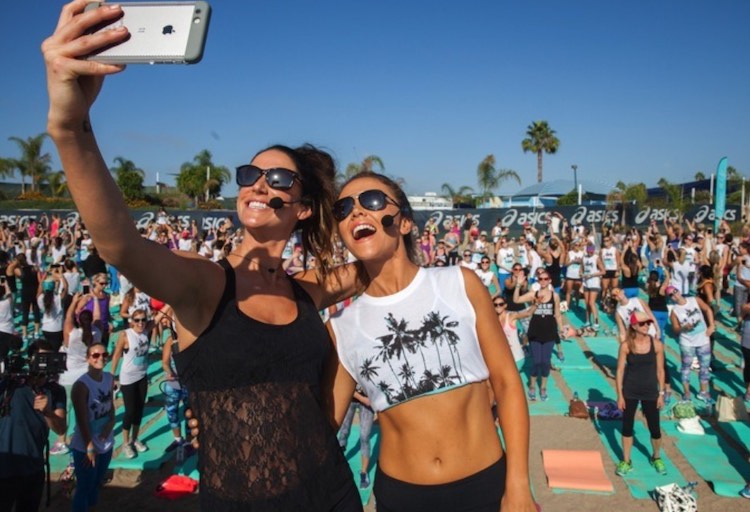 Tone It Up, a popular women-driven online fitness community that originated in Southern California, is one of the pioneers of the digital fitness field.
Tone It Up began as a basic meal plan and workout guide complemented by video content subscription for a one-time fee.
Its main selling point was marketed as a "one-time payment to be a part of the Tone It Up community", which entailed unlimited access to all its features.
The Tone It Up network proved to be just as valuable of an asset as the meal plans and workout guides themselves, positioning itself as a bridge between digital fitness platforms and social media.
Tone It Up amassed a cult-like following and extended its brand into new verticals, making it the fitness powerhouse that it is today.
They now own a nutrition/supplement brand (used religiously in their meal plan), a digital fitness studio, along with every type of branded merchandise from athleisure and swimsuits to exercise equipment.
Their brand is currently valued at upwards of seven figures and boasts millions of followers on all of their social media platforms.
Founder Karena Dawn credits their success to the community in itself.
"What makes us different is we've bridged the gap between digital and physical. Between our meet-ups, book tours, retreats, and appearances, we are meeting women that have already connected with each other all over the world through Tone It Up," said Dawn.
"Women are making girlfriends of a lifetime… We're only a small part in their journey. That's what the Tone It Up community is all about."
Additionally, Tone It Up's success showcases how digital fitness has the upper hand over many gyms in their ability to target and unify a specific, niche demographic – whether it be gender, age, fitness style, lifestyle preference, etc.
Industry Transformation: If You Can't Beat 'Em, Join 'Em
As additional proof of the success of digital fitness, big-name traditional fitness brands are creating their own digital platforms to stay ahead of the game.
One of the most esteemed and infamous fitness corporations worldwide, Equinox Group, is throwing its hat into the ring.
Equinox intends to take on this initiative in two ways. First, they have created a mobile platform that will host original video and audio content from over 300 physical locations and over 6000 instructors.
Members will also be able to remotely participate in exclusive classes hosted by their New York-based innovative fitness think tank, Project.
Members can participate via the Equinox app, which will automatically sync their personal data with Equinox's central gym management system.
Adding fuel to the fitness fire, Soul Cycle in partnership with Equinox released an at-home fitness bike which is the exact model found in Soul Cycle classes
Additional monitor hardware will be completely equipped with backlogs of Soul Cycle classes and a virtual live streaming studio.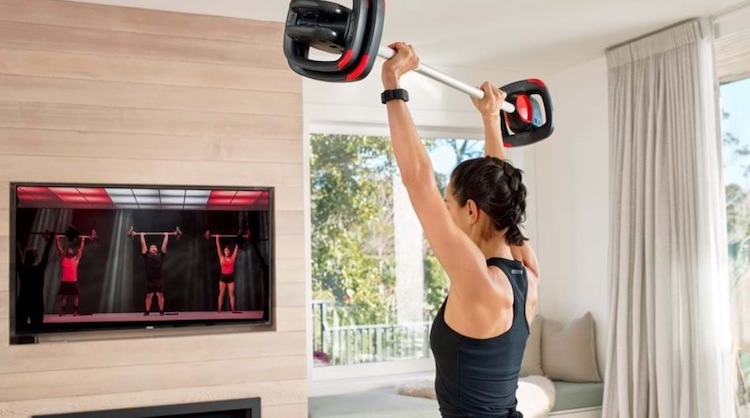 LesMills has also transitioned from bringing their branded classes to traditional gyms by launching an extensive digital program centered around streaming content.
LesMills has even segmented its digital fitness programs by age, beginning as early as pre-teens all the way to senior citizens.
The platform stresses inclusivity by providing the basic tools for anyone, any age, and anywhere, the ability to reach their fitness goals.
Rising Potential For Small and Medium Fitness Businesses
Following these strong industry trends, many others have seized the opportunity to create their own digital health and exercise programs.
This has become a stepping stone for the careers of many famed fitness leaders or brands entering this exciting new digital space.
Many fitness professionals and influencers have digitally enhanced their own programs by moving away from meal plans and written workout guides and launching exclusive video content, streaming services, or personal-branded applications.
The commonality and success of these programs indicate continued growth within this industry segment.
Another promising factor for the future of fitness (particularly digital fitness) is how it caters to consumer flexibility. After all, the beauty in these programs lies in their one-ended branding and versatility.
Rather than showcasing exclusivity, at-home options provide a flexible enough framework so users can decide if they'd like to use them as their main training source or as a complement to attending a class or working out at the gym.
Additionally, most programs have the added benefit of selecting options to use their training at a gym or without any equipment.
For example, Find What Feels Good, a streaming yoga platform, provides affordable and viable content to its customers that can be performed both at home or at a fitness facility.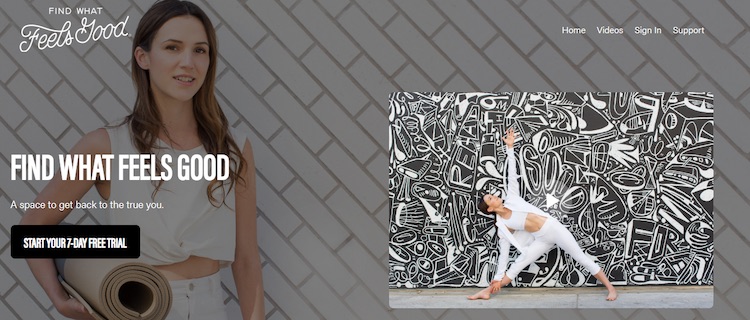 Their low costs subscription enable users to also afford a gym membership if they wish to hold on to it.
Overall, the varied video content and personal coaching behind these video platforms give its subscribers control in how they want to leverage its exercise programs to reach their goals.
How To Sell Fitness Programs Online – The Ultimate 2021 Guide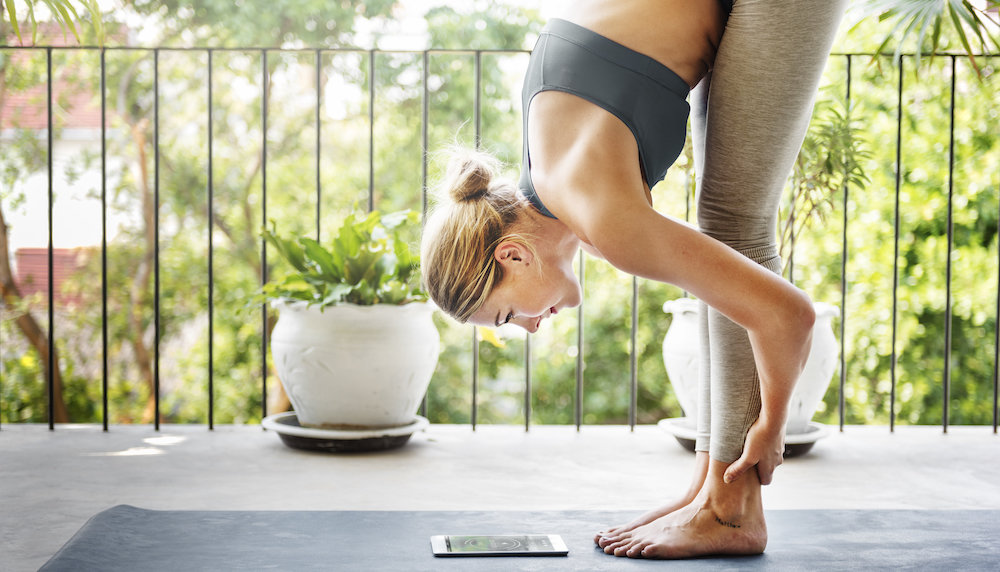 The Cooldown:
With compelling personalized technologies and high-quality streaming content, users now have more access and convenience to pursue their health and wellness goals than ever before.
While digital fitness may not be completely replacing traditional gym and facility settings, their popularity will continue to grow favor with the public.
This clear indication of consumer interest will continue to open more doors for digital fitness to become a seamless part of its users' everyday lives.