Building an online community is a rewarding feeling.
But you know what else is rewarding?
Making a profitable income from running the community you love.
People everywhere benefit from online communities, and they're willing to pay for an exclusive space to share common values, hobbies and interests.
So it's time to start monetizing the following you've built.

We're excited to start talking about this topic because we've seen how important communities are to our Uscreen customers.

That's why we've just released new community tools that can help content creators turn their existing audience into paid community members.
In this post, I'm going to show you:
So if you're a content creator who's ready to make more money and monetize your following, let's get started!
Membership Business Models
The best way to monetize your online community is to create content and sell access to it. This is what we call the membership site business model.

Let me explain…
In the past, community leaders and creators had to rely on multiple different platforms and income streams to monetize their community.
These were things like…
…that all brought in different levels of revenue. And, it worked for the longest time! But it was a messy process that was hard to manage and a little overwhelming.
But nowadays, there is a better, more efficient way!
You can build a membership site that gives you an all-in-one solution to monetize your community.
For example, using a membership platform like Uscreen, you can:
Sell access to the content you create.
Sell physical products to your customers.
Sell bonus content.
Use live streaming to host webinars and live events.
Share digital products.
Interact directly with your community.
All from within one fully-branded online community platform and using integrations with a few 3rd party tools. Better still, this helps you create a predictable recurring monthly income that's easy to scale.

You can learn more about how our customers do that in the video below:
And, the benefits of this all-in-one solution extend to your community members, too.
They have a one-stop-shop to support you, interact with you and other community members, and access your exclusive video content. They just have to visit your site, login, and they're ready to go!

If this sounds like the option for you, then in the rest of this post we're going to break down exactly how you can get started.

But first, we need to answer 3 big questions…
3 Questions to Ask Before Monetizing Your Online Community
Already know that your community is ready? Skip ahead!
If you've already built an online community, we know you're ready to turn it into a solid source of income!
The entrepreneurial journey starts by converting your existing followers to your new paid service.
But before diving in, you want to make sure your community is ready to monetize.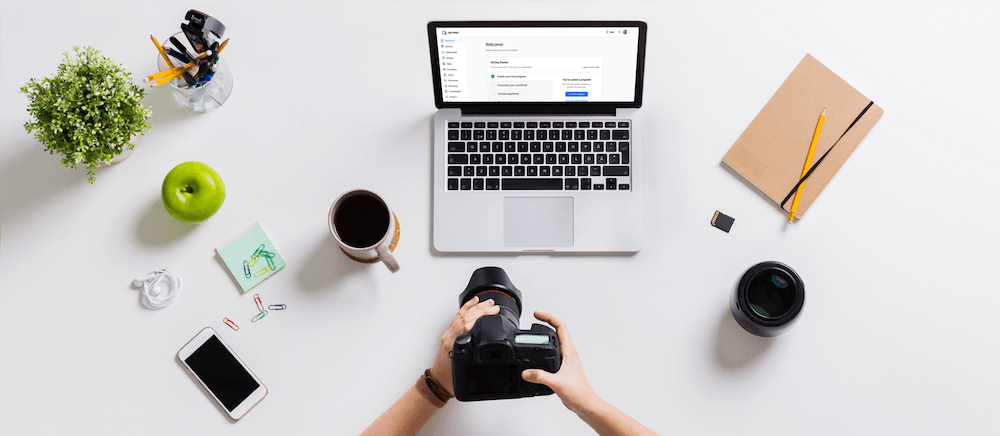 Are You Ready to Launch Your Own VOD Service With Uscreen?
To start converting customers, you need to evaluate 3 key elements of your existing community: size, engagement, and readiness.
Let's explain.
1. Do You Have the Right Size Audience?
Having tons of existing followers is a good start, but luckily, your community can be profitable at any size.
Since every online community caters to a unique audience, the ideal number of followers you need to monetize depends on the type of value you're offering them.
So how do you find the sweet spot for your business?
Consider:
The amount of profit you want to generate, and how many paying community members you need to reach that goal.
Consumer demand for your niche.
For example:

Specialized niches – like relationship advice for Germans over 60 – usually have smaller communities.
But they'll be dedicated to your cause!
You can create a stable income with an audience of 100 people, because the majority of them will happily pay for your service.
However, if you work in a broader niche – and sell home fitness programs for example – you're attracting a wider range of viewers.
So if you have a community of 500+ members, you need to engage a larger percentage of people who are willing to pay. Often, this means setting a slightly lower price point.
Every online community offers its own unique value, so your ideal number of audience members should also factor in their level of connection to your content.
This leads us to…
2. How Engaged Are Your Followers?
For audiences of any size, it's the active and engaged members who will drive the most revenue.
The more engaged they are, the more value they get from your community, so you can confidently ask them to pay for it.
To find out if people are engaged, you can see how often they're contributing through:
Chatting with you and other members in comments and messages.
Liking and sharing social media posts and YouTube videos.
Feedback on surveys and polls.
Responses to email newsletters.
Referring new members to your community.
People who are "lurking" instead of interacting probably aren't getting all the benefits of your service.
To provide that value, you have to make sure your community reflects their interests and gives them opportunities to engage.
So you can kickstart the engagement process yourself by:
Getting conversations started with discussion topics and questions.
Holding live Q&A sessions.
Offering interactive community challenges and team exercises.
Posting tips, how-tos, and other educational content.
Remember – the point of a community is to help people connect with each other.
You can help them along by posting member spotlights and encouraging them to share their own user-generated content.
When users contribute by commenting and sharing their experience, other members benefit – and the value of the community increases.
Once your community engagement is taken care of, you can approach the final key element: how likely they are to buy.
3. Are People Ready to Pay?
How do you know if engaged members of your audience will make the jump to a paid community?
The most effective way to find out their readiness is to ask them directly!
For example: let's say you have a community of roughly 200 people, and you know 80 of them have been regularly engaged for at least a month.
Focus on those members. They already value the community, so they'll be more likely to follow you to a new and improved one! Send those 80 people a feedback survey to get more insight into their readiness.
Questions to ask include:
"I'm creating a paid product, are you interested?"
"What do you want in a community?"
"How could this community better serve your needs?"
"What features would you use or like to see?"
"On a scale of 1-10, what would you rate your level of satisfaction?"
Asking for feedback helps you gauge your audience. In the process, you can make them feel heard and understood and show them you value their input.
That connection is why people joined your community – and it'll go a long way towards their willingness to buy.
Now, if you have the right sized audience, and a good portion of them are both engaged and ready – you can start monetizing.
How to Launch and Grow Your Paid Community:
1. Choose Your Membership Platform
A standalone membership platform is an all-inclusive home base that gives your community more ways to watch and interact with your content.
Luckily, Uscreen can help you achieve all that, and more!
With our online membership platform, you can:
interact with your audience
sell products
manage payment systems
market your service
…all under one roof.
Plus, we give you all the customization tools to increase brand awareness, build familiarity, and help users feel at home.
And our new community features give you more ways to bring people together, like:
Providing an exclusive safe space for your members to interact with you and each other.
The ability to address all your followers at once for updates and notifications.
A way for your audience to contribute, post ideas, and get more involved.
Next, you need to establish what makes your community special.
It's simple with Uscreen.
Build, launch and manage your membership, all in one place.
2. Establish Your Paid Promise
Your paid promise is what will turn viewers into customers.
You need to craft a compelling offer that tells people exactly how they'll benefit from being part of your new community platform.
Everyone wants to be treated like a VIP, and offering discounts, freebies, prizes, and other benefits are definitely a good thing to include.
But people want more than "stuff" from their communities!

The main reason they join is to add value to their lives.
So make sure your paid promise includes all the other benefits of your service too, like:
Thought-inspiring discussion topics.
Getting to know like-minded people.
Helpful emails, newsletters and blog posts.
Content updates and notifications.
The opportunity to take part in group challenges and activities.
Your paid promise should show your customers how you can inspire, entertain, and educate them.
You want to make sure your customers know the full value of your community platform, and get them excited enough to want to be a part of it.
3. Choose How You Charge
There are 2 main monetization methods for a community membership site:
Paid all-access membership for a monthly or annual fee. This flat rate includes access to your community and premium video content.
A "freemium" plan. This means offering free basic access to your service, with the option to upgrade to a paid plan that includes access to premium content and exclusive community benefits, F, and more.
If you know a large chunk of your audience is ready and willing, you can move straight to paywall protected memberships.
However, offering some free content can be a good thing!
When you give newcomers something of value without asking anything in return, it tells them you're looking out for their interests. This builds trust, and shows them your service is the real deal.
Plus, in both business models, you can make more money by offering subscribers more things to buy.
With Uscreen, you can create and cross-sell additional purchases like:
Your monetization strategy depends on your community, so do some research before deciding on an exact dollar amount.
Your price point should:
Reflect your overall brand.
Align with the industry you're in.
Resonate with the customer base you're targeting.
See what your competitors are charging, and then ask your audience to weigh in on what they'd be willing to pay for your service. This can help you settle on a price that works for everyone.
At this point, you've laid the groundwork for community monetization, and you're ready to think about the future!
The final step – we'll tell you how to help your paid platform achieve lasting success.
4. Market, Grow and Keep Your Community
To market to new community members, you'll want to stay active on multiple social networks (like YouTube, Facebook, Instagram and Twitter.)
This helps you reach more people in places where they feel comfortable in order to guide them back to your paid offering.
Plus, it has the added benefit of increasing your online SEO presence.
You can also use the power of social selling with:
testimonials
influencer partnerships
targeted ads
sponsorships
affiliate marketing
…to get people excited about your brand.
Communities are made up of people with shared interests and values – so when marketing yours, a personal recommendation from a real person or trustworthy authority goes a long way.
Once people are signed up, you want to keep them on board – so stay in touch!
HigherLogic found that paid members who get value from their communities are incredibly loyal, even if they're not directly involved on your paid site.
They still want to be a part of your community in ways like:
Reading email newsletters.
Watching new video content.
Staying updated on events.
Eventually, they'll see something that inspires them to stop by and interact – and most importantly, they'll keep paying for the ability to do it.
This demonstrates how important it is to build your email list and regularly send valuable content to your community members.
Your audience cares about your content – so if you can keep them satisfied and engaged, you'll see higher retention and a stable revenue stream.
Wrapping This Up
An online community is the gift that keeps on giving, for you and your audience.
With Uscreen's new community features, you can give your members an amazing online resource for socializing and learning, while enjoying the extra time, money and control you'll gain as a content entrepreneur.
If you're ready to start monetizing your following, get in touch with one of our Uscreen team members!
It's simple with Uscreen.
Build, launch and manage your membership, all in one place.