Patreon was one of the first platforms that made it possible for creatives to monetize an online audience.
That said, the membership industry has evolved at a rapid pace. Over 30% of membership owners have changed their tech platforms, resulting in creators exiting Patreon in search for a membership site platform that offers greater flexibility and features.
It makes sense: the toolstack that powers your online membership is arguably the most important part of your business. If you can't easily communicate with the people who subscribe to your membership, customize your online presence, or gain insight into how members use your platform, growth can become stagnant.
Decided that Patreon isn't right for you? This guide shares 11 of the best Patreon alternatives to consider when shortlisting a new membership platform. 
Top Patreon alternative picks
| | | |
| --- | --- | --- |
| Platform | Best for | Price |
| Uscreen | Video creators | $$ |
| Podia | Course creators | $$ |
| Buy Me a Coffee | Supportive communities | $ |
| Ko-fi | Fan-funded creators | $ |
| Gumroad | Digital product sellers | $$$ |
| Kickstarter | Innovative entrepreneurs | $$ |
| Indiegogo | Inventors and startups | $$ |
| Mighty Networks | Community builders | $ |
| Sellfy | Artists | $ |
| Substack | Writers | $$$ |
| Memberful | WordPress users | $$ |
Best Patreon alternatives compared
1. Uscreen
Best for: Video creators
Reasons to use:
Robust customization.
Easy to sell video memberships.
Community building and marketing tools.
Uscreen is an all-in-one membership business platform for video creators. It's best suited for creators with an established brand and audience, who value a hands-on approach to the member experience.
Patreon primarily lets you sell webcomics, video, and audio to your fan base. Uscreen lets you build your own Netflix-style video-on-demand (VOD) service with a customizable website and branded apps. You can monetize your content through subscriptions, rentals, ads, and one-time purchases.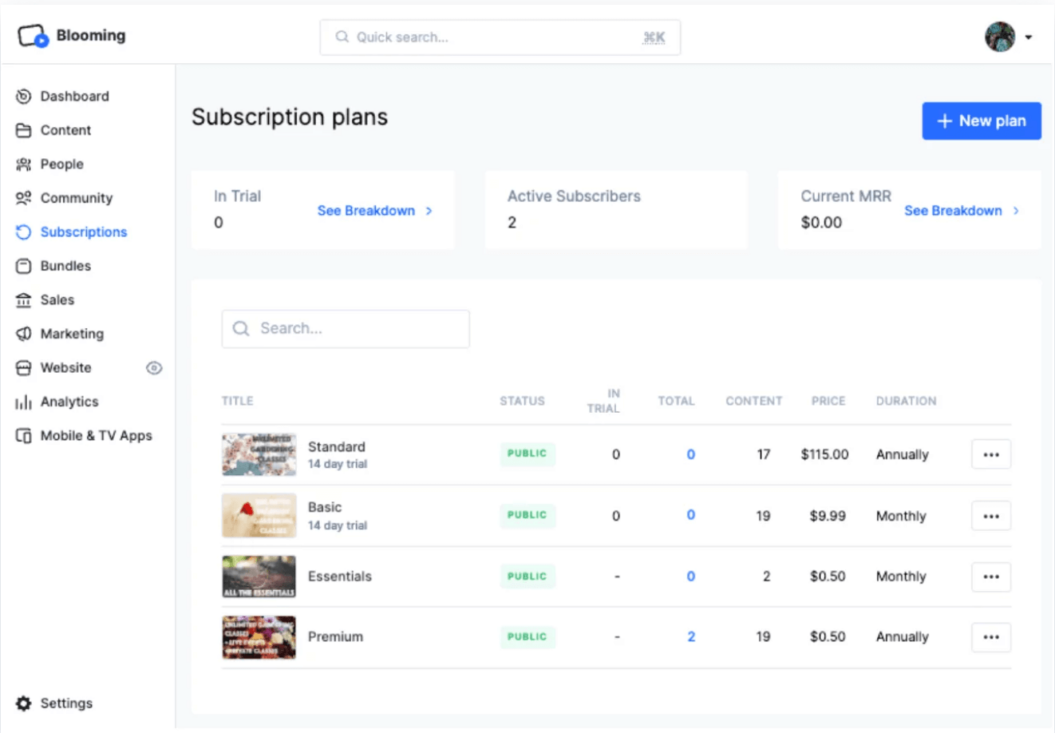 Patreon's fee structure is also different from Uscreen's. With Patreon, the platform takes a percentage of your income and offers three different plans (Lite, Pro, Premium) with varying features.
Uscreen, on the other hand, has transparent pricing that scales with you.
Let's dig into a few features that make Uscreen perfect for achieving financial stability and endless creative possibility as a creator.
Create beautiful apps for your content
Uscreen makes building Over The Top (OTT) apps for your video content easy. This way, members can stream your content through services like Apple TV, Roku, iOS, and Android.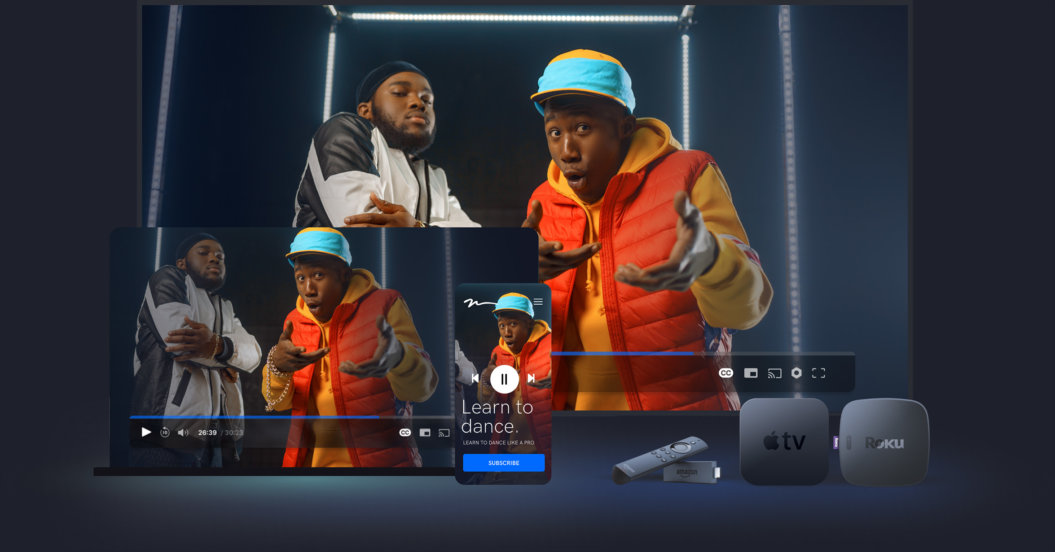 With your OTT app, members can:
Stream your content anywhere, anytime.
Download content to their favorite device and view it offline.
Create and save their favorite videos to a playlist.
Considering 82% of US consumers have a video streaming subscription, an OTT app is a great way to delight members and stay competitive.
Build an online community platform
Uscreen also helps you grow a community around your video content. You can promote interaction and engagement among your members with community features like channels, attaching catalog videos, polls, mentions, followable user profiles with avatars, and so much more!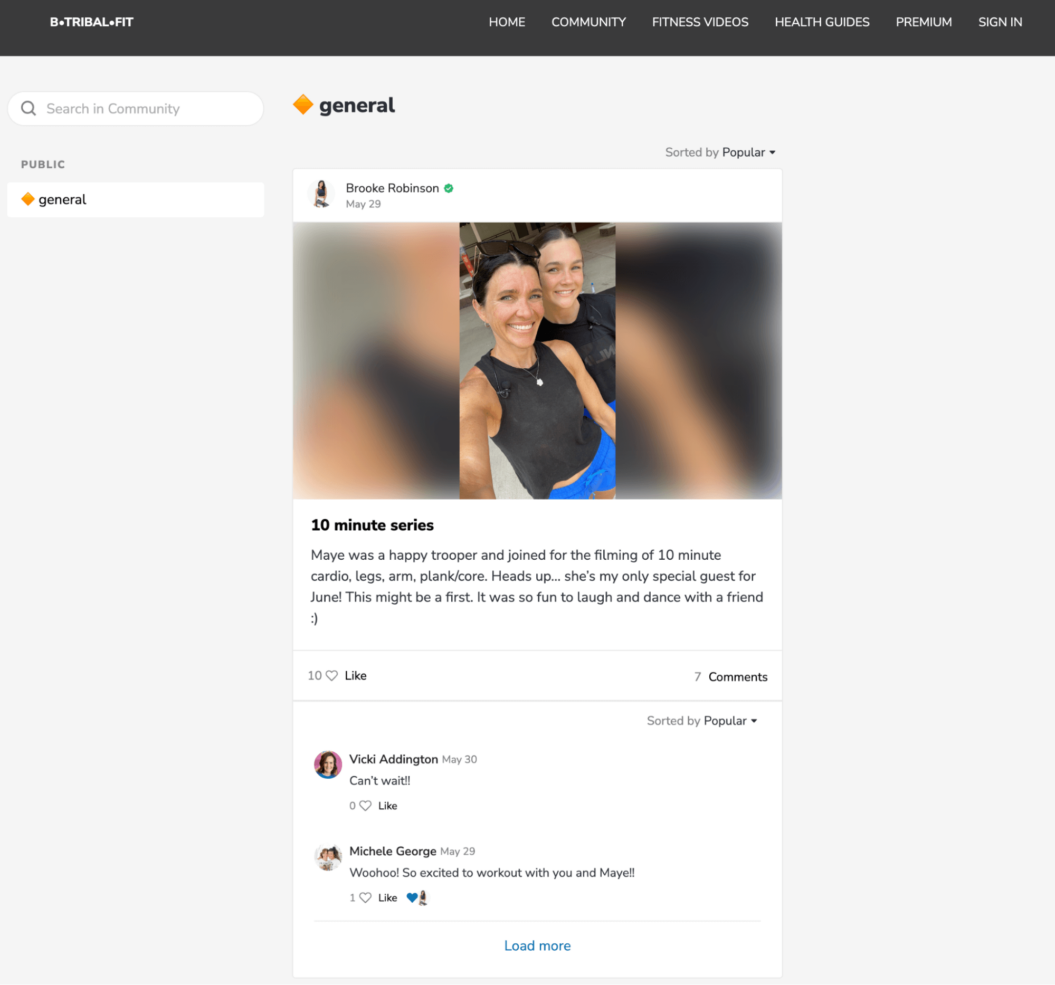 Best of all, you can easily manage everything right from your Uscreen dashboard.
Connect with members through live streaming
Uscreen also lets you live stream content directly through the platform, which Patreon doesn't currently support.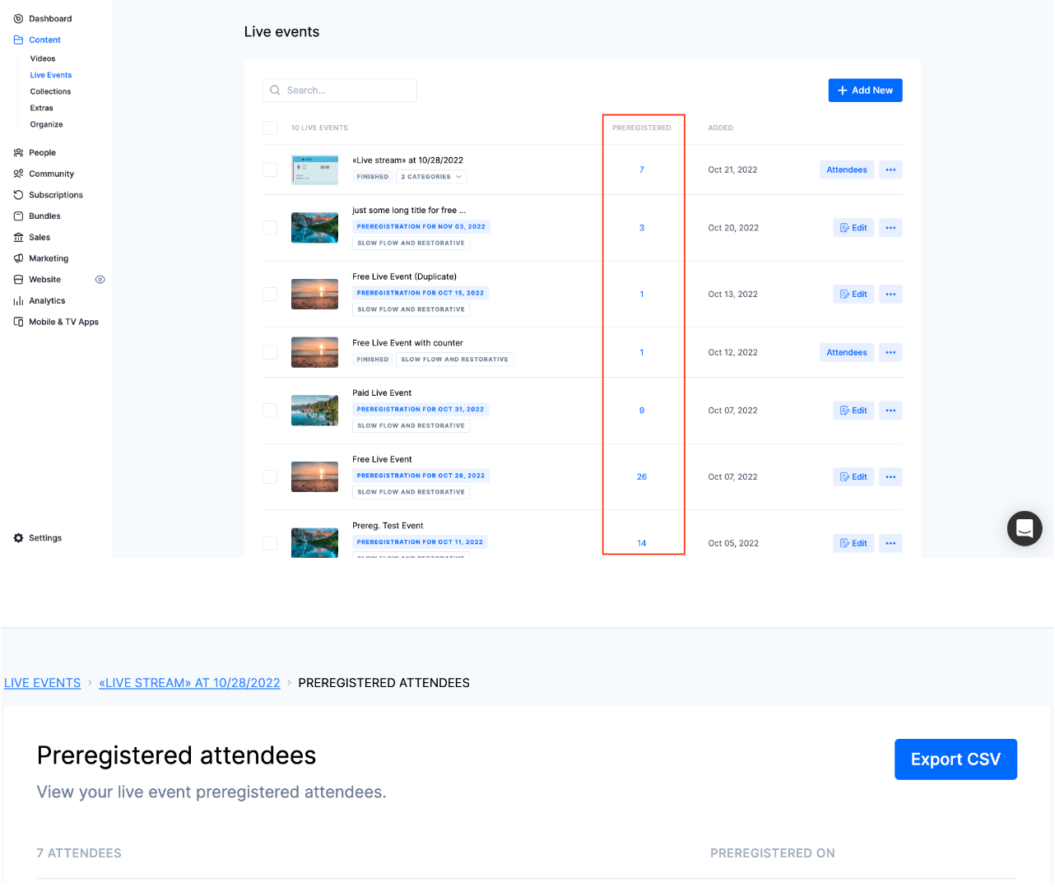 Uscreen uses Akamai Content Delivery Network (CDN) to ensure high-quality video delivery for viewers, even during periods of high traffic. Broadcasting live content also works "out-of-the-box," which means you can start streaming and promoting it from your dashboard ASAP.
You can easily monetize live streams and use them to earn a steady flow of monthly income from your website. Plus, Uscreen can automatically convert live broadcasts into VOD content and add them to your library later for members to access whenever they want.
Market your brand with ease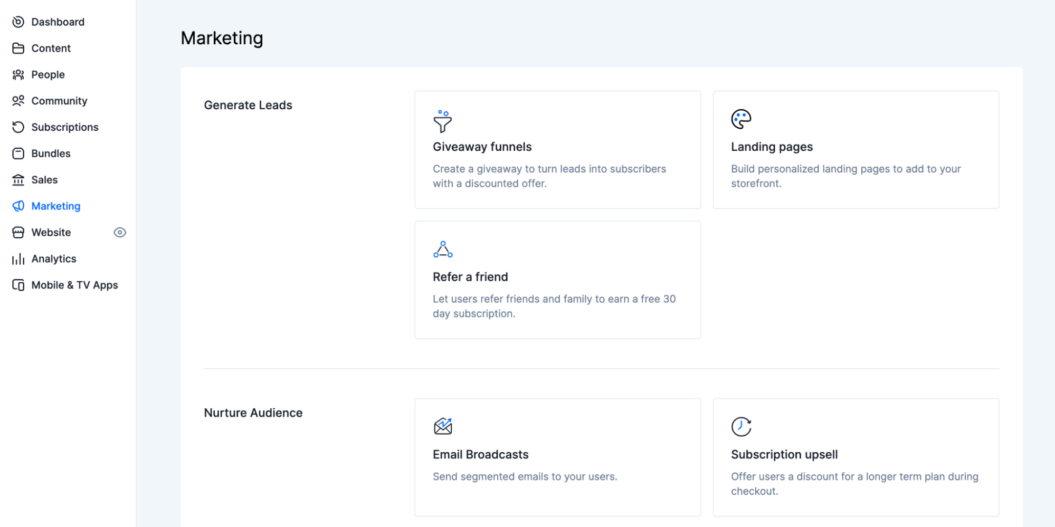 Creators can use Uscreen's automated marketing tools to attract, engage, and retain members. From lead generation to nurturing the audience and winning back customers, these tools help you manage every step.
With features like free trials and bundles, you can cater to many different audience segments. You also get access to tools like giveaway funnels, landing pages, and refer-a-friend campaigns to generate leads.
Other notable features include:
Netflix-style viewing experience.
Customizable site and themes.
Live chat.
Member analytics.
Win-back automation.
Built-in payment processing with Stripe and PayPal.
Integrations with Mailchimp, Hotjar, and more.
Tiered membership options.
High-quality video player with media controls.
Pros:
Predictable and transparent pricing.
Various monetization options with a focus on memberships.
Exceptional video platform with intuitive end-user experience.
Seamless membership community building tools.
Price
Looking to learn more about the plans and pricing that Uscreen offers? Check out our pricing page to find a plan that works for you!
Uscreen has helped over 25,000 creators and businesses thrive with memberships. Are you next?
It's simple with Uscreen.
Build, launch and manage your membership, all in one place.
2. Podia
Best for: Course creators.
Reasons to use:
Zero transaction fees.
Built-in marketing tools.
Simple interface.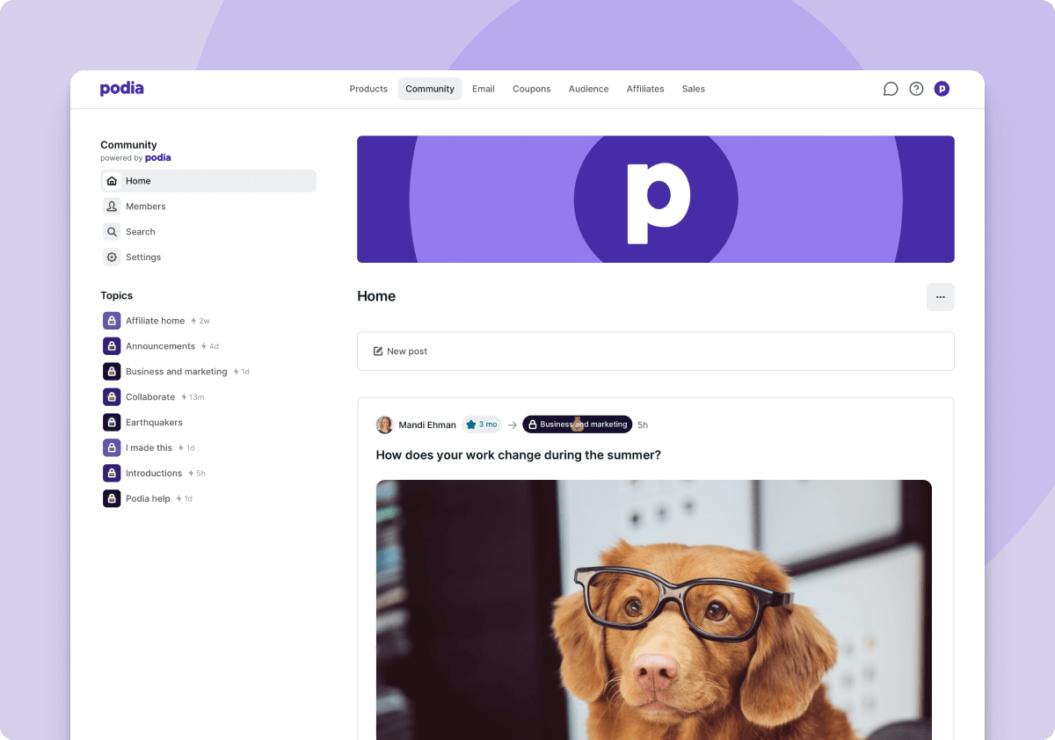 Podia lets creators sell online courses, memberships, and digital downloads from one place. It's a great Patreon alternative for creators and entrepreneurs who want a one-stop shop for their online business.
Unlike Patreon, Podia helps content creators manage email marketing, webinars, and other aspects of their business in one platform. Furthermore, Podia's interface is incredibly easy to use and provides a clean, minimalist experience that looks great.
Pros:
Unlimited file hosting.
Stripe and PayPal payment support.
User-friendly online course platform with a clean and straightforward interface.
Reputation for excellent customer service.
Podia doesn't charge transaction fees on sales with paid plans.
Cons:
Plans are on the higher end of the spectrum compared to similar platforms.
Doesn't offer much customization.
Free plan with high transaction fee.
No built-in community feature for members to interact with each other.
Features
Integrated email marketing tool.
Host webinars for members.
Drip content to release content over time.
Affiliate marketing programs to incentivize and reward followers.
Product pre-launch pages.
Price: The Mover plan costs $39/month with no transaction fees. A free plan is available for solo creators, though each transaction is subject to an 8% fee.
3. Buy Me a Coffee
Best for: Supportive communities
Reasons to use:
Get paid by anyone online.
Easy to sign up and use.
No upfront cost.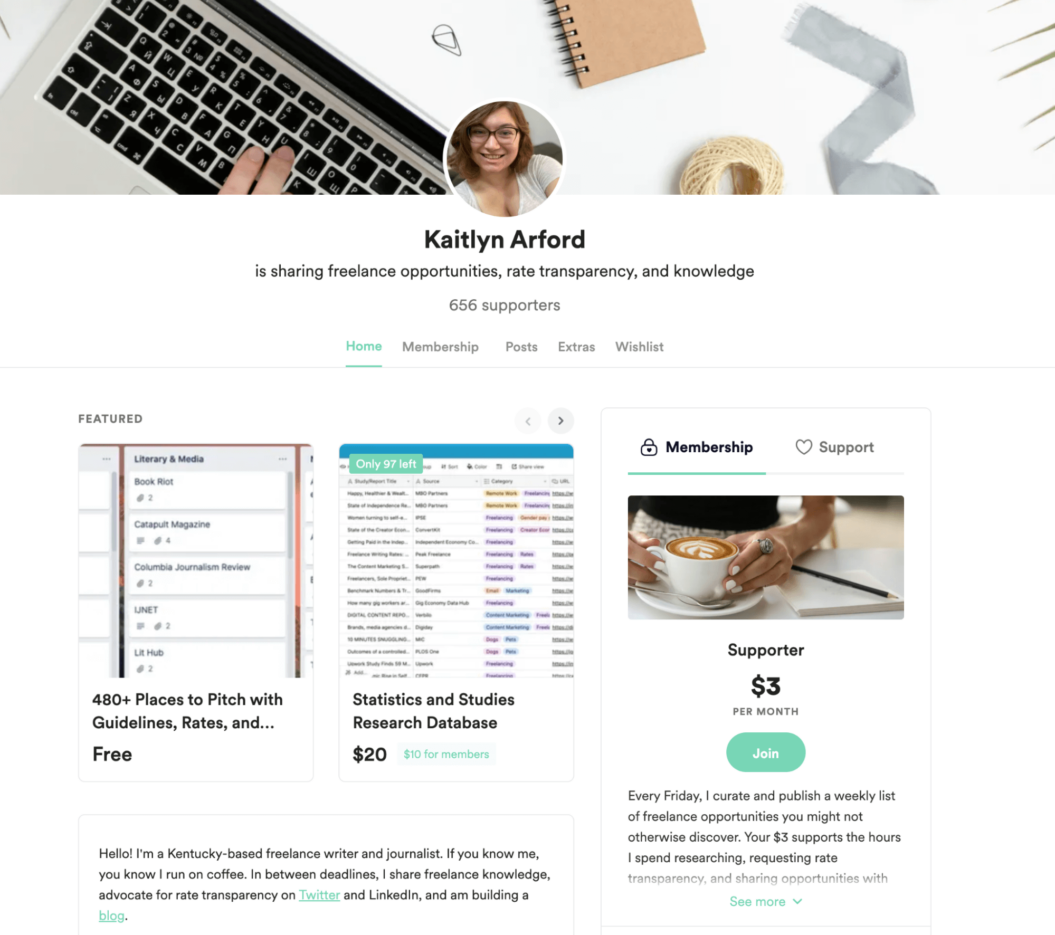 Buy Me a Coffee is a simple, user-friendly platform that allows creators to get support from their fans.
Rather than Patreon's subscription-based model, Buy Me a Coffee offers a more casual tip jar concept where fans can contribute one-time donations to show their support. Memberships are available, but the platform heavily emphasizes one-time donations.
For those who are looking to make good side income, rather than make a living managing a subscription-based community, Buy Me a Coffee is ideal. It's great for creators looking to monetize their content without the pressure of a subscription model.
Pros:
One-time donations
Intuitive and user-friendly interface for creators and fans.
No lock-in contracts.
Zero upfront fees.
Get paid with credit cards, PayPal, Google Pay, or Apple Pay.
Cons:
High service fee.
No tools to manage and engage with your community.
Limited customization options.
Less well-known than Patreon.
Need channel supporters from other platforms.
Features:
Instant payouts without any holding period.
Embeddable website widget to receive donations directly.
Options for supporters to leave a message when they donate.
Lets you offer digital downloads directly from their page.
Offers 'Extras' feature where you can offer additional perks at a set price.
Marketing tools to promote your page.
Option to offer commission-based work directly from your page.
Price: Free to use with a 5% transaction fee when withdrawing money.
4. Ko-fi
Best for: Fan-funded creators.
Reasons to use:
Zero-fee donations.
Discord integration.
Ko-fi Shop to sell products.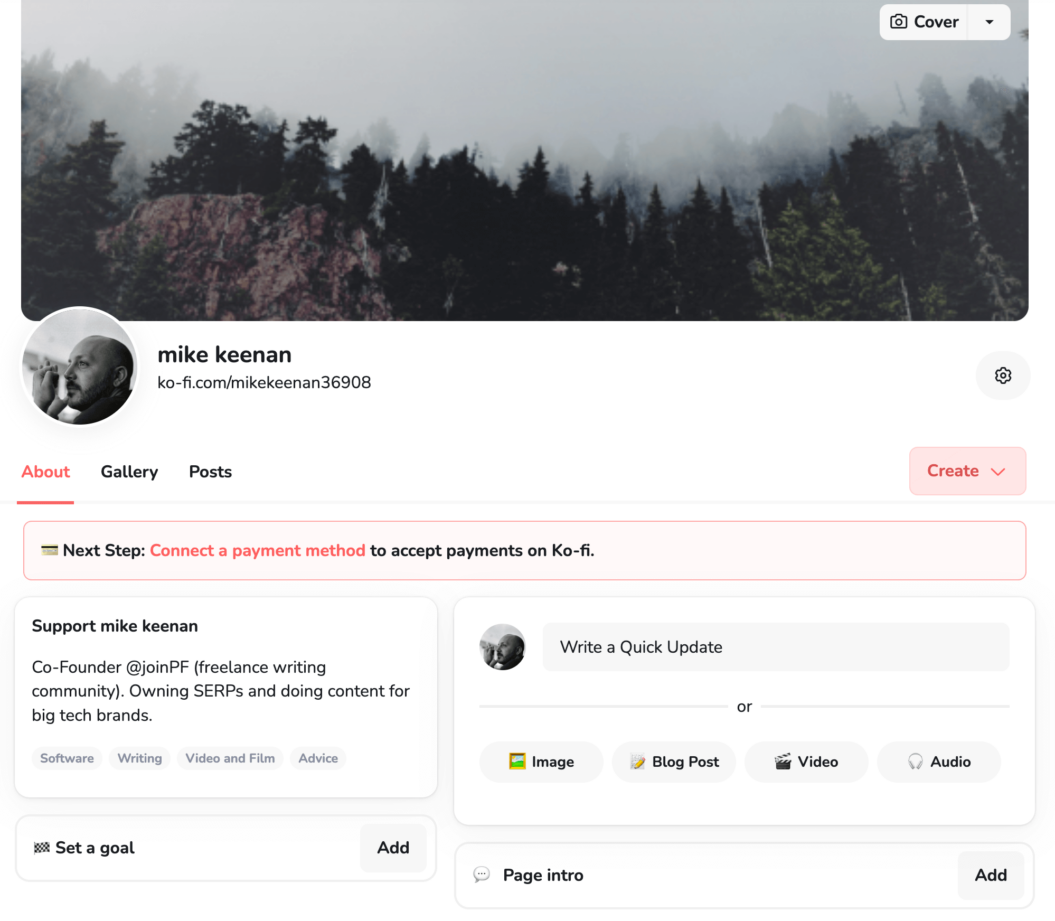 Ko-fi is a free platform that lets users set their own prices to support creators. It doesn't lock exclusive content behind a paywall.
Instead, it encourages one-time donations or 'coffees,' symbolic of supporting a creator. You can offer digital products, memberships, and more on your own terms. Plus, Ko-fi lets you set up streaming alerts if you go live on Twitch Studio, which is good for gamers.
Overall, Ko-fi is a good Patreon alternative if you prefer flexibility over structured membership tiers, and want to retain 100% of donations. If you upgrade to its premium plan, Ko-fi Gold, you can set up recurring donations from supporters, eliminate site ads, get access to new features, and more.
Pros:
Ko-fi doesn't take a cut from the donations made to creators.
Straightforward approach to receiving donations and selling digital products.
Various customization options.
You can sell digital products, offer memberships, and set donation goals without paying a monthly fee.
Cons:
Limited third-party integrations.
Lacks advanced features compared to similar blogging sites.
Some features are much better underneath their Gold plan.
Features:
Access to Ko-fi Shop where you can sell physical products.
No fees on donations.
Ability to adjust the layout and color theme of your Ko-fi page.
Commission module to accept, manage, and fulfill custom work directly through Ko-fi.
Easy linking of social media accounts.
Write updates and blog posts directly on your Ko-fi page.
Price: Free
5. Gumroad
Best for: Digital product sales.
Reasons to use:
Simple digital product sales.
Seamless customer experience.
Integrated marketing features.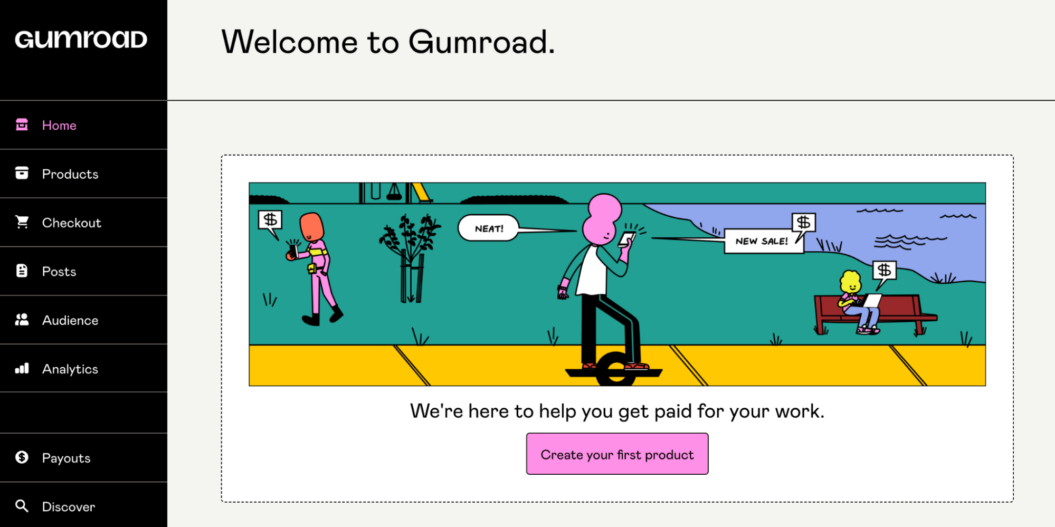 Gumroad simplifies selling and streamlines ecommerce for creators. It allows creators to sell digital products, physical goods, subscriptions, or memberships directly to their audience.
Gumroad offers an integrated platform where creators can host and distribute their content all in one place. If you sell digital products like eBooks, digital art, music, software, or physical goods, Gumroad is a great alternative to Patreon.
Pros:
Sell a wide variety of products, including digital and physical goods.
Charges flat fee per sale instead of a monthly subscription fee.
Deliver digital content directly through Gumroad.
Creator-friendly features like built-in analytics, marketing tools, and support for international payment processors.
Cons:
Per-transaction fee can be higher than Patreon's model.
Does not support a recurring donations.
Lacks robust community features such as comments and forums.
Offers many features that take time to understand and implement.
Features:
Host video in up to 1080p quality with the option to make it downloadable.
Sell all of your products on your Gumroad page.
Add a Gumroad button to your own website.
Have your buyers leave reviews about your products.
Take one-off payments or sell monthly, quarterly, semi-annual, or annual subscription plans.
Integrations with a range of tools like Drip, ConvertKit, and YouTube Annotations.
Access data about your video views, podcast listens, financial information.
Price: Free to use with a 10% flat fee on all transactions.
6. Kickstarter
Best for: Innovative entrepreneurs
Reasons to use:
Fundraising for one-time projects.
Audience feedback.
Market validation.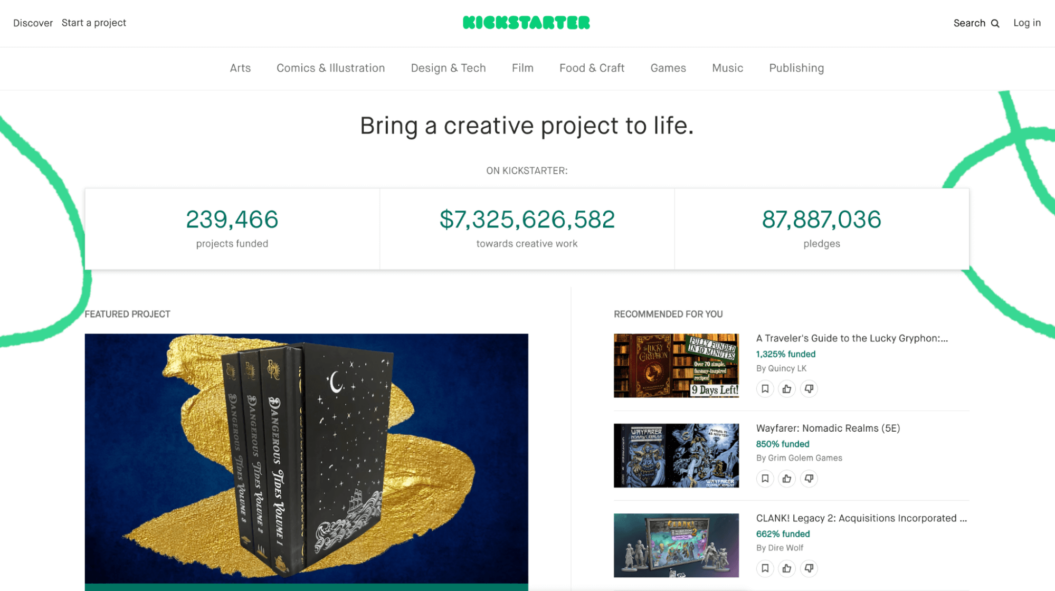 With Kickstarter, creators can fund a particular project rather than receive continuous support.
Here's how crowdfunding campaigns work:
Set a funding goal for your idea.
Ask people to financially back you.
Offer online and physical rewards.
if you raise enough cash to hit your target, you get the money to realize your project.
💡NOTE: Kickstarter works on an all-or-nothing model. If your project doesn't meet its funding goal, no money changes hands.
If you're looking for a lump sum to fund a project or idea, consider Kickstarter. In most cases, it's best for one-off, creative projects with some tangible reward for backers.
Pros:
Kickstarter has a big audience with more than 22 million backers.
Provides analytics and tools to help your campaign succeed.
Can offer rewards for different tiers of support, providing tangible perks to supporters.
Kickstarter's review process ensures a degree of credibility and trust for backers.
Cons:
If your project doesn't reach its goal, you can't access the funds.
Kickstarter applies a 5% fee on the total funds raised, plus processing fees.
Limited to project-based funding
A successful Kickstarter campaign requires significant planning and promotional work.
Features:
Fund individual projects instead of ongoing content.
Offer exclusive rewards to backers based on their pledge amount.
Receive comments and feedback from your backers and members of the public.
Connect with their backers through live video.
Interact with their backers and post updates.
Have your project visible on the Kickstarter website and mobile app.
Get paid out 14 days after your campaign ends, as long as you hit your funding goal.
Price: Free to use with a 5% transaction fee only if your project is successfully funded.
7. Indiegogo
Best for: Inventors and startups
Reasons to use:
Wide audience reach.
Flexible funding options.
Efficient marketing tools.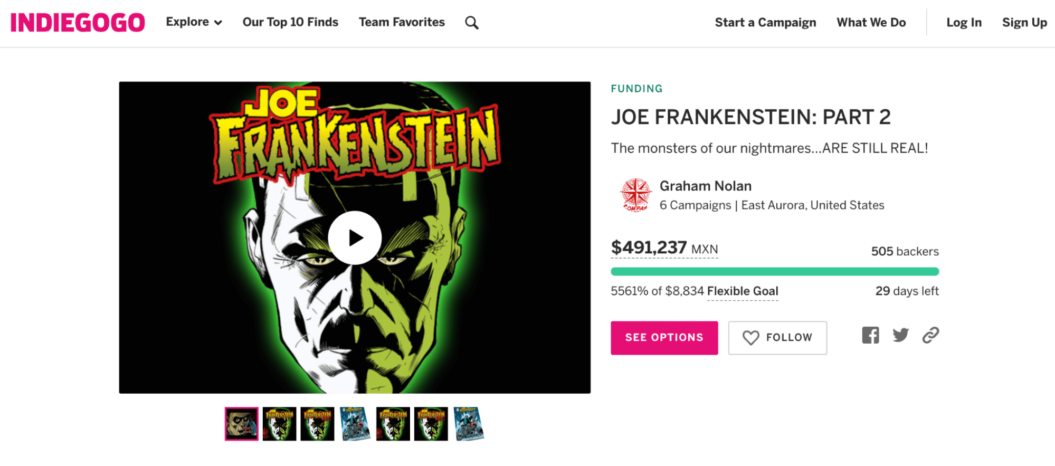 Indiegogo is a global crowdfunding platform that gives creators the chance to raise funds for their projects and ideas.
Unlike Patreon which is based on an ongoing subscription model, Indiegogo is focused on one-time funding for a specific project. It also offers two funding types:
Fixed Funding: where you only keep the funds if you reach your goal.
Flexible Funding: where you keep whatever you raise regardless of whether you hit your goal or not.
You can raise money for many different types of creative works on Indiegogo. Some cool categories include:
Art.
Comics.
Film.
Photography.
Podcasts.
Writing & Publishing.
Pros:
Broad audience reach -Indiegogo has more than 9 million backers from 235 countries
Backers can get perks for donations, giving creators a unique way to engage their fans.
Indiegogo's InDemand feature lets creators keep raising funds even after the campaign ends.
Cons:
Indiegogo charges a 5% platform fee on funds raised, plus payment processing fees.
Since Indiegogo is project-focused, it lacks the strong community feel of Patreon.
Your project's success often depends on how well you market it.
Features:
"Fixed" and "Flexible" funding options.
InDemand service, which allows for ongoing funding after the initial campaign.
Team collaboration tools for working on the campaign page and updates.
Google Analytics integration for detailed performance insights.
The Gogofactor, which is Indiegogo's algorithm that promotes campaigns based on activity and engagement.
Price: 5% transaction fee on all funds raised.
8. Mighty Networks
Best for: Community builders.
Reasons to use:
Community-building tools.
Streamlined engagement.
Comprehensive analytics.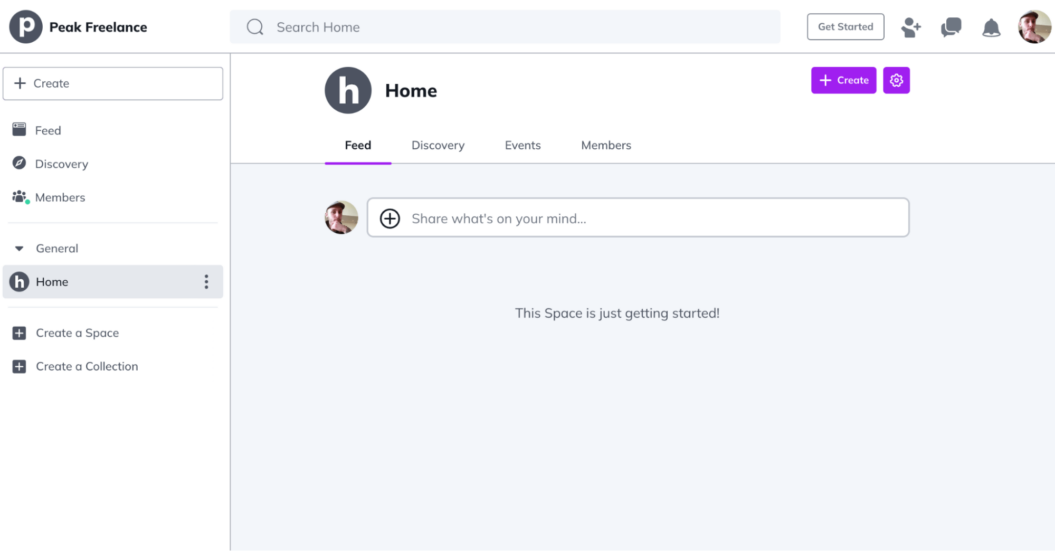 With Mighty Networks, you can bring community, content, courses, and subscriptions together in one place, creating your own branded space independent of big social networks.
Mighty Networks is not just a funding platform. It's also a community-building tool, which offers more customization and control to creators. You can build personalized courses, host exclusive communities, and integrate seamless payments.
Mighty Networks offers creators more monetization options than just subscriptions and donations.
Pros:
Allows creators to customize their own brand space.
All-in-one platform for community, content, and subscription management.
Can have direct interactions with your community for better engagement.
Offers multiple monetization options like courses, subscriptions, and paid communities.
Cons:
The platform may seem complicated to new users.
More expensive than simpler, more focused platforms like Patreon.
Fewer third-party integrations compared to other membership site platforms.
Relies more on creators bringing in their own community.
Features:
Personalized courses.
A built-in payment system for subscriptions and purchases.
Direct messaging between creators and community members.
Exclusive community spaces for different subscriber levels.
Host and manage online events.
Analytics to help understand your audience better.
Mobile app for better accessibility and engagement.
Price: Starts at $33/month. Free 14-day trial available.
9. Sellfy
Best for: Artists
Reasons to use:
Excellent ecommerce functionality.
Print-on-demand service.
Instant payout.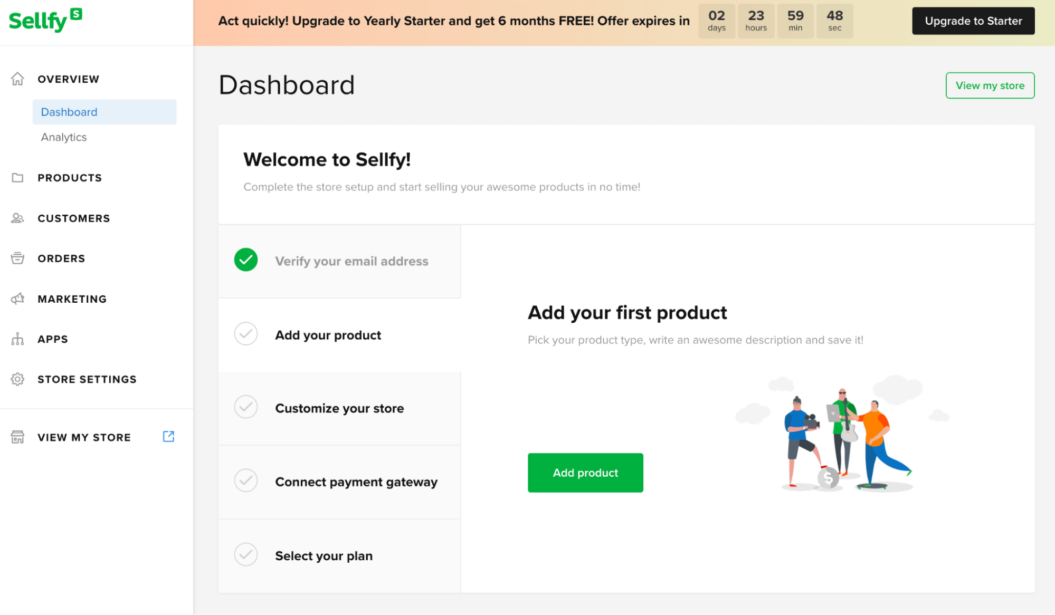 Sellfy is another great Patreon alternative that lets you sell stuff online. Set up is really simple, you can sign up with a Google account, then Sellfy will ask you a few questions about your business before you enter a central dashboard. It takes minutes.
With Sellfy, you can sell digital goods, physical products, and subscriptions in one place. You can also manage how your products look on Google, use Facebook Messenger, and add a Facebook Pixel to your store right from the dashboard.
Overall, it's a good platform for artists who want to sell their work in various ways. You can also tap into Sellfy's email marketing, upsell, and cart abandonment tools to increase sales in your store.
Pros:
Easy-to-use interface with intuitive product management and analytics tools.
Seamless integrations with social media platforms like Facebook and YouTube.
Add product links to social media posts.
Print-on-demand service to easily sell shirts, mugs, hats, and more.
Cons:
Doesn't offer ways to interact with customers.
Reportedly lacks good customer service.
Feature set favors ecommerce over memberships.
Features:
Customization options for your online storefront.
PDF stamping to protect your digital products from piracy.
Embed your Sellfy store, products, or the buy now button on your website or blog.
Upselling features to promote other products at checkout.
Detailed insights into your store's performance, including top products, locations, and traffic sources.
Discount codes to promote your products.
Instant payouts with no waiting period to access funds from your sales.
Price: Plans start at $19/month with no transaction fees.
10. Substack
Best for: Independent writers.
Reasons to use:
Well-designed newsletters.
Easy to use.
Reader engagement features.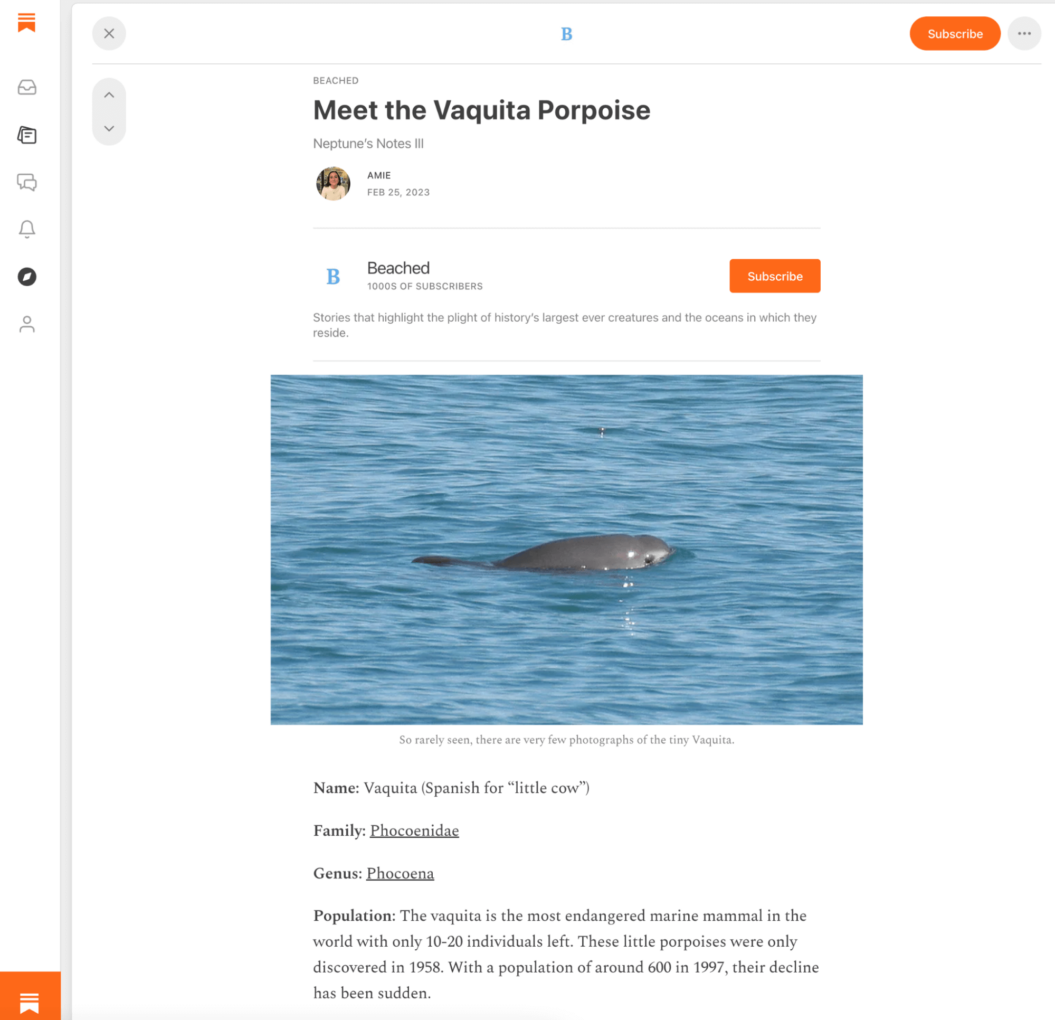 Founded in 2017, Substack is a publishing platform that helps you start and distribute a newsletter. It's generally for independent writers, journalists, bloggers who want to monetize their work while building a community of readers.
Substack has the same subscription-based model as Patreon. The big difference is that content is formatted in newsletter style and sent directly to subscribers' inboxes once it's published.
With Substack, you can embed videos from external sources and other file types into your email newsletter. It also offers community features including reactions, comments, and share options.
Pros:
Perfect for writers, journalists, or any creators that specialize in written content.
Intuitive user interface that makes creating and sending newsletters easy.
Lets you engage with readers through discussion threads and comments.
You own your mailing list and have more control over your content.
Cons:
Not ideal for creators who specialize in multimedia content, like video or audio.
Relies only on subscription fees for monetization.
Minimal browsing or discovery features.
Features:
Easy-to-use newsletter publishing system.
Community engagement tools.
Payments are fully integrated and managed by Substack.
Option to import or export subscriber list.
Discovery page to help readers discover new writers.
Price: Free to use with a 10% transaction fee.
11. Memberful
Best for: Creators using WordPress
Reasons to use:
Easy membership management.
Seamless payment integration.
Strong content protection.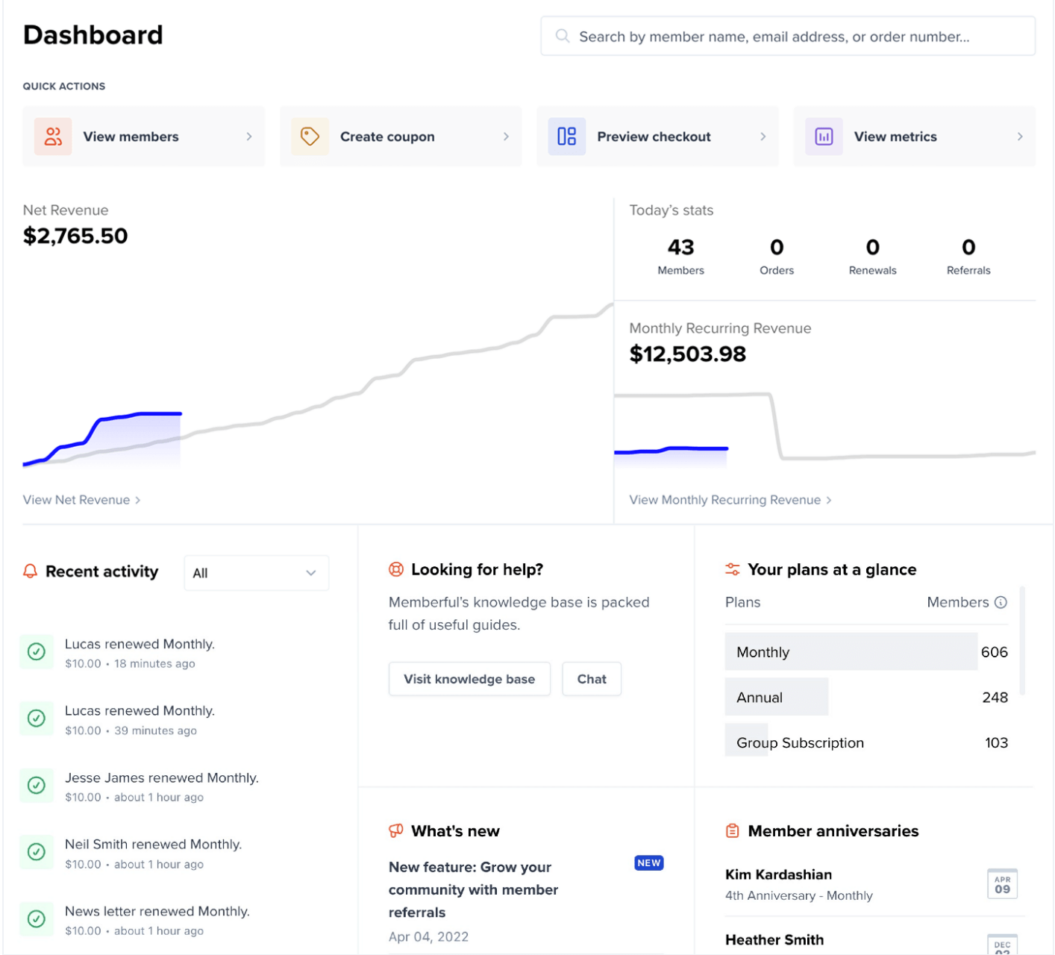 Memberful is a membership platform that integrates with your existing creator website. It also has a popular WordPress plugin you can use to sell subscriptions on your site. It's aimed at creators, publishers, and other podcasters.
With Memberful, you can put a paywall on your video content and live streams that you host through YouTube. You can easily offer coupons or discounts to potential customers, and even take payments through Discord and Discourse.
Memberful is also known for having a high level of customization options for branding and member experience. Plus, you can integrate with Google Analytics to learn more about your traffic, members, and revenue.
Pros:
High level of customization options for branding and member experience.
Easy integration with popular platforms such as WordPress, Stripe, and Mailchimp.
Comprehensive set of analytics and reporting tools.
Granular control over pricing, offering types, and membership levels.
Cons:
Memberful doesn't host content itself, so it requires you to have a website.
Pricing can feel high for smaller creators.
More complex to set up than Patreon, particularly for those less tech-savvy.
Limited in platform-specific community features.
Features:
Fully customize the checkout experience with your brand.
Comprehensive analytics for understanding your members and their behavior.
Upload private, subscription-based podcasts.
Custom fields to collect additional information about your members.
Allows multiple people to share a single subscription.
Members can gift a subscription to someone else.
Free trial periods to attract new members.
Extra integrations available through Zapier.
Price: Free plan available, though access to premium features starts at $25/month. Transaction fees range from 4.9% to 10% depending on the plan you've chosen.
Explore these Patreon alternatives
Patreon is a good starting point for creators who want to monetize their audience. But if you're serious about growing a business and building a loyal community, there will quickly come a time where Patreon no longer offers the features you need.
We've listed Uscreen as the best Patreon alternative for a reason. When you build your community on Uscreen, you'll get:
Your own website, with personalized branding and complete control over your content..
Everything you create hosted in one place, including live streams, podcasts, courses, and downloadables.
An easy-to-calculate monthly or annual price.
Loads of different payment options and marketing tools to maximize your earning potential.
Patreon alternatives FAQ
Why do people use Patreon?
Creators use Patreon to monetize an online community. You can upload content to your Patreon page and gate it behind a paywall. Anyone who wants to access the content needs to subscribe, helping creators earn money online.
Is there a free Patreon?
You don't need to spend any money to start a Patreon membership business. Creators are billed when they withdraw earrings from their Patreon account. This can range between 5% and 12%. 
How much does Patreon charge?
Patreon charges creators when they withdraw earnings from the platform. Depending on the plan, transaction fees can range from 5% to 12%. There's also a payment processing fee of 2.9% + $0.30 per successful payment over $3 USD.
What are the cons of Patreon?
1. High transaction fees between 5% and 12%
2. High payment processing fees of 2.9% + $0.30
3. Support for alternative content formats is limited
4. It only allows memberships, not digital products or courses