If we've got one piece of valuable advice for content creators, it's…
Know your worth.
For a long time, YouTube and other ad-based services were the top way for content creators to make money from their video content.
Now, it's a tough way to make a living.
Even as YouTube's views increase the advertising revenues they pay to their creators continue to decrease. This means you need a way to keep your income up and earn what you're worth.
That's where video paywalls come in.
Video paywalls are the best way to make money from content because they let you take control of your income and build an independent business around what you create.
In this article we'll share everything you need to know about paywalls like:
What a video paywall is.
Why now is the time to start using a video paywall.
Why YouTube is not the best monetization platform.
How paywalls can grow your video business.
So you can start using them in your business right away.
Let's jump right in…
What Exactly Is A Paywall?
Want to learn more about how paywalls can grow your business? Skip ahead!
A paywall is a way of restricting access to digital content. It requires a payment – either a one-time fee or a recurring subscription – to access what's on the other side.
A good example of this would be Netflix, where you need to become a paying subscriber to access their library of video content:

By restricting access to your content you can control your prices and create a more predictable revenue stream.

Better still…

You're free of advertiser-driven content guidelines that can impact the look and feel of your content, as well as whether you can make money from a particular video.

Video paywalls, essentially, allow you to turn your content into a premium digital product. Which is what makes them a key element in monetizing your online content. 
There are 3 main paywall business models for video streaming services:
Subscription video on demand (SVOD): a video on demand (VOD) service that allows users to access an entire library of videos for a small recurring monthly or annual fee. 
Transactional video on demand (TVOD): a VOD service that allows you to buy content on a pay-per-view (PPV) basis, like renting a movie on Amazon Prime.
Hybrid (SVOD + TVOD): you can combine TVOD and SVOD to one-off videos and subscriptions to your content. 
If getting paid what you're worth sounds like an attractive deal, then keep reading!
In the next section we'll talk about the benefits of a paywall solution.
Why It's Time To Start Using A Video Paywall
Paywall platforms help you protect and expand your video business.
By putting your premium content behind a paywall, you can:
Take control of your income and content.
Keep your business safe from advertisers and platform crashes.
Build closer relationships with your audience.
And if you're wondering what the market is like for video monetization outside of YouTube, well:…
Paid online video platforms are more popular than ever. And, the demand will continue to grow!
In fact, the video streaming market is currently valued at $85 billion and that number is expected to grow over 10% every year through 2025.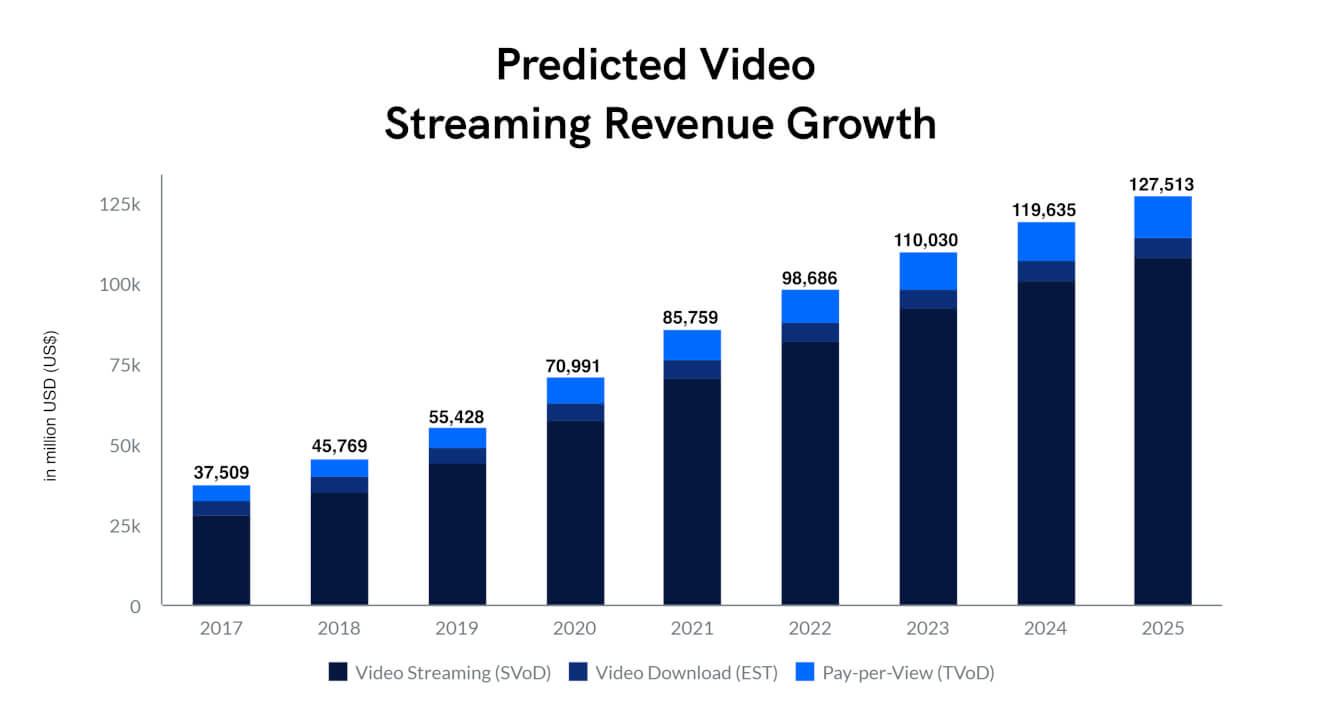 But why do people want paywall-protected on demand content?
Simply put: it's because if viewers find you and your content valuable, they'd rather watch it without the extra hassle of ads.
When there's a more convenient viewing option for a small fee, they'll happily pay for that instead. Even if they know they could get the content for free elsewhere! 
In fact, video paywalls are a large part of the reason our customers at Uscreen are generating well over $100 million in revenue per year.
That's exactly why it's time for you to launch your own paywall-protected video streaming platform.
When you…
create your own website with different payment options
charge a monthly subscription fee
deliver content directly to your audience
…you can give your audience what they want, while building the business you want.
Now, we know consumers want paywalls – but for content creators, are they really a better monetization method than YouTube?
Definitely.
And we'll tell you why.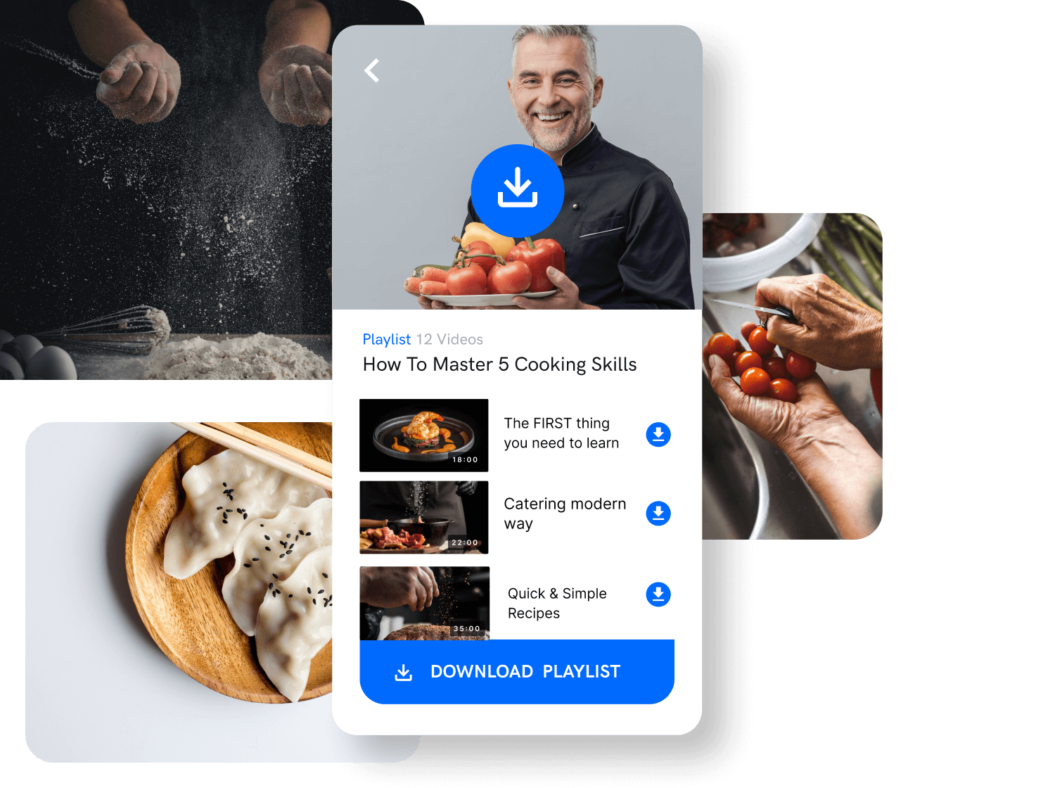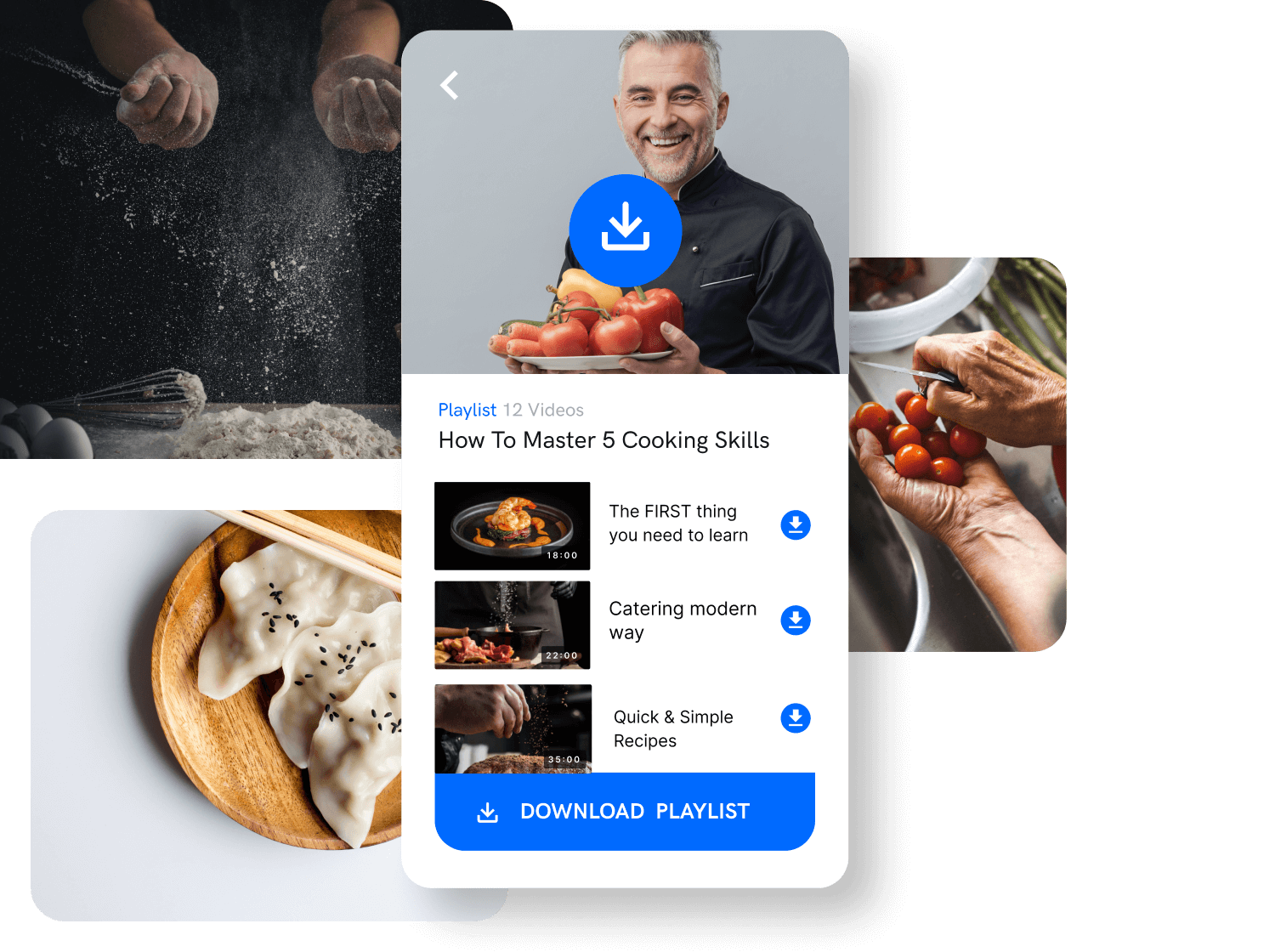 Start your 14-day free trial today!
How A Video Paywall Can Grow Your Business
Fun fact:

Putting your content behind a paywall can actually increase the demand for your content and your brand's overall value.
Here are 3 reasons why…
1. You Can Create A High-Quality Brand
Running a premium content platform gives you the perfect opportunity to strengthen your brand, which is key if you want your business to resonate with customers.
Uscreen offers branding and customization tools to help you create your unique brand style and stand out from the crowd.
For example:
Get It Done Fitness created a memorable brand across multiple platforms, including strong color schemes, typography, and a clean layout.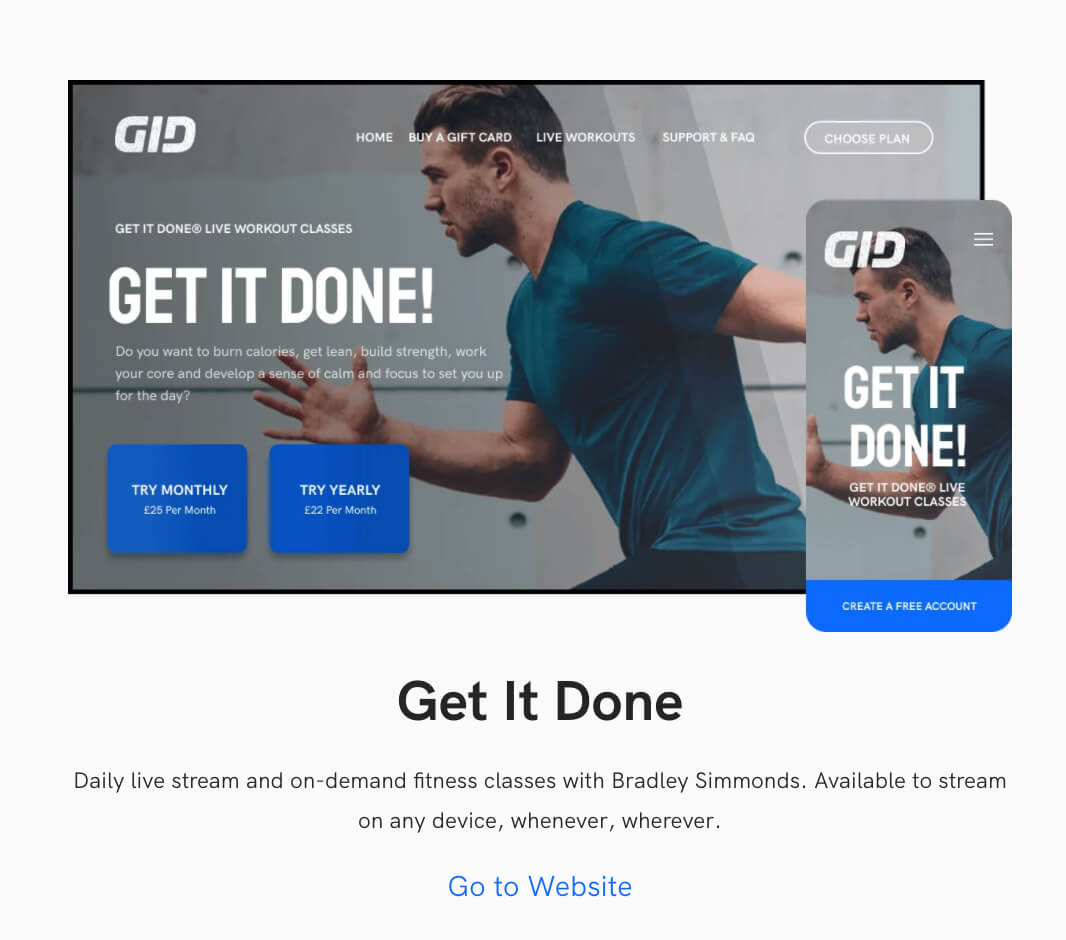 Plus, putting your content behind a paywall increases the perceived value of your brand.
When you're charging for access to a professional-looking platform, you're telling viewers you have a high-quality offer that's different than all the free content out there
2. You Can Build An Inclusive Community Around Your Content
Communities are made up of people who share the same values and interests.
You can grow an online community around your business that increases customer loyalty – and according those customers, brand loyalty means they will:
Make repeat purchases.
Recommend your service to other people.
Make you their preferred service, even if you're not the cheapest option.
Money may not be able to buy happiness, but for audiences, it can certainly buy a sense of togetherness – which is pretty similar!
For example:
Consider The Dog provides tutorials from world-renowned canine experts.
They offer access to a private members-only group as part of their subscription package. This forum gives customers a place to interact with fellow dog lovers, as well as get new content updates and exclusive discounts.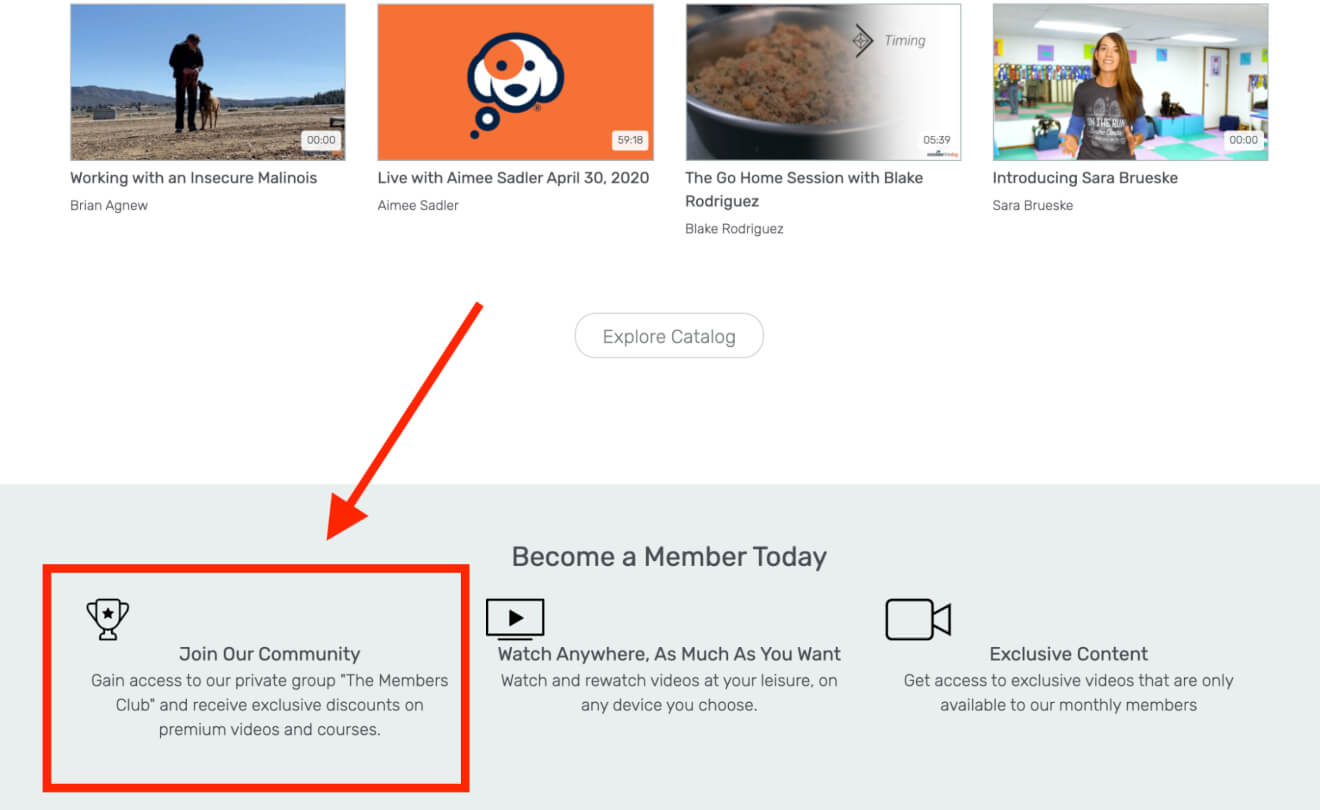 And to help your business in the long term, online communities also: 
Increase traffic to your online video platform.
Help you gain valuable customer feedback on your paid service.
Provide a space for you to engage with your audience and encourage them to interact with each other.
Uscreen offers the ability to bring your audience together and engage with them with community features.
3. You Can Keep Your Viewers Coming Back For More
A smaller audience of consistent users who chose to sign up is more valuable than a larger audience watching for free.
People buy access to your content because they feel it's worth their money. By offering:
entertaining original video content
a sense of belonging to a community
help achieving their goals
…you're adding value to their lives. And the more value you give them, the longer they'll stay subscribed to your SVOD service.
Better still, the longer subscribers stay with you, the more you can learn about what they want. Uscreen's detailed marketing and analytics tools help you better understand and retain them.
This will lead to consistent views and a recurring income.
And, a high rate of consistently satisfied customers is a key element for growth.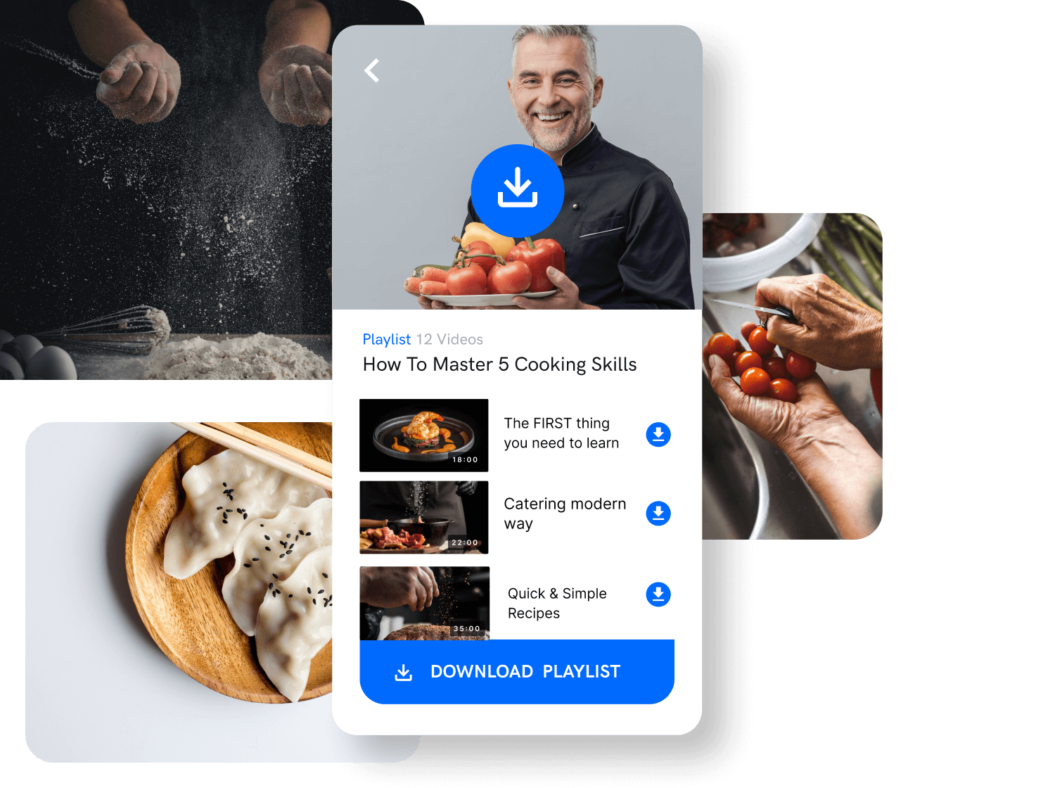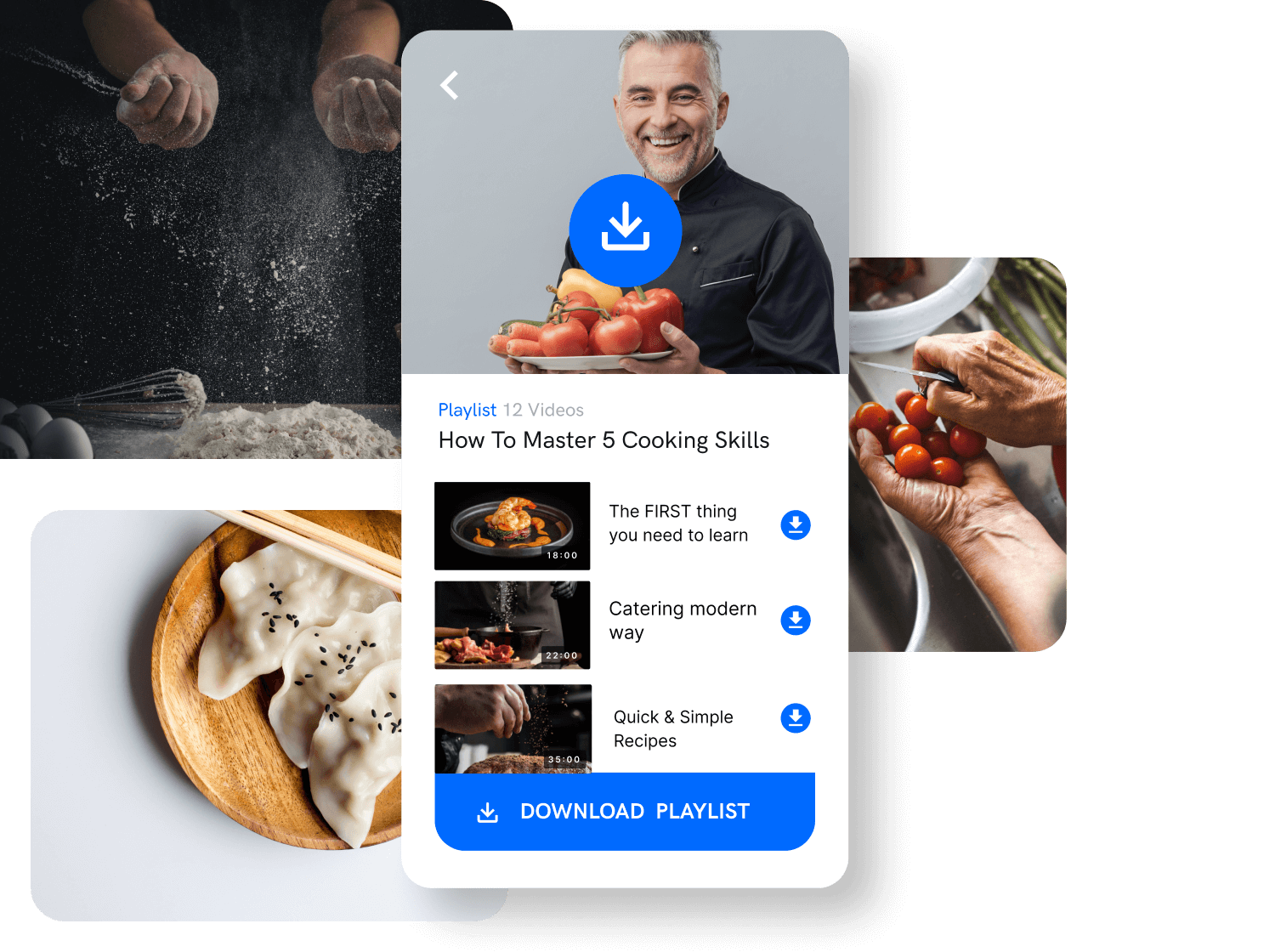 Start your 14-day free trial today!
YouTube: We Love You, But Something's Gotta Give
You may have read the above section and thought:

"Hey, Anaïs, I can do most of that on YouTube!"
And you'd have a good point. Many YouTubers have built strong brands, inclusive communities, and have repeat viewers. But there's a big difference!

YouTube is NOT the best way for content creators to earn a living.
YouTube's ad-based business model isn't a reliable source of income, and you're putting the fate of your brand and content in the hands of a 3rd party platform.

That means you have limited control over your income, and you're not part of the decision-making process about what videos get demonetized or how their algorithm changes.
It takes millions of views per month to generate a solid profit, and there's no guarantee you'll still be able to earn from that video tomorrow.
In fact, YouTubers earn less than the US poverty line and are even regularly demonetized.
This puts content creators – like you – in a tough spot.
Now, to be clear: we love Youtube here at Uscreen.
It's a powerful marketing engine where you can build and nurture a community, strengthen your brand, and connect the right people to your paid video streaming service. 
Plus, YouTube is still the top online video search engine, which makes it a great place to connect with an audience and expand your reach.
In fact, creators who use YouTube to promote their own video streaming platform go on to earn an average of $5,735 a month.
We always recommend using YouTube to build your audience – and if you're monetizing your YouTube videos in the process, stick with it! (That way, you have several sources of income.) 
But, by making a smooth transition to your own VOD platform, you no longer have to rely on ad-based revenue.
Better still, not only do paywalls provide stability for your business, they can also help grow it!
How Uscreen Can Help You Build A Successful Paywall Business
Paywall businesses need to be approached differently than ad-based ones.
You need a paywall solution provider that'll help you launch and grow your subscription streaming service. 
Luckily, Uscreen has tons of experience helping clients build successful paid online video platforms. We offer all the features you need to launch and grow your business as well as retain your audience.
With Uscreen you can:
Choose your monetization business model (TVOD, SVOD, or both).  
Upload and organize video content with categories, tags, and even custom filters.
Accept online credit card payments with a built-in payment gateway (like Stripe and/or Paypal).
Market your video streaming service with built-in marketing and retention tools.
Distribute your content with OTT apps (i.e. apps for Smart TVS and mobile devices). 
Use live streaming to connect with your audiences in real-time, on any device. 
Those features are why Uscreen is serving some of the biggest names in the industry like TEDxCambridge, NBC, and BBC – and we also help small and medium-sized content creators grow their video businesses.
If you're ready to take the next step and start your own SVOD service, give us a shout and learn more about what Uscreen can do for you as a creator.
Don't just take our word for it: more than 11,000 entrepreneurs, brands, and creators have leveraged Uscreen's all-in-one platform to build successful video businesses and monetize their content online.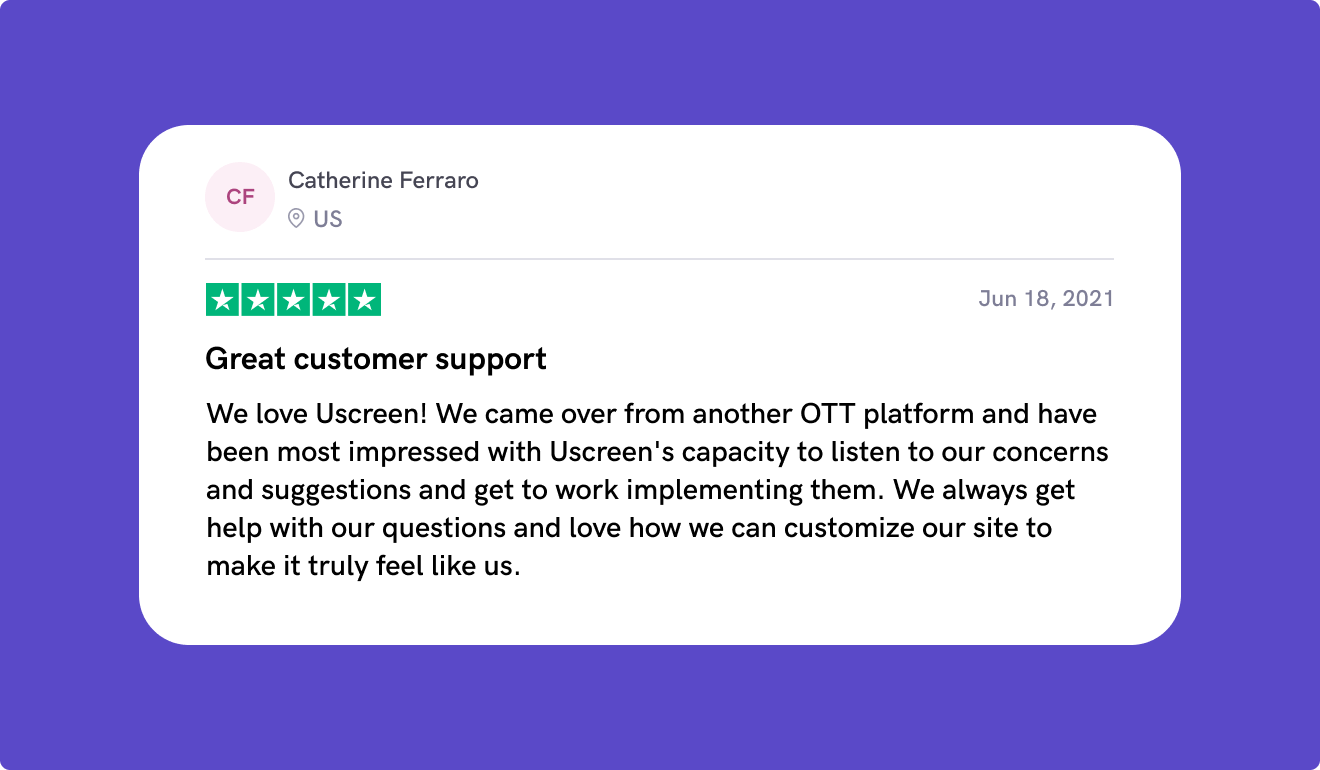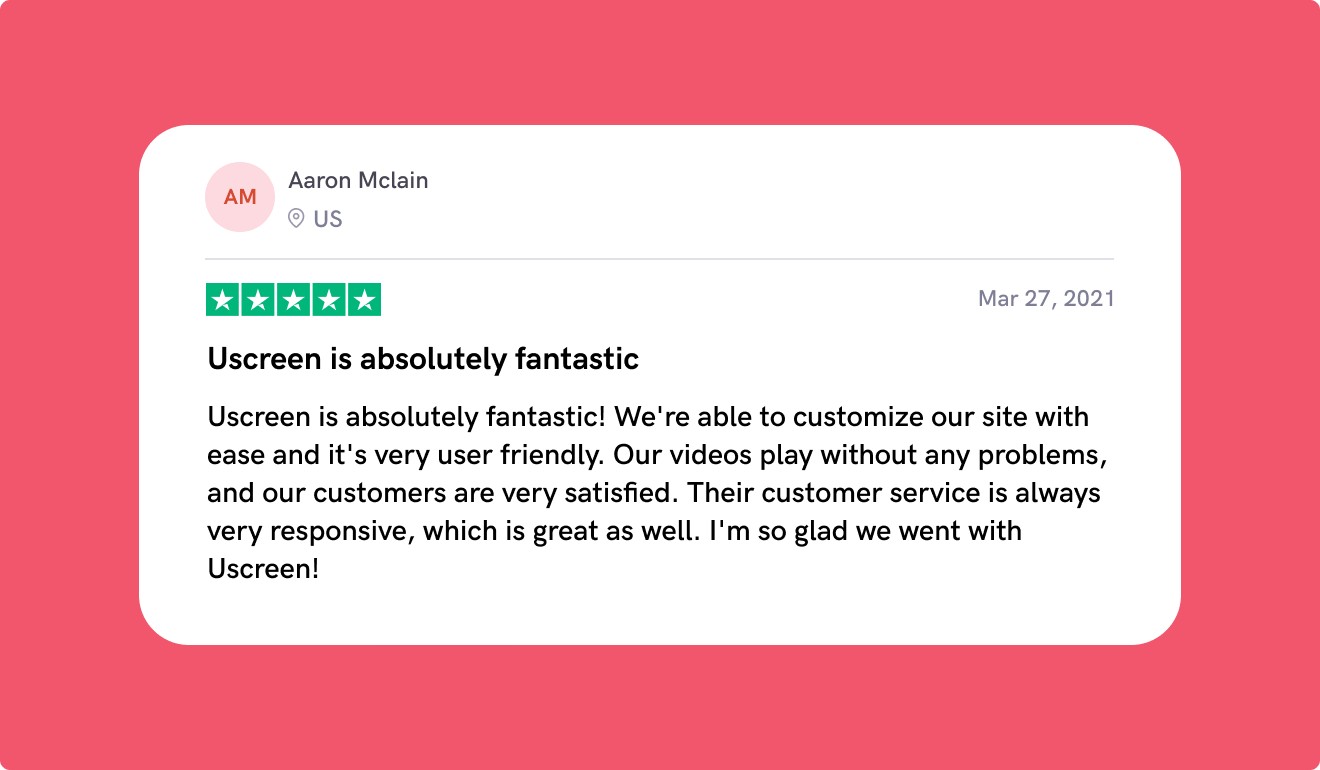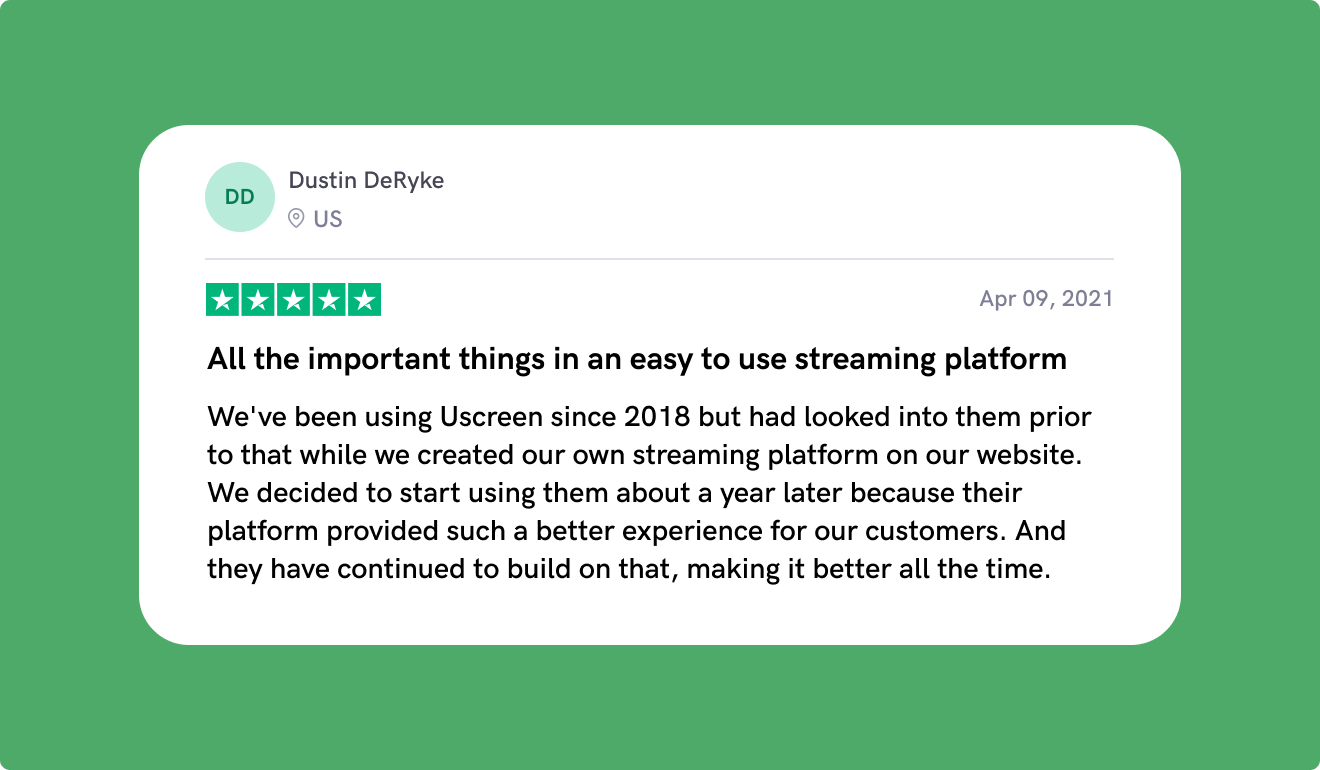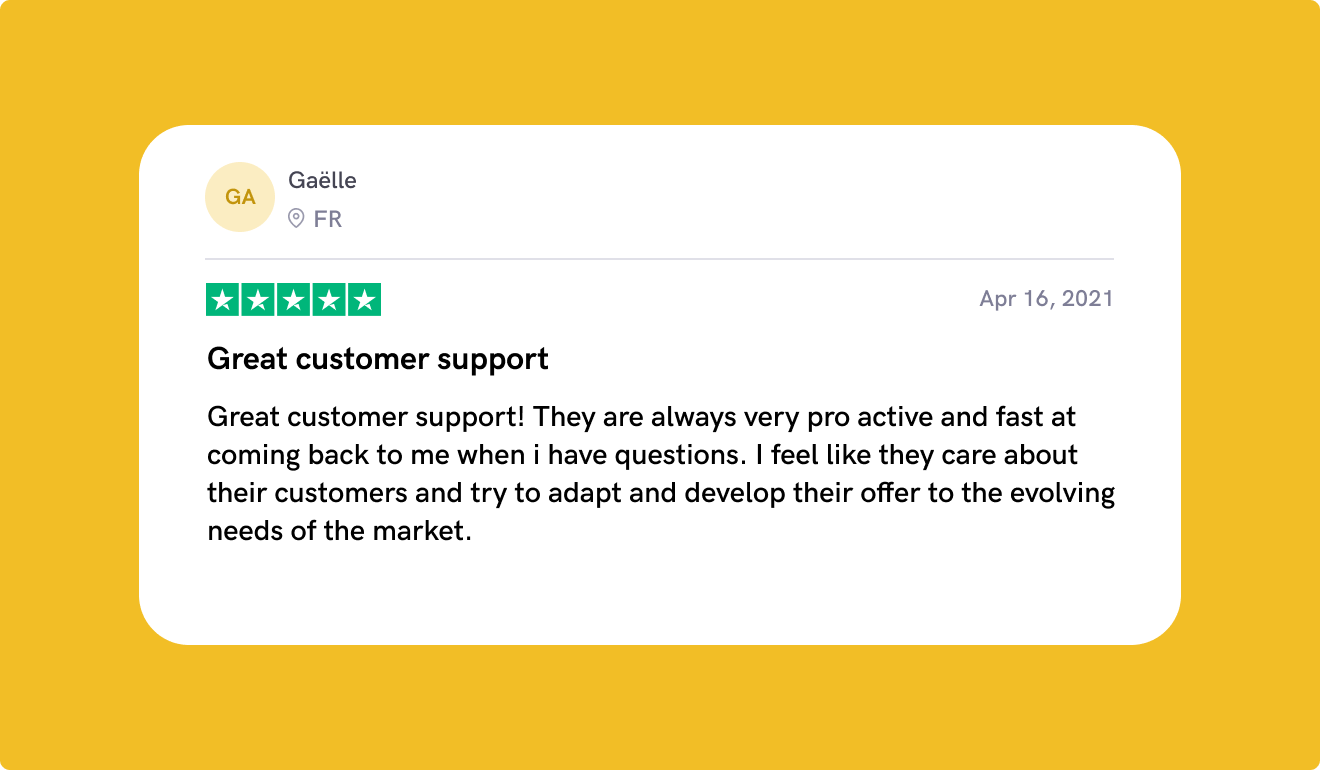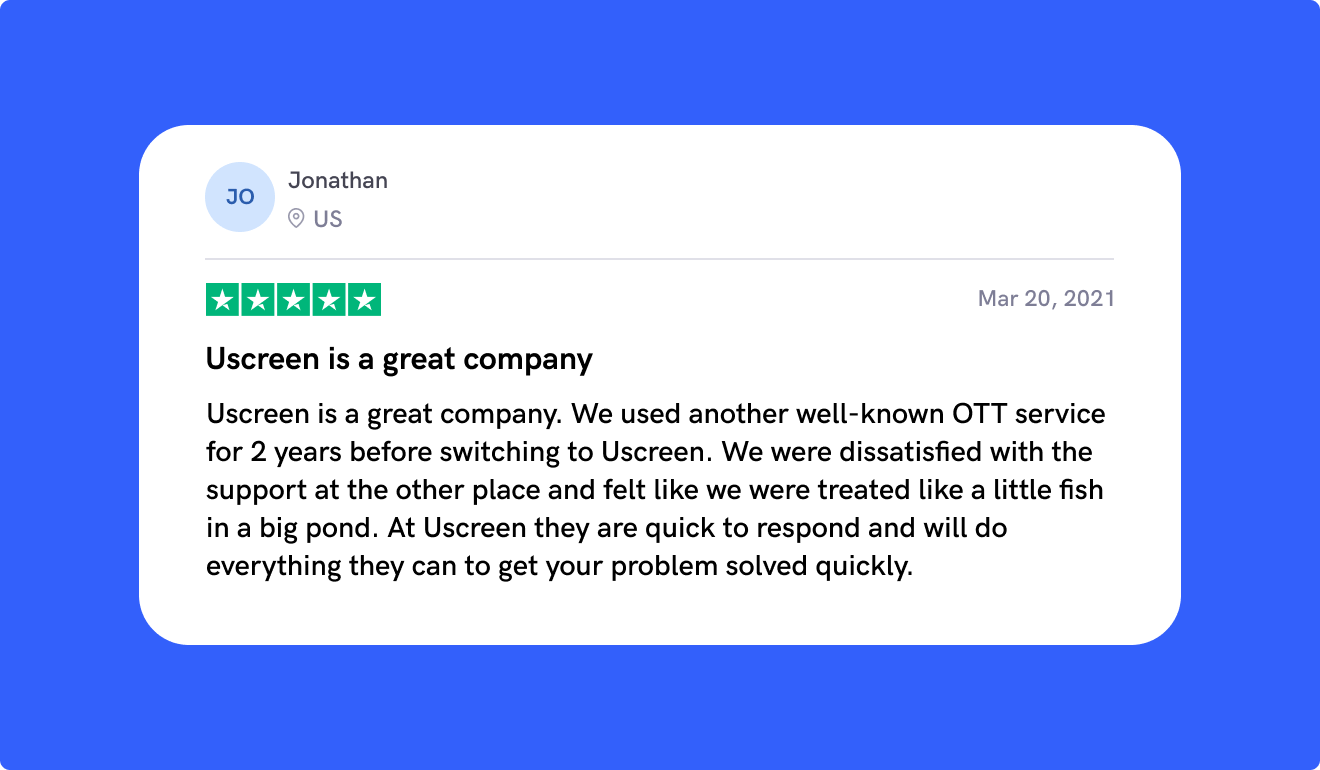 Source: TrustPilot
Get started with Uscreen now, the first two weeks are on us!