Here's the thing about being a creator: It's not just about making content, it's about running a complex business on top of it.
When you're feeling good, your business is feeling good too.
But let's be real, the wrong online course platform can quickly put that fire out.
Maybe you're working hard, drowning in a sea of Kajabi features you barely use, and looking for a change.
Or you're just starting your search and looking for the best online course software. Either way, choosing an alternative to Kajabi doesn't mean settling for less, it's finding the one that works for you.
So, are you ready to explore the top Kajabi alternatives? Let's get into it.
Top Kajabi alternative picks
| | | |
| --- | --- | --- |
| Platform | Best for | Price |
| Uscreen | Scaling online course business | $$ |
| Teachable | Independent course creation | $ |
| Thinkific | Customizable online courses | $ |
| Podia | All-in-one digital storefront | $ |
| LearnDash | WordPress websites | $$ |
| Udemy | Mass-market distribution | Revenue share |
| LearnWorlds | Interactive learning experiences | $ |
| Ruzuku | Easy course creation | $ |
| Kartra | Complete marketing platform | $$ |
| ClickFunnels | Sales funnel creation | $$ |
| Mighty Networks | Community-led courses | $ |
| SkillShare | Teaching creative skills | Royalties |
What is Kajabi and its benefits?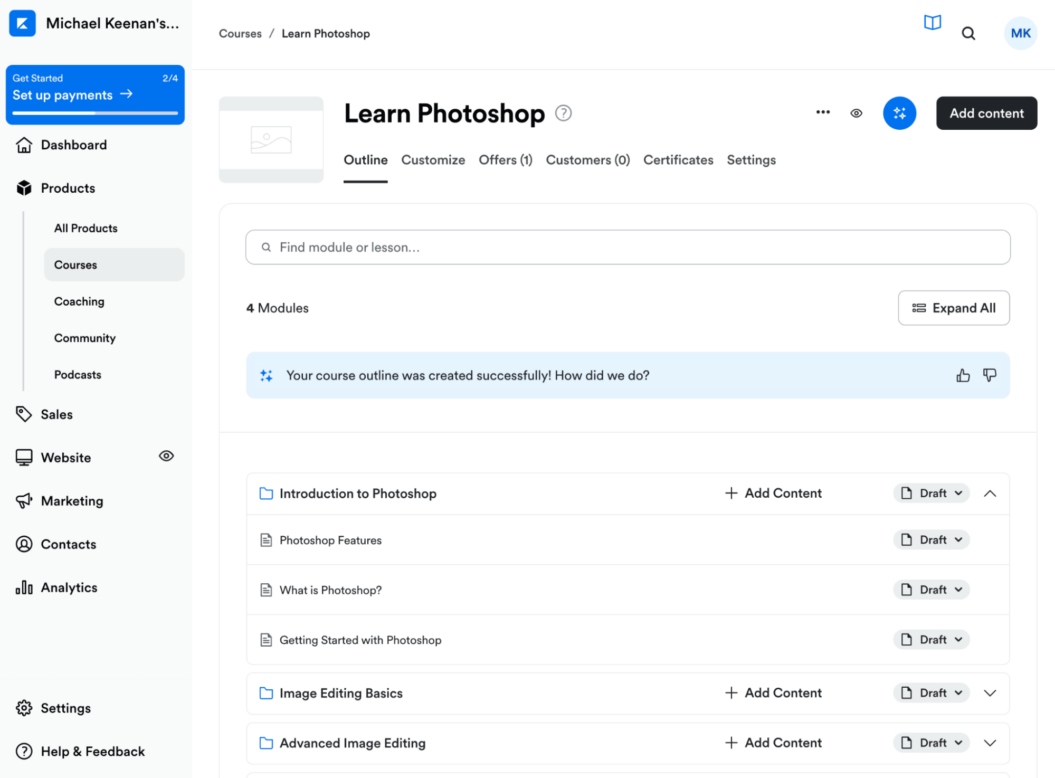 Kajabi is a popular online course builder and business suite. You can host, create, market, and sell any digital product, like coaching, courses, membership sites, and subscriptions.
With Kajabi, you own all your content. Kajabi provides access to all of their features across every plan. While Kajabi doesn't offer a video-on-demand service, it does give you a mobile app for customers to use.
Some features include:
Email marketing software
Marketing tools
Video and podcast hosting
Landing page builder
Shopping cart
Newsletters
Overall, if you want to sell digital products, Kajabi is a good choice.
Best Kajabi alternatives compared
1. Uscreen
Best for: Scaling your online course business.
Reasons to use:
Customized VOD websites.
OTT app distribution.
Extensive video monetization options.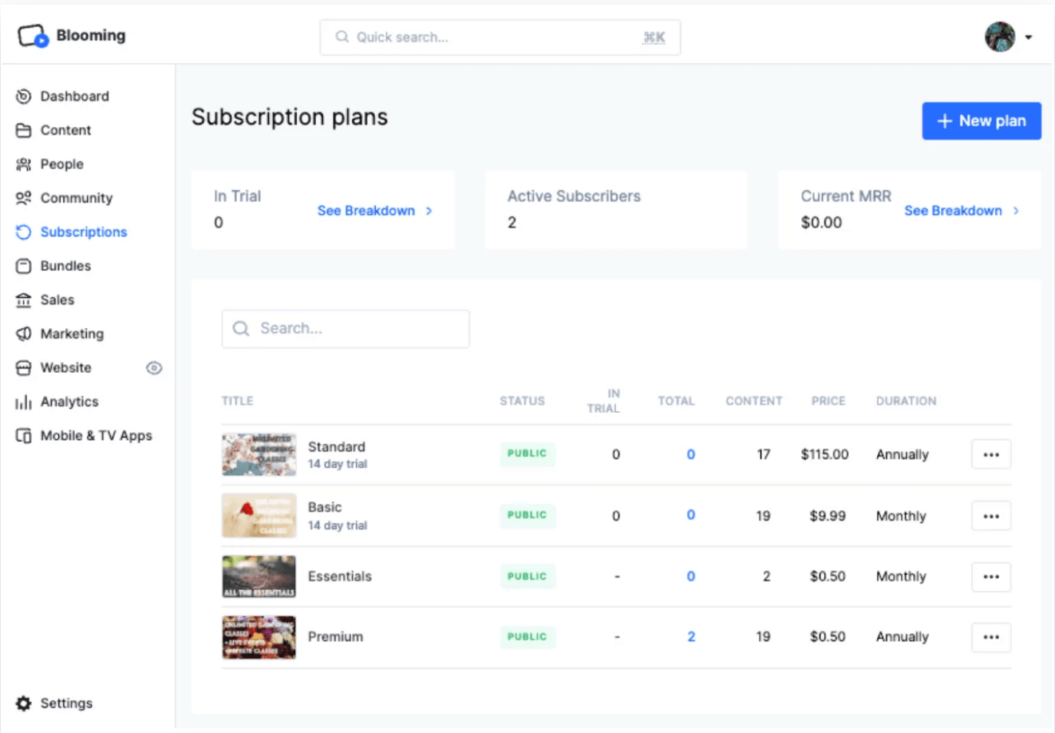 Uscreen is a great Kajabi alternative for educators wanting to create a mini media company. Think of it as building your own Masterclass. You can host video courses on your own website, and sell them individually, in bundles, or as part of a membership.
Take Fader Pro, for example. The music education brand offers hundreds of courses on production. You can buy courses one-off, like the Nicky Romero masterclass. Or, sign up for a membership and get access to a massive library of expert-led courses.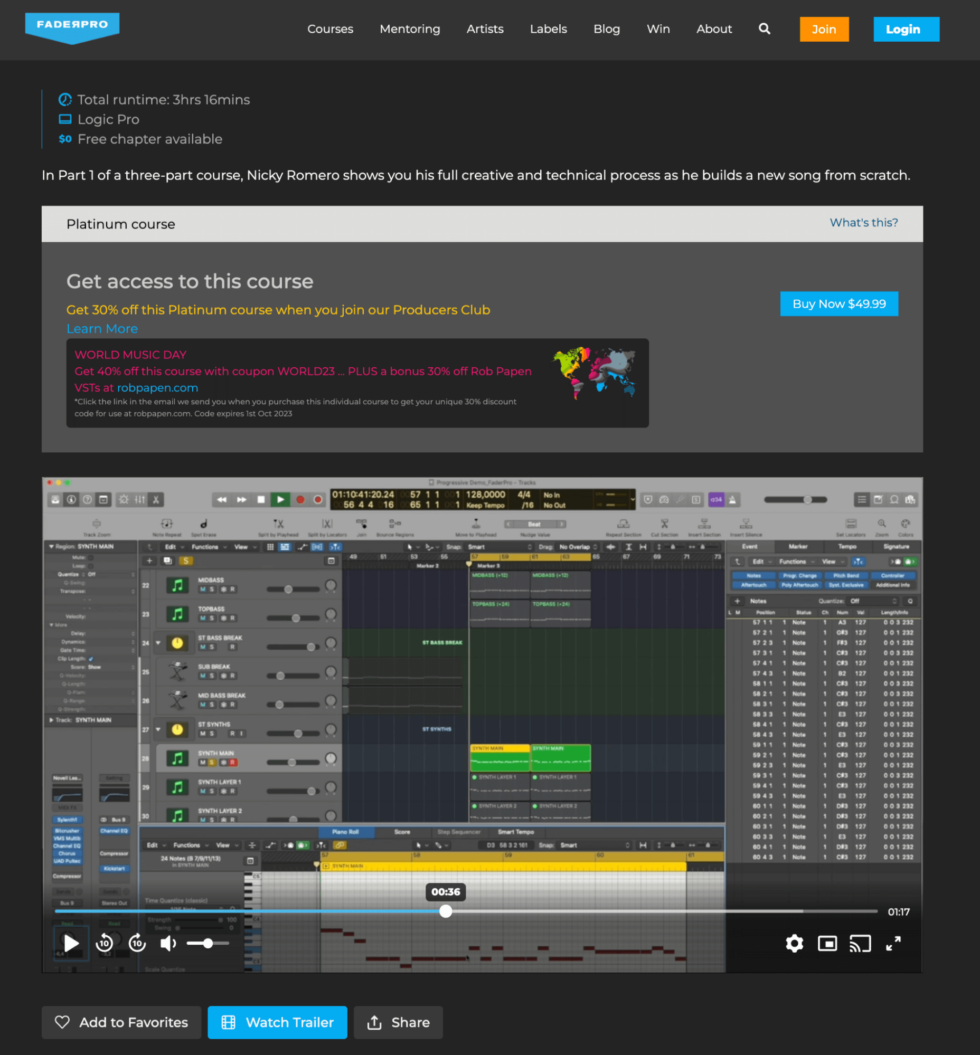 As a creator, this helps you diversify your income. You can sell standalone courses alongside a membership program to maximize revenue and cater to different learners. You don't have to choose between selling online courses or memberships anymore.
If you create video content, Uscreen is a great fit. You can stream 4K through people's TVs, laptops, tablets, or phones. You get full control over branding and course pricing. Plus, Uscreen includes a suite of marketing tools to launch and promote your own on-demand service.
Let's look at a few advanced features that make Uscreen a great fit for content creators.
Connect with members through live streaming
Most online course software doesn't have built-in ways to communicate with students. You create a course, market it, and sell it. The relationship with your student ends after they've completed the course.
Uscreen gives you the tools to connect with students and build relationships, which improves retention and revenue. One of these tools is live streaming.
Going live is a great way to connect with students and get to know them. You can set up Q&A sessions, group coaching, or even 1-to-1s with students. Uscreen lets you go live from your dashboard in minutes.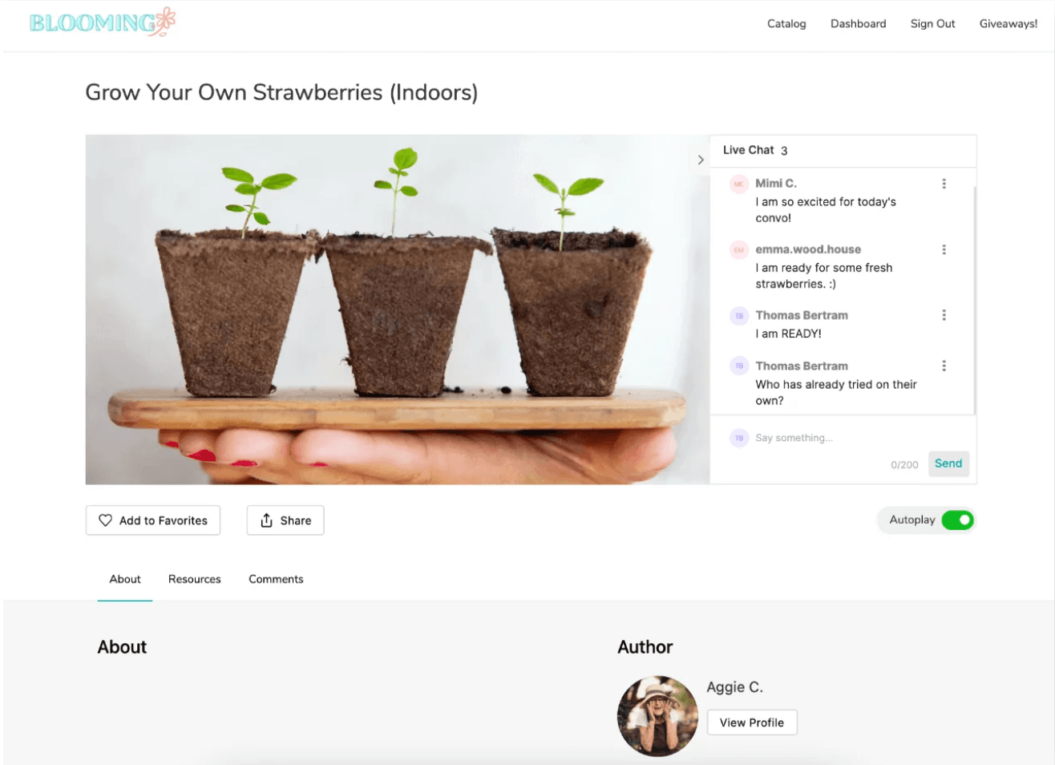 To improve the results of your streams, you can also:
Build a pre-registration page so students sign up before the event.
Message viewers in real-time through live chat.
Collect live event donations.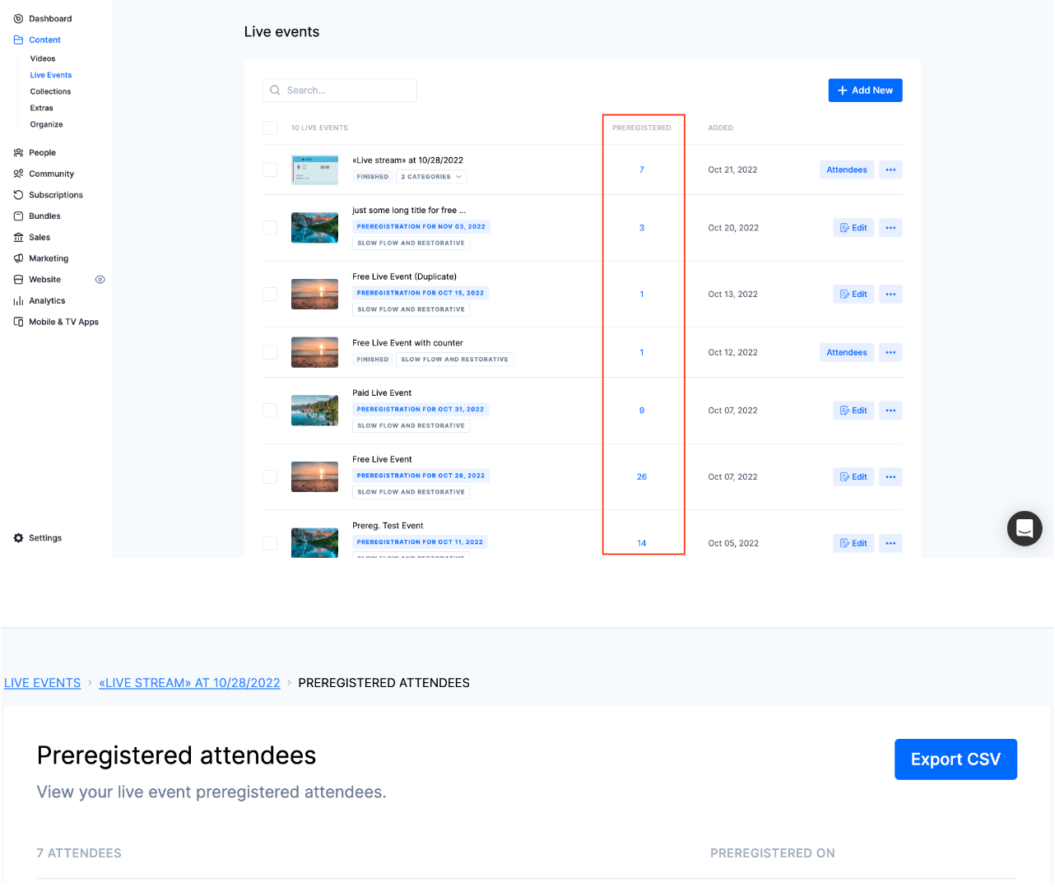 Keep your knowledge business organized
Uscreen makes it easy to upload and manage videos through the platform, while giving your audience a premium viewing experience.
You can update course content easily, so you don't have to relaunch and promote every course you create. Simply notify members so they can access the new course right away.
From your dashboard, you can control:
Video content
Website customization
Mobile & TV apps
Subscriber management
Community
Marketing features
Revenue reports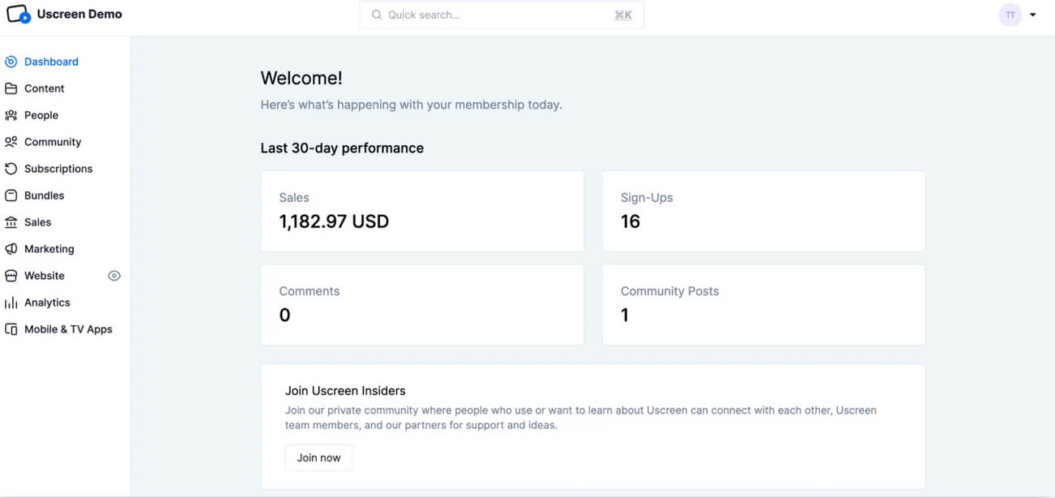 You can also create your own app and share your videos across all 7 major streaming services, like AppleTV and Roku. OTT stands for Over-The-Top, which lets you stream videos over the internet rather than cable.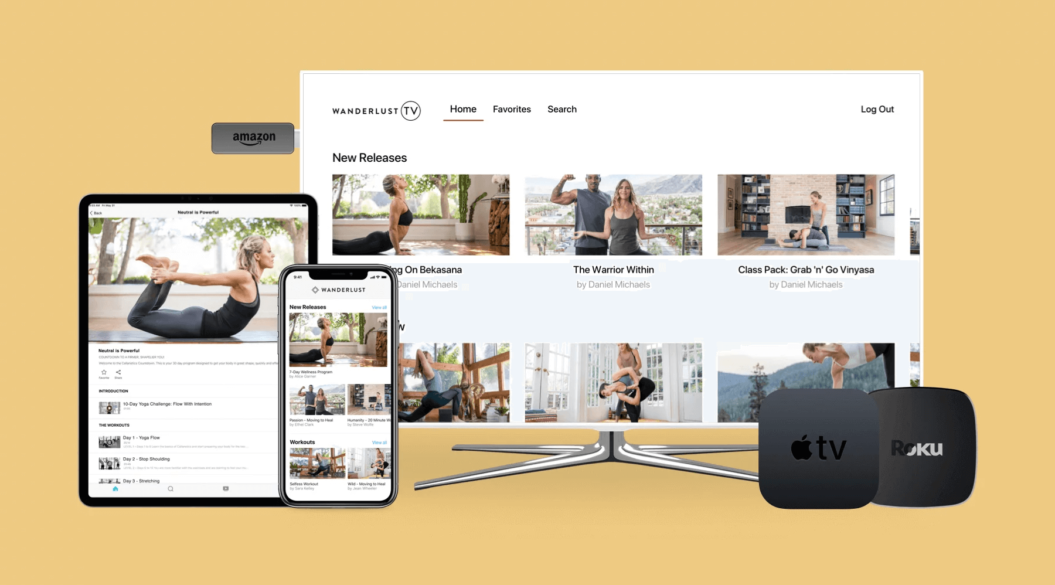 Monetize your content with ease
Just selling courses online through a platform like Kajabi is a lot of work. Launches include running ads, building complex email sequences, nurturing leads, and the lot. And in the end, you never really know how much money you'll actually make.
Uscreen lets you sell your courses from your website through various forms. The most popular is memberships, but you can also monetize content through ads, pay-per-view, and subscriptions.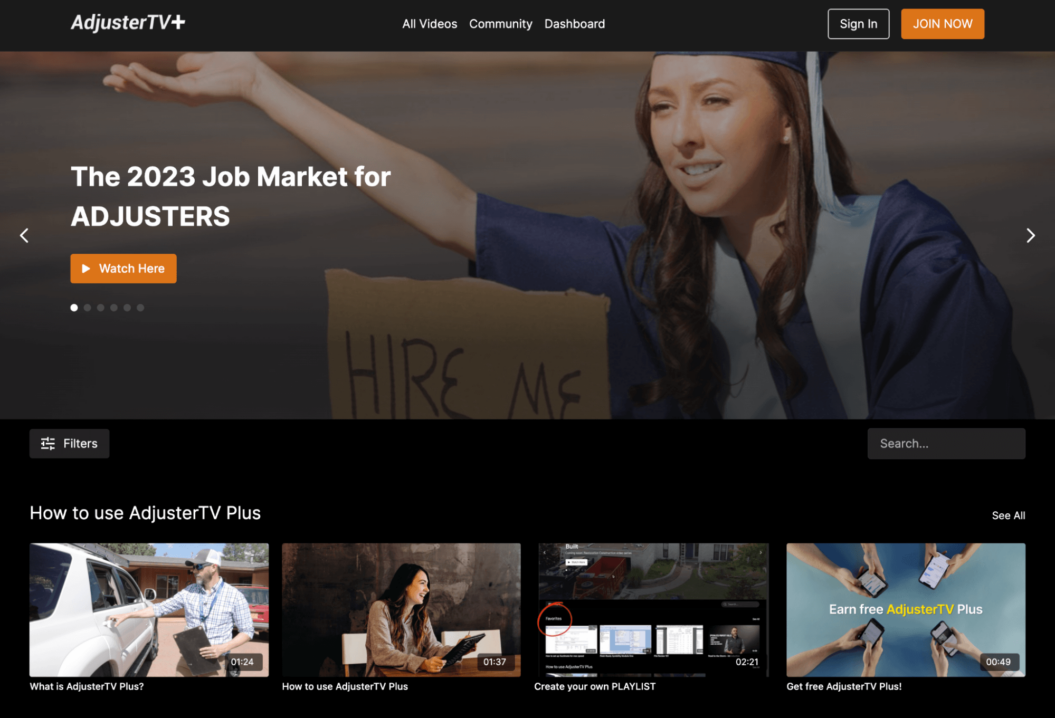 Uscreen also doesn't take a revenue share. We offer a pricing model that grows with your business.
Build an online community
Community is big business for creators. In fact, memberships with a community area see a lower churn rate than those without one. Students want a place to hang out and share their wins, thoughts, and learnings with each other.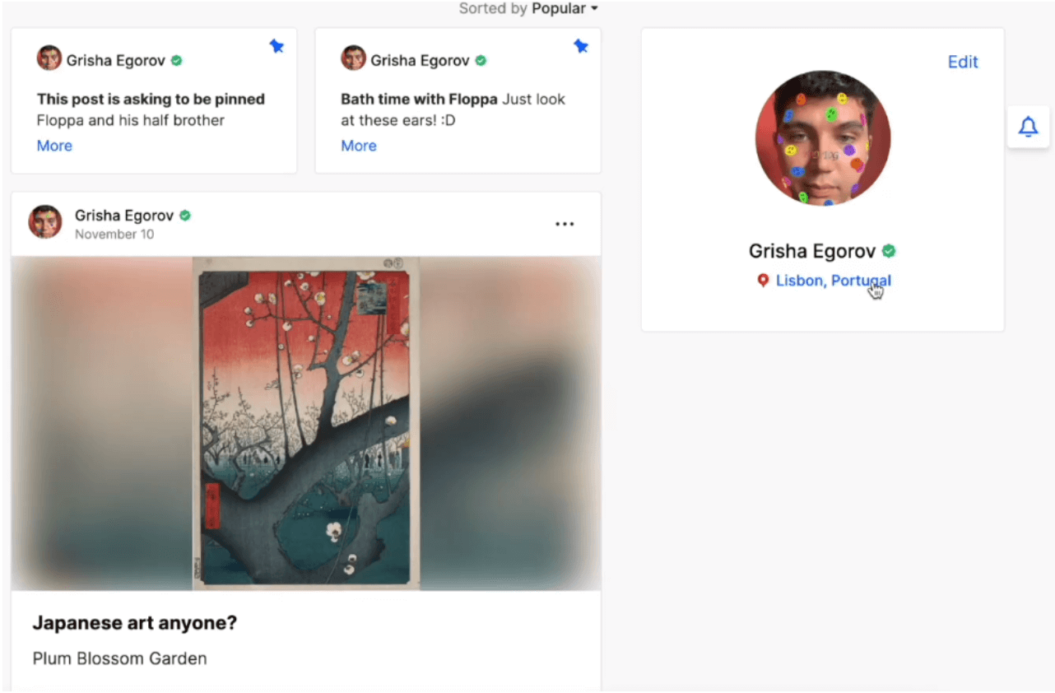 Uscreen empowers students to engage through a few key community features:
Profiles: You can create a profile with their name, picture, and location.
Following: You can follow other community members and see when they post something.
Engagement notifications: See who and how many people like your post.
As a creator, you can build a forum to discuss things with members, share life events, or inspire the group to reach their goals.
Communities like B TRIBAL FIT thrive from members posting about their fitness endeavors. The group shares valuable messages to inform and encourage others to push on.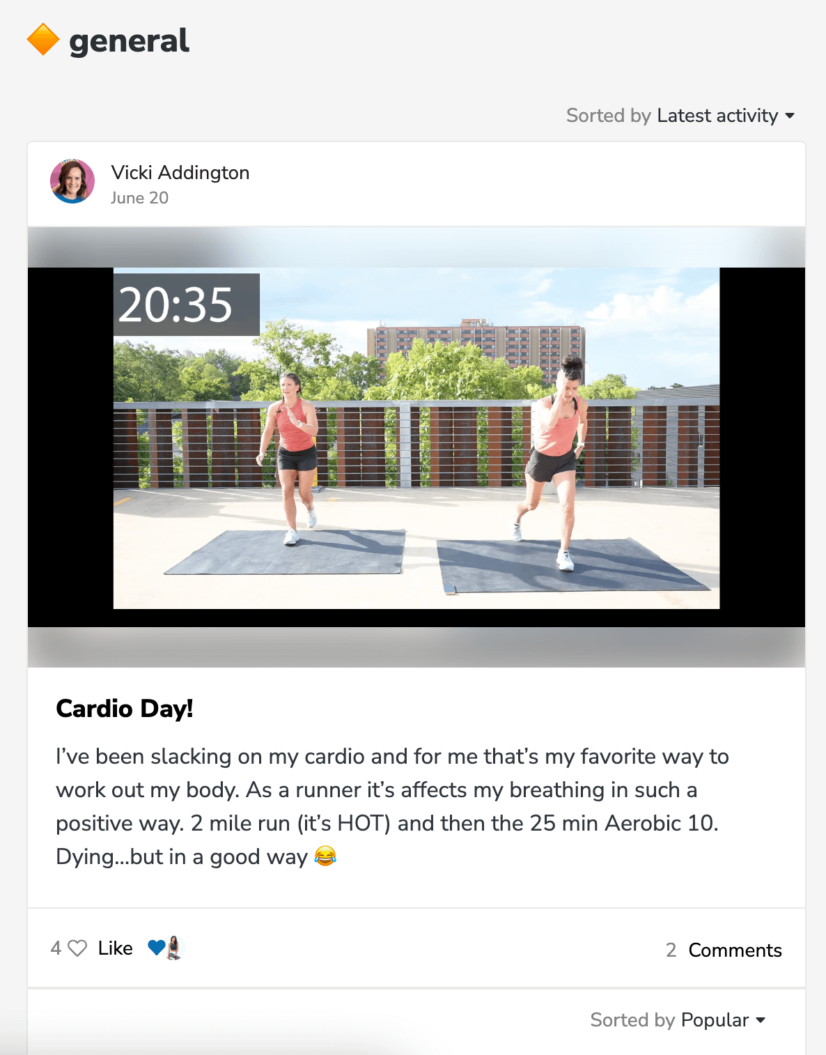 Other notable features:
Excellent customer support.
Global CDN delivery.
Customizable video player.
Popular checkout options like PayPal, Stripe, and credit card.
Integrations with Mailchimp, Hotjar, Profitwell, LinkedIn, and more
Tiered membership options.
Secure automatic content backups.
Integrated growth-focused marketing tools.
Pros:
Exceptional VOD platform.
Seamless community integration.
Comprehensive monetization options.
Custom branding capabilities.
Price: $$
2. Teachable
Best for: Independent course creation.
Reasons to use:
Easy to set up.
Beginner friendly LMS.
Student engagement tools.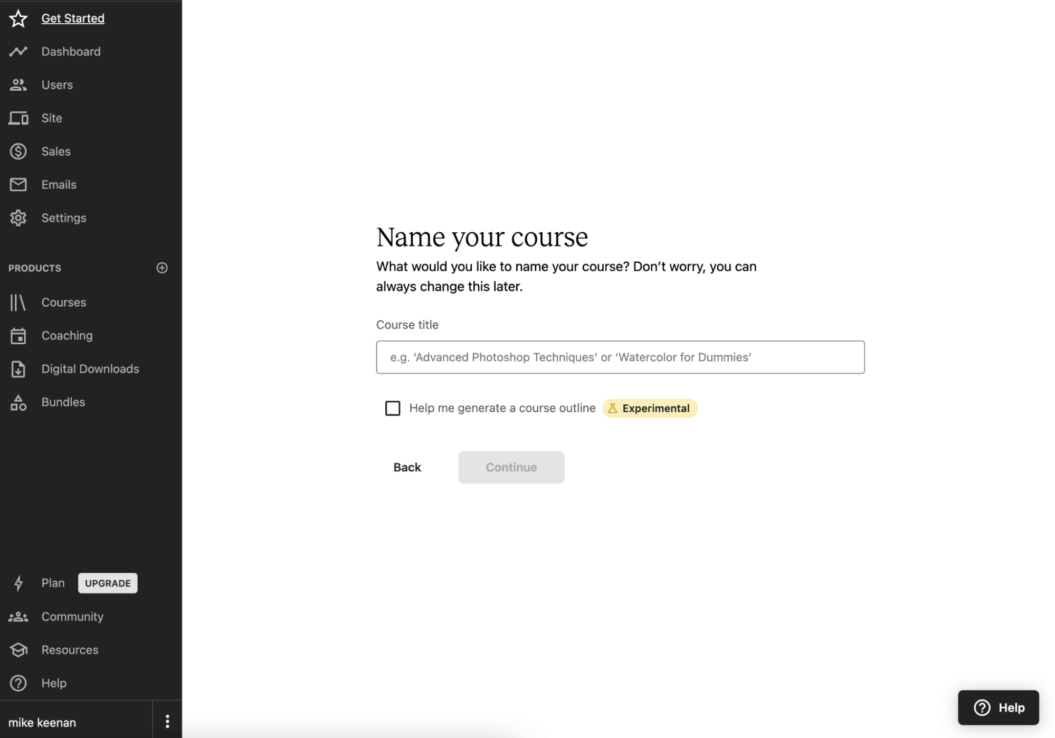 Teachable is a budget-friendly and feature-packed learning management system (LMS) often compared with Kajabi for its robust course creation and distribution capabilities.
Unlike Kajabi, Teachable places a stronger emphasis on course compliance. It allows course creators to encourage video completion, lecture order, and graded quizzes to ensure students fully engage with course material.
However, it lacks some of Kajabi's advanced marketing features, such as automation and funnels, making it less suitable for those seeking an all-in-one marketing and course creation platform.
Features:
Inbuilt course completion certificates.
Built-in note-taking and subtitles feature.
HTML/CSS embedding in lectures.
Unlimited bandwidth for video hosting.
Membership hosting with tiered access.
Bulk and cloud media file uploading.
Native payment gateways with affiliate payout handling.
Pros:
High-quality course compliance features.
Unlimited courses on paid plans.
Built-in EU/VAT handling.
In-depth student reports and video analytics.
Cons:
Transaction fee on free and basic plans.
Lack of a drag and drop builder.
No community features.
No built-in options for course player customization.
Price: $
3. Thinkific
Best for: Customizable online courses
Reasons to use:
Robust free plans.
Free training.
Excellent student engagement tools.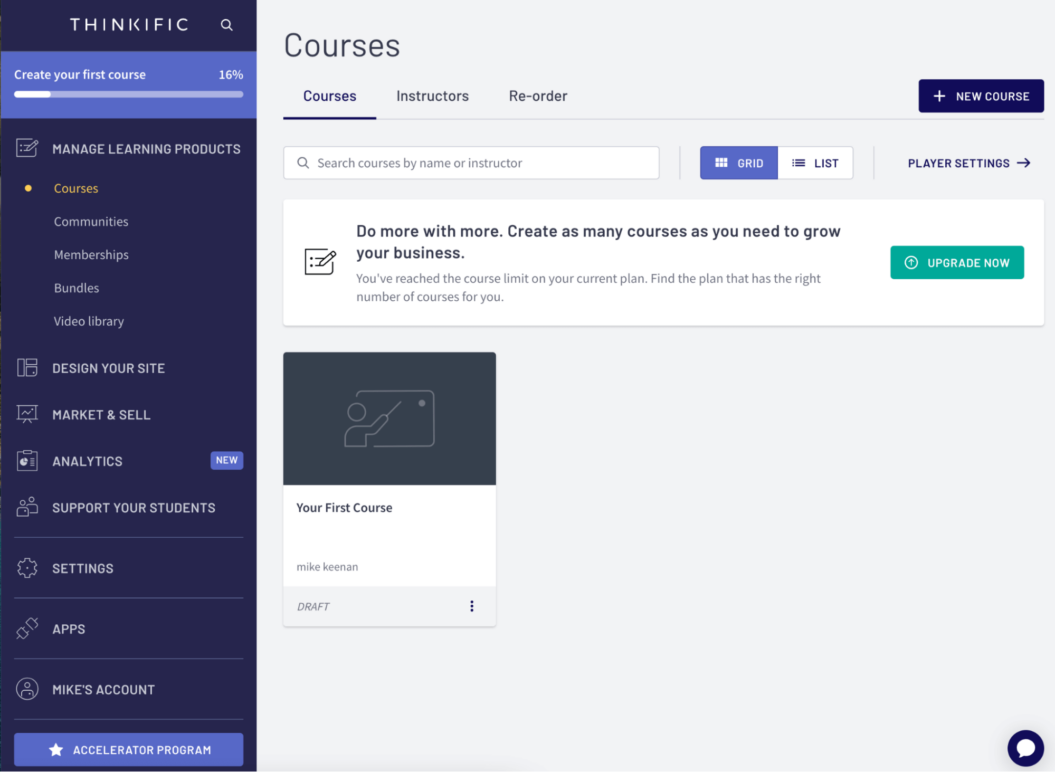 Thinkific is a top-rated online course platform and a Learning Management System (LMS) offering comprehensive tools for course creators.
It stands out in its flexibility to host various content types, like video, text, and downloadable files, all managed through a drag-and-drop interface​.
It enables custom domain branding (except for the free plan), creation of sales pages, and allows for different payment methods, like one-time and monthly payments with Stripe or PayPal​.
The platform does not have its own email marketing platform or sales funnel builder, instead offering 3rd party integrations​​.
Features:
Free plan availability​.
Customizable course design​​.
Custom domain branding​.
Intuitive drag and drop builder​.
No limit on student enrollment or courses​.
Diverse payment methods at checkout​.
Can host externally hosted content​.
Pros:
Offers a free plan for course creators​.
Exceptional customer service with phone support​.
Course Builder for customization​.
Allows different payment methods​.
Cons:
Lacks an in-built email marketing platform​.
No native sales funnel builder​.
The video lesson does not support multiple featured videos​.
Price: $
4. Podia
Best for: All-in-one digital storefront.
Reasons to use:
Native email marketing tool.
Excellent digital download support.
No transaction fees.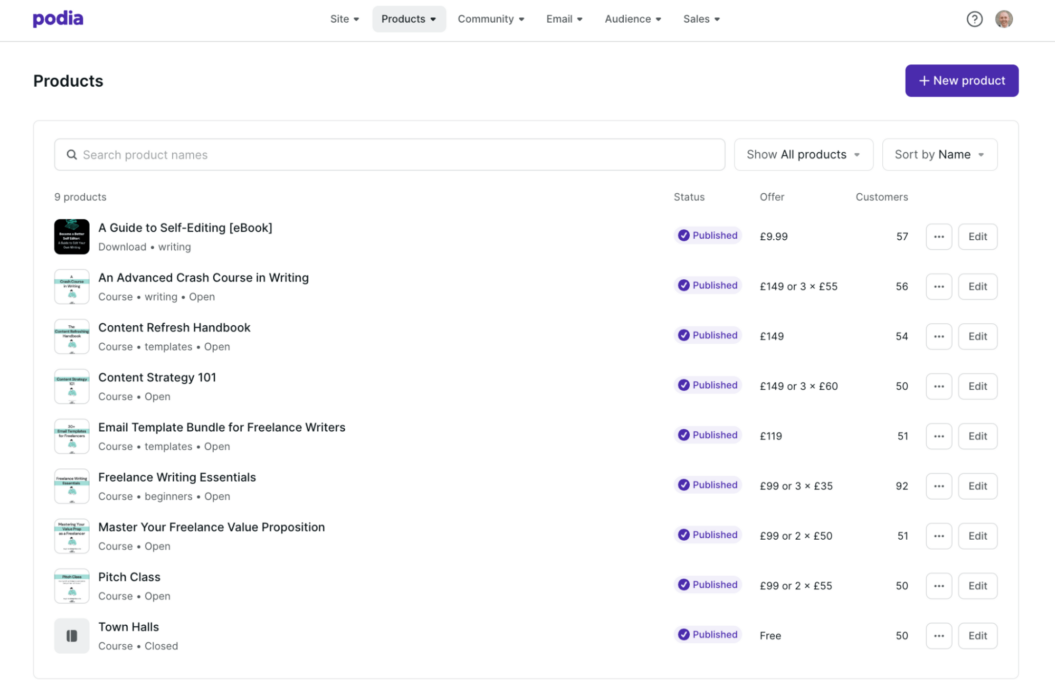 Podia is an all-in-one online course platform designed to help instructors efficiently create, market, and sell courses. You can also easily set up an affiliate program to let fans sell products for you. 
Podia has a simplified two-tiered pricing model and a one-step sign-up process, unlike Kajabi, which takes more time. The platform is ideal for selling courses, webinars, coaching programs, and digital downloads online.
Features:
One-step sign-up process​.
Free 14-day no-credit card trial​.
Two-tiered pricing model: Mover and Shaker plans​.
Easy course creation with a dedicated page for content, settings, and pricing​.
Ability to sell a variety of digital products, including courses, webinars, and bundles​.
Live demo and creator Q&A webinar for platform navigation​.
Options for email marketing, e-commerce functionality, and live chat​.
Pros:
Instant payouts through Stripe or PayPal.
Easy to navigate for creators.
Cons:
Limited membership features.
No free plan.
Lacks email personalization.
Price: $
5. LearnDash
Best for: WordPress websites.
Reasons to use:
LMS WordPress plugin.
Flexibility and customization.
Advanced quizzing features.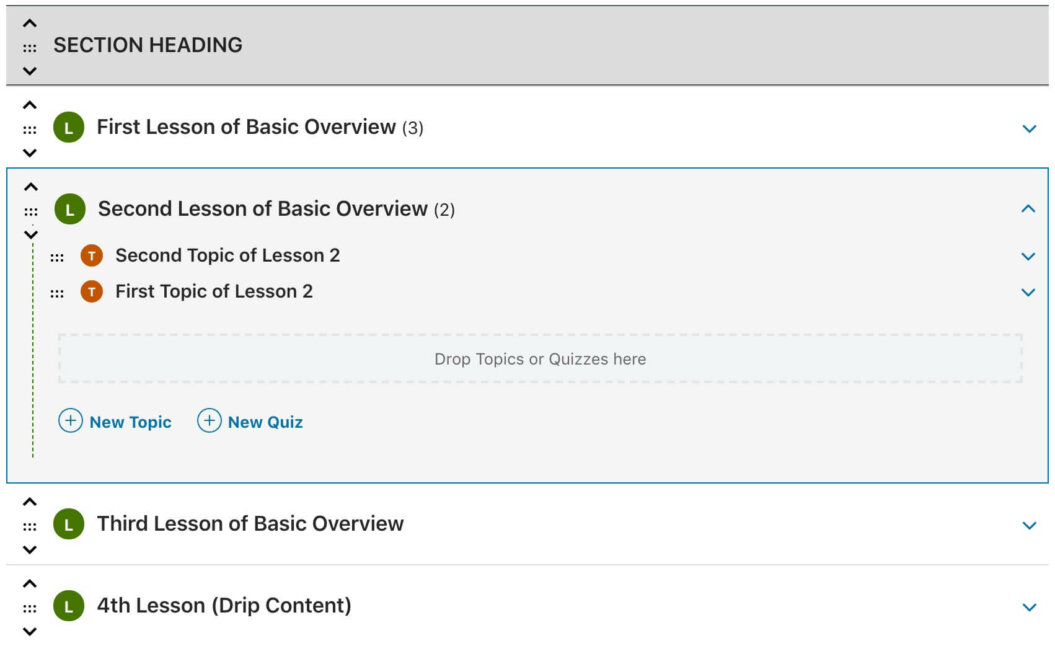 LearnDash is an open online course platform built on WordPress. You can design, manage, and market your courses with flexibility and control. You also get full development capabilities, which works if you're a coder or are tech savvy.
Unlike Kajabi, LearnDash focuses more on academic learning. It has advanced quizzing options and dynamic content delivery pathways that you can customize for different learning styles. Plus, a drag and drop builder and theme library to get up and running fast.
Features:
Drag & drop course builder.
Dynamic content delivery.
Advanced quizzing.
Automated notifications.
Marketing tools.
Reporting & management.
Third-party integrations.
Pros:
High customization options.
Diverse tools and add-ons.
Supports multiple media formats.
Cons:
May be tricky for non-techie users.
Some features require paid add-ons.
Main platform tied to WordPress.
Yearly subscription only for plugin.
Price: $$
6. Udemy
Best for: Mass-market course distribution
Reason to use:
Create a course for free.
Good for search engine visibility.
Pay nothing until you sell.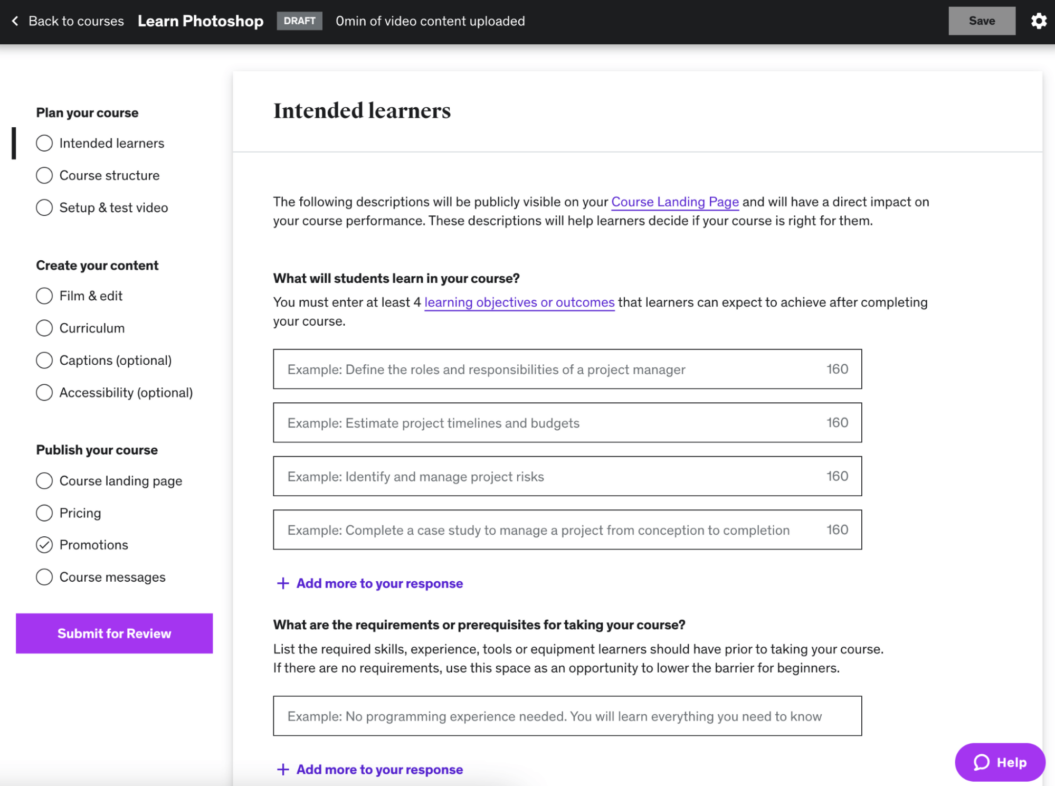 Udemy is a powerful online education platform serving as a global learning marketplace. It boasts a catalog of over 213,000 courses and a user base of more than 59 million learners​​.
Udemy is primarily a marketplace where anyone can either learn new skills or improve existing ones, compared to an online course software like Kajabi. Students come to Udemy looking for a specific course to take, and will read reviews to determine the best options.
With marketplaces like Udemy, you don't get full control over your branding. But you do get a built-in audience and potential to be featured in Udemy ads.
Features:
Reach a global audience of over 59 million learners​.
Ability to offer courses in various categories and subcategories​.
Handles payment processing and customer service​.
Offer both free and paid courses​​.
Udemy for Business allows corporate training opportunities​.
Pros:
Access to a big, global student base.
Control over course content, pricing, and updates.
Potential to be featured in Udemy marketing efforts.
Cons:
With over 200,000 courses, standing out is tough.
Udemy takes a portion of course sales.
Limited options to interact with students.
Price: Revenue share.
7. LearnWorlds
Best for: Interactive learning experiences
Reasons to use:
Good customer support.
Social learning features.
Gamification tools.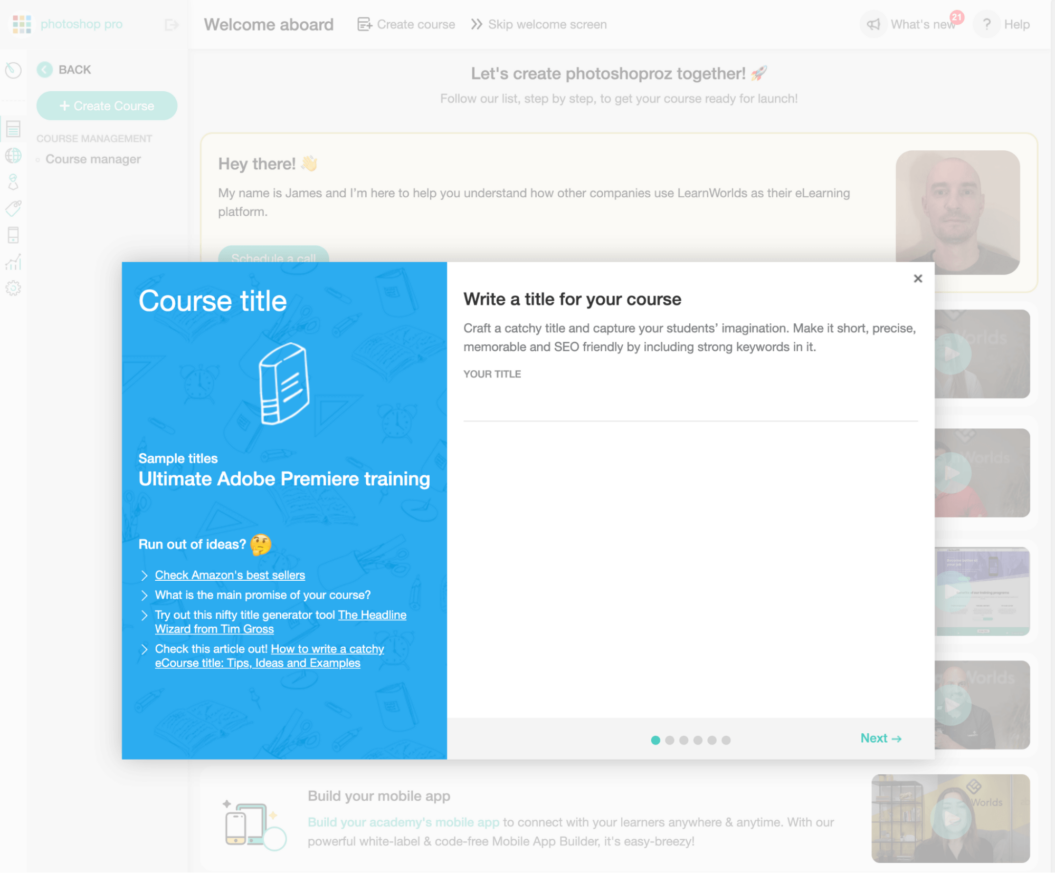 LearnWorlds lets you build, promote, and sell courses all in one place. It has a lot more interactive tools than Kajabi, like a built-in social media platform and in-class interactions. You can also build sales funnels with upsells and cross sells.
LearnWorlds is also easy to use, even for beginners. There's a template-based editor and a wizard for creating courses. Plus, you can make your own iOS and Android app to teach students anywhere at any time.
Features:
Interactive video content.
Custom user roles.
SCORM compliant.
Easy to use website builder.
Mobile app builder.
Simple student assessment tools.
Built-in marketing tools.
Pros:
Easy for beginners to use.
Supports multiple content types.
White-label options.
Cons:
Free version limitations.
A little on the expensive side.
Extra features require more costs.
Price: $
8. Ruzuku
Best for: Easy online course creation
Reasons to use:
Simple, straightforward platform
In-depth student interactions
Good pricing options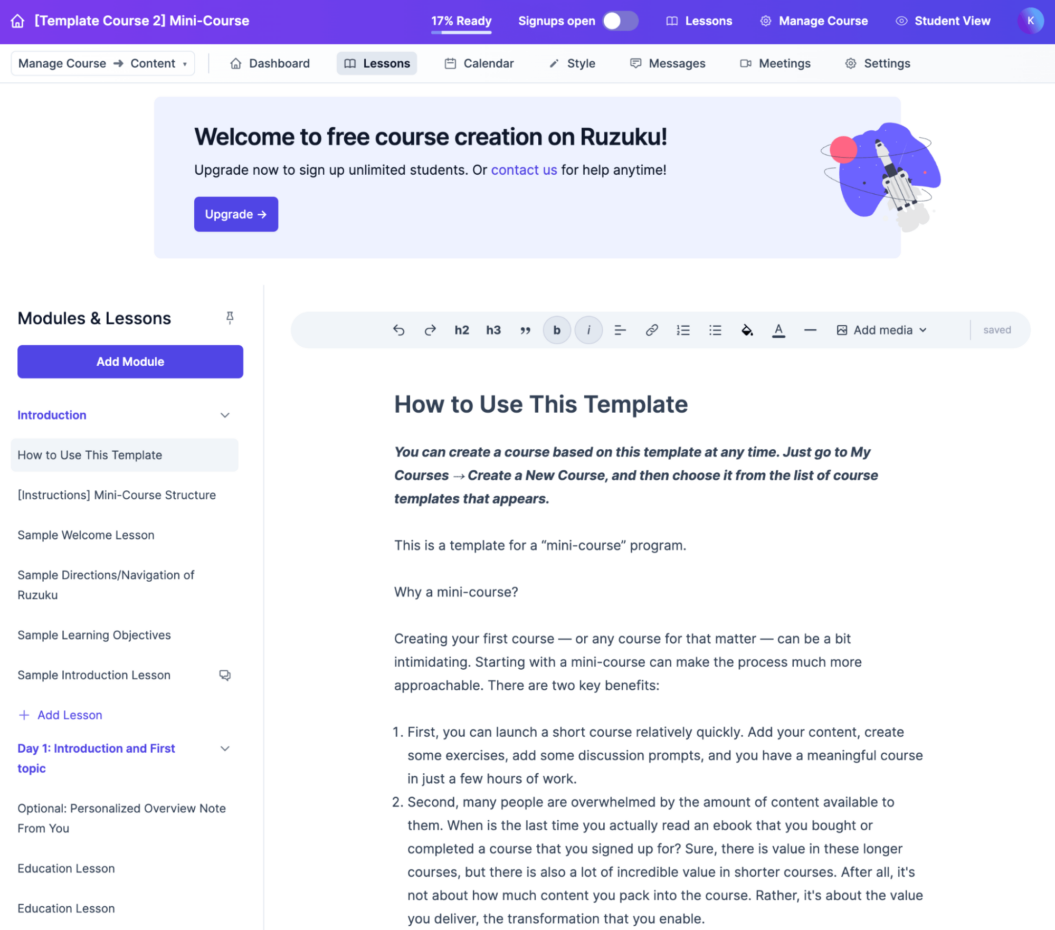 Ruzuku's Learning Management System (LMS) allows creators to build and manage online courses with ease.
This platform is different from Kajabi because it focuses on user-friendliness, with a setup process that takes under two hours. A great choice for beginners and those who don't want to customize much.
It's easy to navigate and manage your courses with Ruzuku's minimalistic design, which may appeal to people who find Kajabi's extensive features overwhelming. However, Ruzuku may feel limited in terms of customization and design options.
Features:
Quick setup.
Ease of use.
Course builder.
Message scheduling.
Student discussions.
Webinar hosting.
Pros:
User-friendly interface.
Ability to host webinars.
No transaction fees.
Cons:
Limited design customization.
Some features require paid add-ons.
Limited marketing options.
Price: $
9. Kartra
Best for: Complete marketing platform.
Reasons to use:
General approach for B2B audience.
Built-in CRM to track leads
Affiliate marketing tools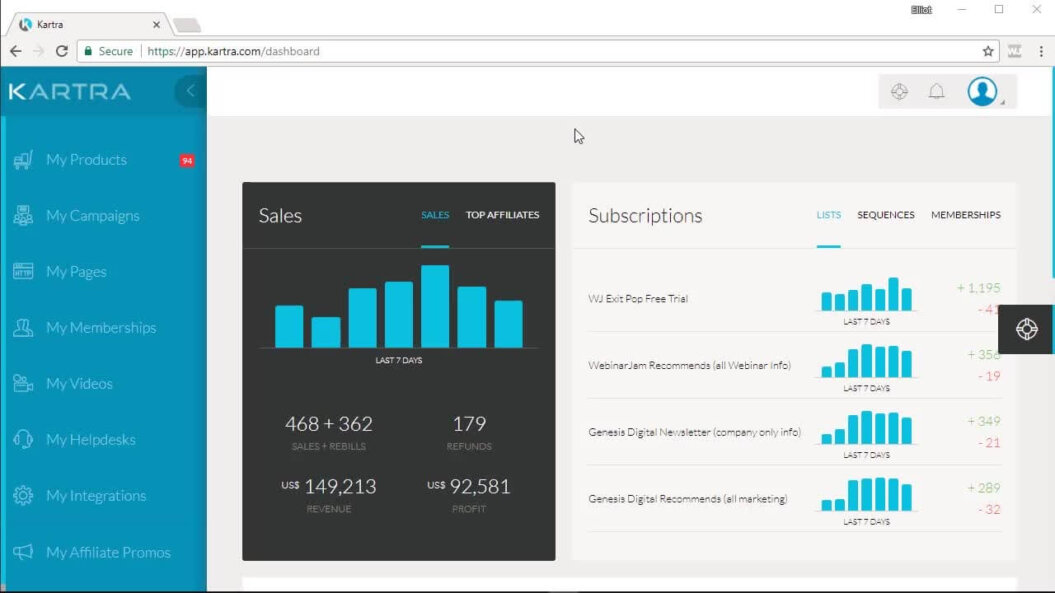 Kartra is geared towards B2B course creators. It's an all-in-one marketing platform, designed to streamline and automate your online business operations.
For content delivery, you can drip feed lessons over time and restrict access to specific content. If you want to spice up lessons a bit, you can add quizzes and gamified elements.
With Kartra, you can create sales funnels, implement behavioral marketing, and send advanced email marketing campaigns. It essentially replaces multiple standalone tools and works seamlessly It covers every aspect of marketing and growing your online course business, not just funnels.
Features:
Dynamic content adaptation.
Ready-to-use funnel templates.
Built-in automation.
Advanced email sequence builder.
Behavioral-based email automation.
Secure hosting for online courses.
Split-testing capabilities.
Pros:
Replaces multiple other business tools, saving cost and time.
Complex features are easy to navigate and utilize.
Quick and helpful customer service.
Cons:
Not ideal for ecommerce.
Not ideal for beginners.
Price: $$
10. ClickFunnels
Best for: Sales funnel creation.
Reasons to use:
Simplified sales funnel builder.
Integrated marketing tools.
A/B testing capability.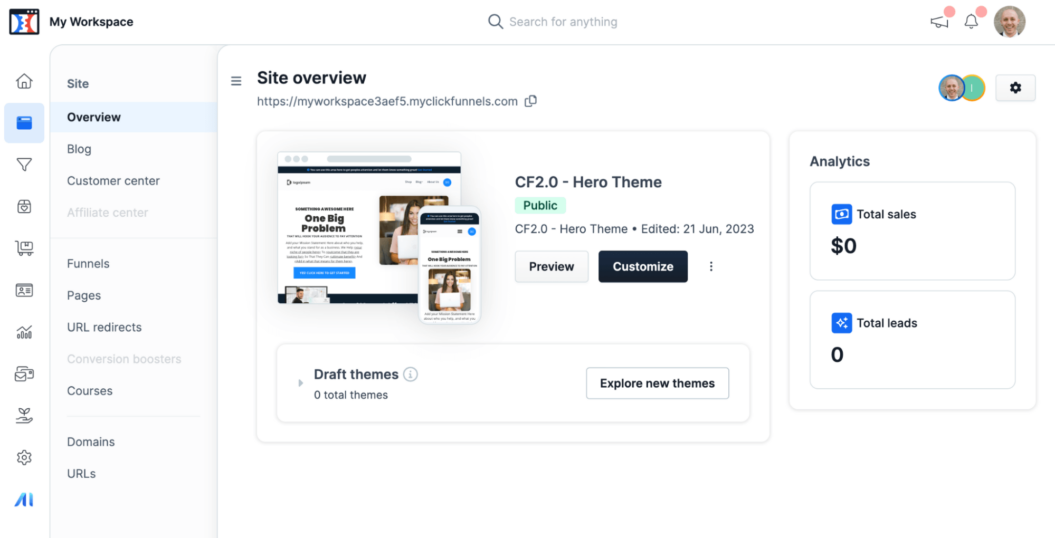 ClickFunnels is a digital marketing suite focused heavily on building funnels. It stands out as the most straightforward platform to create effective sales funnels. Plus, you can build membership sites, online courses, blogs, and more.
ClickFunnels also helps entrepreneurs attract targeted leads and turn them into customers. Emails, websites, workflows — everything is included with ClickFunnels. It offers automations that manage your sales funnel 24/7, while you're working on other parts of your business.
You won't use ClickFunnels to create an incredible member experience, or build connections with people. It's more for selling various types of digital products online efficiently.
Features:
Visual drag-and-drop editor for desktop & mobile screens​​.
Easy setup for lead generation funnels​​.
Allows A/B testing to improve conversion rates​.
Creation of membership sites with a good user experience​​.
Offers a 14-day free trial​​.
Integration with other popular software like Shopify​​.
Secure shopping cart pages​.
Pros:
All-in-one marketing suite, saving time and effort​.
Powerful software with a proven track record for leads and sales​​.
Easiest platform to create comprehensive sales funnels​.
Continuously improving support via chat and email​​.
Cons:
Higher price tag, potentially prohibitive for some users​.
Uploading contacts feature is basic.
No community element.
Price: $$
11. Mighty Networks
Best for: Community-led courses.
Reasons to use:
Easy to admin
Community based platform
Robust analytics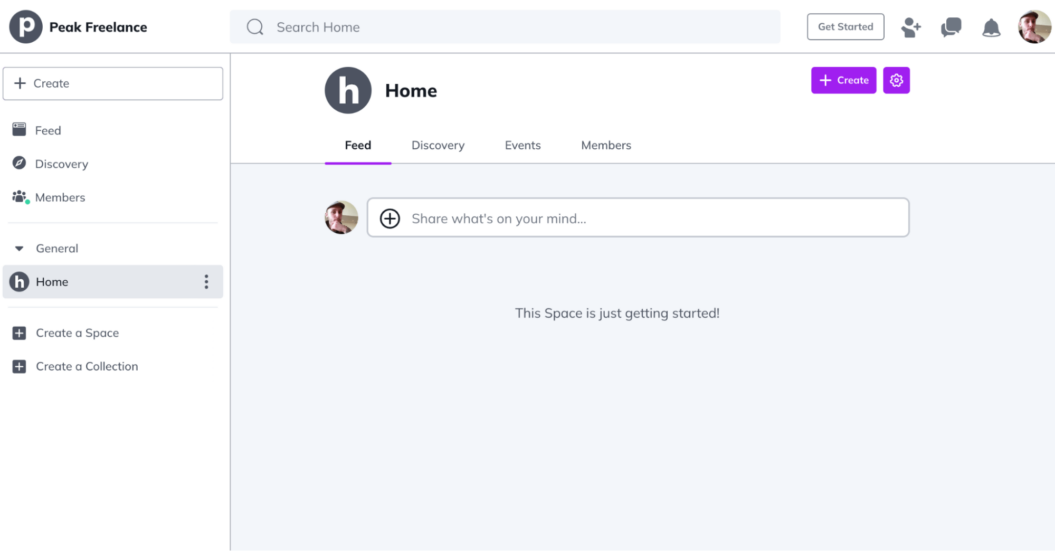 Mighty Networks lets you build online communities, deliver courses, and build branded websites and apps. Mighty Networks also lets you host and manage online events, such as Q&A's and 1-to-1s.
In contrast to Kajabi, Mighty Networks focuses on community building and interaction. It offers tools to create spaces where members can learn, share, and grow.
This makes it a comprehension membership platform, unlike Kajabi, which focuses on creating and delivering online courses.
Features:
Unlimited members, spaces, hosts, and moderators​.
Native live streaming with audience interaction​.
Powerful paid membership options with multi-currency support​.
Seamless Zoom integration for online and recurring events​.
Comprehensive content creation and sharing tools​.
Branded app for Pro users with custom notifications​.
Advanced marketing automation with Zapier API integration​.
Pros:
Multiple features combined in one platform.
Allows intentionality when engaging with members.
Offers excellent pricing for its feature
Cons:
Fewer third-party integrations.
Relies on creators bringing their own community.
Platform can seem complicated for new users.
Price: $
12. SkillShare
Best for: Teaching creative skills.
Reasons to use:
Can sell a wide variety of courses.
Marketplace distribution.
Paid based on number of minutes watched.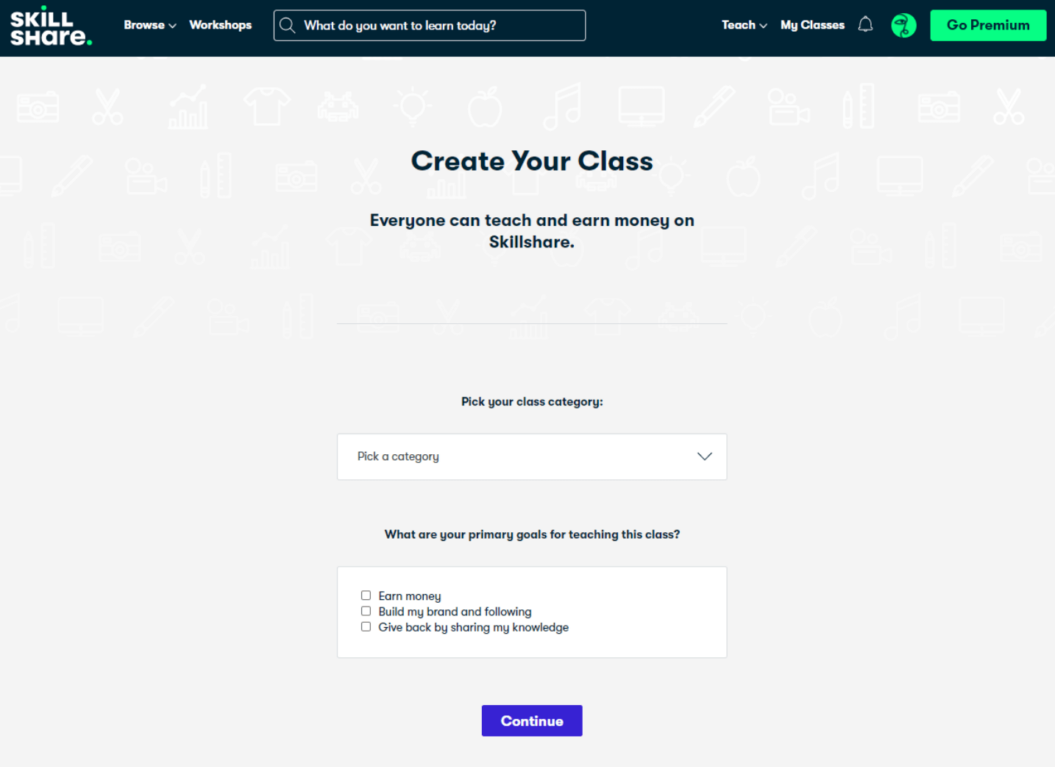 SkillShare is a vibrant online elearning community that focuses on creative exploration and learning. It has thousands of courses spanning topics like illustration, design, photography, video, freelancing, and more.
Compared to Kajabi, Skillshare tends to focus on teaching creative skills. It's also a marketplace, so once you publish a course, it ends up in a catalog with hundreds of other courses.
This has some benefits, since you can tap into a huge student base (12 million, to be exact). With Kajabi, you're in charge of finding students and promoting your course.
Features:
An expansive student base​​.
Mobile-friendly course delivery​​.
Flexibility in course length and format​​.
Opportunity to run month-long workshops​​.
Team plans facilitating group learning​​.
Access to a teacher handbook for guidance​​.
An online portal to address queries.
Pros:
Wide reach through a large catalog​.
Ease of course delivery through apps​.
Flexibility in course creation​​.
Potential for deeper student engagement via workshops.
Cons:
Limited direct support options​.
Sales approach might feel pushy​.
Short free trial period could limit student sign-ups​.
Price: Royalties.
Finding the best alternative to Kajabi for you
For the everyday knowledge entrepreneur, Kajabi is a solid choice. You can host, create, market, and sell any type of digital product, from courses to coaching programs and paid subscriptions.
If you have a ton of amazing video content, and are in a niche like fitness, it makes sense to use a video membership platform like Uscreen. That way, you can give viewers a rich, seamless 4K streaming experience anywhere, anytime.
Want to start a video membership and earn sustainable income? Try Uscreen today.
Kajabi alternatives FAQ
Who is Kajabi's competitor?
There are several competitors to Kajabi, including Uscreen, Teachable, Thinkific, LearnDash, and Podia. Various pros and pricing structures make these platforms more or less suitable depending on your needs.
Is there a free version of Kajabi?
Kajabi doesn't have a free version. You can try it out for free, but you have to subscribe to keep using it after the trial.
Is Podia or Kajabi better?
Kajabi is known for its robust marketing tools and AI-driven course creation features, but it can be pricey. For beginners or those with smaller budgets, Podia is typically simpler and more affordable.
Which company is Kajabi partnered with?
Kajabi has not publicly announced a partnership with any specific company. However, it integrates with Zapier, MailChimp, ClickFunnels, and other providers to automate your business and be more productive.