Every entrepreneur faces a choice when they go to sell exclusive content. You can choose one of 2 routes:
Create an online course and collect a one-time fee for every sale.
Build a membership site and earn recurring revenue.
Both involve your audience paying for access to exclusive content.
Are they different? Yes.
Is one better than the other? You'll have to decide what works best for you.
As the co-owner of a membership community and two standalone online courses, I've had to weigh the pros and cons many times when deciding how to sell content online.
In this article, you'll learn how to evaluate your options and why the membership model is best for serious creators.
Online course vs. membership site business
Revenue models, the community aspect, and the resources required to build an educational resource differ depending on the model you use.
Let's look at the standout differences between online courses and memberships.
| | | |
| --- | --- | --- |
| | Membership | Online course |
| Revenue model | Recurring membership fees | One time payment |
| Goal | Brand building | Audience monetization |
| Time frame | No endpoint | Set period of time |
| Benefit | Predictable revenue | Set it and forget it |
| Community | Yes | Not always |
| Time and effort | Active | Passive |
Community vs. no community
The biggest difference between memberships and online courses is the community element.
The purpose of membership sites is to build community and connect members. This happens through interactive experiences like:
Discussion boards
Live chats
Private messaging
1:1 video calls
Group meet ups
Recent studies show that belonging to a supportive, caring community helps people's mental and physical health. It's also a good way to network and learn from peers.
In contrast, online courses lack community. They are one-way learning platforms. You provide the learning materials and the student completes the course within a certain amount of time.
It's simple with Uscreen.
Build, launch and manage your membership, all in one place.
Recurring income vs. one-time payment
Deciding between one-time or recurring payments can also make a big difference. Courses typically sell for a one-time fee, giving people lifetime or long-term access to content.
With a membership, however, customers pay a monthly or yearly fee for various digital products. This subscription revenue model provides consistent, predictable cash flow.
Creating a membership site that provides value to members is a great way to diversify your income, too.
Here are just a few ways you can generate revenue with a membership site:
Recurring membership dues.
Revenue from special events.
Revenue from premium content or access.
Selling digital products (ex: templates, checklists, PDF downloads, website themes, tools, etc.)
Sponsorships and affiliate partners.
Membership Geeks' annual membership report backs this up. It found 72% of membership owners said the education model increased their revenue—the biggest advantage of all, beating greater enjoyment in their work and location independence.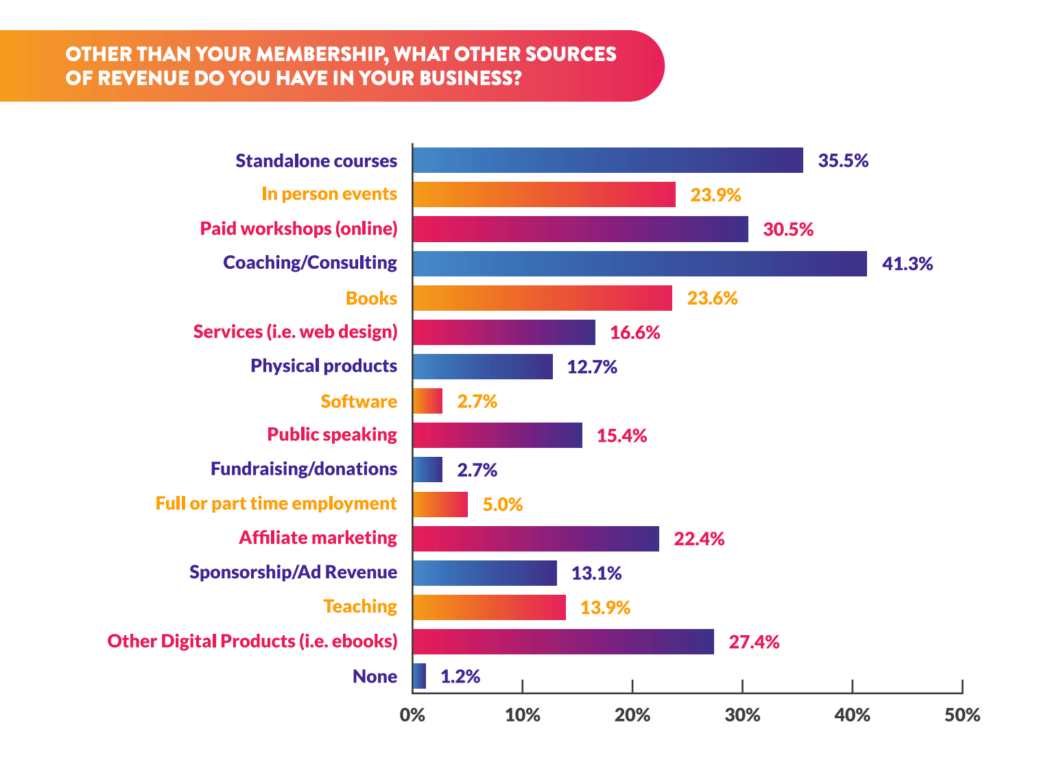 Regular vs. one-time content production
When toying between the two business models, consider how much time (and effort) you can realistically put into content production.
Audience expectations vastly differ between the two. If someone's paying a set amount each month, they expect a constant stream of content to go alongside it.
With Naturally Sassy, an online workout studio, members get new content and offers regularly.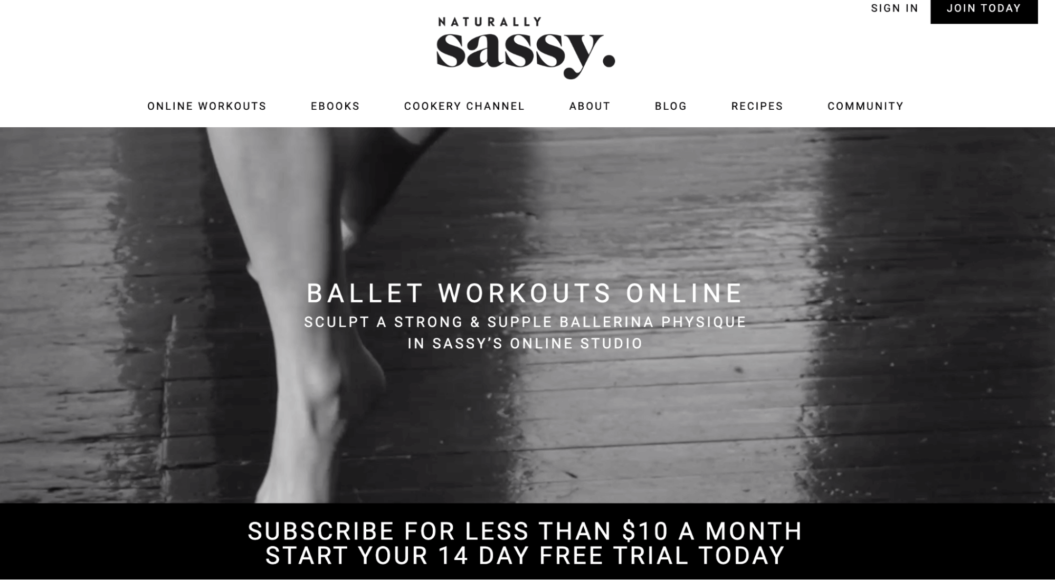 This includes:
New workouts each month
Diet guidelines
Monthly workout programs
Skill videos
With courses, the student knows they are paying for one product. They don't expect ongoing attention or support after completing the modules.
High effort vs. low effort
If you're using the open/close method for your new course, you can easily plan resources to run up to open enrollment.
Creative Class, for example, is an online course only open for enrollment 4 weeks of the year.
In the month leading up to it, we spend the most time preparing, marketing the course, and answering customer support emails. Barely any time is spent working on the course throughout the rest of the year.
With Peak Freelance's membership model, however, our audience expects regular content. We're active in the community daily, showing up for the people who've bought a monthly subscription. Customer support tickets also trickle in throughout the month.
Membership site and app overview
A membership site is a website (or app) that provides access to exclusive content for a monthly or annual fee. Members get extra perks like a private forum, a members-only blog, discounts and deals, and early access to new products or services.
Membership websites include:
Ongoing content releases.
Access to content for ongoing payment.
Access to an active and supportive community.
People are constantly looking for the next best thing in today's fast-paced society. A membership site gives your customer base access to the most up-to-date versions of your products, and they don't have to wait.
For example, THEWKOUT is a membership program that offers members on-demand workouts anywhere, anytime.
For as little as £11 per month, a new member gets access to over 4,000 fitness and strength training exercises, diet and nutrition tips, and a community of like-minded enthusiasts in minutes.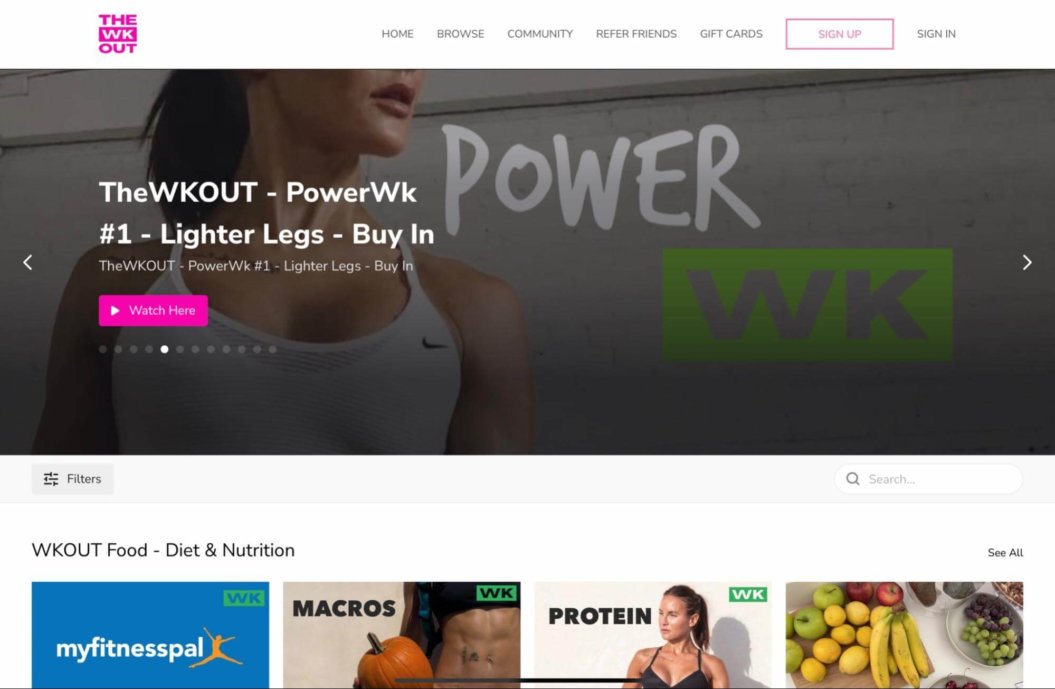 Memberships are often open year round. People can join anytime and use the content at their own pace.
Memberships are also sold at a lower price point. However, a subscription business model gives you the confidence to scale because you earn consistent cash flow on an ongoing basis.
Pros:
Memberships provide a comprehensive learning platform that covers multiple topics.
They offer different ways for people to learn, such as courses, podcasts, ebooks, coaching, etc.
Memberships offer creators predictable revenue by charging a recurring subscription fee, whether it's monthly or annua membership plans.
You can test new ideas on an audience that trusts you.
Plenty of tech available to create a membership site and run it profitably.
Cons:
You have to manage churn, which measures the number of people who cancel their membership.
Memberships involve active commitment—it's not a "set it and forget it" type of online business.
Online course overview
An online course is a one-time program with a defined structure and covers a specific topic. Courses teach students a new skill or help them earn a certification. For example, you might take a productivity course if you want to become more efficient with your time.
People pay a one-time fee for lifetime access to the course content, which they can work through the modules at their own pace. Students can self-test themselves with quizzes and track progress through the course's learning management system (LMS).
Online courses often come in two forms:
Open/close. These courses have limited joining periods. For example, Creative Class opens for enrollment twice a year. People who are interested in the course join a waitlist and get a sweet launch discount when the class re-opens again.
Evergreen. These courses are open all the time. You launch it once, and people can sign up and take it at their convenience.
Pros:
Courses offer a clearly defined outcome that people pay for.
It's easier to create a one-off course than manage a membership alone.
Since people pay for courses through one-time fees or payment plans, they provide upfront cash flow.
Courses offer passive income when using automation to acquire new students.
You don't have to worry about retention because students pay recurring fees.
Cons:
It takes a lot of upfront work to create a course.
It's harder to sell a profitable course than manage a membership.
A bad launch can set you back financially.
It's simple with Uscreen.
Build, launch and manage your membership, all in one place.
Why creators choose memberships over courses
As a creator, building a membership is for those who want to create a brand. Courses are for creators who only want to monetize their audience.
Memberships are more personal and fun. You can offer coaching, meetups, group calls, and so much more.
When considering how to position Peak Freelance in the market, we came up with four key reasons to go with a membership: brand building, competitive advantage, sponsorship opportunities, and course limitations.
1. Brand building
My goal for Peak Freelance was (and still is) to build an awesome brand.
More than enough "freelance gurus" are selling one-off courses. I was always skeptical of them when I began freelancing, and I wanted to build a place where people felt supported in their journey.
At the time, our biggest competition was an industry veteran writer (who later tried to sell us their brand) with a community and some Facebook Groups. Both felt dated and out of touch with what was actually happening in the industry.
Positioning ourselves as a membership community supported by industry experts helped grow the brand quickly.
2. Competitive advantage
Selling a membership gave us an immediate edge over course sellers. Members can access various courses and templates for $49 per month versus spending $250 on one course they'll probably never finish.
Plus, people who sign up for the membership get access to interviews with industry experts, exclusive deals with brand partners, and an active and supportive community of other freelance writers.
3. Sponsorship opportunities
Memberships allow creators to sell sponsorships and earn more. The benefits are two-sided:
Members get exclusive deals from top brands they won't find anywhere else.
You get extra income and build partnerships with like-minded brands.
Revenue from sponsorships accounts for roughly 15% of Peak Freelance's monthly revenue.
4. Course limitations
Courses limit your earning potential. It's one product, often completed within weeks. You are constantly searching for more students to earn money, and have to work on lead generation and conversion continually.
Besides, you can always sell courses within your membership. With a membership site platform like Uscreen, it's easy to build interactive courses that your audience will love.
Using a membership platform to sell your courses
MommaStrong originally grew its business by creating and selling individual courses through Kajabi, where it built a following of 10,000 paying subscribers.
But, they recently migrated to Uscreen to launch a video subscription site.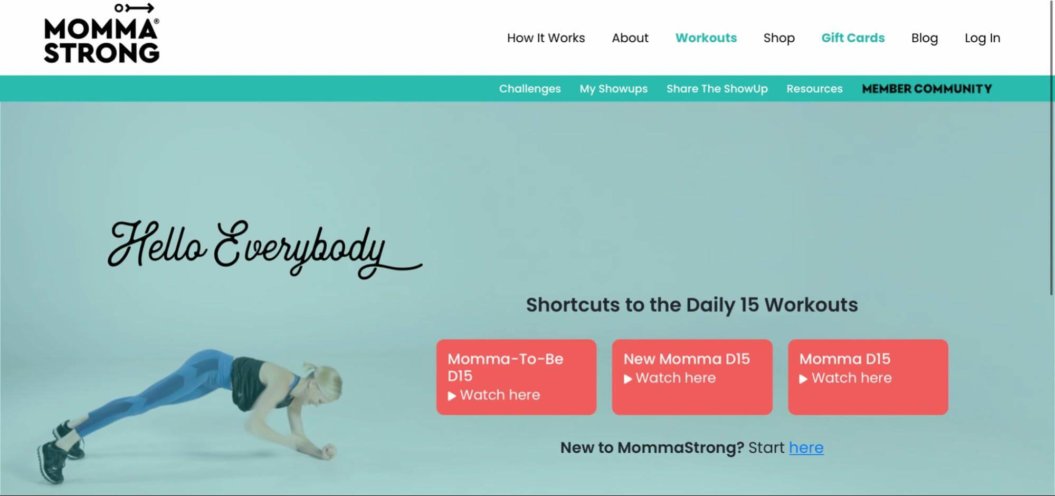 Why?
Because the creator saw a way to improve their offering that was simpler and more profitable for them as business owners, while being more accessible and community-driven.
For example, they could consolidate all of their educational content into one easy-to-access content library, where students can pick and choose from a wide range of tutorials and videos.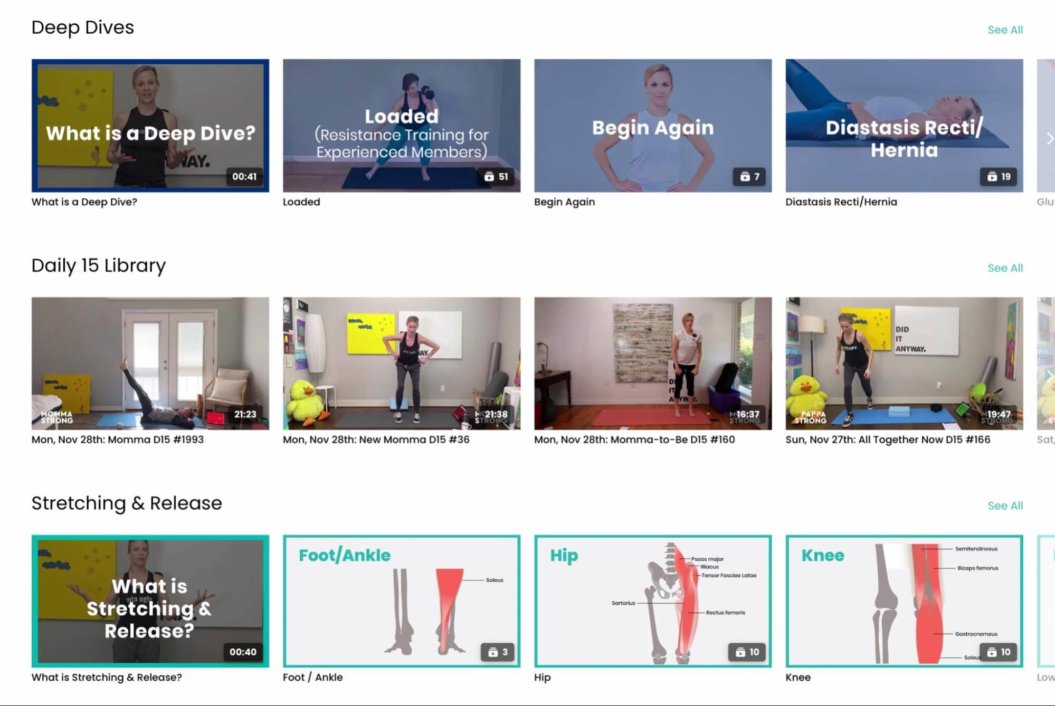 Having this type of content catalog means they can regularly add new videos members can work through at their own pace and give them a reason to keep coming back.
A membership platform also offers features like:
Personalized profiles: so users can let their personalities shine.
Live streaming: where they could interact with their audience in real-time, like by holding webinars.
Live chats: where students can interact with each other during live streams
Comments: where students can share thoughts and ideas, and engage each other.
This helps the brand do more than just sell videos online. It allows them to build a go-to online space for strong moms to come together. This taps into people's Tribe Mentality: their desire to be an active part of a community they care about.
Better still, users access all the great content and a community for an affordable and recurring monthly fee. This means that once they convert a customer to their platform, they increase their potential lifetime value, and reduce their reliance on finding new customers.
It's simple with Uscreen.
Build, launch and manage your membership, all in one place.
Which model is best for your online business?
Choosing between an online course and membership model isn't an easy decision.
To summarize:
Memberships are best for full-time, established creators who know what works and have a large audience. It's ideal for creators who want to grow their brand and make a name for themselves in the market.
Online courses are best for newer creators or those testing ideas. One-off courses are good for experimenting with new membership site ideas or markets. They are less risky, emotionally and financially, if the course doesn't work out.
Here are three important points to consider before making your choice:
Would your business benefit from predictable revenue?
Can you commit to regular content creation on the topic?
Do you want to run an online community?
If you answered "yes" to the above questions, you're ready to create a membership site.
In case you're still unsure, surveying your audience is the best way to find out which model will work for you. Find out whether online courses or memberships are more likely to attract them, and what content they might expect.
Looking for a simple and easy way to roll out a membership site to your audience? Uscreen's full-service membership platform has helped over 25,000 creators build and grow an online video business without sacrificing resources and budgets.