Skateparks. Yoga studios. Living rooms.
These are all dedicated spaces where groups of like-minded folks gather to connect over something they love.
So, where does your community get together?
If you're still figuring that out, then this article might have the answer:
An online membership community provides a dedicated space for your biggest fans to engage with you and your exclusive content in exchange for a recurring fee.
Even better, it's a platform that you own, so you can say goodbye to the algorithm anxiety that comes with hosting your community on social media channels.
In this article, we'll unpack why the membership business model is so important for creators…
And then explore each step that you need to take to launch your very own online membership community (the right way).
Let's get started!
4 Reasons to Launch an Online Membership Community
Your own paid membership community could unlock recurring revenue for you and provide a great experience for your fans.
Let's take a look at some of the most popular reasons why creators everywhere are launching their online membership communities!
1. Earn Recurring Revenue
Recurring revenue is the holy grail for independent creators.
Heck, it is for most people!
That's because it can help ease some financial anxiety, and give you the time, space and resources you need to:
invest in your brand.
plan ahead and scale your operations.
create a more sustainable work/life balance.
Unlike one-off purchases for products like merch and online courses, your membership community can create a stable and reliable revenue stream (that takes less work to maintain).
Here's a revenue growth comparison between an online course priced at $299 once-off, and a monthly membership priced at $15 per month: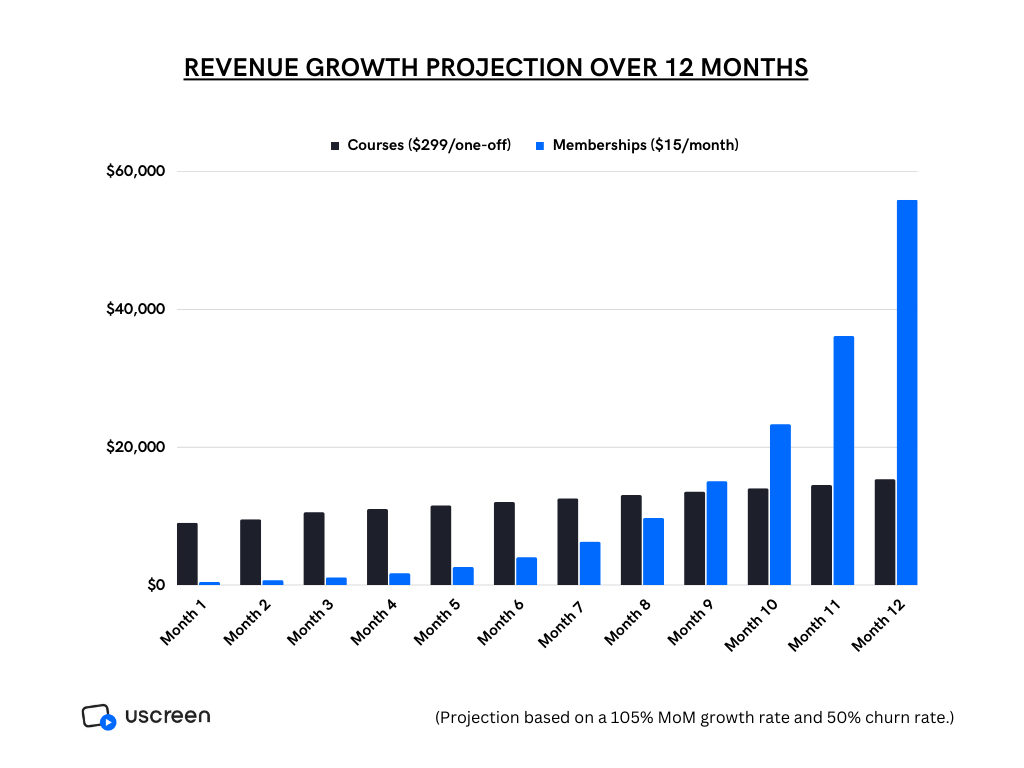 Thanks to the power of recurring revenue, compounding growth, and member retention, memberships tend to outperform one-off products (by quite a lot).
2. Create (& Nurture) a Community of Like-Minded Folks
A community membership model allows you to provide a dedicated space where people with a shared interest can interact, collaborate, and support one another.
And, when members feel really connected to a community, they're way more likely to stay engaged and renew their memberships.
At a certain point, this collaborative environment can even become self-sustaining, meaning your members will consistently start and participate in conversations, freeing up time and energy for you to work on other things!
Take BTRIBALFIT's community for example: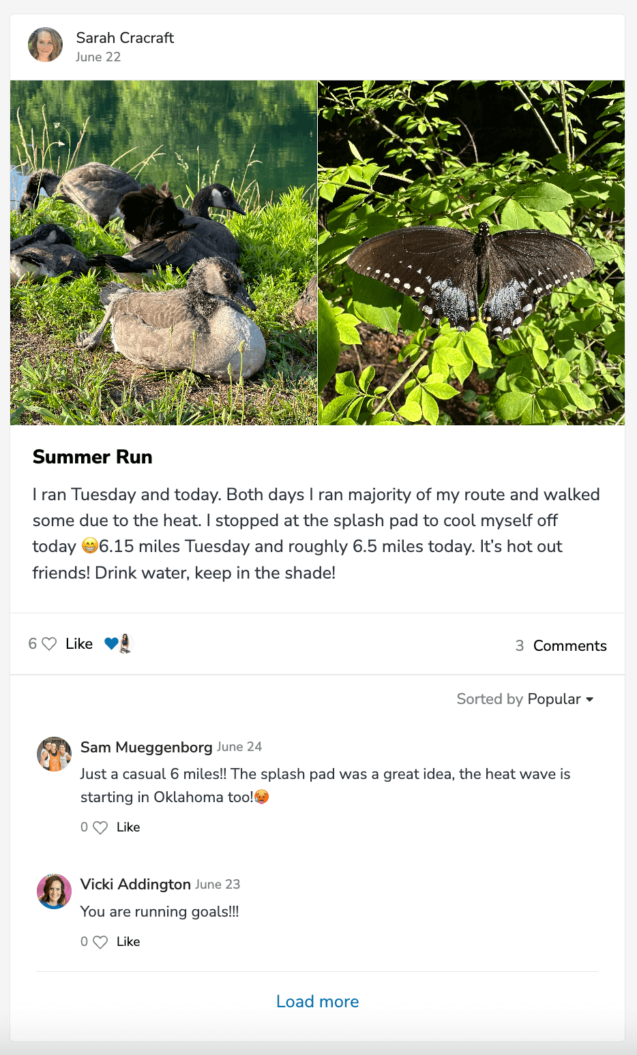 Members create unprompted posts about their own experiences and encourage others to engage and do the same.
An online community is also especially valuable for membership businesses, since the superfans who take part in your community are also your target audience (aka who you want to attract more of).
So using their feedback and insights to refine your offerings can better serve the rest of your community. This can lead to more organic growth and even more fan loyalty.
Through interactive features like…
forums
live Q&A sessions
and private messaging
… you can engage in meaningful conversations, answer questions, and receive feedback directly from your dedicated members.
Even better, these tactics double-up as best practices to maintain an engaged community!
3. Delight Your Superfans with Even More (Exclusive) Content
Your superfans are the folks in your audience who consistently engage with your content and can never seem to get enough. (Think: Kevin Kelly's 1000 True Fans.)
So, what if you created bonus content and put it behind a paywall?
You would be able to delight your fans with the extra content they're looking for alongside a totally exclusive community experience.
In fact, a bunch of people specifically seek out and are willing to pay for that private platform experience because of things like social media fatigue that make public platforms less fun to interact with.
And, when we spoke to one of Uscreen's customers about their membership community, they told us just that:
[Our members] love the community because they don't have to enter the world of social media to enter our world of social connection.

Marnie Alton, Founder of M/body.
A pay-to-access membership community platform gives your audience meaningful social connection mixed with exclusive content.
Ready to learn how to build your own platform?
How to Build a Membership Community the Right Way
You're ready to start creating your membership community if you have either:
an active online community hosted on a free-to-access platform (think Facebook Groups or Discord).
a ready-to-monetize group of superfans in your audience.
To build your membership community the right way, make sure you're using a platform that supports your business goals and gives your members the best experience.
Let's jump into how you can launch the perfect membership community!
Select the Right Membership Platform for Your Community
The right membership community platform needs to support your community's goals, ensure everything runs smoothly, and provide a seamless user experience.
Start by looking over a few different membership site platforms and think about…
their features,
pricing,
customization options,
…and how well they support your membership's needs.
For example, Uscreen is best suited to video-first creators who want to offer a great streaming experience alongside complementary community features.
Want to learn more about how to launch your community on Uscreen? This video has everything you need to know:
But, if you're not super focused on video content, platforms like Patreon and Circle have similar offerings with fewer bells-and-whistles for video features.
Once you have a few contenders lined up, you can move on to the decision-making process:
Compare the features: Look for key things like membership management, content access controls, payment gateways, community forums or discussion boards, analytics, and member communication tools.
Find out what other people are saying: Read reviews, seek recommendations from trusted sources, and engage with other community managers to learn about their experiences with different platforms.
Test it out yourself: Take advantage of free trials or demos to see if they're a good fit.
And, if you've already started your search…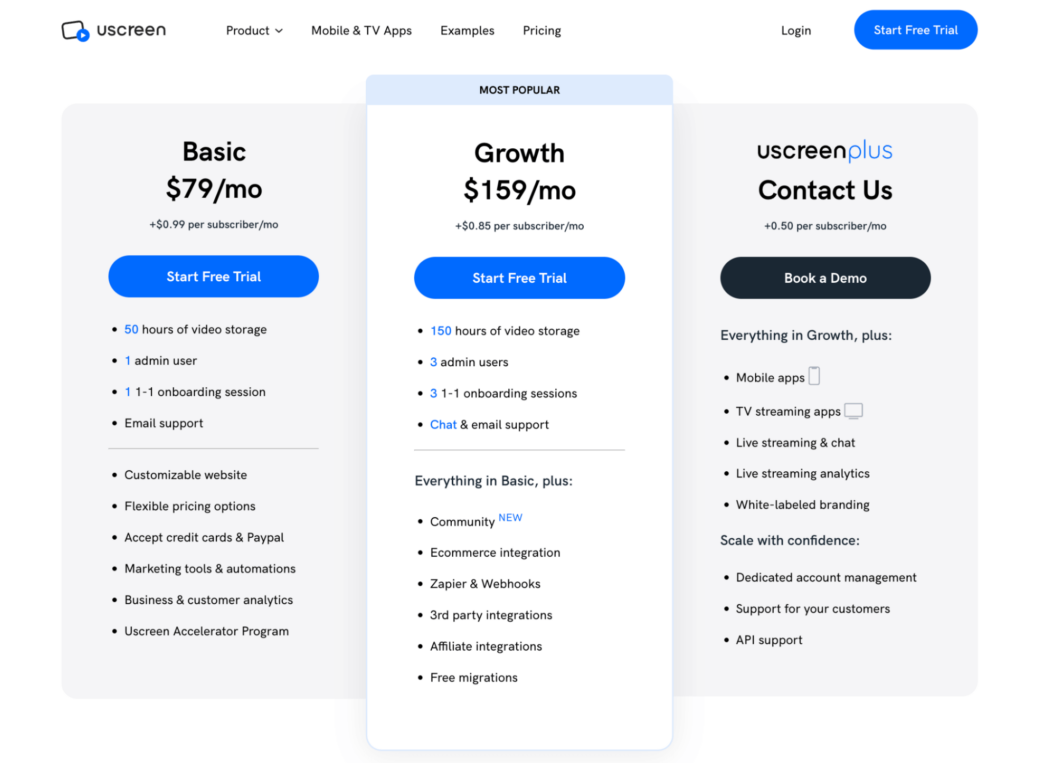 … Uscreen is a fully-customizable platform designed to give your audience the best membership experience possible with built-in community features.
This lets you grow, manage, and monetize your membership community all in one place.
Define Your Membership Tiers and Pricing Options
Different membership tiers give your audience more choice. You can offer a range of access levels to fit their budget and needs while making sure you still make a profit.
Where do you start? Figure out how many tiers you want to offer.
We recommend keeping it simple with 2-3 options. Here's an example from Abundance Plus: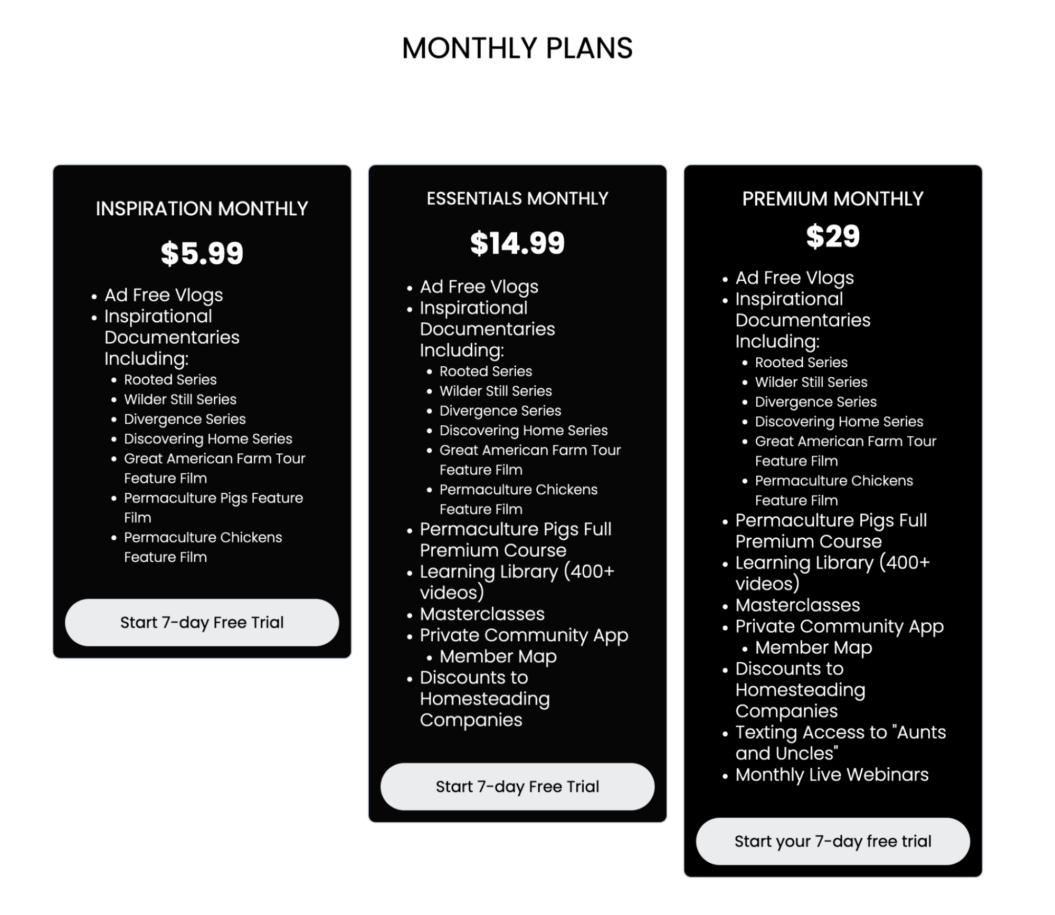 They offer 3 types of monthly plans, each with different levels of access and perks.
Once you've landed on a number of tiers, it's time to decide on the features for each one.
Clearly outline the benefits that each membership tier will include. These may include access to extra exclusive content, live streams, virtual events, community, or member-only resources.
Make sure each tier offers a clear value proposition and aligns with the needs and wants of your audience.
Now you'll need to set your pricing.
Establish pricing for each membership tier based on what your members get access to. Then price your tiers in a way that encourages users to sign up to a higher tier or commit for longer.
A popular way to do this is through an upsell, where you offer a longer-term membership option at a discounted rate. From what we've seen, a good discount amount equals about 1 free month per year.
Here's how TheWKOUT do it: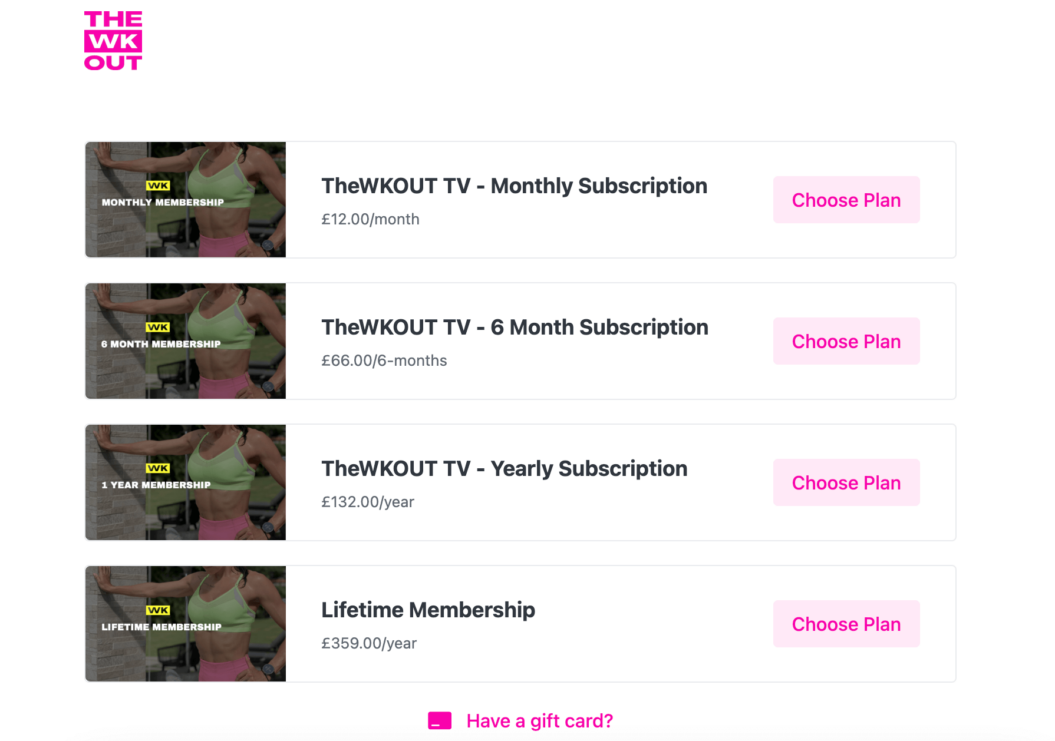 To find a price that works for your goals and your community's budget, ask yourself these 2 questions:
what content and resources do your members get?
what do other communities in my niche charge?
These answers will give you helpful guidelines as you figure out the right number!
Develop Your Content Library
Once your membership tiers are sorted, the next step in creating your membership site is to develop and organize your content library.
A well-structured and organized content library – especially for video-centric membership websites – lets your members find exactly what they're looking for in just a few clicks.
To get this step right, start off by creating your content categories.
Decide what the main categories or topics in your content library will be. This could be based on different themes, formats, or levels of expertise.
Here's an example from Elite Guitarist: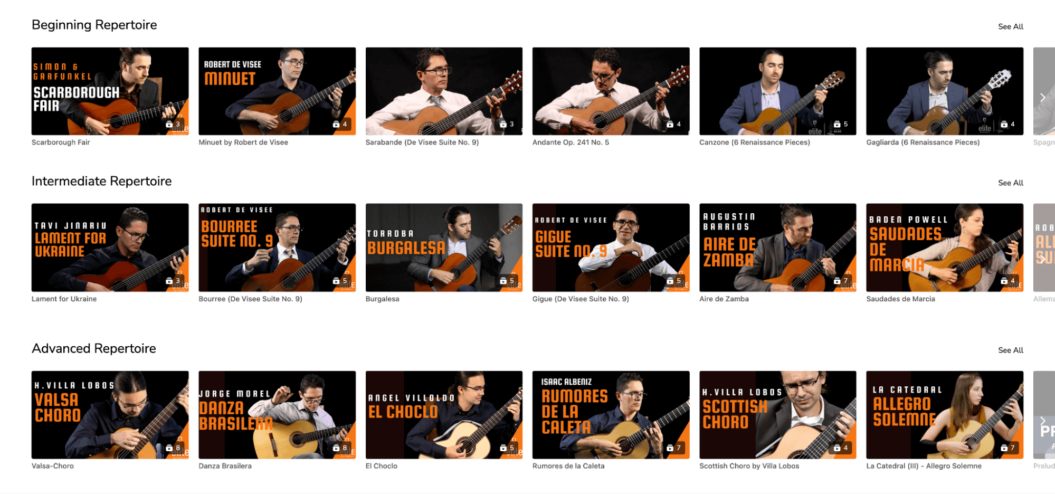 The distinct categories in their video catalogue help members navigate their content quickly and easily.
Next up: plan out your content creation!
A solid content creation strategy lets you add a steady flow of relevant and valuable content to your library.
Besides videos and live streams, you could expand your content formats and create:
articles and newsletters.
audio podcasts.
downloadable resources like templates and guides.
Work to align your content creation plan (think topics and frequency) with the interests and needs of your target audience, and you'll be golden!
Create a Marketing Launch Plan
This is the final step before you launch, and it's a big one!
It sets the foundation for your successful community-building and a successful membership site launch.
Done right, it will help you generate awareness, attract new members, and create excitement around your community's value proposition.
Speaking of… that's exactly where you'll start when putting this plan together!
Your 'value proposition' is just a fancy way to refer to the value and benefits your membership offers.
To craft a compelling value proposition, you need to highlight what sets your membership apart from other options available to your target audience.
Emphasize the exclusive content, community, and other features members get when they join. But most importantly, tell them how your membership will improve their lives.
Here's how BTRIBALFIT do it: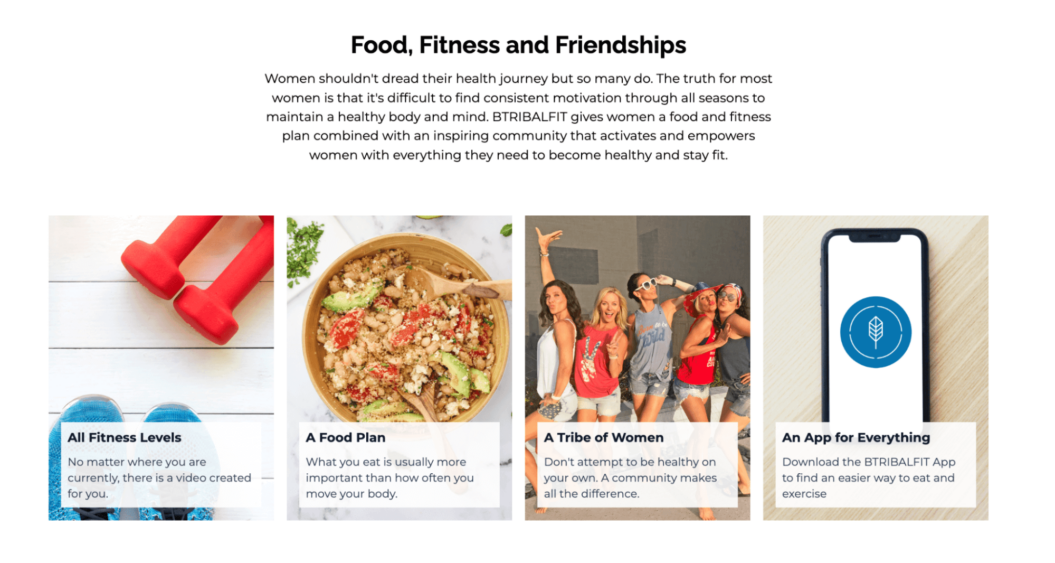 They highlight all of the benefits that members get access to, as well as the outcome of joining their membership.
If you're unsure how to figure out your unique value proposition, you can use this simple formula:
My community will help [specific type of people you're trying to attract] with achieving/finding [2 or 3 benefits/positive results].
Next, you want to build anticipation for your membership community.
Create a pre-launch buzz with teaser campaigns, countdowns, sneak peeks, or exclusive offers to generate excitement and curiosity among your target audience.
And finally, capture all that anticipation on your landing page.
Your landing page should be well designed and clearly communicate the benefits of joining your community.
Use elements like…
compelling visuals
persuasive copy
Authentic testimonials
… and make sure to have a clear call-to-action to encourage visitors to sign up for early access, or join a waiting list.
Your email list will thank you!
Closing Thoughts on Community
An online membership community is a win-win for both you and your members.
The paid membership model lets you monetize your community, own your audience on your exclusive platform, and earn predictable recurring revenue.
So let your audience enjoy an elevated community experience built just for them, with more access to you, your content, and like-minded contributors.
FAQs about Membership Community
What is a community membership?
A community membership is a monetization model for online communities, where members pay a recurring subscription fee for access to the community and exclusive content.
How do I start a paid community membership?
1. Select the right membership platform.
2. Define your membership tiers.
3. Develop your content library.
4. Create a retention marketing plan.
5. Plan and execute your launch strategy.
What are the attributes of a community membership?
A paid community membership often includes additional content and perks beyond those of a free membership, such as access to exclusive videos and live streams, specialized resources, and unique opportunities. It fosters a sense of value and reciprocity, providing members with enhanced experiences and incentives for their financial contribution.