Memberships are proving to be one of the most profitable ways to make money from your content.
And with the right membership strategy, your potential profits are uncapped!
In this guide, we're going to show you how to sell memberships online, including our best tried-and-true strategies.
You'll learn how to sell memberships with these 7 steps:
Let's jump right in…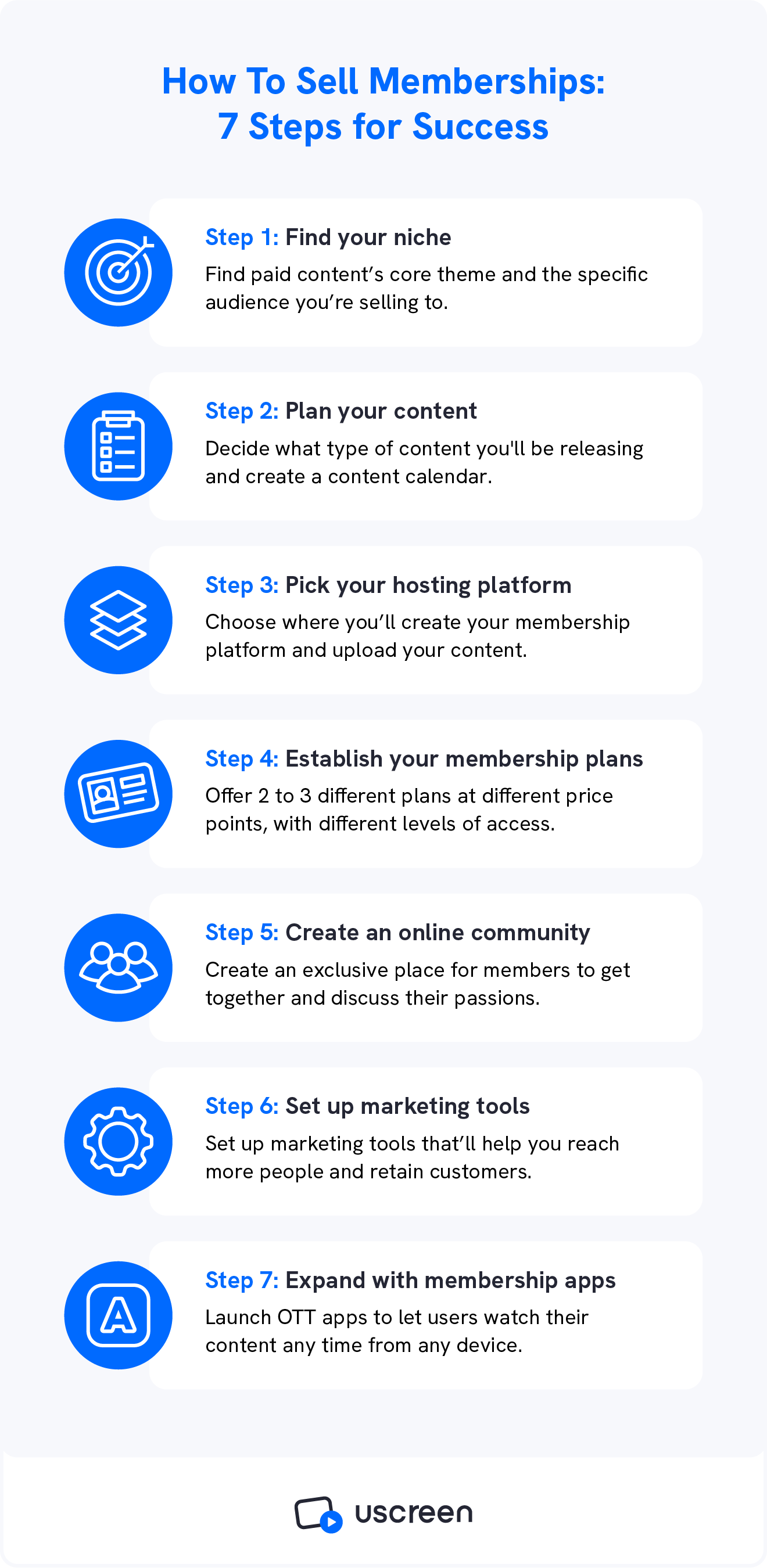 Step 1: Find Your Niche
The first step to how to sell memberships online is to find your premium niche. This is your paid content's core "theme" and the specific audience you're selling to.
Chances are you already have a content niche that you're targeting. But, your premium niche needs to be more refined than the free content you offer.
That's why it's important to clearly identify and state the purpose of your membership service. To start, you know your current viewers already share one common interest, your content.
So use that to identify your premium niche by figuring out what makes your content unique. The options here are endless, it could be your:
Message.
Skills.
Personality.
Lessons.
Lifestyle.
Then, pinpoint what your audience loves about your content and establish your shared values.
Knowing these things will help you establish your video content niche and will set you apart from other content creators in the field, which will help with membership sales.
Step 2: Plan Your Content
Now, it's time to plan and create content that appeals to your niche audience.
If you've already got videos and a following from your free content on YouTube or social media, you can start uploading all your existing content on your membership site.
That way, you have a solid content catalog on your membership platform, and it'll give you ideas for new content.
When you start categorizing your video library, you'll start to notice common themes you can further explore.
Plus, you'll already know which of your existing videos your audience viewed and engaged with the most. This will give you an idea of what they want to see more of!
If you're still building up your backlog of pre-recorded videos, you can consider using live streams to bulk up your offering and engage with your audience on a deeper level.
If you're looking for content ideas for your live streaming, we've got you covered here.
Finally, you'll need to create a content calendar. This is where you plan what content you'll upload and when.
Even though your content calendar can change, you need to be consistent and upload new content on a regular basis. This will keep your service fresh, engage your viewers, and make them feel like they're getting value for their money.
Step 3: Pick Your Hosting Platform & Upload Your Content
It's now time for you to choose where you'll create your membership platform and upload your content.
When choosing a hosting platform for your membership site, make sure it offers the functionality you need.
A good video membership platform, like Uscreen, will give you an all-in-one solution that you can use to build your site without writing a single word of code.
When choosing a hosting platform, you should look for one that allows you to:
Host your videos on a custom domain.
Customize your membership website.
Accept online payments with a built-in payment gateway.
Offer different membership levels.
Create landing pages for your membership site.
Manage membership subscriptions.
Engage with your members and build a community.
Grow your online business with built-in marketing tools.
Offer extra perks like digital downloads
Give you the ability to add resources.
These features let you easily start and run your membership platform while creating a great experience for your users.
Here at Uscreen, we offer easy-to-use templates that let you create your own beautifully branded membership platform:
Once your site is ready to go, you can upload and organize your content in a sleek and intuitive way. This is a huge selling point, so take advantage of the organizational tools your platform offers.
Uscreen offers the ability to create custom categories, filters, and tags for all your content, so your audience can easily find what they're looking for.
💡How They Do It
FLY LDN offers tons of filters at the top of their content library for members to easily narrow down their search.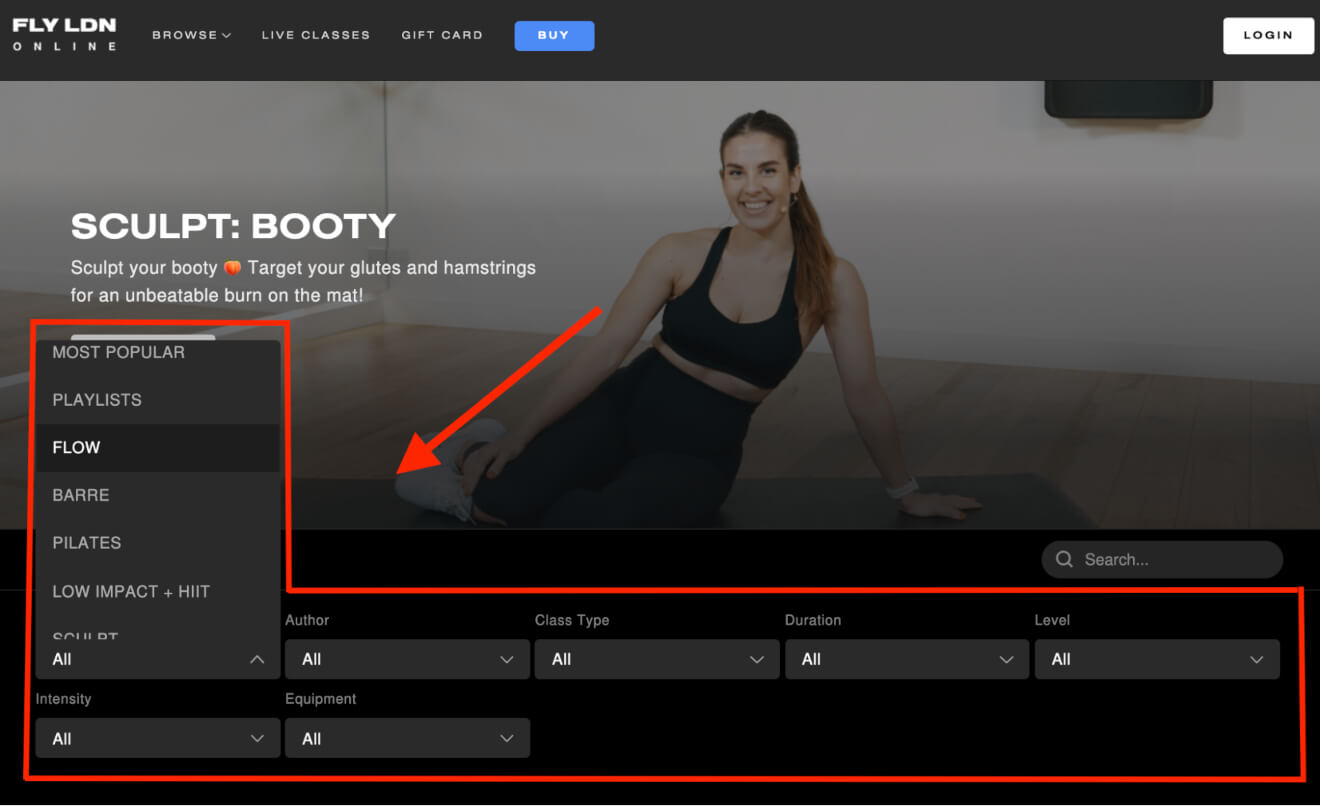 You can also structure your content as a series that lets members progress from one video to the next. This will make your platform more intuitive, and can keep members using for longer.
A well-designed site and organized content library is important for a good user experience. It can inspire your members to keep using your service.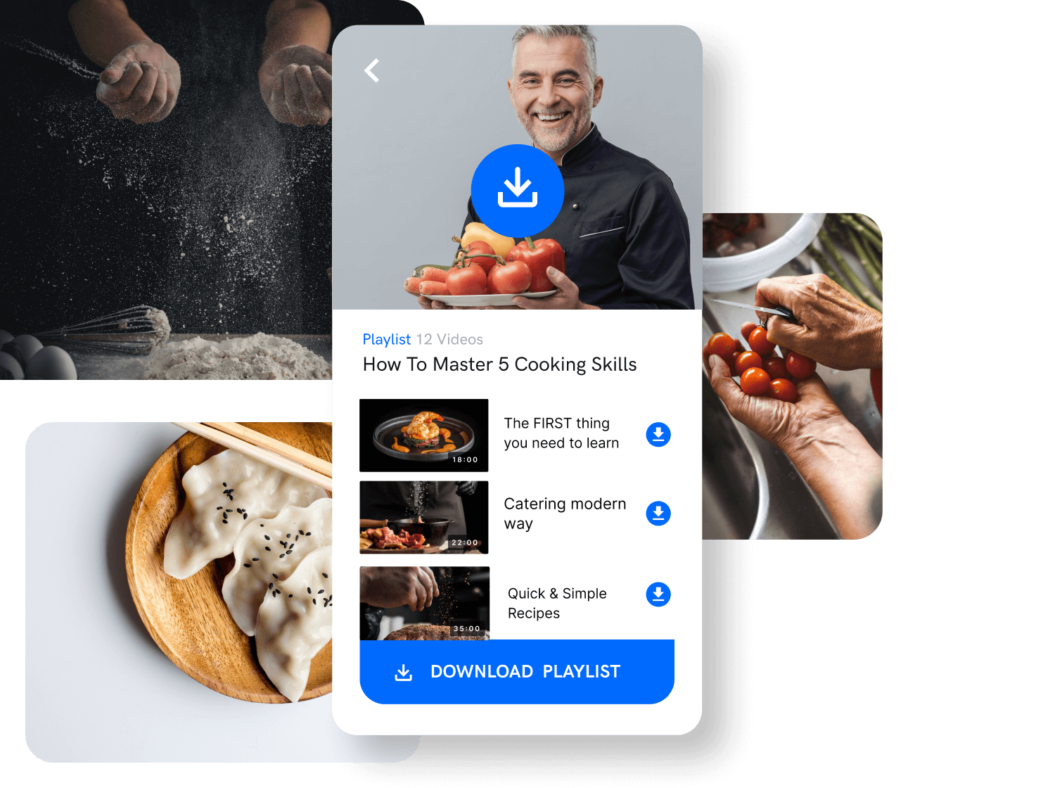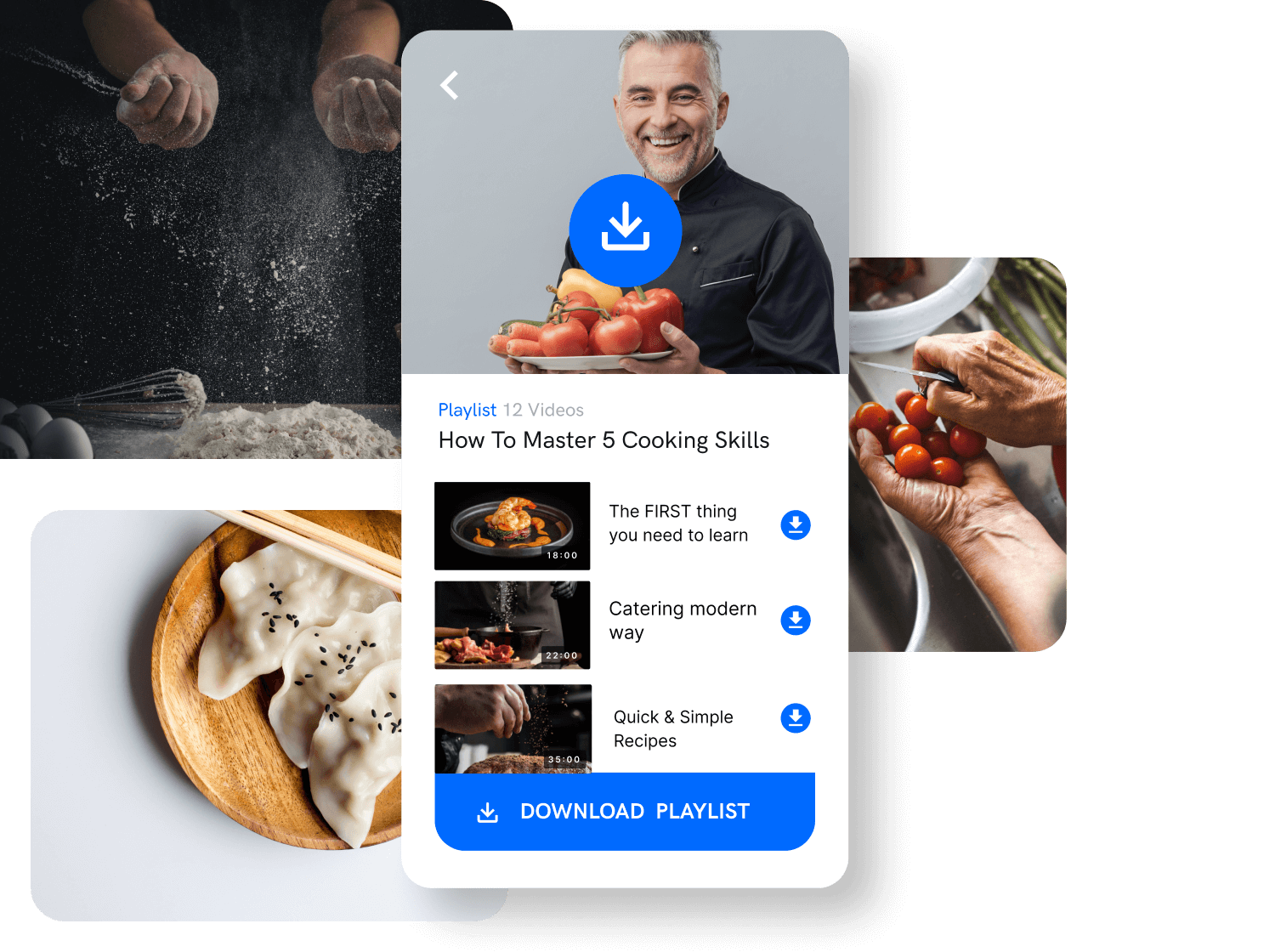 Start your 14-day free trial today!
Step 4: Establish Your Membership Plans
Now for the money part…
Selling memberships lets you earn a steady revenue stream because you'll get an income from recurring subscriptions.
To appeal to a wider range of customers, you can offer 2 to 3 different membership plans at different price points, with different levels of access.
For example you can offer:
Basic Tier: access to your library of video content.
Middle Tier: access to your library plus live streaming content (like webinars).
Top Tier: unlimited access to all your content plus any bonus digital products like eBooks.
Having different membership levels gives your customers the chance to choose the membership program that best suits their needs and budget.
And there's always the option to upgrade them with a membership upsell! (More on that later.)
💡How They Do It
Take HitBig Baseball: they offer 3 membership models with a helpful breakdown of exactly what members get in each tier.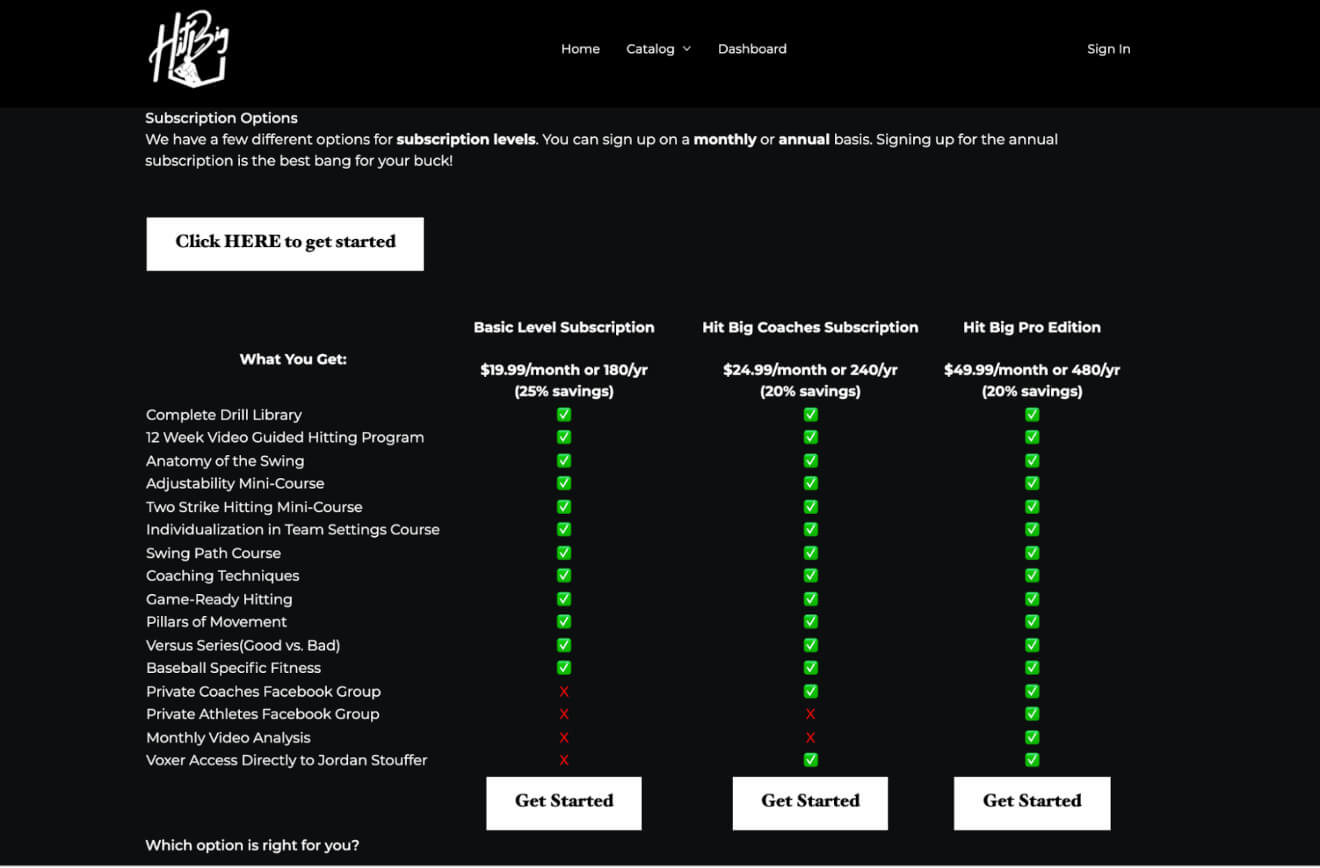 Having these options for your membership programs can increase conversion rates because you remove the binary yes or no choice, and instead allow them to pick what suits their needs.
It's also helpful because by flanking your core offer with higher and lower prices, lots of people will find the price to be more reasonable or affordable.
Step 5: Create an Online Community
Community is at the core of your membership site. You can strengthen your service by offering an exclusive online place for members to get together and discuss their passions.
Building a connection with your exclusive content and other members will increase member loyalty to your service, which will help you:
Keep existing customers around for longer.
Increase word-of-mouth marketing and membership sales.
Receive high-quality feedback from your customers.
Growing an online community is a great way to interact with members and encourage them to interact with each other. You can do that by:
Posting prompts for members to engage with.
Members posting updates about their progress and interacting with each other.
Updating members about new content.
Setting community challenges.
Reporting industry news.
Encouraging members to share their own user generated content.
Celebrating individual members in a regular spotlight feature.
You can manage your community in one place like a chat forum or private Facebook group. The more exclusive, the better.
💡How They Do It
The creator behind Practice With Clara created her own exclusive community with over 1.6K members. Members are able to connect and hold each other accountable for their goals.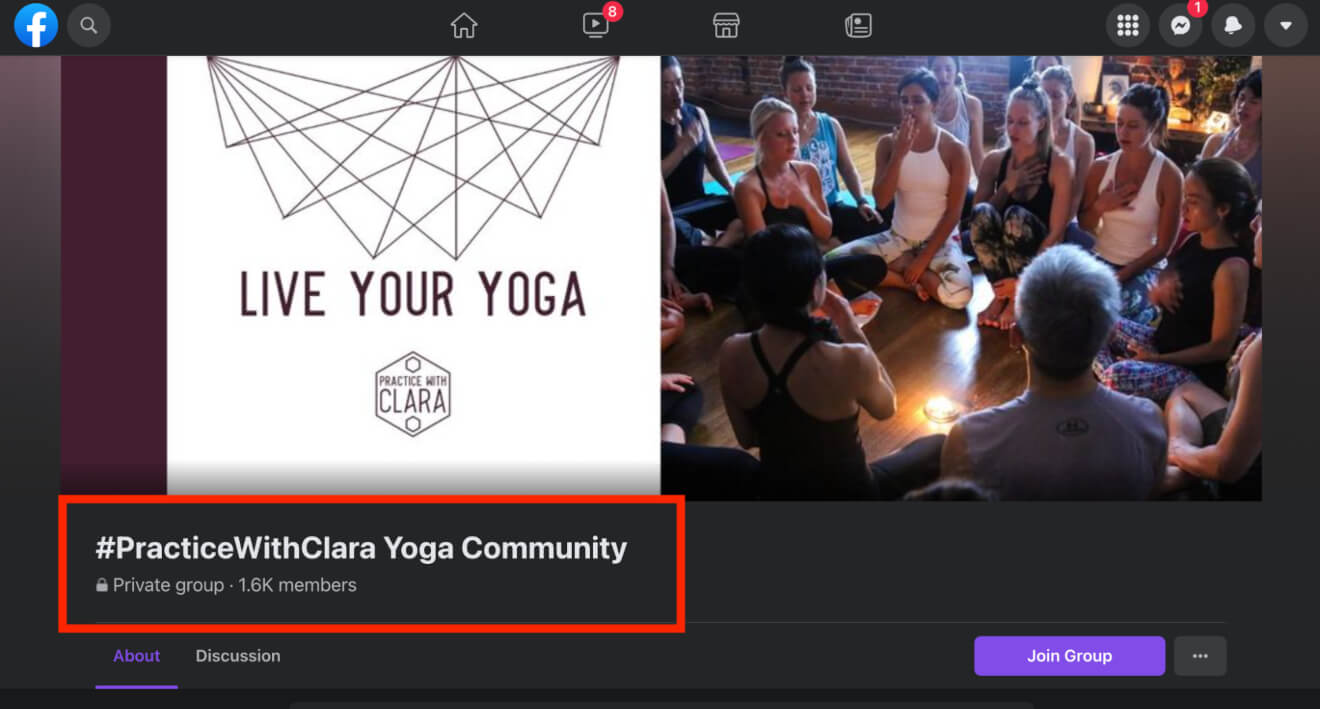 Step 6: Set Up Marketing Tools
Once your site is up and running, it's time to set up automated marketing tools that'll help you reach more people, retain existing customers, and sell memberships.
We recommend you set up these 3 marketing tools before you launch:
Email list: a tool that allows you to collect email addresses from potential customers (i.e. Mailchimp).
Membership upsell: a tool that allows you to offer upsells of your subscriptions to customers as they checkout.
Abandoned cart: a tool that automatically contacts people who leave the sales process before completing their purchase.
That way, you can begin to build a solid foundation for the long-term marketing of your business, as well as recover any potential "lost" income from on-the-fence customers.
Uscreen offers a full suite of marketing tools that'll help you launch, grow, and retain customers, where you can:
If you want to learn more about Uscreen's video marketing tools, check out this video:
Step 7: (Optional) Expand Your Offer With Membership Apps
To help you start selling memberships even more, you'll eventually need to launch membership apps.
In fact, a big part of the future of online video is OTT apps. That's because they let users watch their favorite content any time from any device.
We found that 65% of video streaming is done on TV and mobile apps. Better still, OTT apps can grow your audience and revenue by up to 30%!
This makes membership apps a strategic business move that can help you increase customer satisfaction and boost your revenue.
You can hire a developer to launch your apps, but it usually takes between 3 and 6 months and can cost anywhere between $10K and $20K depending on the functionality you want.
That's a lot of time and money!
On the other hand, if you're looking for a solution that's…
cost-friendly
technically hands-off
supported by a dedicated team to help maintain your app
a full-on OTT platform
…then you can lease an app from an OTT service provider like Uscreen where you get a complete OTT platform.
Creators can easily launch a wide range of OTT apps as part of a package, like Roku, Apple TV, Apple Watch Fitness, iOS, Android, and more!
It's simple with Uscreen.
Build, launch and manage your membership, all in one place.
Why Now Is the Time To Sell Memberships Online
Selling memberships online is a tried-and-true way to make more money, retain more customers, and create a stable income.
Membership platforms work for all types of services like video content, written content, and subscription boxes.
The video streaming market is currently valued at $85 billion, and that number is expected to grow at over 10% every year between now and 2025. 
For this reason, content creators, video entrepreneurs, and business owners alike are rushing to get in on the action. That's because selling memberships will also allow you to get:
A predictable revenue stream: membership revenue is reliable because of recurring payments that amount over time and help you keep customers for longer.
More accessible pricing: you can charge a lower upfront cost because of the more frequent payments. This makes pricing less intimidating and can increase sales.
An online community: a community built around your business will increase customer engagement and retention.
If you already create video content, then a membership site is the way to go! This subscription business model is popular because of its convenient nature for both video sellers and consumers.
Wrapping It Up
Phew! That was a lot, but we're happy you stuck through until the end.
Following our steps on how to sell memberships will give you the opportunity to monetize your content online and start building a supportive community.
If you want to launch a membership site today, Uscreen gives you an all-in-one solution for your video content.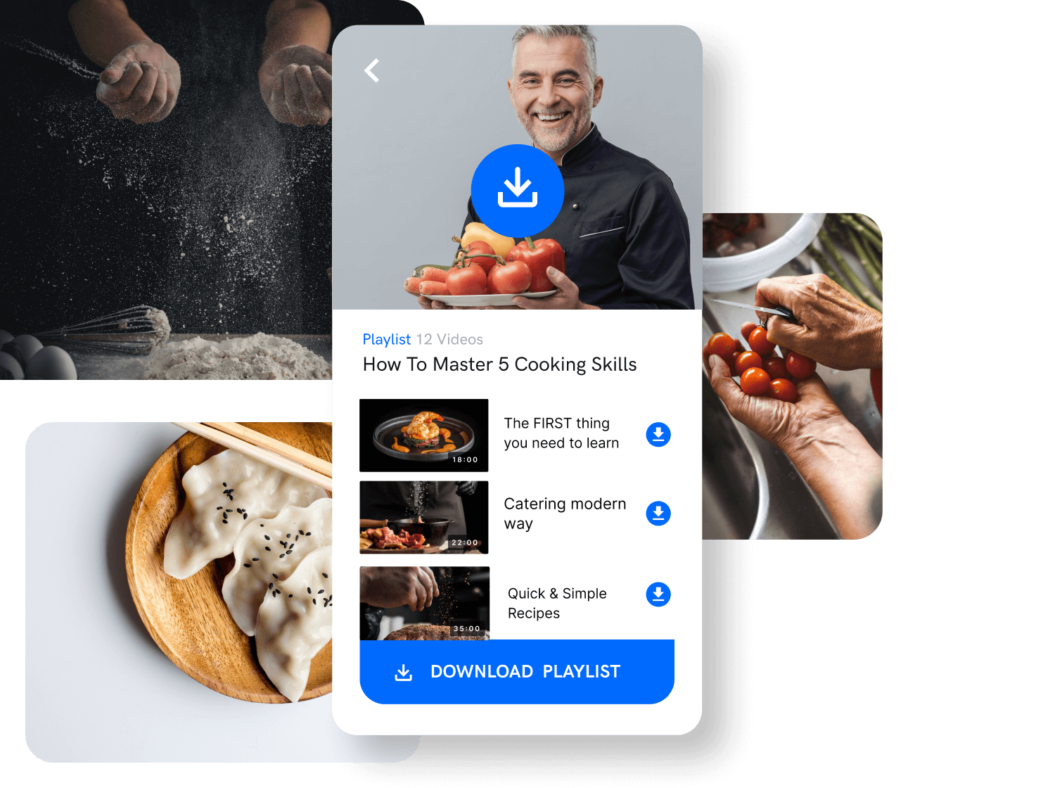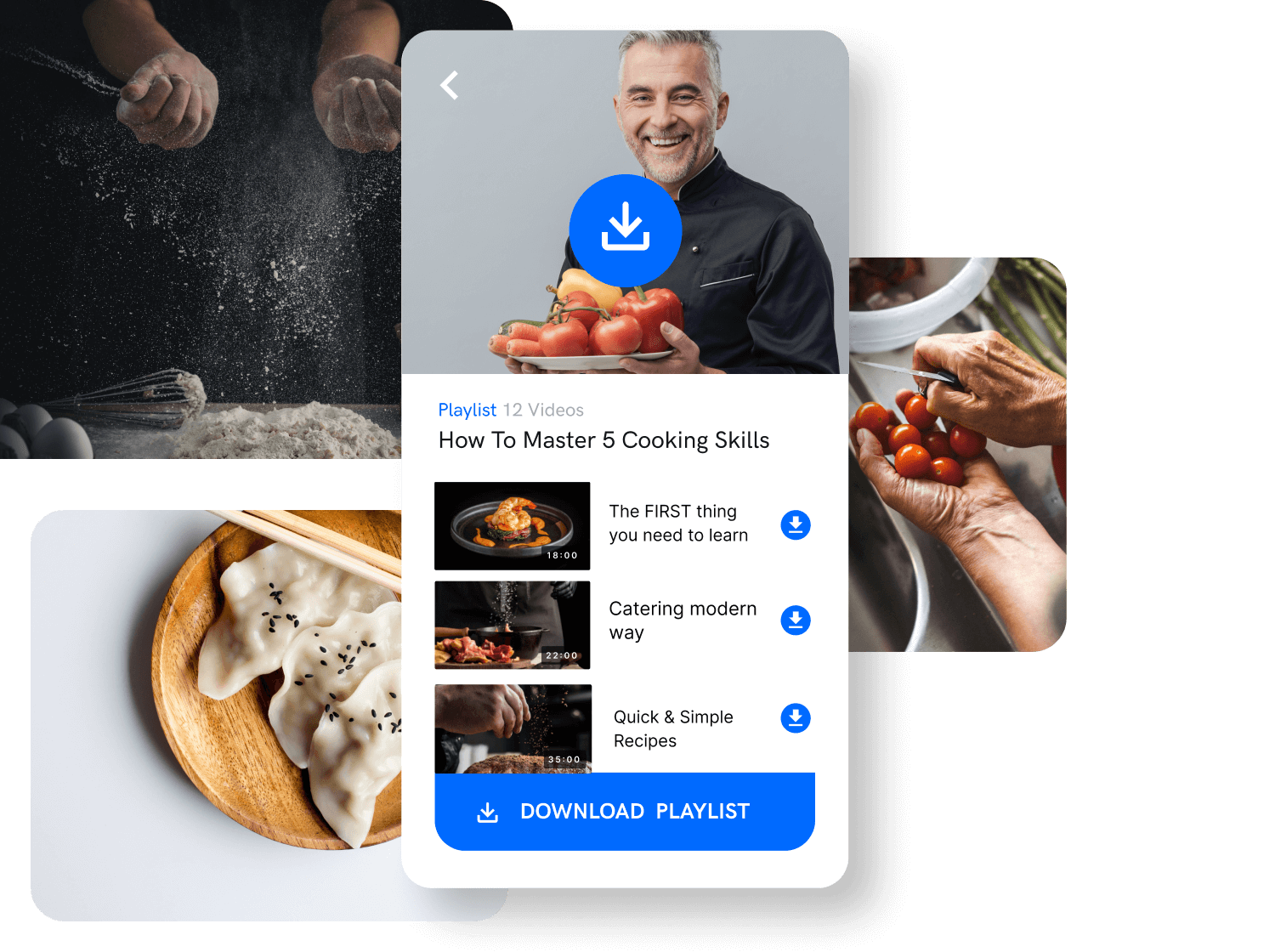 Start your 14-day free trial today!