Coupons.
They might be the most old-school of marketing tools. And they've endured for good reason:
They work!
A well-timed coupon has the power to boost sales, attract new customers, and give your content the viewing figures it deserves.
Better still, being online allows you to go beyond offering a typical discount. You can get creative and use your coupons to create a wide range of offers for your audience that not only attracts their business, but leaves a long-lasting impression on them.
Today, I'm going to talk you through 5 out-of-the-box ways you can use coupons in your video business's marketing strategy.
Let's go…
5 Creative Ways To Use Coupons To Grow Your Video Business
In this section I'm going to walk you through 5 coupon marketing techniques that have been tried-and-tested by our own Uscreen customers.
They are:
And, stick around to the end of this post where I'll show you how to easily create stunning landing pages for your coupons.
1. Offer Scholarships
You can use coupons as a way to create virtual scholarships for members of your audience who need it most. This can either be free access or at a reduced rate.
Take Peter Crone, for example. He runs a personal-development series called Free Your Mind where he helps people overcome deep-rooted limiting beliefs.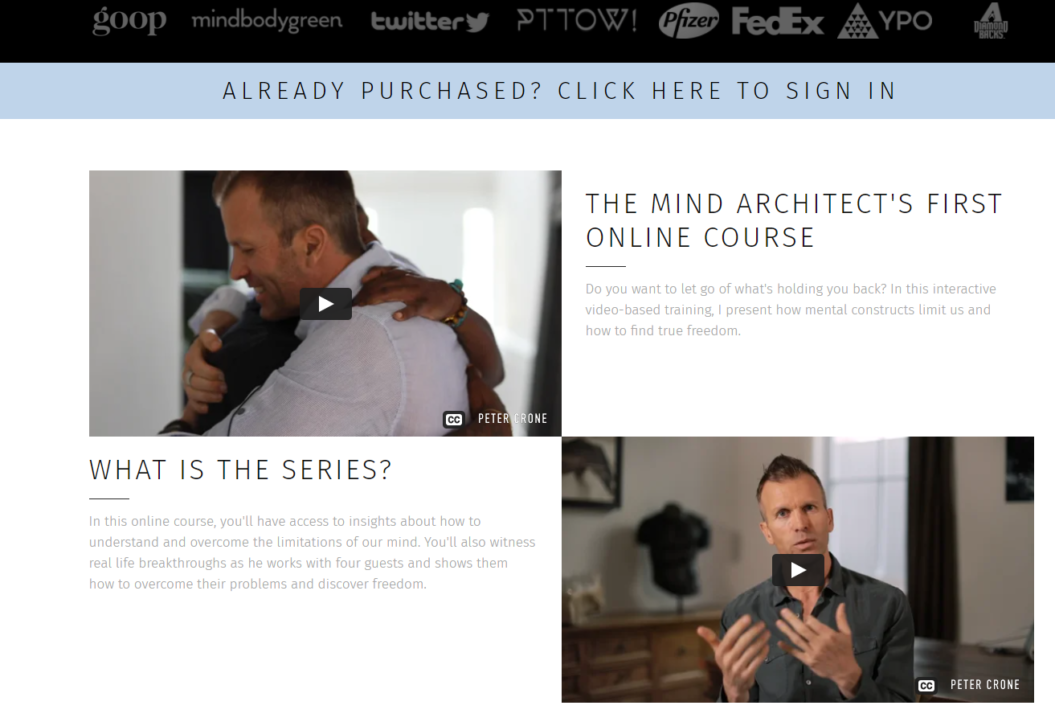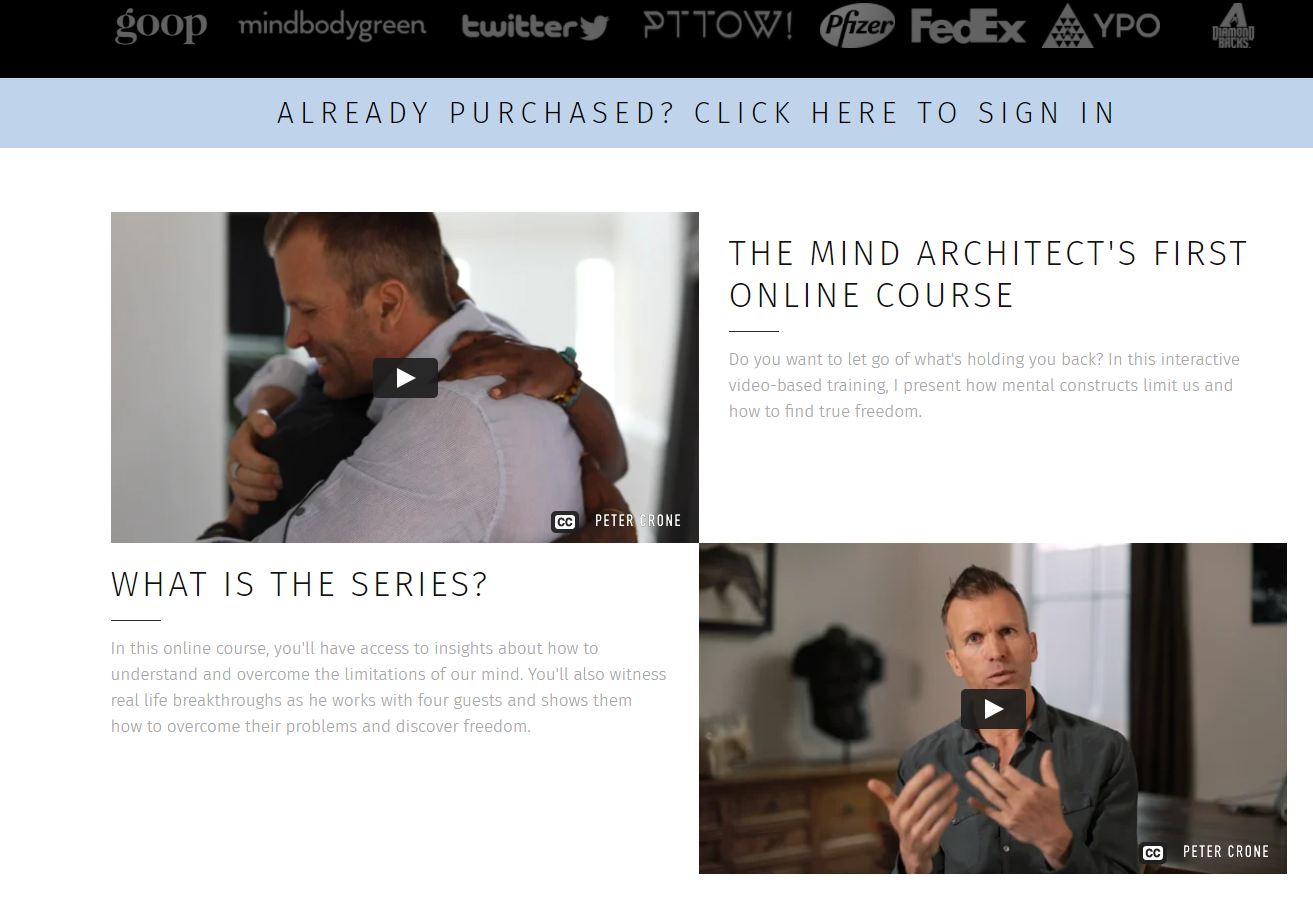 Entry to the program costs between $199 and $699, depending on which package you choose. Which can be a little out of the price range of some of Peter's audience members.
So, as a way of giving back to the community, Peter created a scholarship program. People could write a short essay about their experiences to apply for access: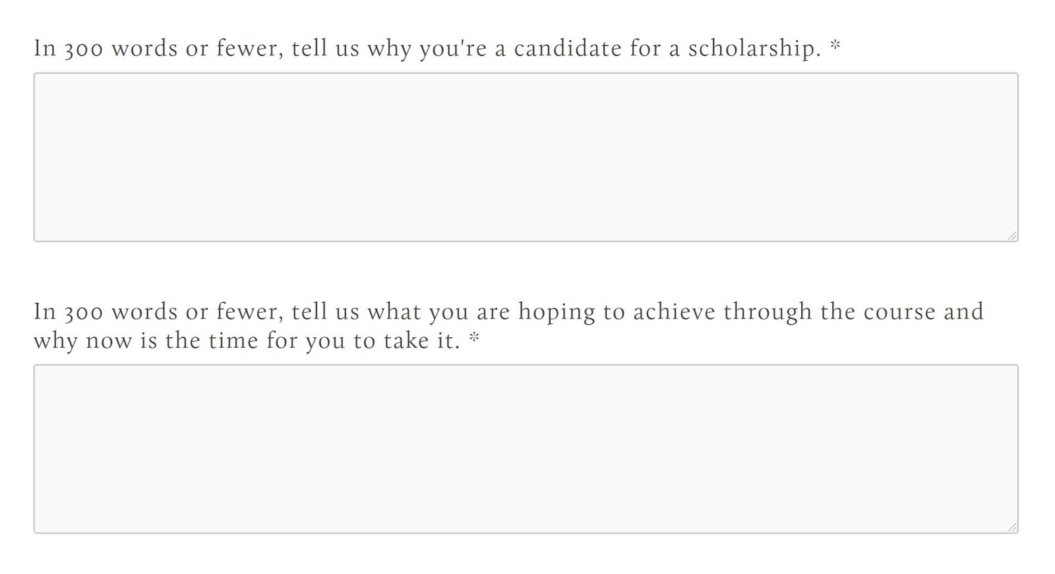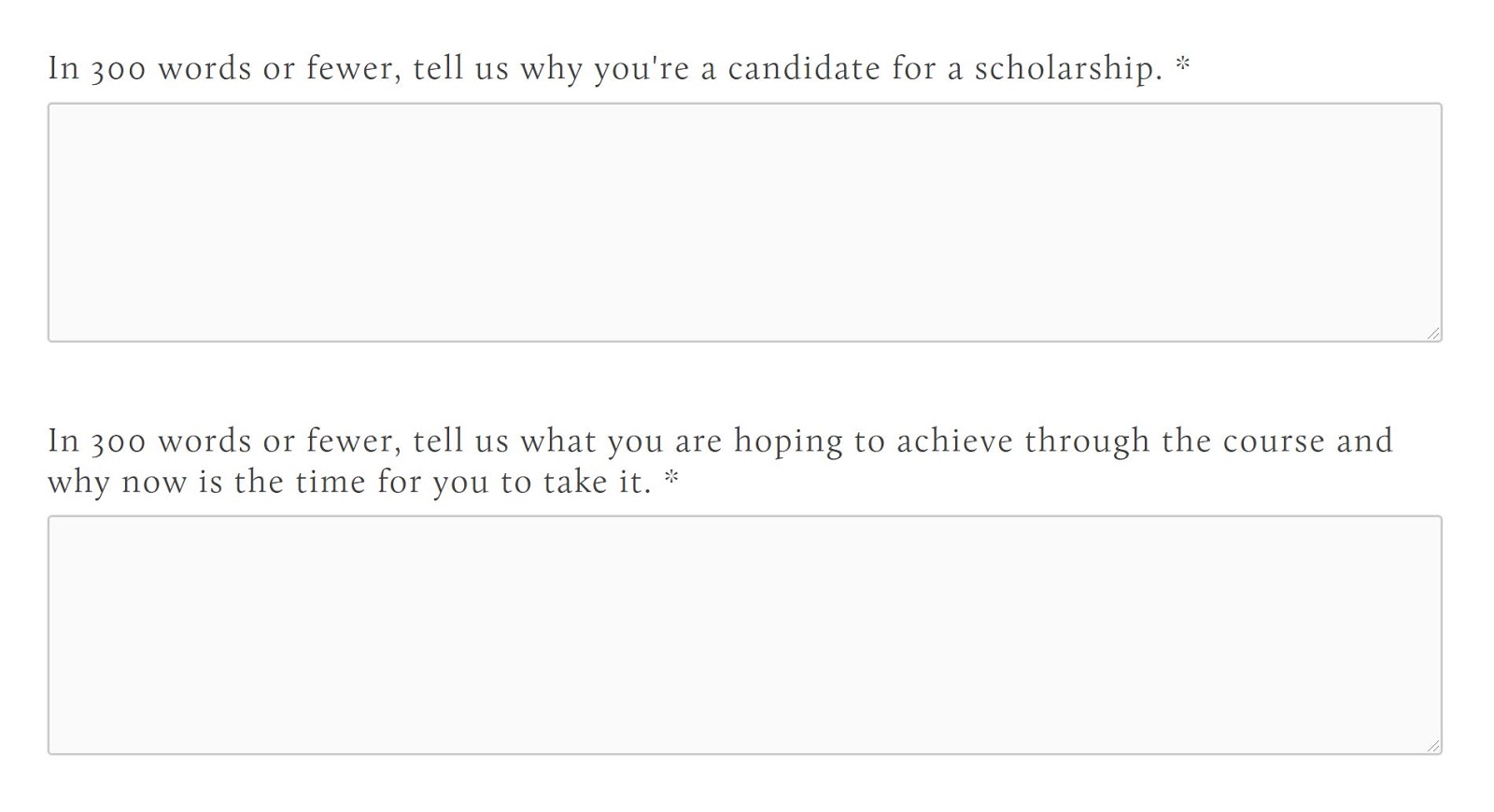 Successful applicants receive a discounted scholarship rate to access Free Your Mind. We thought this was a really surprising and clever use of coupons!
You could also use coupons to offer scholarships if you create content focused on:
Education
Faith and Spirituality
Personal development
Have people who feel they need a scholarship follow a submission process – like a photography or essay competition – and send the winners a discount code for your chosen level of access.
2. Join The #HashtagHolidays Hype
The last few years have seen a huge growth in people celebrating lots of different cultural days.
There are core events that people have celebrated for years, like Black History Month, World Book Day, and LGBTQ+ Pride. But there's also been a rise in industry- or interest-specific days.
There are now dedicated and recognized days for:
National Bubble Bath Day (8th January).
World Yoga Day (21st June).
International Joke Day (1st July).
National Coffee Day (29th September).
These are often referred to as #HashtagHolidays and they are well celebrated in their niche communities. World Yoga Day had over 45,000 posts on Instagram alone!

You can use coupons to take advantage of these online events by offering a discount for any of them that are relevant to your brand or message.
This presents 2 great opportunities:
You can take advantage of increased activity in your niche.
You can use the day, and your coupons, as a way to interact with your audience.
If you offer meditation and relaxation services, for example, you might want to create a coupon for #StressAwarenessMonth (25,000+ posts) that offers a 10% discount.
You don't need to do much research to find these opportunities, either. You can just use a free marketing calendar, like this free one from Sprout Social, to identify them.
3. Create A Referral Scheme
Word of mouth referrals are powerful.
Nielsen reports that 92% of people trust recommendations from family and friends over any other type of promotion!
You want to make sure, then, that your customers spread the word. Thankfully, doing so is hard-wired into their tribe mentality But you can promote this with coupon-based incentives.
Onmitsu Kage has a great way of doing this for their online martial arts dojo. They offer their customers one free month for every 3 new customers they refer:


Video business owners are often unsure about referral bonuses because it can feel like losing money. Especially of you're working with low-cost subscription fees.
But there are 2 things to consider here…
Firstly, you only need to "give away" what you can afford. You don't need to run a referral scheme at a net-loss.
Secondly, you need to consider the long-term gains. Let's say:
You have a customer at $5.99 a month.
They refer 2 friends who also pay $5.99 a month.
They receive a free month for their referrals.
In that first month you still "win" $11.98 profit.
When their free trial is over that goes up to $17.97.
You receive that $17.97 recurring for the duration of their membership.
The overall win of a customer referral bonus is higher than the small discount you give as a bonus. So, this is definitely an option worth exploring!
4. Create Social Media Contests And Giveaways
Coupons can also be a great way to create engagement on social media. People love to take part in contests, raffles, and giveaways.
Doing this can…
improve brand awareness
attract new customers
engage potential customers with your marketing
help spread word-of-mouth from existing customers
…all without incurring lots of costs. Research also shows around 34% of contest participants go on to become paying customers!
LYT Yoga uses this coupon strategy to great effect over on their Instagram feed. They recently gave away a one-month free trial on a post that got 100+ interactions: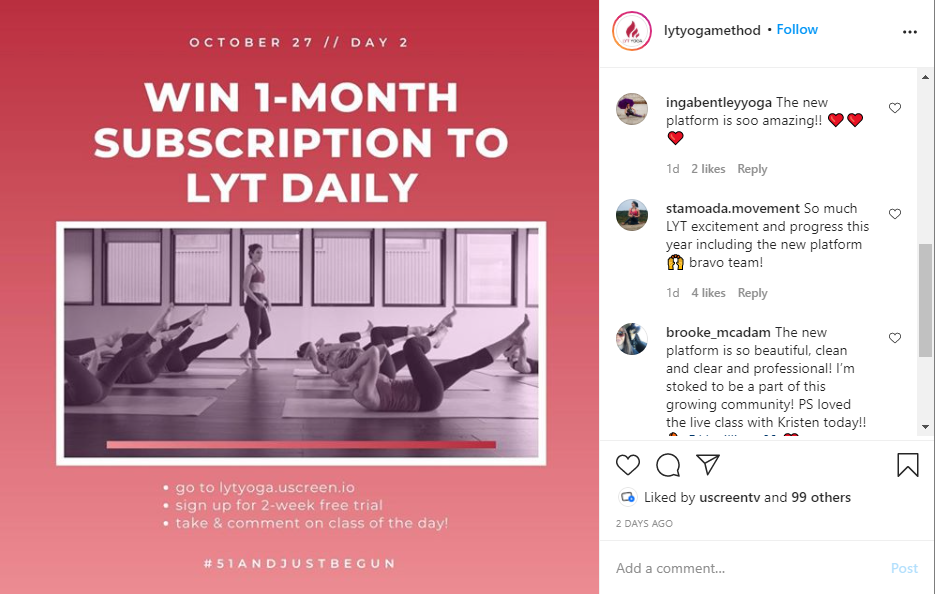 There were also some other clever benefits to doing this.
LYT Yoga pushed people towards their free-trial, which increased their overall sign ups. This has the potential to convert up to 52% of those people into paying customers.
It also generated comments on their Instagram feed, which work as testimonials and provide social proof to potential customers. (More on that next!).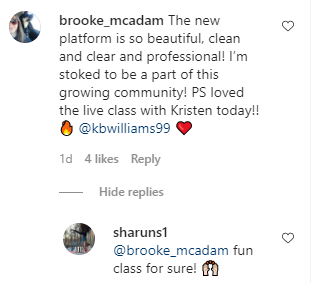 You can create and run a coupon-driven giveaway with little more than a well-designed social media post and strong call to action. And, it can work for all video business niches!
5. Ask For Customer Feedback And Testimonials
The best way to convince customers to subscribe to your service is word of mouth referrals; the second best way is social proof.
88% of consumers trust online reviews as much as personal recommendations. And, these "reviews" can come in the form of:
Written or video testimonials.
Reviews on sites like TrustPilot.
Social media comments.
In fact, 50% of consumers will pull out their smartphone just to find third-party reviews to verify they are making the right purchase. That means they hold a lot of weight with people!
You can use coupons as a way to incentivize people to leave feedback and reviews, or create personalized testimonials you can use on your video website.
Take a look at how powerful this testimonial is on Lisset Perrier Artistry's homepage: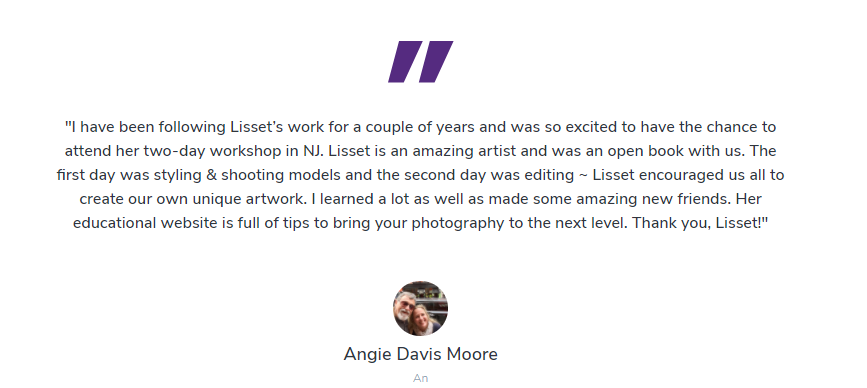 If you were an on-the-fence potential customer, that might just be enough to get you to sign up for a free trial or join their service outright!
You can reward people in a way that fits your budget, whether that's a $5 coupon, or 3 months free. But have no doubts, the return on investment here will be well worth anything you invest!
Here's How To Create Stunning Promo Pages For Your Coupons
If you're a Uscreen customer, you'll find a feature in your Marketing Tools called Landing Pages: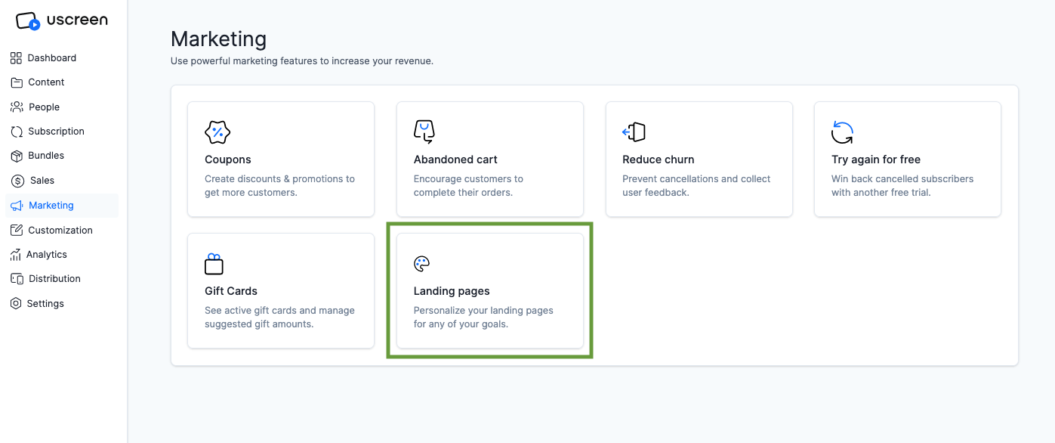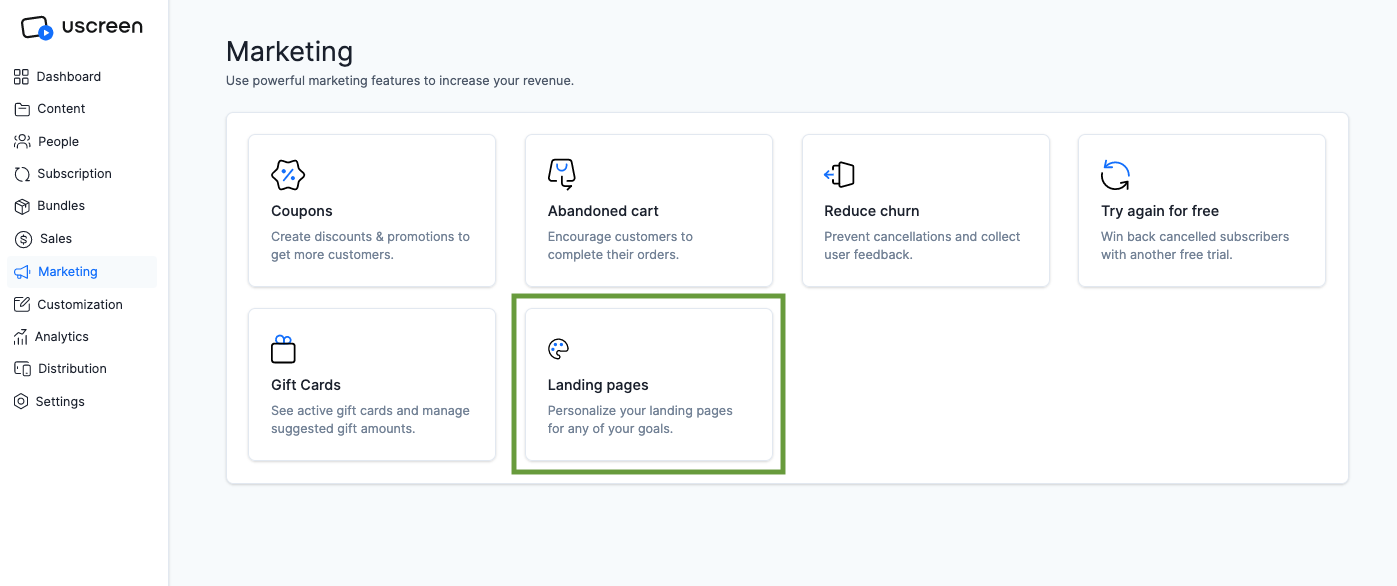 You can use this feature to quickly and easily create promotional pages. Making them a great place to redirect people who come across your coupon promotions.
If you have requirements that a customer needs to fulfill to be eligible for a coupon, like…
submitting their email address
signing up for a free trial
filling out contact forms
submitting written essays
leaving feedback and testimonials
…you can create custom elements that allow you to capture this information, and easily choose the recipient(s).
Wrapping This Up…
Coupons are a tried-and-tested marketing tool that can help you engage customers and boost your sales. In this article we looked at 5 creative ways you can use them:
Offer scholarships to in-need customers.
Take advantage of #HashtagHolidays.
Create an easy-to-manage referral scheme.
Promote social media giveaways and competitions.
Incentivize feedback and get social proof.
But I want to know, what other creative ways can you think of? Share them with us over on Twitter or Instagram!
Top Traffic Sources for Attracting Consumers to Your VOD Platform