It's a crazy time for the live events industry right now.
If you make a living from performing or putting on live events, 2020 was probably a very stressful year for you! But, is there a light at the end of the tunnel?
We've seen a rise in the demand for virtual events across all kinds of branches…
conferences
stage shows
concerts
operas
seminars
much, much more
…and people who have taken their in-person events online are already reaping the rewards.
In this article, we're going to highlight 17 virtual event examples, so you can see how virtual events look and just how simple it can be to pivot online.
Let's go…
Virtual Conferences & Talks: Connecting People And Ideas Through Virtual Events
Conferences and talks are an exciting part of any industry.
There's something about bringing like-minded people together to share ideas, listen to impactful talks, and explore networking opportunities that we just love.
But how can we keep these in-person conferences going in the wake of the recent pandemic? And, can you still deliver the same interactive experience?
Well, these conferences found a way to do it through online events. Let's take a look!
1. TEDxCambridge
TEDxCambridge is a live speaking event that has spent the last 10 years bringing a TED-like experience to the people of Boston.
Guided by the well-known TED Talks format, TEDxCambridge focuses on showcasing ideas, artists and speakers to a live audience of 2,500+ people.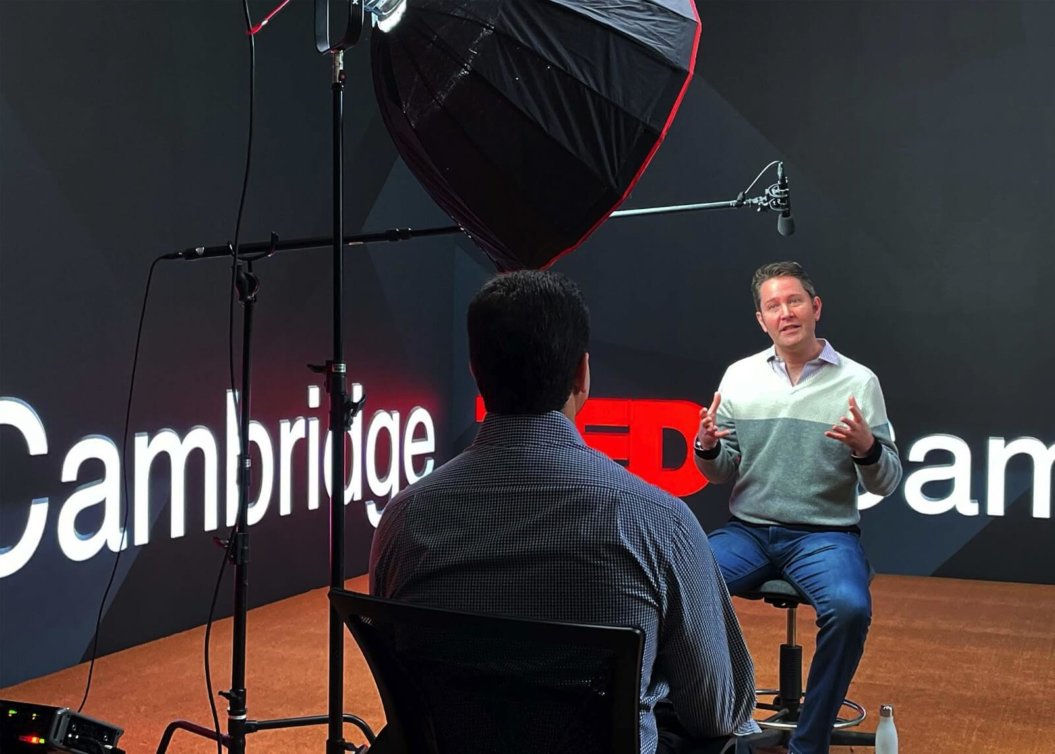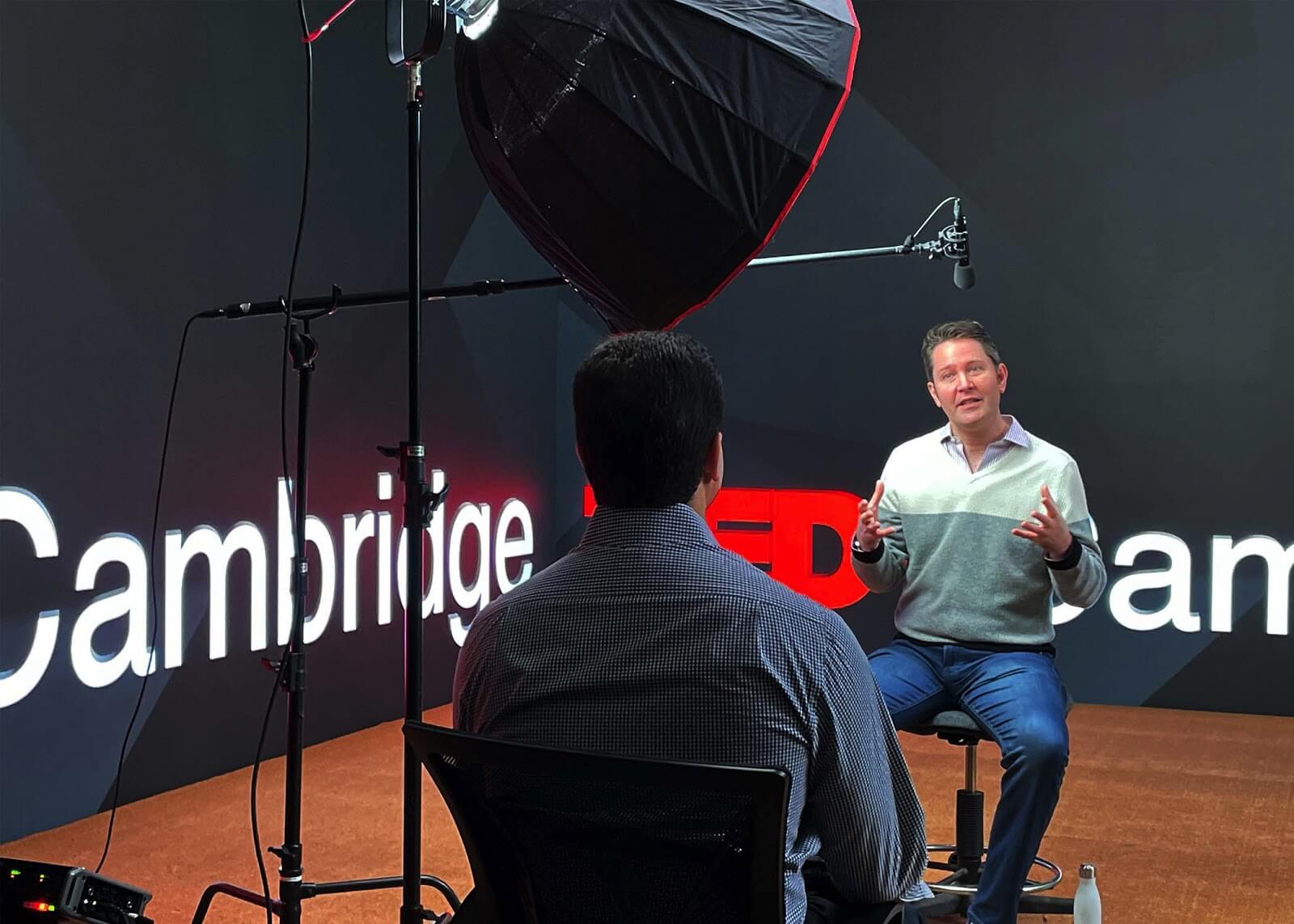 The coronavirus pandemic put the brakes on their planned talks for 2020 and 2021, and forced them to reassess what the future of their live event looks like.
Though the initial setback was frustrating, they chose to look for the opportunity in an otherwise trying situation. Here's what their executive director, Dimitri Gunn, had to say:
"As the new reality of the world started to truly sink in, we realized we can use the pandemic as a once-in-a-lifetime opportunity to explore some exciting new technology to go from in-person events to a digital-first experience that transforms the TED talk for the home audience. By nature of the constraints we're all in, this is a unique moment in time to do something that's never been done before. "
And, something unique is exactly what they've created. They're in the process of launching a video on demand service using Uscreen.
The platform will feature more immersive talks and video content utilizing their 4k stages, to create an even greater emotional response with the at-home viewer.
You can get a glimpse of that technology here:
To learn more about TEDxCambridge and what they're working on, take a look at our Uscreen Spotlight interview with them below.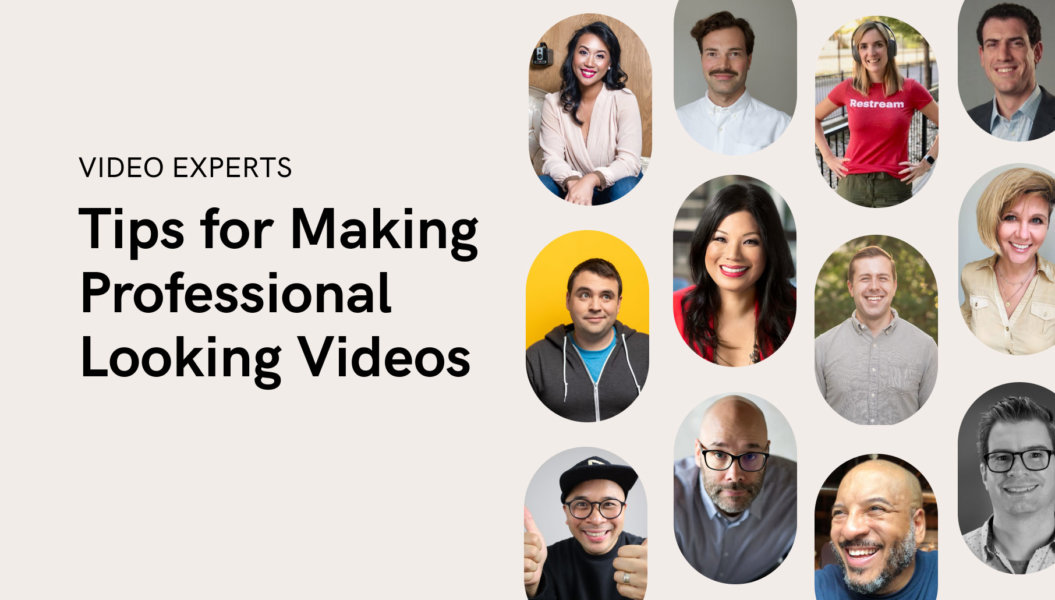 39 Expert Video Tips for Making Professional-Looking Videos

2. VidSummit
VidSummit is an annual video industry conference. They bring together the best video marketers, influencers, and brands to speak and help people like you grow their video business.
They originally launched a video on demand service back in 2019 as a hybrid-event option, where they could offer replays of their in-person event for people who wanted to watch from the comfort of their own home.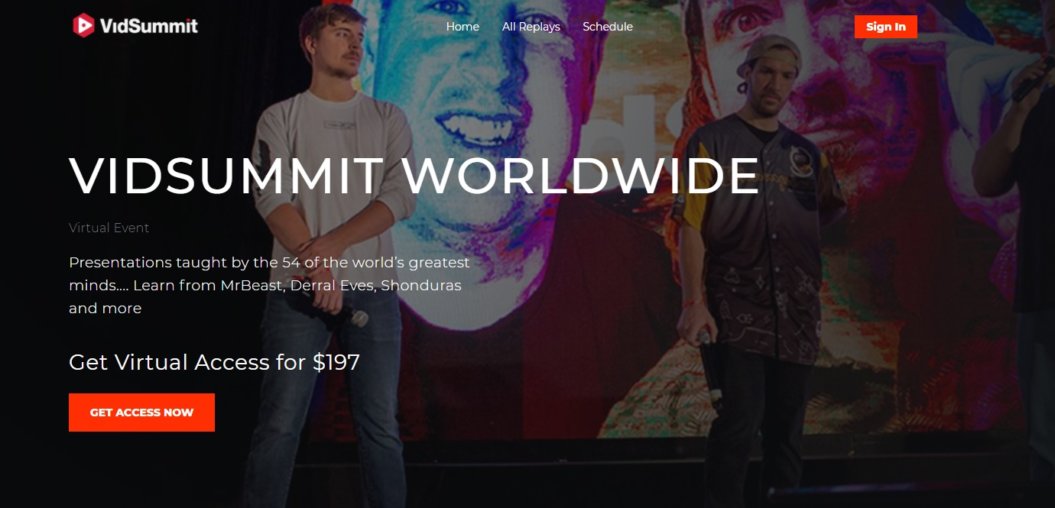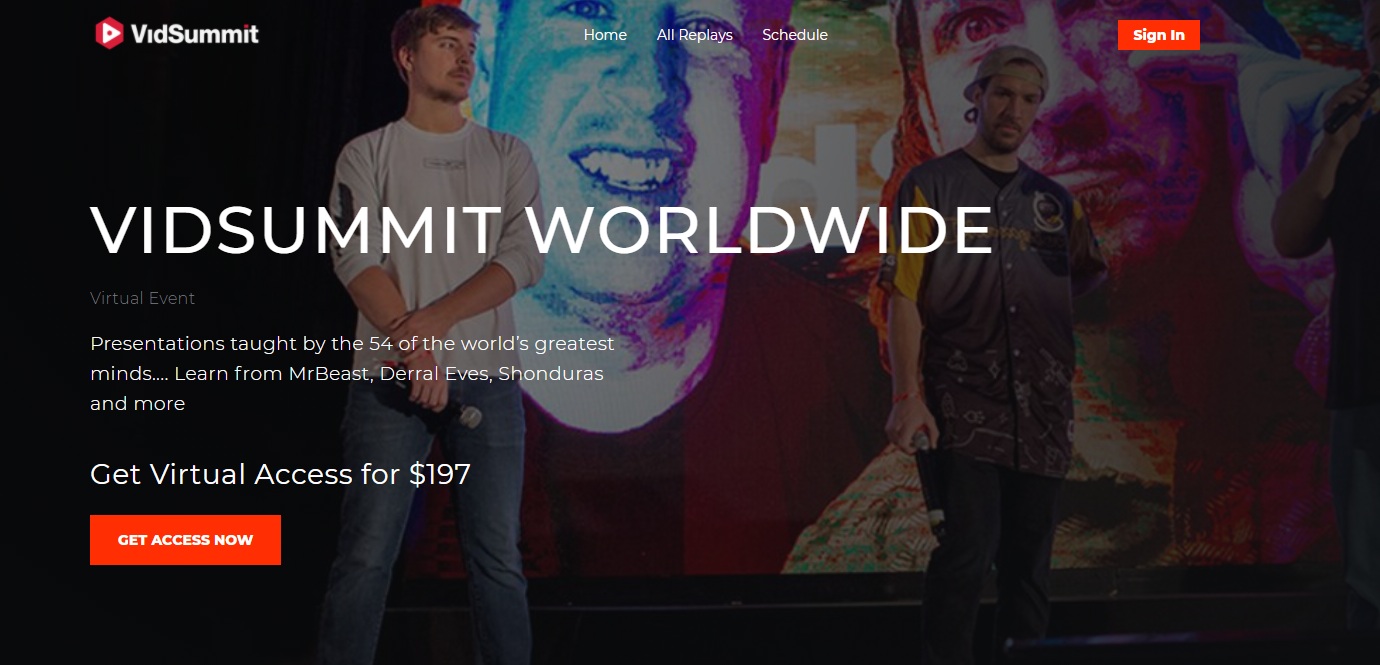 When COVID-19 struck and large in-person conferences were canceled, they pivoted by turning their entire conference into a live-streamed virtual event.
This allowed them to still run either event and engage their audience in real-time It gave the VidSummit team access to people in markets who wanted the live experience but were unable to travel or attend in-person.
The virtual conference was such a hit that they're offering Virtual Pass access to their 2021 conference: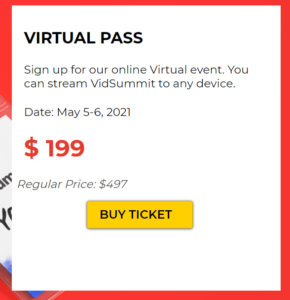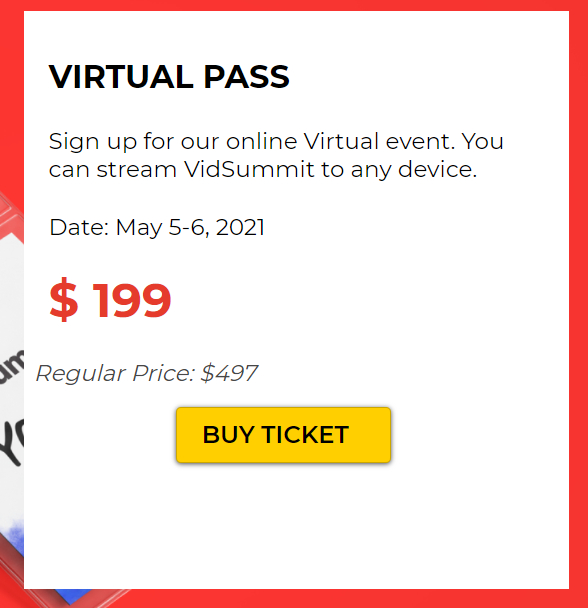 If you run a video business, we highly recommend you check them out! Here's a recap of what we learned at VidSummit 2019.
3. Step+
Step is a media company that works with brands and entertainment companies in the Middle East. They've become well known in the region for their live event, Step Conference.
The event usually brings in an audience of 8000 entrepreneurs who can listen to over 300 speakers and access 100 exhibits across the 3-day event. That's already a big conference!
But Step wanted to take it a step further. They wanted to be able to attract speakers, entrepreneurs, and exhibitors from all over the world, regardless of time zone and travel restrictions.
So, they launched the online event Step+: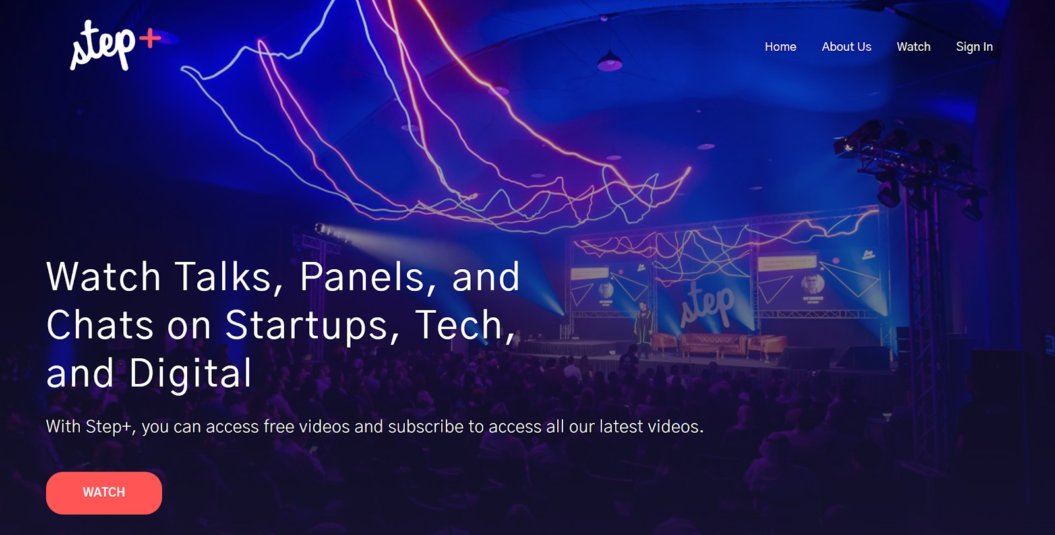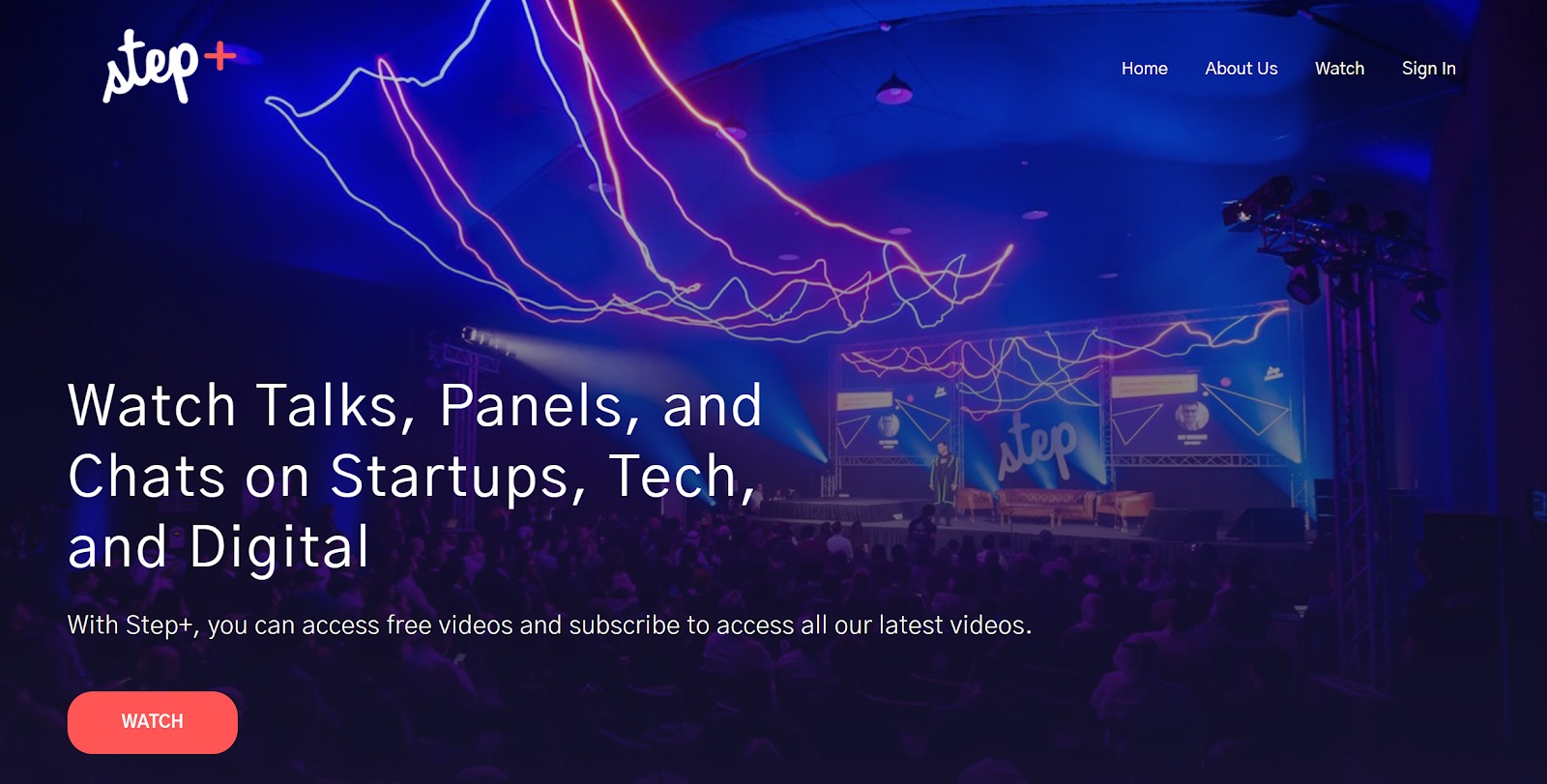 Step+ is an extension of their in-person and online conference. Here, they upload talks, panels, keynote speeches, and interviews with thought-leaders across a wide range of industries.
All of these videos are available on-demand and can be streamed through a web browser on any computer or internet-ready device.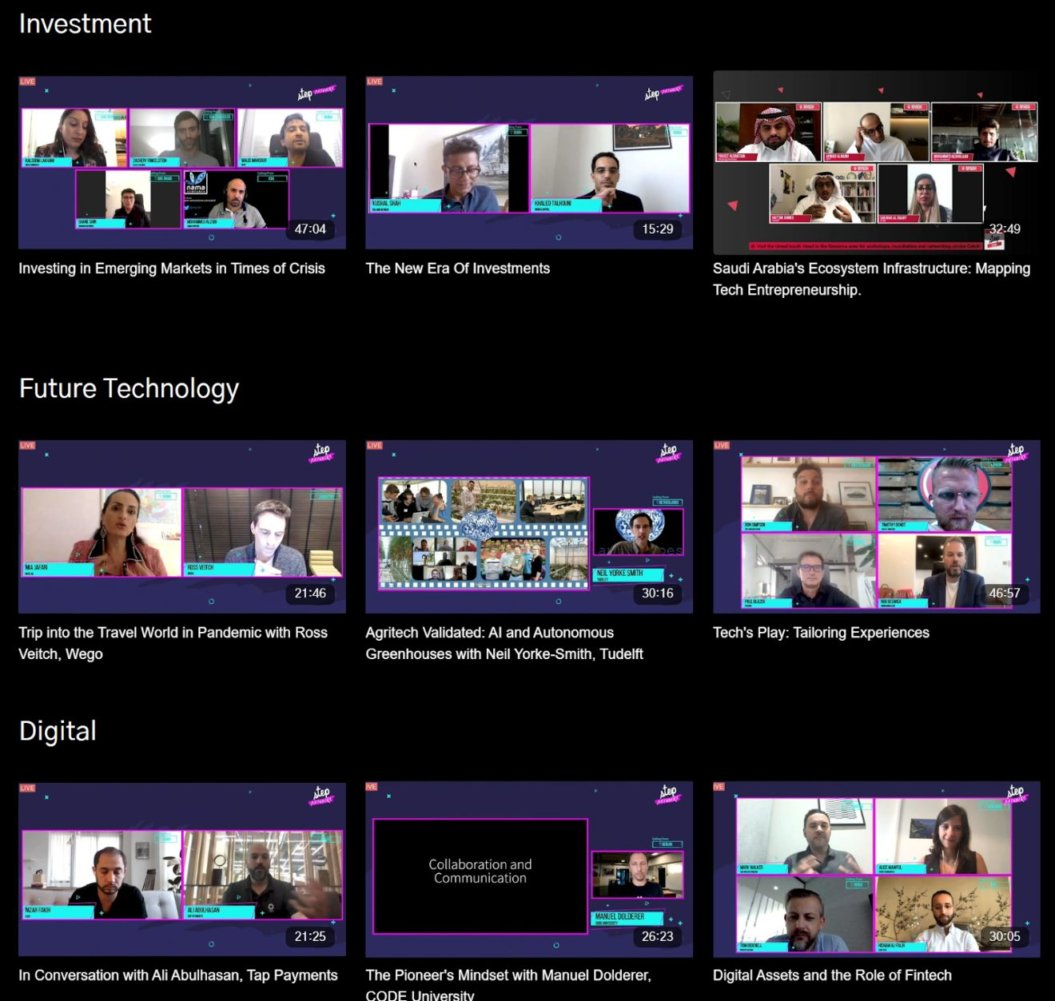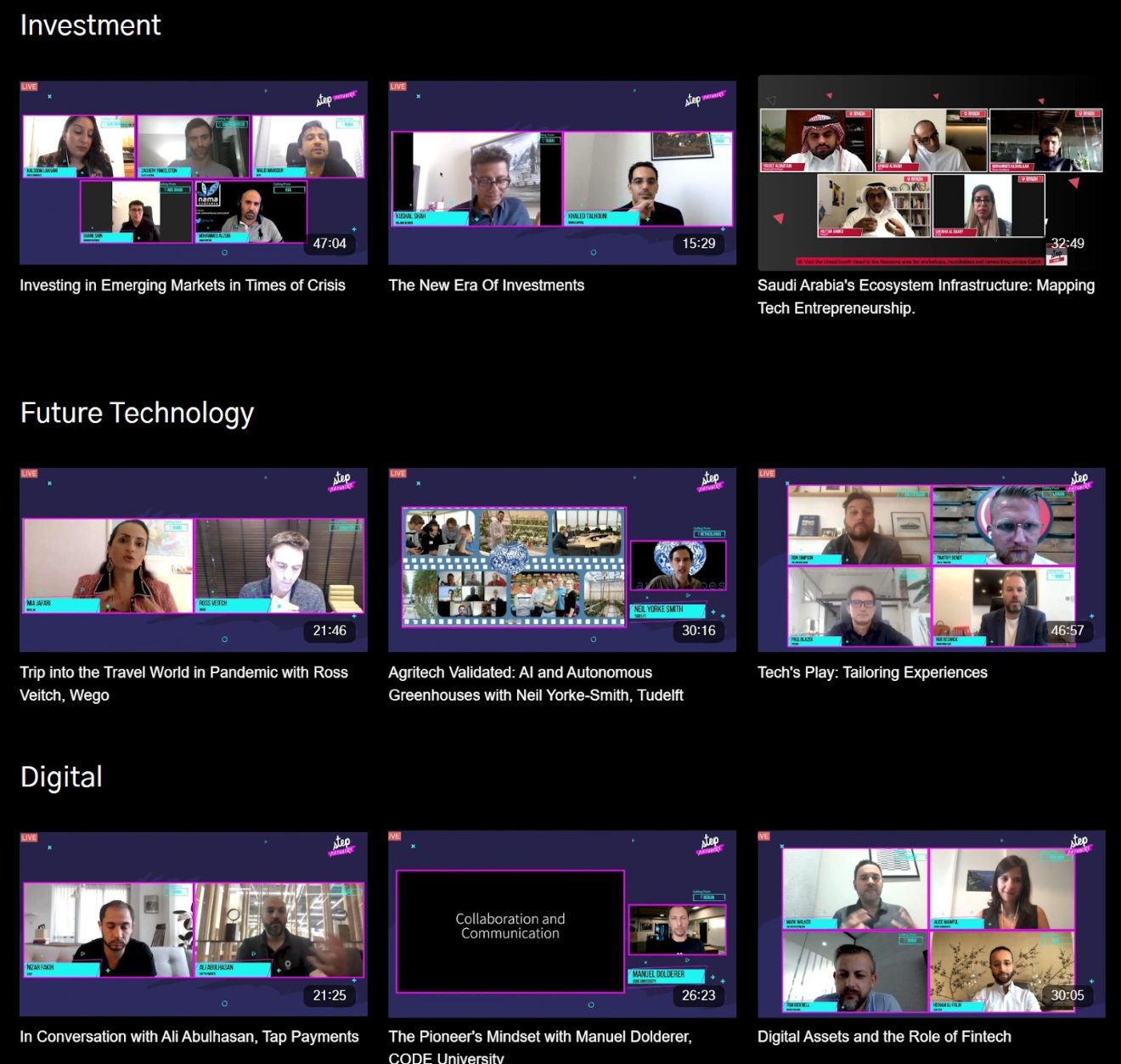 An advantage to having a video on demand platform is Step can upload content year-round, and continue to connect with their audience before, during, and after the live event.
For a subscription fee, customers have year-round access to content from previous events, as well as other content like podcast episodes, webinars, video interviews, and bonus seminars!
4. World's Greatest Motivators
World's Greatest Motivators is a live event that brings well-renowned motivational speakers to the stage and to help their audience live happier, healthier, and fuller lives.
Motivation can be fleeting and people need a dose of it every day. So, they've created a video on demand platform that puts 20+ hours of keynote speeches and seminars in your pocket:
Their subscribers can stream videos from their favorite speakers directly to any device, and even save them for offline use in one of their OTT apps.
Theatres, Studios, And Stage Shows: The Show Must Go On-line.
If you work in a theatre, studio, or stage show you've definitely felt the impact of COVID-19.
There have been drops in ticket sales of up to 91%, and governments are still uncertain about if and when things will return to normal. But, the show must go on, right?
Video has become a go-to way to bring shows to audiences, by creating a unique online experience. In fact, 15 million people from 170 countries streamed stage shows in 2020!
Let's take a closer look at some of these virtual events…
5. Stupid Old Studios Presents
Stupid Old Studios is a video production house from Melbourne, Australia. They provide space for photography projects and specialize in creating high-quality video productions.
They work on a lot of comedy projects, such as stand-up comedy and talk shows, that are filmed with a live studio audience to be broadcast later. A model that lends itself well to VOD!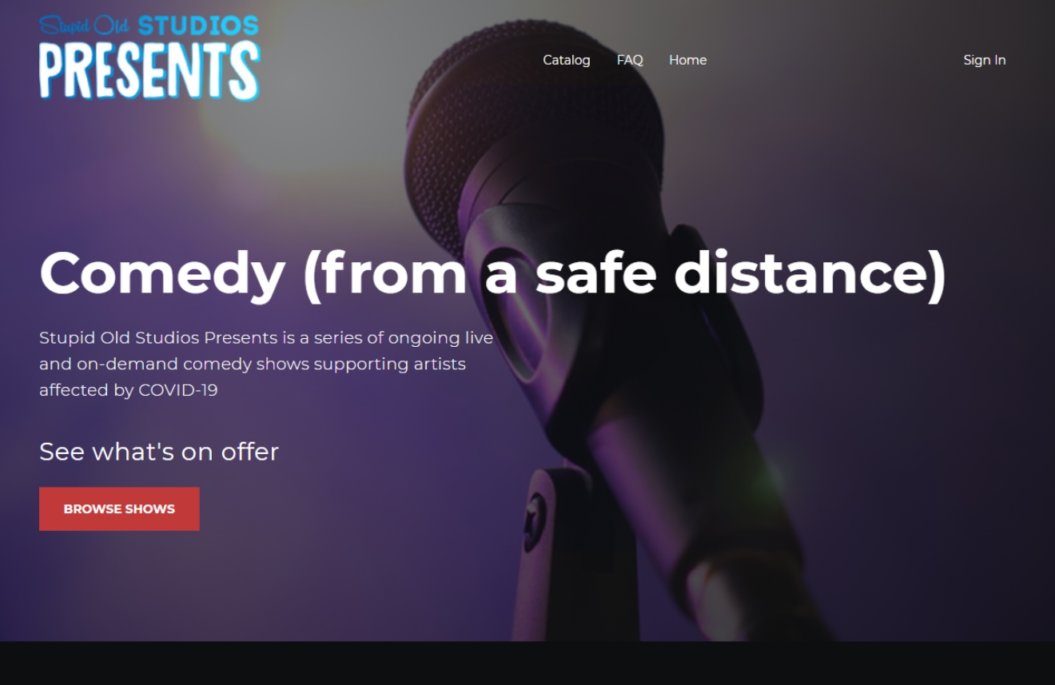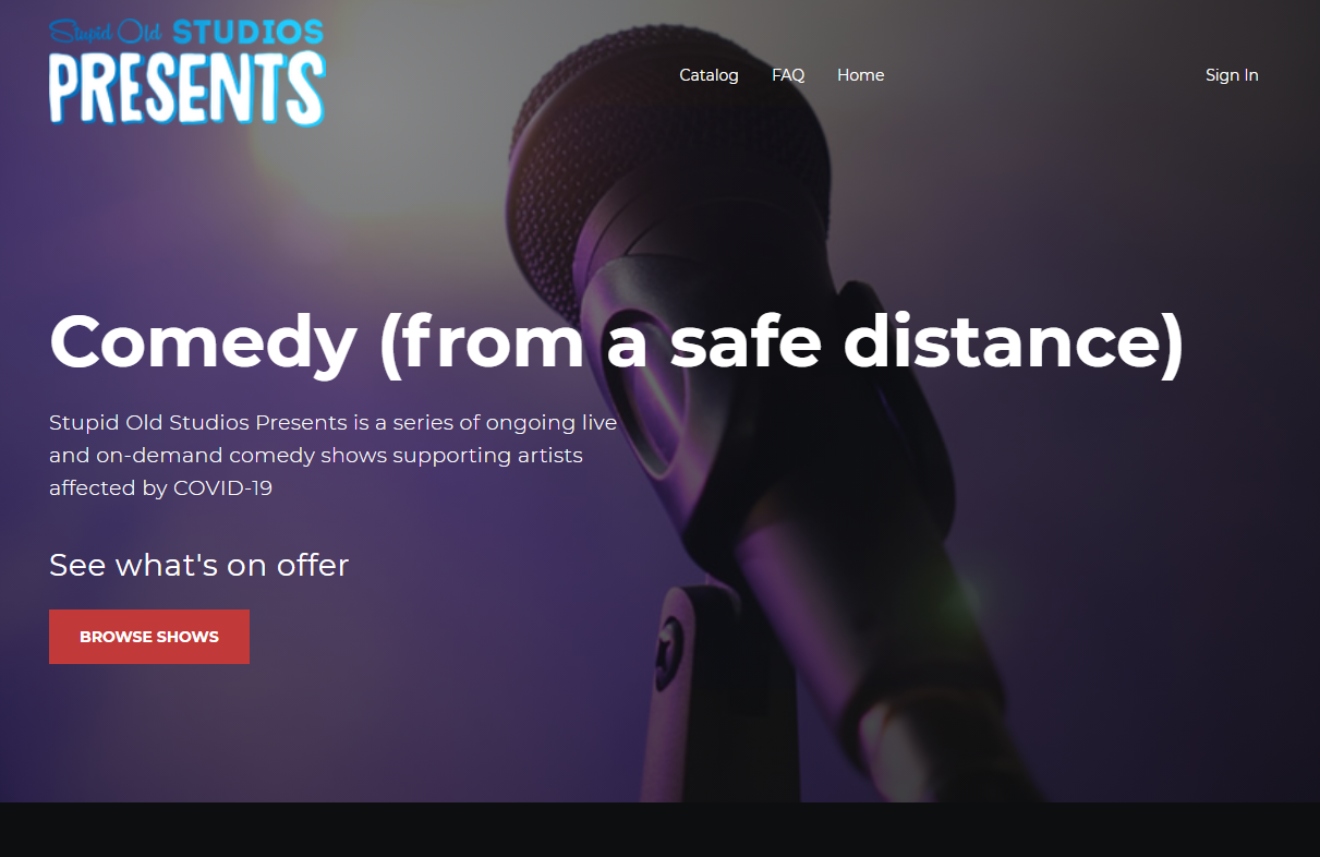 Stupid Old Studios initially took their client and in-house work online using YouTube, through their Stupid Old Channel, where they broadcast shows like Gamey Gamey Gamey:
But they've recently pivoted to provide premium live streams of comedy specials through their video on demand platform, Stupid Old Studios Presents: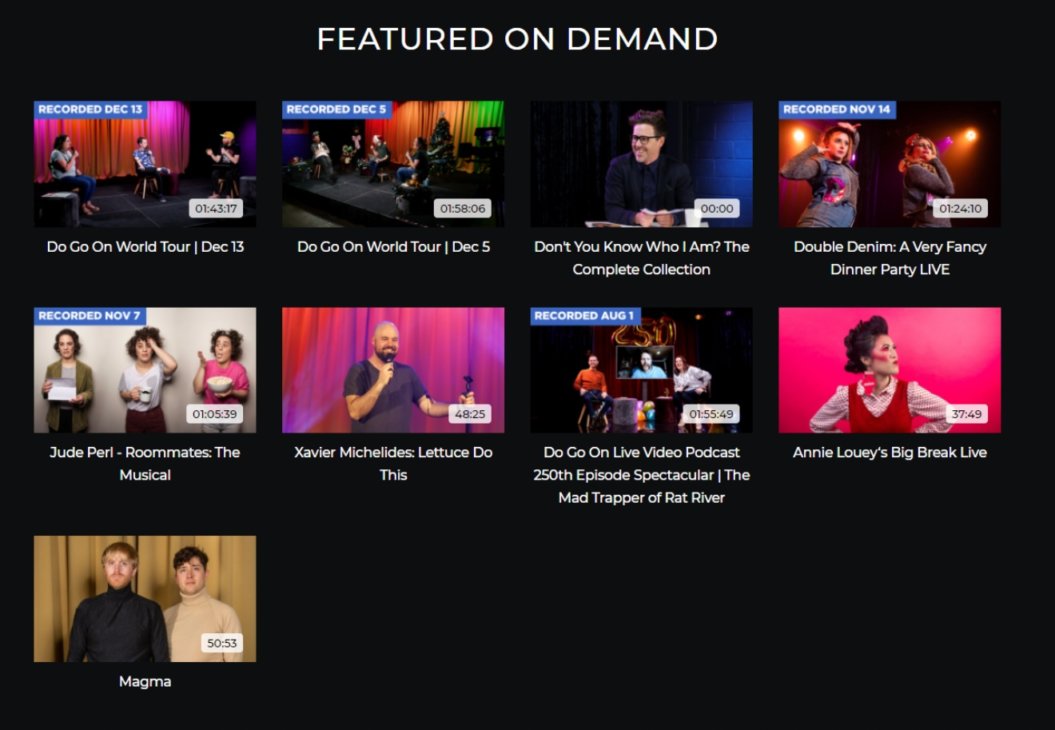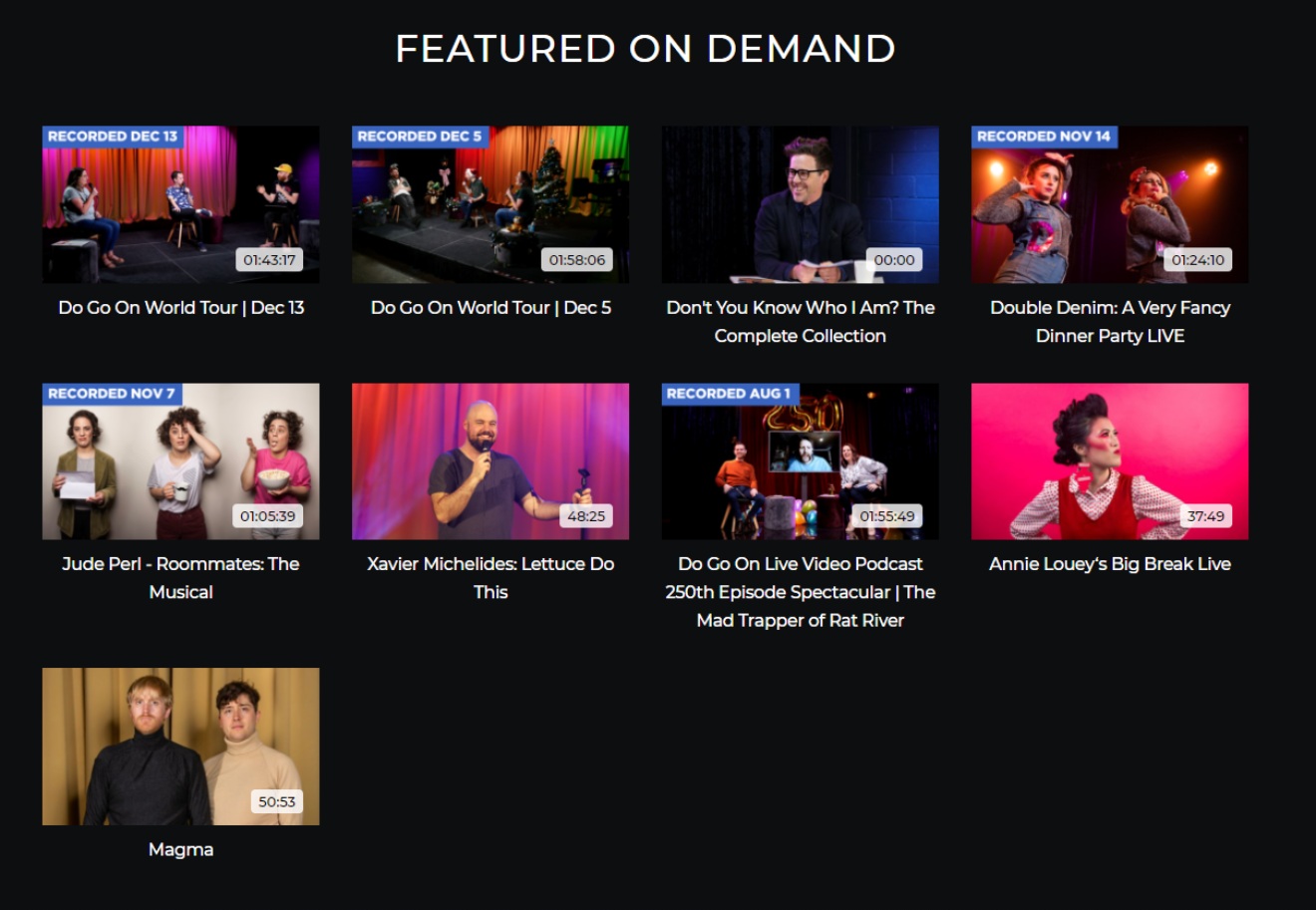 This is to help artists and creatives who have been negatively affected by coronavirus!
Their audience can pay a one-off fee to attend the live-streamed show, or they can pay a rental fee to access a recording at a later date:


If you run a business where you help others to create video content and put creators in front of a live audience, you could definitely implement Stupid Old Studio's business model.
6. YourStage.live
YourStage.live is a Swiss company that helps bring local stages to a wider audience through online video. It's a great service for smaller theatres and artists who want to try going online!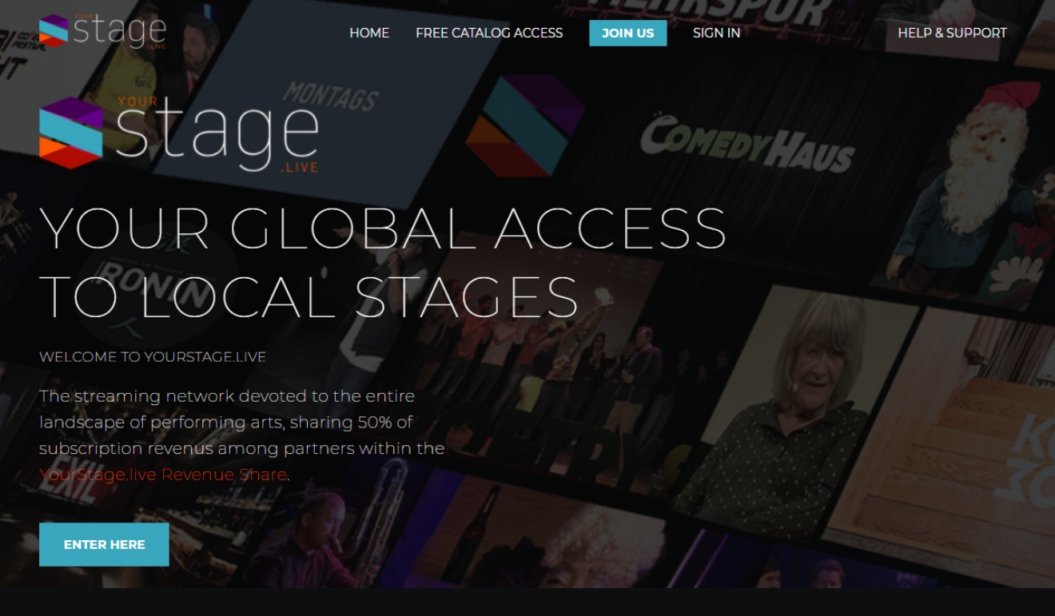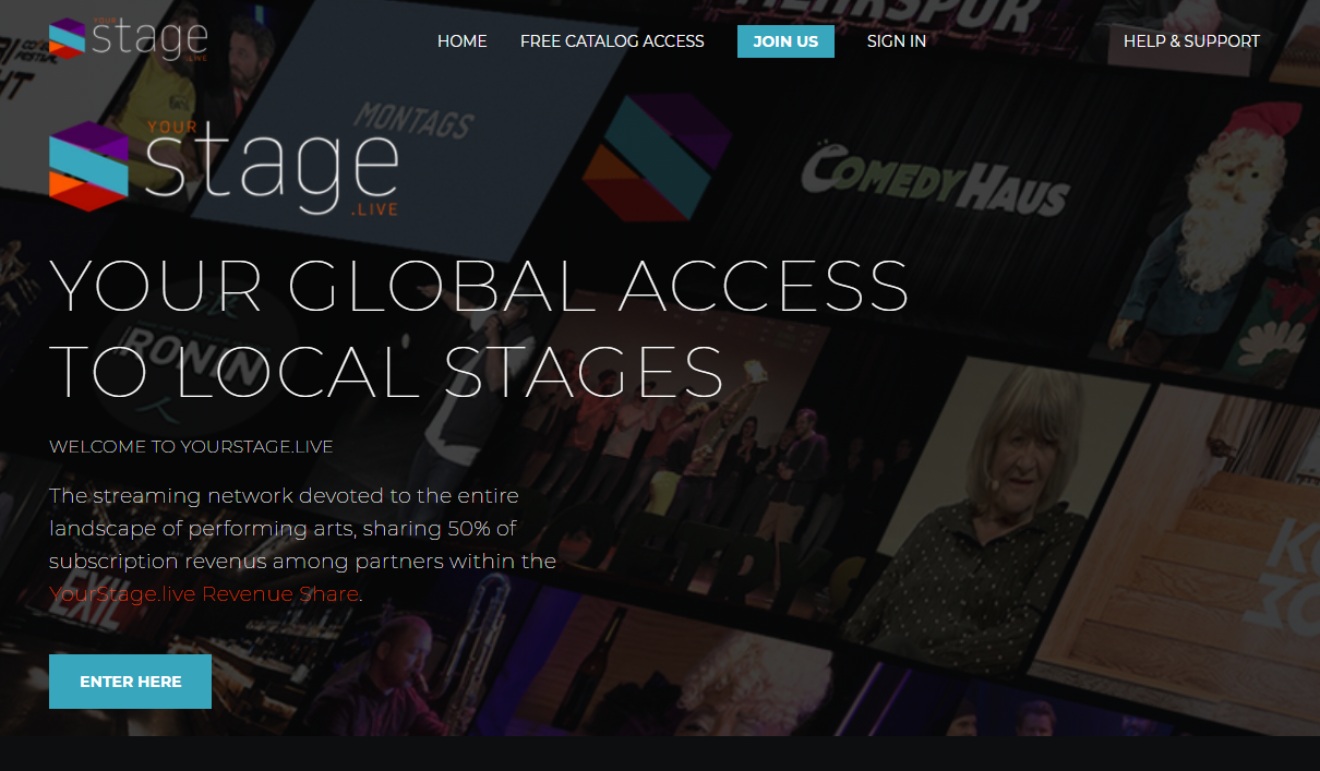 Official partners can upload their videos, pre-recorded from their location, to be shared on YourStage.live's video on demand platform to their engaged audience.
They accept videos in a wide range of niches and styles, with sections of their content catalog already devoted to:
Plays and theatre productions.
Pantomime and children's shows.
Cabaret and comedy.
Poetry readings.
Concerts.
Opera.
Partner videos generate income through a quarterly revenue share scheme, which is calculated based on a number of internal metrics. You can learn more about that here.
7. Moscow Ballet
Moscow Ballet is an independent Russian ballet company that tours North America. They specialize in classics like Cinderella, Sleeping Beauty, and Swan Lake.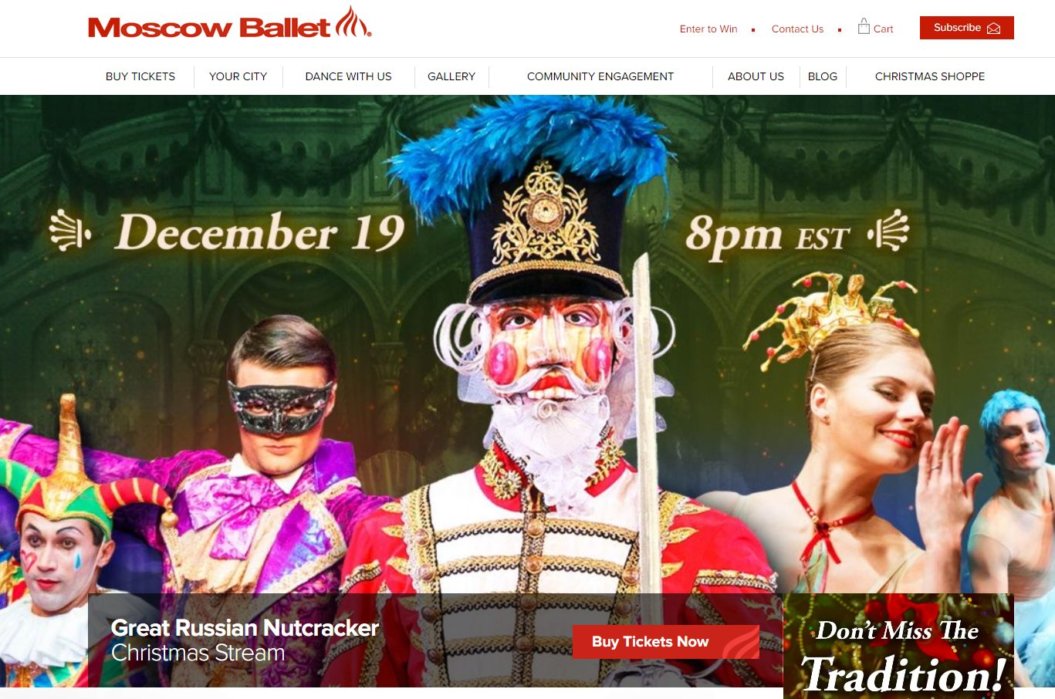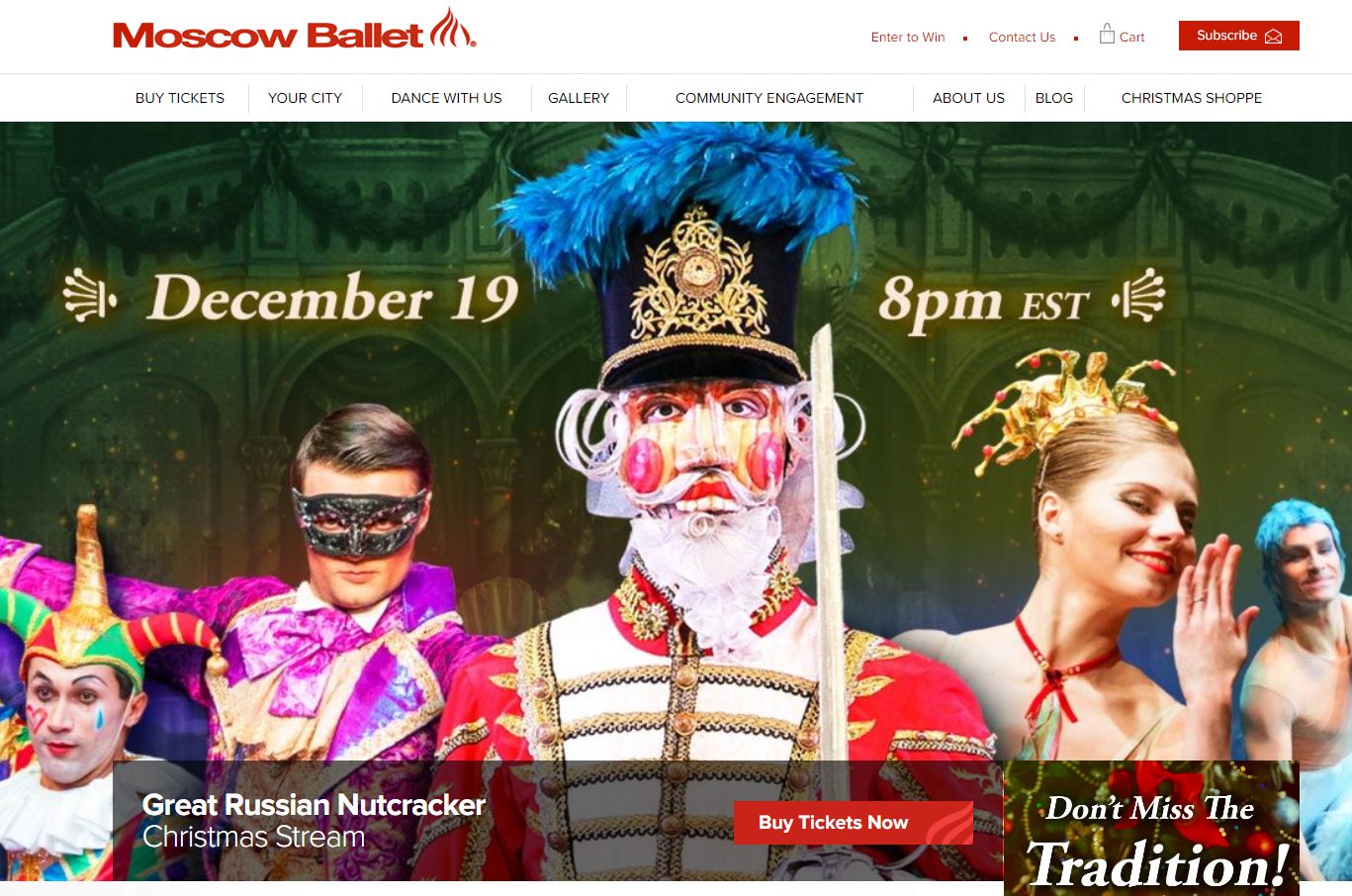 Their video on demand platform is quite different to the rest on this list. They're looking to give people a local experience through an online platform. Let me explain…
Moscow Ballet tours the US and Canada performing in major cities. These tickets often sell out quickly or can become quite expensive. So, they created a unique solution.
They built a video on demand platform that allows fans to rent a copy of a performance, recorded at their local venue, at the same time slot as the show they wanted to see live for a pristine virtual experience: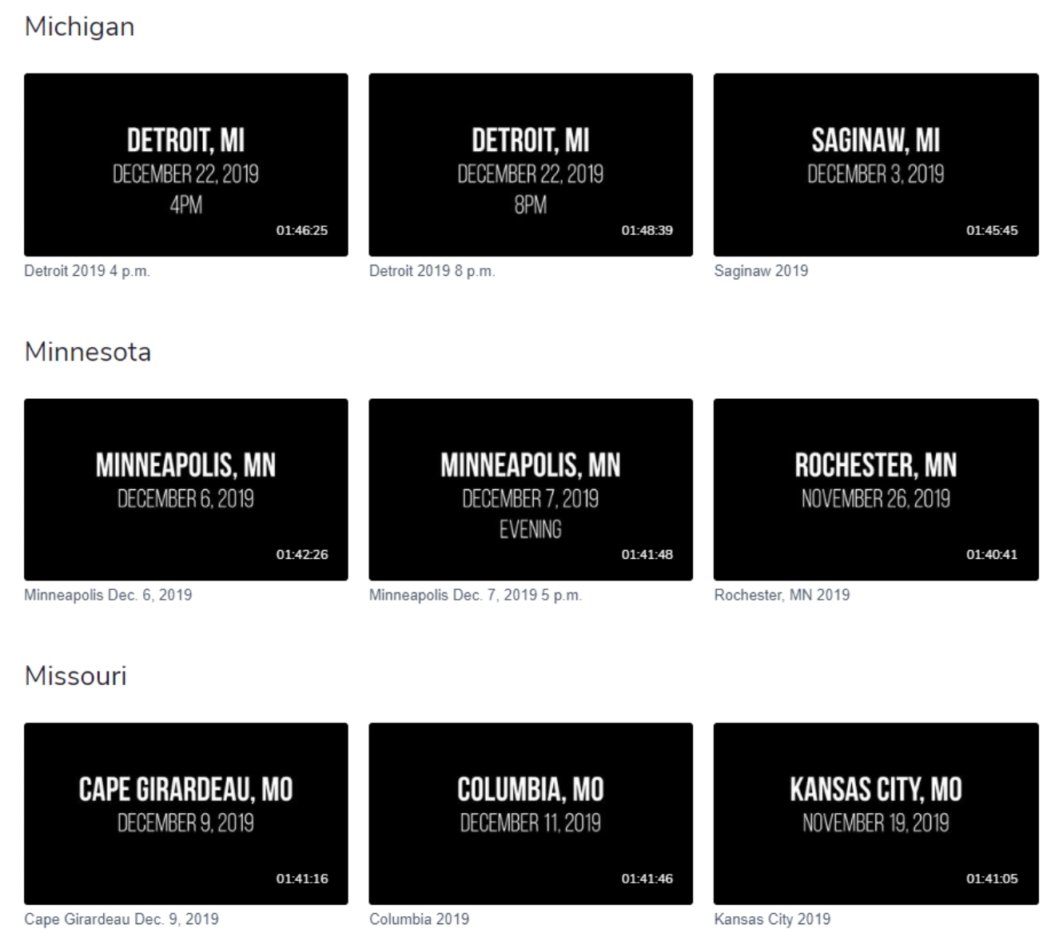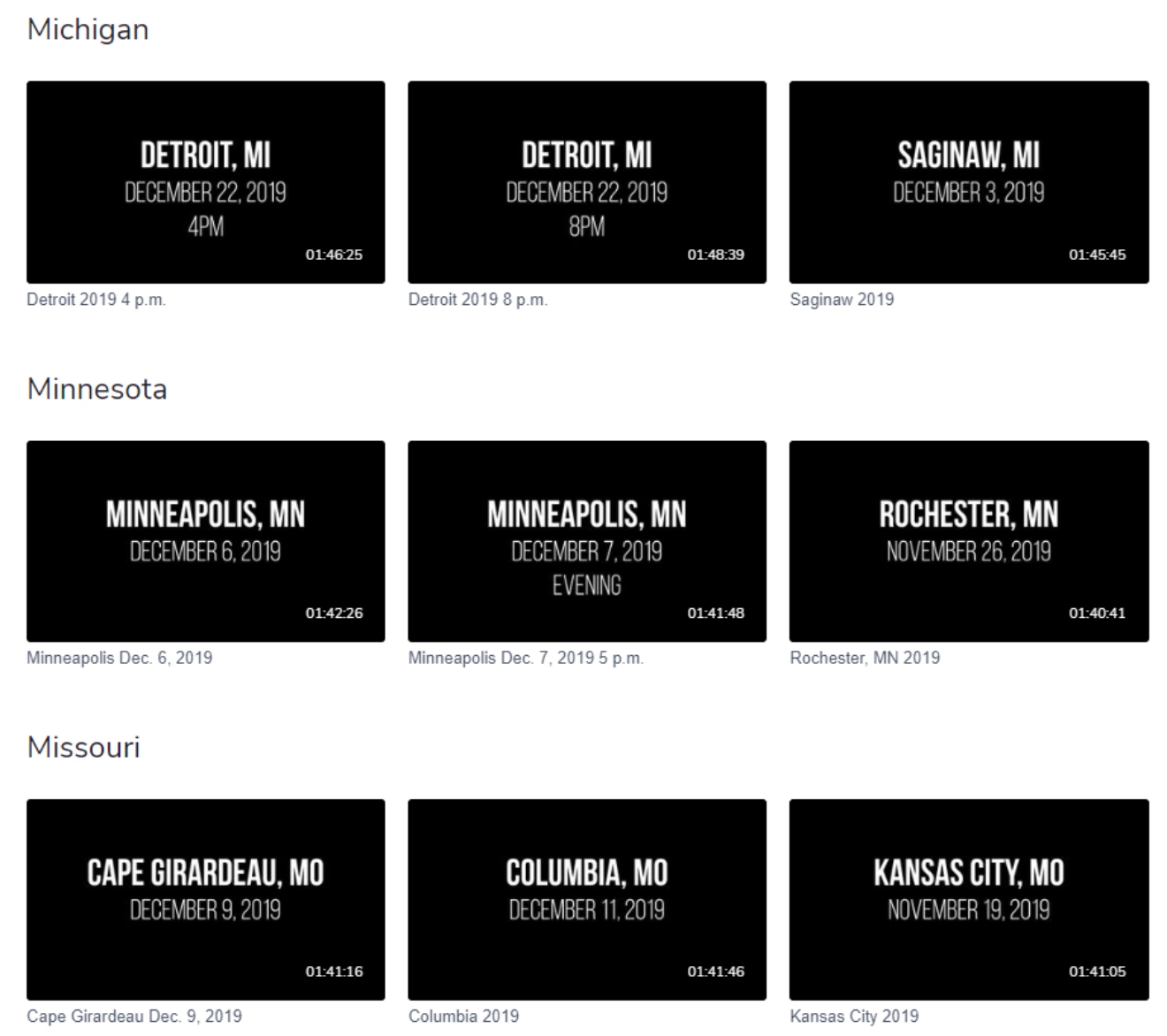 This gives their virtual attendees the feel of viewing a performance in their local theatre, from the comfort of their own home!
Concerts: A New Era Of Music Streaming with Successful Virtual Events
Concerts are the heart and soul of the music industry. And, COVID-19's social distancing has seen them suffer with large gatherings being canceled for the foreseeable future.
However, online video has offered an important landline for artists who want to continue to earn and connect with their fans.
Some markets have seen a 21% increase of people tuning into live-streamed or pre-recorded online concerts, with 42% of people saying they want to see more of them.
In this section, we'll look at a mix of bands and acts who have brought their offline experience online by offering a new way for fans to experience their music.
8. Quad City Symphony Orchestra
Quad City Symphony Orchestra (QCSO) is an American symphony orchestra based in Davenport, Iowa. They have represented the Quad Cities area for over 100 years!
The 96-member orchestra typically performs an entire season of live shows, shared between the Adler Theatre in Iowa and Augustana College in Illinois.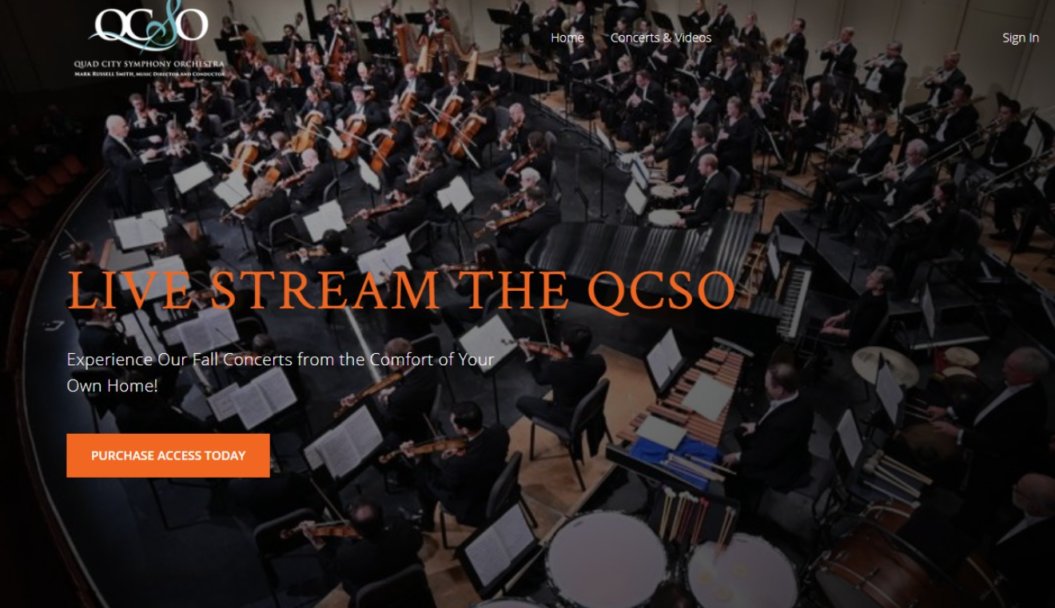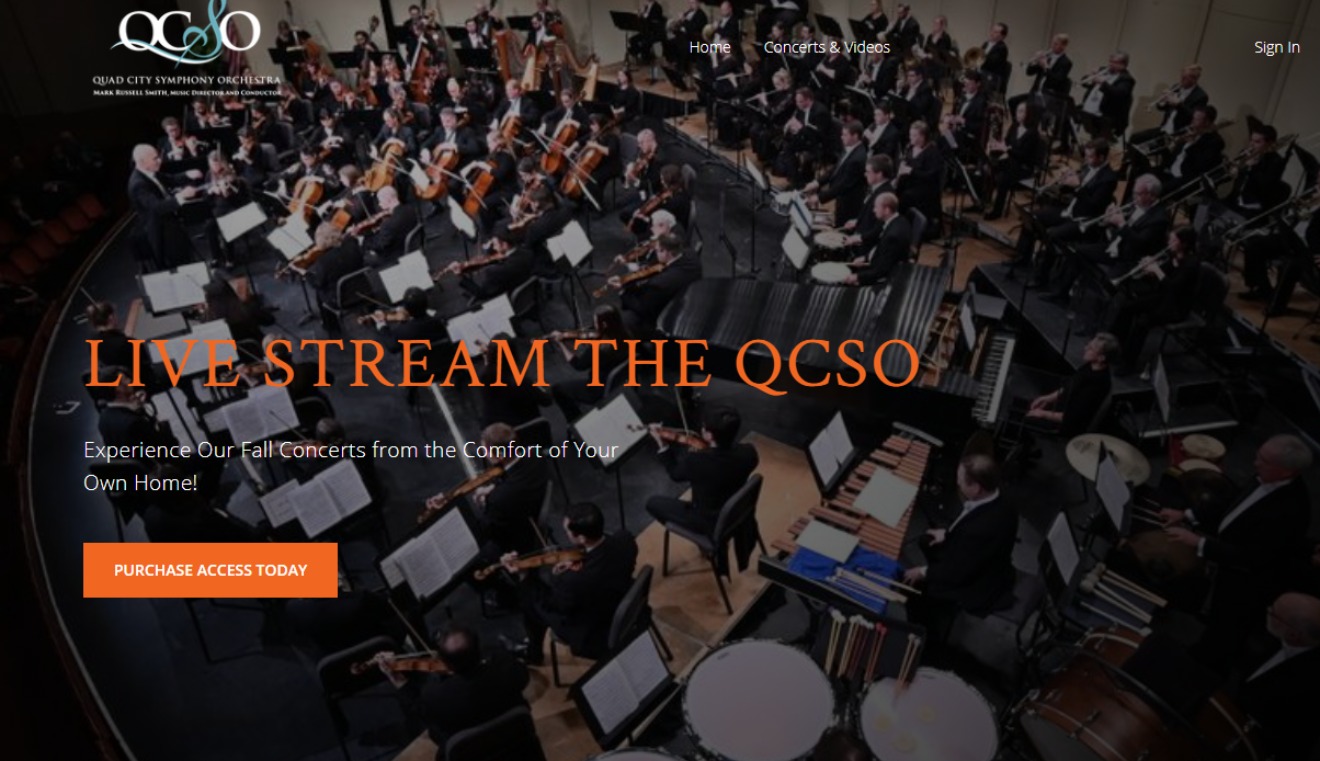 Coronavirus restrictions in Iowa limited indoor gatherings to 15 people, which prevented both attendances to shows and the 96 members of the orchestra from coming together!
QCSO needed a way to bring their music to their audience, and keep performers on stage. So, they turned to live streaming through a premium video on demand platform.
This allowed them to:
Run an adjusted season of concerts.
Perform in smaller numbers.
Put the health and safety of their performance and fans first.
Event attendees can access their live streams by purchasing digital access to the digital event, which retails at a similar price to an in-person concert ticket. Or, they can rent a replay!
9. Black Music Experience
Black Music Experience is a streaming platform that aims to bring black music, entertainment, and culture to people through online video.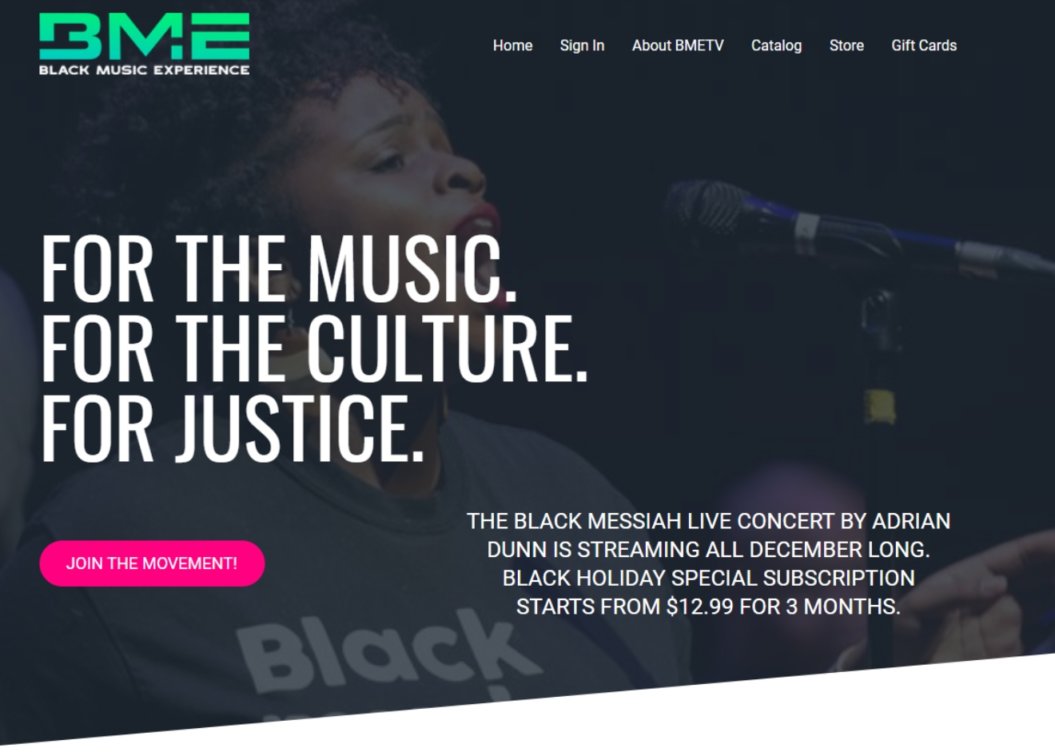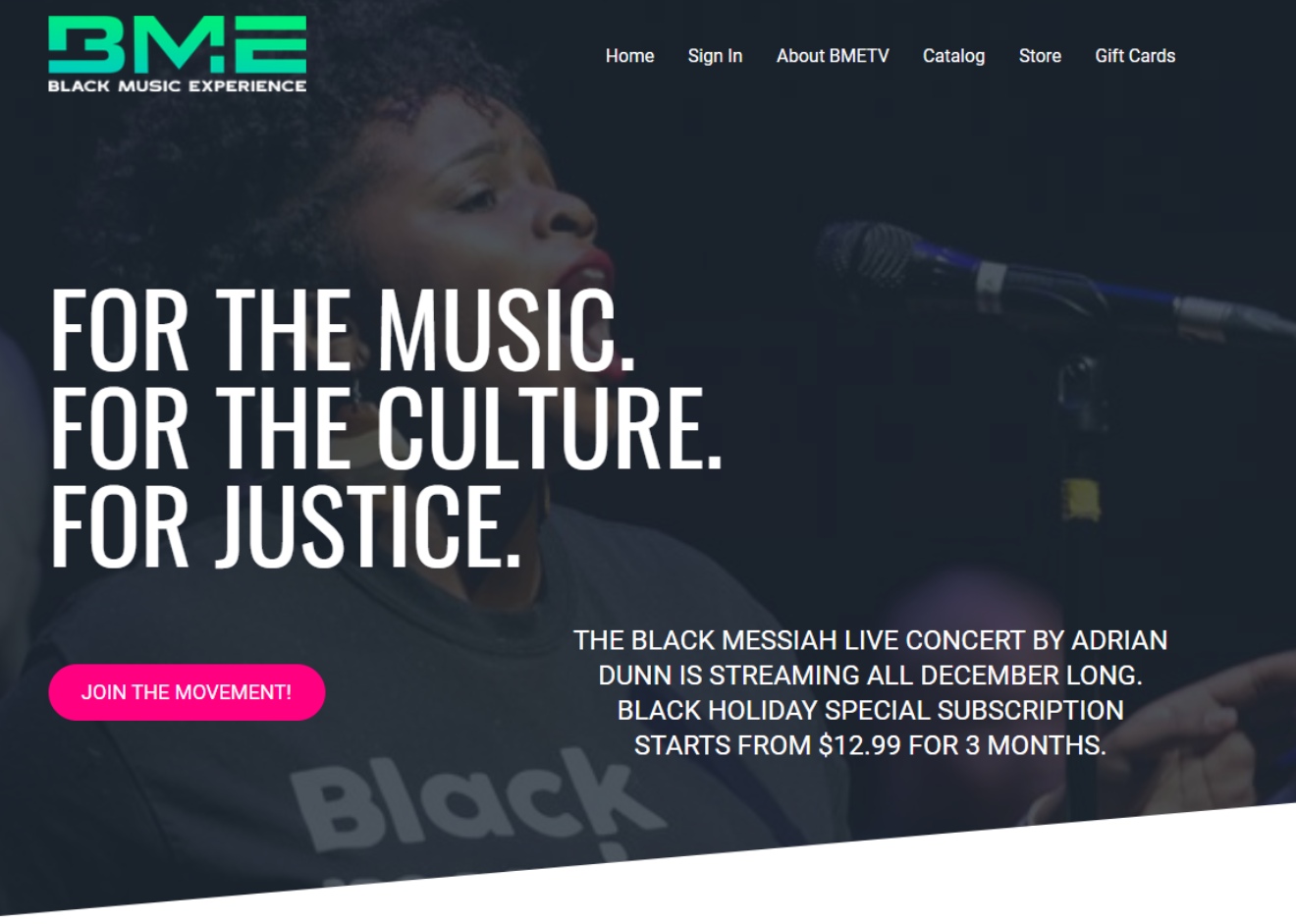 The core content centers on black music, with their catalog being made up of pre-recorded performances from a wide range of genres, like:
Gospel choirs.
Opera.
Orchestral.
Urban/Hip-Hop.
They also use online events, such as film premieres and online summits, to bring the community together around inspiring black creators and keynote speakers in real-time.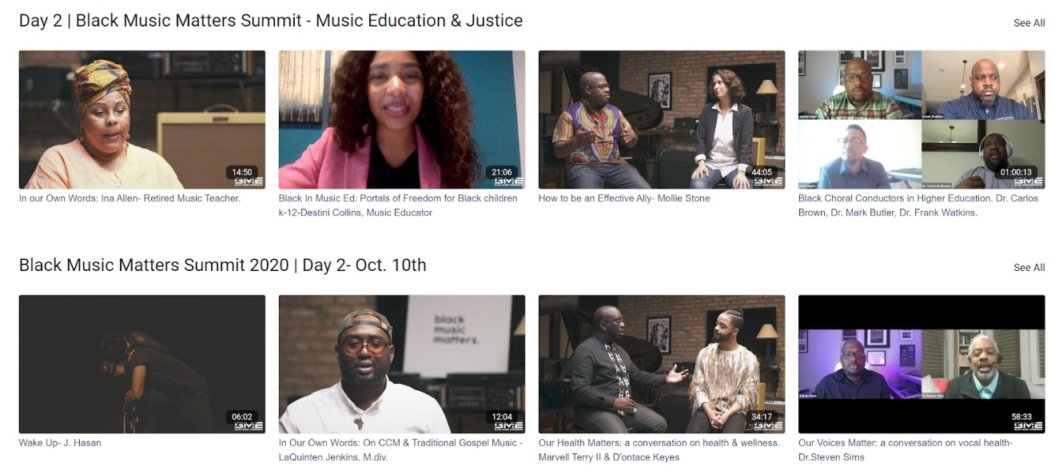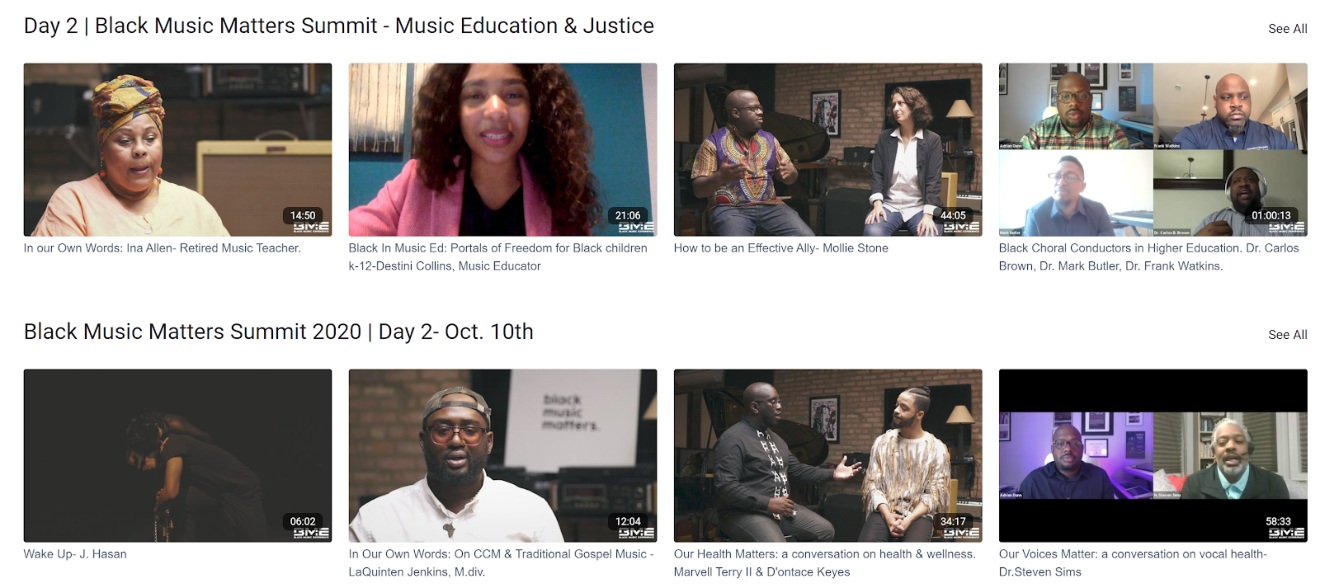 This varied approach keeps their event experience fresh and interesting, with plenty of new videos and live streams to inspire, entertain, and create community discussion.
10. Overground Showroom
Overground is a music agency based in Bucharest that manages and represents some of Romania's most successful alternative acts.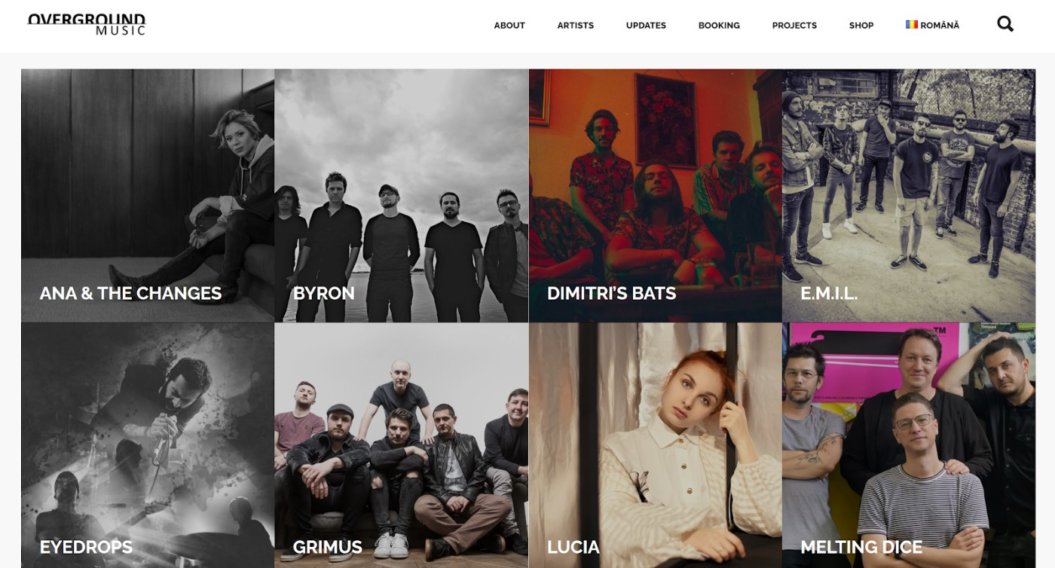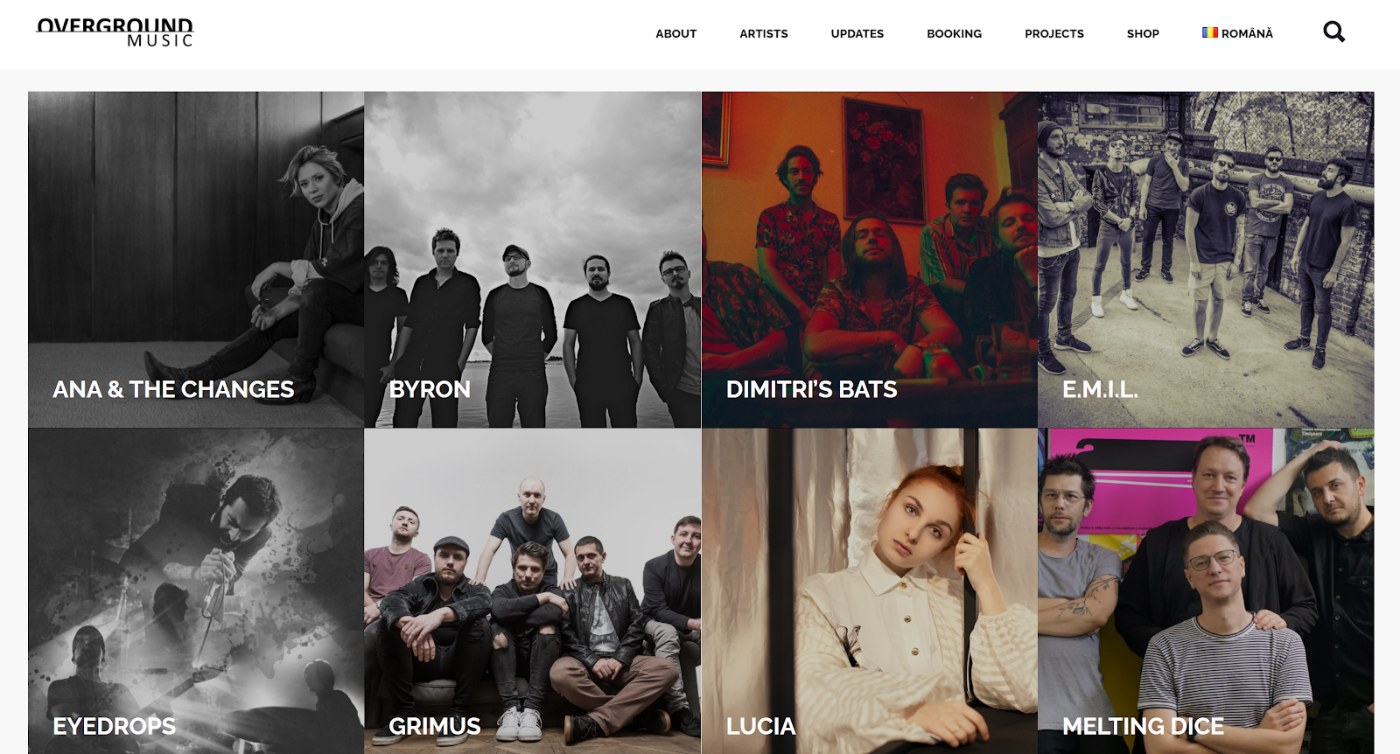 They use their content as a way to support the Romanian music industry, build a dedicated following for their acts, and help generate new income and opportunities.
They have an online store where you can buy their acts' merchandise and an online magazine where you can learn more about the Romanian music scene.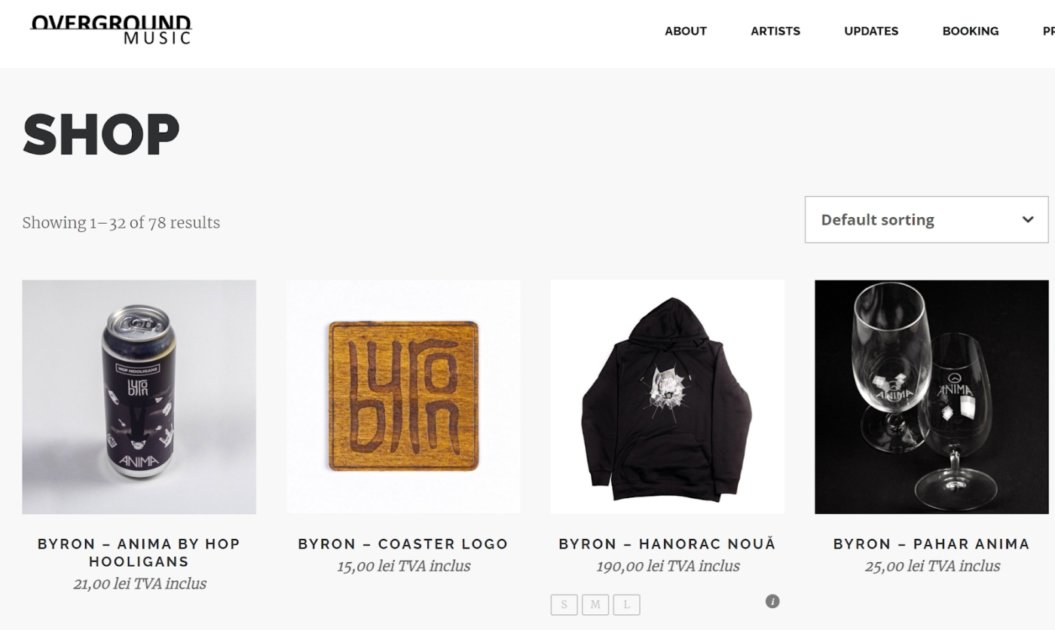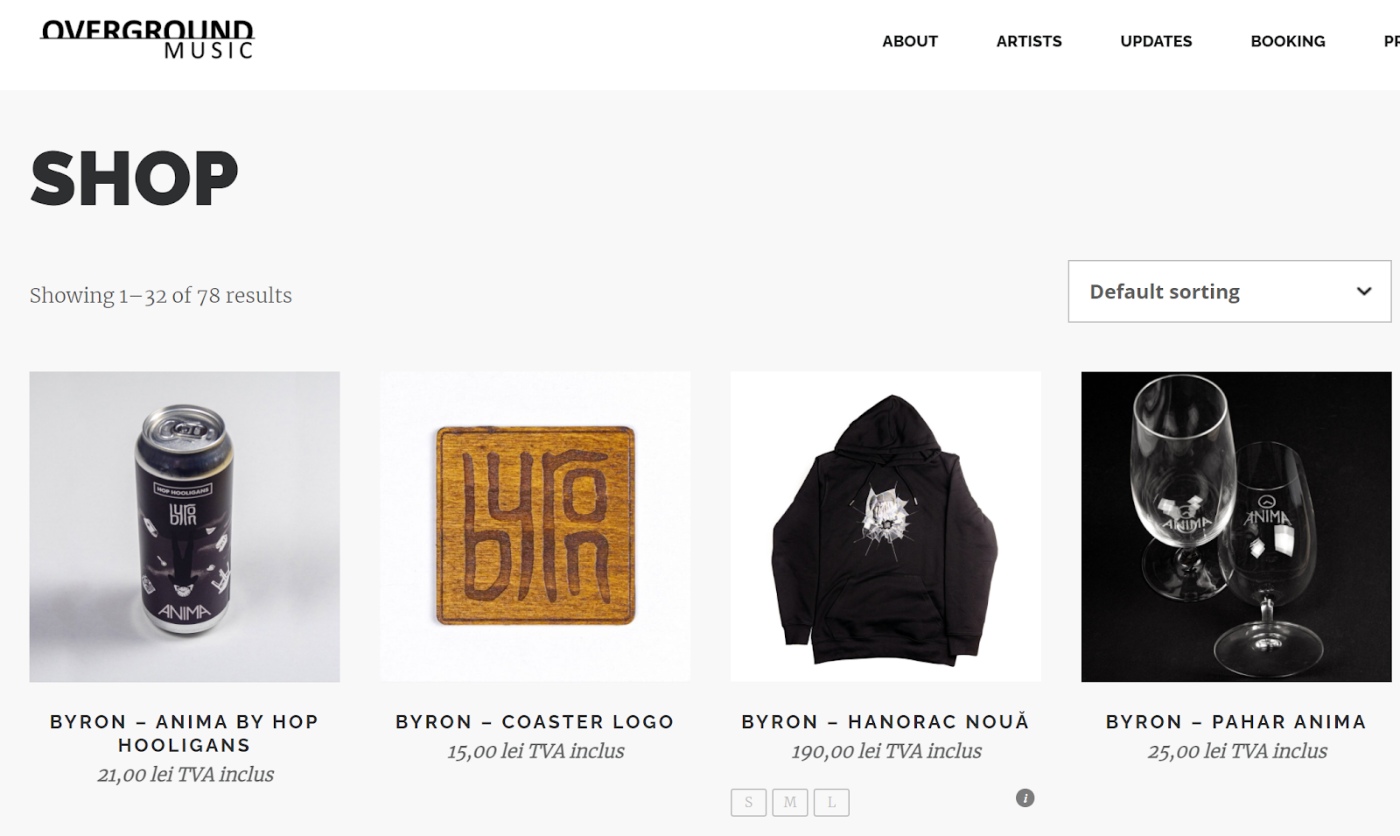 In 2020, Overground took their support even further. They created a virtual events platform called Overground Showroom filled with exclusive video content.
Fans can subscribe to access a rich catalog of performances from all of their artists, or they can pay a one-off rental fee to stream a concert from their favorite band: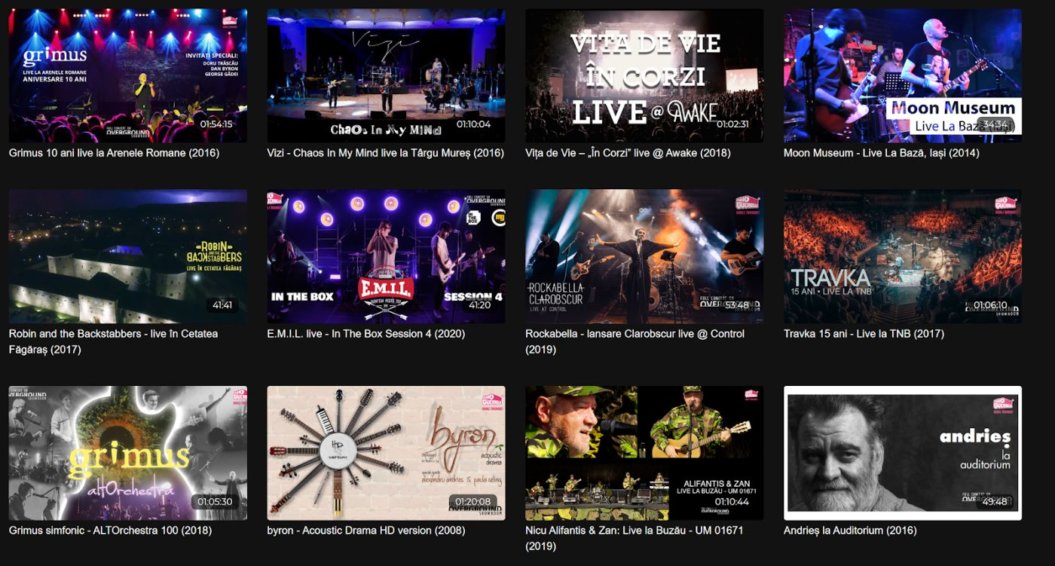 This is a great business model that makes use of existing content and combines it with a new medium. And, as acts create more content, their catalog can continue to grow!
Operas: Bringing Classical Performances To The Online Stage
Opera has faced several challenges in recent years.
There have been unstable attendance numbers and issues connecting with a wider audience. Then, COVID-19 came and brought many companies and productions to a standstill.
But, could the solution to all these problems be online video?
We've seen a new wave of online opera that lets people stream directly into their homes, and connect with the Opera in a new and exciting way.
Let's take a closer look…
11. Opera Australia
Opera Australia is Australia's national opera company that performs from their venues at the Sydney Opera House and Arts Center Melbourne.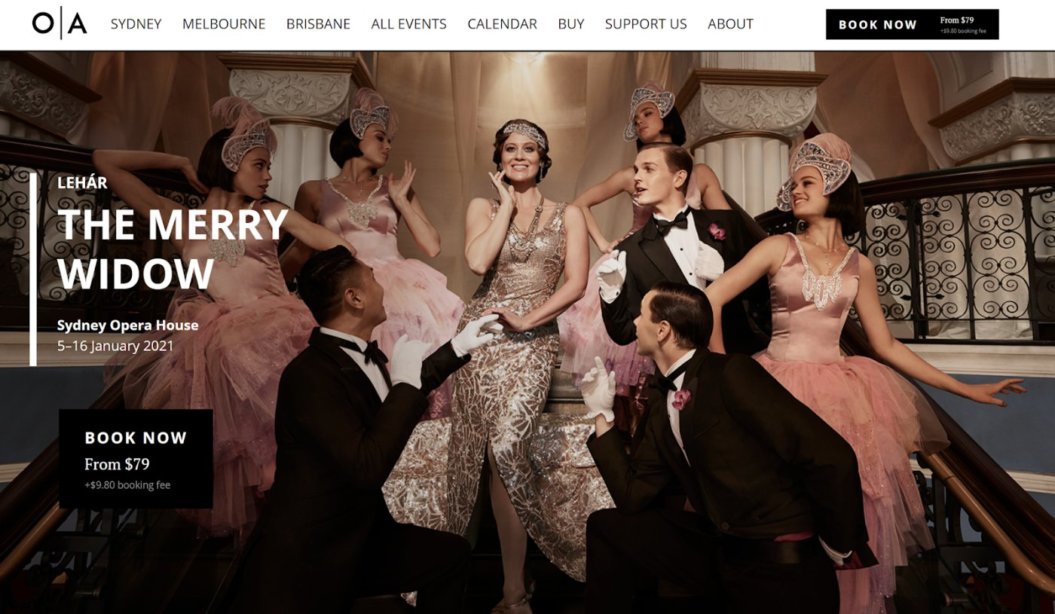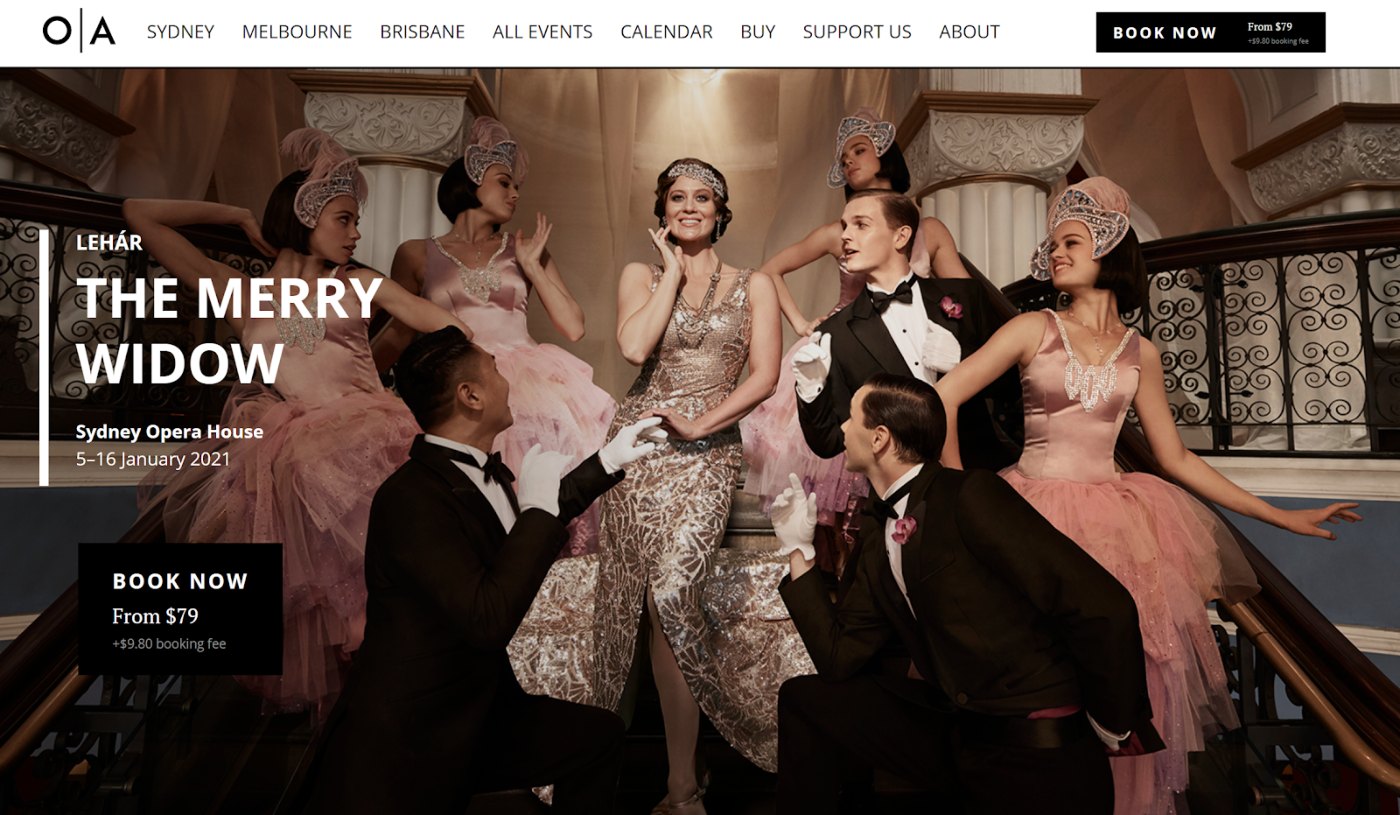 After curating a line-up of great events for 2020, COVID-19 brought Opera Australia's plans to an abrupt stop. They had to cancel all of their performances for the entire year!
This left them asking an important question: how can we continue to connect people in our community with the opera? The answer was online events. Enter, OA TV.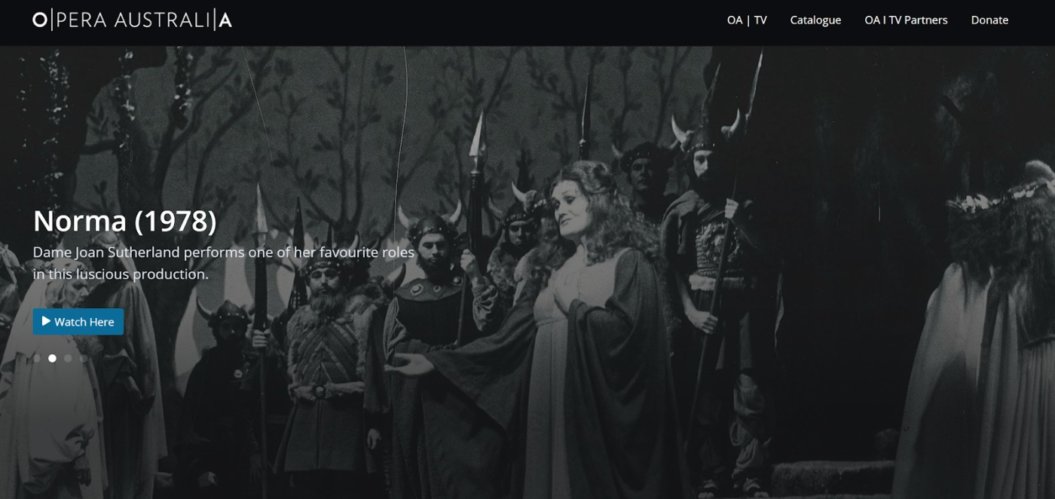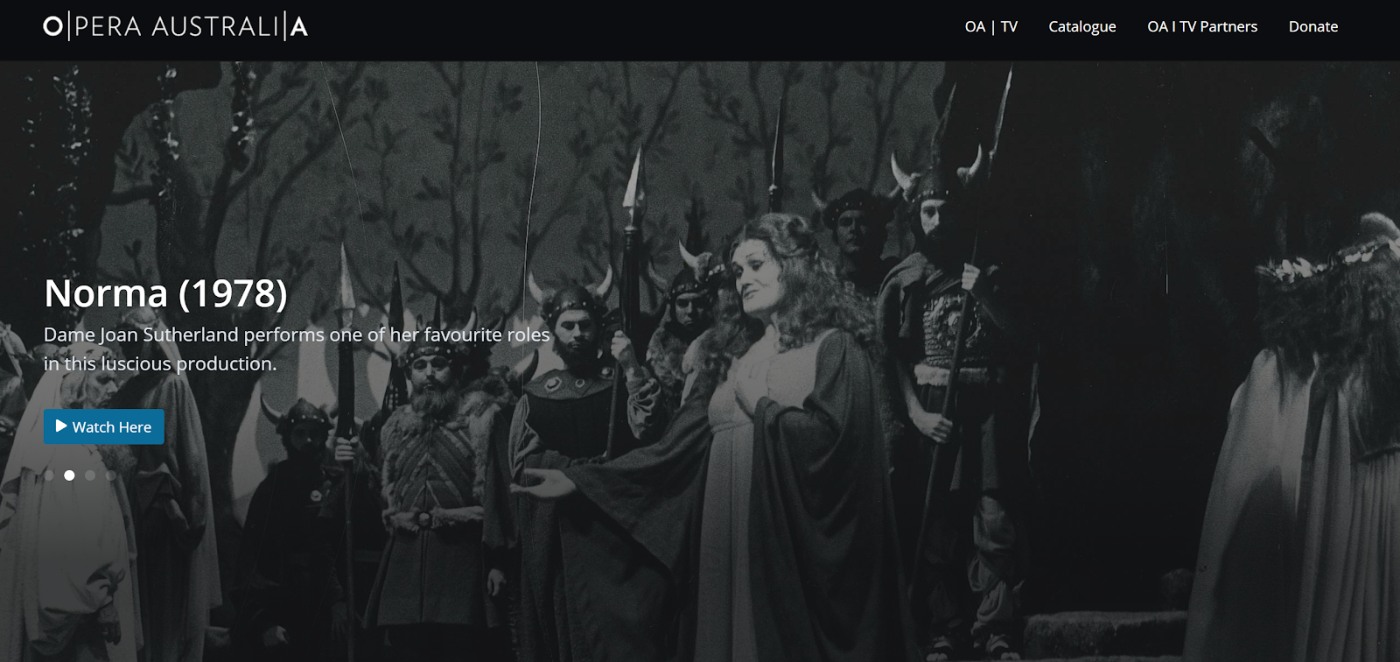 OA TV is a free video on demand platform jam-packed with interesting content. Visitors to the platform can access:
Operas: recorded performances of major operas like Carmen and Madama Butterfly.
Interviews: conversations with artists, directors, and singers.
Documentaries: behind-the-scenes looks at how the opera works.
One of the stand-out parts of their platform is how they've used past footage to build a new platform. Some of their recordings are over 50 years old!


And, they've made all of their content available through OTT apps so you can stream directly to your phone, tablet, or Smart TV.
12. G&S Opera TV
The National Gilbert & Sullivan Opera Company is a touring opera company from the UK, that is best known for headlining the annual International Gilbert & Sullivan Festival.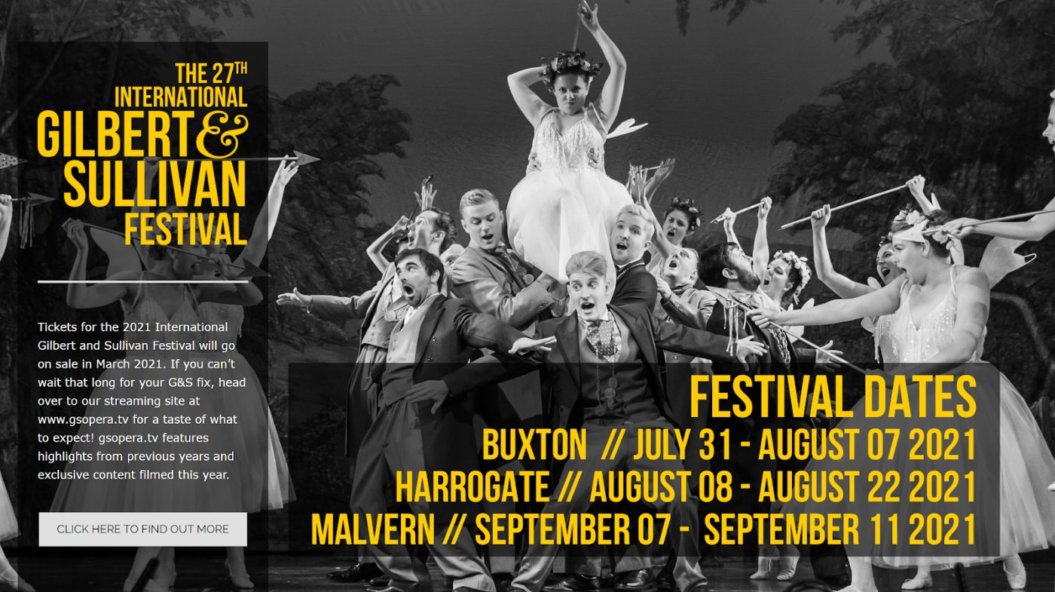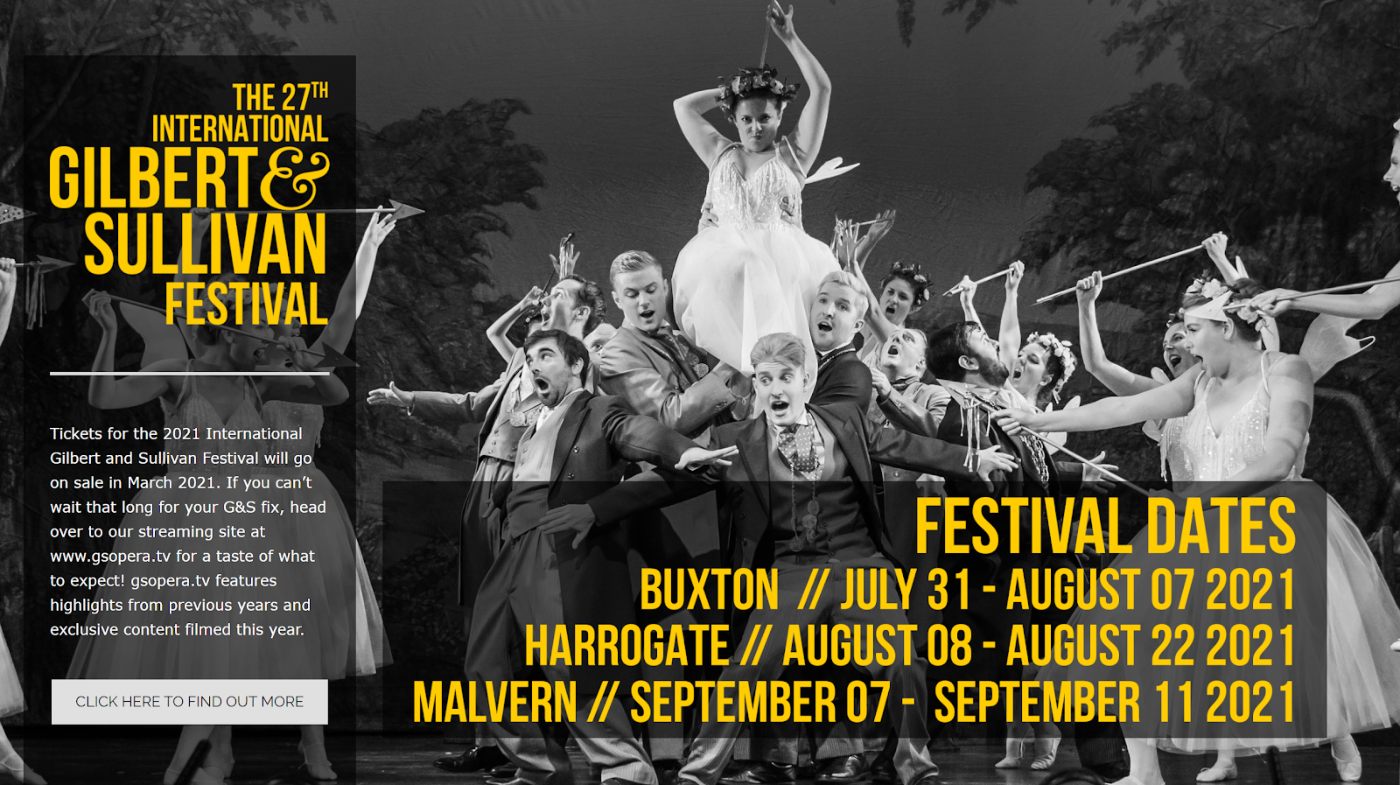 After COVID-19 forced them to shut down their 2020 festival and cancel their autumn tour date, they wanted a way to keep their performers on stage and their audience engaged.
They already toyed around with online video through YouTube. They created a channel where to upload snippets from performances and festival appearances: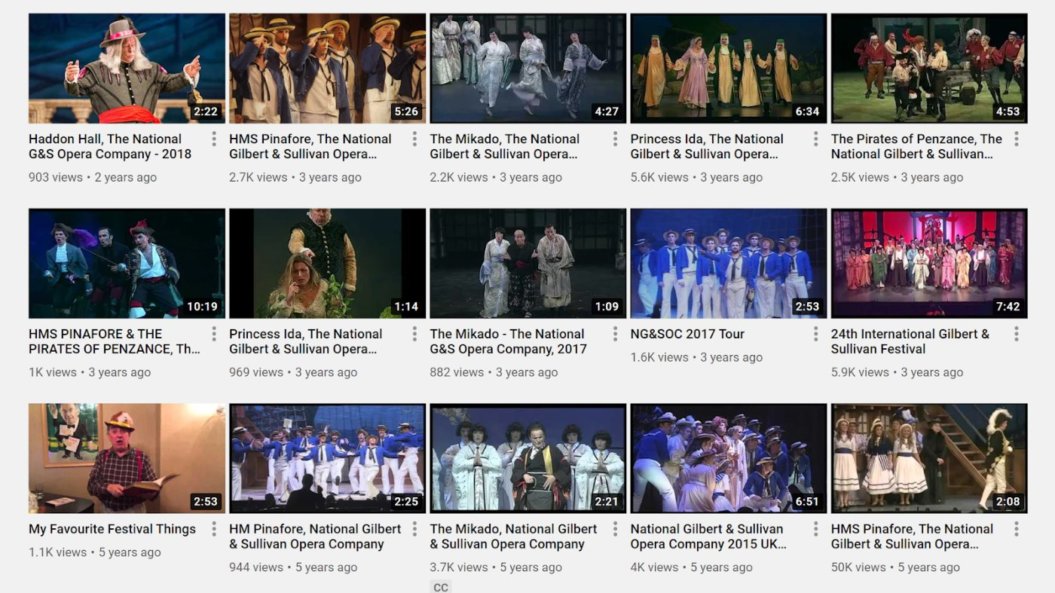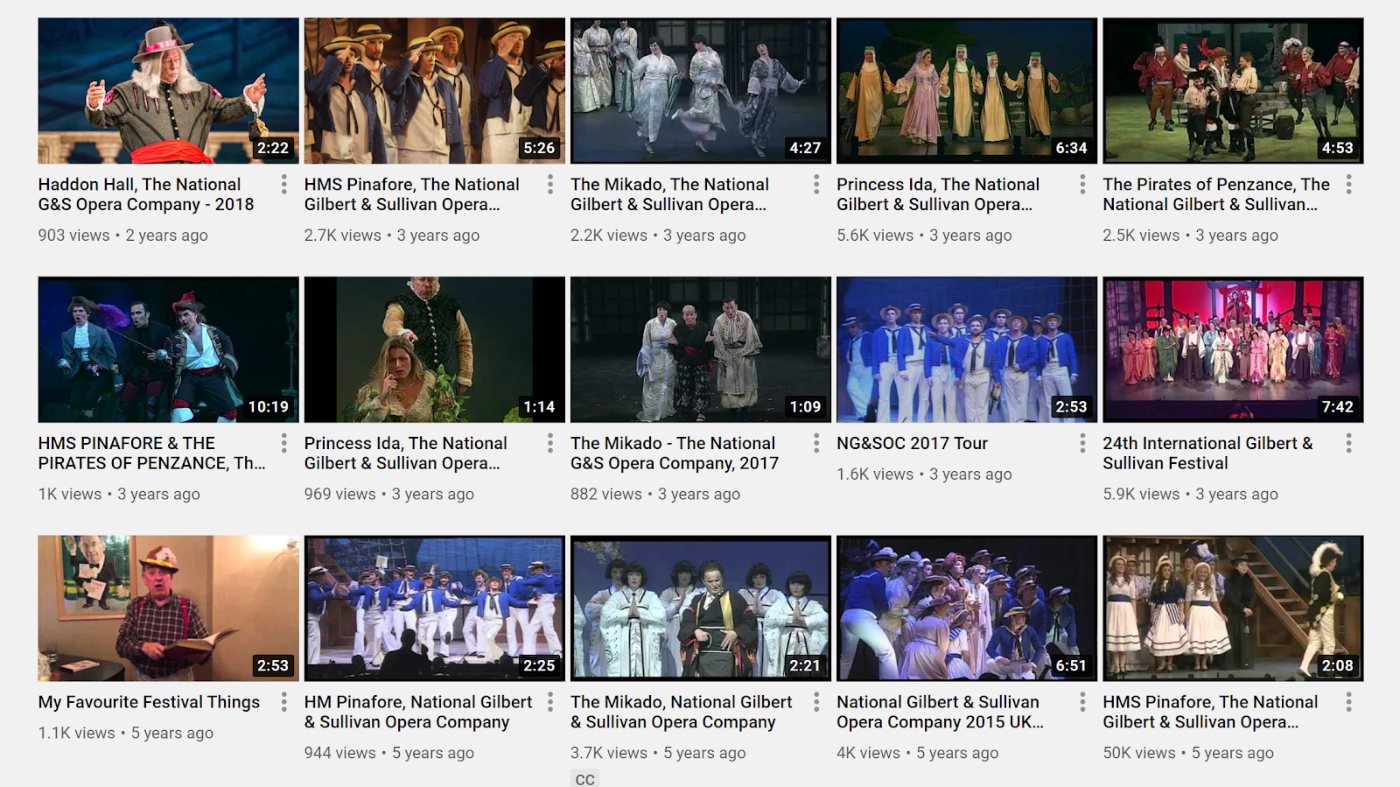 Though the content here was great, they needed a premium offering to help generate income, and give their fans a chance to watch full performances. So, they created G&S Opera TV.
G&S Opera TV is a monthly subscription service filled with performances, both new and old, and extra bonus content like interviews and podcasts: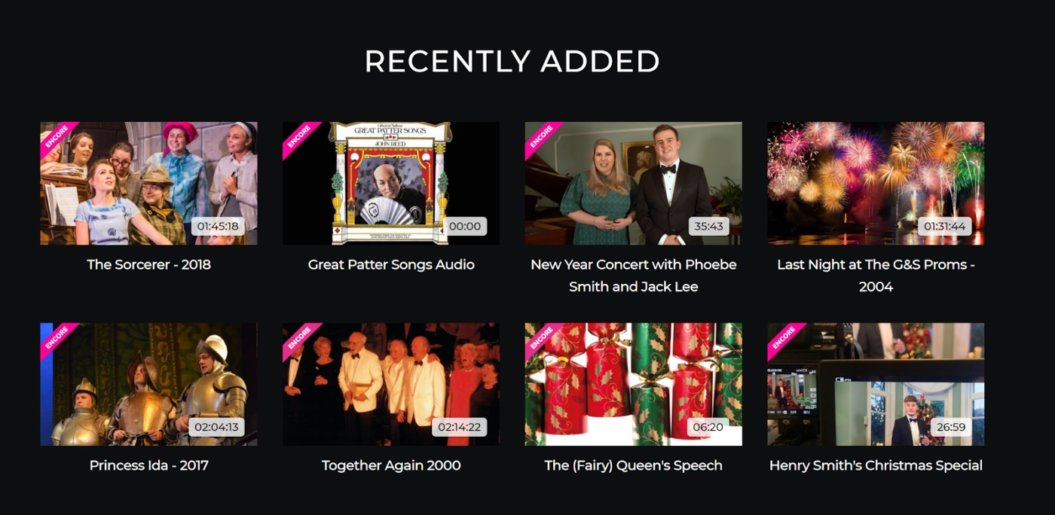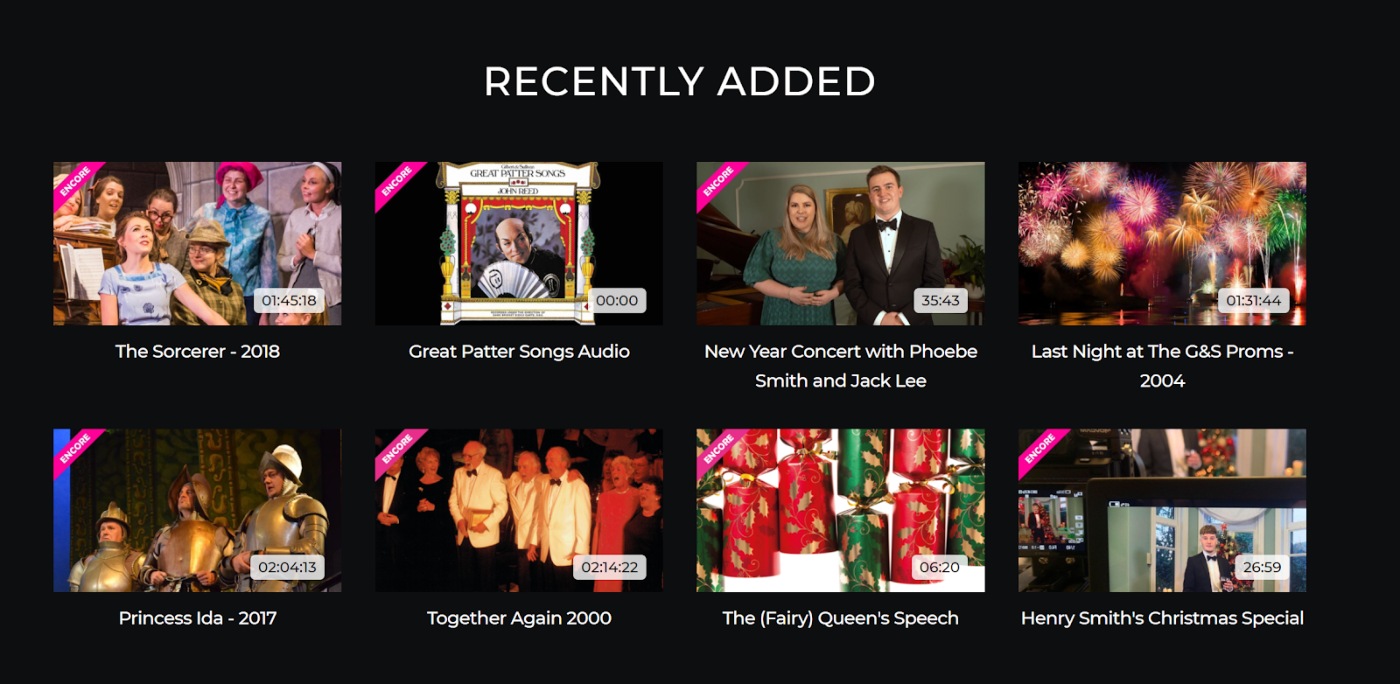 Since launching, the platform has taken on a life of its own. They have been able to attract fans from around the globe who can watch their favorite shows, regardless of their time-zone.
Here are some of the testimonials they've received so far:


G&S Opera TV is the perfect complement to their live events and with new content being added every week, it looks like it will remain a key part of their business in the post-COVID-19 world.
Seminars: Teach Your Audience On Their Favourite Device
Seminars are a great way to educate people, grow your audience, and earn an income. But, it's not without its drawback!
Your income is restricted by the:
Number of attendees.
Size of the local market.
Ability to travel to locations.
Cost of hosting an event.
But, as many education business owners are discovering, online video can provide a great solution that lets you reach more people, and scale your growth.
Here are some great examples…
13. Blair Singer
Blair Singer is a business and personal development coach that specializes in helping entrepreneurs transform their business, mindset, and approach to sales.
Blair has spent the last 33+ years growing his business and audience through seminars and authoring business books:


However, as the world shifts toward online video and uncertainty hang over the future of live events, Blair had to adapt his approach to keep reaching the entrepreneurs who need him.
This led him to launch Blair Singer TV, a video on demand training academy: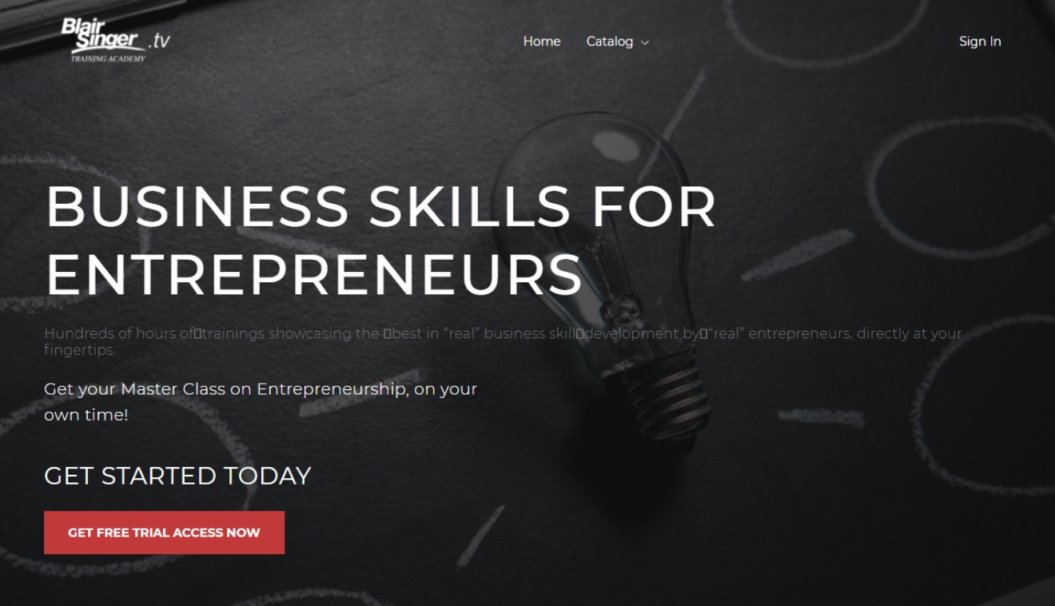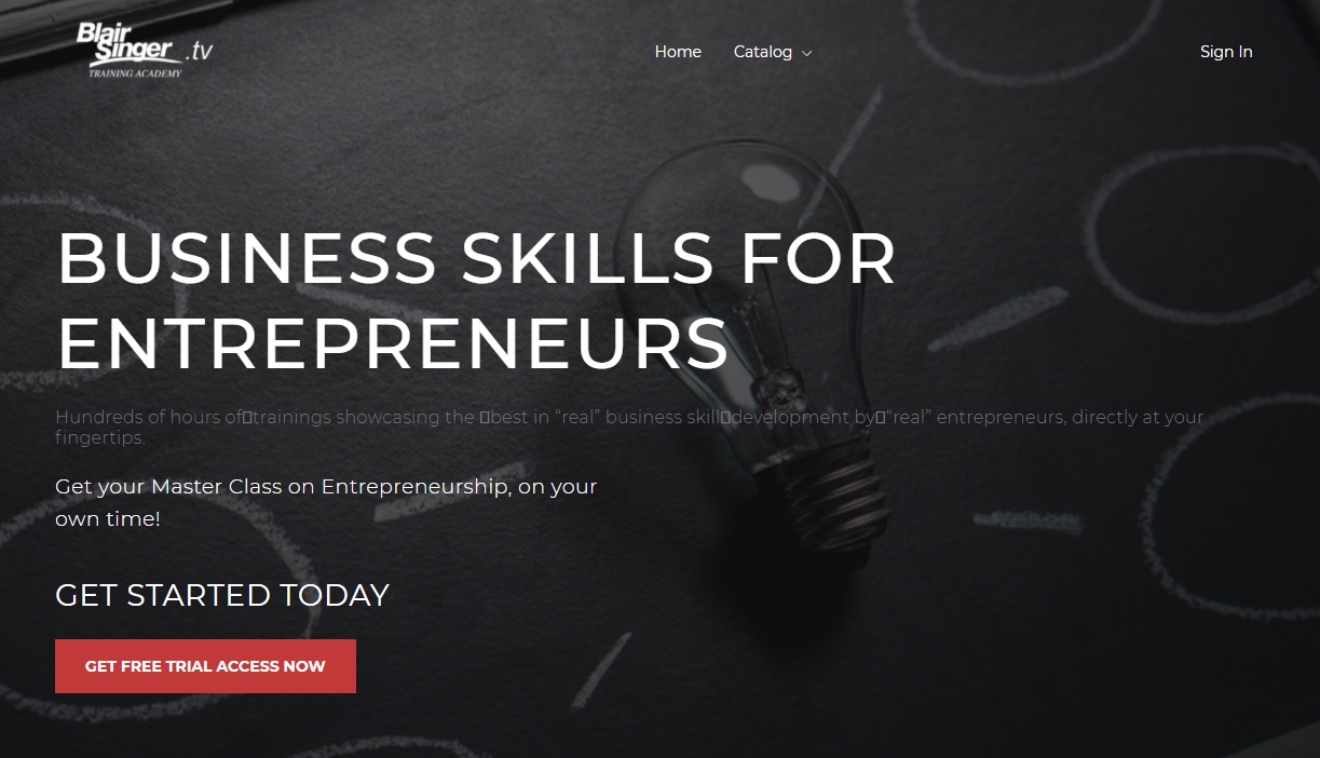 This platform allowed Blair to curate all of the content he'd created from presenting and speaking, and provide it in one easy-to-access Master Class on entrepreneurship.
Blair's customers pay a recurring monthly subscription fee to access a rich catalog that covers these essential topics: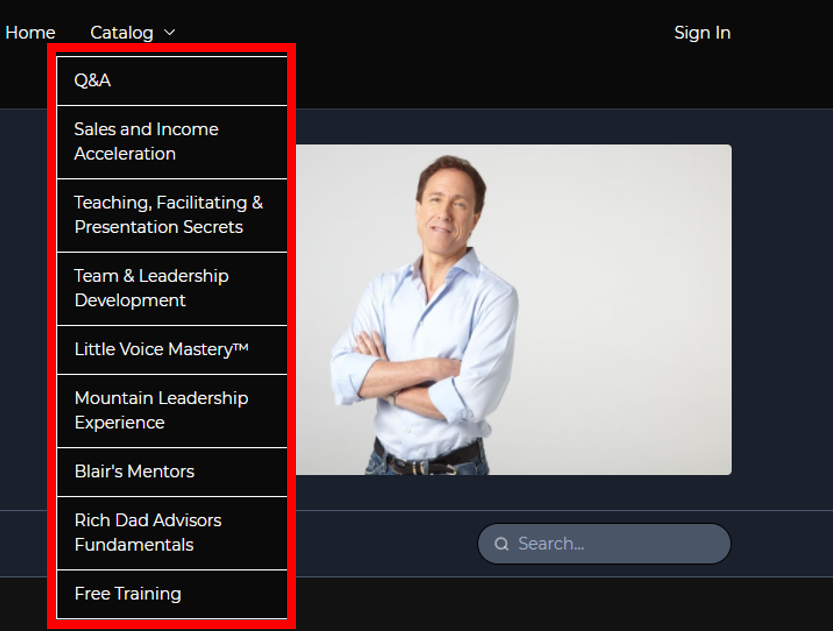 These videos include a mix of new standalone training sessions that he's created purposely for his platform and recordings of live presentations and workshops he's hosted.
If you run a business where you deliver presentations, workshops, or long-form training to an audience, starting a video on demand membership site could be a great option for you!
14. Business Advantage TV
Business Advantage TV is an online learning platform where entrepreneurs can grow their knowledge of marketing and business strategy.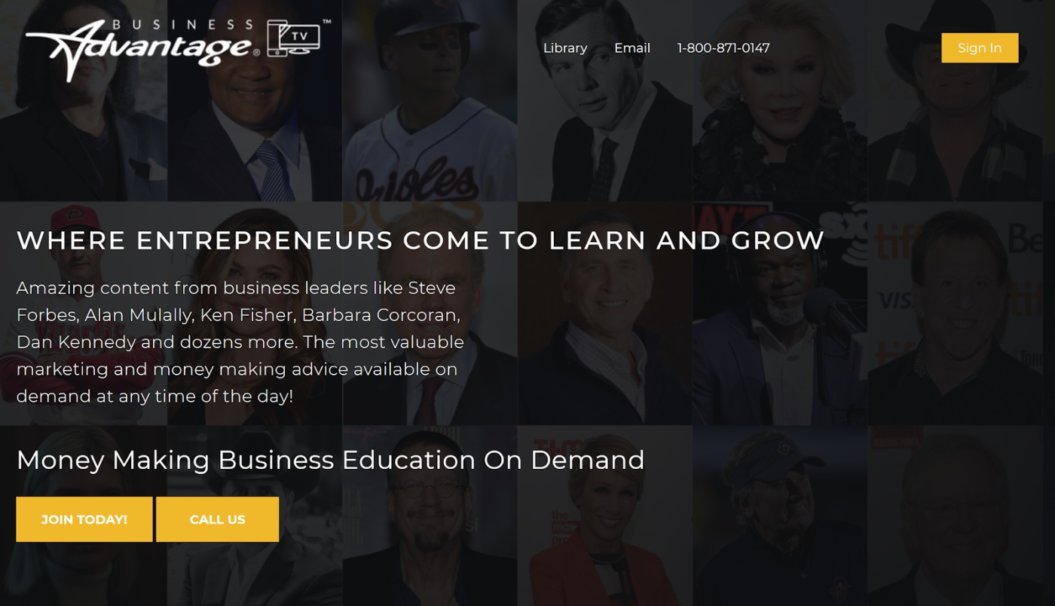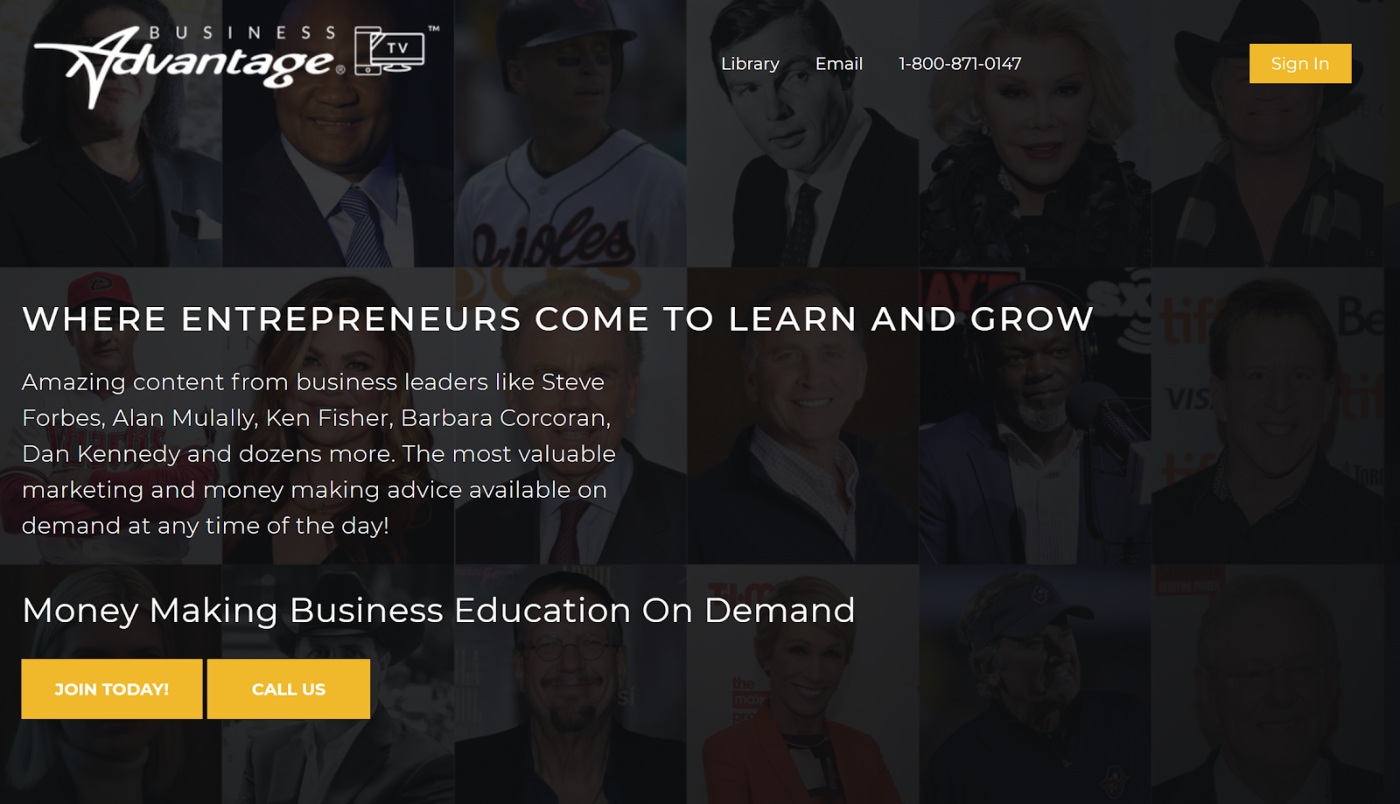 They have curated a content catalog from live talks and seminars run by magnetic thought leaders like Dan Kennedy and Barbara Corcoran.
Their long-form videos dive deep into topics like…
marketing tactics
sales strategy
public speaking
customer relationship management
…to help their audience grow their customer base, revenue, and become more successful.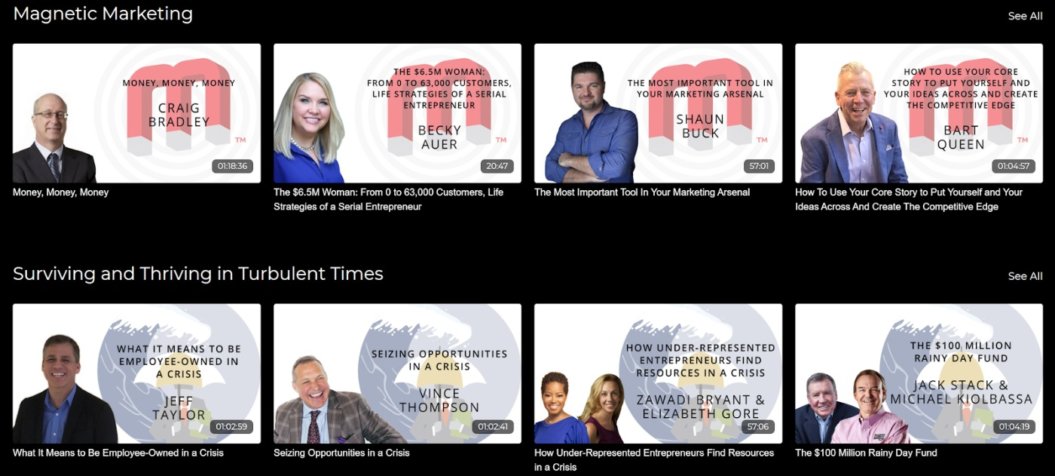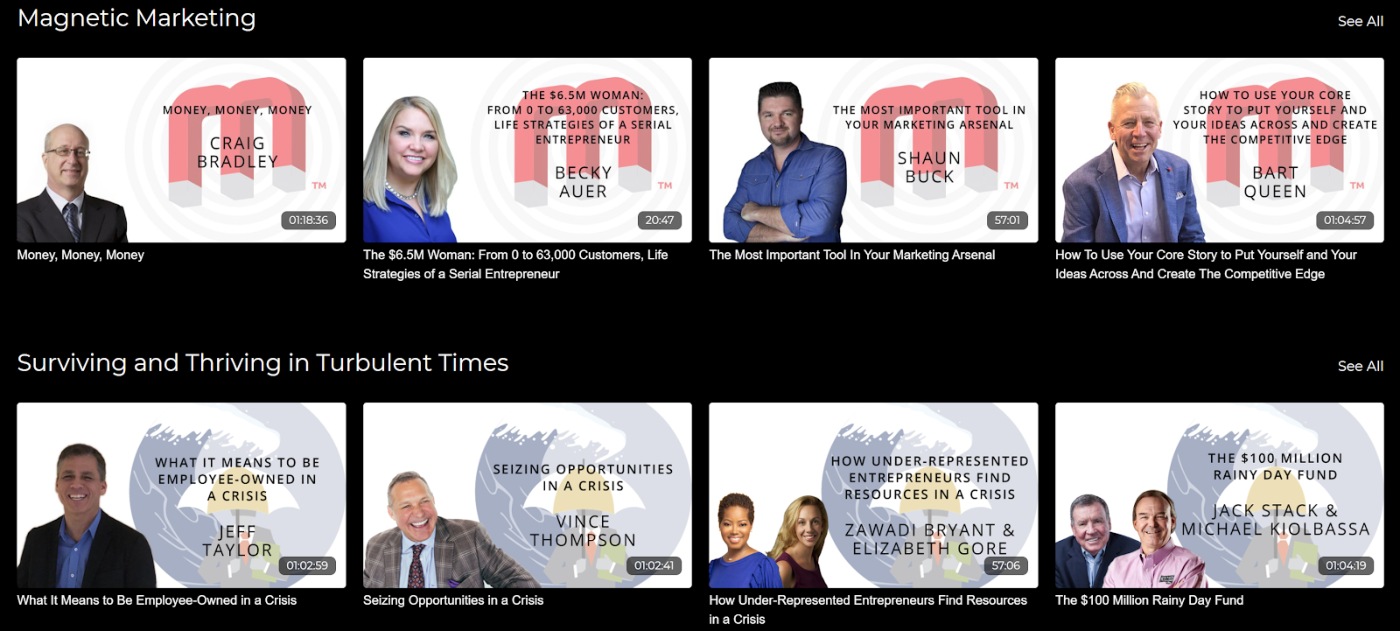 Business Advantage TV has made all of their content available through OTT apps, so their content can be streamed on demand, on any platform, from an optimized app!
Other Cool Live Events
There are lots of other types of live events that have gone online to great success. In this section, we've gathered some of our favorite examples.
15. Bootshaus Live
Bootshaus is an electronic music nightclub in Cologne, Germany. In 2019 they were voted as the best club in Germany, and ranked in the top 8 in the entire world!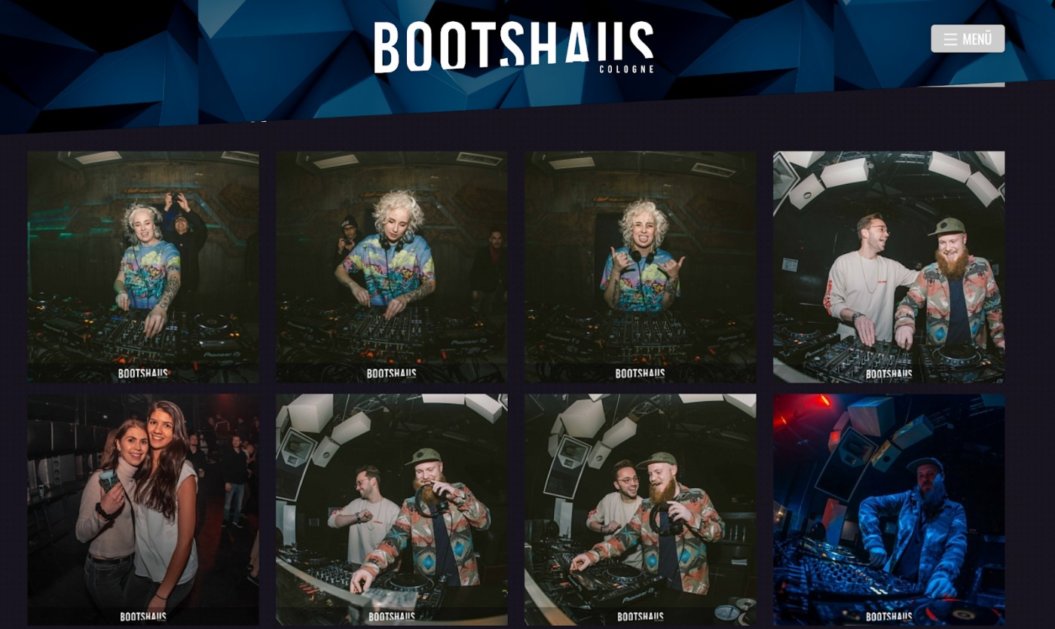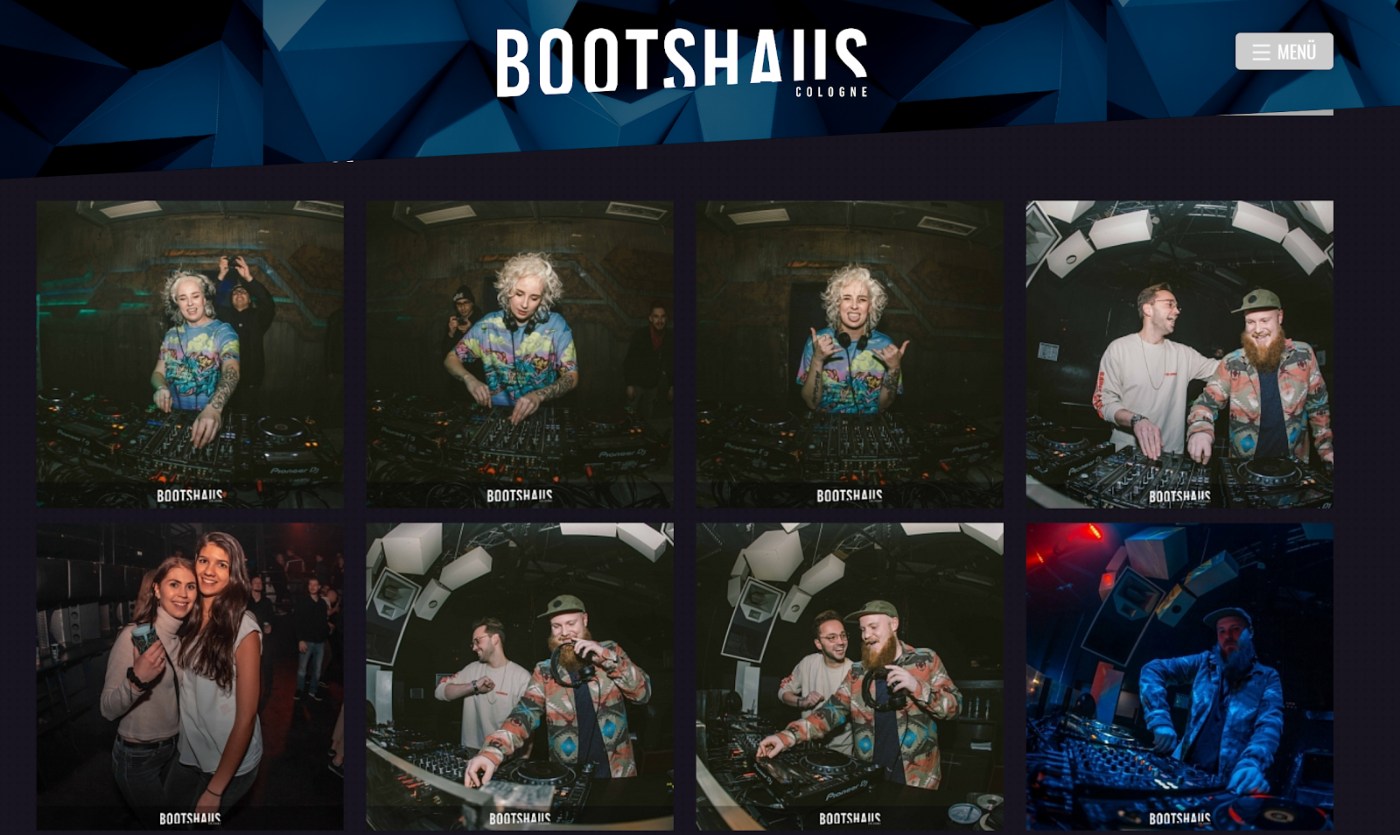 Bootshaus hoped to ride the wave of their 2019 success with a full calendar of events, with some of the best electronic DJs and artists lined up to perform. Instead, when COVID-19 hit they were plunged into an uncertain future.
Due to strict lockdown restrictions, all German nightclubs have been closed since March 2020. And, at the time of writing, there's no clear date for when they can open again!
They needed a way to bring the Bootshaus experience to their audience, and an income stream that could help them support their club throughout the closures. Enter, Bootshaus TV.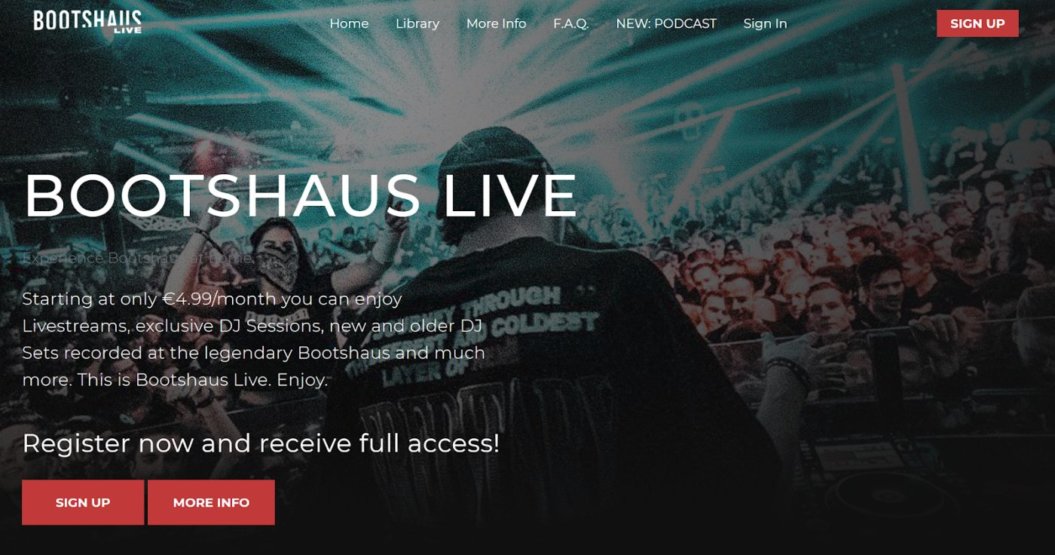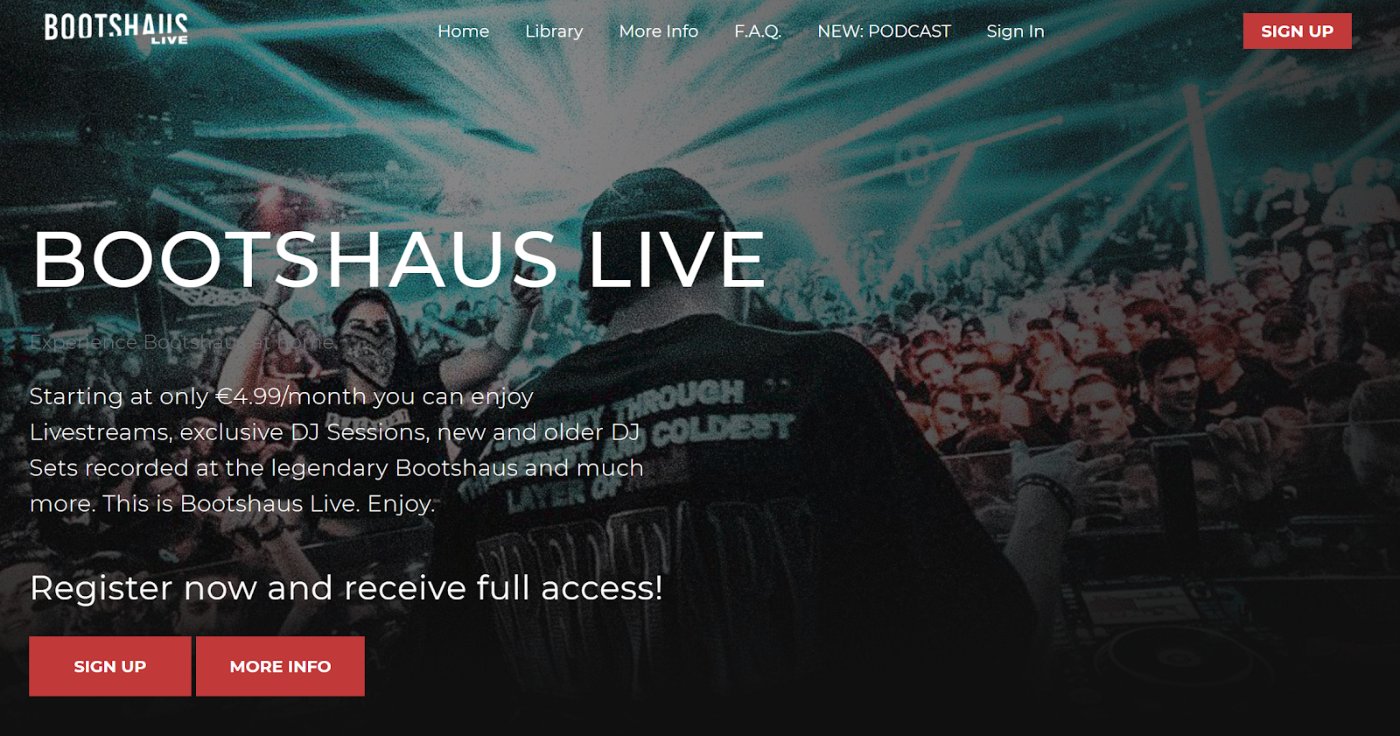 Bootshaus TV is a streaming platform where clubbers can come to get their fix. Much like in their brick and mortar club, there are a few different ways to experience the show.
You can:
Dance along to live-streamed DJ sets.
Watch recordings of past events.
Listen to the Bootshaus podcast.
Access exclusive mixtapes from industry tastemakers.
There are hundreds of hours of content on the website, and all of it can be accessed for a small recurring monthly fee.
This has been an extremely successful part of their business model, and has led to Bootshaus creating a VR version of their club where you can access events through a headset!
16. Button Poetry
Button Poetry is an organization that collects and distributes poetry media. They create books, products, videos, and events around their stable of new and established poets.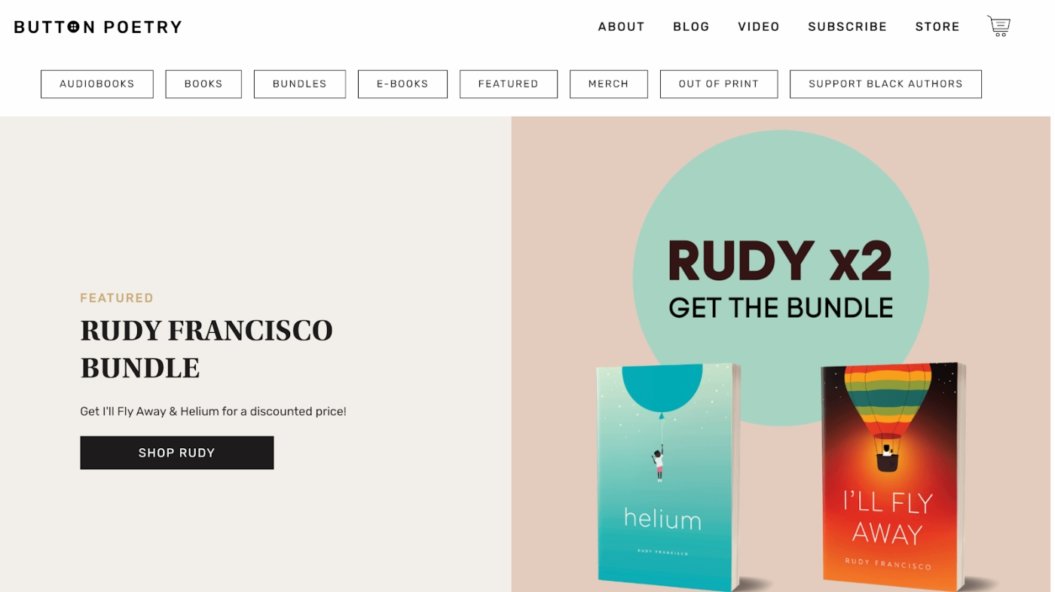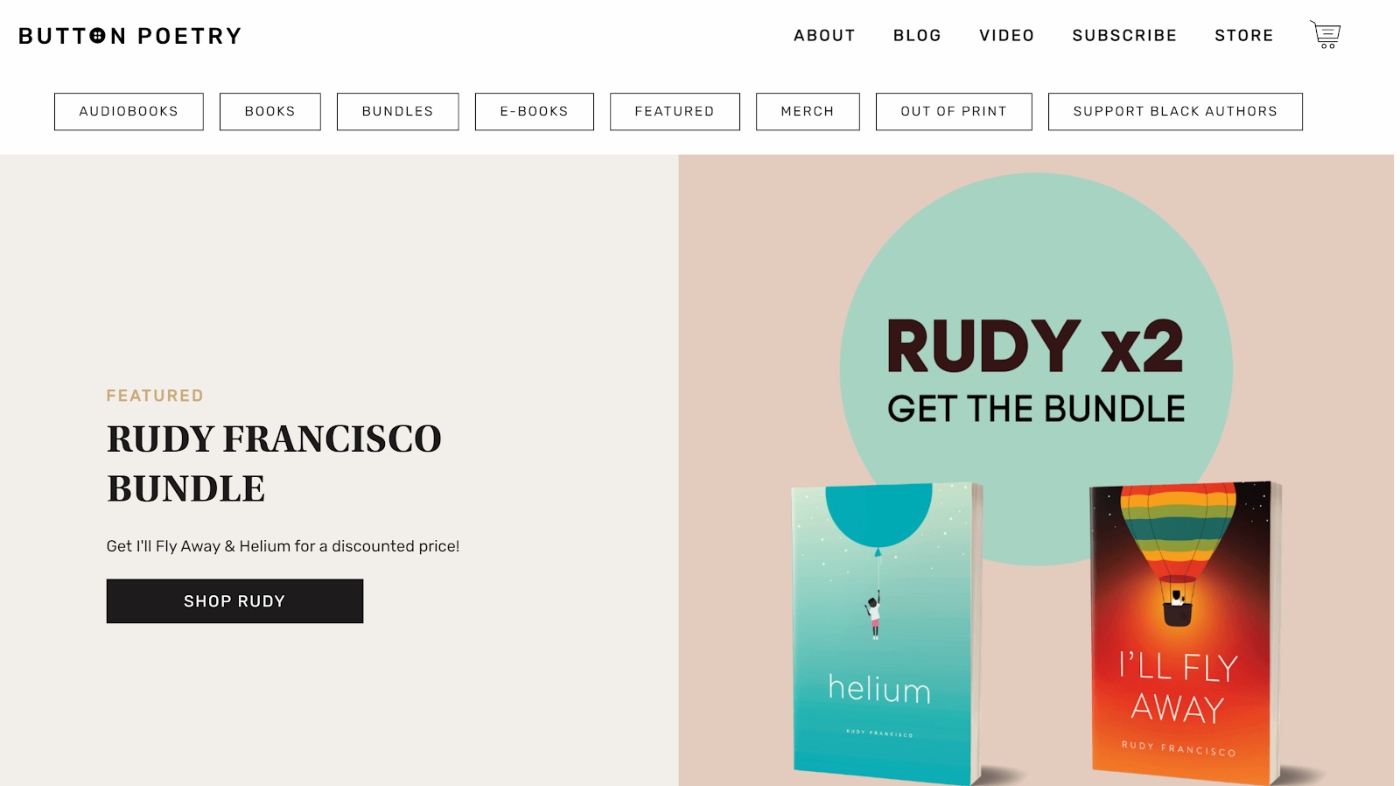 Button Poetry was an early adopter of broadcasting their live events with online video. They've built a following of over 1 million subscribers on YouTube, where they share snippets like this:
This has been a great marketing platform for people to connect with their poets and books, and even drive attendance at live events. But, there's a downside.
Poetry readings don't draw the same crowds or have access to the same funds as touring musical acts or stage shows. That means your favorite poets may not come to your area!
Button Poetry addressed this issue by creating Button TV.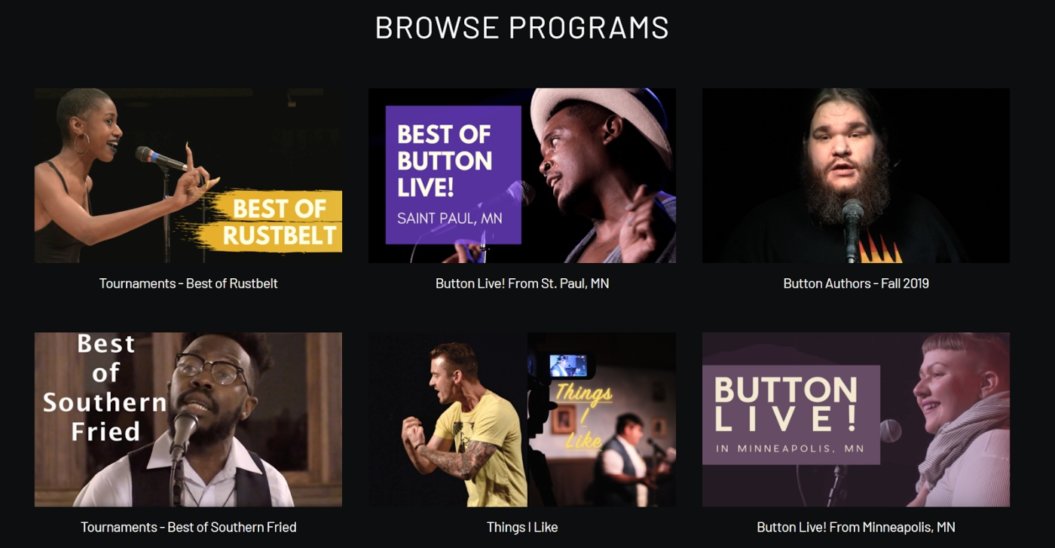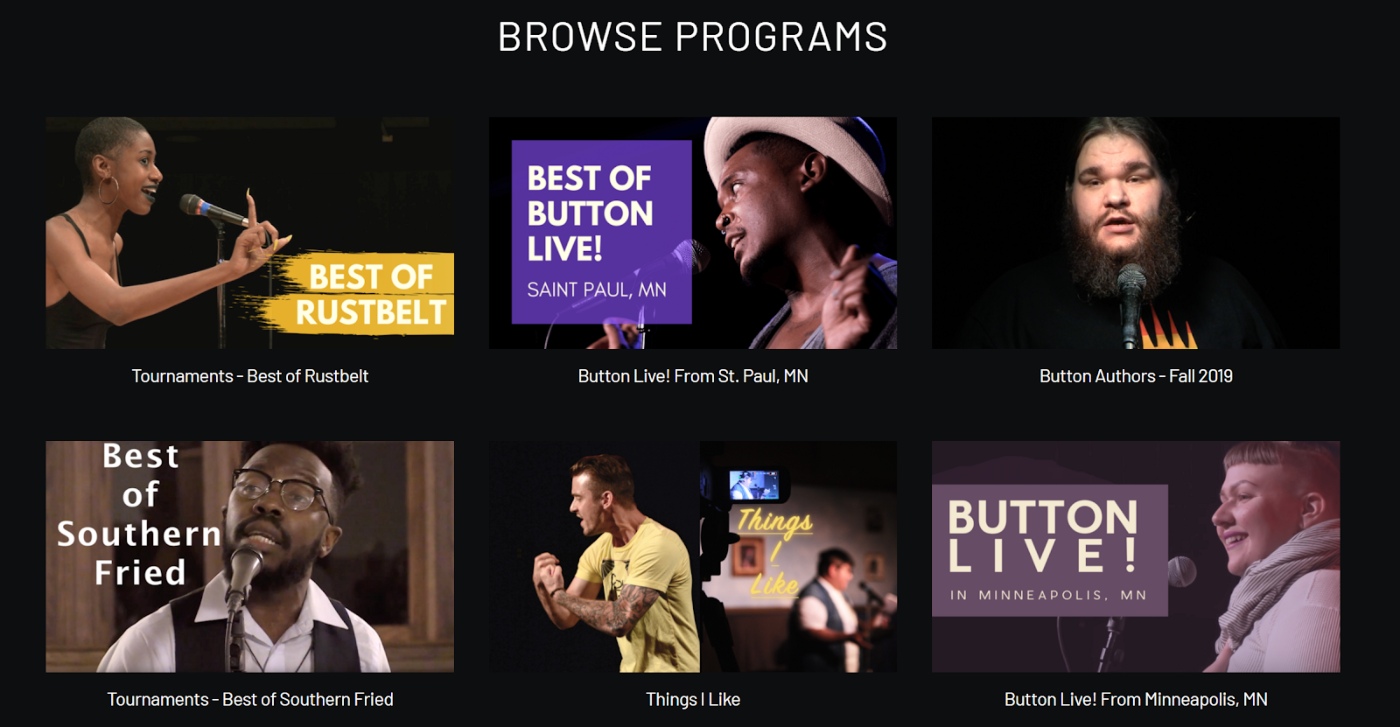 Button TV is a subscription streaming platform where poetry fans can access an entire library of feature-length performances, readings, and curated videos that cover specific themes.
One of the cornerstone features of the platform is that they bring their spoken-word tournaments to the platform, so users can watch the action as if they were watching from the crowd!
17. National Comedy Theatre
The National Comedy Theatre is a comedy archive and museum based in Jamestown, New York. It's a congressionally-appointed place for all comedy-related artifacts.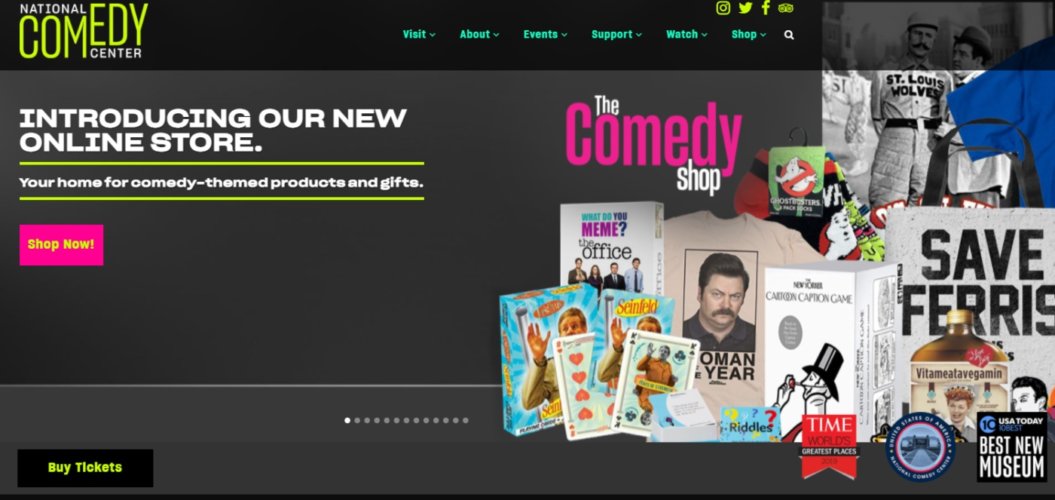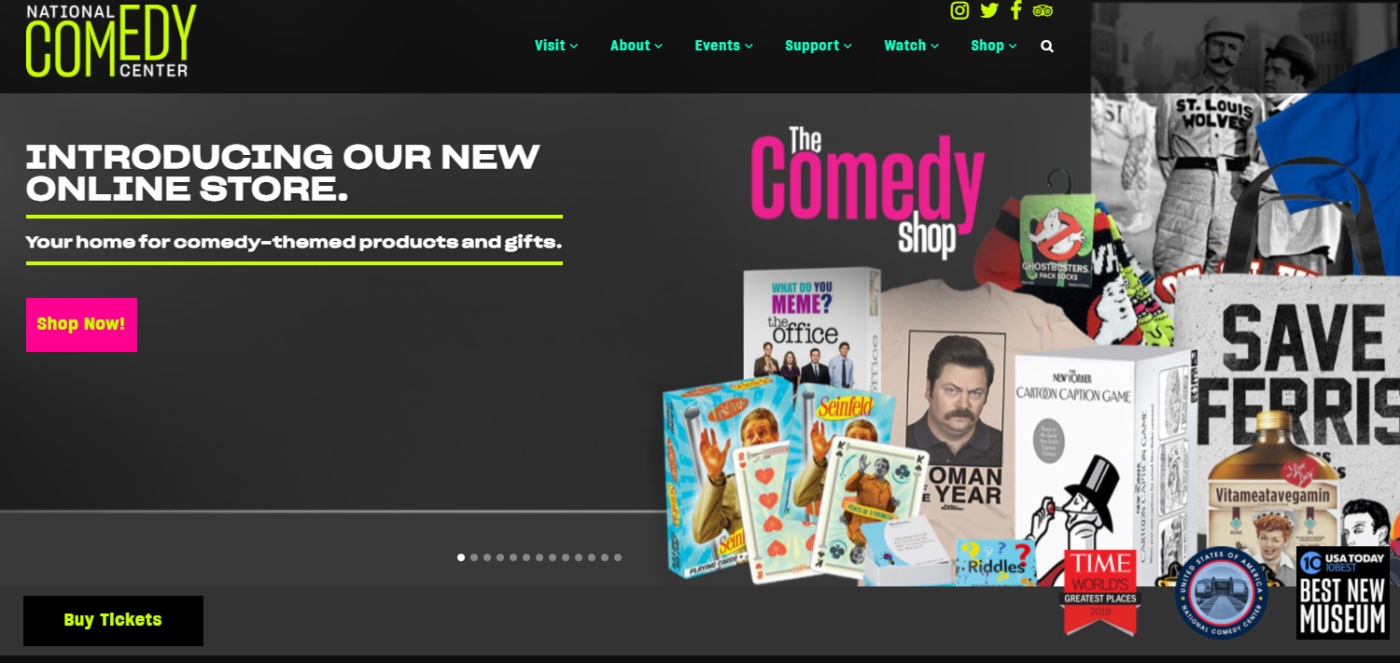 They wanted a way to bring their museum experience online so people can explore the history of comedy, regardless of location and time zone.
So, they launched National Comedy Center Anywhere.


Anywhere is a donation-based video platform, where people can immerse themselves in documentaries, interviews, and performances from America's best-loved comedians.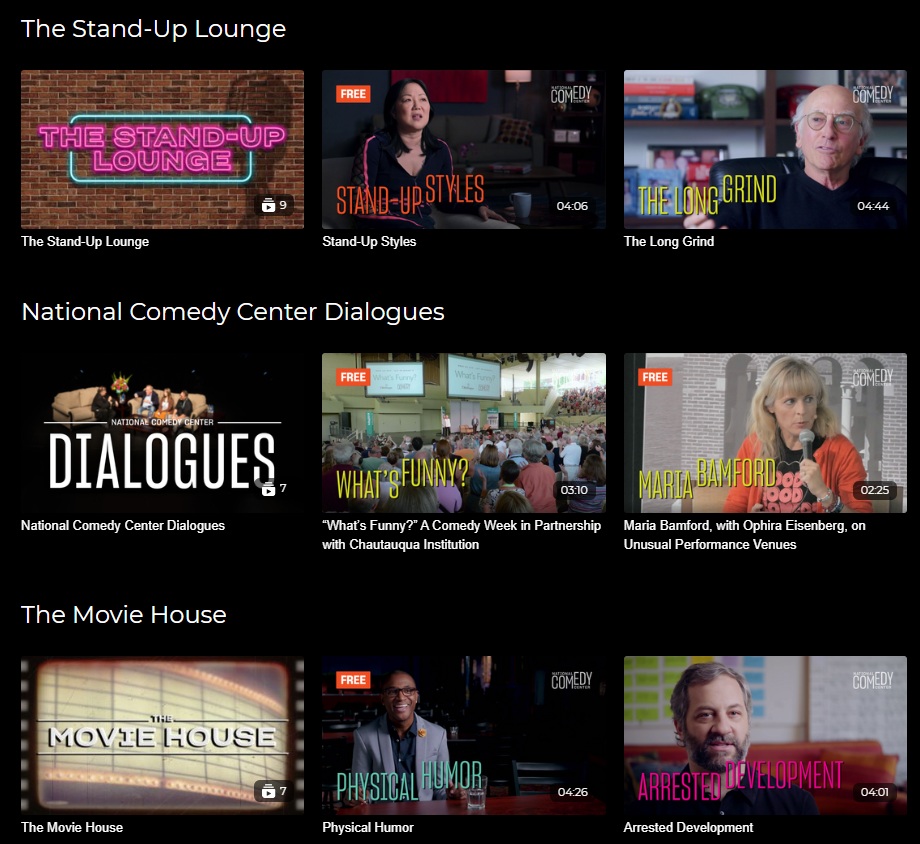 Whether you're interested in the history of comedy or want to learn how to be a better comedian yourself, there is something on the platform to entertain you.
Anywhere also proved to be a valuable asset when the COVID-19 pandemic struck. Though restricted museum visits have still been allowed, the live performances they host have not.
But having a video streaming platform lets them quickly turn those performances into online events. Like they did with the annual Lucille Ball Comedy Festival:


They managed to refrain from canceling the event and, instead, could live stream the planned content to their audience in their own homes! A great option to have in times of crisis.
Exit Stage Left…
We hope this article has shown you that any type of event can become a virtual event. There really is no limit to the possibilities of taking your event online!
Better still, there are audiences out there waiting to interact with content like yours.
If you'd like to learn more about how you can take your virtual event idea online, check out the link below for more information: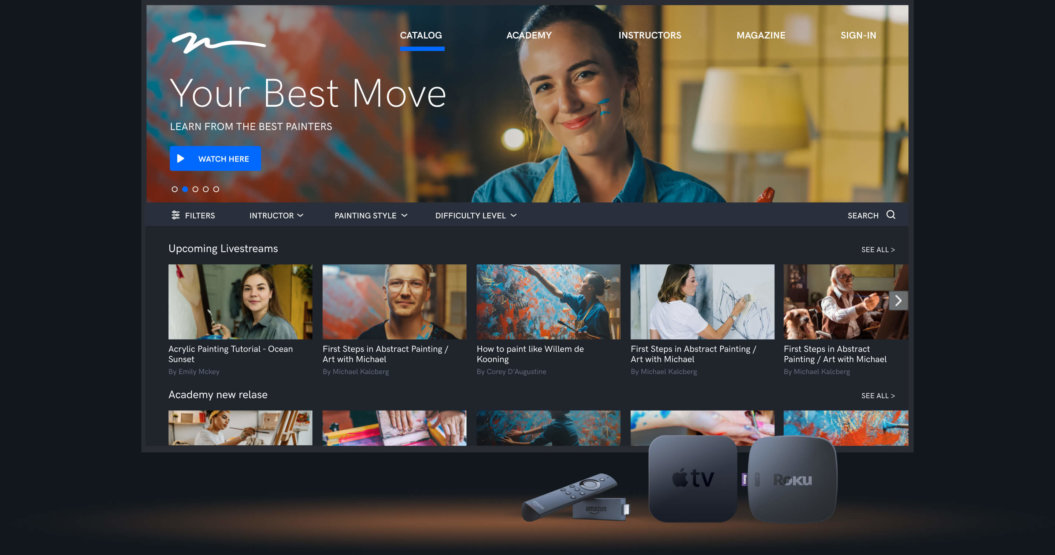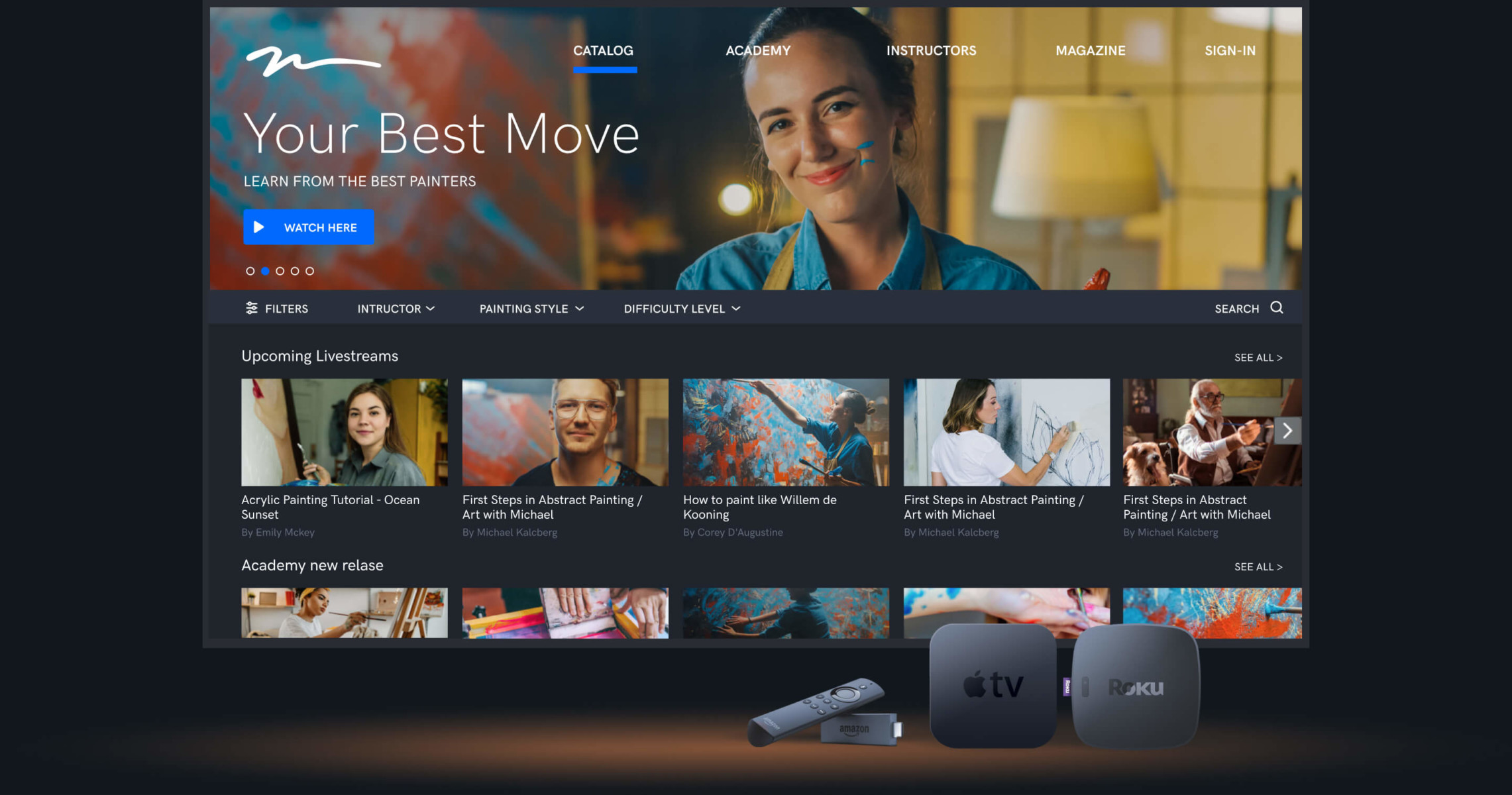 Care for an on-demand demo?