Fun fact: email marketing is 40x more effective than social media.
It wouldn't seem so, since all anyone ever talks about is Instagram followers this, and YouTube subscribers that. But it's true.
Email marketing is an affordable, tried-and-tested way to help you build a VOD business that's virtually immune to changing market trends, global crisis, and being forgotten about.
Email lists still play a vital role in modern-day marketing. And, if you're not using one already, we need to talk about why you should be…
5 Reasons Your VOD Business Needs A Mailing List
Your email list is the most effective tool in your marketing kitbag. Why?
Because it combines five key elements:
Longevity: email will be around for a long time
Trust: you have your audience's permission
Ownership: your email list belongs to you
Accessibility: emails are a direct line to your customers
ROI: email provides a high return on investment
Let's take a closer look at each of them, and explore why they're important to your video on demand business.
Reason #1: Longevity – Email Will Be Around For A Long Time
I'm willing to bet good money that you've checked your email at least once today. Why?
Because email has become an integral part of how we communicate. It's the postal service of the digital age; a perennial tool that's not going anywhere
Reports show that 89% of Americans check their email once a day, with 21% checking up to five times a day. And, many people believe email will outlast: 
Facebook

Twitter

Cable television
It's not a crazy thought, either. The first email was sent back in 1971, and future-focused VR headsets are set up with virtual desktops where you can access your email client.
The reason it continues to exist? Simplicity.
It's an easy way for people to directly connect, communicate, and receive information about the things they care about. You send a message. It lands in their inbox. It's that easy.
Reason #2: Trust – You Have Your Audiences' Permission
Email lists are built on trust.
They're part of what Seth Godin, a prominent marketer and author, refers to as Permission Marketing:
"Permission marketing is the privilege (not the right) of delivering anticipated, personal and relevant messages to people who actually want to get them."
When someone gives you their email address, then, it's a sign that they…
like your content

are interested in what you do

want to hear more about it
…and they are trusting you to send them interesting messages they care about. And, if you can deliver on this, the results can be magnificent:
This means you can cultivate a profitable audience of lifelong customers who trust you over your competitors. That's a serious game-changer.
Reason #3: Ownership – Your Audience Belongs To You
Your email list is 100% yours; as long as you have permission to contact them, nobody can take your audience away from you.
This helps to make your VOD business immune to…
market crashes

new marketing trends

social platforms going bust
…because you can always reach and market to a core part of your audience.
Think about all of the people who built massive followings on platforms like MySpace, Vine, and Google Plus. When the platform existed, they had influence. When it went away, they lost it.
When's the last time you checked in to see what MySpace Tom was doing, right?
When you rely on social media for all of your marketing, you put yourself at the mercy of the companies that own the platform. They can change things whenever they want.
Email is universal. Nobody owns it. So long as you have your database of collected email addresses, you'll always have an effective marketing strategy.
Reason #4: Accessibility – It's A Direct Line To Your Customer's Favourite Device
Email is accessible anywhere, anytime, on any device. In fact, research shows:
61.6% of people access email on their mobile

27.3% of people access email on their desktop

11.2% of people access email on the tablet
These trends show people naturally gravitate to accessing email on their favorite device, automatically giving you the most optimal way to contact them.
Better still…
You only need one email list to contact your entire audience across all platforms. You don't need to optimize your content for each device; you can just write and hit send.
This means your audience is almost definitely going to see what you sent, or even better, they'll receive a notification that you've just send something juicy to their inbox. How do I know?
Because 99% of worldwide consumers check their email every single day.
Reason #5: ROI – Email Marketing Offers The Best Returns
The result of all of these sections is powerful:
Email marketing currently offers the best returns of any online marketing channel.
Studies show that for every $1 you invest in your mailing list, there is an average return of $44. And that 59% of people use email marketing to influence their purchasing decisions.
It's also proven to be 40x more effective and profitable than social media marketing, with customers spending 17% more on brands they receive email updates from.
But, email marketing doesn't just influence first-time buyers. 80% of professionals say email marketing helps them retain customers. This is especially useful if you're an SVOD owner!
Your present and future VOD business, then, can drastically benefit from having an email list. Here's how to set one up…
How You Can Create Your Own Email List
Setting up an email list is simple, easy, and requires no technical know-how.
You'll first need to sign up for an email marketing platform, such as:
Pricing for these services will depend on the size of your audience. Many of them let you start for free up to a certain number of subscribers, then afterward you'll need to pay a monthly fee.
With these tools you can:
Collect email addresses

Store them in a database

Create marketing emails

Broadcast them to your audience
For example, when someone visits the Uscreen blog and pops their email address into our sign-up box: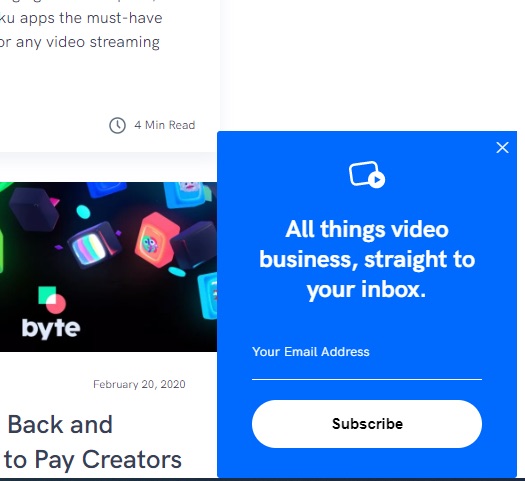 That email is added directly to our growing database of email addresses. We can then use our chosen tool to create and send email broadcasts to thousands of people at a time: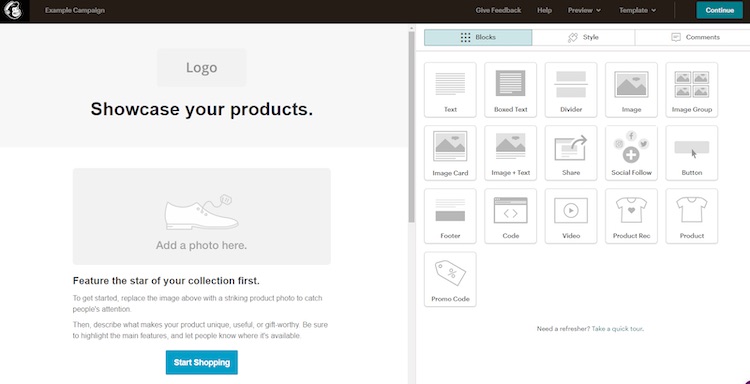 When choosing a service, it's important to consider…
your budget

your current audience size

your target audience size

whether it integrates with your website
…to ensure you choose the right tool for your VOD business.
How Uscreen Simplifies Building Your Email List
Uscreen is set up to make building an email list for your VOD business simple.
We give you access to all your customer's email addresses. You can just export them from your admin area and start building your list right away. Unlike other VOD platforms out there, you don't need to contact customer service to get your email list for your business!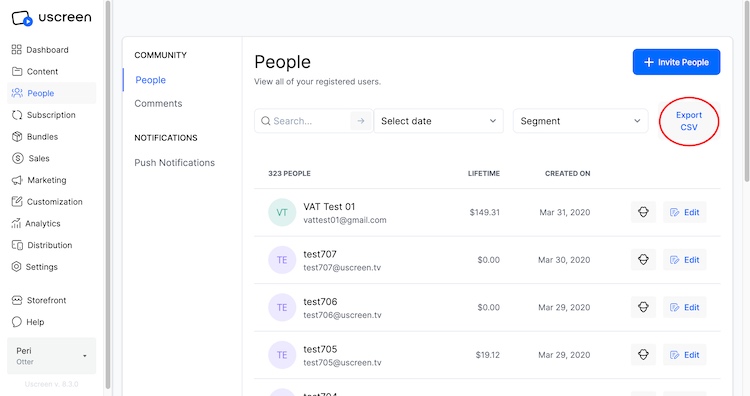 You can also integrate Uscreen with your preferred email service provider. You can use Zapier to connect to thousands of marketing tools, or you can integrate directly with MailChimp.
Here's a full guide to Uscreen's marketing integrations. And…
If you're in the health and fitness industry, we have a complete guide to building an email list for your online business! You can read Part One: How To Start And Grow Your List here.
Wrapping This Up…
Email marketing is a powerful tool. If you're not already using it, now is the time to start. Here are the five key benefits it offers you:
Longevity: email will be around for a long time
Trust: you have your audience's permission
Ownership: your email list belongs to you
Accessibility: emails are a direct line to your customers
ROI: email provides a high return on investment
Uscreen is optimized to simplify your email marketing. We give you the tools, data, and integrations you need to build your list and connect with your audience.
If you're in the health and fitness industry, you can check out our in-depth guide on how to start and grow your email list here!
How To Start and Grow Your Fitness Email List (The Easy Way!)