Tired of being underpaid for your content?
Want to make more money off your videos?
If you answered yes to both those questions, then you've come to the right place.
We created an extensive guide on how to start a video streaming service. We'll walk you through everything you need to create a successful video business.
In this guide we'll talk about:
The 8 steps to launch your own video streaming service.
Why Netflix's streaming service is so successful.
Let's jump right in…
No time to read this article now?
Download a free PDF version of this blog post (all tips and links included).
How To Start A Video Streaming Service (8 Steps)
Video has become the center of how we consume content.
In fact, the video streaming market is currently valued at $85 billion and that number is expected to grow at over 10% every year between now and 2025.
So, if you create video content that…
educates
engages
informs
entertains
…then you're well-positioned to get in on this lucrative business by starting your own video streaming service.
We've already helped video creators reach a total of $100 million in revenue! And, we'd love to help you build a successful independent video business too.
Based on our experience in the video industry, we found that following these 8 steps is the most effective way to get your video streaming platform up and running.

Let's get into them…
Step 1: Choose Your Niche
The first step in creating your own video streaming service is determining exactly what kind of videos you want to sell. As Uscreen's founder PJ, always says:
Your content niche is a focused topic or industry you create for. It's a core "theme" that creates a clear sense of what your videos are about and sets your audience's expectations.
Chances are you're probably already creating content in a certain niche.
But, it's also worth figuring out what your premium niche will be. Meaning, you'll need to establish what makes your paid platform different to your free content.
Luckily, the possibilities are endless when it comes to video content.
We've seen content creators in a wide range of niches like:
Health and fitness.
Online learning.
Entertainment.
Yoga and lifestyle.
Faith and spirituality.
Arts and crafts.
Kids content.
To find that "sweet spot" of premium content creation, you'll need to think about where these 3 elements intersect:
Expertise: what you're good at.
Passion: what you care about.
Demand: what your audience wants to know more of.
The place where all 3 of these meet is where you'll find your most viable options for your paid content niche.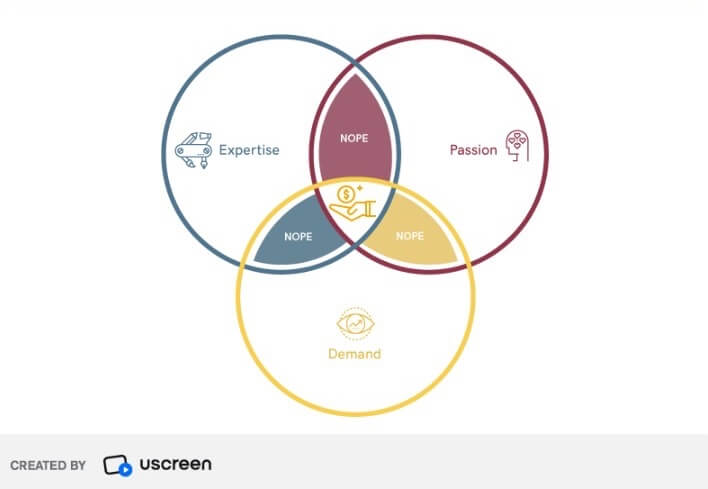 The more niche you can make your topic, the more people you'll find people that want or need your content.
For example, Take Your Book Of Memories, they're a successful video streaming service that teaches people how to create handmade albums and folios.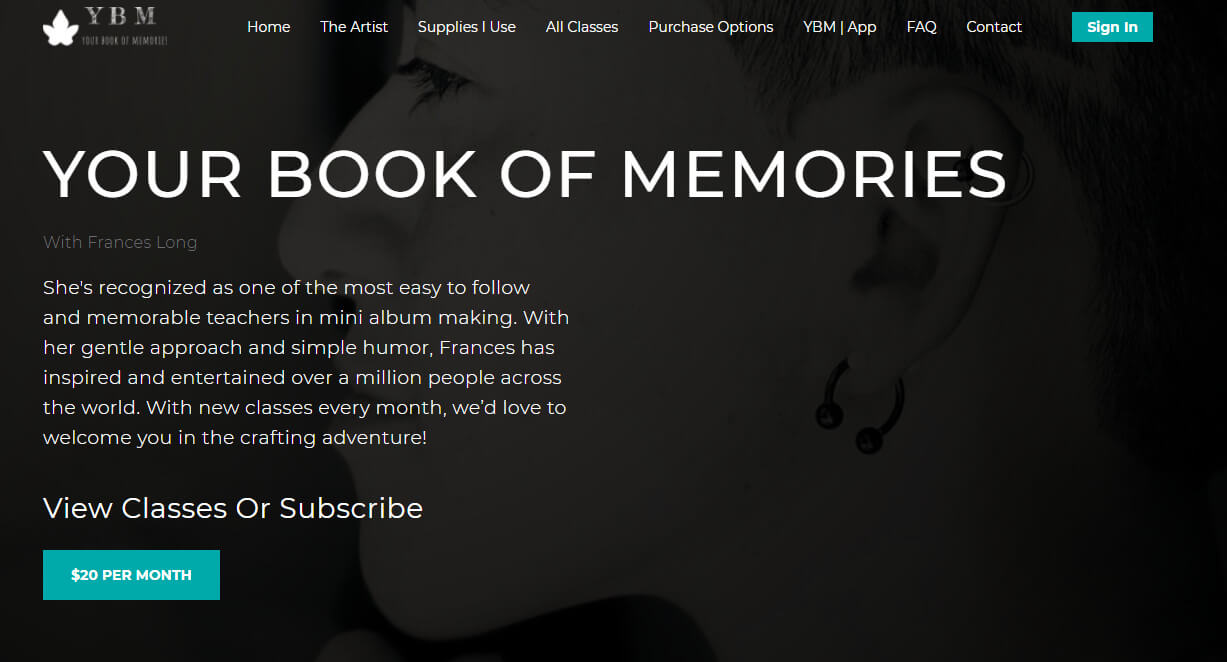 Their video business is at the intersection of 2 different niches: arts and crafts, and online learning.
This combination lets them carve out their own space for video content. Now, they can reach a specific and targeted audience, which makes it much easier to create and sell videos online!
Your Book Of Memories started off on YouTube which let them gage the demand for their type of content.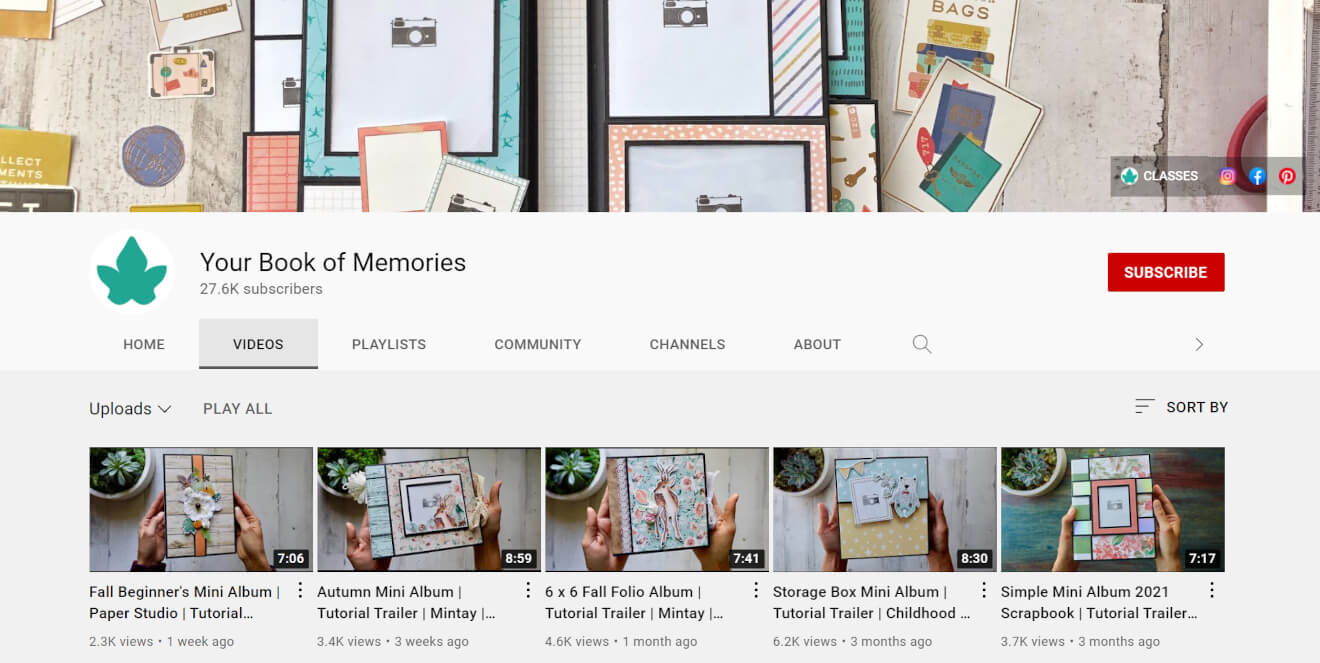 They gained a healthy following of people who:
Like DIY projects.
Want to learn a new creative skill.
Like scrapbooking/journaling.
Want to use what they create.
So, they decided to put their popular content behind a paywall on their own streaming platform and were able to 10x their revenue!
If you want to learn more about how to choose your video content niche take a look at the guide below: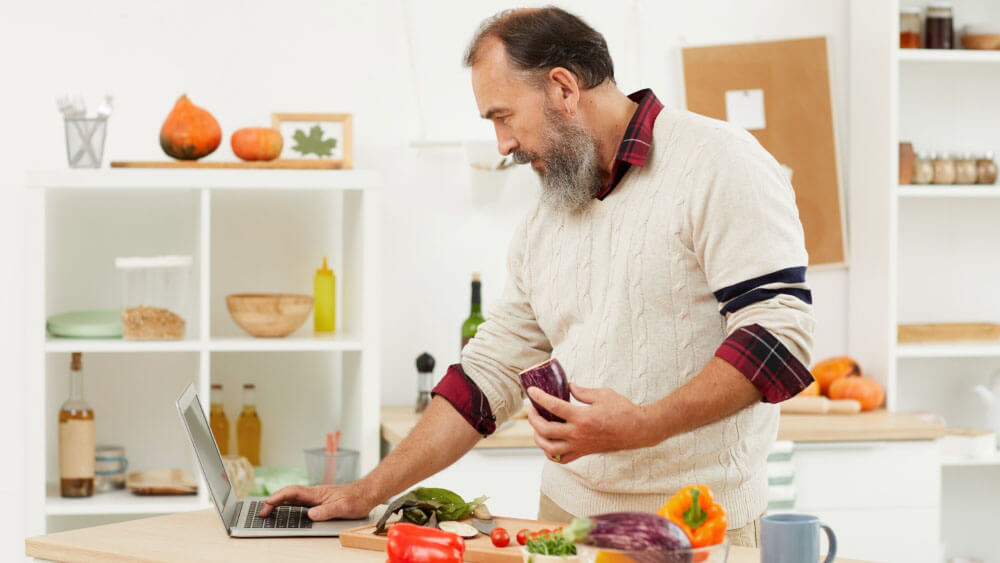 Is Your Video Content Niche Enough?
Step 2: Know Your Target Audience

Once you've found your premium niche, you need to get clear on who your audience is and what they want.
Who tunes into your current content and would be willing to pay for a premium service around it? And, what would they want to see on that platform?
You can begin to better understand your target audience's needs by answering these questions:
What common themes does your audience share? (age group, interest, lifestyle, etc)
What does you audience want from watching your videos (i.e. entertainment, education, fitness, etc)
What can you bring to your niche that your audience wants and nobody else is providing? This should be your unique selling point, it's what differentiates you from other content creators in the same space.
The answers you get will help you gain an initial understanding of who you're producing content for and what they need/want.
Going back to the Your Book Of Memories (YBM) example we can answer these questions in the following way:
My audience is creative and shares an interest in making things.
My audience wants to learn how to do DIY projects that lets them organize their memories/pictures and present them in a fun way.
I can teach my audience how to create albums, folios, and boxes, in an entertaining way with easy-to-find materials.
With that in mind, YBM creates online tutorials for different ways people can organize and present their memories. They even categorize their content by the tutorial's design. (More on that in Step 5).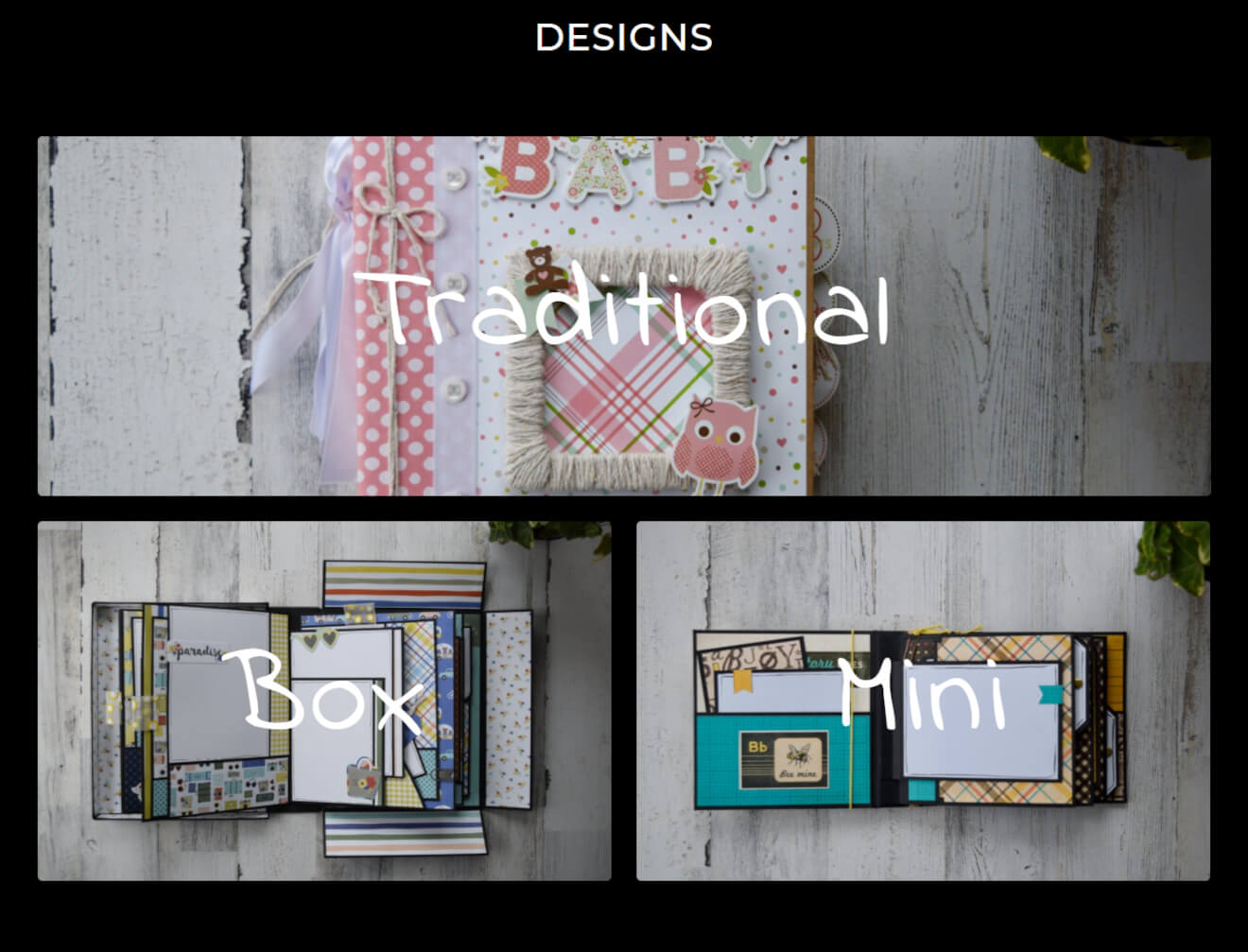 YBM also makes sure their tutorials are entertaining and easy to follow to maximize engagement from their audience: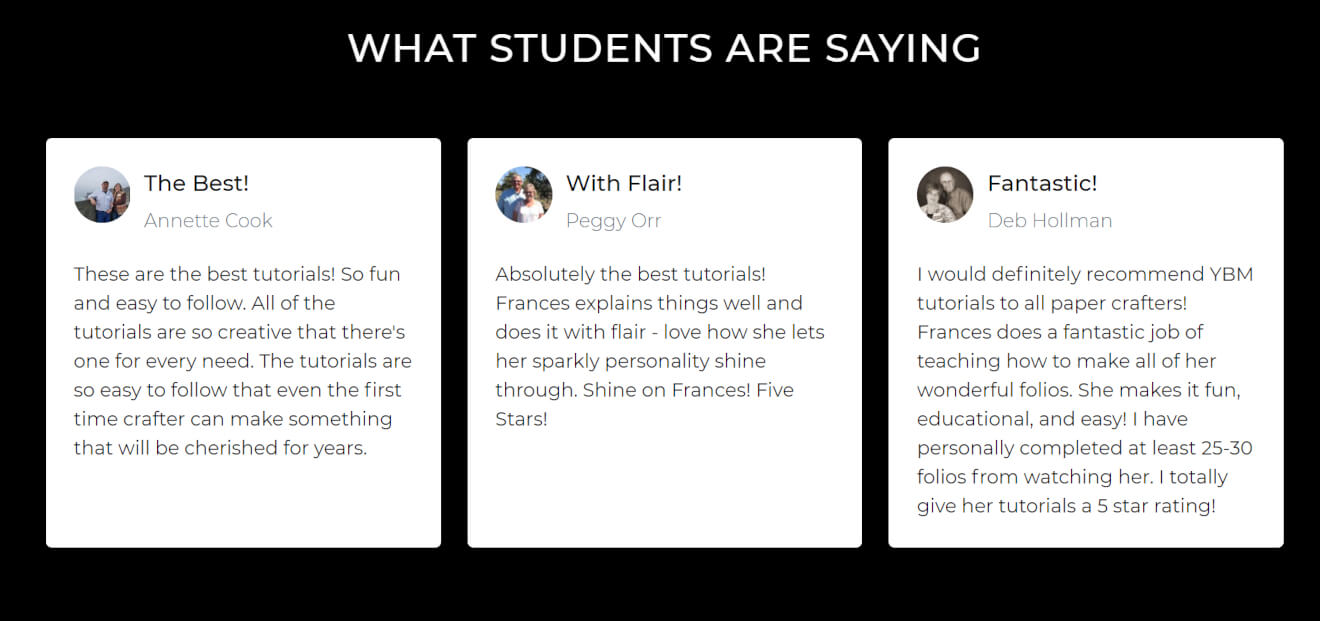 YBM knows their audience wants to learn a new, creative skill that they can put to good use.

Now:

It's worth mentioning that you can also monetize your existing content that's published on other platforms. In fact, people are happy to pay for content they can get for free.
But you do need to create something original and exclusive that will draw your target audience to your platform and convince them to become a paying subscriber.

For more on identifying your target audience, check out this step-by-step guide on how to do it here.
Step 3: Choose A Video Monetization Platform
Now, you need to choose where you'll host and sell your videos.
Find a place that allows you to upload, share, and monetize your videos. We highly recommend you choose a provider that specializes in video websites and apps.
While generic website builders are great, you'll still need to add a lot of plugins like a content delivery network (CDN), firewall, payment gateway, and much more to create a full fledged video business.
An easier option is to go for an 'all-in-one' type platform that specialises in video hosting, and video selling.
Uscreen is a great example of this:
We have an impressive technology stack with everything you need to start, launch, and grow your video business. With us, you can:
Create your own video website.
Upload and organize your videos with ease.
Distribute your content with OTT TV and mobile apps.
Monetize your content with the business model of your choice. (More on that in Step 4).
Accept online credit card payments with a built-in payment gateway (like with Uscreen Payments, Stripe and/or Paypal).
Market your videos with built in marketing and retention tools.
Use live streaming to connect with audiences in real-time, on any device.
Track subscriber growth and churn.
Own your audience with detailed marketing and sales analytics.
Have access to end-user support.
These functionalities support the tech side of your online video journey, leaving you to focus on the video quality.
We're currently the number one platform in the industry and our customers earn an average of $12000+ a month!
But…
We also know Uscreen isn't the right choice for every video business, so you should take the time to shop around and find the VOD platform that's right for you.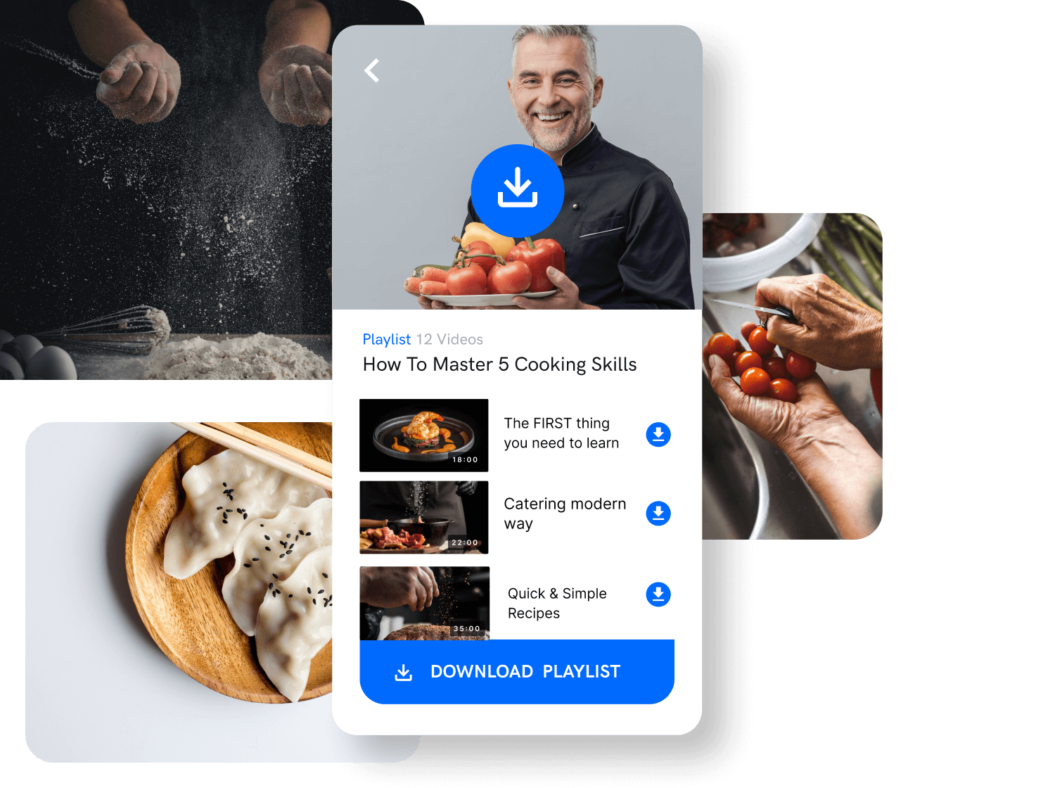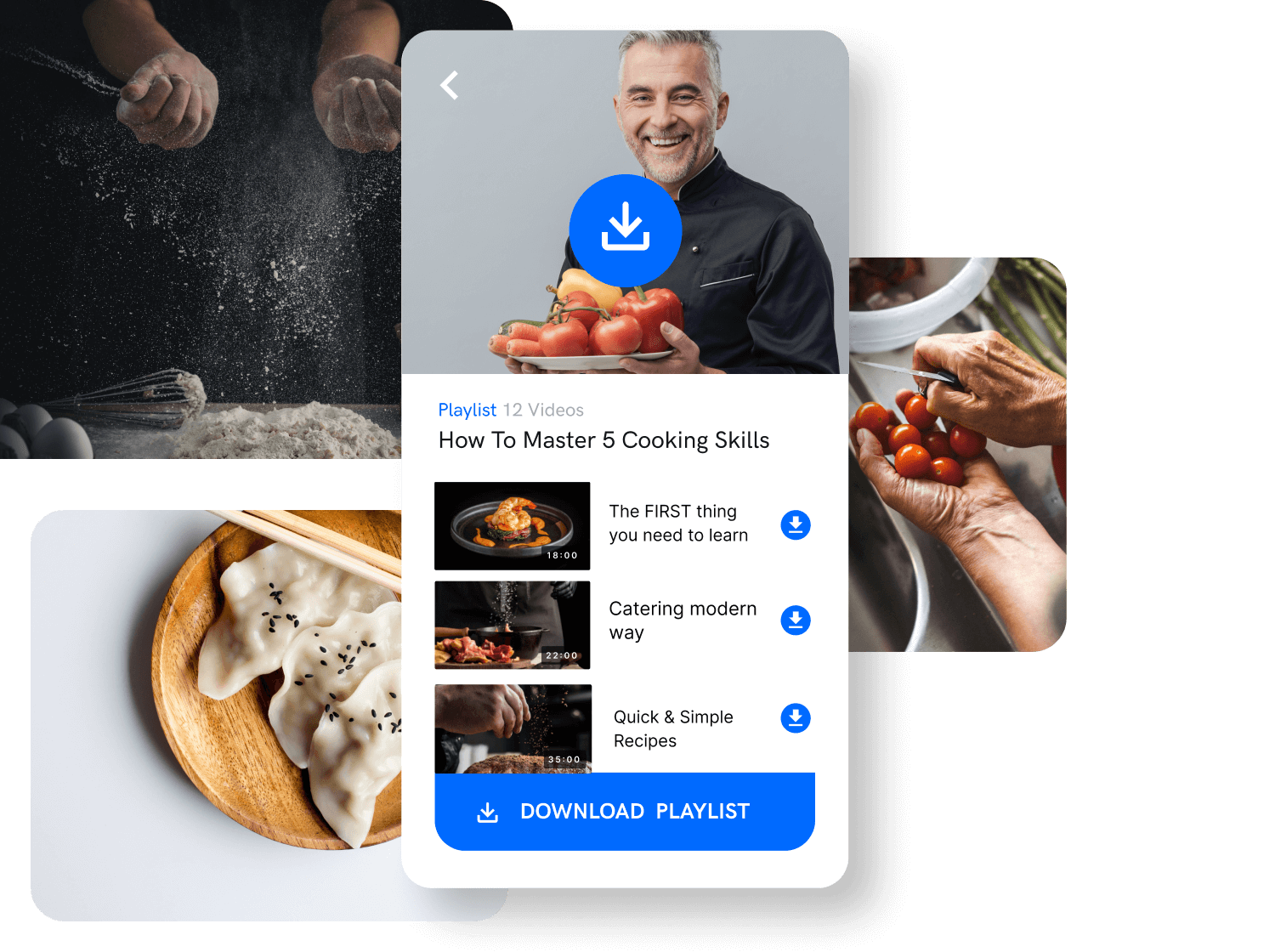 Start your 14-day free trial today!
Step 4: Pick Your Pricing Strategy
With your platform in place, it's time to start thinking about how you want to monetize and sell your videos.
We recommend choosing one of these 3 monetization strategies:
SVOD: subscription video on demand.
TVOD: transactional video on demand.
Hybrid: a mixture of SVOD and TVOD.
Let's take a look at each of them.
1. Subscription Video On Demand Business Model
The SVOD monetization model gives subscribers full access to a video library in return for a recurring annual or monthly fee.
This business model is popular because of its convenient nature to both video sellers and consumers.
People pay for content they can get for free because its:
Convenient: people are happy to pay for a one-stop-shop where they know they will find the content they love, instead of fighting through the hundreds of pieces of content in their news feeds.
Familiar: subscription services have become the new normal. Research shows that 59% of consumers had an online subscription service and 46% of consumers are subscribed to a video streaming service.
Perceived as more valuable: research suggests that people who pay for a service frequently in smaller amounts are more likely to engage with it in the future.
Supportive for their favorite communities: people love to support their favorite creators and will contribute significant amounts of money to help them keep creating.
Ad free: people want a seamless experience watching their favorite content, meaning they want it without ads.
In fact, industry reports show that viewers spend 65% of their time at home watching SVOD services. And, that includes more than just the big entertainment platforms like Netflix and Disney+.
As for businesses, video sellers can reap the rewards of a subscription business model through:
Being able to predict their revenue stream and having a better understanding of the business's financial health and where to reinvest revenue.
Less intimidating pricing to customers because they can charge a lower upfront cost more frequently.
Sustainable business model with a longer customer lifetime value.
Building stronger relationships with customers and creating a loyal community.
Focus on customer retention which creates a loyal and profitable fan base and decreases customer acquisition cost.
Get valuable insight from their long-time users to improve the product or service. This will improve your user experience and the strategic business moves you take.
You can read about some of our successful subscription video clients in the Uscreen Spotlight articles below: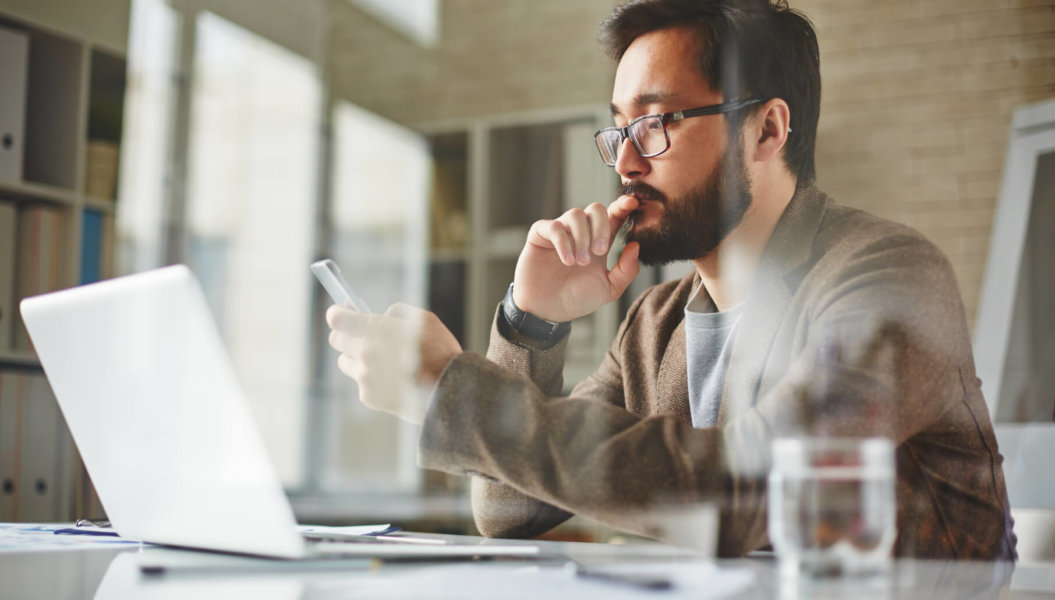 The Full Guide To Subscription Business Models (2021 Edition)
2. Transactional Video On Demand Business Model
The TVOD business model uses a pay-per-view format. Meaning, customers make a one-time purchase to access specific content.
These businesses can make more money upfront by charging a slightly higher fee per purchase. TVOD can be effective if you're offering one-time transactions that are time-bound or for live streams.
For example, you can buy or rent movies on Amazon Prime Video: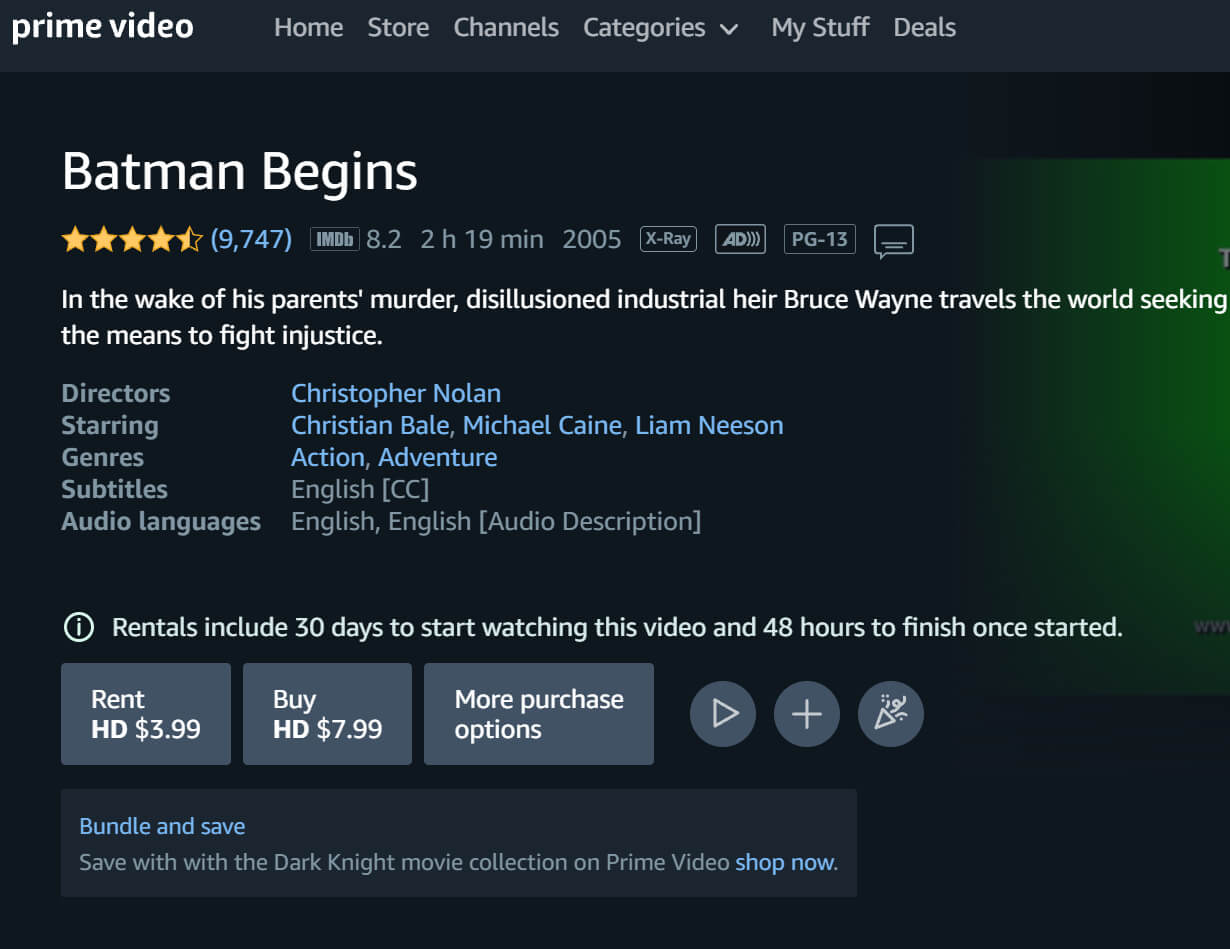 If you use the TVOD model you need to make sure the quantity of purchases stays high enough to earn a steady profit. This means you'll have to keep convincing people to buy from you.
But, you can have your cake and eat it too…
3. Hybrid Business Model: SVOD + TVOD
Offering both subscriptions and individual transactions give you an even higher earning potential.
You'll be able to cater to both your long-term and short-term clients!
In fact, a lot of Uscreen customers – like Your Book Of Memories – use this hybrid model in their video streaming business: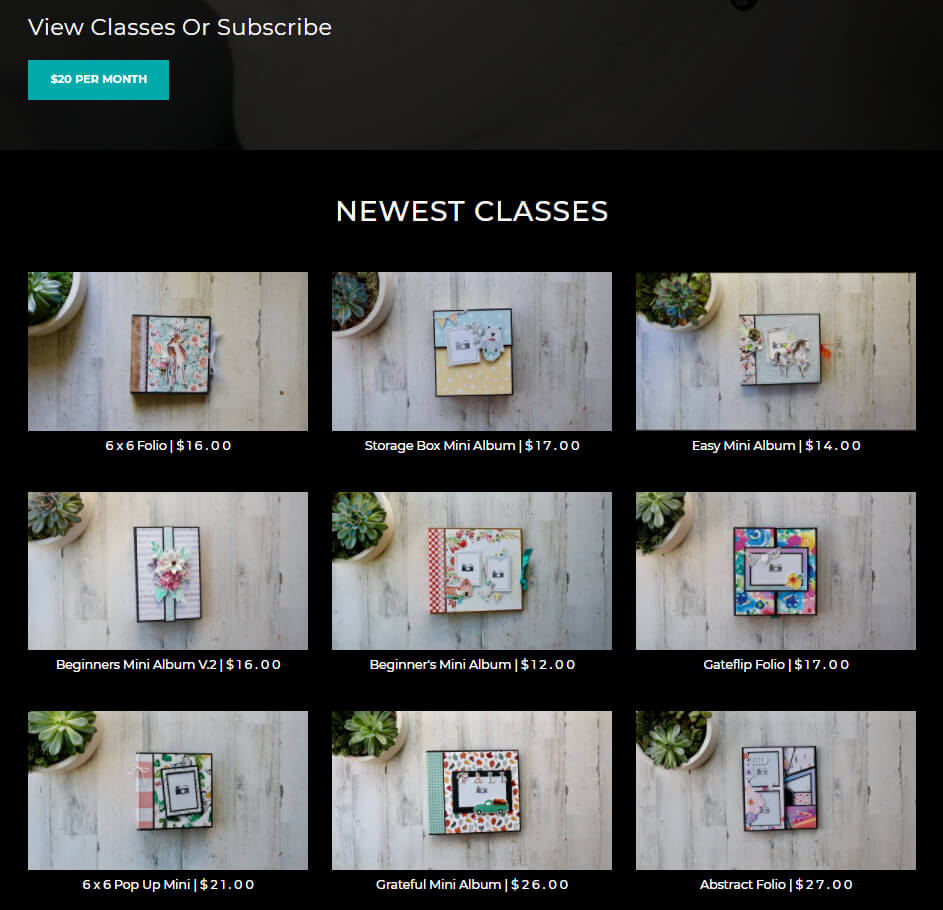 Even better, the one-off clients can get lots of value from these individual products which gets them a step closer to subscribing.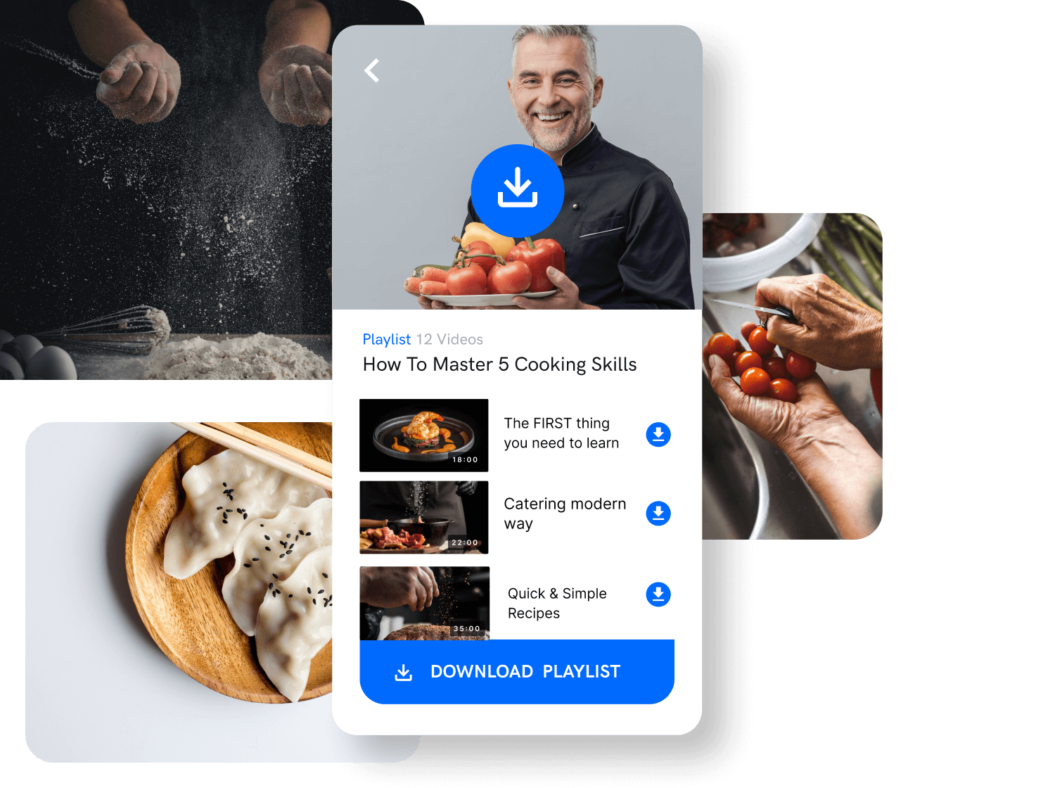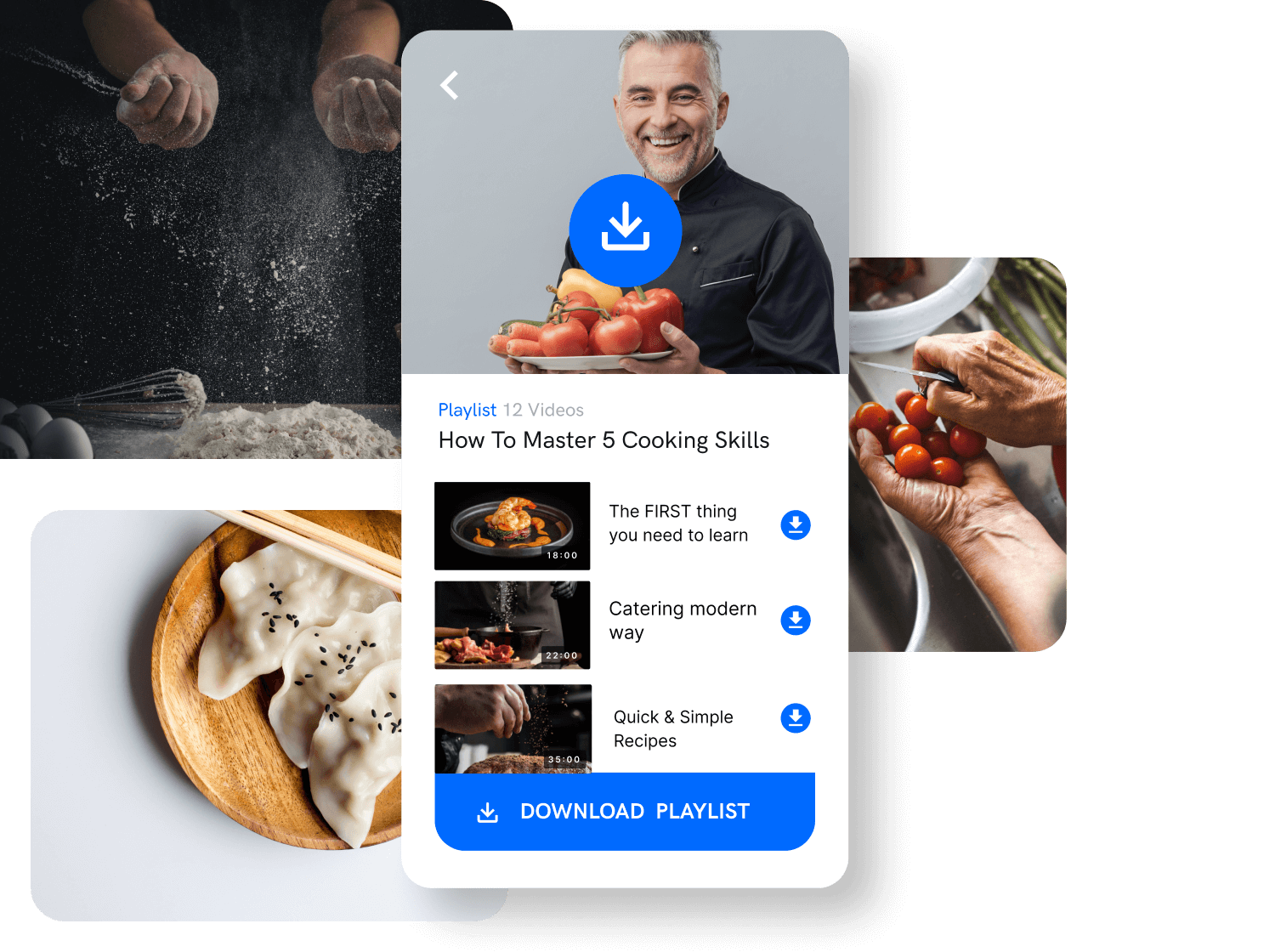 Start your 14-day free trial today!
Step 5: Organize You Content Catalog
Your content catalog is your opportunity to showcase your video content to potential customers and give them a preview of how your platform will look and feel.
A well-organized content catalog makes it easier to engage with your audience which leads to more business, a better user experience, and increased retention.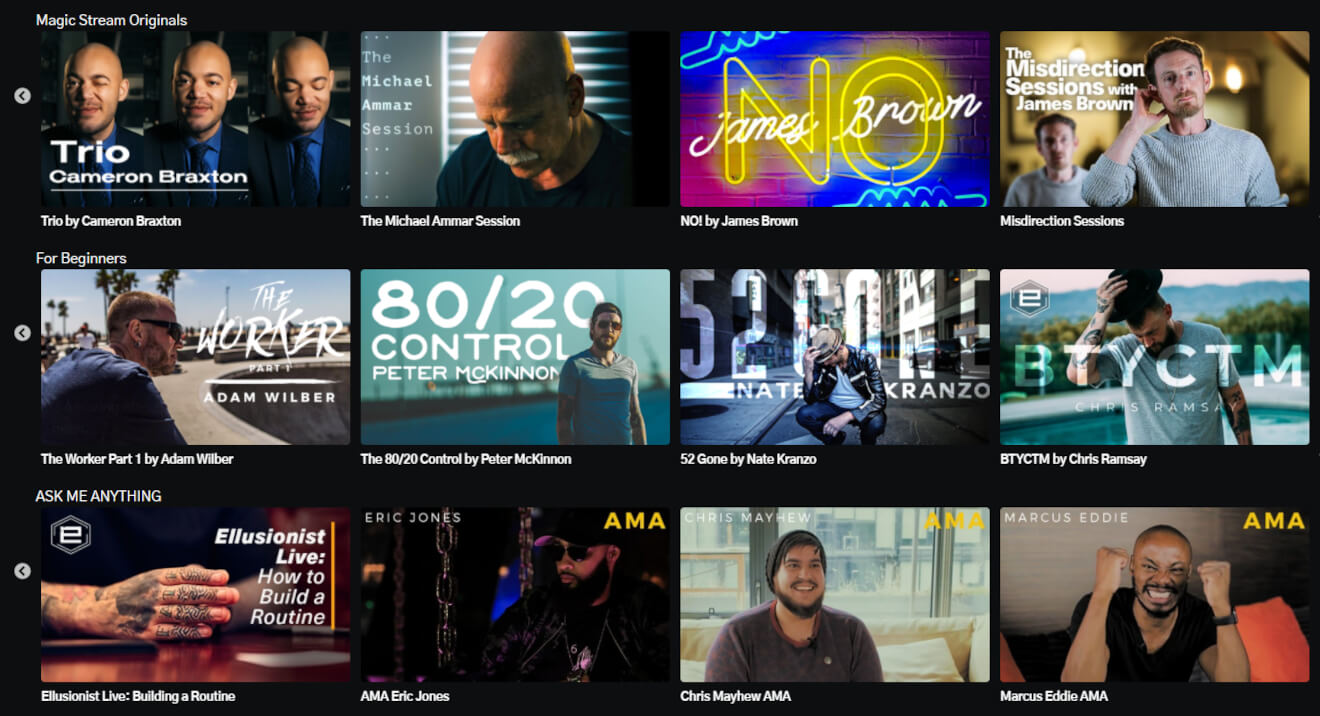 There are 4 things you need to do to optimize your VOD catalog and create a great user experience that'll help you keep existing customers and draw in new ones:
Create intriguing titles and descriptions: these should be engaging and informative, your viewer should know what to expect before watching your video.
Add appealing visuals: You can use thumbnails and trailers. Attractive thumbnails increase your click-through rate and trailers can encourage potential customers to subscribe to, or buy your content.
Enable convenient features: your content should be accessible for people to consume whenever and however they like; you can offer subtitles and make your videos downloadable to watch offline.
Group your video content: categorize your videos by relevant themes and have custom filters that help your viewers easily find the type of content they want.
How to organize our content catalog is a bit beyond the scope of this article but you can check out our full guide on how to optimize your content catalog below: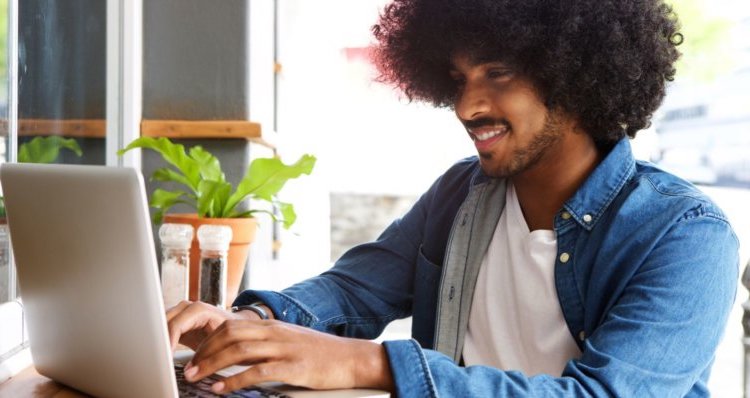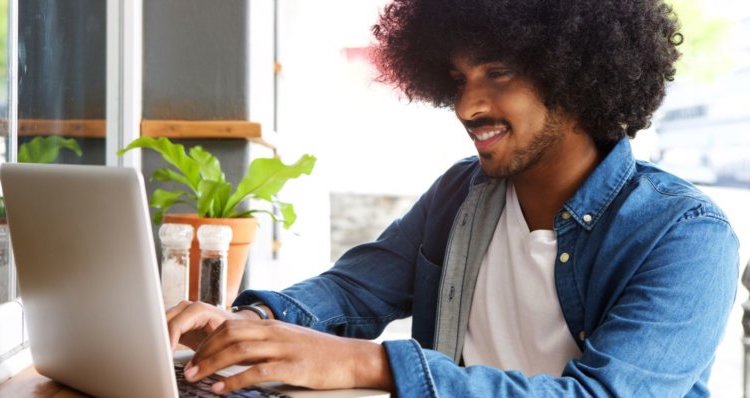 How To Optimize Your VOD Catalog for Better User Experience
Step 6: Customize Your Site
Now it's time to customize your video website!
The video monetization platform you've chosen should give you the option to customize your own website and add your branding.
If you're using Uscreen, we have a number of customization options you can choose from.
Our most popular tool is our built-in, customizable page builder, which lets you build stunning homepages, website pages, or separate marketing pages.
You can choose any of our 19 core themes…
…and then edit the specific elements – like adding images, headlines, text, and branding material – to create a page that lets your brand and products shine through:
Best of all you can do this without any coding knowledge! (But, you also have the option to edit things with HTML if you want to customize your page even more.)
One of the key things to remember here is brand consistency across all your online presence. You need to consider the…
… that you're using on other platforms like social media or YouTube and make sure everything matches up nicely.
This will help your customers know they're in the right place.
For example, going back to our Your Book Of Memories example you can see they keep a consistency between the marketing platforms and video website.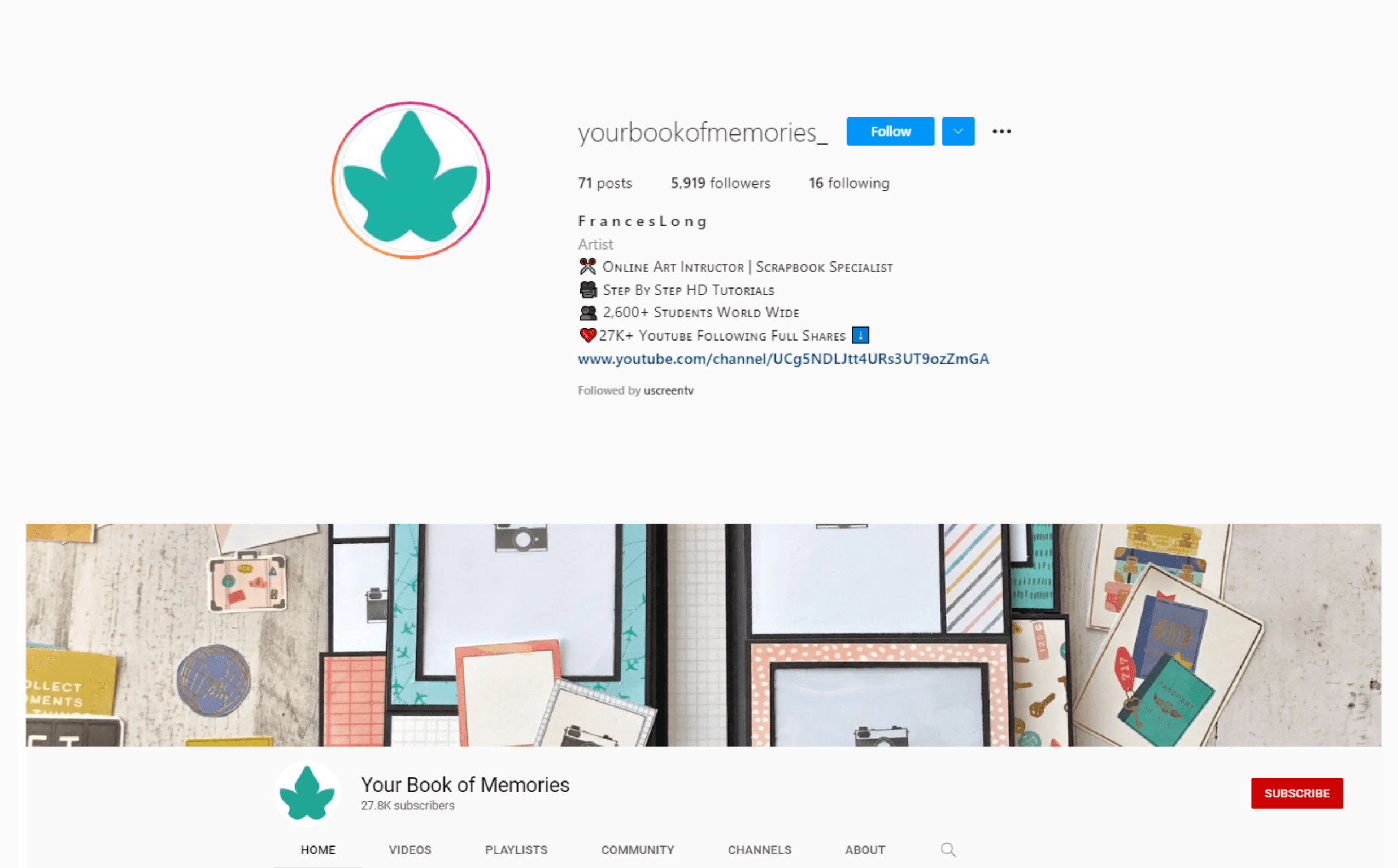 This subliminally assures the website visitor that they're in the right place and they're visiting the website of a brand they've already interacted with and trust.
You can learn more about how to build your very own video website with Uscreen in our help center guides right here.
Step 7: Set Up Marketing tools
Once your site is up and running, it's time to set up automated marketing tools that will help you reach more people and earn more money.
We recommend you set up these 3 marketing tools before you launch.
Email list: a tool that allows you to collect email address of potential customers (i.e. MailChimp).
Subscription upsell: a tool that allows you to offer point-of-purchase upsells of your subscriptions to customers.
Abandoned cart: a tool that automatically contacts people who leave the sales process before completing their purchase.
That way, you can begin to build a solid foundation for the long-term marketing of your business, as well as recoup any potential "lost" income from on-the-fence customers.
On the Uscreen dashboard, you can access a full suite of marketing tools that'll help you launch, grow, and retain customers. These tools also help you:
And, if you have your own preferred tools – like email marketing software – you can use our API and integrations to create a personalized experience.
If you want to learn more about Uscreen's video marketing tools check out this video: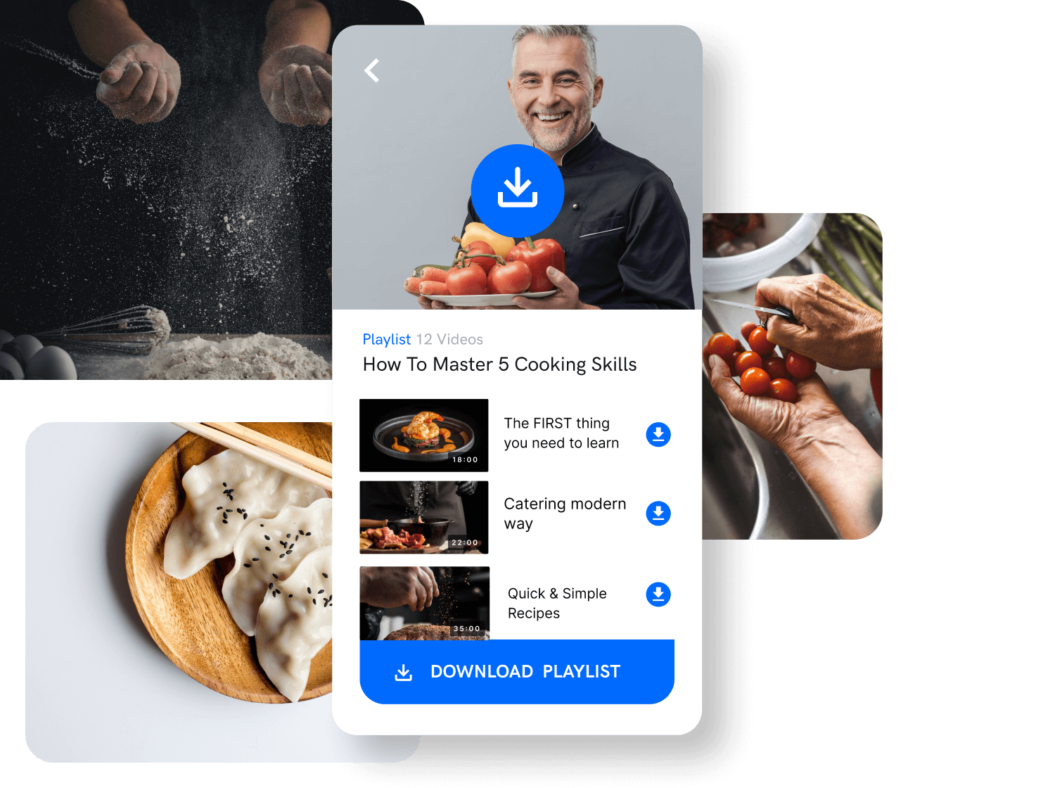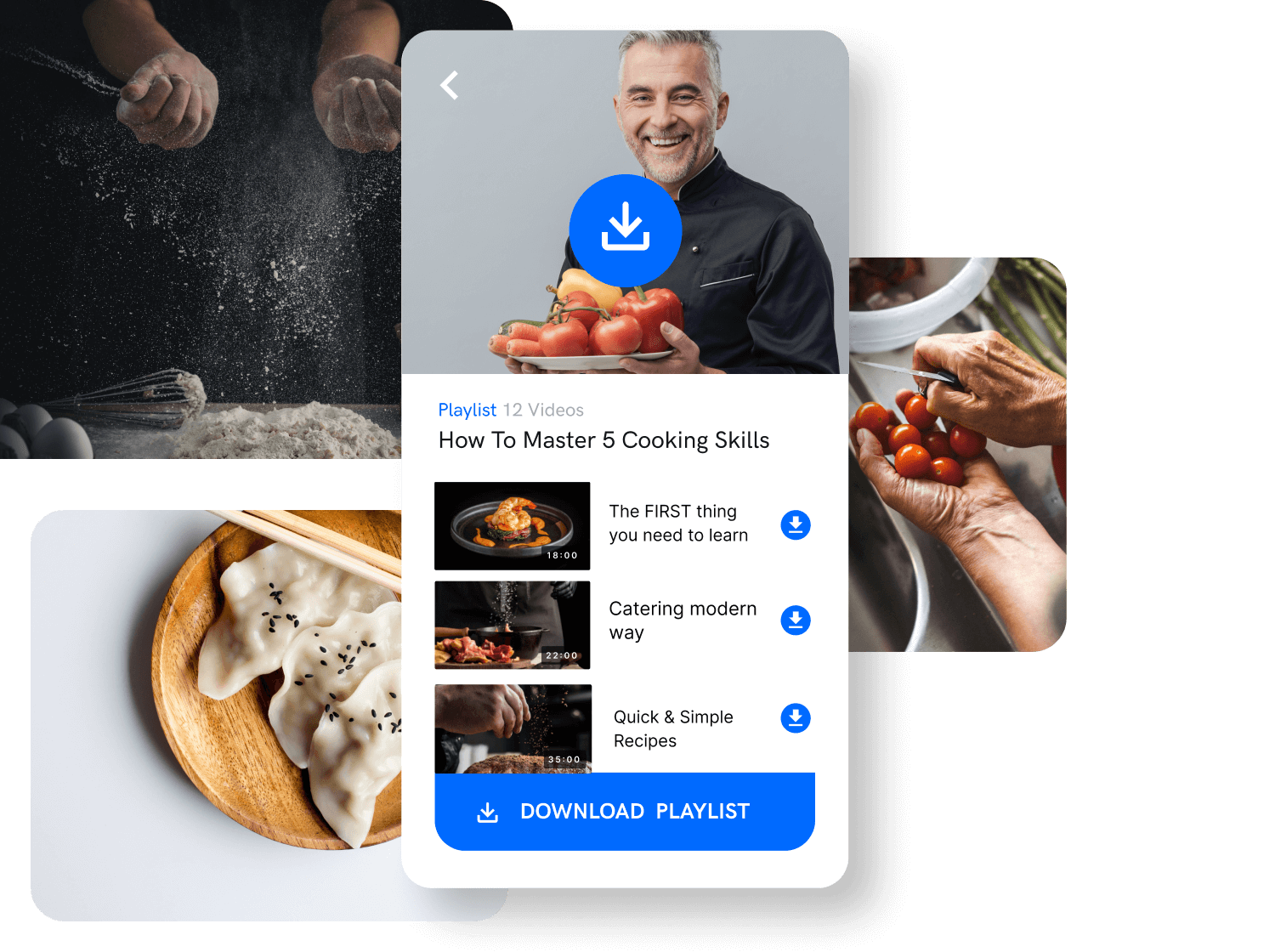 Start your 14-day free trial today!
Step 8: Expand Your Offer With Video Streaming Apps
A big part of the future of online video is OTT apps. That's because they let users watch their favorite content natively on any device.
We found that 65% of video streaming is done on TV and mobile apps.
Better still, OTT apps can grow your audience and revenue by up to 30%!
You can hire a developer to launch your apps, but since it's a full-on app development project, it usually takes between 3 to 6 months and can cost anywhere between $10k and $20k depending on the features you require.
That's a lot of time and money!
Alternatively, if you're looking for a…
Cost-friendly option.
Technically hands-off solution.
Dedicated team to support and maintain your app (for free) after launching.
An OTT platform ready to go
…then you can lease an app from an OTT service provider- like Uscreen.
We already have an impressive tech stack that includes:
CDNs
Video hosting bandwidth
Marketing tools
live streaming
Push notifications on all devices
Subtitles and video download functionality
This means you get more than just an app…you get a full OTT platform where your viewers can stream content on their smart TVs, mobile Apps (for both iOS and Android operating systems), and tablets.
And, for the duration of your OTT lease, you'll have the full support of our team that'll help you with the backend of your platform and regularly update your app to make sure it's running optimally!
Creators can easily launch a wide range of OTT apps – as part of a package – like Roku, Amazon Fire TV, Apple TV, Apple Watch Fitness, iOS, Android, and more!
If you're looking for more OTT services that launched with Uscreen, check out this colorful list of video platforms, from 4 different industries, that successfully launched their OTT platforms with us.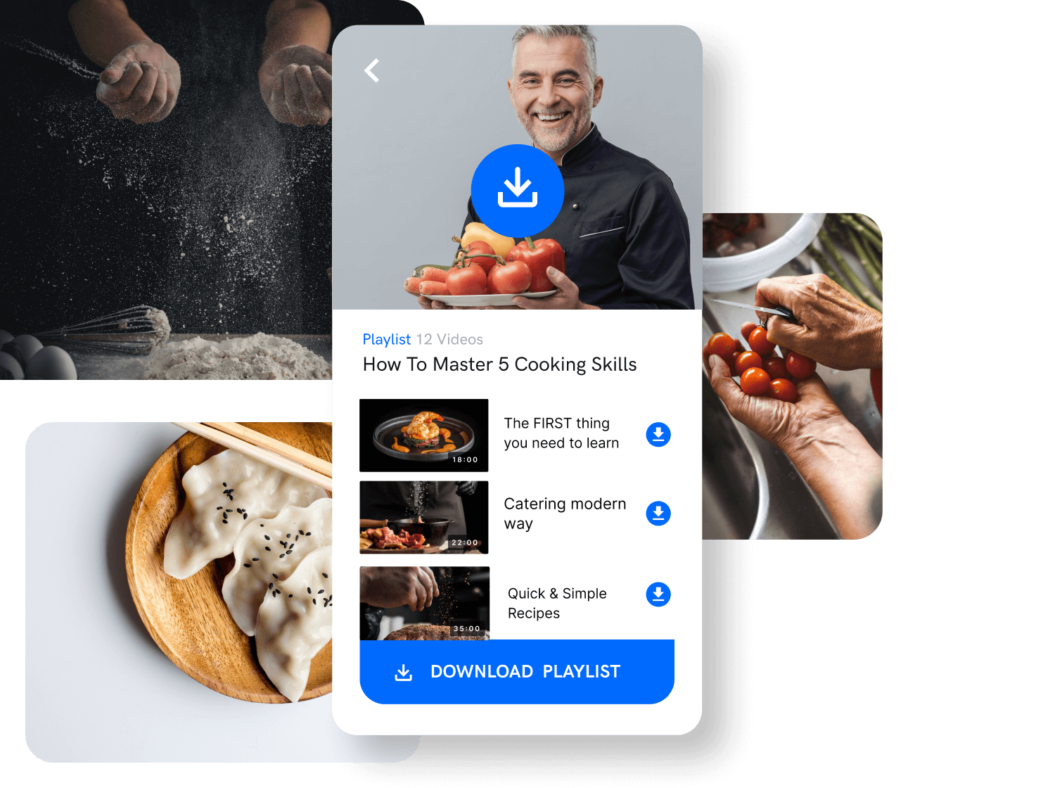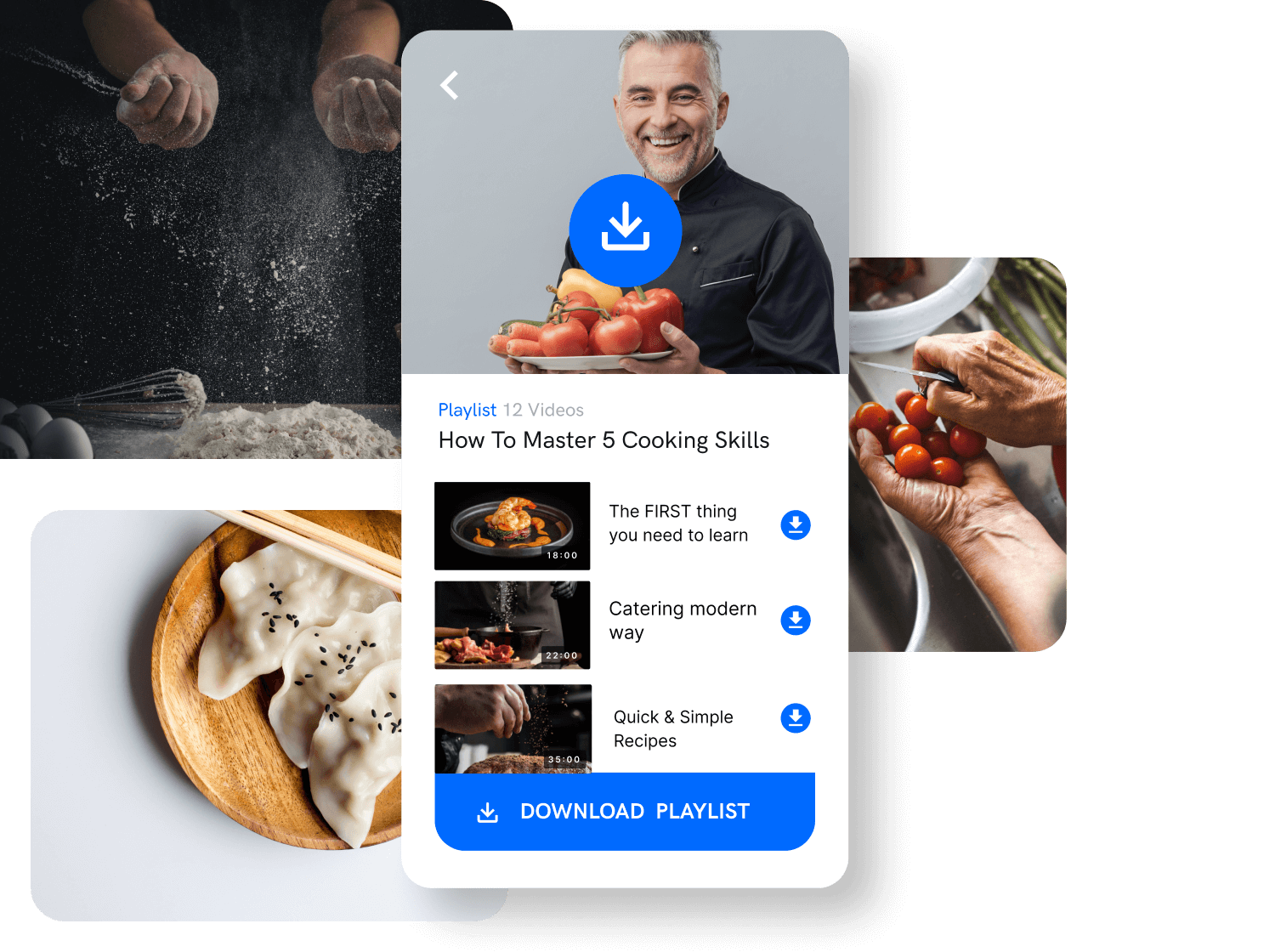 Start your 14-day free trial today!
Case Study: What Makes Netflix's Video Streaming Website Successful?
Netflix has one of the most successful subscription-based video streaming services in the world. They're currently worth almost $200 billion and boast over 200 million paid subscribers.
With their subscription business model, Netflix disrupted the entertainment industry and created a whole new experience for people to consume content.
Netflix worked its way into our daily lives, I mean was "Netflix and chill " or "binge-watching" even a thing before them?
They even paved the way for other streaming giants like…
Disney +
Amazon Prime Video
Hulu
HBO Max
…to create their own video streaming services.
But what made Netflix so successful? For starters, they followed the steps above!
Let's break it down:
They chose a content niche, Hollywood and indie entertainment. They then expanded on it once their customer base grew by investing in original content like TV series, stand-up specials, and docuseries, which gave their streaming platform an edge.
Netflix extensively researches its target audience, so much that they even know what their users' snack habits are! The company is able to collect valuable data on its users to narrow down their user profiles and improve its algorithm.
They put their content behind a paywall and launched a video streaming platform.
Netflix fully embraces the subscription business model which allowed them to earn a recurring income, scale their business, improve their product, and build a group of loyal customers.
Their content is well organized, people can find content based on its genre and type. Netflix also enables convenient features like watching offline and subtitles.
Netflix's site is unique, the dark scale background, red logo, and sound animation let users know they're in the right place.
Netflix personalizes users' experience, by suggesting content relevant to its users and sending new subscribers welcome emails.
They launched streaming apps, which made their service highly accessible on all devices, to anyone with an internet connection.
Now, any video streaming service that wants to stay relevant has an app like Netflix, produces original content, and offers a subscription.
Wrapping It Up…
Congrats on making it through this guide!
By now, you should have everything you need to launch your own streaming service.
To recap you need to follow these 8 steps: 
Choose Your Niche

You should have a premium content niche that differentiates you from other video creators in the field. 


Know Your Audience

You'll need to dive deep into your audience's mind to see what they need/want and create content around that. 

Choose A Video Monetization Platform

Pick a video provider that specializes in video websites and apps and can let you upload, share, and monetize your videos. 

Pick Your Pricing Strategy

You can create a subscription-based business, sell your videos individually or in bundles, or create a hybrid of both of these approaches.

Organize Your Content

Your content catalog should be easy to navigate to help viewers find what they want, it should also engage viewers and entice them to stream your videos. 

Customize Your Site

Your video monetization platform should help you customize your site to fit your content's branding. Make sure your branding is consistent across all your platforms.

Set Up Marketing Tools

Set up automated marketing tools that help you reach more people, earn more money, and retain more customers. 

Expand Your Offer With OTT Apps

Make your content as accessible as possible with over-the-top apps, where your viewers can watch your content natively on any device.
Be patient. Find your niche. Build a community. And, in no time at all, you'll have a profitable video streaming website you love to run.
Get started with Uscreen now, the first two weeks are on us!