In an age of saturation, it can be hard for a video-on-demand (VOD) service to stand out from the crowd.
While it's difficult to break through the dense field of VOD marketing, it can be achieved with an affiliate marketing strategy. If this sounds new to you, don't worry. We've put together an affiliate marketing 101 course for you right here.
As a subfield of performance marketing, affiliate marketing is carried out by word of mouth.
That's because 91% of consumers value honesty — above all else.
This has especially been true for VOD businesses for the past decade, with consumers deciding which service they'll subscribe to based on the recommendations of their friends, family, and online reviewers.
And with affiliate tracking software, it makes it easy to spread the good word about your VOD service. We'll get into that later.
First, let's take a deep dive into just what makes affiliate marketing phenomenal for VOD businesses.
What is Affiliate Marketing?
Affiliate marketing is a powerful performance marketing tool.
Employed by businesses of various industries, affiliate marketing relies on word of mouth. Whether it's one business promoting another or influencers and brand ambassadors doing so, the tactic works by referring an existing audience to a business.
The results speak for themselves…
Research shows that marketers spent $6.8 billion in 2020 on affiliate marketing, with 81% of brands adopting it as a marketing practice.
The strength of affiliate marketing comes from the honest, authentic connection it makes.
Today, consumers want to spend their money on brands they can trust. They want to ensure their money is going to a good place, spent on a brand that aligns with their beliefs, morals, and more.
Finding those businesses can be difficult for a consumer, as it requires a great deal of research.
But…
All that changes if you can get a brand recommended to you directly by another trusted brand. That may be a business, affiliate, influencer, or brand ambassador you already support and see as authentic.
For example, you're going to be more compelled by hearing your friend telling you how great a brand is versus just seeing a billboard on the side of the highway.
That one-to-one authenticity is imperative to establishing a relationship from the start.
And…
Even if you aren't able to get them all the way through the sales funnel, the chances of improving your engagement are incredibly high.
How Does Affiliate Marketing Work with VOD?
So, we know how affiliate marketing works, but what makes it beneficial for VOD services? 
Whether consumers are looking for sports, music, television or movies, your VOD service has content with an audience totally ready to find it. The greatest struggle is guaranteeing they can find your content to begin with.
VOD and affiliate marketing work together exceptionally well by using businesses, affiliates and influencers to promote your service to your niche market.
Your niche market, in this case, consists of the consumers currently not in your network — maybe they're part of another robust online community or they're adjacent to your niche.
That's okay!
By utilizing affiliates who exist in the niches you want to target, you can speak directly to your intended audience. But the benefits of affiliate marketing for your VOD business doesn't stop there.
One of the best things about affiliate marketing is that you only pay when it works for you.
When you develop your relationship with your affiliates, you set a predetermined payment rate with them.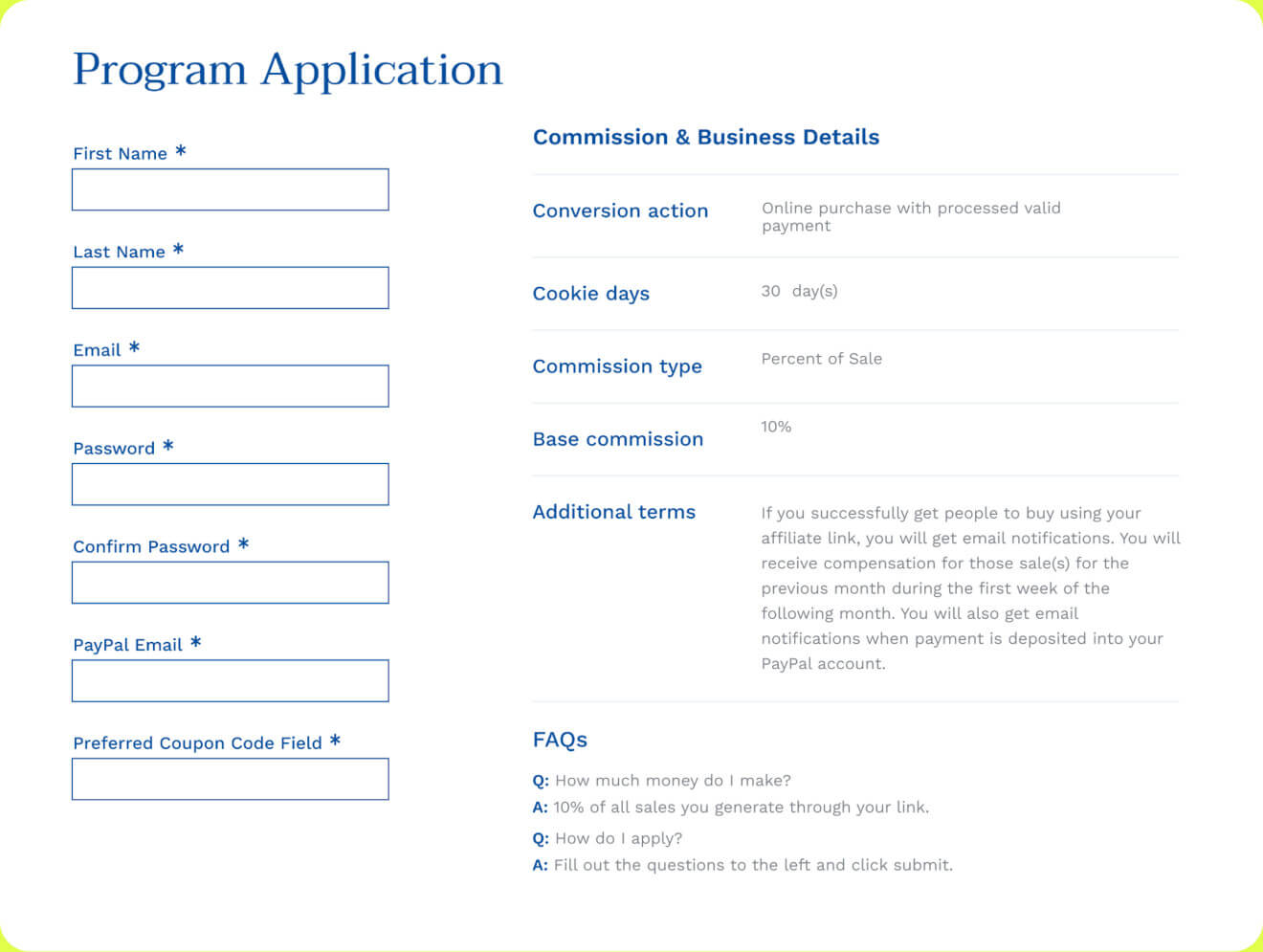 Most businesses state that an affiliate will only be paid when a sales conversion is made. This means that you'll only pay when you receive a sale from an affiliate. This is exceptional news to any marketer, it means you'll have a lower cost per acquisition and a higher return on investment (ROI).
The benefit of affiliate tracking software is the flexibility and control it allows. Not only can your software be used to deploy campaigns and pay affiliates, but you can use high-tech tracking to see clear data about your marketing efforts.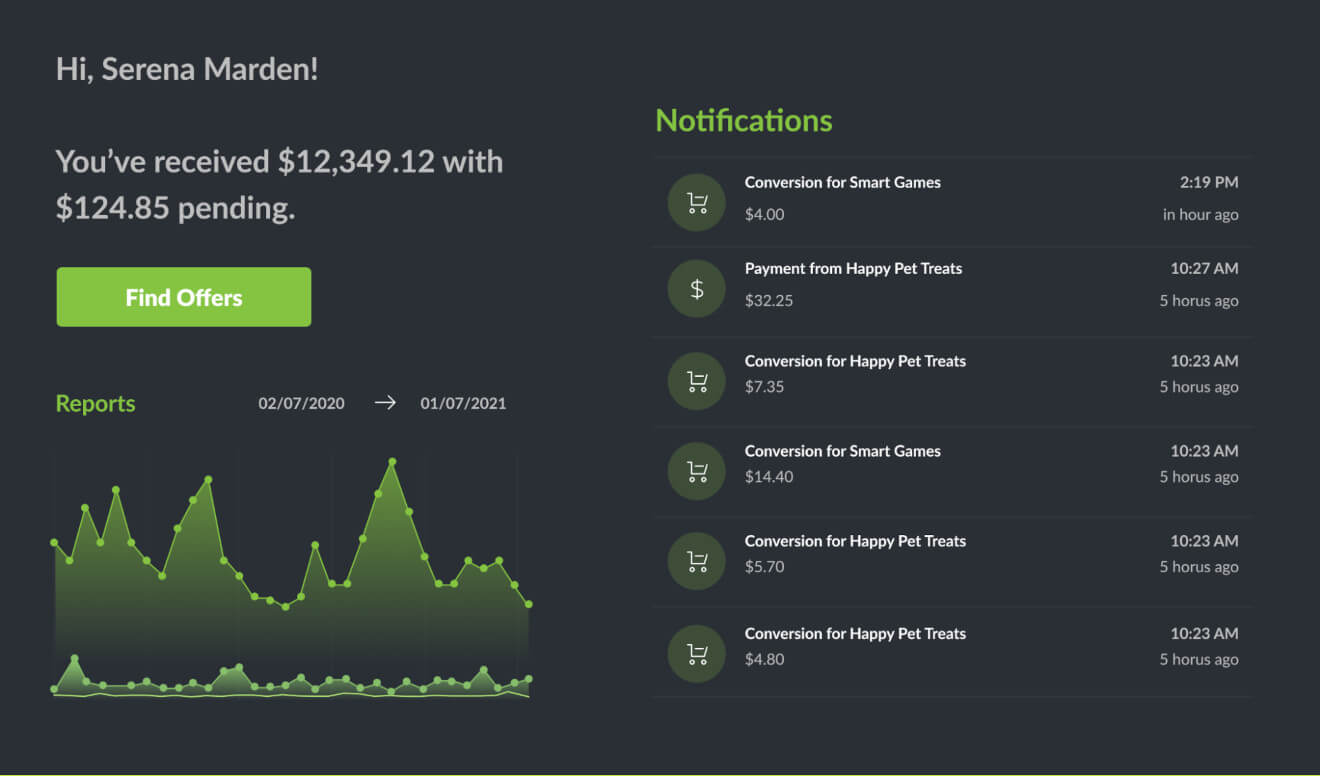 Any marketer knows it's imperative when creating a successful promotional campaign, that adjustments are made over time, whether it's reacting to market shifts or identifying strengths and weaknesses.
These actionable insights are essential to successfully promoting your VOD services to the market, as you need to find a way to stand out from the crowd.
This brings us to our next section…
How Does Affiliate Marketing Drive Traffic to Your Business?
Consumers are rapidly perceiving VOD services as a must-have; but with so many options on the market, they want to know whether a service is reliable prior to using it. Affiliate marketing bridges that gap by driving traffic to your business.
By relying on authentic, relatable, credible affiliates your business can effectively drive consumers to your VOD services.
So how exactly does it drive traffic?
One of the first things, as mentioned above, is the referral process of authentic marketing.
Consumers rely on positive reviews to choose the VOD service they'll subscribe to. They want to know they're getting something worth their time and dollars, including:
Knowing what content you offer.
Seeing if your price is competitive.
Understanding your user interface (UI).
Learning about your VOD's user experience (UX).
That social proof is imperative, as it can drive conversions and traffic right to your website. Getting consumers in the door is one of the best things you can do as a VOD service.
With so many services available on the market, it's a constant hustle to get people to your site. Pushing them there with affiliate marketing is the first step in getting them into the sales funnel.
This is one of the reasons affiliate marketing is the top acquisition source for 40% of American businesses and why it's exceptional for VOD services. Shortening and simplifying the sales funnel is one of the greatest ways to increase the chances of converting and engaging.
Beyond that, affiliate marketing increases your chances of driving traffic thanks to its referral-like style.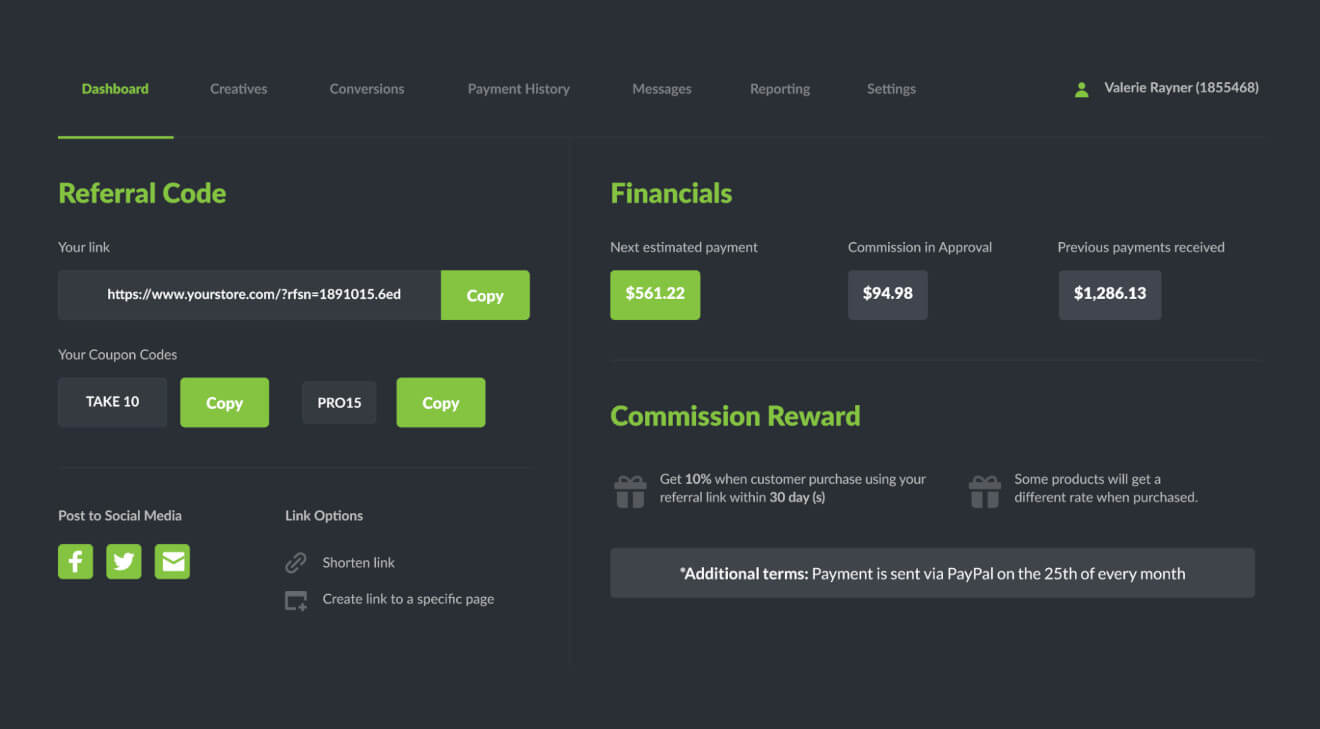 45% of marketers prefer affiliate marketing because it does not disrupt the user experience. The nature of affiliate marketing is already more authentic thanks to the relationship-building aspect of it. It feels more natural than traditional advertising like banner ads, pre-roll ads, and the sort.
Consumers are more likely to click on an ad by an affiliate marketer because it's like they're receiving a referral from a friend. That personal touch matters in capturing the attention of a consumer.
It feels less like you're talking to your consumer and more like you're being introduced to them.
How Do You Create an Affiliate Marketing Strategy?
Creating an affiliate marketing strategy from scratch can be difficult, but it doesn't have to be complicated. By partnering with an affiliate network, you can effectively develop and implement a campaign easily.
Once you have it up and running, you'll have to think of the finer details, such as your affiliate marketing commission rate and what mediums — SMS, email, Facebook, Twitter and Instagram — you'll be targeting.
It's important you do your research beforehand, as it will help you define the parameters of your affiliate campaign, including:
Understanding what types of content should be developed per medium.
Determining which social media apps and sites you should target — potentially places that are either saturated or not being marketed to by VOD services.
Find the types of affiliates that work for you.
Once you know the people you want to speak to and which platforms to target, you can then determine which affiliates are going to work best with your marketing plan.
Which brings us to our next question…
How Do You Find the Right Affiliates?
While attracting new affiliates can seem difficult, there are some essential places where your search should begin. We recommend searching these places first:
Your existing customers.
Influencers and brand ambassadors (whose niches overlap with your own).
Affiliates who exist on the fringes of your niche.
Existing customers are your best bet, as you'll be hiring affiliates who already have first-hand experience with your business.
But why go outside your niche?
The results might not be as good as using existing customers whose niche overlaps with your own, but you can still draw extra attention to your VOD services. It's a simple way to connect to consumers you wouldn't normally reach.
Some affiliates you should be targeting are…
bloggers
videographers
podcasters
content creators
musicians
photographers
VOD-related businesses
media companies
…which can be fantastic for your company by helping you drive traffic from their audience to your VOD business.
To make the most out of your affiliates, you should be aware of the influencers you sign on.
This can be achieved by researching the creators beforehand, like checking their existing profiles, looking at their SEO stats, or asking them for hard facts of their own.
If the partnership feels right, you'll need to find a way to help them out and monitor their success.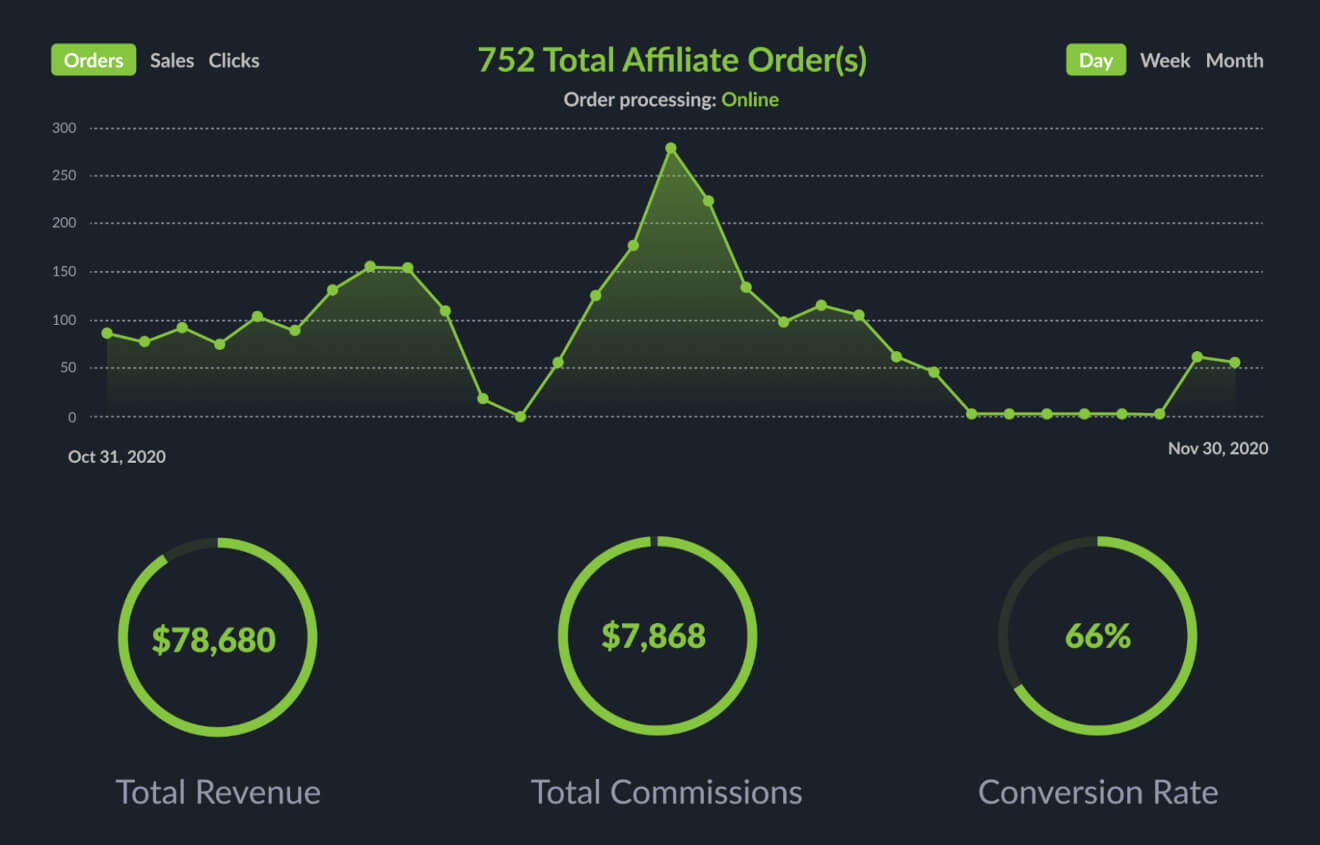 Certain affiliate tracking software like Refersion allows you to host documents for affiliates, alongside tracking affiliate performance. This will this make onboarding easier and you'll be able to help your affiliates perform better as time goes on.
How Can You Push Affiliates to Perform?
Even if your affiliates perform well for you, you shouldn't just leave them alone.
Now, it's important to give your affiliates the freedom to create content as they want to — it's equally as important that you incentivize them to perform.
By incentivizing affiliates, you increase the chances of them working harder for your business. Incentives can look like…
discount coupons for high-performers
gifts and swag based on quarterly or monthly earnings (everyone loves swag!)
raises in commission rates after high-performance quarters
…which pushes affiliates to work harder and shows you care about them.
Let's be honest: working as a contractor can sometimes be a thankless job.
That's why you need to show gratitude! After all, you're using affiliate marketing to stand out from the crowd, so make sure you also stand out when interacting with your affiliates.
Treat them well and provide them with benefits that show you appreciate their hard work. Not only can this produce better results for you, but it can also lead to the development of a long-lasting relationship.
And speaking of long-lasting…
How Do You Maintain Traffic to Your VOD Service?
With the right affiliate marketing platform, you can develop a powerful marketing strategy with ease.
But it's what you do once it's off the ground that matters most.
Your VOD service is looking toward the future, and you should do the same with your affiliate marketing strategy.
Use your affiliate tracking software to its capacity, whether that means:
Tracking your affiliate's data (including clicks, conversions, revenue generated, and average order value).
Communicating with affiliates on a regular basis.
Looking for new affiliates when it fits your budget.
Attracting established affiliates that can continue growing your traffic.
Incentivizing your affiliates with bonuses, coupons and more.
With a VOD service, you need to have a growth mindset.
Alongside securing long-term subscribers, you want to continue attracting new ones, right? One of the easiest ways to attract subscribers is by enticing them with affiliate marketers.
Stop relying solely on traditional advertising. Implement an affiliate marketing campaign and begin driving traffic to your VOD business today.
And if you're looking for an affiliate marketing software to get you started, we know just the one! Refersion is a trusted Uscreen partner you can count on.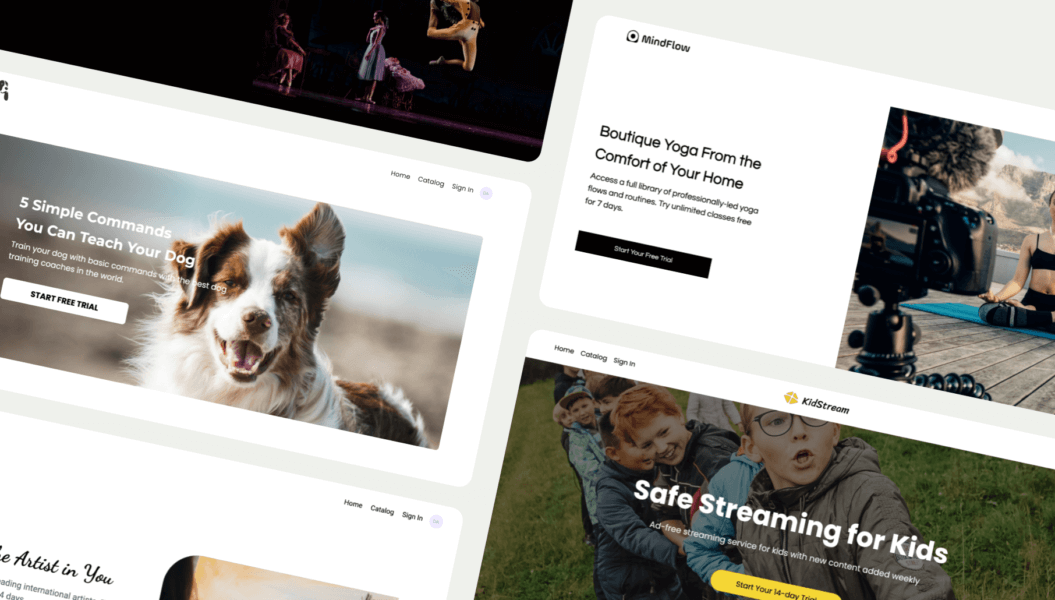 5 Essential Landing Pages For Your Video Streaming Website