You've finally decided to organize all of your video content into a paid membership site. Congratulations! This is the day you — and all of your biggest fans — have been waiting for.

But how do you create a video membership site that stands out, gives your members what they need, and…ahem…makes money?
This article will dive deep into what you need to include to create a killer membership website. You'll also see examples from real-world membership websites that are crushing it. Using words I stole from some famous person, "good artists borrow, great artists steal."
What Makes a Membership Website Stand Out?
A successful members-only site that stands out is no accident. Follow this checklist of 9 things to offer your members for an unforgettable experience.
1. Attract members with a stunning design and intuitive user interface
First impressions matter in a digital world where internet users see hundreds of websites every day. With this in mind, aesthetics and usability can't be an afterthought. They have to be at the top of your priority list for your site.
Your sign-up, login, welcome page, and content should be attractive and streamlined for easy navigation. This way, members can find the resources they need, and enjoy the digital eye candy along the way.
2. Invest in the art of choice with multiple membership plans
There's a reason why 57% of membership sites provide more than one sign-up option. Consumers are different. They have varying preferences, needs, and budgets.
When you make your site, create 2-3 membership tiers with a range of price points. Include different levels of content access and transparent pricing in each of your membership options. This will help you capture members who want to consume all of your content, along with the ones who want a small taste every day.
3. Embrace content diversity to hold members' attention
Consider these 2 aspects of psychology: Humans have an 8.25 second average attention span, and at least 4 different learning styles.
Put these concepts together and here's what it tells us:
Audiences crave variety and absorb concepts better when they're presented in multiple formats.

Offering a diverse selection of content options like:
live streams
on-demand videos
curated collections and categories
custom downloadable playlists
supplementary materials and resources
community challenges,
one-on-one sessions
… will cater to all of your members' needs.
4. Offer a platform-native community for sustained membership value
People crave connection, especially in an isolated digital world. Online communities open the door for your fans to connect with you and each other.
What's more, we found our members are twice as likely to stick around if they're an active part of your community. And it's a lot easier for them to get involved if they can easily access the community page right from their dashboard, instead of having to navigate off platform.
The best membership sites don't treat community as an add-on — they treat it as a strategic retention tool and an integral part of the experience.
5. Give your customers customizable organization and navigation options
Even if you're creating the most valuable content in the world, members will struggle to find the value in your site if they can't quickly organize and access the content they want to see.
They may even get bored or frustrated, which can lead to churn. Avoid this problem by allowing customers to configure their settings.
6. Engage your customers across all platforms and devices with complementary apps
Remember the days when "consuming content" meant watching blurry TV channels? These good old days of crummy channels and TV static are long gone.
Now, your tech-savvy members want to access premium content anytime, anywhere, and on any device—especially on their mobile devices via an app.
With apps, you can offer on-the-go streaming, integrations with your content and other apps (e.g., your fitness membership program and Apple watch), and in-app purchases.
7. Dangle incentives to boost signups and engagement
75% of people say they value brands that offer incentives and loyalty programs, and 28% said incentives were a deciding factor when deciding to buy.
Offering incentives like giveaways, discounts, or challenges shows members you're interested in providing them extra value. You can also promote these incentives in email marketing campaigns or as part of a lead-generation strategy to transform casual site visitors into long-term members.
8. Encourage ratings, reviews, and testimonials
Stats show nearly all customers (95%) read reviews before making a buying decision. And 84% of people trust online reviews as much as they trust friends.
When people are looking for confirmation to join your site, they look to the experiences of others. Use the power of social proof and add a testimonials section to your site featuring ratings and reviews from delighted members.
9. Offer customers additional ways to support you
If customers are paying a membership fee to access your content, chances are they'll want to support you in other ways, too.
Consider offering additional ways for them to support your online business. This could include creating a merch store, product referral codes, or even small "tipping" platforms like Buy Me A Coffee.
Don't believe it will work? Rumor has it Mr. Beast makes millions a year from merch sales alone.
10 Inspiring Membership Website Examples
Now that we've covered what every membership site should include, let's look at 10 video membership sites that will inspire you.
Look to these sites to help you get creative and generate ideas as you build your own video membership website.
1. Studio Bloom: A+ for apps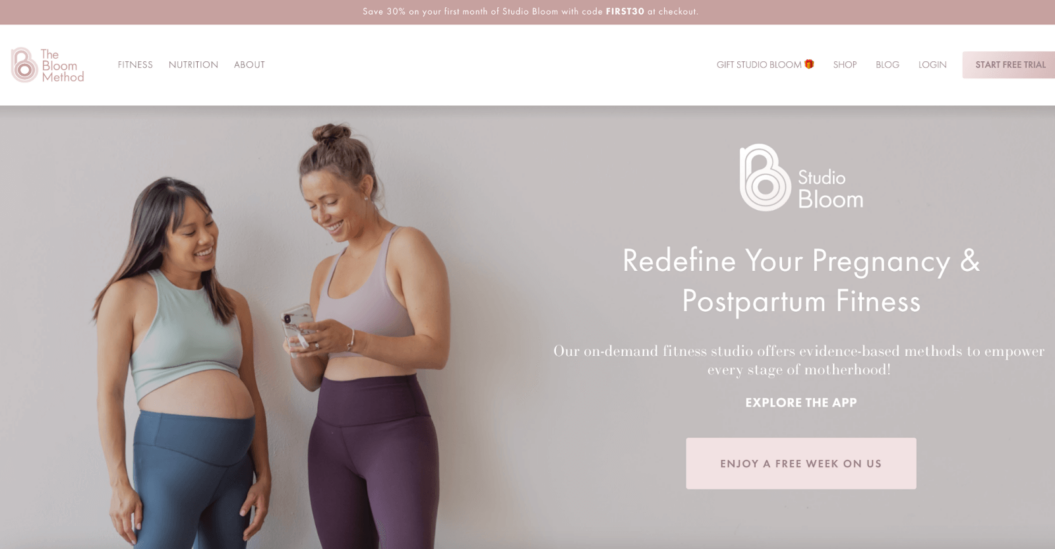 Studio Bloom is a pregnancy and postpartum fitness program and community site. This membership site example shines.
Why? Because it captures all of the benefits of a niche, tight-knit community of supportive mothers, but also has the app star power of massive exercise platforms like Peleton and OB fitness.
Its cutting-edge apps provide users with customized and in-depth training programs, helpful meditations, and guided challenges—at any time and on any device. The apps also provide easy access to community chats, guest speaker presentations, and group coaching sessions.
Takeaway: No matter how niche your membership community is, you can supercharge growth and provide added value with complementary TV and mobile apps.
2. Means TV: A+ for delivering unique, high-quality content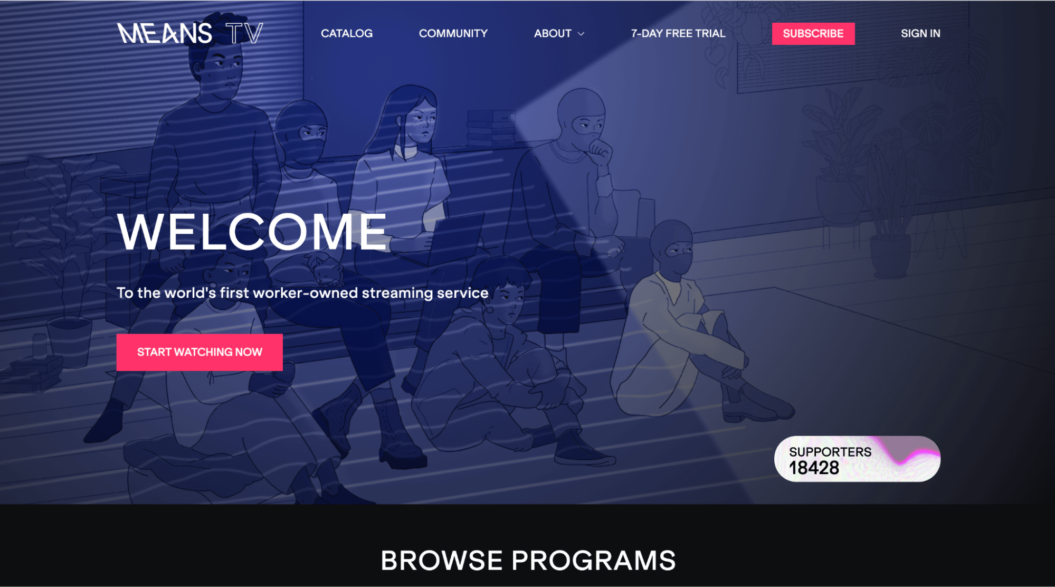 Means TV is a 'by the people, for the people' entertainment platform featuring content for socially-aware viewers.
While members love that Means TV is an ad-free and worker-owned platform, members are especially drawn to its unique content. Members can log in and access films, documentaries, and shows you won't find on any mainstream media channel.
Takeaway: Not all voices and ideas are represented in traditional media. If you're thinking about building a niche membership site that highlights underrepresented ideas, there's a space for you.
The sky's the limit with your membership site, and Means TV is the perfect example of this.
3. Prodigies: A+ for live streaming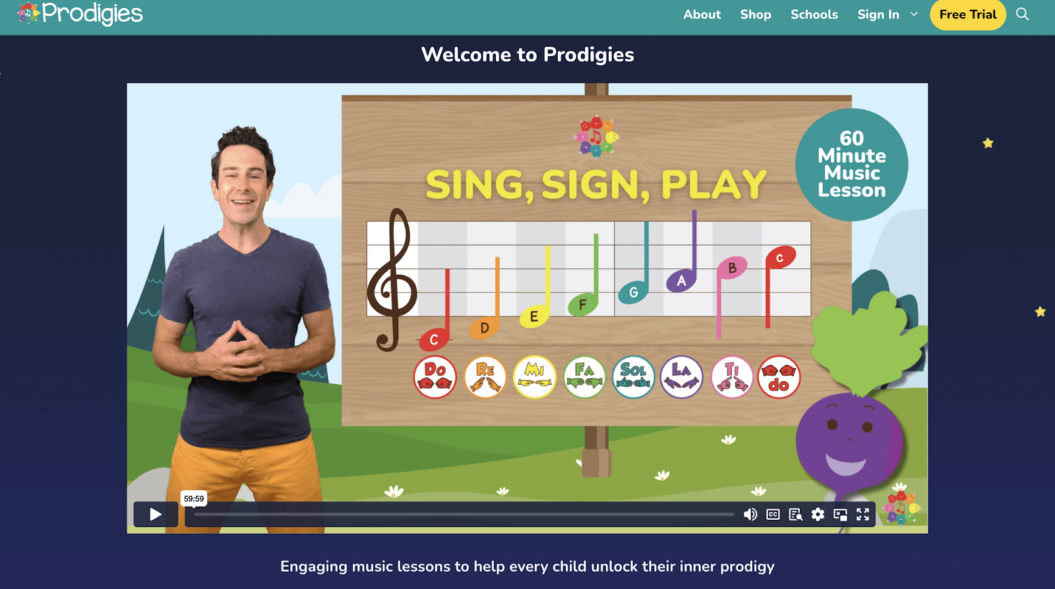 Prodigies is a membership site that teaches children music theory through interactive video lessons.
One way Prodigies stands out is by teaching several lessons via live stream. Broadcasting live allows for real-time interaction and feedback, which keeps young musicians interested.
Takeaway: You don't have to pre-record all of your content to have a successful membership website. Some audiences are best engaged via live streaming—especially if you need to provide real-time feedback.
4. The Collective Kula: A+ for clear membership benefits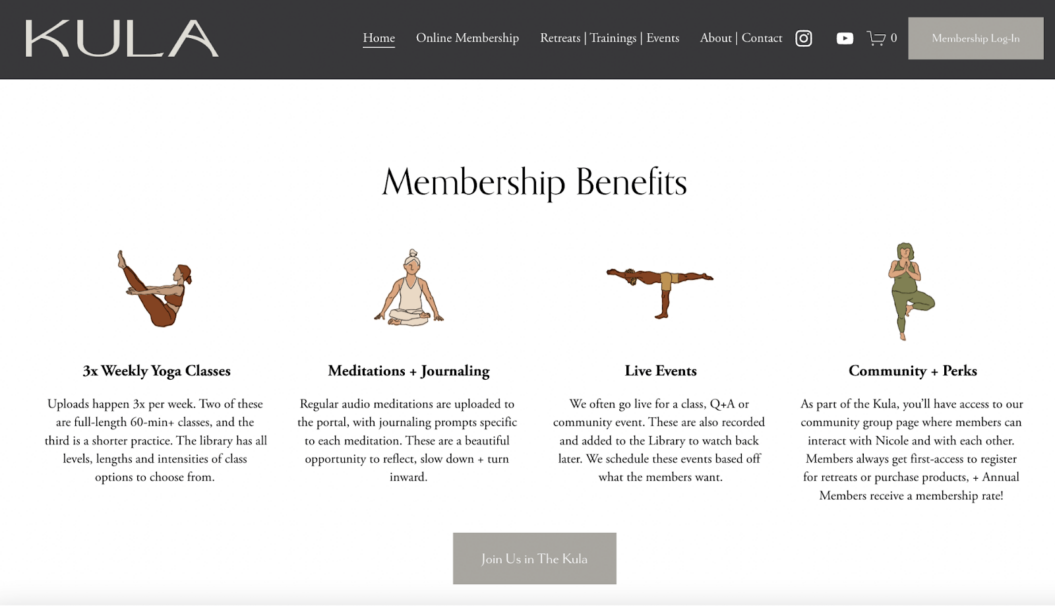 The Collective Kula focuses on fostering personal growth and wellness through yoga, meditation, and holistic health.
Where The Collective Kula stands out is with its robust membership perks. When you visit Kula's website, its perks are clear. You immediately know you're not just doing yoga online. You're participating in communal classes, meditations, journaling, and live events.
These membership benefits make yoga a lifestyle for growth — not just an item to check off the daily to-do list.
Takeaway: Your membership benefits are what attract your audience to sign up. Draw attention to them. Use design and copywriting to show why your membership site offers value beyond video content.
5. M/BODY: A+ for capturing and displaying social proof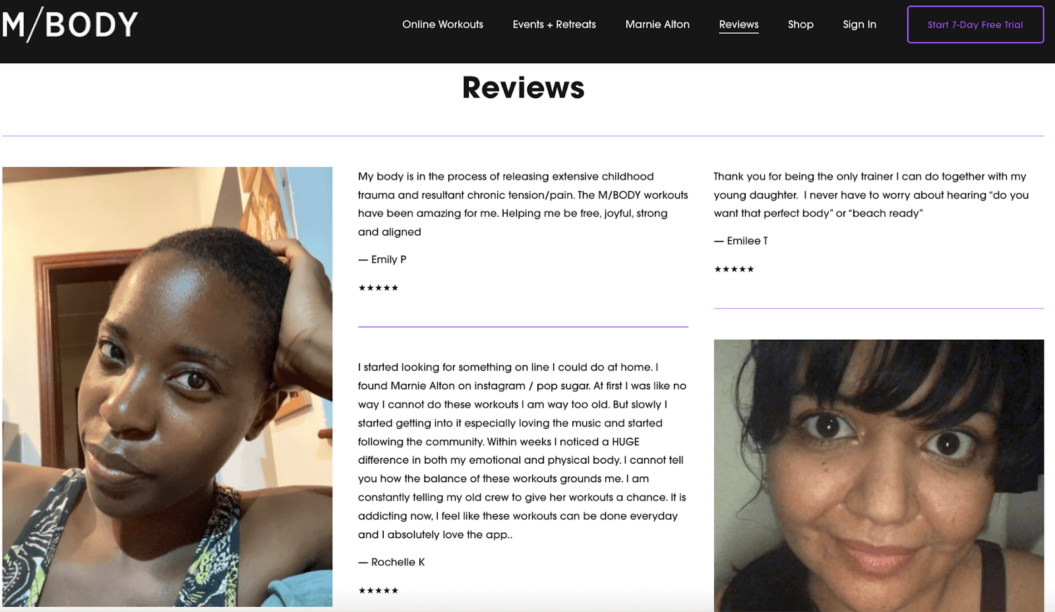 M/BODY is a fitness and wellness membership platform offering fitness classes from barre and boxing to yoga and Pilates.
M/BODY understands the power of social proof. They prominently showcase authentic reviews, using them as powerful testimonials.
Takeaway: Don't let testimonials go to waste. Showcase real success stories, good social media reviews, and positive experiences on your site to build trust and credibility.
6. In The Lab+: A+ for community and user-generated content (UGC)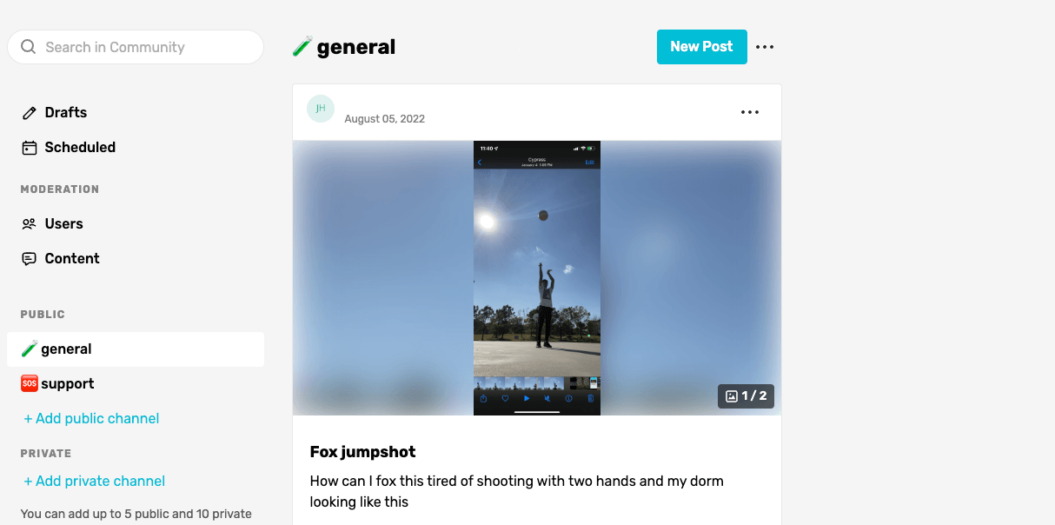 In The Lab+ is an elite basketball training membership platform that includes tutorials based on entrepreneur and trainer David Williams's experience training other elite basketball players.
When you visit the In The Lab+ Community tab, you'll notice a wide variety of user-generated video content. This UGC acts as additional training material. It's awesome to see real players demonstrating their improvements and sharing personal experiences with implementing Williams's advice.
Takeaway: User-generated content is a powerful way to endorse your product and help your community learn new skills through new content. It also helps increase engagement and foster a greater sense of connection among members. Featuring their work can make them feel seen and understood, which goes a long way towards building loyalty.
7. World Watch News: A+ for giveaways to generate leads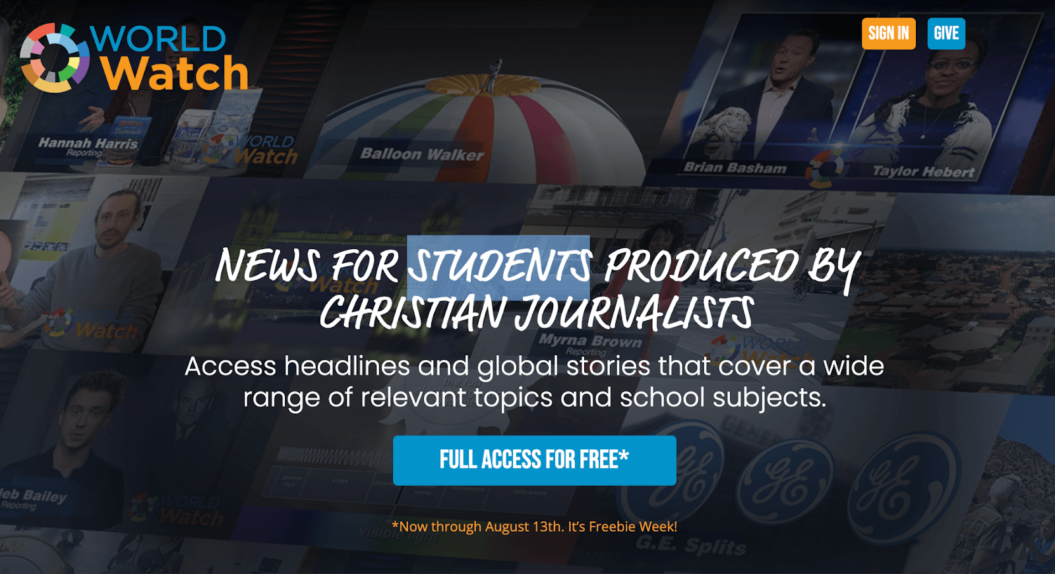 World Watch News is a digital news platform that broadcasts current global events to its members.
In a niche market geared towards younger audiences, WORLD Watch has to be creative about lead generation. They host giveaways and give free prizes in exchange for potential subscribers' contact information.
Takeaway: If you're worried about growing your membership, consider hosting giveaways or giving free content to capture leads.
8. Backbody Project: A+ for design and navigation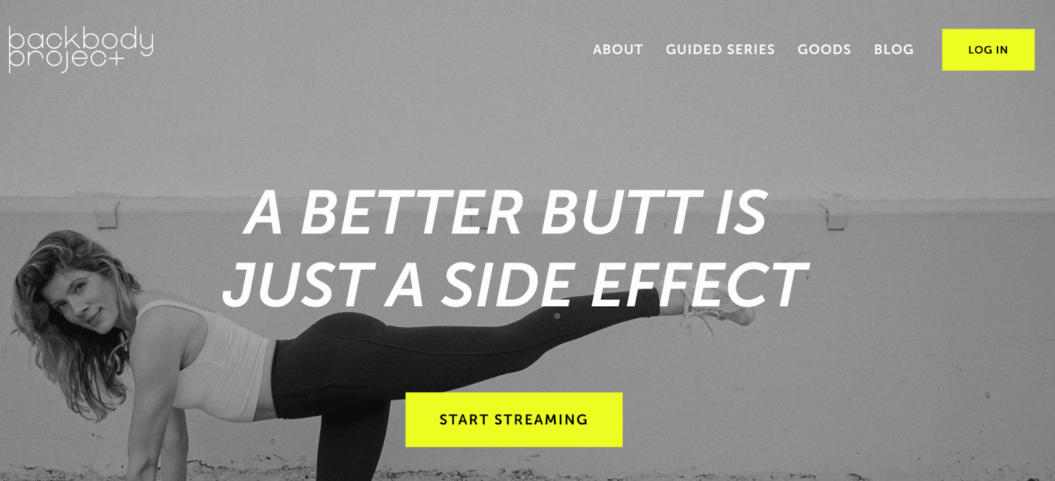 Through a combination of workout routines, nutritional guidance, and motivational content, the Backbody Project membership platform provides a comprehensive approach to holistic wellness.
Backbody Project is winning when it comes to design and navigation. The site seamlessly blends aesthetics with functionality. The site is gorgeous, easy to navigate, and full of quick sorting options like organizing Short Bursts (quick instructional content) into relevant categories, such as how to jump squat, stretch your calves, and master table-top triceps.
Takeaway: A polished design and customization capabilities are essential for membership sites aiming to stand out. When building your site, prioritize design, usability, and personalization features.
9. AdjusterTV Plus: A+ for intuitive user interface and content organization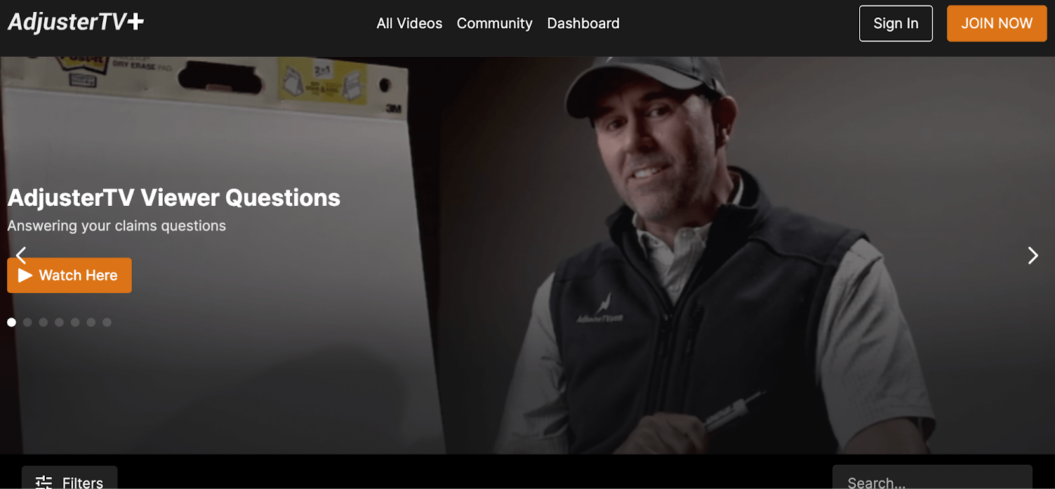 AdjusterTV provides educational content for insurance adjusters of varying skill levels.
Since AdjusterTV caters to so many different experience levels, it has a ton of content. What's impressive about this membership site is how meticulously organized the content is.
When users log in, they can easily sort by topic, category, and experience level to find the training video they're seeking.
Takeaway: If you have specialized content for members of different skill levels, prioritize organizing the content in a way that's easy to navigate. Include a search box, categories, and search functionality like tags and filters.
10. Big Picture Skiing: A+ for additional support resources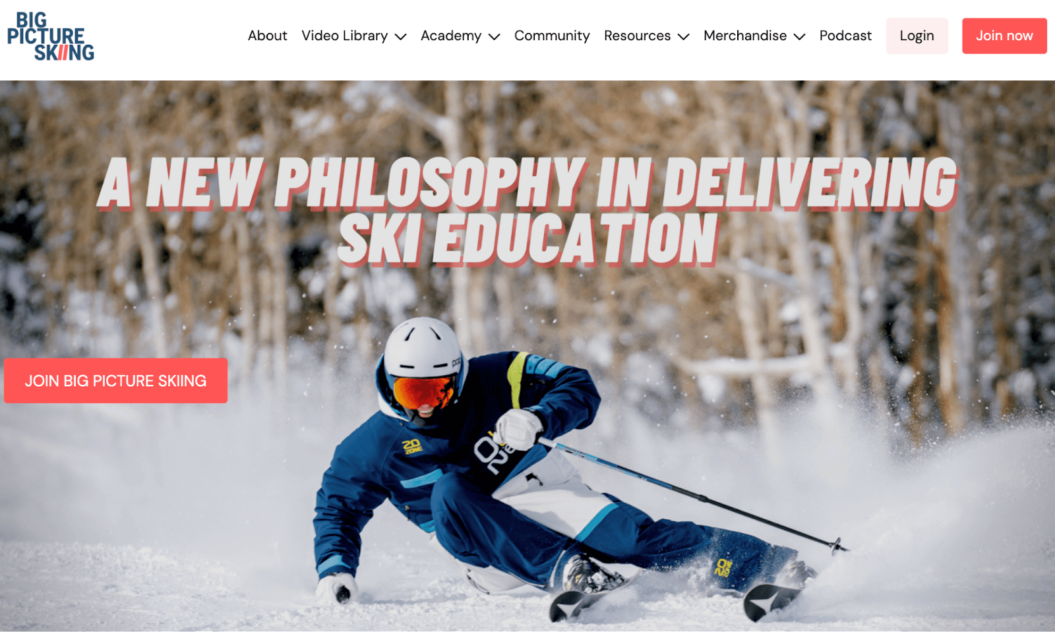 Big Picture Skiing helps skiers of all levels refine their skills through video instruction and additional resources.
Big Picture Skiing is a good example of a site going above and beyond with educational content. Beyond their core content, they offer a wealth of free resources, including a detailed welcome pack and a navigation guide. These tools are designed to help members make the most of the platform, ensuring they have everything they need to improve their skiing skills.
Takeaway: If you're looking to enhance the value of your membership site, offer supplementary resources—especially free ones that will help your members upgrade their skills.
Invest in a Video Membership Platform That Supports You — And Your Customers!
It's exciting when you're finally ready to build out your membership site. While crafting the ultimate member experience involves a step-by-step process, there's no need for it to feel daunting.
Uscreen is the go-to video membership platform tailored specifically to help creators like you. With Uscreen, it's easy to set up your membership levels, build and integrate complementary apps, add testimonials to your site, and build a scalable video membership onlines business.
FAQs for Membership Website Examples
1. What makes a good membership site?
Whether you're a blogger, entrepreneur, podcaster, a successful membership site offers valuable and updated content, an intuitive user interface, and fosters a sense of community among its members. It prioritizes security, ensuring user data protection, and provides responsive customer support to address any concerns or issues.
A good membership site tells a story about the journey you'll take your customer on, and the transformation that's possible when they consume and engage with your content.
Much of what your customers want to learn can be learned for free on YouTube, but it's not organized. You're saving them time, providing expertise, and an invaluable community.
2. What are the key features to include in a video membership site?
An excellent video membership site will have an intuitive design, diverse types of content (e.g., livestreams and playlists), customizable user profiles, multi-platform availability, community options, integrated payment systems, app-building options, and security features to protect member data. Adding these features will help beginners create excellent content and a stable business model.
3. What are good membership ideas?
Effective membership ideas revolve around niche expertise or interests, such as exclusive video tutorials for a particular skill, curated resources for hobbyists, specialized forums for professionals, or monthly digital product releases. Identifying a unique value proposition or fulfilling a specific market gap is key.
A great way to get ideas is to look at YouTube for content that relates to your expertise- then browse the comment section and look for questions, trends, likes.
4. How can I ensure a user-friendly interface on my video membership site?
In each of your membership models, prioritize a clean and intuitive design, minimize the number of clicks required to access core content, and regularly gather feedback from users for continuous improvement. Consider A/B testing different designs and conducting a focus group to determine what works best for members-only content.
5. What should I include in an online membership site?
An online membership site should have a gorgeous homepage, exclusive content tailored to its target audience, interactive features like forums or chat rooms for community engagement, user-friendly account management tools, and multiple payment and subscription options.
It can also include online courses, templates, and other gated-content. Additionally, valuable add-ons such as webinars, downloadable resources and/or workbooks, and member spotlights can enhance the member experience on your own membership website.
6. How do I start my own membership site?
To launch a successful all-in-one membership site, begin by identifying a niche or target audience, and then create high-quality, exclusive content that caters to their needs.
Utilize a reliable platform or software that offers customization and scalability. Engage with your new members via messaging to foster community, regularly update your content, and consistently gather feedback to continually refine and enhance your offerings.
Once you're ready to launch, make sure to optimize your site for SEO, promote it to your email list, and even offer a free membership to entice people into your sales funnel and eventually watch them enter their credit card and become paying members.
7. What should I consider when setting pricing and subscription levels for my video membership site?
As a freelancer or small business owner, evaluate your content's perceived value, research competitor pricing, consider tiered subscriptions for your membership-based model to cater to various user needs, and periodically offer promotions or trials to attract and retain members. Always ensure clarity in pricing to build trust.