Even the most active communities risk becoming ghost towns if the content gets repetitive or mundane.
But through effective community engagement strategies, content creators like you can keep their passions burning and memberships growing.
If you're in need of some fresh ways to breathe new life into your community, get inspired by the ideas in this list.
But first, let's define what we mean by community engagement.
What Is a Community Engagement Strategy and Why Is It Important?
A community engagement strategy is made up of the methods a content creator uses to connect with their followers.
Community engagement is often confused with community outreach, but the two have some stark differences.

Community outreach typically uses a short-term mindset to get a target to perform a specific action.
Community engagement focuses on building long-term relationships that require participation from both parties.
| | |
| --- | --- |
| Community Engagement | Community Outreach |
| Long-term | Short-term |
| Two-way participation | One-way communication |
| Relationship-oriented | Transactional |
For more perspective, it's easy for people in online communities to lurk in the background, watching the activity but rarely adding to it. In fact, it's estimated that only 1% of community members are responsible for almost all content.
Good strategies for community engagement can encourage people to contribute and share more than they otherwise would.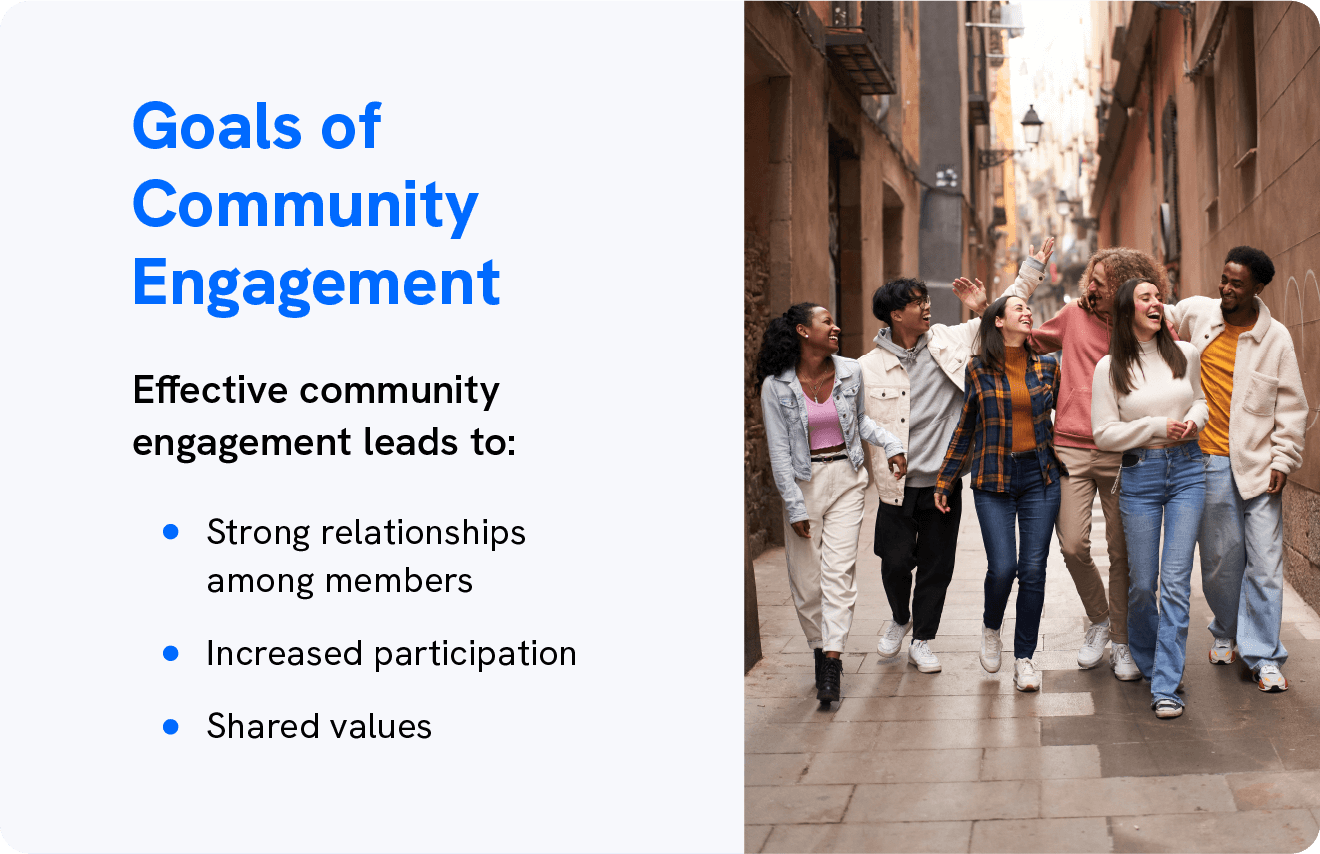 An active community is a healthy community, but keeping members active in a remote environment requires deliberate planning, which is where community engagement strategies come in.
1. Create a Sense of Purpose
Prioritize identifying goals for your community early on so that it can define its purpose and what members will get out of it.
If members have a clear reason for being there, they'll be more likely to return and invite others to join, too.
💡How They Do It
Sassy Gregson-Williams sets her fitness business, Naturally Sassy, apart from others by stating exactly who her target customers are and what they have to gain from her service.
Her expertise as a professional ballerina and trained fitness instructor provides a niche service to women pursuing a specific fitness goal.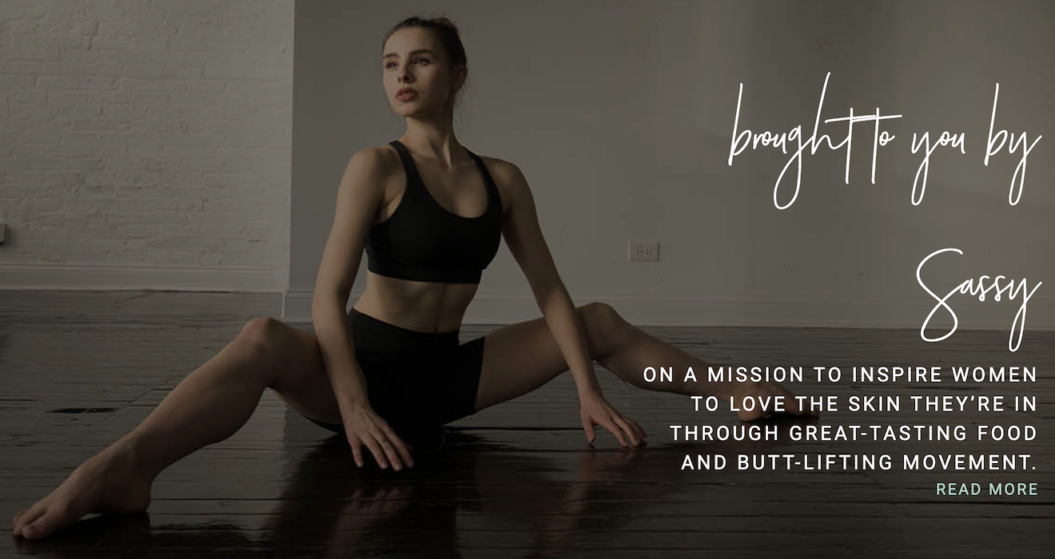 Defining these goals also gives people a standard for how they should behave and what they share.
The better everyone understands what is expected of their engagement, the less moderation you'll have to do later on.
2. Speak Directly to Your Members
Your brand voice is an important tool in your community engagement strategy because it determines how your audience sees you.
Will your community come across as an impersonal corporate spokesperson or will your authentic personality shine?
The latter option is obviously preferred for an online community because it helps your audience feel more comfortable being their real selves as well.
Keeping your voice "on brand" promotes consistency throughout the group, and this should shine through regardless of who is making your posts.
Think about a company social media account. The profile may be managed by multiple people, but the voice and style of posts is consistent.
This reinforces that the information their followers are receiving is accurate and can be trusted.
If your community announcements carry the same tone and level of professionalism, you'll avoid confusion and retain your target audience's attention.
3. Use Multiple Channels
Most of us have our preferred ways of being contacted or consuming media.
If you only use your preferred way of talking to your members, then some people may miss out on what you have to offer.
Think about if you send an email alert about a live stream later that day, but some members only check their inbox once a week. Now your audience is going to be a lot smaller than it could be.
Had you also made alerts on different social channels, then you could have raised awareness for all of your followers.
The same goes for content. Videos are a convenient way for many people to consume information, but sometimes it's inconvenient, like in public spaces.
If you share news on a blog as well as through video, people will have their pick of how they stay informed.
4. Let Members Take the Lead
Once your community standards are understood by everyone, it's a good idea to let some of your members shoulder the burden of community management.
There's only so much you can do on your own, after all. Tapping into the creativity of your members is a great way to inject new life into your community and the content it shares.
By allowing members to lead live streams, publish instructional videos, or post their success stories, you're also getting them more invested in the success of the community.
Sometimes giving back can feel even more rewarding than using the service, so letting others contribute is a mutually beneficial arrangement for everyone.
5. Reward Active Members
As we mentioned earlier, only a small percentage of community members are likely active on your platform.
One way to give others an incentive to get involved is by rewarding their participation.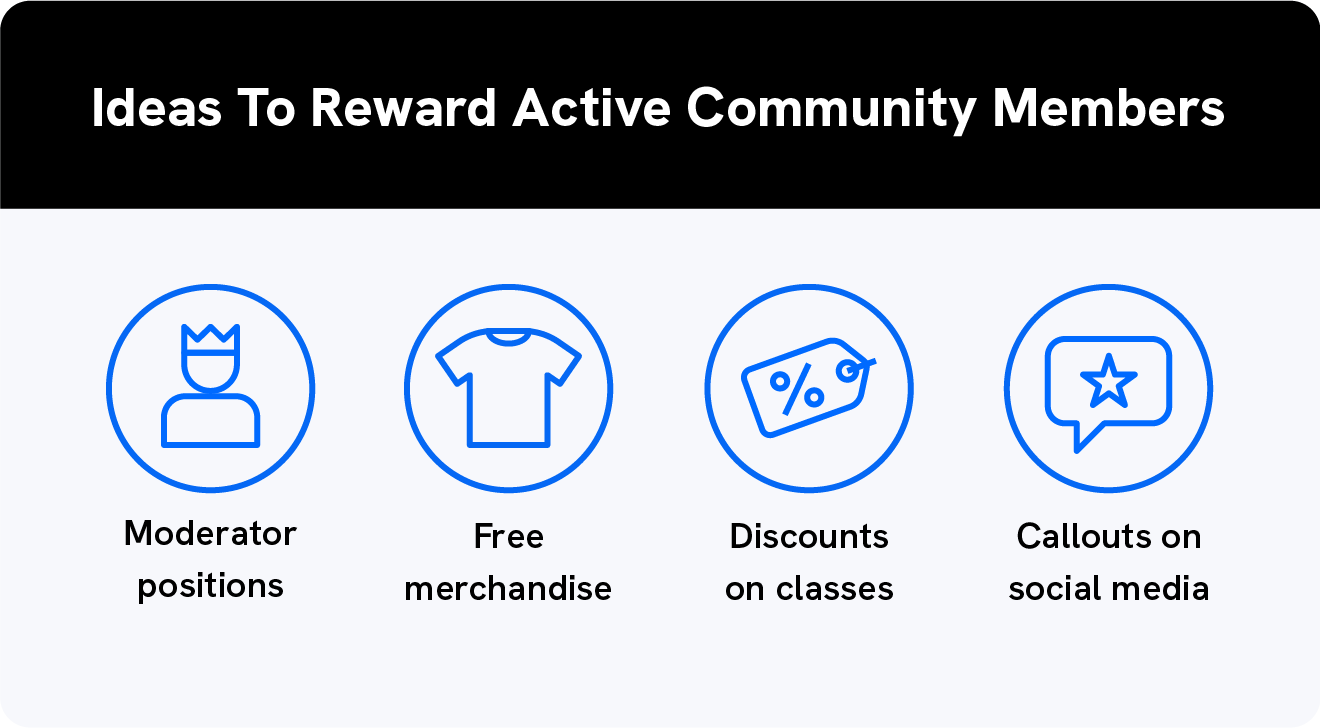 Rewarding active members can be as simple as:
Publicly recognizing their help through a social media post.
Giving them special privileges like a moderator position.
Awarding free merchandise or discounts when they hit commenting milestones.
These are all great ways to reward community members for their service while ensuring they stick around, just like a job promotion retains talent in an office.
6. Celebrate Member Accomplishments
One of the most effective community engagement strategies is to bring attention to peoples' accomplishments.
This can be done internally by mentioning them in newsletters, or it can be done externally with social media.
If your community focuses around a service you provide, like leading a class, calling out student success also proves to other students that your service can work for them, too.
7. Share Members' Content
Just like you should create opportunities for members to publish content on your online community platform, you can also choose to share content they publish elsewhere.
If a member has an article featured in a publication or a video that goes viral on TikTok, you can share a link to it through your own profiles.
These sorts of engagement ideas can be used to fill gaps in your own content calendar. It requires little effort on your part, but can mean a lot to the members you're helping.
8. Encourage Questions
Dead air can quickly lead to a dead community, which is why it's important to keep a dialogue going with your members.
Letting your members know it's alright to ask questions, either publicly or directly to you, can keep that dialogue going even when you may be out of ideas.
If questions are posted to a message board, other members can have the opportunity to get involved, setting off a chain reaction of engagement.
This community engagement strategy has the added bonus of bringing issues to your attention that you would otherwise be unaware of.
9. Share Badges
Badges are those little icons that are visible in a person's profile or next to their username.
Similar to a military award, a badge identifies a special accomplishment.
Badges can be used to show:
How long someone's been a member.
That their posts are known to be useful.
That they're certified in a specific area.
Badges can be tailored to just about any industry, so most content creators can implement this strategy in their community engagement activities.
10. Organize Private Groups
Sometimes large groups can disrupt productive conversations.
By allowing members to make private groups, you can facilitate better relationships and keep people from going off platform.
These private groups can center around specific topics, like helping students pass a certain course, or they can be invitation-only so that the subgroup can control access.
11. Offer Coaching or Mentorships
Providing one-on-one opportunities for people to pick your brain is a valuable way to personalize their experience.
Set up a virtual calendar with available hours to avoid being flooded with requests, similar to how a professor schedules office hours for their students.
This service can also be awarded as a perk to high-performing members.
12. Have a Referral Program
Rewarding members for bringing their friends to the community can keep it thriving.
Your personal network will pale in comparison to the combined networks of all your members, which is why this is such an effective community engagement strategy.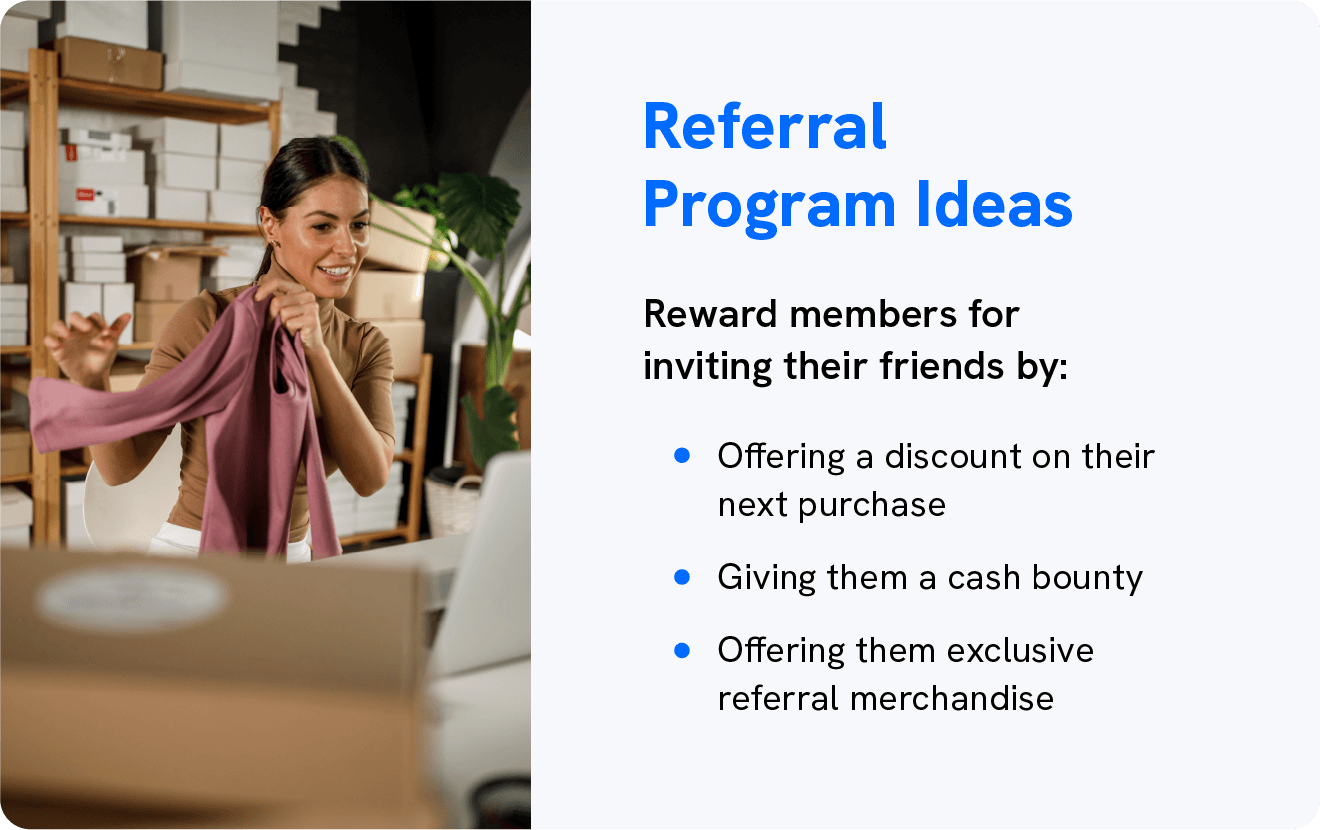 Motivate your community to spread the word about your platform by offering:
A discount on their next purchase.
A cash reward when the referred person makes a purchase.
Free merchandise that is exclusive to the referral program.
You can also set up a plan with multiple levels, so when a member refers more people, they stand to gain more.
13. Create Downloadable Resources
Digital products, like downloadables, offer extra incentive for members to keep using your service over another.
These can include:
Step-by-step walk-throughs.
Checklists.
Worksheets.
Think about what can add value to a member's experience and tailor it to a particular topic you've covered.
14. Sell Branded Merchandise
Sports teams and their fans wear jerseys so that they are easily identifiable in and out of the stadium.
You can bring the same mindset to your community by selling custom merchandise.
Ask your members what they're most interested in buying. Some tried-and-true favorites include…
T-shirts
mugs
hats
water bottles
…just to name a few.
15. Interview Community Members
If you work in an industry where it's difficult to share your members' work or accomplishments, interviews can be a solid alternative.
Asking about their experiences in the community or how they've benefited from a particular class, for example, doubles as great publicity for the class.
If someone is unaware of your work, seeing a glowing review can do wonders to make them feel more comfortable about joining.
16. Partner With Other Creators
Partnering with other creators gives your members access to new content, helping to break up the routine they might be bored with.
These partnerships will also give you access to new networks because their members will now be aware of your work.
Be on the lookout for creators who take a different approach to the content you cover, or look for people who can fill the gap in your own expertise.
17. Create Community Challenges
Challenges have a way of lighting a fire under members when words of encouragement fall short.
They can be as simple as challenging people to beat their personal records.
You should have a suitable reward for people who beat the challenge, otherwise members will likely lose interest.
Track engagement metrics, like participation and share rates, to learn which challenges are the most successful.
18. Host a Live Q&A
Answering questions on a message board or through email is one thing, but a live stream is a different beast.
Remember when we talked about authenticity in our first tip? Well, having members see you speaking off the cuff in real time is about as authentic as it gets.
Creating one-of-a-kind personal experiences are the best community engagement strategies a content creator can hope to deliver.
19. Create a Webinar
Webinars require a bit more preparation than a Q&A, but they're a great way to explore topics in depth.
Webinars can resolve questions on a large scale, preventing you from having to address the same issues over and over.
If you're releasing a new product or would like to walk members through a common area of trouble, for example, consider using a webinar to get everyone on the same page.
20. Hold Competitions
Competitions are a general idea with huge potential for personalization.
While the challenges mentioned earlier focus on the individual, competitions aim to bring everyone together as a community.
For example, you can organize competitions for:
Scoring the highest on a test.
Being the first to complete a course.
Designing a new piece of merchandise.
It's important to keep competitions fun to avoid any hard feelings when all is said and done.
This is another strategy that can benefit from tracking community metrics, like participation and shares, to see which competitions have the most activity.
21. Offer Freebies
Have you ever signed up for a mailing list just because you were promised a free item? Well, that's the power of free giveaways.
Offering free items as a community engagement strategy has been around for a lot longer than the internet, and the fact that it's still being used proves how effective it is.
It's a good idea to place a cap on the number of items you're giving away, however — otherwise, the expense might outweigh the benefit.
💡How They Do It
Magic Stream gives customers a trailer for each tutorial they offer, so customers have a better idea of what they'll be learning.
This addresses some of the objections the customer might have and reassures them that the tutorial is worth the price of admission.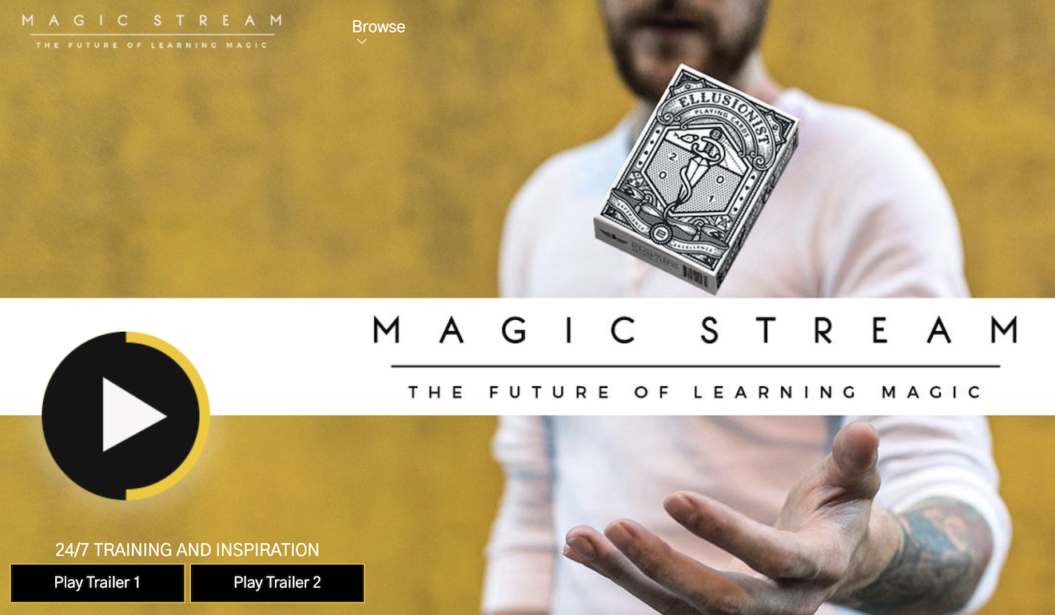 22. Send Out Surveys
Feedback is crucial to the success of your community.
If something is off about the way things are being done, then you need to know about it. However, some people resist speaking up and instead simply stop using the service.
You can avoid this by periodically surveying your members to see how they feel about the community experience and ask for ways they think it can be improved.
23. Poll Community Members
Polls are similar to surveys, but they require less time to complete.
You've probably come across polls on social media, where someone asks the public how they feel on a certain topic.
You can apply the same approach to your community to crowdsource ideas on what content to create next.
24. Onboard New Members
Have you ever felt lost when joining a club or job? It can be so uncomfortable that you'd rather walk back out the door than stay.
If you take the time to set up an onboarding plan for new members, you can prevent them from feeling that way in your community.
Onboarding can include setting up a shadow session where they learn about community practices, or creating resources they can refer to as they get acclimated.
Shortening the time it takes to get from newbie to veteran is one of the more important community engagement strategies when trying to reduce turnover.
25. Diversify Your Content
It's easy to fall into a routine when you get comfortable with a topic, but that can lead to boredom for the consumer.
Even when you find success with a certain strategy, it's a good idea to experiment with alternatives. This keeps everyone involved on their toes, including yourself.
People can tell when you're excited about what you're doing, and that motivates them to see what will come next.
26. Keep It Organized
Giving your members a clear blueprint of how things work by being organized reduces confusion and improves productivity.
Keeping your community user-friendly with organized content libraries also helps with the onboarding process and reduces the learning curve for new members.
💡How They Do It
CakeFlix makes it easy to find the kind of video you're looking for by dividing them into easily identifiable categories like tutorials, TV series, and kinds of cake.
On top of that, they provide a filter that lets people search by category and author.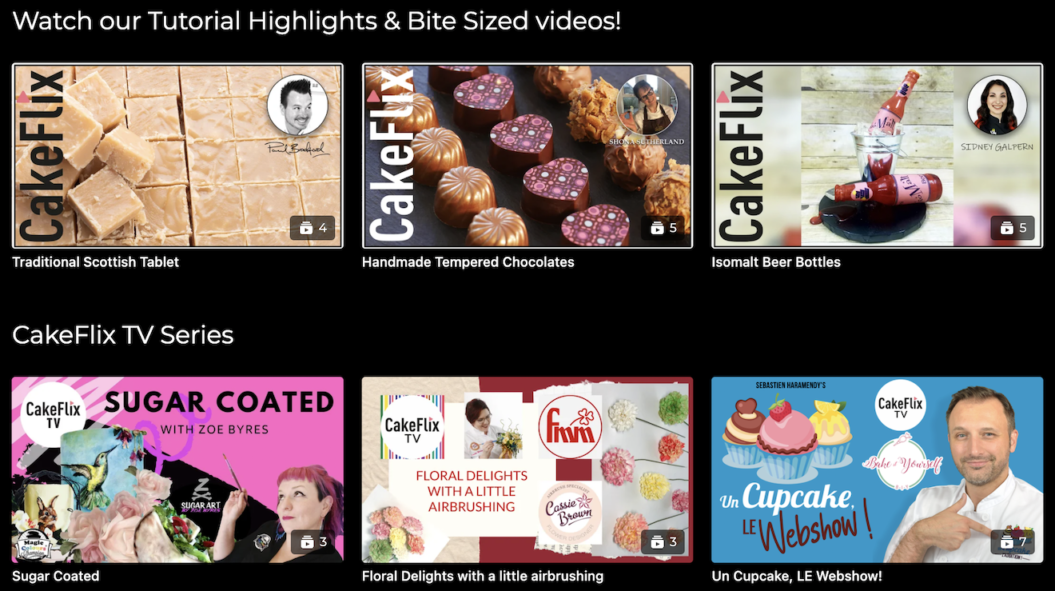 You should routinely perform a status check of your platform to see if there are any areas that have fallen into chaos.
27. Create Member Profiles
Member profiles are a great way to add personalization to online community engagement.
This goes beyond providing people with unique usernames.
Giving them a profile to share info about themselves and their accomplishments will go a long way toward helping members form bonds with each other.
Member profiles can include:
Badges they've been awarded.
Performance in competitions.
Qualifications on certain subjects.
Think about what members might like to share in order to stand out.
28. Moderate Responsibly
A community can quickly get out of hand when left to its own devices, but strict moderation can also be a drawback.
Find a middle ground that lets community members feel comfortable and safe when posting.
Setting clear rules for conduct early on will help define expectations along with keeping you consistent.
29. Keep It Visually Pleasing
Your brand includes more than just the way you speak. The design of the community and your content will be responsible for most first impressions.
If your web design hurts the eyes, then your content is going to have a hard time even getting a chance to prove its value.
Keep your work visually appealing and users are more likely to stick around.
30. Stay Responsive
As your community gets larger, it will become necessary to delegate tasks to other people.
It's easy to slip into an autopilot mindset, but it's important to stay responsive to feedback.
Community engagement is a two-way street, and your members need to know you're involved and there for them when needed.
31. Start Your Own Platform
If you've built your community on a social media platform, there may come a time when you've outgrown your home.
Starting your own membership site will give you the chance to run things your way and finally get out from under the watchful eyes of another site's admins.
It's simpler to do than you might think, with services like Uscreen at your disposal if you decide to take the plunge.
Wrapping It Up
Now that you're an expert on community engagement strategies, how will you use this knowledge to improve your online community?

If you're just getting started, we recommend setting aside time to make an official plan. That way, you can provide your members with everything they expect from a premium service.
It's simple with Uscreen.
Build, launch and manage your membership, all in one place.