You've got a tall order to fill as course creator. Every day, you are giving people the knowledge they need to change their lives.
An important role like that requires the best tech to keep your mission alive, and your bank account full.
With the endless online course platforms available today, it's easy to get lost in the maze of features and brands, wasting time and money. Plus, the wrong platform can stunt your financial and professional growth.
That's why in this guide, we explore the top online course platforms and marketplaces, the features they offer, and their prices, so you can continue to grow your creator business and earn a sustainable income.
Top online course platform picks
| | | |
| --- | --- | --- |
| Provider | Best for | Price |
| Uscreen | Scaling from single courses to memberships | $$ |
| Teachable | Selling individual courses or bundles | $ |
| Thinkific | Creating your first course | $ |
| Udemy | Sharing expertise with global student base | Revenue share |
| Kajabi | Running online course business | $$ |
| Podia | Selling digital products | $ |
| LearnDash | Selling courses through a WordPress site | $$ |
| LearnWorlds | Creating interactive learning experiences | $ |
| SkillShare | Sharing creative skills | Royalties |
| Coursera | Offering university courses | Unpaid |
| LinkedIn Learning | Educating business professionals | Royalties |
Best online course platform compared
1. Uscreen
Best for: Scaling from single courses to memberships.
Reason to use:
OTT app distribution.
Superior video hosting.
Customizable VOD websites.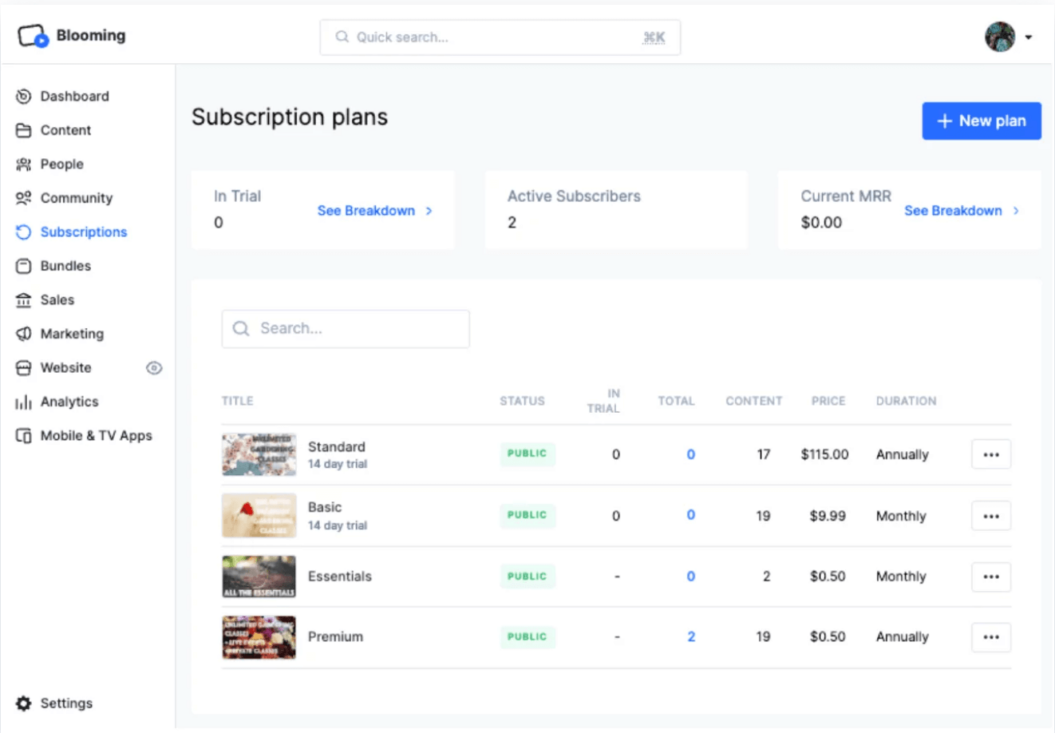 Uscreen is video membership platform that helps you scale your online course business.
Think of it as building your own Masterclass. Your audience can access your entire library of courses (as well as any other content you might have) on an ongoing basis on any device they want.
Course platforms like Teachable and Thinkific, on the other hand, are more for selling standalone courses.
But, with Uscreen, you don't have to choose between an online course or membership site.
Uscreen lets you build your own website with a custom domain, as well as branded apps. You can monetize your work through one-time purchases, subscriptions, or both, like many creators do.
Magic Stream, a brand that teaches magic online, sells one-off courses and memberships through its website. You can purchase a tutorial for $9.00, or get access to the entire catalog for a monthly or annual subscription.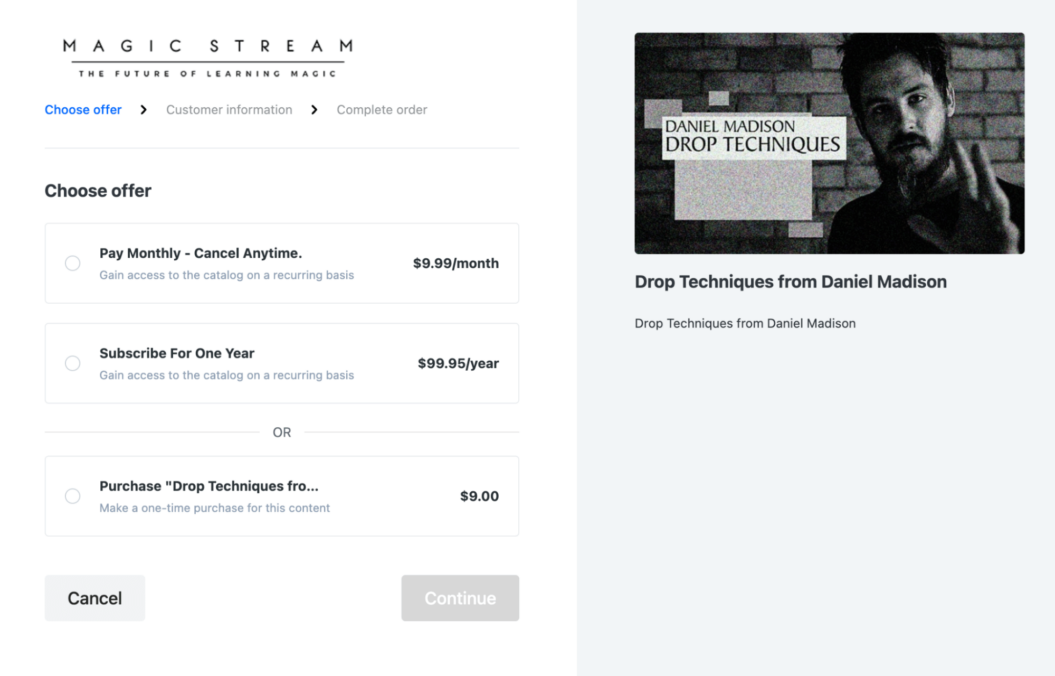 It'll help you diversify your income and reach more people. One-off courses can help you get fast cash, then you can use that money to build upon your membership. You can also cater to different types of learners, some of whom might not be ready to commit to a monthly fee yet.
Other features that make Uscreen stand out include:
Ease of use: Simple yet powerful, you manage all your course content on one platform. You can create, launch, market, and upsell courses through Uscreen. It's also easy to offer upsells and manage your content library.
Live streaming: Easily set up and stream live to your audience right from your Uscreen dashboard.
Quickly launch new content: Gone are the days of complicated course launches. With Uscreen, you can add and update video content quickly and push it to your audience. You can even build native mobile and TV apps to reach students through iOS, Android, Apple TV, and more.
Uscreen gives you full control over your branding with customizable membership site templates and apps. You also choose your course pricing and design. Our goal is to help you continuously monetize and improve your educational content to build long-lasting relationships with learners.
Let's dive into a few unique features you can use to scale your creator business.
Interact with your students live
Your students want to know you. They often request live events, and standalone courses do not have built-in ways to communicate with them.
Sure, you can respond to a comment or answer a support email, but real-time interactions go a long way in nurturing your relationship with your audience.
With Uscreen, you can easily stream live from your dashboard.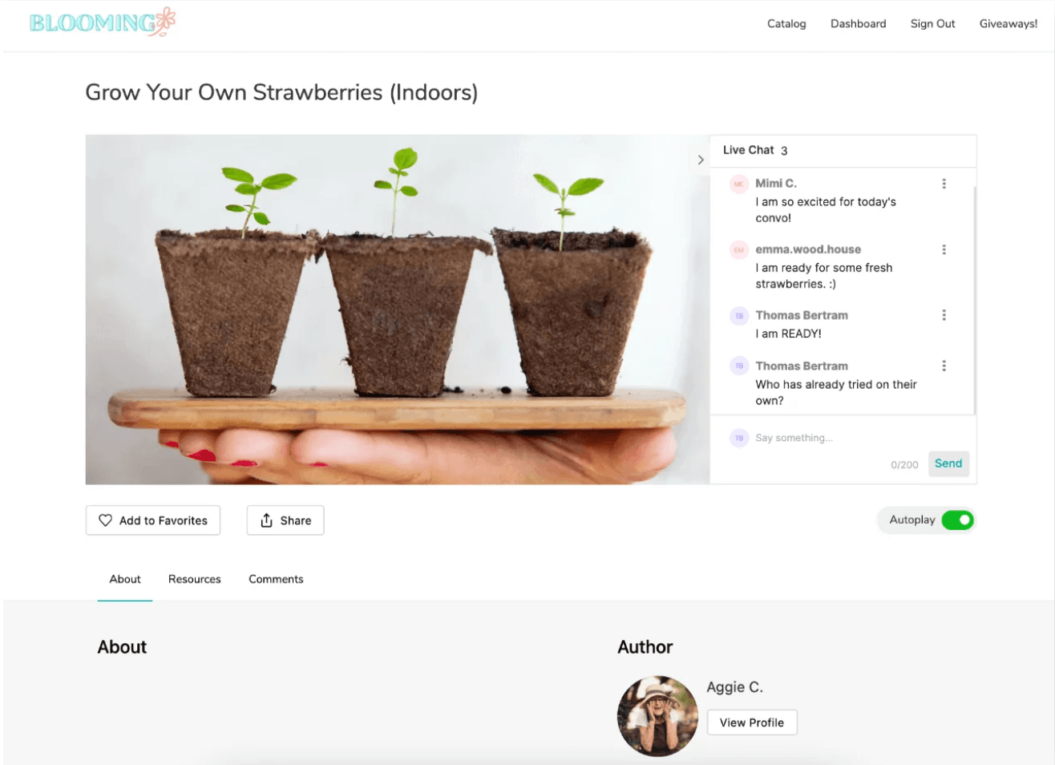 You can run monthly Q&A calls, live podcasts, or even 1-on-1's. It's up to you. When you sell a membership with courses and add live events, you'll reap the benefits of higher retention and student satisfaction.
With Uscreen, you can also:
Build a pre-registration page to make sign up easy for members.
Message your audience during a stream through live chat.
Collect live event donations.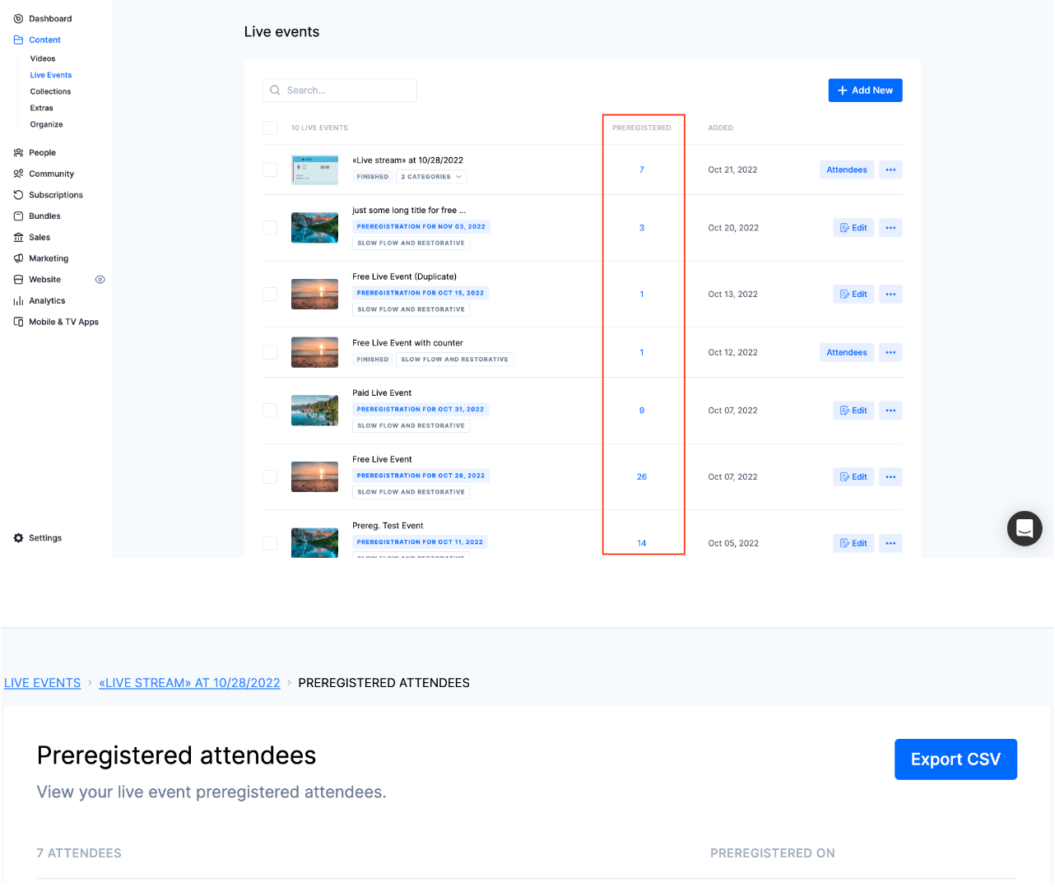 Easily sell memberships for recurring revenue
Course launches are a ton of work. Plus, the income from courses is not stable. It relies on how often you launch and promote the course.
Memberships make learning more evergreen. If you want to deliver value ASAP, you can easily update course content in your dashboard.
The best part? People are already paying for your courses through membership fees. No need to relaunch a whole course for every new idea or industry update to get paid.
Here's an example of a brand that sells courses through its membership.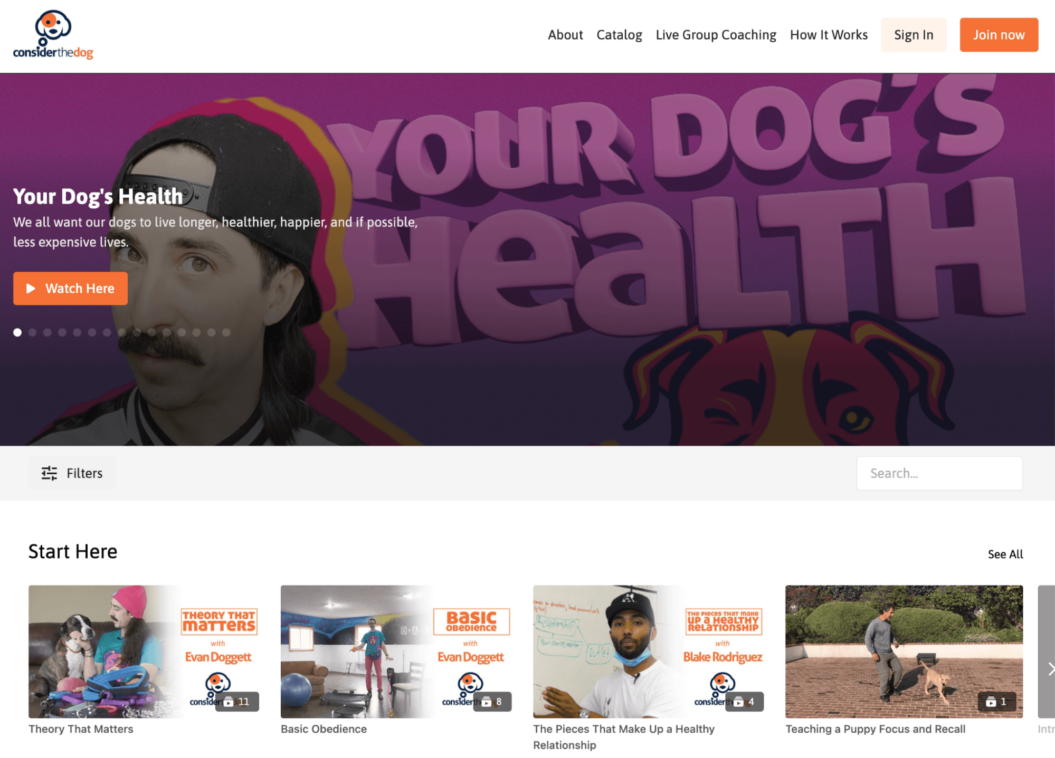 Build an online community
Memberships with a community area see a lower churn rate (6.06%) than those without one (10.46%). That's why Uscreen offers built-in community features on the platform.
By building a strong community, you can create a sense of belonging and connection amongst members, which improves engagement and retention. You can easily create discussions, send notifications, and moderate the group from your dashboard.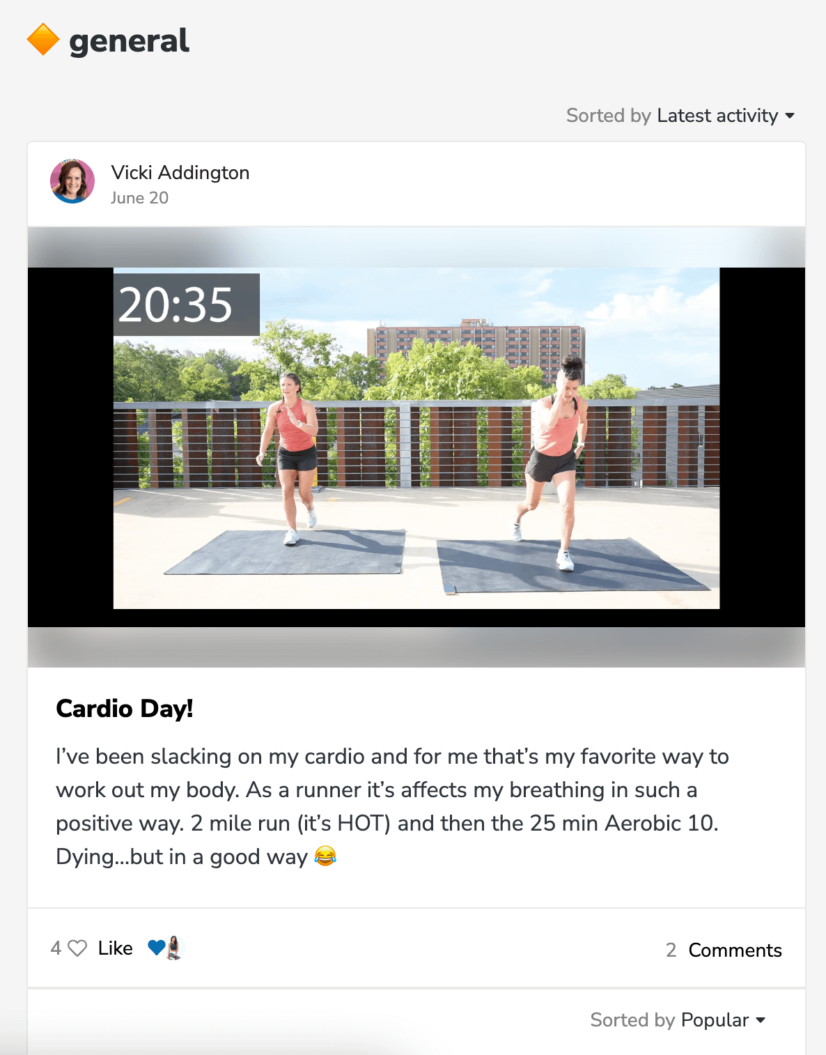 Market your brand
Tired of the trial and error of marketing a new course? Uscreen offers proven tools to generate, nurture, and convert leads — all in one place.
Here's an idea of what you can do on the platform:
Run giveaways.
Set up referral programs.
Create email campaigns.
Design subscription upsells.
Make coupons and gift cards.
Send push notifications.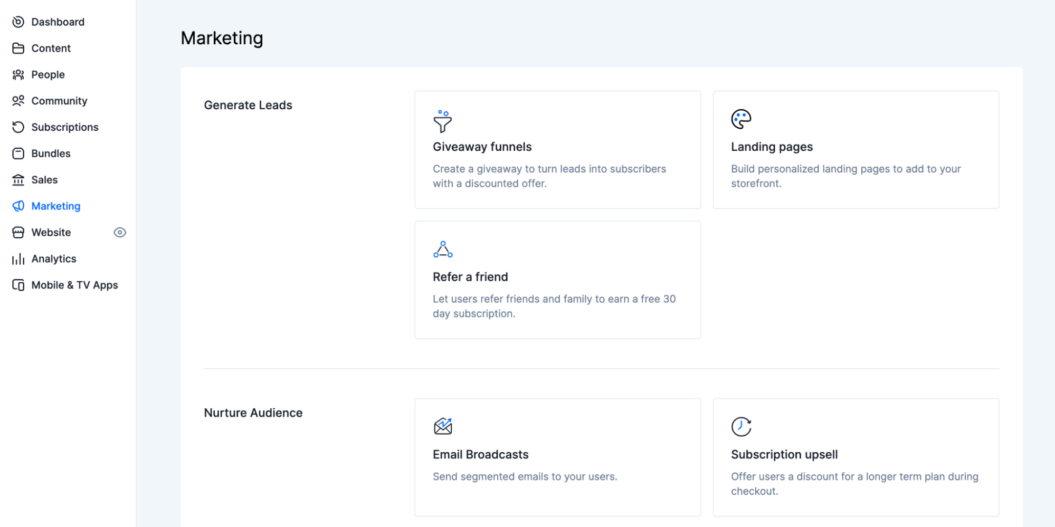 Uscreen also integrates with popular marketing tools like Mailchimp, Zapier, Facebook, Google Analytics, and more to help you learn about your students, and how to effectively market to them.
Other notable features:
Robust all-in-one Video CMS.
Built-in video hosting.
Drip content delivery.
Easy to organize video catalog.
Meta-data management.
Custom filters.
Smart playlists.
Access rules.
Subtitles.
Pros:
Comprehensive platform for managing course content.
Superior video quality and delivery.
Extensive customization options.
Free marketing tools.
Various monetization options.
Price: $$
2. Teachable
Best for: Selling individual courses or course bundles.
Reasons to use:
Beginner-friendly platform.
Built-in marketing tools.
Control of student data.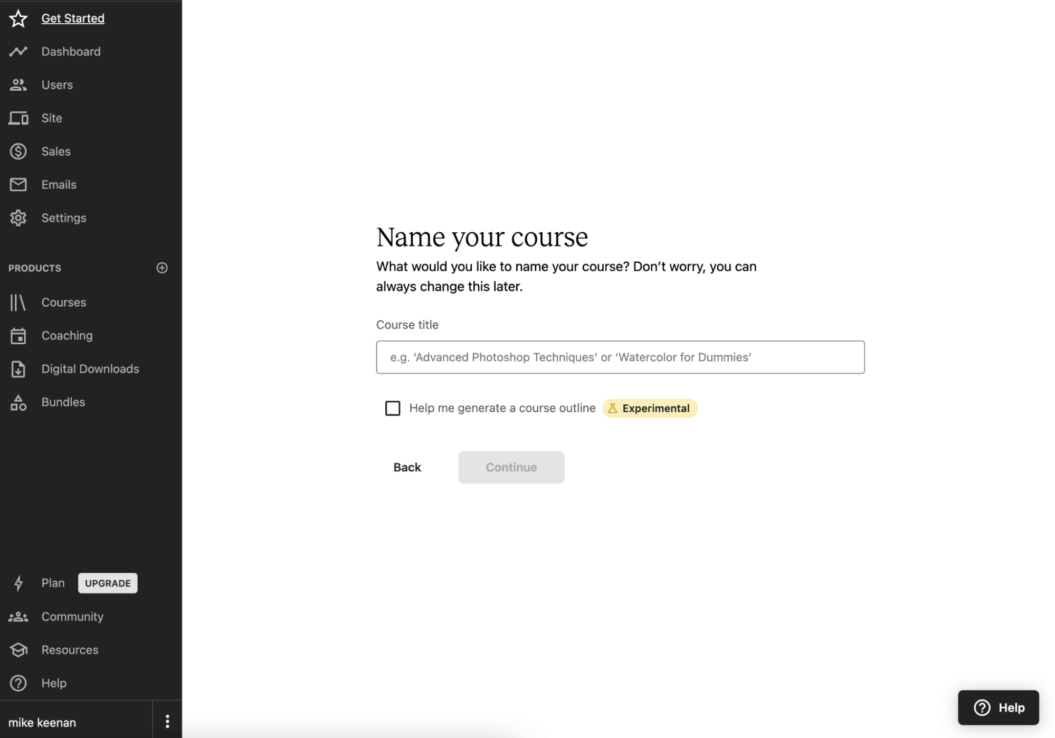 Teachable allows beginner creators to build and sell online courses. It manages everything from web hosting to payment processing and marketing. 
The look and feel of the platform is perfect for beginners who want to get their first course up and running.
It's intuitive and easy to use, and you can get your online course live without coding. You only get one theme, but you can customize every element to make it your own.
For example, you can create an account in two steps, and take advantage of a free demo account without entering a credit card. You don't need to pay until enrollment opens and you go live.
Features:
Online training school for course creators called Teachable U.
User management system to track students, authors, and affiliates.
Simple sign-up process with no upfront financial commitment.
User-friendly dashboard.
Onboarding survey to understand your needs.
Supports memberships​​.
Pros:
Intuitive design.
Excellent customer support.
100+ third party integrations.
14-day no-credit card trial
Student engagement tools.
Cons:
Limited site themes.
Minimal analytics.
No option for course completion certificates.
No EU VAT support​.
Price: $
3. Thinkific
Best for: Creating your first online course.
Reason to buy:
Feature-rich free plan.
Comprehensive student engagement tools.
Free training courses.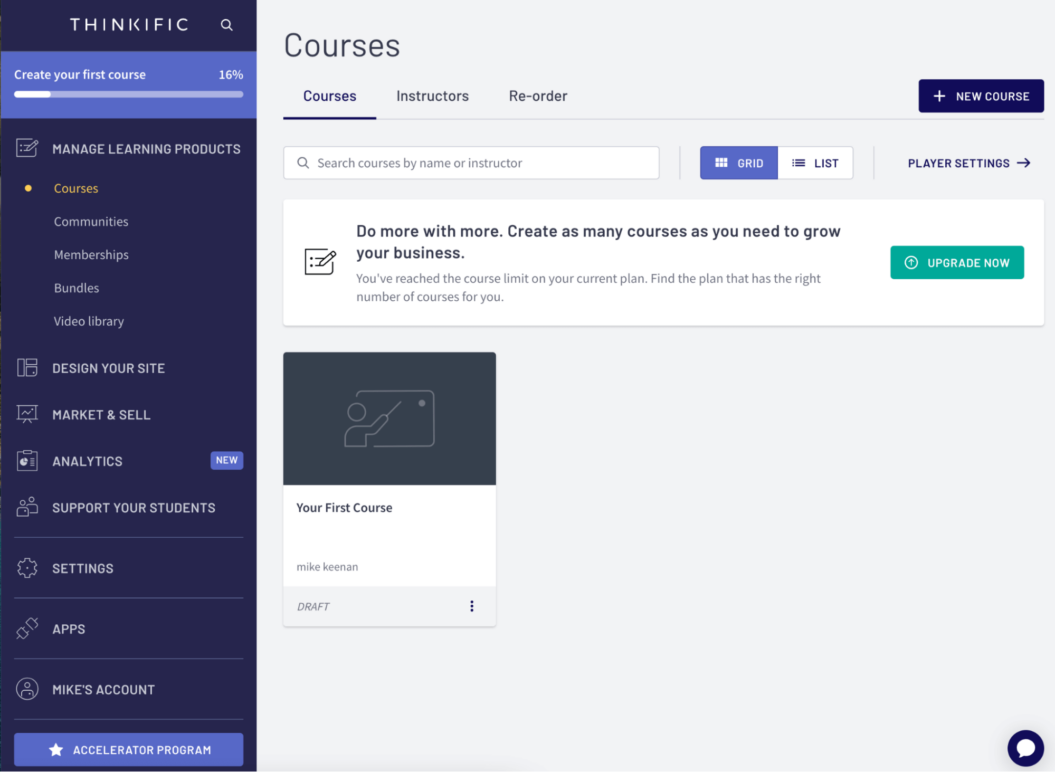 Thinkific is another popular online course software. It offers a website builder, marketing and sales suites, and a variety of engagement tools. You can add your own branding to the platform as well.
Thinkific is suitable for newer course creators. It takes minutes to sign up, for free, and then Thinkific offers a full onboarding process to educate you on the product's potential. If you have zero experience creating an online course, this makes course creation much less intimidating, and more fun.
Once you get set up, you can easily manage courses, categories, video content, and analytics all from your dashboard. If you have multiple authors for your course, you can easily share revenue with them through Thinkific as well.
Features:
Video hosting by Wistia in 4K quality.
Fully brandable course player.
Customized website.
Landing and sales pages with SEO options.
Different types of payment options.
Certificates and customizable course completion pages.
Support for digital downloads.
Detailed analytic reports.
Pros:
Keep all revenue from course sales above Free plan.
Drip content and limited-time only courses.
Phone support for plans above Basic.
Expert Marketplace for help building your course.
Feature-rich free plan.
Cons:
Limited to four site themes.
Limited integrations.
Long wait time for email support.
Price: $
4. Udemy
Best for: Sharing expertise with global student base
Reasons to use:
Massive student base
Popular for tech courses
Revenue share model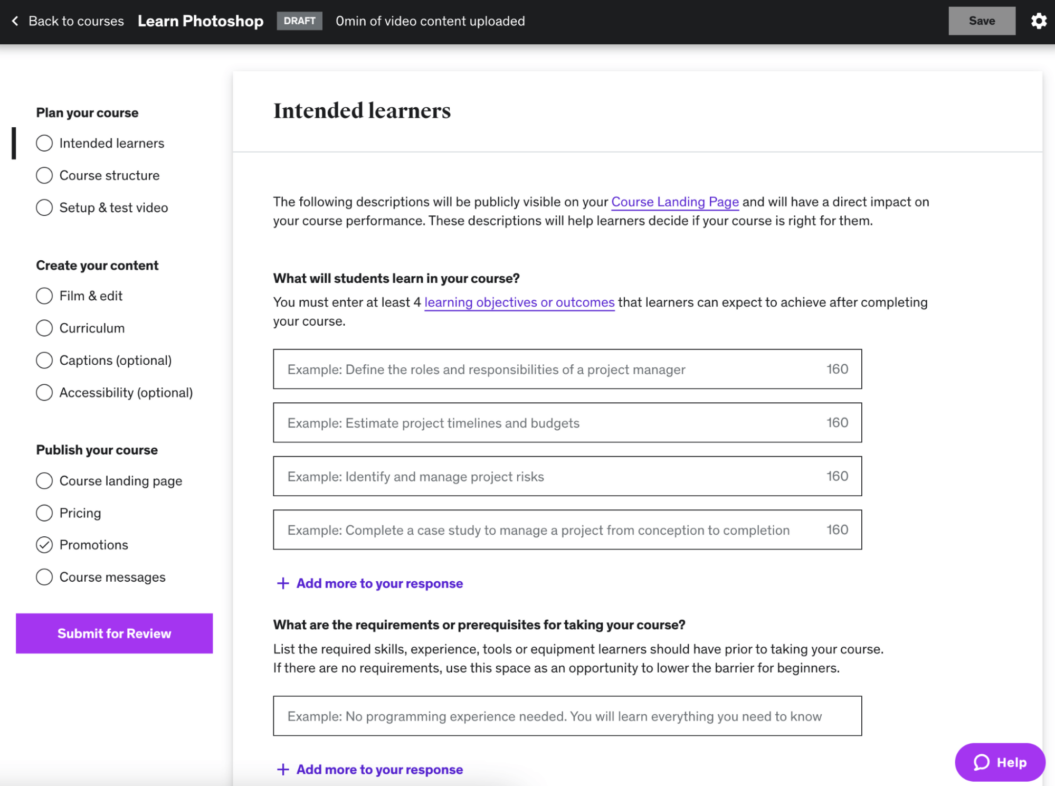 Udemy is a massive edtech platform for online learning and teaching. It's become a global hub for learning, with over 62 million students and 210,000+ courses, and more than 70,000 instructors teaching in nearly 75 languages, as per the Udemy website.
At first glance, from a creator's POV, that's a whole lot of people, which can be good for getting eyes on your course. However, you're going to be up against a ton of other instructors with the same goal as you — make course sales.
When creating a course, you'll have to work within Udemy's quality requirements, which includes good audio, offering at least 30 minutes of video content, creating challenges, and more. You can market your course directly to learners and have it featured on the Udemy storefront.
Pricing note: It's free to create and host a course on Udemy, and instructors can publish as many free and paid courses as they like.
Revenue shares are based on the "Net Amount," which is the amount a student paid less taxes or fees. When a student buys a course using an instructor's coupon or referral link, the instructor gets 97%. Instructors get 37% of revenue from sales that don't happen through an instructor promotion, like when someone clicks on a Udemy advertisement or browses the Udemy marketplace.
Features:
Opportunity to create courses for Udemy Business.
Retain ownership of your course content.
Provides certificate of completion for paid courses.
Revenue share program.
PayPal or Payoneer payout options.
Easy-to-use platform and interface.
Unlimited course uploads.
Can upload presentations, PDFs, audio, live classes, and more.
Pros:
No sign up fee.
Access to community of course creators.
Large audience base.
Cons:
Non-accredited certificates.
Limited quality control checks.
Takes a portion of course sales.
Price: Revenue share
5. Kajabi
Best for: Running online course business
Reasons to use:
Comprehensive all-in-one platform.
Powerful automation and email marketing features.
Automated course outline creation.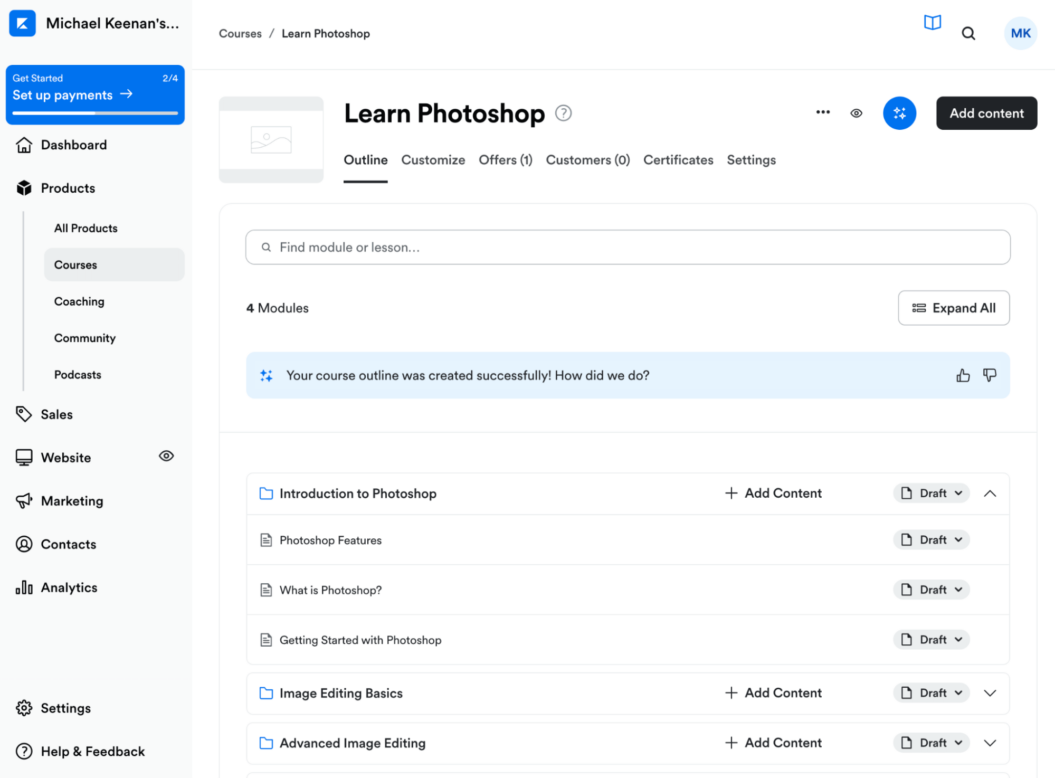 Kajabi aims to make it easier to build online courses. It comes with course templates, layouts, and fill-in modules to streamline the online course creation process.
Kajabi also offers a ton of features under one roof, such as website hosting, sales page builders, email marketing, ecommerce, CRM, and sales funnels.
Essentially, Kajabi limits the need for integrations, so you can manage everything from a single dashboard. Kajabi will also generate a course outline for you based on your input. Plus, you get a free 14-day trial when signing up for Kajabi.
Features:
Integrated checkout system.
Course website builder.
Automated sales funnels and email sequences.
Quiz capabilities.
Unlimited landing pages and marketing emails.
Unlimited video hosting for course content.
Course insights to track student progress.
Pros:
It's an all-in-one platform.
Offers a host of features for marketing, sales, and course creation.
Provides unlimited hosting for video content.
Offers strong security and SEO optimization features.
Cons:
All the features could be overwhelming for new creators.
Limited customization options.
6. Podia
Best for: Selling digital products.
Reasons to use:
Supports digital downloads.
No transaction fees.
Unlimited hosting for courses.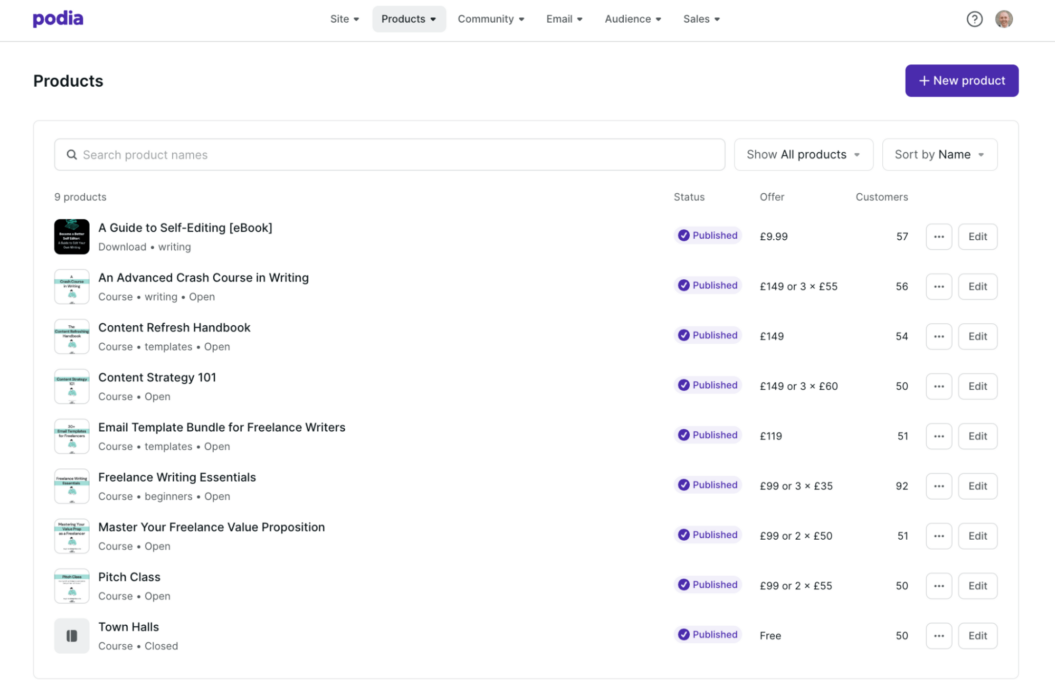 Podia offers a simple way to build an online store and sell digital products. With Podia, you can sell courses, coaching programs, digital products, webinars, and more. Sign-up happens in one step. Enter your name, email address, and password, then hit Start Selling.
The UI feels a little dated. As a previous Podia user, members told me they struggled to find and access course content. There's also limited options to interact with your people within Podia.
If you want to scale or engage more with your community, you'll need an online course platform like Uscreen.
Podia offers a 14-day, no credit card trial. Paid plans include Mover and Shaker.
Mover, which is about $40 per month, is a basic plan with everything you need to create and sell courses and downloads.
Shaker, which is $80 per month, gives you more features like memberships, affiliate marketing opportunities, and third-party integrations.
Features:
Add content like files, links, text, and quizzes to each lesson.
Drip content capabilities.
Built-in email marketing tools.
Extensive pre-launch marketing tools.
Membership plans integrated with your site.
Student progress reporting.
Easy to create coupons.
Pros:
Fair price for feature set.
Easy to use platform.
Built-in marketing tools.
Cons:
Difficult UI for end users.
Memberships limited to Shaker plans.
Only payment option is Stripe.
Price: $
7. LearnDash
Best for: Selling courses through WordPress
Reasons to use:
WordPress plugin integration
Detailed lesson scheduling
Adaptive e learning paths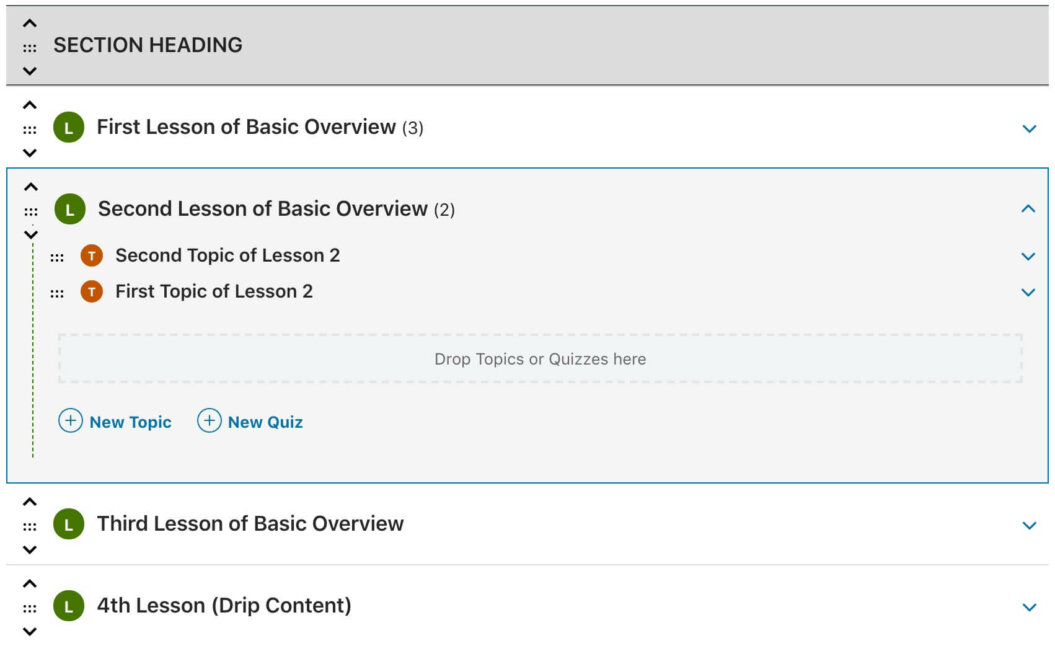 LearnDash is a well-known WordPress plugin and Learning Management System (LMS).
You can design, market, and sell online courses right from your own WordPress website. It's drag and drop builder and theme library makes it easy to create your courses quickly, while keeping up your brand image.
With LearnDash, you can sell courses as part of a membership, subscription, or one-time pricing. You'll get access to tons of testing and student management tools, and upload course material in video, audio, or image formats, and more.
Features:
Drag and drop course builder with intuitive interface.
Dynamic content delivery.
Support eight types of quizzes.
Engagement tools like automated notifications, leaderboards, and badges.
Detailed reporting.
Integrates with many payment gateways and business tools.
Pros:
Open source and allows for high customization.
Offers a variety of built-in tools and add-ons.
Easy checkout system.
Cons:
Certain features require paid add-ons.
Plugin version only available through annual pricing.
Price: $$
8. LearnWorlds
Best for: Creating interactive learning experiences.
Reasons to use:
Gamification options.
Social learning community.
Built-in eBook creator.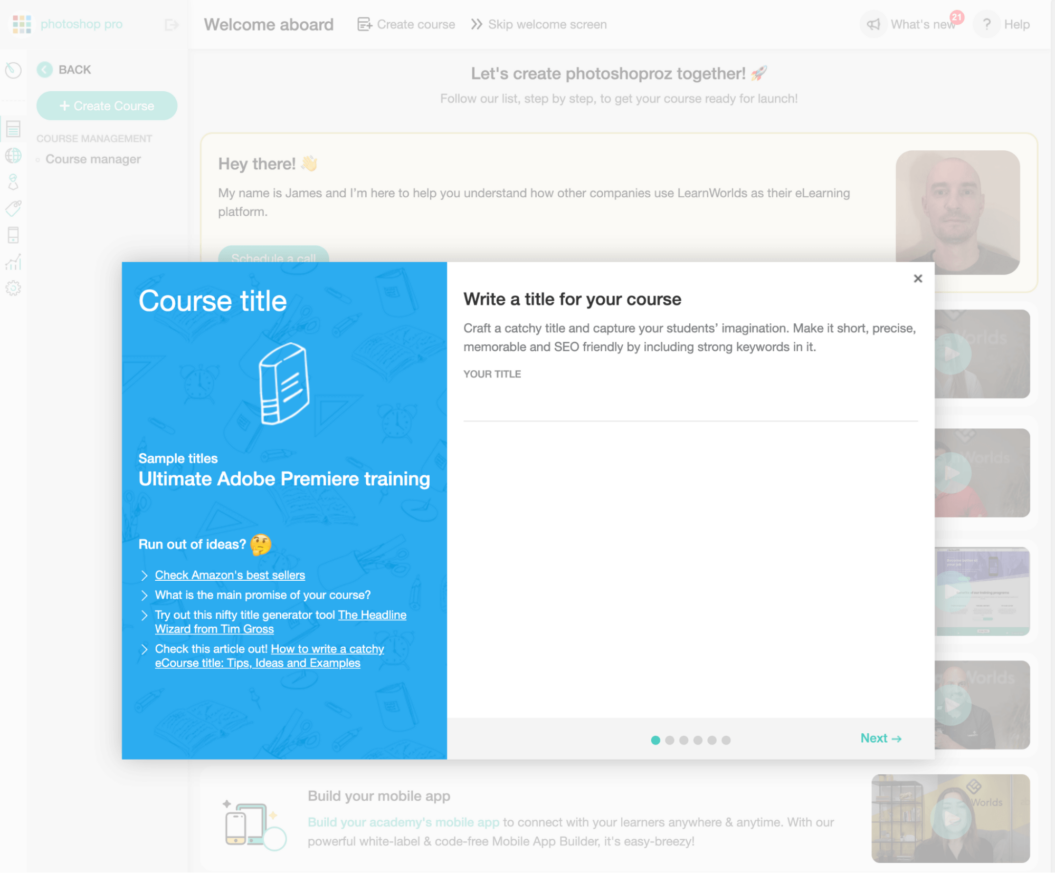 LearnWorlds stands out for its powerful course creation tools and high level of customization. It allows creators to build their online school with their branding, offering an immersive learning experience.
LearnWorlds also offers an interactive video tool that allows you to add interactive elements like questions, images, and notes to your videos. It also has a built-in social network where students can interact, creating a sense of community.
Features:
Interactive video player.
Built-in social network.
Customizable course player.
Ecommerce and marketing tools.
Certificate of completion.
SCORM compliance.
White-label solutions.
Pros:
Highly interactive and engaging learning environment for students.
Easy to promote courses and reach a wider audience.
Complete customization.
Cons:
No live streaming feature.
Price: $
9. SkillShare
Best for: Sharing creative skills to built-in audiences.
Reasons to use:
Creative courses focus.
Subscription-based model.
Community-based learning.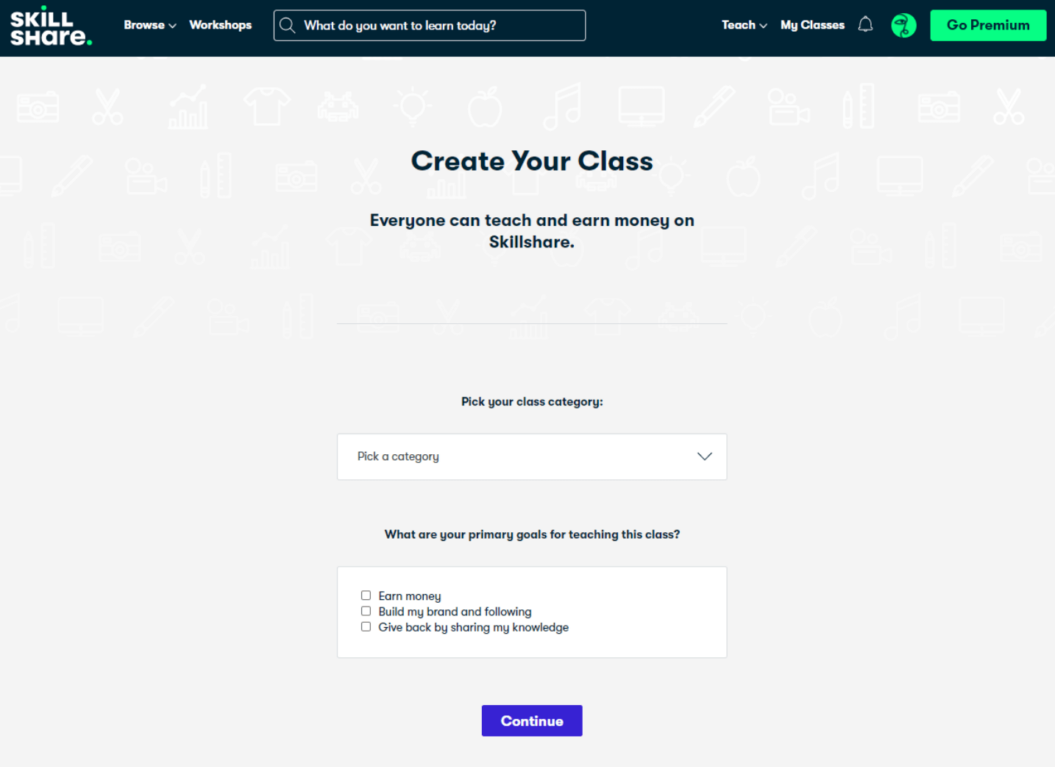 SkillShare is an online learning platform that lets educators share high-quality, on-demand content to millions of students. Its original vision was to create an open platform for teaching, and empower instructors from everywhere to share their knowledge.
You can create courses for nearly any topic, design, illustration, photography, and more. You just need to create and upload your courses to reach millions of registered users on the platform.
Because you're using SkillShare's platform, you won't be able to customize your learning experience as much compared to a tool like Uscreen.
Features:
Downloadable classes for offline viewing.
Chance to conduct workshops for Skillshare Members.
1-month free trial for people to explore your courses.
Well-designed Skillshare app for mobile learning.
Offer project-based learning.
Pros:
Support self-paced learning for users.
Community features that promote peer interaction.
Easy-to-use course creation tool.
Cons:
No certificates of completion for learners.
Not ideal for dense academic subjects.
Price: Royalties.
10. Coursera
Best for: Offering university-level courses.
Reasons to use:
Professional course exposure.
University collaboration opportunities.
Provides certificates and accreditations.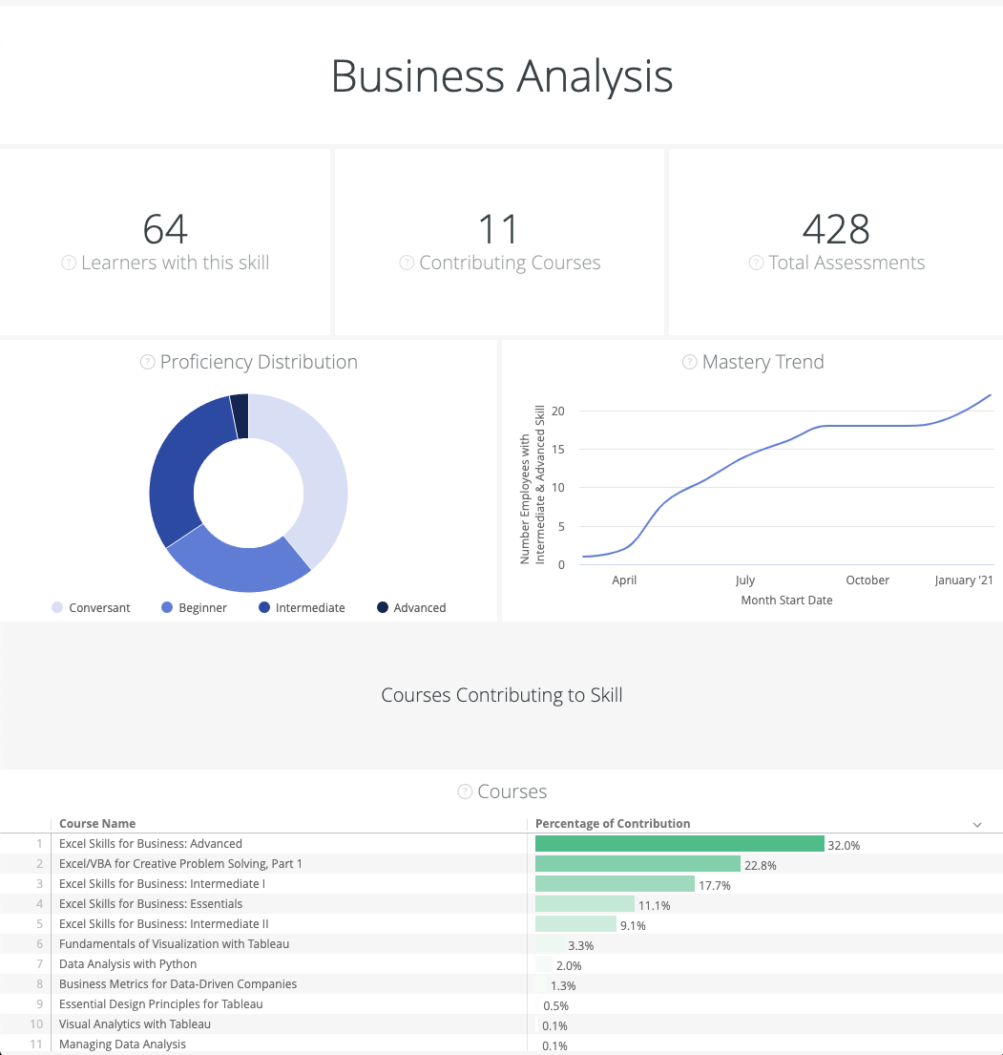 Coursera is a leading online learning marketplace that partners with top universities and organizations to offer courses, specializations, and degrees. You can offer courses for social media marketing, data engineering, UX design, and more on Coursera.
It's partnered with over 275 top organizations including Stanford University, Google, and IBM, which contribute to the creation of its learning programs​​.
Creating a course on Coursera immediately lends it credibility versus other learning marketplaces. There is a catch though, you need to be a university professor to teach on Coursera.
Features:
Free courses with the option to upgrade for certification.
Peer assessment systems for evaluating student work.
Mobile apps for iOS and Android for flexible learning.
Discussion forums.
Ideal for self-pacing learning.
Pros:
Reach over 102 million users.
Team of experts help you through the online teaching process.
Association with top universities and organizations boost your course value.
Cons:
Limited personalized feedback options.
Complex course creation process.
Price: Unpaid.
11. LinkedIn Learning
Best for: Educating business professionals
Reasons to use:
Paid by viewing time.
Visibility among companies and professionals.
Robust analytics.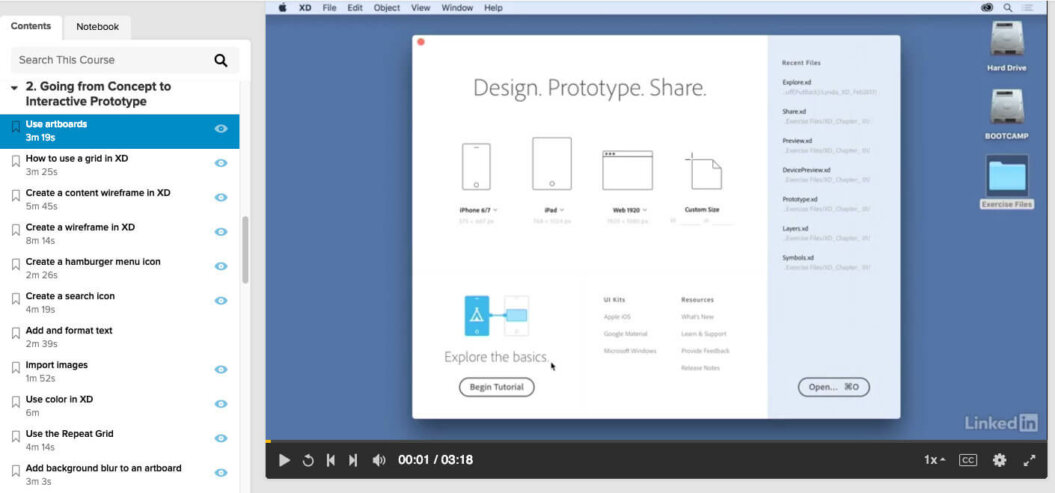 LinkedIn Learning is an online course platform born from the acquisition and rebranding of Lynda.com by LinkedIn in 2015. It offers a wide range of courses for professionals aiming to learn new skills, especially in business and software training, with a high production quality.
LinkedIn Learning has evolved to offer personalized content matching learners' skill gaps and professional goals, integrates with content partners and learning management systems, and even offers interactive communities for learners to connect with peers and experts.
You'll need to fill out an application to teach on LinkedIn.
Features:
Personalized content that matches learners' skill gaps and professional goals.
Customized Learning Paths for specific groups of learners.
Ability to upload and promote content from 3rd parties.
Career development functionality to help learners build skills that advance their careers.
Rich insights to help leaders measure the impact of learning solutions.
Supportive, interactive community for learners.
Integration with content partners and learning management systems.
Pros:
All courses are of high production quality.
Perfect for creators teaching about business and software.
Integration with LinkedIn.
Cons:
Paid by viewing time.
Most courses have a corporate tone.
Little control over pricing.
Price: Royalties.
What makes a good online course platform?
There's a lot to consider when it comes to choosing the best online course platform for you, from the type of platform to your budget and available features.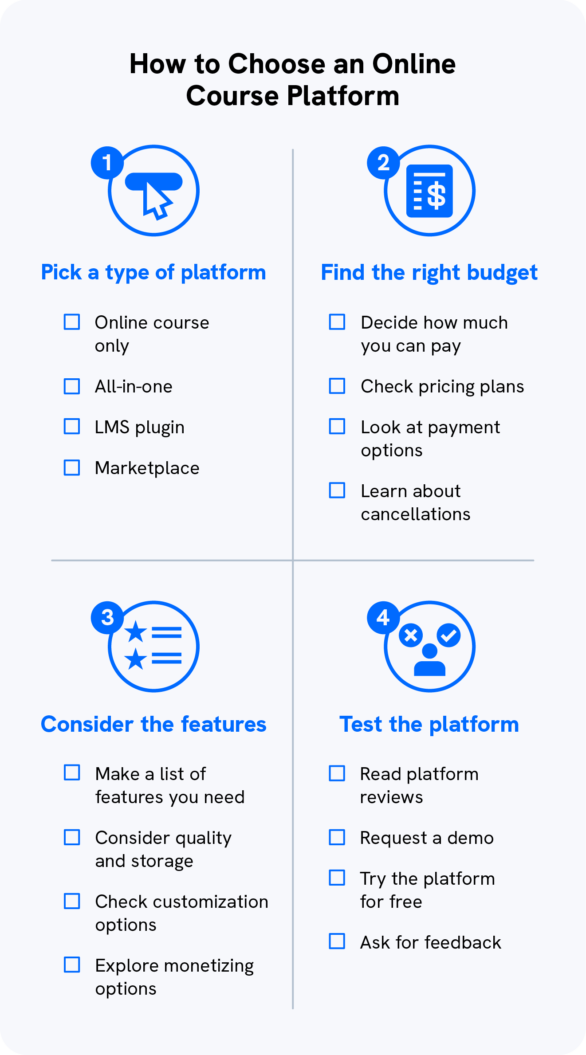 Consider:
If you need a platform mainly for online courses or an all-in-one platform.
If you want to add online course tools to your website directly.
If you want to increase your audience by using a marketplace platform.
How much you're willing to pay for a platform.
What features are most important to you in order to sell your courses.
You might also consider the video quality and storage, customization capabilities, and monetization options.
With these points in mind, go over each platform on our list to see which ones fit you the most. Then request a demo or a free trial of the platform to make sure you're happy with it before committing.
Find the right course platform for you
Look, we get it. Selling one-off courses is exhausting and limits your potential as a creator. That's why we love the idea of selling memberships and courses together, so you can get the best of both worlds: sharing knowledge and earning sustainable income.
By building your courses in Uscreen, you can create an interactive experience for learners. From livestreaming to fostering community, Uscreen has everything you need.
Online course platforms FAQ
Which is the best online learning platform?
With its emphasis on video content, Uscreen is an excellent choice for many entrepreneurs. The custom branding and marketing tools, and monetization features make it easy for course creators to sell their courses. Students can also learn on any device, anywhere in the world. 
How do I create an online course?
First, identify the topic and outline the curriculum for your online course. Then, create engaging content, whether it's text, audio, or video. After you've got the content ready, upload it to a platform like Udemy, Uscreen, or Coursera, set the price, and publish.
What is the difference between Udemy and Coursera?
Udemy and Coursera are both popular online course marketplaces, but they're different. Udemy lets anyone make and sell courses on its platform, so it's got a more diverse range of topics. On the flip side, Coursera partners mostly with universities and companies to offer courses, some of which count towards degrees.
What are the benefits of an online course?
Online courses have many benefits, like flexibility, affordability, and accessibility. Learners can study at their own pace, often at a lower cost than traditional education. As a bonus, anyone with an internet connection can learn, regardless of location.