What's the Best Online Course Platform?
Picking the right online course platform to partner with is essential to your business' success.
You already know that there's a dizzying array of options to host your courses, coaching, or training.
We're here to help you cut through the confusion and distill your choices down to the best 15 online course platforms on the market.
Included in our rundown are:
Platforms that give you everything you need in terms of video hosting and website building.
WordPress LMS plugins for your existing website.
Online course marketplaces that let you create and sell quickly.
Plus, all the features you need to know about to measure them up for your business.
Before we get into the specifics, here's an overview of everything that's coming up.
Disclaimer: The information below is accurate as of today (08/13/2021).
Now it's time to get into the nitty-gritty that you're here for.
1. Uscreen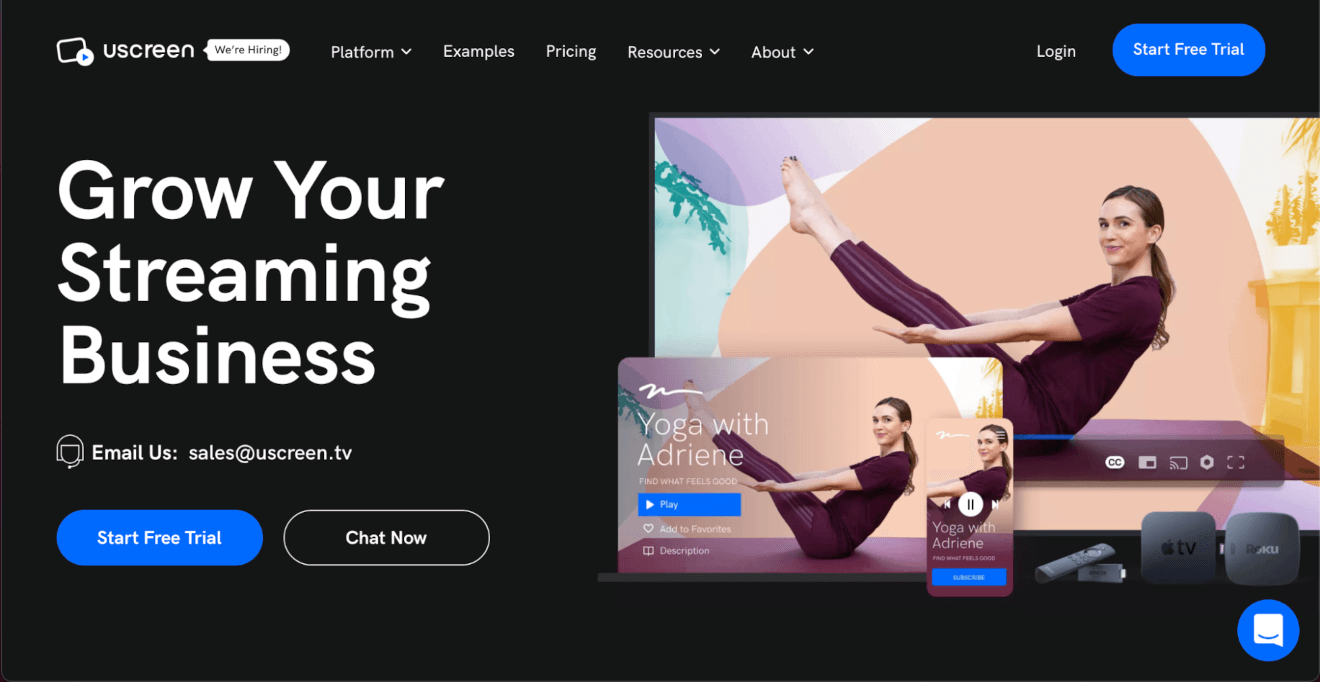 You've landed here at Uscreen looking for a place to host your online course and you're in good company.
As a platform to grow your online learning business, we're one of the best out there, both in terms of the tools you need as a creator and the experience you offer to your learners.
We've got a platform that grows with your business, allowing you to:
Deliver the educational content you want.
Monetize it with a model that works for your audience.
Market your courses with the tools you're already familiar with through powerful integrations.
When people sign up to your classes, they get a platform that'll instantly feel fresh and intuitive.
The user interface is fully customizable and you can sort all your courses using categories and filters, making it super easy to navigate.
Want to give your students even more access?
We'll help you build an app that works on smart TVs, Android and Apple mobile devices, heck even smart watches, so they can learn on the go or follow along with your tutorial from their living room.
You can choose to sell a variety of courses, and have the option to charge a one-off fee or a recurring subscription for your learners to access them. You can even tier your subscriptions to have different levels of learner.
Want to see how others have made a success of their online school with Uscreen?
Of course, you do…
Example #1: FaderPro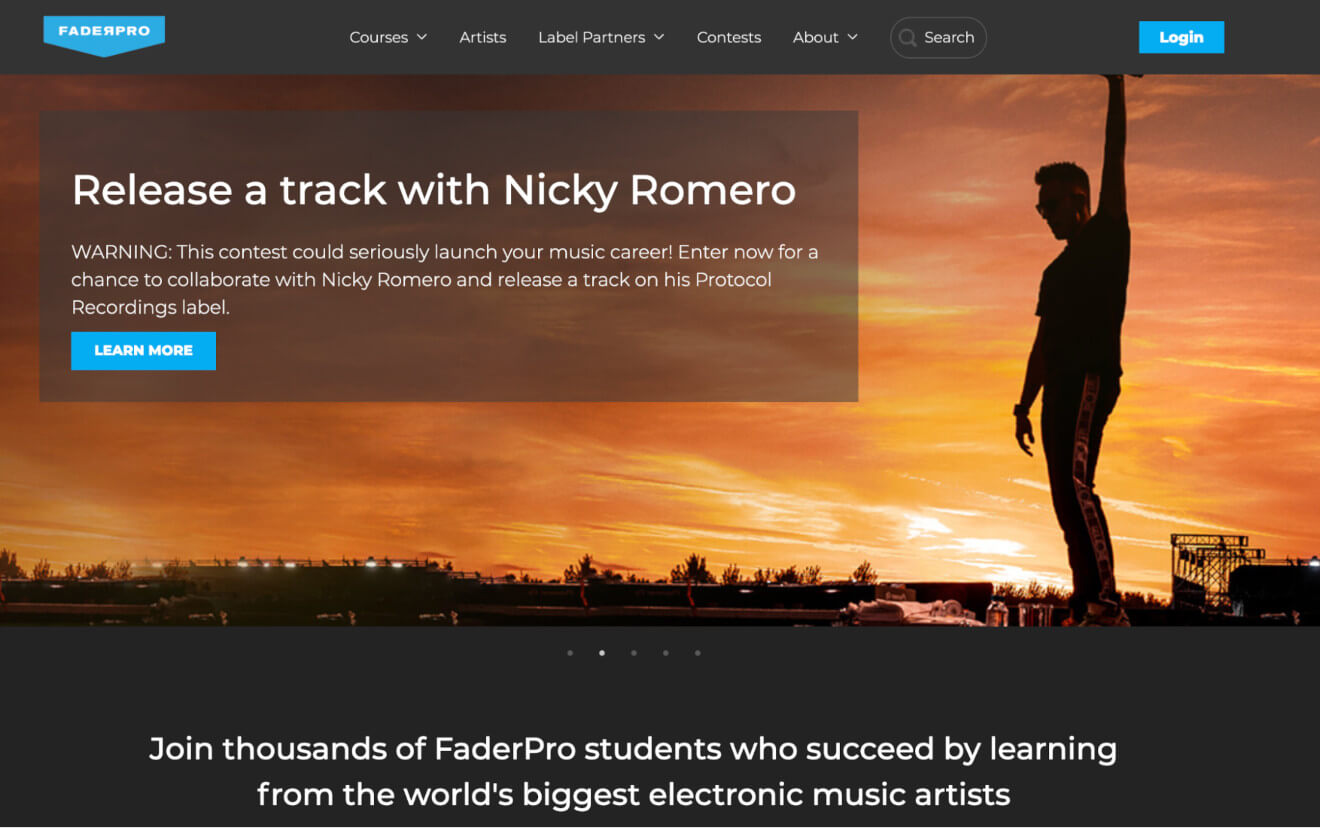 FaderPro is an online school for budding EDM DJs and producers, with courses from huge industry names like Ferry Corsten, Jon Sine, and Nicky Romero.
They group their courses together by theme, like their Armada University which puts learners in the studio, learning skills through live streams. Through the combination of some of the best names in the electronic music business and the powerful learning platform that Uscreen gives them, FaderPro has been able to build a hugely successful online school.
Here's a different business model that's thriving with the support of Uscreen.
Example #2: Sqadia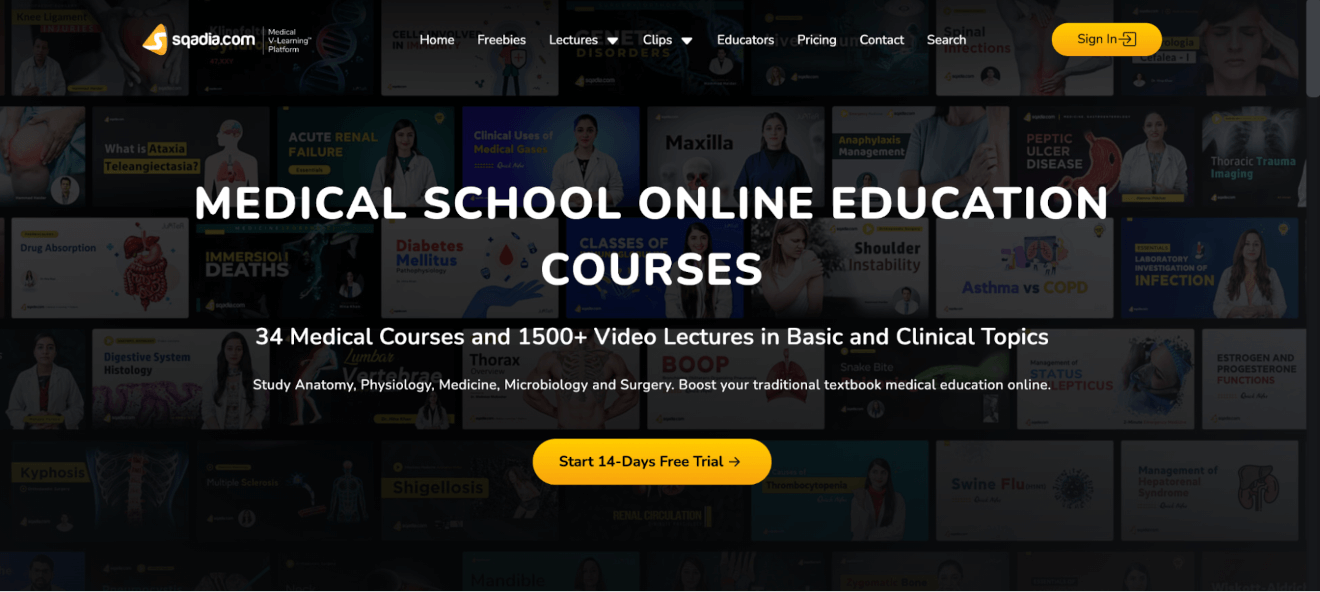 Sqadia offers medical lectures grouped into courses, it hosts more than 1,500 videos.
On their homepage, you can find all their recent videos across a range of basic and clinical topics, or you can deep-dive into one area through their detailed course catalog.
Their payment model is different from the last example we looked at, as Sqadia offers a 14-day free trial to users before charging a monthly subscription for access to the course content, with monthly, semi-annual, and annual options.
Now you've seen how you can make your course sales through Uscreen, we're going to get into the features we offer in more detail.
Uscreen features
When you opt to use our all-in-one video monetization platform for your online courses, you get:
Your video content delivered in Full HD quality, on a fully customizable white-label player with a guarantee that users won't get buffering.
A drag-and-drop website builder with your own domain name, or we'll help get one registered for you.
The option to have closed captions and subtitles added to your videos, making your courses even more accessible to the widest possible audience.
Options to build sales pages and landing pages so you can control your customer's journey through your sales funnel.
A chance to build an app for smart TVs, Android, iOS and we even support Apple WatchOS if you're offering health and fitness classes.
Content dripping and scheduling meaning you can deliver your content slowly as your learners work through your course.
Search engine optimization (SEO) built in to your website with the option of adding details like meta tags to improve your site searchability.
Lots of payment options, including, rentals, one-off, and subscription-based pricing with tiers so you can create beginner, intermediate, and advanced levels, for example.
Marketing options to acquire and retain learners, such as coupons, discount codes, gift cards, upsells and "Try Again For Free".
A deep bench of integrations to cover all your needs, including email marketing, awarding certificates, Google Analytics, and Zapier for all your automation needs.
Space to host other content such as PDFs and ebooks so your learners can access a broader range of learning materials and digital products.
Unlimited video streaming, bandwidth, and uploads, with storage space starting at 3,000 minutes of course content.
Lots of options for taking payment, such as PayPal, Stripe, Authorize.net or you can use Uscreen's own payment gateway.
A range of analytics tools to help you understand which of your classes are popular as well as support you as you manage your affiliate marketing payouts.
End-user and viewer support so we can help your learners if they have technical problems, leaving you to focus on course creation.
Live streaming capabilities, so you can host live tutorials and take questions through the live chat feature.
What do all these features cost?
Uscreen pricing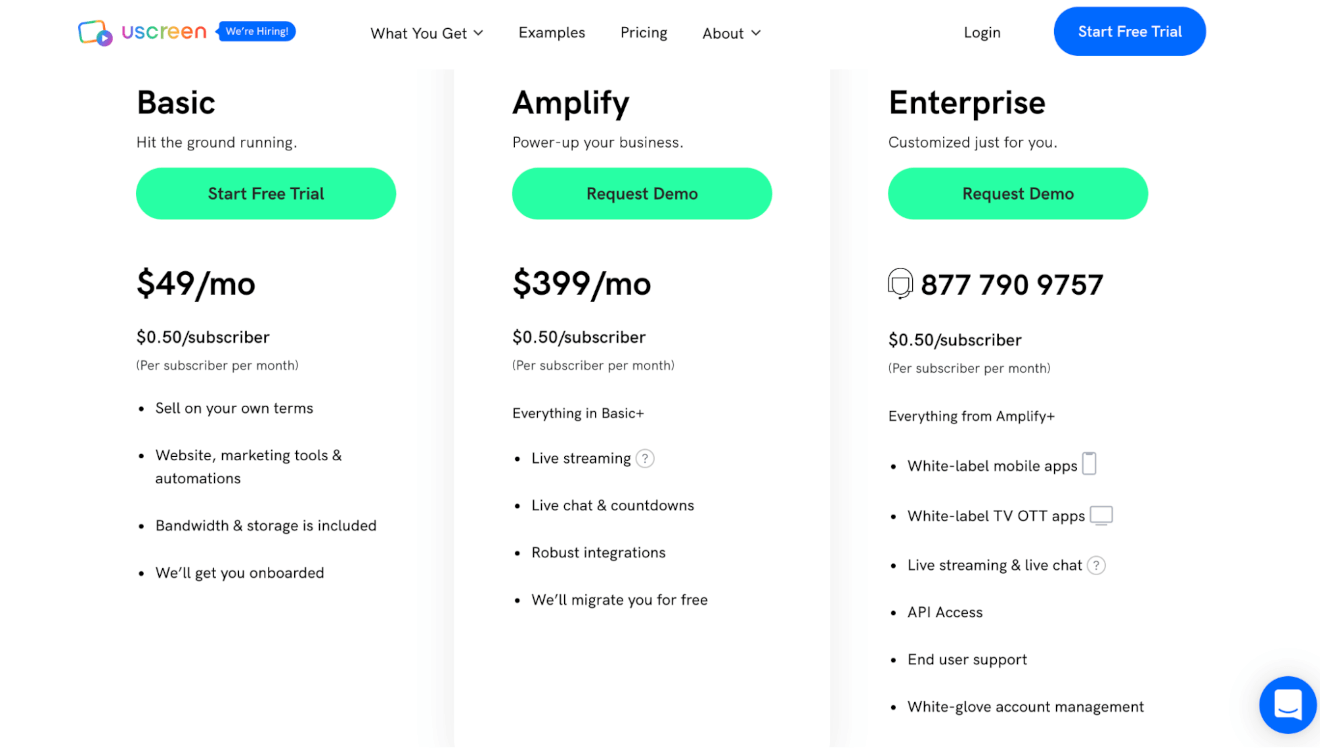 We offer tiered pricing for you to access Uscreen's array of features.
First up, we have the Basic plan that's great when you start to sell online courses.
You get everything you need to get going, including your own website, marketing tools, automations, storage, and an onboarding session.
The next level up is the Amplify plan which has everything you get with Basic, plus live streaming and chats, loads of integration options, and help migrating your business over to our platform.
The highest level available is the Enterprise option, which adds on white-label mobile and OTT apps, access to our API, and customer support for your users.
That's all about us, what about your other options?
We help entrepreneurs launch and grow their video businesses. More than 11,000 entrepreneurs, brands, and creators have leveraged Uscreen's all-in-one platform to build successful video businesses and monetize their content online. Check out what they have to say: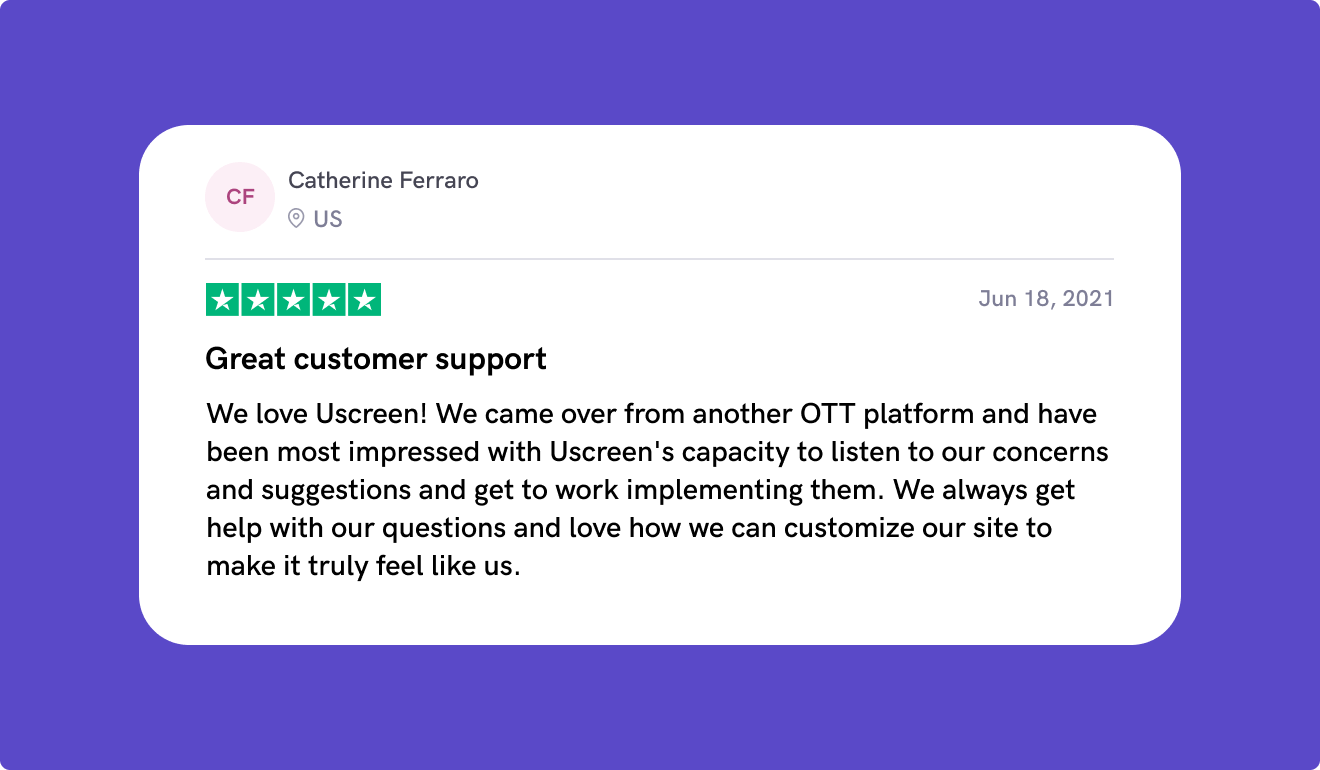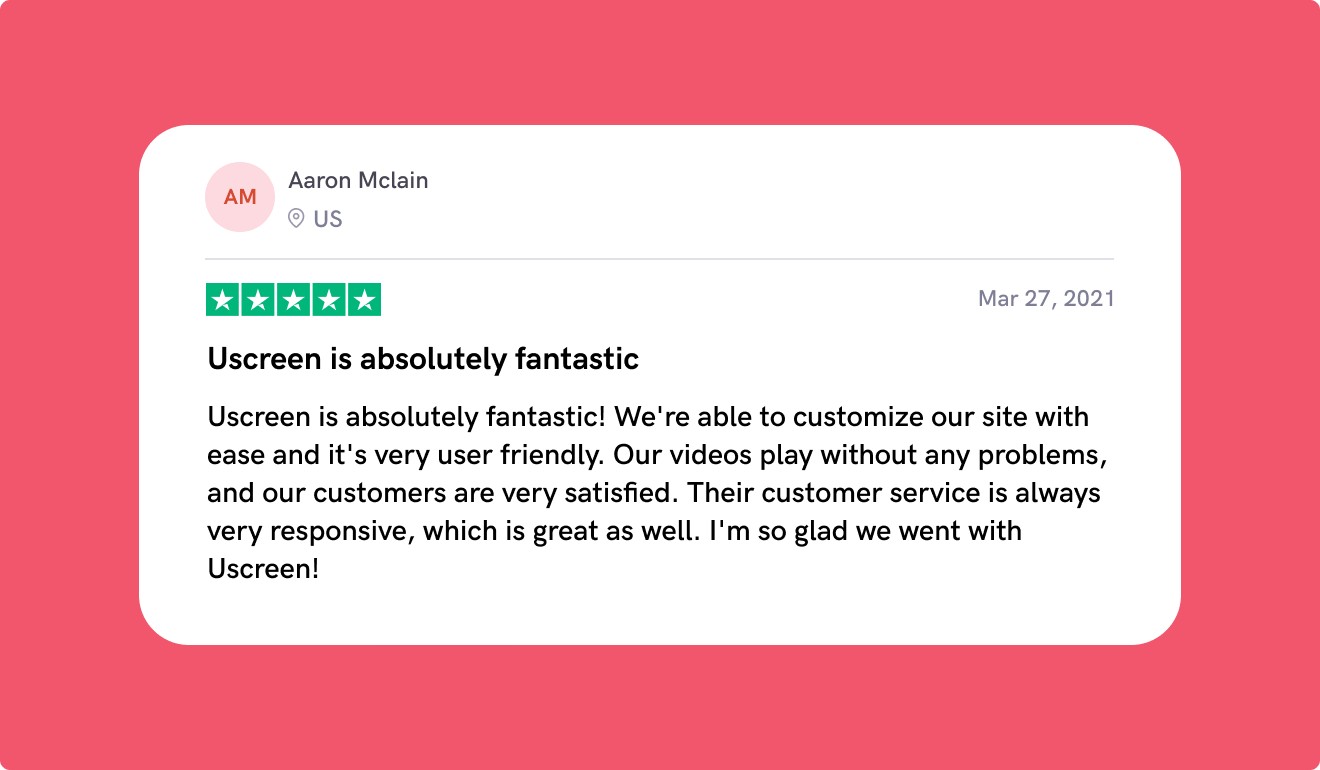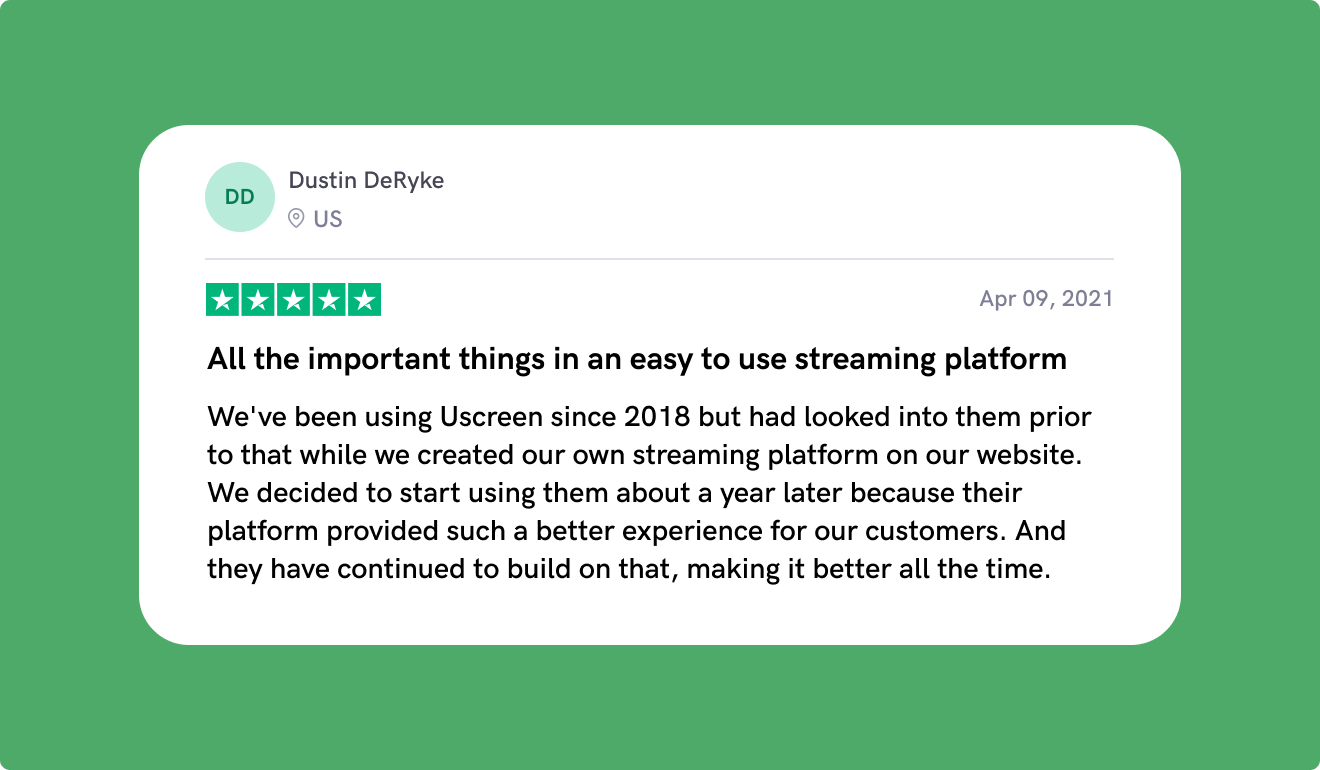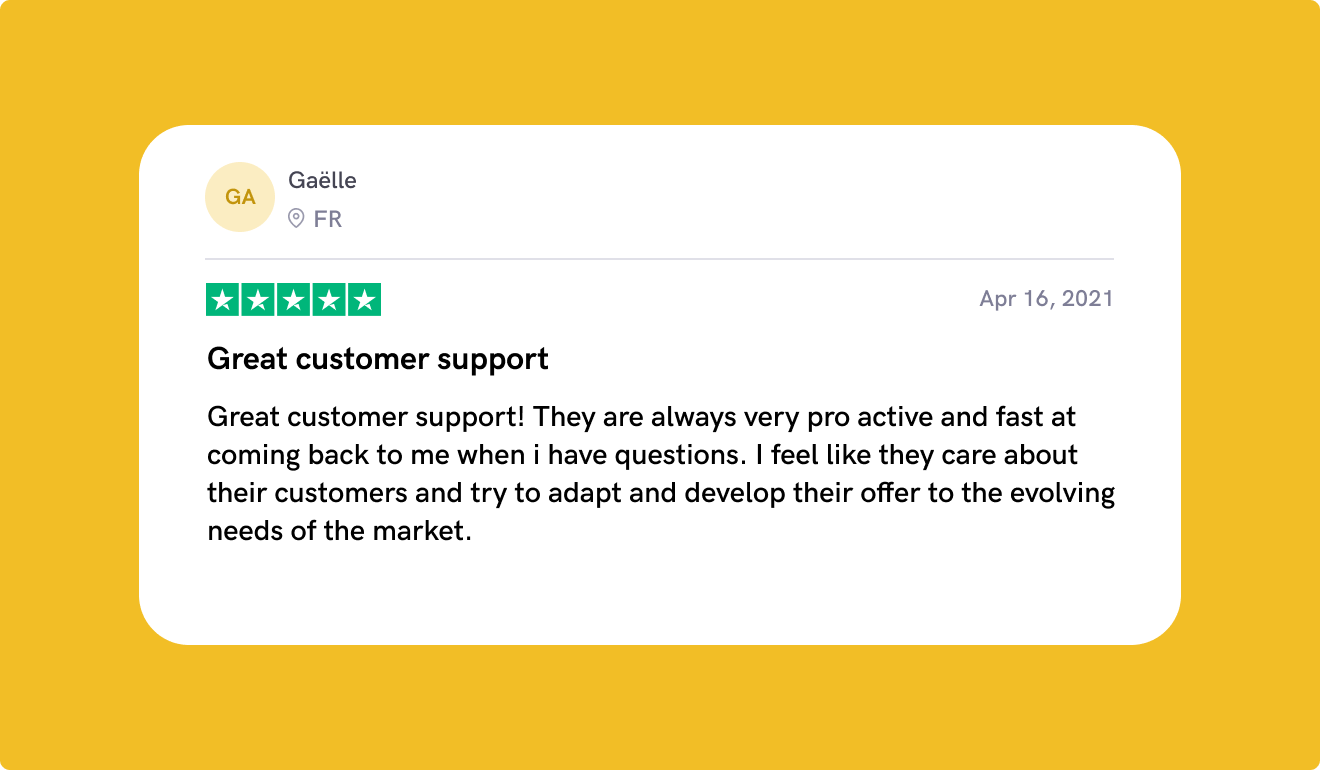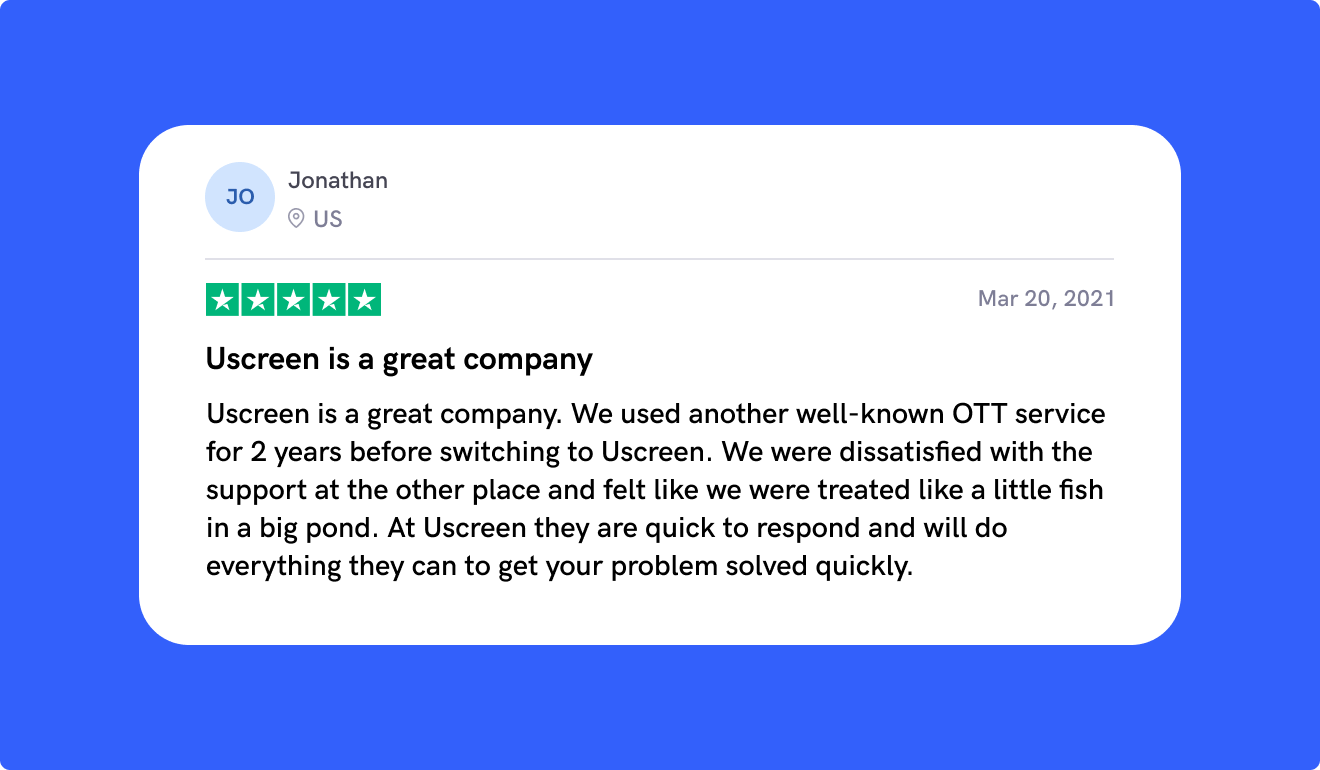 Source: TrustPilot
Get started with Uscreen now, the first two weeks are on us!
2. Teachable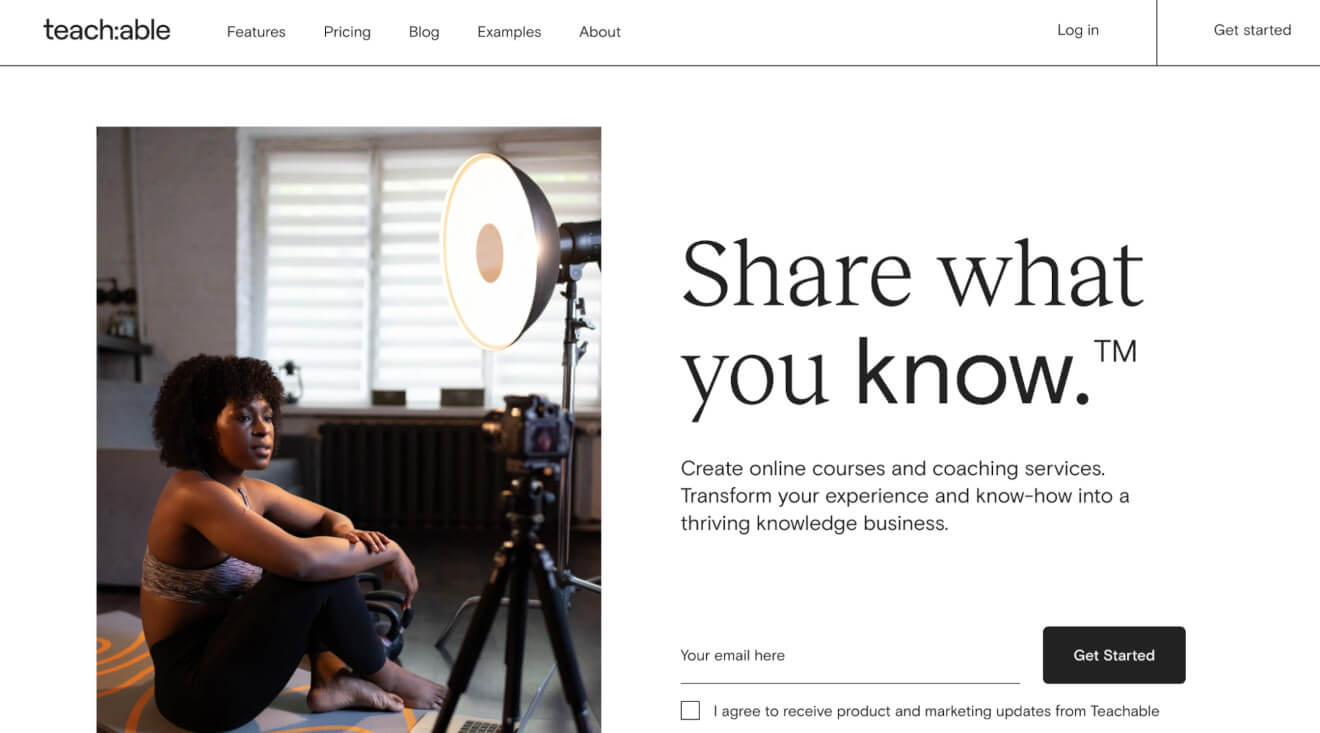 Teachable is a platform for course creators to host learning materials, and is generally better-suited to people running a single course.
According to their own numbers, there are over 100,000 course creators and coaches currently using the platform.
What features does Teachable have to offer the creators on its site?
Teachable features
If you choose Teachable as your learning platform, you get to:
Host your video courses in up to 4K quality on an unbranded player.
Create a customized website to host your courses and use your current domain name or get one through Teachable.
Have your courses available on the Teachable iOS app, where students can access your classes and materials.
Add SEO details to your courses such as editing your URL and adding a title and meta description to each page.
Drip content to your students based on a calendar date or when they signed up.
Sell your content for a one-off fee, through a subscription or membership, or as a bundle.
Offer coupons and discounts to new sign-ups.
Access a range of integrations, such as Zendesk, Calendly, and Mailchimp, plus set up automations with Zapier.
Track your learners' progress, allow them to progress through a course after class completion, and award course completion certificates.
Host downloadable elements such as PDFs and have audio files as well as video on your site.
Upload unlimited courses and videos, have unlimited students, and use unlimited bandwidth for your classes with a 2GB file size limit for each video.
Accept payments by card, PayPal, Apple Pay, and Google Pay, as well as get your payouts paid daily, weekly, or monthly.
Access analytics data through a Google Analytics integration and track and payout affiliates through the platform.
Run live classes by embedding a stream from a different live streaming site such as YouTube, Vimeo, or Twitch.
Time to see how much this all costs.
Teachable pricing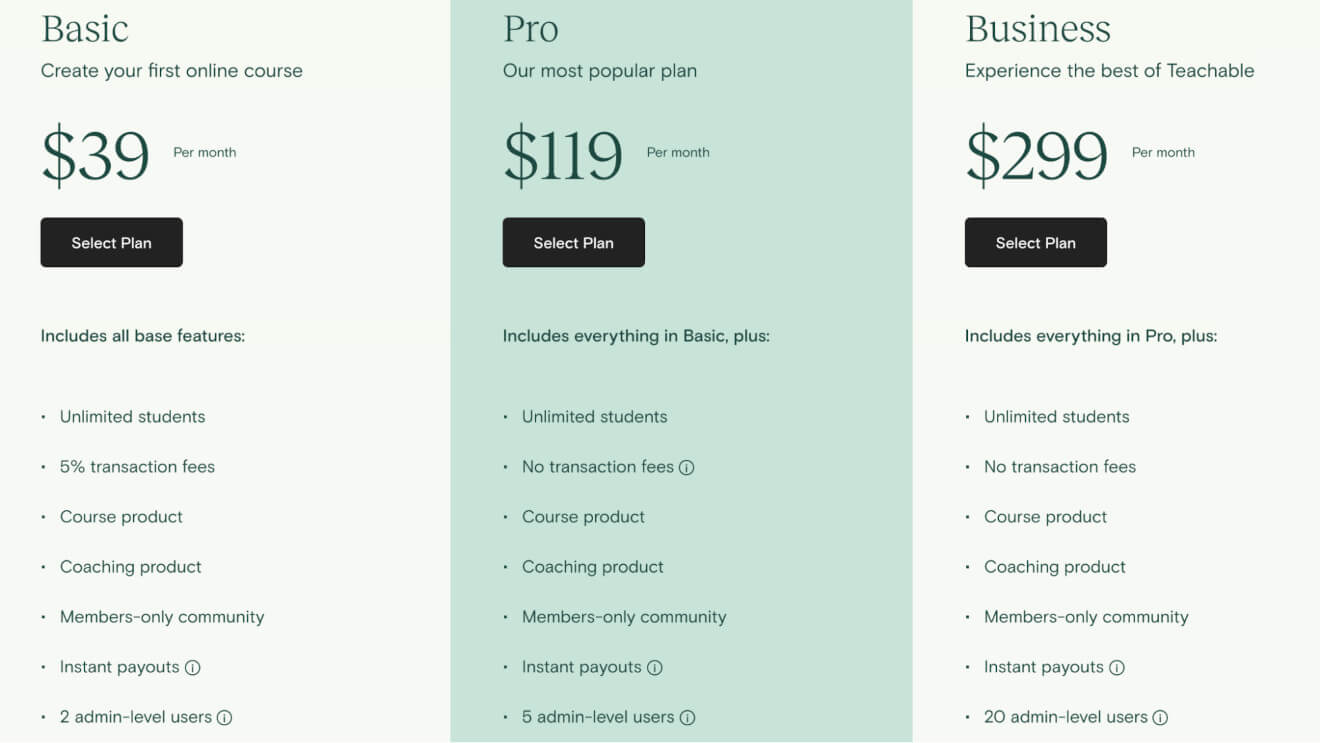 There are 3 pricing plans available with Teachable, starting with the Basic plan that you pay a subscription for plus 5% transaction fees.
With it, you get community features, instant payouts, 2 admins, and marketing tools among other features.
Opting for the Pro plan adds on 3 more admins, removes Teachable branding from your site, and allows you to offer certificates, with some other extras, too.
The highest tier, Business, gives you up to 20 admins and options to migrate an existing student body over to Teachable.
Hopping over to the next place to host your course material.
3. Thinkific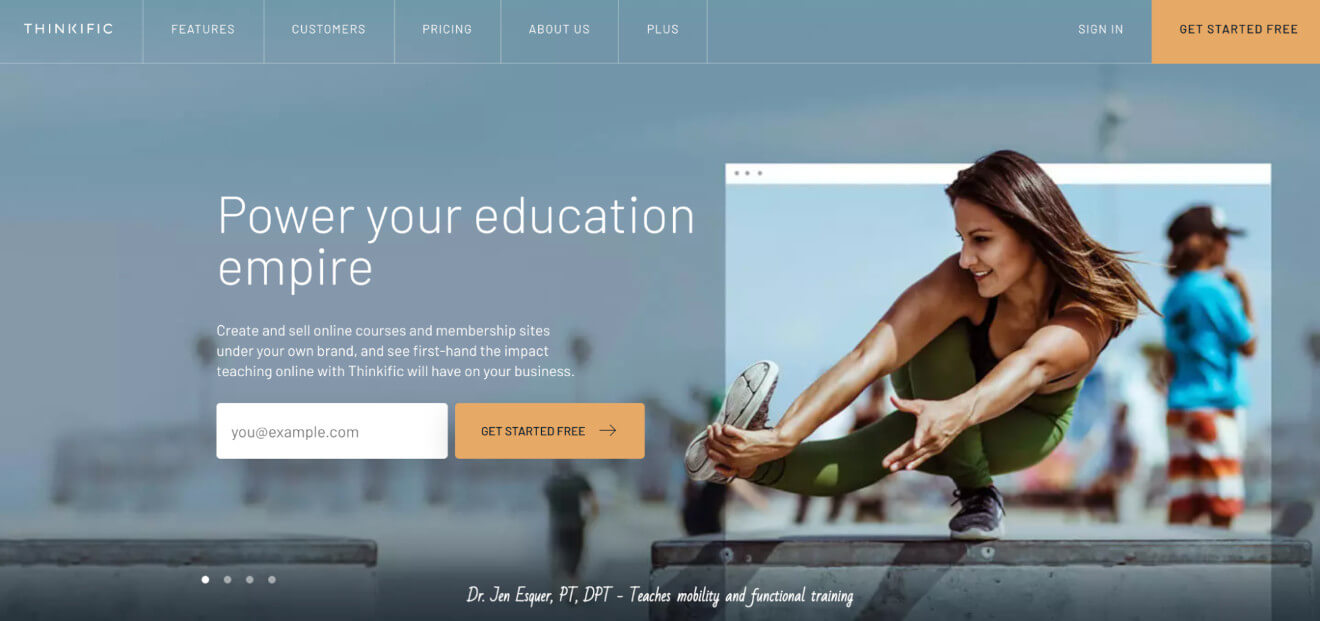 Thinkific says that it's the place to "create, market, and sell your own online courses".
Its homepage says that there have been more than 100 million courses taken on the platform.
Let's take a look at exactly what you get when you create your course website with Thinkific.
Thinkific features
As a place for online courses and membership sites, Thinkific offers:
Video hosting by Wistia in up to 4K quality, with options to add subtitles, on a fully brandable course player.
Your own website with online-learning-specific sections such as space for curriculums and key learnings, along with a custom domain name, without the Thinkific branding.
Landing and sales pages that include SEO options like adding titles and descriptions.
Content dripping as well as "limited-time only" courses, private and hidden courses.
Monthly subscriptions, one-off purchases, and payment plans as well as content bundles.
Marketing tools such as upsells, coupons, free trials, and a custom first-month payment option.
Integrations with tools for email marketing, visitor tracking, payments, analytics, and more.
Certificates and customizable course completion pages for your learners, plus surveys and quizzes as they progress through their learning.
Video uploads up to 2GB in size with support for other digital downloads like PDFs and images.
Payments through PayPal and Stripe, with recurring payments only available on Stripe, or a native Thinkific payment platform.
Detailed analytics including support for affiliate programs, an integration for Google Analytics, and video level data such as engagement rates and video view counts.
Multimedia lessons, webinars, and live classes through a Zoom integration or embedding a YouTube live stream.
What's the cost to you as a course creator for this online learning platform?
Thinkific pricing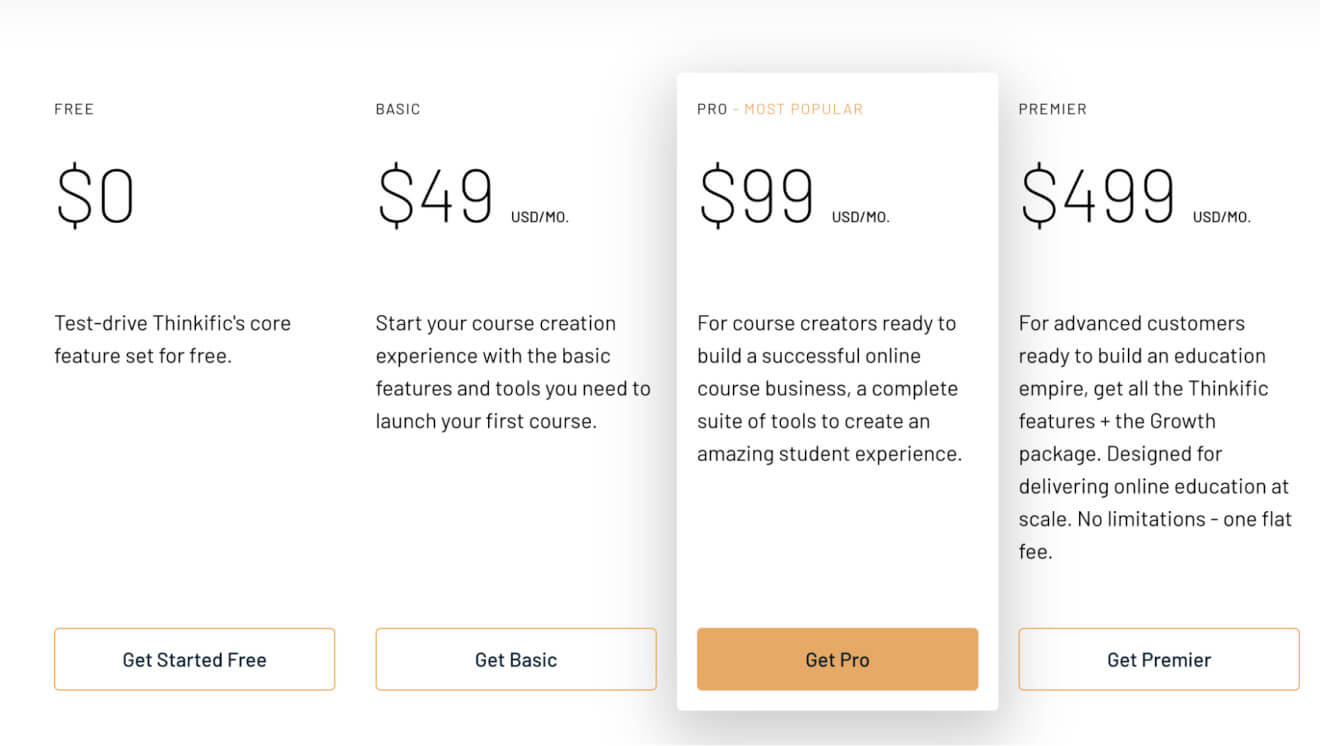 If you're thinking about selling courses on Thinkific, they offer 3 price plans to choose from, and you can even try out a free plan with limited features to sell courses and include quizzes and surveys.
In the Basic plan, you can access live support, email your students directly, access integrations and apps, and drip your content.
On the Pro plan, you can do everything included in the basic plan as well as add site admins and course authors, offer a range of pricing, access engagement tools, and run live classes, among other features.
The highest level, Premier, gives you more admins and course authors, an onboarding package, and an Unlimited Growth package.
Moving on to another platform to host your educational online business.
4. WizIQ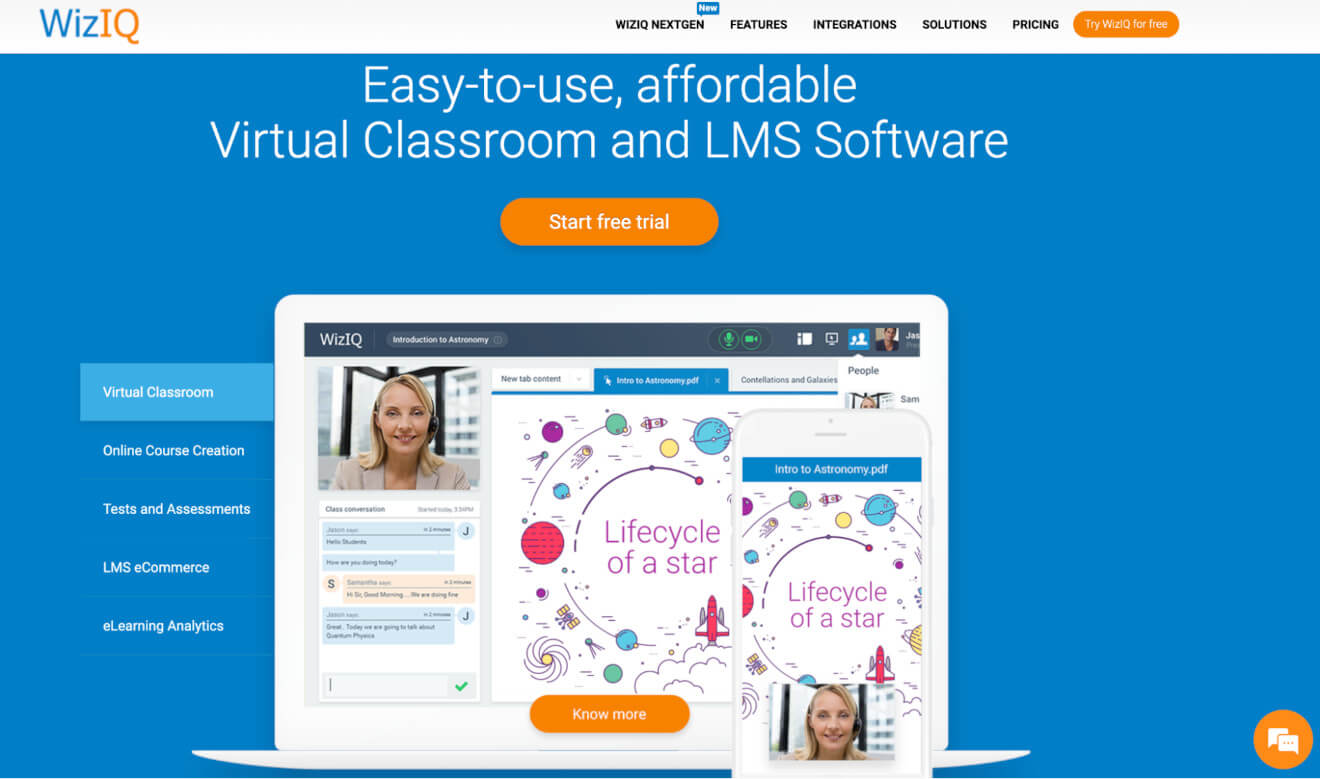 WizIQ is a virtual classroom and learning management system (LMS) software that lets you teach one-on-one classes and run an online course business.
With its online course builder, you can create as many online classes as you want and sell them to the public or to other businesses.
We've got a list of the key features coming right up.
WizIQ features
When you want to train people to have new skills with WizIQ, you get a system that can:
Stream HD-quality video and host 720p evergreen content with player customization options including adding your logo.
Host your courses and classes on the WizIQ website and mobile app on iOS and Android, including virtual whiteboards for live classes.
Allow your students to pay for their course or enrollment by credit card, PayPal, and other localized payment options.
Add your virtual classrooms and courses to your WordPress site or other content management systems (CMS) through a plugin.
Let you create quizzes and tests with instant grading, unique invite links,multimedia content and award certificates for completion.
Have classes up to 300 minutes long with up to 50GB of storage included and the option to buy more.
Allow up to 300 students per class with a dedicated classroom for each teacher.
Provide analytics and data on students and teachers including progress and attendance.
That's the functionality of WizIQ, now we're checking out the costs.
WizIQ pricing
WizIQ has different tiers of paid plans, as you can see in the screenshot above, but they don't quote their prices for either their live classroom or learning management system (LMS) packages.
It's also worth noting that they only have the option to be billed annually, which could be a challenge for new course creators and teachers.
The fifth online course software we're looking at is…
5. LearnDash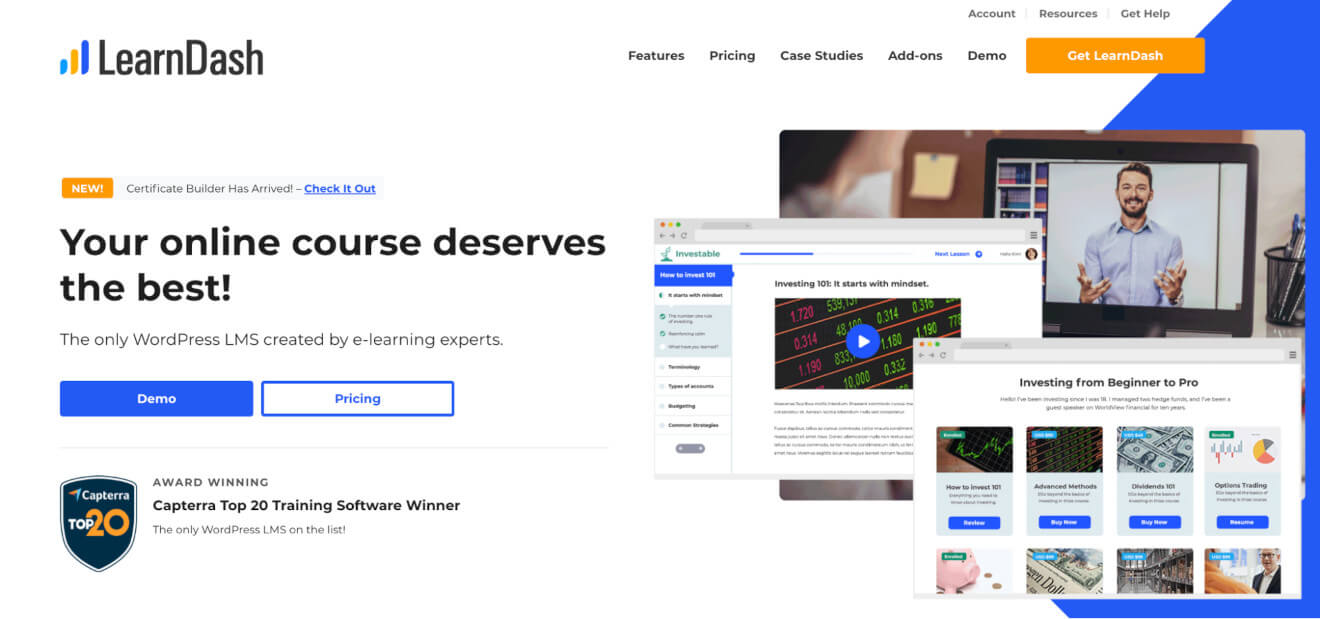 Rather than a place to create your own learning website, LearnDash is a WordPress LMS plugin, meaning you need to build your own site and add the plugin to it.
The tool is designed by online learning experts and offers more flexibility (since you're adding your course to a WordPress site), which you can customize to be exactly how you want it.
Let's take a look at the features of the tool.
LearnDash features
When you've got your WordPress website ready for online teaching, LearnDash will let you:
Embed video content that you host externally with LearnDash on a website that you've fully customized on WordPress.
Drip your educational content, videos, and other content so steps have to be completed to unlock the next learning module.
Charge for courses on a one-off basis, sell content as pay-per-view, or allow learners to subscribe to your courses, with payments taken through Stripe, PayPal, and 2Checkout.
Sell educational content in bundles, as well as offer a free trial to new users.
Use other WordPress plugins on your site to accept coupons and discount codes.
Use Zapier to create automations and integrate a whole bunch of tools for analytics, SEO, email marketing.
Offer points, badges, and certificates for quiz or course completion, create tests and quizzes, and run leaderboards for your online courses.
Host discussion forums for your learners to engage with each other.
Enroll unlimited students and run unlimited courses.
Analyze your visitor data through a Google Analytics integration and monitor your learners' progress with ProPanel.
Create live webinars through an integration with Zoom and sell tickets using Event Espresso.
Now for the cost of this online course builder.
LearnDash pricing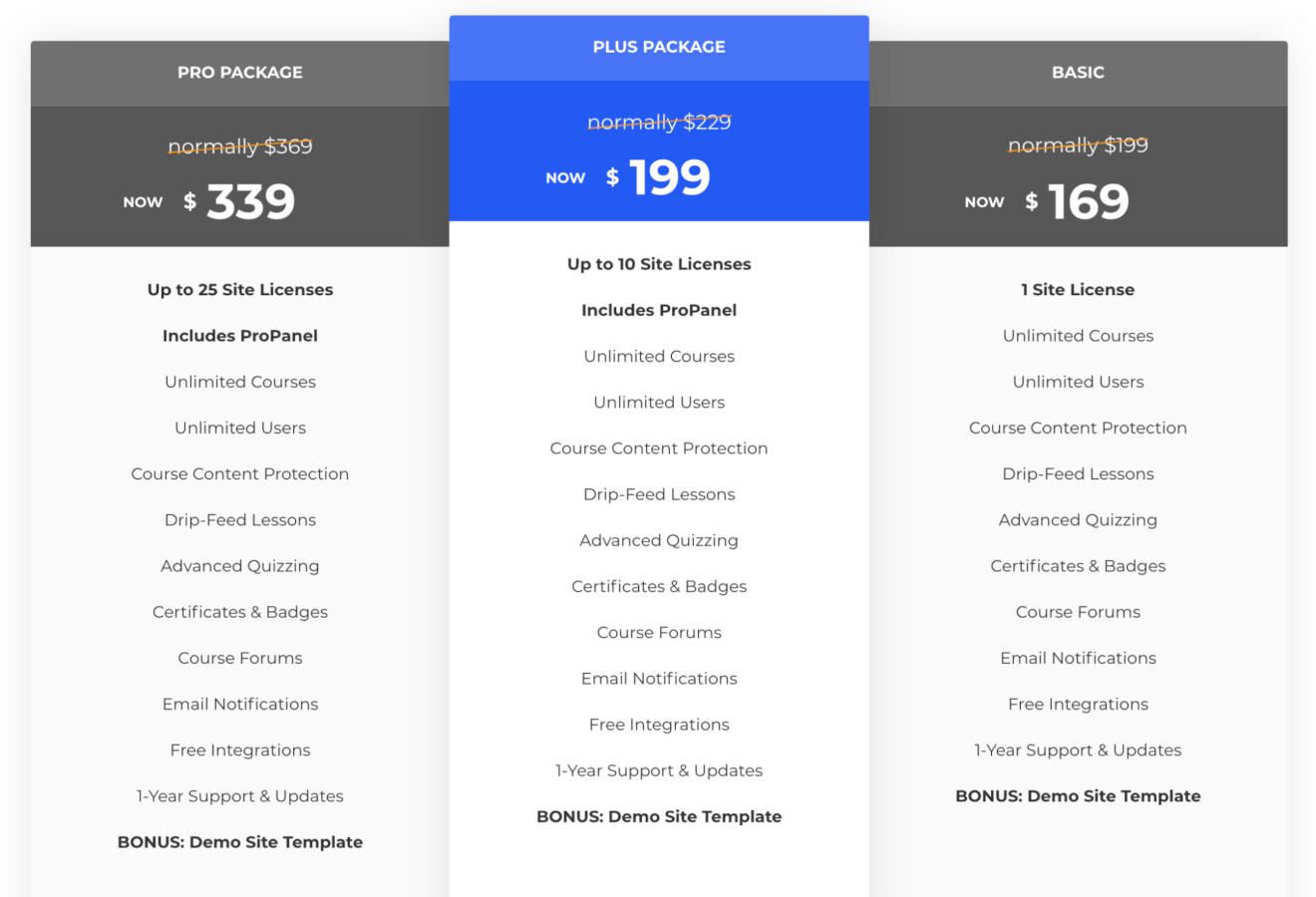 LearnDash offers 3 packages, each billed annually.
With the Basic package, you get to drip content, quizzes, certifications, and free integrations to use on one site.
The next level is the Plus package, giving you the same benefits to use across 5 different sites and access to ProPanel.
On the highest package, Pro, you can add LearnDash on up to 25 WordPress sites.
We're moving on to the next platform on our list.
6. Ruzuku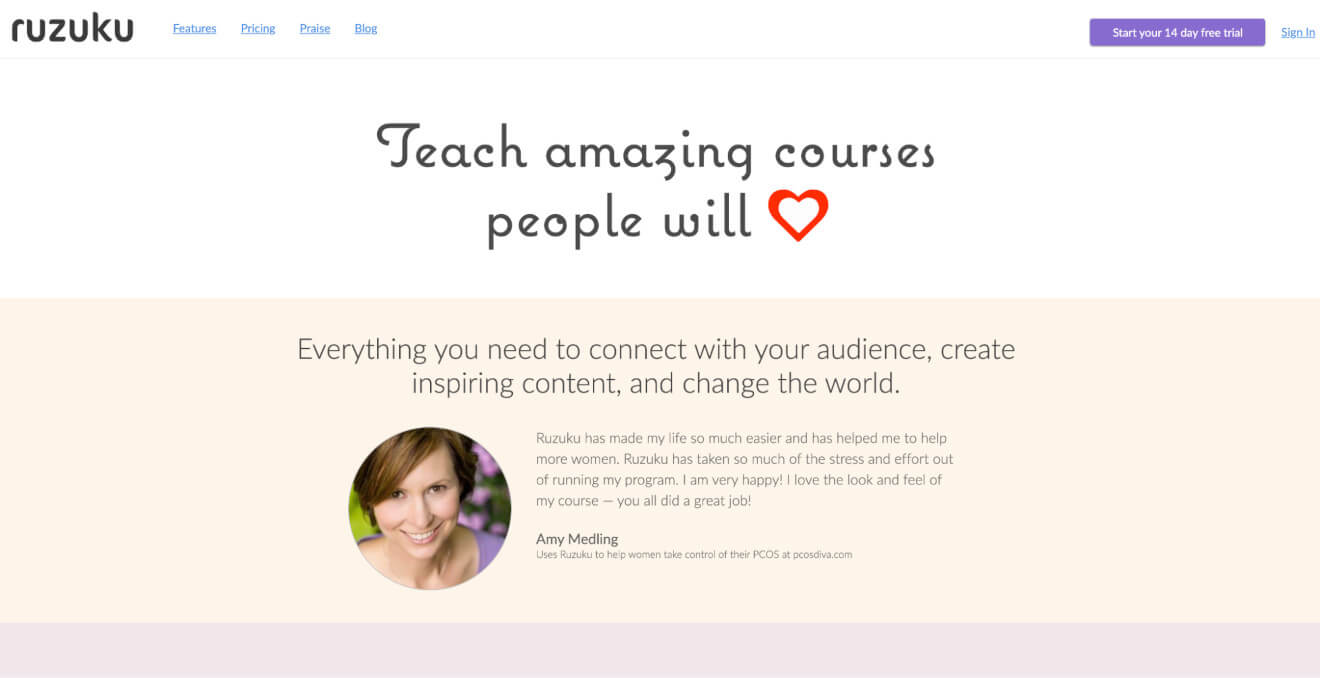 Ruzuku makes it "ridiculously easy to teach online", with their user-friendly software for creating online courses.
The platform offers support and free access to tools that help course creators put together their learning package and be successful in selling it.
Here's a breakdown of what Ruzuku has to offer.
Ruzuku features
If you're creating your online training or education business with Ruzuku, you'll have access to:
Video hosting in SD quality on a simple, unbranded player.
Course hosting directly on their website with personalized sales pages and welcome screens.
Content dripping for your learners.
Payments that can be made as a one-off purchase or a monthly subscription through PayPal or Stripe, as well as the option to host free courses.
Coupon creation to boost your marketing efforts.
An integration with Mailchimp to run your email marketing campaigns.
Options to host your content in other formats like Word docs, JPGs, and PDFs, as well as offer polls and quizzes to course attendees.
Unlimited storage for your video and other content, and no limits on the amount of courses you can create or students you can sign up.
On-platform analytics to track student engagement on your courses and lessons.
Customer support for help with sign-up, payment, and access for your learners.
Live webinars for up to 100 participants, with slideshows and a group chat feature.
On to the money talk.
Ruzuku pricing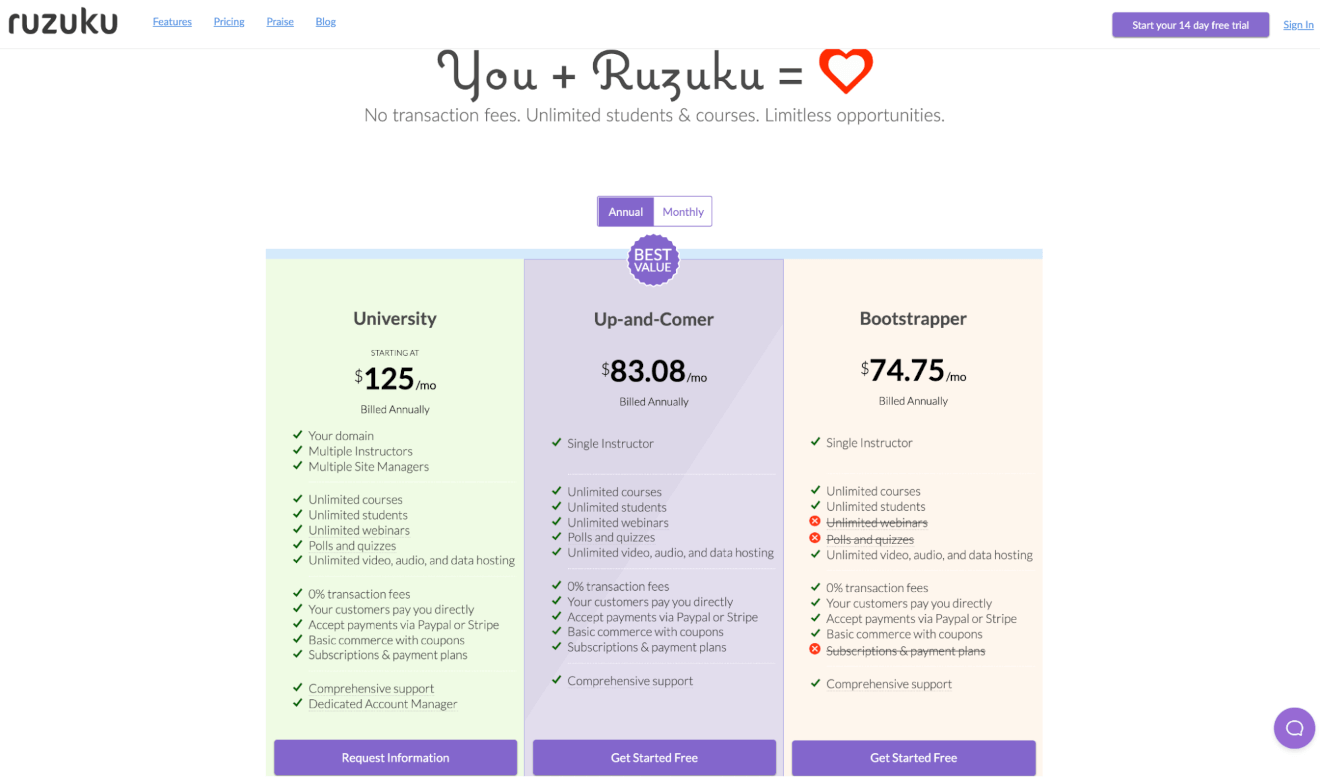 As with most of the other online learning platforms we've looked at, Ruzuku offers access across 3 pricing tiers.
The lowest price level is Bootstrapper, which gives unlimited courses for unlimited students, with no transaction fees, and the option to offer coupons.
The next level, called Up-and-Comer, adds webinars, polls, and quizzes, as well as the option to sell courses by subscription or with a payment plan.
The highest level is University, giving you a personalized domain, the ability to add more instructors, and you get a dedicated account manager.
Another one? We got you…
7. Kartra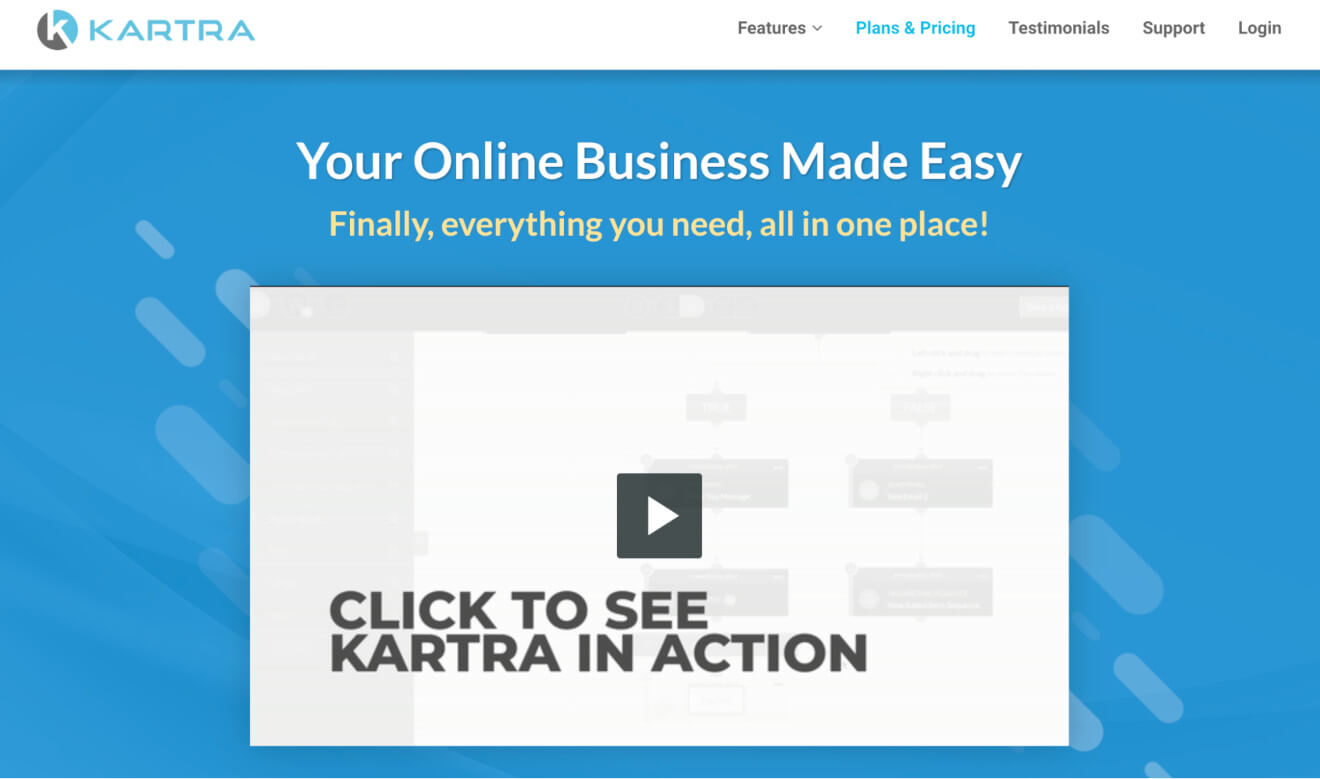 Rather than being a tool specifically to create an online learning business, Kartra is a place to build a sales website that can be adapted to your educational needs.
It has a suite of marketing tools that you can use on your website to build funnels, have a checkout, and host videos.
What are those features in detail?
Kartra features
When you create your online learning experience with Kartra, you'll get:
Video hosting in 720p quality on a brandable player with controls like "autoplay the next video" and options to add closed captions, calls-to-action (CTAs), and other tools.
A drag-and-drop website builder to host your catalog of training videos with your own domain name.
Tools to allow you to drip your content to your learners and members.
Options to sell your courses on a one-off, subscription, or installment basis, as well as take payments through Authorize.net, Stripe, or PayPal.
Tools to create discounts, coupons, and free trials as part of a plan.
Access to detailed sales funnels and data to market your individual courses and packages, plus access to email marketing tools.
Integrations with tools like Google Calendar, Twillo, and Kajabi, with the ability to create automations with Zapier.
Certificates for your learners through an integration with Accredible and the ability to host all kinds of files like audio and PDFs to set assignments and quizzes.
Unlimited storage for videos and unlimited bandwidth.
Detailed tracking and analytics about your video views and your site visitors' behavior.
Live webinars hosted through an integration with Webinarjam.
Of course, there's a cost for these features.
Kartra pricing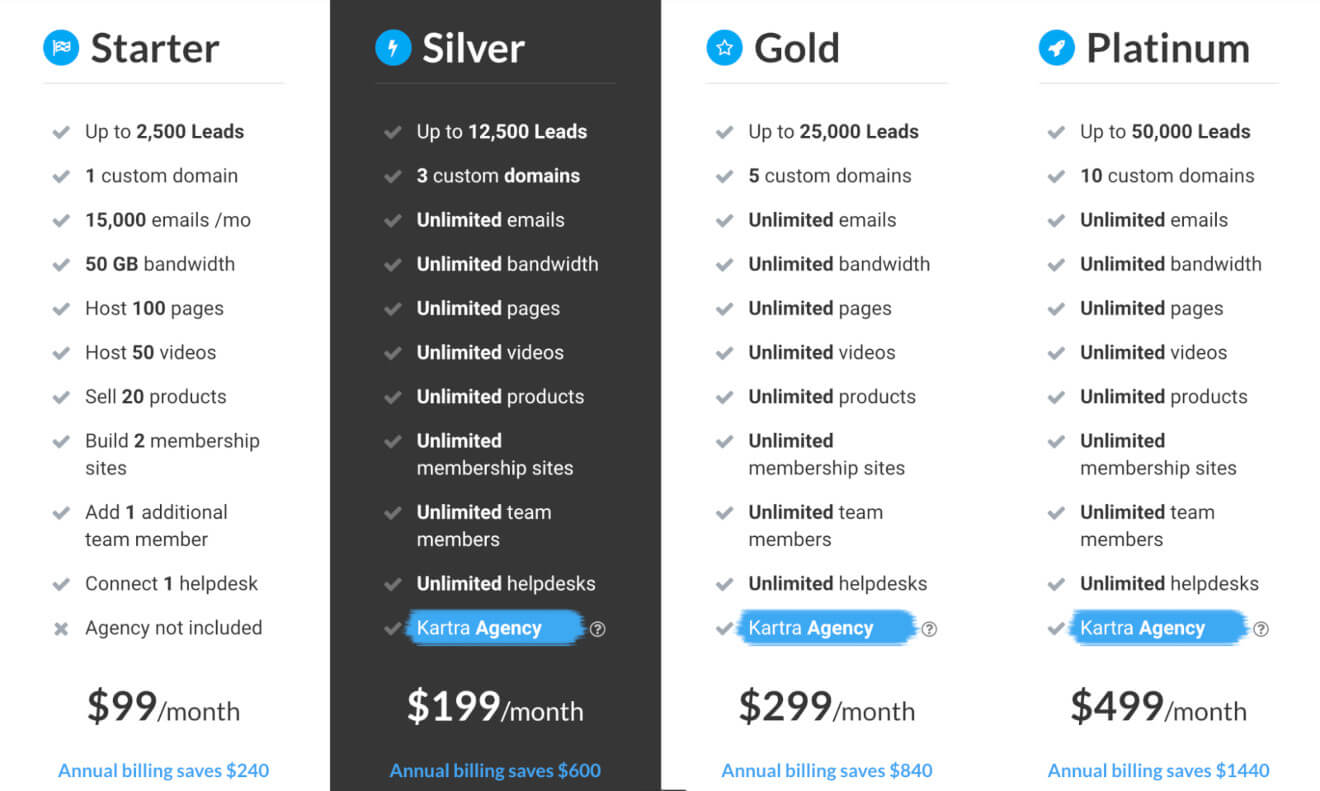 Kartra offers the option to pay an annual or monthly fee with 4 price plans available.
The Starter plan has limits on features like bandwidth, the number of emails you can send, how many pages you can create, and how many products you can sell.
On to the 3 other plans, most features become unlimited, and you'll pay extra to enable more leads and add more custom domains to your plan.
We're heading to the next online course creation platform.
8. Kaltura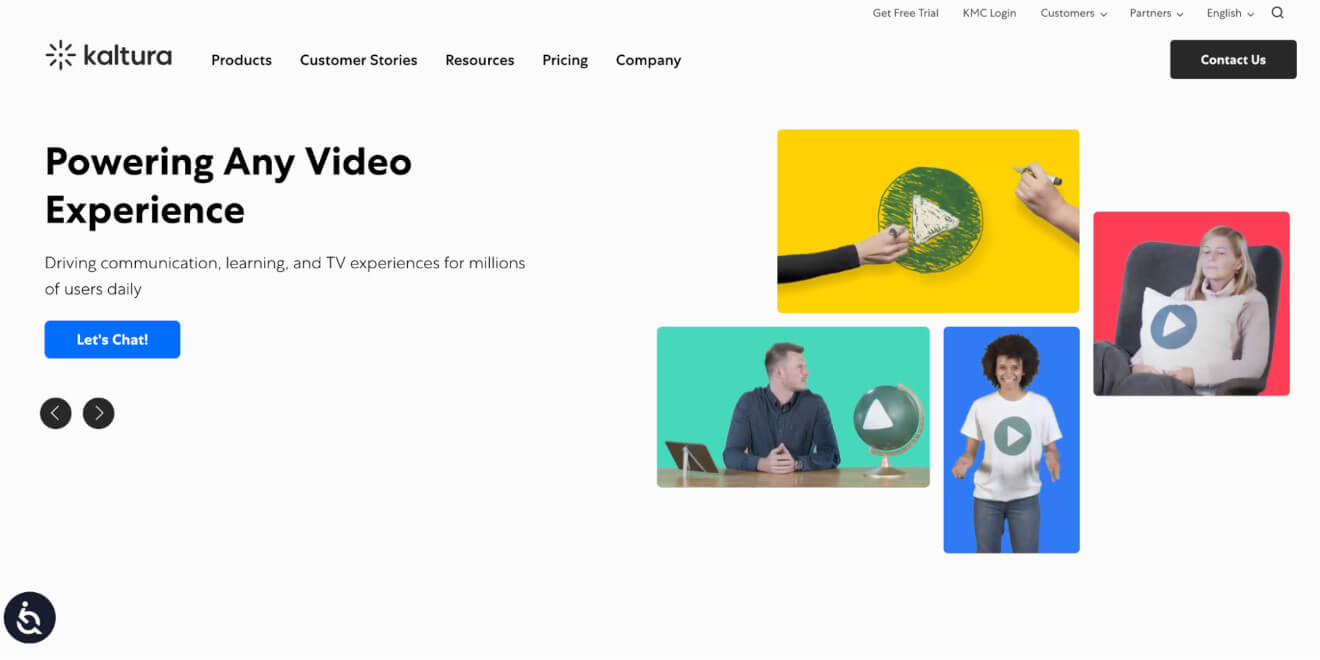 At Kaltura, they offer three different tools for educators; LMS video, lecture capture, and virtual classrooms.
It's less geared towards helping you to monetize your content – although it is possible – and more a place for you to host your educational content.
Exactly what features you get is coming right up.
Kaltura features
Choosing to host your online educational content with Kaltura gives you:
Up to 1080p video quality for screen sharing in your classrooms, and recording of your classes at 720p delivered on a brandable player.
SEO options to add meta tags, thumbnails, and schema to your pages.
The option to embed the videos you host through Kaltura on a website you create or through a Kaltura page with courses and catalogs.
Monthly payment and one-off purchase options for your students or learners.
Integrations with your marketing, email, and other business tools when you combine Kaltura with a membership website.
The ability to set assignments for students connected to your videos and allow them to submit their assignments in the same place.
Unlimited video uploads and up to 60TB of hosting and bandwidth, depending on your plan.
Access to a wide range of analytics about your viewers and videos such as location, engagement, and the devices used to watch your courses.
Live streaming for your classes with interactive whiteboards, breakout rooms, and live chats.
To the costs…
Kaltura pricing
… Or not.
Kaltura doesn't advertise their prices on their website, at least, they didn't as of today when we last checked.
We do know that there is only annual billing available, though.
Another platform is just a scroll away.
9. Podia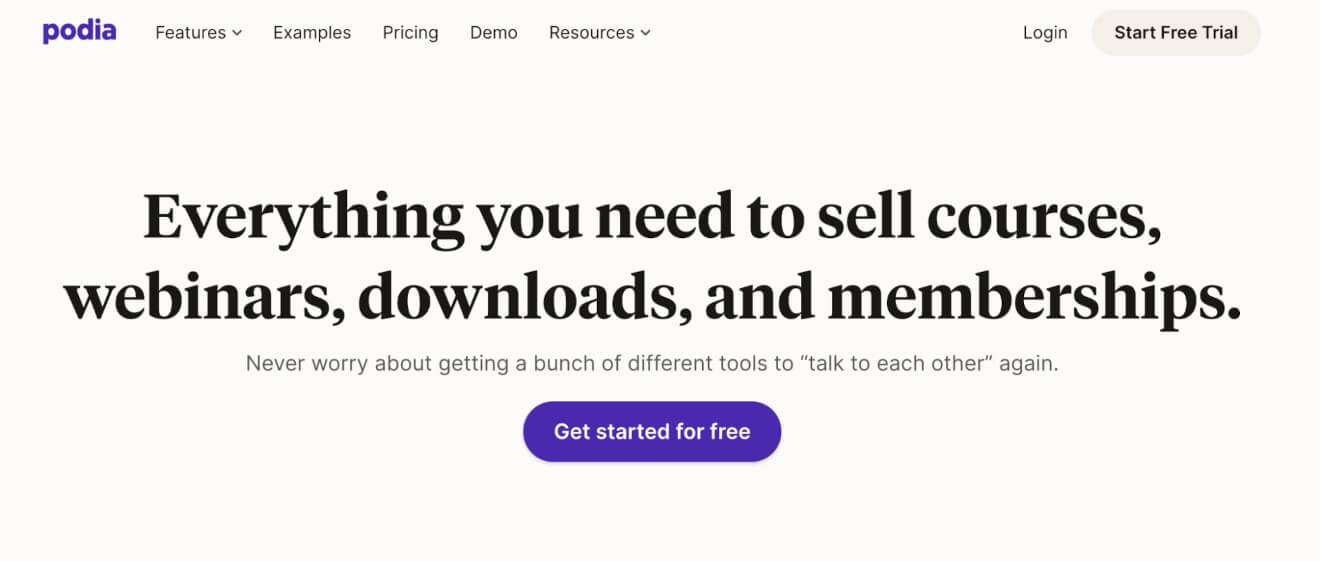 Podia is a place to host your video lessons and sell them along with downloads and memberships.
There are over 50,000 course creators using Podia at the moment, so what features are they getting?
Podia features
Putting your paid courses on Podia means you can:
Host video in Full HD quality on a customizable video player.
Drip your content or release it all in one go, with different tiers of membership available.
Use templates to create your own website where you can host and sell your courses, with the ability to optimize it for search with custom URLs, title tags, and metadata.
Sell courses on a one-off basis through PayPal, or as a membership subscription with a payment plan through Stripe and get paid out directly from them.
Use a bunch of marketing tools like discounts, coupons, upsells, trials, and bundled content to increase sales and run an affiliate marketing scheme.
Integrate other tools you use for your business like Mailchimp and AWeber.
Issue completion certificates to your learners and sell digital downloads like eBooks to complement your courses.
Store unlimited videos and stream across unlimited bandwidth, with a guideline of 1GB per video.
Track analytics with a Google Analytics or Facebook Pixel integration.
Go live using an integration with either YouTube or Zoom to host webinars for your members and learners.
Let's see the pricing options you get with Podia.
Podia pricing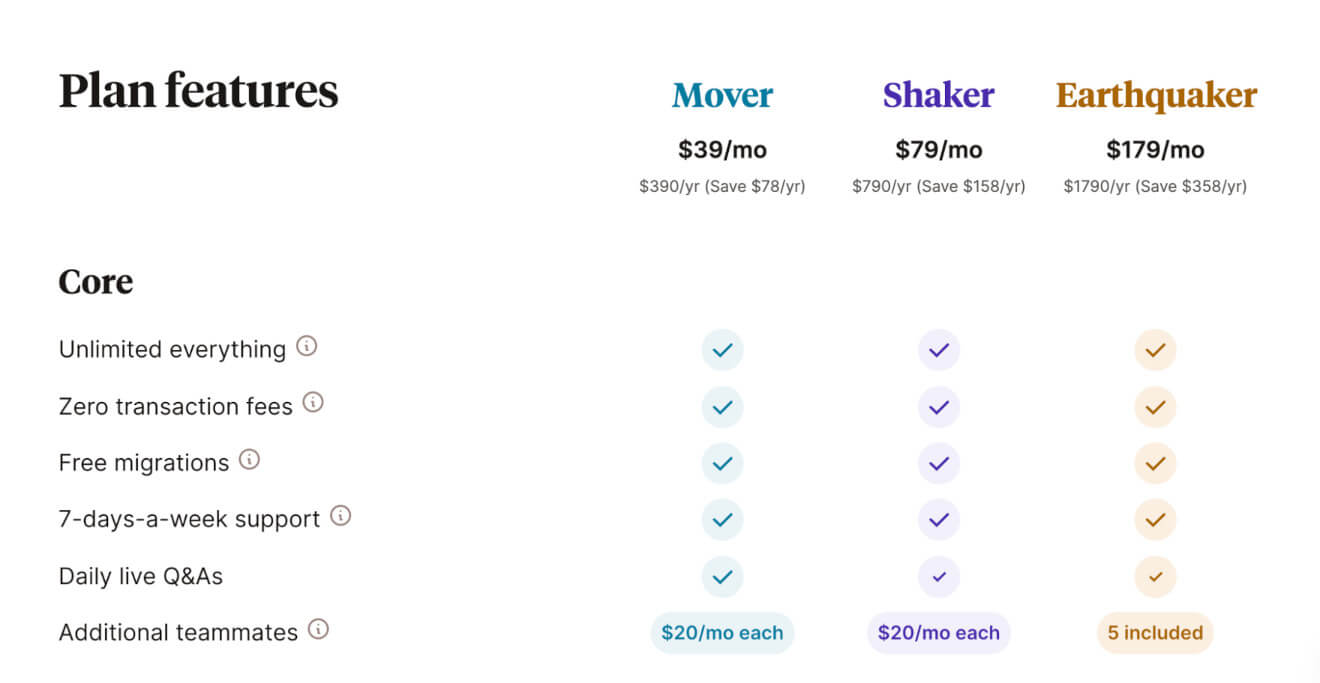 The 3 pricing tiers with Podia start with Mover, which offers unlimited students, storage, and courses, along with your own website and email marketing.
At the Shaker level, you can add membership options, certifications, affiliates, and more email recipients.
The highest tier, Earthquaker, also includes a fully white-label website, an account manager, and regular creator support.
Serving you another option for selling online courses, next.
10. Patreon

Known as a place where creators and artists can receive financial support for their works, Patreon can also be used by course creators to sell their educational and learning packages.
How does that work?
Patreon features
Creators who sell their course content with Patreon get to:
Embed video that you host elsewhere, such as YouTube, on your personal content feed.
Have learners access your content through the Patreon mobile and desktop app as well as the website.
Take monthly or annual payments from learners, or Patrons, using PayPal or debit or credit cards.
Offer different levels of access to subscribers with different price points and get access to their email address on sign-up.
Upload different types of content such as tests and assignments, and interact with learners on posts to answer questions.
Use Google Analytics so to track learner engagement.
Get paid out once a month from Patreon directly.
Livestream webinars and classes to a Patreon feed with YouTube or Crowdcast.
Scroll on to get the pricing details.
Patreon pricing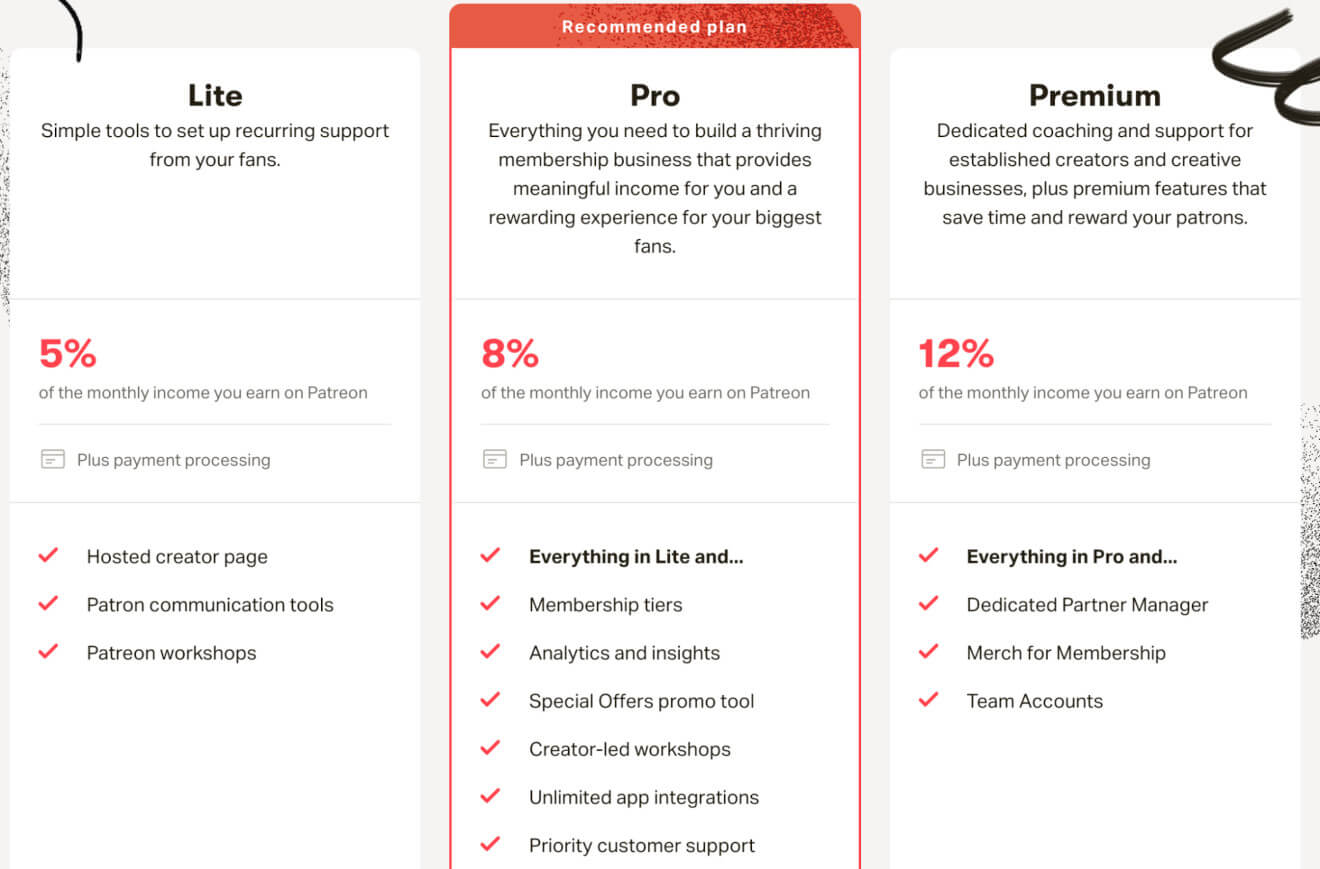 Rather than charge you a flat fee like most of the other learning platforms we've looked at, Patreon takes a percentage from your monthly income.
The Lite tier takes 5% and gives you a creator page and communication tools.
The Pro tier takes 8% and you can also tier your pricing, get analytics, run workshops, and access integrations.
For a 12% cut on the Premium tier, you can add your team to your account, sell merch to your members, and have access to an account manager.
Depending on the payment amount, there are also transaction processing fees that get taken out of your subscriptions, too.
We've got a different way to sell online courses as our 11th option for you.
11. Udemy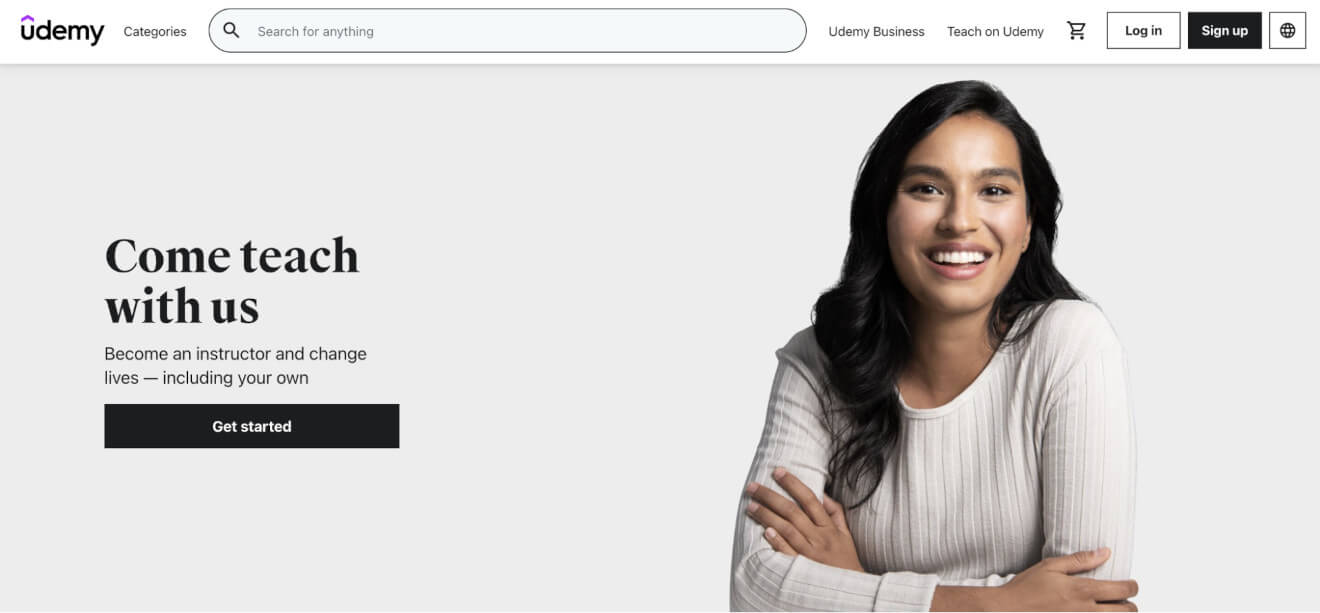 Rather than letting you create your own platform to sell online courses and training, Udemy is a course marketplace.
This means that you upload your learning material to the platform and users can choose which courses to pay for.
Let's check out how that works for creators in practice.
Udemy features
Before hosting your courses on Udemy, you should know that:
Videos are presented in 720p or 1080p and hosted directly on the Udemy website or mobile app for iOS and Android.
Learners can pay for your course on a one-off basis or access it through a monthly subscription to Udemy.
You can market your own course directly to your learners, and have it featured on the Udemy storefront where it can be found by learners' searching on the website.
You have the option to communicate with your learners by email from the Udemy platform.
Certificates can be issued to your learners and you can upload PDF slides, lecture notes, and additional materials to your courses.
You can upload as many courses as you like, as long as they meet the minimum requirement of 30 minutes of video over 5 modules, with each video having a maximum size of 4GB.
Analytics are available for your courses with data about engagement, traffic, conversions, and your students.
Payouts are made monthly through PayPal, Payoneer, or direct deposit if you're in the USA.
What's the cost to creators who use Udemy?
Udemy pricing
Udemy works on a revenue share model rather than charging a set fee, you just need to register as a premium instructor to be able to get paid.
That means that you get to keep 97% of revenue when you sell your course directly, and37% if your learner finds you through Udemy's promotional efforts or on their storefront.
You can choose to feature your content on Udemy for Business, where you'll get a cut of the Udemy for Business revenue pool based on how many minutes of your content is watched by business users.
Still want more choices?
12. Skillshare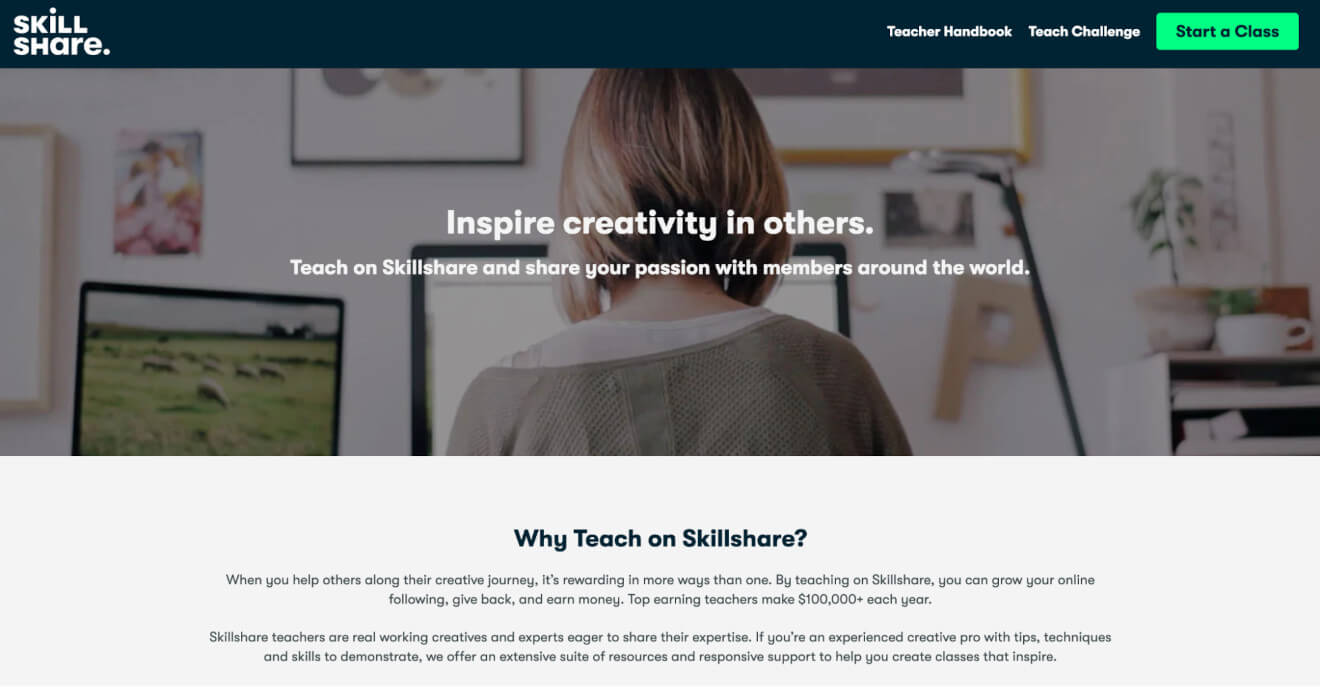 Similar to Udemy, Skillshare allows you to attract your own learners or they can find you through the Skillshare platform.
Members pay a monthly fee to the site that gives them access to all the courses and projects available, and you can get paid for membership referrals.
Here are the main features that creators need to know about Skillshare.
Skillshare features
Hosting your courses and coaching on Skillshare means that you can:
Upload videos in 1080p HD quality to be delivered natively on the Skillshare platform with their branding.
Interact with students in a discussion forum, and send an email to each of them when you need to.
Let Skillshare deal with payments through Paypal, with users paying either monthly or annually.
Add extra resources for your learners to download to support your course and enable them to complete class projects.
Create classes up to 2GB in size and with a minimum length of 10 minutes.
Jumping over to the pricing model.
Skillshare pricing
You don't have to pay anything upfront to teach on Skillshare; you get a share of revenue based on how much your courses are watched.
There are two revenue streams – referrals which earn you $10 per referral, and royalties which are your earnings from people watching your courses.
We're in the homestretch and checking out number 13 on our list of the best online learning platforms.
13. Academy of Mine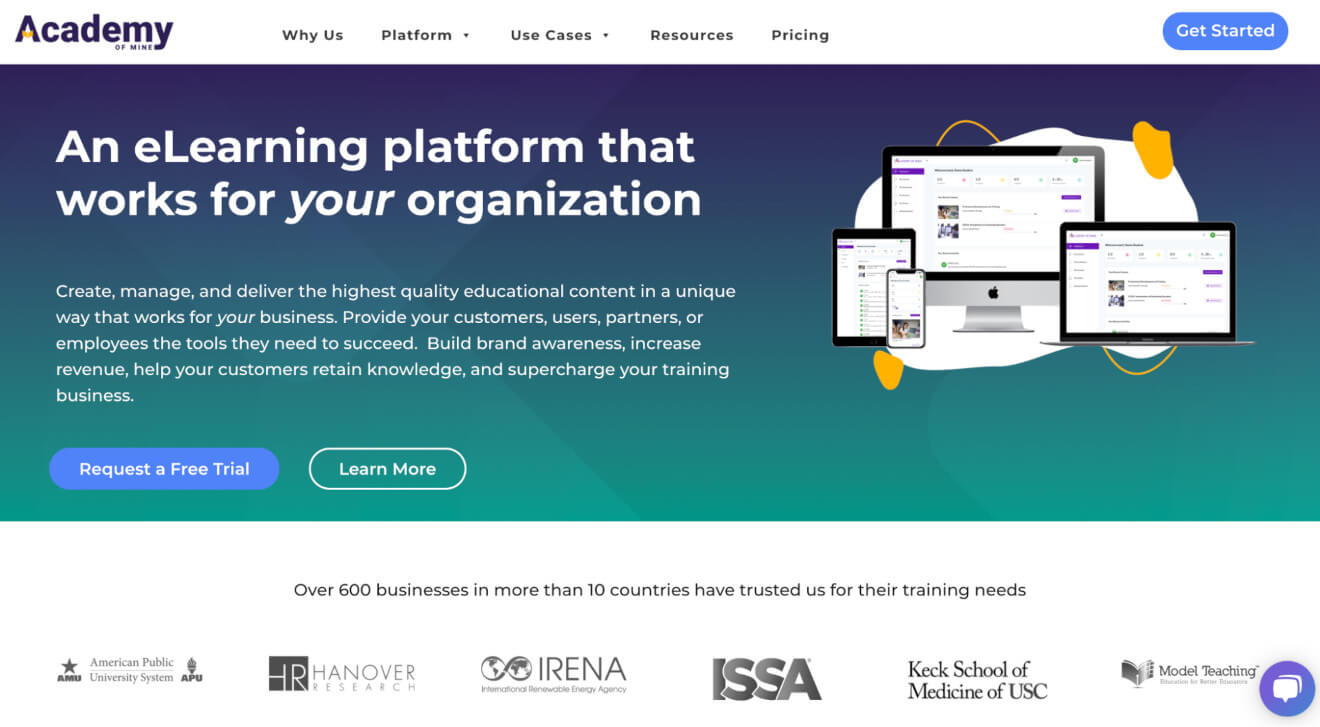 We're back to looking at an LMS that helps you build pages rather than host your content for you, with Academy of Mine.
It's a white-label solution for uploading, managing, and selling your course content, with some e-commerce elements as well.
A full list of the main features is coming right up.
Academy of Mine features
Creating your courses on Academy of Mine allows you to:
Host your course videos on their servers or embed content from other platforms on a fully brandable, white-label website.
Choose your own domain or tag your academy website onto your existing domain.
Take payments through Stripe, PayPal, Authorize.Net, PayuLatam, EWay, PayFast, and Peach Payments as you sell courses as either one-off or as subscriptions with tiered pricing options available.
Integrate your site with CRM tools like HubSpot, as well as analytic and ecommerce.
Issue printable certificates to your course attendees and host a diverse range of training materials like quizzes and exams.
Store up to 1TB of files and have over 1,000 active users.
Access detailed analytics and data about users, courses, sales, and security.
Host virtual classrooms, webinars, and interactive training through live streams by integrating your Zoom or other conferencing tools.
The money stuff is where we're going next.
Academy of Mine pricing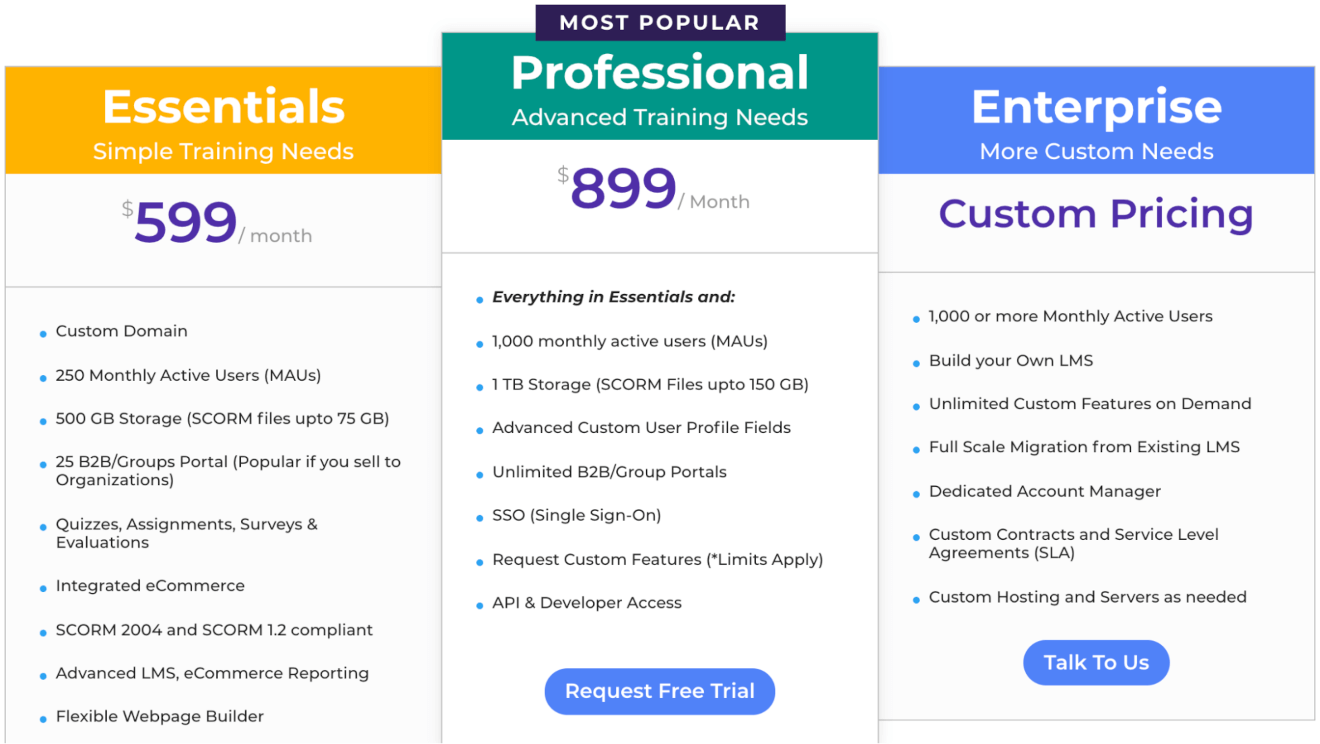 Academy of Mine has 3 pricing levels that offer different features for your online course creation business.
Essentials lets you have your own domain and up to 250 students, plus the option to sell to businesses.
You can also set quizzes, access the analytics, and integrate your webinar tools.
The Professional plan tacks on more users, more storage, and access to the API, whilst the Enterprise plan is custom-priced with access to even more users, custom features, and an account manager.
Another one is on the way.
14. Articulate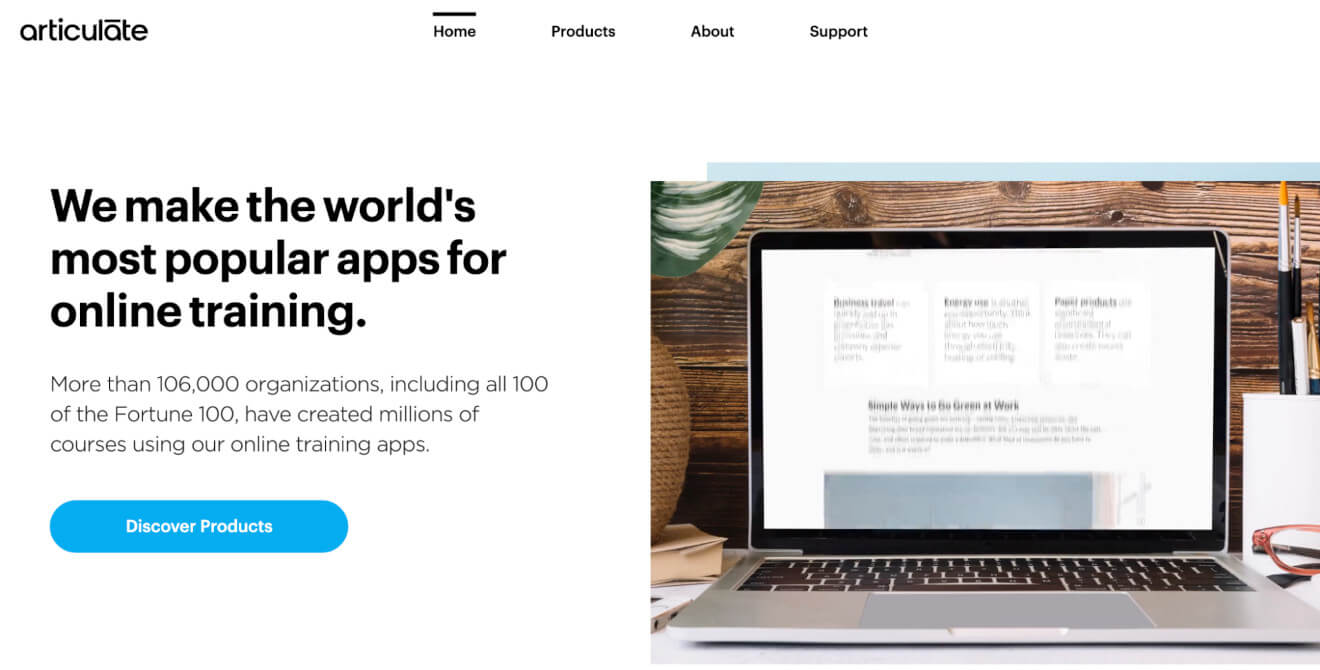 Articulate offers two products, Articulate 360 and Rise 360, one to help you create in-house training courses, while the other helps you create and store your learning and training courses respectively.
Since we're looking at ways you can make an online learning business, we're going to focus on the functionality of the Rise 360 product.
Here are the features you'll need to know.
Articulate features
With Rise 360 hosting your courses, you can:
Upload videos in HD quality to present directly in your course or embed video content from platforms such as YouTube with a player that can restrict navigation and disable seeking.
Present your course on any device with everything you created optimized for different screen sizes.
Use a range of templates, stock images, and footage to create the platform to host your online course.
Sell your courses through your own 3rd-party ecommerce platform by inviting learners to your course manually or create a Zapier integration to add them to your database.
Track your learners' progress through your courses and add quizzes and other media.
Host videos up to 5GB and have more than 1,000 learners signed up, depending on the package you choose.
Run live classes and webinars by embedding a YouTube live stream link into your course.
We're getting into the money details, next.
Articulate pricing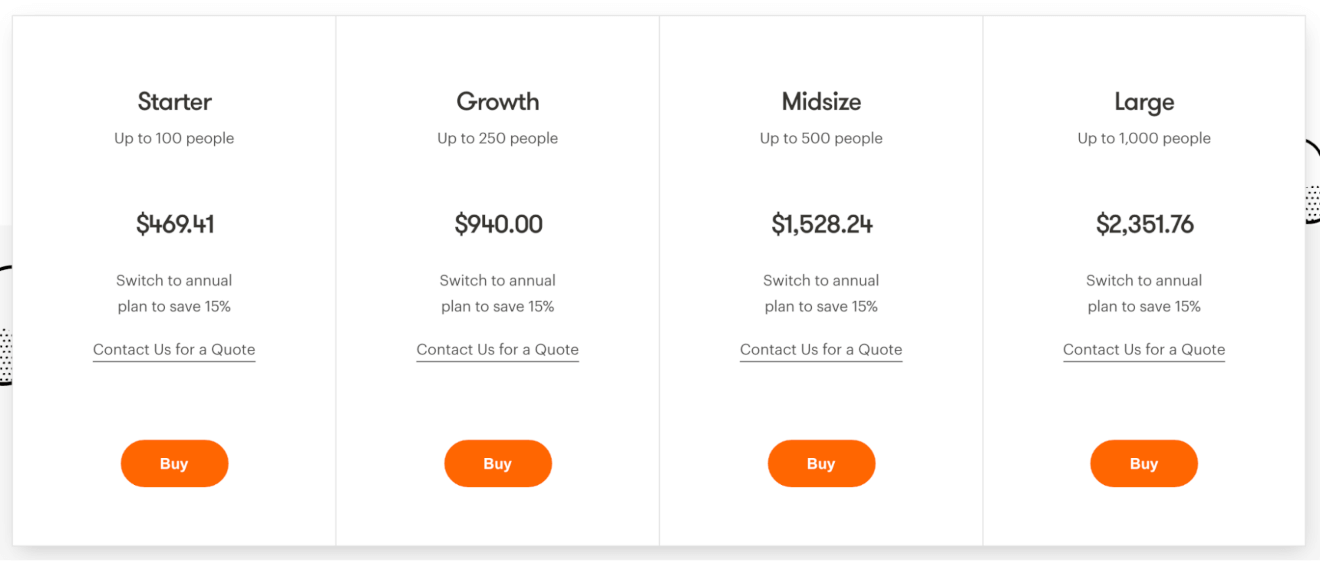 The pricing options for Articulate's Rise 360 are pretty clear.
There are 4 tiers from Starter to Enterprise, all of which can access the same features.
The only difference is the number of people you can have enrolled at any one time.
Our last online course platform is rolling up.
15. AccessAlly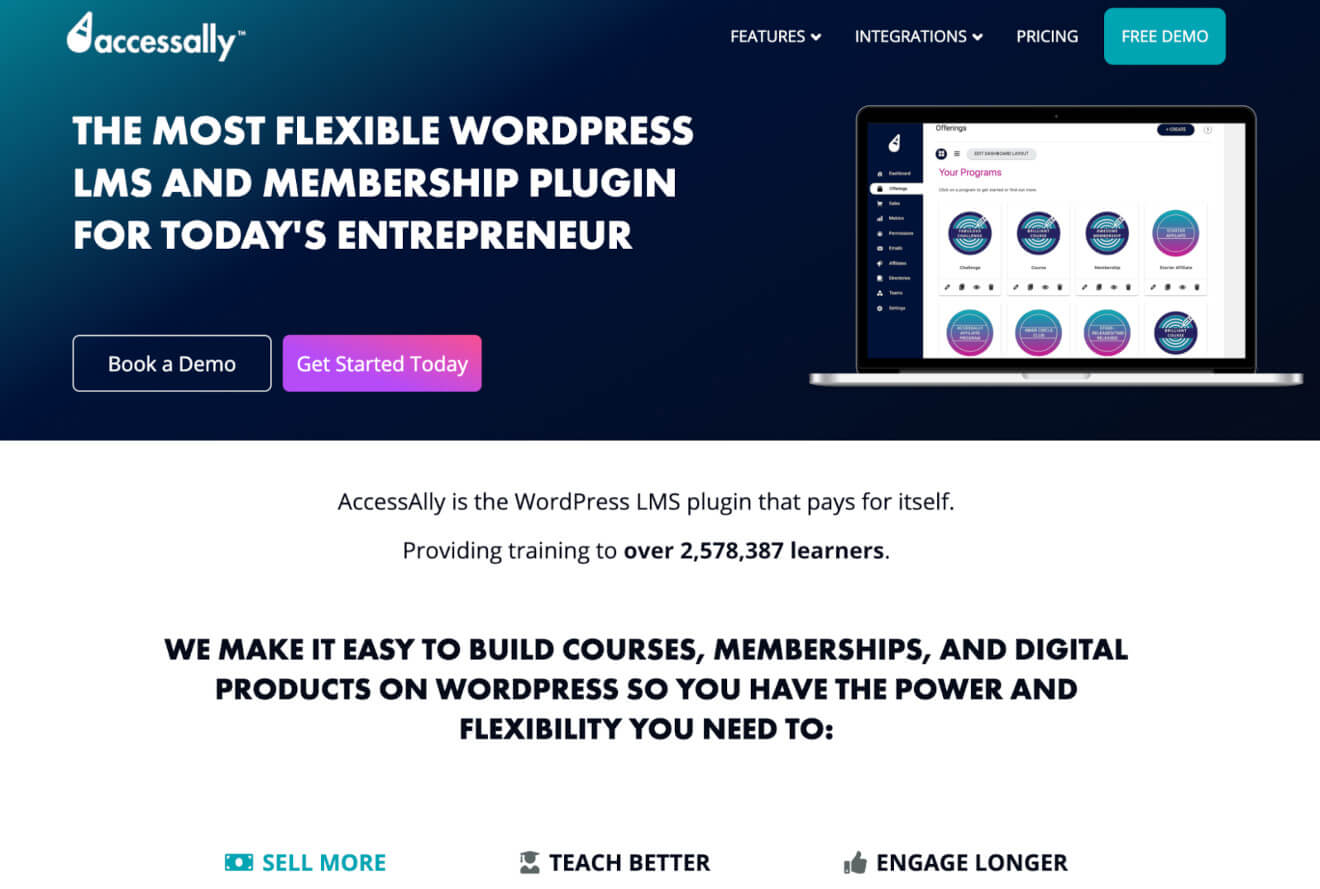 Rounding off our list of the best online course platforms is the WordPress LMS plugin AccessAlly.
Once you've created your website on WordPress, adding this plugin will let you manage and sell your courses.
For the last time, here are the features that you can take advantage of.
AccessAlly features
AccessAlly helps you sell online courses with features like:
A video player to play video content that you can host directly on your WordPress site if you want to access analytics, or simply embed your video through a link from your chosen hosting platform.
Content dripping to your learners and automations to direct their progress.
Tiered Subscriptions, installments, and one-off payments, all processed through Stripe or PayPal integrations.
Marketing tools such as coupons, discounts, free trials, and 'abandoned cart' automations.
Compatibility with a range of LMS and ecommerce integrations, including Drip, ConvertKit, WooCommerce, and ThriveCart.
Certifications that can be issued to your learners when a course is completed, plus gamification options like badges, points, and leaderboards.
Audio file hosting, quizzes, assignments, and checklists with student progress tracking.
Unlimited storage, students, and courses, with video limited only based on your hosting options.
Detailed analytics about students, courses, and revenue on one dashboard that gets updated in real-time.
Live stream options allowing for live classes and webinars, done by embedding a Youtube feed to your site.
One more time with the pricing.
AccessAlly pricing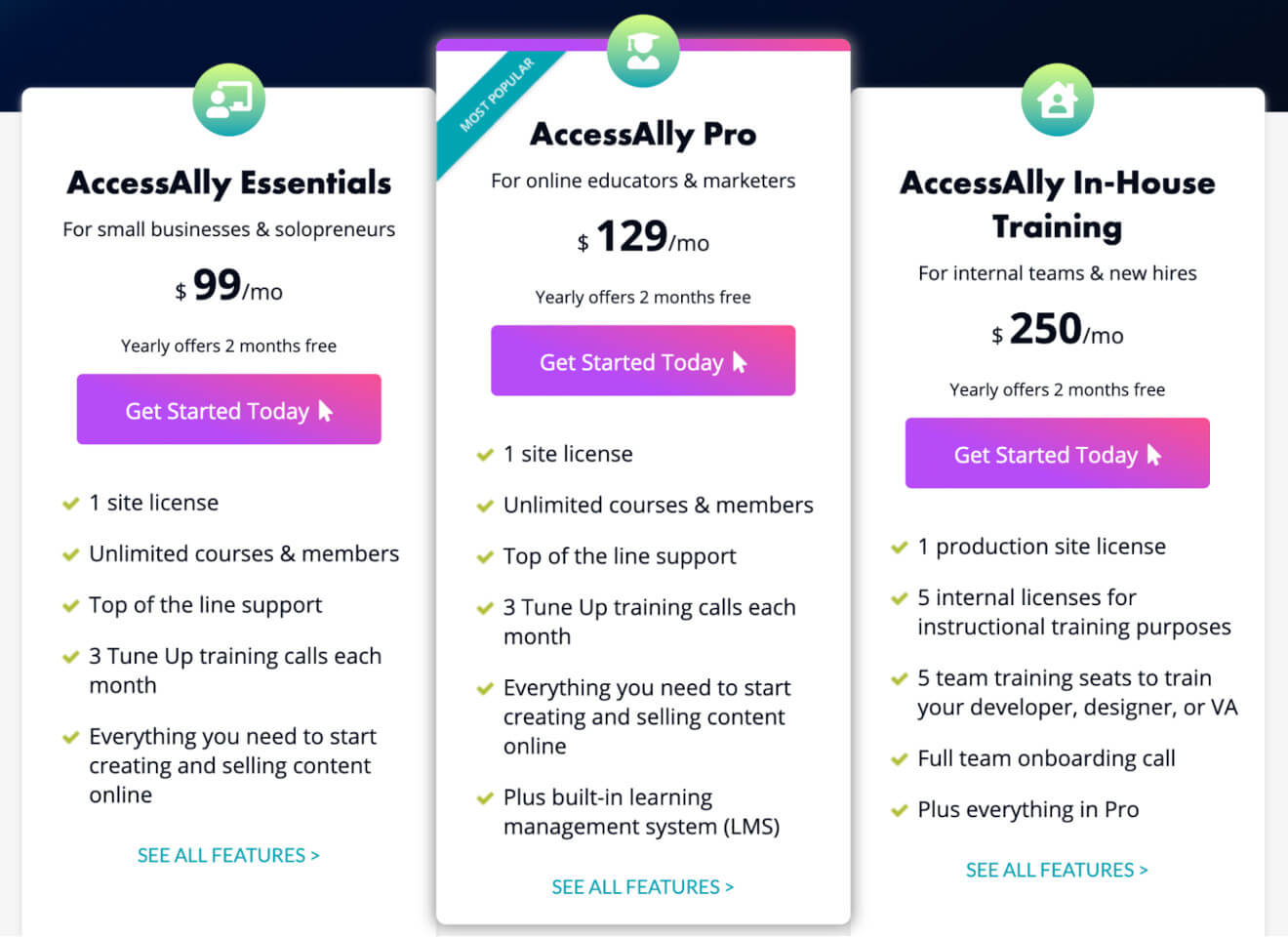 There are 3 pricing tiers available from AccessAlly.
The entry-level being the Essentials option comes with 1 site license to use the plugin plus training and support.
The Pro option adds on progress tracking, quizzes, and certificates, whilst the In-House Training option allows more people to access your backend and offers detailed onboarding.
That's all of your options right there!
How do you go about deciding which is the best online learning platform for your needs, though?
We're getting into that next.
What's the Best Online Course Platform?
There's a lot of choices here, right?
If you're left staring into the abyss with all these options…
… we've got some tips to help you come to a solid conclusion.
There are 4 factors that you need to take into account when making your decision.
We don't think there's one single right answer to the best online course platform. Making the best decision means you need to be aware of your…
… to find the right solution.
Let's see the things you need to be looking at.
Factor #1: Scalability
What's your long-term business plan?
You might be creating courses as a side hustle, or perhaps you're planning to launch your educating or coaching career into the stratosphere.
Think about your business plan and the level of scale you're aiming to achieve.
Scalability isn't just about the people you can teach or train through your online courses; you want to be able to add new features, reach new people, and engage with your online community with tools like live streaming – not to mention reach your customers where they are by offering your content on a range of platforms like TV, mobile, and watch apps.
Know how big you want to go and choose a platform that'll support your ambitions.
Factor #2: Content types
It's pretty clear that video is the future of the internet – even Instagram is pivoting towards video.
Learners love video, and it's a great way to get your message across to hit the different learning styles:
Visual
Auditory
Reading/writing
Kinesthetic
You need to think about all of the types of video you'll want to present, such as live videos that allow you to directly interact with your learners.
Learning materials can come in lots of other forms, too, like PDFs, slide shows, and podcast episodes.
To be able to connect with all of your learners through a range of media, you want to pick a platform that can host all of the content types that you may want to offer.
Factor #3: Pricing
As a business, you need to keep tight control of your overhead, but you know that already.
Pick a course platform that has a pricing model that works with your business model.
We've looked at a range of different pricing structures, some charging monthly fees with tiers for increased features, others that take a percentage of your revenue, or even operate a revenue-sharing model.
You'll need to get the calculator out and understand how your business can work with the pricing available.
Are the percentage fees on Patreon going to become eye-wateringly huge?
Is the revenue you'll share with Udemy worth it for the time and effort you put in?
How do Uscreen's tiers match up with your growth plans?
Only you can say for sure which pricing package will meet your financial needs.
Factor #4: Additional Features
Simply having a place to charge people money to watch your training videos isn't what most online course creators are looking for.
Extra features both on the backend and for the user experience will set your online education business apart and help drive your success.
From your perspective as an online course creator, you want to be able to:
Use your email list to send a blast email to your learners.
Create marketing automations based on your user activity.
Drip your content to help guide your learners progress through your courses.
Have as much functionality as possible on one platform.
Your students also deserve:
A platform that looks and feels intuitive and well-designed.
As many ways to pay and receive coupons and discounts as possible. Access to your content however they want, be it desktop, TV, or mobile.
Hopefully, now you've got a feel for what your audience needs and are closer to making a decision that'll work for the business you're building and scaling.
Now Over to You
That's our list of the best online course platforms.
We've looked at all the details you need to make an informed decision, giving you information about:
Video quality.
Platform functionality.
Marketing tools.
Payment options.
And the different ways you can present your material and reward your learners.
So which platform are you drawn to?
Obviously, we're hoping Uscreen is in the mix of what you're considering and we'd love to go through all things we can offer to your specific educational, coaching, or training business.
Get in touch to arrange a free, personalized demo to see everything we've got for you, or kick off a free trial and see exactly what Uscreen can do for your business.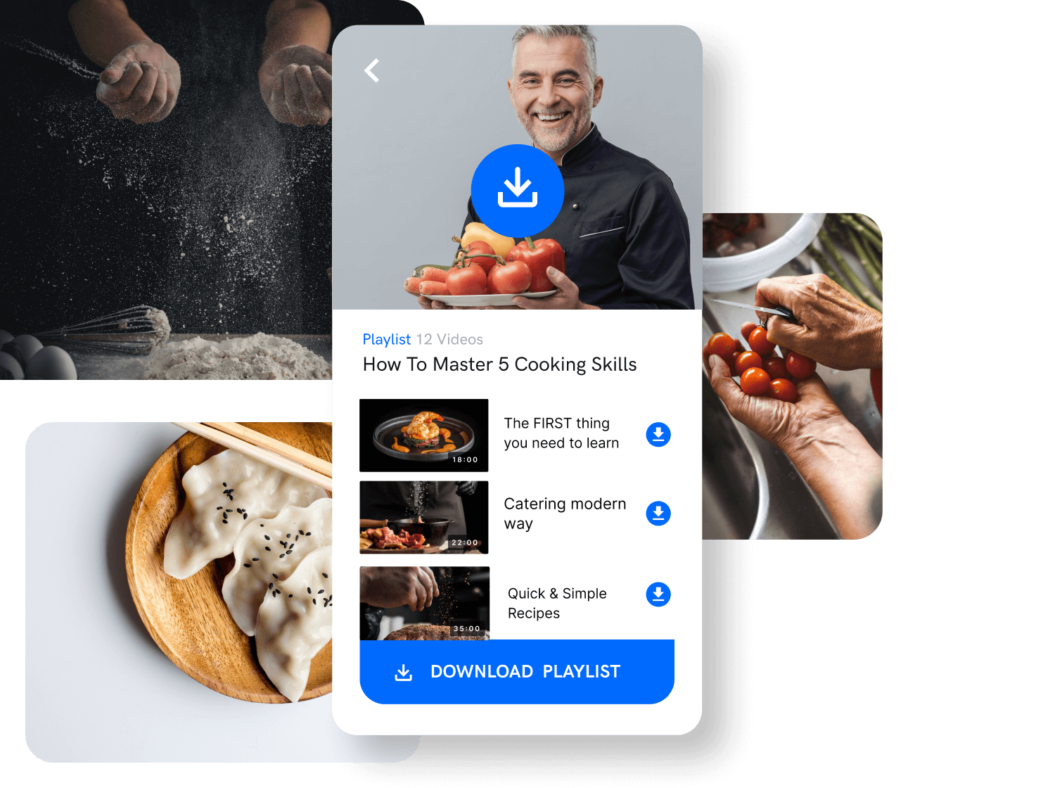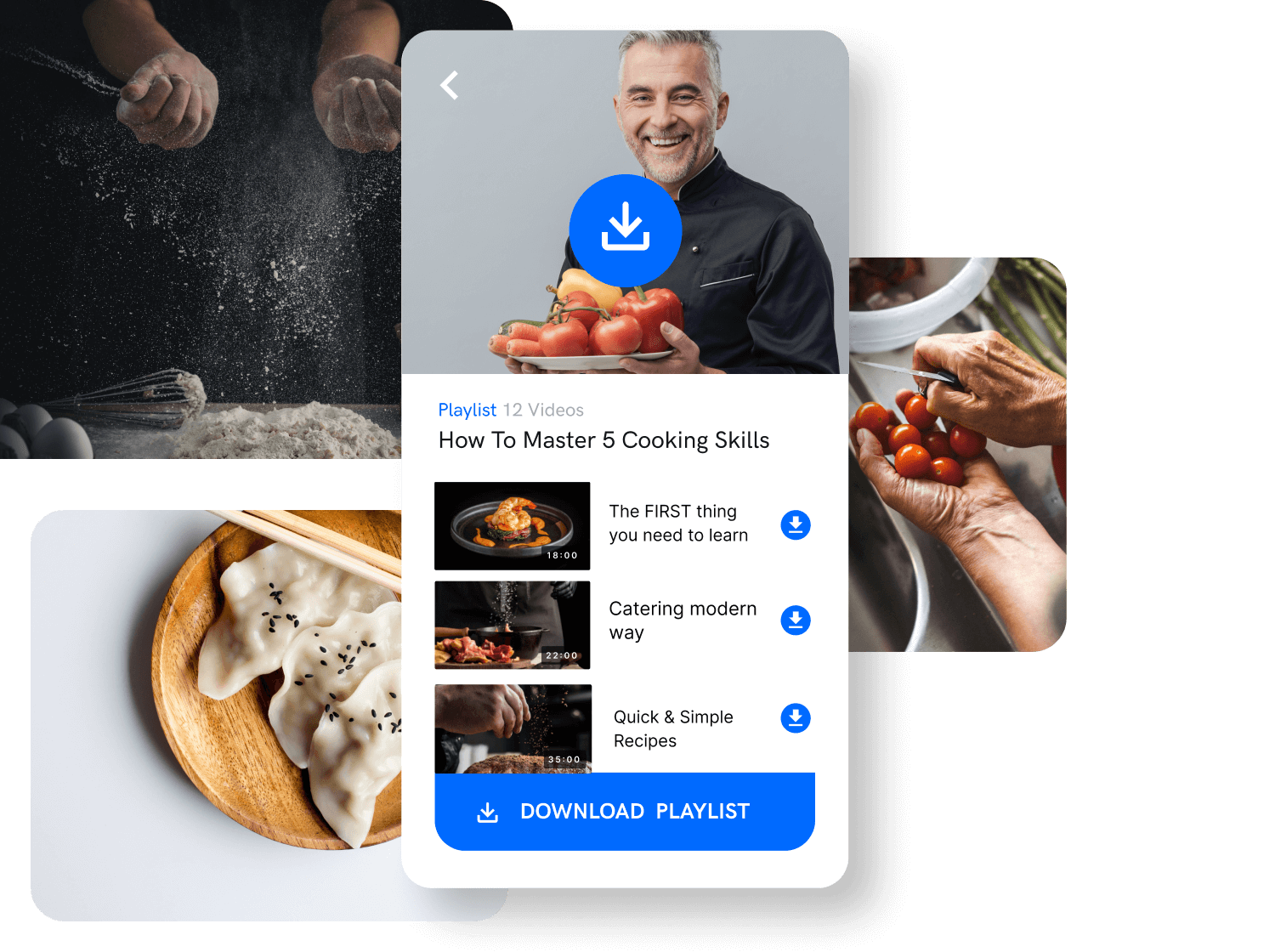 Start your 14-day free trial today!