If you want to launch a successful OTT platform for your video business, but you're unsure what that even looks like, then you've come to the right place.
Whether you're looking to be…
inspired by successful OTT businesses
validated that launching an OTT platform is the right thing to do
… we're here to show you 19 examples of video businesses that went over-the-top to reach their audience on any platform.
We know it's hard to find really good OTT examples consolidated into one useful list that actually proves it's possible to launch your own OTT service. So, we decided to make one for you.
Let's go!
The Future of Fitness is Online
COVID-19 transformed the health and fitness industry.
With people being forced to isolate and stay at home, more people accessed their favorite health and fitness routines online.
The future of fitness has been trending online for a while now; in 2019 alone in the US, the digital fitness industry climbed to $3.6 billion in revenue!
But, COVID-19 accelerated the online growth of the fitness industry; in fact, we saw a 1300% increase of views for fitness OTT live streaming between March and August of 2020.
It's simple with Uscreen.
Build, launch and manage your membership, all in one place.
Here at Uscreen, we've seen entrepreneurs launch their fitness OTT apps because of COVID-19 and well before it! Let's take a look at some of our fitness OTT examples:
The WKOUT is a video streaming service that offers high-quality gym-style training at home.
The founder, fitness trainer Lisa Zbozen, wanted to create an online space where her clients feel like they have a team to work out with, and a community to support them throughout their fitness journey.
So, she launched a fitness OTT service that lets her grow an online fitness community and monetize it!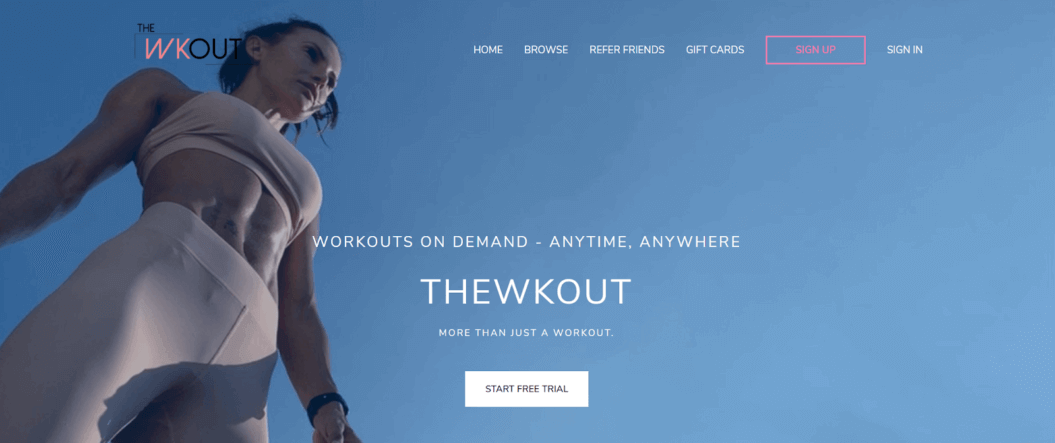 OTT Devices
iPhone, Android, Apple TV, Roku, and Amazon Fire TV.
Callanetics TV is a fitness streaming platform for Callanetics videos, a revolutionary non-impact exercise program.
Callan Pinckney, creator of Callanetics exercises, overcame the impact that 11 years of backpacking and a congenital back defect had on her body through her balanced approach of strengthening and stretching muscles.
Pinckney's fitness franchise boomed as her exercise classes grew in popularity through studios, books, VHS tapes, and DVDs. Now, with Callanetics TV people have a one-stop-shop to access all the best Callanetics videos on-demand on their favorite devices.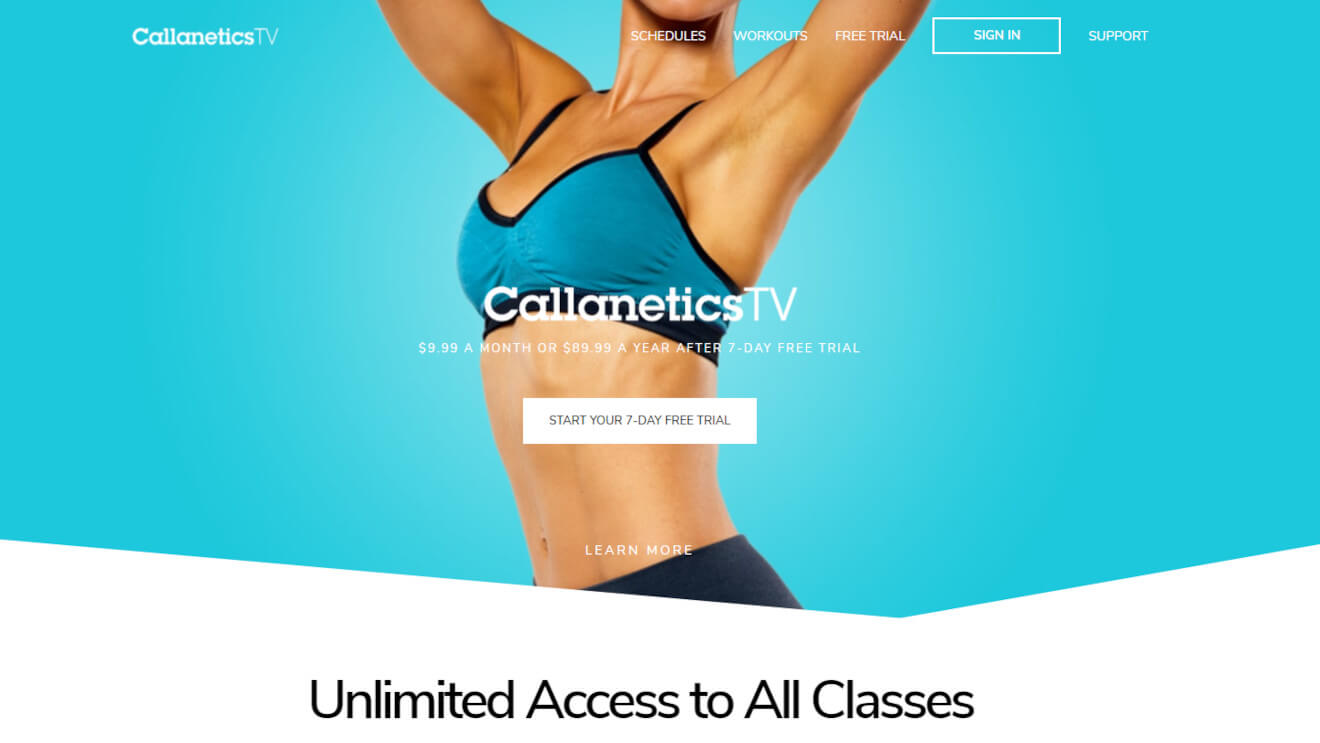 OTT Devices
iPhone, Android, Apple TV, Fire TV, Roku
Naturally Sassy is a health and fitness OTT platform that brings ballet workouts online with video-on-demand.
Ballet is one of the most physically challenging and demanding dance forms out there, and when it left Saski Gregson-Williams injured more often than actually performing, she sought out a way to recover and get stronger.
Blending her classical ballet training with strength and cardio work, Saskia developed a program filled with targeted workouts designed to help anyone with an internet connection develop a strong and supple body just like a ballerina.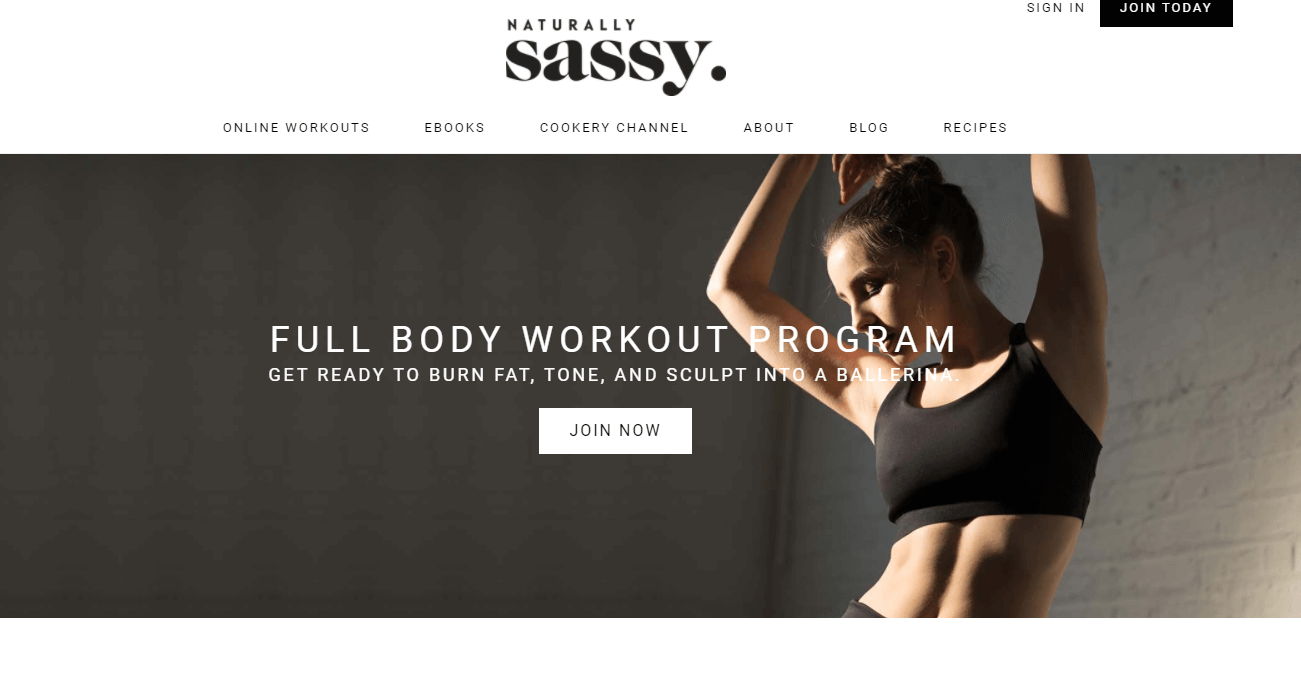 OTT Devices
iPhone, Android
TINT Yoga is an OTT platform for yoga educators, practitioners, and trainees. It was founded by Young Ho Kim, a martial artist who transitioned to yoga and blended his years of study to create his own practice.
Kim wanted to expand beyond the walls of his brick-and-mortar yoga studio, based in Frankfurt, and take his practice to an international audience.
He created a bilingual subscription-style video streaming service that offers content in English and German. Subscribers can access video-on-demand and live stream yoga classes, teacher training, and workshops, creating a truly holistic platform for your daily practice.
To make TINT Yoga's online studio even more accessible, they launched an OTT app so people can reach their yoga goals from any location.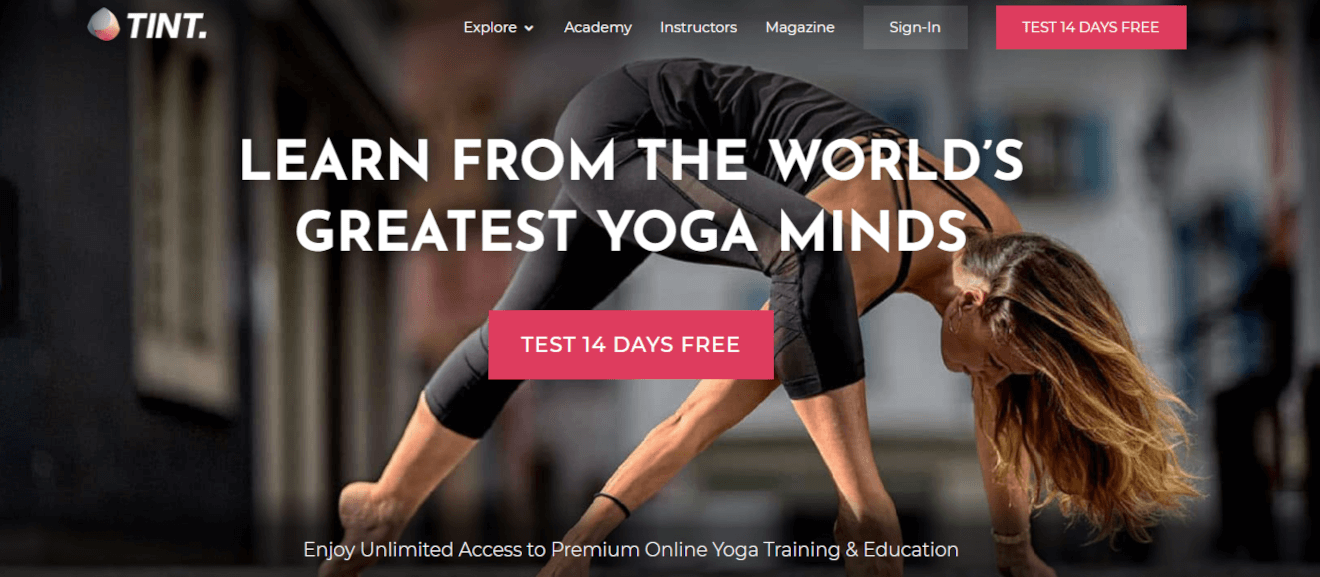 OTT Devices
iPhone, AppleTV, Android, Android Tv, FireTV
5. PSB+
PSB+ is a fitness OTT service where people can get access to premium basketball workouts that (mostly) don't require a hoop or court.
Launched by Pro Skills Basketball, an NBA-approved youth basketball training organization, PSB+ became a way to safely train with their athletes during the pandemic.
The platform also allowed them to expand their reach to all basketball lovers. Thanks to the combination of their OTT app and content library – that's packed with useful video content – their subscribers can do basketball drills wherever they feel most comfortable.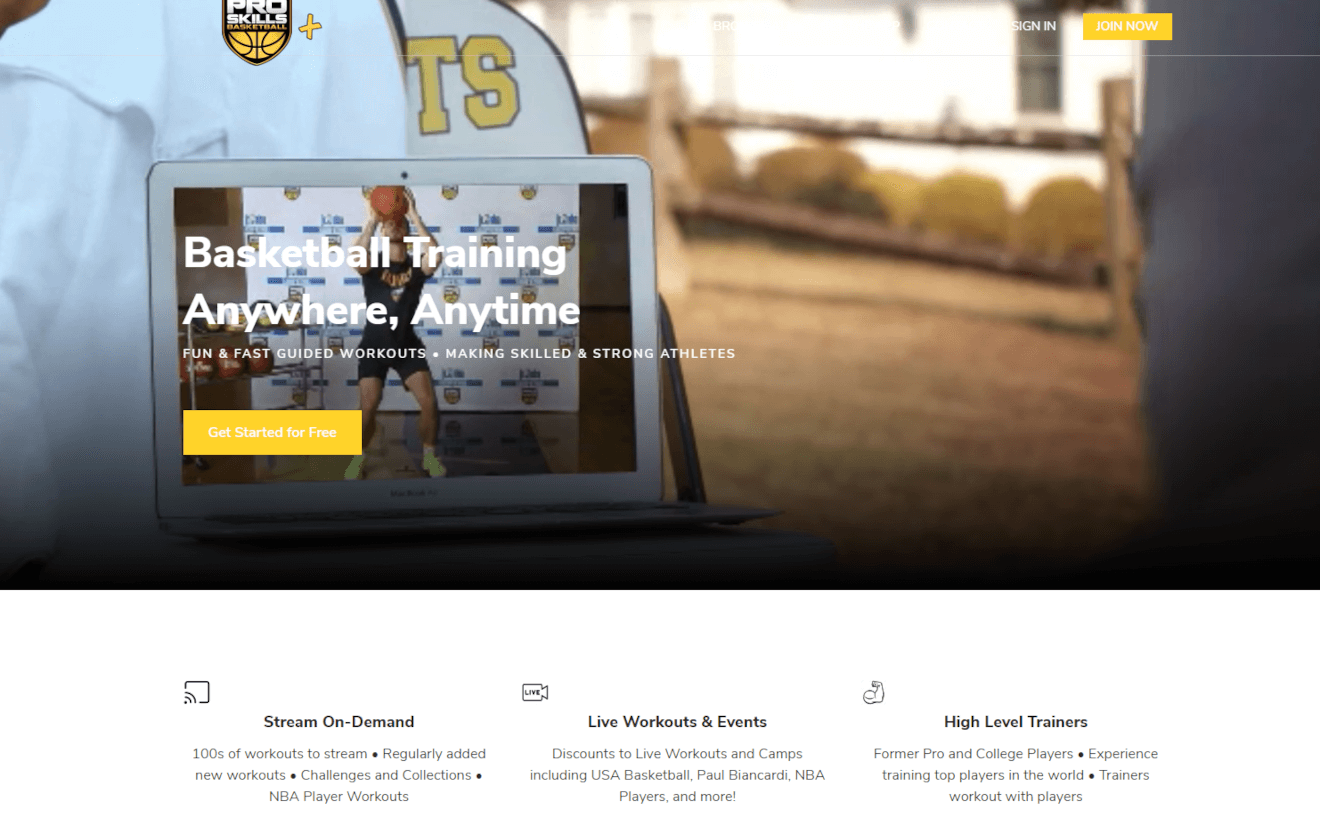 OTT Devices
iPhone, Android.
Studio Bloom is an online video streaming service that creates fitness-focused OTT content for pre- and postnatal mothers.
At the core of their online fitness studio is an online community created to holistically support mothers' health.
They also provide a complete service by offering educational video content that goes above and beyond standard workouts like…
recipes
meditation
mobility training
pelvic floor therapy
…to give pre- and postnatal mothers all the tools they need to support their health.
Better still, through their OTT app, members can access these videos anywhere on all their devices. Making it easier than ever to prioritize their health while creating life.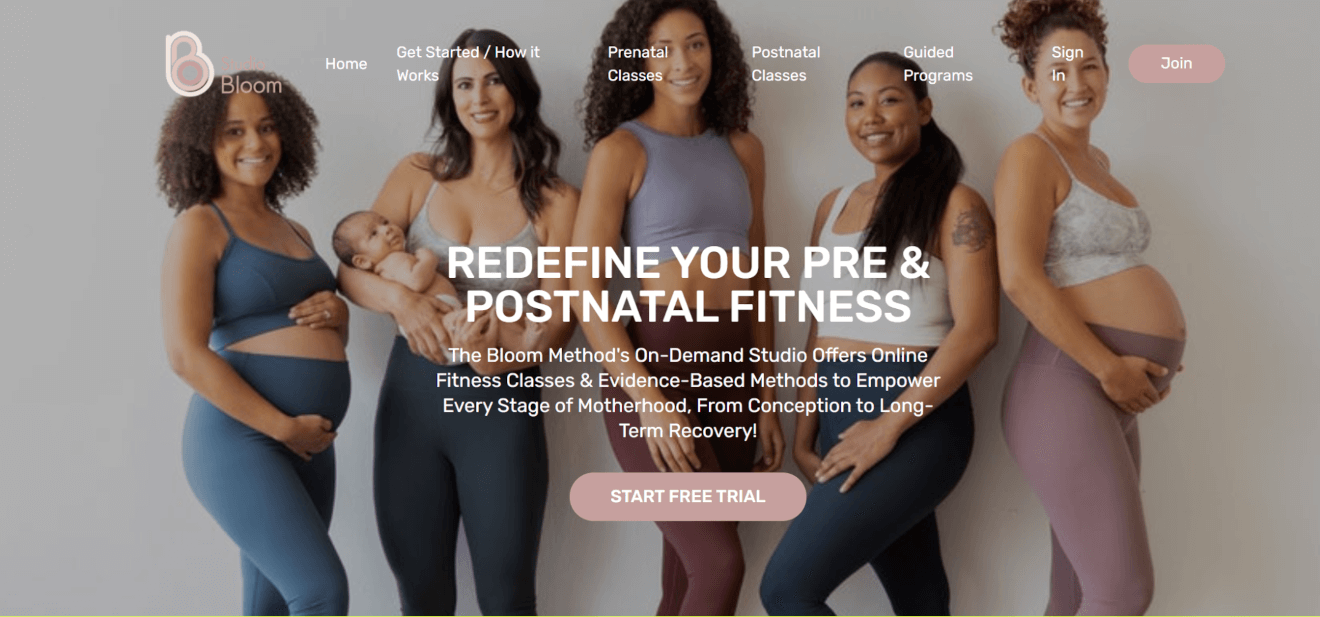 OTT Devices
iPhone, Android, Apple TV, Android TV, Roku, Fire TV
Entertainment Going Over-The-Top
The OTT market in the entertainment industry is booming.

In fact, viewers who watch traditional TV decreased by 24% between 2017 and 2020. That's a big dip in just 3 years!
Better still, eMarketer predicts that by 2022 people will spend more than an hour a day watching videos on subscription OTT services. That means more and more people will leave their cable TV subscriptions behind!
Entertainment businesses need to be launching their own OTT services if they want to keep up with what audiences want and need.
There are already big-name players in the industry with their own apps like:
Netflix
HBO
Disney
CBS
Hulu
Amazon Prime Video
But there is also a growing demand for independent entertainment streaming services, like those that cater to the LGBTQ+ community.
Here are a few examples of OTT clients that launched entertainment OTT content using Uscreen:
Bootshaus Live is a video streaming platform launched by Bootshaus, one of the best electronic music nightclubs in Germany.
Bootshaus needed a way to connect with their audience and generate income when COVID-19 restrictions forced them to close indefinitely.
So, they created a subscription video-on-demand (SVOD) streaming service, where their most loyal audience can enjoy live streams of DJ sessions and on-demand videos of iconic DJ sets.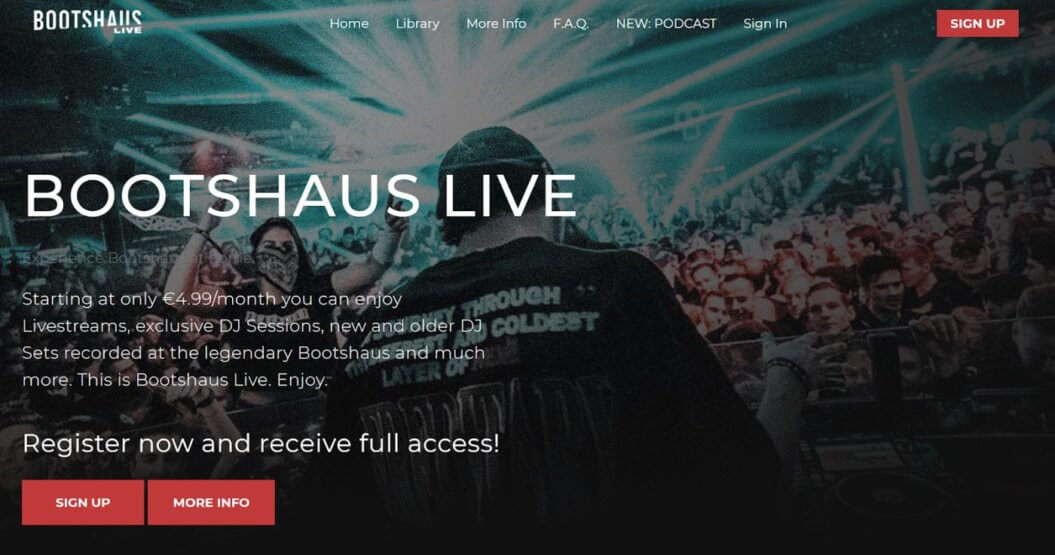 OTT Devices
iPhone, Android, Smart TV
FanForce TV is an OTT streaming service that allows you to discover independent films and media from around the world.
The creators of FanForce focus on content with social impact. They saw a global audience full of members who care about the causes their films promote – so they created a platform to bring this content directly to them.
With its OTT platform, FanForce TV lets audiences stream…

home entertainment
virtual community screenings
live broadcasts
…directly to their Smart TV or mobile device!
FanForce TV has built a community around their audience and the accessibility of their apps means that they can expand their reach and truly make an impact on the world.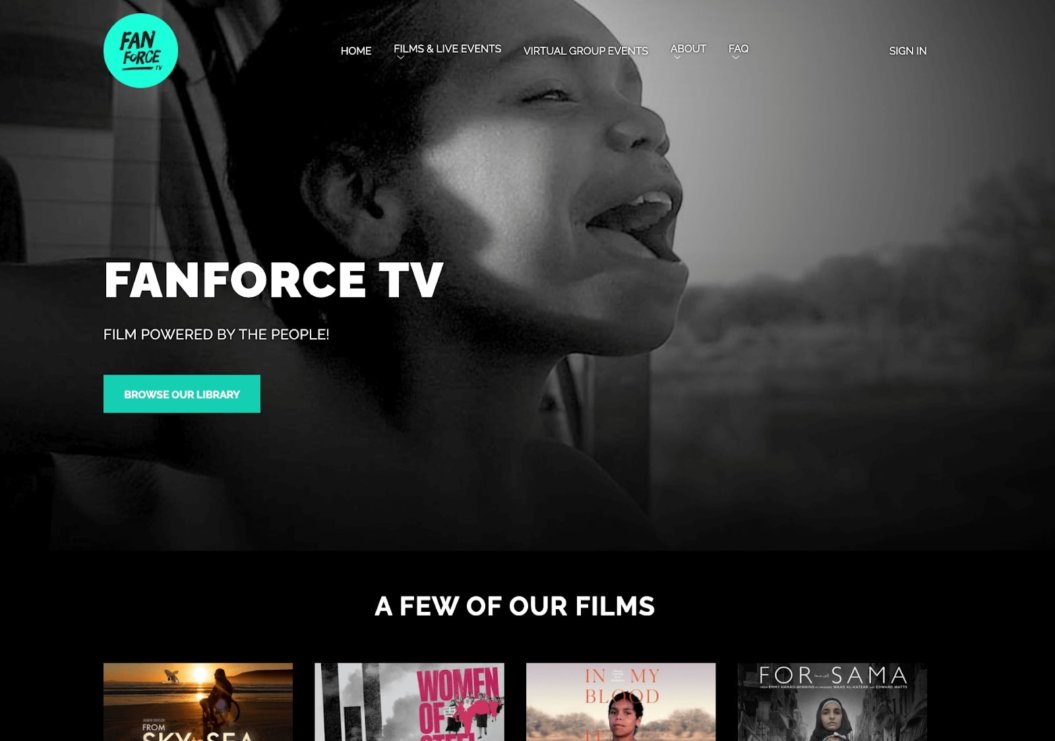 OTT Devices
iPhone, Android, Apple TV, Amazon Fire TV, Roku, AndroidTV
Button TV is an OTT platform that showcases spoken word artists.
It was created by Button Poetry, a media company that promotes poets across all mediums, such as audio and publishing.
Wanting to expand its media reach, Button Poetry launched a video streaming service that features diverse talent, voices, and performances. They offer video-on-demand and live sets from poets, spoken word tournaments, documentaries, and curated themed content
Button TV does this by offering a mix of free and premium OTT content to make spoken word art accessible to a large audience on their favorite devices.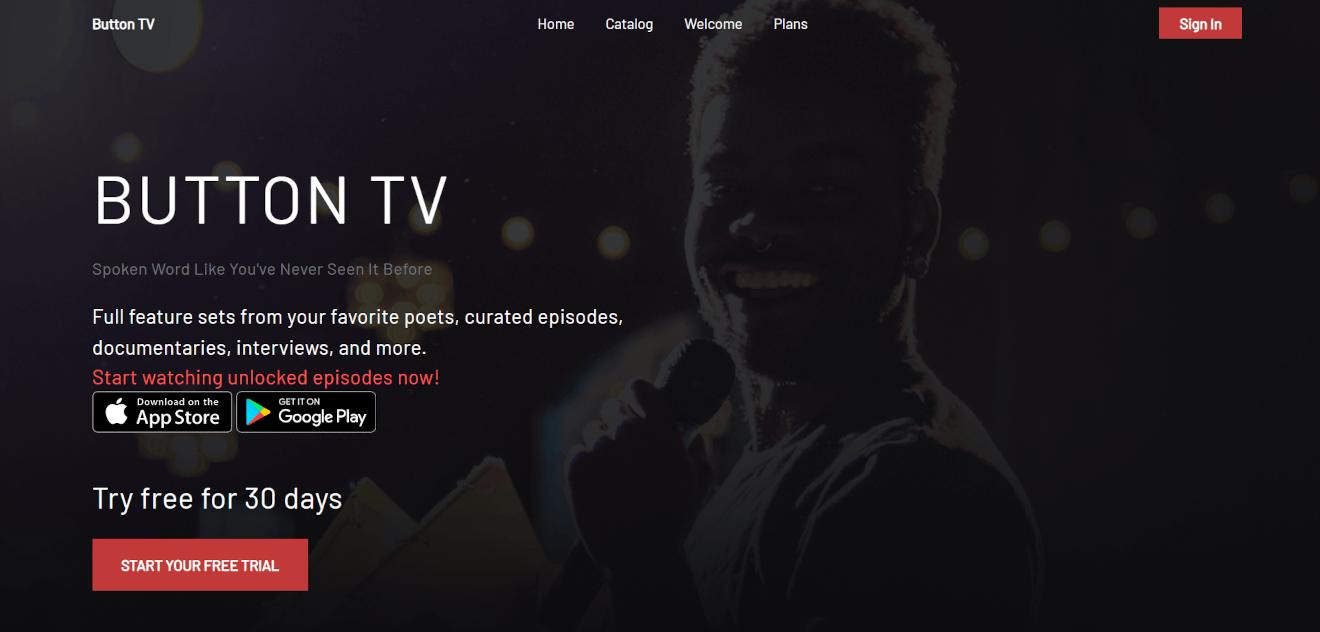 OTT Devices
iPhone, Android.
Race XR+ is an OTT video streaming platform that brings the exhilarating racing experience to the homes of its loyal fanbase.
It launched in 2019 to put the spotlight on the race track, curating the best of contemporary American dirt track races. Subscribers can tune in to catch the excitement live, in real-time, or watch their in-depth collection of past races with video-on-demand.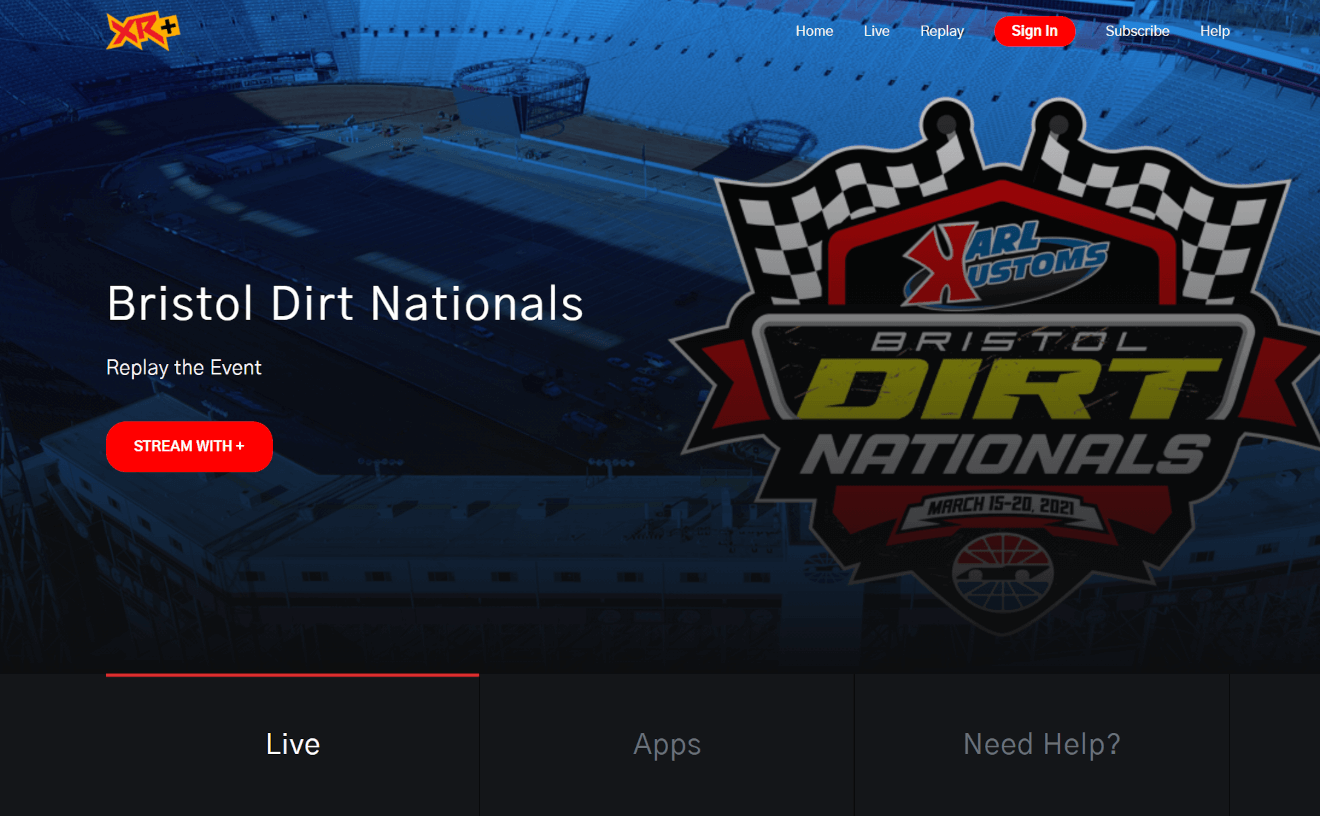 OTT Devices
iPhone, Android, Roku, Fire TV, Apple TV.
Unicorns.LIVE is a video streaming service that broadcasts LGBTQ+ events using live video.
It was launched by Rebellious Unicorn, a Candian-based media company that creates LGBTQ+ centric events, to support artists and keep the connection with their audience despite of COVID-19 restrictions.
Through Unicorns.LIVE's OTT app, subscribers can stream upcoming live performances in real-time, as well as older ones through video-on-demand.
Check out our podcast interview with Dustyn Baulkham, founder of Rebellious Unicorn, for more information on how they pivoted online to create Unicorns.Live.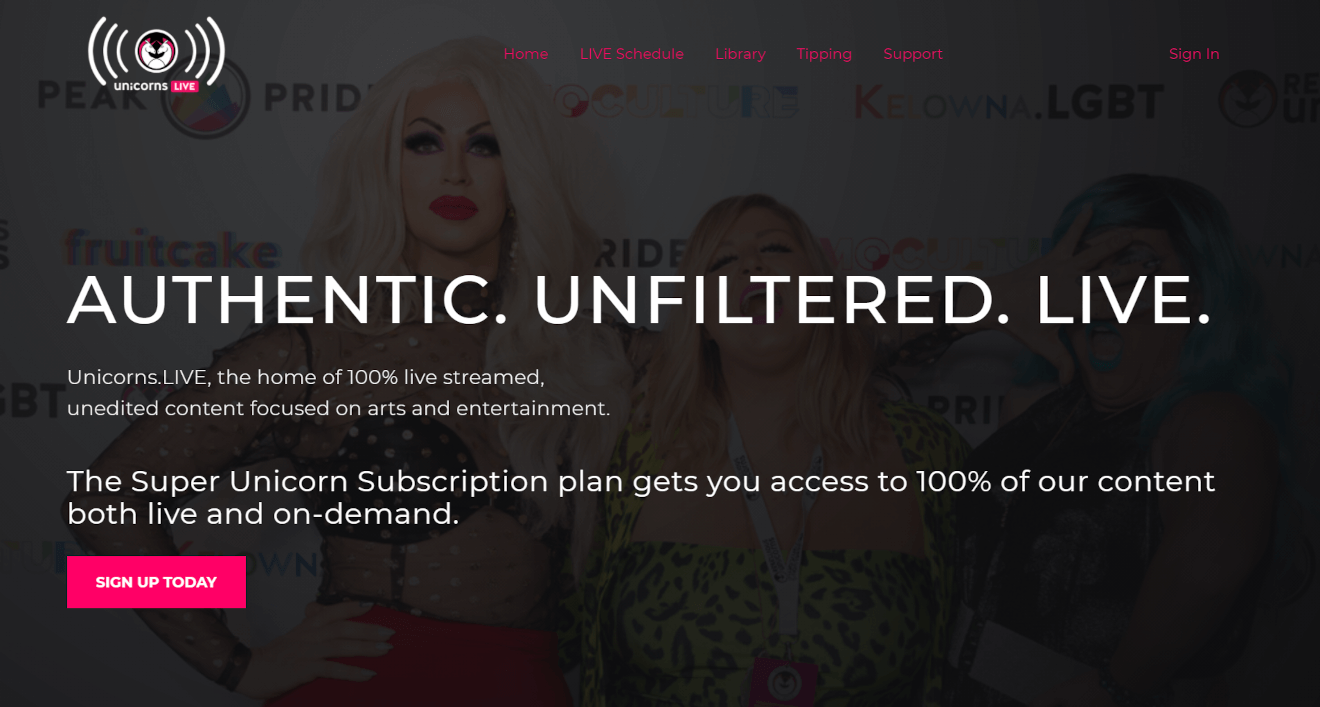 Suggested Read:
OTT Devices
iPhone, Android, AppleTV, AndroidTV, FireTV
SVTV is an LGBTQ+ OTT streaming service that showcases community-driven video content which includes series, films, sports, documentaries, podcasts, and live streams.
In the digital age, inclusion and realistic representation of LGBTQ+ people is more important than ever. And that's what SVTV is all about – creating a cultural change through representation.
Better still, with SVTV's OTT apps, subscribers can access LGBTQ+ content natively on whichever platform they choose.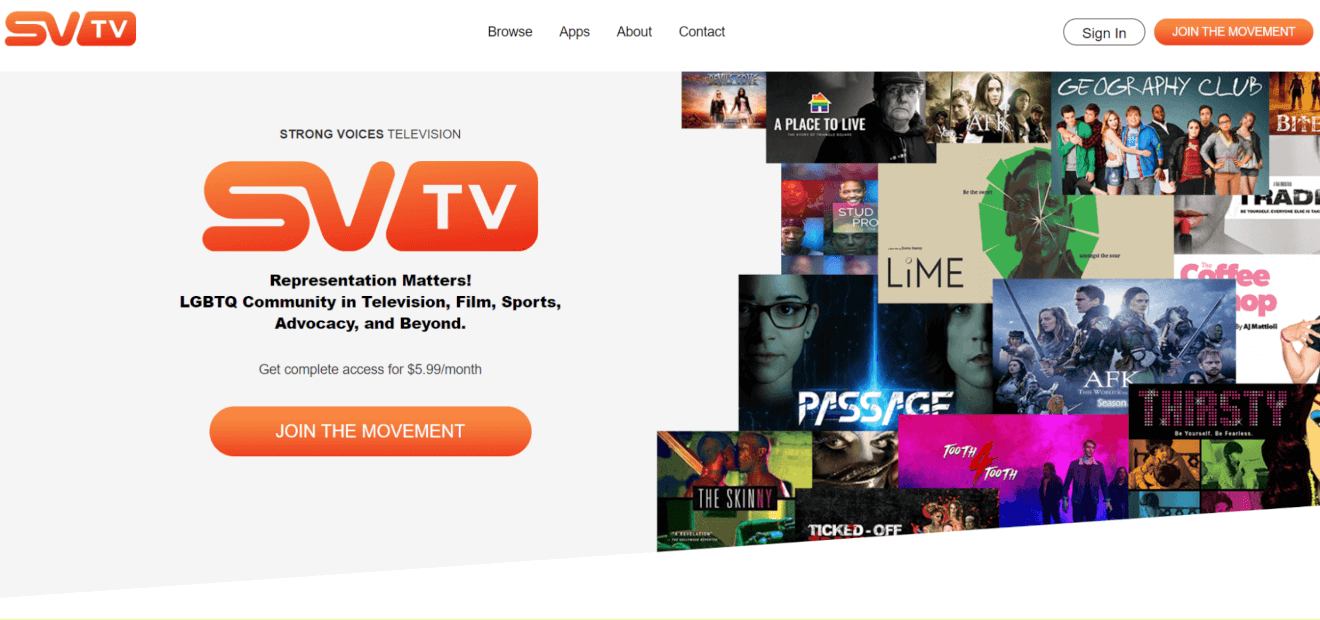 OTT Devices
iPhone, Android, AppleTV, AndroidTv, Roku, FireTV
eLearning, Any Niche For Anyone
eLearning is a booming market with so many different niches. In fact, research shows that by 2026 the global eLearning market is expected to grow by 270%.
That's because eLearning is:
Convenient & accessible: you can learn anywhere, anytime.
Flexible: there's more opportunity to learn in bite-size chunks without committing to a multi-year degree.
Diverse & innovative: the accessibility of online learning lets people from different backgrounds and locations participate.
Here are some examples of OTT entrepreneurs who launched their eLearning platforms with Uscreen:
CakeFlix is a video streaming service that offers an extensive library of over 1000 cake decorating, baking, and business tutorials.
It's the ultimate platform for baking afficianods or entrepreneurs who want to:
Improve their decorating or baking skills.
Learn decorating or baking techniques.
Start their own cake business.
With 13 different video categories, their OTT membership platform lets users access different types of tutorials for various skill levels. They can even access Cakeflix's online community on Facebook!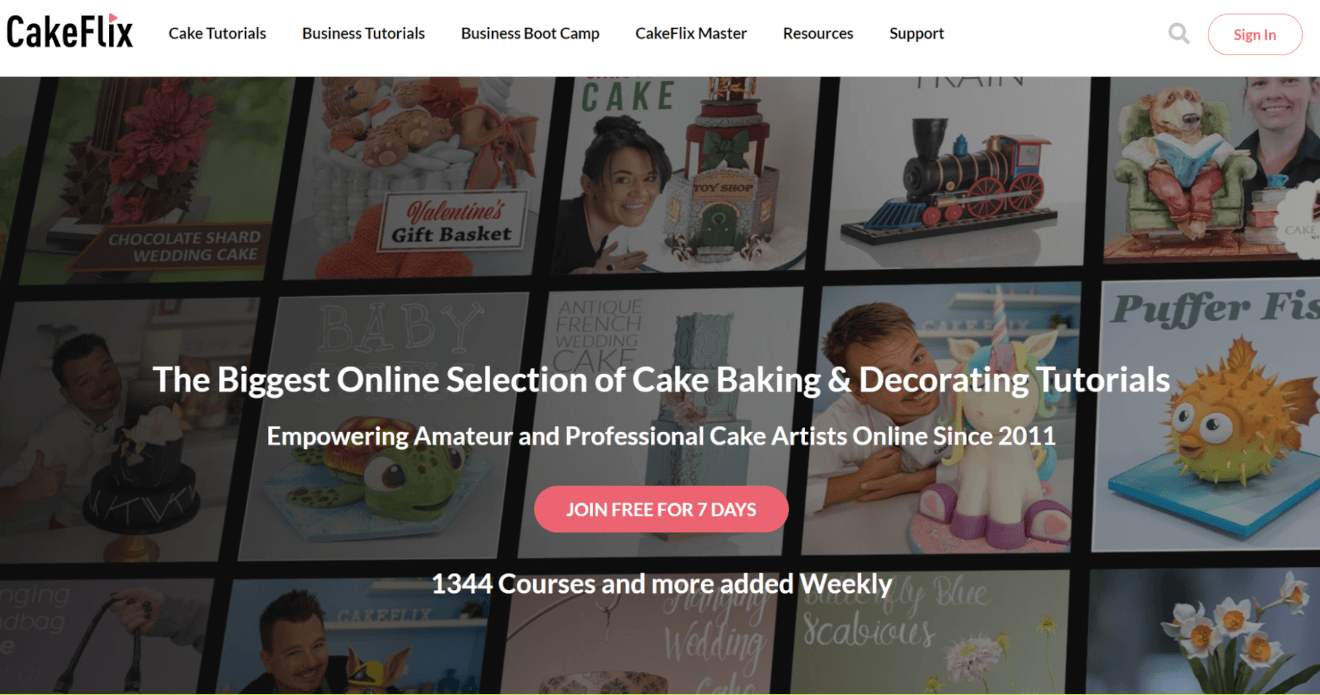 OTT Devices
AppleTV, FireTV, AndroidTV, Roku, iPhone, Android
Art For Kids Hub is an OTT video streaming service that gives children access to art lessons in a distraction-free and focused environment.
This heartwarming platform was created by Rob Jensen and his family for (and partly by) kids, to be used as a hobby, creative outlet, fun activity to do, or for homeschooling!
Despite having an impressive following of over 4 million people on their YouTube channel, they decided to monetize their audience beyond YouTube by launching a streaming platform.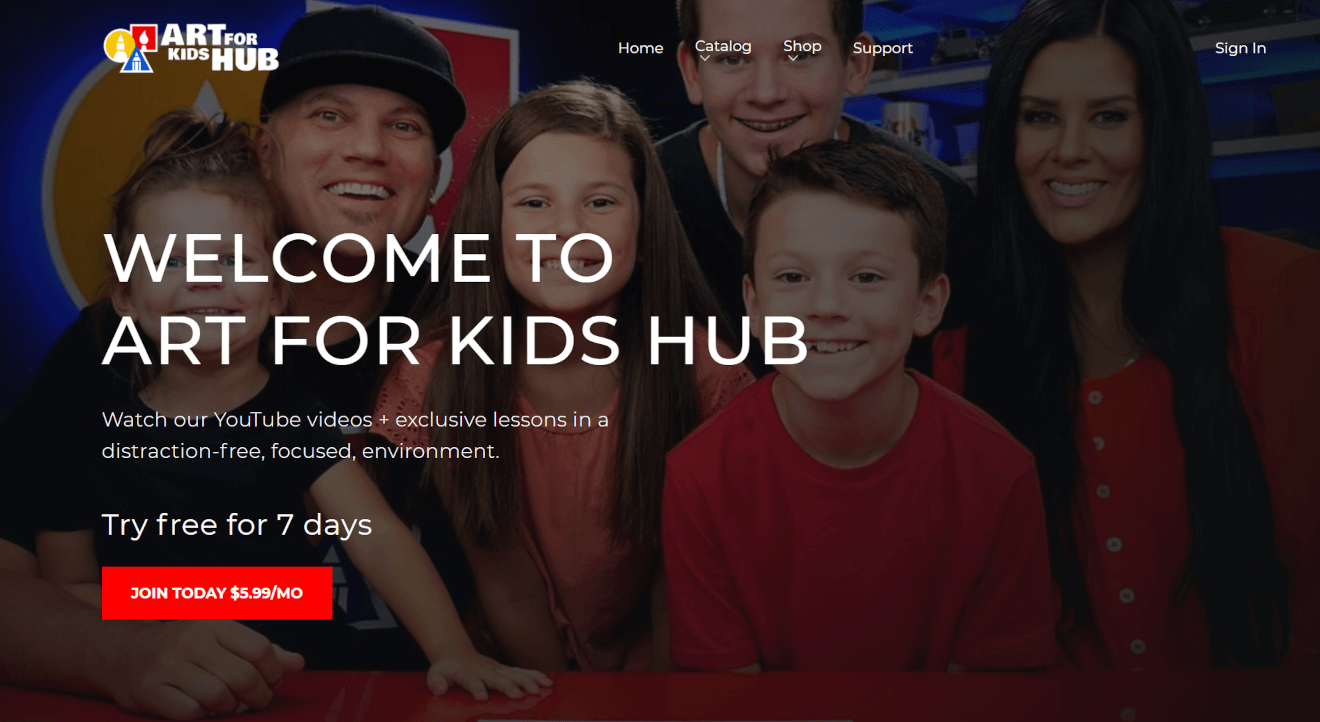 OTT Devices
iPhone, Android, AppleTV, AndroidTV, Roku, FireTV
Your Book of Memories is an OTT video streaming service that teaches people how to create handmade journals.
Founder, Frances Long, is an artist that created Your Book of Memories out of her love for and niche knowledge of crafting. She started as a YouTuber, but despite a large following with thousands of subscribers, her revenue stalled around $380 a month.
So, she pivoted to create her own premium streaming service where she sells access to her tutorials either as a one-off payment or as a subscription. And in just 4 short months she went from earning $380 to $4000 a month!
Better still, she repurposed her YouTube channel to be a marketing engine. Now, her most loyal fanbase can see the value of her classes for free and have the option to go beyond her short YouTube tutorials to access in-depth crafting classes on her OTT app!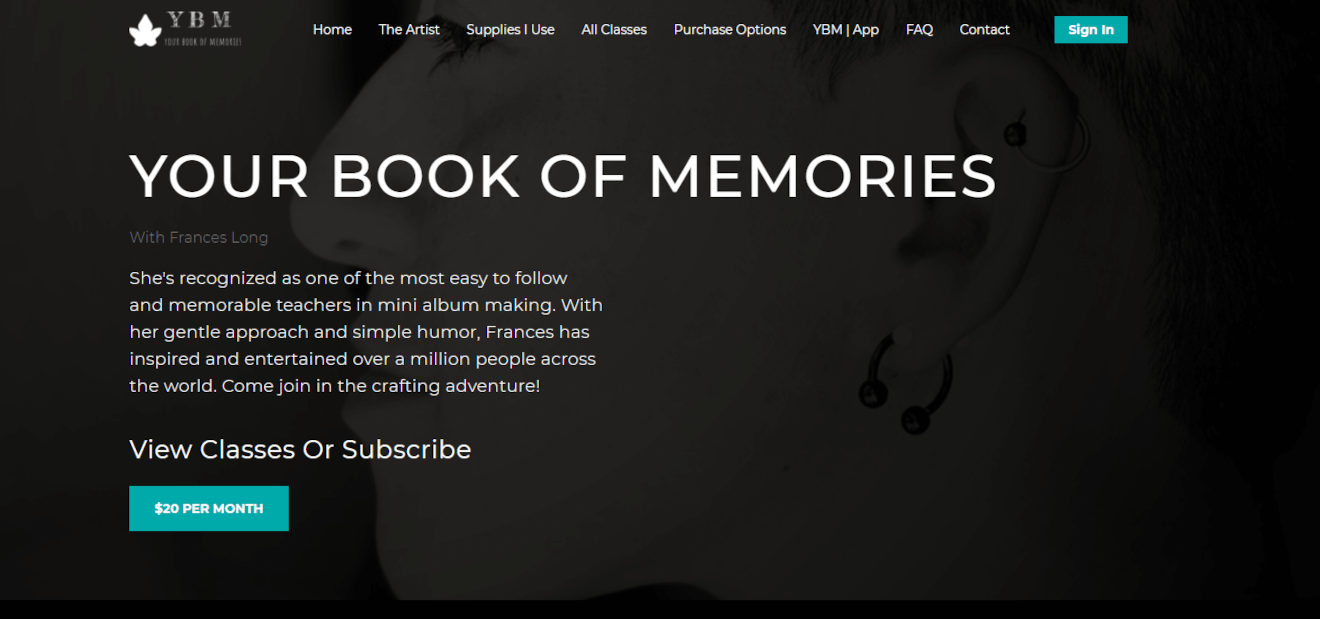 OTT Devices
iPhone, Android
CETV is an OTT video streaming service with a variety of content that explores alternative topics that are often not widely reported on in the mainstream media.
Launched by Joe Martino in 2009, Collective Evolution transformed to a streaming service in 2019 to make their alternative reporting accessible to viewers wherever they are.
CETV offers online video courses, interviews, conversations, and original shows, to show different perspectives, improve critical thinking, and generate discussions.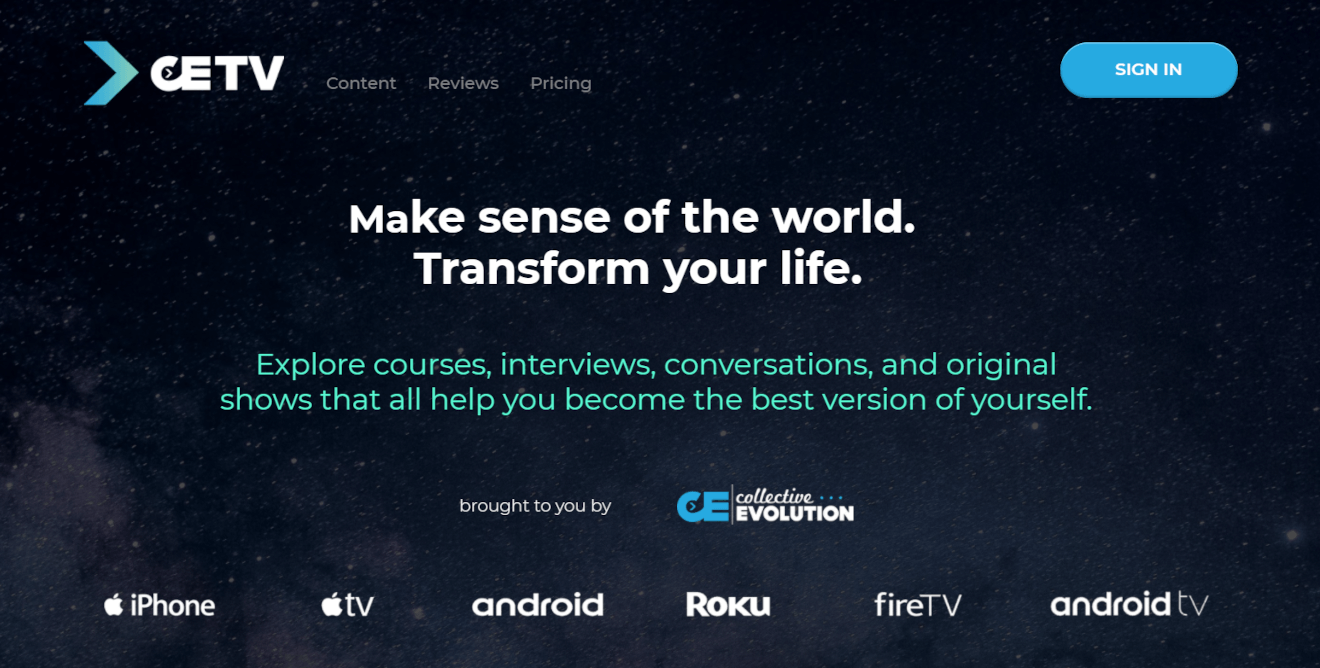 OTT Devices
iPhone, AppleTV, Fire TV, Android, Roku
Indie Film Hustle is an OTT video streaming service that teaches filmmakers and enthusiasts "the real deal" about how to make it as a filmmaker.
The film industry can be brutal, Alex Ferrari – who has over 20 years worth of experience in the industry from working on more than 1000 projects – decided to share his knowledge on how to create films that succeed.
Now, Indie Film Hustle brings some of the industry's greatest minds together to discuss everything filmmakers need to know to be successful.
They have over 50 video categories that range from screenwriting, directing, and cinematography to film distribution, documentary filmmaking, micro budget feature films and so much more!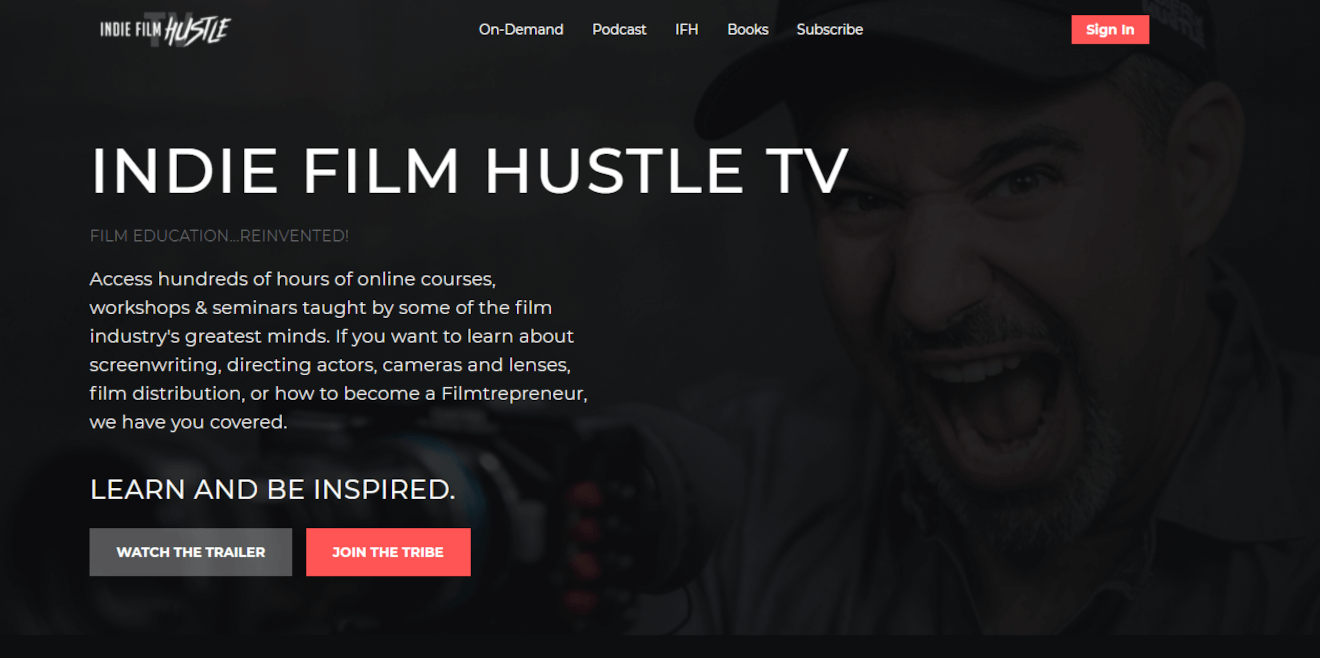 OTT Devices
Apple TV, Roku, Amazon Fire TV, IOS and Android mobile applications
Faith & Spirituality Pivoting To OTT Video
Having access to spiritual communities goes beyond wanting a physical place of worship.
In fact, when studying major religions in the US, research shows that 44% of people prefer to worship alone. Meaning they want to connect with their God without having to go to a place of worship.
That's where video comes into play.
With faith and spirituality video streaming services, people can exercise and learn about their faith on their own terms.
Here are some examples of OTT faith and spirituality streaming services that launched with Uscreen:
MyTribe is an OTT video streaming service that offers fun, educational, and family-friendly content that teaches kids about the Bible.
It launched in the midst of the pandemic when Churches were unable to host Sunday School.
In a time of fear, people looked to their faiths for stability and connection. In fact, research shows that 24% of US adults claimed their faith had gotten stronger during the pandemic.
That's when Jason David, an award-winning storyteller and motivational speaker saw the opportunity for Sunday School to permanently pivot online.
With over 20 video categories of family-friendly content, MyTribe curates interactive experiences where families can connect safely over their faith online, instead of in person.
You can also check out our podcast episode where Jason walks us through his experiences, resilience, and the creation of this video streaming site!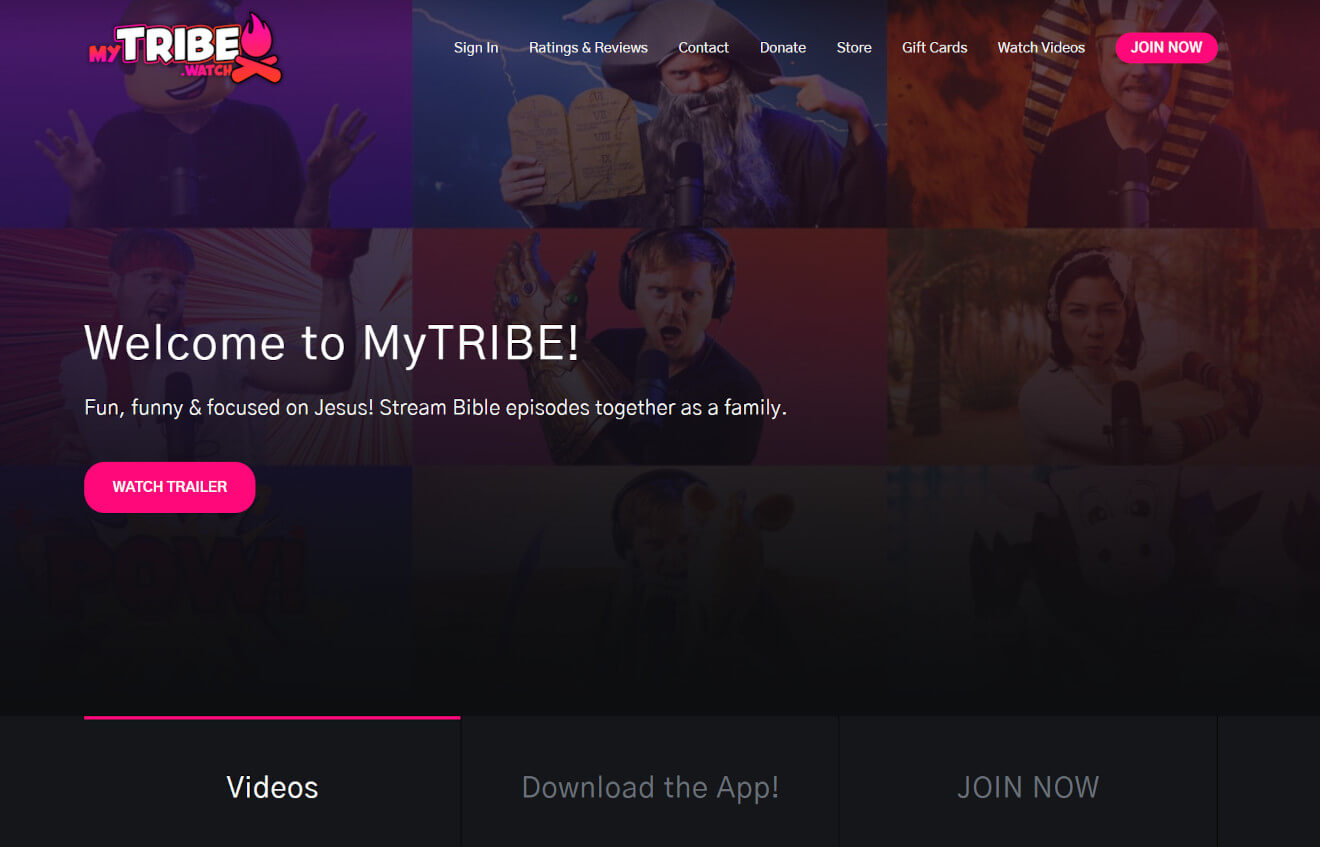 OTT Devices
iPhone, Android, Apple Tv, Android Tv, Fire TV, Roku
Wild Goose TV is a non-profit OTT video streaming service that offers resources and video content on the Ministry of Wild Goose to enhance its followers' journeys.
In true non-profit fashion, Wild Goose TV offers its streaming service for free with the option of having subscribers pay a monthly donation.
Better still, monthly supporters get access to exclusive, bonus content like interviews and excerpts from each project.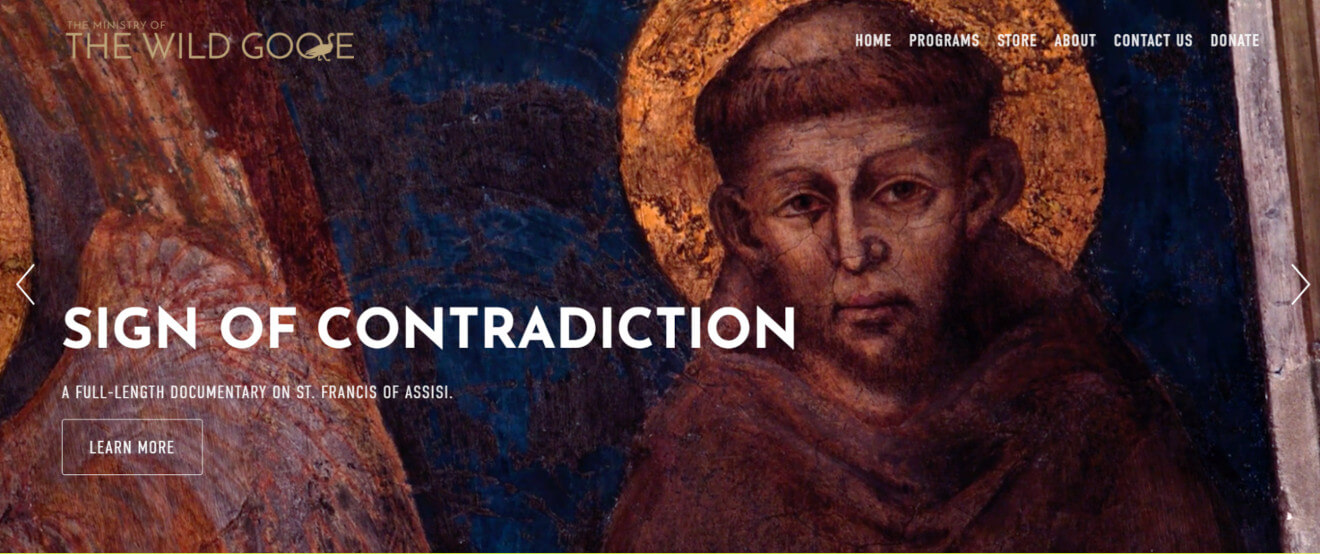 OTT Devices
iPhone, Android
Wrapping it up…
And there you have it!
Proof through 19 OTT examples, that it's possible to start and run your own OTT service, have native content delivery on different platforms, and make money off it.
OTT isn't just for video content creators, it's the solution any business can use to reach a larger audience and grow their revenue using video.
It's simple with Uscreen.
Build, launch and manage your membership, all in one place.