Once upon a time, the secret to video content monetization success was tied directly to building a YouTube audience.
If you had a million YouTube subscribers and enough views, you'd capture a healthy share of ad revenue.

As time went on and as YouTube updated its algorithms, creators learned building a large audience on a dominant — but borrowed — platform wasn't enough to thrive.
To build a flourishing video business, today's creators must grow their own membership community where they own their content and can provide unfettered value.

This article will explore the differences between subscriptions and memberships, and unpack why adopting a membership business model is the best way to monetize content, grow a community, and remain relevant in today's highly saturated content world.
How The Subscription Business Model Works vs. How The Membership Business Model Works
Subscriptions and memberships are 2 unique business models that allow you to monetize your video content and earn recurring revenue.
Before we dive into the benefits of the recurring revenue model, let's unpack what each of these business models consists of. Starting with a quick comparison of the 2:
The similarities? Both membership and subscription services:
The differences come down to one key element: community.
Memberships are essentially an upgrade to the subscription revenue model. They take everything that works from the subscription model, and they add an exclusive community to the mix.
This addition means that on top of exclusive content, members also gain access to an exclusive community of like-minded individuals.
Here's a quick visual look at the primary similarities and differences: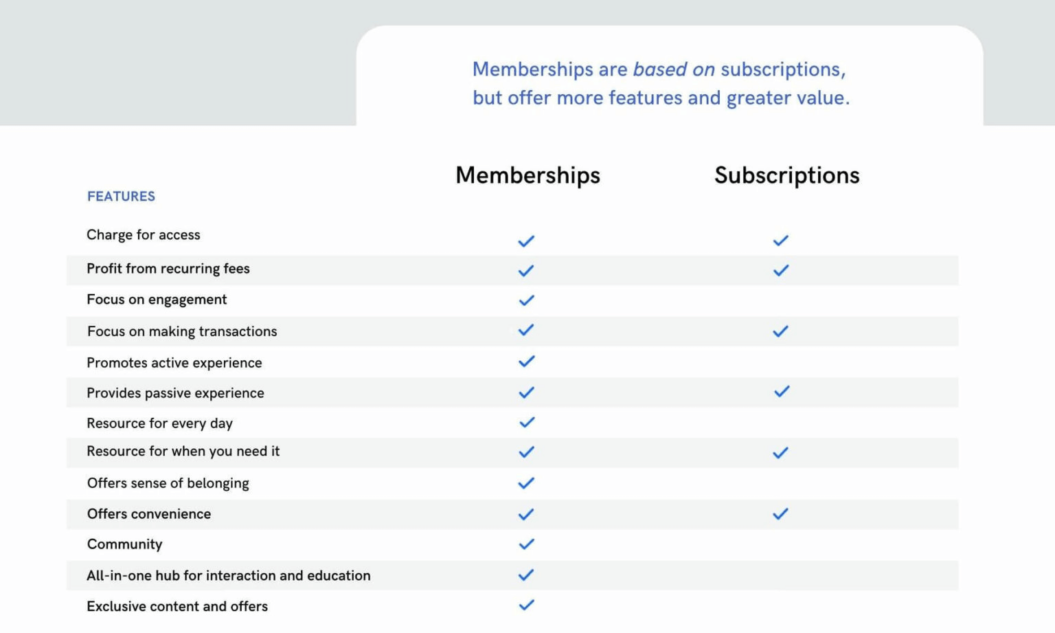 Now, let's dive deeper into more concrete examples of what subscription offerings and Mmembership offerings look like.
What is the subscription business model?
A subscription-based business model is where subscribers pay a monthly subscription fee at regular intervals for access to exclusive content.
This model can provide video creators with a consistent subscription revenue stream and allows subscribers access as long as their subscription remains active.
Netflix is a popular example of a successful subscription business with its 3 subscription plans: Basic, Standard, and Premium.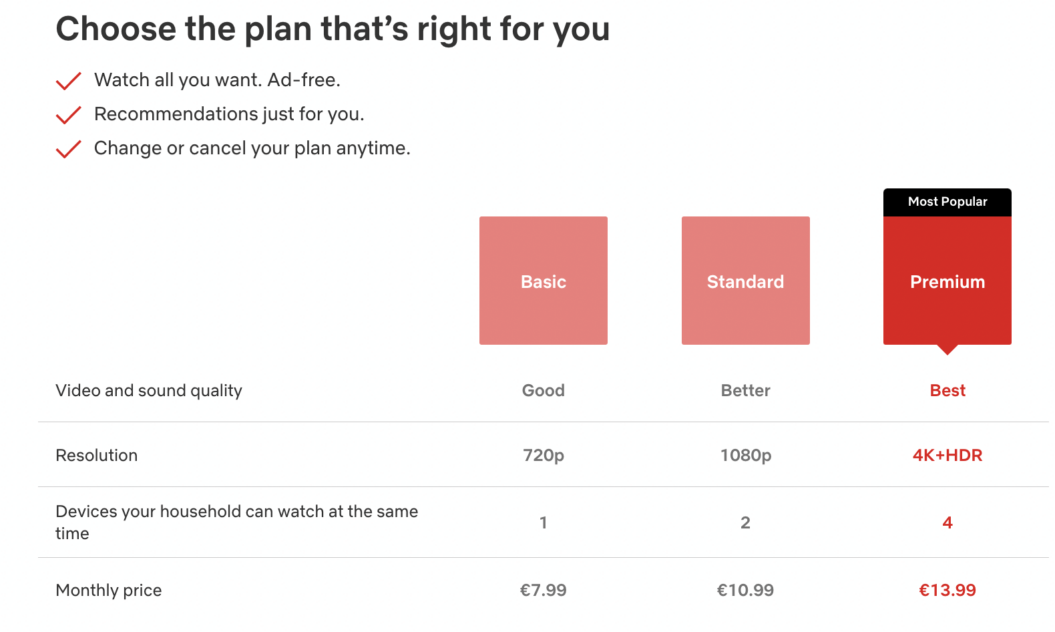 Each tier at various price points provides subscribers different access, features, and benefits.
The problem with the subscription model is that it's transactional.
Users sign up and stick around solely for the volume and quality of content that they receive.
So, after a period of time when subscribers feel that they're no longer receiving that value, or when they can find better content elsewhere, they don't hesitate to click 'Cancel'.
This transactional relationship between the creator and subscriber can make it seem like it's a revolving door, where subscribers are leaving as quickly as they're signing up.
Not to mention that the pressure of having to constantly create new content and get new customer sign-ups often leads to burnout, especially if you're a small team.
So, if you like the idea of recurring revenue but want less churn, better cash flow, and more stability, then the membership model is for you.
What is the membership business model?
With the membership business model, members pay a recurring fee for access to exclusive content, and an exclusive community.
On top of that, members might also enjoy other special benefits like member-only livestreams, exclusive invites to in-person events, and discounts on products and merchandise.
Drumeo is an example of a membership community. You pay either an annual or monthly fee for drum lessons, but you also get exclusive access to workshops and events.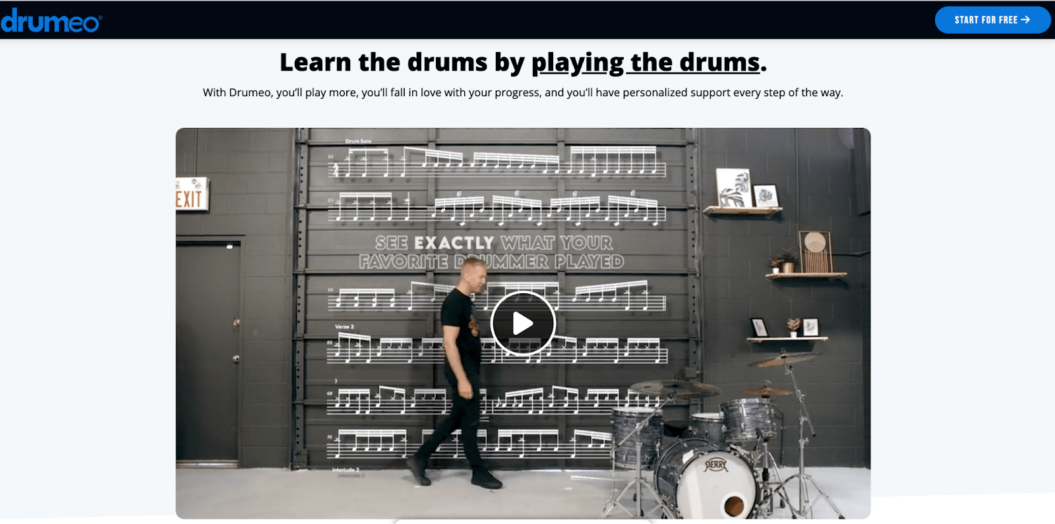 Memberships are the perfect type of business for creators since they generate monthly and annual recurring revenue — and they're built for member retention.
Thanks to the sense of belonging and connection that membership communities provide, members are much more likely to stick around in the long-term.
Our metrics show that compared to subscriptions without communities, memberships with communities enjoy a 2x lower churn rate.
The rest of this article will focus on why memberships — over subscriptions — are the superior way to monetize your video content.
It's simple with Uscreen.
Build, launch and manage your membership, all in one place.
Benefits of the Membership Business Model for Creators
1. Stable and predictable income
It's possible to make money from the videos you post on social media platforms — provided you have enough subscribers to meet minimum ad share qualifications, and the algorithm doesn't suppress your content.
But let's quantify what this actually looks like with an example from TikTok megastar, Hank Green, and his analysis of TikTok's Creator Fund. In a YouTube video, Green revealed that The Creator Fund paid him a whopping $0.02 to $0.03 for every 1,000 TikTok views.
Let's compare that with a membership model. In an influencer Marketing Factory survey, 58% of online content consumers said they'd pay up to $15 monthly to access their favorite creators' content.
Let's say you have 500 paying subscribers at $15/per month. That's $7,500a month from your video content — without relying on an algorithm
There's a clear winner here.
2. Better community building to boost sales and customer loyalty
Another benefit of moving to the membership model to monetize your content is the colossal role community plays in influencing purchasing decisions.
If you plan to upsell members to better membership plans, or cross-sell digital products like your online courses, then you can leverage your community. Get them to share their candid testimonials and reviews within your membership.
Stats show that 82% of consumers will either research or purchase a product after seeing a member of their community (e.g., friends, family, influencers, etc.) post about it.
Consider the #tiktokmademebuyit fad as anecdotal evidence.
If you look at this hashtag, you'll notice an interesting trend. People find a new product and make a video about why they love it. Then, other TikTokers see the video, buy the product, and make their own video encouraging others to buy.
The cycle repeats, and soon everyone buys products like Scrub Daddies, The Pink Stuff, and Snow Teeth Whitening.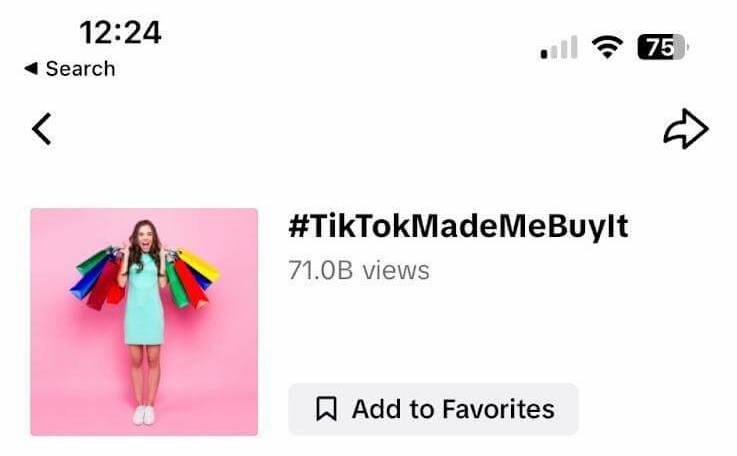 As mentioned, membership sites aren't only about promoting your video content. They're about building a community of like-minded individuals who love your content, talk about your videos and products with one another, create hype amongst themselves, and continue to show loyalty.
3. Feedback and insights
Creators who run their membership through an independent video marketing platform have exclusive access to feedback and analytics. In other words, they can interact directly with their community and capture feedback.
These member insights help creators refine and improve content based on user needs and preferences.
Not only does capturing feedback and insights benefit you as a creator, but it also helps you build a stronger customer relationship with your members.
"Taking in special requests to keep subscribers engaged is a good retention strategy. It gives paying subscribers privileged access to interact with content creators," says Ed Lateef, CEO of Revolution Labs.
It's simple with Uscreen.
Build, launch and manage your membership, all in one place.
Benefits of The Membership Business Model for Creators
We've discussed the benefits you, the creator, will experience from moving to a membership model. But what about your fans? Will they also see added value by signing up for your new membership model?

The answer is a resounding yes! Here's why.
1. Personalized experiences
People favor personalized customer experiences. They're even willing to pay more for them. Forrester found that 77% of consumers have chosen, recommended, or paid more for personalization.
When your video content lives solely on social media, you can't deliver personalized experiences to your hungry audience.
You're at the mercy of the algorithm as to whether or not your content shows up — even when followers are explicitly searching for your videos.
Conversely, when you move to a paid membership model, you have complete control over the content and the experience you provide.
Membership business owners who use Uscreen can personalize their member experience by:
Interacting with members to get real-time feedback on what they want
Offering tiered memberships to cater to different needs
Reviewing analytics to see what content resonates with members
Providing on-demand content across any platform (including desktop, mobile, and smart TVs)
Setting up search and browsing functionality so members can find whatever content they prefer
When you provide personalized experiences, members reward you with loyalty.
2. The real you
Fans follow you because they like you — the real you. Most social media platforms have unforgiving restrictions.

For example, to offer a YouTube channel membership subscription, you must accept YouTube's terms and conditions and meet specific qualifications.
When you own a membership community, on the other hand, you create what you want (and what your taregt audience wants) — without qualifications and restrictions.
3. Exclusive content
When preparing to write this article, I interviewed several people about why they pay for membership sites. I wanted to know what the value is of paying for content that people may think they can get for free on the internet.

Aktug Dogan, Co-Founder of Refermate, summed it up nicely: "Members-only events are the main reason I pay the membership fees of content creators. It is the reason I stay subscribed, too. I consider it good value for money to attend exclusive events and I think of it as investing in education for my own development."
When you create a membership community, you're not only giving your members access to content. You're also offering exclusive content, early access, special perks, and other benefits unavailable to the general audience.
How to Move to a Membership Business Model
Now, let's talk logistics of how to move to a membership business model.
1. Learn what your audience wants
Remember when an Instagram influencer with over 2 million followers couldn't sell 36 T-shirts?

This is a classic reminder that having a large number of followers doesn't automatically mean you can make money from them. You have to know what your target audience wants.
How do you learn what they want? You dive into audience research.
"An audience research strategy means you're keeping a pulse on what your audience cares about and what they're already talking about. Then it's up to you to create the content that resonates with them," says Amanda Natividad, VP of Marketing at SparkToro.
Start the process by using audience research tools, surveying your audience, and analyzing the data you already have.
2. Develop pricing and positioning
The number one motivation for subscription sign-ups is getting a good value for the price, according to McKinsey.
If you want to seal the deal, people need to feel they're getting a bargain on your content — especially if you have a large pool of competitors.
But how do you know if your pricing model is competitive and that people will buy?
First, check the competition to see if your prices are fair. A good place to start is to reference our guide on subscription pricing. Also, conduct competitive research on sites similar to yours. Find out what they are offering and charging. Then, adjust your prices accordingly.
As you settle on a fair price, employ pricing psychology tips to encourage sales. First, consider offering a free trial of your services. This entices people to join your community without any risk. Once they've seen your content, they'll be hooked and ready to pay for continued membership.
Another best practice is to offer a monthly membership price, and a discounted annual membership price.
Uscreen user, Elite Guitarist, uses this technique. Members can either pay a $29/month fee or a discounted $289/year fee.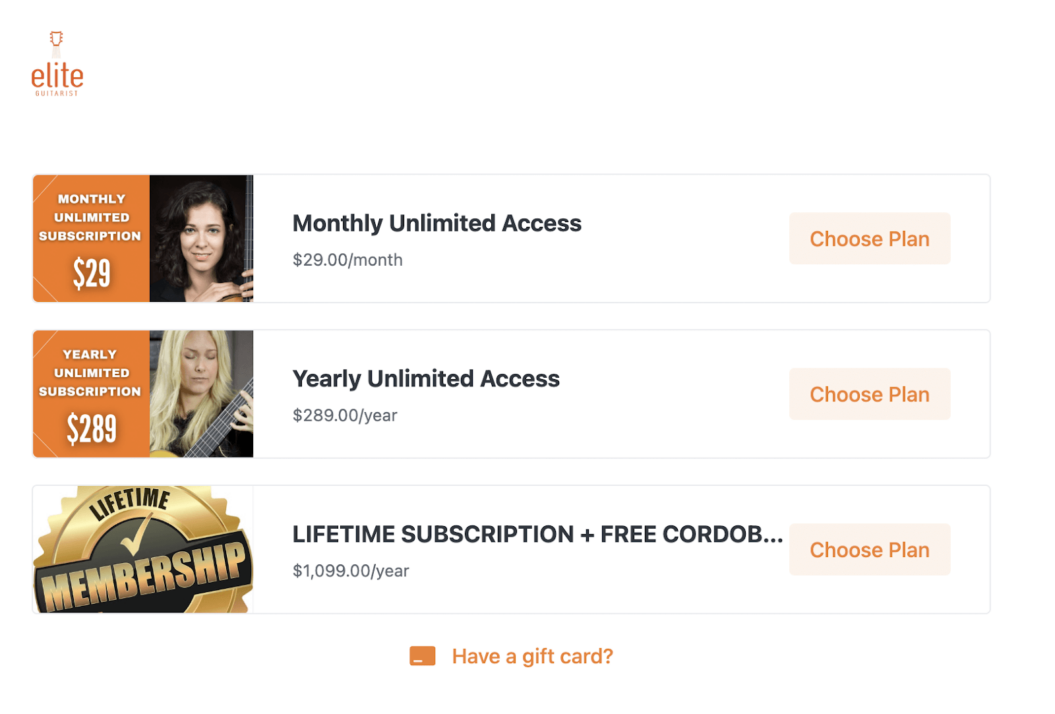 It's also worth considering whether or not your community would benefit from tiered pricing like the well-known Netflix, Spotify, or Dollar Shave Club models.
For example, if you run a fitness community, you may have some users who only want to take your yoga classes, some interested in only yoga and pilates, and others interested in all classes. You could create three membership prices with different levels of access to meet everyone's needs.
3. Choose an independent video membership platform that supports your goals

One of the most important factors in building a successful membership community is choosing a platform that helps you accomplish all of your goals, provides multiple options to build your community, and makes it easy to monetize and grow.

Here's what to look for when choosing the right subscription company or membership platform:
Diversified video provider. Look for a platform that offers on-demand videos, intuitive discovery, and live-streaming services.
OTT apps. Consumers don't only use a web browser to watch video content. They also use mobile devices and smart TVs. Pick a provider that lets you create OTT apps to reach your members wherever they watch content
Community. Look for a platform that provides a safe space for member-generated content, peer connection, and creator interactions.
Monetization options. Don't settle for a membership site that takes a hefty share of your profits or tells you how to monetize. Find one that keeps you in the driver's seat.
Tracking tools. Find a platform that tracks metrics and analytics like subscriber growth and churn rate.
It's simple with Uscreen.
Build, launch and manage your membership, all in one place.
4. Develop a marketing strategy that captures new members
There are many ways to build out your marketing funnel, but we'll focus on using YouTube as a marketing funnel. The reason? People on YouTube are already pre-qualified for video content.
Here's what has worked for many Uscreen users:
Create videos around your subscription program's niche on YouTube.
Create a freebie, mention it in your videos, and add links to the freebie landing page in your video descriptions.
When people click through to the landing page, they exchange their emails for access to your freebie.
Auto-send a email campaign promoting a discounted offer to your paid program.
Sarah Beth Yoga uses this strategy to convert great-fit users to her membership.
Sarah has a video ranking no. 3 for "yoga for grief" on YouTube as well as Google search.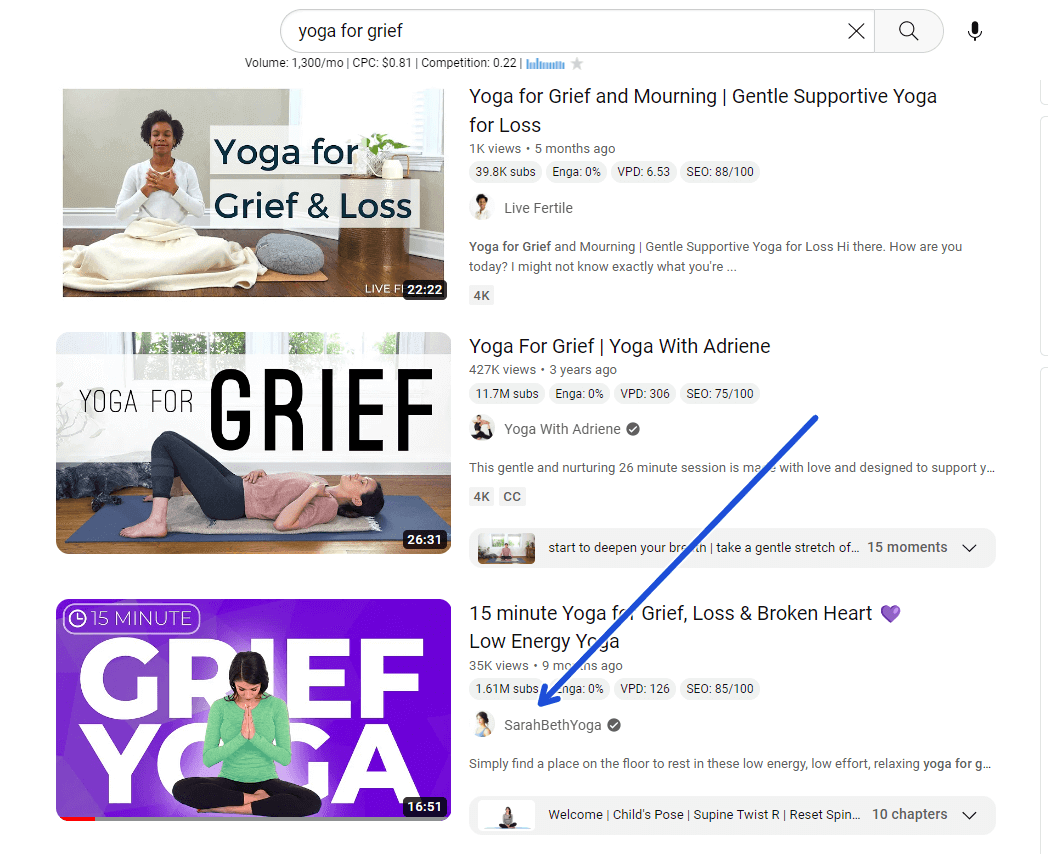 In the YouTube video description, Sarah includes a link to a free gift — a 25-minute video of one of the stretches in the YouTube video the lead is watching.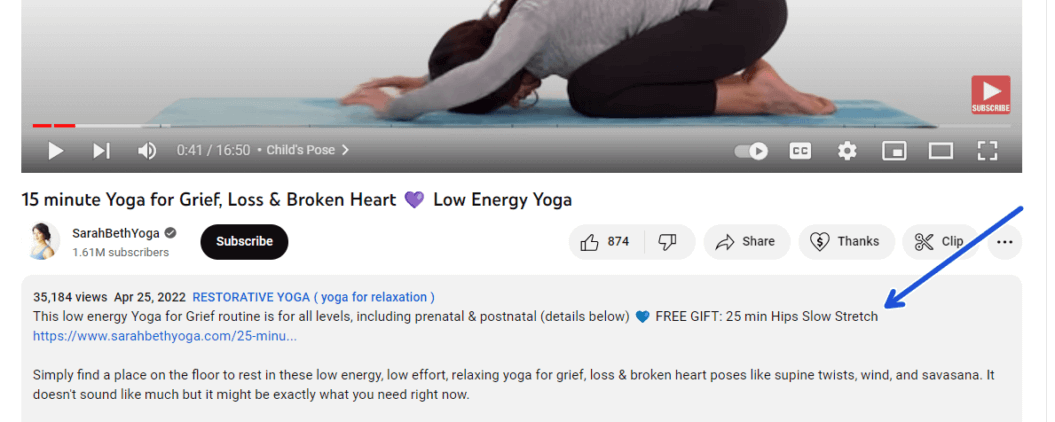 If you click the link, you're sent to a landing page asking for your email in exchange for the video. Once you enter your email, you're placed in Sarah's automation marketing funnel where she can market to you and add you to her customer base.
The same principles apply to any other marketing channel. Create free content around your subscription program's niche and use those to promote a freebie. Once users share an email address, you can use that for email marketing.
5. Optimize your membership community for retention
It's practically business scripture that the best way to make money is to retain the members you already have.
It's true. Members who stick around contribute more to your bottom line, have a longer customer lifetime value (LTV), and act as brand advocates bringing in friend and family referrals.
But this begs the question, how do you optimize for retention? Consider the following:
Know your audience. Keep a pulse on audience preferences so you create content that keeps them engaged and returning for more.
Update and plan content. The membership model is a type of contract. Your members promise to pay a monthly fee, and you promise to deliver new, updated content every month. As long as you plan for new content, your members will stay subscribed.
Build a community. Add value by investing in your community. Members will continue to drop in for member insights, to share their member-generated content, and to participate in ongoing conversations (think Peloton).
Give bonuses and reward loyalty. Subscribe and engage members with bonuses, loyalty points, and personal challenges.
It means a lot to your paying members when you take the time to understand their needs and deliver the best experience. With Uscreen, you can tap into your community members and get direct feedback from members.
Boost income & retention with an independent membership site
If you're a video content creator looking to move to a membership or subscription model, there's good news. You've already done the hard work. You've fine-tuned your video-making craft and built an audience.

Now, all you need to do is direct that audience to a platform you own, have full control of, and can capture more dollar bills for your creativity and hard work.

To get started with an independent membership site, sign up for the free trial of Uscreen.
FAQs about memberships and subscriptions
1. What is a membership business model?
A membership business model involves members paying a fee with a credit card on a recurring basis to join a community or club, often receiving special benefits, and access to exclusive content, or events. It is typically structured to foster a sense of belonging and engagement among members.
2. What is a subscription business model?
A subscription business model is where members pay an upfront or recurring fee at regular intervals to gain access to a product or service. This model focuses on providing continuous value, ensuring customer retention. Amazon Prime with digital products and most subscription boxes and meal kit services where you get physical products are an example of a subscription business model. E-commerce companies, and SaaS (software as a service) companies also offer subscription business models where you pay a monthly fee or annual fee for access to products. Adobe is a good example of this.
3. What are the differences between memberships and subscriptions?
The primary differences between memberships and subscriptions are that memberships often emphasize community and exclusivity with special perks, while subscriptions emphasize continual access to products or services without necessarily focusing on a sense of community or exclusivity.
4. How do creators monetize with memberships?
Creators monetize with memberships by offering exclusive content, experiences, or perks to members, thereby encouraging more people to join and maintain their membership, generating a steady income stream with a proven pricing structure and pricing strategy.
5. Are membership business models profitable?
Yes, membership business models can be profitable as they offer a steady and predictable revenue stream and help in building a loyal and engaged community, reducing customer acquisition costs in the long run. They also provide ongoing income with renewals on a regular basis.