Subscriptions have taken over our lives, and there's no turning back. From Netflix to Spotify to Dollar Shave Club, consumers are shelling out monthly fees to access a wide range of products and services.
And for a good reason – subscription businesses enjoy high customer loyalty, predictable recurring revenue, and low churn rates.
So how can creators leverage the power of subscriptions to build a successful business?
In this guide, you'll learn:
Let's get started…
What's a Subscription Business Model?
A subscription model is a type of business where customers pay a recurring fee to access your content or services. This can be done monthly or yearly, and it's a great way to provide value to your audience while generating revenue.
The best example is Netflix. For a monthly fee, Netflix subscribers can watch TV shows and movies whenever they want.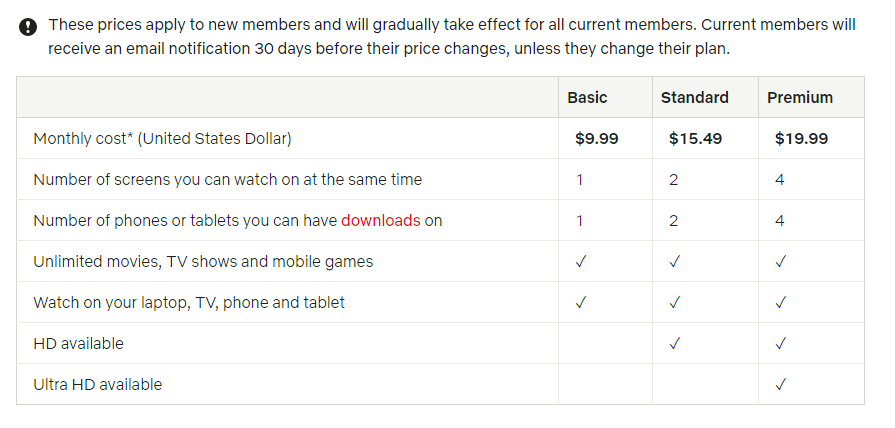 And because Netflix produces its own content, it can offer an exclusive experience you can't get anywhere else.
How Does Subscription Business Model Work?
There are many variations of this business model, but in general, there are two main types:
Content-based subscription: customers pay to access your content. This could be anything from online courses to e-books to blog posts.
Service-based subscription: customers pay to access your services. This could be anything from online coaching to design work to consulting.
You can practically turn anything into a subscription model if your target audience is willing to pay for it.
However, keep in mind that a subscription business differs from traditional businesses because it requires ongoing work to maintain and grow your customer base. You'll need to continually offer new and valuable content to keep people coming back.
So, we've covered the basic concepts of the subscription business model. Now, it's time to ask why. Going back to the "why" builds the foundation of how it could work for your own pricing model.
The Membership Economy: Why Subscriptions Work So Well
The membership economy, also known as the subscription economy, refers to a shift in mentality, within consumers and organizations, from ownership to access. Consumers are putting more value on engaging experiences and hassle-free experiences.
From the business side, subscription companies want to build long-term relationships with customers. This lets them create a more predictable cash flow, a direct customer feedback loop, and greater customer loyalty.
If you're interested in learning more about the membership economy, you can watch a quick summary of Robbie Kellman Baxter's book here:
Now that we've got the theory down, let's look at practical ways subscriptions can help you as a creator.
5 Reasons Why Subscription Business Models Can Help Creators
A subscription business model gives you a more predictable income stream and a loyal customer base. If you have a piece of content, you can monetize it for as long as it's relevant!
For example, Play Smooth Piano has an independent video membership platform where subscribers get unlimited access to all course videos.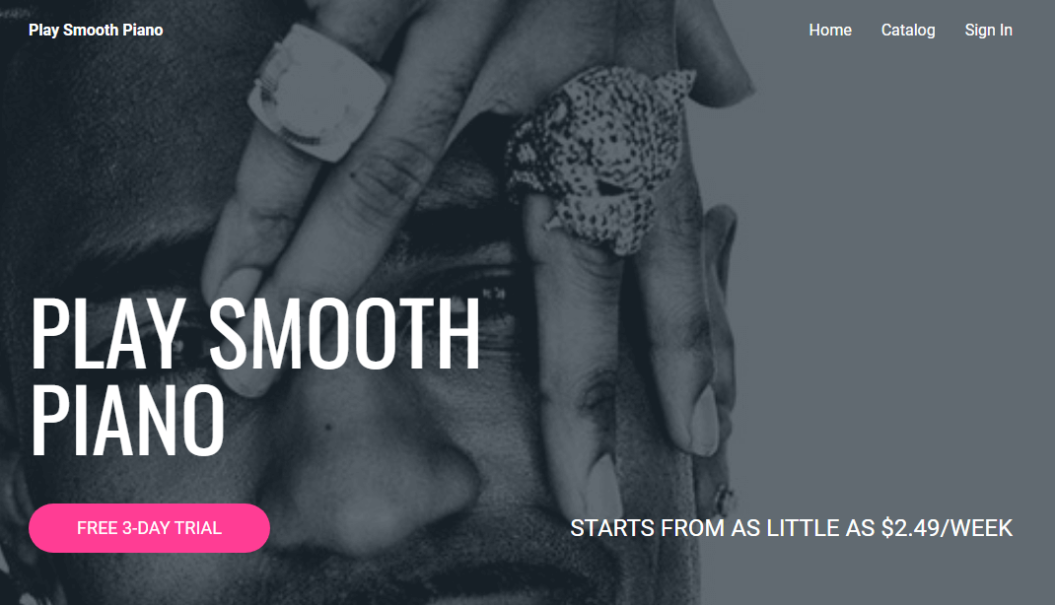 After the 3-day free trial, members can subscribe to a monthly ($9.99), quarterly ($39.99), or ($99.99) yearly subscription.
1. Predict your revenue more accurately
Predictable revenue streams will make your business financially secure and allow you to better forecast your costs. In other words, a subscription-based model is a key to sustainable and predictable growth for your content business!
This stability also gives you more leeway to invest in long-term projects, like developing new content or creating new products.
In this revenue model, the most vital metric to track is Monthly Recurring Revenue (MRR), the predictable revenue you get per month from subscribers. To calculate your MRR, you just need to multiply the number of active subscribers with the subscription price.
Let's say you have 100 subscribers and charge $10 per subscription. Your MRR is $1000.
Another important metric to consider is ARR (Annual Recurring Revenue). It's used to calculate long-term contracts. Divide the total contract value by the number of years. For example, if you offer $2000 for a two-year contract, the ARR is $1000.
2. Offer more affordable pricing structure for customers
By charging your customers periodically (weekly, monthly, annually, etc) you'll be able to spread out the cost of using your service.
Transactional businesses often have higher prices because they want to make sure they're profiting the most from that one sale, which can act as a barrier to getting new customers.
But, subscription companies can offer more affordable prices that are paid regularly, which can be less intimidating for customers
They can also motivate your subscribers to use your service more. In fact, research suggests that people who pay for service frequently in smaller amounts are more likely to engage with it in the future!
3. Get more value over a period of time
The customer lifetime value (LTV) is the total worth they have for your business throughout your relationship with them. Subscription businesses focus on providing consistent value over an extended time to their client.
For example, the LTV of a Netflix subscriber is $291 because, on average, a user stays a subscriber for 25 months. As a creator, you may get more value from a payment that occurs on a regular basis than from selling a one-time course for $49.
More importantly, customers usually pay upfront for accessing a product or service.
4. Build a stronger customer relationship through communities
Growing a community around your subscription business lets you create a loyal and profitable fanbase where your customers feel heard and validated. 
That's because you're tapping into a primal human need; we want to feel like we belong somewhere. For example, Uscreen provides a Facebook Group called Uscreen Insiders to their most active clients.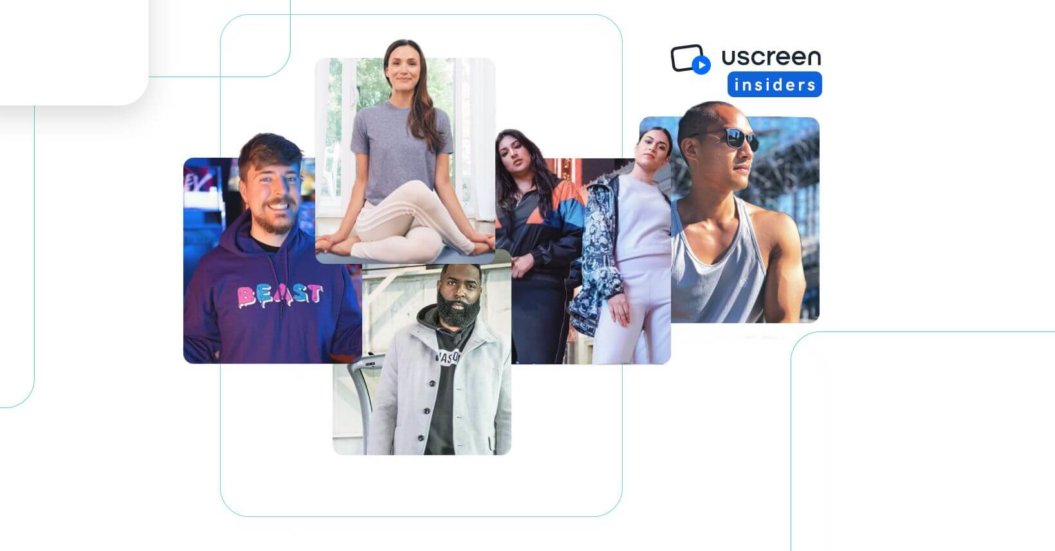 In this group, creators learn about the latest features and new strategies.
Building a community promotes loyalty and improves customer retention and customer experience.
5. Learn directly from customers and improve your business
You can leverage your community to your advantage. What better way to find out what to improve on in your business than to ask your customers directly?
We even do this here at Uscreen since our company is considered a Software as a Service.
On the Uscreen dashboard, our community members can suggest features which helps us:
Understand what our community members actually need.
Which features we should prioritize building.
Retain customers proactively in a cost-effective way.
Give our customers the value they need to stay.
There are more reasons why subscription revenue works well with creators, but overall, it's good for your business, customers, and community.
Best Examples of Subscription Models
Now, let's dive deep into specific examples. As a creator and entrepreneur, you most likely have subscriptions from one of these examples. Amazon and Apple are two of the biggest tech companies that adopted a subscription model.
Let's look at more examples, including content, software, and physical products.
Independent Video Memberships Platforms
The first example, of course, is independent video membership platforms. Members pay a recurring fee to access your video content library.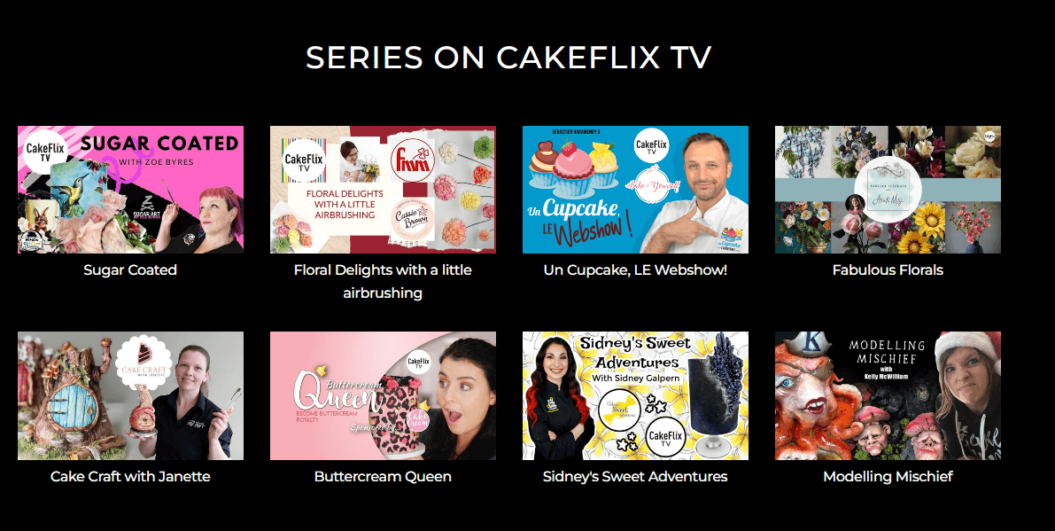 Take Cakeflix, a video streaming service that offers an extensive library of over 1000 cake decorating, baking, and business tutorials. 
Cakeflix also offers one-off sales of specific tutorials (at a higher cost than their subscription).
Written Content with Freemium Option
In the digital age, paper businesses are going down the drain (sorry Dunder Mifflin).
Publications like The New York Times, The Financial Times, and The Economist have switched subscription products to stay afloat. This is largely due to the decline in ad revenue, as big companies like Google and Facebook dominate that market.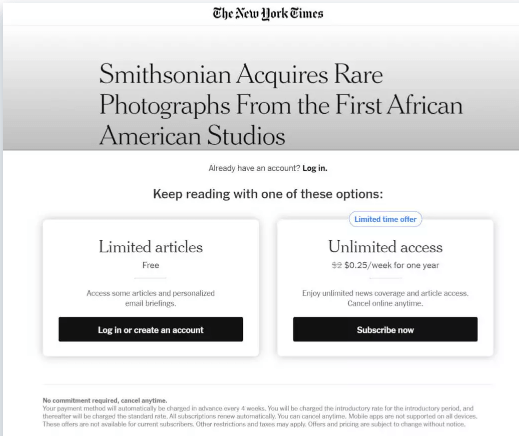 In the case of The New York Times, its ad revenue has declined so much that they've been forced to scale back its investment in journalism. But with a strong focus on creating quality content and a robust membership program, they're well on their way to success in the new economy.
However, this shift towards subscriptions can be tricky – offering enough free content to reel in potential subscribers is important, which lowers the customer acquisition costs.
Software As A Service (SaaS)
SaaS companies let people use premium software and provide value to users by automating or optimizing processes. Let's look at Mailchimp, a marketing and commerce tool that helps people build their brands and sell online.
They offer different plans for their services, targeted at different business budgets and needs. They also offer upselling options and add-ons: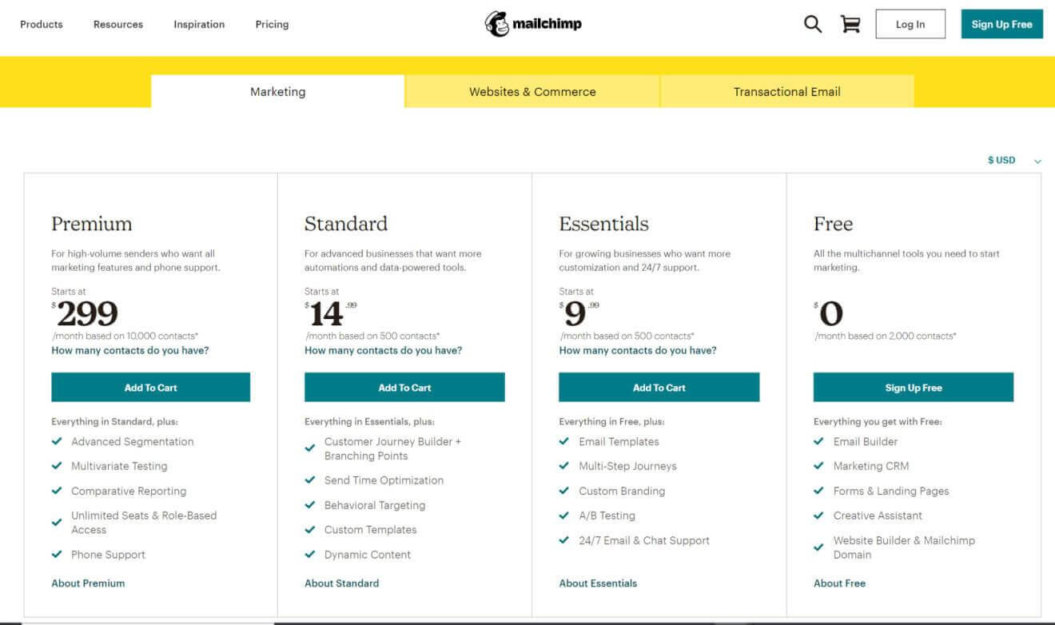 Mailchimp is just one of the most popular examples. But there are literally thousands of SaaS out there, and as a creator, you most likely have a bunch of subscriptions from email software to design tools to video editing software.
Subscription Services: A New (Or Restocked) Product Every Month
If you're a business owner who deals with physical products or an ecommerce store, subscription models can help you turn your product into a fun experience and/or personalized service to your customers.
A great example of this is the monthly subscription box business. These are a recurring delivery of products made for everyone regardless of how niche their interests are.
People who are…
tea aficionados that want to be surprised with this month's pick of funky tea mixes
looking to streamline their cooking schedule with meal-kits that have pre-measured ingredients and recipes
really into socks and want to have the latest picks of fun sock brands
…benefit from subscription boxes because it offers them new value regularly, solve a consistent problem, and/or restock their favorite products. 
Let's take a closer look at meal-plan subscription boxes like Hello Fresh. They offer a versatile subscription that works for different types of customers: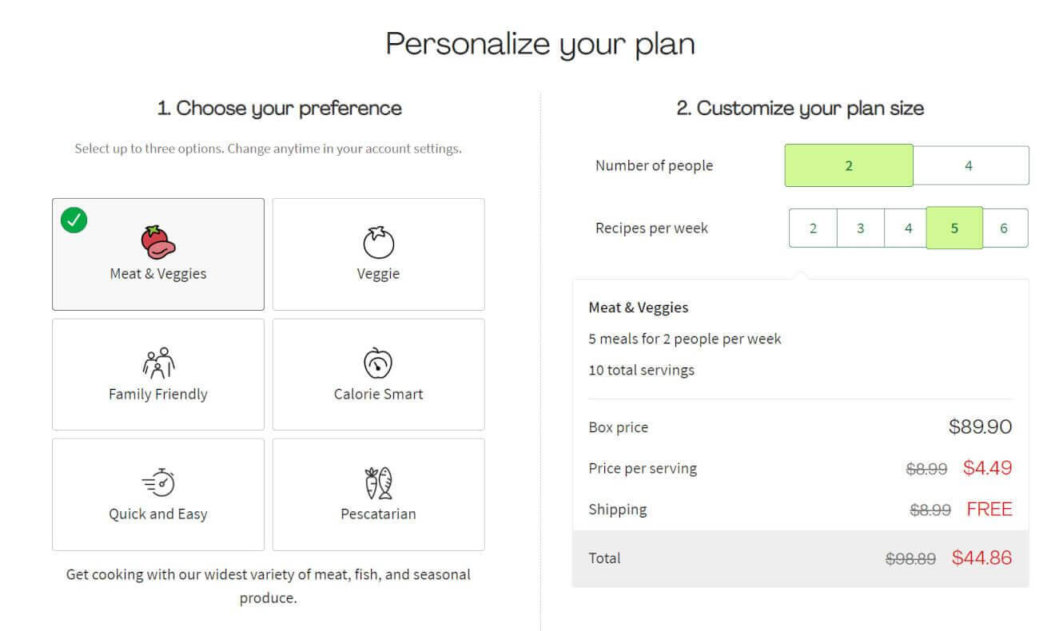 Regardless of your diet, how many people you want to feed, or how much time you have, Hello Fresh has a plan for you! They charge you on how many servings you want and how often you want them!
Customers will get pre-measured ingredients and an accompanying recipe delivered straight to their doorstep.
How to Build a Subscription Business Model as a Creator
Now that you have a better understanding of subscription models, it's time to think about how you can build one for your own creator business.
There are many options, but before taking any action, it's best to:
Understand your main goal as a creator and business owner.
Determine if subscription models will help you reach your goal.
Find the best path to execute a subscription-based model.
For example, is your goal to build a long-lasting brand and create a full-fledged business where you control what you create and how much you make?
Or do you feel more comfortable growing your existing online community on YouTube, Facebook, and other social media platforms and including a subscription model?
Build an Independent Video Membership Site
You most likely have built thousands of followers and subscribers as a creator. Your next step is to add an income stream on top of the ad revenue that you're making from YouTube, Facebook, or Twitch.
This is where building an independent video membership site makes sense because:
You completely control your content, design, and user experience.
You can charge a monthly fee for access to your videos and/or other forms of content (such as blog posts, courses, etc.).
You get to keep all of the revenue that you generate from subscriptions.
It's a great way to supplement your ad revenue and have a more consistent income as a creator.
The best part?
You don't need to be a tech expert to launch a video membership site. You can use an all-in-one solution like Uscreen to start quickly and easily.
Uscreen is a powerful all-in-one monetization tool that lets you:
Charge a monthly, yearly, or quarterly membership for your video content.
Choose from various themes to customize your site's look and feel.
Host live streams with your members
Provide pay per view option for special events
Uscreen is built with the subscription business models in mind and is designed specifically for creators who want to build a business beyond social media.
Add Subscription Option to Your Existing Social Media Channels
If you're not ready to build an independent video membership site, you can add a subscription option to your existing social media channels.
This is a great way to test out the waters and see if your audience is willing to pay for additional content that's not available for free.
YouTube Channel Memberships
YouTube Channel Memberships allow you to add a subscription option to your existing channel, giving your fans the ability to support you directly.
With a YouTube Channel Membership, you can offer exclusive perks to your subscribers, such as behind-the-scenes content, exclusive live streams, or even custom emoji.
YouTube Channel Memberships vs. Membership Sites: Which is Right for you?
Best of all, Channel Memberships are flexible and can be customized to fit your unique brand and audience.
Whether you're just starting or a seasoned YouTube pro, Channel Memberships are a great way to build a stronger connection with your fans and get more support for your work.
Facebook Subscriptions
Facebook's Subscriptions feature is an excellent way for content creators to add a subscription model to their page. With this option, fans can sign up to pay a monthly fee to access exclusive content from their favorite creators.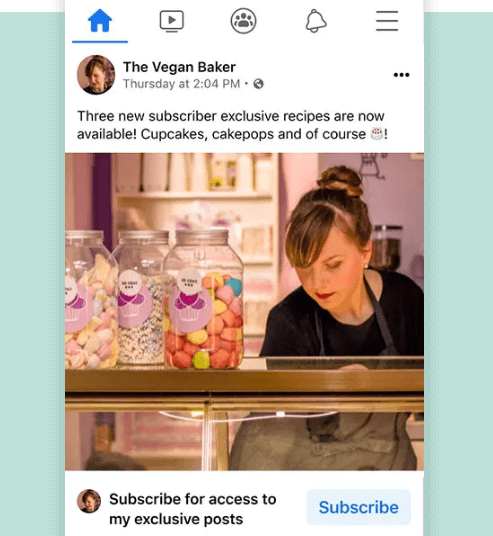 It helps generate additional revenue and provides fans with a convenient way to support the creators they love. The subscription fee will be automatically charged to the fan's credit card every month, and Facebook will then remit the funds to the content creator.
To get this feature, you must have…
10,000 followers
50,000 engagements on your post
180,000 watch minutes
…and meet the other basic criteria, such as the monetization policies and community standards.
Adding subscriptions to your existing social media channel is the easiest way to test if subscription models fit your personality and goals as a creator.
The main disadvantage of using the built-in subscription options of Facebook and YouTube is that you share revenue with them. More importantly, it's always a gamble because the algorithm changes may not always work in your favor.
Wrapping It Up
Subscription business models are here to stay, and as creators, it's best to understand where you want to be in the future.
There are many ways to add this to your existing content, especially if you have already been approved for adding subscription options to your channels or pages.
However, building an independent video membership site is the way to go if you truly want to build a business where you have complete control of your content and revenue.
FAQ
How does a subscription business model work?
A subscription business model charges customers a recurring fee to access your products or services.
What is a subscription-based business model?
A subscription business model is based on selling a product or service in return for a recurring fee. You can offer content, software, service, or even physical products as long as the customers are willing to pay for them.
What are the different types of subscription business models?
There are 2 types of subscription business models:

1. Businesses that offer access to a product, like a video streaming content, written content, or software.
2. Businesses that offer a repeat service and deal with physical products.
Is a subscription business model good?
A subscription business model, when done well, can let you earn recurring revenue, grow your business, and create a community.