Have you noticed that some of your favorite creators moved from an upfront pricing structure to recurring payments? That's because the subscription business model allows you to generate predictable recurring revenue.
Say you launch an online course to your audience. Only a fraction (around 3%) of them will buy. And while the initial payout feels amazing, what happens the next month when you can't relaunch your course to the same audience?
In a subscription business model, you don't have to worry about nurturing new customers whenever you need to generate new subscription revenue.
Instead, you can channel your time and money into improving your offerings and the customer experience for current subscribers. That improved customer experience then leads to customer loyalty and advocacy, and — ultimately — more business.
In this guide, you'll learn:
What is a Subscription Business Model?
A subscription business model is a type of predictable revenue model where customers pay a recurring fee to keep accessing your content or services.
So instead of a course where users make a one-time purchase of say $199 for lifetime access, you may ask users to pay $15 each month. And if they don't renew, they lose access.
But it doesn't have to be a monthly fee either. Some subscription services charge quarterly or annually, or leave it up to user preference.
For instance, Indie Film Hustle only bills annually ($99) for access to their library of videos, whereas Pilates Instructor, Ashley offers monthly subscription classes, as well as annual and even single classes.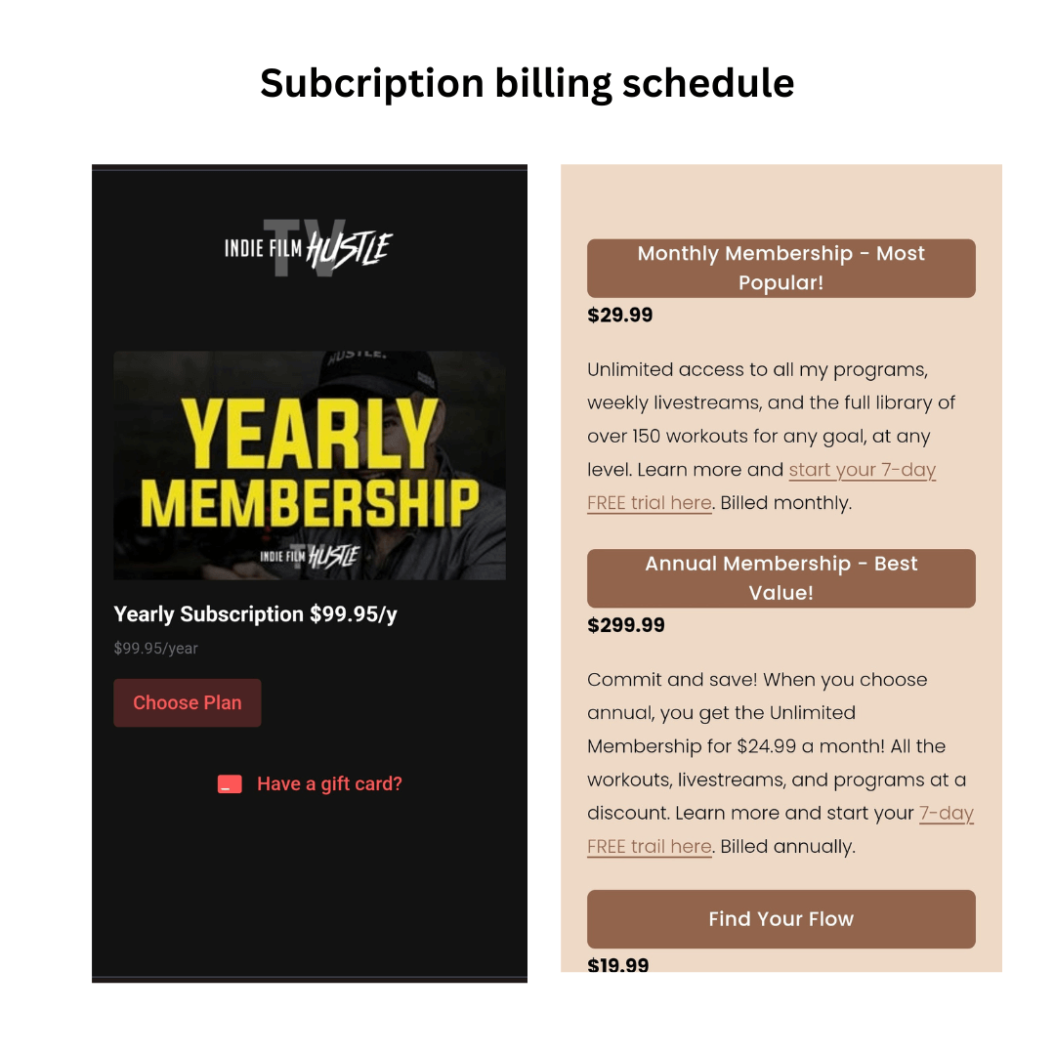 That said, not all subscriptions are memberships like Indie Film Hustle and Ashley's Pilates community. Those two offer a community where members can meet, engage, and build a long-term relationship with the brand and community. Whereas a simple subscription service — like Netflix — doesn't.
Apart from memberships, you can use these other types of subscription business models:
Why Every Creator Should Embrace the Subscription Business Model
Aside from providing predictable income for creators, the subscription business model encourages stronger customer relationships. You get to build a loyal fan base and here's what that means for you and your users.
Benefits of the subscription business model for creators:
Reduce sales objection with lower prices and more content
The lower entry price for subscriptions, and the promise of access to more content make it easier for users to 'try out' your content.
Think about it. You want to see a movie and the home DVD costs $15. But you can sign up to Netflix for less than $7, see that movie plus hundreds of others, and cancel the next month. Which would you choose? My money is on Netflix and so is the data.
While home video revenue halved between 2016 and 2020 (to $11 billion USD), subscription video revenue (that's Netflix, Amazon Prime, e.t.c.) has nearly quadrupled (to $67 billion USD) in the same time span.

The same goes for your audience.
"You can start them off on an accessible low payment (e.g. £8 for a one-month subscription) and then show off your product value so they stay around for the long term." says Ben, Founder of How the F*ck.
Get predictable cashflow
"…Once you know your churn rate, you can better forecast how much you'll earn" — Mike Keenan, Co-Founder of Peak Freelance.
Let's say you have a 10% churn rate and 2,000 subscribers at $10 per month. Even if you don't add any new customers the next month, you can tell that revenue will be at around $1,800 at least.
Even further, you can predict your monthly recurring revenue (MRR) and Annual Recurring Revenue (ARR).
Those are important metrics to know when you make financial decisions — like hiring a VA to free up time, for example.
Build a community you can monetize in other ways
According to the principles of The Mere Exposure Effect, the more your users get exposed to you, the more familiar you feel to them.
And because people buy from people they know, like, and trust, you can successfully add more predictable revenue streams beyond your subscription too. You could sell new products like masterclasses, upsell or cross-sell them to high-ticket coaching, or merch — as the Wanderlust team does.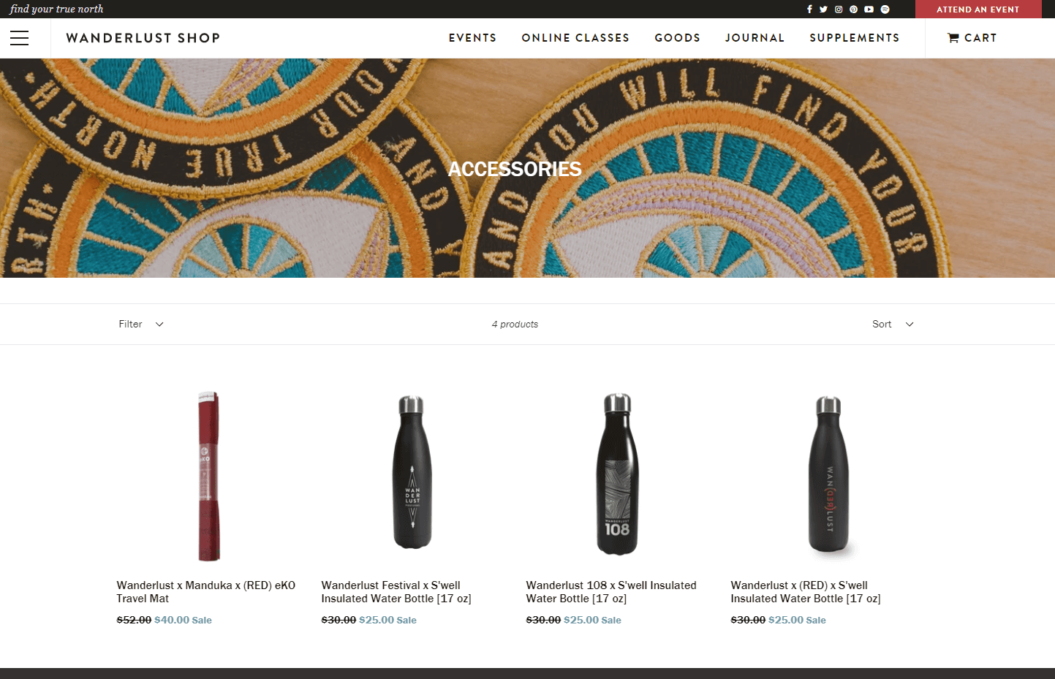 Tip! If your video-on-demand service platform supports it, you should add a community to your subscription. Users will make friends they don't want to leave in the community. That should reduce your churn rate, and make merch feel less like products and more like a community symbol.
Opportunity for continuous feedback, improvement, and brand advocacy
"Subscriptions give you a regular line of communication with your customers, giving you ample opportunities to elevate their brand experience beyond that initial transaction," says Maximilian Wühr, CGO & Co-Founder @ FINN
The more users stay with you, the more opportunity you have to receive valuable feedback from them.
And because you have recurring revenue, you can afford to focus on improving your content and services using that feedback.
All of that leads to better user satisfaction, brand advocacy, network effects (your community becomes more valuable to new people the more it grows), and growth.
The value of your subscription business builds with each new video
Every video you make builds your business' value and makes it possible to raise your prices with time.
When I first joined Peak Freelance in 2021, for example, they had less than 20 videos and charged £20 monthly. Two years later, the library is over 50 videos strong, and recurring subscription price has jumped to almost double.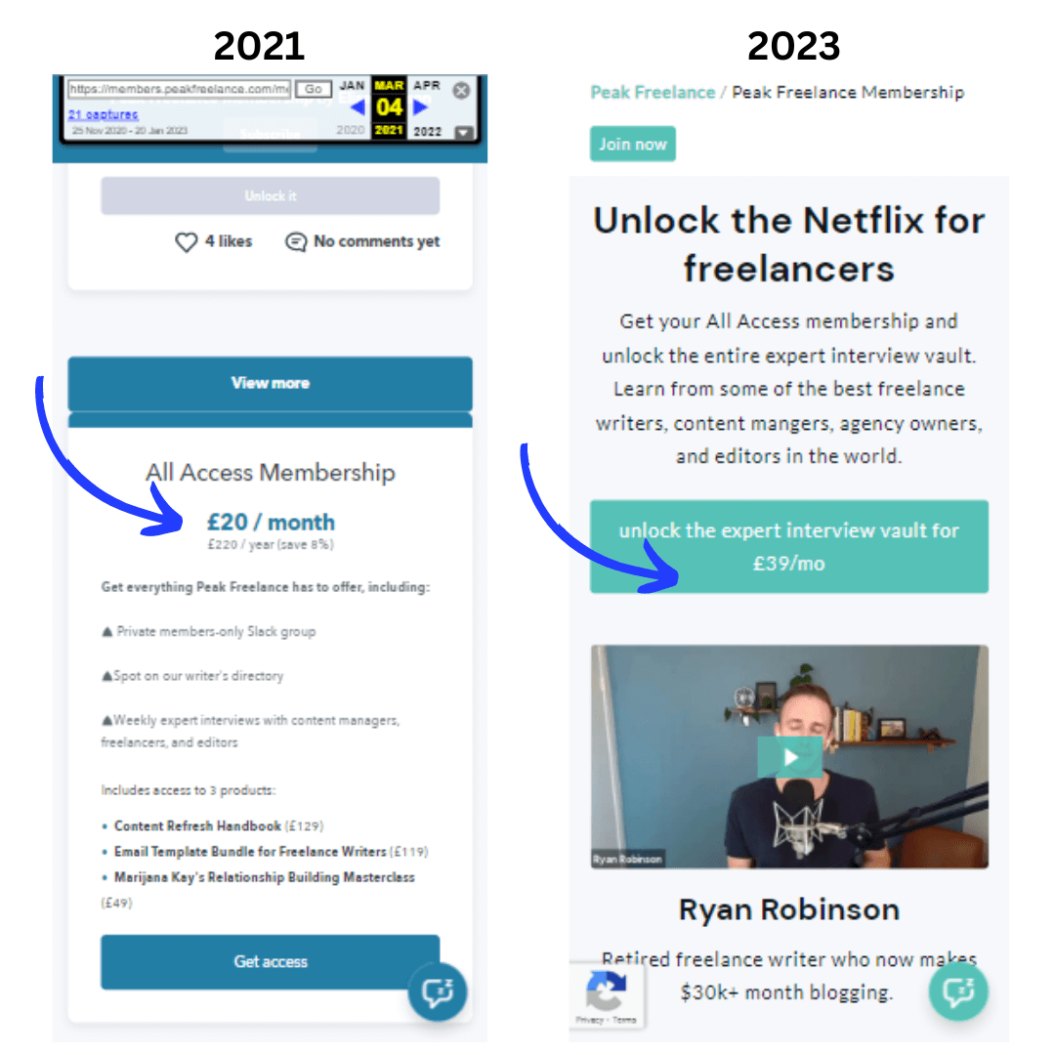 Benefits of the subscription business model for users:
Spread out costs for programs that would be expensive otherwise
The average course costs around $137 — enough to cover a typical American home's groceries for a week. That can be a lot for some people to shell out at once.
Subscriptions allow your users to spread that out.
Where a course would cost $120 lump sum, a subscriber can pay $10 per month for access.
Access to an active community of like-minded people
For subscription services, a Slack community, Discord, or self-hosted community can be the biggest benefit users get.
People find mentors to guide them, friends to encourage them, and even clients to patronize them.
It's like joining a gym versus buying workout equipment to use at home. The people you meet at the gym motivate, and encourage you to keep going until you reach your goal.
Ability to access content and services without owning them
People are becoming less interested in owning things and prefer access instead. It's why we store our documents on the cloud, and stream songs on Spotify.
By offering subscriptions, you give your audience the convenience of access without ownership–just like Spotify does for you.
Robbie Kellman Baxter, a renowned Business Strategy Expert, calls this new way to consume the 'Membership Economy' aka the Subscription Economy.
Click here to watch the video -> youtube.com/watch?v=lQLVR45drwg
How to Move to a Subscription Business Model
To start, or migrate to a subscription business model, do this:
Validate your subscription business idea.
Develop a price positioning that reduces sales objections.
Choose a subscription platform that supports your goals.
Develop a marketing strategy around giving tons of value for free.
Optimize for customer retention with innovation and stellar customer experience.
Click here to watch the video -> youtube.com/watch?v=R2f-P6FQeHQ
Validate your subscription business idea
An Instagram influencer made headlines in 2019 when she couldn't sell 36 T-shirts despite having over two million followers.
A classic reminder that you can't make people buy something when there's no market for it.
But success doesn't mean finding a business idea with high demand alone. We've found that passion and expertise play a role in the success of a subscription business as well.
To validate your subscription business idea, consider: how big a paying market there is, if you know a lot about the topic, and if you could teach it for free.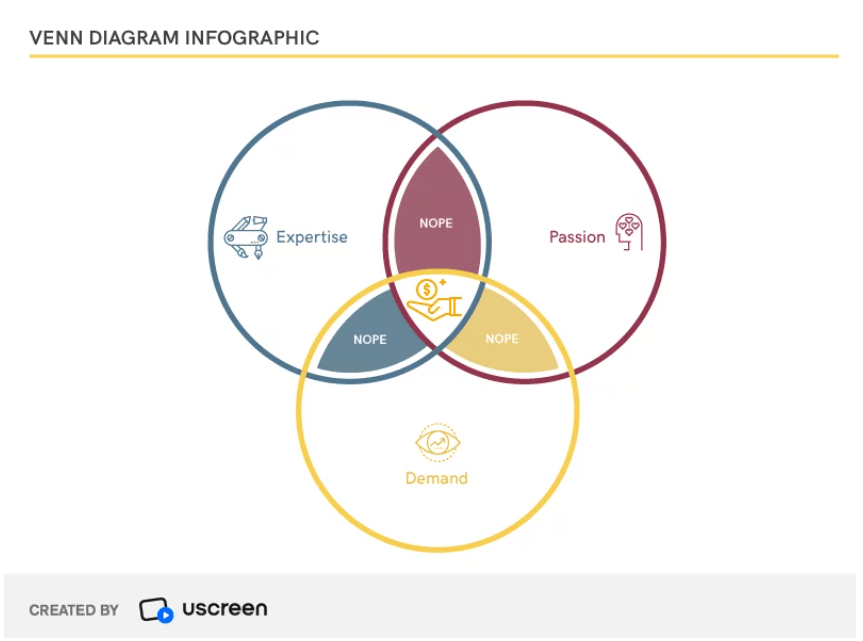 Take out a notebook and write out everything you're knowledgeable in or skilled at.
Don't be afraid to get specific with your list. For example, parenting can be parenting multiple kids, or parenting children with hearing loss.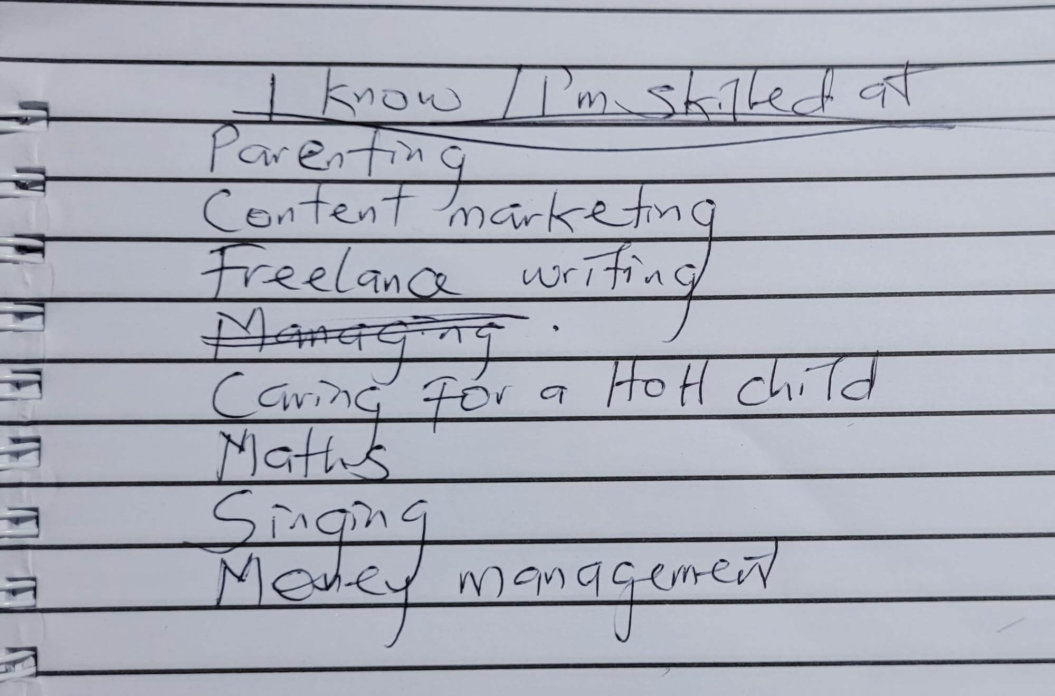 Next, run them through the passion test. To determine passion, some people ask "is this something I like"?
I prefer to ask "Is this something I like to teach, even for free"? Because in the first months, it will feel like you're teaching for free.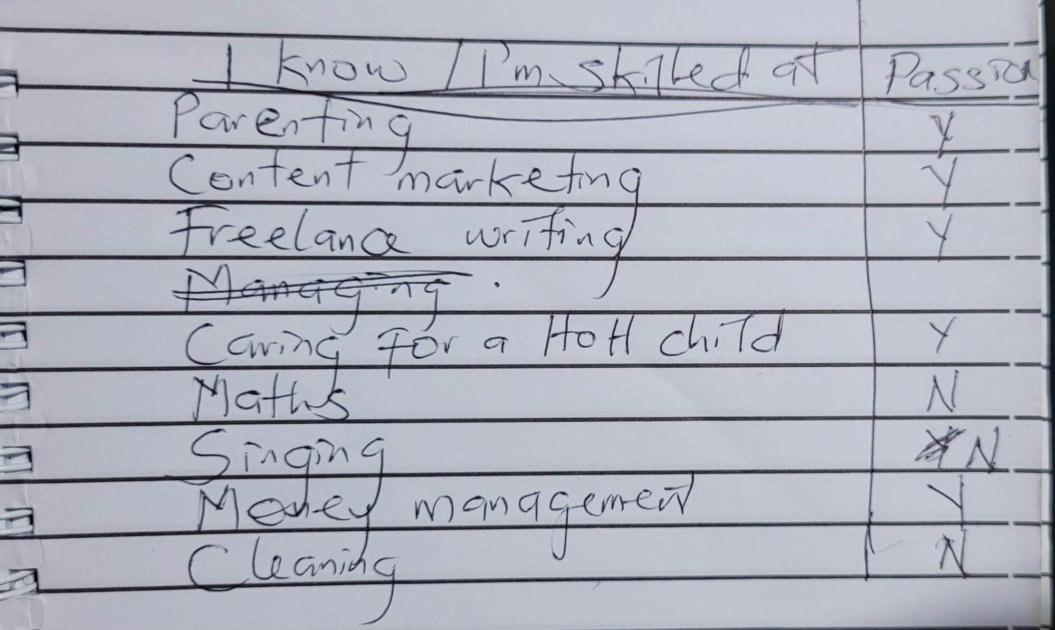 Finally, confirm paying demand for the skills you're passionate about.
There are many ways to do this, but if you're offering video content, here's the fastest way:
Sign up for a free keyword research account (Semrush allows five free searches per day).
Perform a search for your skill + 'course'.
A monthly search volume of 1,000 and up is great! (But don't discount demand in the hundreds either.)
I also like to look at the 'Trend' section to see if the field is growing, and look out for higher CPC (Cost per click).
If you're feeling stuck, these pre-vetted membership subscription site ideas should get you started.
Pro Tip! Sometimes, the idea you have is one that isn't already out there. It doesn't mean that it's a bad idea. If you can survey your target audience, you should be able to determine if there's a need for it.
Develop a price positioning that reduces sales objections
The biggest motivation for subscription sign-ups is good value for the price. That means that people need to perceive that they're getting a bargain on your content compared to your competitors'.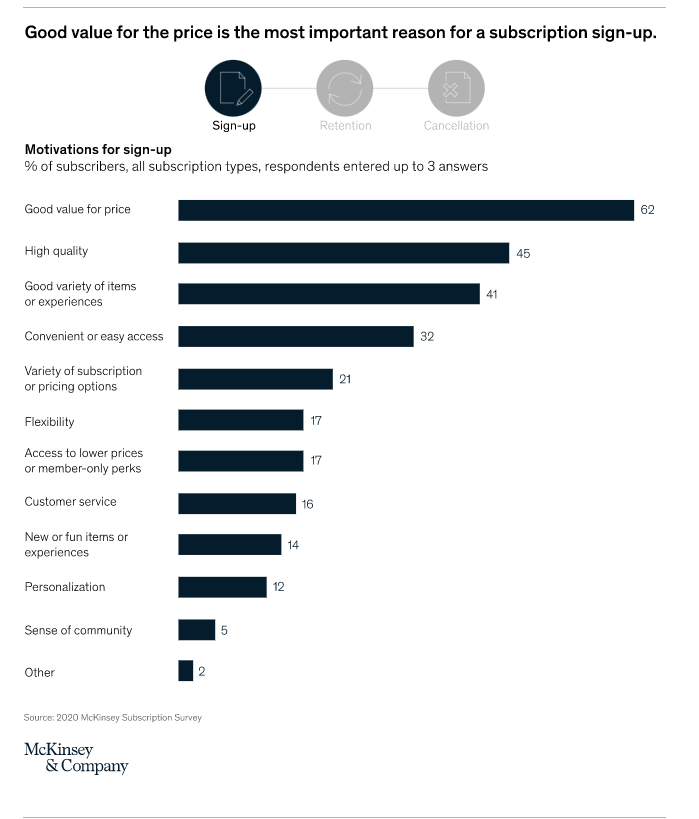 Three things influence whether users resist or accept your prices:
The actual price in comparison to industry standards.
How well you communicate the value of your offering.
The options you give subscribers.
Start by checking out the competition.
If you want to offer a subscription for yoga classes, for example, you could look up some of your favorite instructors' pricing.
Alternatively, you can search online. A quick search for "yoga membership online" brought up this list of yoga memberships priced at $13 – $60 per month. The most common price was $20 per month.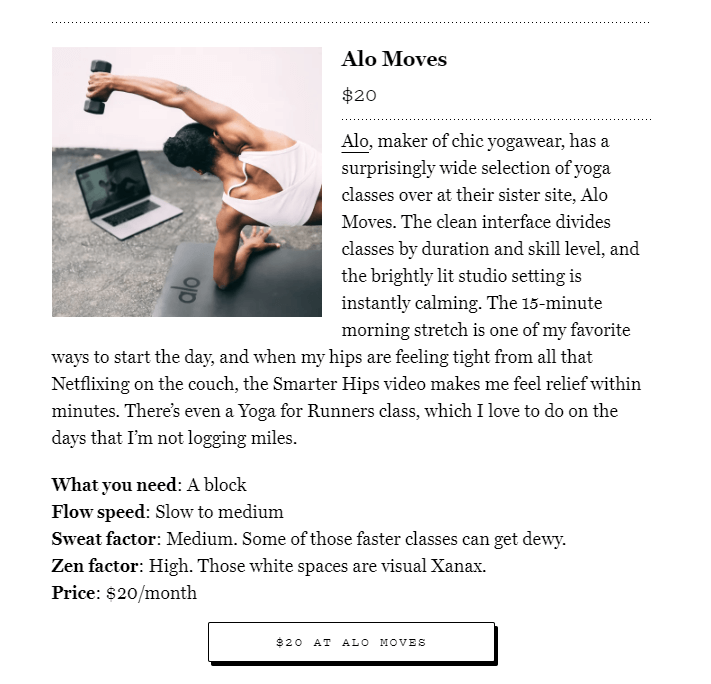 If you're stuck, use our guide on subscription pricing to figure out your best price.
Next, your landing pages need to communicate a desired transformation, along with the deliverables subscribers get.
This starts with an understanding of your audience.
Ask:
What challenges are my ideal users facing?
What would winning look like for them?
What add-ons would they be looking out for to reach their transformation?
The folks at Peak Freelance do this right. They tug on challenges and wins, and they highlight features users would be looking for as well.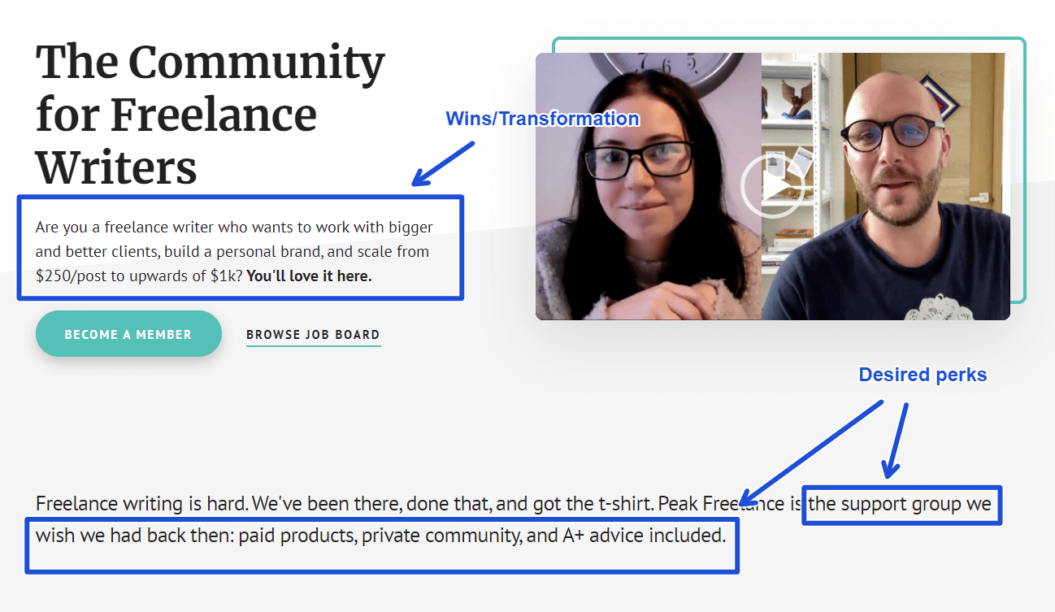 Finally, give potential subscribers control with options.
Money-back guarantees, a choice between monthly and yearly payments, or even tiered subscriptions… These choices refocus the attention of potential subscribers.
Ron Baker, an Expert on the Value Pricing Model talks about how options change the frame of mind from "Should I buy from this creator?" to "How should I buy from this creator?"
<iframe width="560″ height="315″ src="https://www.youtube.com/embed/TB54_6bEP-A?start=1953″ title="YouTube video player" frameborder="0″ allow="accelerometer; autoplay; clipboard-write; encrypted-media; gyroscope; picture-in-picture; web-share" allowfullscreen></iframe>
Choose a subscription platform that supports your goals
If you know how to hack things together, you can sell subscription products from almost any website. However, a platform purpose-built for subscription businesses will be less hassle and allow for more growth.
Look out for subscription platforms that allow you to:
Build and host your website.
Choose your monetization method and accept worldwide payments.
Own your audience data and billing information.
Host your video content so you don't have to shell out extra money for video hosting.
Manage and organize your videos into streamlined categories or paths.
Live stream videos to any device.
Distribute your content with OTT apps.
Track subscriber growth and churn with robust analytics.
Integrate your other tools.
Build and engage with your community.
For a lot of people, that platform is Uscreen (hello, that's us ?). But just in case you're not ready yet, there are other video monetization platforms to consider as well.
Develop a marketing strategy around giving away tons of value for free
When you sell traditional courses or e-commerce products, you remove as much friction as possible. The goal is to get leads to convert fast.
The course price is typically high enough to justify customer service for bad-fit users who may want refunds or demand intense customer support.
With subscriptions, the lower entry price makes it unreasonable to support bad-fit users. That's why you need a robust marketing funnel.
There are many ways to build out your funnel (including using social media) but we'll focus on using YouTube as a marketing funnel in this article. That's because people on YouTube are already pre-qualified for video content.
Here's what we've seen work for many Uscreeners:
Create videos around your subscription program's topic on YouTube.
Create a freebie, mention it on your videos, and add links to the freebie landing page in your video descriptions.
When people click to the landing page, they exchange their emails for access to your freebie.
Auto-send a drip email campaign promoting a discounted offer (maybe 20% off) to your paid program.
Sarah Beth from Sarah Beth Yoga uses this strategy to convert great-fit users to her membership. Here's an example:
Sarah has a video ranking no. 3 for "yoga for grief" on YouTube as well as Google search.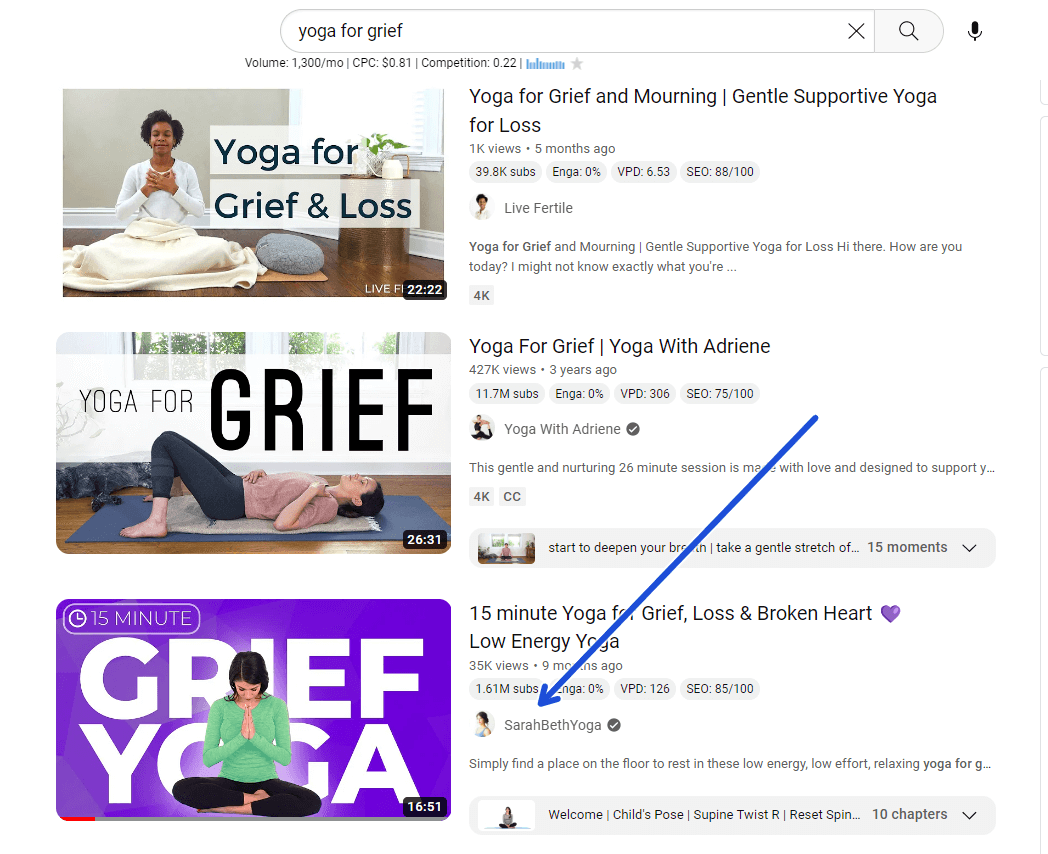 In the video description, Sarah includes a link to a free gift — a 25-minute video of one of the stretches in the YouTube video the lead is watching.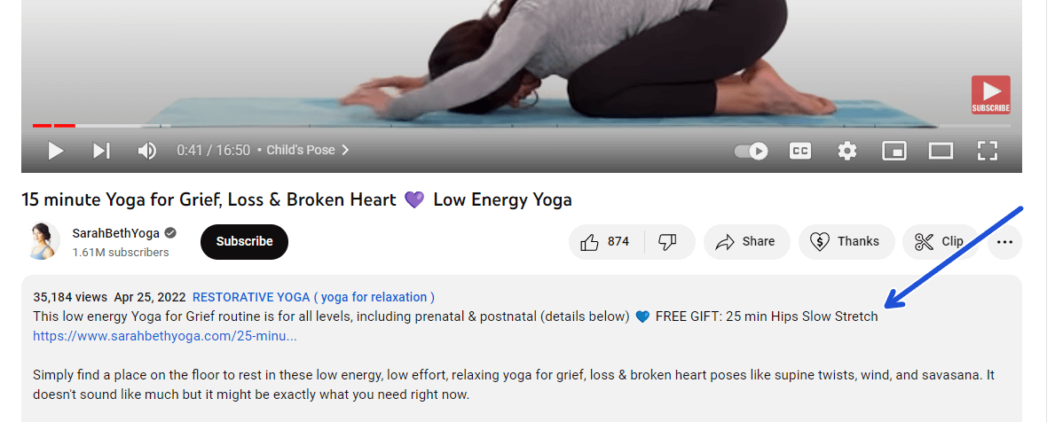 If you click the link, you'll find a landing page asking for your email in exchange for the video. The email you share allows Sarah to automatically enter you into her email marketing funnel.
The same principles apply to any other marketing channel you choose to use. Create free content around your subscription program's topic and use those to promote a freebie. Once users share an email address, you can use that for email marketing — where the magic happens.
Optimize for retention with innovation and stellar customer experience
A 5% increase in customer retention can boost profits more than 25%.
Happy customers tell others about you, and one customer becomes two, three, and more.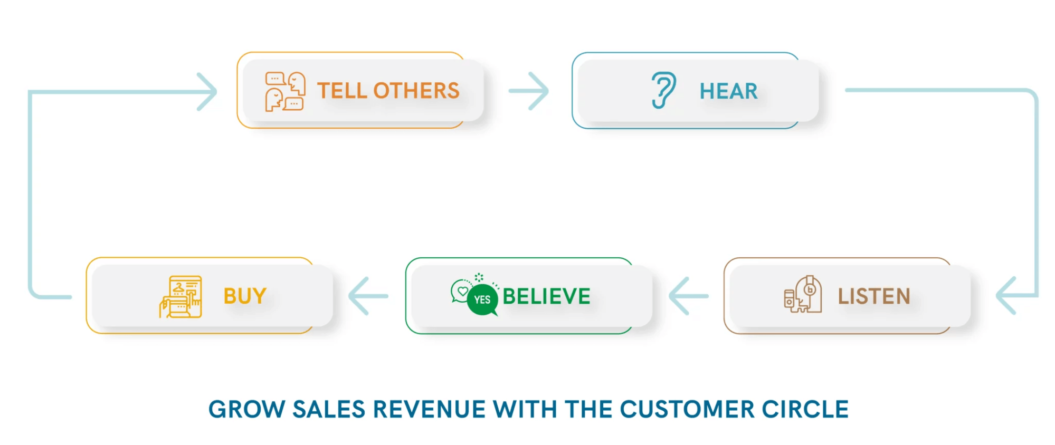 The top 3 reasons why people stay after they subscribe are: value for money (52%), quality (48%), and variety (35%).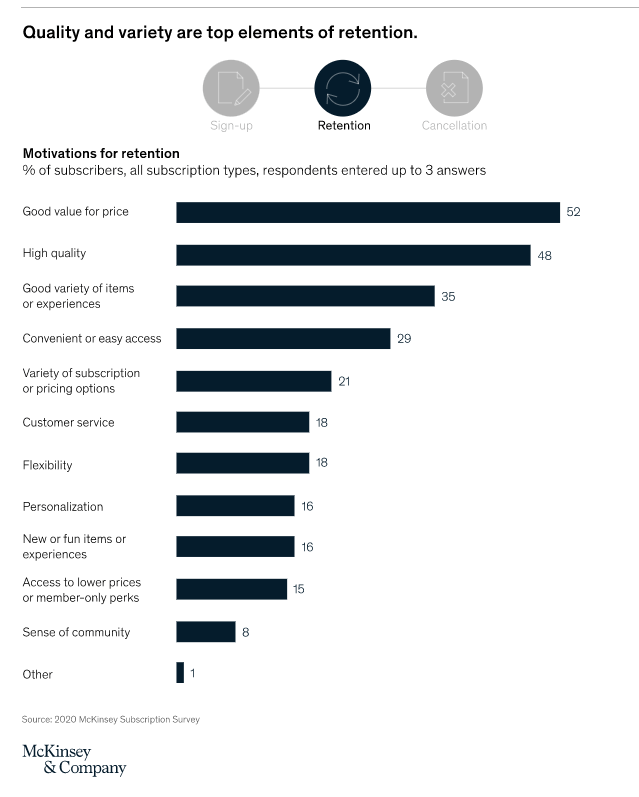 To boost retention rates, do this:
Keep your pricing fair relative to other subscriptions in your industry.
Shoot each video with care, ensuring the content is thorough, and the visual and audio quality is high.
Constantly add new videos, challenges, interactive live sessions, and other experiences that keep your users engaged.
Use personalized emails and push notifications to bring users back to the platform.
Create paths that remove overwhelm, and guide users to specific transformations — the same concept behind YouTube playlists.
The right subscription platform should also help you reduce churn. At the least, your platform should have a user-friendly interface and engagement features like push notifications.
One of our favorite Uscreen features is the Reduce Churn feature, it helps you collect customer feedback before you leave. That way you can improve your product and user experience. There's also the functionality of adding a win-back discount that forces churning users to rethink their decision. Check it out!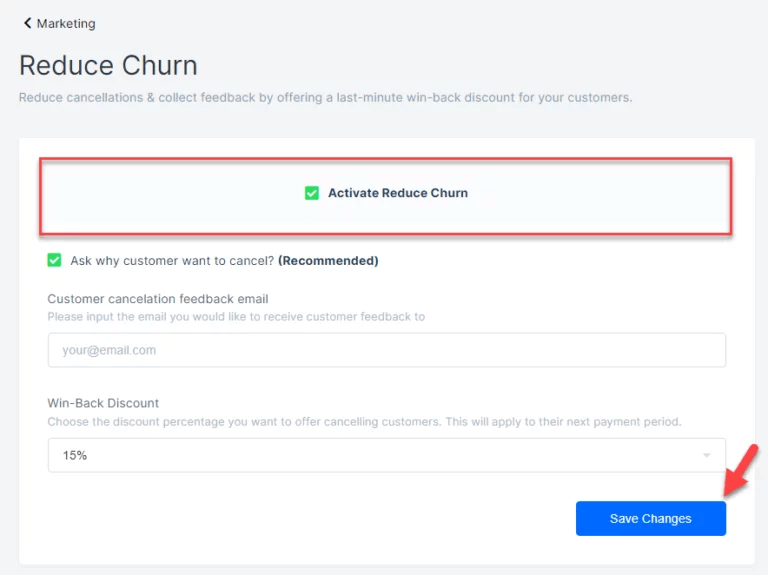 Drawbacks to Prepare for With the Subscription Business Model
Despite all its benefits, the subscription business model isn't without its flaws. These three disadvantages may frustrate you if you go in without a plan.
It requires ongoing innovation
Even when they can't go through everything in the library, customers will still expect new content.
This can cause a lot of pressure to constantly create something new and that's not ideal.
"We're mitigating this drawback through partnerships," says Shayla Price, Founder of Primostats
Consider partnering with:
Industry leaders for interviews and stories about their journey.
Star users for interviews and stories about their transformation.
Adjacent industry leaders to teach your community something they should know. (Yoga Instructor, Sarah Beth invited a menstrual cycle expert to teach her audience about Yoga and cycles, for example.)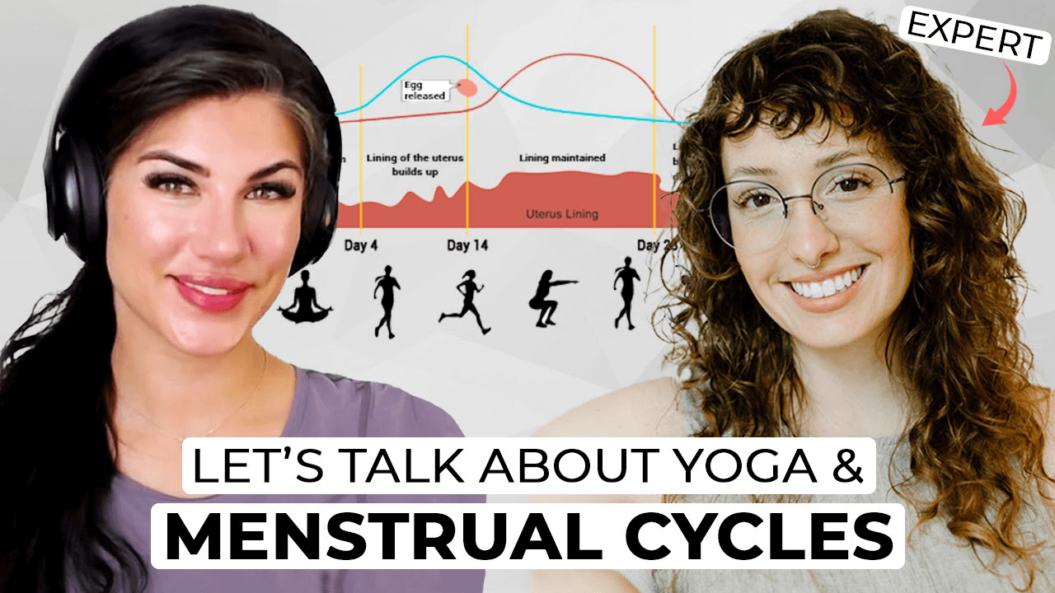 You can also recycle old videos into challenges to keep subscribers happy. If you're a fitness instructor, for example, you could run a summer beach body challenge using your old videos.
It may attract low-quality subscribers
"I have a huge library of SEO case studies and £8 gives access to the whole thing. People can access everything for a low cost and cancel immediately if they want." says Ben
Subscribers like this negatively impact your customer lifetime value (LTV) and customer acquisition costs.
To mitigate this, add more friction to your marketing funnel so only your best-fit subscribers sign up.
Also, it may be worth offering only yearly subscriptions in cases like this.
Churn is inevitable
Learn your churn rate so you know what to expect and how to plan for it.
Subtract the number of new customers at the end of the month from your total active customer base. Then divide the result by the number of customers at the beginning of the month. Multiply that number by 100 to get your churn rate.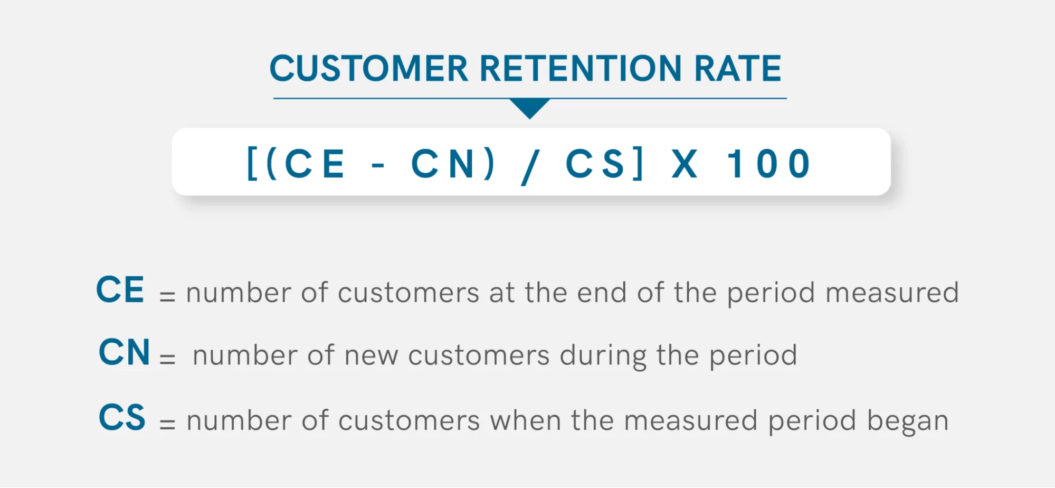 There's also indirect churn, where customers don't voluntarily leave, but their credit card payment source fails to charge.
Ben says "People's payments bounce regularly. Stripe lets me know, but if the user doesn't have money in their account I'm just not gonna get paid that month. It's mostly an accident, but you have to have some kind of payment recovery in place which is a pain."
Retention equals growth in the subscription business model
It may seem like a no-brainer, acquire more users and you'll make more money.
But not all user acquisition is equal. Paid ads, for example, are notorious for bringing in high-churn rate subscribers — PPC churn.
The key lies in focusing on the quality of users instead of quantity, and then thoroughly delighting them with great content and an engaging customer experience.
This is how growth happens; your high-quality users tell their circle about your program, and one customer becomes two, three, and even 10!
Ready to launch your own subscription business, get full guidance with our FREE Video Business School.
FAQs About the Subscription Business Model:
How does a subscription business model work?
A subscription business model charges customers a subscription fee to access products or services on a recurring basis.
What is a subscription-based business model?
A subscription-based business model is based on selling a product or service in return for a recurring monthly fee. You can offer content, software, service, or even physical products as long as the customers are willing to pay for them.
What are the different types of subscription models?
The six different types of subscription models for creators are: The Membership Model, The Subscription Box Model, The Netflix Model, The Mastermind Model, The Keep Them Engaged Model, and The Subscribers Only Model. All these subscription models cater to content access or services.
What businesses use a subscription model?
Software as a Service (SaaS) products, telecom service providers, and even your daily newspaper delivery are some examples of subscription service businesses.
Is a subscription business profitable?
A subscription business can be profitable when you have a decent amount of subscribers, a solid subscription revenue model and a low churn rate.