One of the biggest problems facing fitness instructors is scaling.
Being able to help more people and earn more money without having to work more hours each and every day. After all, there's only so much room in your calendar or the fitness studio.
One of the best ways to do this is to move your business online where you can connect with an unlimited amount of people. But, this is only the first phase of creating a profitable online fitness program.
The second phase is to create your own fitness app.
Doing so could help you increase your client base, and your income, by up to 30% in just a couple of weeks. Let me explain how…
The Power Of Fitness Apps: Be There For Your Clients (Wherever you are)
If you're anything like me, you have a bunch of fitness apps on your phone.
You know, apps like:
MyFitnessPal

Strava

Garmin Connect

Nike Training Club
They are powerful tools that can help transform people's lives. Even just using a GPS running app and sharing what you did can increase participation and keep people training.
This is why both clients and trainers love them, and 58% of smartphone users have downloaded at least one! And, this usage presents an excellent opportunity for you. Why?
Because if you already have a video-based online fitness studio, you can create your own app to connect with your clients.
(If you don't know what that is, take a look at this post here.)
These apps – called OTT apps – enable your clients to access your videos on their chosen device, like a:
This means they can take their training with them, access it on their favorite device, and use it wherever they are.
Better still, it can help you increase:
Your client base

Your income (more on that in a second.)
By allowing you to work with more clients, in more places, on more devices, without needing to make any more content than you currently do.
Before you say this sounds too good to be true, let's take a look at a quick case study to show you what I mean.
How Shellie Brought Her Tennessee-Based Training To Thousands
Shell Shock is a class-based fitness studio in Franklin, Tennessee. Shellie, their owner, wanted to scale her business and help people outside of the 15-mile radius around her studio.
So, she created an online fitness studio, which allowed her to connect with hundreds of new clients around the country (and the world).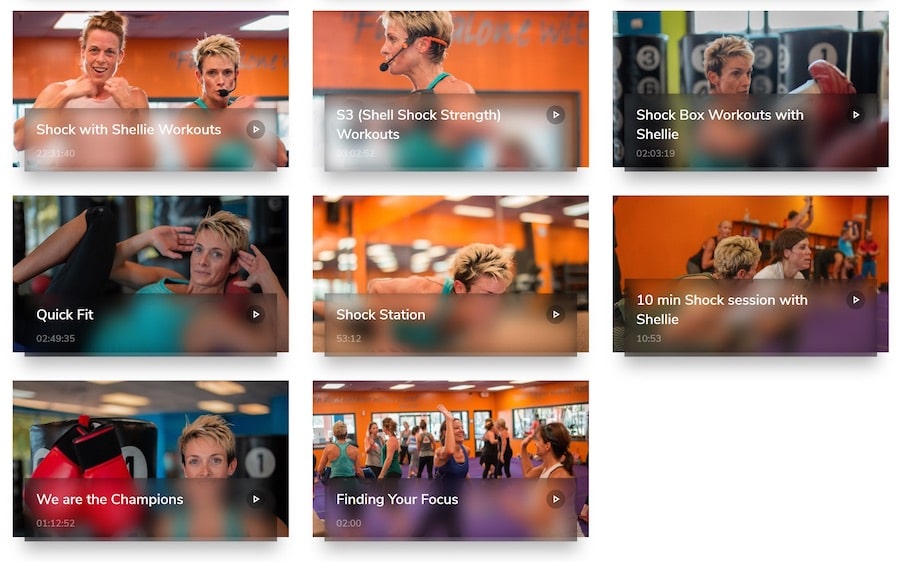 Then, when she was established online, she created a Shell Shock Fitness App so her clients could have more flexibility in where they accessed her classes.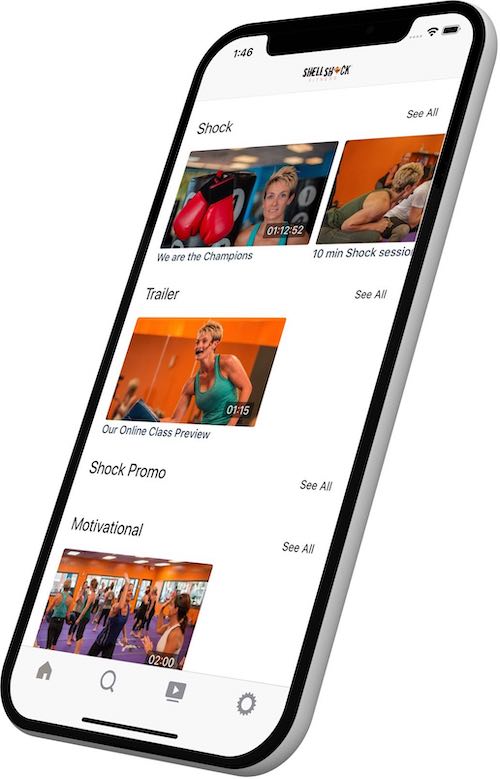 This meant that Shellie could expand her client base and offer a more tailored solution for the needs of her clients. And, isn't that what all trainers are trying to do?
Through this, Shellie was able to reach thousands of people. That's more than will fit into Shell Shock's fitness studios!
Our research into fitness business owners that launch fitness apps shows that their revenue can increase by as much as 30% with many breaking $7500 a month in recurring income.
It's a small shift to your business model than can have a significant impact on both your client's results and your overall income.
And, there has never been a better time to look at launching your own fitness app…
Survival Of The Fittest: How To Win The OTT Gold Rush
We have entered an era we at Uscreen are calling the OTT Digital Gold Rush.
Businesses across all industries are launching OTT TV and mobile apps and working hard to become the best in their industry. In essence, to become the industry-specific Netflix of the future.
And this presents an opportunity for everyone in the fitness industry.
There are few industries better suited to OTT apps than fitness. As you saw above, they are a great way to transform clients' lives (and your income) by providing direct-to-device content.
But the window is small.
We estimate that you have about 18 months until all the "gold" is gone, and the OTT status quo is in place. After that, it will be a much slower and harder uphill battle.
Fitness is still waiting for someone to come along and be that person who changes the game, both for their clients and their industry.
If you're reading this now. If you've gone out of your way to research OTT apps and look for innovative ways to grow your business, there's a good chance that person will be you.
But you have to act now…
If you want to see earnings of $7500+ a month. If you want to change the lives of hundreds of clients. If you want to make your mark in the industry. Then you need to try this out.
How To Launch Your OTT Fitness App
We recommend that you use Uscreen to create and launch your app.
There are lots of ways you can build and launch your OTT fitness app. The most effective and budget-friendly way is to lease an app from an OTT platform service, like Uscreen. 
Using our existing technology, and with the support of our team of experts, you can create and launch your app without breaking the bank!
We truly believe we are the best option for launching OTT apps. We've worked hard to create a platform that is specifically built for video creators who want to monetize their content!
But, don't just take our word for it.
No matter what platform you choose to launch your OTT app, make sure you pick the right platform based on what you need. It's no different to picking the right personal trainer; they need to be able to help you get the results you're looking for.
We have years of experience working with fitness professionals to help them build apps, create products, and run a profitable online fitness business.
And, we'd love yours to be the next!
Click here to take a closer look at how Uscreen can take your business to the next level.
See you over there.
Curious to see what our
OTT apps look like?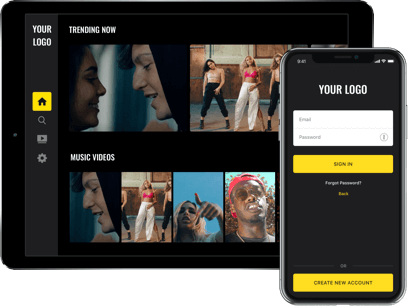 Wrapping This Up…
Fitness apps are an essential part of the fitness industry. Both clients and trainers can use them to track, connect, and boost their training.
And, if you have a video-based online fitness studio, you can create your own and increase your audience and income by up to 30%. Just like Shellie did for her Shell Shock studio!
Doing so might just be the best decision you ever make. There's never been a better time to get involved in the OTT gold rush. You might just become the go-to person in your niche by doing so!
If you want to get started, I'd love to invite you to check out our Video Business School to see how you can do this yourself.