Have you been thinking about how to create your own live video streaming app?
Then you've come to the right place.
In this straight-talking guide, we'll cover:
Let's go!
What Is A Live Video Streaming App?
I know what a live video streaming app is, skip ahead!
A video streaming app is a mobile application that can be downloaded onto mobile devices and TVs, where users can easily access and stream your content.
From Android to iOs, streamers can view your video-on-demand (vod), real-time live streams, and other content just by clicking an icon on their home screen.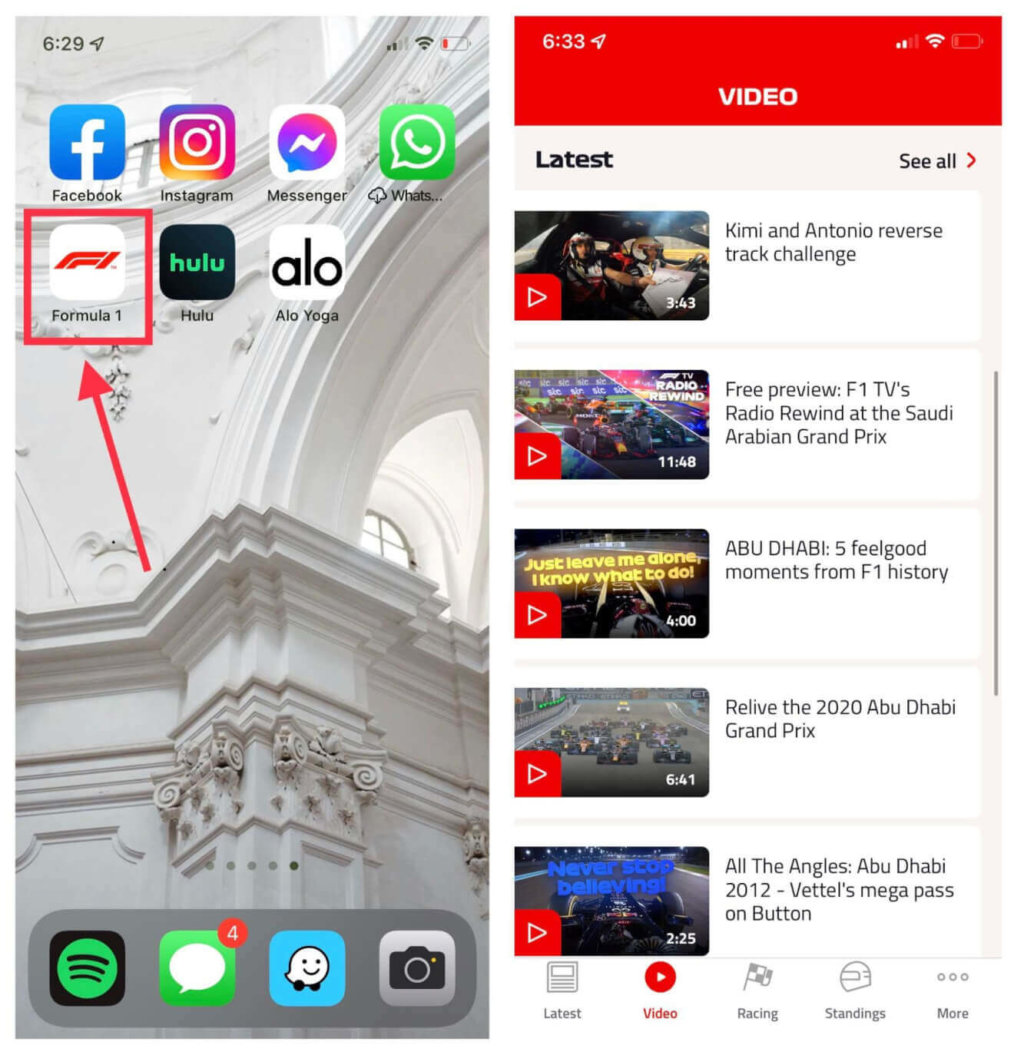 Mobile apps are used by video streaming services, big and small, to connect with audiences anytime, anywhere, on their preferred device. Big names in the streaming market like…
…all have mobile apps and Smart TV apps ready to serve movies, TV shows, and other video content to their audience wherever they are.
The key elements of a live video streaming app are all about streamers' user experience. Can it handle the right bitrate and video quality, does it offer push notifications? And can you, as the content creator, use the backend functionality easily?
If so, you'll be in a great spot to use your app to grow your content streaming business…
It's simple with Uscreen.
Build, launch and manage your membership, all in one place.
How Live Video Streaming Apps Can Help You Scale Your Content's Monetization
Video streaming apps work as an efficient business model and monetization strategy for creators. They create a lot of monetization and growth opportunities!
Some of the benefits include:
More Ownership: you have a stable fully-branded platform that you can call your own. It's your content, and your business model, on your terms.
Improved access: your audience can more easily and intuitively access your content, leading to a great user experience for streamers.
More Credibility: you'll have a more professional set up than streaming on Amazon, Twitch, or other social media platforms.
Take Abundance Plus, for example. After their success on YouTube, they built an independent video membership site where members can access their full library from any device.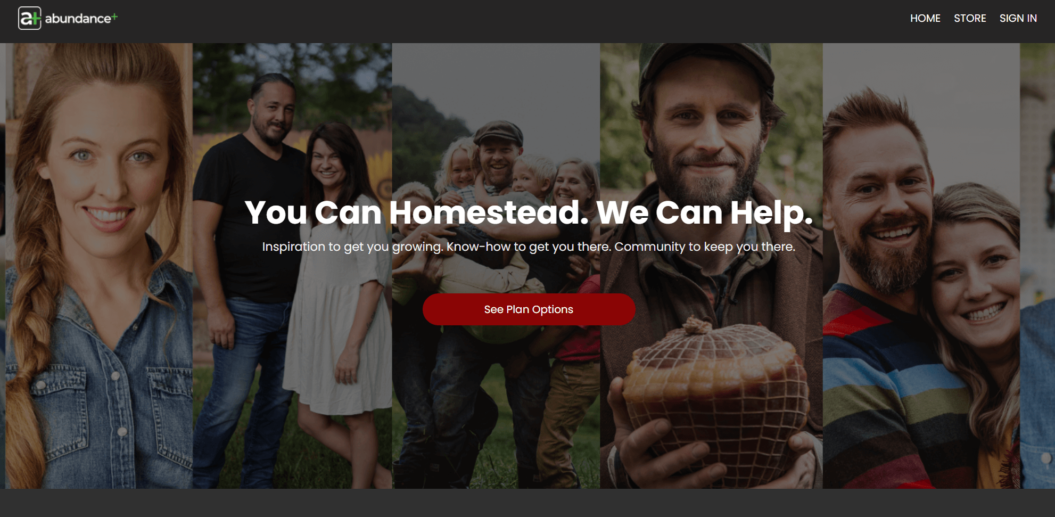 They have vlogs and live streaming content where anyone can learn how to grow their own food no matter where they are.
Instead of competing with Netflix, they focused on their homestead niche, where people can view their videos and get support from the community (something that Netflix doesn't provide).
After they launched their app, their revenue increased from $30,000 – $50,000 a month to $100,000+ per month. Watch the full story on Uscreen's YouTube channel:
Abundance Plus is just one of so many examples of successful streaming services using Uscreen TV and mobile apps. For some app inspiration, check out our list of 20 awesome examples below: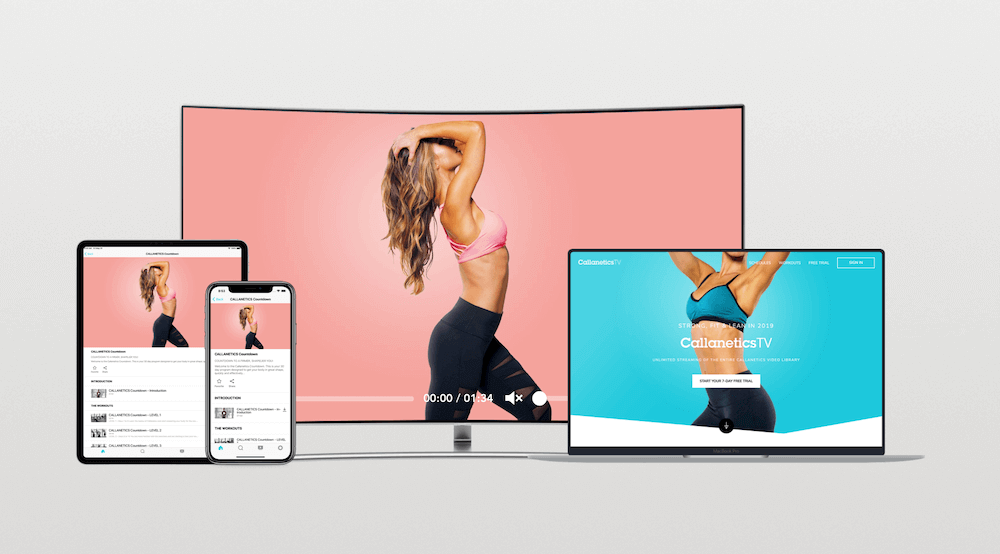 Upsells: How To 6x Your Video Streaming Revenue With No Work At All
Apps are a great idea now, and creating yours can help you both stay ahead of the curve and thrive in a video-centric world.
When you invest in apps, you're investing in the future of your video content.
How To Build A Live Streaming App: The 2 Best Options In 2023
There are 2 main ways you can go about creating your live video streaming app. Each method requires a different investment of time and money to get your app up and running.
Let's start with the easiest one.
1. Lease An App
Leasing an app involves working with an OTT (over-the-top) app provider – like Uscreen – to help you create and launch a fully-customized app.
It's connected to your web-based live streaming platform, so you can lease it for as long as you have an account with us. You can lease native TV and Mobile apps for all device types and operating systems, like:
Android
iOS
Smart TVs
Leasing an app is the "best of both worlds" approach. First, a leased app is quicker to launch than a custom-built one.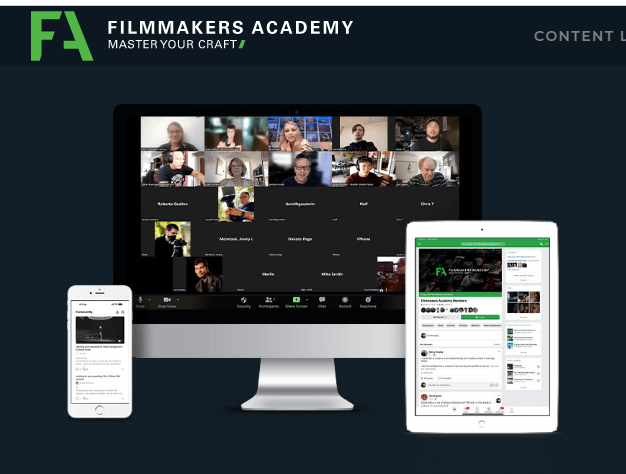 Uscreen's team of experts uses our existing technology to create an app that looks and feels like it's made from scratch – but since we already have these templates in place, it's a much faster process.
The sooner you can get your app up and running, the better! The goal is to offer those benefits to your customers as soon as possible.
Best of all, Uscreen apps are professionally designed for video streaming so you're guaranteed a high-quality app that looks sleek, functions beautifully and does the job well.
Here's how it works:
You set up a Uscreen account and place a request for your app.
You get your video website ready by adding content.
You set up your Apple Developer account (our team will help you with that too).
You provide us with your app requirements – the assets needed to build your app.
We build your app and have it available for you to preview in 4 weeks.
We submit your app for approval in the App Store.
After it's published to the App Store, you launch it to your customers and celebrate!
Our average release time is 30-60 days. But note that the release time varies depending on many factors.
It's a simple and straightforward process, and we're there to help you every step of the way.
In fact, you can rely on us as long as your app is running. For the duration of your lease, you get support, maintenance, and updates from our team of developers, which is a bit like having a Formula 1 pit crew behind you at all times.
Take Naturally Sassy, where members can stream online ballet courses anytime from any device. They want to focus on delivering the best online class to their members instead of maintaining their own app. That's why they used Uscreen.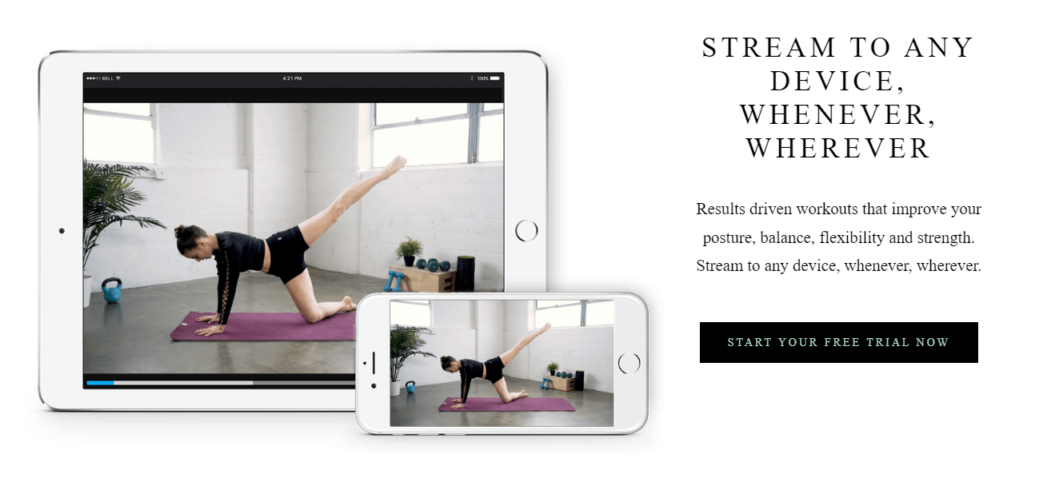 They charge $12.99 per month to have unlimited access to all of their current video library and future live classes.
Overall, leasing an app is the fastest way to release a high-quality live video streaming app. This is perfect for creators who want to focus on growing subscribers instead of the technical side.
2. Hire A Developer
The next option is building from scratch and working with an individual developer or a team of developers from an app development company.
When you work with your own developer, you have some more control over the finished product, and you can revise the app an unlimited number of times.
Here's how it works:
List all your requirements: knowing the features and functionalities beforehand will make it easier to find the right developer to build the kind of live streaming app you want.
Hire a developer: they're easy to find on websites like UpWork. Just make sure they have some live video streaming apps in their portfolio!
Work with the developer: your app is created using an SDK (software development kit.) It's a combination of programs that a developer uses to build and run an app.
When working with a developer, you'll still need to have the technical know-how because you'll have to check their code. In other words, you'll be the project manager for the software development of your apps.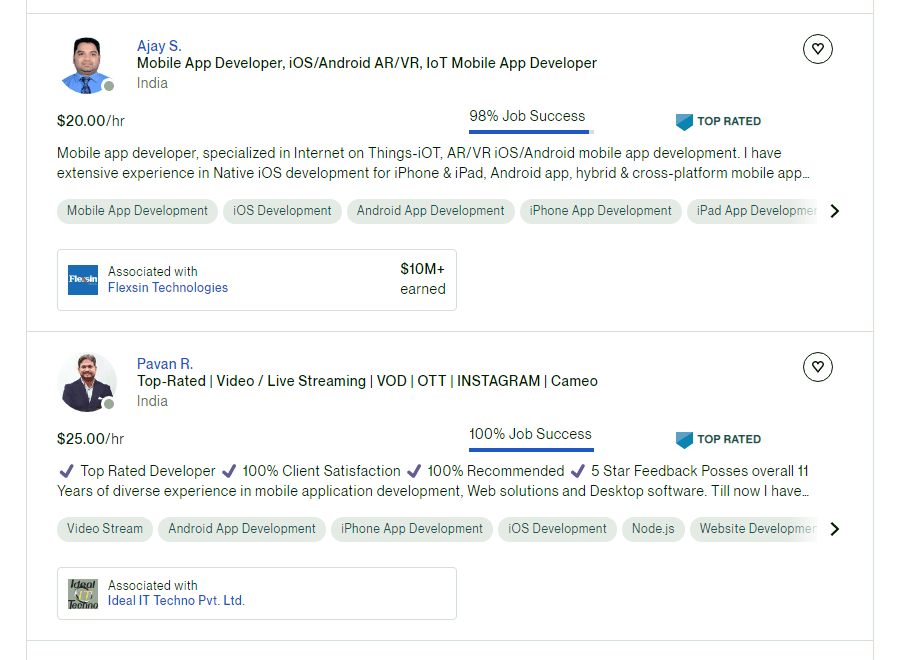 Are they building an app in the best way possible for you and your users? Or are they just trying to get the job done quickly without thinking about user experience?
Now, we covered the basics of building the best live video streaming app through leasing and working with a developer. It's time to talk about the development cost.
The Cost of Building a Live Video Streaming App
So, how much does it cost to build and maintain your own live streaming app? Let's explore the options, so you can choose the right path for where you are in your creator journey.
Leasing is the Most Budget-Friendly Option
Leasing an app is the most budget-friendly option for creators who want to build their first live video streaming app.
Why?
For the same reason that renting a house costs less than buying a piece of land and building it yourself, you're utilizing frameworks that Uscreen already has in place, so it keeps the cost down.
For example, in addition to the live video streaming app, you'll also get:
a branded video streaming website
access to a full OTT platform where you can manage your content and users
a full suite of powerful marketing tools to help you grow your video streaming business
payment management and in-app purchases
OTT live streaming functionality, including notifications and pre-registration.
…and much, much more.
When you choose the Uscreen Plus plan, you'll be able to add your own live video streaming apps on top of your web subscription. The price depends on many factors, but it's significantly lower than building an app from scratch.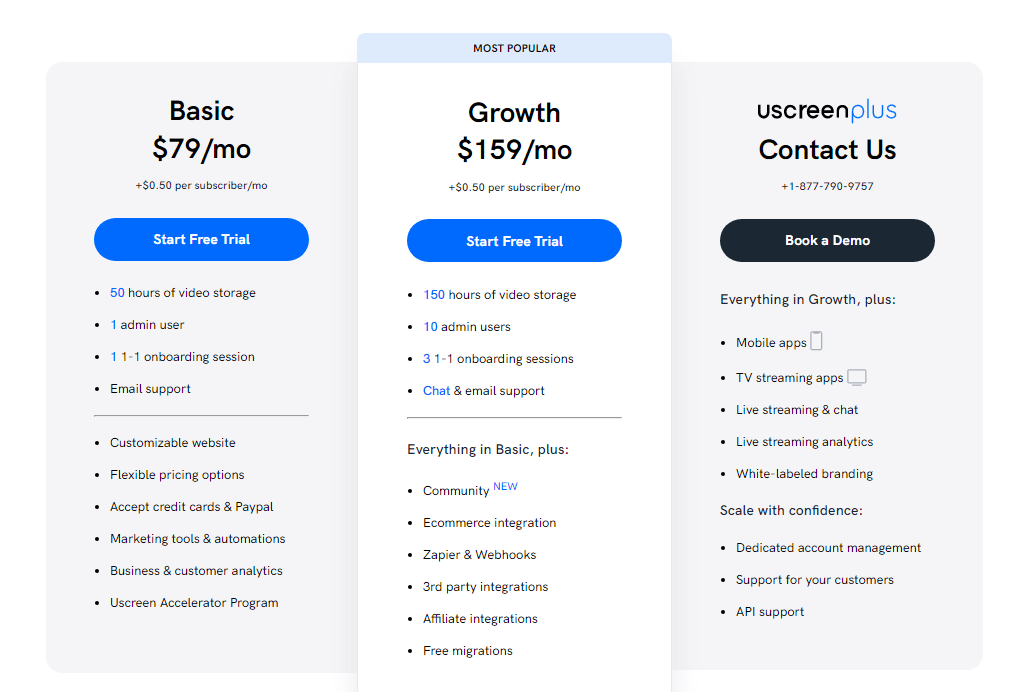 Now, let's talk about how much it costs when hiring developers to work on your app.
Flexibility Comes at a Cost
If you need more functionalities than leasing an app provides, that's when working with a developer makes more sense.

But how much will it cost?
Using the tool How Much To Make An App, it'll cost between $29,700 and $42,400. The overall price depends on the features you want the app to have.
Plus, that price quote is before you factor in specific video streaming elements like video players, CDN (content delivery network), and hosting.
This strategy also means you have to factor in additional long-term development costs.
After your app is launched, you'll still need to have a developer on call to help with bugs, operating system updates, and general maintenance – since you won't be able to fix these yourself.
Depending on your developer, this could cost anywhere between $500 and $1500 a month.
So – if you have the budget and timeframe to do it, creating your own live streaming application is a great way to go!
Can You Build the Best Live Video Streaming App for Free?
What if you want to build it alone without leasing an app or hiring a developer? You are confident in your technical skills but want everything for free.
The only way to do it is to use open-source software like WordPress and free content delivery networks (CDNs). We wrote a guide on how you can build it from scratch here.
But as with anything in life, there is no such thing as free lunch. While you can get by with open-source technologies, you need to invest a lot of time to build everything yourself.
Here's a quick guide so it's easier to make a decision:
If you have the technical knowledge and the time, you can build it yourself using open-source software.
If you have the cash but have limited technical knowledge, you can hire a developer.
If you have limited cash and technical knowledge, lease an app with Uscreen.
If you're a creator looking to provide more value to your community through a live video streaming app, leasing an app provides almost as much flexibility at a much more affordable rate.
Your path from idea to launch will be faster, which means you can add more revenue without investing too much.
It's simple with Uscreen.
Build, launch and manage your membership, all in one place.
Wrapping This Up…
Live video streaming apps help you reach a wider audience and increase your service's value. People want access to your streaming content everywhere, all the time.
Having your own live video streaming app gives them that freedom and flexibility – which is a compelling reason to spend money on your service!
There are many ways to create the best live video streaming apps out there, depending on how much money, technical knowledge, and time you have. If your main goal is to launch and add another revenue stream, then leasing an app is the most efficient path that can save you a lot of time and headaches.