Each of your membership tiers are their own unique product.
And, like any product, while a good marketing strategy can generate buzz and traffic…
The way you assemble and present your tiers is what will really move the needle when it comes to converting that traffic into paying members.
Today I'll run you through the best-practices (according to our very own customers and internal data) for structuring, naming, and positioning membership tiers that drive conversions.
Ready to move the needle?
Let's get started!
How Many Tiers Should Your Membership Have?
When Nicole Wild was getting ready to launch her membership, her instinct was to offer her audience as many options as possible.
After all, it made sense: the more membership tiers you have, the more people you appeal to, and the more sign-ups you get.
But Nicole's business coach then shared a simple insight that saved her a lot of time and lost revenue:
"People get decision fatigue."
Multiple studies have shown that if you offer too many membership options, people get overwhelmed and confused.
And that decision fatigue leads them giving up instead of signing up.
And – because everything is a balancing act – if you offer just one flat tier, you end up leaving a ton of money on the table.
After all, while some members are happy with the absolute basics, there are others who will pay more to receive more!
Which brings us to the million dollar question: how many tiers should your membership have?
Our data shows that 2 to 3 tiers is the sweet spot for conversions.
A small enough selection to avoid overwhelm, but wide enough types of membership levels to cater to those who'll pay more.
Here's an example from a Uscreen customer who does this well, Chemmunity: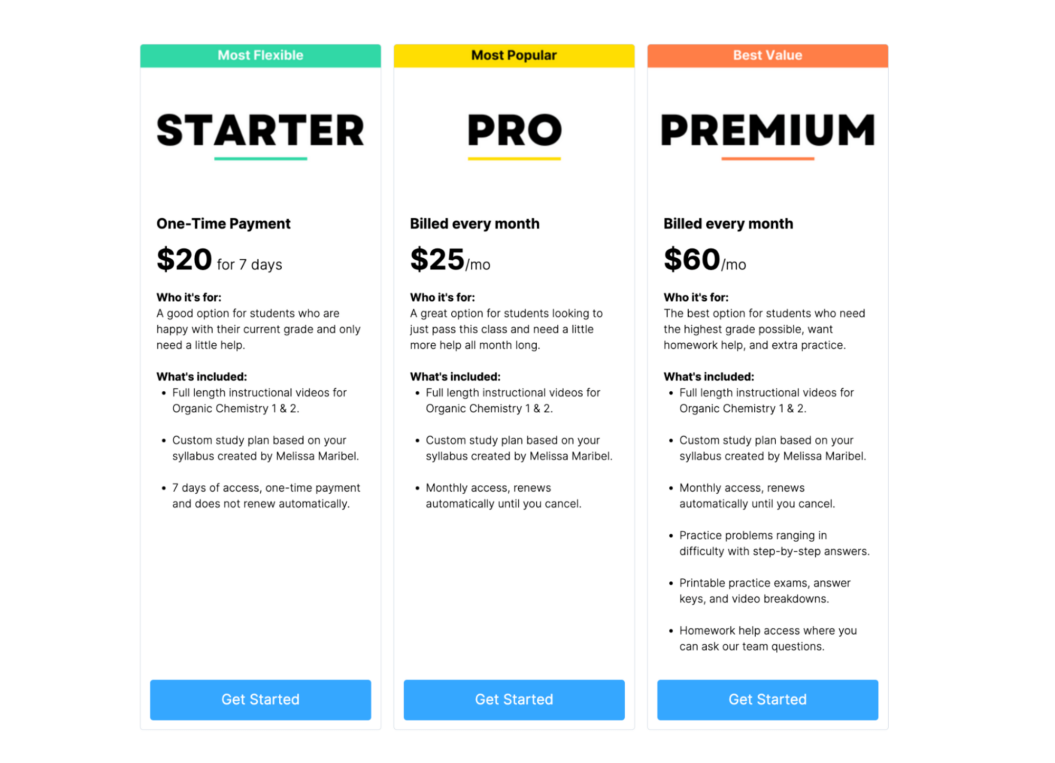 They have a unique combination of options suited perfectly to their 3 biggest segments.
For students who need once-off help for a one-time payment, they get access to their standard library of content for 7 days.
And, for students who are looking for help on the regular, they have standard and premium membership tiers.
Now, onto the next question: should your membership offer 2 tiers, or 3?
Figuring it out is pretty straightforward. You need to think about the volume and variety of your content, as well as the member-only perks you plan to offer.
The more content and add-ons you have, the easier it will be to divide that up and create 3 unique tiered membership levels.
The most important thing to consider at this stage is that each tier should be totally distinct from the next.
Look at each membership level and ask yourself:
Which segment of my target audience is this tier for?
What unique value does this tier provide?
If your answers to the above questions are all too similar to one another and you're struggling to create clear distinctions between your tiers…
It's a strong signal that you should focus on offering 2 value-packed membership levels, rather than 3 diluted ones.
Quality beats quantity, after all.
Now, let's talk tier structure!
Structure Your Tiers to Drive Conversions & Upsells
At this point in the process you know how many tiers your membership website will have, with each packed full of more exclusive content and membership benefits than the last.
Now it's time to map out everything you plan to offer in your membership and structure it all into tiers that drive conversions and upsells.
You know that your most premium membership level will give members access to all of your content and top-tier perks (literally), so it's easiest to start there and work backwards.
Like I mentioned earlier on, the goal for putting together your tiers is to make each one distinctly more valuable than the last.
Because without that clear jump in value, your audience can't justify the jump in membership fees, which ultimately hurts your revenue and conversion rates.
Uscreen customer, Abundance Plus, does this really well: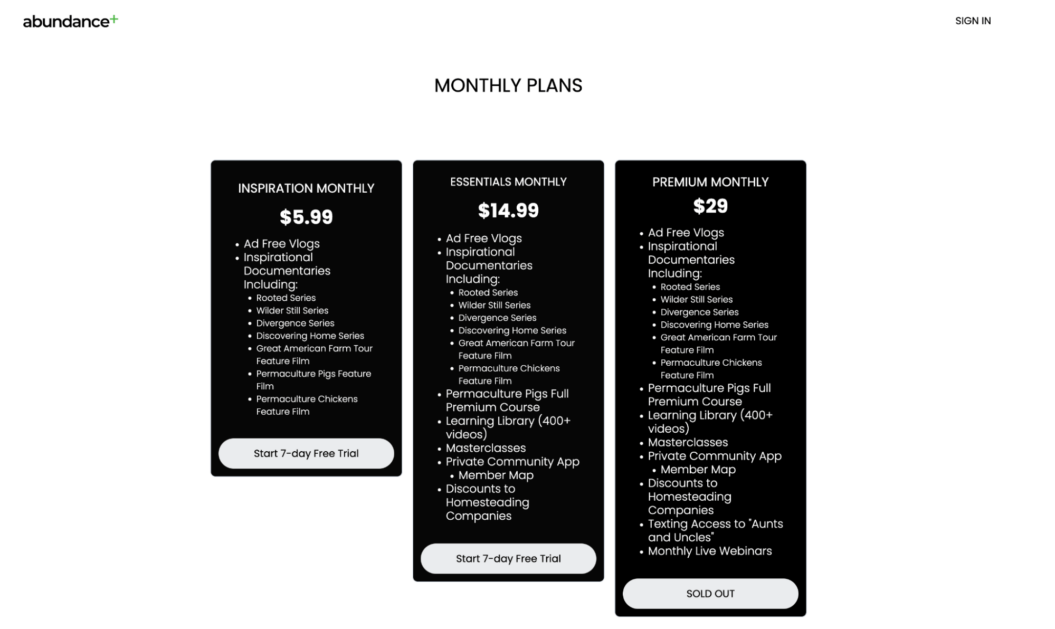 They've nailed their tier structure by strategically distributing content access and member benefits across their 3 tiers.
Their most basic plan provides no-frills value for the 'beginner' segment of their target audience.
But, for their more advanced audience (and more dedicated fans) there's a big jump in value delivered through even more exclusive content, and access to their private membership community.
Once your tiers are all planned out, you can decide on what type of upsell to offer prospective members.
An upsell is an offer that tempts members to sign-up for one of your more premium membership options, or for a longer commitment period, because they see it as great value for money.
Upsells are a staple strategy for many membership owners since they can transform your revenue and member retention rates.
In fact, many Uscreen customers have increased their revenue by 6.5X thanks to the platform's built-in upsell feature.
Uscreen's upsell feature was a game-changer! I even reworked my advertising strategy and my landing pages around it. I now funnel everyone into the monthly plan and let the upsell feature do the work. It took our revenue and our subscribers through the roof!

Jason David, MyTRIBE
The 2 most common types of upsells that works for almost any kind of membership are:
A tier upsell: this nudges your audience to sign up for a higher tier than they had planned.
A commitment upsell: this gets members to sign up for a longer period of time than they otherwise would have.
It goes without saying that the point of an upsell isn't to trick your members into spending more money. It's simply to give them a great deal that saves them money in the long run, while still being profitable for you!
To make sure your members feel like they're saving money by spending money, you need to give them a clear price comparison.
Here's how Power Nation Fitness does it: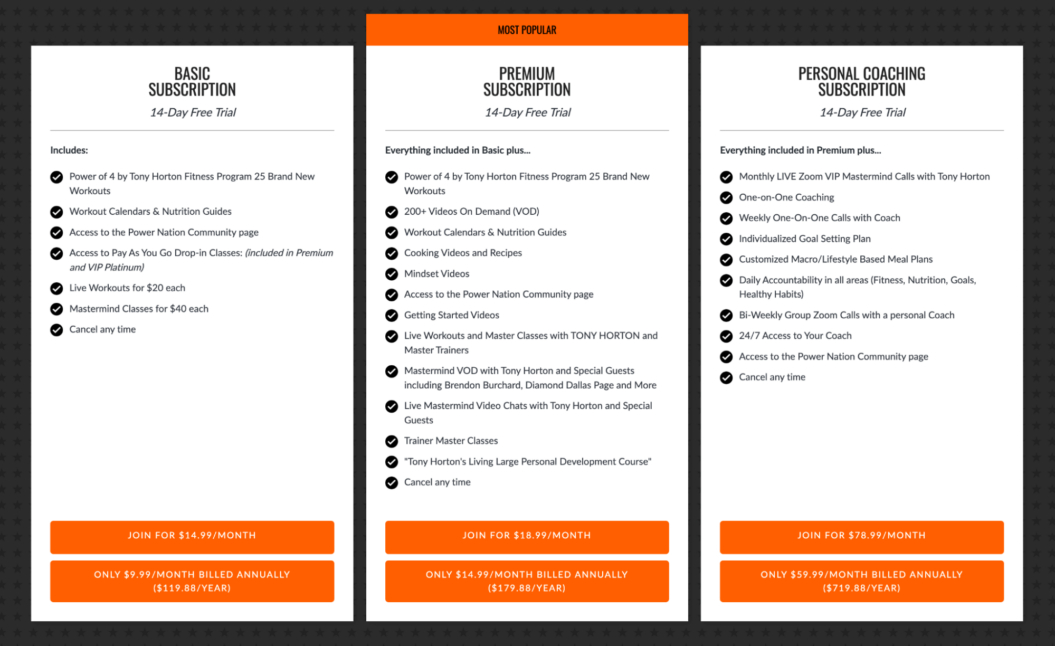 They've managed to feature both types of upsell offers at the same time, in a simple way that doesn't risk overwhelming users.
Let's first look at how they upsell their membership tiers:
With 3 monthly membership tiers, Power Nation immediately draws the eye to the middle option.
At just a glance, their 'Premium' option seems to offer around 50% more content access and perks than the 'Basic' tier before it, for just a 25% jump in price.
"I'm already going to spend money, so I might as well spend a little bit more to receive a bunch more value."
Personally, this logic works a little too well on me, for my bank account's sake…
But, that's because it's a highly effective upsell strategy that can transform your revenue.
As for how Power Nation upsells their membership commitment…
Each membership tier has 2 options to join: monthly, or annually. And, through simple design, you can compare these prices at a glance.
In that glance, you can see that you'll save about 25% on membership fees – but receive the same amount of value – if you opt for an annual plan.
P.S. If you're looking for some in-depth tips to help you find the perfect price for your membership, look no further than our membership pricing guide!
Now, onto the fun part: naming your membership tiers!
Name Your Membership Tiers
You've almost definitely stumbled across the typical 'good', 'better', 'best' naming convention for multi-tiered membership models.
And while you do want your membership level names to reflect the fact that your tiers increase in value as they increase in price…
You'll probably want something a bit more unique and out-of-the-box for your membership program.
While you're brainstorming, here are some guidelines for effective and creative membership level names:
Keep it simple: While you aim for something 'out-of-the-box', you still want to keep it short and sweet. Under 3 words is the goal.
As an example, a membership in the writing education niche might offer the following tiers:
The Hobbyist
The Novelist
The Publisher
Be descriptive: Your potential members should easily be able to understand what each specific level gives them. So highlight the key thing that makes each tier unique.
Here's how a yoga studio might go about this:
Differentiate your options: Distinct options make decisions easier, so make sure each name stands out from the others.
For example, a streaming membership like Netflix could offer the following tiers:
Casual Viewer
Film Buff
Serial Streamer
Lean into your brand and niche: Combine your brand and your niche for a winning set of names that resonate with your target audience.
Take a membership in the competitive athletics space for example:
Secure the Silver
Go for Gold
Push for Platinum
At the end of the day, the best membership tier names – aka the ones that drive the most conversions – are the simple ones. So when in doubt, prioritize clarity over creativity!
Here are some effective membership level names that work for any niche:
| | | |
| --- | --- | --- |
| First Tier | Second Tier | Third Tier |
| Starter | Pro | Premium |
| Basic | Standard | Plus |
| Bronze | Silver | Gold |
| Beginner | Intermediate | Advanced |
| Monthly | Quarterly | Annually |
And, if you're looking for a bit more guidance, it can help to stick to the general naming structures within your niche. Do some research and take inspiration from there.
Most importantly: keep in mind that tier names are one of the more flexible elements of your business.
You can test and tweak these over time, so don't sweat it if you can't think of the perfect set of names before you launch.
Last but not least, let's look at how value propositions can take your conversion rates up a notch…
Boost Conversions by Communicating Value Propositions
I often see people leave this step until they're creating their membership website and getting ready to launch.
After all, this is when you craft a lot of your other marketing copy, so it makes sense!
But since value propositions can have such a big impact on your conversion rates…
You should craft them while your membership tiers, content access, and member benefits are still fresh on the brain.
Unique value propositions (or UVPs) are bits of copy that help to communicate the unique and positive outcomes that your members will receive as a result of joining your membership.
In other words, your value propositions will help prospective members to visualize how their lives will improve by joining your membership.
Here's one of my favorite examples from Uscreen customer, BTRIBALFIT.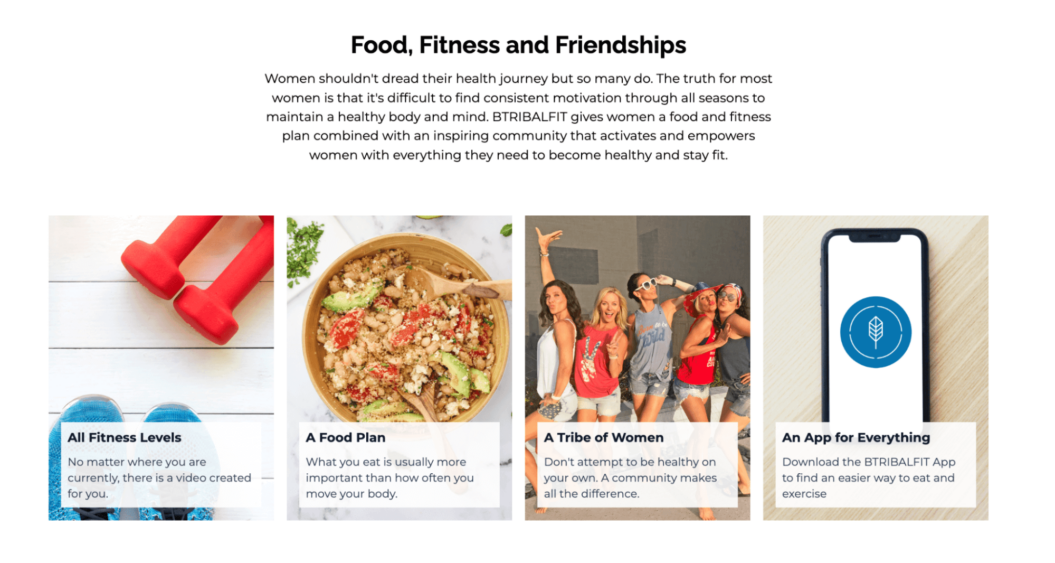 They feature their membership's UVP on their homepage, and go the extra mile to accompany it with some visuals that reiterate the benefits of joining the program.
Chef's kiss.
Now, having a value proposition for your membership as a whole is a non-negotiable tool to have in your marketing arsenal…
But, you could see even more conversions if you take it one step further, and create a value proposition for each one of your different membership levels…
And use them everywhere you have a CTA to sign up as a member.
Your home page and pricing page are crucial, but you can even use this copy in sales emails and other promotional marketing.
And, to make it a bit easier for you, we have a foolproof formula for putting together a value proposition for each of your tiers:
[Membership tier] helps [specific type of people you're trying to attract] with achieving/finding [overarching positive result] through [2-3 key tier benefits]
Apply this formula to each of your membership plans, and you'll have a compelling piece of copy to help attract and convert new members.
Wrapping Up
To round this off, the way you structure, name and present your membership tiers has a huge influence over your conversion rates. To do this well…
Offer just 2 or 3 distinct membership tiers. This gives your audience enough variety to choose a plan that works best for them, while avoiding the risk of 'decision fatigue'.
If you strategically distribute content access and member benefits across each of your tiers, you can provide your members with a big enough jump in value that easily justifies the jump in price between your more basic and more premium options.
As you brainstorm membership tier names…
keep them simple
be as descriptive as possible
create clear distinctions between each tier
lean into your brand and niche
… and don't sweat it if you don't land on the perfect options right away. You can always tweak and test them later on!
Finally, create unique value propositions for each of your membership tiers and use them in your marketing to convert your audience into paying members.