Have you ever wondered who really owns your audience? Those hundreds of thousands of followers and subscribers on your online platform… are they really your followers?
Well, the reality of online audience ownership is complex.
VOD (video-on-demand) platforms have certain limitations (contractual clauses) that influence your business and ultimately its growth.
For example, as a YouTuber, you may have a channel with thousands, if not hundreds of thousands of subscribers, but you may not have any of their contact information (think names or email addresses).
If your channel got shut down by YouTube today, you'd lose every subscriber and your revenue stream. Beyond both losses, you need to start from scratch altogether.
What audience ownership means
Owning your audience is one of the most important aspects that influence how you're able to scale your video content creation business. The truth is, you can only really own your audience if you're able to engage them beyond the reach of the VOD platform you use.
This means having access to data, such as names and email addresses, video consumption statistics and product purchase choices of your audience.
This kind of data allows you to grow your business because you're able to make informed decisions about:
Which types of content you should be creating more of

The products you should be creating and selling

New products that your audience may want

How to create stronger offers and other marketing content that resonates with your audience as they get to know your brand on the journey to becoming paying customers
We've seen how access to audience data has helped Uscreen video content creators grow highly successful channels across a variety of niches.
For example, Total Immersion is a swimming educational channel that makes $35,000 per month from its 400 subscribers. Tawzer Dog, a dog training channel generates $59,000 per month from its 1200 paying subscribers, and Ink Workshops has generated over $363,900 in one-time customer purchases since 2016.
Suggested read: How to Sell Videos Online and Make Over $10k a Month (For Real)
So you see, owning your audience really is profitable.
Understanding VOD platforms and their limitations
Stats show that just over 96% of YouTube content creators don't make enough to break the poverty line.
Why is that?
Well, for starters, the odds are stacked up pretty high against content creators and more in favor of VOD platforms with YouTube-like business models.
Here are four reasons why the majority of video content creators struggle to make the breakthroughs they need:
1. A crowded market
Stats show that between 300 hours in 500 hours or more of video content is uploaded to YouTube every minute. It's no wonder why YouTuber's are struggling to grab the attention of viewers due to the sheer volume of content available.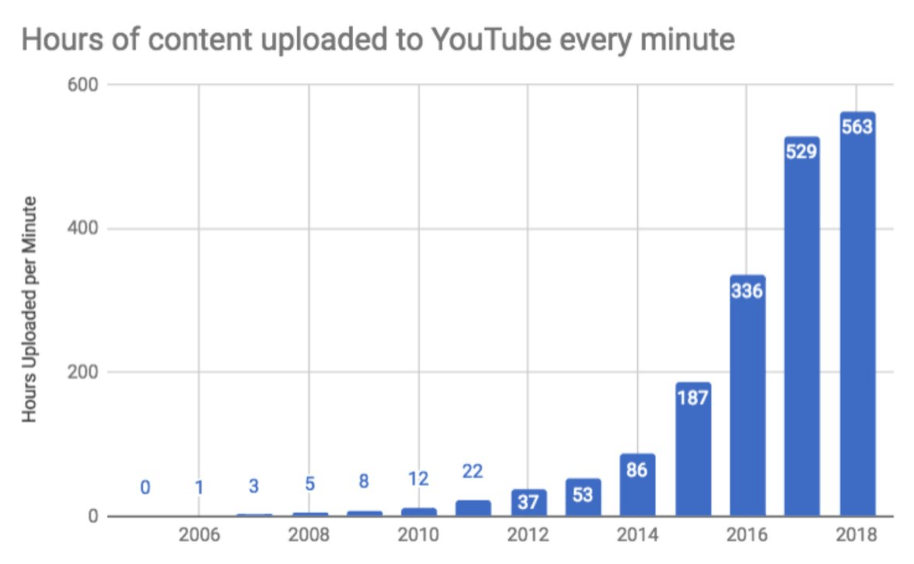 2. Search algorithms are not built to serve video creators
Search algorithms constantly change and this is because most VOD platforms are designed to serve up content that gets users to stay on the platforms for longer. But more platform viewers doesn't necessarily mean more viewers for your content.
In fact, at the end of a YouTube video on your channel, viewers are given the option to view video from competitor channels – content YouTube thinks is best for the viewer.
The downside? You've just lost the viewer and any potential future ad revenue until they decide to return (if they remember to all).
Sure, you could try and come up with tons of different ways to game the search algorithms to rank your content, but that will only work until the next algorithm update strikes.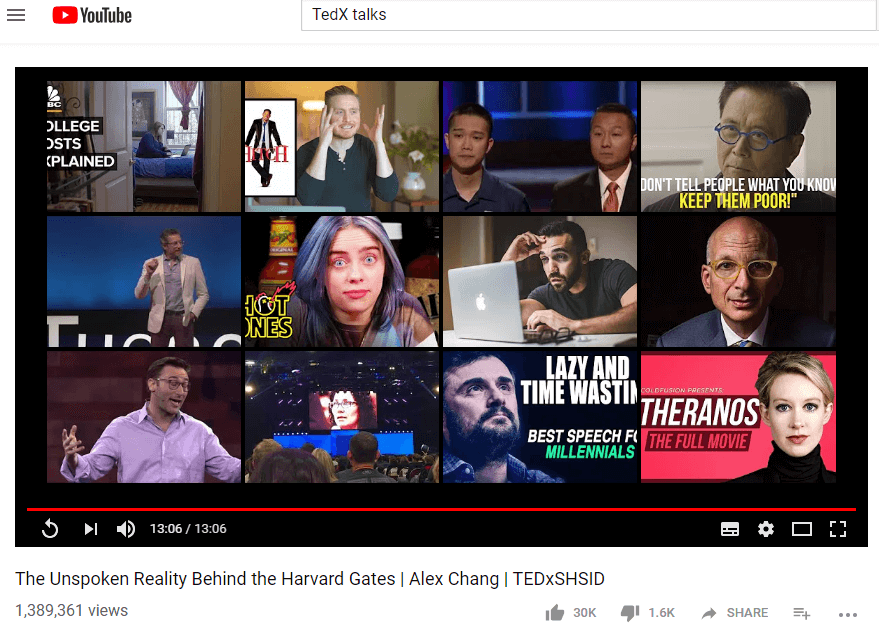 3. VOD platform policies and policy updates
In 2017, PewDiePie's YouTube channel was shut down for a video that was, in all honesty, in poor taste. This move by YouTube sent a strong message to content creators everywhere: that YouTube controls access to the platform and the revenue potential of video creators.
Beyond YouTube's ability to suspend or shut down a channel (even if it has over 70 million subscribers), policies and their changes are affecting more than just the successful 4%. Updates like minimum watch time and subscriber counts make it hard for new and growing channels to make money.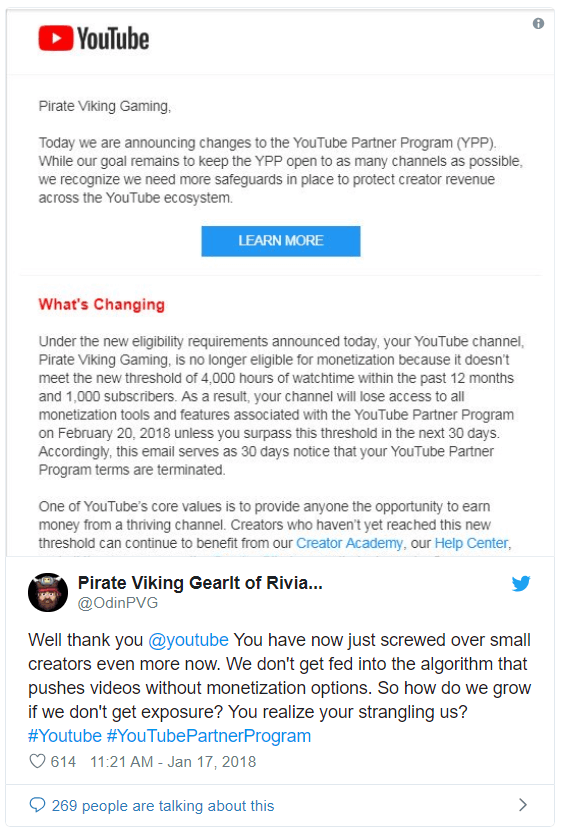 4. Zero access to audience data stunts your marketing potential
Access to audience data is a gamechanger, but it's not easy to get hold of if at all possible. This makes it harder for you to grow your business and generate more revenue through additional products and services.
Without audience data, you can't tell who your audience is made out of and what they may be interested in purchasing. This means you can't create a marketing system with targeted offers to personas in your audience.
Sure, you can ask questions and pitch ideas in the comments section, but that's time-consuming and not a scalable solution by any means.
A look at policies (and limitations) of popular VOD platforms
We conducted research to get a view of how policies of some of the most popular VOD platforms affect their video content creators. We wanted to better understand:
How revenue payout deals are structured

How easy it is to switch from one VOD platform to another and take your viewer data with you
What we have decided to do about all this
We've chosen what we call an "all growth" approach. It means that we're putting the power in your hands as a creator to maximize your earning potential.
For example, since with Uscreen you get your own video streaming website under your own domain and apps in your own developer account, your content is the only thing that shows up on there. We don't push other people's content on your subscribers once they are done watching one of your videos or enforce any minimum user counts or video hour views over a 12-month period.
And on top of that, your audience is your own. With Uscreen, you have access to export your audience in CSV format in an instant hit of a button, so you can quickly get started retaining them and reducing their churn.
But our "all growth" approach doesn't stop there, here's what the rest of your growth potential includes:
A more linear revenue and income stream

. By creating content people can pay a subscription for, you're creating a more linear revenue model. This beats relying on YouTube's or any other platform's algorithm to dictate who sees your content, if ads will run on it to get you paid, and ultimately, how much you'll make each month.

Transparent pricing is the way we roll. You pay a predictable fee based on your usage and your audience pays you a subscription fee. The larger your audience, the more money you make.
Creative license

– you no longer have to try to produce content to game the algorithms, you get to produce quality stuff you can be proud of.

We don't push ads on your audience

. Your channel is just that, yours. You get to choose how to engage your audience along with the offers you'd like to position as they consume your video content.

You have access to your audience's contact info

. You get to run marketing campaigns, see stats on your content consumption and learn what's working and what isn't from the feedback you get. This helps you produce more of the right stuff to scale your business.

You get to build a community, not a group of anonymous viewers.

Your audience is able to maintain their own profiles and engage with each other in discussion groups, provide you with valuable feedback that can help you create stronger and more engaging content, and you'll be able to track individual subscriber progress and engagement.
Conclusion
Owning your audience is the only way creators can build a sustainable business, without being at the mercy of platform policy changes, revenue model and demonetization updates.
Owning your audience also gives you the reach and ability to roll out automated marketing systems that generate revenue for your business, giving you the opportunity and time to think about how to expand your brand even more.
Before you commit to a relationship with your next VOD platform, know what you're signing up for and don't settle for a model that won't help you scale your business. You're going to spend a lot of time and energy creating content, so you might as well showcase it to your audience on a platform that's designed to help you thrive.