Android TV apps can connect you to the world's largest Smart TV audience.
They currently have 40% of the worldwide market share, a number which is expected to increase as more manufacturers adopt their operating system.
If you're a content creator with videos best suited to a TV screen, then learning how to create an Android TV app is a smart decision.
Better still:
Doing so has never been simpler since the Android platform is open-source and you can start creating straight away.
But, simple doesn't always mean easy, does it?
Most resources show you how to build an app from scratch using technical terms and developer jargon. That isn't helpful if you have no coding experience or desire to learn!
Which is exactly why we put together this guide.
At Uscreen we feel it should be easy and painless for content creators to build video streaming apps. So, we're going to give you some straight-talking advice on how to do it.
No matter your budget or experience, you'll find the right option here to create an Android TV app for your business…
No time to read this article now?
Download a free PDF version of this blog post (all tips and links included).
What Is An Android TV App? (And Why Should You Create One)?
Android TV apps are software that can be downloaded and installed onto Android TV devices; they allow the user to access video on demand content and stream directly to their television.
In other words…
It's an app that enables your customers to access your OTT video service through their television.
As we mentioned at the top of the article, Android TV apps give you the opportunity to reach the world's largest Smart TV audience.
This is because the Android operating system is the go-to for many top manufacturers, such as:
Sony

Philips

Sharp

Hisense

Bang & Olufsen
You'll also be able to connect with people using Android set-top boxes like the:
Nvidia Shield

WeTek Hub

AirTV Player
This means that Android TV has an incredible depth of people you can potentially reach, in lots of different areas of the world.
And now that we are past the early-adopter stage of Smart TVs and apps, the income for products sold through Google's Play Store is also increasing. Sales were up 27% in 2018, for a whopping $24.8 billion!
This means Android TV have a wide-reaching audience that is getting hungrier for new apps and content every day, and there's a window of opportunity for new content creators to enter the market and capitalize.
So, let's look at how to create an Android TV app…
How To Create An Android TV App: The 3 Most Accessible Ways
1. Repurpose Your Existing Android App
Do you already have an Android video streaming app for mobile devices?
If so, you don't need to do much work to make an Android TV app.
Android's official developer guidelines state that you can use your existing app as the basis for your TV app. So, you're already 80% of the way there!
Reach out to your current developer – or find a freelancer – to get a quote on how much it will cost to adapt your app.
If you don't already have an app, then you'll want to check out the next steps.
2. Hire A Developer
The easiest – and most hands-off – way to create an Android TV app is to hire a developer.
A professional developer can help you craft your app from scratch, and gives you total control over the look and feel of your end product.
From the icon that shows on screen, through to the way the videos display on the hands-off you can customize every aspect of your app and user experience.
As you saw in the last section, you could have the developer adjust your app so it can be used on mobile devices too. Two apps for the price of one and a half!
App developers are pretty easy to find. UpWork is a good starting point, and you can work your way up from there. It's worth vetting each developer thoroughly to make sure they can create the video streaming aspect of your app.
However, this control also comes at a cost.
We pitched the standard Uscreen user's app to a number of developers, and they all came back with similar estimates:
~$14,300 for the initial set up: this includes creating the app, integrations, customizations
$530 a month recurring fee: this is for hosting, support and security
Which is why we feel the next option gives you a lot more bang for your buck…
3. Lease An App
There are companies out there who will let you lease a fully branded app from them.
Because they already have the frameworks to create apps in place – like developers, and video-specific coding templates – they can build your app in no time at all.
For example, at Uscreen we can usually turn your app around in 30 days.
Here's how it works:
You set up a Uscreen account and place an order for your app
You set up your Android Developer account (don't worry! Our team will help you with that too)
You provide us with your app requirements – the assets needed to build your app
We build your app and have it available for you to test in 4 weeks
We submit your app for approval in the App Store*
After it's published, you launch it to your customers and celebrate!?
*We cannot control how long Android takes to approve your app.
Sounds pretty straightforward, right?
This comes with support, maintenance, and regular updates included to ensure you're getting the most from your app.
Better still, we can do this for a really affordable rate.
Want to launch your own Android TV app?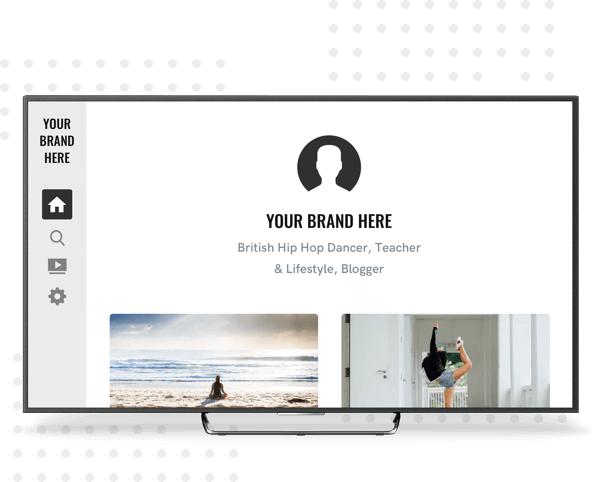 To give that some perspective:
If you feel that leasing an Android TV video app is the right choice for your business, we recommend you try Uscreen free for 14 days to see what we can help you achieve.
You can learn more about how we can help you create an Android TV app here.
Wrapping This Up…
Android TV apps put your video content within reach of the world's largest video streaming market.
There are three ways to create your Android TV app.
Repurpose your current mobile app

Hire a developer to build your app from scratch

Lease an app from a company like Uscreen
You can find out more about how Uscreen can help you launch an Android TV app right here.
Suggested reads: