Oh, 2020. What a year you've been!
We're grateful for all the good you've brought us, and less enthused about the bad–but needless to say, we're kind of glad you're coming to a close. And before we bid you farewell, we wanted to do one last thing:
Drop the most innovative thing we've released all year …
Introducing: The new Uscreen Apple Watch Fitness Tracker
The all-new Uscreen Fitness Tracker is an Apple Watch app that complements your fitness streaming service and makes every workout an immersive experience for your users.
The Apple Watch app will elevate your clients' experience with your brand to an elite level, allowing them to:
1. Track their own workouts
The Apple Watch is equipped with sensors that, combined with advanced algorithms, give your clients all the health metrics they need to track their workouts. This information is transmitted in realtime to their Apple health app.
2. See their workout stats on the video player
Throughout their workout, their health metrics will come to life on the screen, such as their heart rate and lapsed workout minutes. It's the perfect blend of inspiration and motivation, right there on the screen in front of them.
3. Control their videos from their wrists
This is by far our favorite perk of the Uscreen Apple Watch App!

Users can use their Apple Watches as a remote control for their workout videos without needing to interrupt their workout. They can pause, play, and skip 10 seconds back and forth on the video player. Gamechanger!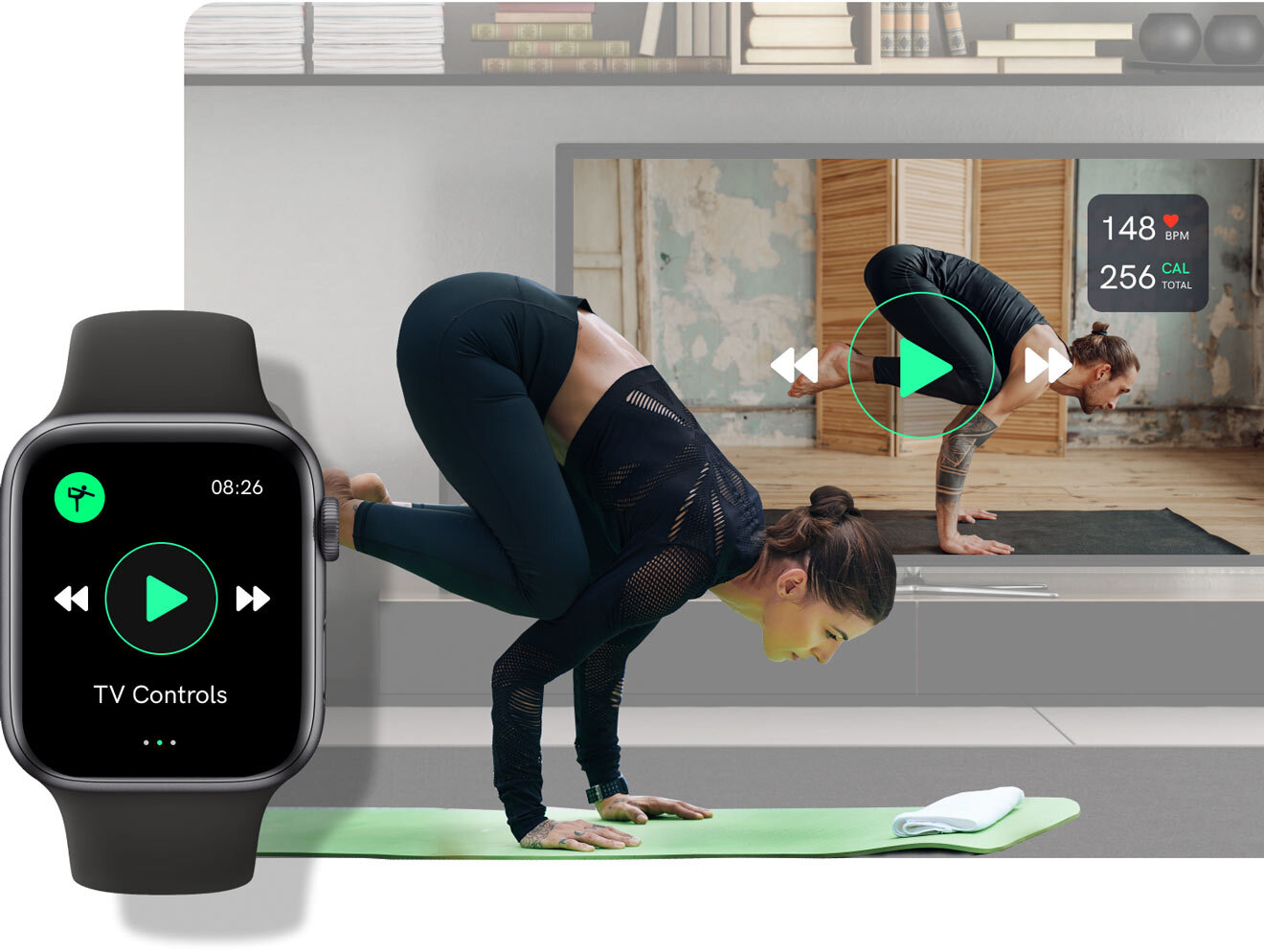 The Uscreen Fitness Tracker works on both VOD and live streaming content to give your users a whole new kind of fitness experience.
Welcome to the Future of Fitness
At Uscreen, we pride ourselves on being proactive innovators in the industry. We're constantly doing our research and predicting where the industry is going so we can ensure the state-of-the-art technology to back you up in your video business.
Which is why Uscreen is the first OTT app provider on the market to offer Apple Watch apps for health and fitness tracking – we even beat the Apple Fitness+ launch itself! Digital fitness is moving forward at full speed into 2021, and we're taking you with us.
Compete with Apple Fitness +
Remember that slight feeling of uneasiness and dread you got when Apple first announced that they're launching a tracker-supported video workout service later this year?
Well, with this new Uscreen Fitness Tracker for Apple Watches, you won't need to lose any more sleep over that.
In fact, now that you can launch your own Apple Watch app for your fitness service, Apple is actually doing your business a huge favor by significantly dropping the prices on their gear. More people are expected to purchase the Apple Watch next year, meaning your fitness app can be on more wrists than ever before.
Apple and all the other fitTech companies are paving the way for your business with opportunities on a silver platter to elevate your user experience. The key is to watch these giants closely and learn from their every move. Experiment with the tactics that are bringing them success and apply them to your business. Observe the different types of content and distribution methods they use to find out what is it that users value most, and where they have the highest willingness to pay. Then, apply it to your business.
Why The Apple Watch App
Let's look a little deeper into Apple's decision to launch Fitness+ with its Apple Watch at the center of their service.
One thing we know these tech giants tend to do is offer a whole ecosystem of products that make it very convenient for their customers to be using all of their products exclusively. They basically make it unnecessary – and often very inconvenient – for a consumer to switch to a different product.
For your fitness business, that looks like launching apps for your fitness service on all the devices your users could possibly need, including their smartwatches for tracking. Otherwise, you may risk losing a user to a competitor that does integrate with their Apple Watches.
Apple is committed to this strategy so much that they're actually reducing the price of the Apple Watch to make them more affordable on the market so more people can use their Fitness+. That means that more and more people will be able to get their hands on the Apple Watch, and your fitness app can be on those watches alongside the Fitness+ app. Talk about competition!!


That means that more and more people will be able to get their hands on the Apple Watch, and your fitness app can be on those watches alongside the Fitness+ app. Talk about competition!!
Who is the Uscreen Fitness Tracker for?
The Uscreen Fitness Tracker is for any online yoga and fitness businesses that want to reach their audiences on their Apple Watches and provide a premium fitness experience for their users.
It is most ideal for those who offer any of the following workout types (but obviously, not limited to):
Treadmill workouts
HITT
Rowing
Dance
Cycling
Yoga
Core
Strength
Mindfulness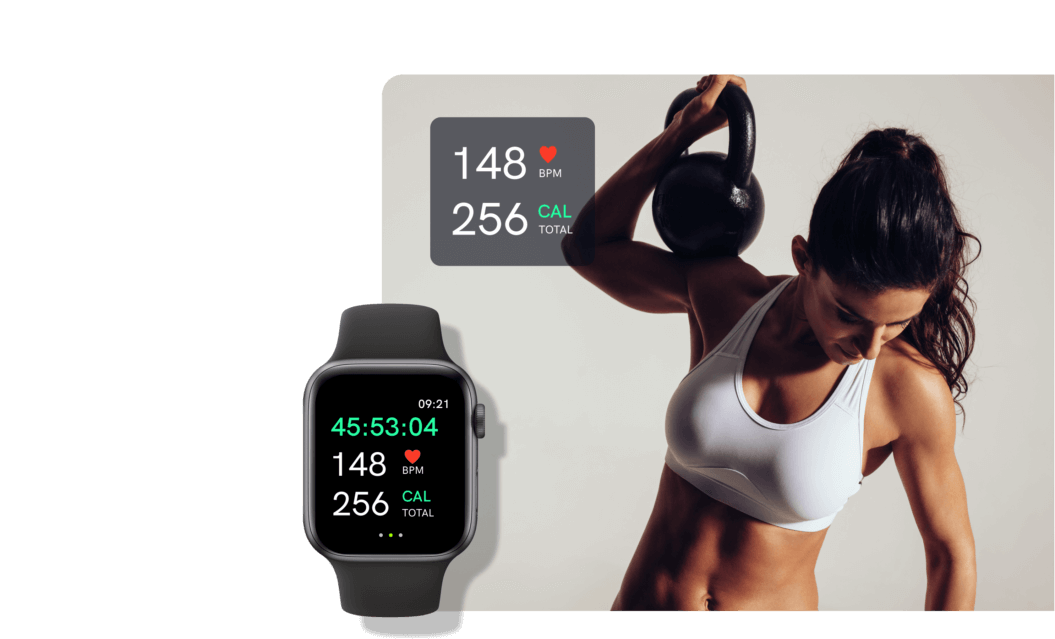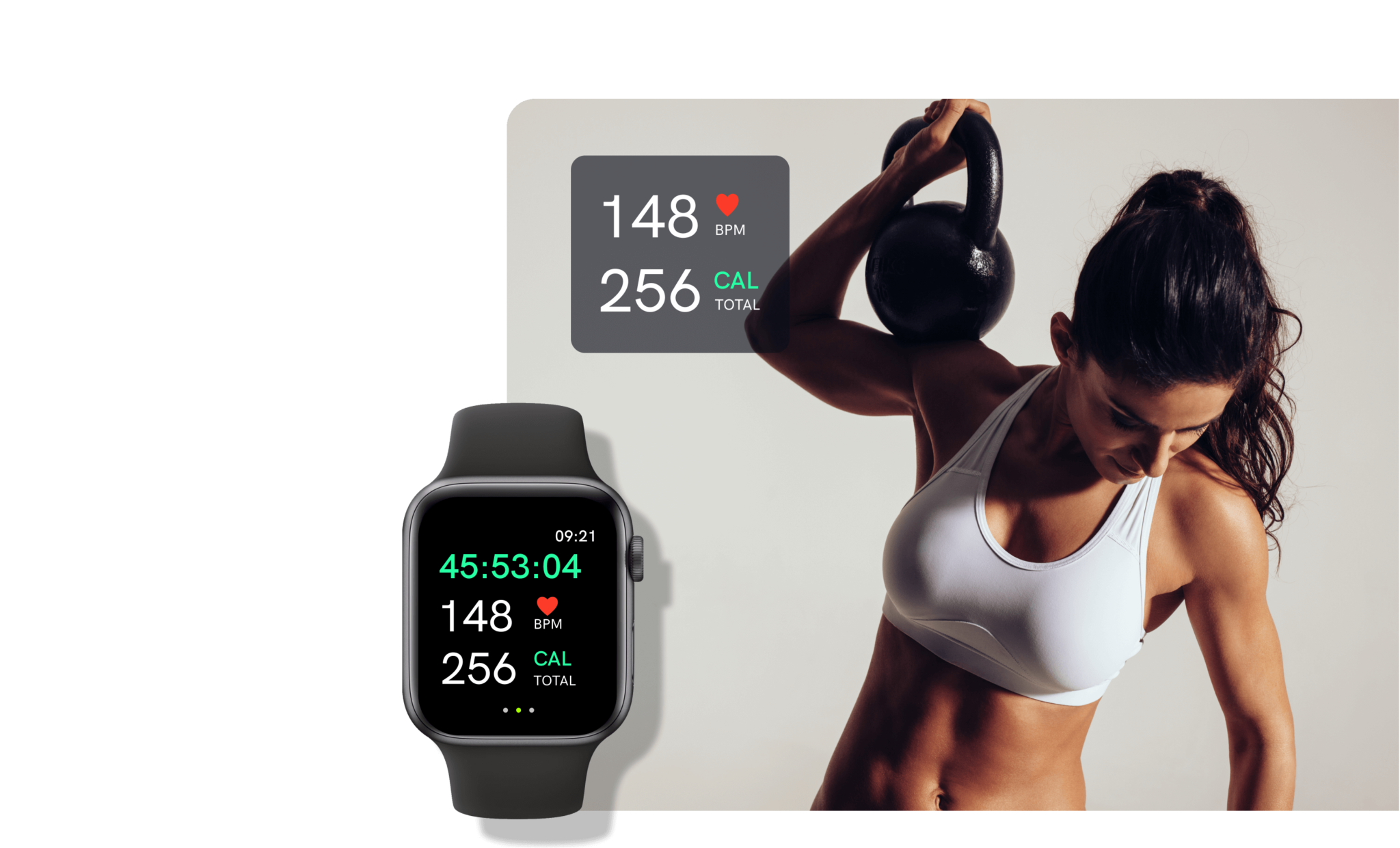 The Uscreen Fitness Tracker
Video fitness streaming and Apple Watch apps
Incorporate the Tracker into your Fitness Service
Alright but wait: how do you incorporate the fitness tracker into your current service?

Well, it's time to get creative! There are a few basics to cover:
1. Introduce heart-rate coaching:
You can add so much value to your fitness training content by simply adding a heart rate component to your training. As a remote trainer, you won't typically have the luxury of working with participants one-on-one to determine their target heart-rate ranges. However, you can teach your users how to calculate their goal heart rate and monitor their own intensity so that the safety, effectiveness and purpose of your training is addressed and intentional.
2. Encourage progress tracking:
Your users are in it for the long-haul. They don't just want to do a few trainings, they want to lead a healthier lifestyle in general. Help them clearly see the value in your fitness program by encouraging them to track their own progress. They need your knowledge in understanding their metrics, so give them guidance on how to navigate their personal health data and how to track it over time. You can even provide them with a downloadable PDF tracker sheet with your video content.
3. Promote challenges:
Your users can strengthen your community around your fitness or yoga service by challenging each other directly through their Apple Watches. A user can challenge someone in their contact list within their iOS Health app, motivating them to complete workouts and passively strengthening your community at the same time.
As your users start to use your Apple Watch app more and more, you'll come up with even more creative ways to incorporate your tracker into your health and services. And while the remote and metrics display functions are only available on web players at the moment, these functions will soon be available on OTT app players as well, opening you up to even more possibilities!
Until Next Time!
While Apple and many other fitTech companies are rushing into the online fitness and yoga space, it's important to remember that your service is still very much needed as the world becomes incredibly insecure in the midst of this new normal.
By providing a recognizable "safe haven" for your niche audiences with leading industry technology like the Uscreen Fitness Tracker, you're providing them with the ultimate service. Quality experience and knowing the people behind the business create trust, and trust is what drives customer loyalty.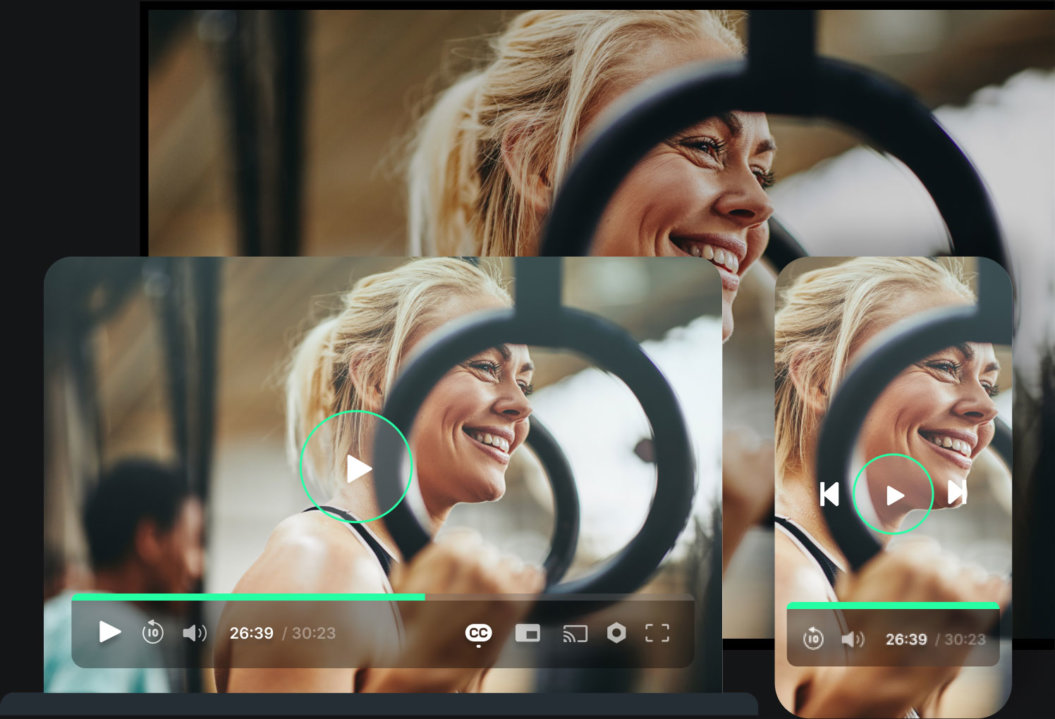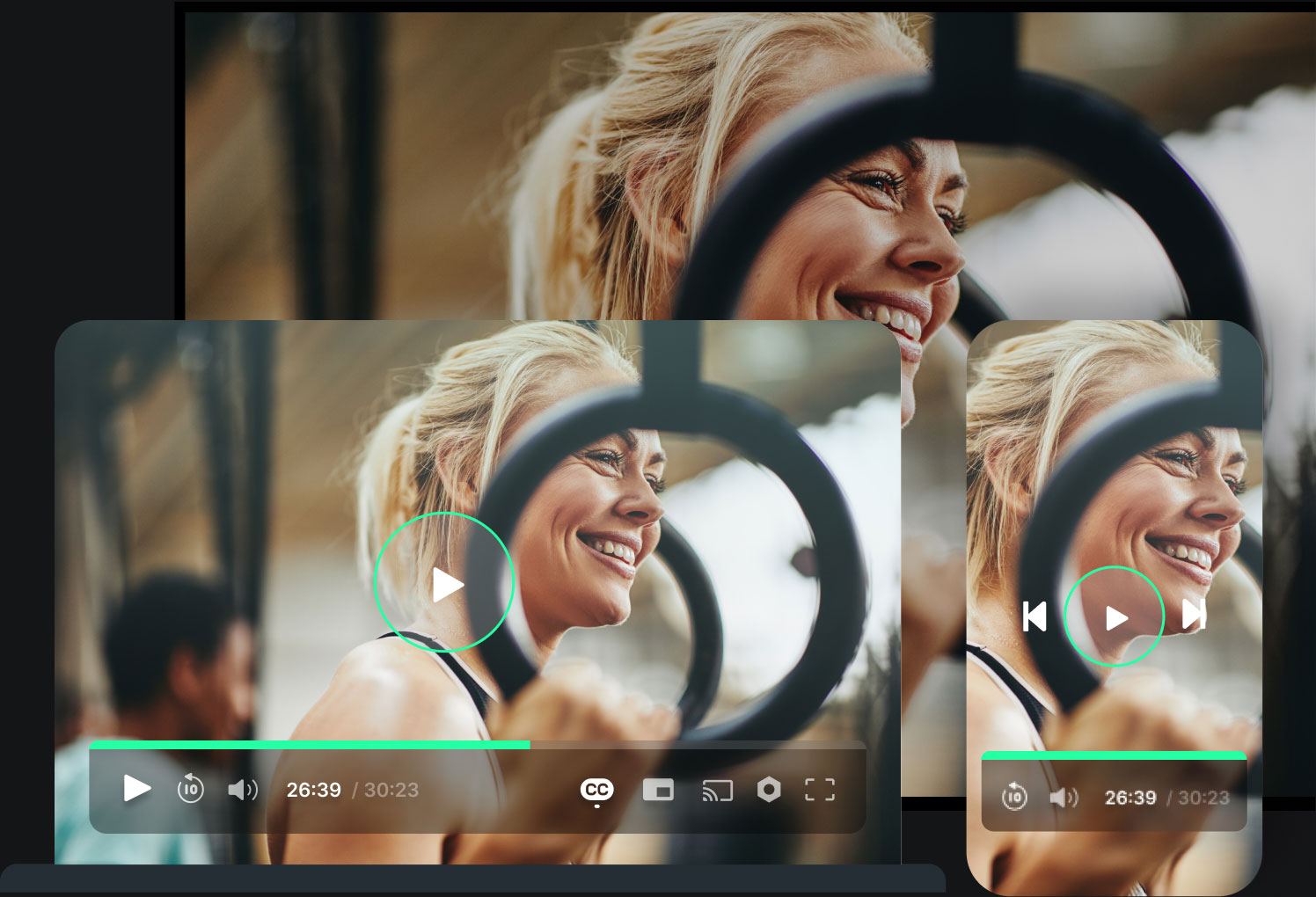 Ready to launch your own branded Apple Watch App?