The time has come for fitness content creators like you to make serious money from their content.
The industry as a whole is projected to be worth $36.6 billion by the end of the year.
Even better, this comes at a time when it's clear that fitness influencers have captured the hearts of their followers. Fitness enthusiasts trust advice and product recommendations from you as much as those from friends.
And the opportunity to have their fitness journey led by their favorite creators is too good for your followers to ignore.
In fact, surveys show that 58% of people would pay up to $15 a month for more access to their favorite influencers.
We're here to help you make the most of your platform, and make the transition from fitness content creator to fitness influencer!
Let's get into it.
Step 1: Start Your Own Subscription Service
The first step is creating your own subscription platform!
With your own subscription platform, your followers would pay a fee (usually each month, quarter, or year) to access your premium fitness content.
Some of it can be what you've made available for free elsewhere. But you can also add exclusive content that makes members a closer part of your fitness journey.
That's best done with tutorials, exercises, live workouts, and classes. In other words, an online fitness studio.
Basically, it makes you a virtual personal trainer to all of your new members.
You can train with them in real-time or they can log in whenever they want.
So how does this differ from the content you're already posting?
You'll be going into more depth. Members will get a close-up and detailed view of the lessons and workouts you share. I for one know that's worth my money!
Still, content you've already published makes a great starting point.
Launching a subscription platform is:
Convenient: you can set up your recording area and start training members from your home.
Scalable: as your subscription platform grows and more members join, the work you do to keep giving them great personal training content remains the same.
And starting your own subscription service should be the first thing you do as it gives you both a predictable income as well as a foundation for all the other monetization options here.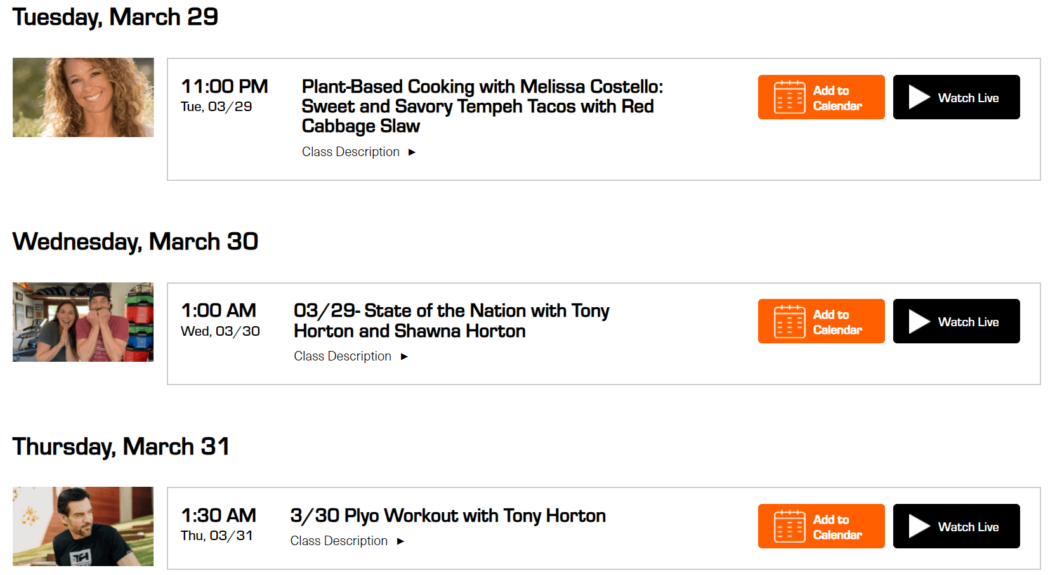 How to Launch Your Own Subscription Service
There are 3 routes you can take when creating your own subscription service:
Hiring a developer to build a website for you (which can get costly).
Building a website on your own (this can take a while and you'll need coding knowledge).
Leasing a website from a video-native platform (this is what we recommend!).
If you choose to hire a developer, the easiest way to get started is to look at freelance platforms such as Upwork, Fiverr, or Freelancer. You can also go on review sites like Trustpilot and look at the highest-rated businesses in the web designer category.
But you should know the costs are steep.
According to Website Builder Expert, the lowest you can go when hiring a quality developer is $5,000, but that price tag could be as much as $30,000.
And that's before considering costs such as:
Web hosting.
Plug-ins.
Website maintenance.
Those expenses will likely be on the higher end since you're creating a website that's made especially for video content. So it will require a lot more time and development to have features that deliver a good viewing experience.
Leasing your website from a video-native platform is by far the quickest and best option there. That's because you can be sure of the quality you're getting without breaking the bank.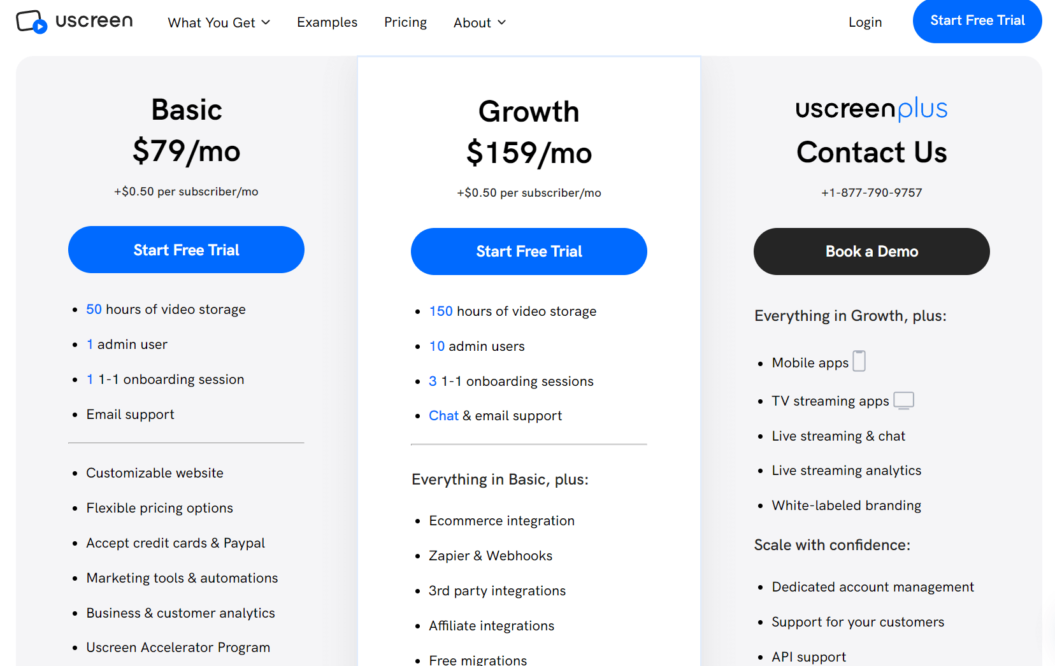 Uscreen offers a wide selection of editable templates and a drag-and-drop page builder so your virtual fitness studio can look exactly how you want it!
Plus, technical things like hosting will be taken care of for you.
Here are a few signs that leasing from a video-native platform will work great for you, the platform should:
Let you host your videos on a custom domain.
Allow you to create and customize landing pages that showcase your brand.
Have secure payment gateways for one-off and recurring payments.
Give you several different options for monetizing your content.
We'll put ourselves forward as a leading option by those standards.
Next, you'll need to set prices and packages for your subscription content. Come up with 3 options. That gives your members choices and affordability.
But going beyond 3 causes choice paralysis. This is when users have so many choices that they're second-guessing every pick.
Setting up a 7 or 14-day free trial is a good idea just after you launch. The trial period lets members see the value of your premium content before they pay.
And you'll collect potential members' emails when they sign up for the trial. So, if they decide to hold off subscribing, you can reach out and convince them to sign up a little later.
A giveaway or 2 can also help to drum up some interest.
Step 2: Launch a Fitness App
An app makes your new subscription platform more engaging and easy to access anywhere!
Your members are ready to learn, which means they'd appreciate getting the lessons you'll share on your platform conveniently. And what's more convenient in this day and age than a mobile app?
In our experience, adding an app to your offerings can increase your revenue by 30%. It's a move that more than pays for itself.
You can even create your own branded fitness tracker app.
Consumers spend a whopping $81.5 billion on fitness trackers, so offering a WatchOS app means tapping into a humongous market.
Fitness Video Streaming & Apple Watch App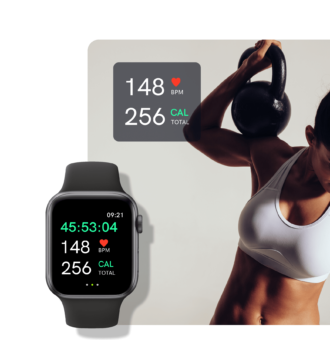 You can also get TV apps for your members to watch your content on larger screens. So they can enjoy your workouts from the comfort of their living room.
It's another selling point that will be highly convincing to potential members.
That's a lot of value! And your following will recognize that.
CallaneticsTV members can access the brand's fitness content on a subscription website, but check out the leap in convenience when the content is available via OTT apps for every device.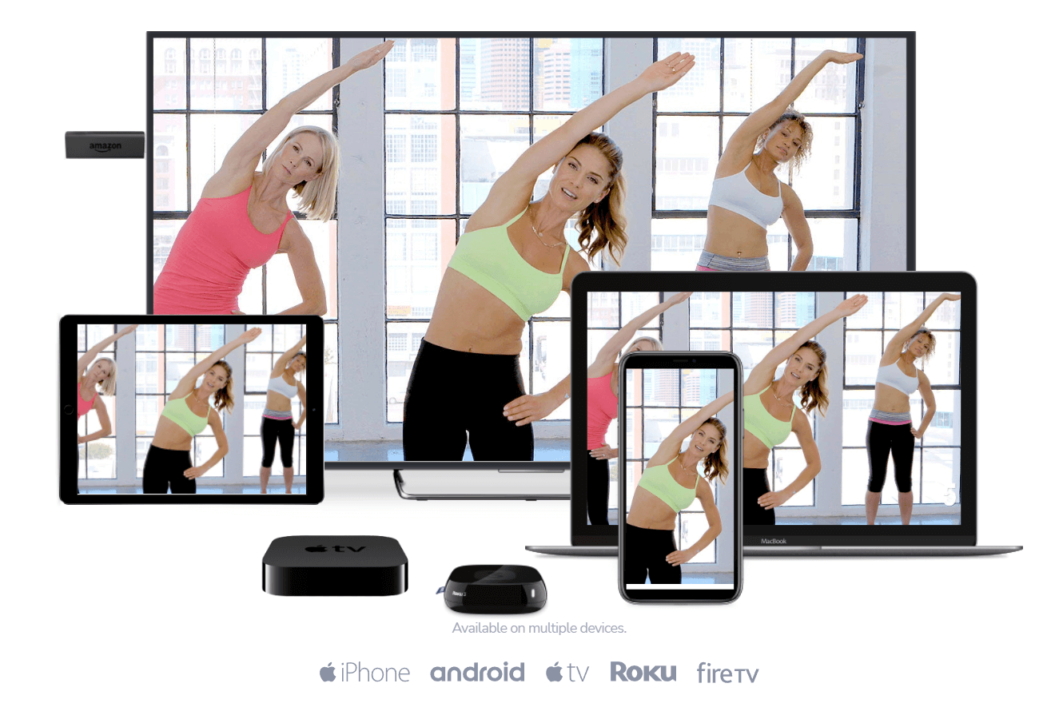 Ways to Launch a Fitness App
There are 2 ways to launch a fitness app. You could either hire a developer to create your app (though this can get expensive), or you could lease an app from an OTT app provider.
Leasing an App
Instead of building the app from scratch, we'll take care of it for you. This is faster and much more affordable than building from square zero.
One of the benefits of taking this route is you can expect high quality. For example, Uscreen creates 5-star-rated apps for different kinds of content creators, including fitness trainers.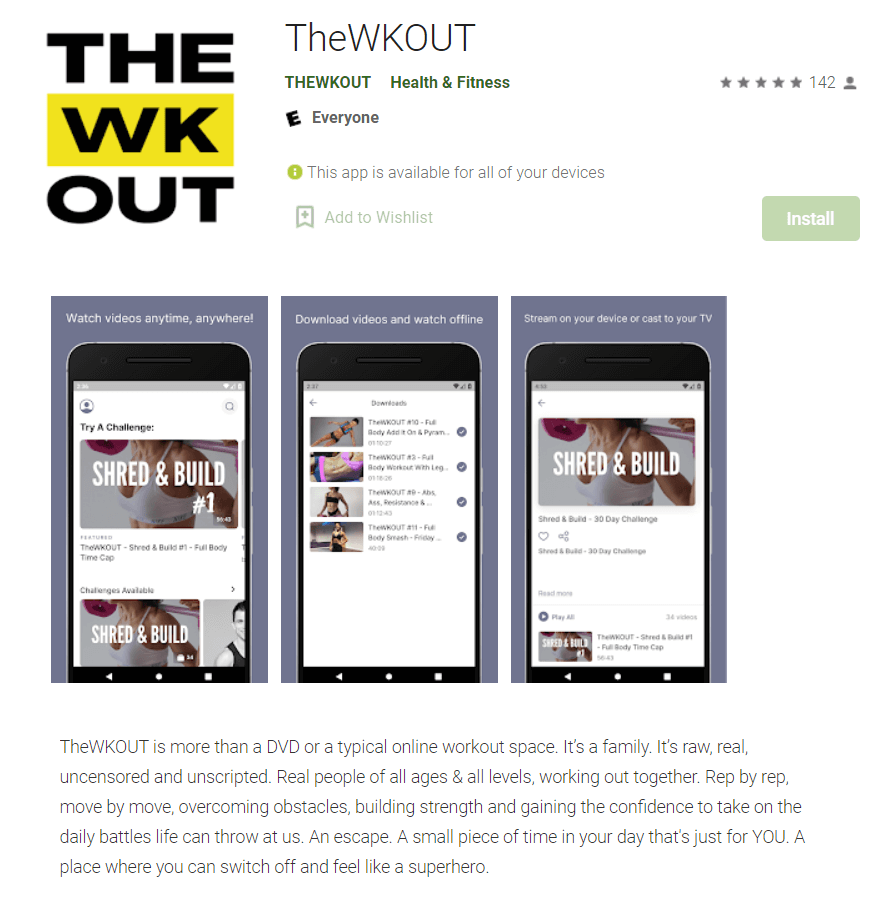 So the apps are guaranteed to have the features and functionality you're looking for. Plus, the template is customized to reflect your brand and show the value of your content uniquely.
You'll also get help with things like submitting the app to app stores.
If you decide to launch apps on all platforms (Android, iOS, FireTV, and Roku), working with the same team that's powering your platform makes for a smooth experience.
Another benefit of this route is 24/7 access to our support team, and we'll take care of maintaining your app too.
Hiring a Developer
The second route is working one-on-one with a developer to build the app.
You can find developers on freelance platforms such as Upwork, Freelancer, and Fiverr. You'll need to do some vetting to see if the company or freelancer you choose has experience with video apps though.
Each platform has different levels of developers, which tells you how advanced their skills are.
As you go up in skill levels, their rates will increase accordingly.
For the most affordable freelancer to build you a complete and functional fitness app, you're looking at spending about $15,000.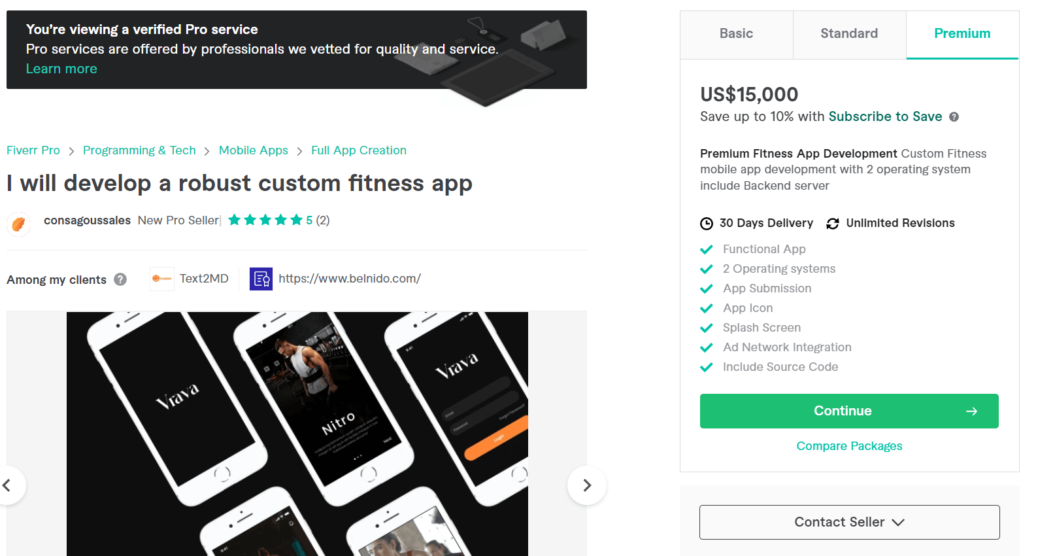 Generally, you can expect to pay between $10,000 and $20,000. But the cost can be much higher if you go to more specialized tech marketplaces such as Toptal.
Taking this path means you have to:
Think about website hosting.
Connect the app to a content management system so the content you upload to your subscription website shows up on the app as well.
Work with developers to keep the app updated, and pay more down the line to have new features added.
The high costs, uncertainty in terms of quality, and loose ends that come with building your app this way make this option far from ideal.
Leasing a 5-star app is the way to go!
Step 3: Sell Digital Products and Merchandise
Digital products and merch give your members new ways to embrace the lifestyle and community that your content promotes. That's why it's a great next step to take!
Digital products are the easiest to make and sell since they're downloadables that members can get in an instant. But because merchandise involves physical products, it's a little more complicated.
We'll look at them separately.
How to Start Selling Fitness Digital Products
The great part is digital products are fairly easy and quick to make. Upfront costs are pretty low, too.
Take this one from Bodyrock, for example. Bodyrock simply needed to have the ebook made once, then they posted it on their subscription website.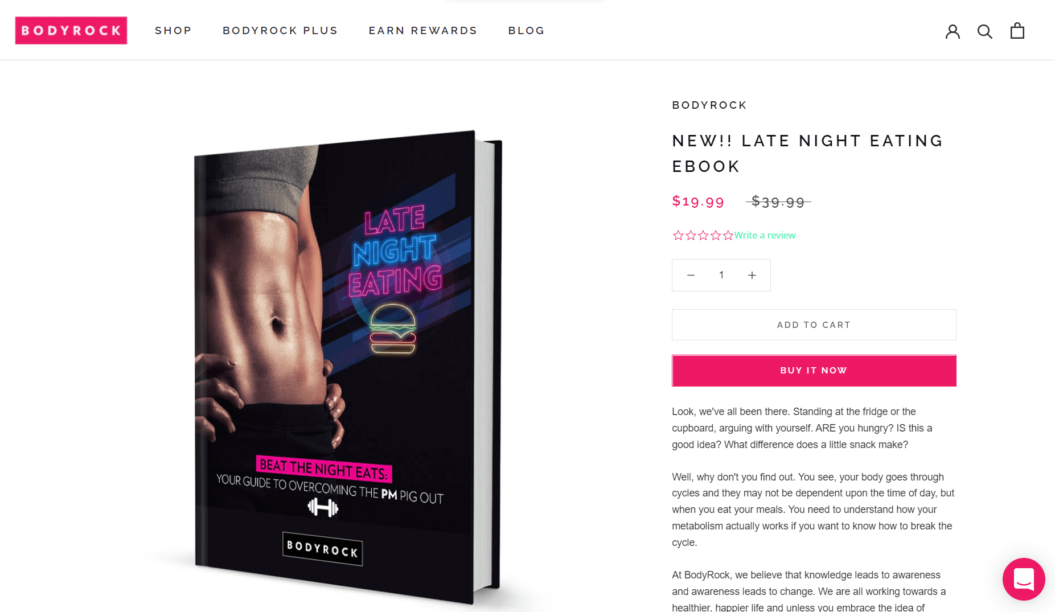 Now, every time a member buys and downloads the ebook, the process is completely automatic. Members have it in their inbox the moment they click buy now.
Examples of good fitness digital products include:
Nutrition guides.
Recipes.
Workout guides.
Action plans.
Meal plans.
Each digital product should target a goal your follower base knows you can help them with.
That can be…
Building muscle.
Getting toned.
Losing weight.
Increasing stamina.
… or any other goals your community is targeting!
Some can be closely tied to your video content. For example, a protein-heavy recipe guide that pairs well with your video collection on building muscle.
Measure the interest before you decide what your first downloadable should be.
What do your followers ask for help with? What do they admire most about you?
Here are some ideas for digital products that could help members with really specific issues:
15 Intense Workouts for Moms Who Work 45+ Hours a Week.
17 Ab Workouts You Can Do Without Equipment.
Beginner's Guide to Full Body Cardio Workouts.
31 Bodybuilding Recipes for the Entire Month.
Now, you could write these digital products yourself if you like…
Otherwise, you can hire writers on freelance platforms such as Fiverr, Upwork, and Freelancer to put the copy together for you.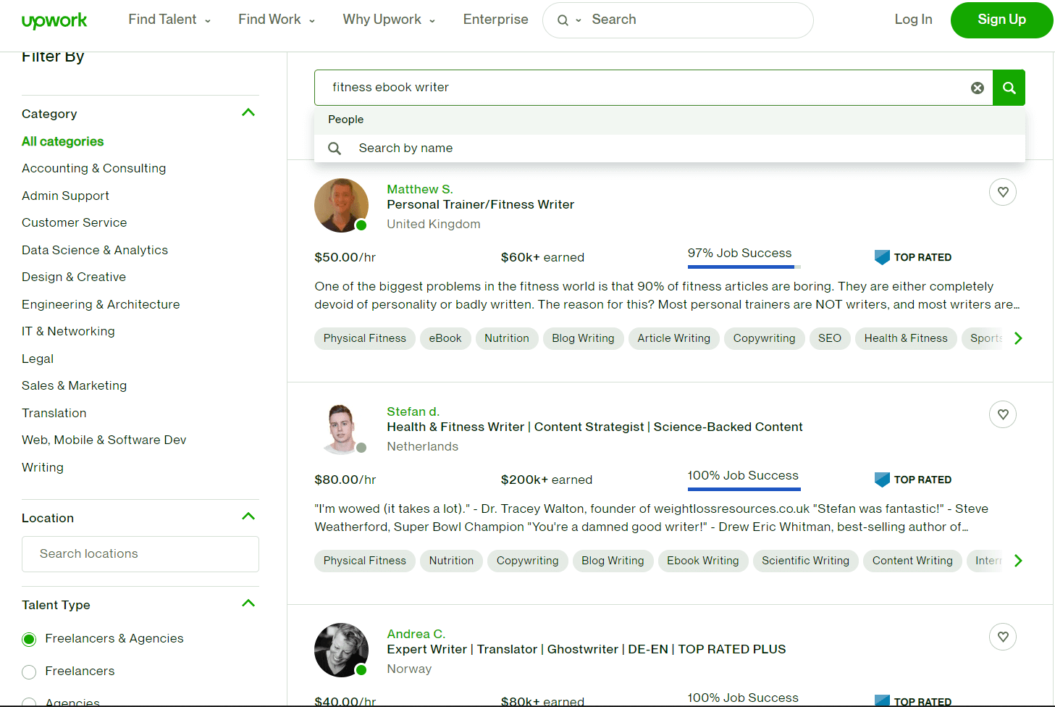 Before hiring a writer for that, though, you might need to come up with an outline and create a brief for the writer to follow.
You'll find that pretty simple. It's just jotting down the nuggets of wisdom you want to be covered and the structure they should follow.
But… if that's too much effort, you can share ideas with your writer over a call.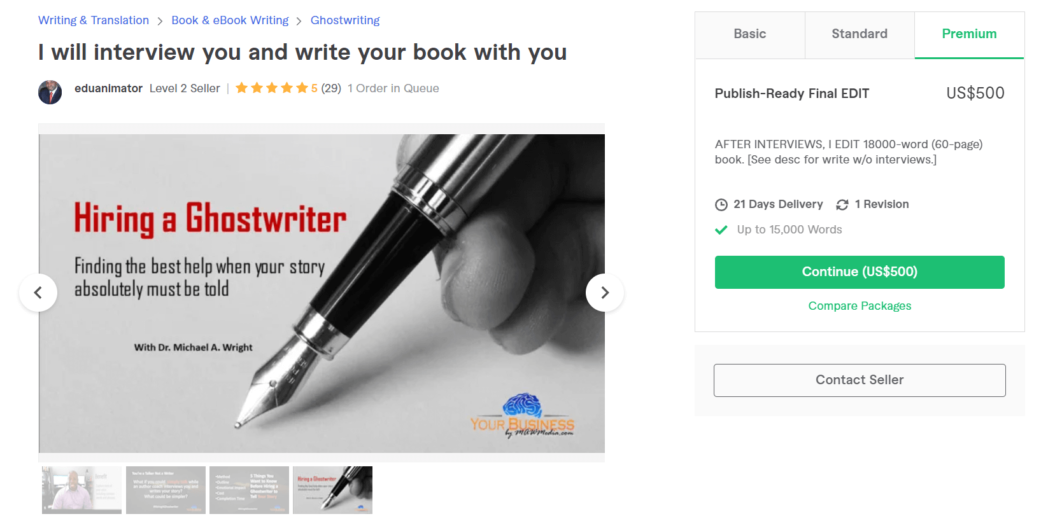 If that's what you prefer, mention it in the job ad. Most platforms let you speak with freelancers before choosing them, which will be another chance to confirm this.
You'll also need a graphic designer for things like the digital products' cover and overall look to make it more appealing. You can find designers on these freelance platforms as well.
Once you have the digital products, you can easily host them on the same platform as your video content.
The digital products can also be attached to your video content to give your members extra help with reaching their fitness goals.
That's why Uscreen lets you sell them with your videos as part of a bundle.
Sweat Nation makes great use of that by attaching recipe guides and companion PDFs to their workout programs.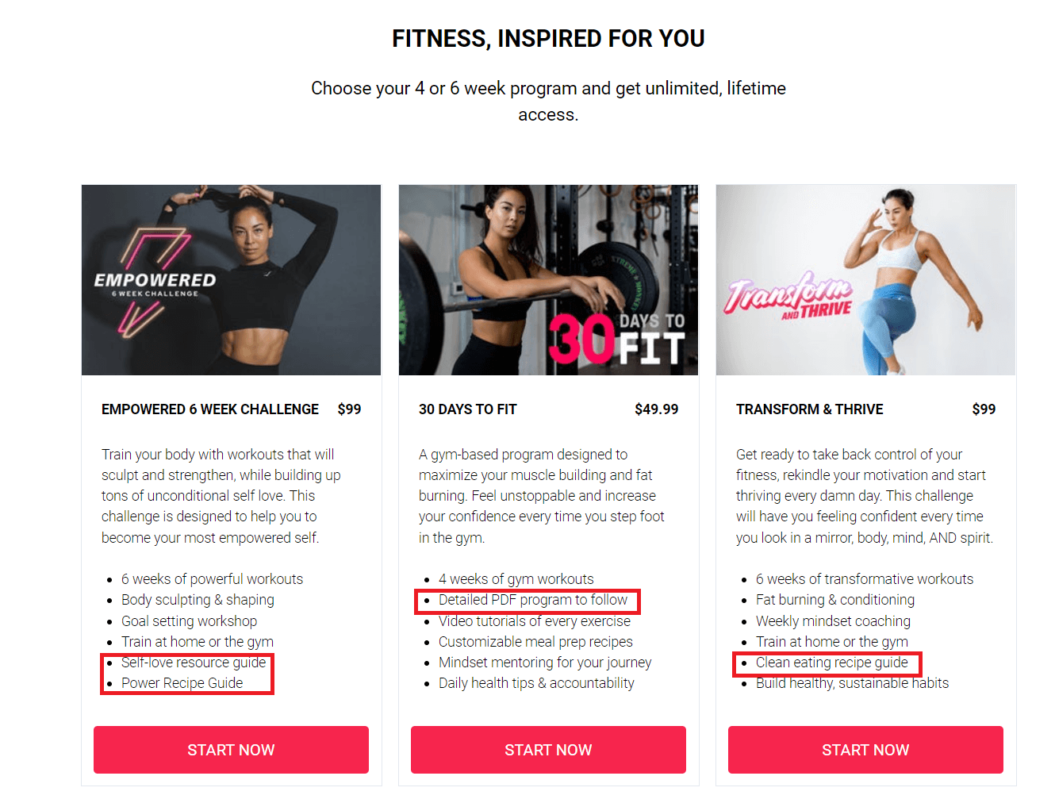 Using your digital products this way means your video content will be worth more, so members will be willing to pay more.
Of course, you could also sell them separately like Bodyrock does. Having options rules!
How to Create and Sell Your Own Merchandise
Now for selling your own products.
One of the reasons why members love merch is it allows them to support their favorite creators.
Besides your brand colors and logo, the products can feature:
Your tagline.
A motivational message.
An inside joke.
Catchphrases or sayings you're known for.
You can find designers to help with the graphics if you want to sell items with a lot of detail. The freelance platforms we just mentioned are great for that.
Then, you'll need to choose a print-on-demand service such as:
Teespring.
Teemill.
Printful.
Spod.
Prinitify.
Using a POD service is the fastest and easiest way to add merch to your fitness brand.
These services take care of everything from inventory to order fulfillment. So all that's left for you to do is design your merch and sell it.
And you only get charged when you sell something!
Most of these services have collections for the fitness industry, which just confirms this is a hot market — and gives you several options for items to sell.
Check out this pair of leggings I'm designing on Teespring.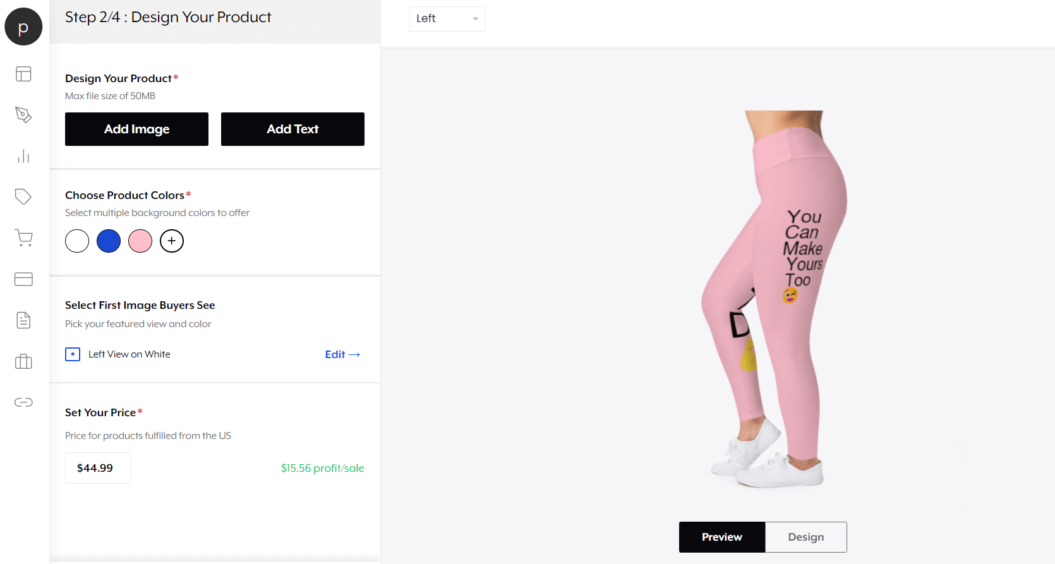 You can easily design items such as:
Yoga mats.
Tank tops.
Water bottles.
Leggings.
Hoodies.
You have the freedom to set your own prices, and profit margins for print-on-demand services are generally around 30%. Considering all the admin work is taken care of for you, that's pretty good.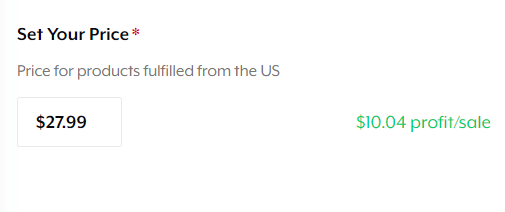 We recommend you order a sample first to make sure you're pleased with the quality and design.
You'll also have higher chances of convincing your followers to buy the items if they see you using and enjoying them. So be sure to wear your merch loudly and proudly in your content!!
The best part is, with a shoppable platform like Uscreen, users can shop your merch directly from your video content.
Now it's time to start promoting your platform to your audience!
Step 4: Turn Your Social Media Platforms Into a Marketing Funnel
You'll need to lead your audience onto your subscription platform, along with new potential members.
Luckily, the social media channels you already have are the perfect tools to do this!
Use your social media channels to keep building trust with your audience and show the value of your content.
Marketing Week reports that 81% of shoppers consider whether they trust a brand before buying, so keeping the trust your audience has in you is a top priority.
That also includes your YouTube channel, which you should grow to keep yourself in the algorithm's favor. The same applies if you have a fitness blog. 
Producing more of the high-quality content that attracted your audience will keep your engagement rate high help to grow your channel.
Regular interactions with your audience also help with building trust!
How to Turn Your Social Media Channels Into Marketing Funnel
You have a winning formula with the content that's gotten you this far, so keep posting content along those lines. That's the best way to keep the high engagement you're getting while increasing your number of followers.
But you may need to tweak a few things to make your channels an effective marketing funnel, such as:
Optimizing Your Videos for Search
That means making sure they turn up at or near the top when people type a relevant word into the search bar.
This is called search engine optimization, or SEO.
It's best done by using popular keywords people type in to find content like yours or personalities like you.
There are many tools available that can help you see metrics such as the number of people searching for a keyword that might be worthwhile for you to target.
Hashtags are a big part of making your content easier to find for users outside of your following.
Your captions also need to be descriptive and have the keywords you're targeting.
For even more of an edge, add alt text to help the platform know what your pictures are about and who to show them to.
Creating Content Targeted at All Marketing Funnel Stages
Those 3 stages are the top, middle, and bottom of the marketing funnel.
Let's look at them and the content that fits each stage:
Consumers at the top of your marketing funnel are those just getting introduced to your content.
For this audience, make content that attracts new potential members who might be coming across you for the first time. Which is probably the same content as what you've made so far to get to this stage.
Examples include:
Listicles (e.g. Top 10 Home Workouts for Reducing Belly Fat).
Opinion pieces (e.g. 3 Things You Need to Do for a Keto Diet to Work).
Tutorials and explainer videos (e.g. How to Finish a Week's Meal Plans in 2 Hours).
Consumers in the middle of your marketing funnel already enjoy your fitness content, and they're ready to hear about your premium content.
For those in the middle, the content needs to go deeper into the topics you talk about. At the same time, it should hint at your subscription platform.
Middle of the funnel content tends to fall into two types:
Advanced tutorials (e.g. 5 Tips for Boosting Muscle 3 Months Into Working Out).
In-depth explainers (e.g. What it Means If You're Getting Too Sore After Workouts).
Breakdowns (e.g. Gaining Too Little Muscle? Here's What Could Be Going On).
Consumers at the bottom of your marketing funnel appreciate your free content the most. They're actively considering trying out your subscription platform and just need a nudge.
For the engaged followers at the bottom, your content should convince them to become members of your subscription platform with clear calls to action. Much of this persuasion happens on your landing page.
Here are examples of the bottom-of-the-funnel content that can convert your viewers into paying members:
Member stories (e.g. The 5-Step Process Carrie Used to Shed Weight Permanently).
Platform-focused videos (e.g. 3 Basics I Teach My Premium Members to 5x Their Results).
Showcase Your Premium Members
Seeing members who love your platform and products can convince your other followers to join in too.
You can weave those success stories into the content you're already making.
Gymbox does that in a "Member Spotlight" here: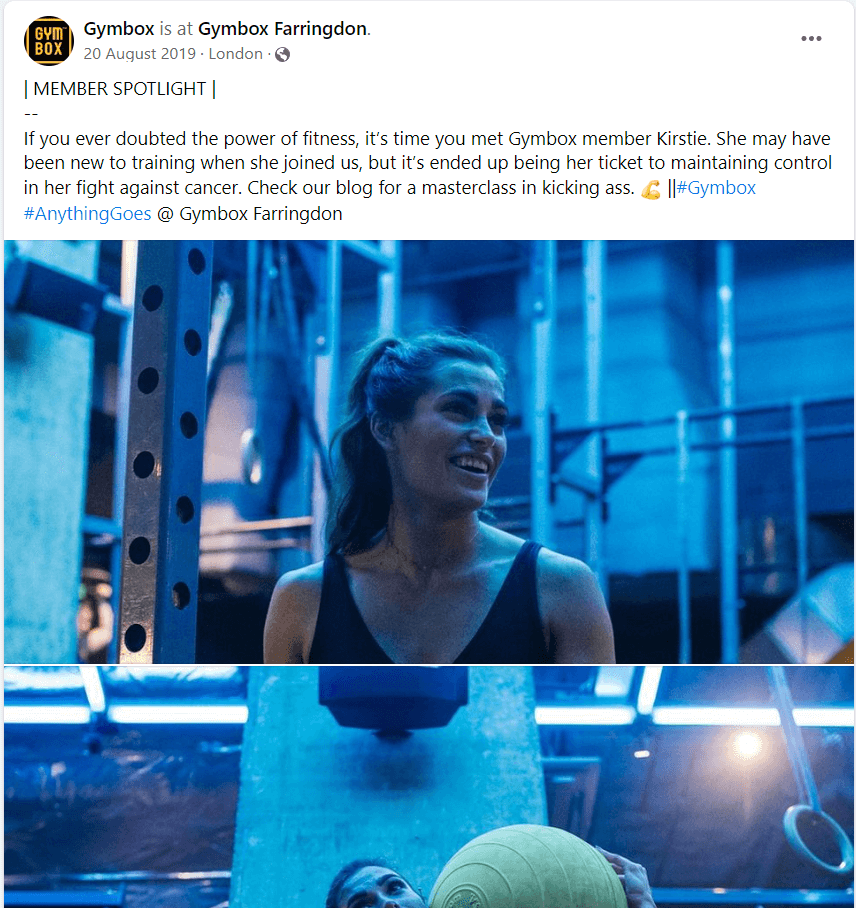 A great way to do that is through authentic posts that celebrate the progress your members have made since subscribing to your platform.
Link to Your Platform on Social Media
Make your platform easier to find by:
Placing a link to the platform in the "link" or "URL" field of your Instagram page and other social media networks. This makes your platform visible to anyone who lands on your profiles and channels.
Put the link in the description of your YouTube videos.
On Instagram, you can just add the good old "Link in bio" to your Instagram posts (Instagram users will have it back in the back of their minds that they can get more value from you, even if they're a bit higher up the marketing funnel).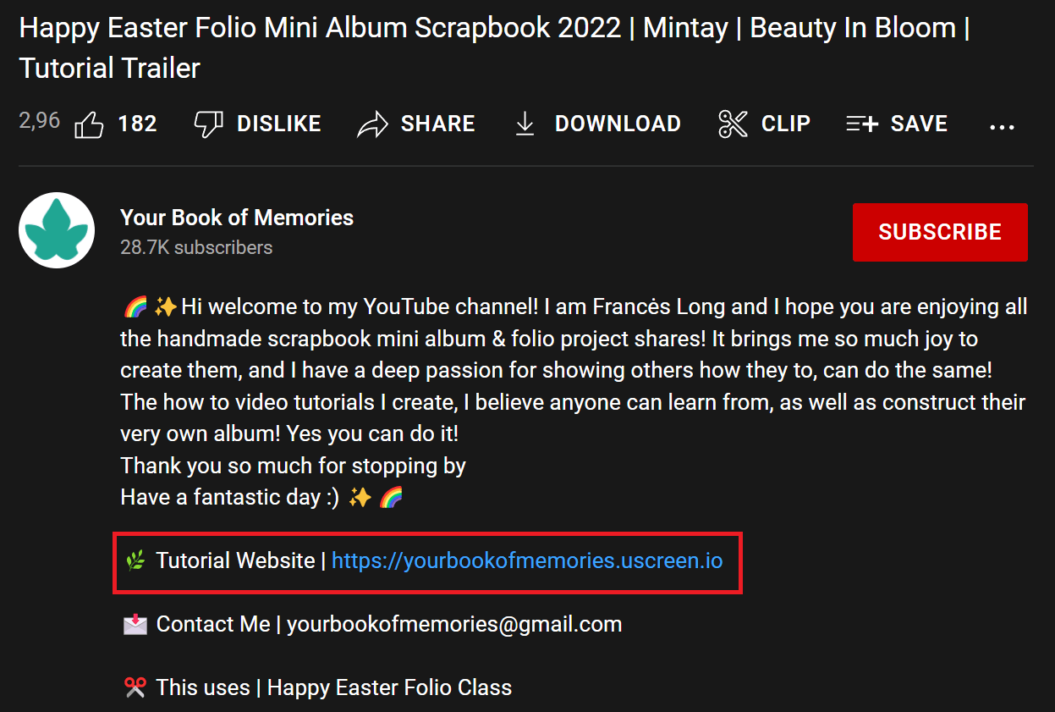 Repurpose Your Premium Content for Social Media
By now you realize you'll need a steady flow of content to:
Deliver on your promise of increased value to your premium members.
Market your content on social media and attract new members.
Repurposing is about taking the ideas from your super valuable premium content and putting them into other forms besides video. That means you'll always have a treasure trove of ideas for all your fitness accounts!
Need an example? Sure thing!
Let's do that for this video by our friends over at Sweat Nation.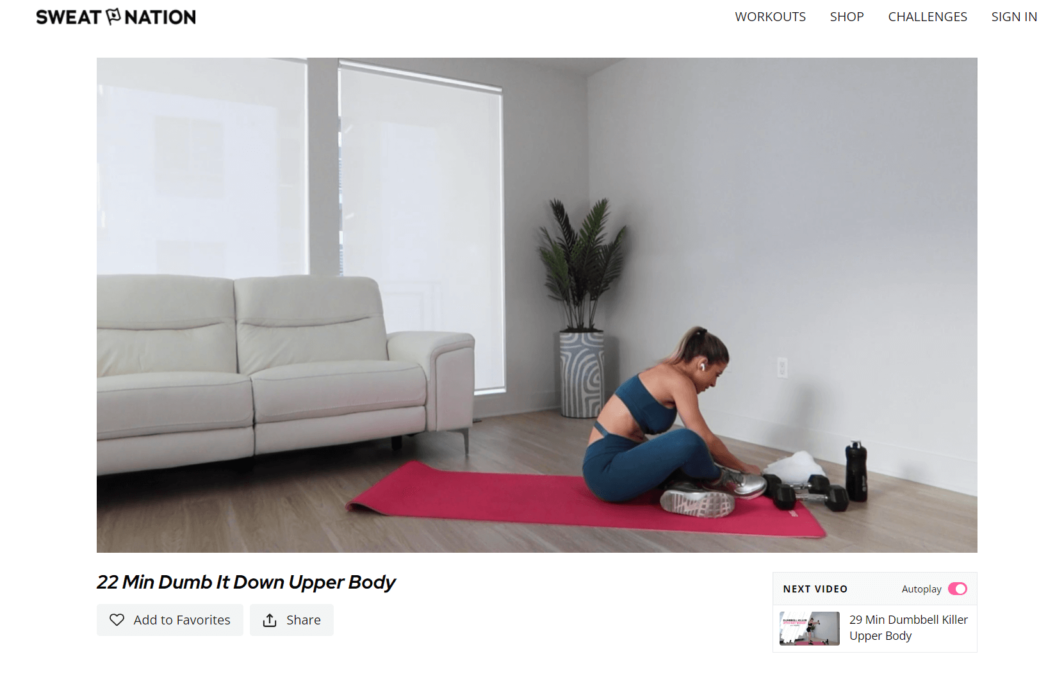 Here are 3 other ways we could present the ideas in this video in other forms.
1: A short blog post with a title like, "7 Dumbbell Only Upper Body Workouts." The post can touch on each of the workouts and give surface-level instructions.
2: Instagram stories and carousels. You can lift snippets from your premium content for these.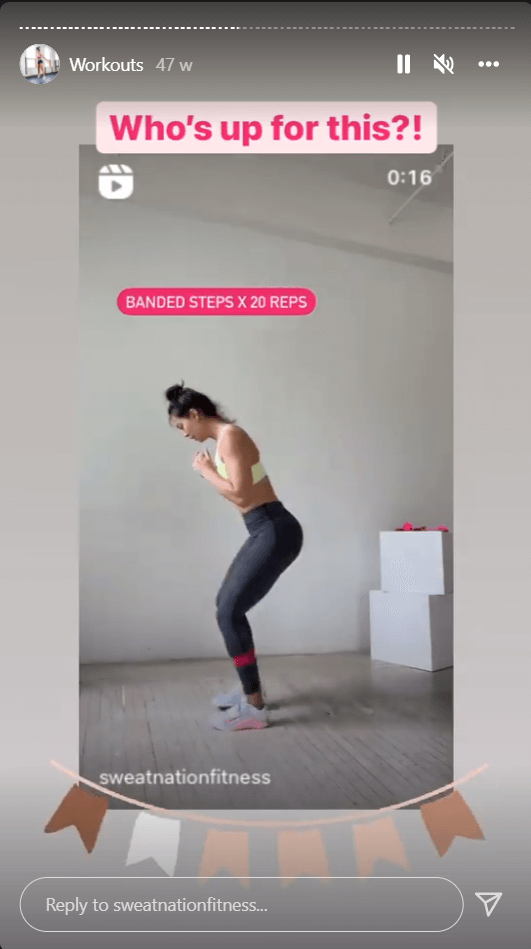 3: An infographic that illustrates the steps members should take as they go through the workout.
Repurposing makes it much easier to create other forms of content you can use to market your platform on social media. It gives you the confidence to become, say, a blogger or more effective Instagrammer.
This free content helps your target audience (yay!), but the main goal is to get them to your subscription platform. So be sure to mention that you go into much more detail on your paid platform.
Wrapping This Up…
There you go! You now know the 4 steps for making money as a fitness influencer:
Starting your subscription service.
Launching a fitness app.
Selling your own digital products and merchandise.
Turning your social media channels into a marketing funnel.
With these strategies, you'll see an increase in engagement, revenue, and your following very soon.
So, feeling pumped to take the first step and build your subscription platform? You can request a demo with Uscreen today and get closer to making money from your fitness content.