Are you a fitness influencer or instructor looking for new ways to engage with your followers and make money?
If so, live streaming workouts may be just what you're looking for. Live streaming can help you build relationships with your audience while providing valuable content they can use in their workouts.
More importantly, it can also be a great way to earn extra income or even turn it into a full-fledged business that provides recurring revenue.
In this article, we'll teach you how to…
….and build your own live-streaming platform as a better alternative.
Let's get into it!
Benefits of Live Streaming Your Workouts
Live streaming your workouts can be a great way to make money and build a fitness brand, especially post-pandemic.
We're now in the golden age of fitness because more and more people prefer to do their cardio and strength training classes in the comfort of their living room rather than going to the gym.
In 2021, 75% of the adults participated in live-streamed workouts, while 70% used on-demand videos. Online fitness has many benefits, including consistency, safety, and convenience, especially in times when social distancing is a must.
The benefits, of course, extend to fitness instructors who love to stream their workouts. You can use live streaming to:
Better engage with your audience.
Connect with viewers who may want to pay for your paid content.
Generate extra income and recurring revenue as a fitness instructor.
Whether you're streaming Pilates or Peloton live classes, plenty of people are signing up for workout classes and are willing to pay for them. In fact, spending on-demand fitness classes has increased by 59% in 2019 while gym memberships only grew by 5%.
With the growth and the benefits of online fitness, investing your time and resources to live stream workouts is going to be worth it.
But how do you get started?
Plan Your Live Stream Workouts
If you're starting from scratch, the first thing on your to-do list would be choosing which workouts you'd like to live stream and how.
Consider Your Audience
Many of your decisions will depend on the audience you want to serve. Knowing which audience to focus on will make it easier to decide everything else, especially the kind of workouts you want to stream.
So, ask yourself these questions:
Who do you want to reach with your live-streams?
What are their fitness goals?
What types of workouts do they gravitate towards?
For example, if you target busy working-moms, you'll know that you want to offer shorter, more impactful live streams because their time is limited.
Based on this, you can host 20-minute workouts because it can help them burn calories in a shorter time.
Another option is to have high-intensity workouts that they can do with their kids. Something to get their heart rate going!
This example is only a starting point. Once you decide which audience you want to serve, you can do more research about which live workouts to focus on.
Focus On One Type of Live Stream Workouts
After choosing your audience, the next thing you'll want to get clear on is the type of workouts to stream.
Focusing on one type of workout is helpful because:
It's easier to produce live streams with the same structure and equipment.
You'll be able to market your live stream workouts better.
Your viewers will know what to expect from your streams.
The biggest fitness influencers on YouTube and Instagram started with one thing and eventually expanded to more types of workouts as their studio and audience got bigger.
WoMum is a perfect example because they have a series of low-impact postnatal yoga workouts for new moms, but they also have a video library that includes HIIT and toning workouts.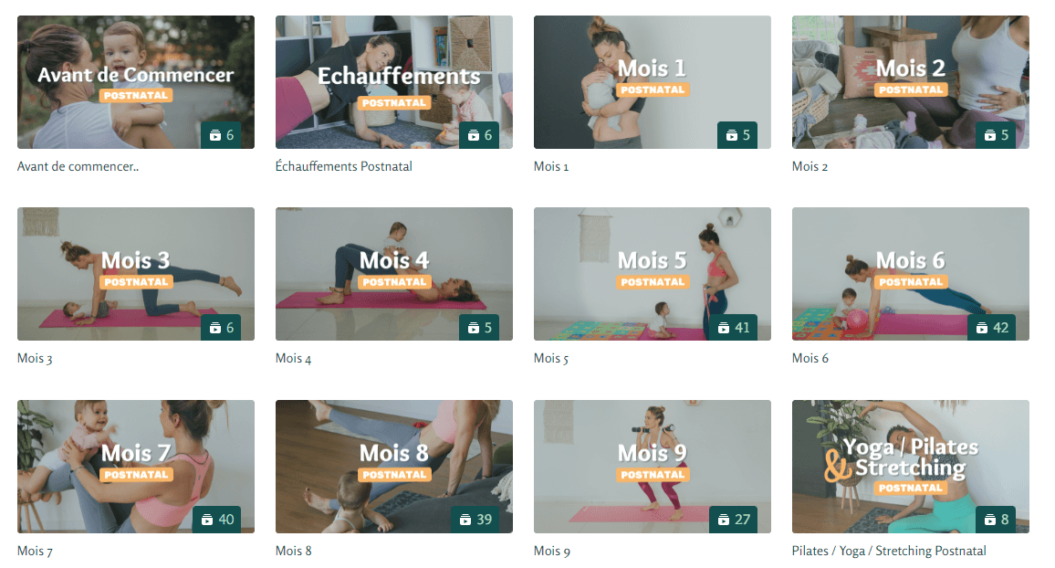 To give you more options, you can start with…
dance cardio or any dance classes
Barre3
cardio workouts
full-body workouts
kickboxing
any type of HIIT workouts or high-energy workouts
vinyasa yoga or corepower yoga
sculpt session
interval training
Peloton bike workouts
…because these are the most popular types of workouts that people search for online.
Make It Easy To Join Your Live Workouts
When people go to the gym, they'll have access to practically all equipment, from dumbbells to treadmills to kettlebells.
It's a different story when it's a live workout session. That's why ideally, you want to offer streams that:
Focus on bodyweight workouts: incorporate squats, situps, and lunges instead of dumbbells.
Use minimal equipment: if you're teaching barre classes, use a sturdy chair as support.
Allow for alternative options at home: use an old pair of leggings as an alternative to expensive resistance bands.
For example, if you're offering yoga classes, a good starting point is to start with standing yoga exercises where your students can participate in any outfit. They can even skip the yoga mat!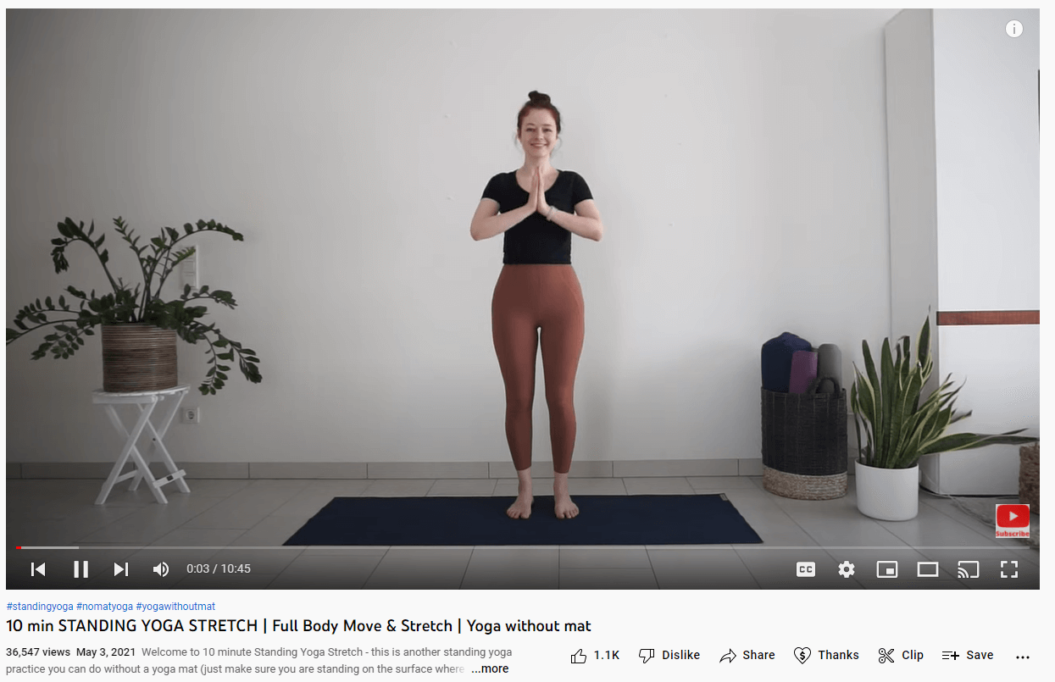 Starting with something simple is the best way to get started. You can always add more types of new classes once you have more experience.

Once you have your target audience and stream type worked out (pun intended), the next step is to consider your branding.
Branding Is Key
Your brand should be consistent across all platforms, from your logo to the colors you use in your thumbnails. You want people to see your brand from a mile away and know it's yours.
Your branding includes…
a strong name that represents what you do and who you are as a trainer
a recognizable logo
a color scheme
…and even your slogan or catchphrase. For example, Yoga with Adriene is known for her phrase, "Find what feels good." She uses this catchphrase everywhere: in her videos, banners, and merch.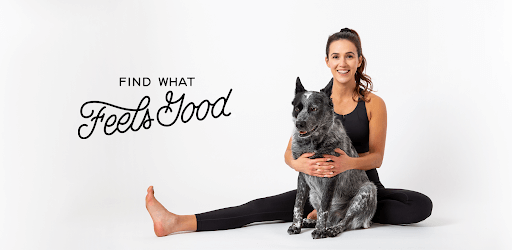 Once you have your audience, workout/stream type, and branding, it's time to live stream your workouts!
How to Start Streaming Your Workouts
You need to do a few things to set up your stream and ensure it runs smoothly, from the proper lighting to preparing for your live streams to learning how to engage with your viewers.
Lights, Camera, Action
We've covered the fitness equipment you'll need for your workout. Now, it's time to prepare the live streaming equipment.
Here's what you'll need:
Ring light or natural light, so your movements are easy to see.
A camera that can capture your whole body movement.
A microphone to ensure viewers can hear you.
A stable internet connection.
A live streaming software that will capture the live stream.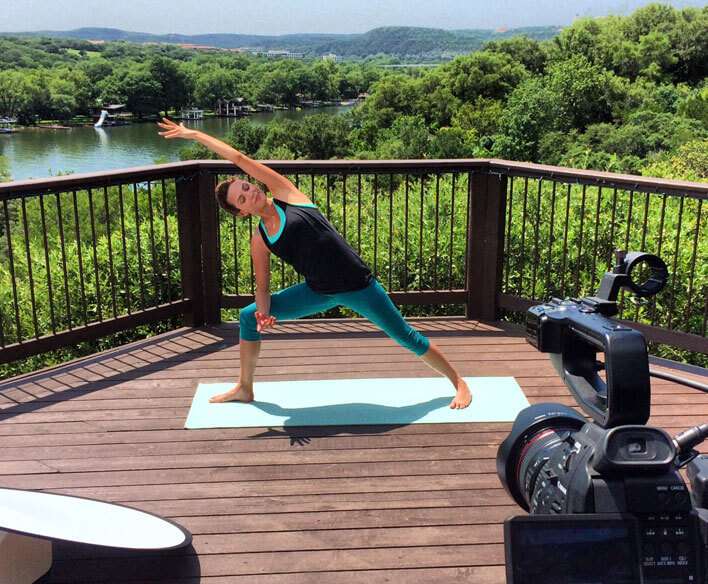 You can always use the built-in live stream on social media, but choosing a live stream software allows you to add your own branding, such as a logo and frame.
Create a Custom Pre-Stream Checklist
Preparation is key when it comes to live streaming. It helps you focus on providing a great live stream workout instead of worrying about what might go wrong.
Before you go live, make sure to:
Check your setup and ensure your internet connection is stable and strong.
Mute all notifications on your phone and computer to give your full attention to your class.
Have everything you need within arm's reach, such as the fitness equipment needed.

You can add more things to your checklist, depending on your class type. Having a test class to work out the kinks is always good practice.
You can stream to a private Facebook Group with a few of your friends or trusted students.
Engage Your Viewers For Maximum Energy
Once you have a clear and solid pre-stream checklist, the next step is to learn how to engage your viewers. Engaging your students in a live stream is critical because it can give them energy and keep them coming back for more.
Here's how you can engage your viewers when they join your live workouts:
Give instruction on proper form and alignment.
Provide variations for different fitness levels.
Create a fun and positive environment.
One way to get inspiration to engage your viewers in the live stream is to attend your favorite personal trainer or influencer's live workouts. Take note of how they're engaging students in an online class and see if it's something you can apply in your own sessions.
Now that we've gone over how to set up your live stream, let's talk about making money from it!
How to Start Making Money from Your Online Workouts
There are multiple paths to make money from your live workout sessions.
It usually depends on:
Where you are right now: are you still growing your following, or do you already have an audience and are looking for a way to monetize?
Where you want to be in the future: are you planning to build a video business or simply wish to bring in more money and engagement with live streams?
Your income or revenue goals: are you looking to increase your monthly income or build a passive income so that you can pursue other projects?
Taking the time to understand your goals and where you want to be in the future can help you decide where you want to stream your workouts because this also determines your monetization strategy.
For example, do you own or manage a bunch of fitness studios? How do your online workouts fit into your overall business goal?
During the coronavirus pandemic, instructors who owned fitness studios transitioned almost 100% of their business online.
That's what Ashley Deleon did, a Pilates instructor in NYC who started a private studio in 2011. And in May 2020, she started her live streaming platform and offered her classes globally.
She has seven-day workout plans and dozens of playlists that members can choose from.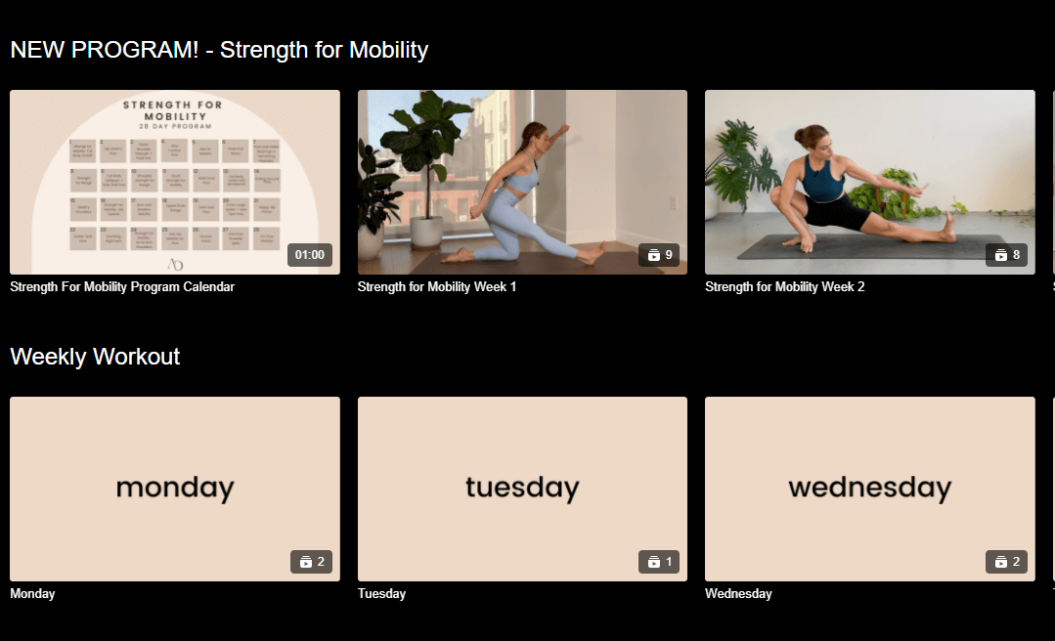 Where to Go Live
To get your foot in the door, it's always easier to use what you already have. Most fitness instructors offer live streams on social media platforms like Facebook, YouTube, and Instagram.
It's a great place to start because people are already familiar with your work. Plus, it's free to use these platforms.
You can also use them to build a following and get people interested in your free workouts. Once you have a following, you can start making money from your live streams.


Facebook Live
As a fitness instructor, you most likely have a Facebook Business Page. With Facebook Live, you can easily stream your workouts from your phone or laptop.

But to make money directly from your streams, you'll have to get access to built-in monetization features, such as:
Paid Online Events: this feature allows you to create a paid Facebook Event where you can stream your workout privately.
Facebook Stars: live viewers can send you "stars," which can be redeemed for cash (1 cent for every star you receive).
Subscriptions: your viewers pay a monthly membership fee to access exclusive content, including your live stream workout sessions.

If you've already built an audience on Facebook, it makes sense to start there, as you'll need to meet specific criteria to monetize your Facebook Live streams.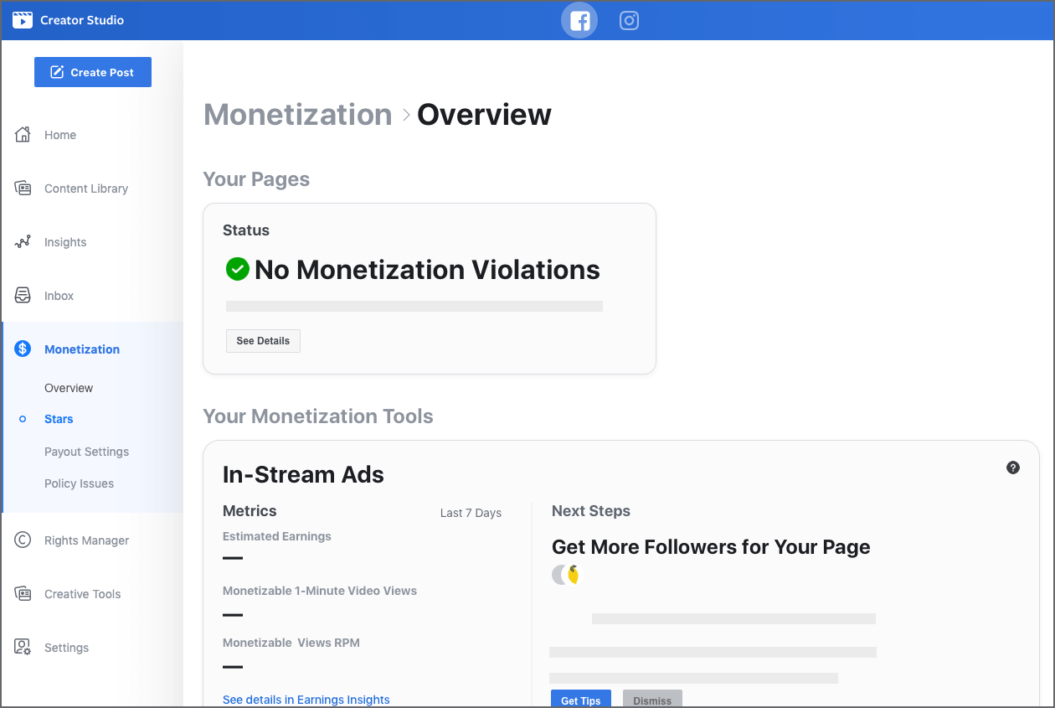 At the very least, you'll need 10,000 followers and have to get invited to access features like Facebook Stars.
We've written a complete guide on making money from Facebook Live if this sounds like the right path for you.
YouTube Live
YouTube Live has been the go-to platform for many fitness instructors. As of 2021, there are more than 30 million fitness videos on YouTube.

To be eligible, you'll need at least 1000 subscribers and 4000 hours of watch time on your channel as a minimum requirement.
Once you are a Partner, you'll be able to:
Earn money through donations from viewers via Super Chat.
Play in-stream ads before, during, and after your live stream.
Use YouTube's Merch Shelf to sell your branded merchandise like shirts, water bottles, and more.
YouTube is ripe with opportunities. Fitness influencers on YouTube have over 300,000 followers on YouTube. They often combine YouTube and Instagram as part of their strategy.
Instagram Live
Instagram is the holy grail for fitness influencers and instructors. With over 180 million uses of the hashtag #fitness, millions of people are looking for fitness-related content.
Thanks to Instagram, you can reach a large audience quickly and easily.

If you want to make money from live streaming your workouts on Instagram, you'll need access to Live Badges.
Here's how it works:
Viewers can buy a badge, which costs $.99 cents.
A badge turns into a heart when viewers use it in your live stream.
The hearts can then be redeemed as cash.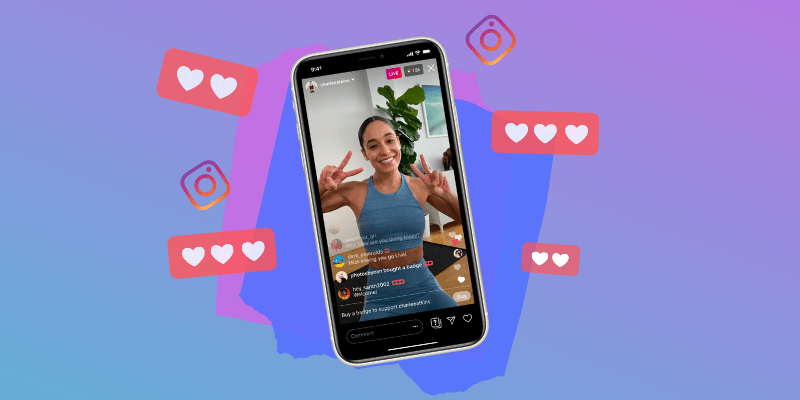 The bad news is that this is an invite-only feature. Plus, you'll need at least 10,000 followers and must be from a country where this feature is available.
Making money from your live streams is possible on Facebook, YouTube, and Instagram.
However, if you're still growing your followers, it might take a long time before you can gain eligibility and start earning money. On top of that, you'll have to share the revenue with the platform.
That's why the best and easiest way to start earning money now is by building your own live streaming platform.
Build Your Own Live Streaming Platform
Does building your live streaming platform sound intimidating? Luckily, with Uscreen, it's simple and easy. In fact, it's more realistic and faster to achieve than meeting all the monetization requirements.
Uscreen allows you to:
Create your own website where you can host your live workouts and on-demand classes
You can charge a monthly, quarterly, or yearly recurring membership fee.
Sell access to a live stream classes as a pay-per-view.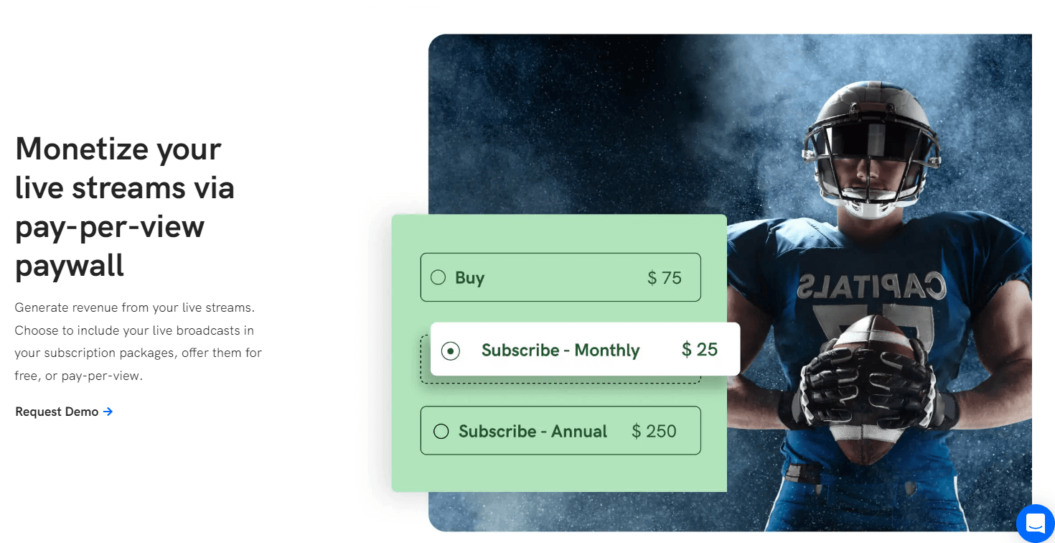 According to our research, about 2% of your followers will convert to paid subscribers. That means you'll have an estimated 100 subscribers if you have 5000 followers on Instagram.

If you charge $9.99 monthly, that's almost $1000 of recurring revenue. The best thing is that you can start now without waiting to access monetization features like you would on Facebook, YouTube, or Instagram.
Here's why hosting your live stream with Uscreen is better than streaming on social media:
You get 100% of the profit.
The more you stream, the more your catalog of workouts grows.
You have complete control over the branding and design of your site.
You can make your videos available on any device at any time with OTT apps.
All this … without learning how to code.
Walk at Home is a perfect example of a fitness brand that leverages the power of home workouts. As the name suggests, they have walking workouts that anyone can do at home.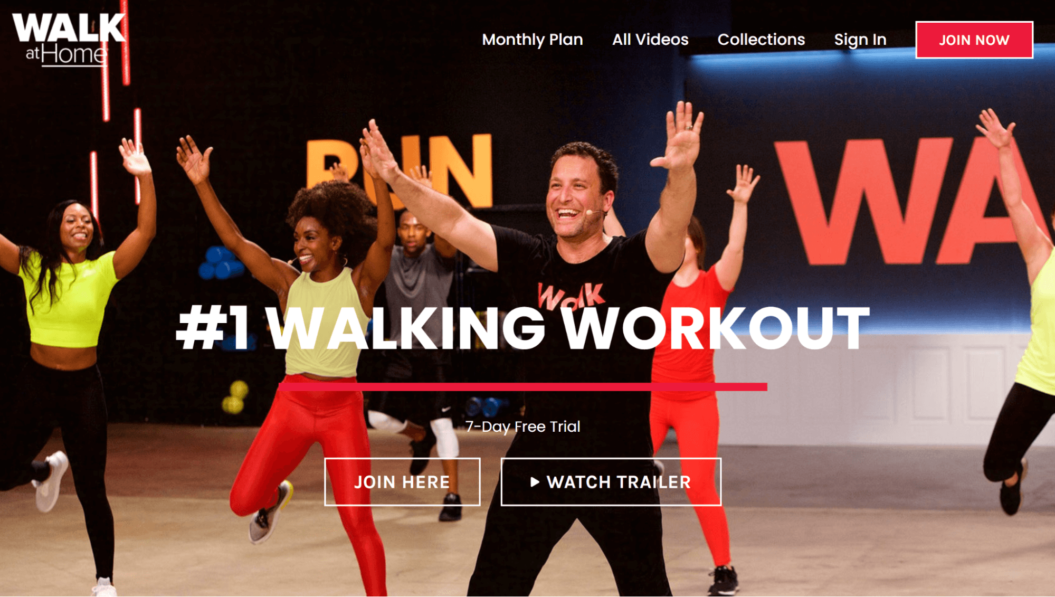 Walk At Home offers a 7-day free trial, After which you'll have to pay $6.99 per month or $69.99 yearly. Their site has both pre-recorded video content and live stream workout sessions.
So, is Walk at Home on social media? You bet they are.
They have 4 million subscribers on YouTube! They publish their shorter walking sessions that give their audience the daily burn they need on YouTube.
They then drive people to their Uscreen platform to access their full workout videos and bootcamp.
You can start building your own live streaming platform at any point in your journey, even if you have less than 10,000 followers.
Wrapping it Up
We're living in the golden age of fitness. More and more people are working out at home, and it's time for fitness instructors to leverage this opportunity.
You can stream your workouts on social media and earn money through donations and ads. But the requirements for eligibility are usually high, and it may be a while before you qualify.
If you want to position yourself to earn money from live streaming your workouts now, starting with Uscreen is the best choice.