Apple TV apps are a great way to bring your online content to a TV audience.
tvOS currently has 12% of the worldwide streaming box market, and Apple is planning to expand its TV services to huge brands like Samsung.
If you feel like Apple TV's customer base is a great match for your video on demand service, then creating an Apple TV app is a great choice.
But, learning how to create an Apple TV app can be a little overwhelming.
It's hard to find a straight-talking guide that isn't filled with coding jargon. That's exactly why we put this guide together…
At Uscreen we believe creating video streaming apps should be simple. So, we're going to give you all the facts and actionable steps you need to find the right solution for your business.
Let's get into it, shall we?
No time to read this article now?
Download a free PDF version of this blog post (all tips and links included).
What Is An Apple TV App (And Why Do You Need One)?
Apple TV apps are downloadable applications for the Apple TV and Apple TV 4K streaming boxes.
They enable users to stream video on demand content to their television, through an HDMI plug-in box.
In other words…
Subscribers to your OTT service can download your app to their Apple TV and enjoy your content from the comfort of their couch.
Apple TV is the perfect streaming box to test your content with a tech-savvy audience, before launching it to a wider audience. Why?
Well, it's no secret that Apple users are more likely to spend money on apps and services. And, Apple is making a push to increase spending and usage of TV apps in 2019 and beyond.
You can see Apple Executive, Eddy Cue, discuss this here:
These goals should make app-based video content easier for new users to find organically through their App Store recommendations.
When you combine this with Apple users' existing penchant for streaming video and music content, you've got a recipe for video on demand success.
Combine this with Apple user's existing penchant for streaming video content, and you've got a recipe for video on demand success.
Okay, now you know why you should launch an Apple TV app, let's look at how you can start to do it…
OTT Apps: The Complete Guide for Video Entrepreneurs in 2020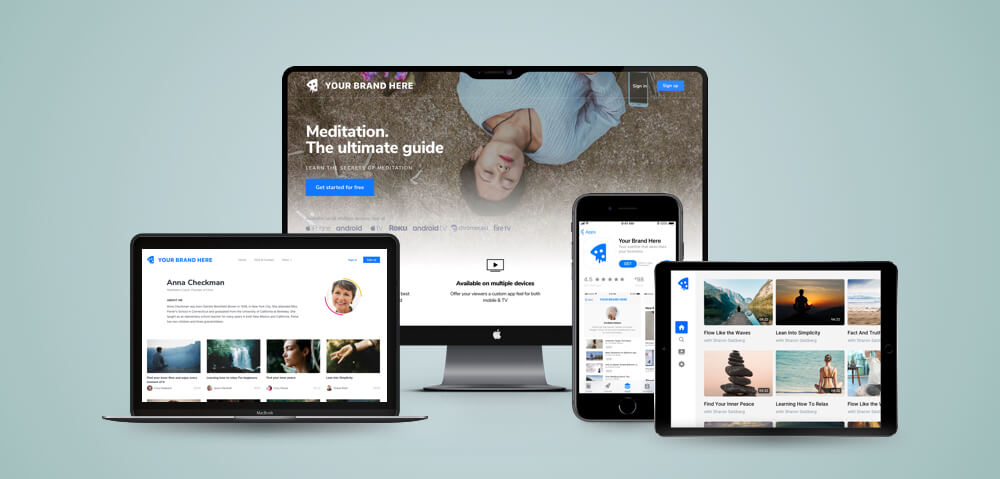 How To Create An Apple TV App: The 3 Simplest Ways
Apple only opened the App Store's doors to third-party creators a few years ago.
This means the number of options to create an Apple TV app is somewhat limited. However, there is an option for all budgets and time constraints!
1. The DIY Method
The most affordable way to create an Apple TV app is to create it yourself.
Online education platforms like:
Make it easy to find follow-along courses which will walk you through how to create an Apple TV app from scratch. Sometimes, they'll even provide you with coaching and hands-on support.
What you save in money though, you lose in time and design.
Designing an app for an iOS platform requires a considerable time investment, even for professionals; you'll need a minimum of 40 hours of coding time to get to the end product (not including the time it takes to learn how to do it yourself).
When you do it will be pretty basic looking too.
However, if you're on a shoestring budget and time is on your side, this can be a great way to growth-hack your first app that you can improve when you're generating income!
2. Commission A Custom-Built App
If you have a bit more of a budget it could be worth hiring a professional.
This method provides the highest level of flexibility and customization of all the options on this list.
You and your developer can work together to create the user experience, branding, design, and quirks that make your app truly unique.
Apple TV app developers are pretty easy to find using sites like UpWork where their rates are more than reasonable.
However, this flexibility and uniqueness come at a very high cost.
We pitched the standard Uscreen user's app to a number of developers, and they all came back with similar estimates:
$20,000 for the initial set up: this includes creating the app, integrations, customizations and getting it Apple TV ready
$530 a month recurring fee: this is for hosting, support and security
Which is why we feel the third option on this list is probably the best…
3. Lease An App
Leasing is the most effective way to create an Apple TV app for both your budget and your time.
There are OTT app providers out there – like Uscreen – that already have systems in place to help you create your own Apple TV app.
By using their existing technology you can cost-effectively create and launch your app with a team of experts to back you up!
Here's how it works:
You set up a Uscreen account and place an order for your app
You set up your Apple Developer account (don't worry! Our team will help you with that too)
You provide us with your app requirements – the assets needed to build your app
We build your app and have it available for you to test in 4 weeks
We submit your app for approval in the App Store*
After it's published, you launch it to your customers and celebrate! ?
*We cannot control how long Apple takes to approve your app.
Sounds pretty straightforward, right?
Better still, for the duration of your lease, you get…
support

maintenance

updates
…from our team of developers; which is the video-on-demand equivalent of having a Formula 1 pit crew behind you at all times!
Because of the unique leasing systems, we're able to keep your costs down and provide you with a fully-branded, market-leading app.
To give that some extra context:
If you feel leasing an Apple TV app is the right choice for your business, we recommend you try our service for 14 days for free to see what we can help you achieve.
Want to launch your own Apple TV app?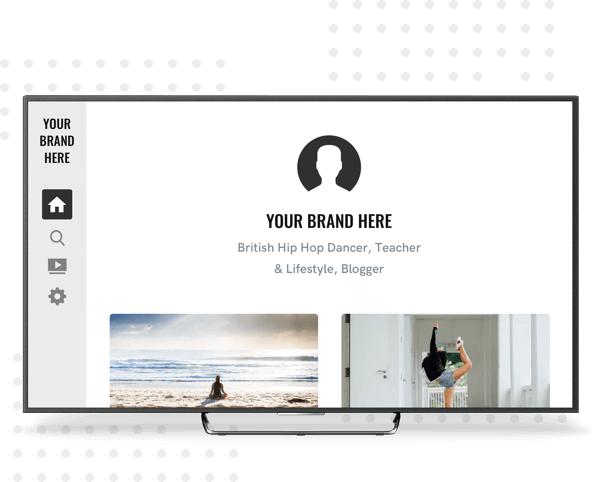 Wrapping This Up…
Apple TV apps are a great way to bring your existing video on demand content to a TV-focused audience.
You can create your app in three ways:
The DIY method: using online courses and tutorials
Commission A Custom Built App: and create a unique app for your content
Lease An App: And affordably create a fully-branded app, for a fraction of the time and cost
If you'd like to learn more about Uscreen and what we can do for your video business, you can check out our Apple TV services right here.
Suggested reads: