There's a huge movement taking place right now all over the world to make fitness accessible to anyone.
And you should be part of it! Especially, if you are a certified personal trainer, teaching online classes.
People who don't feel comfortable in standard studios favor online training. Plus, the future of fitness is digital. So it's an excellent channel to start making a difference.
Here are several actionable ways to make your online personal training classes — live-streamed and pre-recorded — more welcoming, inclusive and accessible.
Get Inclusive Representation
This needs to be said: the wellness industry is lacking diversity.
The online space is full of the same cookie-cutter wellness influencers and celebrities — young, thin, white and middle-to-upper class — clad in cute athleisure outfits, exercising in hip studio spaces or tastefully decorated living rooms.
Now, there's nothing wrong with being that type of a role model. But it's important to understand that not every one of your students will come from the same background as you do.
Think about this:
All of these amazing people do not fully fit into the #fitspiration mold so actively cultivated online. Neither are they properly represented in fitness marketing.
And you have the power to change that.
Differentiate your online fitness business by embracing diversity, inclusivity and showing that your online classes accommodate the needs of everyone who is tuning in.
Here's how you can tweak your marketing to reflect that:
Upgrade your website visuals and social media content to include people of different colors, shapes, and abilities.

Use inclusive language and gender-neutral pronouns in your copywriting.

Highlight fitness classes that are designed for specific target demographics — elderly, differently-abled and those struggling with chronic conditions.
Test your website and fitness apps for accessibility.
Using copy and visuals, communicate that doing fitness with you is both beneficial for and accessible to everyone.

Here's an example from MS Workouts, a Uscreen client. They do a great job of adding inclusive workouts to their catalog: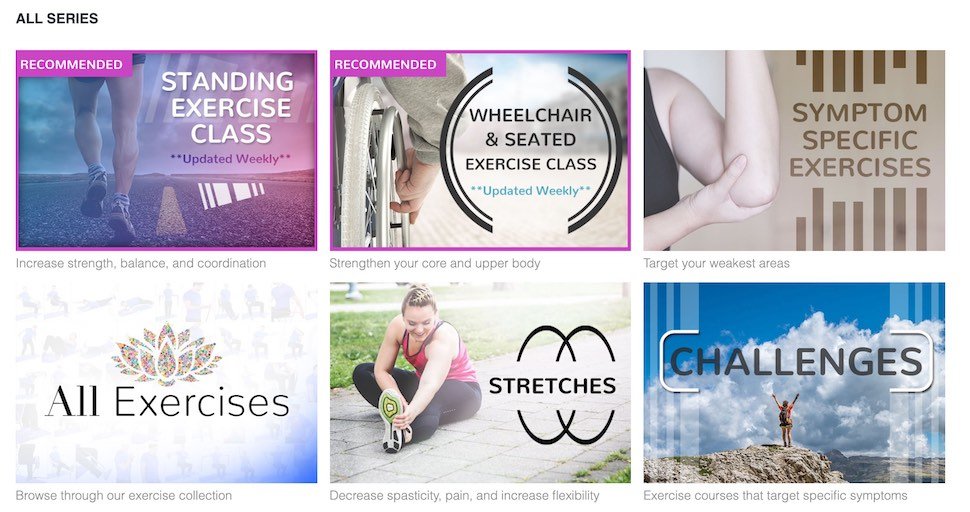 Make Your Online Training Materials Accessible
Web accessibility is a big deal.
First of all, making your resources accessible to a wider crowd is the right thing to do. After all, home workouts are often the go-to option for people of different abilities since they may not feel comfortable attending physical studios. So don't exclude them from your virtual space either.
Secondly, treating web accessibility as an afterthought can land you some legal trouble (but hopefully not!).
The bad news is that in 2018, the volume of ADA (American Disability Act) Title III lawsuits filed on web accessibility grounds tripled:
So how can you make your website and online streams more accessible?
Here are some key pointers:
Add ALT texts and captions for all images. This makes them "readable" by screen reading software for those who are visually impaired. Plus, image optimization is good for SEO. For the same two reasons, you should use proper HTML markup techniques to structure your website pages.
Create transcripts for all your video-only and audio-only content. Don't forget to properly label and link them to respective media files.
All videos must have closed captions, including those published on your YouTube channel. You can create them yourself. Or, if you are short on time, order them from Rev. Think about this as an investment. A recent study suggests that captioned long-form videos had a 10% higher like rate and a 29% higher comment rate.
Mind the colors. Do not rely on a single color to convey important information. Also, keep the color contrast at recommended 4.5:1 between all text and background.
You can find more ADA best practices in this comprehensive checklist.
Tweak Your Online Workouts To Suit a Wider Audience
Apple watches, weighted wrist bangles, health wearables, and other sports gizmos may give your online coaching program an edge. But they can also alienate some of the folks who can't afford the fancy fitspo stuff. Don't shoo away the budget-conscious attendees with excessive props.
Instead, class attendees feel very much welcome by:
Listing free/cheap alternatives to expensive sports gear

Including everyday objects (e.g. a chair) in your workouts (instead of specific gear)

Offering a free trial or donation-based classes

Suggesting budget alternatives to expensive supplements

Organizing free fitness events and online marathons

Showcasing how to eat well on a budget
Next, think about how you can engage people of different abilities and cater to those with pre-existing conditions.
Answer this:
Can you adapt your course pace to flatten out cardio load, but preserve other health benefits?

Do you have daily workouts for those who are not obsessed with maintaining rather than losing weight?

And how about programs for elderly, kids, or absolute beginners who don't want to get knocked down with an insane routine?
Yay? Nay? Well, you should at least think about expanding your collection of exercises for these folks. The demand is there for sure!
Need some inspo? No-BS Active program by Whitney Way Thore is a great example of how you can launch an inclusive, affordable, and effective online training program.
Last tip: Adaptive exercises ≠ easy. Do not assume that all your "inclusive" participants are beginners or lack strength. So be sure to include a progressive level of classes for them too!
Build Better Teacher-Attendee Relationships Via Inclusive Language
The best online trainers know this:
Your personality matters as much as your training style and skills.
The first students were likely drawn by the epic workout results you've promised. The long-term ones will stay for your support, guidance and overall personal vibe.
In fact, a recent study suggests that community is the biggest reason why people go to the gym (or join virtual sessions). Plus, regular physical activity improves your mental wellbeing. And doing workouts in a friendly, supportive, and welcoming environment means 2X the benefits!
How To Differentiate Your Online
Health & Fitness Business in 2020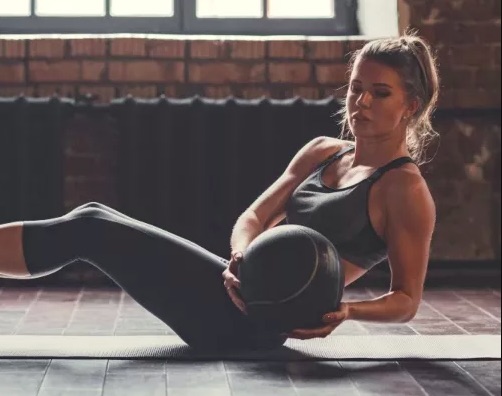 So how do you make your teaching more intuitive and inclusive?
It all starts with your language.
The way you structure your instructions and communicate with your students during and after class can have a profound impact on them. Especially, on the vulnerable and already marginalized groups, seeking refuge in the online space.
As Elliot Kesse puts it:
"Almost any yoga space (and in general, almost any space in the world) isn't safe for us [marginalized people]. Whether it be from life-threatening violence, flat-out hostility, or just microaggressions, we live our lives monitoring our situation and feeling under constant potential risk."
Here's you how can you defuse those tensions and make your virtual space more welcoming:
Ask about any injuries and pre-existing conditions in advance. Before starting an online class, message all the participants and ask them about any concerns they might have. Doing so will help you adjust paste and don't push someone into doing anything they are not comfortable with.
Use invitational cueing and add "-ing" to your commands. For example, rather than saying "Lift that leg" or "Hold that pose!", use a milder language and say "Lifting that leg now", "let's hold that pose together for 60 seconds". By avoiding dictation, you make the overall class atmosphere more welcoming.
Normalize "variants" and "opt-outs". Say that it's absolutely OK to use different props, do a variation, or a modification exercise or opt-out altogether. Mention that your classes are designed to make everyone feel good and healthy, not suffer. Communicating this idea is especially important for those who just start working out.
Avoid gender-specific language, especially in pre-recorded classes. This can create unnecessary tension or alienate some folks altogether.
Include captions and subtitles. It's another small thing that can have a major impact. Adding captions or foreign language subtitles makes your training more accessible to non-native English speakers who struggle with comprehension. Also, it improves accessibility to your courses for people with hearing conditions.
Final Thoughts
Fitness isn't just for able-bodied; it's for everyone!
There are plenty of ways to make your online fitness classes more inclusive:
Use more diverse models in your marketing materials and celebrate different body types on social media.

Make the language of your website copy, in-app offers, and social media content more inclusive.

Adapt your pre-recorded fitness classes to different types of participants.

Add closed captions to your video materials, plus create text transcripts for your audios/videos.

Optimize your images, mind color, and fonts in all digital materials.

Diversify your courses to suit a bigger cohort of people.

Be more mindful of your language: avoid direct commands and gender-specific pronouns.
Make every student feel that they belong to your class!