So you're a content creator looking to dip your toes into the webinar industry. But where do you begin and what features should you look for?
That's where we come in.
The best webinar services offer content creators a wide range of features, like:
To find the best webinar software that suits your needs, you first need to study which one is right for you.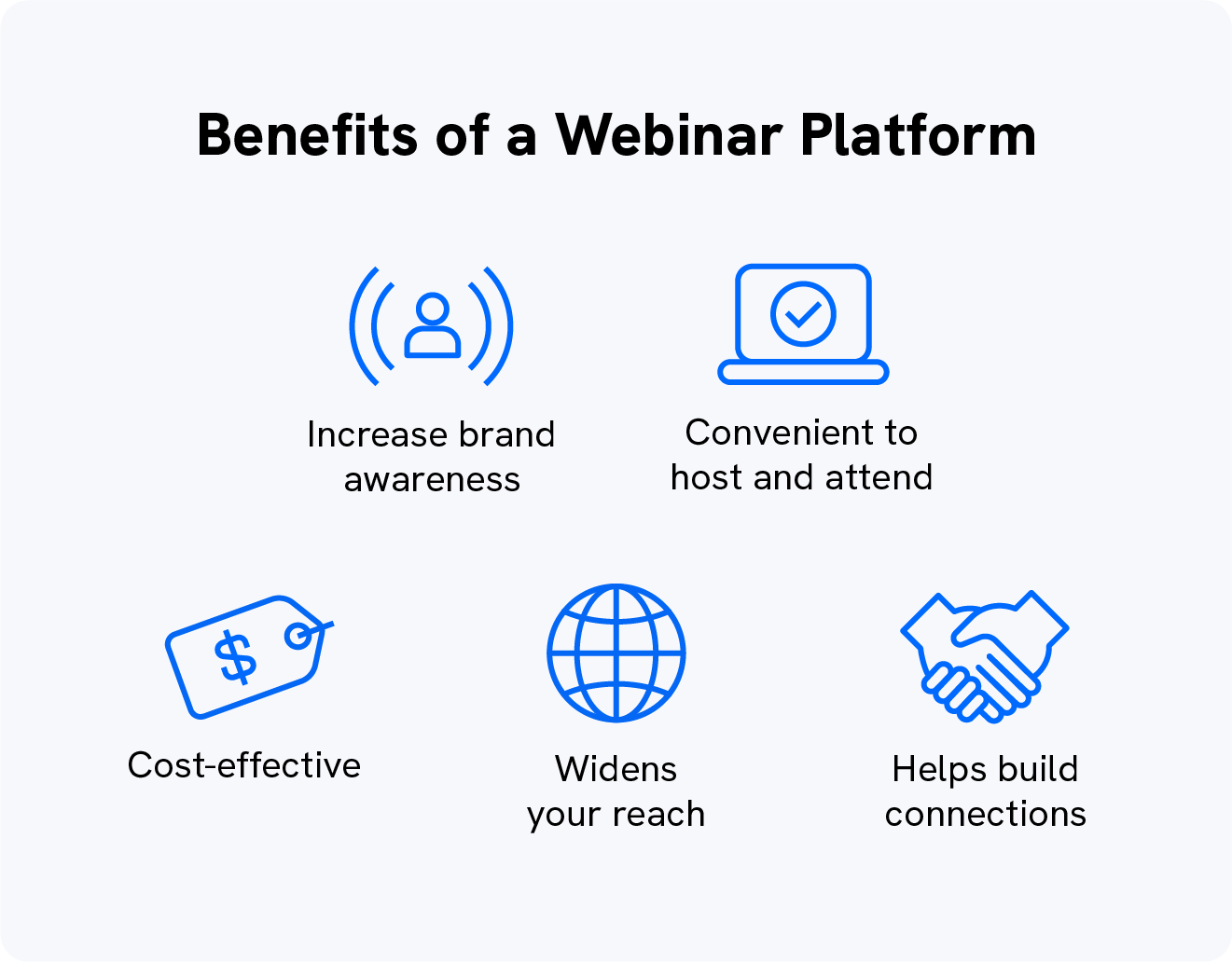 In this post, we'll go over the best webinar platforms for content creators in 2023, plus their features, prices, and how you can find success in teaching online seminars.
This includes:
Let's jump into it, shall we?
How To Choose a Webinar Platform
So, you decided you want to create a webinar series…now what? Well, you need to consider what webinar platform features are most important to you and your audience.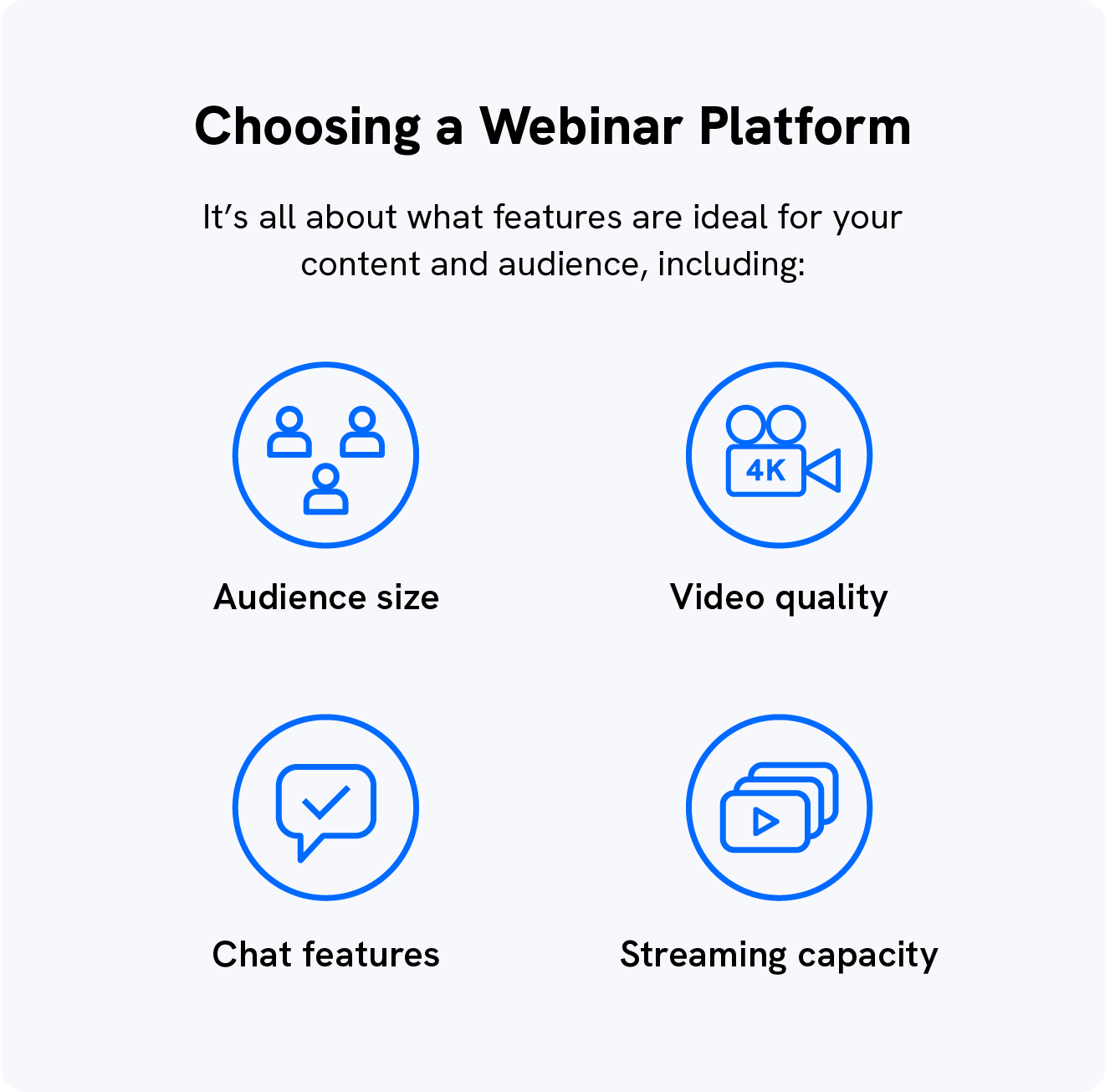 These kinds of features may include…
the number of webinars you can stream
how many hosts are allowed at a time
live chat features
an online whiteboard
third-party integrations
broadcasting capabilities
…and those are just the tip of the webinar features iceberg!
Let's say you're a content creator that focuses on food and you want to dip your toe into hosting webinars about recipe creation and cooking techniques.
You may want to consider a webinar platform that offers HD live streaming on different social media platforms to reach all of your subscribers.
It also might be a good idea to use a webinar platform that offers online polls and live chat services so you can get opinions on your recipes or see what your audience wants to cook for your next online course.
Ready to get started? Let's get cooking.
1. WebinarJam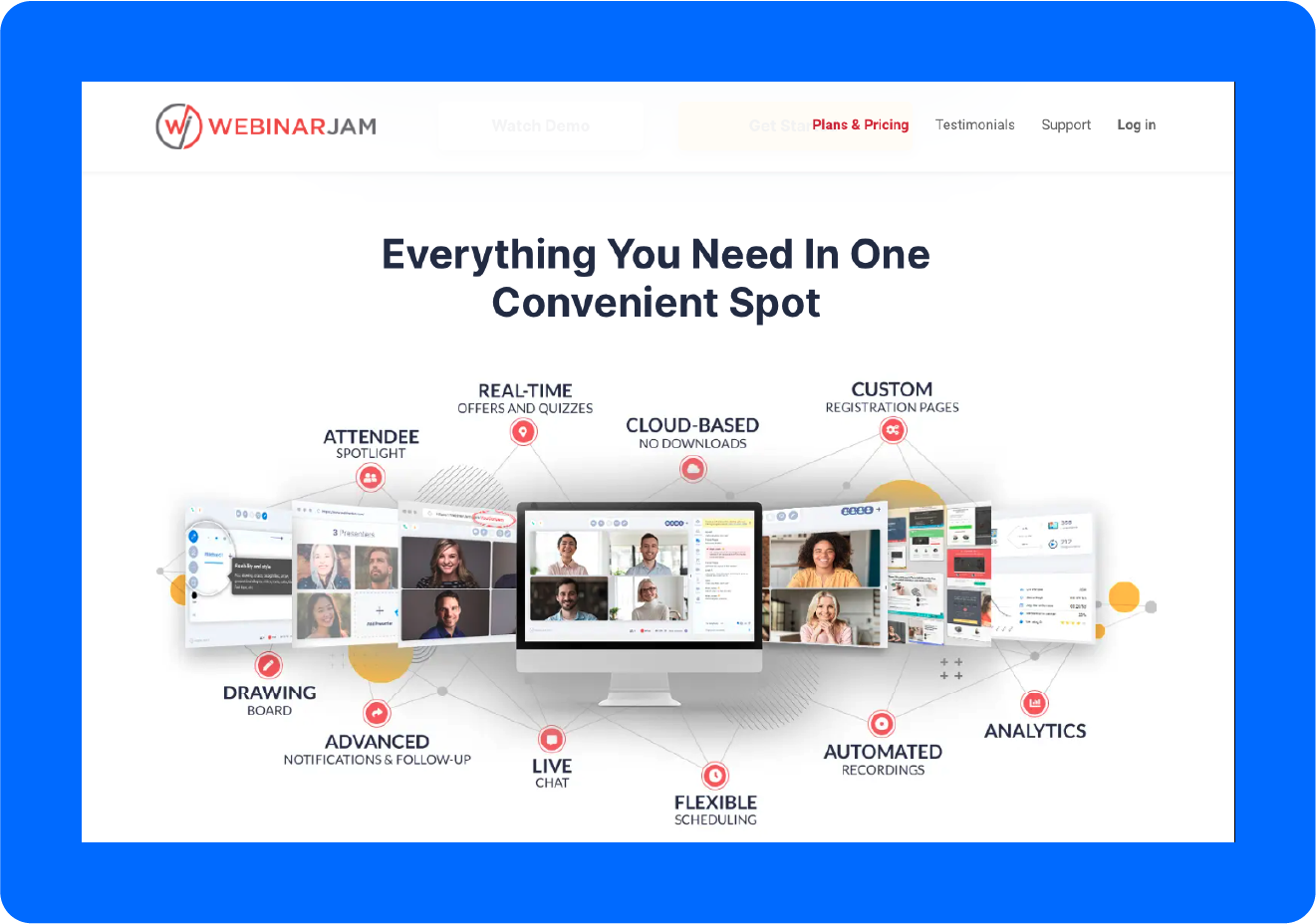 WebinarJam is a sales-focused webinar service that strives to help you convert viewers into full-fledged customers through features such as customized email follow-ups, invitations, and more.
By focusing on what happens beyond live streaming strategies, WebinarJam focuses getting and keeping customers..
They also focus on automation and analytics, as well as advanced and follow-up notifications so content creators can keep their audiences engaged and in the loop.
Key Features
Joining WebinarJam will get you tons of features, including:
Unlimited webinars for all plans.
Live chat integration.
Polls and surveys.
On-screen whiteboards.
Custom backgrounds.
Simulcast to Facebook and YouTube.
Now let's talk cost.
Pricing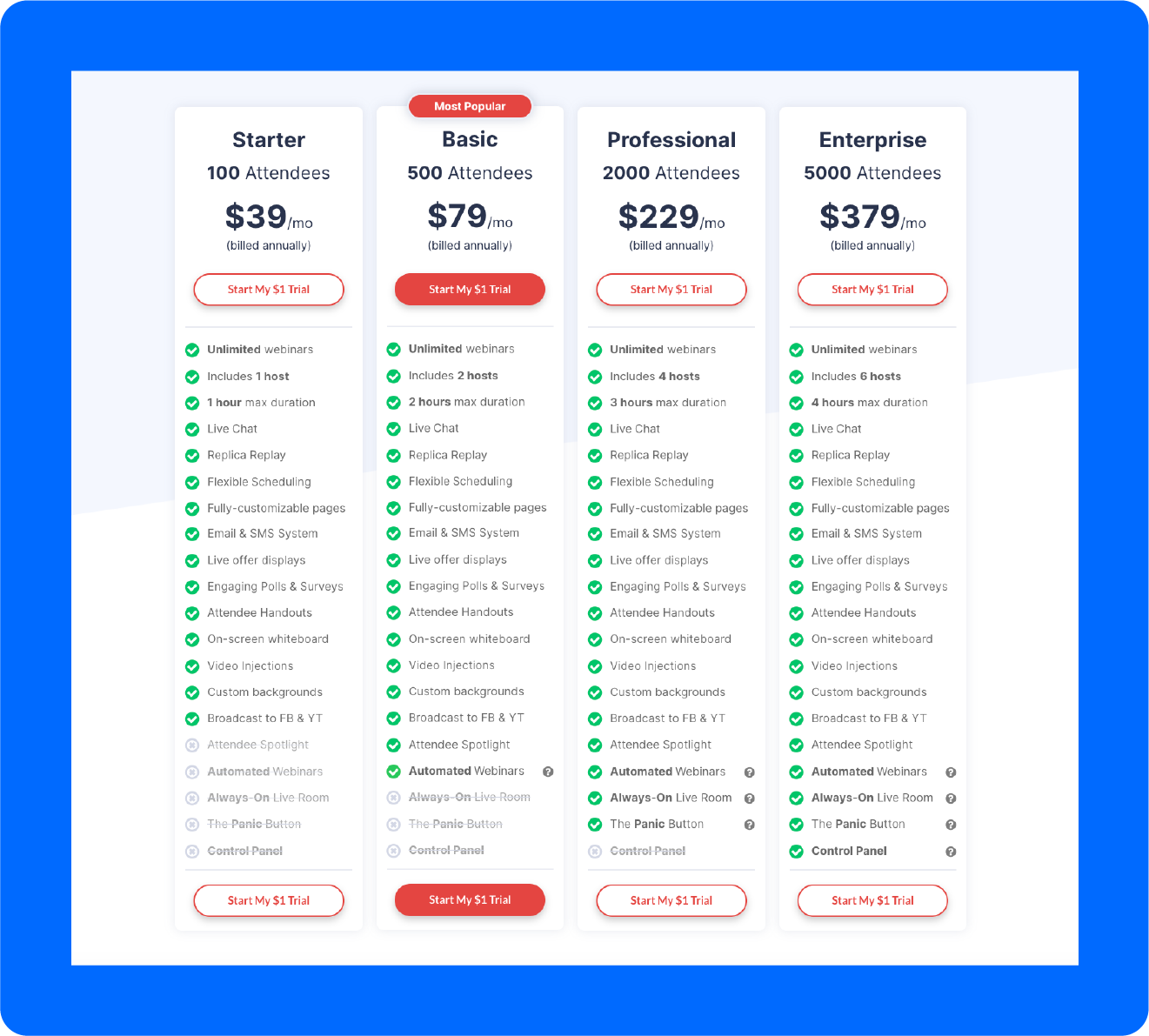 When it comes to pricing for WebinarJam, there are 4 different tiers to choose from.
Starter: the best option for content creators on a smaller scale. This option offers 100 attendees, unlimited webinars, and live chat features. Price: $39/month.
Basic: offers everything that the starter tier offers but extends the attendee reach to 500. They also offer an attendee spotlight and automated webinars. This tier is billed annually at a rate of $79/month.
Professional: this tier allows for 2,000 attendees and also adds an always-on live room and panic button to its features in case you have any technical issues. Price: $229/month.
Enterprise: this tier allows up to 5,000 attendees. They also add the control panel as a feature, which is a separate room for a moderator during live webinars. Price: $379/month.
Want to pre-record your webinars? Let's check out our next best webinar platform.
2. EverWebinar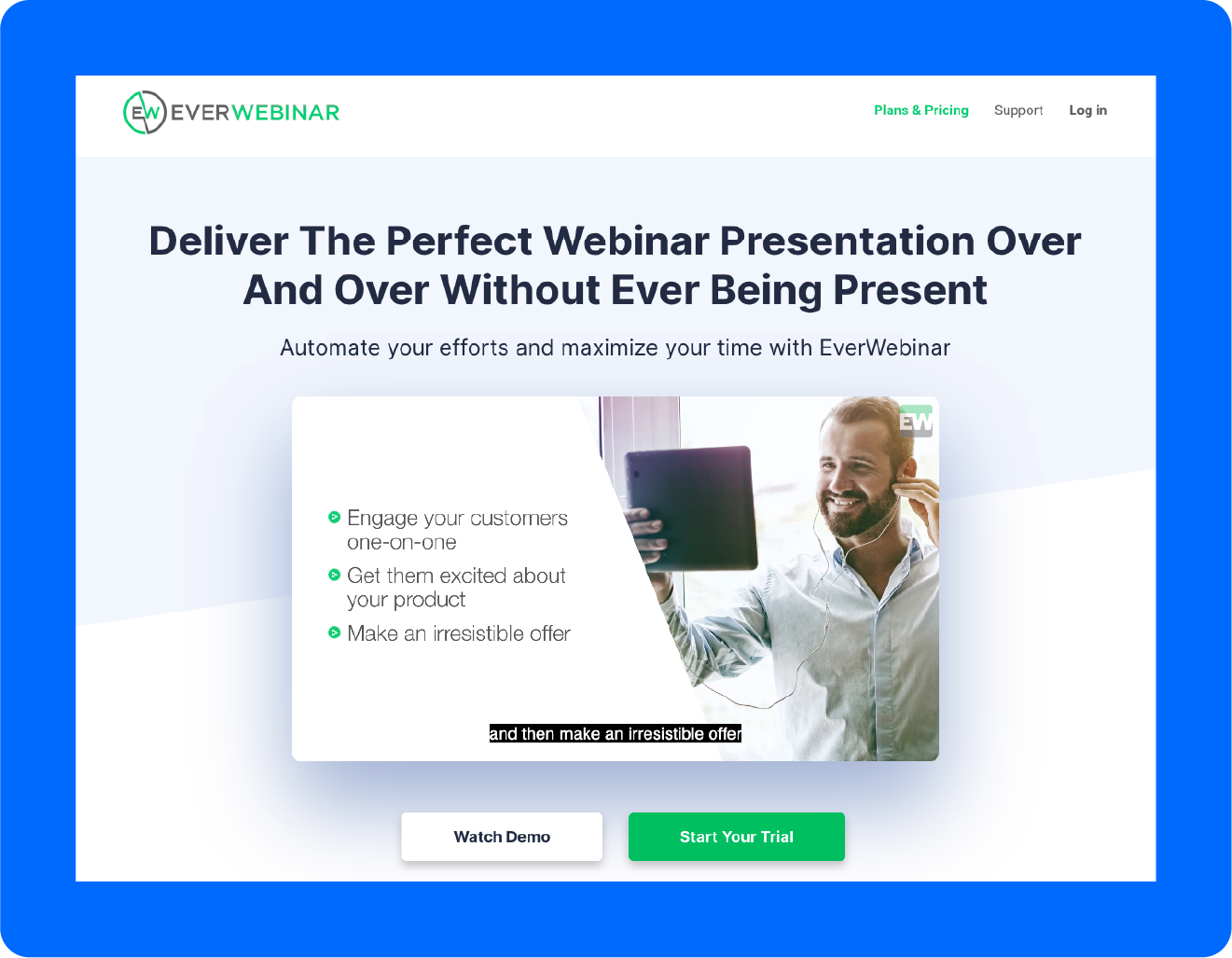 If you find yourself feeling overwhelmed with live streaming, consider trying to host pre-recorded webinars for your audience! That's where EverWebinar comes in.
EverWebinar's automated webinar features make it easy for you to grow your reach to global levels. This recorded webinar software can help you connect with a diverse audience and expand your influence using video on-demand features.
Let's dive into their features.
Key Features
Automated webinars for attendees.
Flexible webinar scheduling.
Email notification system.
Clickable offers & CTAs.
Detailed audience analytics.
Dynamic display
Pricing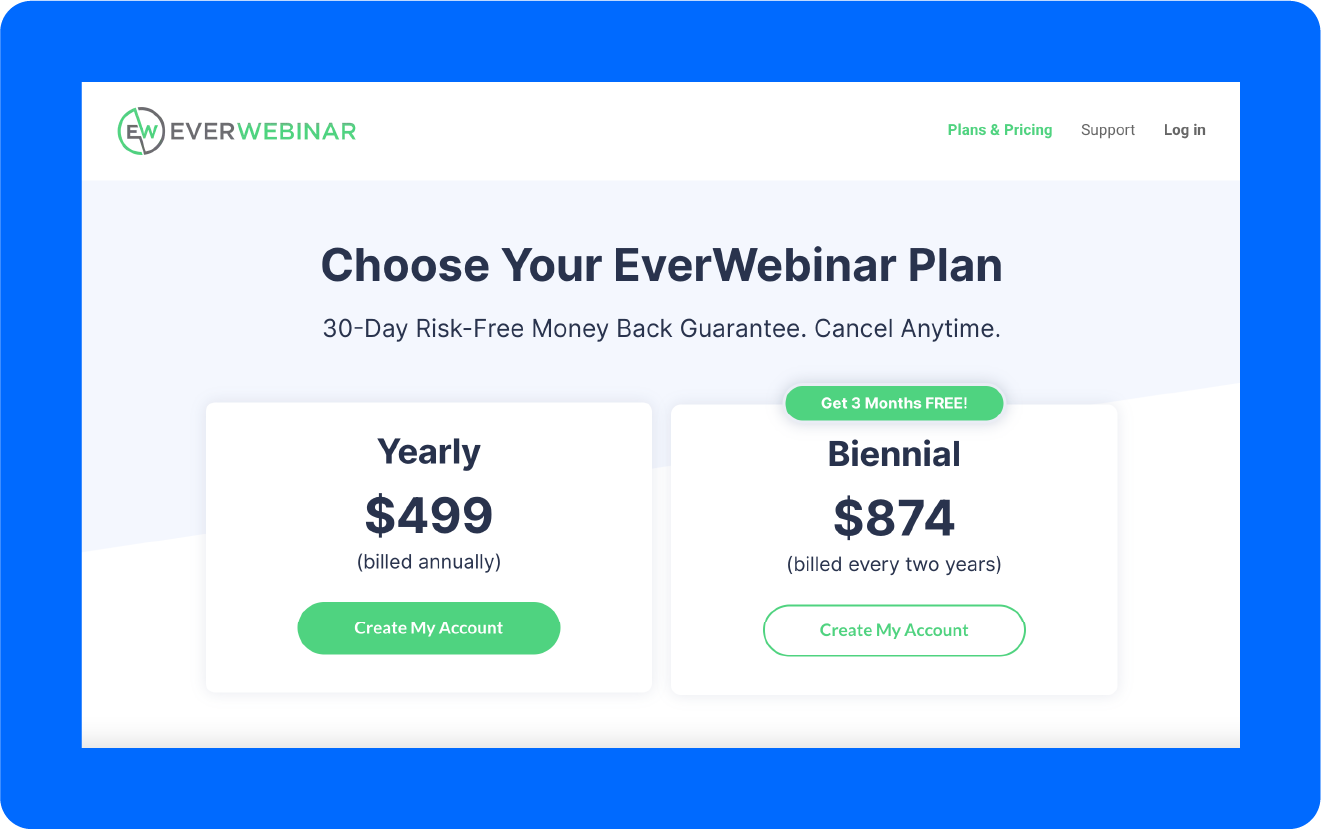 EverWebinar is different from the other webinar hosting platforms. Their tiers only vary based on price and billing period.
Yearly: for those looking to do a year-long test run. Price: $499/year.
Biennial: for content creators looking to save some money in the long run. Price: $874/year.
The next webinar platform is a GoTo for many content creators.
3. GoTo Webinar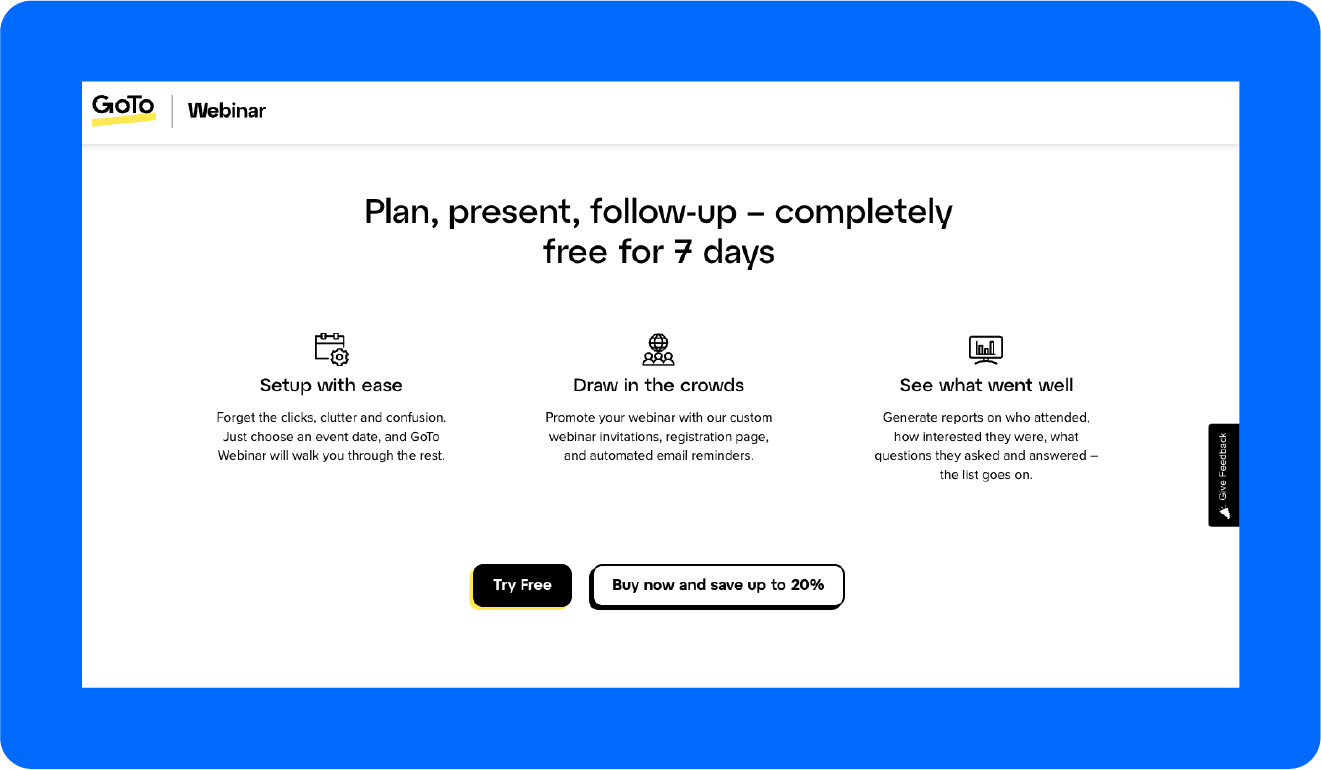 GoTo Webinar offers an easy-to-use webinar platform for content creators of all shapes and sizes. GoTo Webinar is the go-to option for over 50,000 customers to grow their business.
GoTo Webinar can help you customize and brand your webinar services to expand your audience reach. With their custom video hosting platform, you can stream recorded webinars to draw millions of views.
Key Features
Event promotion for your webinars.
Event planning and support.
Flexible scheduling.
Custom registration forms.
Webinar templates.
Custom branding for recorded webinars.
Pricing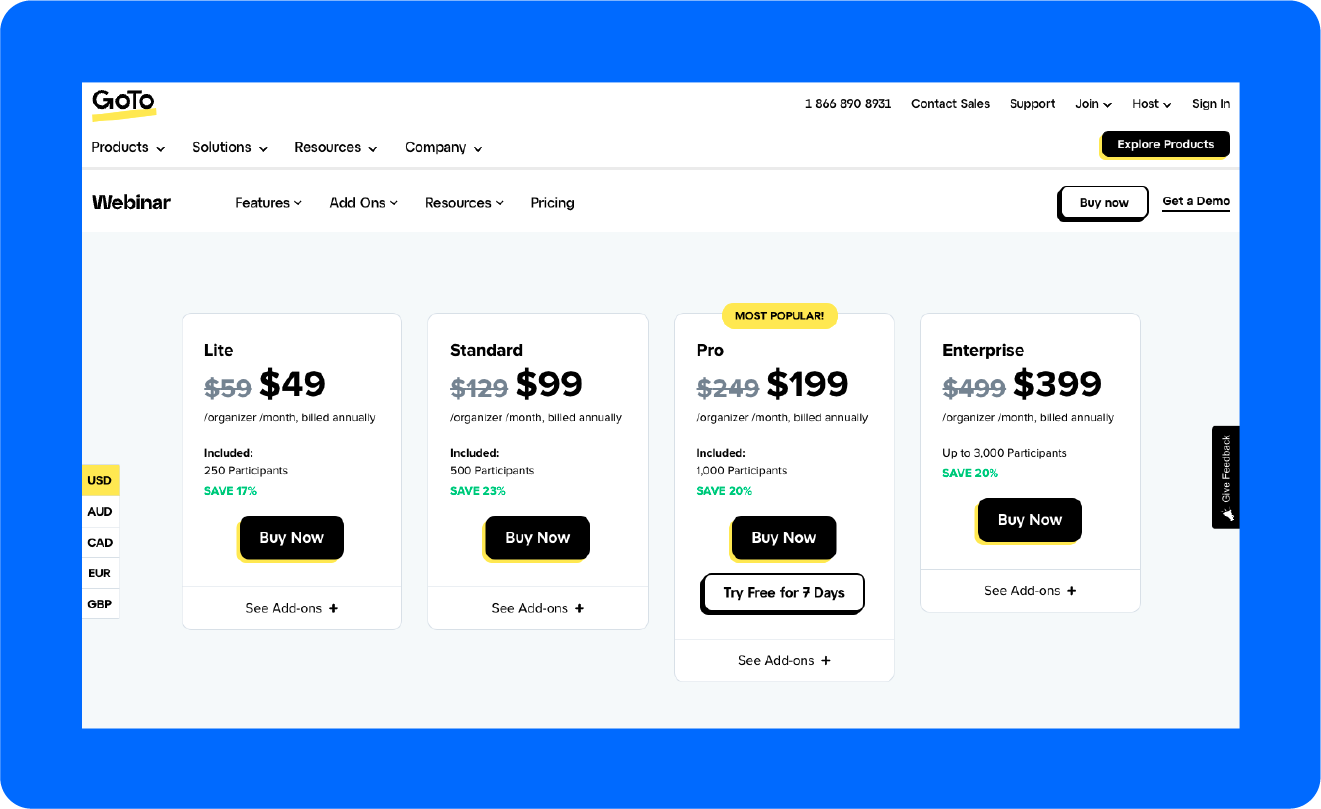 GoTo Webinar offers 4 different plans and pricing tiers for their customers.
Lite: offers up to 250 participants. Price: $49/month.
Standard: with this tier, you can host 500 participants. Price: $99/month.
Pro: lets you have up to 1,000 participants. Price: $199/month.
Enterprise: offers capacity up to 3,000 participants. Price: $399/month.
Onto the next top webinar platform that we should all know by now.
4. Zoom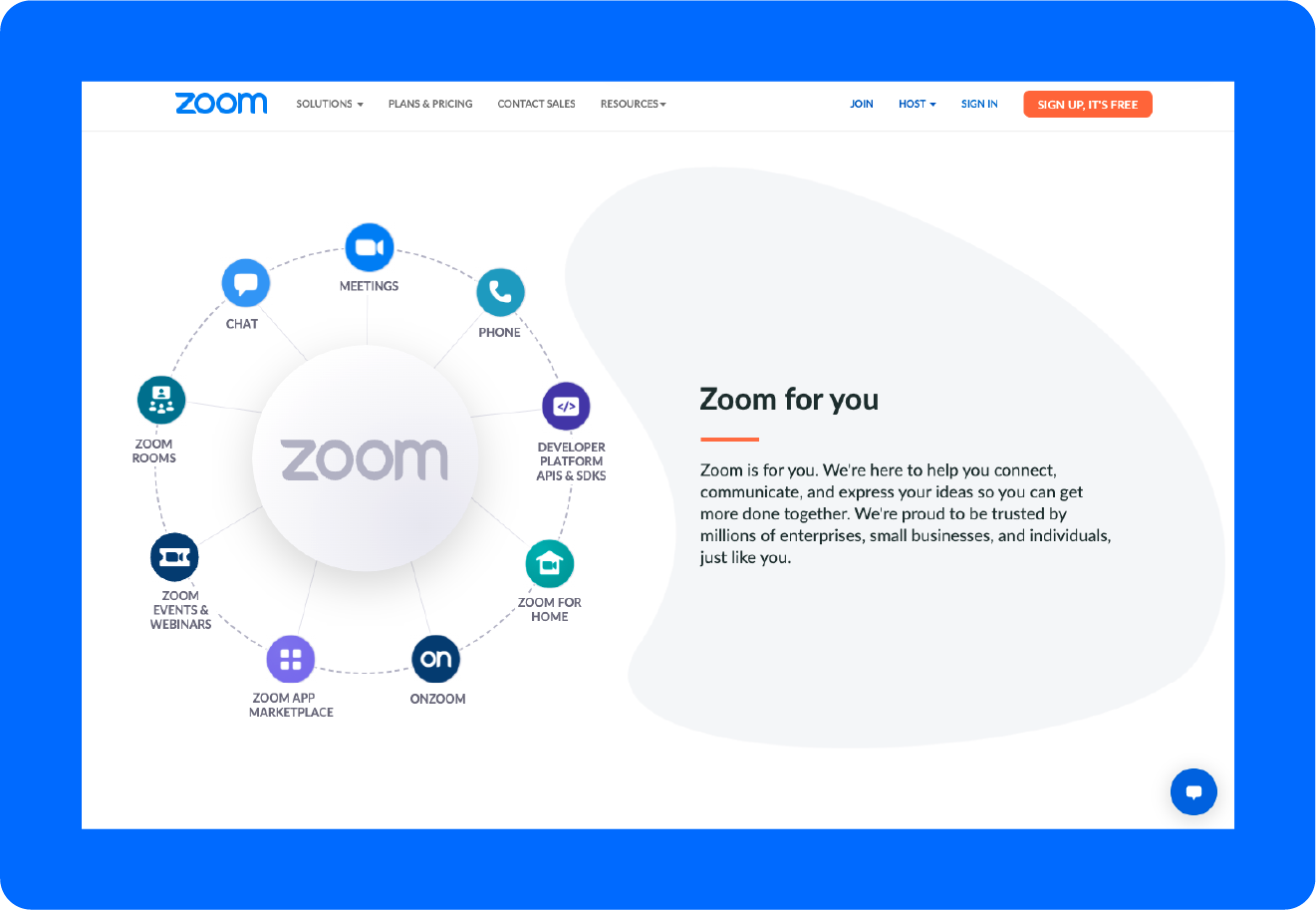 If you haven't heard about Zoom, you might have been a little too isolated the past few years. During the height of the COVID-19 pandemic, Zoom became a household name. It's one of the premiere video conferencing platforms out today.
But did you know that you can also use Zoom to monetize your content?
Key Features
Unlimited webinar sessions.
Custom webinar branding.
Export attendee list.
Monetized webinars.
Live streams content to lobby and third-party platforms.
Analytics that include registration, attendance, and engagement.
But how much will it cost you?
Pricing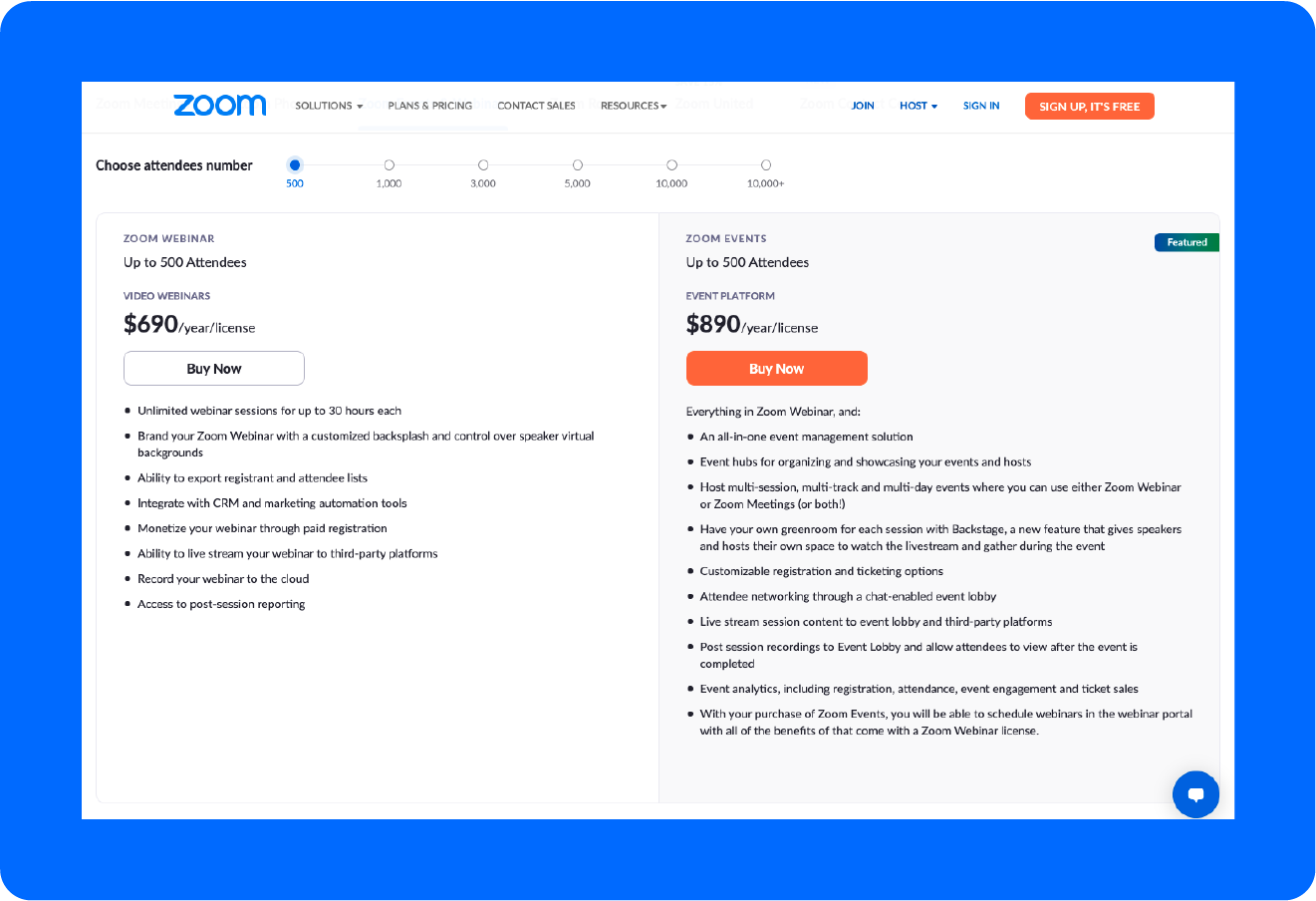 Zoom Webinar and Zoom Events increase in price based on the platform you choose and how many attendees you expect.
Zoom Webinar: this tier ranges offers webinar recording, monetized webinars, and unlimited webinar sessions. Price: $690–$64,900+/year.
Zoom Events: this premiere tier offers webinar event management, streaming to third-party platforms, and customizable registration and ticketing options. Price: $890–$84,400+/year.
Want help branding your webinars? Let's check out the next one.
5. Demio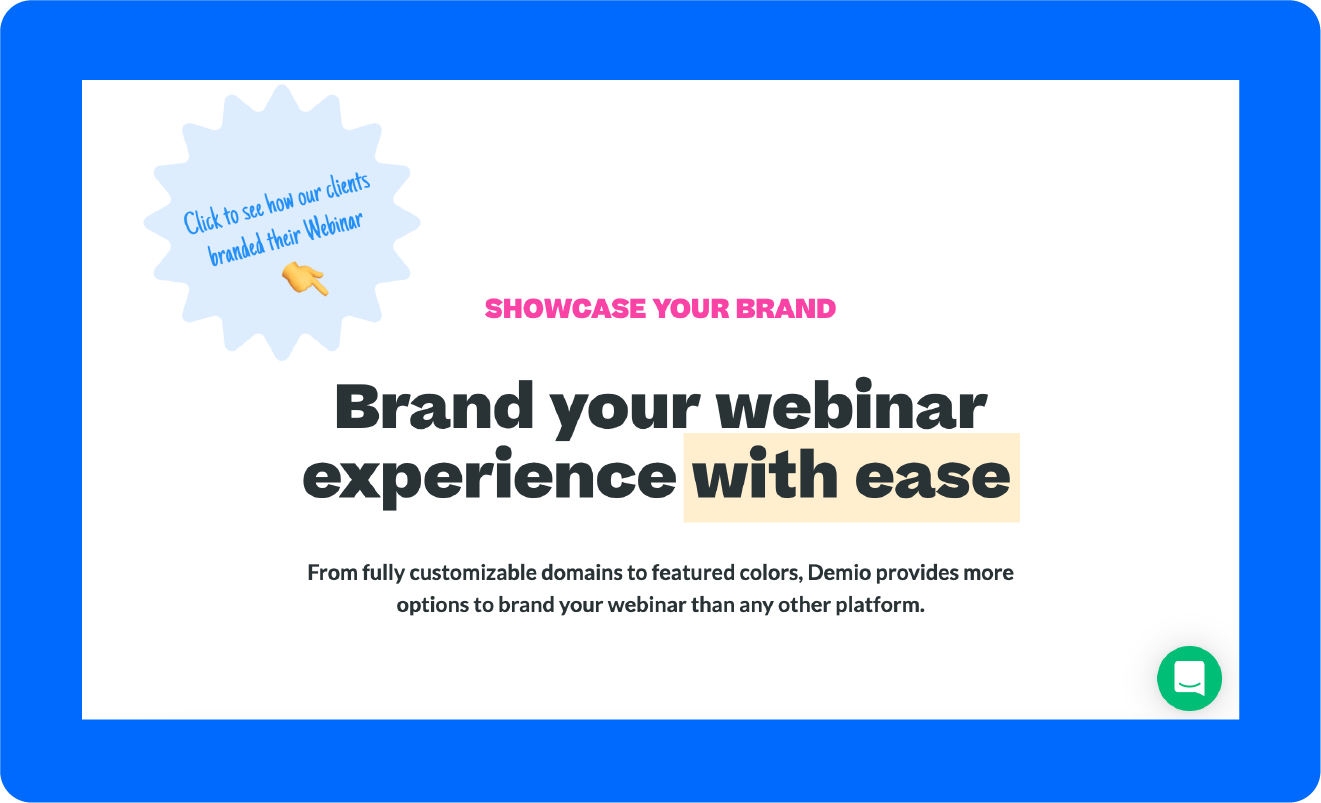 Demio boasts that they are a fully customizable online webinar platform and keeps marketing strategies top of mind throughout their messaging. This is a simple webinar platform that provides an easy experience for any size audience.
Keep your brand at the top of your audience's mind with their webinar branding capabilities. Demio also has various engagement tools to brag about, from chat to polls to managing your contacts.
Key Features
Email notifications for attendees.
Contact management.
Embedded registration forms.
Interactive polls.
Customizable templates.
Handout sharing for attendees.
Organized Q&A features.
Pricing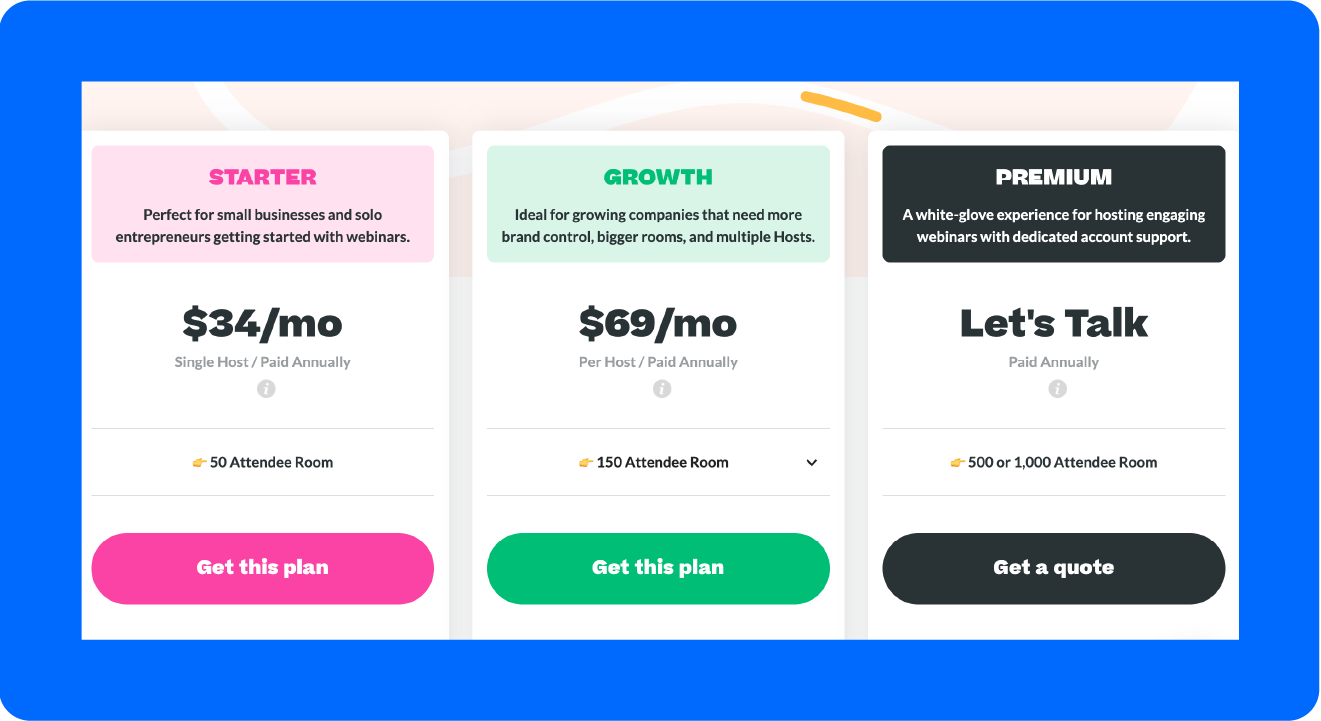 Like several other webinar streaming platforms, Demio offers a variety of plans depending on the audience's size and how well known the content creator is.
Starter: the lowest tier for small businesses and entrepreneurs who want to dip their toes into webinars. The plan includes one host, a 3-hour time limit, standard support, and live and event series. Price: $34/month.
Growth: ideal for users who have a slightly larger audience. Therefore, the cost for this tier will vary depending on your rooms: $69/month for a 150-attendee room, $164/month for a 500-person room, and $257/month for a 1,000-person room.
Premium: for those who want the best support. With this plan, there is unlimited hosts, a 10-hour time limit, premium integrations, and a designated account manager. You will have to reach out to learn more.
Now let's move on to a webinar platform focused on engagement.
6. Livestorm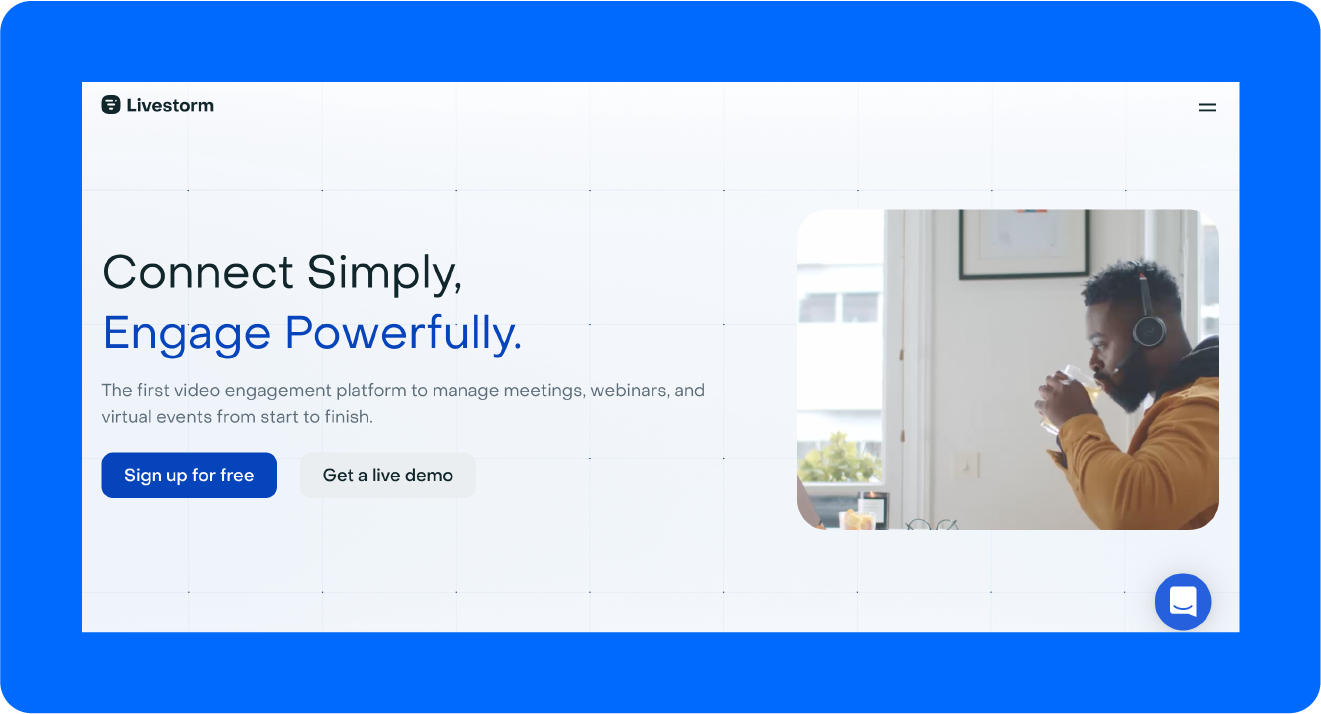 Livestorm is one of the best webinar hosting platforms because it focuses on communication and engagement between the host and their audience from end to end.
This platform will help you manage meetings and host engaging presentations, all while analyzing your performance with data-driven insights.
Key Features
Virtual meetings and events.
Live and on-demand webinars.
Attendees sales funnel metrics.
Marketing automation.
Multi-language support.
Pricing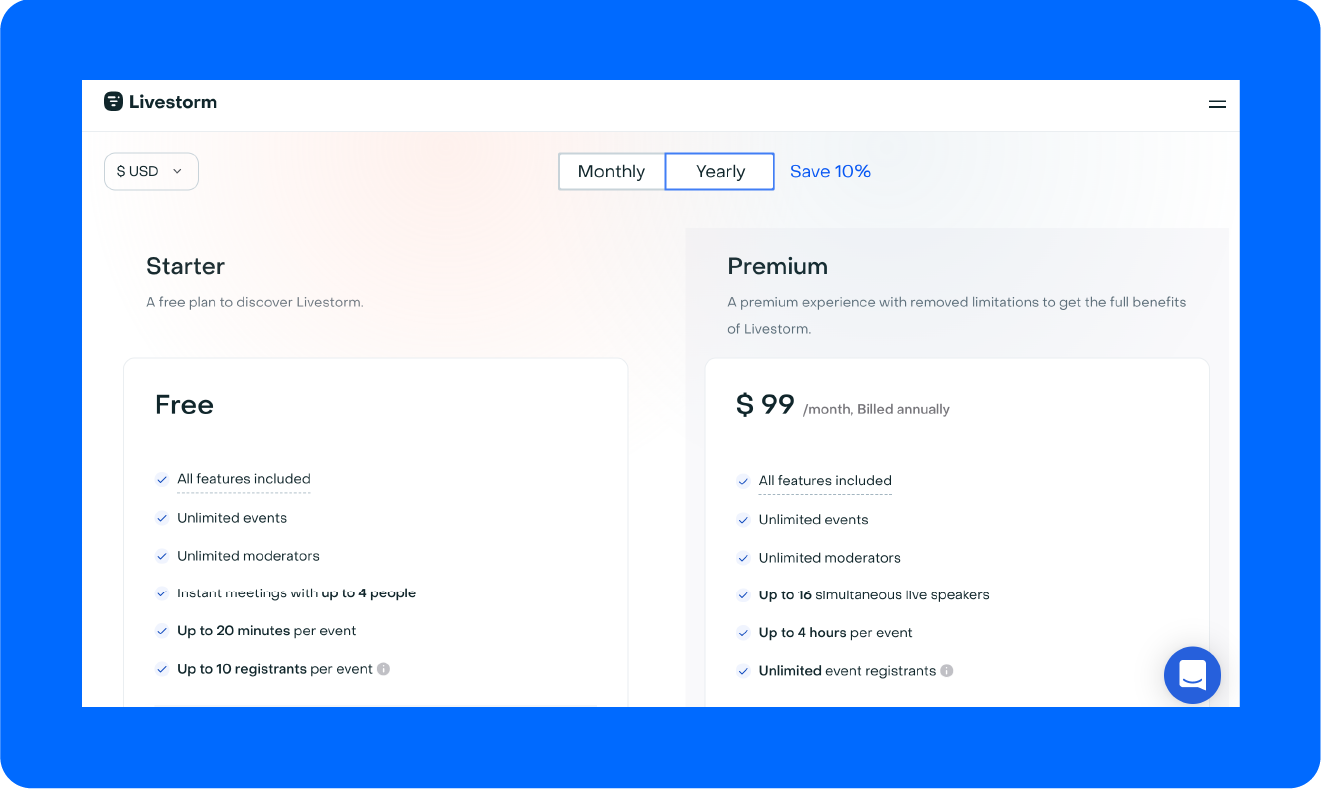 When it comes to pricing for Livestorm, they decided to keep it simple with only 2 pricing tiers: Starter and Premium.
Starter: this tier offers limited features including instant meetings with up to 4 people. You may also only have 10 registrants per 20-minute event. Price: Free.
Premium: allows you to have up to 16 simultaneous live speakers and ups the time limit to 4 hours, plus an unlimited number of registrants for an event. Price: Starts at $99/month.
Onto the next one!
7. Adobe Connect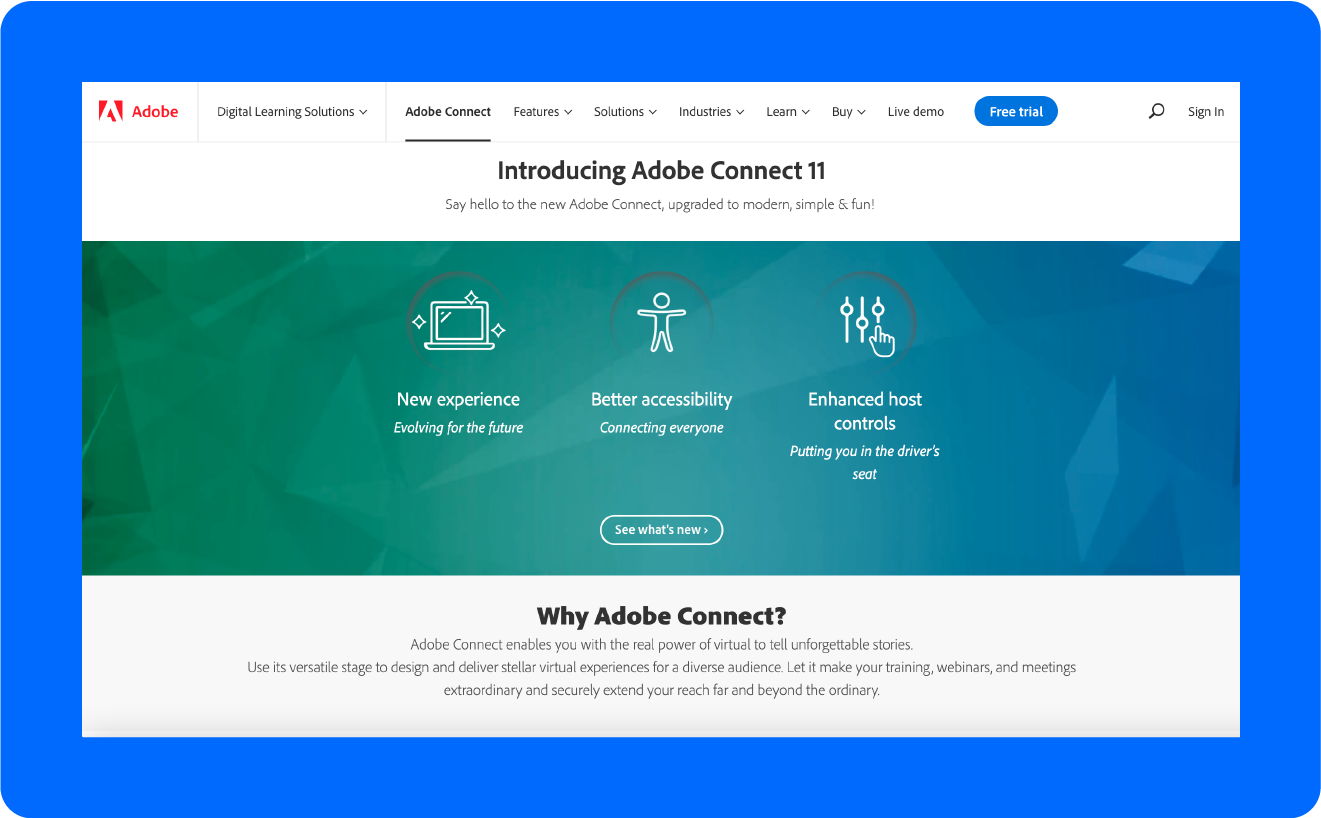 Adobe Connect is another household name for those of us who are always online. This platform wants to transform virtual meetings by stepping up online webinars and capacity for learning and audience engagement.
Adobe Connect is also passionate about extending your reach with accessibility features for audiences around the globe. Their features put you in control of your online webinar.
Key Features
Storyboard pods to keep you on track.
Templates for consistent experiences.
Presentation layouts.
Breakout rooms.
Whiteboard.
Chats for different topics.
Engagement dashboard.
Pricing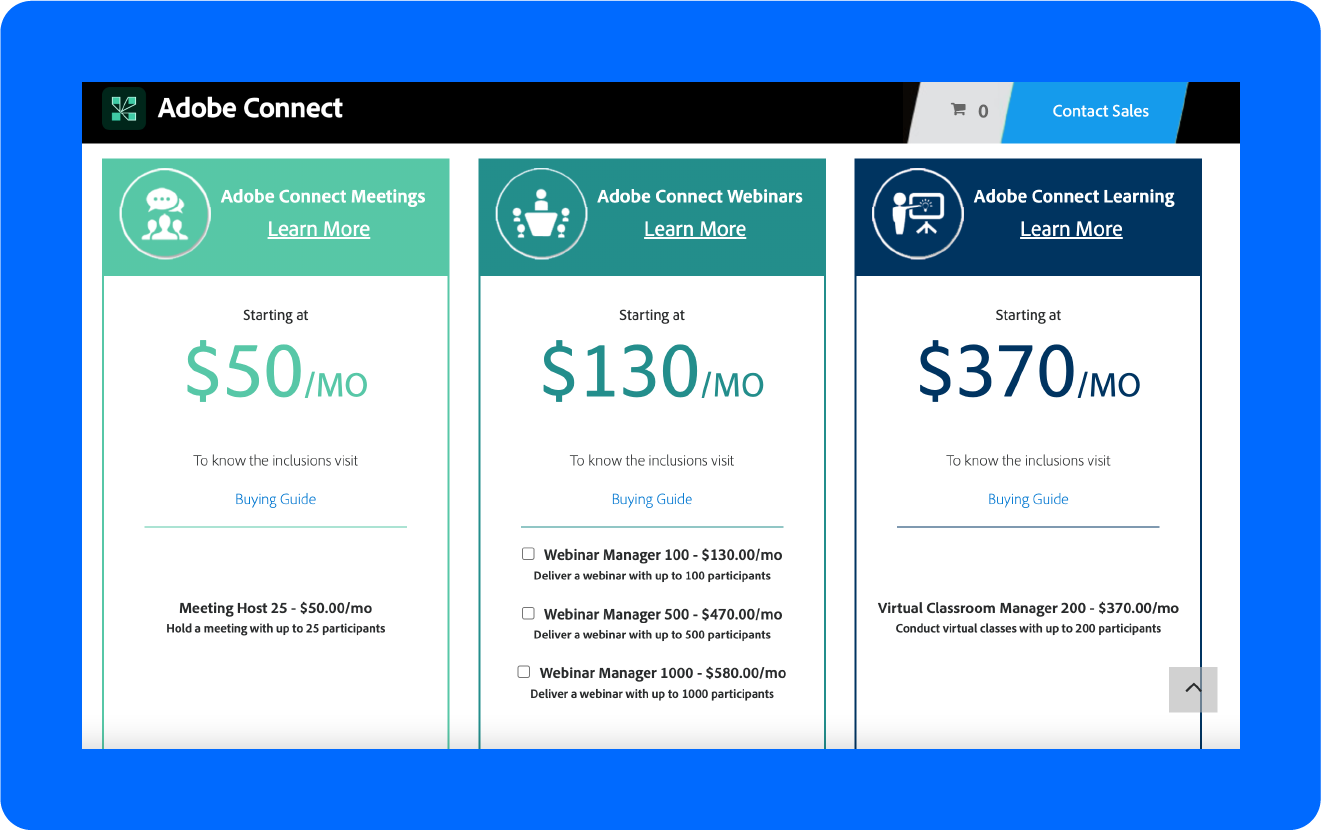 Adobe Connect has 3 different tiers you can choose from.
Adobe Connect Meetings: allows you to host meetings for up to 25 people at a time. This is a great option for small business owners or smaller content creators building their brand. Price: $50/month.
Adobe Connect Webinars: the middle tier. The price increases depending on the number of participants. Price: Starts at $150/month.
Adobe Connect Learning: this virtual classroom is great for content creators looking for online learning opportunities. Price: $370/month.
The next webinar platform is sneaking up on us…
8. WebinarNinja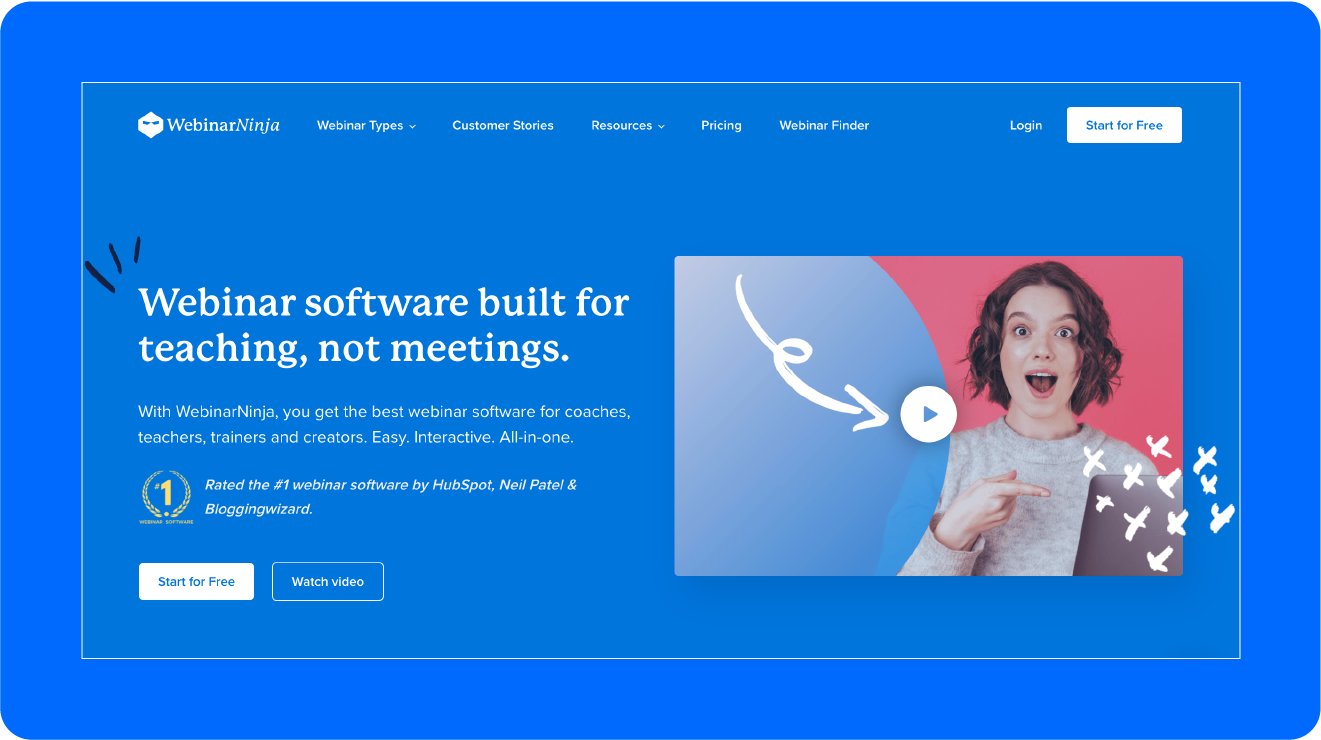 Are you an online teacher looking for opportunities in the online learning industry? WebinarNinja might be the webinar hosting platform for you!
Teaching in a school is a playground for distractions and horseplay. However, with a well-moderated online teaching platform like WebinarNinja, you can create fresh webinar content and host it live.
Their features allow you to create a hybrid webinar service for your students, let's take a look at those.
Key Features
Unlimited webinar hosting.
Email notifications for attendees.
Webinar series curation.
Priority customer support.
Hybrid webinar options.
Pricing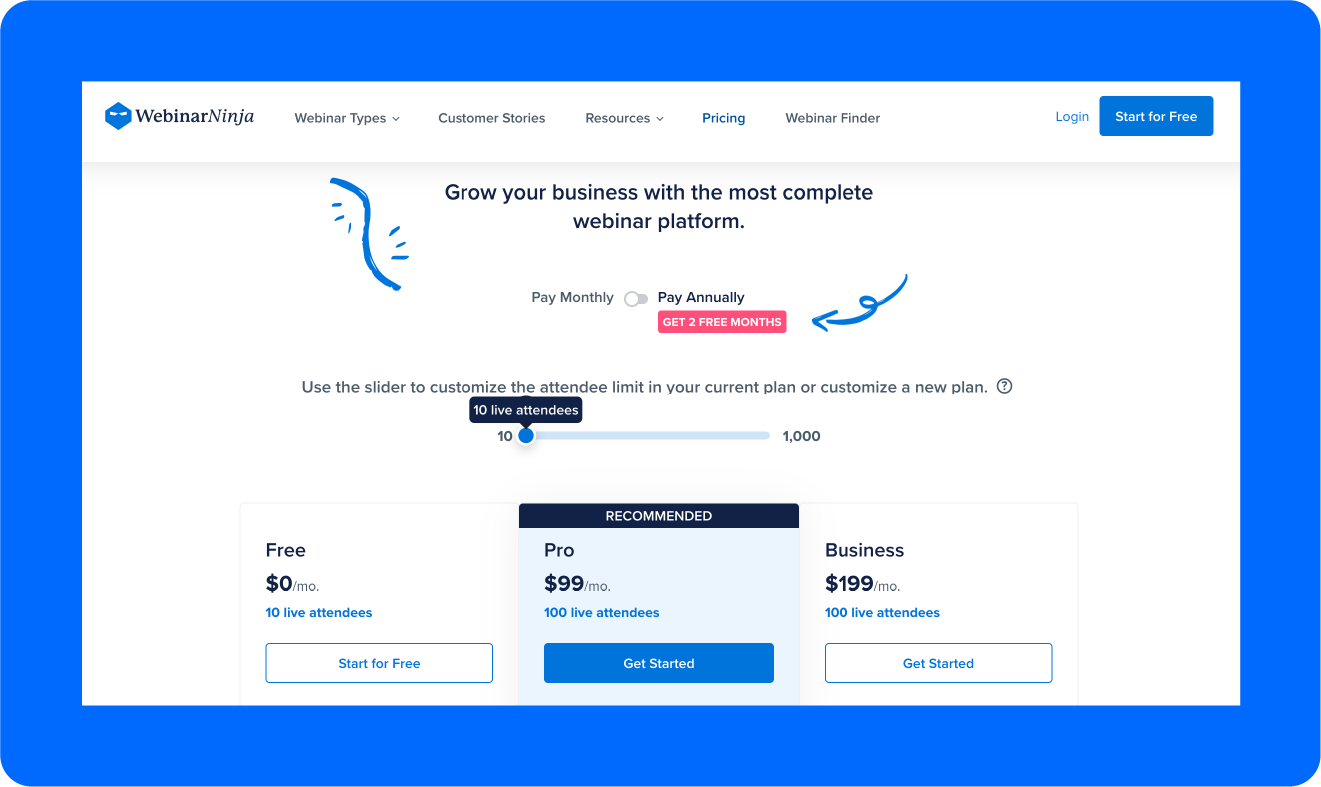 WebinarNinja changes in price depending on your attendee limit per tier. You can choose to either pay monthly or annually. If you pay annually, you will get 2 months for free. Let's go over the basics.
Free: allows you to have 10 attendees with 20 minutes per webinar. This tier only allows for live webinar services. Price: Free.
Pro: offers many more features like the addition of automated webinars, landing pages, and unlimited number of registrants. Price: Starts at $99/month.
Business: includes added features like series webinars, hybrid webinars, and a priority support system for technical difficulties. Price: $199/month.
Let's keep going.
9. ClickMeeting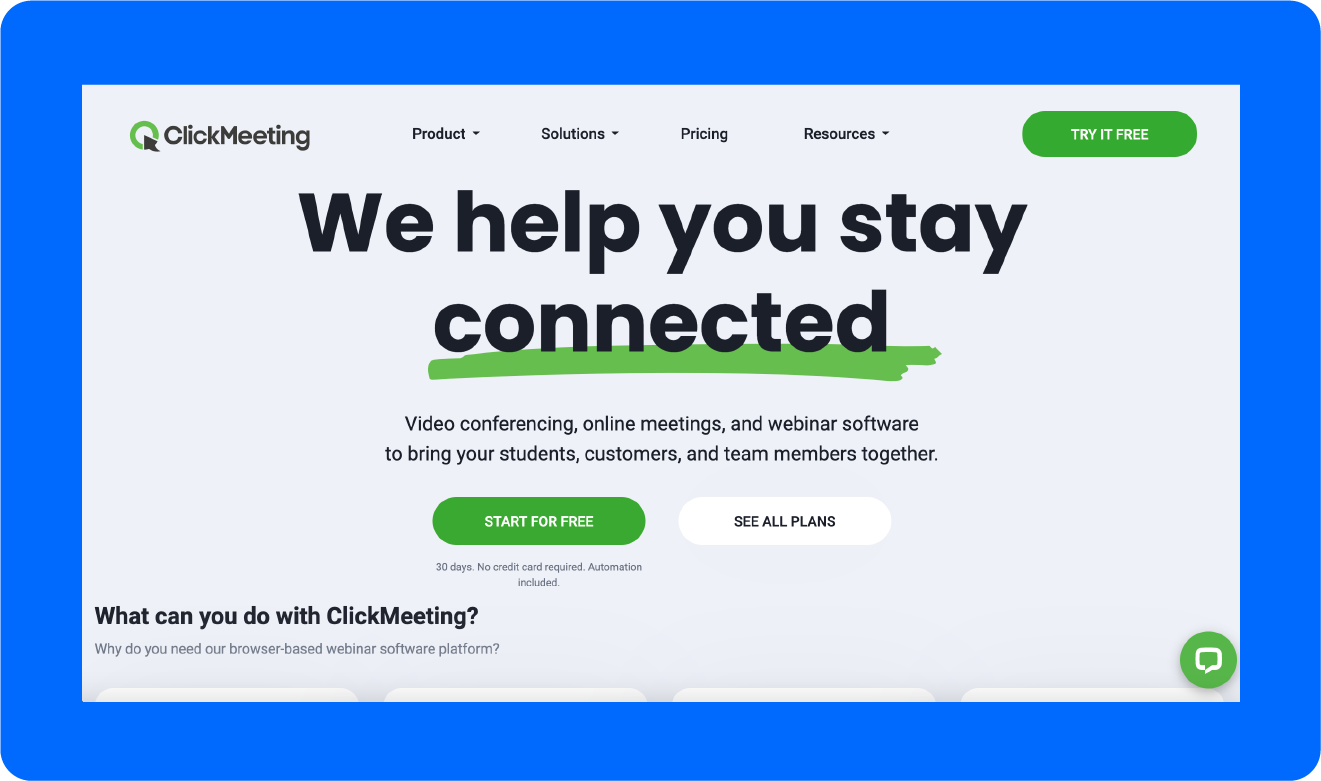 ClickMeeting is a all-in-one webinar service that you can access on your browser without downloading any extra software onto your probably overloaded computer.
This webinar platform is great for those who want to connect with students, clients, and coworkers.
Key Features
Product demos and marketing features.
Online courses and training sessions.
Internal business meetings and brainstorming sessions.
Capacity for massive online events.
Pricing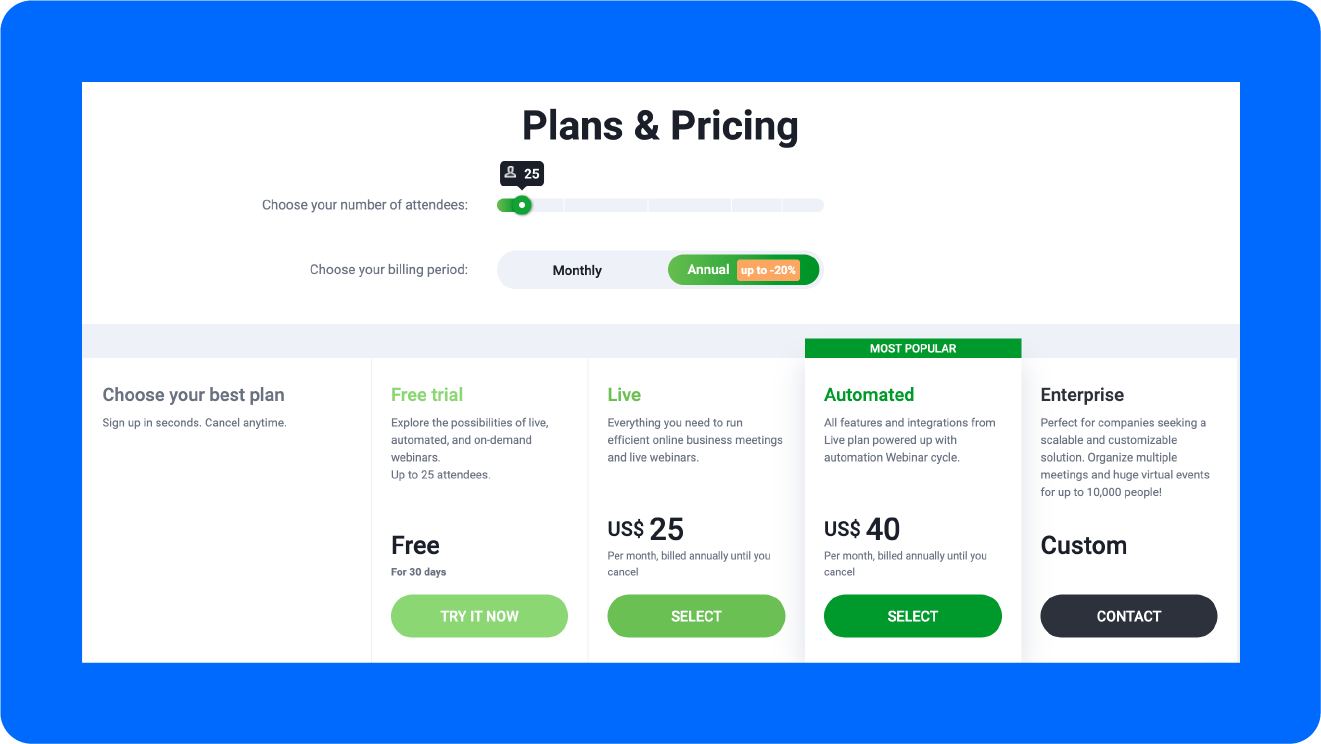 At the risk of sounding like a broken record, the pricing tiers for ClickMeeting vary wildly by the number of attendees you need for meetings and webinars.
They also offer a free 30-day trial. Let's get into what you'll actually have to pay for.
Live: grants you 6 hours of recording time and one GB of file storage. This tier only allows for live webinar hosting and doesn't include automated, pre-recorded webinars. Prices start at $25/month.
Automated: this tier adds automation on top of live streaming webinar hosting. You are also given 10 hours of recording time and 2 GB of file storage space. Price: Begins at $40/month.
Custom: you are able to pick and choose the features you want. Price will depend on the number of features you choose, so you need to contact their sales team to get more information.
Next up: Let's talk about how to make a big mark on your audience.
10. BigMarker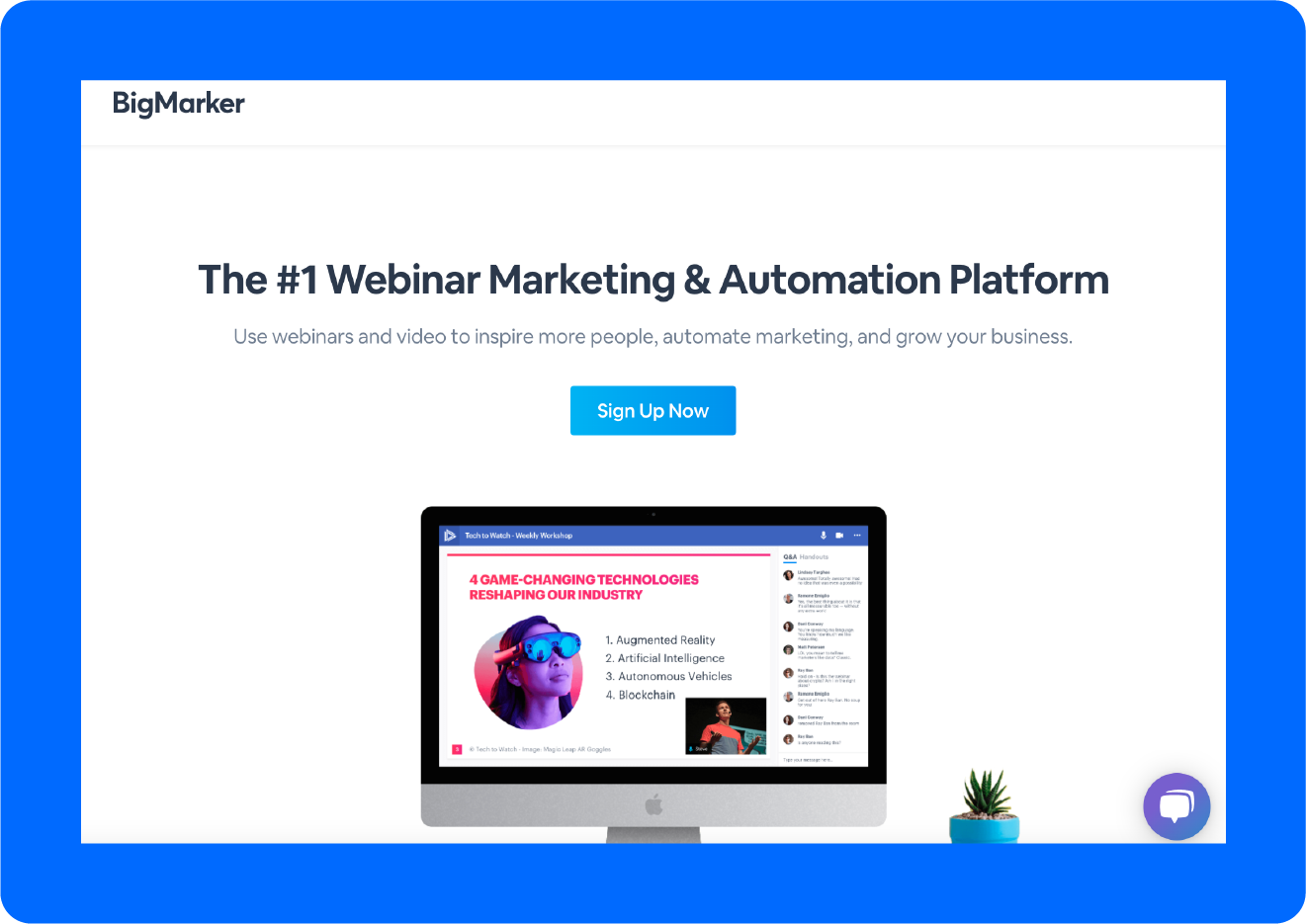 BigMarker wants to boost engagement with your audience by talking with them instead of at them.
By using interactive features like a public and private chat, surveys, and interactive pop-ups, you can create an unforgettable webinar experience for you and your audience.
Key Features
Up to 9 presenters.
HD streaming capabilities.
Branding and customization.
Interactive engagement features.
International reach.
Pricing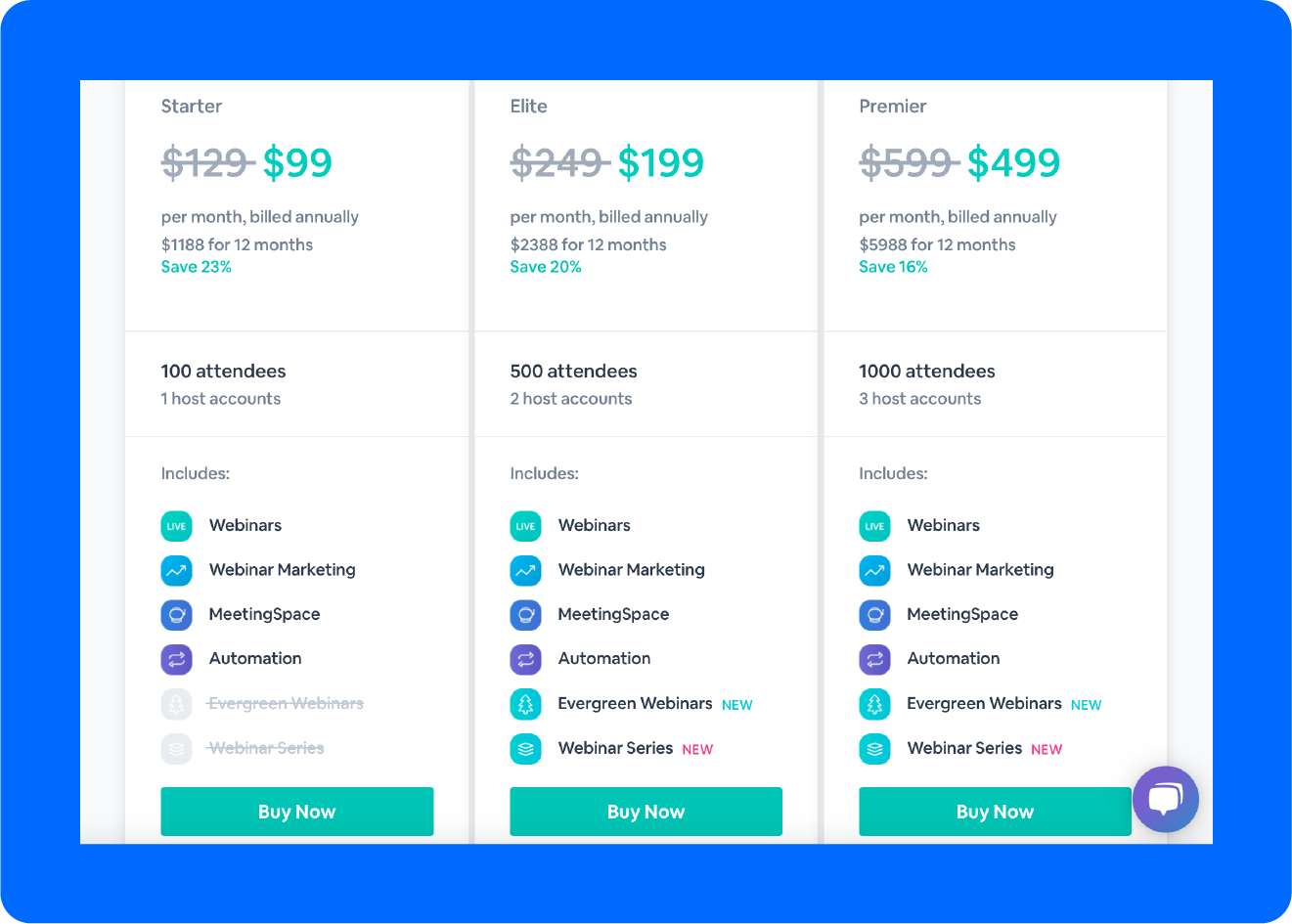 BigMarker offers 3 price tiers for those looking to break into the online learning community.
Starter: offers space for 100 attendees and a single host account. You can use this tier for webinars, marketing, using their Meeting Space, and creating automation. Price: $99/month.
Elite: this increases your attendees and hosts to 500 and 2, respectively. You will also get the option to create evergreen webinars and create a webinar series. Price: $199/month.
Premier: the top-of-the-line option. This gets you all the features from Elite but also allows for 1,000 attendees and 3 hosts. Price: $499/month.
Up next: It's all in the name.
11. Livestream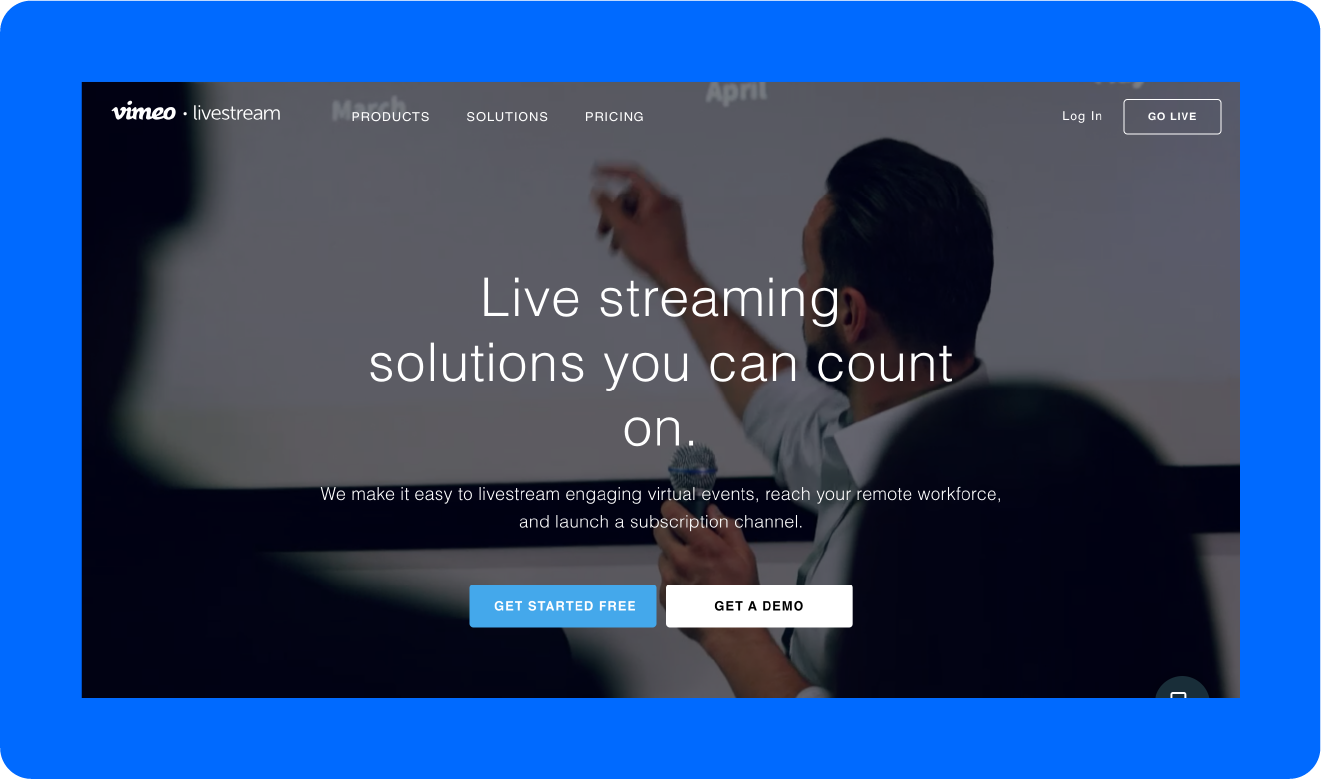 Livestream is a platform created by Vimeo for the sole purpose of, well, live streaming. Whether you need to live stream a conference, webinar, or an all-hands meeting for your small business, Livestream makes it easy.
This webinar streaming platform also focuses on growing your audience with engagement and allows you to stream across multiple social media platforms to expand your reach.
Key Features
Share across platforms, including YouTube, Facebook Live, LinkedIn, and Twitch.
Flexible streaming capabilities.
Video management software.
Live production graphics and tools.
Priority support.
Pricing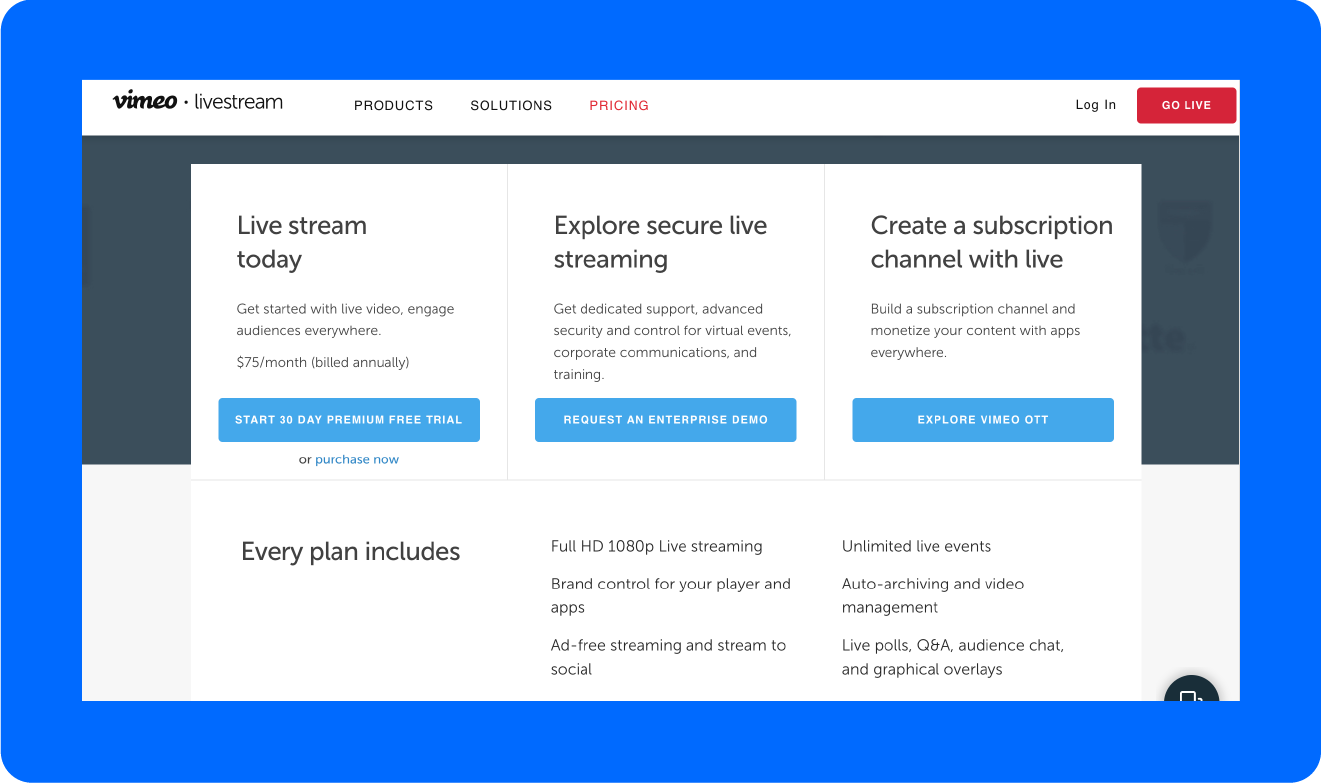 Livestream by Vimeo doesn't list their prices on their website. You'll have to get in contact with their sales team to learn more about their 3 tiers.
Vimeo Premium: offers many features like password protection, HD live streaming, analytics, embeddable player with customization options, live overlay graphics, polls, Q&As, and more.
Vimeo Enterprise: you get everything from the Vimeo Premium tier plus private video showcases, unlimited storage, auto-archiving features, and customized live closed captions, plus many more.
Vimeo OTT: everything from Premium and Enterprise with several more features. These include a free web app, seamless payments, branded apps on iOS, tvOS, Android TV, Amazon Fire TV, Roku, and more.
Want a webinar platform that many consider is da best? Check out the next one.
12. Dacast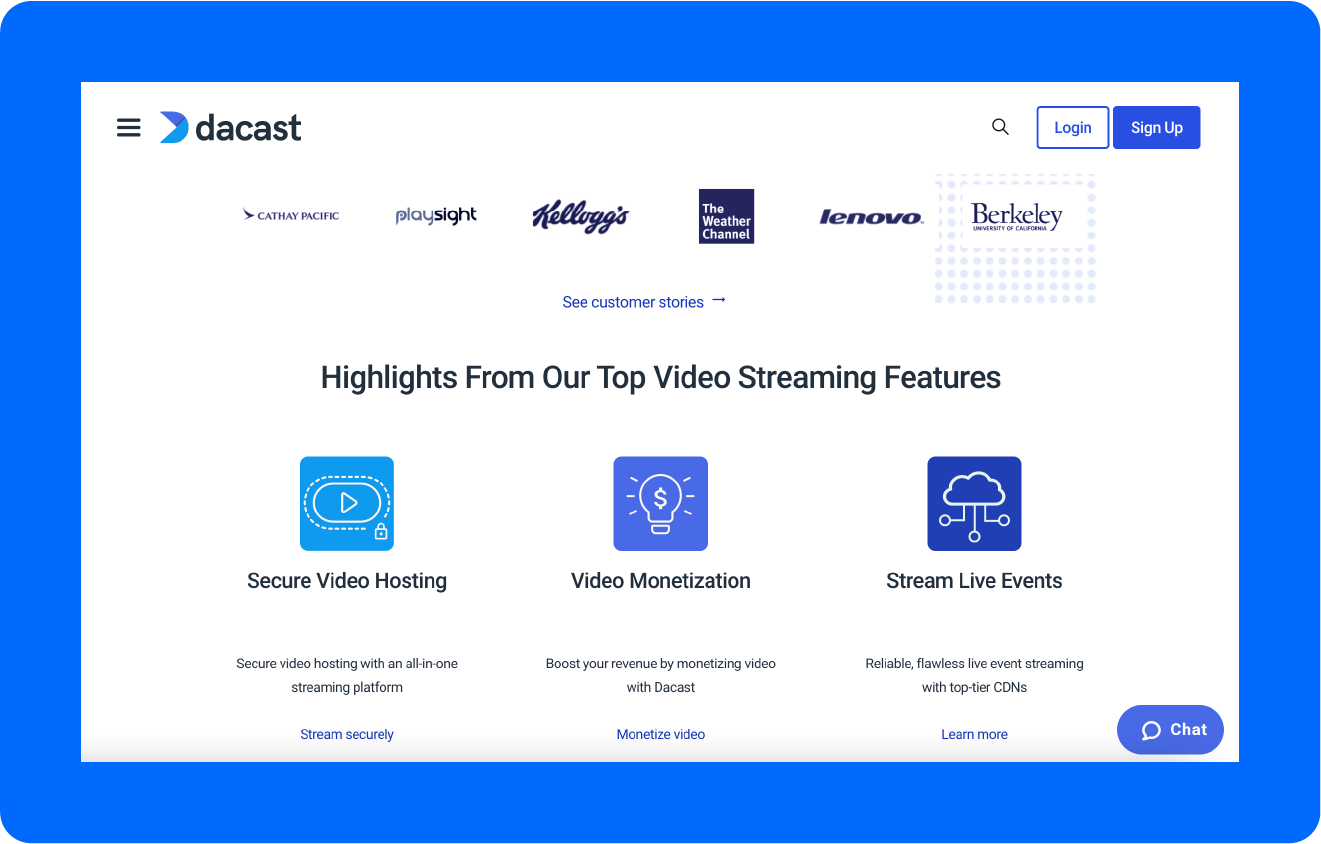 Dacast is one of the best webinar platforms for content creators because of its secure video hosting and monetization capabilities. With Dacast, you are able to stream live events to all of your followers and also make money off your videos in the meantime. 
Key Features
All-in-one video hosting platform.
Video-on-demand platform.
24/7 customer support.
2-week free trial.
Pricing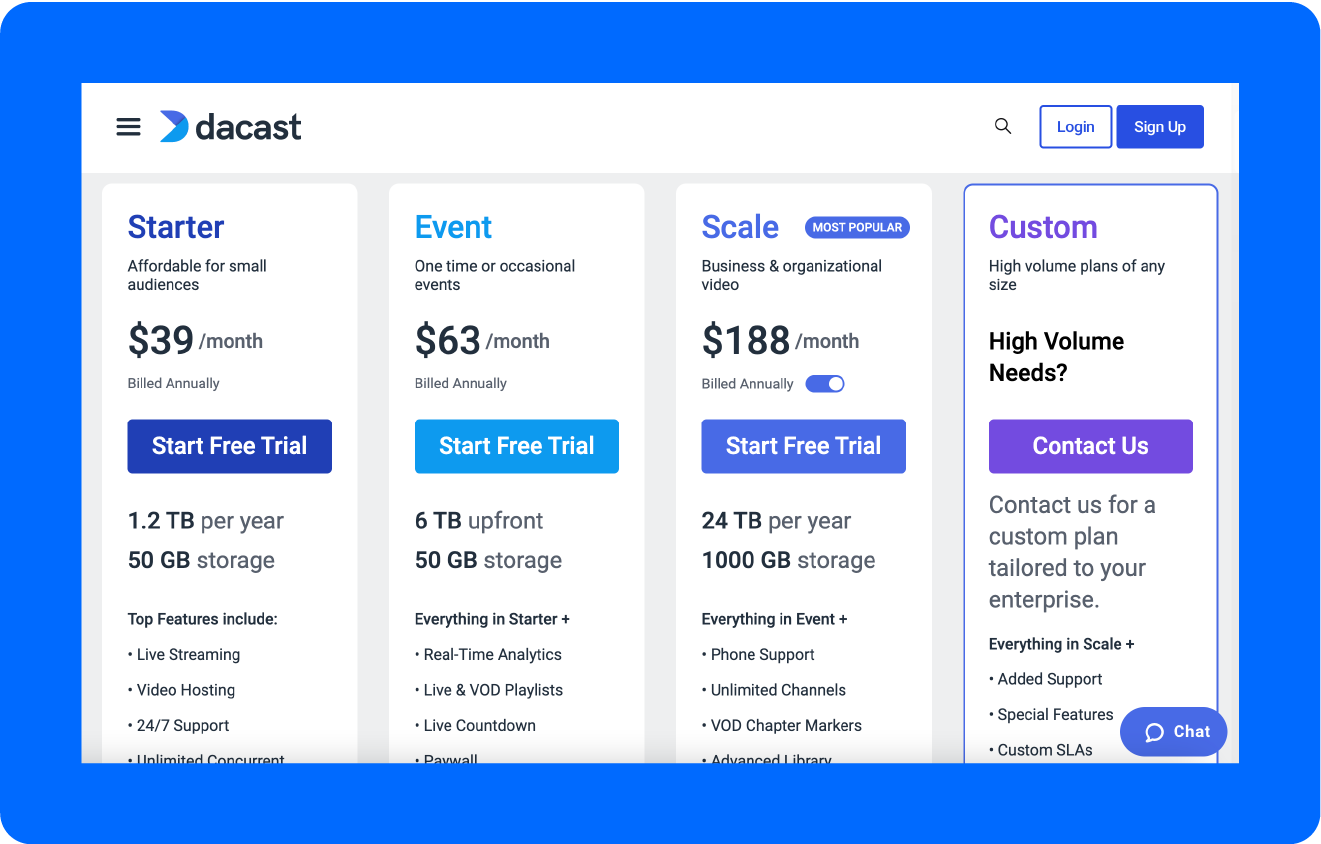 Dacast has some of the most flexible pricing options available for all kinds of content creators and businesses alike. All of their pricing plans are billed annually.
Starter: offers live streaming, video hosting, and full 1080p broadcasting. Price: $39/month.
Event: grants everything from Starter plus analytics, paywall features, pre-, mid-, and post-roll advertising, as well as live and VOD playlists. Price: $63/month.
Scale: adds features like unlimited channels, an advanced on-demand library, phone support, and chapter markers. Price: $188/month.
Custom: the highest tier for Dacast subscribers. The price for this depends on the features you choose for your needs.
Halfway there! Let's keep going.
13. GetResponse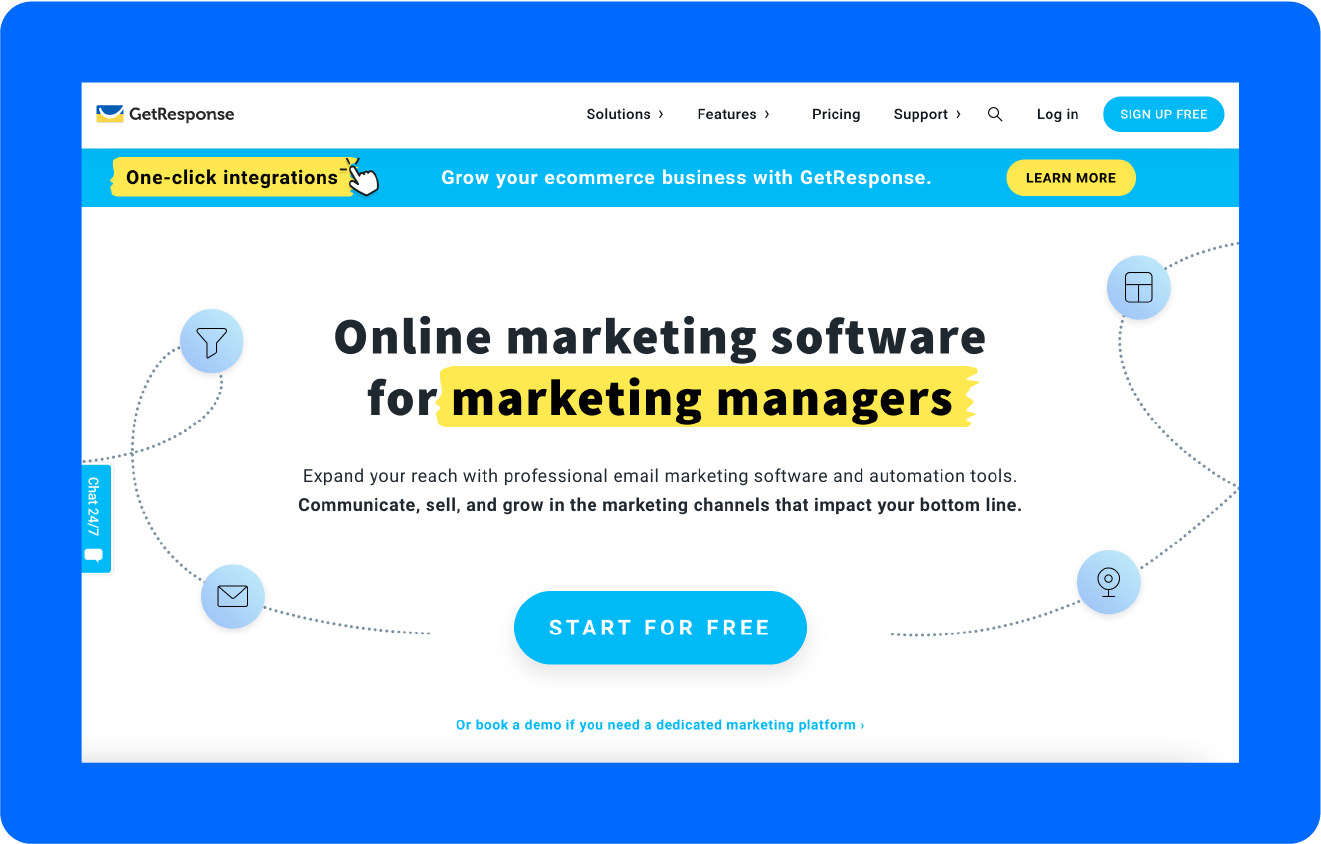 Are you dipping your toe into marketing yourself or your small business? GetResponse is the webinar hosting platform that's ideal for you!
This online marketing software helps you communicate, sell your product, and grow your audience to help you find success in your brand.
Key Features
Webinar hosting.
Automated email marketing.
Event-based automation.
Advanced audience segmentation.
Contact scoring.
Sales funnel integration.
Pricing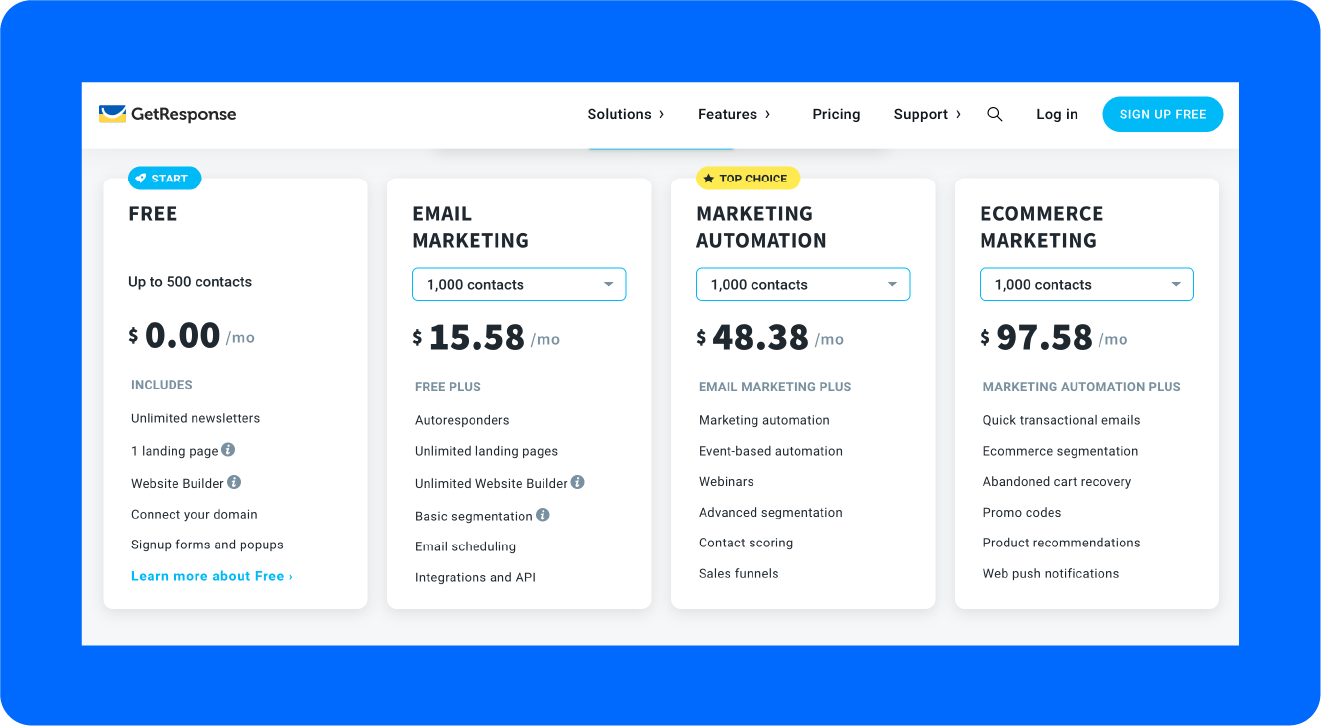 There's only one membership tier for GetResponse that offers webinar features.
Marketing Automation: the tier for GetResponse that offers webinars. Price: $59/month. If you pay for a 24-month subscription, you will save 30% ($41.30/month).
This next platform will make everything easy peasy.
14. EasyWebinar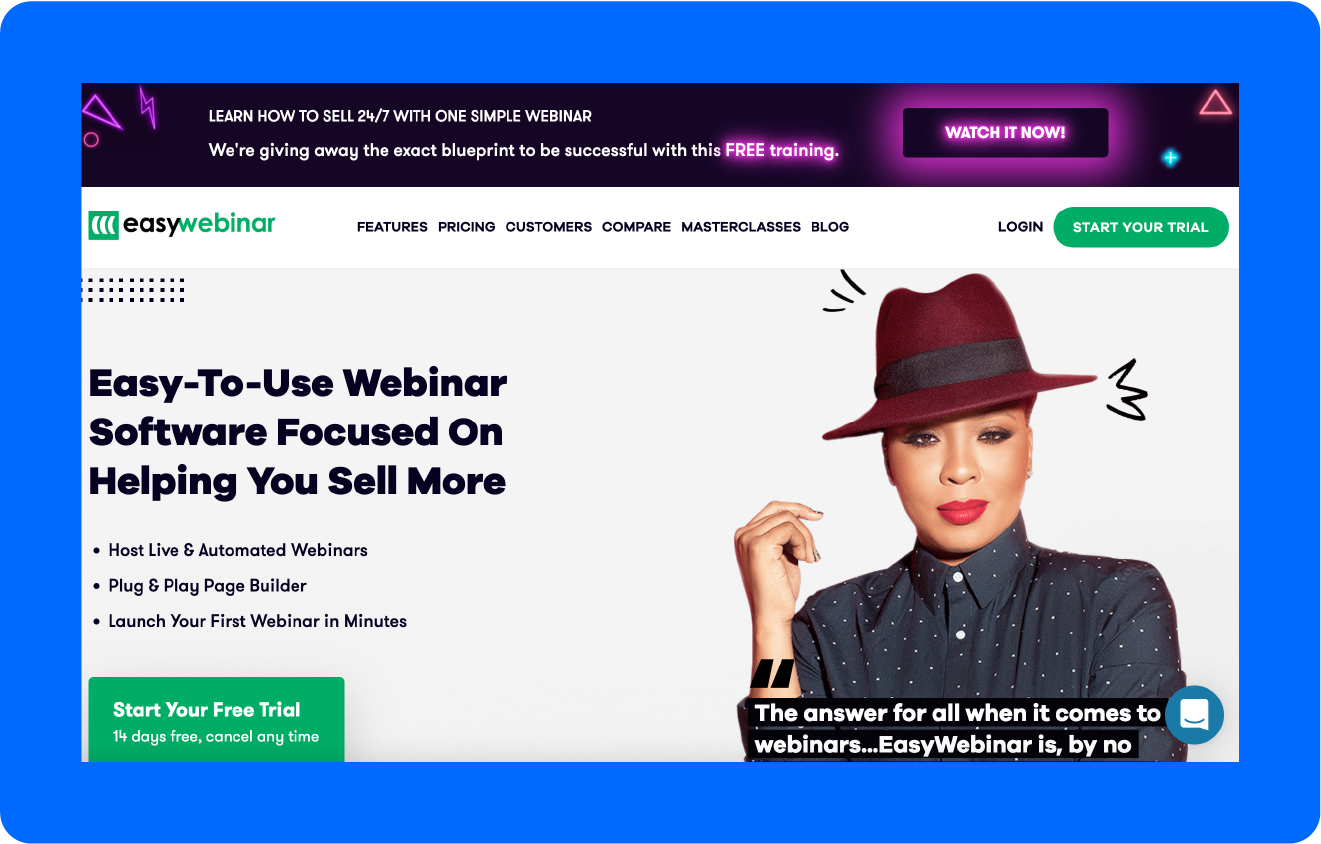 EasyWebinar prides itself on being an easy-to-use webinar platform (who would've thought?).
This platform aims to create the perfect marriage between webinar services and online marketing features to help you connect with your audience in new and exciting ways.
Key Features
Live webinar streaming.
Unlimited automated webinars.
YouTube Live integration.
HubSpot integration.
Easy webinar sharing.
Pricing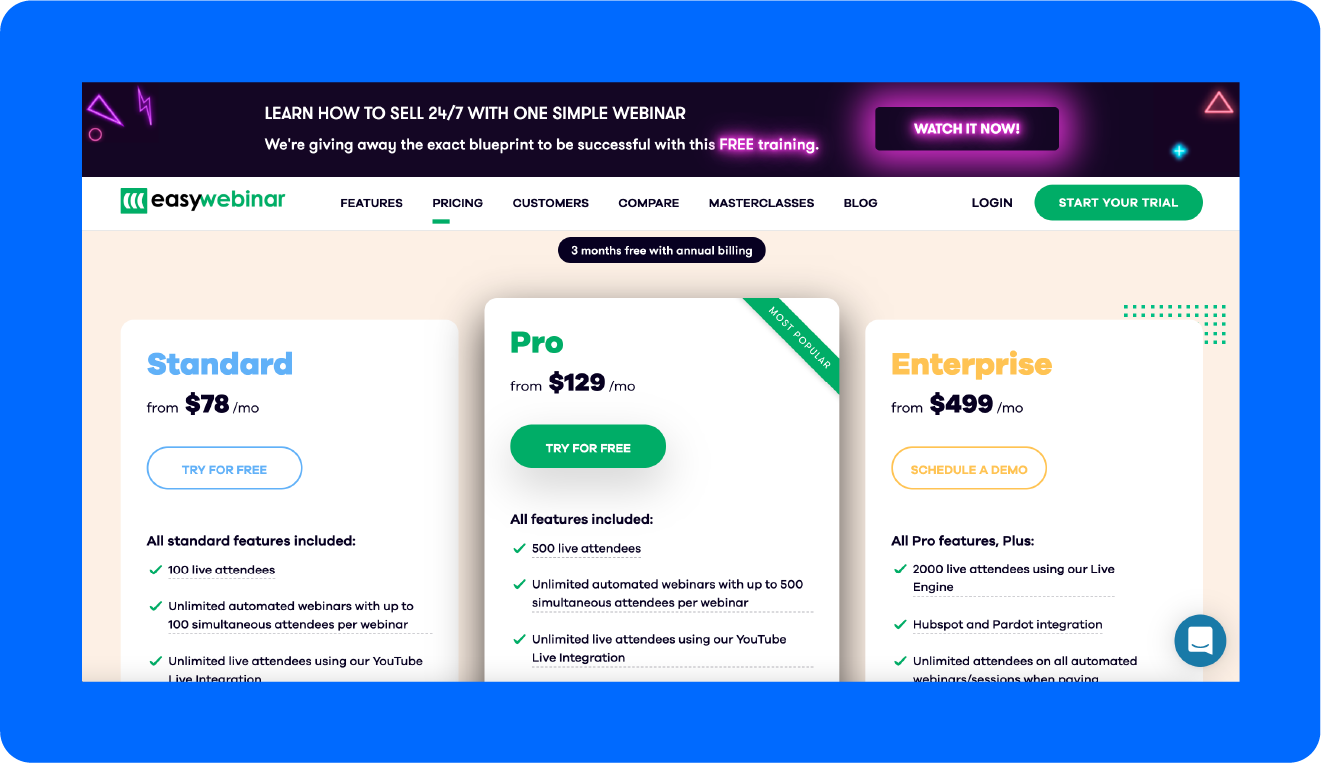 EasyWebinar offers 3 different tiers according to your online seminar and marketing needs. You can get 3 months free if you choose annual billing.
Standard: this is the beginning tier for smaller content creators and startups. This plan offers up to 100 live webinar attendees, access to onboarding, and unlimited live attendees with YouTube Live integration. Price: $78/month.
Pro: this plan adds to the Standard tier by offering up to 500 attendees, chat support, EasyCast™ streaming tool for Facebook and YouTube, plus many more features. Price: $129/month.
Enterprise: this is the highest tier that EasyWebinar offers. It allows you to have up to 2,000 attendees to any live webinar. Price: $499/month.
Let's keep moving!
15. LiveWebinar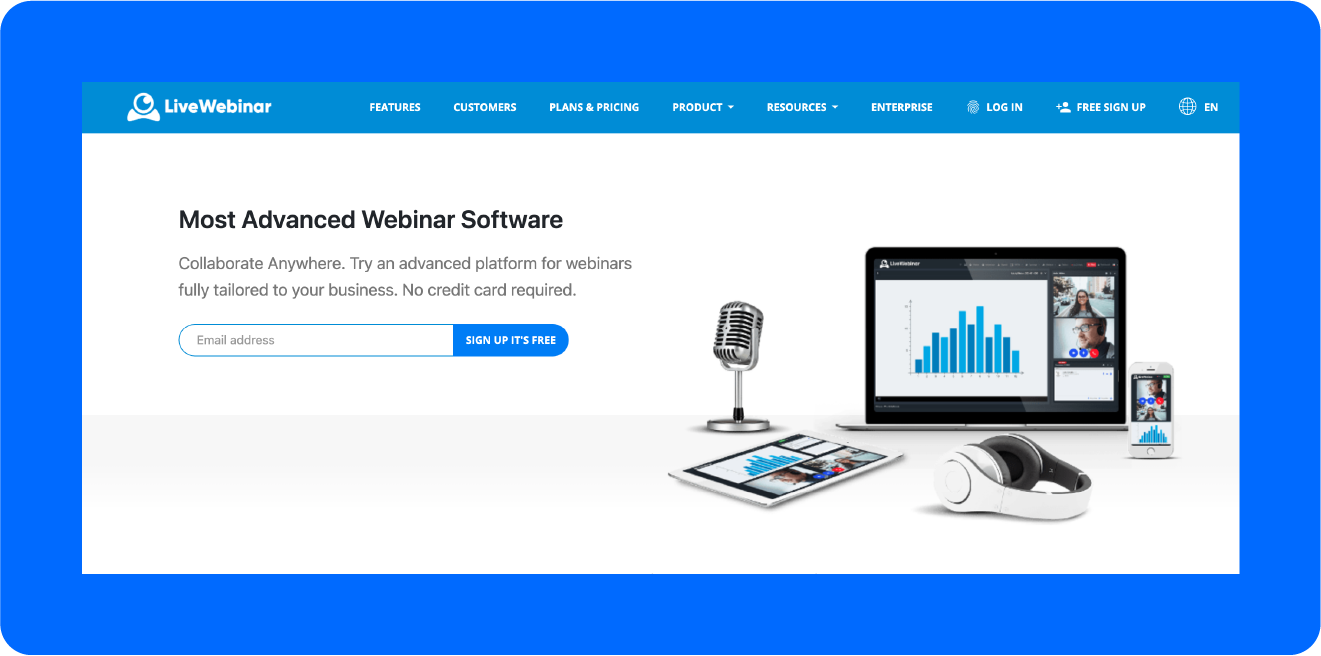 LiveWebinar makes it easy for you to host live streaming webinars for all of your fans, clients, followers, and friends.
There are a few things that set LiveWebinar apart, including unlimited customization for your webinar stream, monetized webinar events, and the ability to have everything under your own domain.
Key Features
Broadcast to YouTube, Facebook, and Vimeo.
Create polls, surveys, and calls to action.
Interactive whiteboard.
Breakout rooms for attendees.
Custom platform building.
Pricing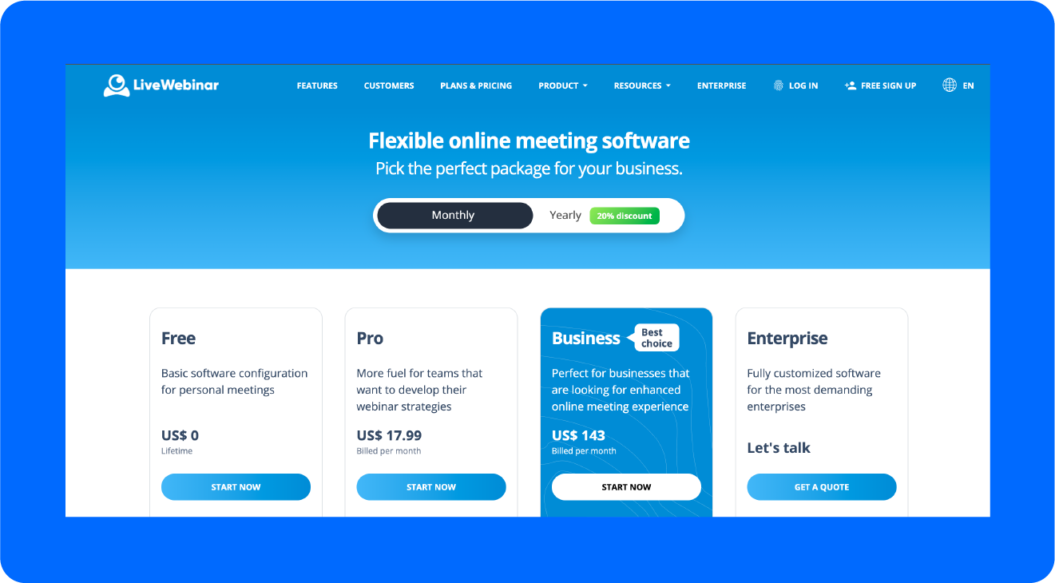 LiveWebinar offers several pricing options for all kinds of creators and businesses. If you choose an annual subscription, you will get 20% off your purchase price.
Free: LiveWebinar has a free webinar hosting platform. This allows you to host up to 5 attendees, introduce polls and surveys, and keep 2-hour recordings.
Pro: this gets you up to 100 attendees, 200 email invitations for every 24 hours, branding tools, and paid webinars. Price: $17.99/month.
Business: allows you to host up to 500 attendees. You also get bulk invitations, evergreen webinars, and a manager. Price: $143/month.
Enterprise: this lets you have all events and meetings under your own domain, premium-level support, and customized features. Contact their sales team to learn more about pricing.
Onward!
16. Crowdcast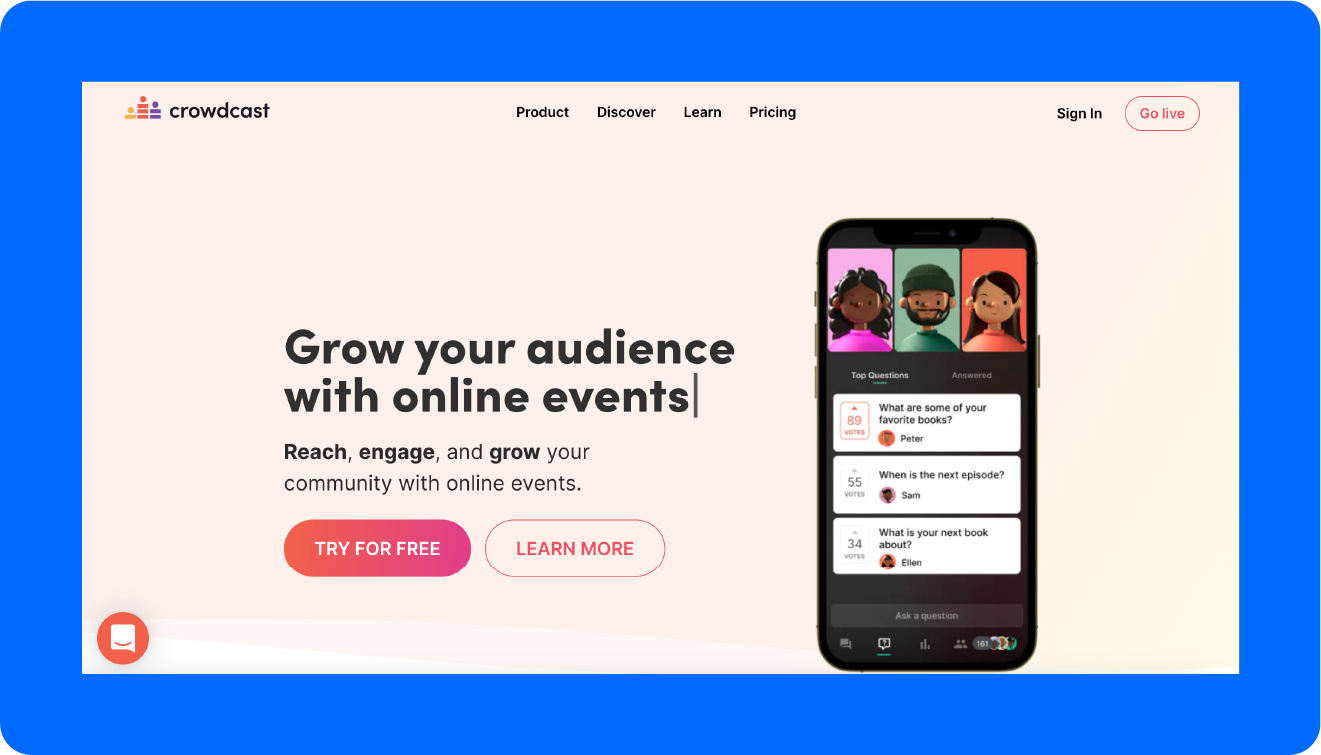 Crowdcast says goodbye to the boring webinar by introducing a customizable platform for content creators. They want to be the end-all-be-all platform for you to gather, engage, and host live video events.
By running all live events with ease and engaging your online community through multiple platforms, you can foster connections with your biggest fans through engaging content and ecommerce integration.
Key Features
Easy-to-use livestream events.
Browser-based webinar platform.
Built-in landing pages.
Use on any device.
Pricing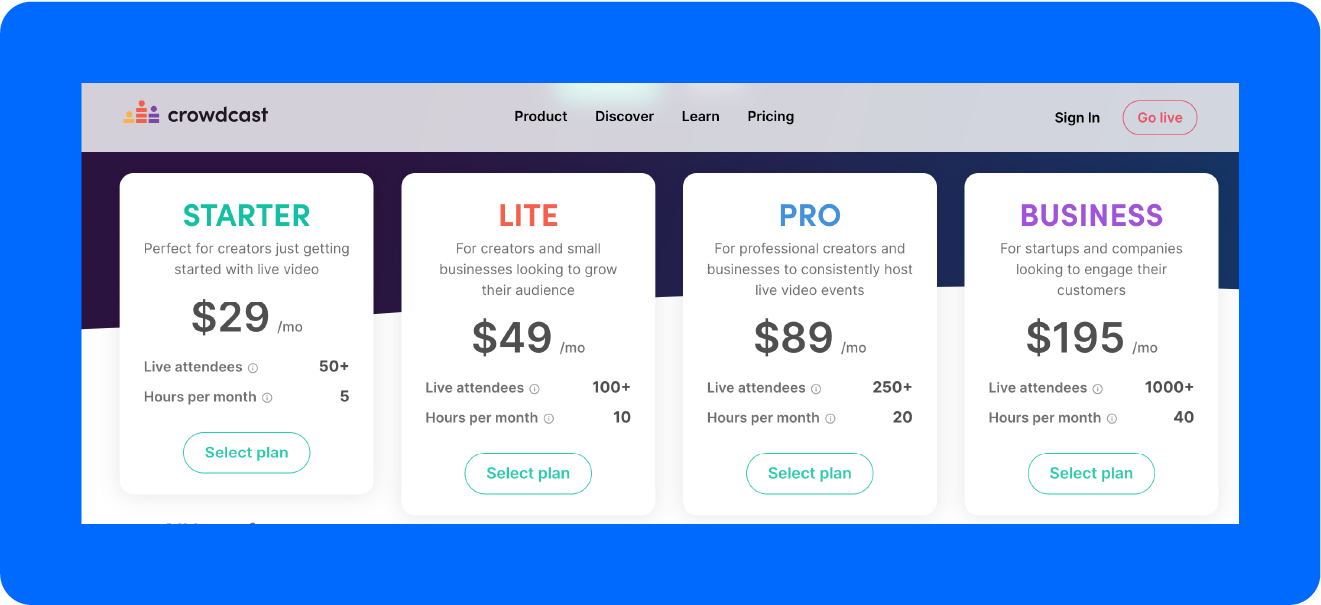 Crowdcast offers a diverse range of pricing options for content creators and businesses to choose from.

Starter: allows you 50 live attendees and 5 webinar hours per month. You also get HD live videos with recording and present on up to 4 screens. Price: $29/month.
Lite: in this tier, you can see event analytics, export email addresses, chat, data, and Zapier integration. Price: $49/month.
Pro: suits professional full-time creators and businesses who consistently host live streaming webinars. This tier allows you 4-hour sessions, multistreams, and custom registration fields. Price: $89/month.
Business: for larger companies who need to engage with their customers. This allows for up to 1,000 attendees, 3 multistreams, and 6-hour webinar sessions. Price: Starts at $195/month.
This next one is for the podcasters.
17. Riverside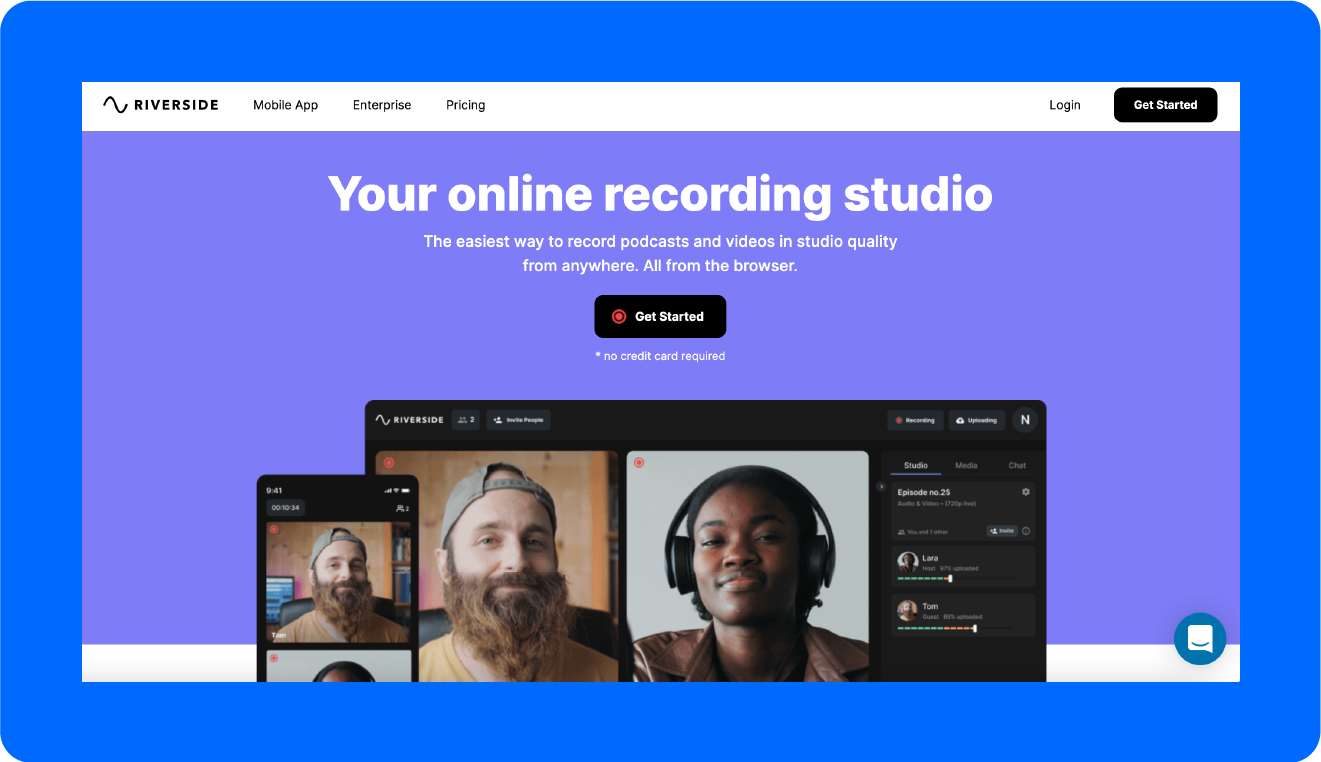 Are you a full-time content creator who has branched out to podcasts or other streaming mediums? Riverside might be the best webinar platform for you.
Live and automated webinars only scratch the surface of this platform. Riverside also lets you create podcasts with crystal clear audio and on-the-go recording.
Key Features
Convert podcasts and videos into text transcriptions.
Stream within your online community.
Schedule and invite followers with a single click.
Screen sharing.
Webinar recording.
Producer Mode lets you control the show without being seen.
Pricing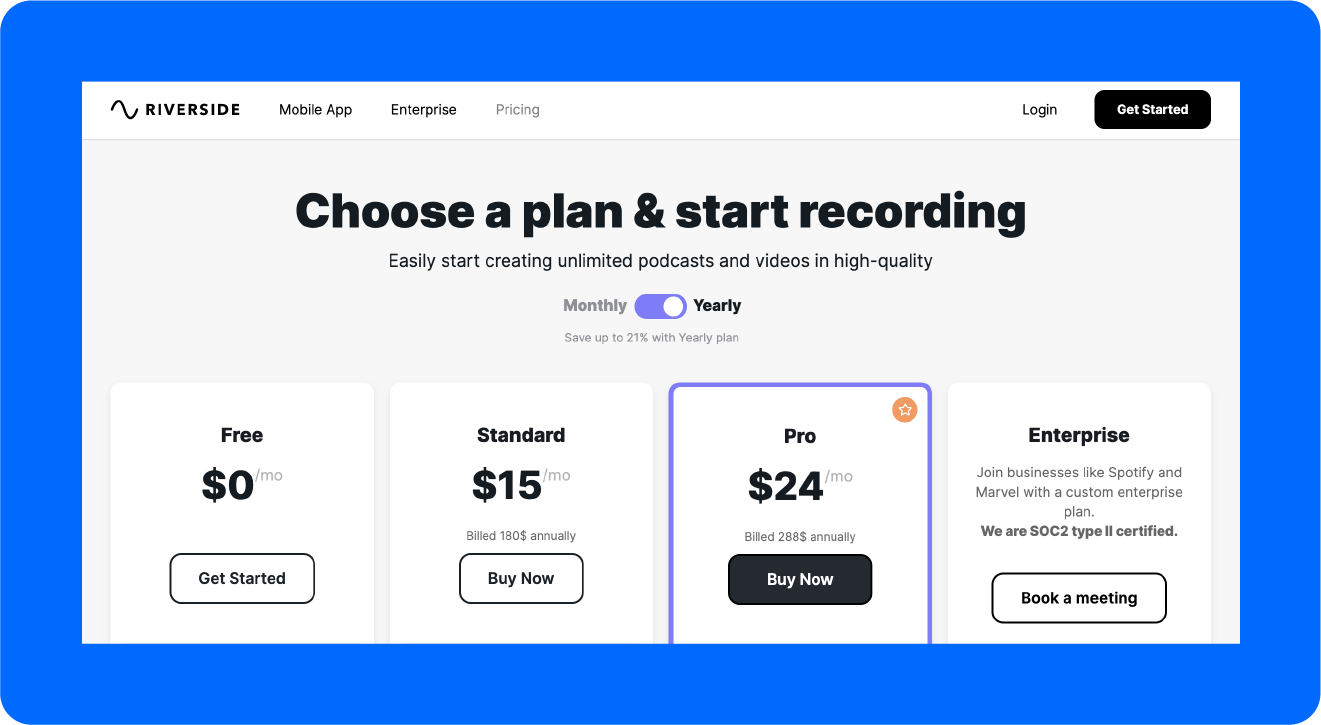 Of all the webinar platforms, Riverside has the most accessible pricing options for smaller content creators and business owners who want to expand their audience.
Free: Riverside's first tier offers unlimited recording and editing with 720p video quality. They also offer separate audio and video tracks for the first 2 hours of recording.
Standard: you'll get up to 5 hours of separate tracks of recording every month, the watermark removed on exported files, 4K video quality, and screen sharing. This also allows you to access Producer Mode. Price: $15/month.
Pro: gets you separate tracks for 15 hours every month, the ability to accept live call-ins, and unlimited transcriptions of all your content. Price: $24/month.
Only a few more!
18. WebinarGeek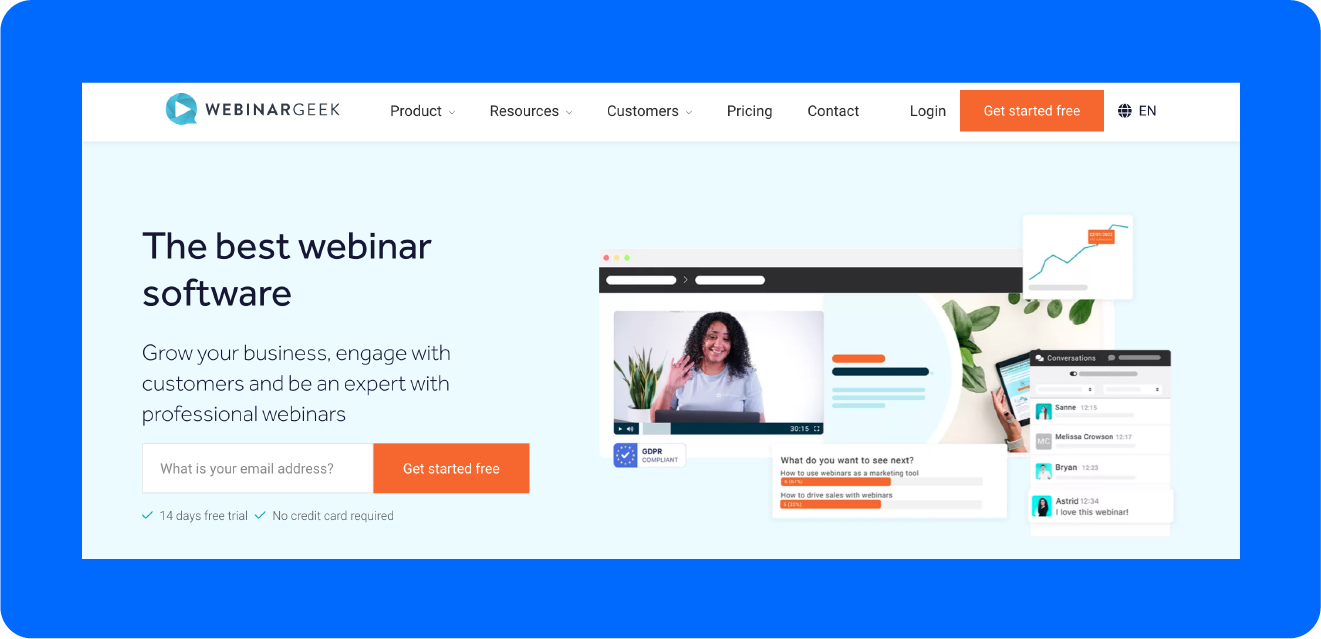 WebinarGeek has one definitive mission: Grow your business while engaging with customers. Seems simple enough!
By hosting all kinds of webinars and being able to set them up within minutes, you can reach new heights of audience interaction and engagement. With WebinarGeek, you can also create dynamic presentations by pre-recording videos and adding them to your live presentations.
Key Features
Easy-to-use webinar organization.
Watch from any device or browser for audience convenience.
Host live, on-demand, automated, or hybrid webinars.
Invite teammates and audience members to collaborate.
Marketing tool integration.
Pricing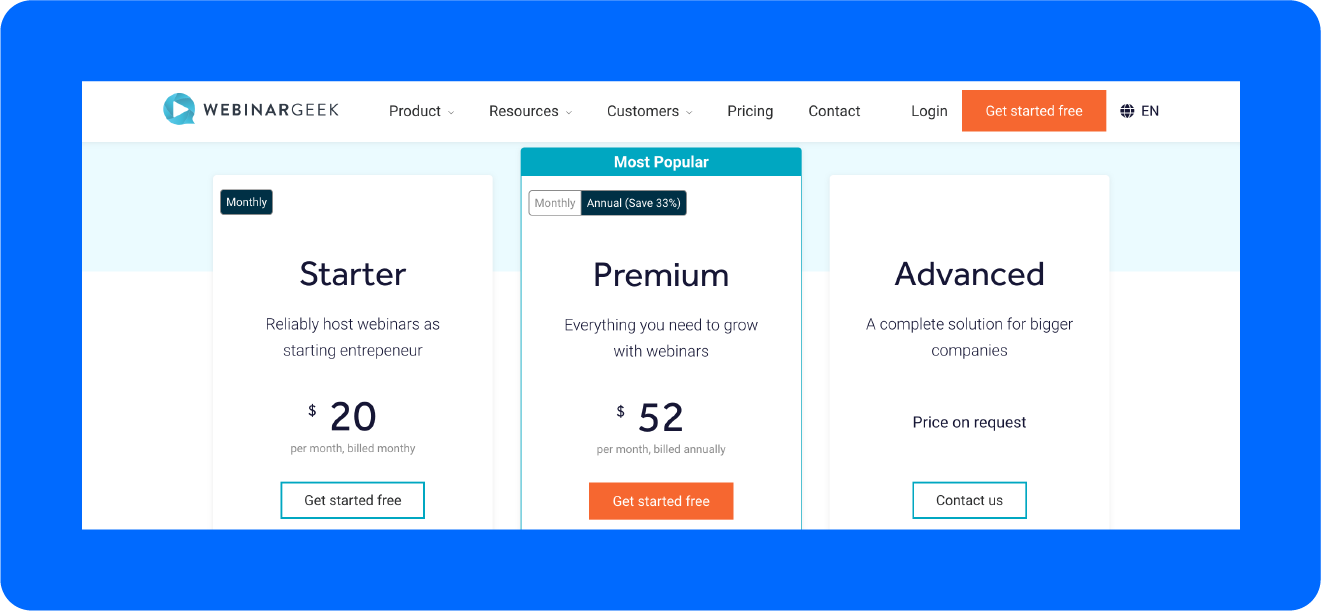 WebinarGeek offers 3 tiers for small creators, as well as medium-sized and large businesses.
Starter: this allows you to have 25 live viewers and up to 4 hours of streaming per webinar. You'll also be able to have 2 presenters. Price: $20/month.
Premium: this lets you have 100 to 2,000 live viewers, 4 presenters, 4 moderators, as well as marketing integrations, automated webinars, and custom branding. Price: $52/month.
Advanced: ups your attendee, moderator, and presenter numbers, and also includes features like phone support and success managers. Contact the WebinarGeek team to learn more about the price for their Advanced tier.
Let's keep moving.
19. Webex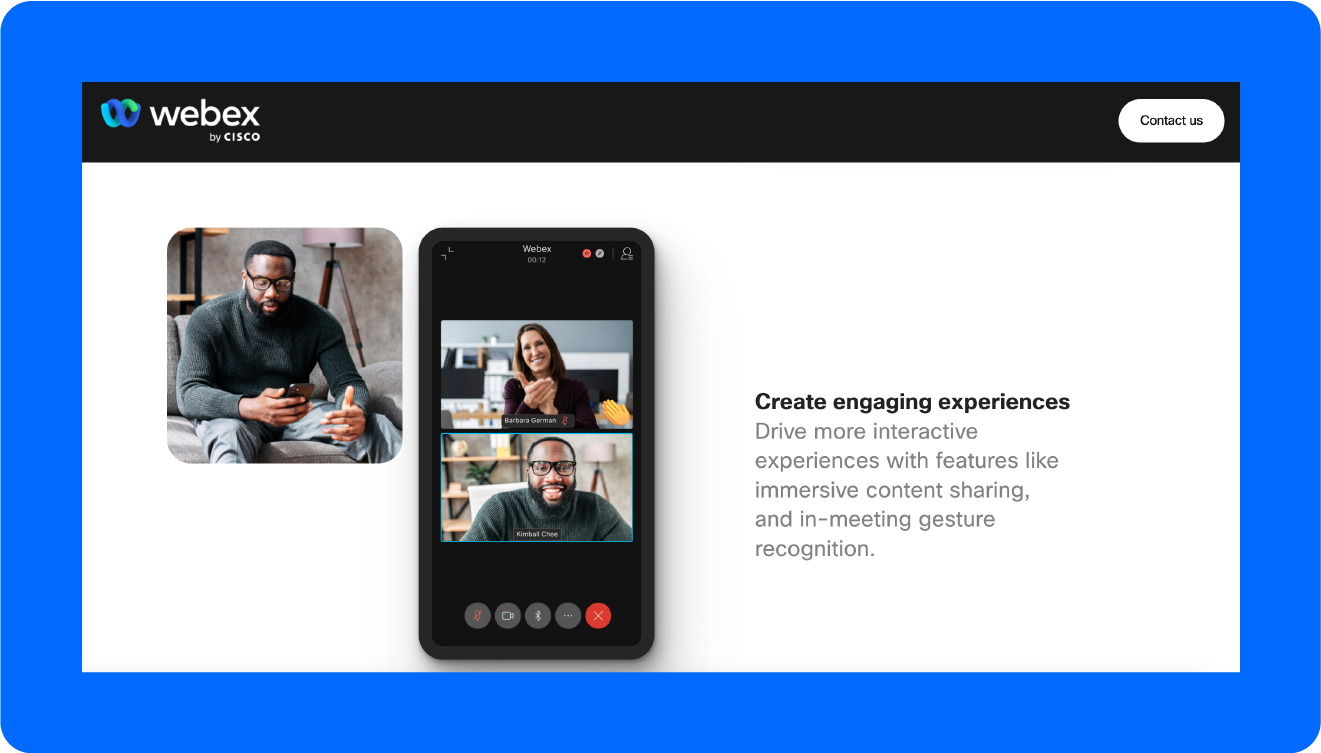 Webex by Cisco is a one-of-a-kind webinar platform for creators and entrepreneurs. By integrating all kinds of communication channels into a single app, Webex users can connect with their followers on a deeper level.
If you think traditional webinars are boring, Webex can offer you an exciting solution. Interactive experiences and features pull audiences closer to you. This webinar platform also offers intelligent AI that helps with accessibility features.
Key Features:
Meeting transcriptions.
Real-time translation software.
Background noise removal.
Chat, call, and meeting features in a single app.
Pricing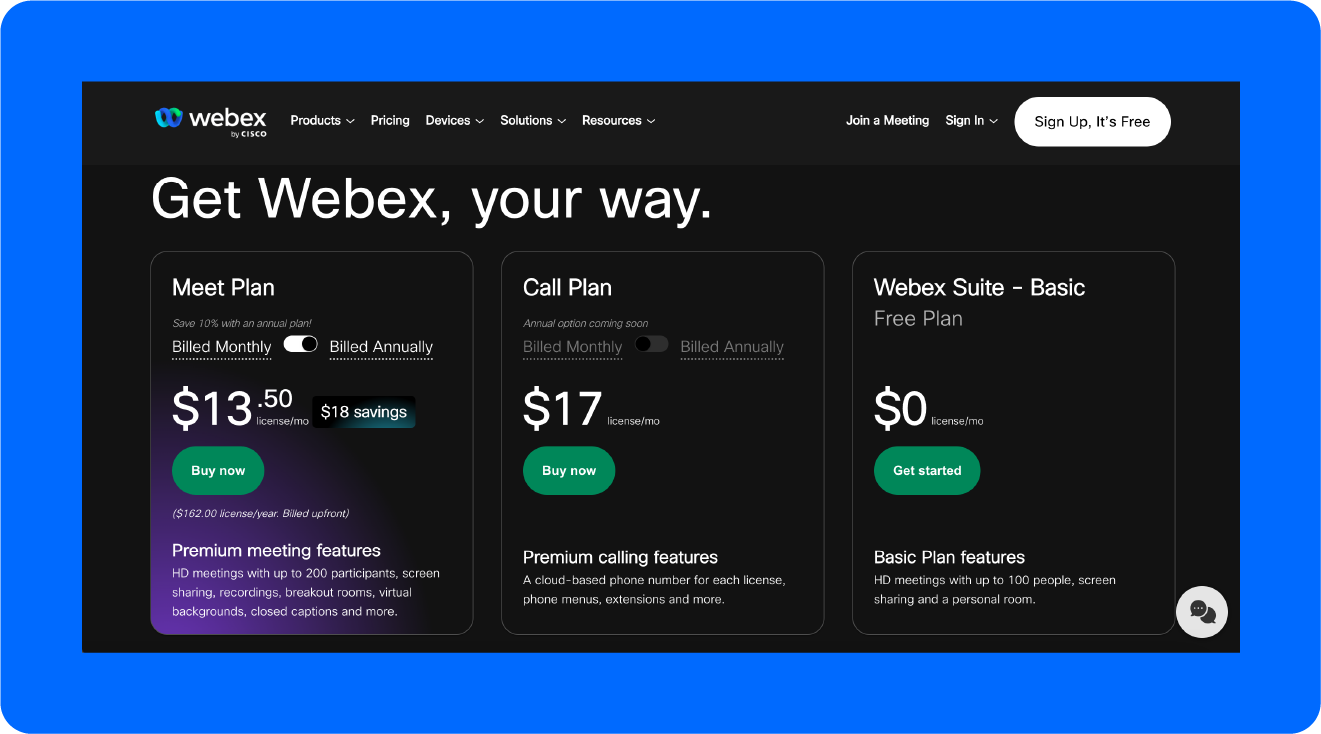 Webex offers 5 price tiers for their users depending on their needs. This includes a free plan.
Meet: gets you HD meetings with up to 200 participants. You also get screen sharing, breakout rooms, closed captions, and more. Price: $13.50/month.
Call: this gives you a cloud-based phone number and various extensions. Price: $17/month.
Webex Suite: a combination of the Meet and Call plans. This allows you to have a hybrid of video and audio calling features. Price: $25/month.
Enterprise: this is a fully customizable plan, so the price point may vary depending on your needs. Contact the Webex sales team to figure out your custom price.
Up next: Wanna hang?
20. Google Hangouts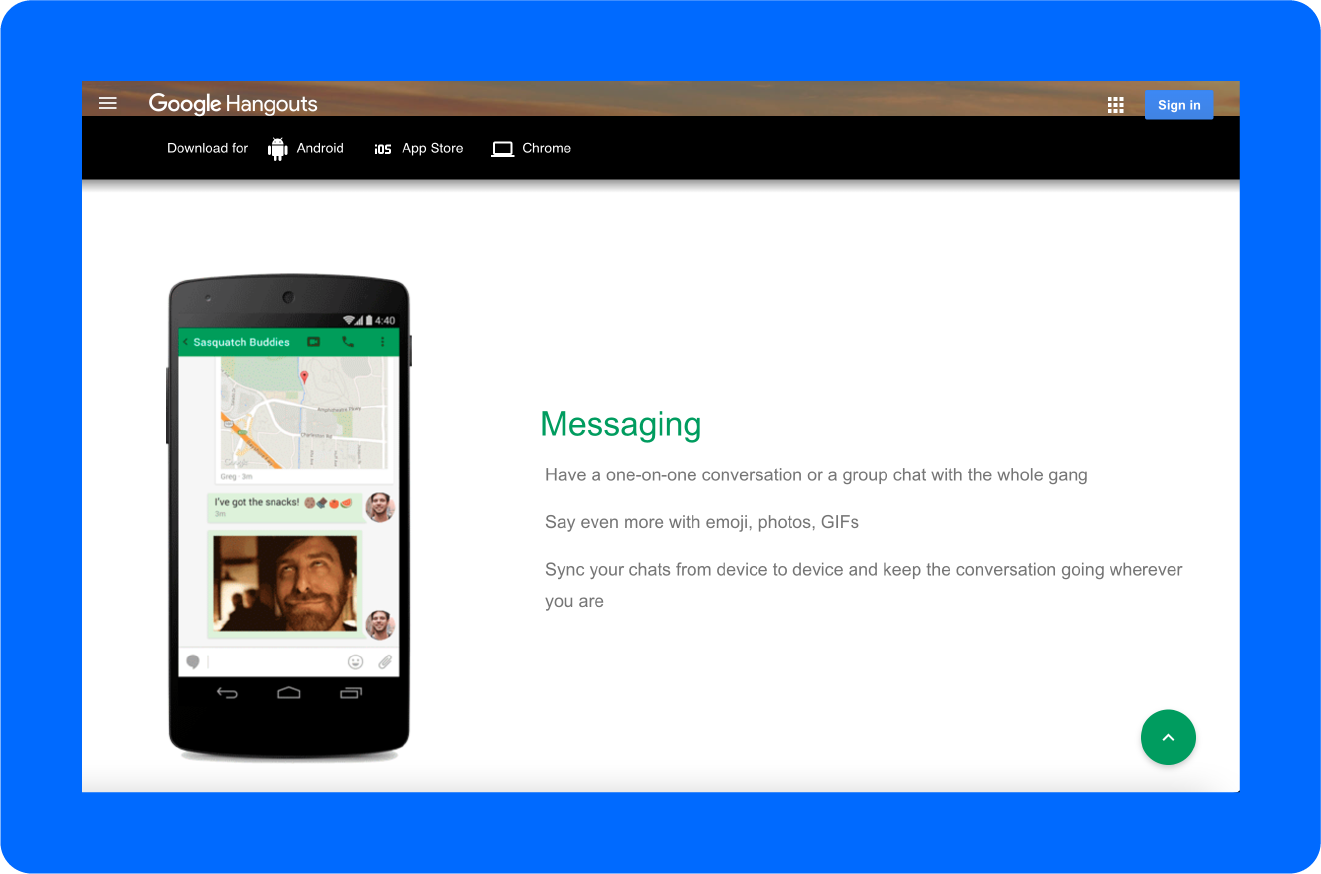 Google Hangouts is nothing like your typical webinar platform.
Google Hangouts is all about informal chatting, video calls, and sharing links with others. Think of it as a VIP-only zone for your subscribers.
Although Google Hangouts is completely free, you could limit access to your hangout based on your followers' subscription level. You can keep access to a Google Hangout behind a special tier on your own personal membership platform.
Key Features:
HD video streaming.
Voice calls.
Multi-platform streaming.
Screen sharing.
Instant messaging integration.
Intelligent muting.
Pricing
Google Hangouts is completely free to use for both the host and users.
Next up: A webinar platform for any time.
21. AnyMeeting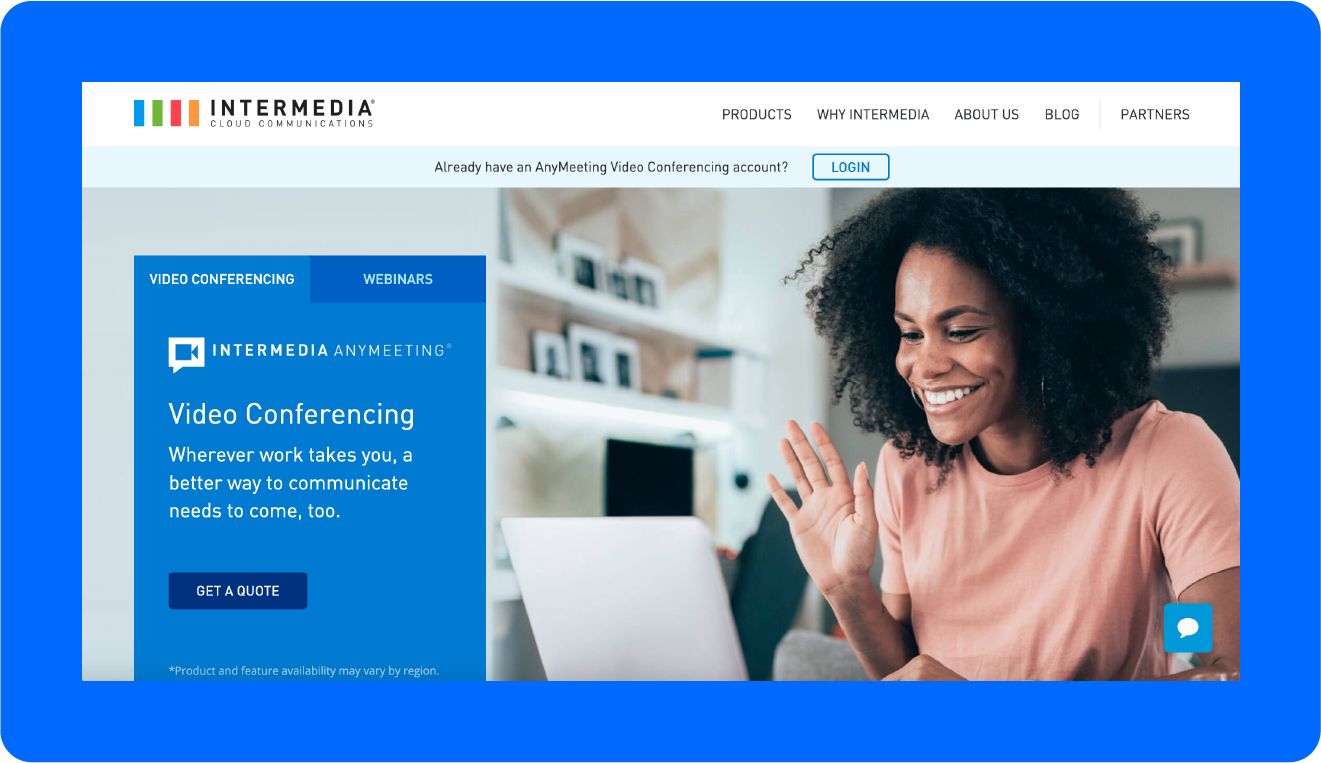 AnyMeeting by Intermedia is a video conferencing and webinar platform that aims to make it easier for you to communicate with others. Stay productive with HD video and AI integration on desktop and mobile devices without a hitch.
Key Features:
Integrations with Outlook, Google Workspace, Slack, and more.
Screen annotation features in real time.
Screen sharing.
Custom branding capabilities.
Real-time meeting notes.
Meeting transcripts and audience insights.
Pricing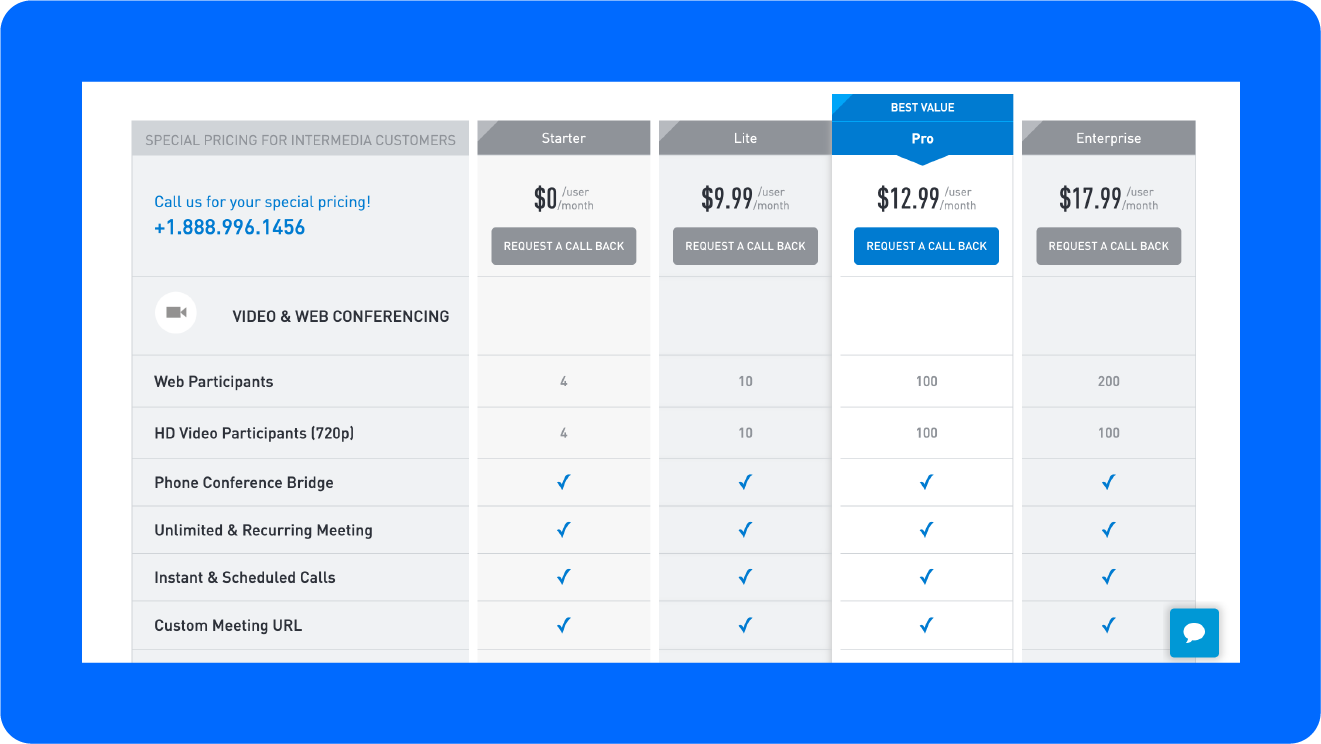 Like several of the other best webinar platforms, AnyMeeting features multiple price tiers.
Starter: offers 4 participants, instant and scheduled calls, custom meeting URLs, and more. Price: Free.
Lite: the second highest tier. Offers everything from Starter plus meeting notes, integrations, 24/7 support, and more. Price: $9.99/month.
Pro: this tier adds custom meeting backdrops and logos, a blurred background feature, encryption, passwords, meeting recordings, and more. Price: $12.99/month per user.
Enterprise: lets you have up to 200 participants. This will grant you unlimited recording cloud storage, meeting transcripts, and the ability to remove participants. Price: $17.99/month per user.
Only 2 left. Let's do it!
22. Zoho Meeting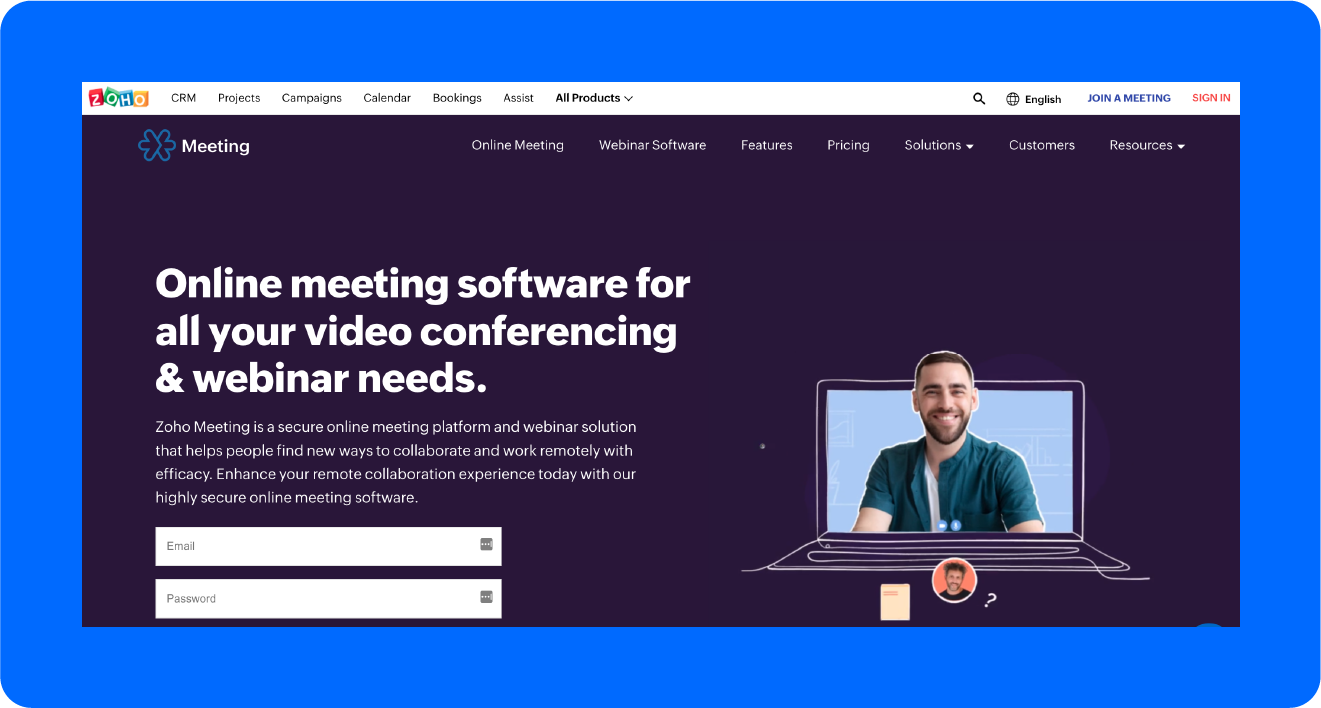 If you ever feel like your webinar platform could be a bit more secure, then Zoho Meeting might be the ideal solution.
Zoho Meeting is simple and affordable. They offer consistent and helpful support while promising an enterprise-level experience for every single user on their platform.
Key Features:
HD video meetings.
Screen sharing capabilities.
Record and share meetings.
Pricing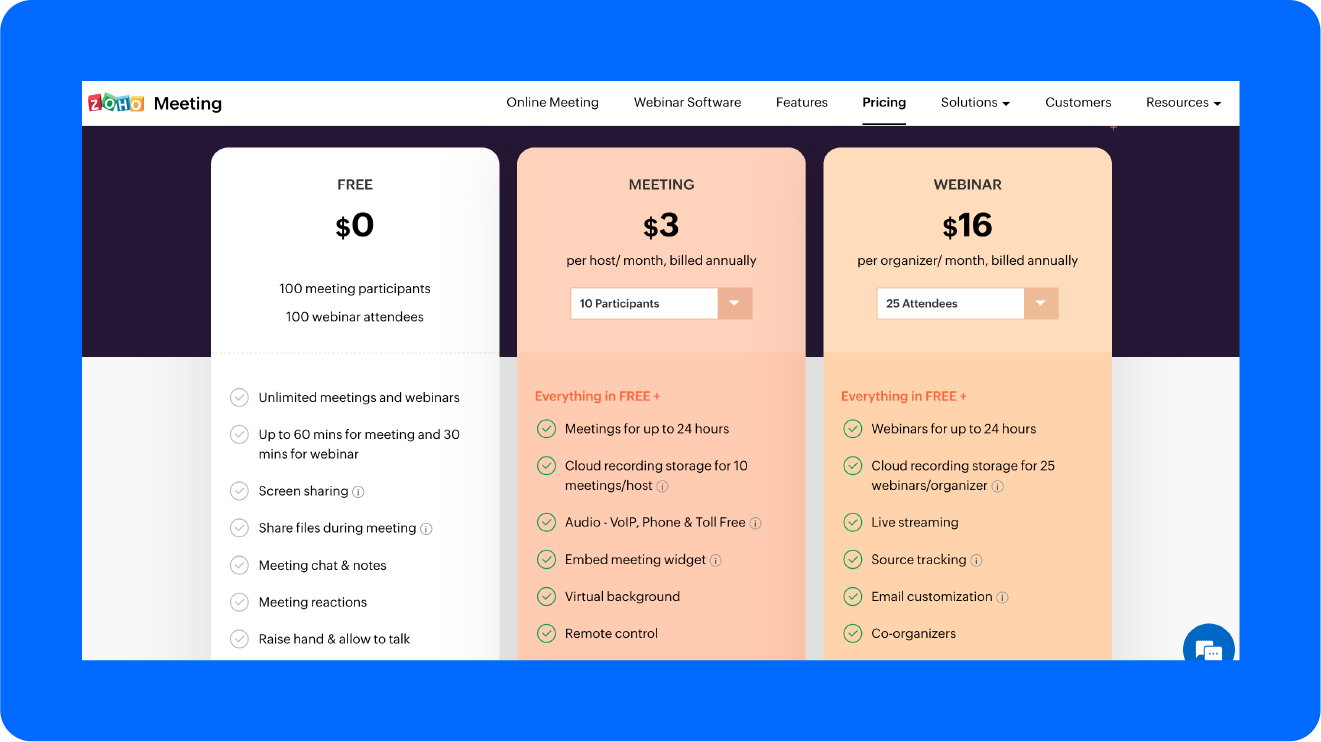 Zoho Meeting has accessible pricing tiers for every level, depending on how many attendees you plan on having for your webinars.
Free: this lets you have 100 participants or attendees, unlimited meetings, screen sharing, reactions, video layouts, and various meeting times.
Meeting: this tier adds cloud recording storage, virtual backgrounds, co-hosts, branding, and integrations. Price: $3/month per host.
Webinar: this gets you live streaming capabilities, email customization, an admin portal, app integrations, Q&As, and polls. Price: $16/month per organizer.
Looks like we saved the best for last…
23. Uscreen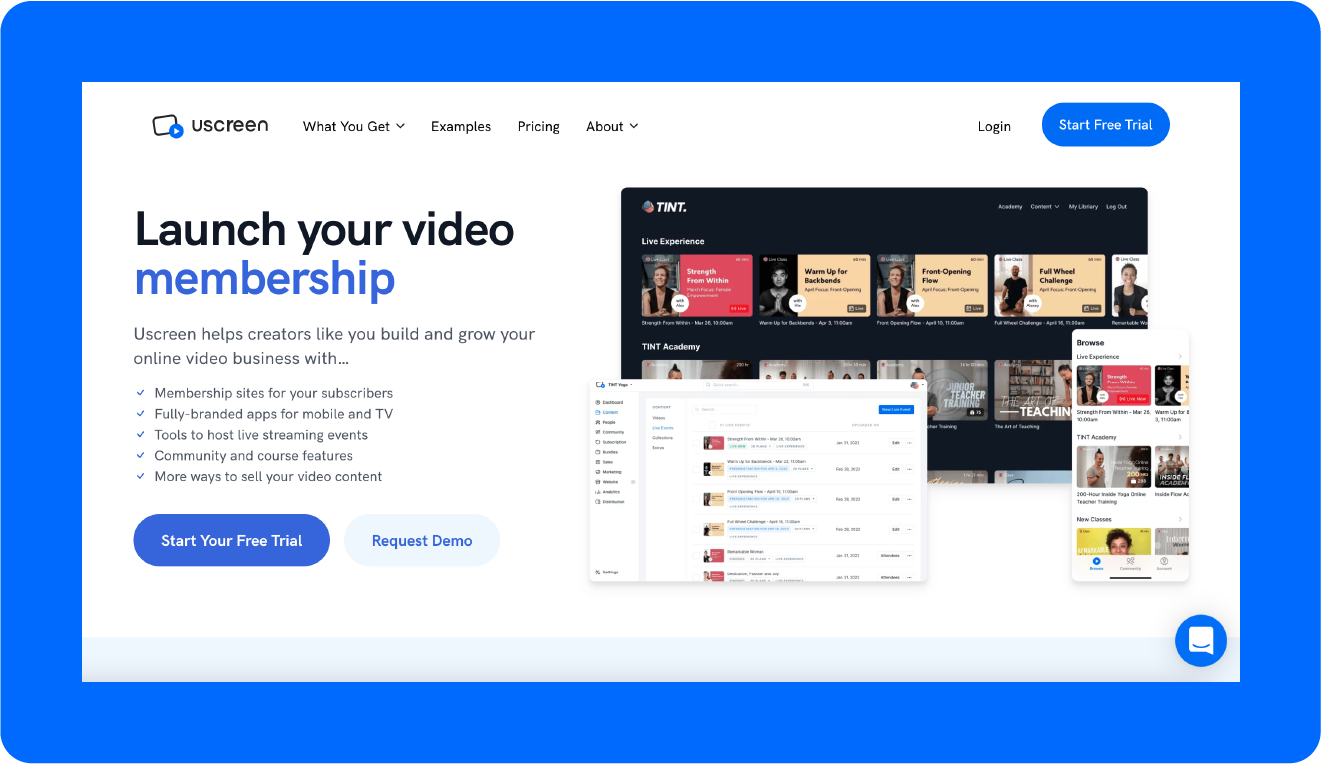 Uscreen is an all-in-one solution for all kinds of content creators, businesses, entrepreneurs, and self-starters looking to host videos and live streaming events.
Now, we may be biased, but Uscreen truly goes above and beyond with video hosting and webinar features.
Our high-quality webinar features allow you to stream via your customized and fully branded apps through TV streaming platforms. You can also stream through your membership sites you create through Uscreen!
Key Features:
TV streaming app integration.
Membership sites for your subscribers.
Webinar tools to help host live streaming events.
Community and course features.
Video and webinar monetization solutions.
Pricing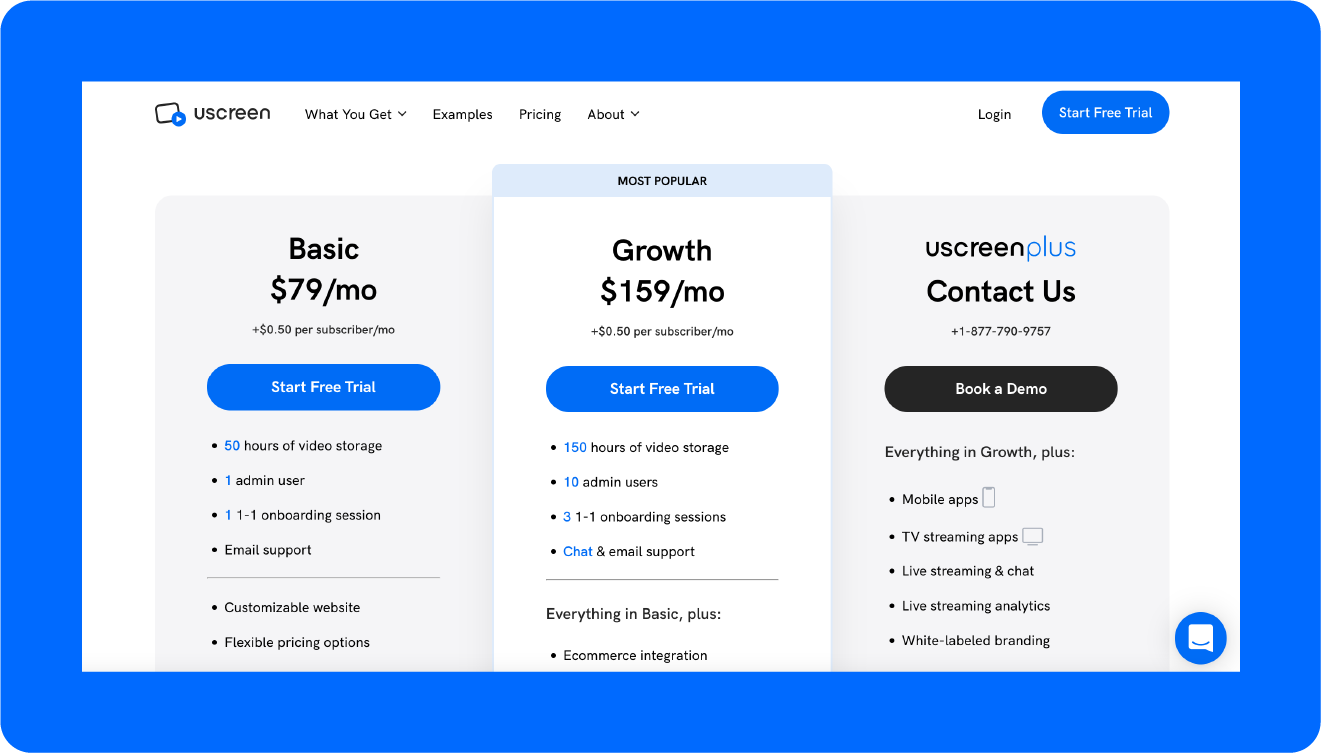 At Uscreen, we offer flexible pricing tiers for all kinds of content creators and small businesses looking to reach the next level of video hosting:
Basic: gets you 50 hours of video storage, a single admin user, a customizable website, marketing tools, and analytics. Price: $79/month.
Growth: everything in the basic plan plus ecommerce integration, third party integrations, as well as affiliate integration. Price: $159/month.
UscreenPlus: in this tier, you'll get mobile apps, live streaming, analytics, chat, OTT apps, account management, and white-labeled branding. Contact our sales team to learn more.
Let's wrap this up, shall we?
Wrapping It Up
And there you have it: Our list of the best webinar platforms for content creators and businesses both big and small in 2023.
Whether you want HD live streaming across platforms, instant messaging with friends, or fully functional TV apps to create your own streaming service, there's a solution for you somewhere in this list.
Plus, if you're looking to monetize your video content beyond webinars in your online community, Uscreen is an all-in-one solution for content creators of all shapes and sizes.
It's simple with Uscreen.
Build, launch and manage your membership, all in one place.
Best Webinar Platforms FAQs
Still have questions about the best webinar platforms? We have the answers.
What Is a Webinar Platform?
A webinar platform is a video service that hosts live streams and pre-recorded webinars that allow you to connect with your audience or followers.
What Are the Benefits of a Webinar Platform?
There are several benefits of a webinar platform, including expanding your audience beyond a localized area, creating strong business relationships and connections, and connecting with your audience through polls, Q&As, and other chat features.
How Much Do Webinar Platforms Cost?
The price of a webinar platform often depends on the number of attendees, how long a webinar may last, your desired video storage capabilities, and how many hosts there are.
What Are Webinars Good For?
Webinars are good for connecting with your audience in an online learning environment.
Which Is the Best Platform To Host a Webinar?
The best platform to host a webinar is largely determined by your needs. With Uscreen, you can host webinars on your own mobile app, TV streaming app, and website to reach a larger audience.
What Is the Best Free Webinar Platform?
The best free webinar platform depends on your personal preference. Though many webinar platforms offer a free trial, you may have to pay eventually. The only free webinar platform on our list is Google Hangouts.