For any eLearning membership service, keeping your students happy and hungry for more is the key to long-term business success.
Students who feel engaged—both by the learning material and the community around them— want to return every month and recommend your eLearning service to their friends.
In this article, we're going to give you the 5 best strategies to hook your students and help them reach their full eLearning potential.
1. Promote An Active Community
Being involved and building relationships is key to a great eLearning experience. As it turns out, students perform better and display increased motivation in group settings.
Members will appreciate the opportunity to grow their skill sets with like-minded peers and bond over shared interests – namely, your content!
And best of all, an online learning environment offers tons of unique ways to help your members easily connect with each other.
As the creator of an eLearning VOD business, you're in a great position to reach out and build a community with your members – here's how.
Establish A Communication Hub
Having an exclusive area for students to interact with each other can help them focus on their individual goals by learning from each other as well as from you!
To start, you need to establish a communication hub to be the center of your community. That hub can be native to your eLearning streaming service or can be a third-party service, like a Facebook group or Slack channel. Having a private chat forum or message board will allow your paid members to engage and share ideas.
If you're using a third party community hub, be sure to make your community area accessible to your eLearning members directly from their eLearning catalog.
Lead From The Front
One of the best ways to create camaraderie among your students is by directly interacting with them. Take the lead! You're the person they've come to learn from, right?

Engage in conversation, you can start – or respond to – threads beneath your videos or in your community areas by:
Sharing tips, strategies, and resources.
Helping each other set and achieve progress goals.
Gaining perspective by learning other members' stories.
With Uscreen, you can also utilize Live Chat in your live streams to create a direct channel between you and your students for real-time engagement. It's perfect for Q&A sessions!

The key here is to treat your members like VIPs to help them stay motivated. They'll enjoy the sense of community, while you prove that you're dedicated to creating a great experience for them in the long run.
Encourage Your Students To Create A Profile
You can make your learning environment feel friendlier by encouraging your students to flesh out their user profiles!
55% of marketers say that personalization like this can increase engagement and improve retention.
Just having a name and avatar image can help your student feel less anonymous, and give them the space they need to let their personalities shine through an online community.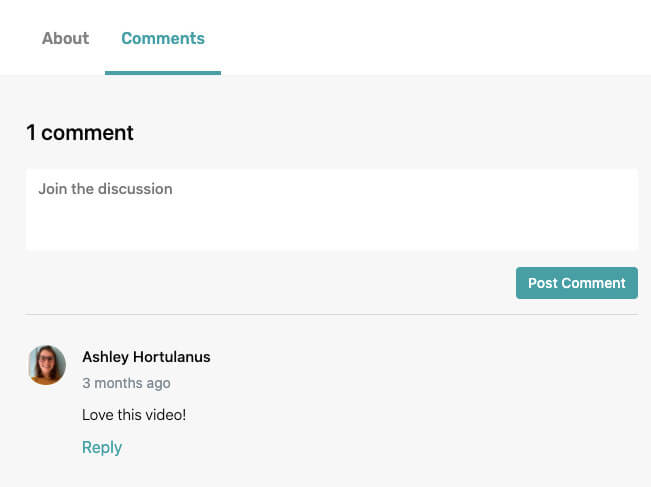 2. Organize Your Content Intuitively

Help students spend less time searching and more time learning by making your platform simple to navigate!
After all, people are far more likely to dive deeper into your video library if it's optimized for easy exploration. According to Clutch, 94% of internet users say "easy navigation" is the most important part of an online service.
The less time they have to spend clicking around, the more they can focus on your content!
There are many ways to organize your content library and make searching through content easy. But, here, we're going to focus on:
Categories
Collections
Custom filters
Tags
Best practice
Let's take a closer look…
Categories
Categories are groups of videos with similar subject matter. Most likely, these will be the different types of lessons or topics you're creating content for.
FaderPro, a music production eLearning subscription service, has a full course menu that can easily be accessed right from the homepage.
All students need to do to find the right lesson or course for them is click the correct title from the drop-down menu: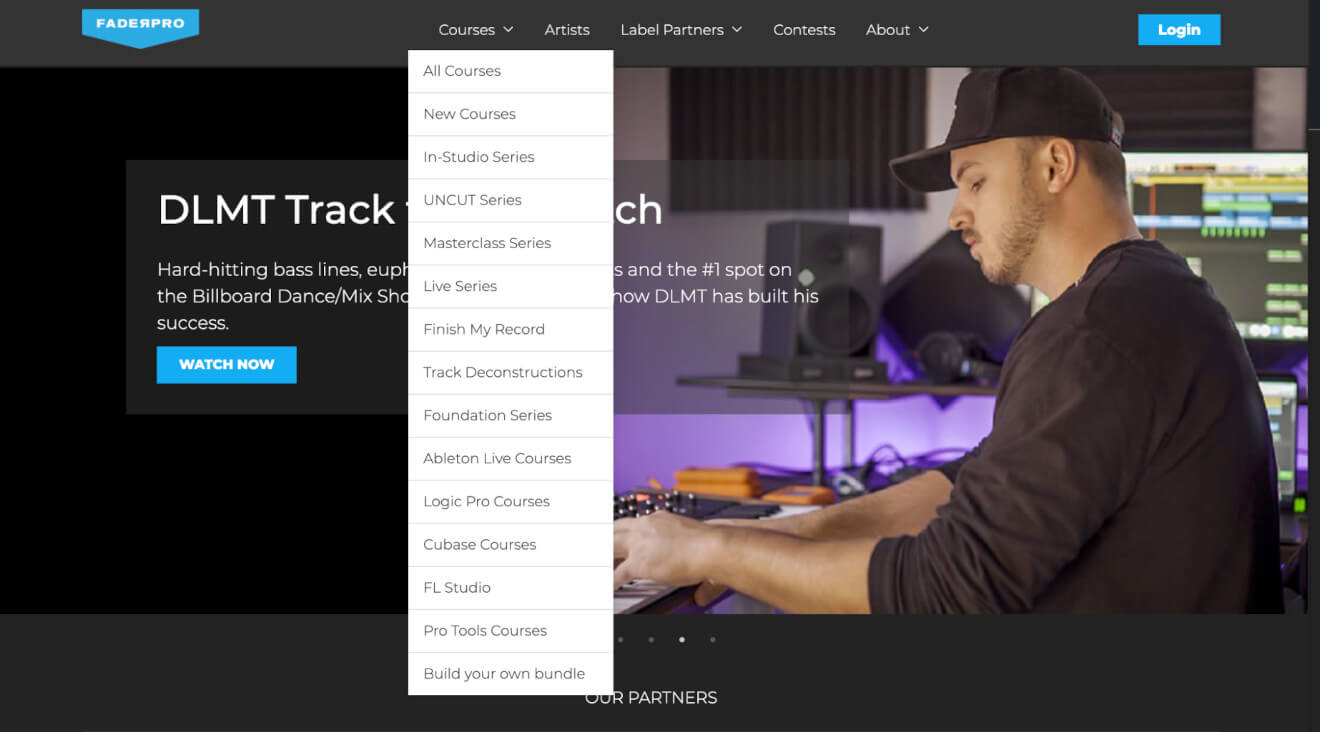 Not only does this reduce friction when finding lessons, but also keeps students aware of the other courses and content you provide.
Collections
These subgroups of categories can help students narrow down their choices. Collections can be made of whatever fits your niche best.
For example, Core de Ballet offers a collection of Pointe classes made up of multiple videos in a specific sequence.

The videos begin with a basic Pointe foundation and then progress to more advanced skills.
Use Custom Filters
You can assign custom filters to your content to organize them in different ways; ones that better fit the needs of your students. This makes searching and finding relevant content much easier!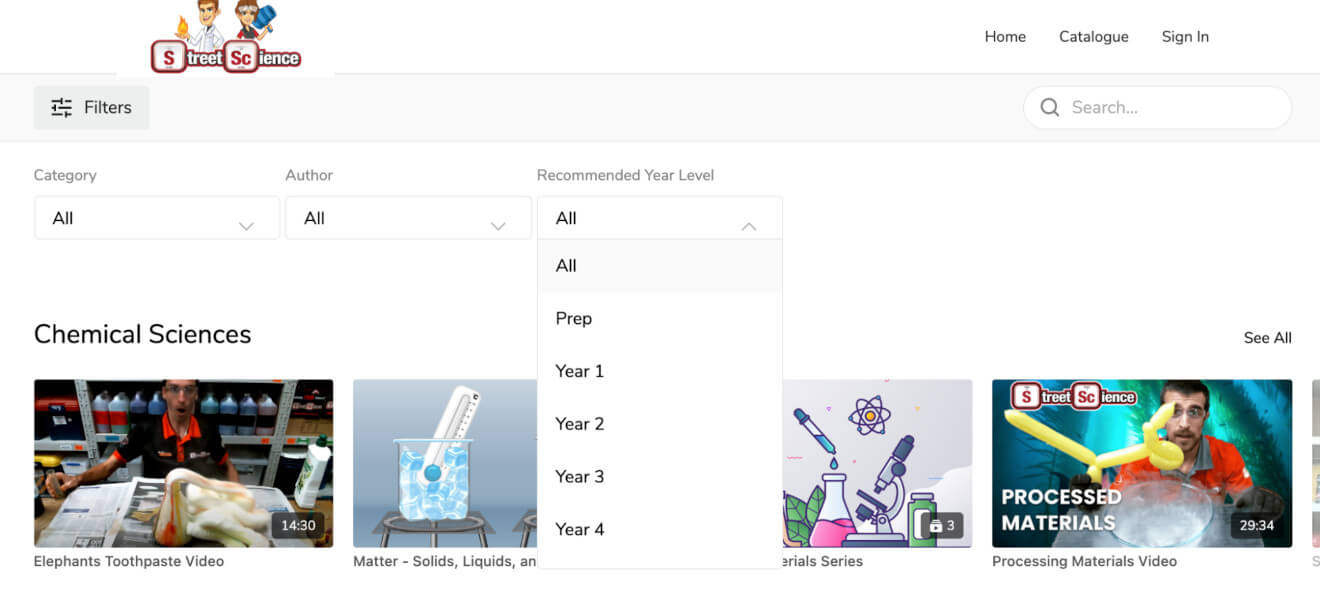 For example, you could filter by:
Topic.
Length.
Category.
Level of Difficulty.
In the example above, you can see The Learning Lab by Street Science gives users the option to search their educational videos by level of difficulty.
Tags
Tags are keywords attached to videos that make them easy to search. This helps guide users towards content they're interested in within specific categories.
They also help if a video falls into more than one category – using multiple tags will ensure it displays wherever you think it fits!
Best Practices for Content Organization
In addition to the basic tried-and-true methods of organizing content, there are also a few additional ways to help viewers find what they're looking for.
Showcase New Releases
Put your latest lessons and course updates at the top of your platform.

For example, Armchair Historian showcases all their new content in a special category on their home page. This is a great way to give users easy access to exciting new lessons!

Highlight featured content
Include a special category for content you want to showcase! These can include highly-rated videos or other videos you want to increase views on.
The Reading League includes a full-screen slider of "Featured" premium videos, making it easy for viewers to see their best content.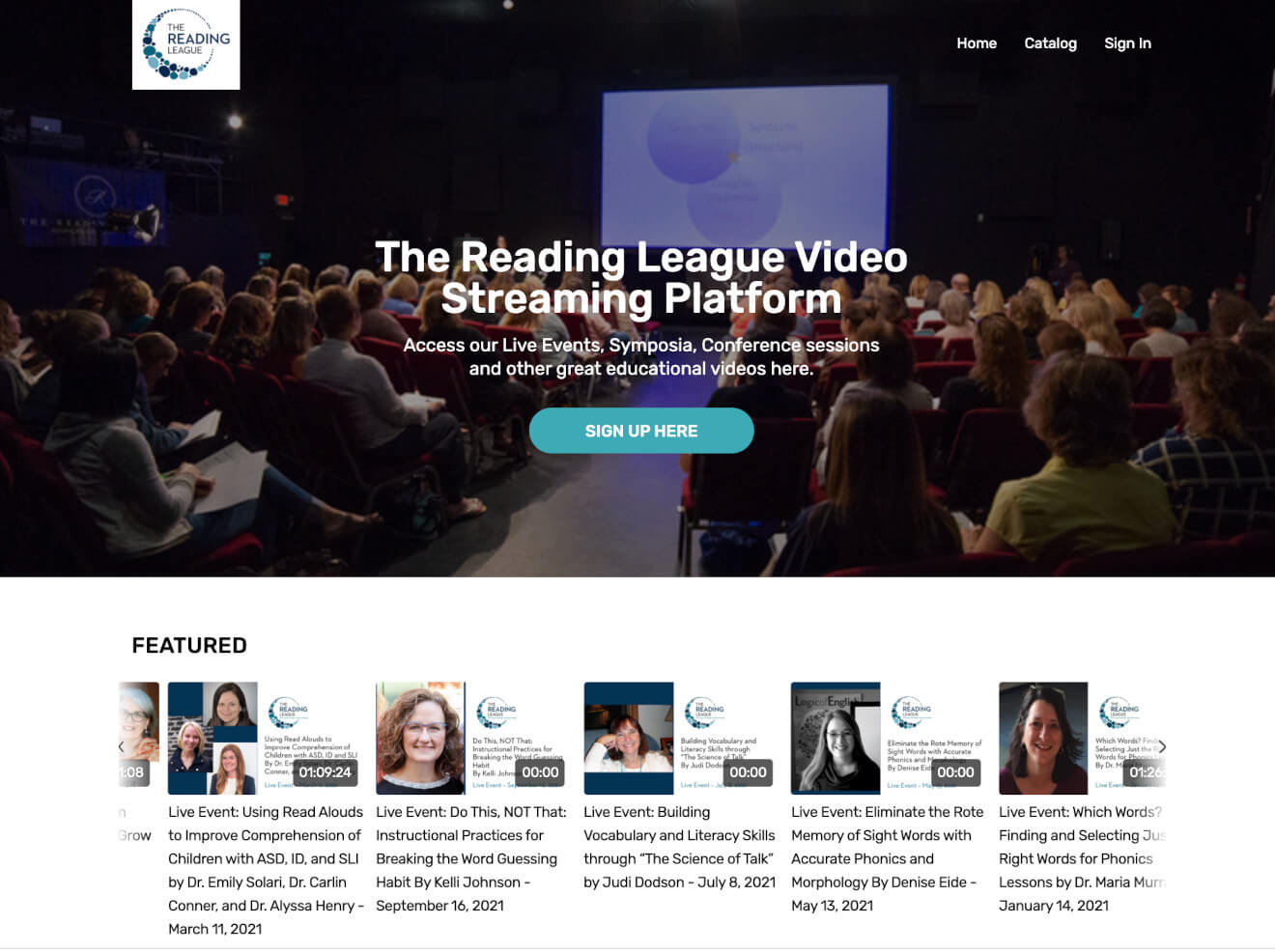 3. Optimize for Time
If you want to increase engagement and ensure your students are retaining as much information as possible, you need to optimize your videos for time and length.
Let me explain…
Data shows that students have shorter attention spans when it comes to video learning. They prefer to learn in short, specific bursts with a clear takeaway.
Because of that, your elearning videos should be between 3 and 25 minutes long. Though, it's definitely safer to stick to the shorter end of that spectrum.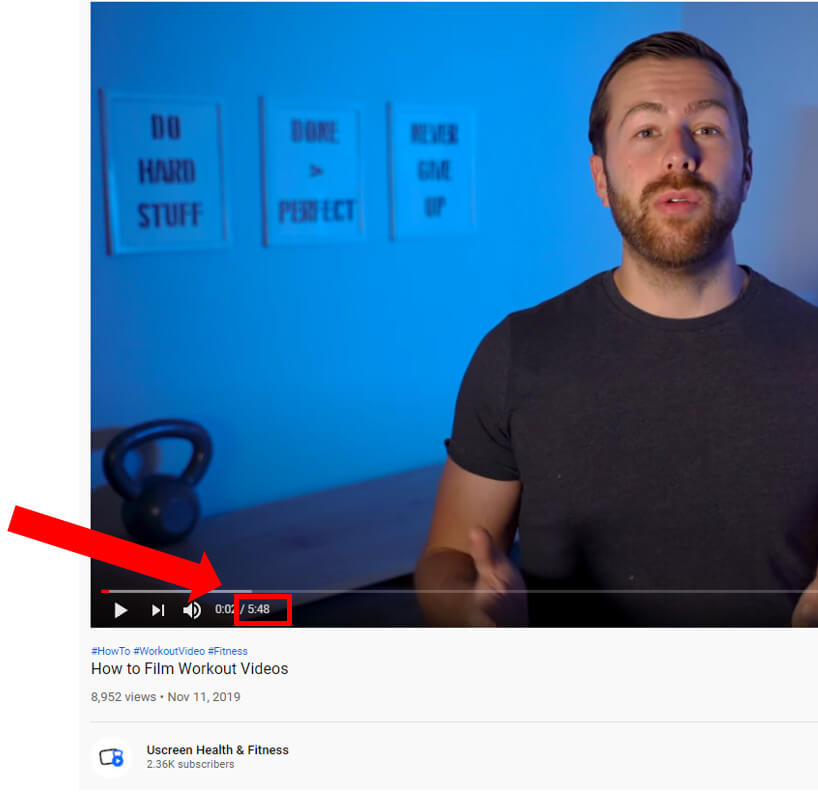 But what if your content is naturally longer like in-depth tutorials and recipes?
In that case, you need to look for ways to break it down into "chunks" that are easy to digest. This can be the individual steps that make up the tutorial, or grouping similar topics together.
You can see how InkWorkshops have done this for their Koi Tattoo course below: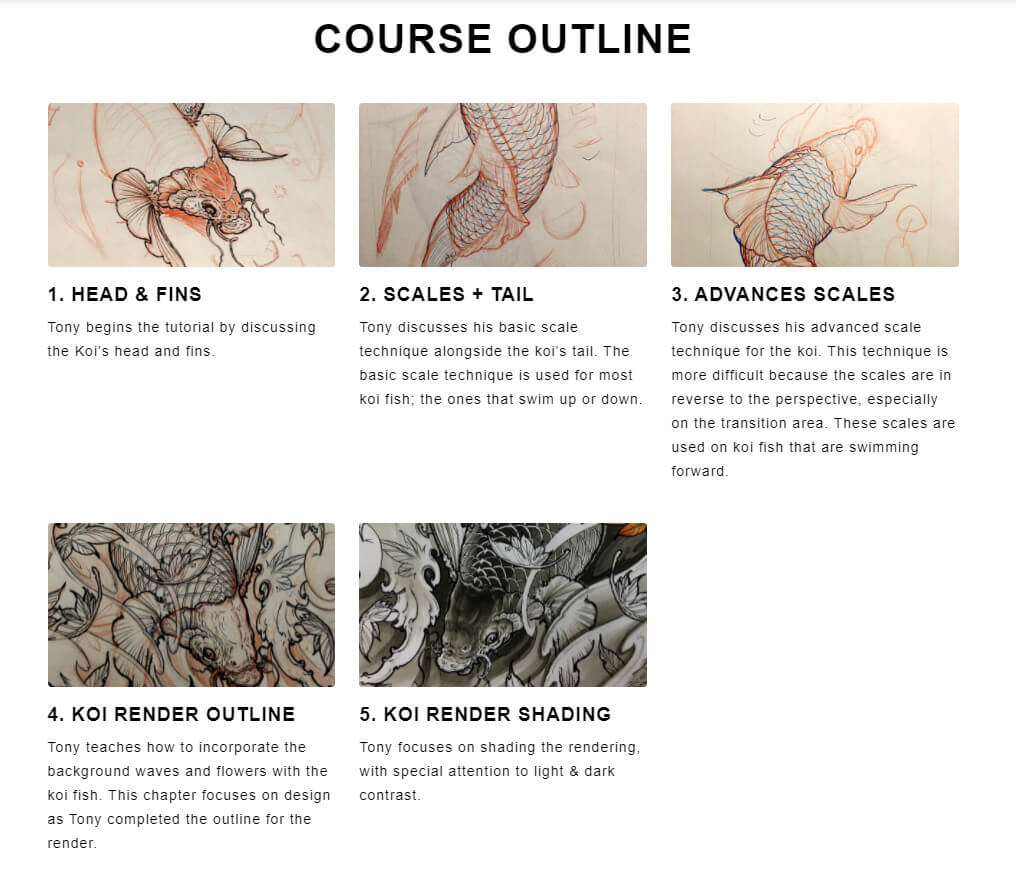 Here are a few things to consider when deciding how to segment your videos:
Who is most likely to be watching these videos, and from where?
What kind of device will they be using?
How many videos should be in the series?
What are the individual goals you can accomplish with each video?
How can you build excitement during a video to compel your audience to move to the next?
For example…
If you're teaching cooking lessons, your videos will likely be watched on a tablet or laptop in the kitchen. This might let you create slightly longer videos that people can pause.
Language learning lessons are often done on the go, which suggests a mobile OTT app, and may need to be shorter-form so people can get a quick lesson in between bus stops!
Speaking of apps…
4. Give Users the Ability to Access Content Anytime, Anywhere
Odds are, your students want the ability to access your content on the go.
Every member who signs up for your service has one thing in common – your classes are valuable to them, and they're willing to pay a fee to learn!
However, it's important to cater to students with busy schedules. Having OTT apps gives your students more flexibility by putting your content where they need it.
Whether they're working from their computer, Smart TV, or on a mobile device, they get the content in an accessible way.
Google reports that internet users spend 61% of their time on a mobile device and only 39% on a desktop.

With OTT courses, you can give your users their money's worth – the best content with zero limitations.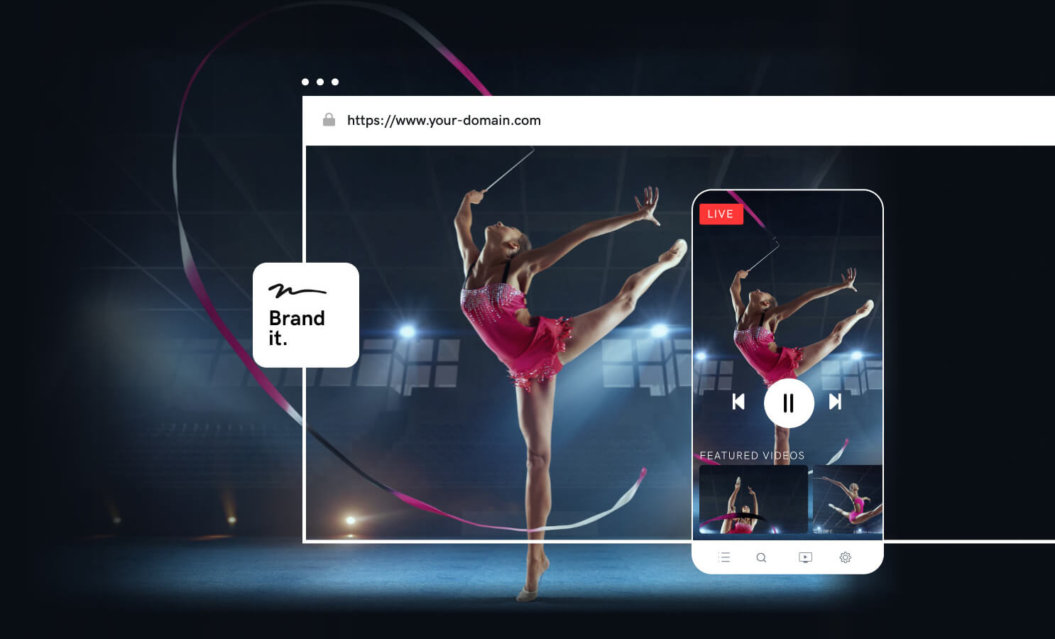 Distribute Everywhere With OTT Apps
5. Personalize the Student Experience
When your members feel like their individual needs are being met, they'll want to invest more time and money in your eLearning service. All it takes is a few personal touches to show them you care about their experience.
Here's how you can help your students feel right at home:
Offer introductory videos.
Keep members in the loop.
Prioritize great customer service.
Ask for feedback.
Below, we've included more detailed explanations and a few helpful examples.
Introductory Videos
Offer a welcome tour or interactive video demo to help your users learn how to navigate your platform, and explain the benefits of your content.

Tint Yoga uses this strategy with a "Welcome to Tint" category at the top of their catalog. They include several videos offering helpful tips on the best ways to use their website and app.

You can create similar informational videos for various parts of your website that may need more in-depth explanations, and even offer a glossary of terms if your service uses industry-specific vocabulary.
Keep Members in the Loop
Stay visible and current by sending email updates to let your students know when new content has been added.
Whenever you add a new course, video, or schedule a live stream event, send them a notification to come and check it out!
Prioritize Great Customer Service
Make sure students have an easy way to get in touch with you for troubleshooting or questions. Helping them resolve any issues they have quickly and efficiently will make them happy to stay on board.
Ask For Feedback
Consistently check in with your students. Show them you're listening by providing surveys and asking for their opinions, such as:
How can we improve your experience?
What new or updated features would you like to see?
Would you recommend our service? Why or why not?
Better still, reaching out to your community of learners gives you insight into what they want to see more of, helping you shape your business.
It can also help your content, too:
When you invite suggestions directly from your students, their responses can give you unexpected ideas for future content and course modules.
Wrapping This Up…
Keeping your students happy is about their overall satisfaction with your service. It's an easy choice to return every month if the experience is fun, collaborative, and easy to use.
Create a learning atmosphere they want to be part of, for both the content and the companionship.
If you have any questions about eLearning content or creating a community, we'd love to hear from you! Share them with us over on Twitter or Instagram.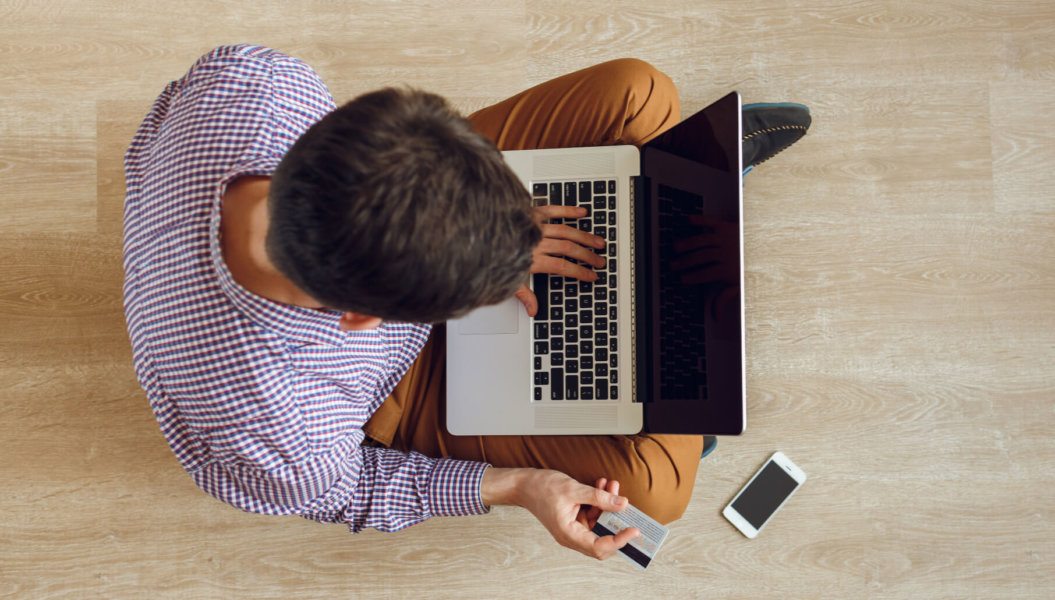 Membership Upsells: How To 6x Your Revenue With One Small Change