Live streaming is one of the most engaging ways to connect with your audience.
They get to see the human side of you, have their pressing questions answered in real-time, and interact with you and your content in fresh ways.
It's an easy decision.
But choosing the best platform to host your live-stream content… well, that's a tougher one.
Facebook and Youtube – 2 of the biggest video platforms on the world-wide web – let users host live streams with some handy features.
But which one is the right fit for your live content?
Today we're looking at:
Before answering the question: Facebook Live vs YouTube Live: Is there a better alternative?
Let's get started.
Disclaimer: The information below is accurate as of today (12/07/2021).
What is Facebook Live?
I already know what Facebook Live is. Skip Ahead!
Facebook Live is a tool from the social media platform that lets you live stream your…
events
performances
gatherings
gaming
…from your computer or phone to your viewers' screens.
Live streaming to the world's largest social network gives you access to a potentially huge audience who can engage with you in a number of ways.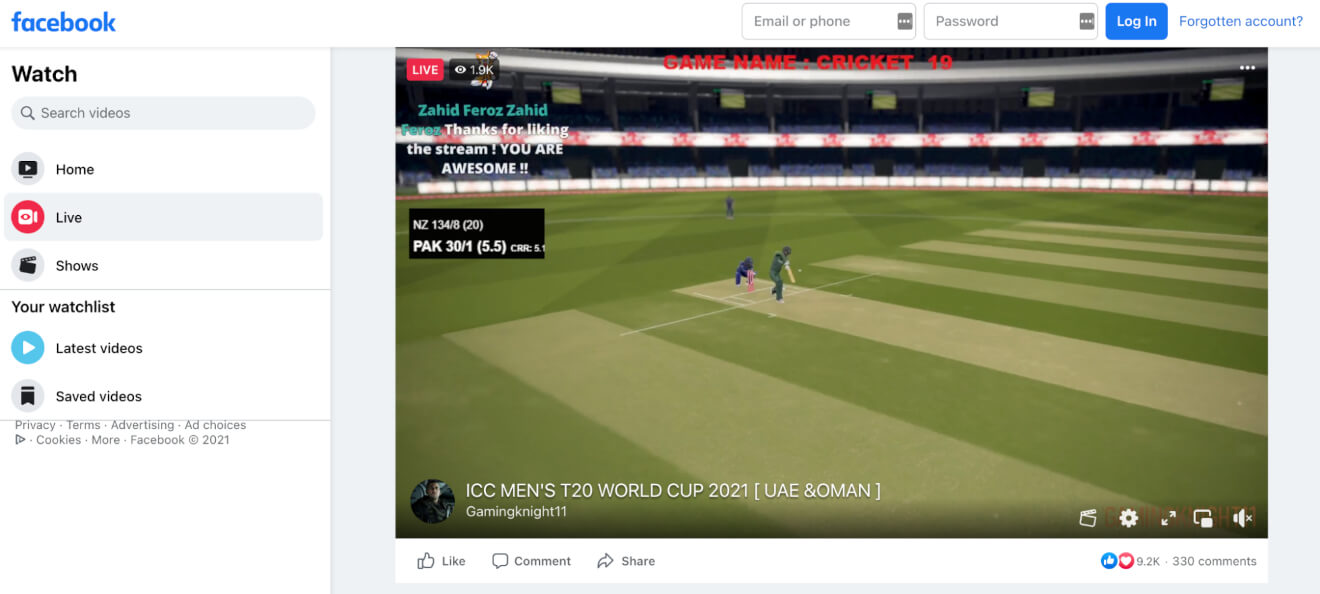 You can broadcast a live stream to a number of places on Facebook, depending on where your audience is and what your aims are.
Streaming to your page will see your videos appear in the Live tab of Watch on Facebook; a stream on your personal profile will be visible to your friends and followers; and a live stream in a group or event will be visible to all the members of the group or event attendees.
Now, from the biggest social media company to the biggest video site.
What is YouTube Live?
I already know what YouTube Live is. Skip Ahead!
YouTube Live is a way for you as a creator to reach your audience in real-time with…
events
Q&As
webinars
gaming
… and anything else you want to go live with.
Anyone can run a live stream through their computer, and successful creators can also use their Android or iOS mobile phone for a live event – though you need at least 1,000 subscribers to activate it.

When you stream live video content on YouTube, you can choose for it to be public so anyone can see it, private so only people you choose can see it, or unlisted so viewers need your link to be able to watch.
That's the basics of these 2 live video streaming platforms, let's dig a little deeper into them.
It's simple with Uscreen.
Build, launch and manage your membership, all in one place.
Facebook Live: Advantages & Disadvantages
Facebook Live is used for professional live streaming as well as for people to share their lives with friends.
The social media platform has been the first or second choice for users on entertainment apps for the last 8 years and since the pandemic, the company has shifted focus to its live streaming options.
Streaming your content here has positives for your brand or business, but there are negatives too – let's explore.
Advantage #1: Facebook's audience is huge
We've already looked at the size of Facebook – there are over 2.8 billion active users and growing.
The billions of people who use Facebook want to be entertained and engage with content, and with access to a large chunk of the global population, if there's an audience for your content, you'll find it here.
What's more, your Facebook Live video can be discovered through the Live tab on the platform.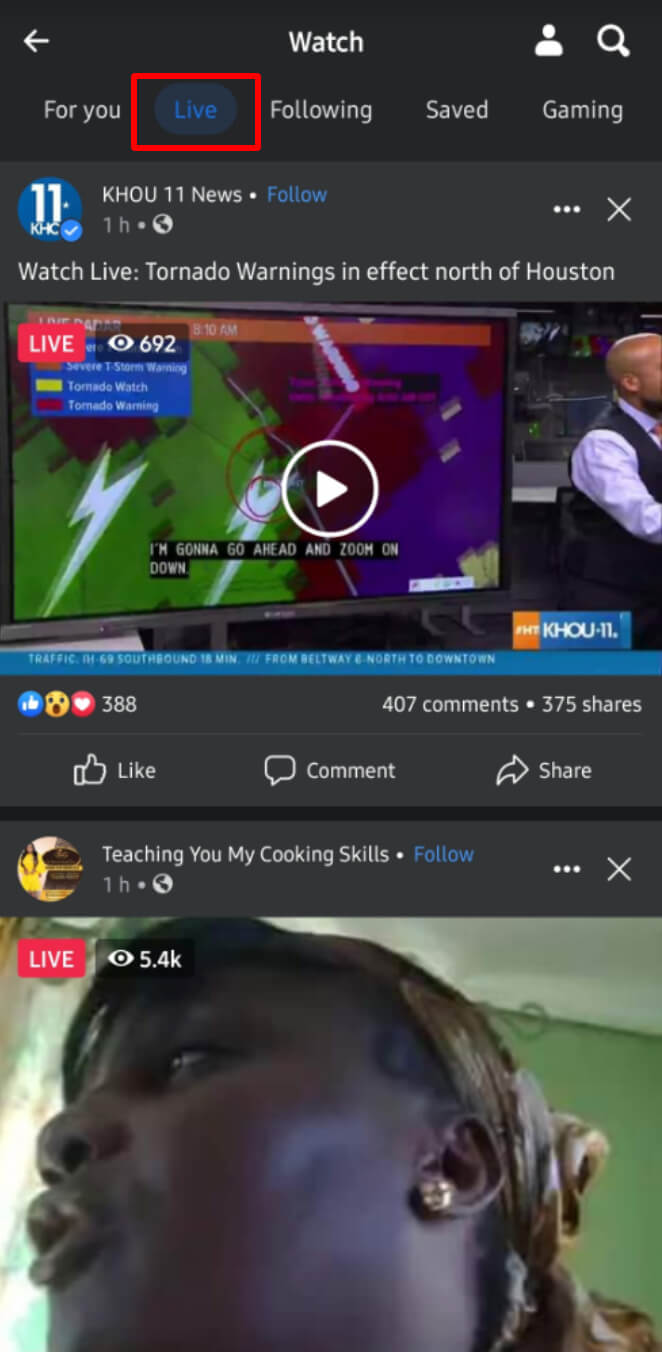 No matter your reason to use Facebook Live – brand awareness, nurturing customers, or streaming your gaming feed – you can connect with pretty much anyone who might be interested.
Advantage #2: Anyone can live stream on Facebook
Anyone can start a live broadcast on Facebook.
It's as simple as tapping the Live button underneath your profile picture on your feed or under the Post tab on your page.
You can make your live stream more robust and expert-looking with software encoders, multichannel streaming, and overlays, but to get started you don't need anything but a mobile device or a computer and webcam.
Advantage #3: Automatically saves to your feed or group
After finishing up your live stream on Facebook, it automatically saves to your timeline, page, or group – depending on where you ran your feed in the first place.
Your high-quality video also becomes shareable in the same way as any other post on Facebook would be.
This means that everything you created, from the content to the engagement and comments that were generated, is saved for as long as you want them stored and accessible in the long term.
Content creators don't need to do anything before ending the live stream – Facebook just saves it for you without hassle.
Disadvantage #1: Facebook is controversial
If you haven't seen something controversial in the news about Facebook, you probably haven't been watching the news.
From the whistleblower scandal to the mass outage in October 2021, it seems like the giant of the tech industry has a hard time avoiding negative press.
On the bright side it doesn't seem to have scared off users and advertisers, and the stock price is stable – but there's always a chance that controversial press on Facebook will lead your audience to go somewhere else.
Disadvantage #2: Content moderation is done by AI
With so much content uploaded to Facebook every minute – including live streaming video – it's understandable that they can't have real people moderating everything.
Facebook's solution is content moderation by AI, which might seem cool, but machines don't always understand nuance and context.
Your content can be taken down without warning and your appeals may never make it in front of a person.
Disadvantage #3: Facebook search isn't great
If you've ever tried to hunt down a cool video you've watched before, you'll know finding content from your favorite streamers can be frustrating.
There have been improvements in the search features and filters as of late, but finding older streamed videos is harder than you or your audience will probably want it to be.
Of course, you can optimize your video for searches on Facebook through the title and description, but once your live stream video gets a little old, it's not going to rank in searches too easily.
Now that we've examined Facebook, we're doing the same for YouTube.
YouTube Live: Advantages & Disadvantages
As the second-biggest search engine on the internet, YouTube is a place every internet user knows about.
In 2017, YouTube said that more than 1 billion hours of content was watched every single day, and one data analyst suggests that the number could reach 2 billion hours per day in 2021.
Just like Facebook Live, YouTube Live streaming has its pros and cons, which we're getting into now.
Advantage #1: YouTube shows up in search results
Some people may expect Google to favor YouTube content over other video hosting platforms – they're both a part of the Alphabet family of companies after all.
Other content creators might argue that it's an unfair bias.
In 2020, the Wall Street Journal did some data crunching and found that there seemed to be an inherent preference towards YouTube content, even if the same video was hosted elsewhere.
We don't know exactly how accurate this is – Google denies there's any preference given – but what we can be certain of is that YouTube is designed to optimize content to be found on Google.
If you're looking to generate video views from organic search, YouTube is probably the place you want to be.
Advantage #2: Live stream sales
There are a lot of YouTube monetization optionsYouTube has a lot of monetization options that you can use to help boost product sales.
YouTube Live is optimized for sales; you can pin your merch shelf under your live stream, making it super easy for your audience to support you with a purchase.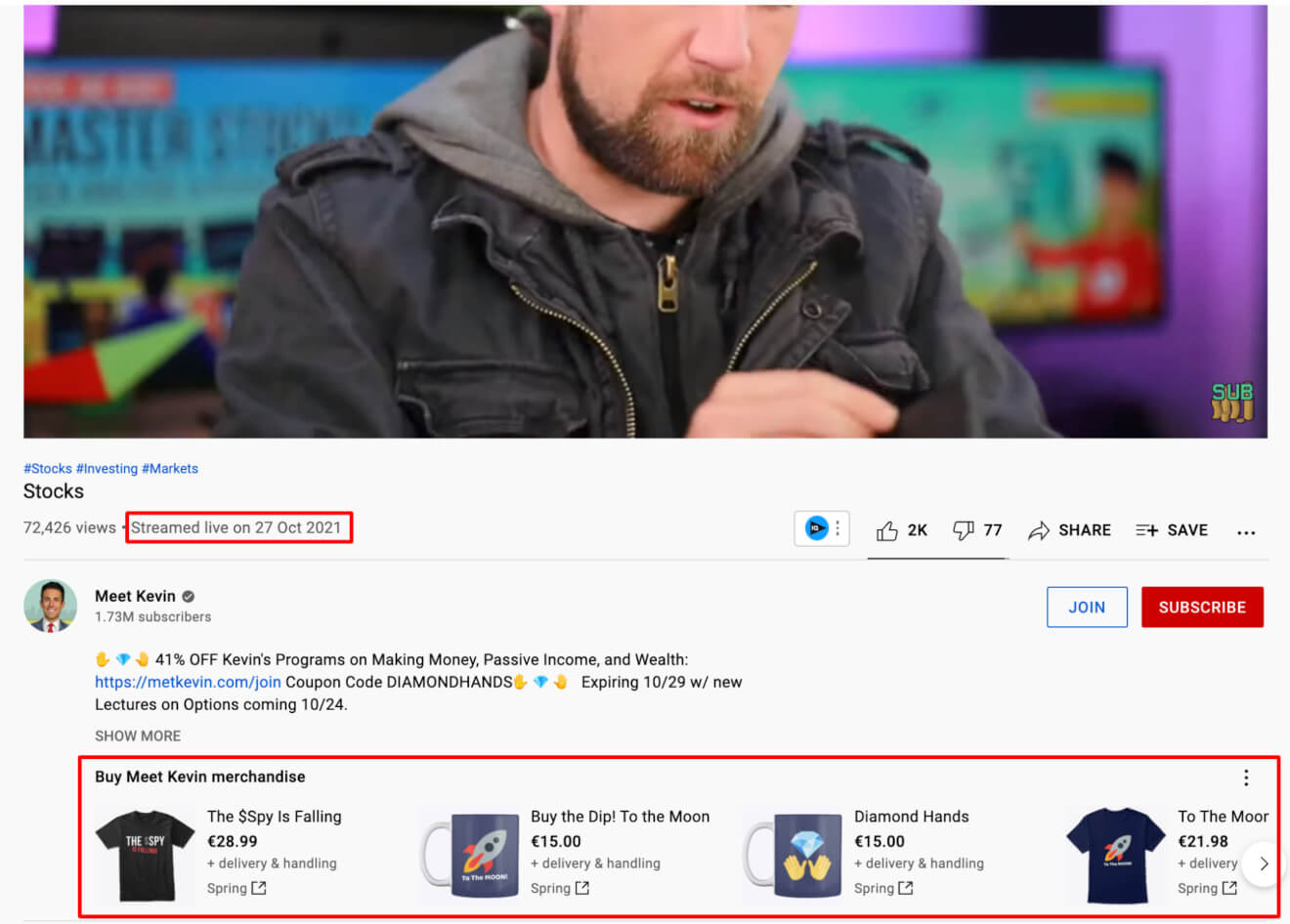 It is worth noting that there is a limited number of official retailers that you can work with to get your merch shelf displayed and you will need to be a YouTube partner.
Having this direct connection between your content and the items you sell should boost engagement and revenue.
Advantage #3: Monetization options
You've got lots of ways that you can sell your videos on YouTube and make a lot of money.
As well as the merch shelf that we've just looked at, you can get a cut of the ad revenue from the advertisements shown on your content, create subscriptions for fans, and make money from Super Chat and Super Stickers.
We'll get into all the details about monetization options soon, but when compared to Facebook which doesn't have an equivalent to the merch shelf or tiered memberships, YouTube has more options.
Disadvantage #1: Not everyone can live stream
Live streaming on YouTube isn't as accessible as it is for Facebook Live users.
YouTube's video streaming services are only available on mobile devices when you have more than 1,000 channel subscribers.
Anyone can stream from a webcam on a desktop or laptop computer, but you do need to enable it, which can take up to 24 hours.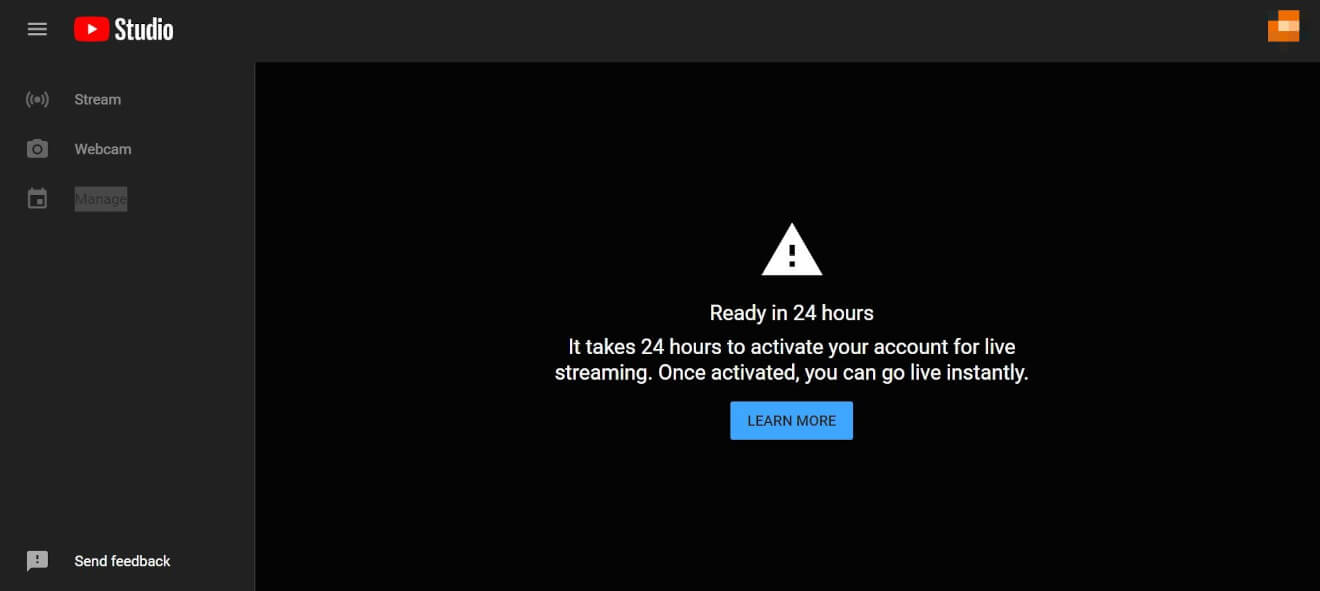 If you want to create an impromptu live stream or capture a video whilst out and about, you'll need to do some work to grow your Youtube channel and plan ahead.
Disadvantage #2: Limited sharing capabilities
While there are a couple of billion users on YouTube, it's not like most social media platforms where you connect with other users.
Your fans can subscribe to your channel, but there's no messaging system like on Instagram, no newsfeed or status updates like Twitter, and nowhere to share content you love in the same way you can on Facebook.
If your users want to tell people they enjoyed your content, they'll need to share it on another platform like Facebook or Twitter – which is then dividing your audience and making behavior and engagement harder to track.
Disadvantage #3: Hard to connect with your audience
Finding your audience only using YouTube can be tough.
You'll need to get comfortable with more than live streaming – you need to learn some basic SEO so you're creating live streaming content people can find, as well as figure out social media management to build an online community.
There aren't really any community building features on YouTube – except comments, maybe – so you'll need to go off-platform to create groups and feeds of other content on platforms like:
Instagram Stories
WhatsApp
Discord
Telegram
Which adds a layer of complexity to what you're trying to do.
We're jumping into a head-to-head comparison, next.
Comparison Point #1: Streaming Capabilities
The first thing you want to know about a live stream platform is how well it performs in terms of live streaming, right?
There are certain things that your target audience might want to see when it comes to your streaming, such as:
Transcoding, which means your stream can reach different devices.
Adaptable bitrate, meaning that when a viewer's internet is slow, the video quality will reduce rather than stop altogether.
Live rewinds so if they arrive late; your audience doesn't have to wait for the recording to be ready.
Let's dive into how both of these platforms handle this functionality.
Facebook Live
When you use Facebook Live for your streams, you can do it through your phone, computer, or using a software encoder.
The important features you need to know are:
Your broadcast will be delivered in up to 1080p quality, with transcoding and adaptive bitrate.
You can stream to lots of different places within Facebook to keep your stream targeted at the right audience: pages, profiles, groups, or events.
When you go live, your followers, group members, or event attendees will get a notification, who can interact with your live stream with 7 different reactions or comments.
It's RTMP compatible, meaning you can stream to a range of different channels if you use the right streaming software.
Your viewers can't live rewind or pause, but they can request to join your live stream as a guest.
Now what about YouTube?
YouTube Live
As we noted earlier, it's not quite as simple to start live streaming with YouTube, but once you're live-stream ready you can stream on this video platform just as easily as on Facebook.
With YouTube, you get:
Your videos broadcast in up to 1080p quality with transcoding and adaptive bitrate.
Your stream featured on your channel for your subscribers to find and searchable through the main YouTube results and dedicated "Live" channel, and you can embed the stream to your own website.
Notifications sent to your subscribers when you're going live and the option for them to engage through chat.
Multistream options if you're using the right software – it's RTMP compatible.
Live rewinds for your audience to track through your content and you can add chapters after the video has been uploaded – like we did on our recent live-streamed webinar.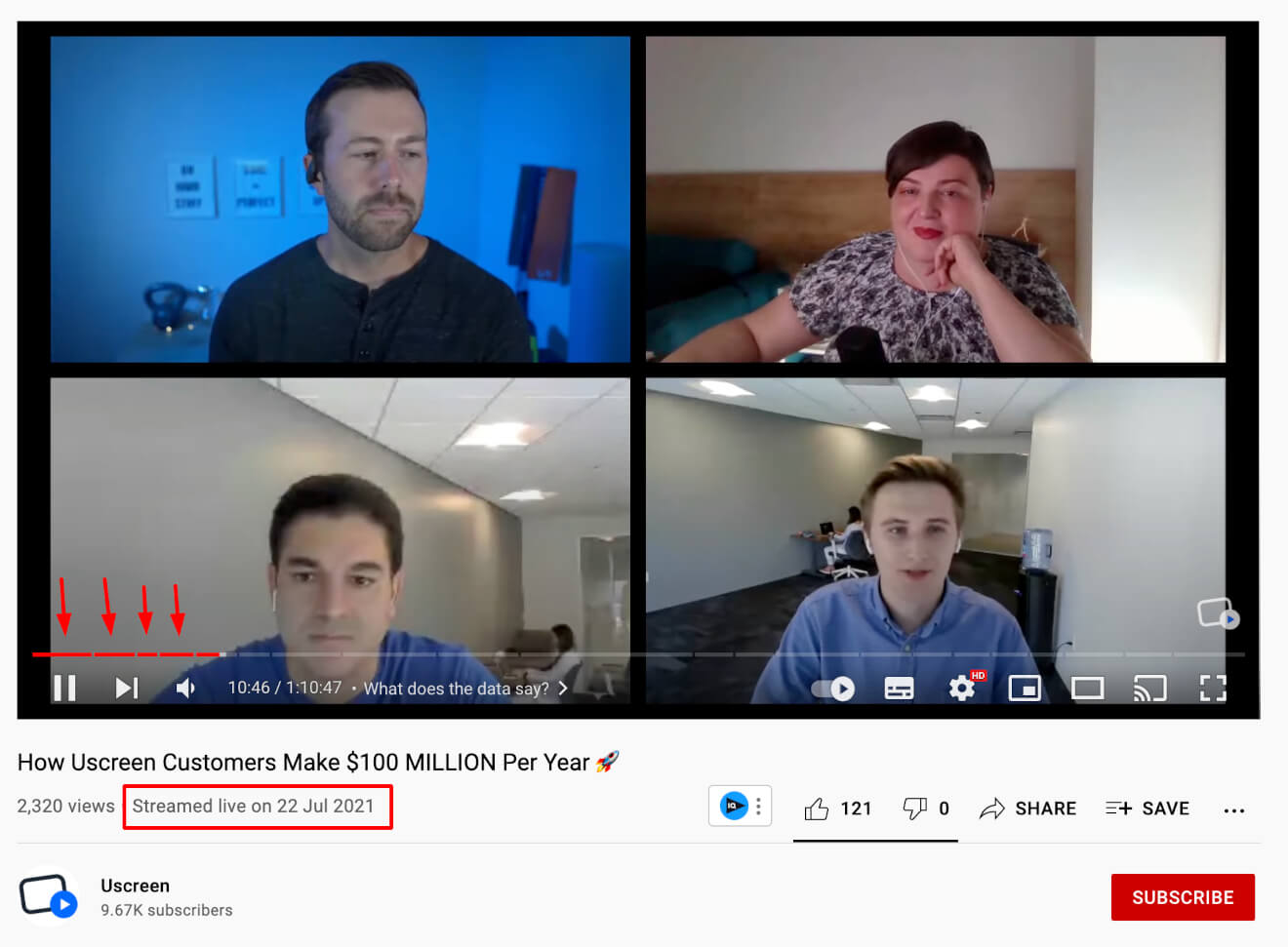 The second important point of comparison for when choosing a live streaming service is next.
Comparison Point #2: Monetization Capabilities
We've touched on how you can make money with video content with both of these platforms already, but it's time to bring it all together.
Not all live streamers do it for the money, but there is a lot of cash to be made if that's what you're looking for.
One thing that's important to note when looking at monetization is that both platforms do restrict the countries that are eligible to make money – meaning that not all your fans may be able to participate in your streaming and not all creators can get paid.
With that being said, let's see how you can bring in the dollars with Facebook first.
Facebook Live
Facebook is investing in live streaming and working to develop ways for creators to monetize their audience on the platform.
In June 2020, new monetization tools were added to Facebook, meaning all the tools you can monetize your content through are:
Fan subscriptions to your page, paying $0.99 to $99.99 per month to get exclusive perks like discount codes, exclusive group memberships, and more.
Stars which viewers buy and send to creators during live streams. You can set a Star target and have it as a video overlay.
In-stream ads for short videos and live videos.
Here's what a live stream with Stars enabled looks like: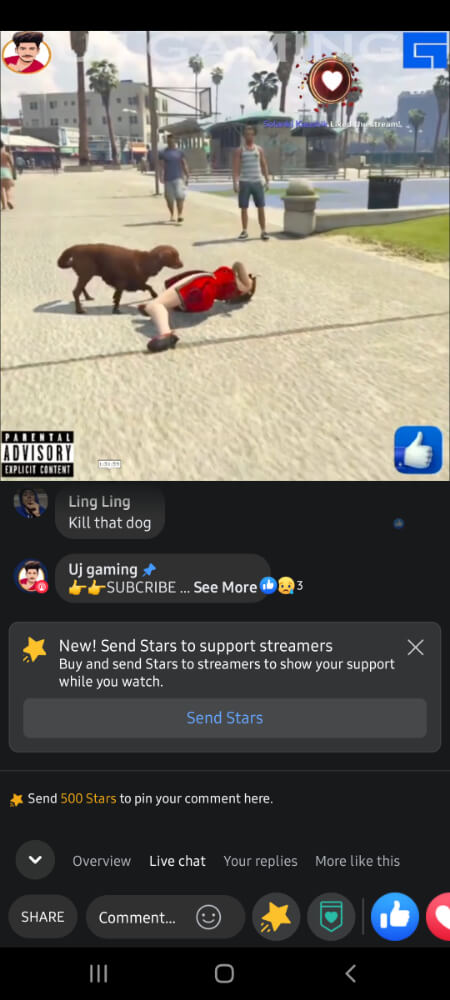 For more ideas about monetizing your Facebook following, check out our video:
Now let's look at making money from YouTube videos.
YouTube Live
YouTube has more monetization options than Facebook, you can generate revenue with:
Channel subscriptions which you can tier and offer different perks like subscriber badges, exclusive access to content, discount codes, and more.
Super Chat and Super Likes, letting your fans pay to highlight their comments and likes in your live chat feed.
The merch shelf, which we showed you earlier, where you can sell your official merchandise through a YouTube partner and pin it under your live content.
Ad revenue from overlay, banner, and roll ads.
Here's what a live-stream chat looks like when a fan Super Chats.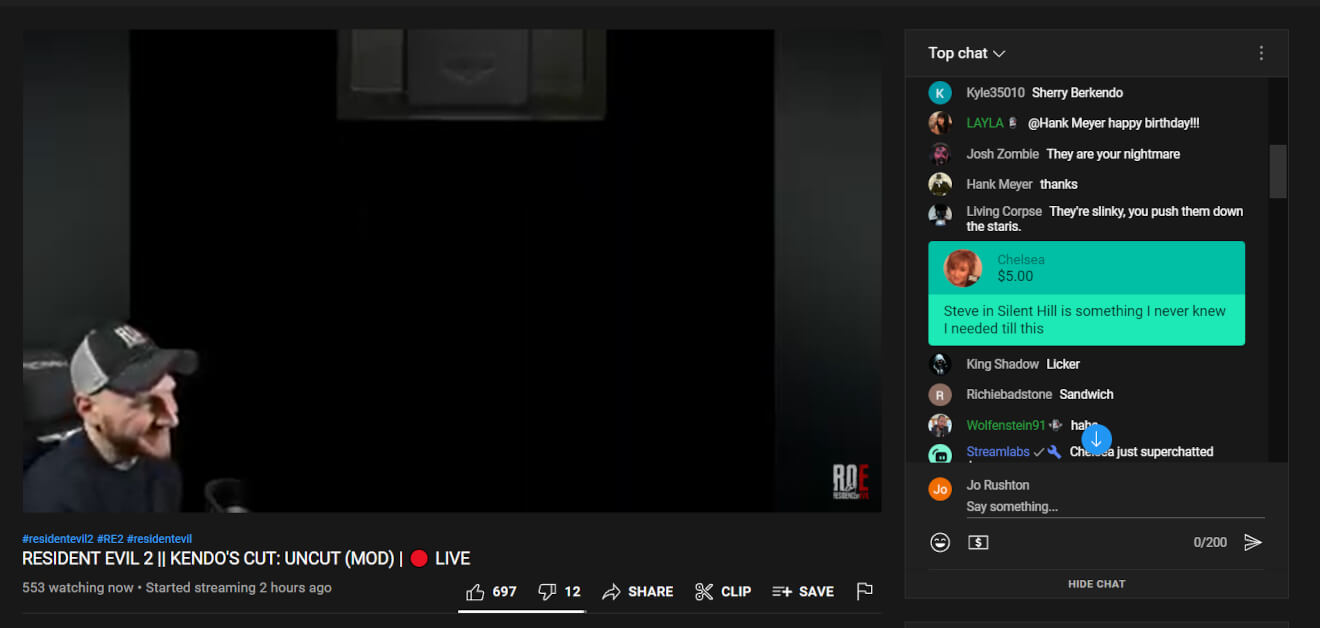 Want to know more about making money on YouTube? We've got the perfect video for you.
Now let's talk about the video hosting capabilities of both.
Comparison Point #3: Video Hosting Capabilities
As much as we're talking about the live stream features of both YouTube and Facebook, it's also useful to understand how video hosting works on each.
You don't want your stream to disappear into the depths of the internet – usually – so you need to know you have somewhere safe for it to be hosted for your fans to come back to and for future fans to discover.
Both platforms will record and automatically store your live streams – Facebook will keep them on whatever page or group you streamed to and YouTube will add them to your channel.
Apart from that, let's see how their video hosting options measure up, starting with Facebook.
Facebook Live
Facebook lets you:
Host videos with a file size up to 10GB.
Have videos from your page featured on the Videos on Watch tab, where anyone can scroll through and watch your uploaded videos.
Store as much video content as you want and share it on the platform, or in formatted messages on Messenger and WhatsApp.
Catalog your videos with an easy-to-access description of each collection you put together, like so: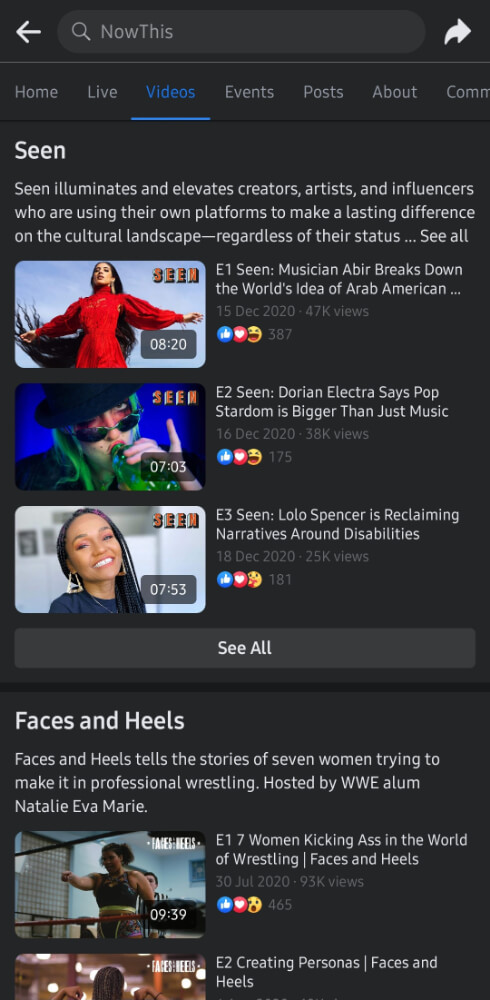 Once your content is hosted on Facebook, you can embed it to your external website too!
You can embed the whole post, which will show the caption that you posted as well, or you can embed only the video player.
Now for YouTube's video hosting capabilities.
YouTube Live
YouTube's video hosting means you can:
Upload a video of up to 256GB or 12 hours.
Let people search for your videos through the search bar, have your video featured in suggested videos on a user's homepage or next to content being viewed, and have your videos hosted on your channel.
Add as much live and pre-recorded video content as you want to your YouTube channel.
Create playlists of your video content, although you can't add as much detail about the contents of each playlist as you can on Facebook – it looks like this: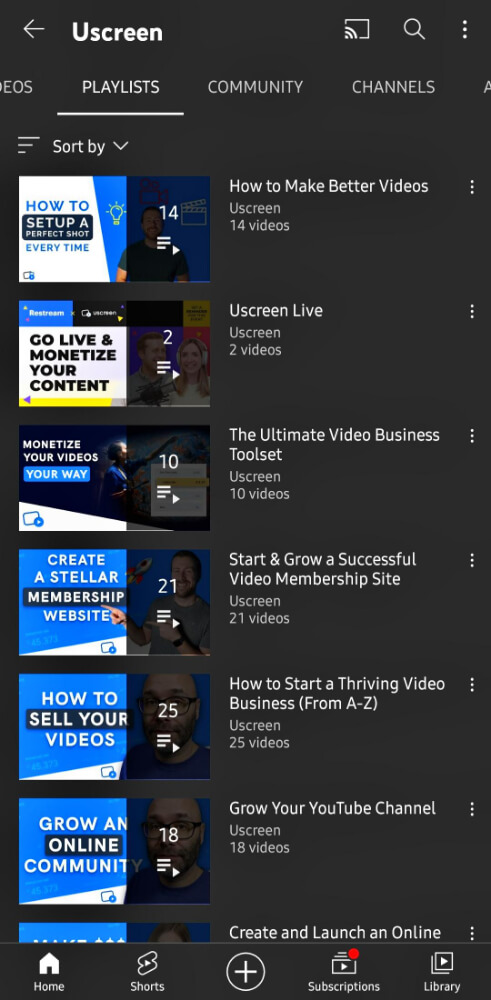 YouTube videos can also be embedded to your website, but you'll only get the player, with YouTube branding and the "Up Next" feature, all visible.
Video marketing tools are the next topic.
Comparison Point #4: Marketing Capabilities
To grow your channel, and by extension your revenue, you need to be able to market your content.
There are 2two sides to this:
You want to be able to tell potential viewers about your content and how great it is.
You want to reach out to your viewers and tell them about all the other cool stuff you're doing.
Both Facebook and YouTube are great at the first one; the second one, not so much.
For both platforms, you don't really ever own your audience – there's no email list you can download or an integration with your email marketing tool to contact them directly.
Let's see how Facebook lets you market your content.
Facebook Live
To find and connect with your audience on Facebook, you can:
Create Facebook ads to boost posts about your live streams and find followers for your page based on demographics, shared interests, or location.
Take advantage of the data Facebook has about its users to create lookalike audiences to market your videos and page to.
However, with Facebook business pages, it's a "pay to play" situation.
By that, we mean you're unlikely to get good organic reach to your audience just through posting – you'll need to run paid advertising to get impressions and engagement.
On to YouTube.
YouTube Live
YouTube works a little differently from Facebook; according to their Head of Product for Discovery, Rachel Alves, the majority of people find content on YouTube through suggested videos.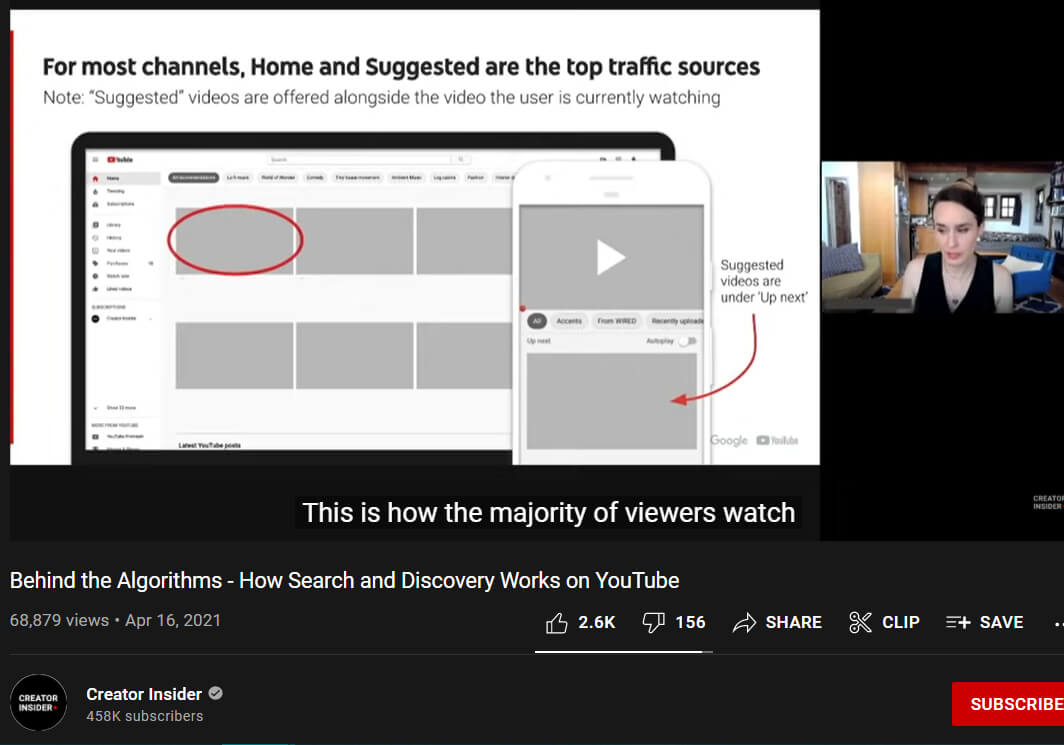 This means that to find your audience on YouTube, you'll need:
Strong SEO and suggested video optimization so people can discover your content through search and discovery.
Advertisements on YouTube and other platforms to find your audience.
Since everything on YouTube is video-focused, there's nothing else to compete with – unlike Facebook where businesses fight for the same screen space as your friends' wedding photos and your mom's adorable cat pics.
This means there's more chance of your content being discovered organically rather than that feeling you need to pay for adverts to get your content into people's feeds.
That's how these platforms handle marketing, now let's see how they handle data.
Comparison Point #5: Analytics
Good data presented in an easy-to-understand way is the best basis for decision-making for your new or expanding video business.
The best live video streaming platforms aren't just about getting your content onto screens, they also give you analytics so you can figure out who your audience is and why they do or don't like your content.
Both Facebook and YouTube give a decent amount of data that get presented in slightly different ways.
Let's get into it.
Facebook Live
The backend of Facebook gives a fair amount of data about your video as well as some hints and tips about how to improve your video reach, such as the distribution checklist.
The type of data you can access includes:
Viewer activity – an overview of the data for your video.
Audience retention – data about when people stopped watching.
How people are watching – information about how people are finding your content.
Audience engagement – how your audience engaged with your content.
Audience – demographics data like location, age, and gender.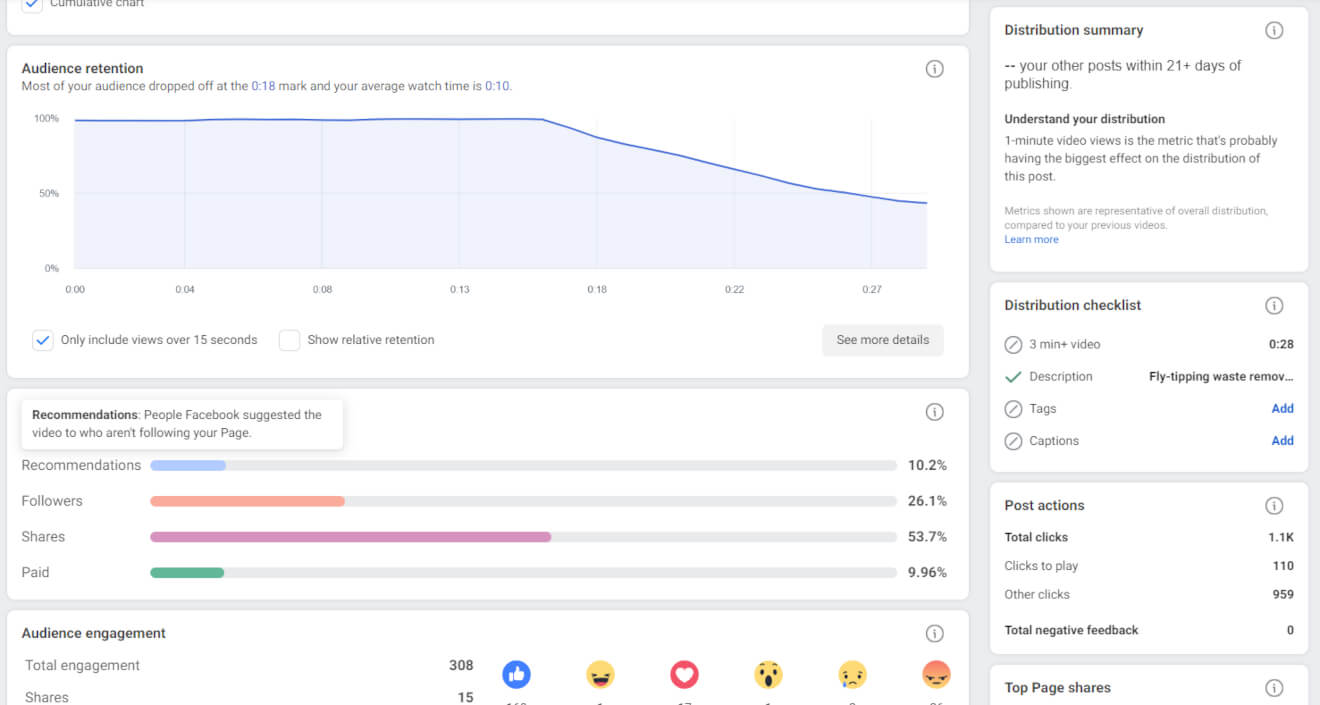 All of this information is available after your live stream has finished through the Creator Studio, which is available on a desktop or the dedicated Facebook app.
During your Facebook live stream, you'll be able to see comments, likes, and how many people are watching your content as well.
Back to YouTube.
It's simple with Uscreen.
Build, launch and manage your membership, all in one place.
YouTube Live
The analytics you get from YouTube about your videos are a bit more detailed than Facebook.
The main data points you can access with YouTube are:
An overview, including watch time and key moments in your content.
Your reach, including click-through rates (CTRs) and traffic sources.
Video engagement, including audience retention and click rates.
Audience data, including unique and returning viewers, location, and demographics.
Data comparison, you can compare your data to the averages for your channel when you have enough information.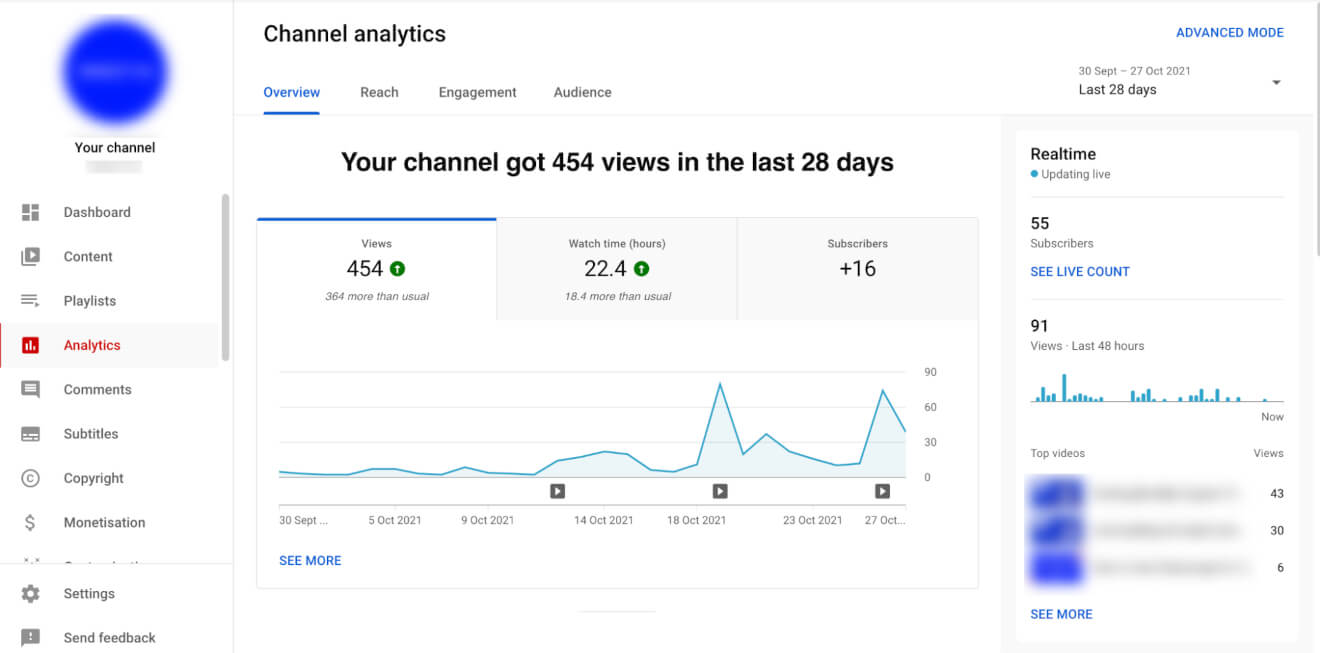 Another differentiator from Facebook is the ecosystem of tools that have sprung up for YouTube analytics.
Using a browser extension like TubeBuddy, you can see the metadata like tags and other information on your competitor channels, so you can see what they're doing right and generate content ideas.
So how exactly does privacy work on these platforms?
Comparison Point #6: Privacy
Sometimes, you only want your live stream to reach certain people – your employees, or your paying members, for example.
The privacy settings available on both platforms are slightly different, and it'll depend on the type of content and the controls you want as to which is the best live streaming platform for you.
Here's what you need to know about both.
Facebook Live
Facebook gives you quite a bit of control over who can see your content, including your live streams.
When you go live on your business page, you can set:
The age of people who can see it.
The gender of your viewers.
Countries that can see your content.
You can also control whether anyone or only your followers can comment.
When you have fan subscriptions turned on, it's also possible to do a live stream exclusively for them, too.
By going live in a group or event, you can also control who sees the content – groups can be sent to private or secret – so if you're the group admin you can choose who is in there and can see your live stream; the same controls apply for events.
Finally, you can block individual accounts from being able to see your business page, giving you fine-grain privacy control if you have problems with how individuals interact with your account.
YouTube does it differently, so let's pop over and check it out.
YouTube Live
YouTube also lets you run live streams that are exclusive to your channel subscribers.
A big difference between YouTube and Facebook is that YouTube lets you have up to 5 membership levels – and you can choose which levels get the perk of exclusive live stream access.
For your normal videos, there are 3three levels of access you can offer:
Public lets anyone watch your video, share it anywhere, and it can be found through searching or suggested videos.
Private means that you have to add anyone who you want to watch it by inputting their email address.
Unlisted videos can only be viewed by people who have the video link.
When you're setting up a YouTube live stream, you can set the minimum age of viewers and set the same restrictions as above, plus you can restrict people from commenting until they've watched at least one minute of your stream.
As with Facebook, you also get the fine-grain control of being able to block any user account you want from your channel.
Those are the main points that differentiate YouTube Live and Facebook Live.
If they're not floating your boat, is there a better alternative out there?
Facebook Live vs YouTube Live: Is There a Better Alternative?
Between the 2two live stream platforms we've looked at, you get some valuable benefits like brand recognition and free tools to reach your audience.
They do come with compromises though, such as branded players, the inability to directly contact your loyal fans, and a lack of customization options.
There are better alternatives for the best platform for live streaming, depending on the type of content you make and how you want to use it.
Alternative #1: Uscreen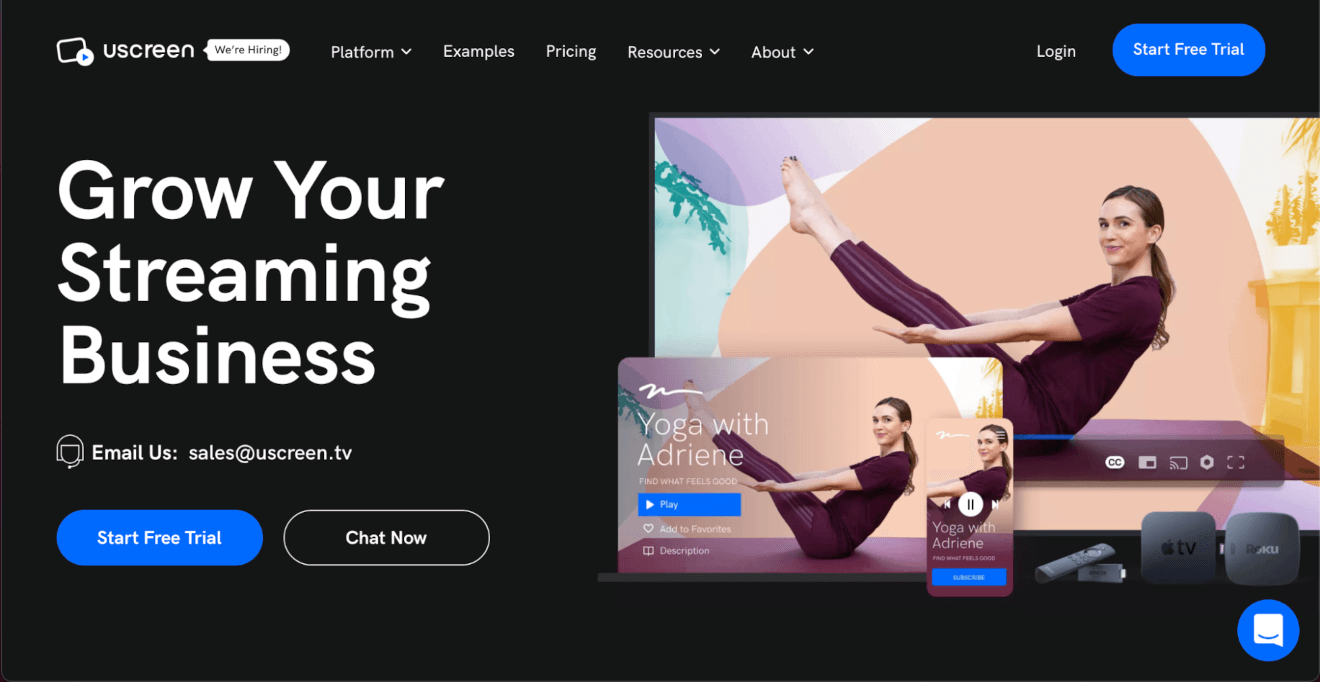 Here at Uscreen, we give you an all-in-one solution for live streaming content as well as hosting your pre-recorded video.
Are you looking to create your own branded website where you can live stream to your paying customers?
Do you want to monetize your content through the payment gateway of your choice, with full control over your subscriptions and offers?
Do you want to know exactly who is subscribing and buying your content and be able to reach out to them directly?
All these features and more are available when you start running your live streams through the website and membership apps, mobile app, and TV app that you create with us.
It's simple with Uscreen.
Build, launch and manage your membership, all in one place.
Alternative #2: Twitch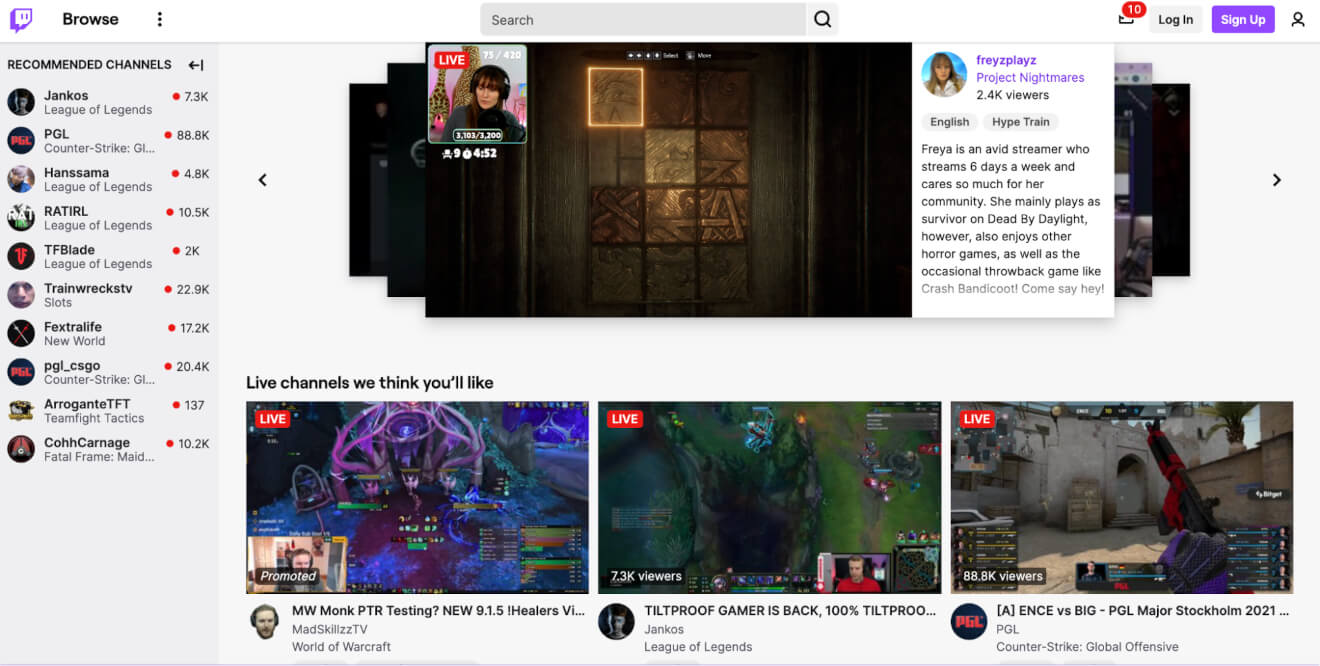 Twitch made a name for itself with gamers live streaming their gameplay, although now there are plenty of other use cases for streaming on Twitch.
You get more monetization options through Twitch compared to either Facebook or YouTube, including:
Ad revenue
Subscriptions
Twitch bits
Video game sales
Donations
Rather than being an add-on to a wider platform, Twitch is all about streaming – this is where people tend to go looking for live stream content.
Particularly if you want to monetize your esports content, Twitch may be a better live streaming platform than either Facebook or YouTube Gaming.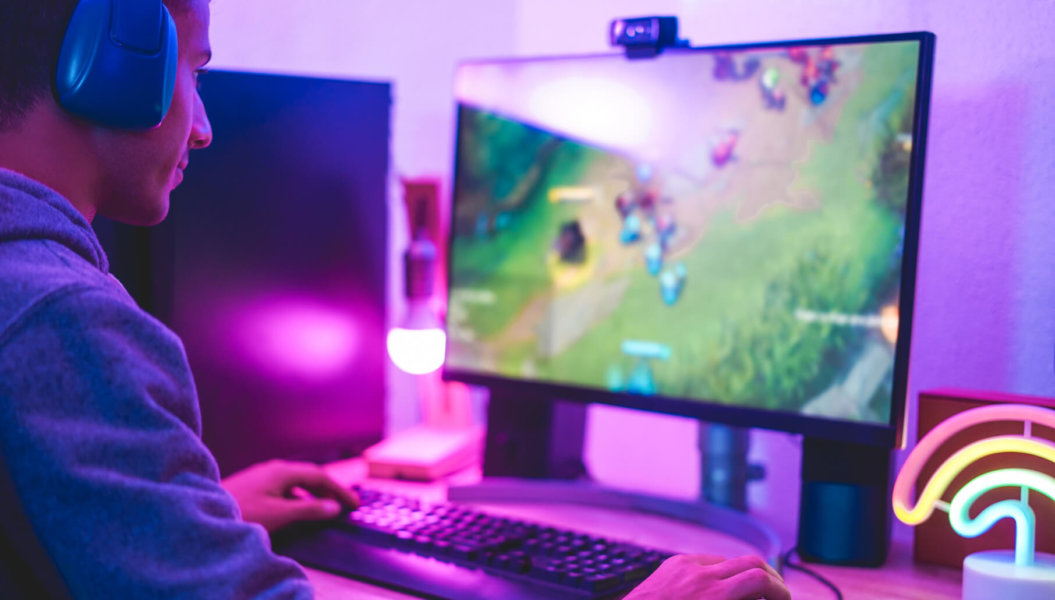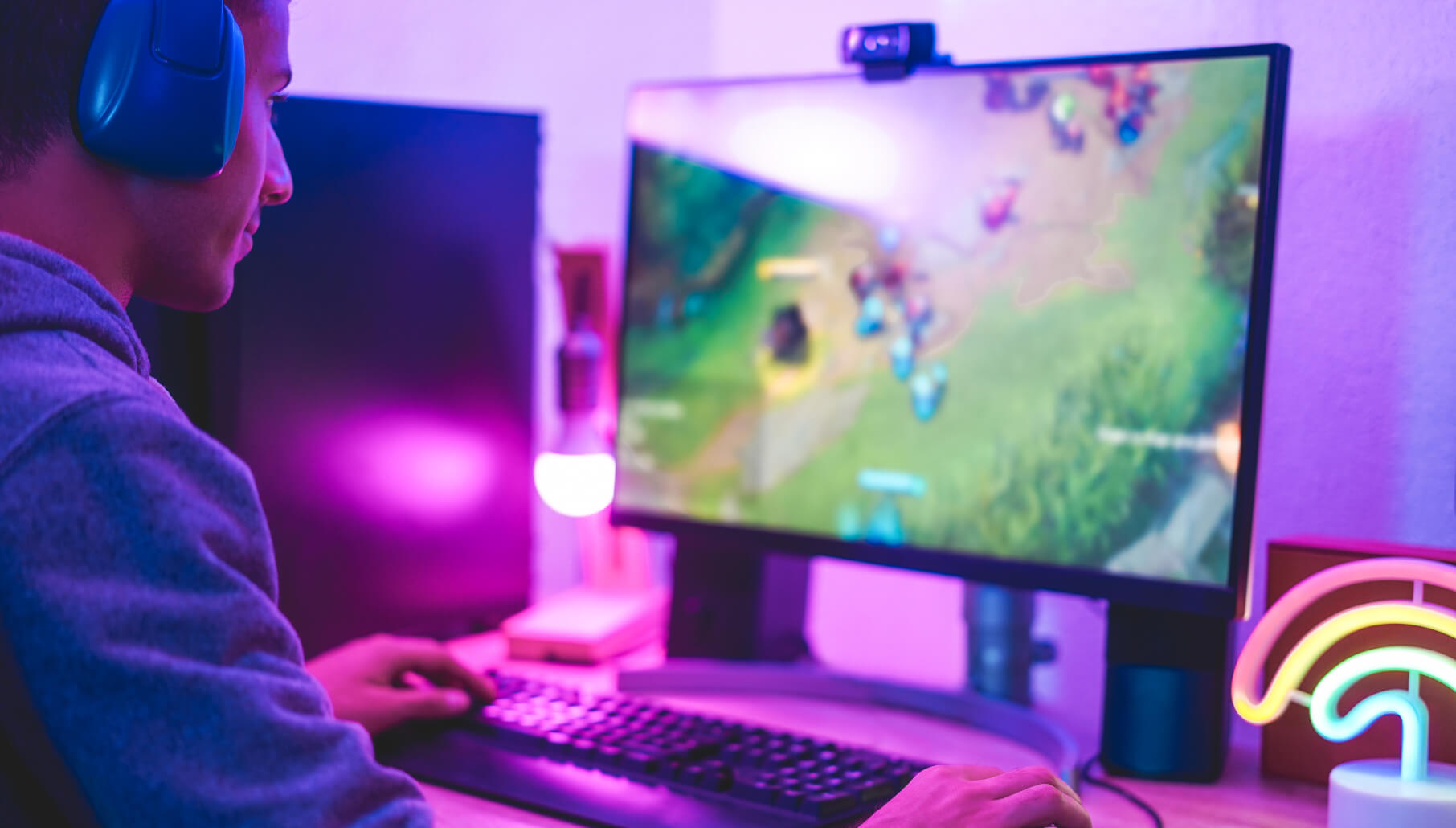 The Ultimate Guide to Making Money on Twitch In 2023
Alternative #3: Zoom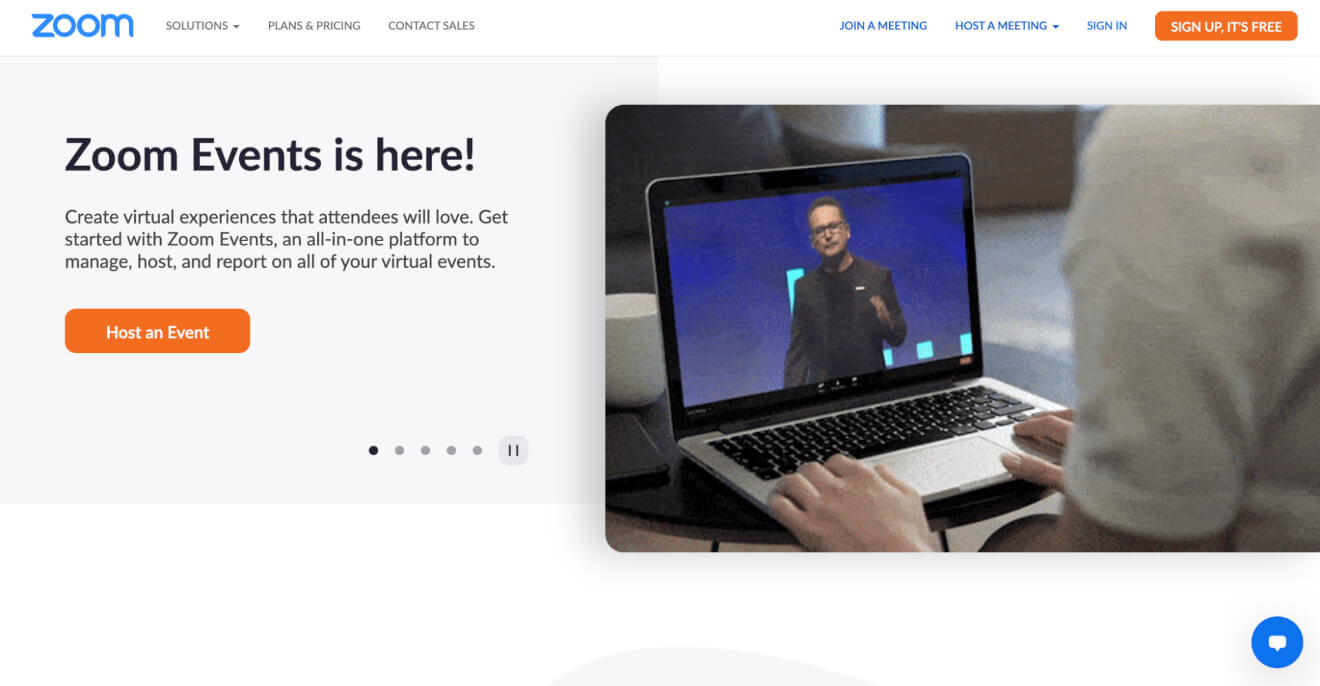 Zoom is best known for its live-streaming capabilities for businesses to stream video calls and events.
The platform did branch out into monetizing content with OnZoom in October 2020, but the monetization options are limited to selling tickets to events at the moment.
Zoom is a very useful live stream platform for businesses still, if you want to host:
A one-on-one video session such as a class.
A small group meeting or webinar.
A larger meeting with breakout sessions.
You also get a lot of privacy controls, so only people you want can attend your meetings or conferences.
Are any of these options hitting the spot for you?
Every live streaming platform has its use – but if Uscreen is looking like the place for you to host and monetize your live content under your own brand, let's talk. 
It's simple with Uscreen.
Build, launch and manage your membership, all in one place.
Frequently Asked Questions (FAQs)
That was a lot to take in, still got questions?
We've got the answers to some of the most common ones.
Which is better, YouTube Live or Facebook Live?
YouTube Live is better when you want to grow your audience through organic search and have a lot of control over who sees your videos.

Facebook Live is better when you already have an audience to show content to and want people to discover them on the Facebook app. If you want your own branded video site with lots of monetization options, Uscreen is an even better option. 
Can you connect YouTube Live to Facebook Live?
You can stream the same live broadcast to YouTube Live and Facebook Live using a software encoder. Simply get the streaming key from both sites, plug the information into your streaming encoder, and you can have the same content appear in both places. 
What do you need to multi-stream to Facebook and YouTube?
Restream, OBS, Ecamm, or Switcher Studio. You'll also need to have a mobile device or computer with a camera, and an internet connection to run a basic live stream.