Choosing the right online course platform is one of the most important things you can do to set your online learning business up for success.
Thanks to its easy learning curve, Teachable is a common choice for instructors entering the online learning market.
But does Teachable match up to your specific needs?
There are many Teachable alternatives available today that offer a broad range of features for instructors and students.
And lucky for you we've analyzed and rounded up 8 of the best Teachable alternatives in 2023: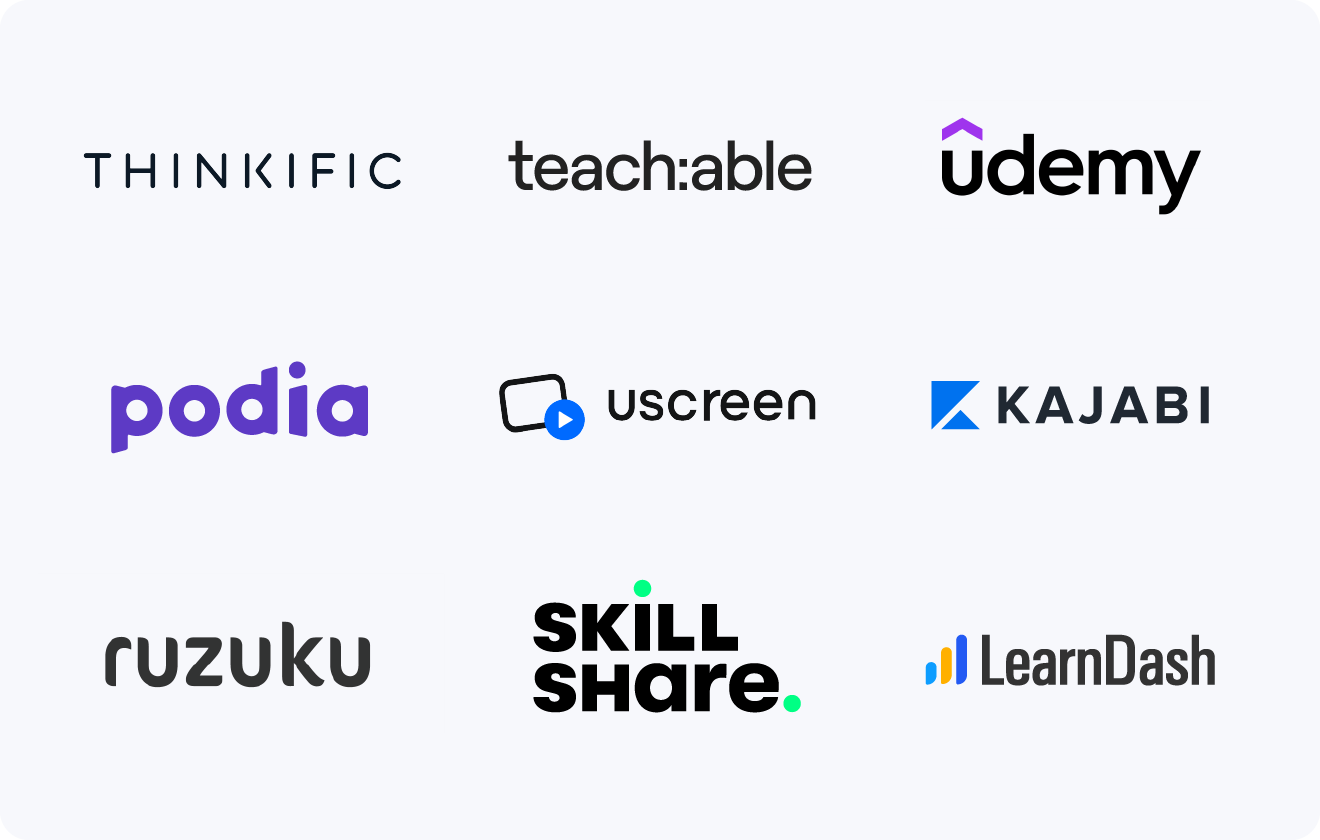 What Is Teachable?
Teachable is an educational platform for teachers and course creators to host their instructional videos and get paid for their work.
The platform was created almost a decade ago in response to the shortcomings its founder experienced using another online course platform. 
Now, more than 100,000 instructors have launched courses on Teachable.
They cover topics ranging from wine pairing to freediving and can offer their services through coaching and workshops.
So what makes Teachable so popular?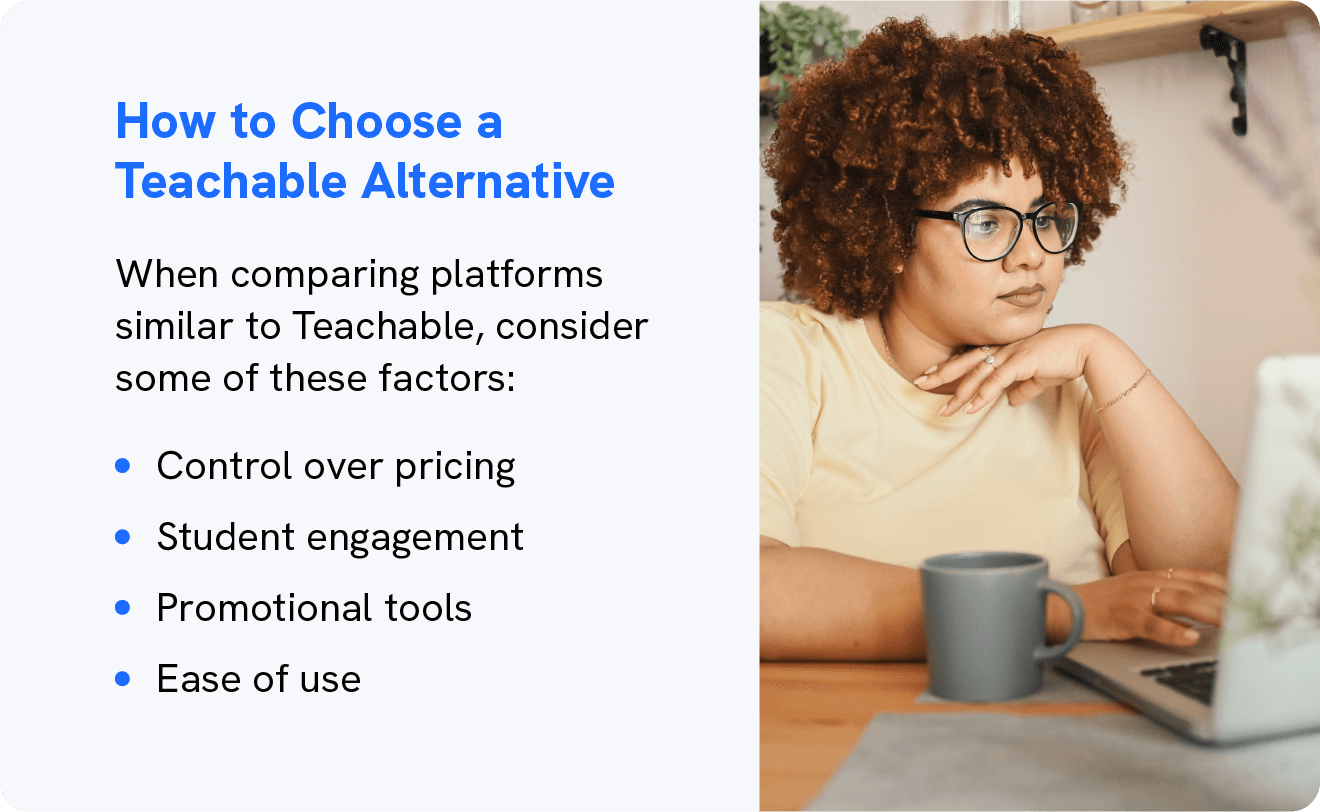 Features
Content creators choose Teachable because it lets them:
Start using the platform for free.
Quickly build and launch their online courses.
Offer course bundling and subscription fee management.
Ensure students meet set requirements for compliance.
Provide students with certificates of completion.
Pricing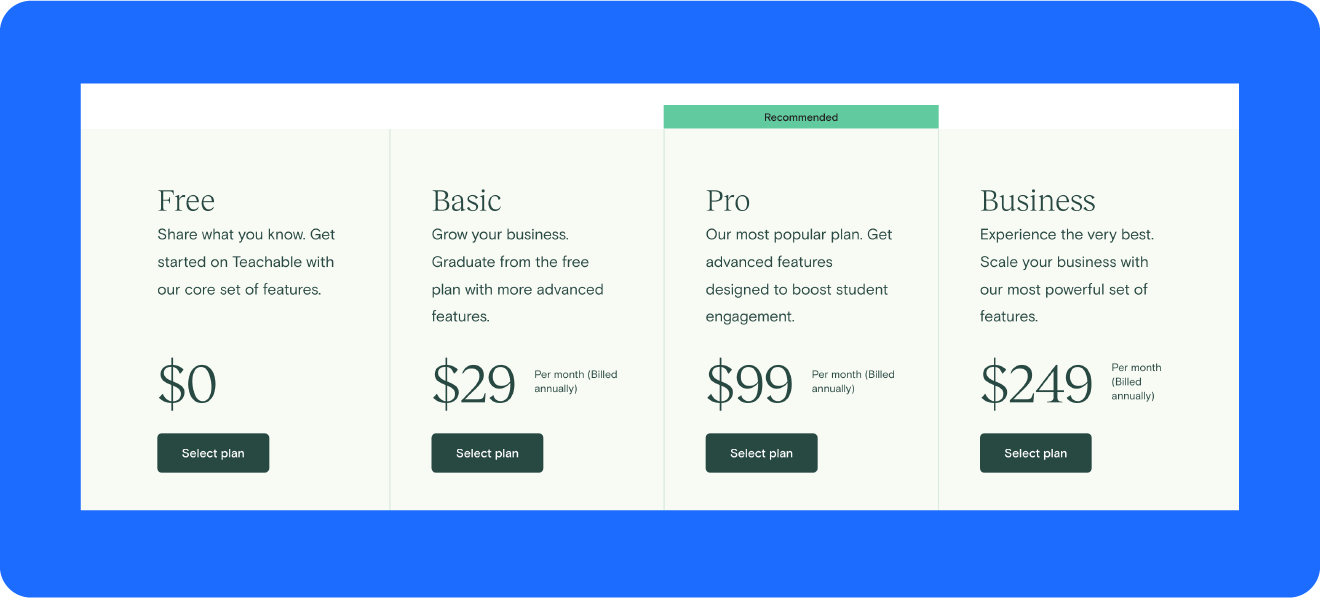 Teachable offers 4 plans to its users:
Free: their free plan allows for unlimited students, courses and coaching services. You'll get to bundle your products and quiz students. The free plan does include a $1+10% fee on each transaction. Price: Free.
Basic: their next plan allows you to drip-feed content, create a members-only community, and create coupon codes. Price: $29 per month plus 5% per transaction.
Pro: their third plan gives you an unbranded website, affiliate marketing, and advanced reports on students. Price: $99 per month.
Business: their top tier opens up bulk student enrollment, manual student imports, and advanced customization. Price: $249 per month.
Now onto our best Teachable alternatives.
1. Uscreen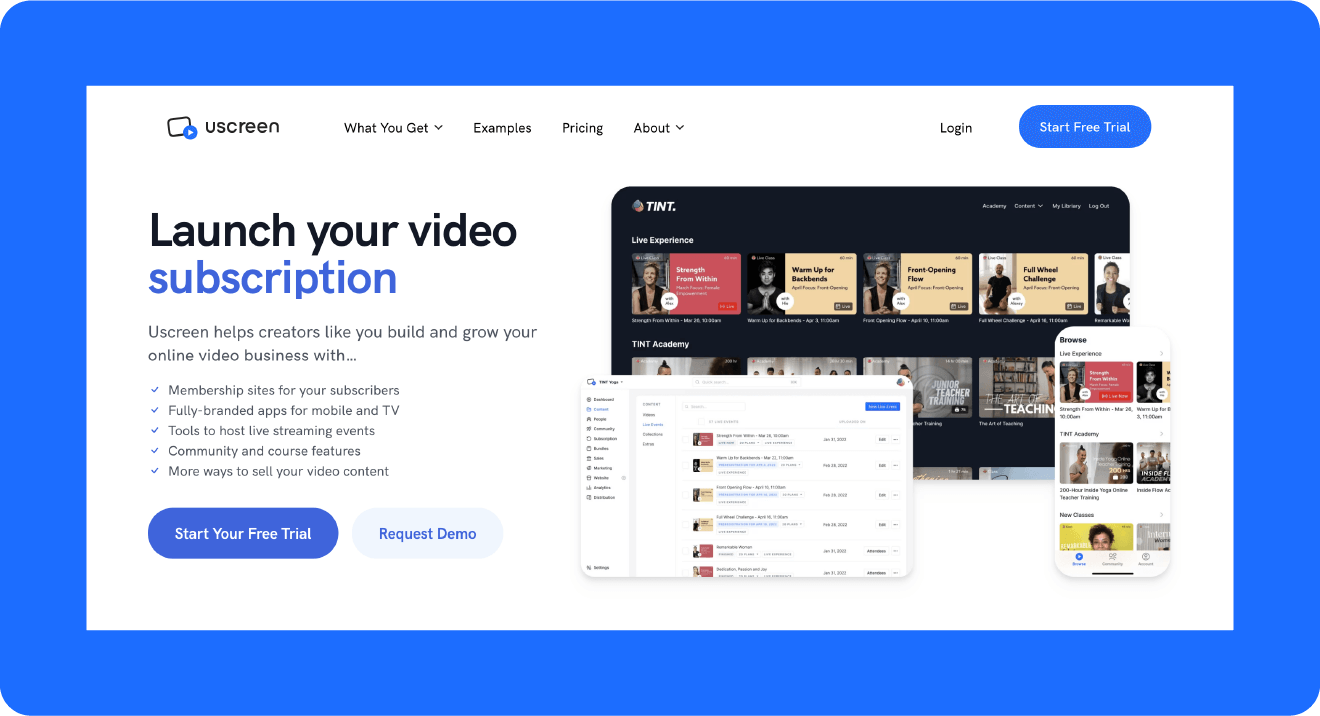 Uscreen is an all-in-one platform that helps course creators monetize their content and nurture a community.
We give you the tools to achieve your goals and the freedom to get things done your way.
Our marketing tools will help you build your audience and engage with them for better retention.
Take a deeper look at what we have to offer.
Features
Course creators choose us because they can:
Create branded apps to reach more students.
Easily build their own website and keep their current URL.
Live stream classes with an interactive chat.
Integrate with payment processors like Stripe, PayPal, and Authorize.net.
Create their own gift cards, coupons, and free trials.
Have full control over their pricing model.
Pricing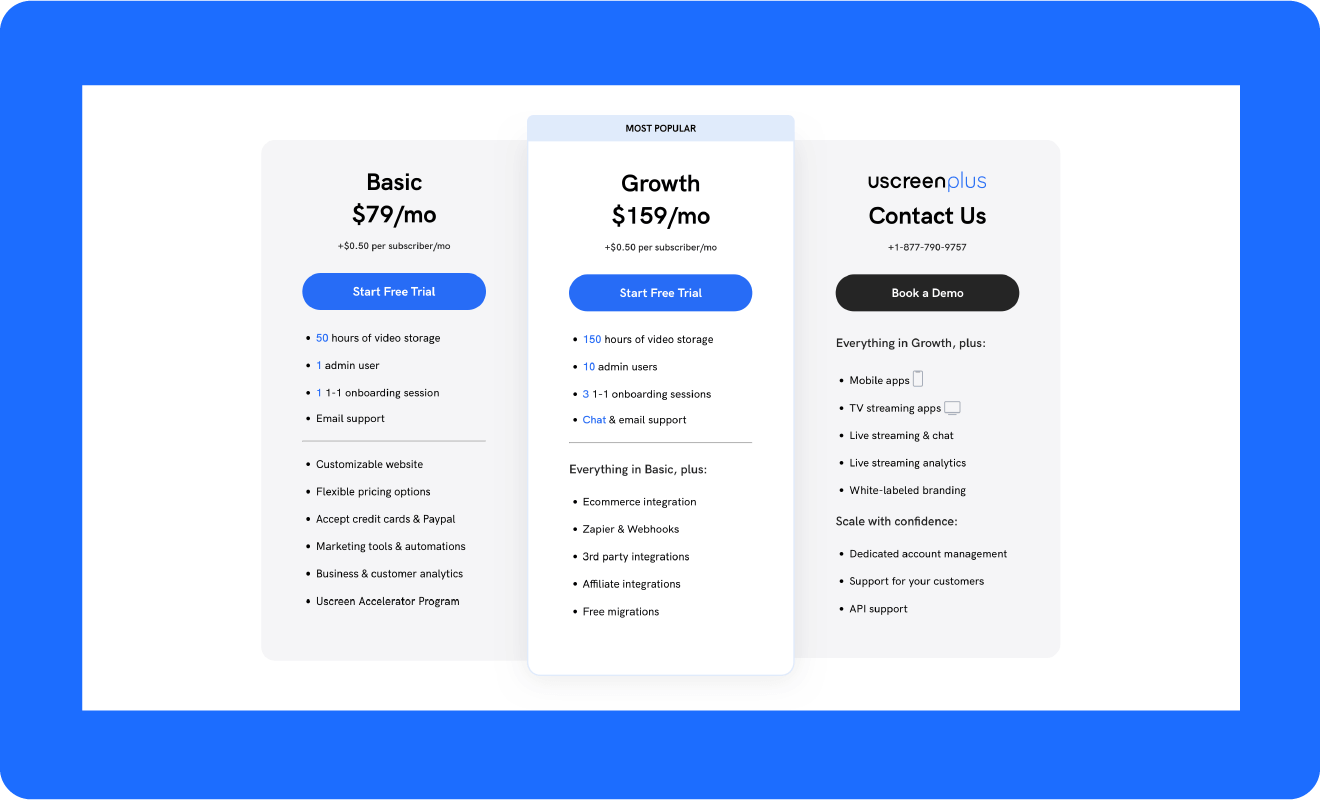 We have 3 plans for our members to choose from:
Basic: our entry-level plan gives you 50 hours of video storage. You get to customize your website, and have unlimited video streaming and uploading. Price: $79 per month.
Growth: our second plan increases video storage to 150 hours. You get more options for website integrations and analytics tools. You can also migrate from your previous site for free. Price: $159 per month.
Uscreen Plus: our top plan offers custom features depending on your needs. This includes dedicated customer support, live streaming, and native apps. You can also use our API. Contact us directly for more information.
Let's move onto our next site.
2. Udemy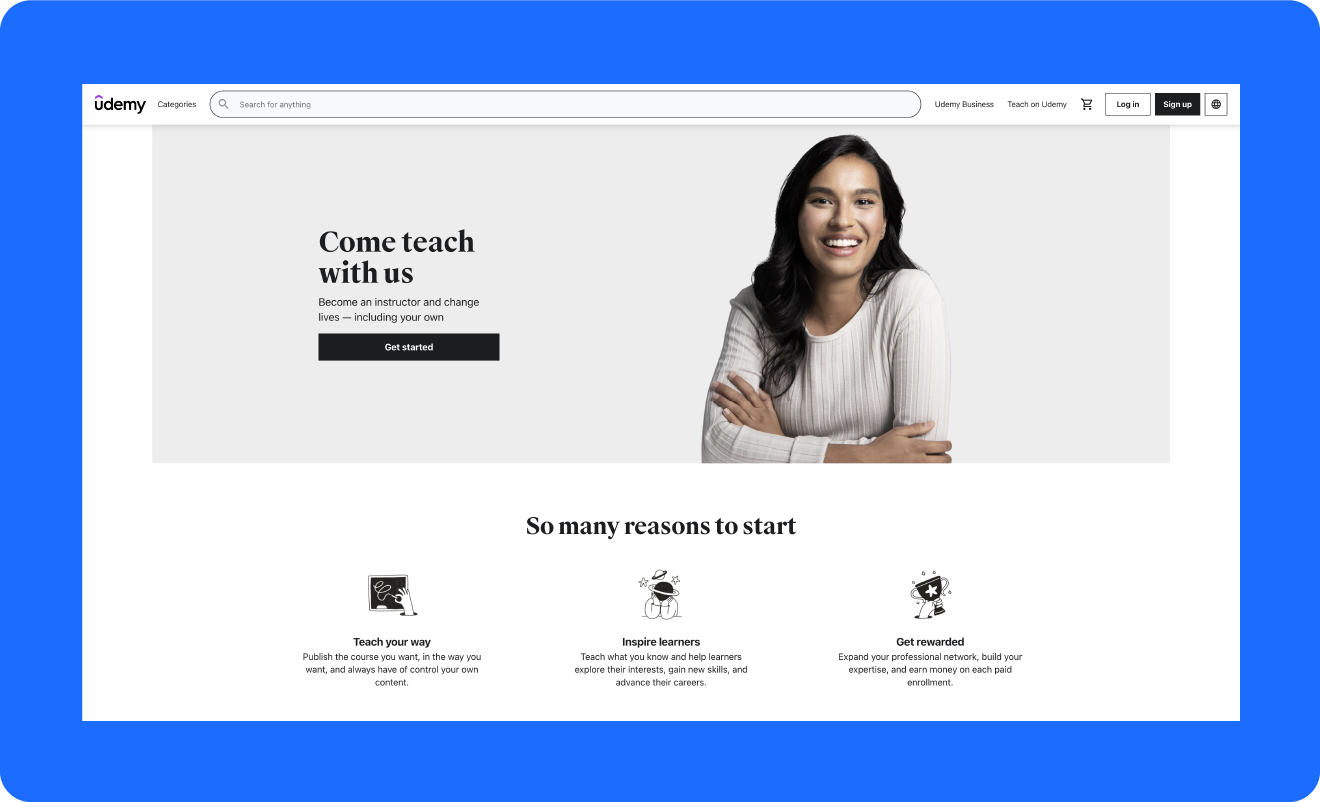 Udemy specializes as a host for online learning programs.
It differs from other platforms in this list by being a marketplace that lets educators sell courses under the Udemy brand.
It has become a popular Teachable alternative because it has less restrictions concerning the video, text and audio content instructors are able to create.
However, there are limitations placed on the amount you can charge for your courses.
Take a look at what you get with their service.
Features
Launching your course with Udemy will get you:
Analytics about your students and traffic.
Ownership of your content with the option to share elsewhere.
Support from other course creators.
Completion certificates on paid courses.
Q&A sessions with students.
Pricing
Udemy is free for instructors and uses a revenue sharing model. In other words, their pricing is a little out of the ordinary.
If somebody purchases your course with a referral link or coupon, you will receive 97% of the revenue.
If the sale happens organically, you will receive 37% of the revenue from the sale.
So if your personal marketing is strong, you stand to make high earnings. If you plan to rely on Udemy's traffic, you might see underwhelming returns.
The Udemy Business Program pools monthly subscription revenue and shares it with instructors based on their viewership.
For example, if your classes made up 5% of Udemy Business's total usage, you would receive 5% of the pooled money for that month.
Now we'll look at an alternative to Teachable that puts more control in your hands.
3. Thinkific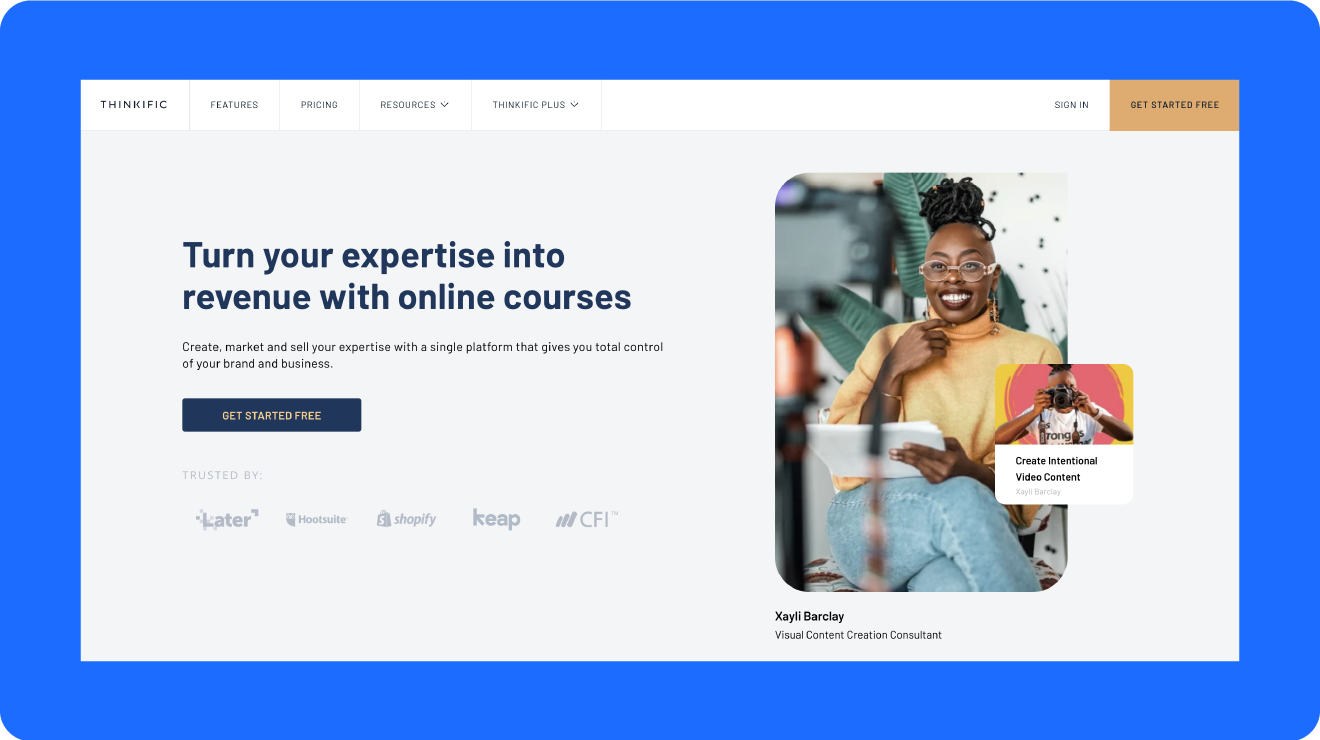 Thinkific is an education platform that lets you build your own website and promote your courses on your own terms.
They have ready-to-use templates and drag-and-drop editing that eliminates the need for coding and technical expertise.
They provide some more advanced features than Teachable that are worth calling out.
Features
Course creators who choose Thinkific are able to:
Personalize their students' assignments.
Give students advanced quizzes.
Send out surveys to students and embed the results in web pages.
Create content using videos, PDFs, and text.
Get instant payouts from sales.
Pricing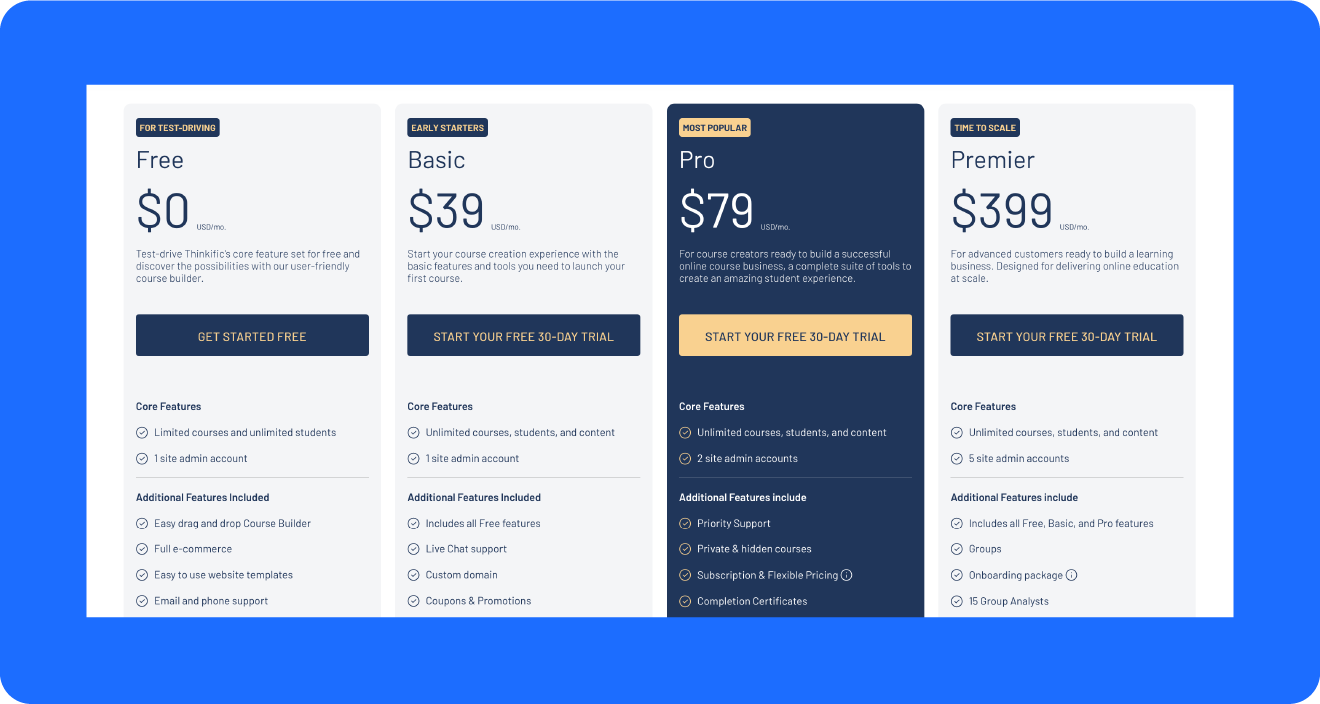 Thinkific offers 4 plan options:
Free: you can launch your first course for free to unlimited students. You get access to their web templates and course builder. You can also use their app store. Price: Free.
Basic: their lowest paid plan enables unlimited courses and content. You'll get live chat support, student promotions, and one-to-one student email. Price: $39 per month.
Pro: their third plan enables completion certificates and live lessons. You'll get advanced course building features and more pricing options. Price: $79 per month.
Premier: their top plan provides white labeling from your content. You'll also get exam integration and API access. Price: $399 per month.
Our next site like Teachable is…
4. Podia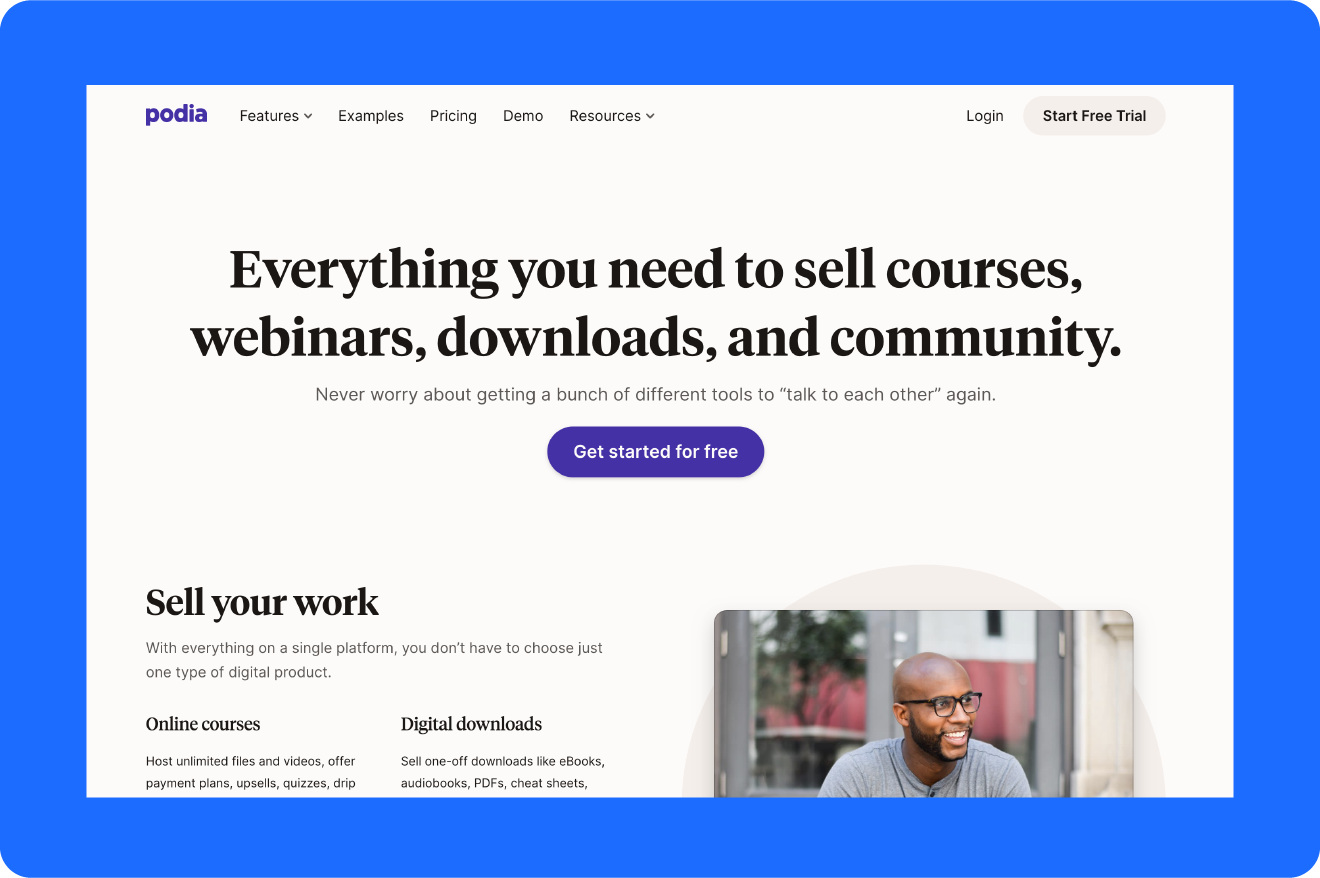 Podia is a platform that has both the tools to build your online course and manage your membership site.
Your content exists behind a single digital storefront, making it easy for members to navigate.
If you need to migrate information onto the platform, Podia allows you to do so for free.
Take a look at what makes them unique.
Features
People who use Podia get:
An intuitive user interface.
24/7 support system to work through issues.
Options for tiered course pricing and upselling.
Integrations with Google Analytics and Facebook Pixel.
Marketing tools to improve emails to students.
Pricing
Podia offers 3 plans to its users:
Movers: their lowest plan allows for all the course downloads and webinars you can handle. You'll get access to their community building tools and customer messaging. Price: $33 per month.
Shakers: their next plan adds the ability to sell and schedule coaching sessions. You can also integrate affiliate programs. Price: $75 per month.
Earthquakers: Podia's top tier gives its members a dedicated priority support queue. You'll get 2 onboarding help sessions and a monthly group call with other creators. Price: $166 per month.
Onto the next one.
5. Kajabi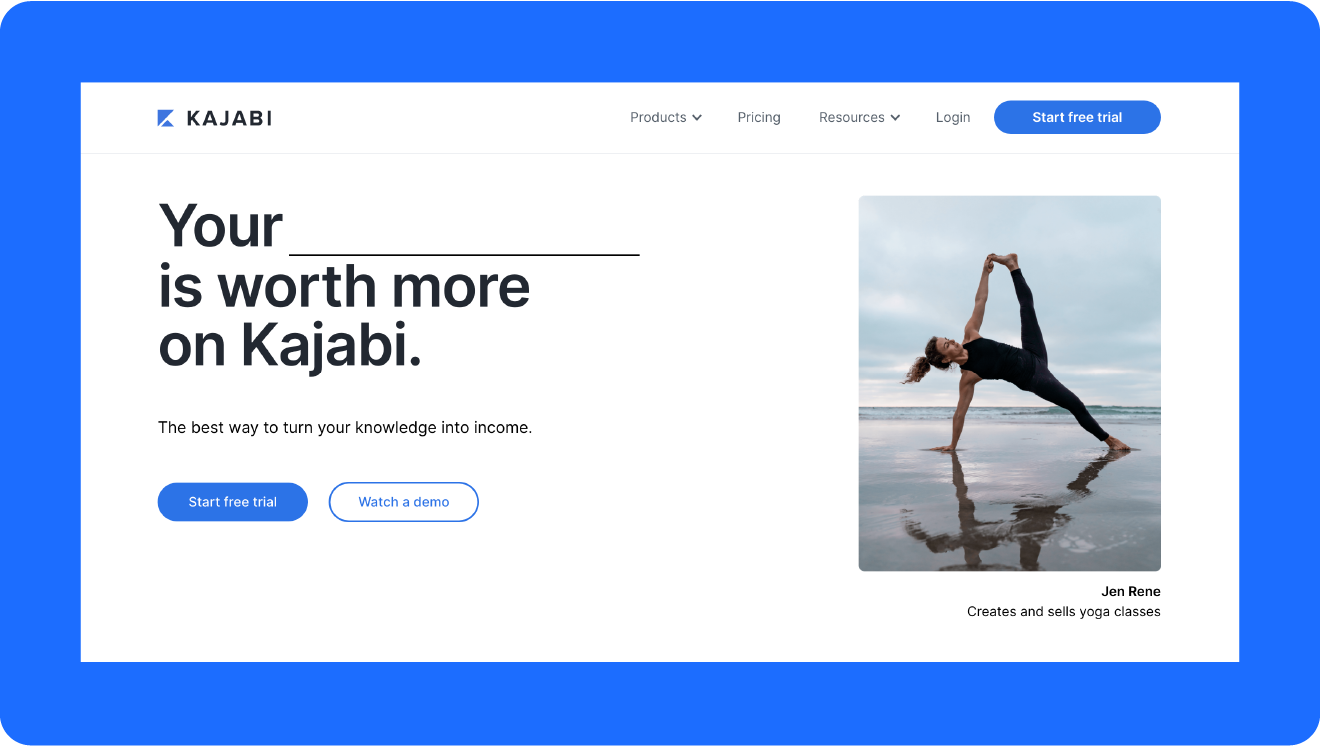 Kajabi combines course creation with marketing tools to consolidate your work.
The platform puts sales at the forefront so that you can reach the most people.
They help you build landing pages and marketing funnels with your own branding throughout the course.
Kajabi has more features than Teachable, but they come at a steeper price.
Let's take a closer look at what those are.
Features
Kajabi helps content creators manage their courses with:
Email campaigns to target customers.
Payment processors that support multiple currencies.
Drip-fed content to control course sequences.
Video embedding to Wistia, a third-party hosting service.
Pre-built funnels for easy marketing.
Pricing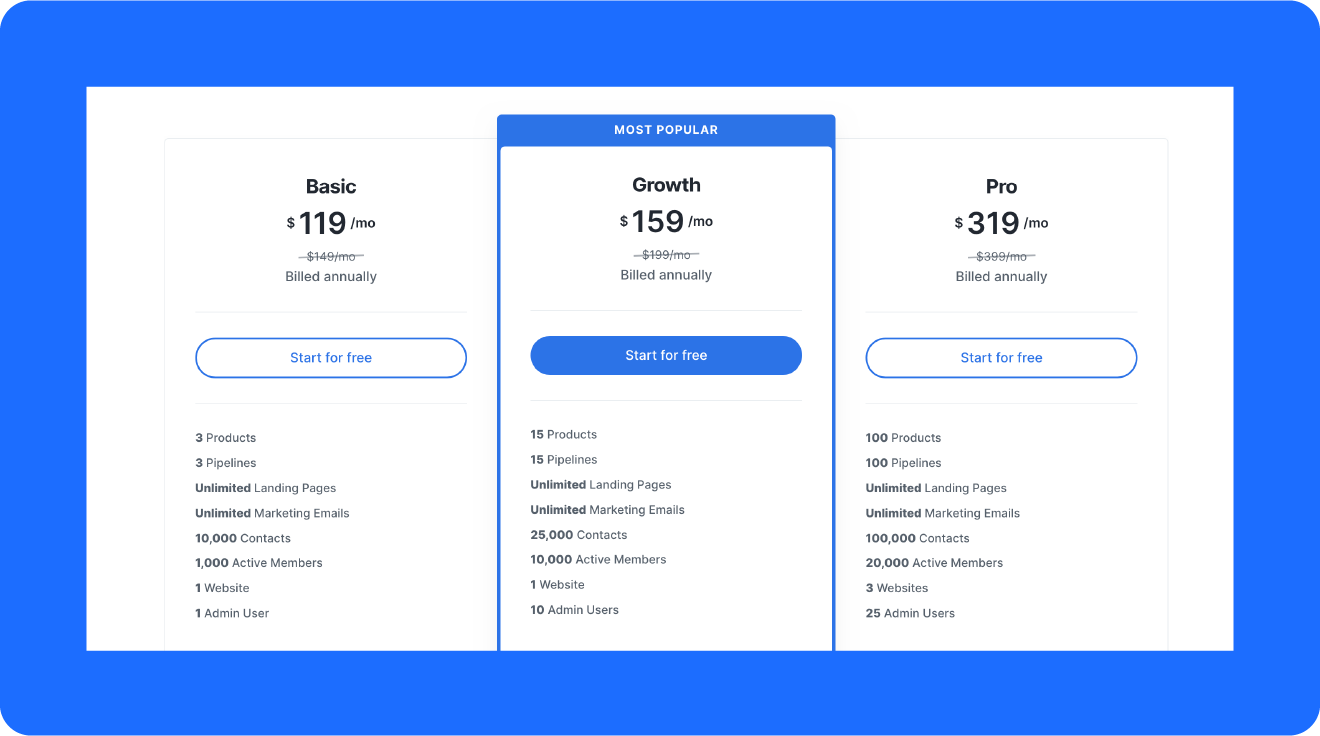 Kajabi offers 3 different plans:
Basic: their entry-level plan allows you to launch 3 products and pipelines, unlimited landing pages and marketing emails, and have 1,000 active members. Price: $119 per month.
Growth: the second plan increases to 15 products and pipelines and 10,000 active members. You'll also get 10 admin accounts. Price: $159 per month.
Pro: their top plan taps out with 100 products and pipelines, and 20,000 active members. You'll get up to 25 admin accounts and 3 websites. Price: $319 per month.
Our next Teachable alternative is easier to use than it is to pronounce.
6. Ruzuku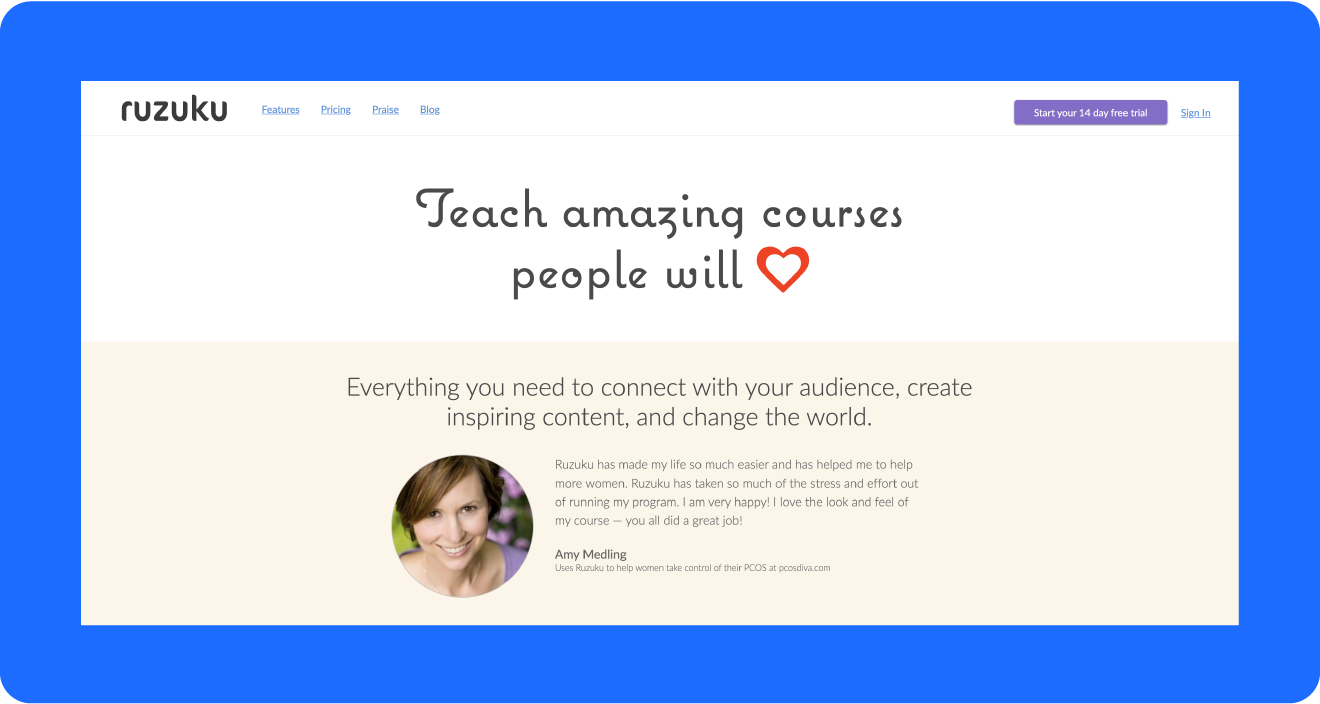 Ruzuku has the same passion for hosting content that their instructors have for teaching.
They're all about community and want to help you build yours with interactive courses and thorough training materials.
Let's look at how they make that happen.
Features
Instructors pick Ruzuku because they are able to:
Create student profiles that promote familiarity.
Get paid directly by their students.
Track student progress and engagement.
Hold Q&A sessions with image and video response.
Create their own website with video-on-demand and live streams.
Pricing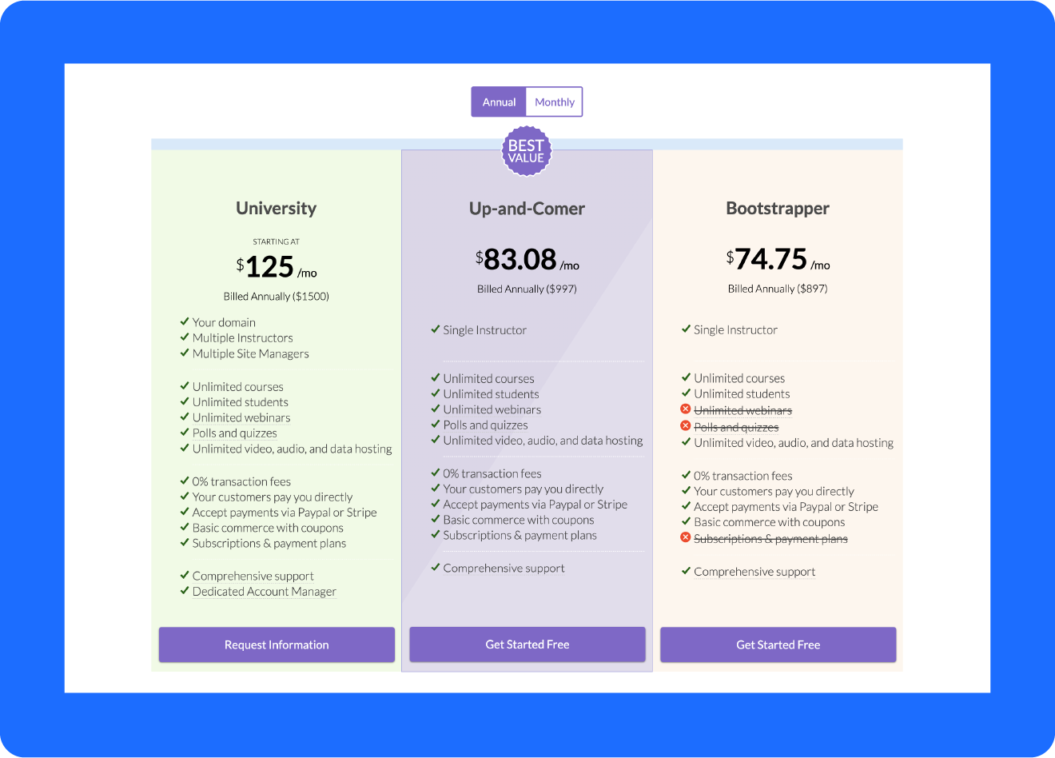 Ruzuku offers 3 plans to its members:
Bootstrapper: their lowest plan offers unlimited courses and student enrollment. You'll get unlimited media hosting and basic commerce options. Price: $74.75 per month.
Up-and-Comer: their next plan adds unlimited webinars into the mix. You can make quizzes and polls. You'll also get control over subscription and payment plans. Price: $83.08 per month.
University: their final plan allows you to have multiple instructors and site managers. You also get a dedicated account manager to handle issues. Price: $125 per month.
Time to share another.
7. Skillshare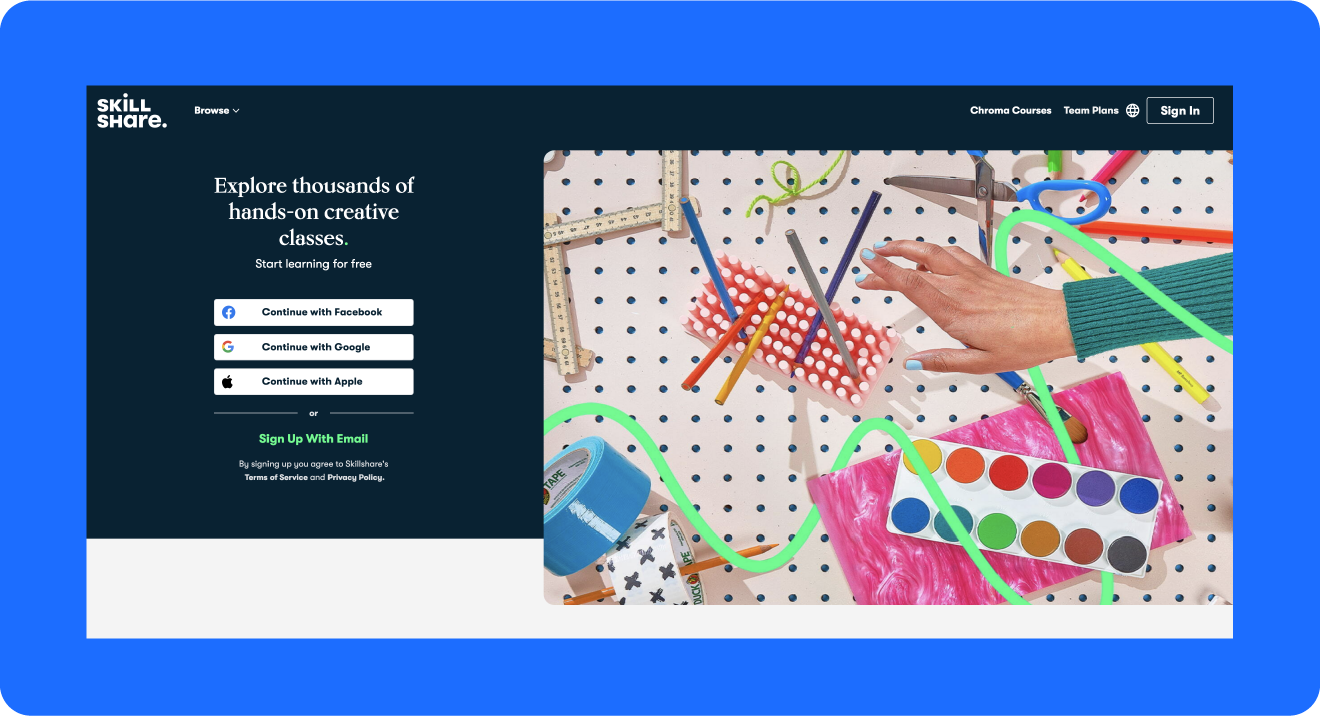 Skillshare is a course creation platform similar to Udemy, but they put their own spin on it.
Rather than Skillshare users paying for each course they want to take, they pay a monthly fee and get access to all of the platform's classes.
They streamlined the sign-up process so you can bypass needless questions and get right to building your course.
You can become an instructor for Skillshare on one condition: your courses should be skills-based. Who'd have thought, right?
Features
Joining Skillshare's marketplace gets you:
Access to the Teacher Help Center for tips on making your class.
Access to a large pool of learners who already use the platform.
Video editing tools to add captions and cover images.
The ability to add a class project to test skills.
A discussion section to engage students.
Pricing
This Teachable competitor is free to publish classes on, so long as they meet Skillshare's guidelines.
You'll make money based on the number of minutes users watched your classes that month.
You can also get a referral bonus by referring students who sign up to the platform.
Now we're in our final dash to the finish.
8. LearnDash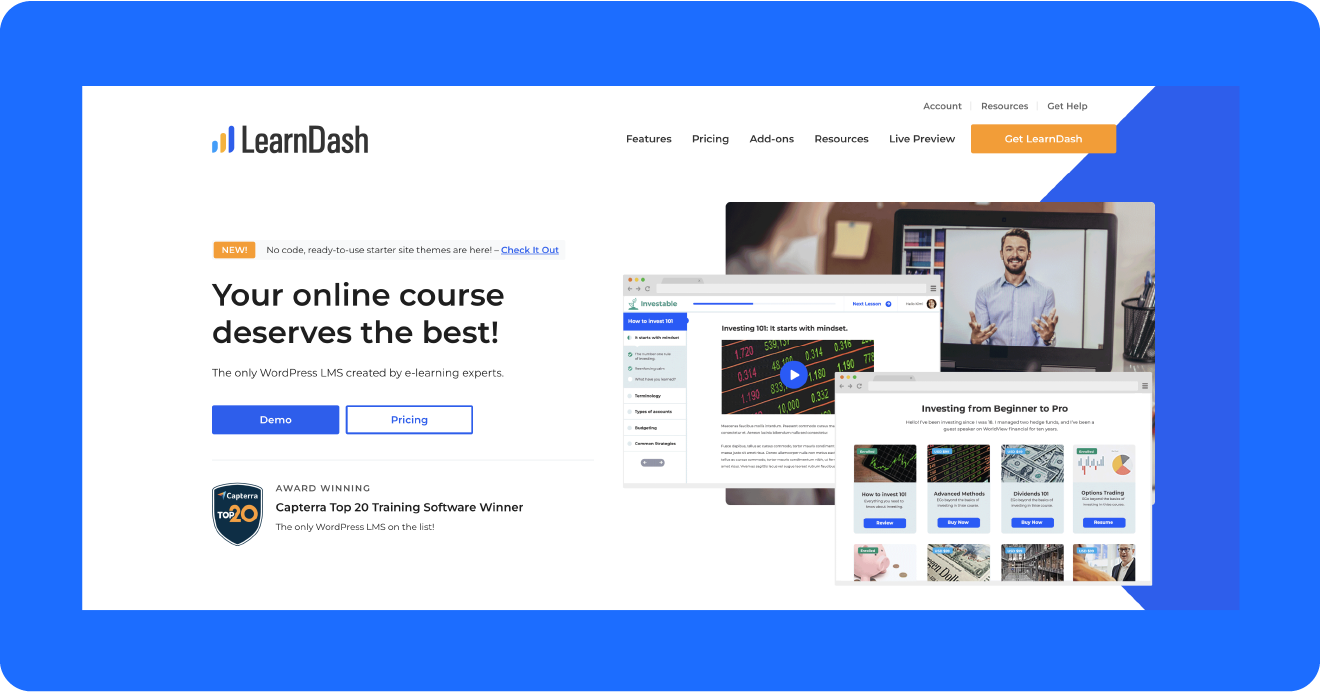 LearnDash is different from our other Teachable alternatives because it's a plugin rather than a platform.
It works with WordPress, so you can build your course directly on your existing WordPress site.
LearnDash gives users the flexibility to design their own learning management system, with the responsibility of arranging video hosting on them as well.
Take a look at what they can do for you.
Features
Once you install the plugin, you'll get:
To award badges and certificates to students.
To design quizzes to measure progress.
Access to sales pipelines and marketing tools.
Control over subscription pricing.
Mix-and-match other plugins for more features.
All of this comes at a price, so let's get into it.
Pricing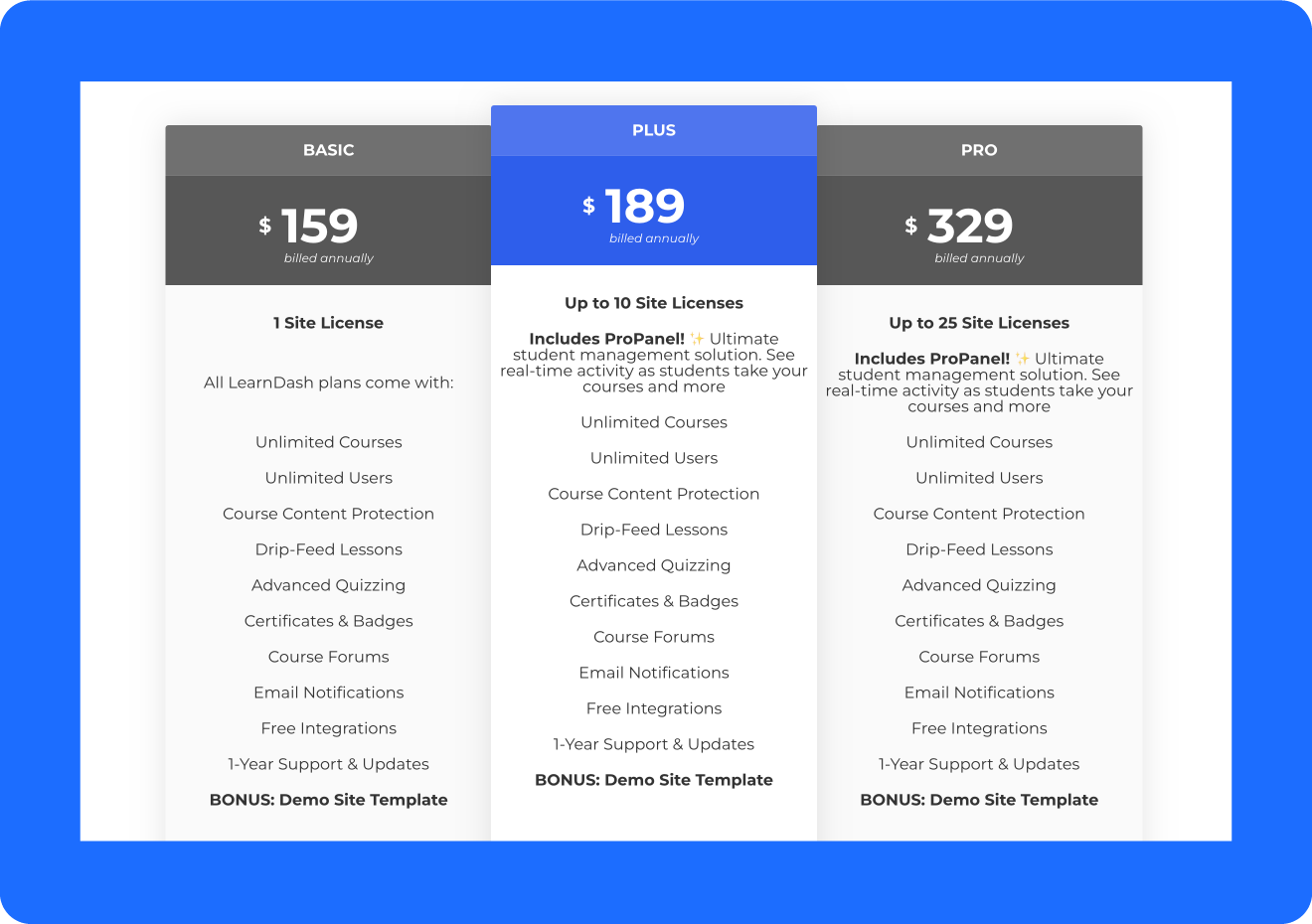 LearnDash has 3 payment tiers:
Basic: their lowest tier allows for unlimited courses and users. You can quiz students, drip-feed lessons, and award certificates and badges. Price: $159 per month.
Plus: their second tier has all of the same features but increases the number of software licenses to 10. You'll also get access to their ProPanel to see student activity in real time. Price: $189 per month.
Pro: their top tier includes everything in the Pro plan and it increases the number of software licenses to 25. Price: $329 per month.
Time to bring this pony home.
Wrapping It Up
Whether you intend to launch your first course or expand your operations, you should team up with a platform that can scale with you.
That's why it's great we live in a world with so many options.
The Teachable alternatives we've explored in this post have something for everyone.
And if our offerings at Uscreen sound like what you're looking for, reach out for a demo to see if we're everything we say we are.