What is live streaming?
Live streaming is when someone delivers content in real time to viewers. It has become increasingly popular with people spending a total of 338 thousand hours watching live streams every month.
You can find all kinds of live streams these days, from gaming to sporting events to live shopping.
With live streaming becoming increasingly popular and many video platforms starting to adopt it, you might be wondering just how popular live streaming really is and how important it is for content creators.
That's where this post comes in: We're unpacking 97 live streaming statistics along with some live streaming best practices.
Let's jump straight into it.
General Live Streaming Statistics and Trends for 2022
Live video consumption is on the rise.
In the most recent years, live streaming saw a rise in both viewers and streamers — impacting the world and how content is delivered. Spoiler alert: Live streams are increasingly consumed on mobile devices.
Here are the top live streaming statistics that show how live video is shaping the creator economy: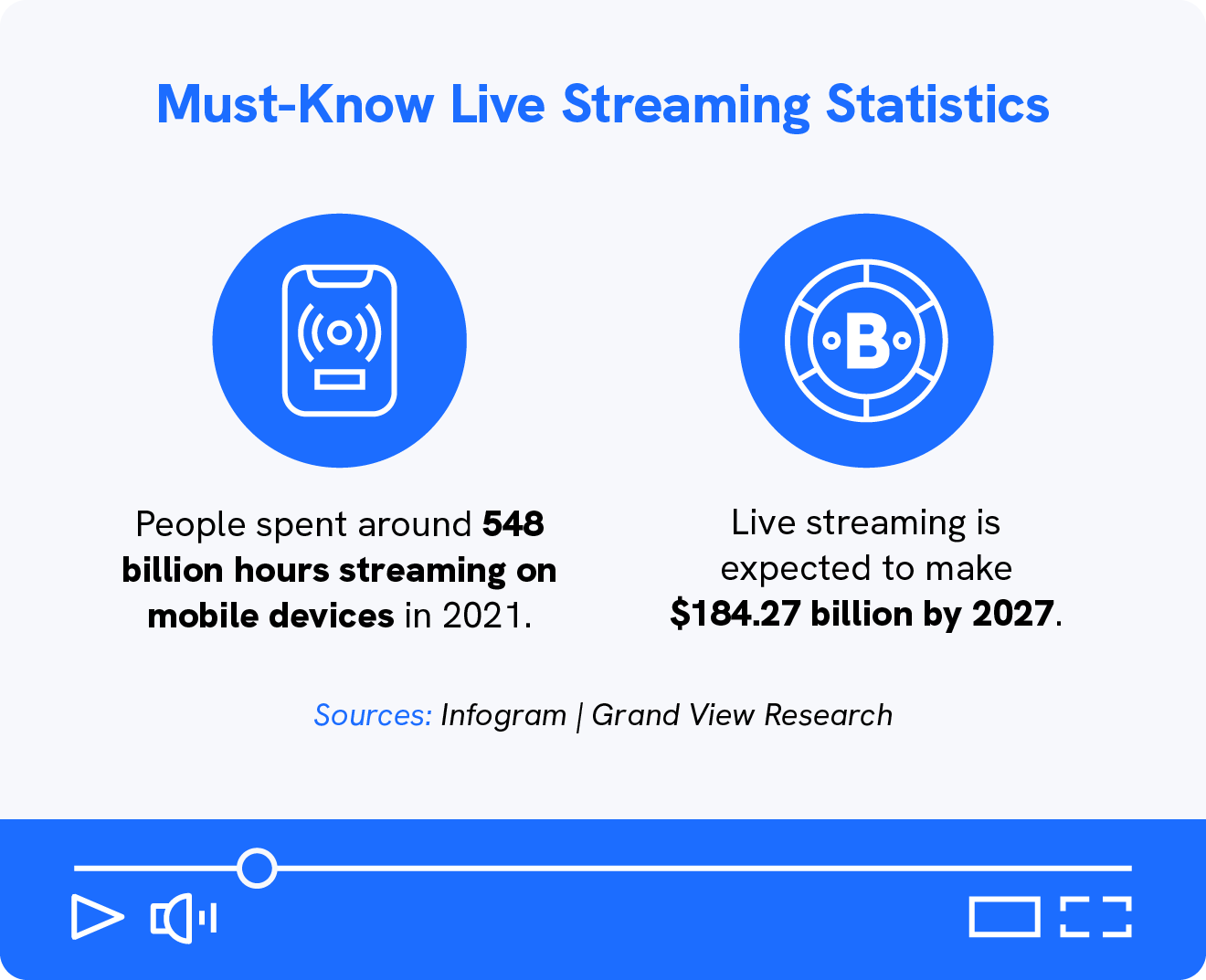 People spent around 548 billion hours streaming through mobile devices in 2021. (Infogram)
Live streaming events increased by 300% between March and August 2020 during the COVID-19 pandemic. (Uscreen internal data)
Live video streaming is expected to have a revenue of $184.27 billion by 2027. (Grand View Research)
The top streaming creator across Twitch, Facebook, and YouTube is pro gamer xQcOW, with 62.8 million hours watched in the first quarter of 2022. (Stream Hatchet)
Live streaming accounts for 23% of global viewing time. (Conviva)
Globally, 41% of internet users have watched a live stream. (Adobe)
Number of live streams for the online learning industry raised by 120% from 2021 to 2022. (Uscreen internal data)
The total watch time for the faith & spirituality industry raised by 300% in a year. (Uscreen internal data)
The average live stream duration increased by 30% in 2021. (Uscreen internal data)
The total watch time of live streams per month in 2021 is 338K hours. (Uscreen internal data)
Now let's check out other must-know live streaming statistics.
Live Streaming Viewership Statistics
But what are people live streaming? Turns out, inclusive and immersive content for all ages. However, statistics show that viewers value quality live streams above all.
Gaming is one of the most popular live streaming industries, alongside eSports, breaking news, and streamers just looking to chat with their audience.
Here are some live streaming statistics you should know if you're wondering what people are watching and what you should be creating: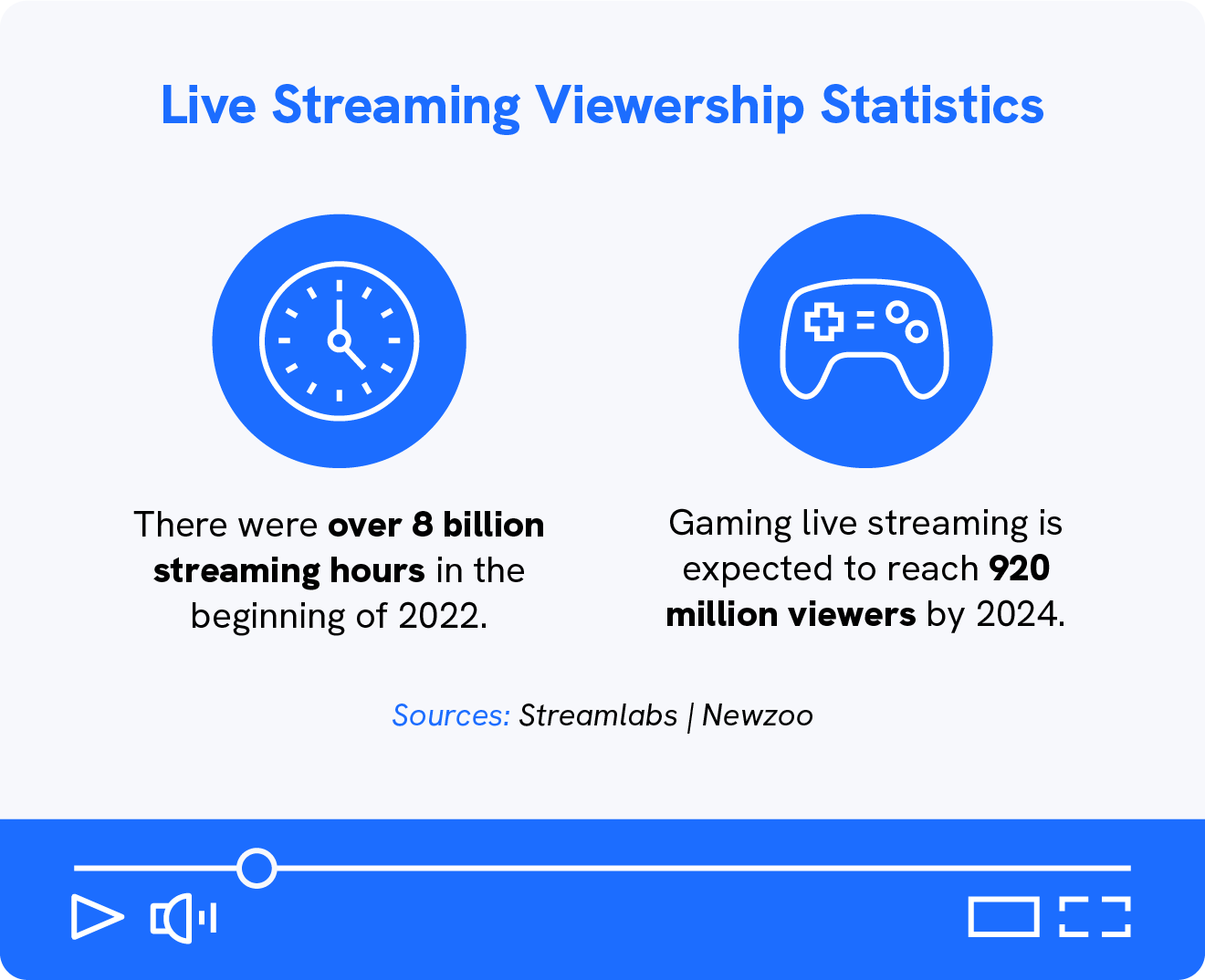 Live streams get more viewing minutes watched with an average of 24 minutes, compared to video on demand with 18 minutes. (Conviva)
Audiences watched over 8 billion stream hours in the first quarter of 2022. (Streamlabs)
Live streamers spent over 250 million hours streaming in the first quarter of 2022. (Streamlabs)
27% of U.S. and U.K. people said they would like to see more DJ sets live streamed. (GWI coronavirus Research March 2020)
Game live streaming is expected to reach 920 million viewers by 2024. (Newzoo)
Across all platforms, breaking news is one of the most popular video live streaming categories, making up 37% of viewership. (Vorhaus)
The most-watched gaming live stream session was Free Fire – LATAM, with 3.8 million hours watched. (Stream Hatchet)
The esports competition "League of Legends Champions Korea" had the most hours of watched live streams in the beginning of 2022, with over 44 million hours watched. (Streamlabs)
The Twitch category with the most hours watched in the first quarter of 2022 was "Just Chatting," with 808 million hours watched. (Streamlabs)
The most live-streamed game in 2022 is "Grand Theft Auto V," with 534 million hours watched. (StreamHatchet)
20.6% of people want to see live streamed theater shows delivered, and 42% want more live sports events and music concerts. (GlobalWebIndex)
People want live stream events to mirror in-person events. 38% want to see their favorite performers, 36% want high definition video, and 33% don't want ads. (GWI 2020 Live Streaming Trends)
Health and fitness verticals saw the most rapid adoption of live videos, with over 1300% increase in minutes live-streamed, between March and August 2020. (Uscreen)
From 2020 to 2021, there were over 230 million hours watched in the music category on Twitch. (Stream Hatch)
Over 50% of people will leave a live stream in less than 90 seconds if the quality is low. (Tech Radar)
Want to see who's watching live streams?
Live Streaming Audience Statistics
Connecting with your audience in real-time is a big perk of live streaming.
People of all ages and from all places are logging on to social media mainly to watch live streams.
From Boomers to Millennials, here's who's watching live streams: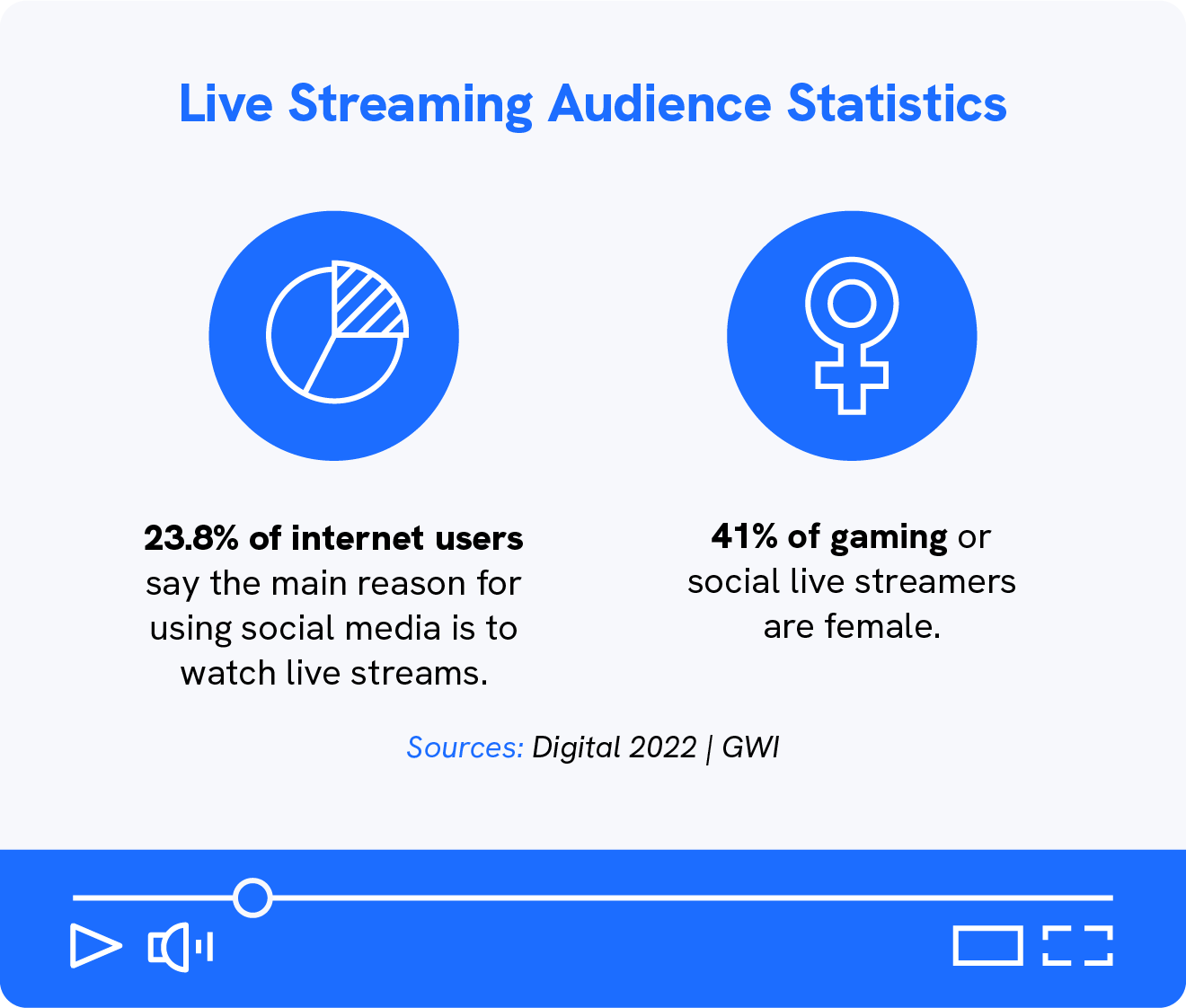 Now let's jump into the platforms.
Live Streaming Platforms Statistics
There is a whole world of platforms used for live streaming. Although Twitch is one of the biggest live streaming services in terms of watched hours, other live streaming platforms also have a lot to offer.
In fact, people have watched over one billion hours of live streams on YouTube alone, and Facebook has over 300 thousand unique channels for streaming, which shows the impact of live streaming among platforms.
Take a look at how these different live streaming platforms are performing: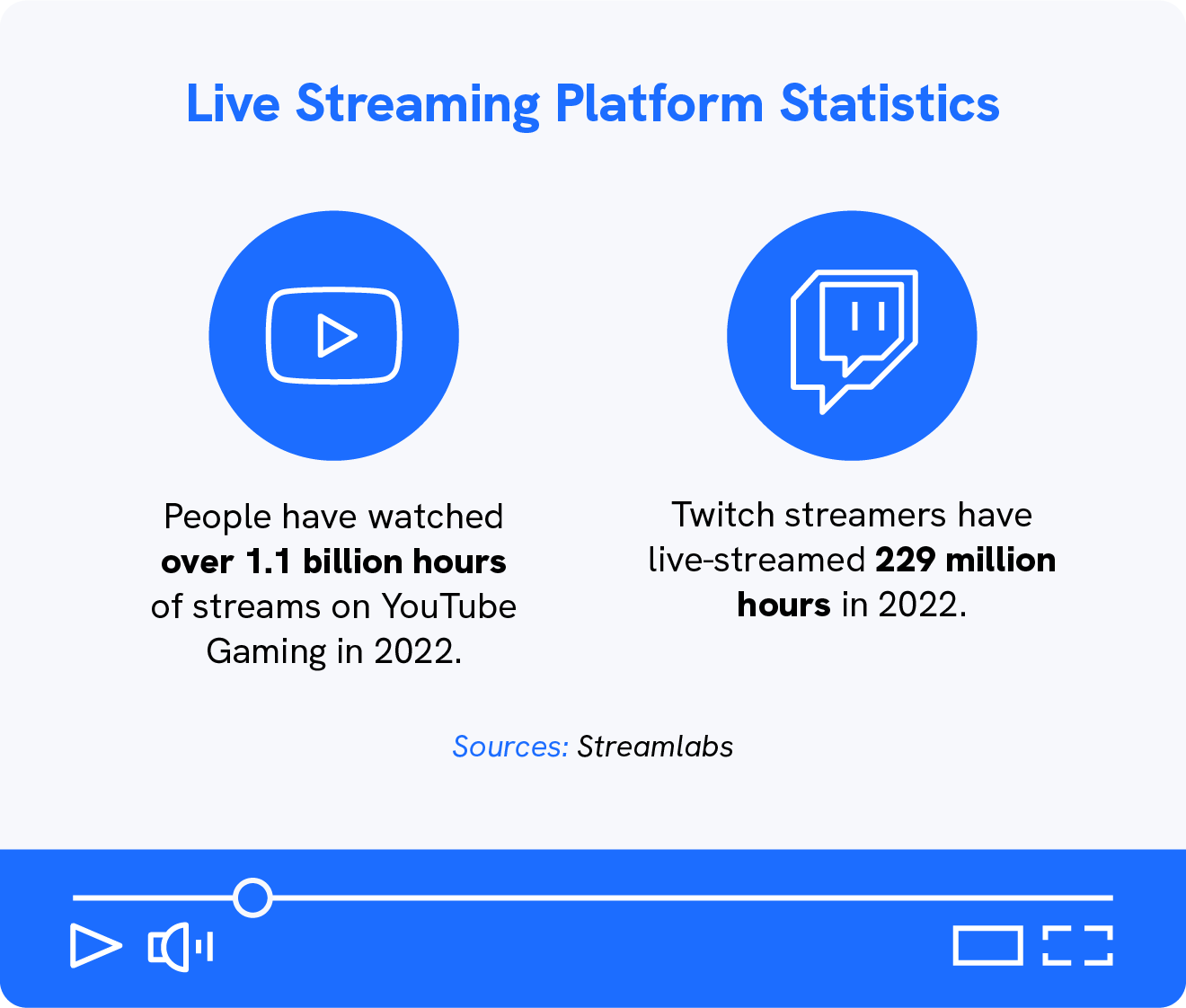 YouTube Live Streaming Statistics
YouTube is home to 2 billion monthly active users and is the biggest video streaming platform. But it has also become the place to stream live for corporations, religious groups, and everyone in between.
A lot of YouTubers are able to monetize their content with Super Chat, which allows viewers to pay for their message to get highlighted in the live chat.
And, of course, we have to mention Twitch.
Twitch Live Stream Statistics
Twitch is the number one live streaming platform for gamers. It has active streamers in the millions, boasts billions of hours of live video views, and has a growing female gaming community.
Facebook Live Stream Statistics
Facebook's impact on the world goes beyond groups and connecting with friends and family. Users turned to the platform for live sports events, and brands rely on it for reach.
TikTok Live Stream Statistics
TikTok has evolved into a platform that's for more than just teenagers, even older generations are tuning in.
Twitter Live Stream Statistics
The microblogging platform embraced live video in 2016 and has seen phenomenal growth. With 45 million monetizable daily active users, Twitter has seen all sorts of events streamed live.
When there's a live event, Twitter gets around 14% more unique visitors. (Twitter Marketing)
In 2018, Twitter hosted 1,300 live streamed events, 80% of which were streamed to a global audience. (Twitter)
When live streaming a sport, 23% of viewers comment on the events they are watching. (GWI Social Video Report 2019)
LinkedIn Live Stream Statistics
While LinkedIn's live video service made it to market a little later, the platform is still as valuable as ever. And live streaming on LinkedIn can be a great way to connect brands to a bigger audience and potential employees.
LinkedIn Live streams have grown by 158% since February 2020. (LinkedIn)
Live videos on LinkedIn drive 7x more reactions and 24x more comments than standard video posts. (LinkedIn)
3% of marketers use LinkedIn Live. (Social Media Examiner)
Instagram Live Stream Statistics
In 2020, Instagram Live grew to become a powerful live streaming platform. With 90% of Instagram accounts following a business, the photo sharing app showed that it is capable of attracting large audiences and powering businesses.
Instagram captures around 13% of all live stream viewers on all social media. (GWI Social Video Report 2019)
Instagram Live usage grew by 70% in April 2020. (Business Insider)
17% of marketers use Instagram Live. (Social Media Examiner)
Snapchat Live Stream Statistics
While often considered the "other social media app," Snapchat still holds its own. The live stories platform started to attract more people to their platforms with live streams.
15% of Snapchatters watch live streams on the platform each month. (GWI Social Video Report 2019)
6 in 10 adults outside of China have watched a video or live stream on social media platforms including Snapchat. (GWI Social Video Report 2019)
2% of marketers use Snapchat Live. (Social Media Examiner)
Live Streaming Statistics By Industry
Live streaming also impacts different industries, and brands and creators are using it in their favor to connect with audiences and generate revenue.
Since a lot of brands are finding live streams to be one of their most effective tools, they are expecting to spend more on video content in the next year.
Here are live streaming stats content creators should know for each industry: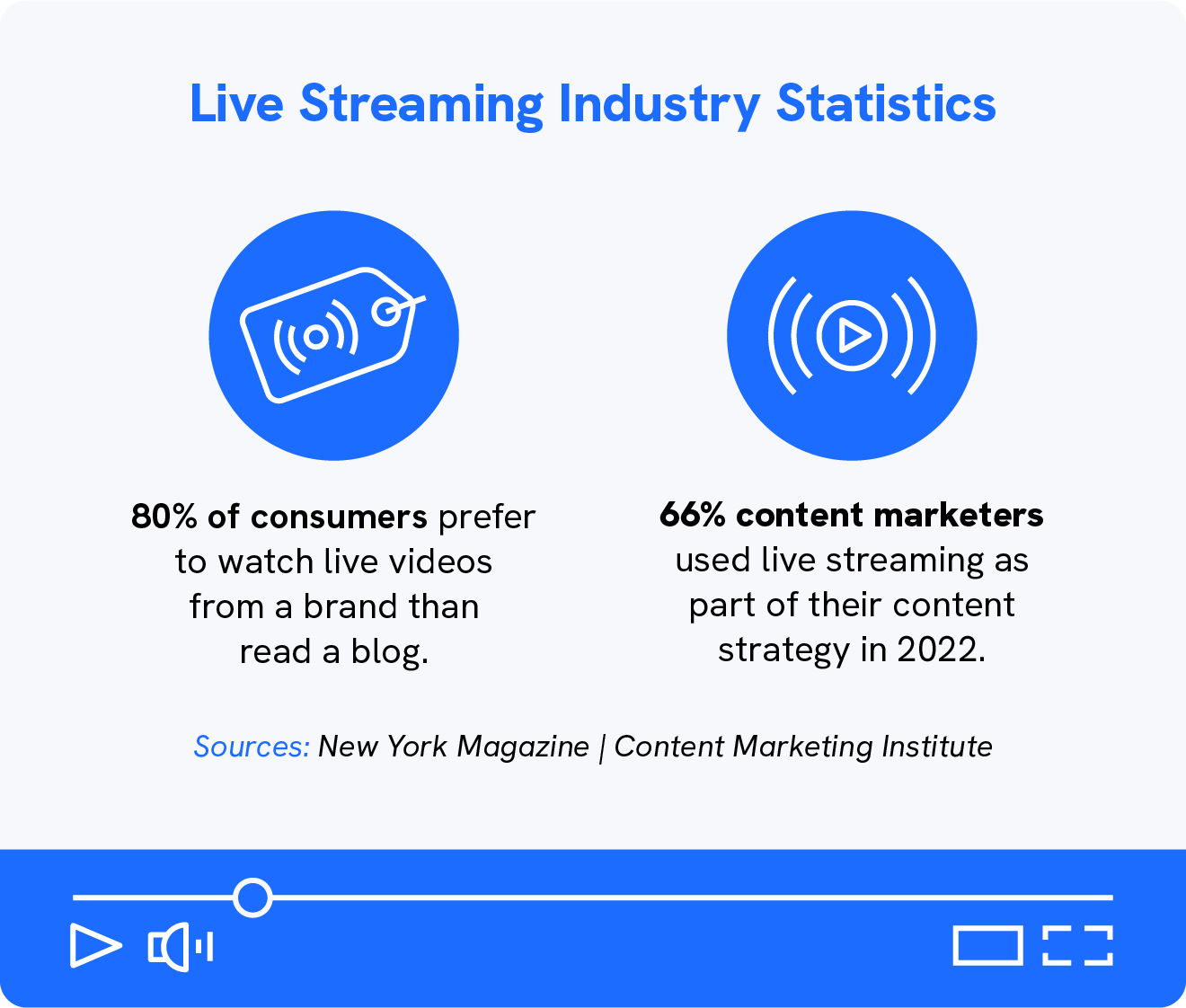 Video Streaming Statistics for Business
By 2023, brands are expected to spend more than $100 billion on video content. (Forrester)
80% of consumers prefer to watch live videos from a brand than read a blog. (New York Magazine)
82% of people prefer to watch live video from a brand over seeing a social media post. (New York Magazine)
Live Streaming Statistics for Marketers and Communicators
23% of respondents indicated that live streaming is the most effective tool for marketing trade shows. (The Social Effect)
66% of B2C content marketers used live streaming as part of their content marketing strategy. (Content Marketing Institute)
Out of the marketers who use video, 26% plan to add Facebook Live to their strategy in 2022. (Wyzowl)
Live Streaming For Educators
Online learning through video is expected to be worth $325 billion by 2025. (Forbes)
62% of educators find lectures more effective with video streaming. (New York Magazine)
58% of people use video to learn new skills. (Think With Google)
Live Streaming Monetization Statistics
When it comes to making money with live streams, there are a couple of ways to monetize them.
From Super Chat to user donations and sponsorships, some streamers are making over a million dollars.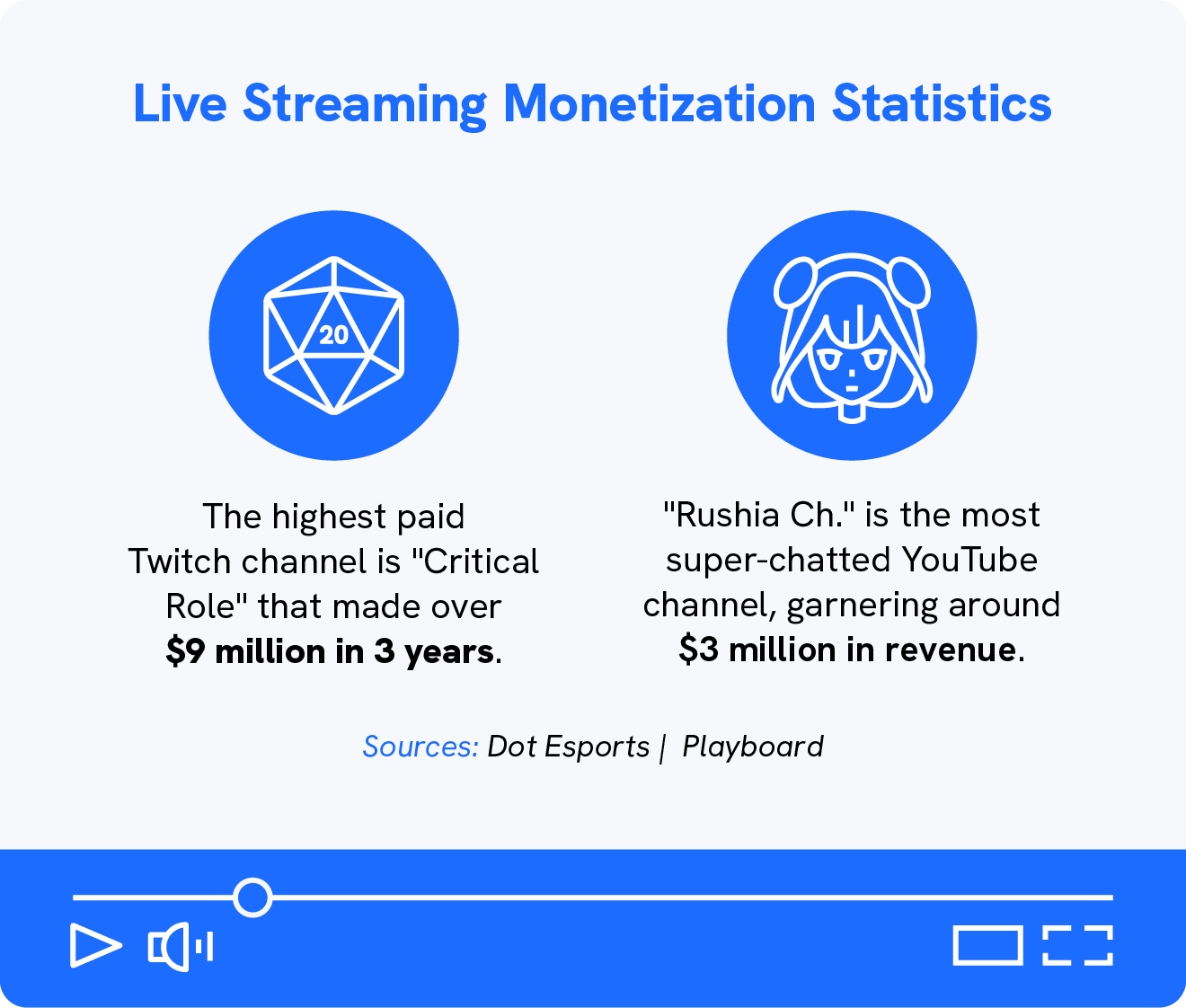 Live Streaming Best Practices
Whether you're an avid streamer or looking to start live streaming, understanding what types of viewers consume live streams and which platforms to use is just the start of seeing success with your streams. 
Here are some common best practices for live streaming: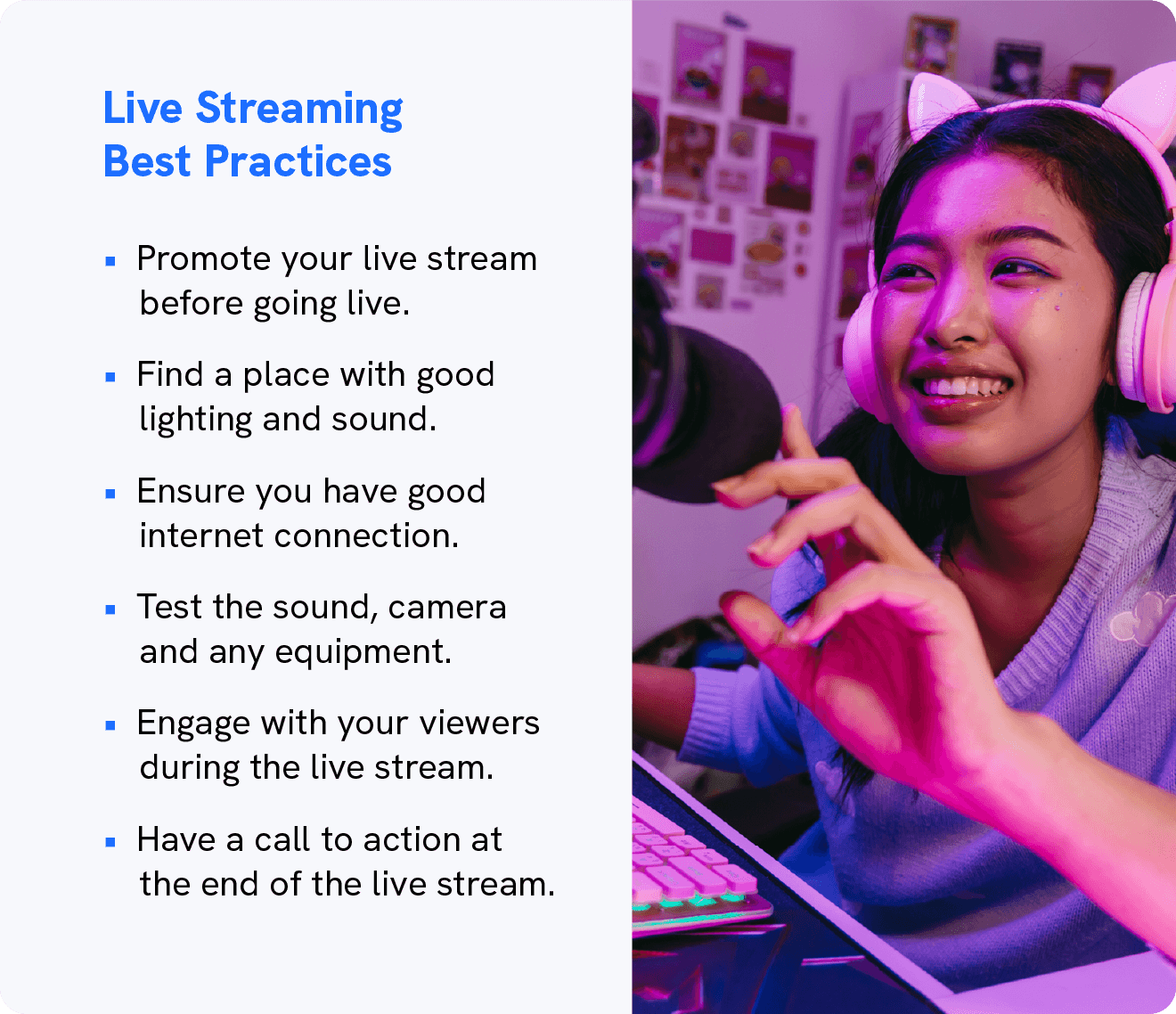 Promote your live stream: promote it before going live by sharing with your followers when you're going to be live. Give a sneak peek about the topic or guest to get them excited to join.
Find a good place to go live: set up your "studio" or find the best spot outdoors. But make sure you have good lighting and sound.
Ensure you have a good internet connection: viewers want to watch a high-quality video, so ensure you have the best internet strength and test it before going live.
Test everything beforehand: do a test to make sure everything is working fine. Test the sound, camera quality, and if your equipment is working fine.
Make your live engaging: come up with questions to ask your viewers, respond to their chat comments, and mention viewers by name to help them feel connected to you.
Have a call to action: end your live stream with a call to action. Ask them to follow you, signup for your newsletter, or subscribe to your video on demand. platform.
Wrapping This Up
Live streaming can be a powerful tool that is worth including in your content creation arsenal.
And platforms like Uscreen can make it even easier to create a live streaming website and host live events.
If these live streaming statistics inspired you to start live streaming, consider using Uscreen for your live streaming service and video monetization.
It's simple with Uscreen.
Build, launch and manage your membership, all in one place.
Live Streaming FAQ
Still have questions about live streaming? We have the answers.
What Is The Largest Video Streaming Platform?
The largest video streaming platform is YouTube, with over 2 billion users. But in terms of live streaming, Twitch is the most popular website for live streaming alone. 
Is There an Additional Charge to Live Stream on YouTube?
Live streaming on YouTube is free.